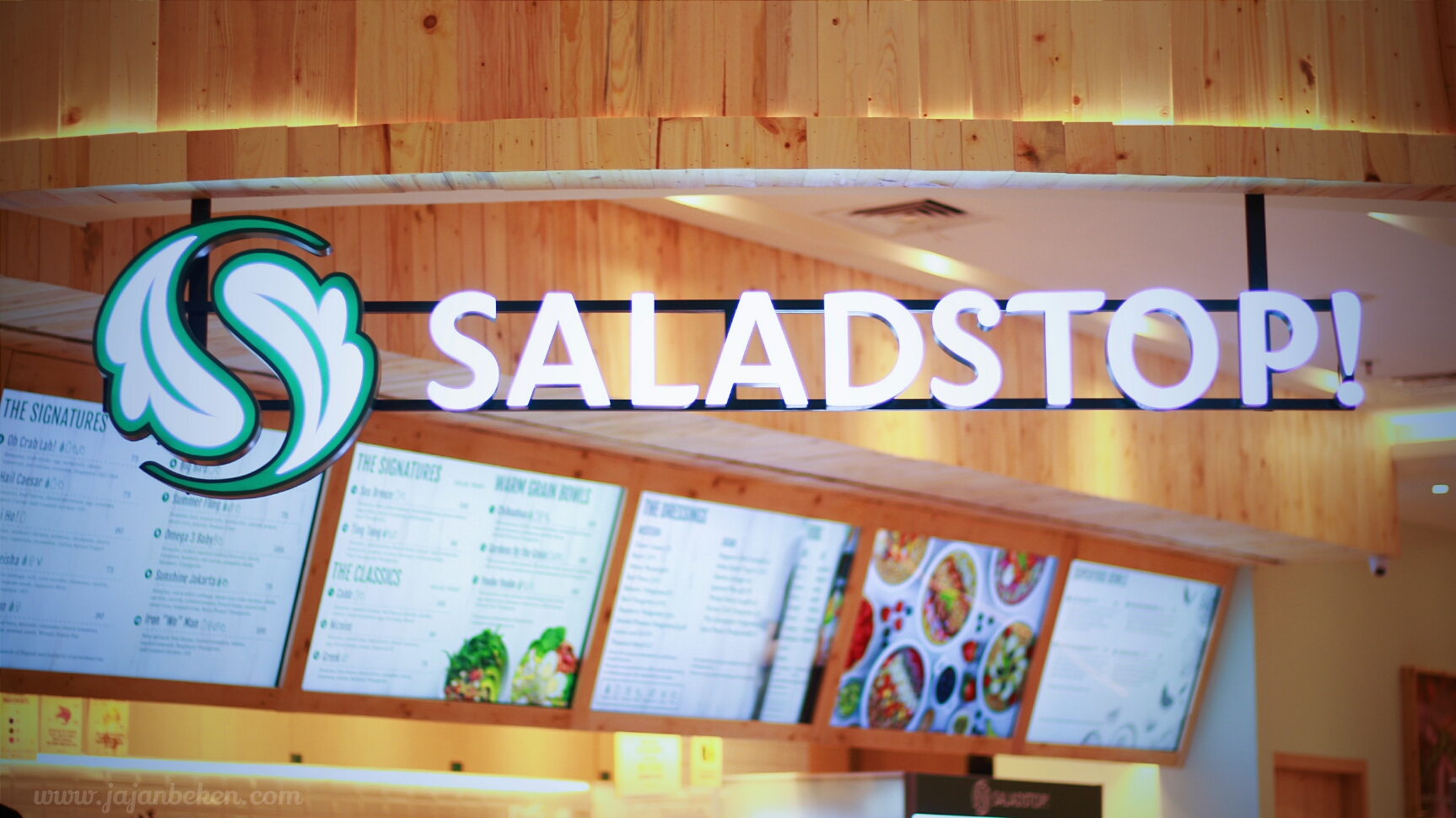 SaladStop is restaurant derived from Singapore has opened a new branch in Senayan City Mall Jakarta. SaladStop has 25 branch outlets spread across Asia, this restaurant typical is serves vegetables or salad that is good for health.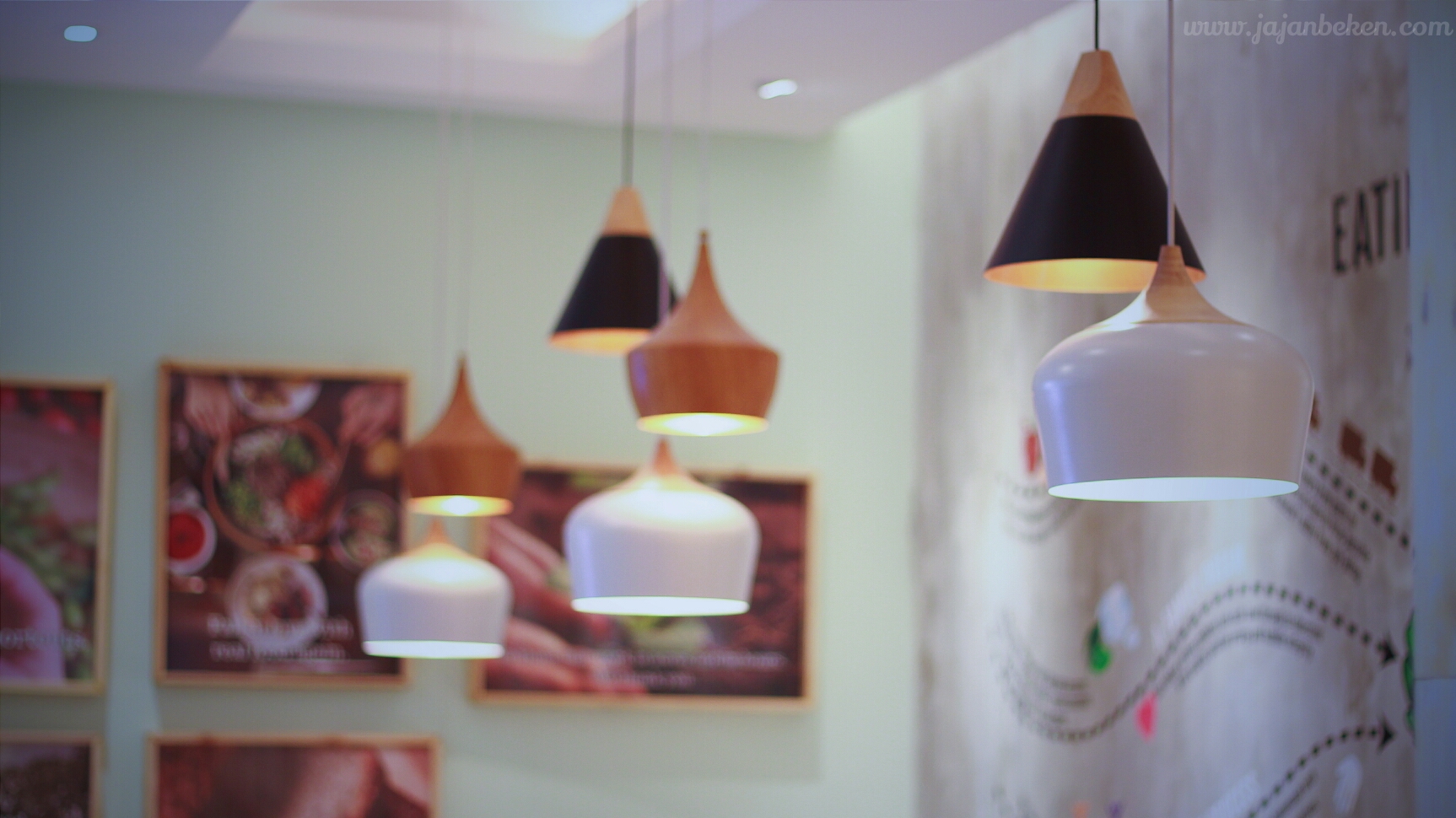 This restaurant is located across the Excelso Senayan City lobby ground under the main lobby. Talking about room design arrangement of the table are very interesting, so that makes it look very cozy restaurant. With many LCD display that shows the various menus, so this restaurant is fairly modern with technology.
As well as to their image to serves a healthy food, so that they also make up the restaurant into a nature ambiance. SaladStop use many wooden ornaments to the wall and also the interior and make the visitors feel warm and comfy.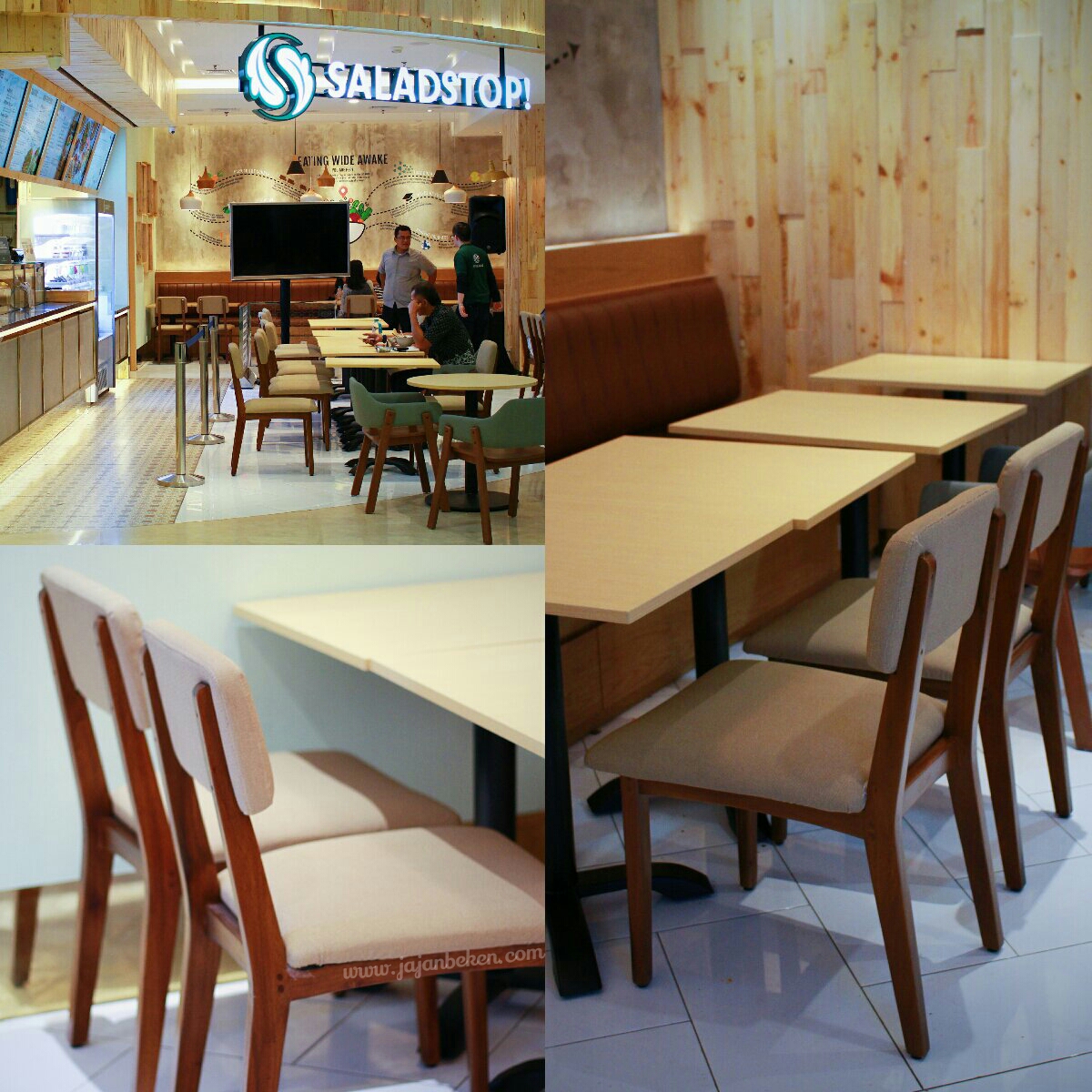 Knowing More About SaladStop!
Starts in a family dream that conscious way to eat a truly good. Respecting and honoring to nature into a meal that using natural ingredients. SaladStop! was founded in 2009 and currently operate in Singapore, Manila, Hong Kong, Jakarta and Tokyo and aim to become the world's leading nutrition, health and wellness company. As they expand their footprint in the region, they remain true to their core values and commitment to the ideology of "Eat Wide Awake" through all aspects.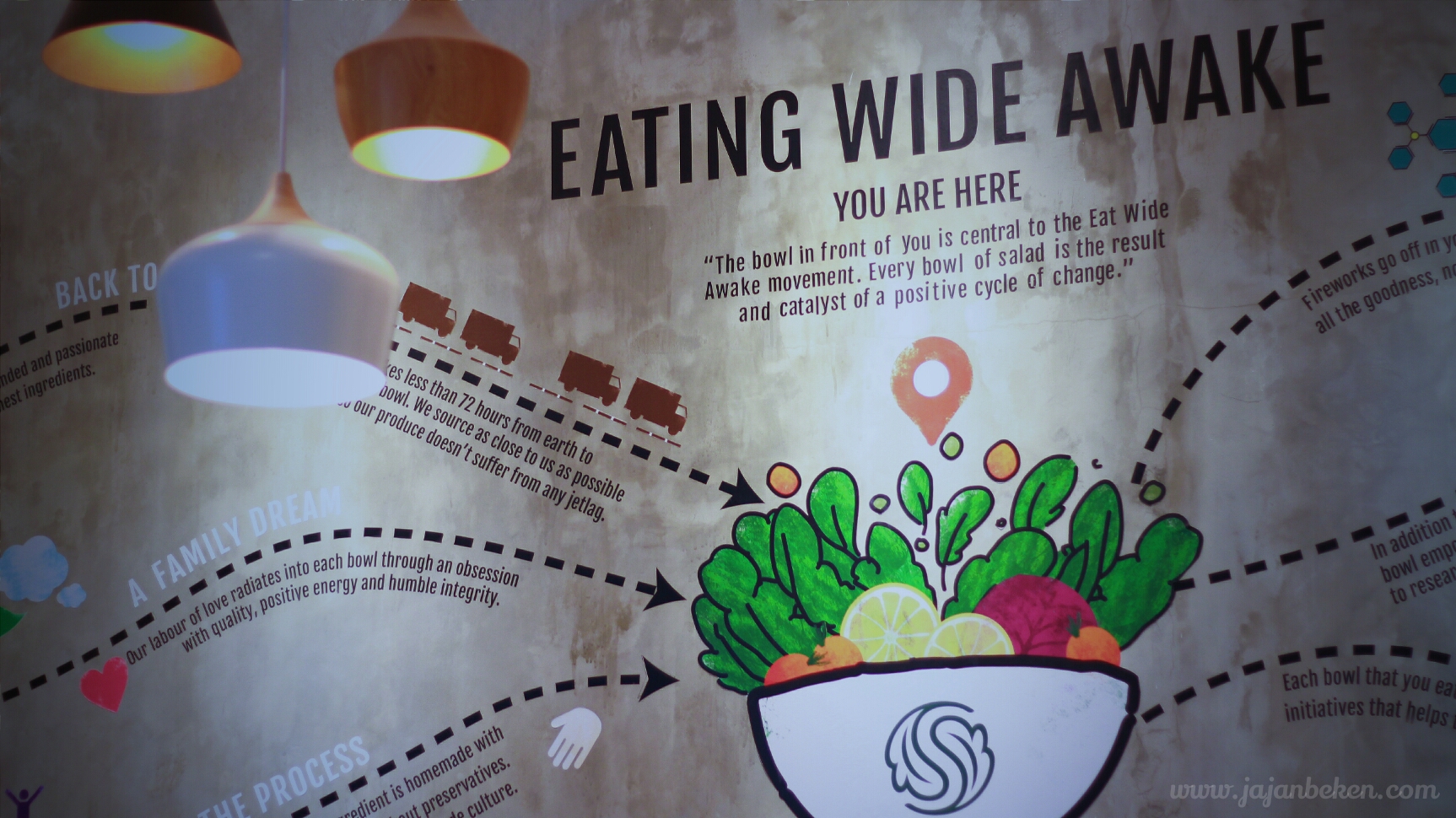 Natural Source
"Eating wide awake is the commitment to finding the best possible ingredients to feed the mind, body and spirit by taking into consideration the environment, animal welfare as well as the food chain." Source: SaladStop.com. SaladStop doesn't use a preservatives, MSG, artificial flavouring and colouring in any recipes. Don't worry about pork because they don't use pork and lard. They wash the ingredients by drinking water as three time so it must be hygiene and health.
How To Order SaladStop In Salad Bar
You can order the signature salads, wraps, grain bowls or create your own salad. With over 60 toppings and 20 homemade dressings.
Choose your own like salad, wrap or grain
Choose your base like standard with Romaine/Red & White Cabbage or premium with Baby Spinach, Rocket or Kale
Picks your 6 regular toppings
Choose a homemade toppings and the salad be yours!
Nutrition Recommendation
Guys! If you are concern to your health and need suggestion to choose what you gonna eat to achieve and maintain your healthiness goals. Here you can set your own menu suggestion into your salad bowl, just scroll down!
Vegetarian
Broccoli, Edamame, Black Bean, Lentils, Quinoa, Spinach, Avocado, Quinoa, Spinach, Walnut, Sesame Lime Dressing, Carrot Ginger Dressing. SaladStop menus are Spinach And Feta Wrap, Spinach And Olive Quesadillas, Vegetarian Quinoia Pots, Go Geisha, Iron Wo"Man", Habibi, Summer Fling, Garden By The Grain, Q Don.
Weight Loss
Chickpeas, Broccoli, Cherry Tomatoes, Mushrooms, Celery, Pomelo, Beetroot, Cucumber, Alfalfa Sprouts, Spinach, Beetroot, Thai lemongrass dressing, Carrot Ginger Dressing. SaladStop menus are Go Geisha, Iron Wo"Man", Q Don and Middle Eastern Lentil With Crisp Tempeh.
Detoxification
Red & White Cabbage, Alfalfa Sprouts, Broccoli, Cherry Tomatoes, Carrot, Celery, Cucumber, Capsicum, Avocado, Almond Flakes, Spinach, Japanese MISO Dressing, Carrot Ginger Dressing. SaladStop choice are Go Geisha, Iron Wo"Man", Q Don and Middle Eastern Lentil With Crisp Tempeh.
Pregnancy
Capsicum, Beetroot, Lentils, Broccoli, Spinach, Kale, Walnuts, Avocado, Free Range Eggs, Black Beans, Sesame Lime Dressing or Japanese Miso Dressing. SaladStop menus are Smoked Salmon And Rocket, Omega 3 Baby, Tuna San, Q Don, Basil Pesto Angel Hair With Baked Salmon, Middle Eastern Lentil With Crisp Tempeh, Fresh Beetroot Quinoia With Cajun Chicken Breast.
Fitness
Lentils, Quinoa, Edamame, Almond flakes, Spinach, Free Range Eggs, Roast Chicken, Smoked Salmon, Avocado, Feta Cheese, Sesame Lime Dressing, Basil Pesto Dressing. SaladStop menu choice are Omega 3 Baby, Big Bird, Chihuahua, Q Don, Basil Pesto Angel Hair With Baked Salmon.
Blood Sugar Management
Onions, Green Beans, Pomelo, Broccoli, Alfalfa Sprouts, Edamame, Quinoa, Spinach, Avocado, Walnuts, Spinach, Salmon, Carrot Ginger Dressing, or Thai Lemongrass Dressing. The SaladStop menu choice are Go Geisha and Iron Wo"Man".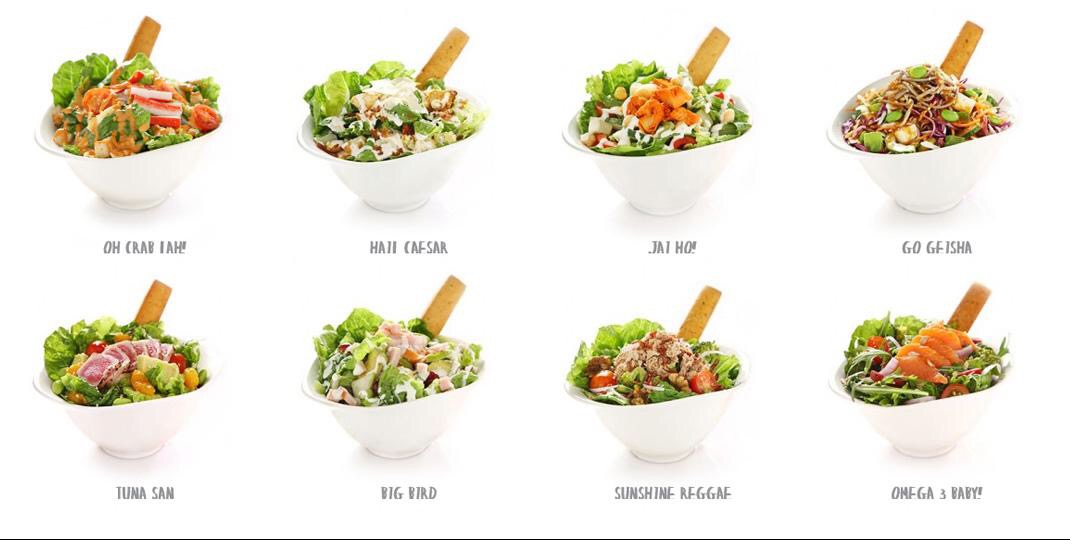 Now let's check the salad that i tried here guys, check it out!
Hail Caesar Wrap (IDR 80K)
Consists of Romaine, Beef Bacon, Crouton, Shaved Parmesan, Egg, Roasted Chicken and Classic Caesar. This menu is the most favorite by my friends and i did so, i like the combination sweet, crunchy and tasty.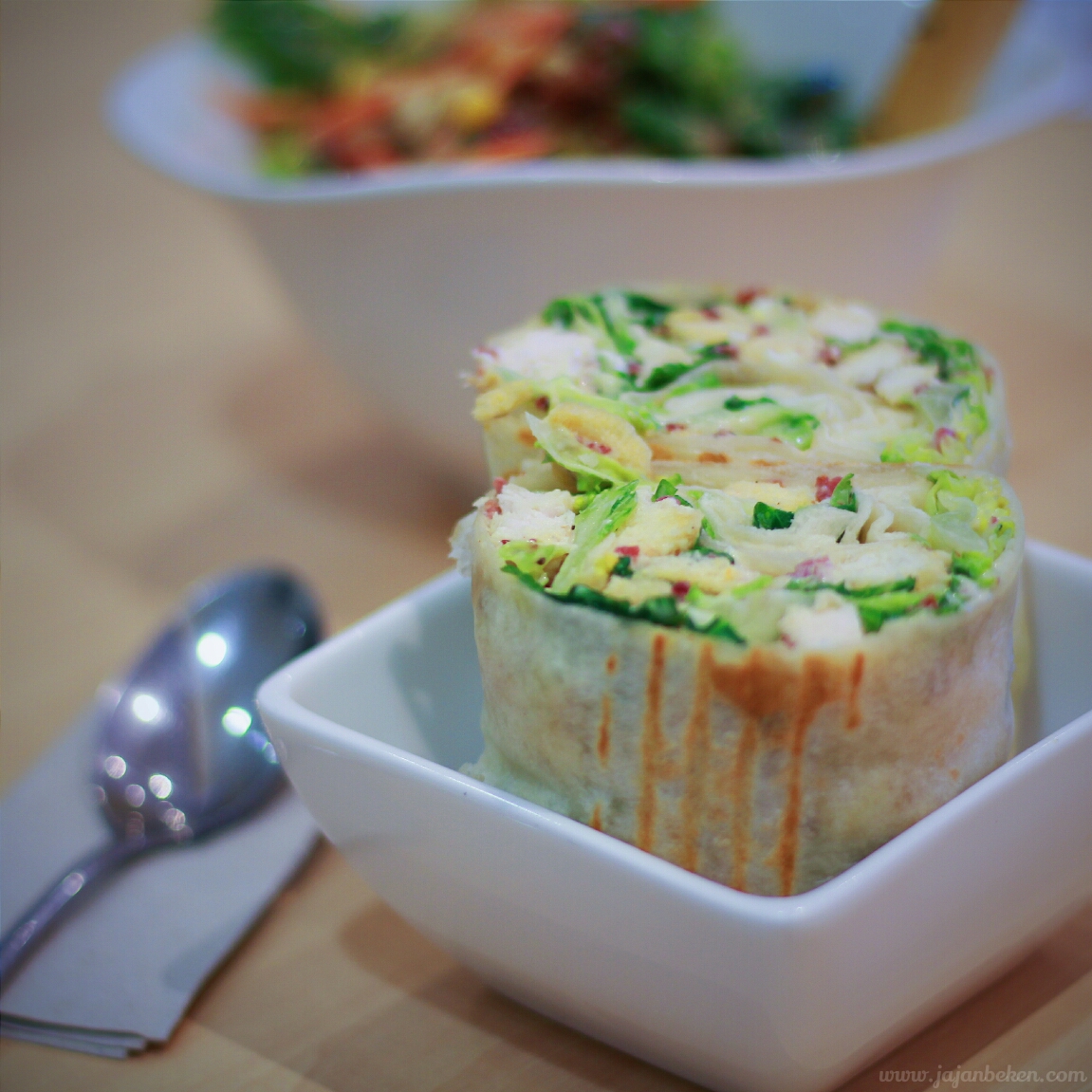 Summer Fling (IDR 75K)
Served with romaine, seared tofu, kale, brown rice, grapes, carrots, sweet corn, pomelo and peanut sauce dressing. The taste was remain me to Indonesian salad called Ketoprak or Gado-Gado because they were use the same sauce. I love the tofu and all ingredients, the kale, pomelo and grapes were dominating the tastes. Textures of the vegetables were crunchy and so fresh!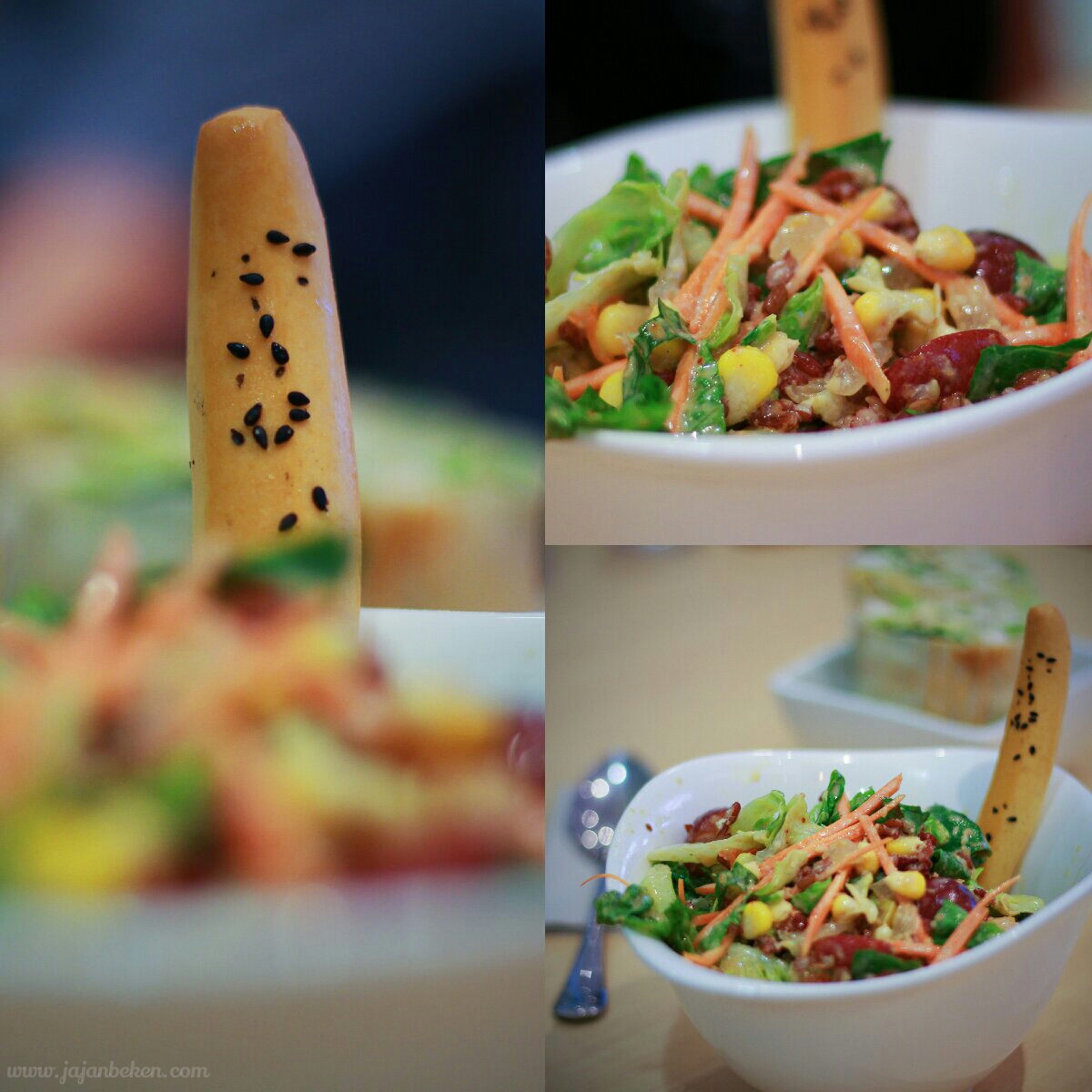 Oh Crab Lah Wrap (IDR 75K)
Consists of Romaine, Crab Stick, Egg, Vermicelli, Baby Tomato, Onions, Crouton and Singapore Chili Crab. Fresh and crunchy vegetables meet with tangy dressing with a little pungent from onion.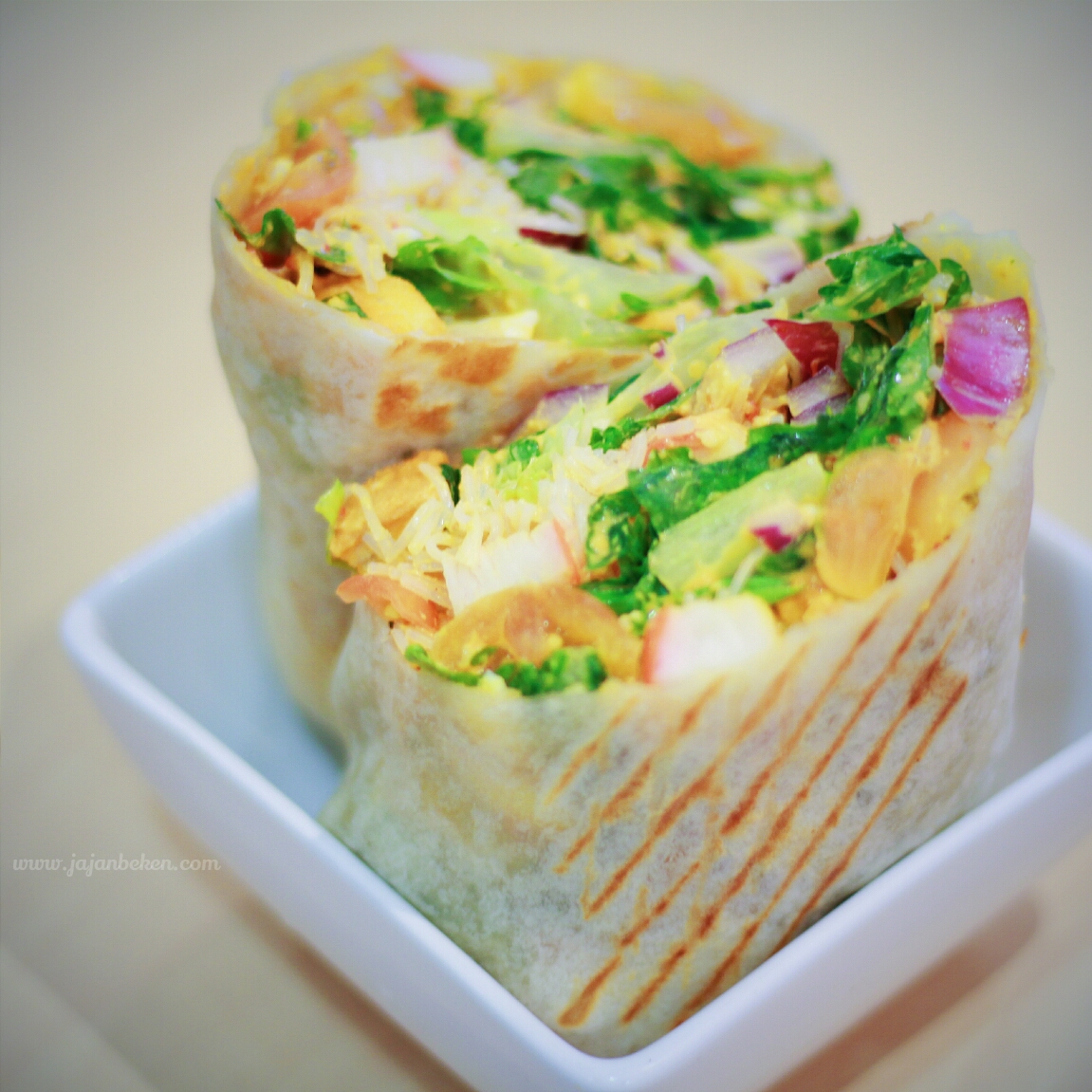 Not only salad but you can find a healthy drinks here like yogurt with granola, fruit juice and chlorophyll.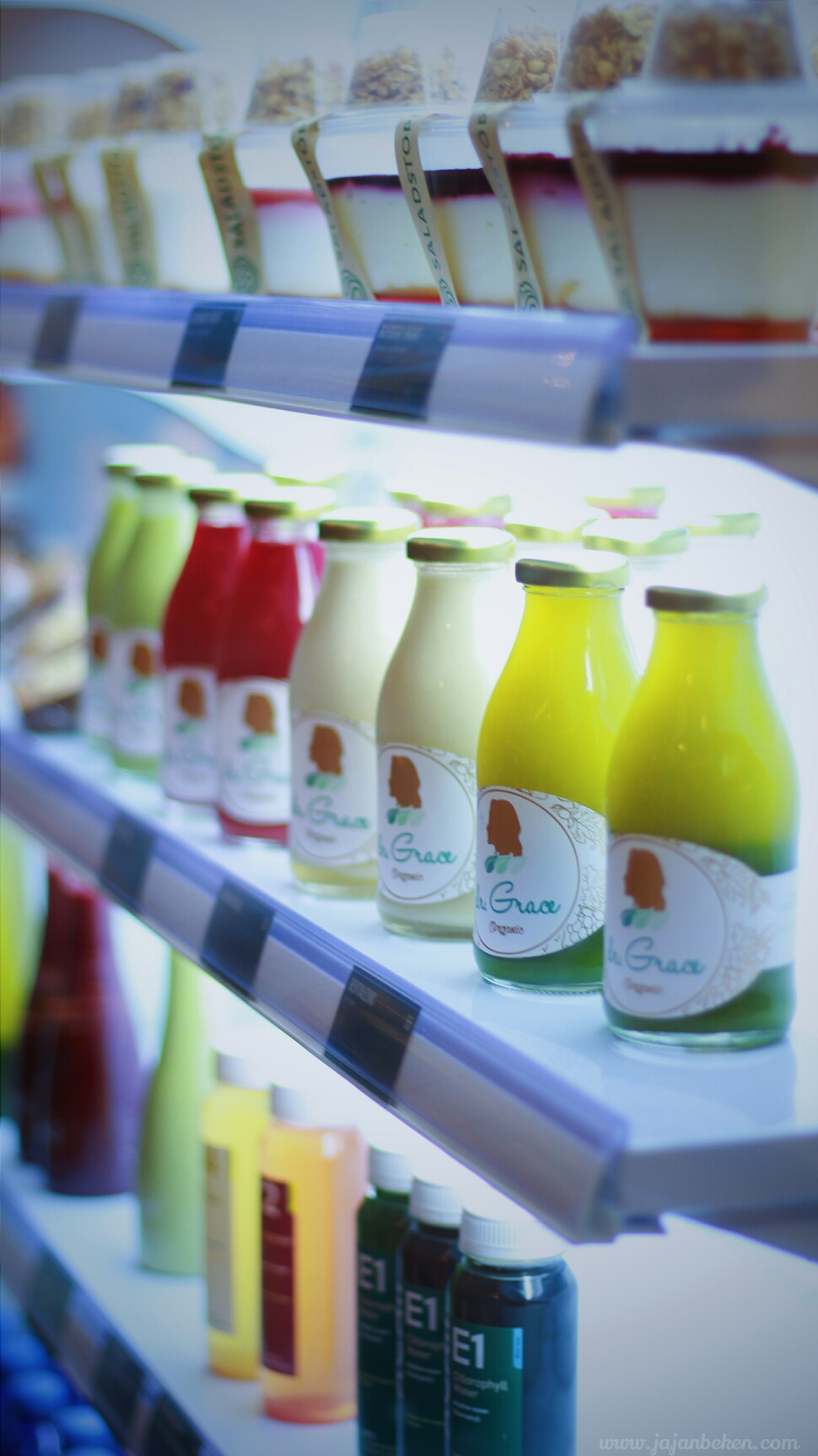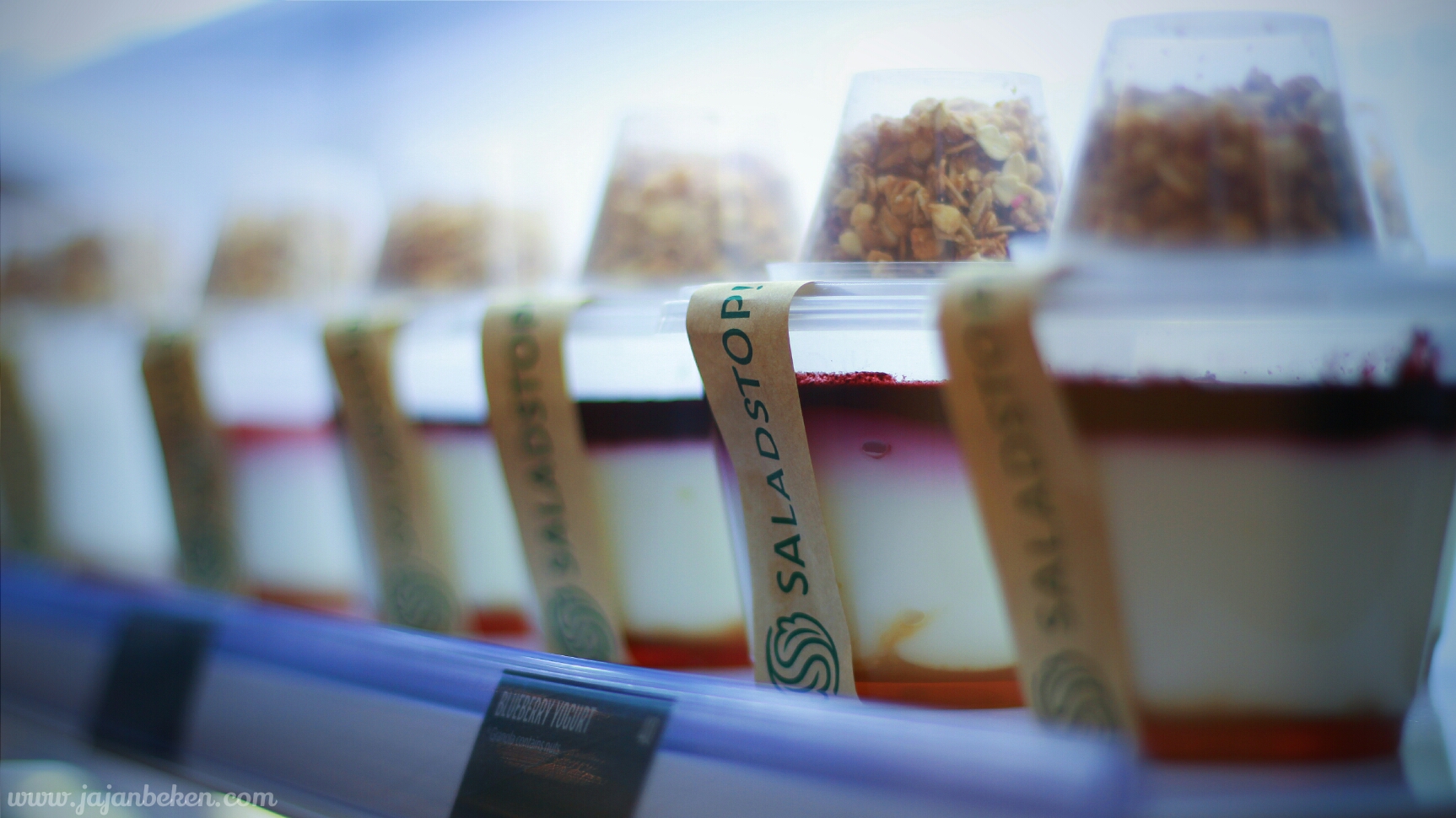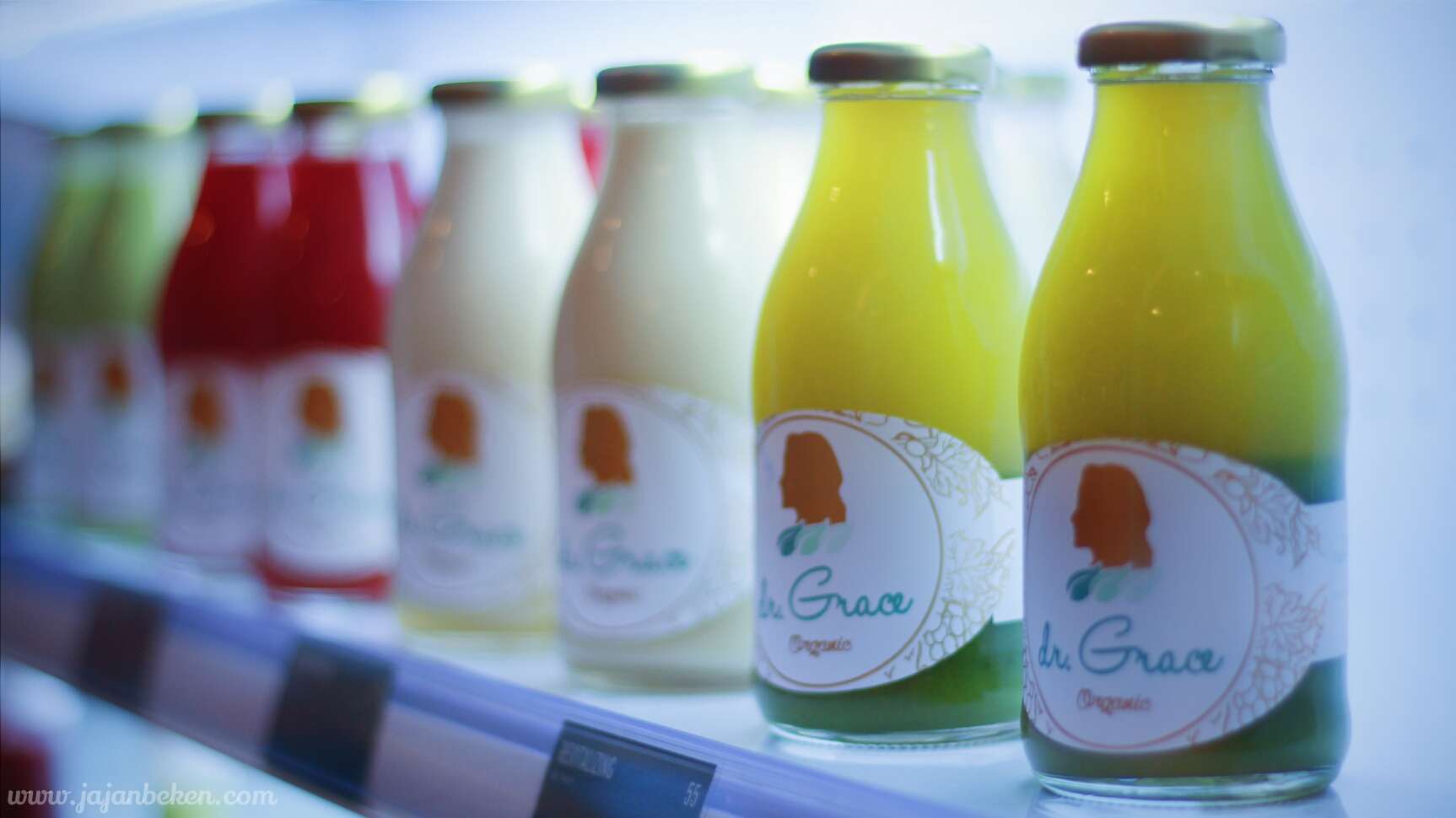 That was my culinary story at SaladStop Senayan City Jakarta. I feel so lucky to having meals here with a plenty choice of healthy food and the most important the taste was so good too. Finally I apologize if there any mistaken in my writing, kindly please share and comment, it's so honorable and don't forget to subscribe this blog. See you in the next culinary journey with Jajan Beken.
RATING
Ambience : Good
Taste : Good
Service : Good
Price :  Average
FACILITIES
Wifi : Yes
Plug : Yes
Dine in : Yes
Outdoor : No
Toilet : No
CONTACT
Address : Senayan City Ground Floor, Jl. Asia Afrika Jakarta Selatan

INFORMATION
Open hour : 10AM – 10PM
Price : Average 200K 
for two people (approx.)
MAP