Hanyang Garden is a new Korean restaurant in Senopati area. The place was not difficult to find, it's located behind Seven Eleven at Jalan Wolter Monginsidi. The place was located in a very strategic area and there are many sophisticated restaurant in this neighborhood and Hanyang Garden is one of them.
I came here with my friends, one of them had been stop by at this restaurant. She told me that this restaurant have an authentic Korean dishes and the place is still fairly new. Yeaah I agree, a few week ago I looked at this restaurant but never knew before that this time I have opportunity to visit Hanyang Garden Korean Restaurant at Senopati and I feel so excited!
When I arrived at Hanyang Garden Restaurant, I have welcomed by two beautiful Korean girls that speak with me with English-Korean and some Bahasa in fluently who is the owner. With a huge Korean atmosphere and great welcomed I really really feel like in Korea, LOL!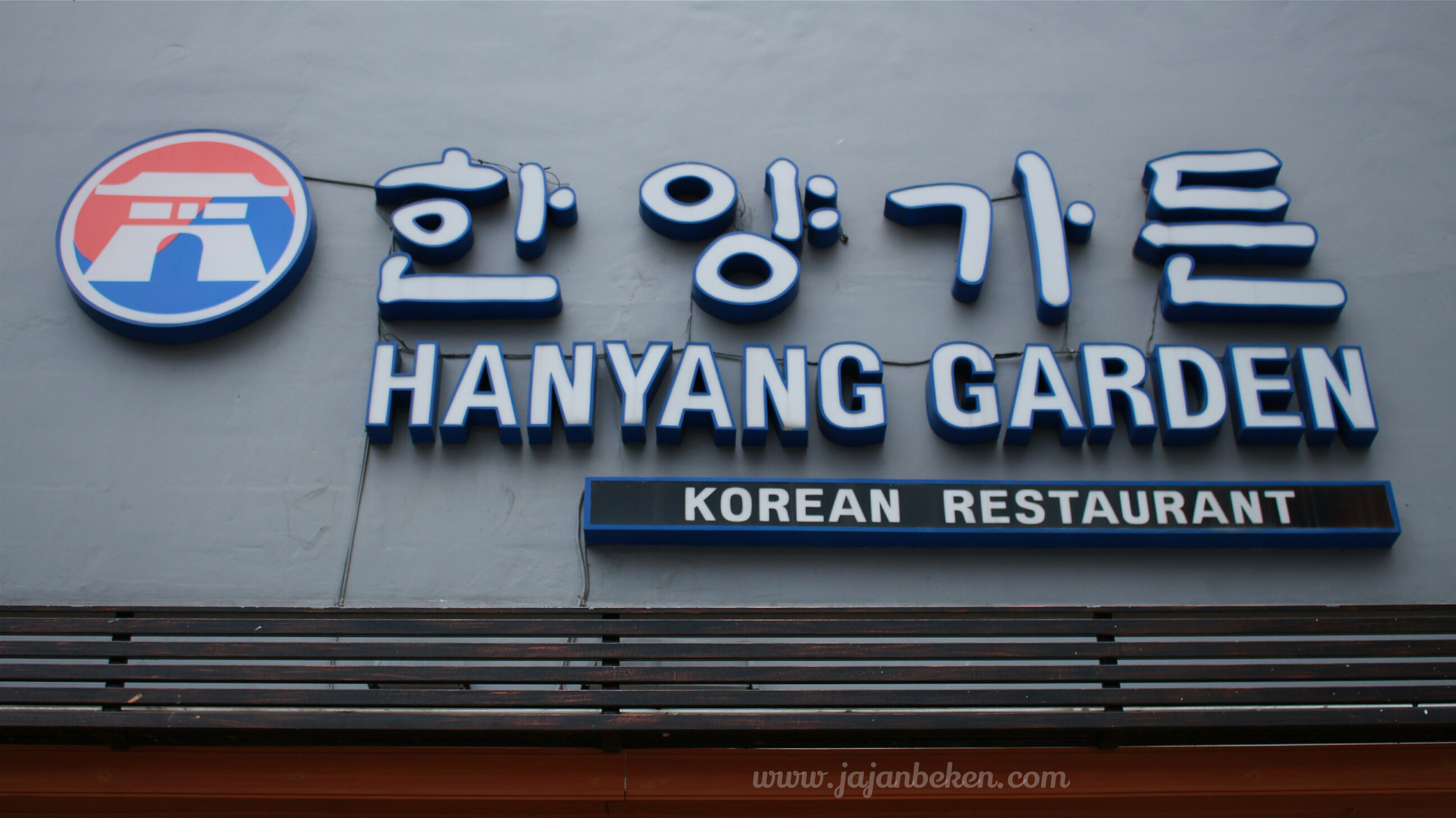 Tap…tap…tap I walked inside the restaurant, and see the interior looks like in Korea garden. There is a big gate and a lot of Korean ornaments and it's so Korea. Yeaaay finally I am in Korea, no no we are still in Senopati hahaha.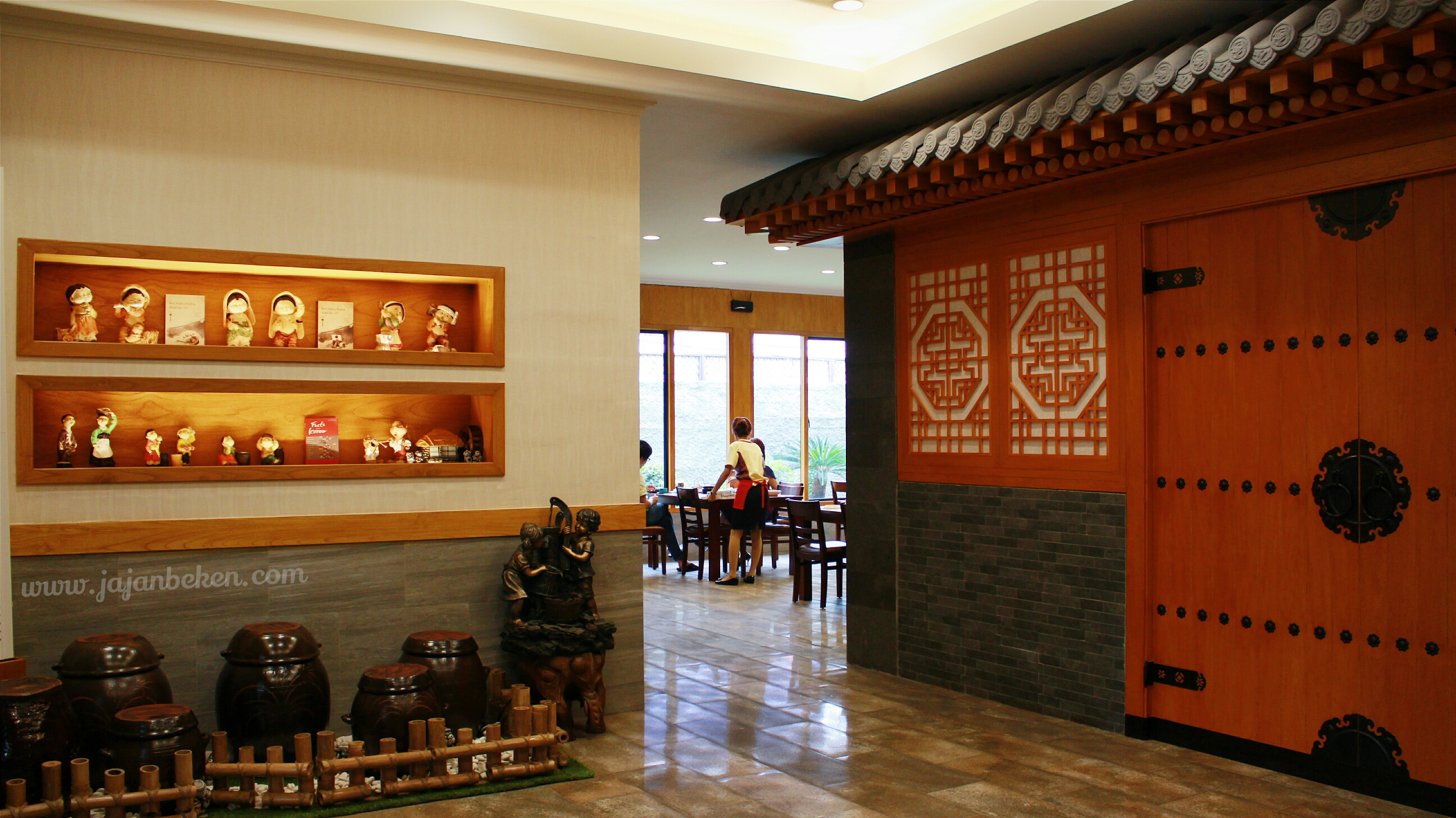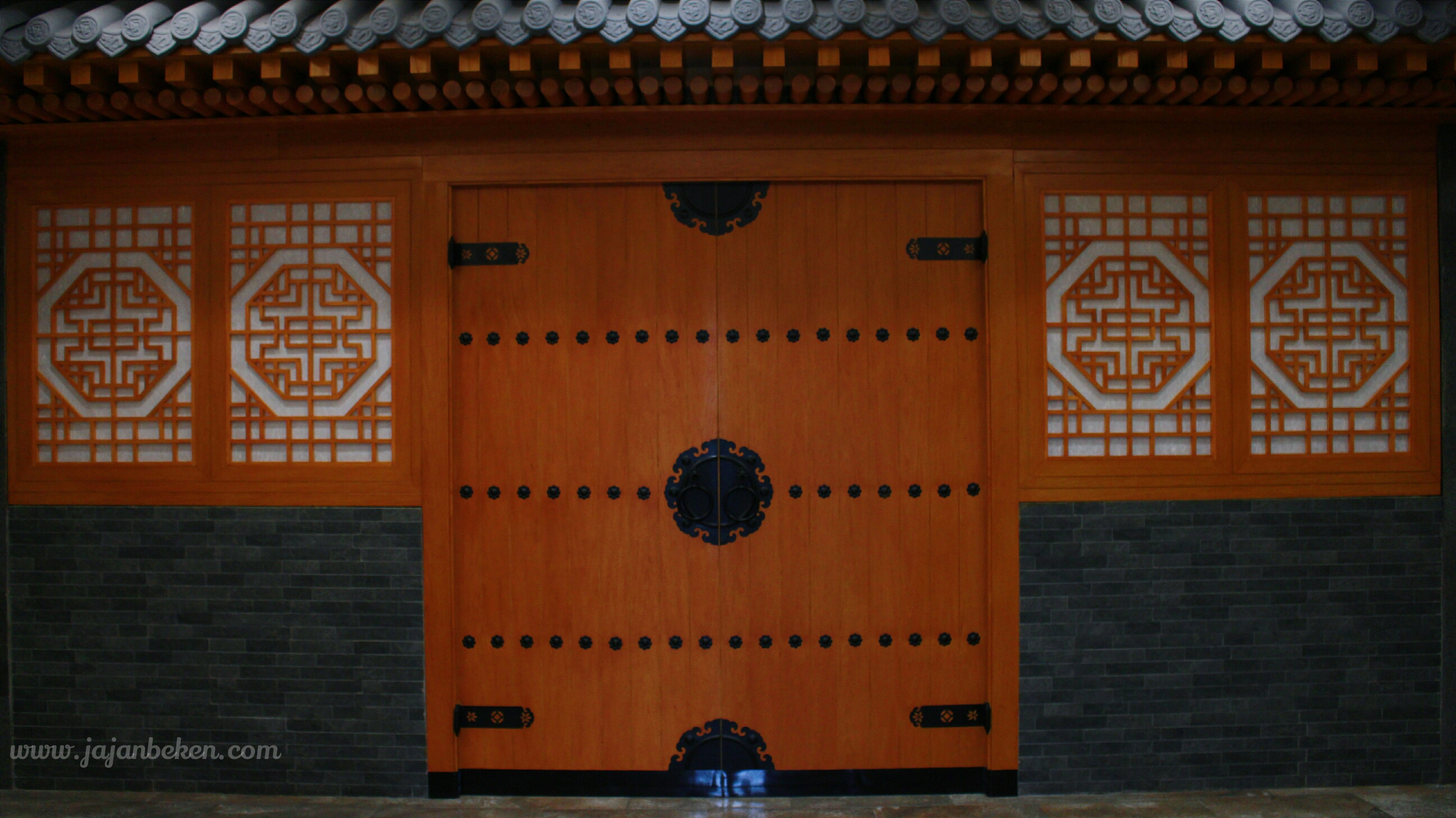 Hanyang Garden has many room inside and it's very private and personal. On that time me and my friends a little confuse (galau) to choose whether 1st floor or 2nd floor because all room here were very comfy.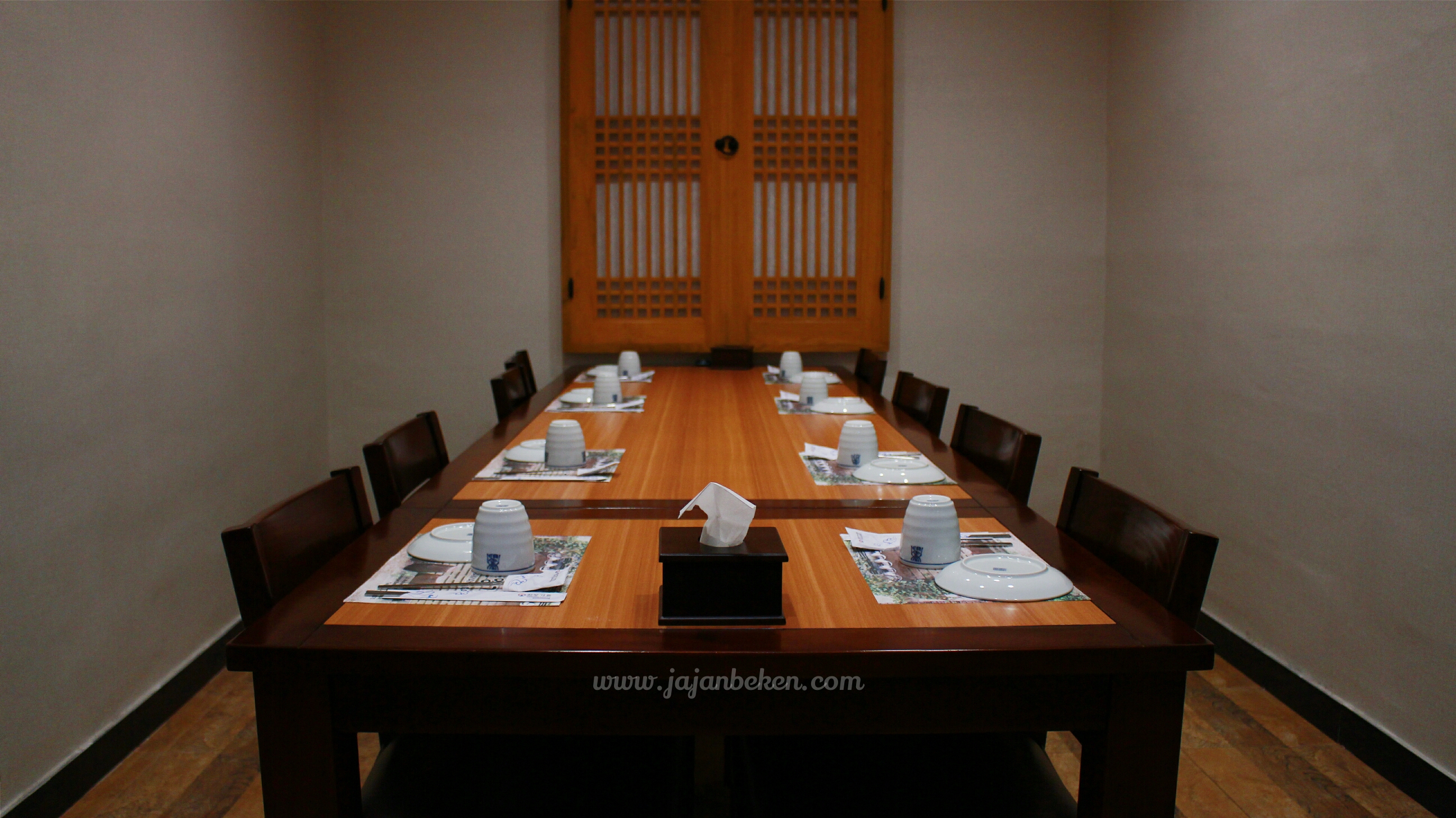 Different from the 1st floor, all the dining area in 2nd floor located in private room. You can choose small room or big room depend on how much guest you bring.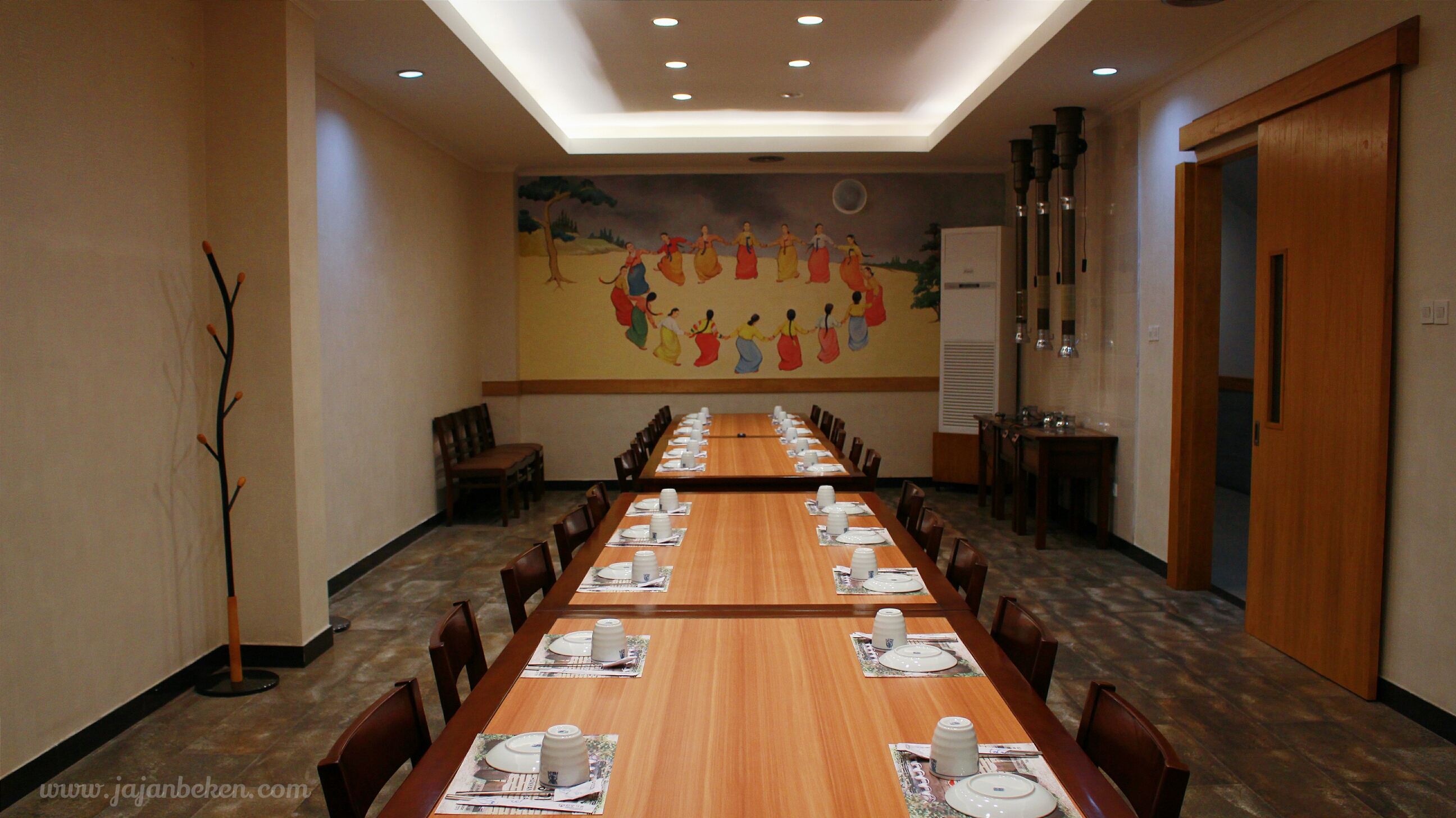 If you more prefer in  open area, Hanyang Garden also provide it for you. But I mean open area not outdoor area. At open area you can share the grill with other guest.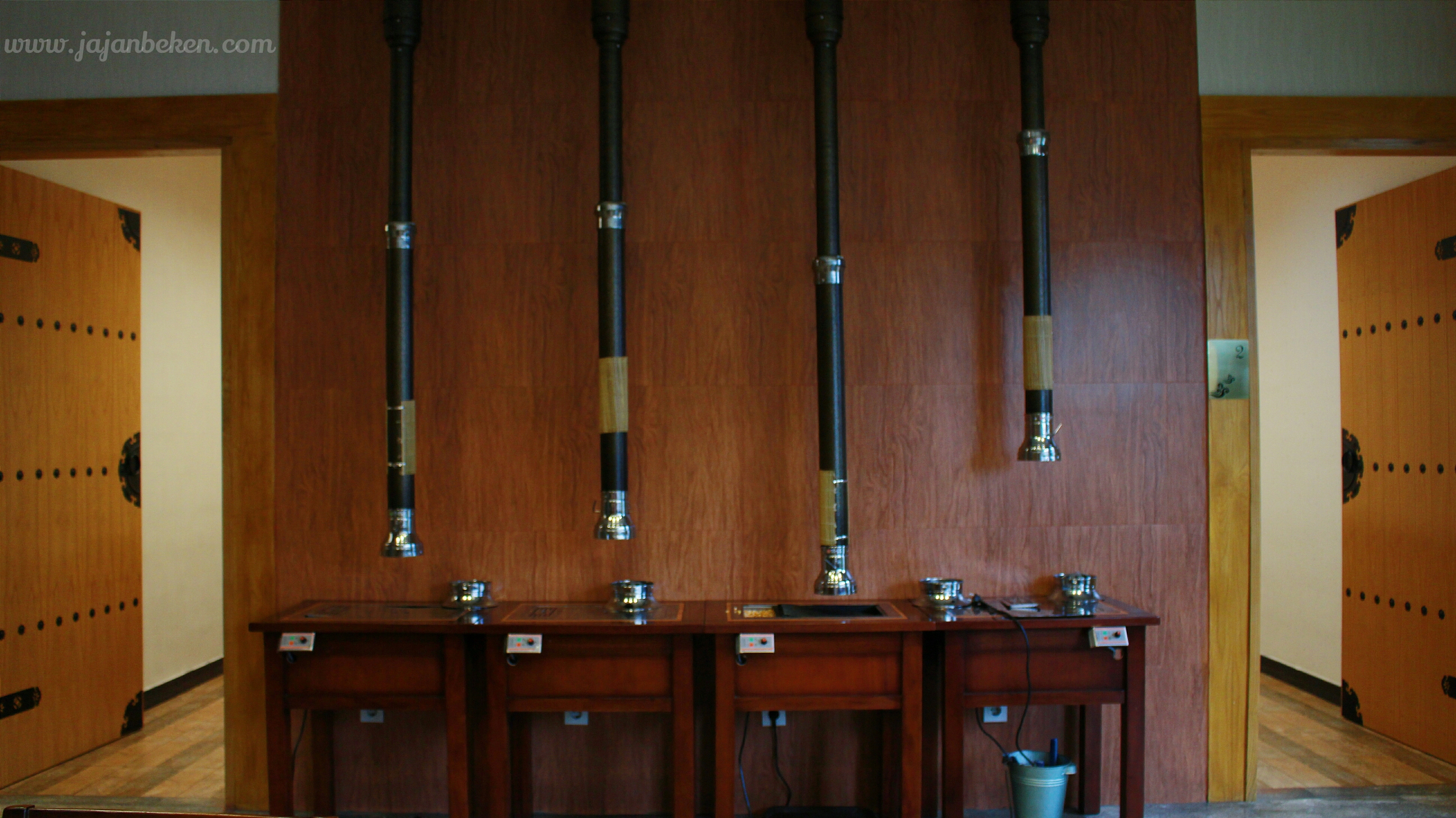 Hanyang Garden Menu
Now I would like to share some menu that I have tried at Hanyang Garden. So, ready for qraving? Let's check it out guys!
Samgetang
This is Chicken Soup! Hmmm, do you mean a book called Chicken Soup? Hahaha nope! I mean this is Korean Chicken Soup, a big chicken in a broth with ginseng and rice.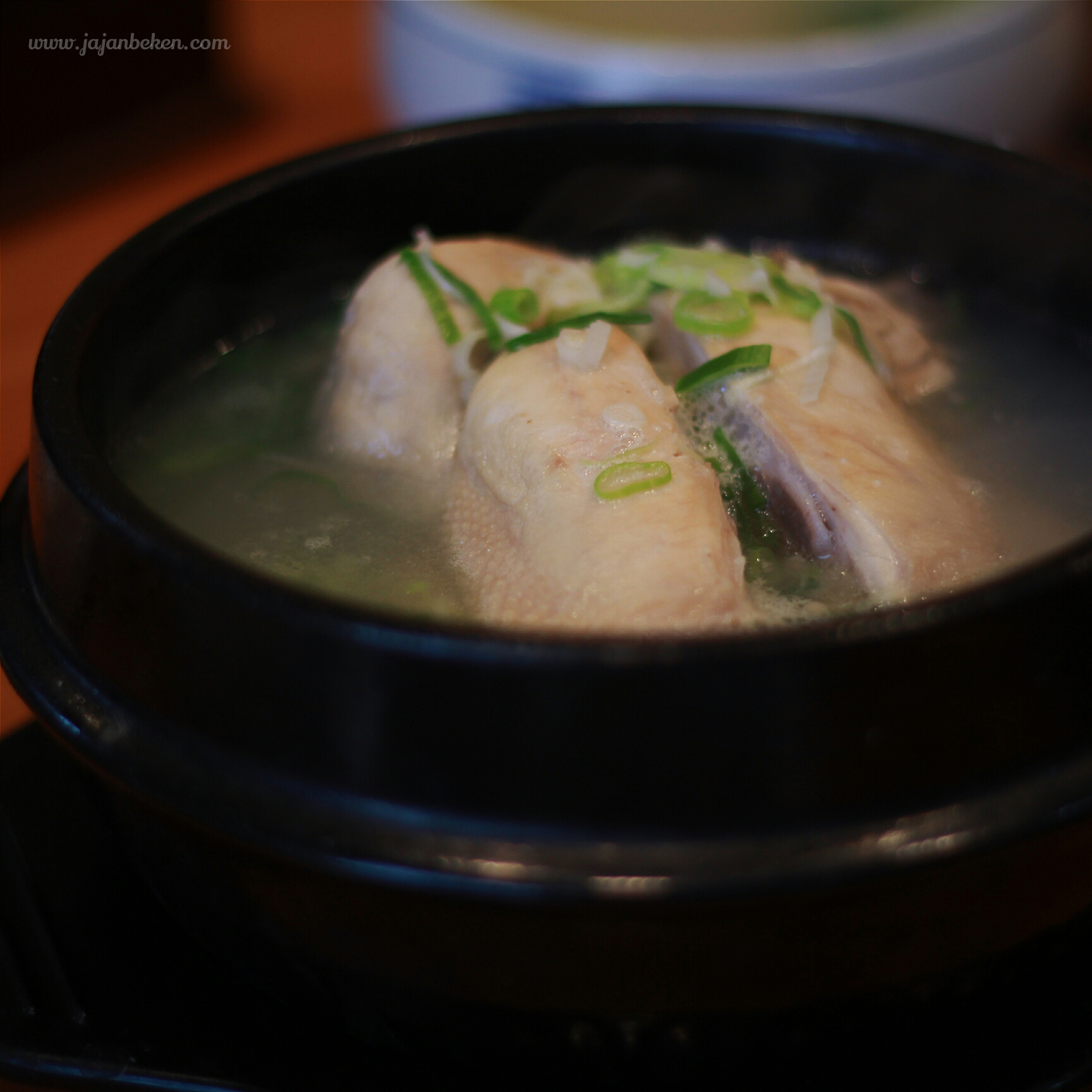 When you ready to eat, their staff will cut the chicken into a small pieces and serve it to you. The taste was familiar in my tongue, the soup not too heavy and the chicken was perfectly cooked.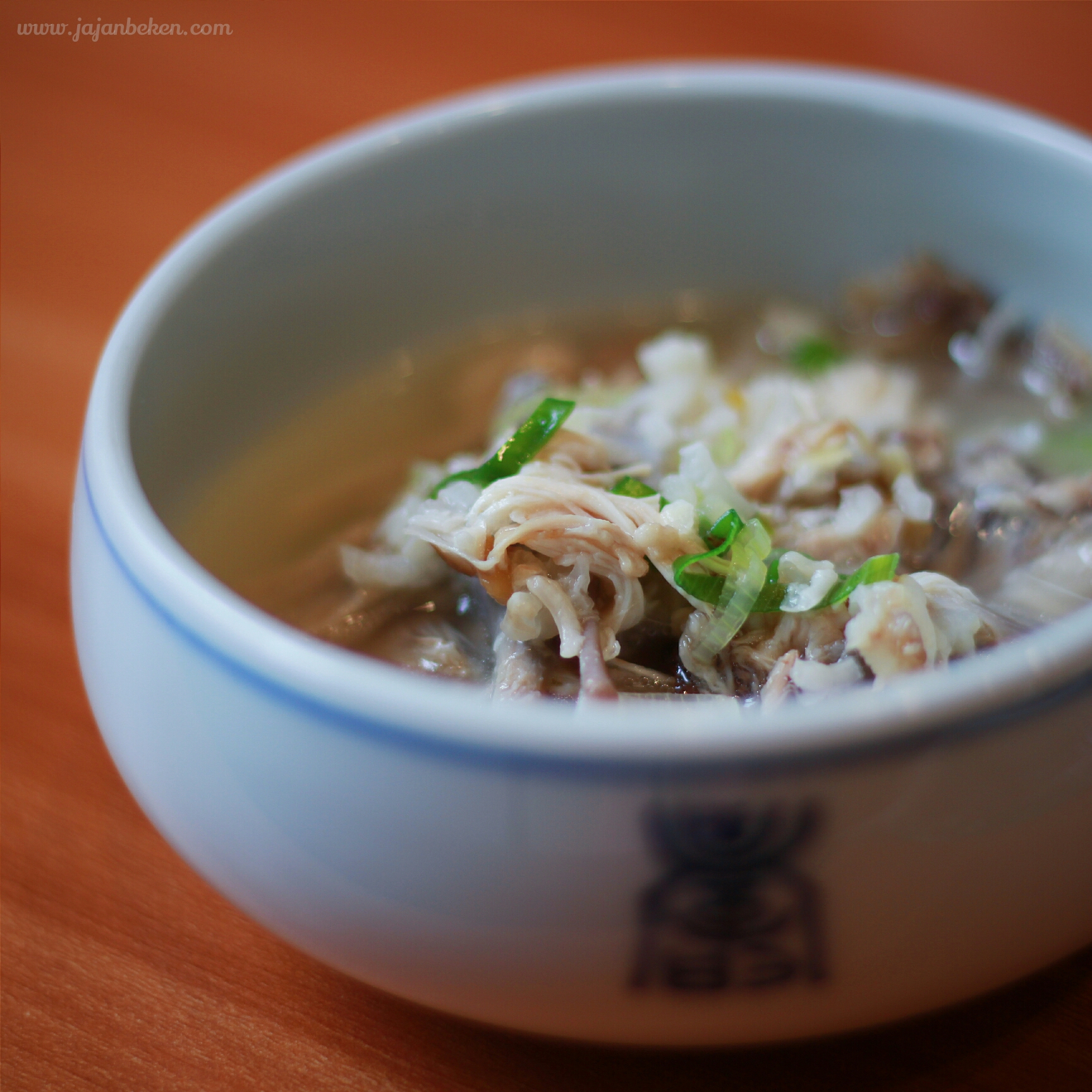 Steamed Egg
A whole egg steamed in a stone bowl, they made a crumbled egg into a foamy consistency. So when you eat this it's feel like a smooth foamy egg in a mouth, better eat while still hot!
Dolsot Bimbimbap
I love this menu so much! Honestly I have never try the authentic bimbimbap in Korean version. But this one is lovable, the rice, the seasoning all together combined in a hot stone bowl. The taste was acceptable for me as Indonesian. When you ready to eat, their staff will mix it for you.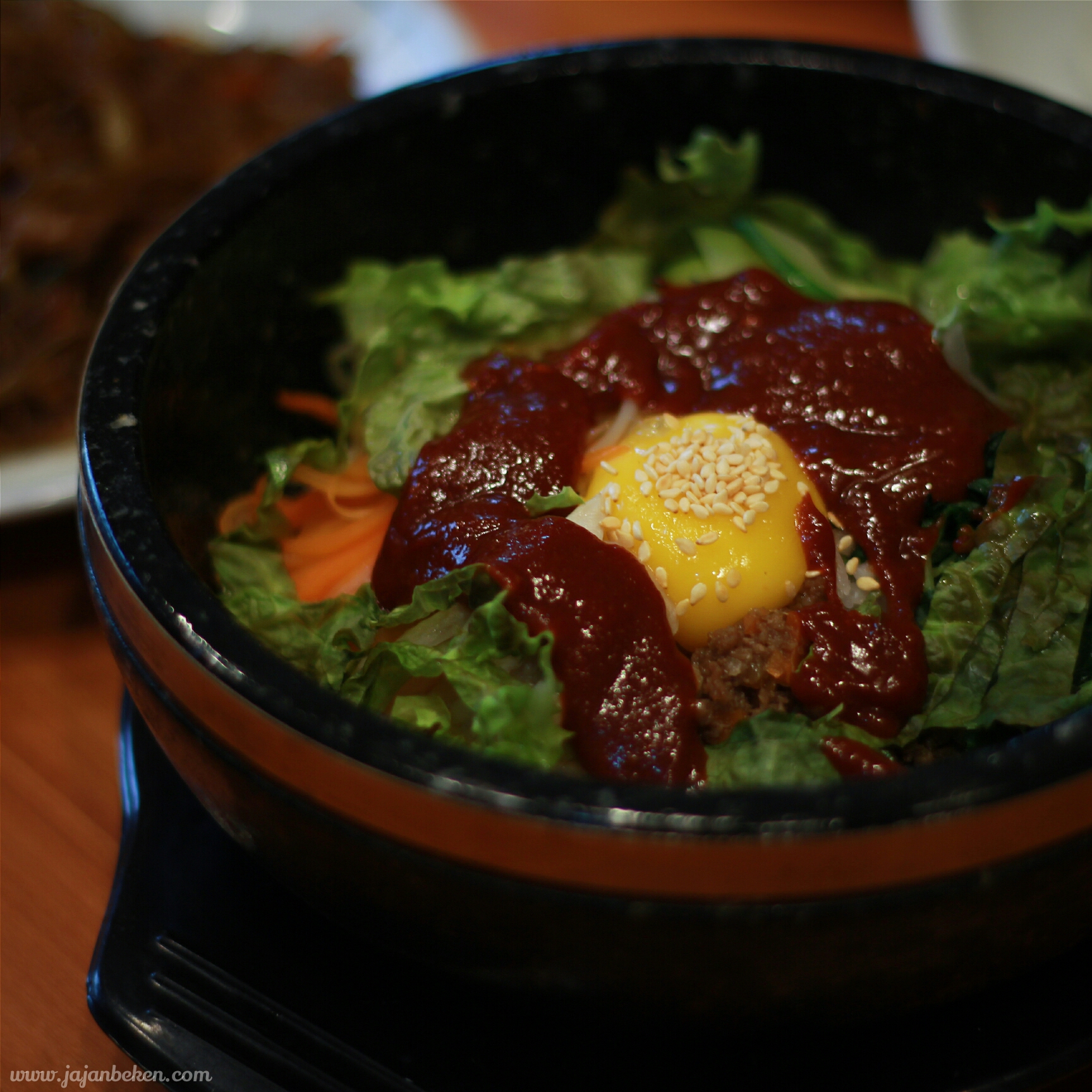 Korean BBQ in Hanyang Garden
Different like in other Korean restaurant, Hanyang Garden separate the grill from dining table and it's provided with the hood. So you don't need to worries about the smoke.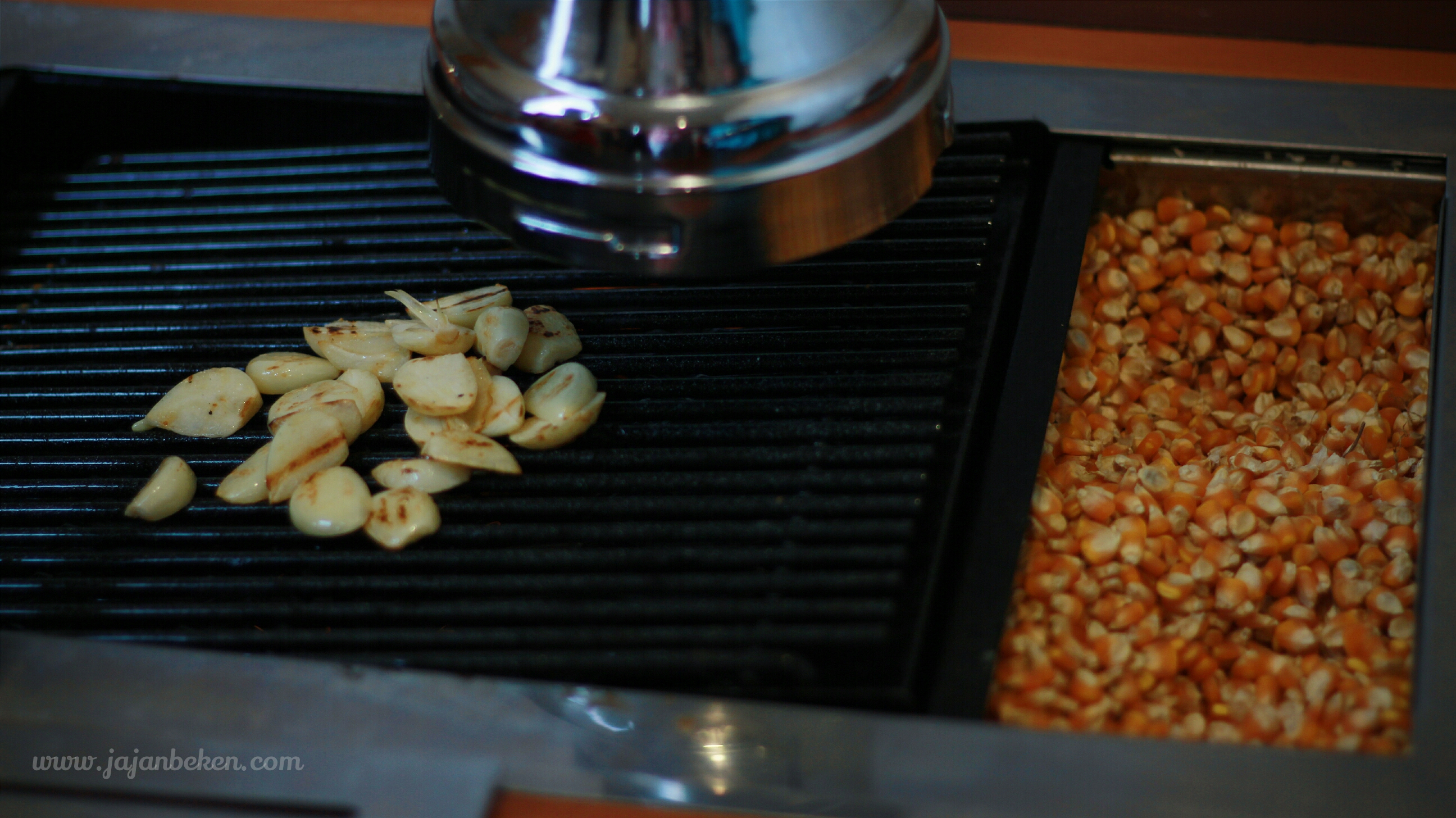 One thing that make me notice is they are using corn as a fuel, "This will make the smoke become more fragrant", said their staff. How to cook this BBQ? Don't worry guys, their staff will grill it for you, so you just sit nicely and enjoy.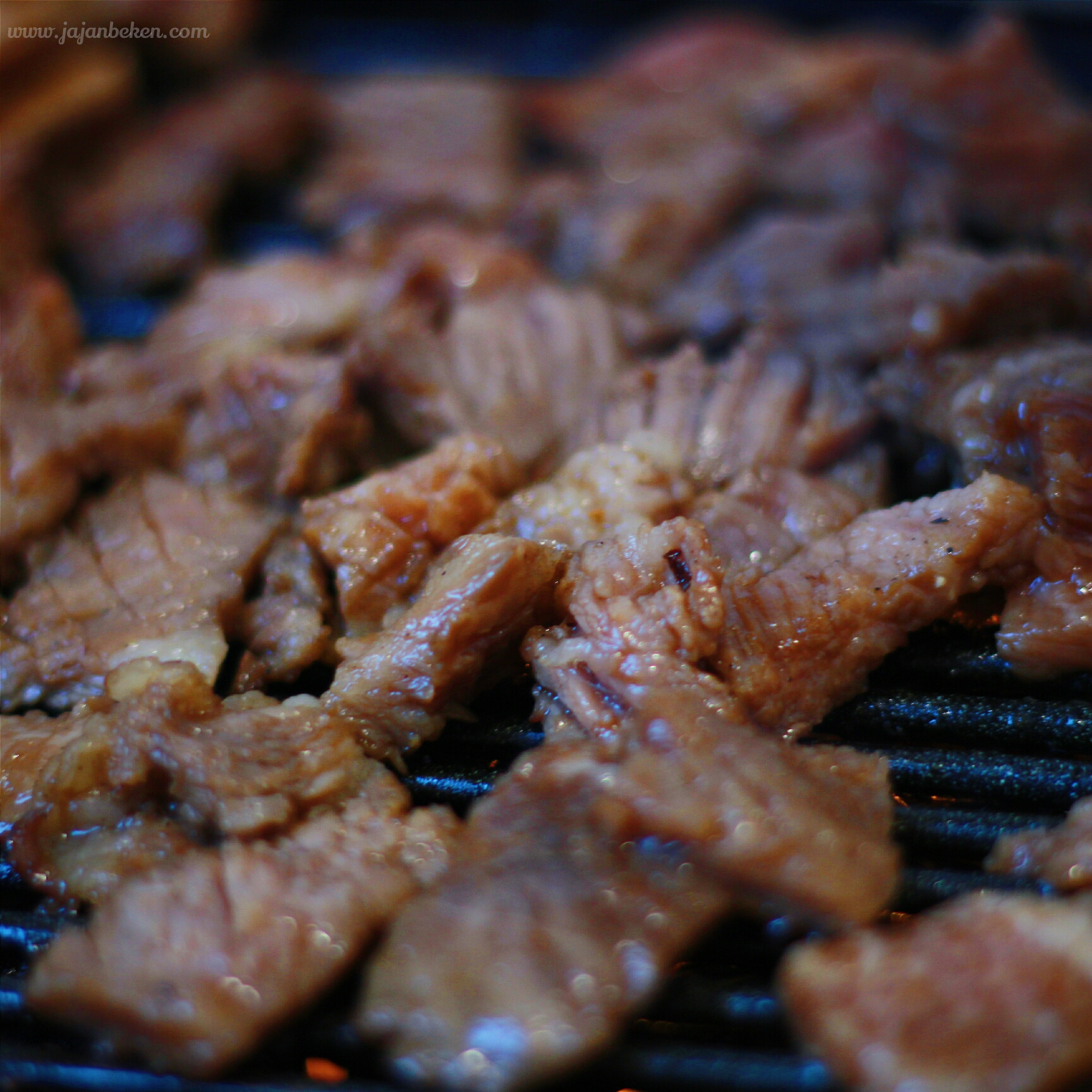 Bulgalbi
This beef barbecue taste was sweet and tender. I love the sweet seasoning and this is suit one's taste.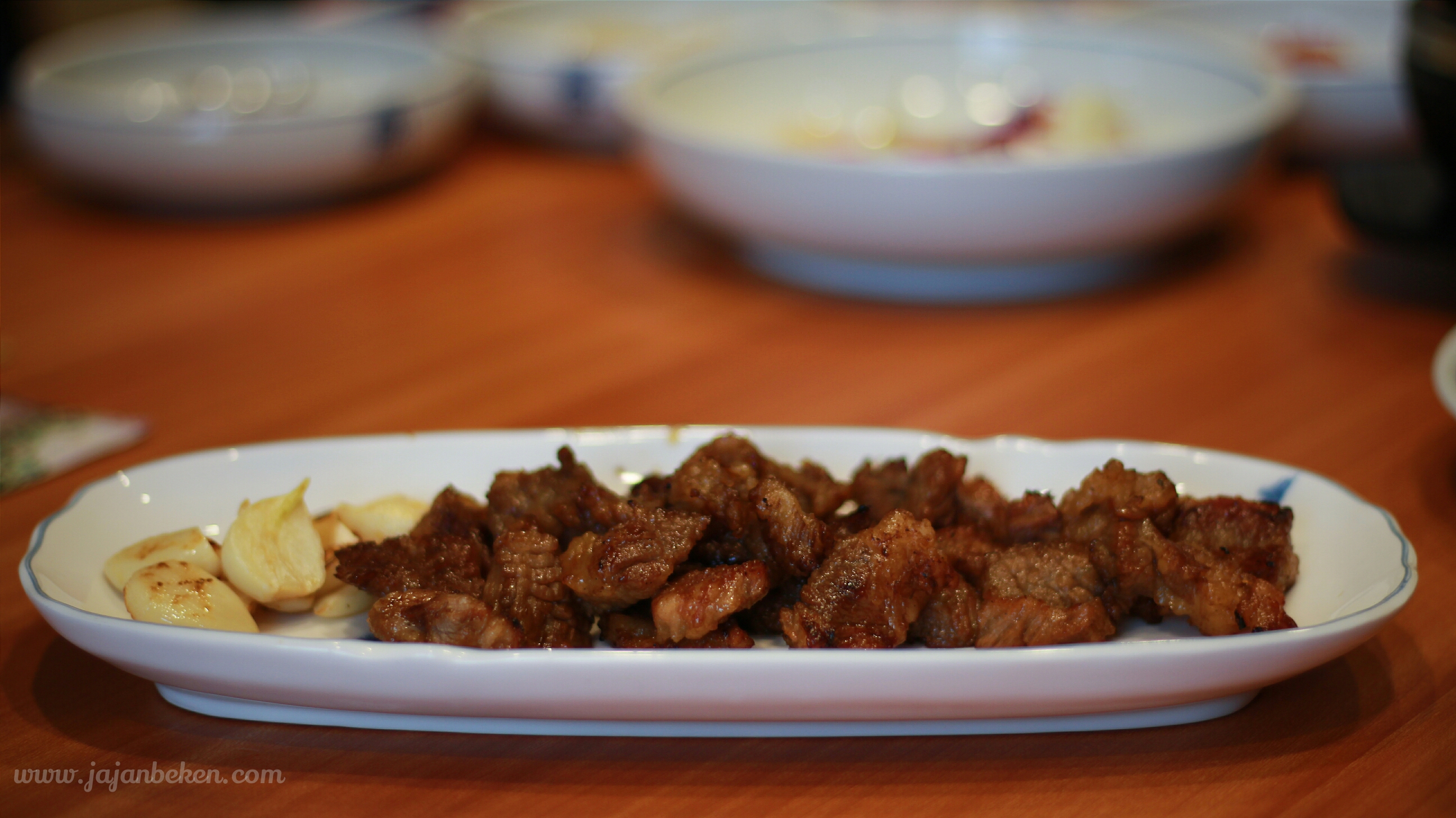 Woo Sul Gool
The beef tongue was grilled perfectly, the texture was tender and still juicy. Different with the beef barbecue, this beef tongue more savory and not too sweet but I love the taste.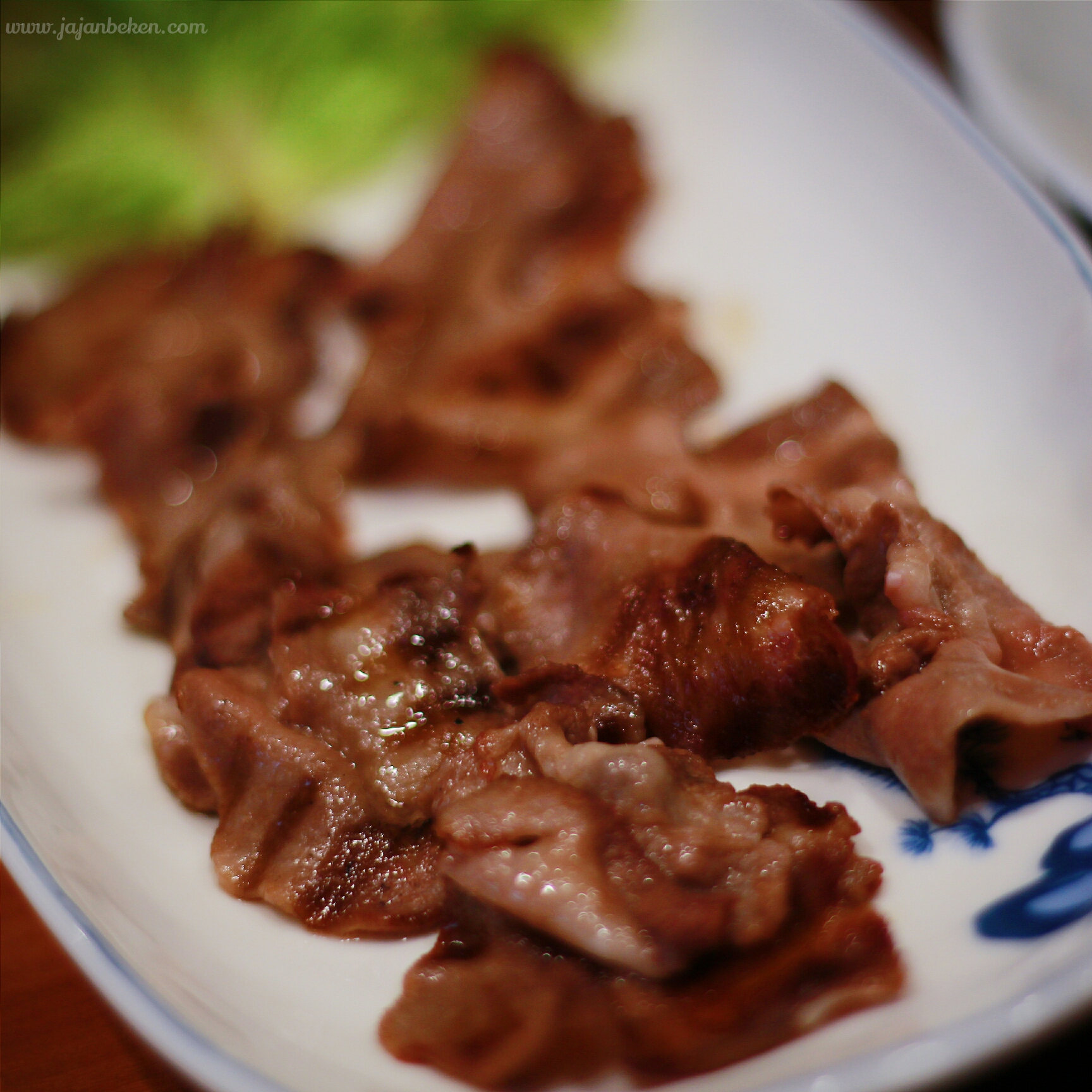 To accompany your barbecue here, they provide you with simple vegetable like lettuce and shiso leaf.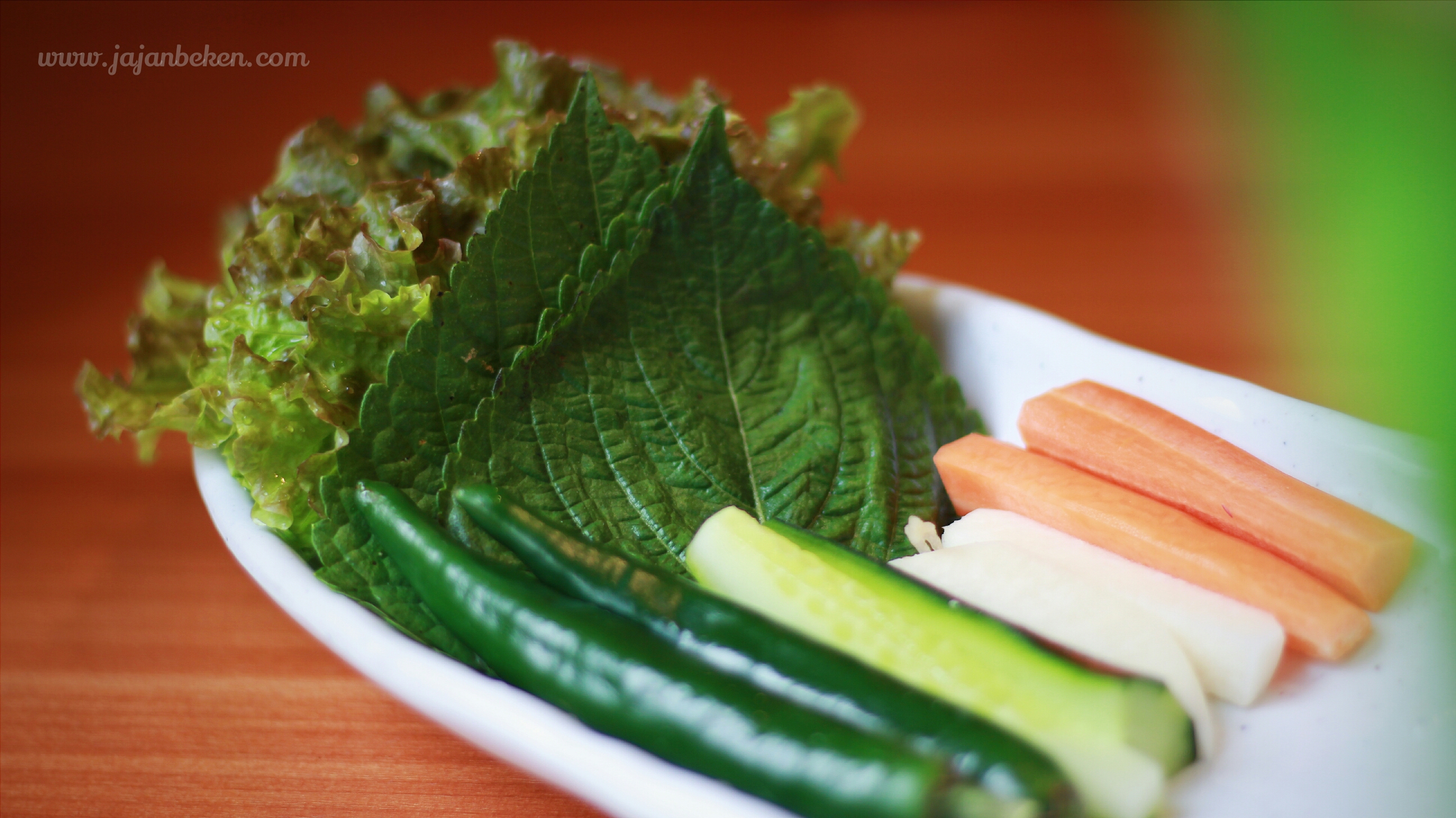 Yukhye
After I tried cooked beef above, now I am bring you to raw beef eating experience. Yukhye is served with egg yolk, radish, zucchini and garlic. How to eat Yukhye? You have to mix all ingredients together and pour sesame oil on it and this raw beef ready to serve. All the ingredients are hygienic and very fresh.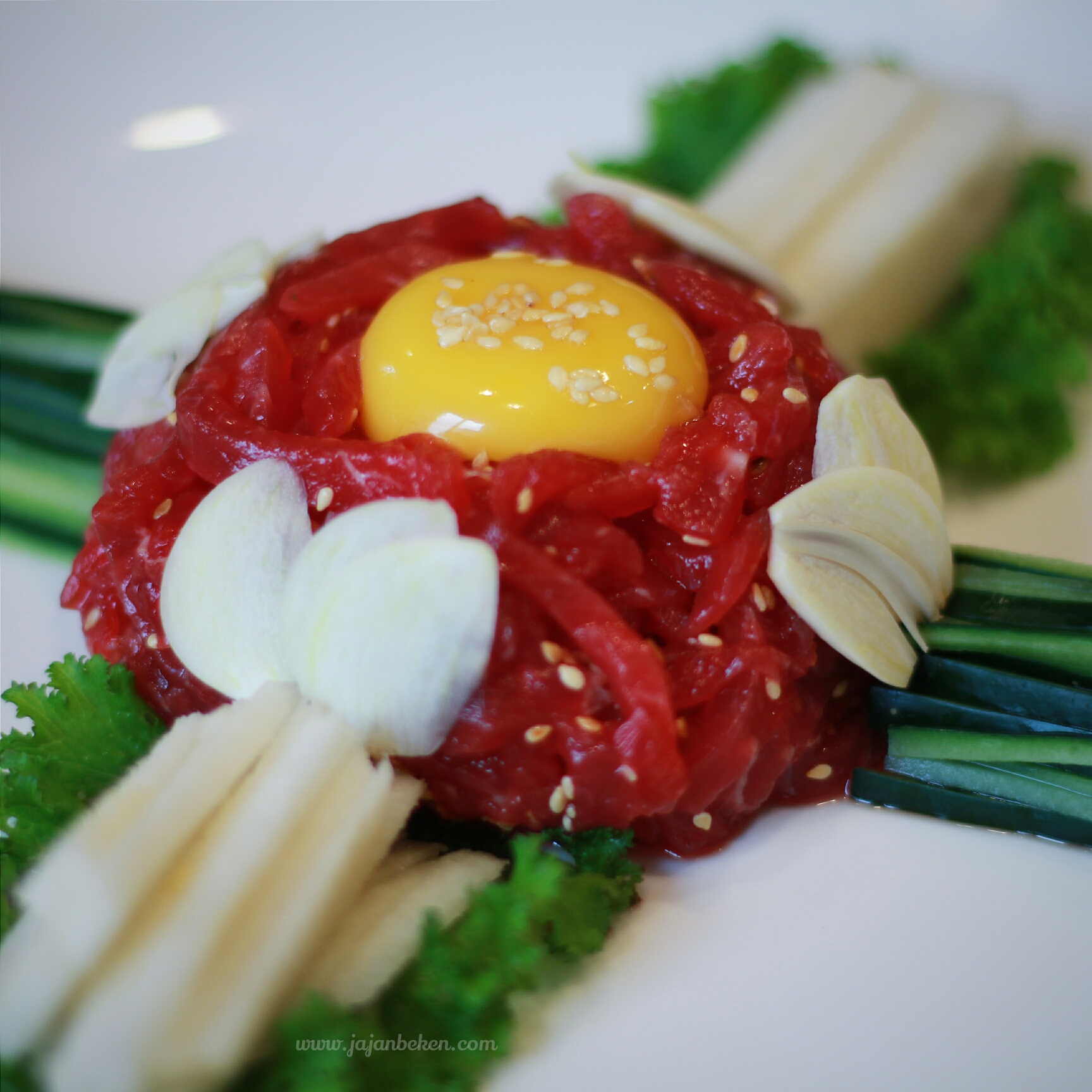 How the taste? The meat texture was tender and easy to eat. I did not found a fishy smell from the raw meat or the egg yolk and it's because the sasame oil. I love it, the sesame oil make it perfect!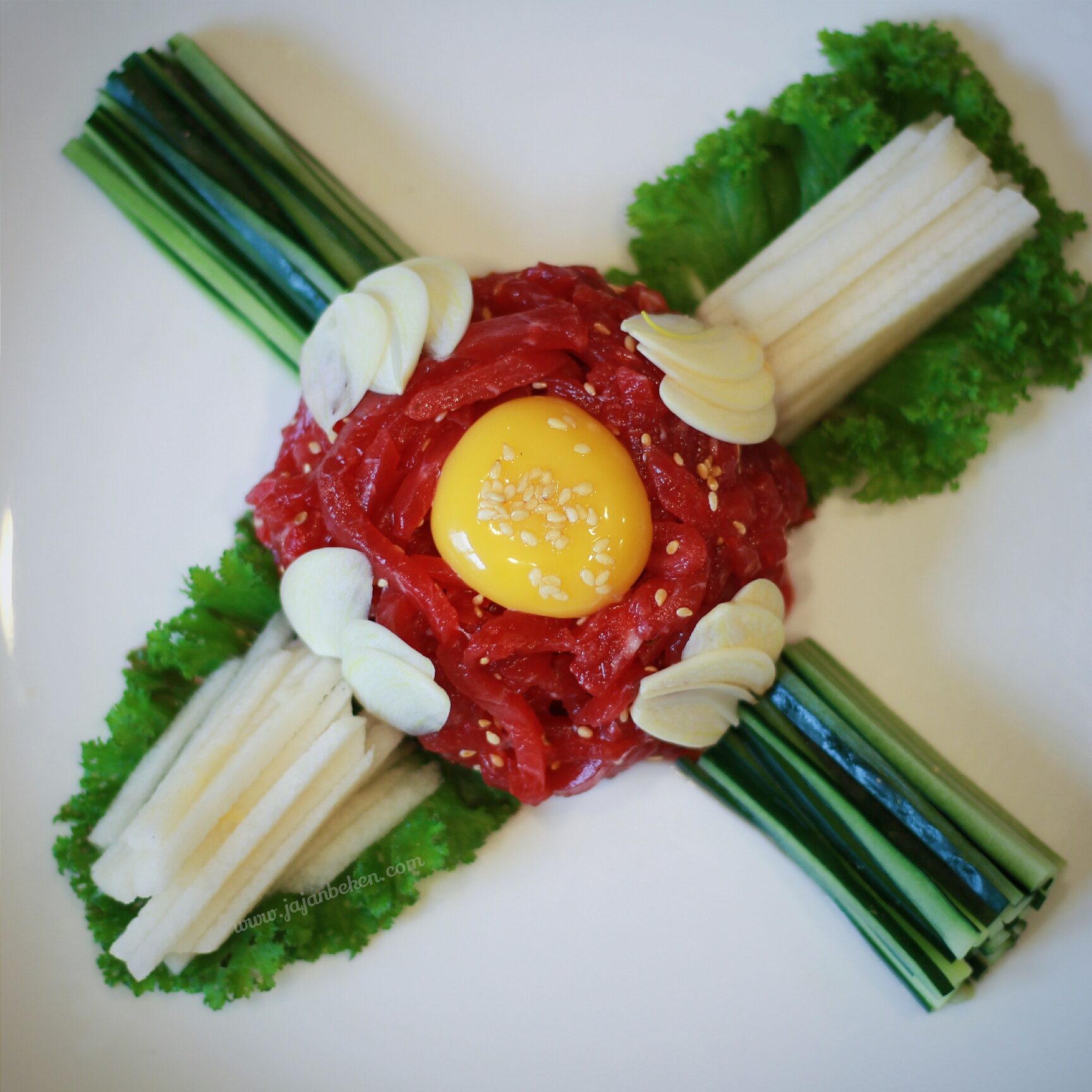 Banchan
Banchan is a set menu like appetizer. This set menu consists of more than eight plate like cabbage, tempeh, quail eggs, kimchi, pickle, potato, vegetable fern and some sauce like Korean sambal and sesame oil.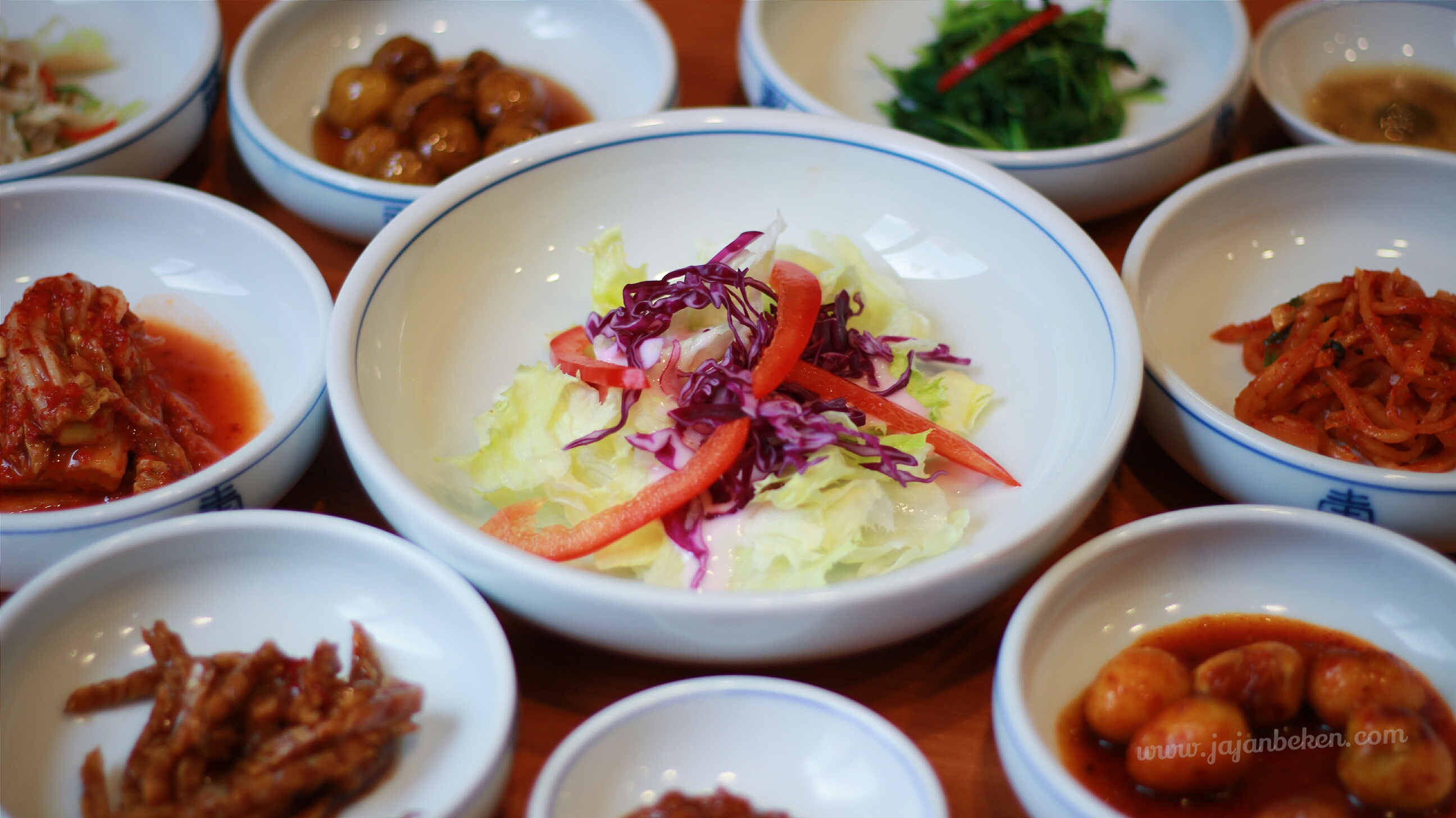 I really adore the kimchi, I am not a big fans of this dish but honestly Hanyang Garden made a delicious Kimchi. The sourness not too sharp, not too chemical taste in my olfactory organ like in common. But it was fresh and I love the taste!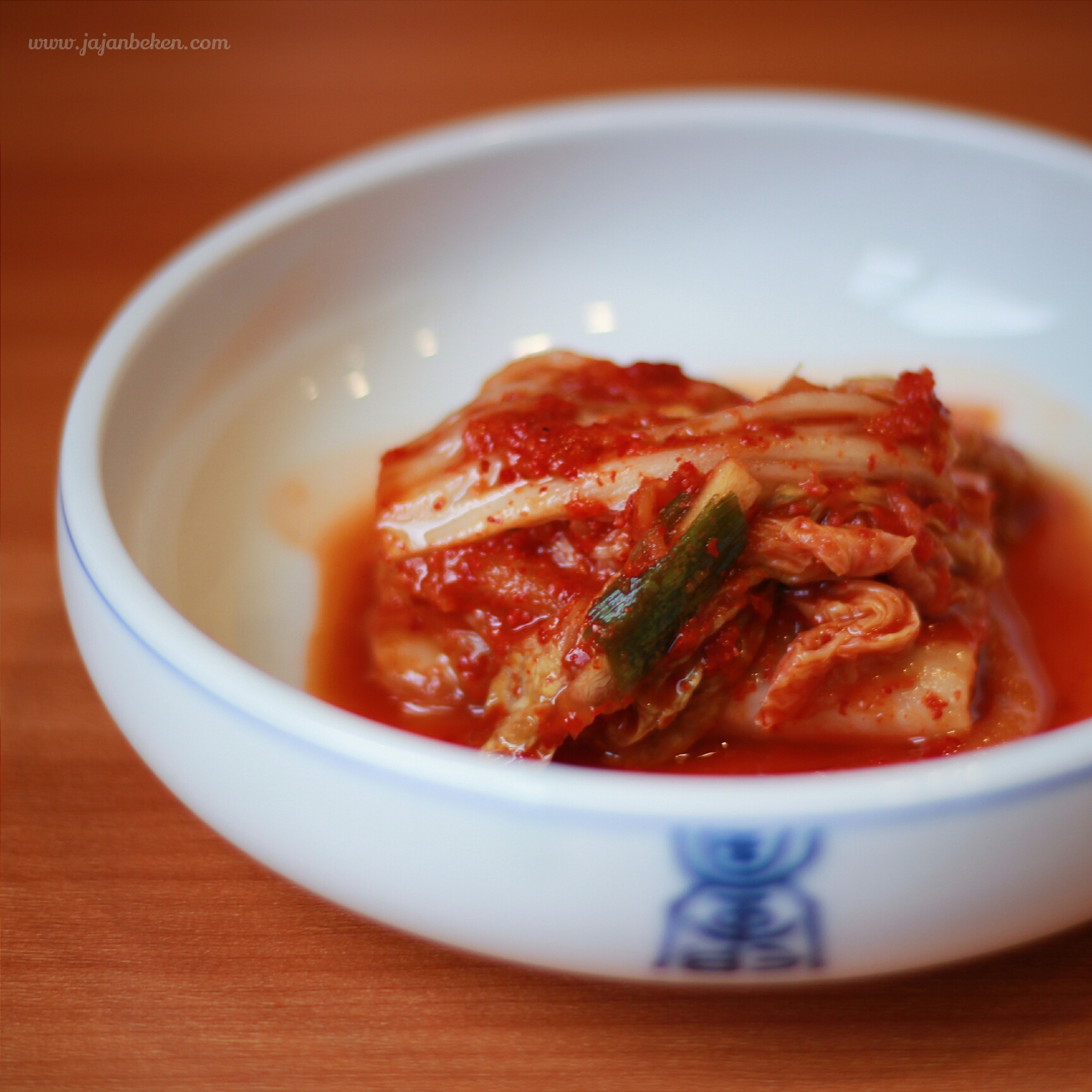 Traditional Korean Drinks
The last menu is a drink that consists of some herbs like cinnamon and ginger. The cinnamon were dominating the aroma and taste, it was sweet, warm and slightly bitter. The staff called it as a desserts but in my opinion this is more like a drink, as we know "air jahe" in Indonesia. But I love the taste!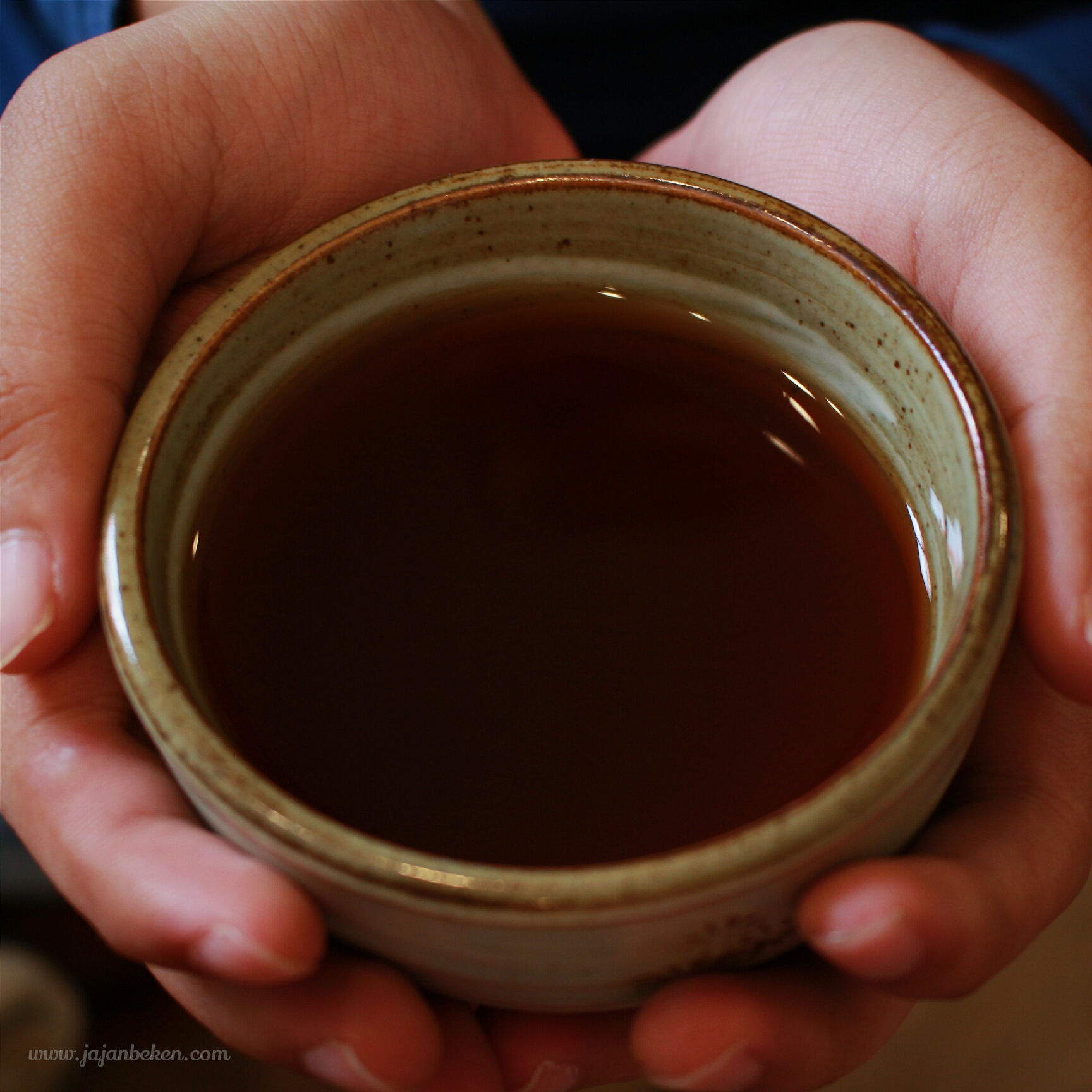 That's all menu that I have tried in Hanyang Garden restaurant. I highly recommended for the Dolsot Bimbimbap, Beef Barbecue and the Kimchi. All menu that I've tried at Hanyang Garden mostly acceptable with my taste.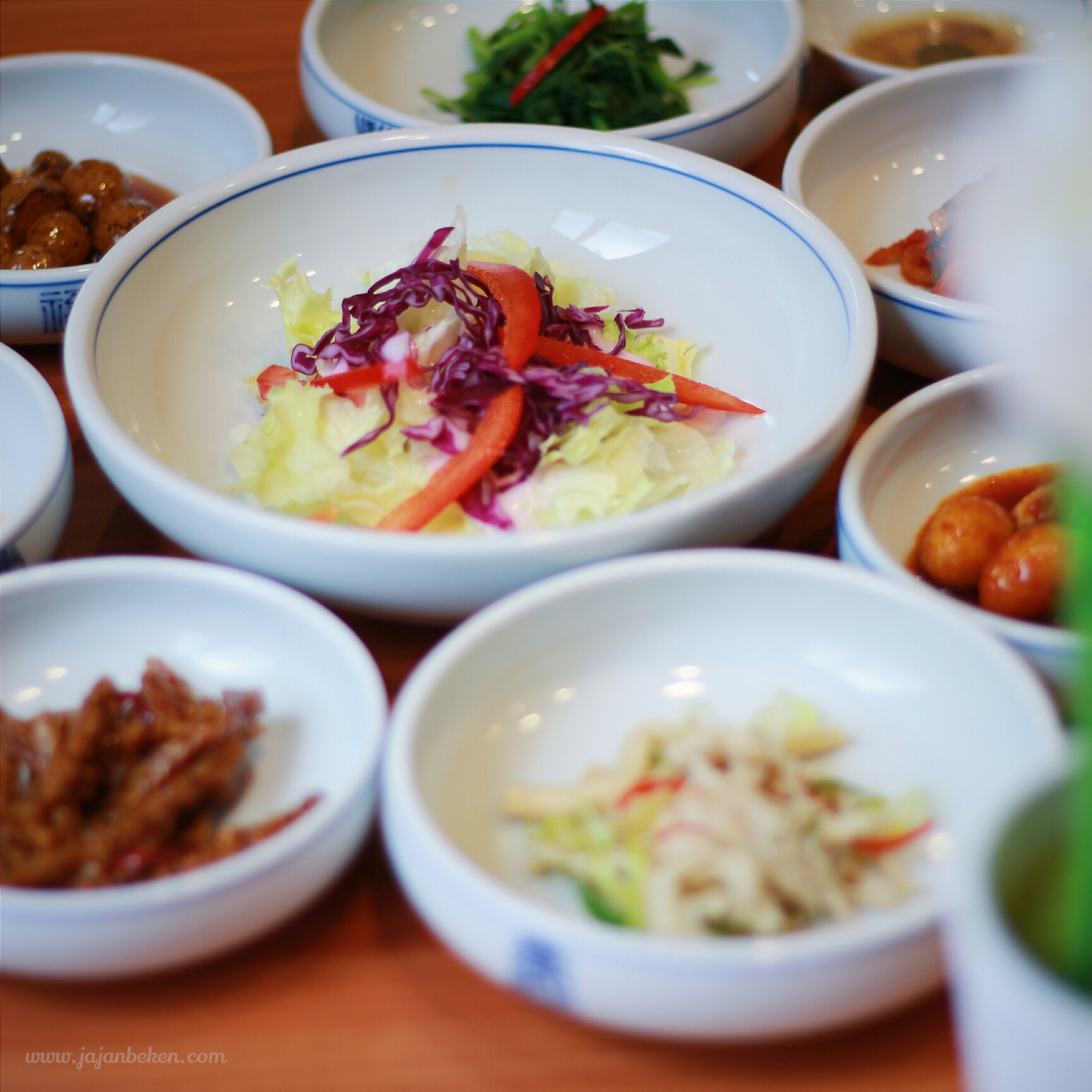 Overall the food in Hanyang Garden were enjoyable and delicate! The service from the staff was very friendly and helpful. The restaurant location was easy to find and there is not difficult to have a parking here. Finally I closed this review, and see you again with another story from Jajanbeken! It was a honor for any comment and share, thank you very much for reading. See you!
RATING
Ambience : Excellent
Taste : Good
Service : Excellent
FACILITIES
Wifi : Yes
Plug : Yes
Dine in : Yes
Outdoor : No
Toilet : Yes
Parking : Yes
CONTACT
Address : Jl. Cikajang No. 2 RT.6/RW.6, Petogogan, Kebayoran Baru, Petogogan, Jakarta Selatan, DKI Jakarta 12170
Phone: (021) 27517370
Instagram : @hanyang.garden

INFORMATION
Open hour :11.30AM – 10PM
Price : Rp250.000 for two people (approx.)