Basically, the coffee shop is a place that offers a variety coffee and food, a cozy ambiance like a home and serves food to accompany you along in the coffee shop. Jakarta has a lot of coffee shop that presents a variety interesting menu. But only a few that have different food menu from a coffee shop typically. In this opportunity I will introduce to you a coffee shop that presents a different menu than usual it's called Dua Coffee Shop or Dua Coffee Cipete Fatmawati.
Previously, Dua Coffee Cipete Fatmawati located in Jalan Cipete Dalam No. 2 however this coffee shop has just relocated somewhere new. In a new place Dua Coffee Shop Cipete have a spacious place and have more facilities. You can visit at the new address in Jalan Cipete Raya No.66 Fatmawati, Jakarta.
If you know in advance, this coffee shop is owned by a beautiful artist guys! Can you guess? Ok, I will give a clue. This beautiful artist is a singer and very popular, and she also has the other coffee shop in Bali its name Titik Temu Coffee Shop. If your answer is Raisa as like as I wrote on the title of this post, you are totally correct. I am gonna tell you more about this gorgeous coffee shop to you so lets scroll the mouse!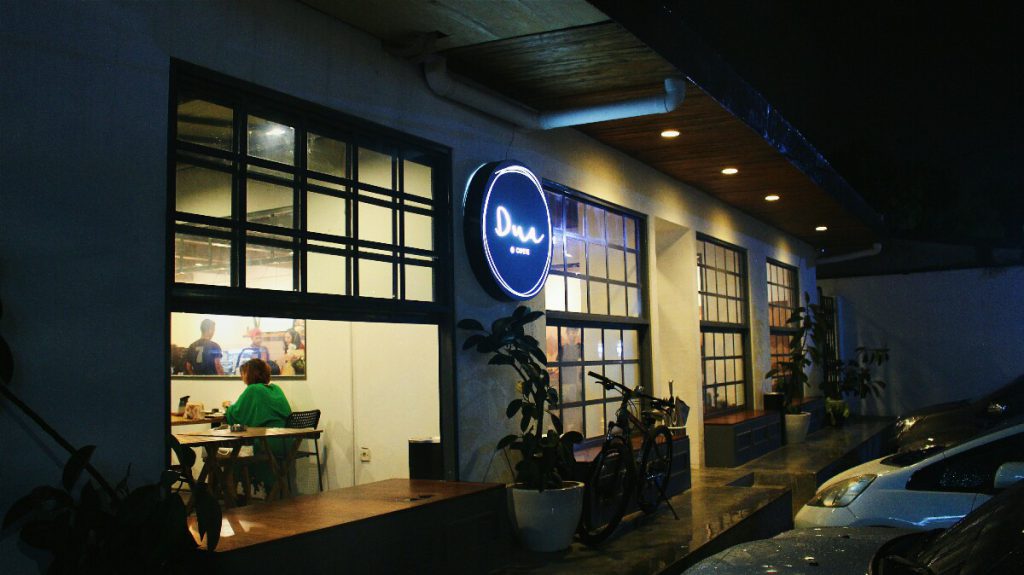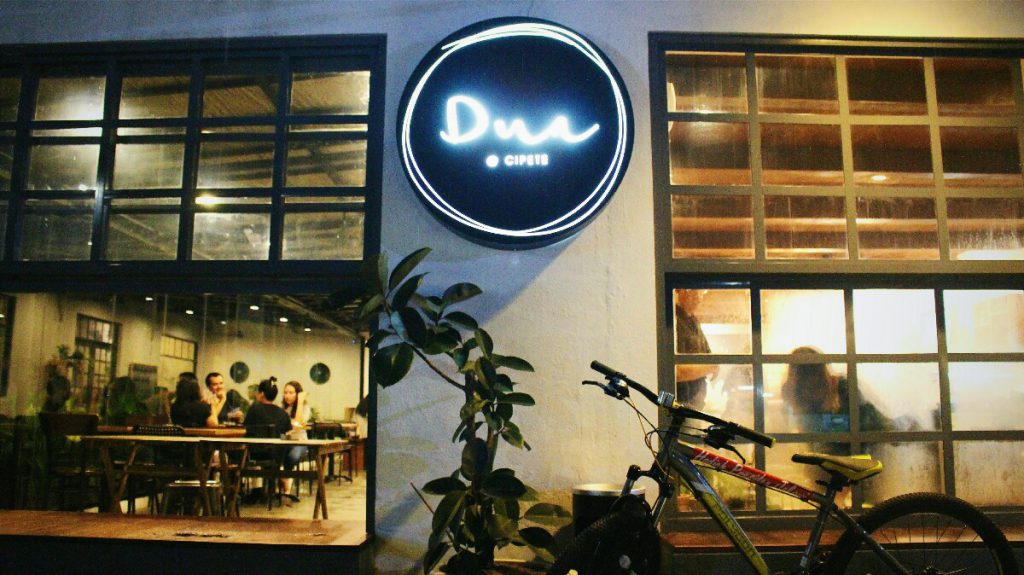 From the front, this coffee shop looks very homey and warm. Beken come here in the evening together with my friends. At that time the weather was raining and this makes us seek and coming to this coffee shop to relax ourselves. And because we are in the south of Jakarta on that day, then we choose Dua Coffee Cipete Fatmawati as an option.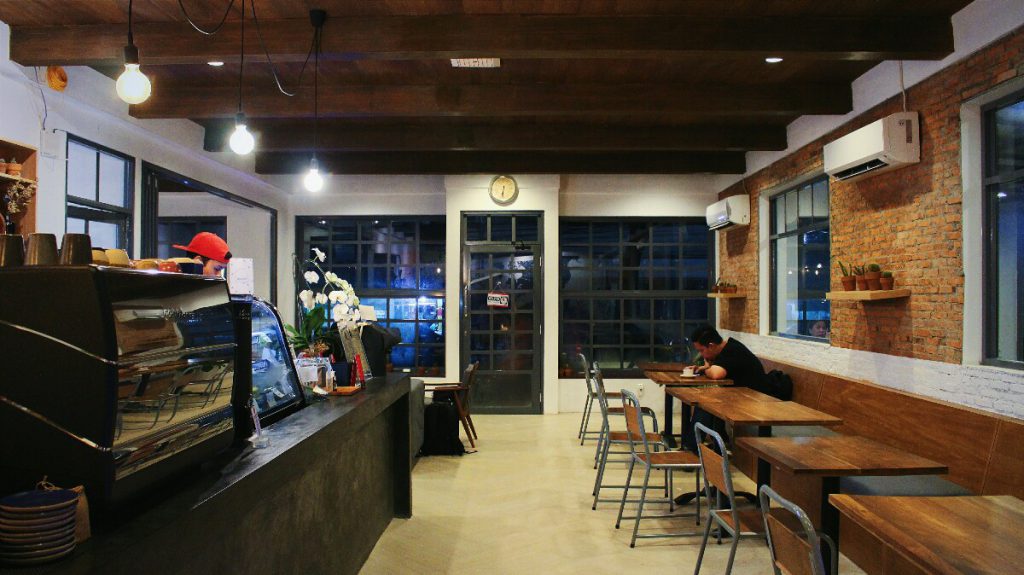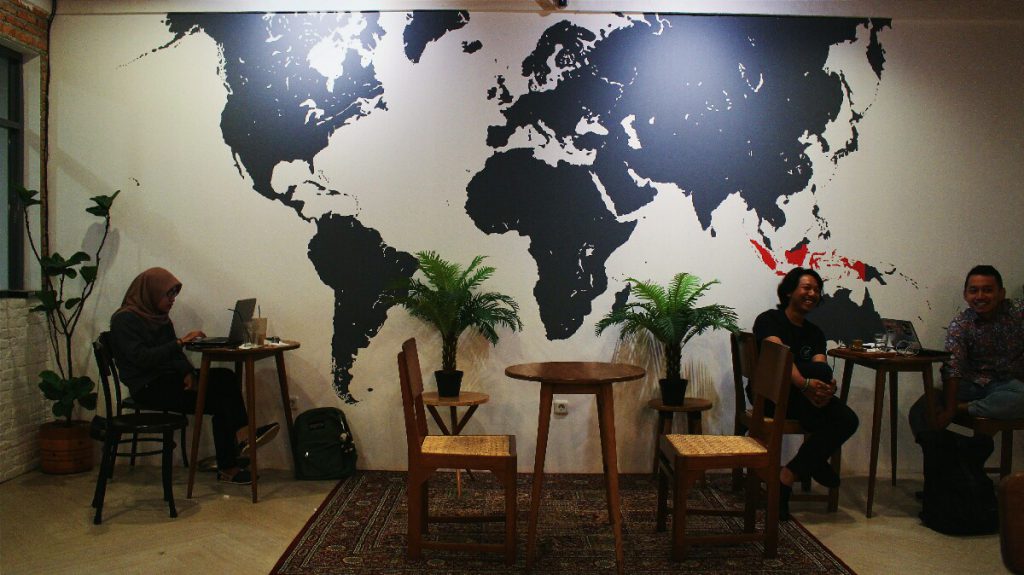 The Ambiance At Dua Coffee Shop
If we talk about the ambiance at this coffee shop, will definitely be very interesting to talk. In this new building, this coffee shop have a spacious place for Sholat which is behind the counter. When entered into Dua Coffee Shop you will be presented with a world map which is depicted on the wall.
The most interesting at Dua Coffee Raisa is the ornament hanging on the wall. I saw bricks contour walls in the main room. All the tables are made from wood, so this coffee shop feels very comfort and homey. And most importantly, this coffee shop is not too crowded because people who come here most do the task.
If we look more detailed we can see many gorgeous cup made from clay and plenty of cactus here among the rustic and country style design. This make customer feel warm and cozy. From the interior and coffee shop designed we can say that Dua Coffee Shop is representing Raisa.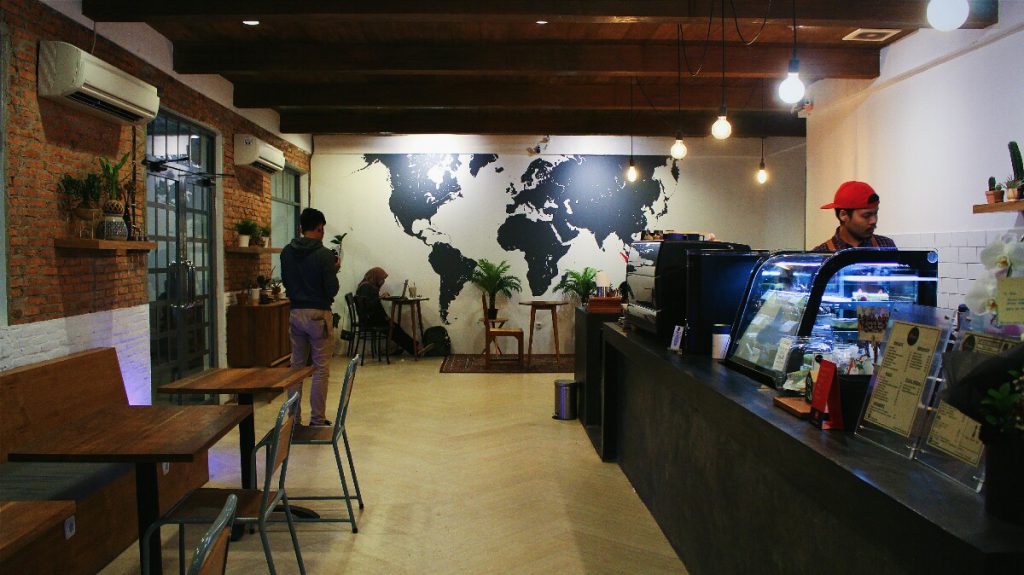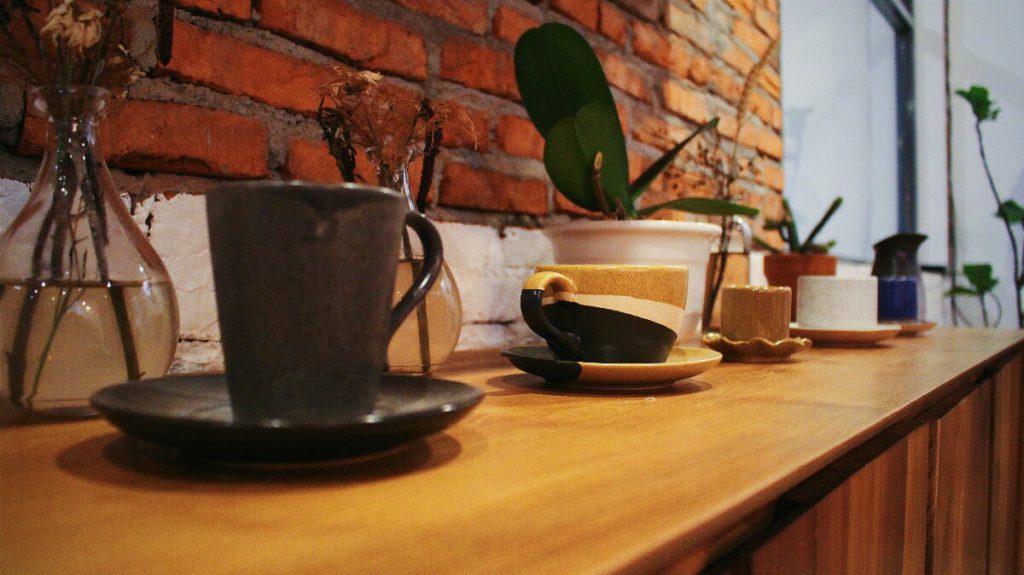 Dua Coffee Cipete consists of two parts of the room. In addition to the main room was very cozy, there is a very interesting outdoor with many fan and smokers are allowed here.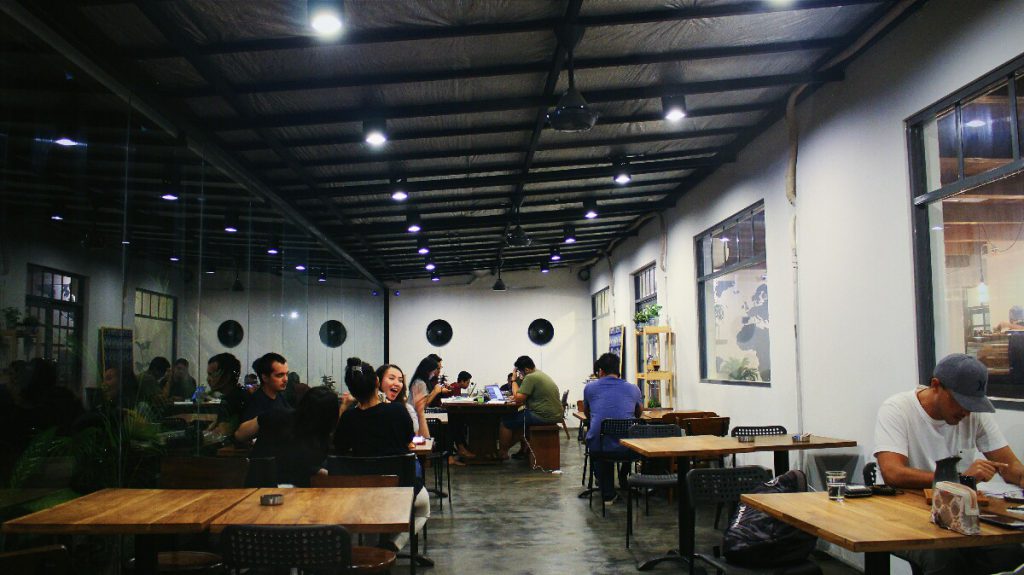 Not only a convenient place, Dua Coffee Cipete also offers a variety of coffee and food menu that you must try. They have a food menu with distinctive taste, let's see! What we tried here.
The Coffee At Dua Coffee Shop
Hot Cappuccino (IDR 35K)
I really like the hot cappuccino at this coffee shop, because the coffee was not too over but still good enough to enjoy. These balance between coffee and milk are enjoyable, both of flavor is very tasty and there is no dominant.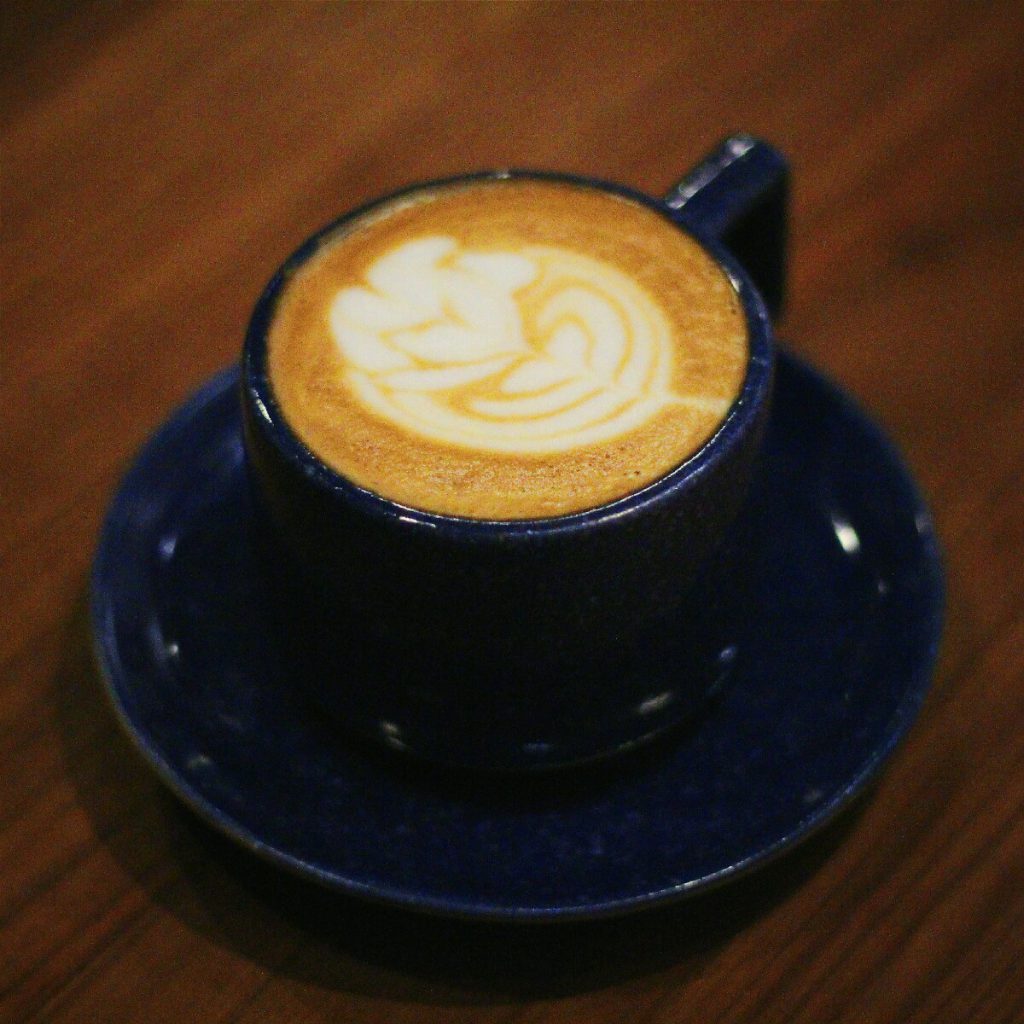 Hot Chocolate (IDR 37K)
There is a good news for you chocolate lovers, Evidently this coffee shop also provide a tasty hot chocolate. At Dua coffee shop, they use dark chocolate with latte art to presentation, the taste not too bitter but the sweetness just fine. The texture of chocolate rather thick with powdery at the bottom cup. When you visit this coffee shop you should try this hot chocolate.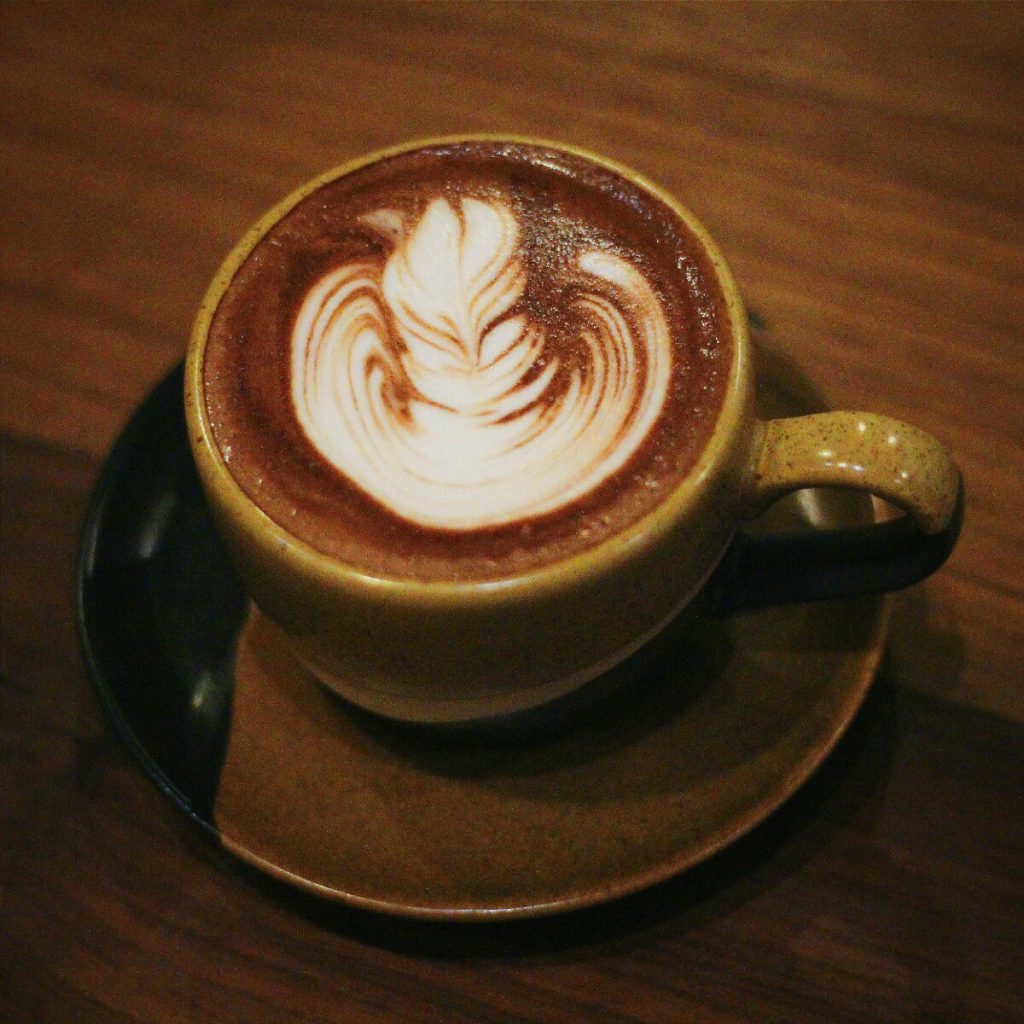 Thai Tea Latte (IDR 37K)
If you a Thai tea lovers, surely you will like this menu. Because at this coffee shop all menus are presented differently than usual. Like this one, this is my first time found Thai tea with latte art. Although there latte art, but doesn't reduce the essential of Thai tea itself and this is unique for me.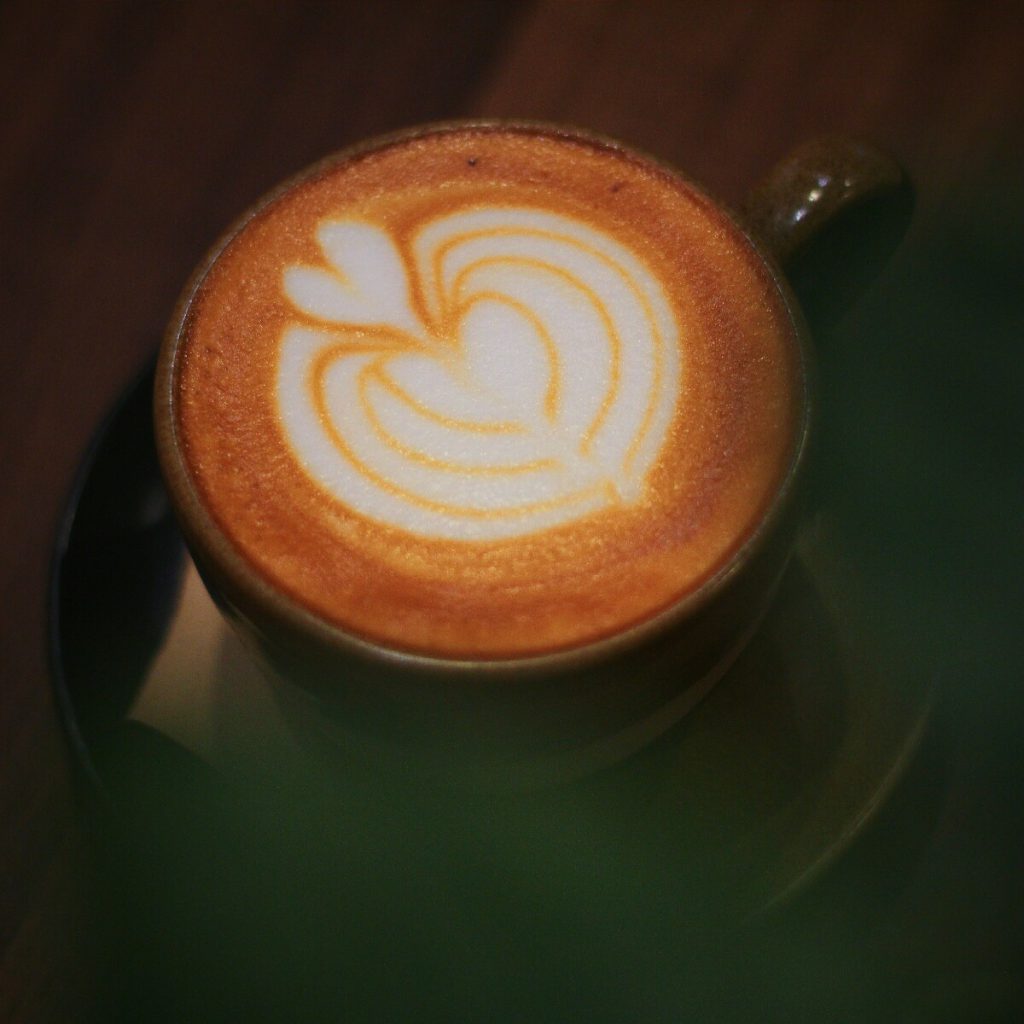 Ice Mocha (IDR 40K)
Love this ice mocha, the taste so rich with coffee and chocolate and the combination of these  two flavor was balance so well. The huge size very satisfying me and I can't stop drink trough my straw, so delicious.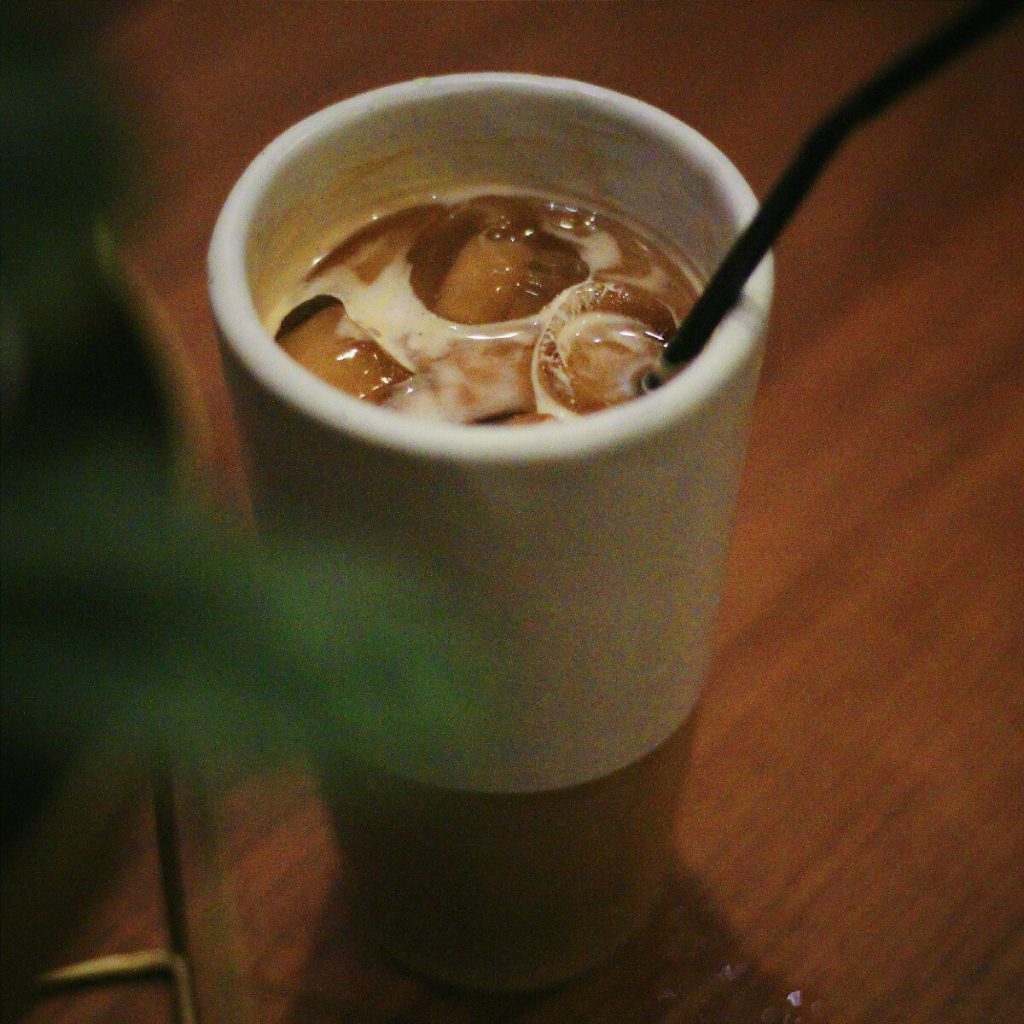 Other drinks that we order that night is Ice Cappuccino, love the presentation of the foamy on top with cocoa powder.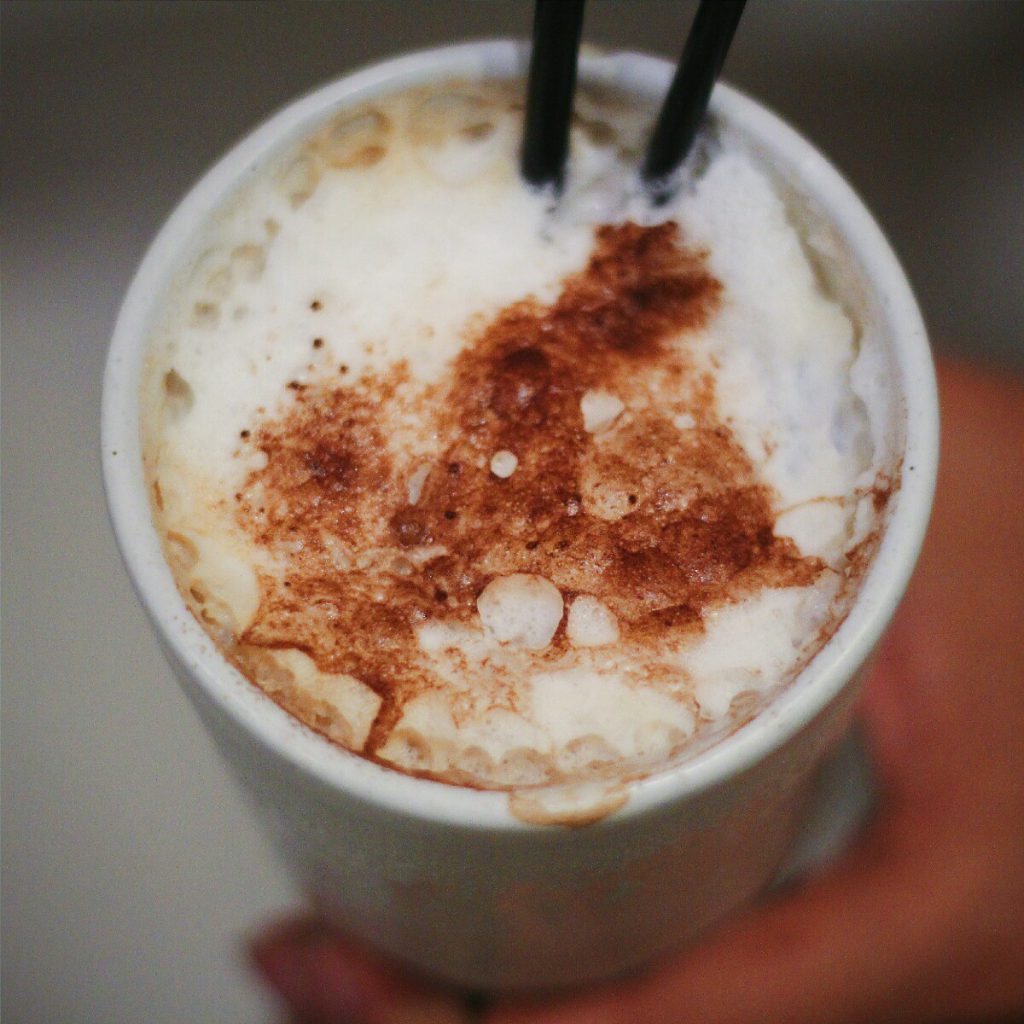 The Food At Dua Coffee Shop
Crispy Enoki Mushroom (IDR 25K)
A starter for that night, we picked crispy enoki mushroom with simple mayonnaise as condiment. It was a enjoyable when we ate this fried mushroom one by one and dipped it in mayonnaise. But this is best for accompany you during your chit-chat time.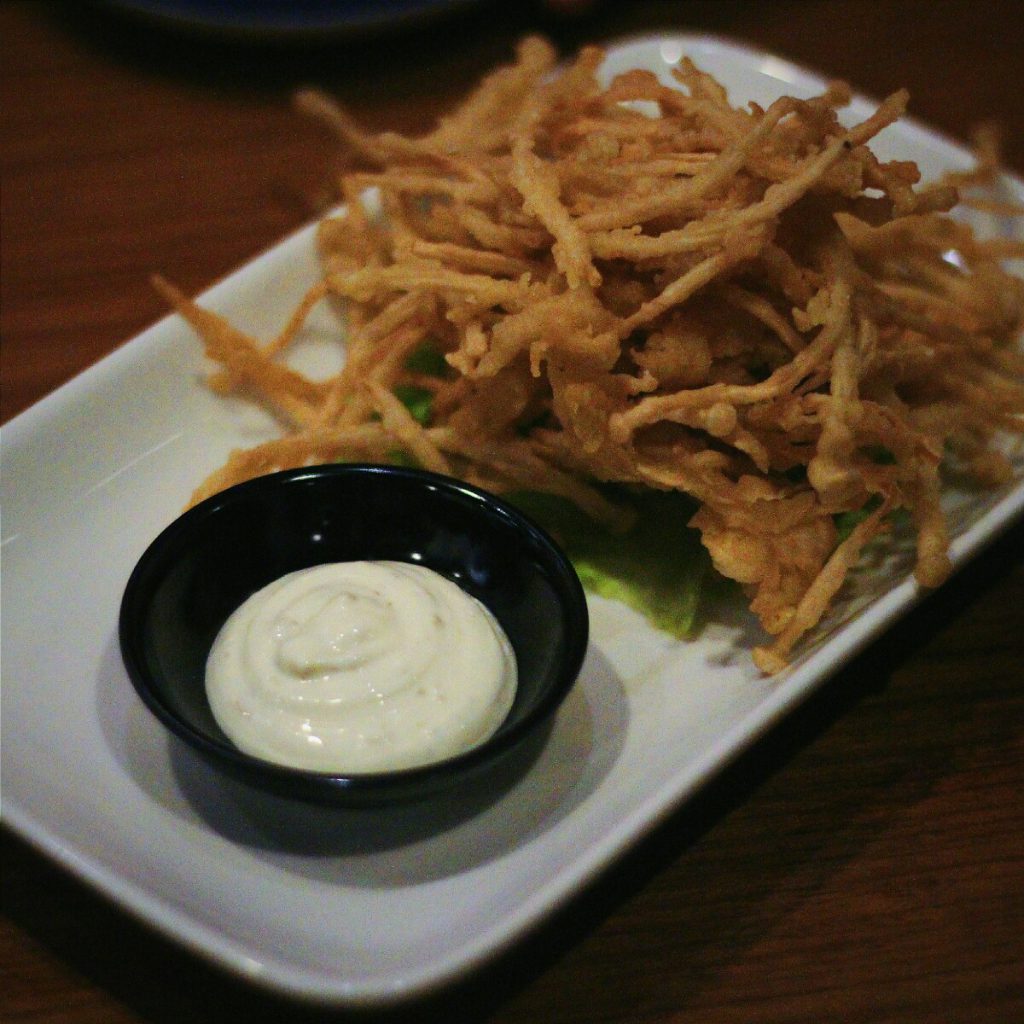 Calamari (IDR 36K)
When my friend order this, one think in my mind is the calamary will served in a ring shaped. But knowledgeably me, it's totally wrong when this menu came to our table, LOL. Served with mayonnaise, this calamary was enjoyable, and the texture still OK.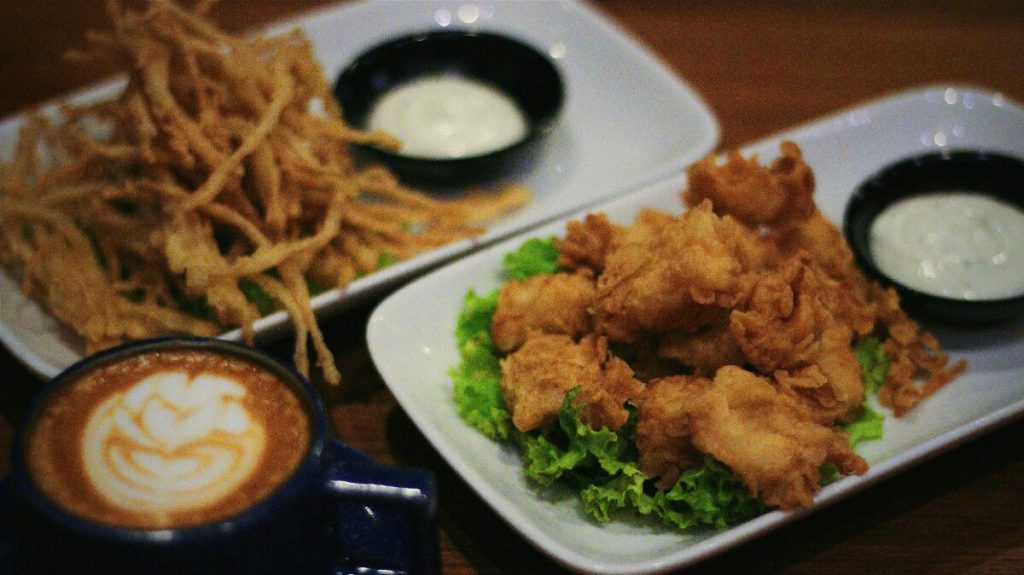 Mie Goreng Tek Tek (IDR 30K)
Randomly, my friend order this menu called mie tektek (tek tek noodle) a street food fried noodle typical as we find. Served with sunny side up, chicken sliced, pickle and some kerupuk tersanjung, LOL. I guess the taste will be a common but than I wrong. The taste was truly amazing! So delicious, savory and addictive, sweet-salty-umami make the dish rich in flavor and it's tasteful. I call this menu as "Mie Tek Tek Raisa" as a honor for her and I recommended this menu to you guys.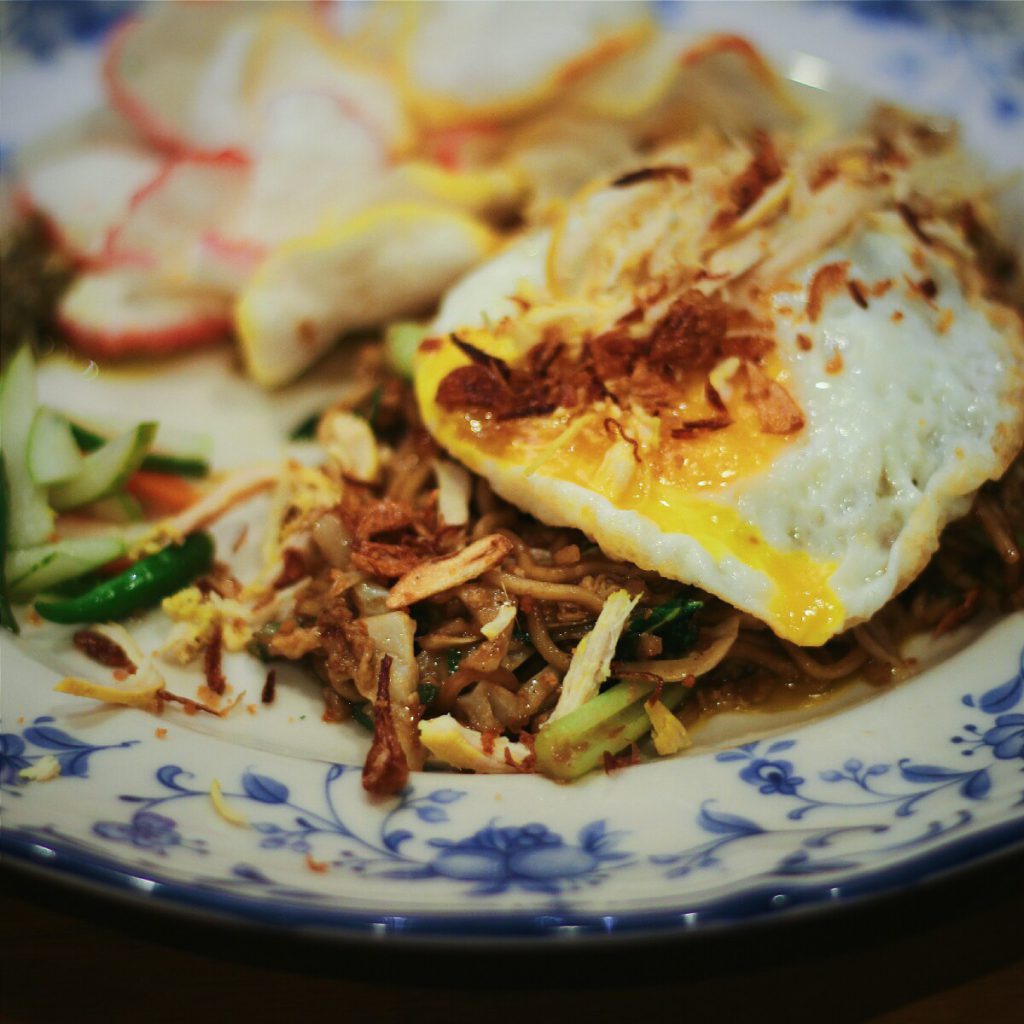 That was my culinary story at Coffee Shop Raisa. I really enjoy our chit-chat time at Dua Coffee Cipete Fatmawati, because the place so comfortable and for the food and drinks selection was high qualified and nothing to complain to the taste. This will be my reason for comeback to Raisa coffee shop especially for Mie Tek Tek Raisa 🙂
Sure you must visit Dua Coffee Shop and indulge your tastes with plentiful of drinks selection with warm and cozy ambiance. Finally I close my review and I apologize if there any miss typing in this article. See you again in another culinary adventure with Jajanbeken! Thank you for stopping by and don't forget to subscribe blog Jajanbeken!
RATING
Ambience : Excellent
Taste : Good
Service : Good
Price :  Average
FACILITIES
Wifi : Yes
Plug : Yes
Dine in : Yes
Outdoor : Yes
Mushola : Yes
Sanitary Room : Yes
CONTACT
Address :
Jl. Cipete Raya No.66, Cipete Sel., Cilandak, Kota Jakarta Selatan, DKI Jakarta 12410
Instagram Dua Coffee Shop Cipete : @duacoffee
Zomato Dua Coffee Shop Cipete : 

INFORMATION
Open hour : 8h – 21h
     Price : Average spending for two: IDR 150k
        Dresscode: casual
MAP