Are you a Japanese cuisine Lover? If you do, you should read my review this time. Because what? Coz I just found a Japanese restaurant which I think is rarely exposed by many people. The restaurant name is Takemori Dharmawangsa Jakarta standing long enough and have loyal customers. Previously i didn't know this restaurant until my friend Andrika recommended this restaurant to me to try. Not a long wait I rushed to Dharmawangsa Square to visit Takemori Jakarta.
Arrived at Dharmawangsa Square on 08.30 PM and I saw many shops here were closed. Actually I was worried if Takemori also closed because I couldn't find information about this restaurant except the location that had been told by my friend. And it turns out this restaurant is still open until 10:00 PM so I immediately chose the table.
And this was my first experience eating here. The place is not too big and there are only about 7 tables with a maximum capacity of 5 people each. But no doubt you are still can get the convenience here. Japanese atmosphere is very thick here, looks from the waiter that wearing Japanese traditional clothes, the music that accompanies and interior uses traditional wooden elements.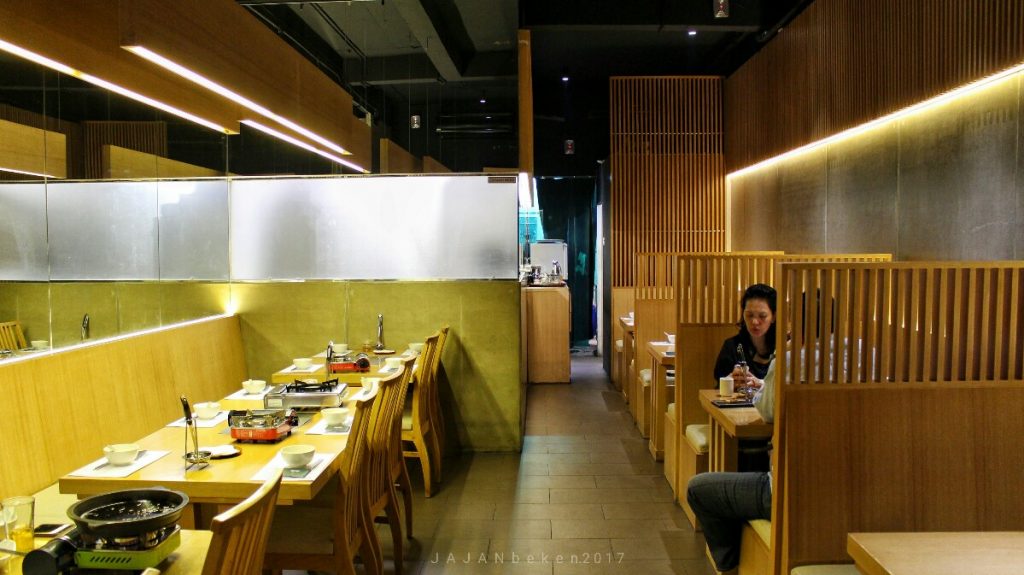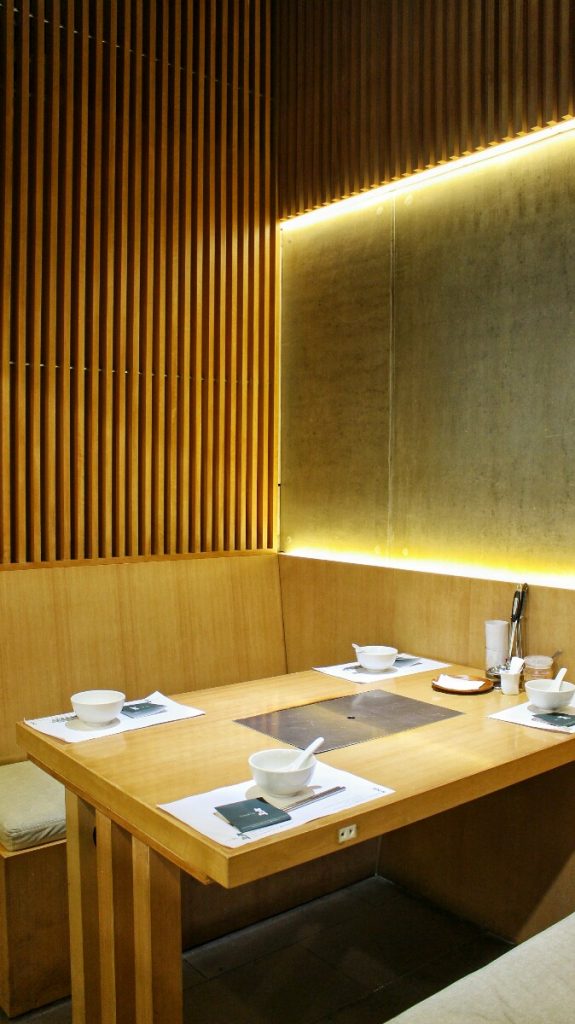 And as always, I really liked the restaurant with fast wifi and there are plugs on each table. Just info for you Takemori are in the same group with a barbeque restaurant Yakinikuya Restaurant. So if you already know about the quality of the Yakinikuya Dharmawangsa Square restaurant, it's no doubt also that Takemori is one of the best shabu-shabu restaurant in this city. Let's check it out what the menu I ordered!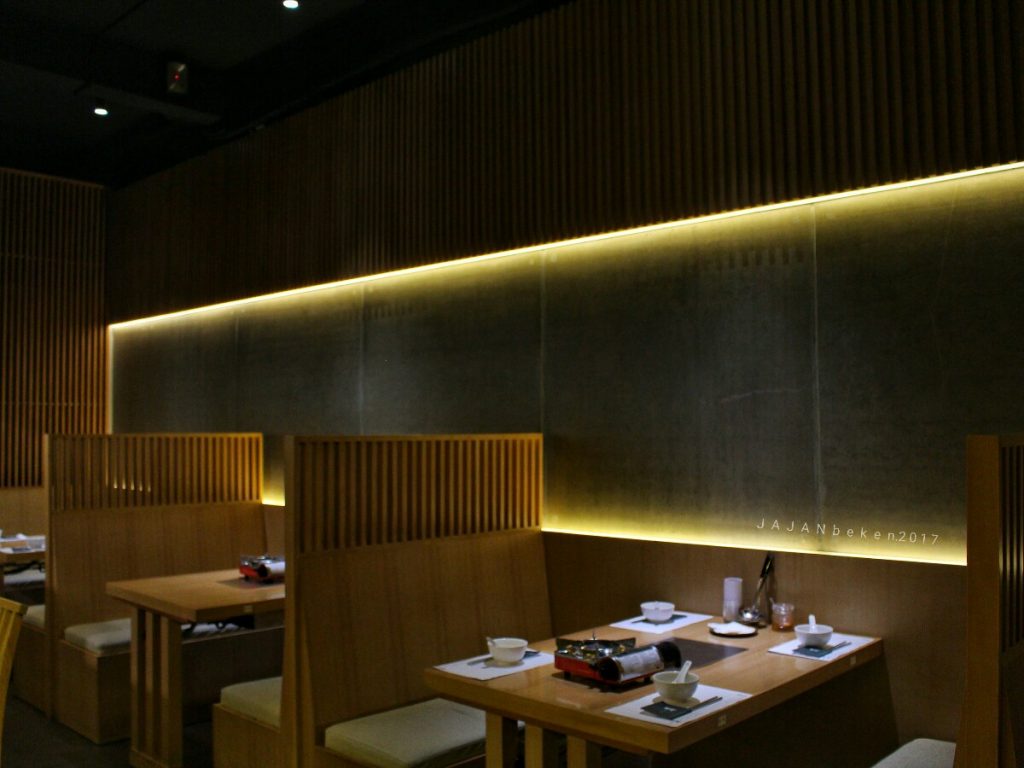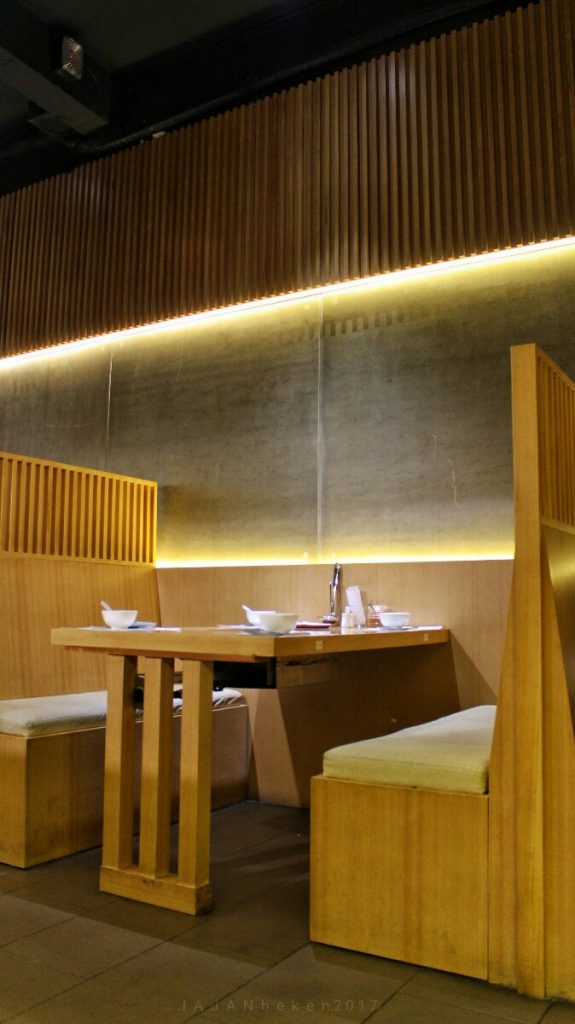 This is the first time I tried Kanto Style Sukiyaki from Eastern Japan. Although I am quite unfamiliar with how to cook like this but I learned a bit here. Don't worry, their staff will cook it for you if you request like I did. I saw meat and vegetables cooked slowly in a hot pot and poured sukiyaki sauce. For the meat I tried Nanba (Sirloin and top blade combo) with package set (Include vegetables) IDR 258K which has been cut very thin, tender and juicy.
The meat that has been cooked can be more delicious if we dipped first into omega 3 raw egg. Although it was raw but you don't have to worry because omega 3 eggs contain lots of protein, not fishy and may be eaten as raw. As long as you enjoy Kanto Style Sukiyaki here the waiter will help you for the cooking process. And this menu is the reason I would go back again to this restaurant.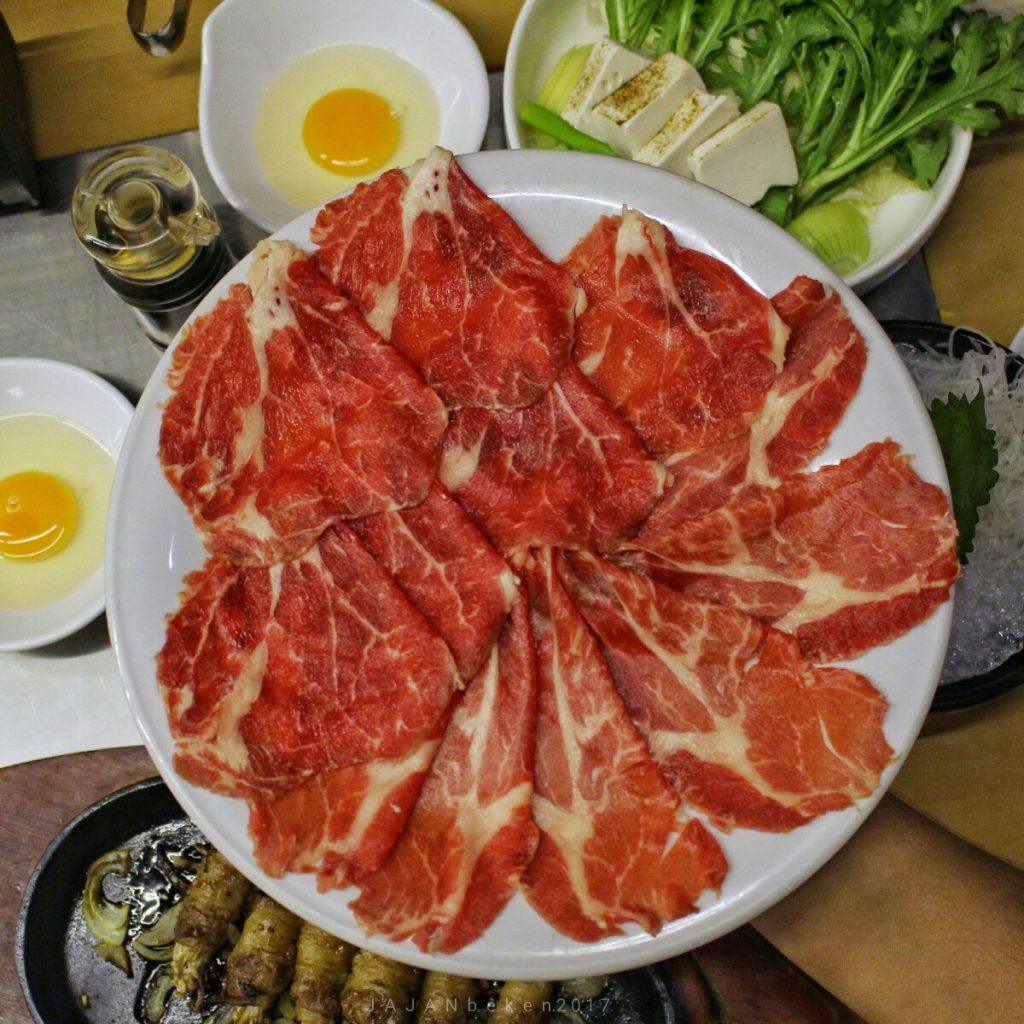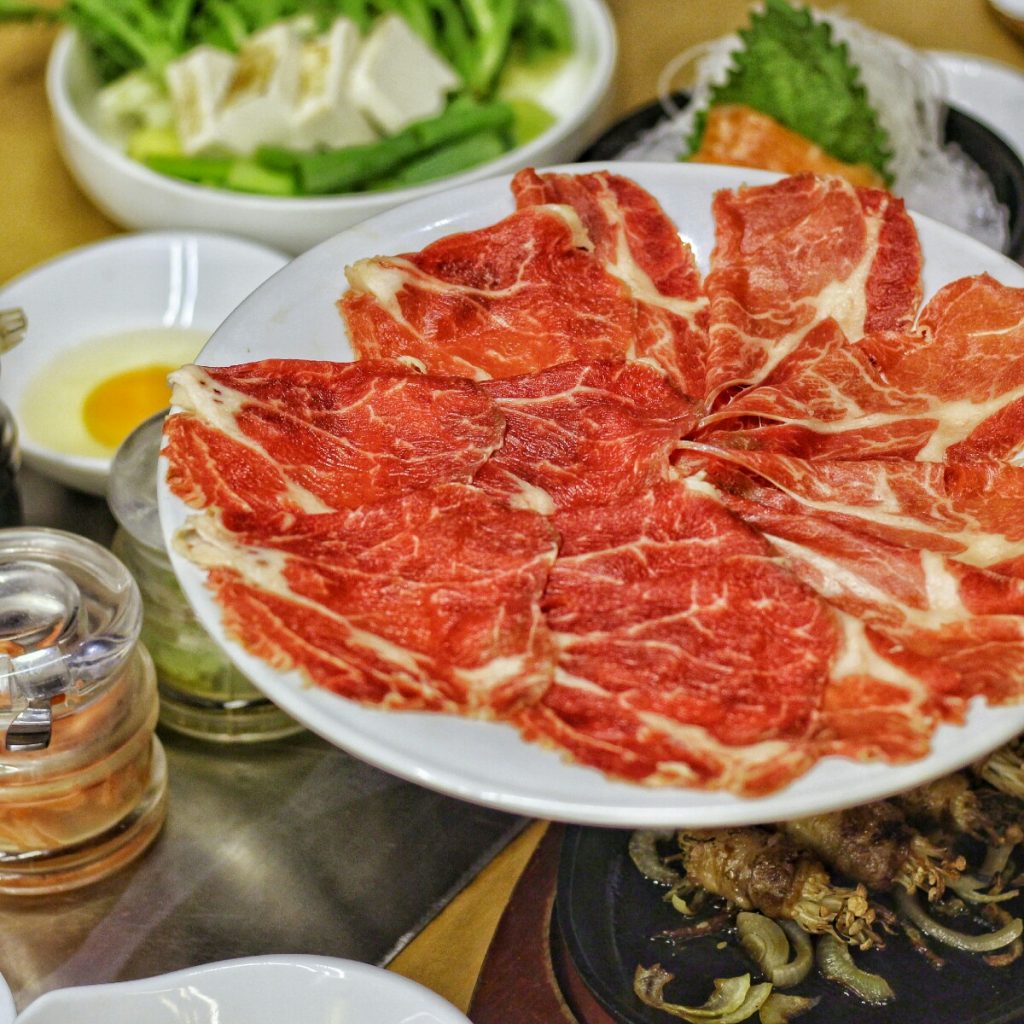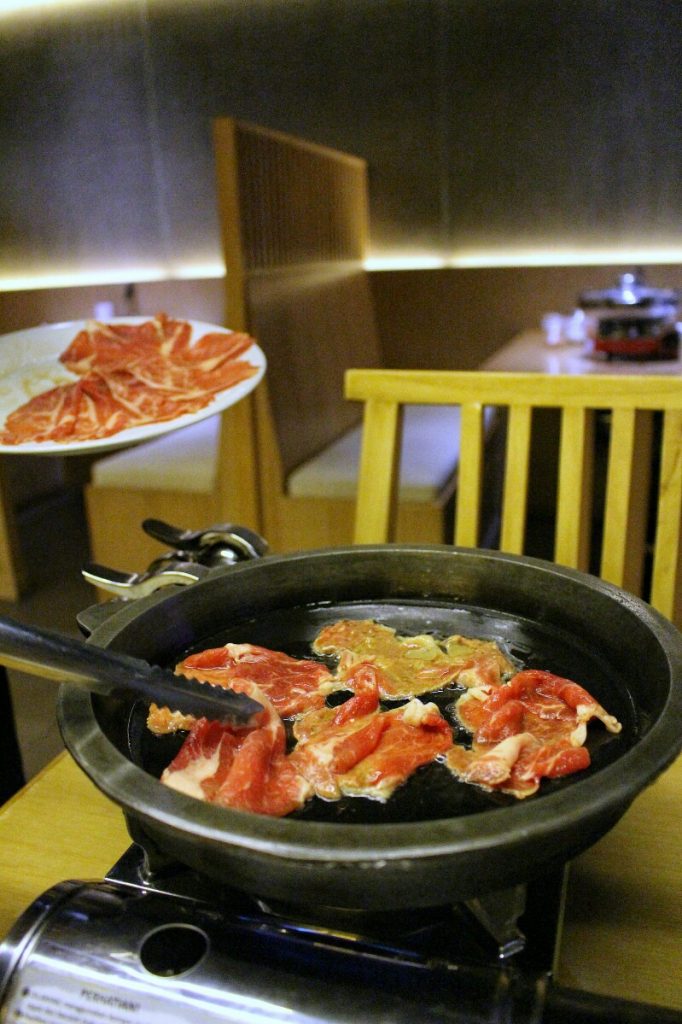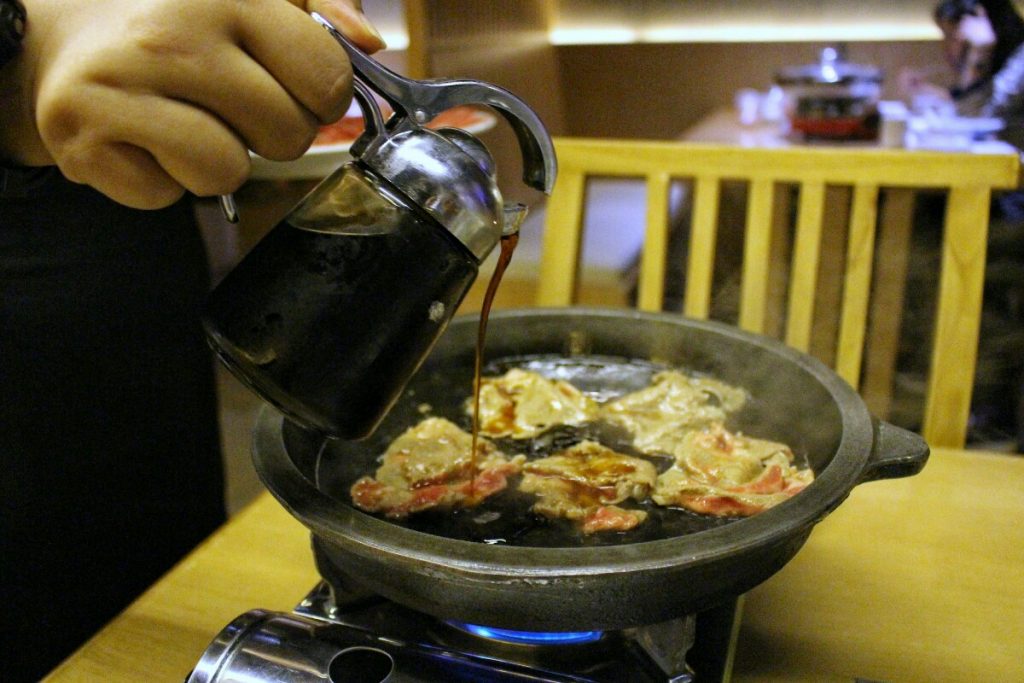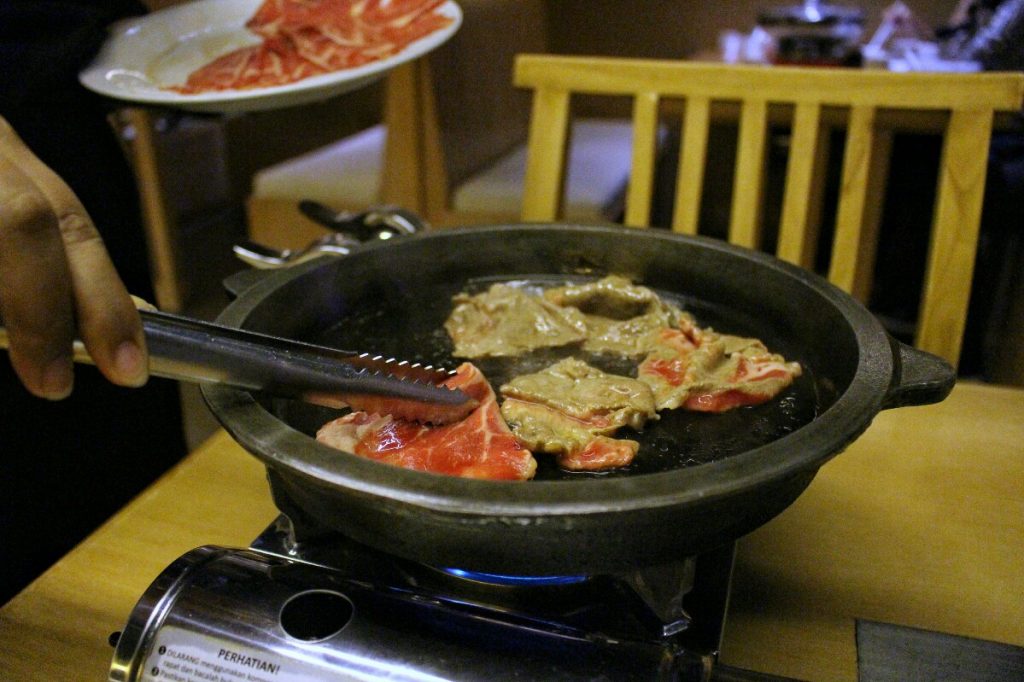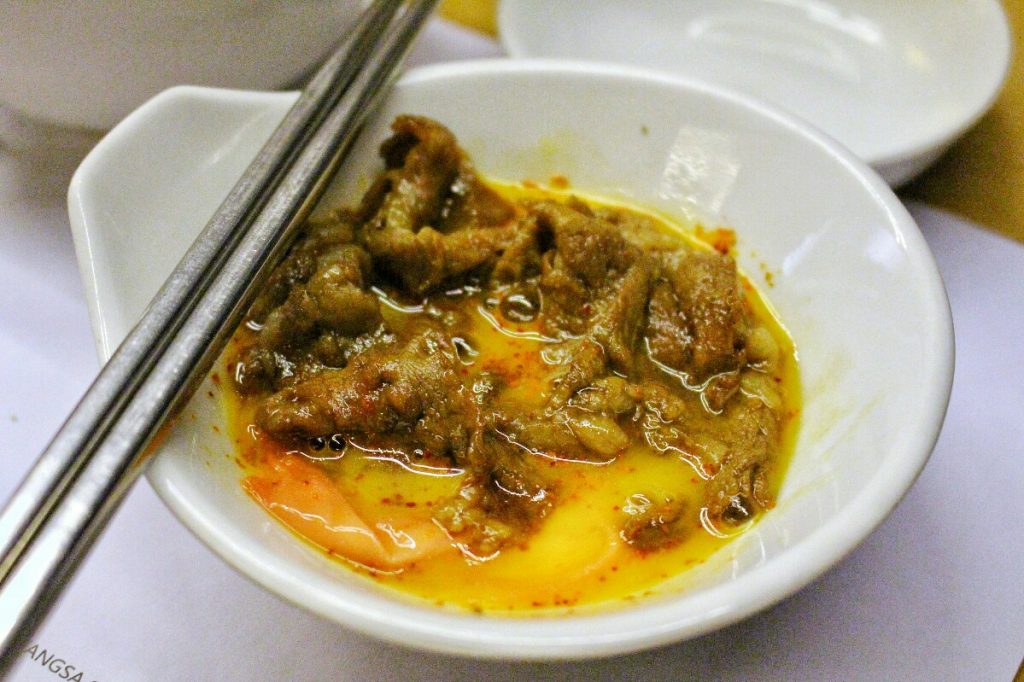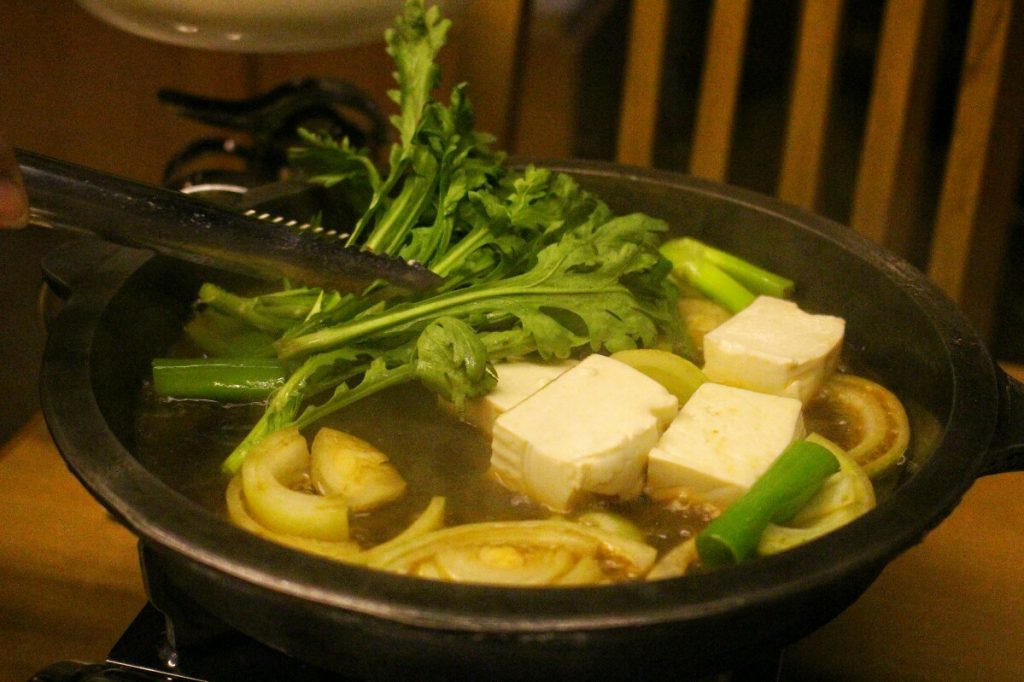 Salmon Sashimi IDR 68K
The salmon meat is very fresh they give ice cubes on the presentation to keep the meat temperature well maintained. When eaten this sashimi it was very creamy and tasty even though I eat it without dipping in extra sauce.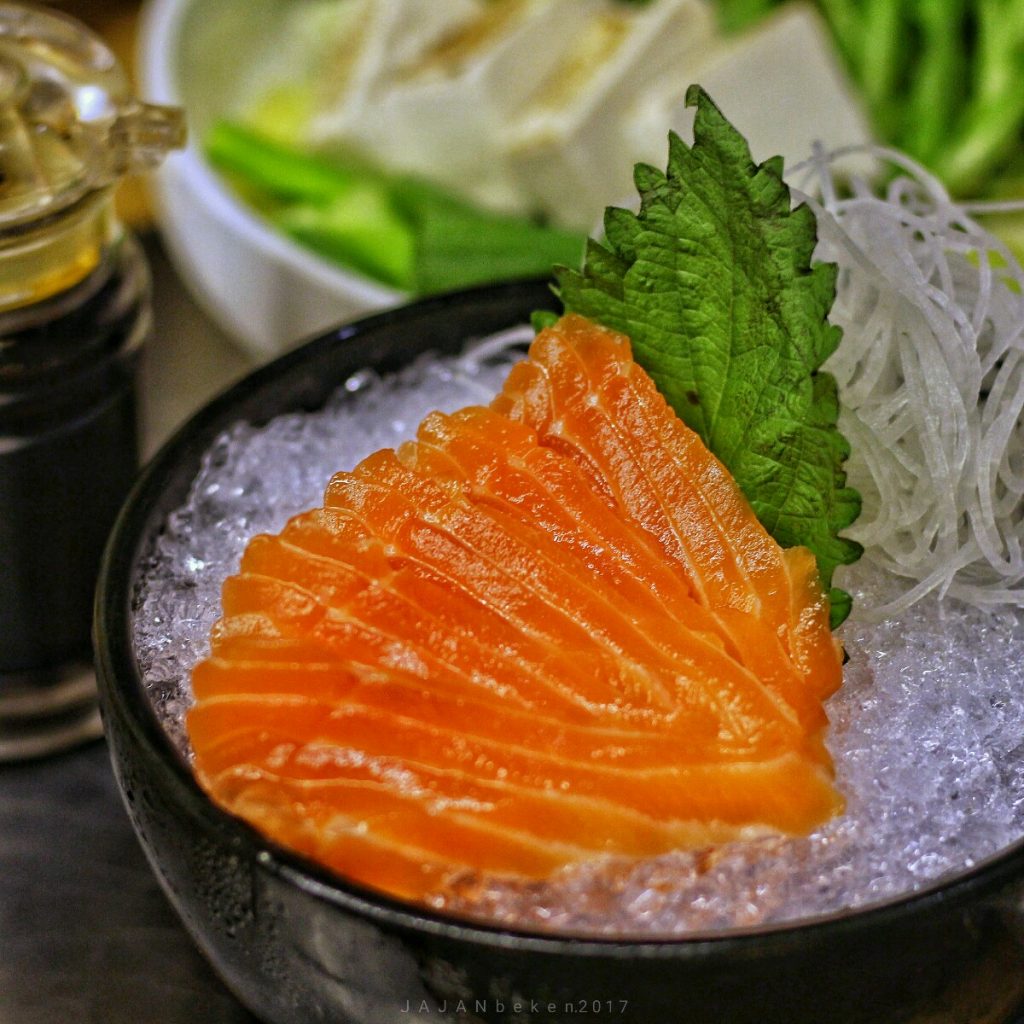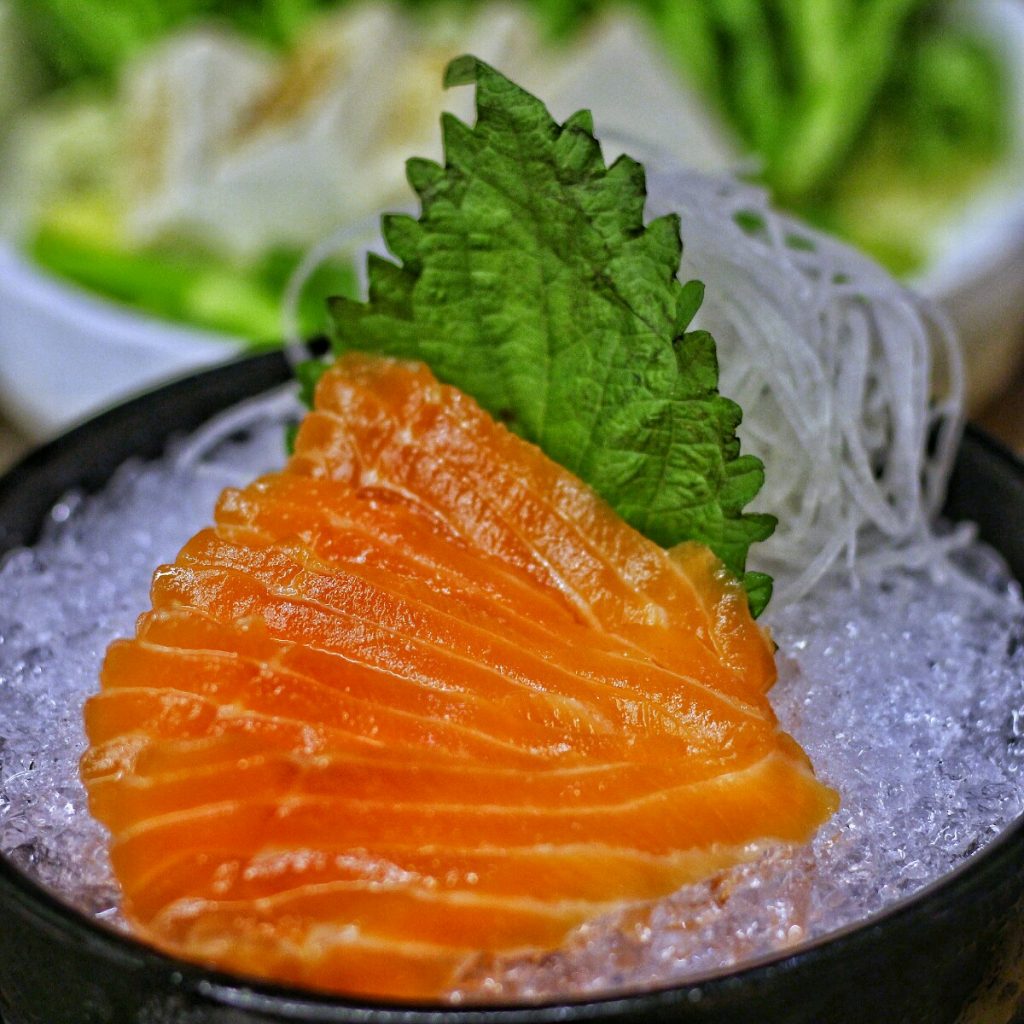 Beef Enoki IDR 58K
This menu is served on a hot plate with a very tempting look and mouthwatering. The meat is very tasty, the mushrooms and onions add to the pleasure when eating this menu. You must order this menu!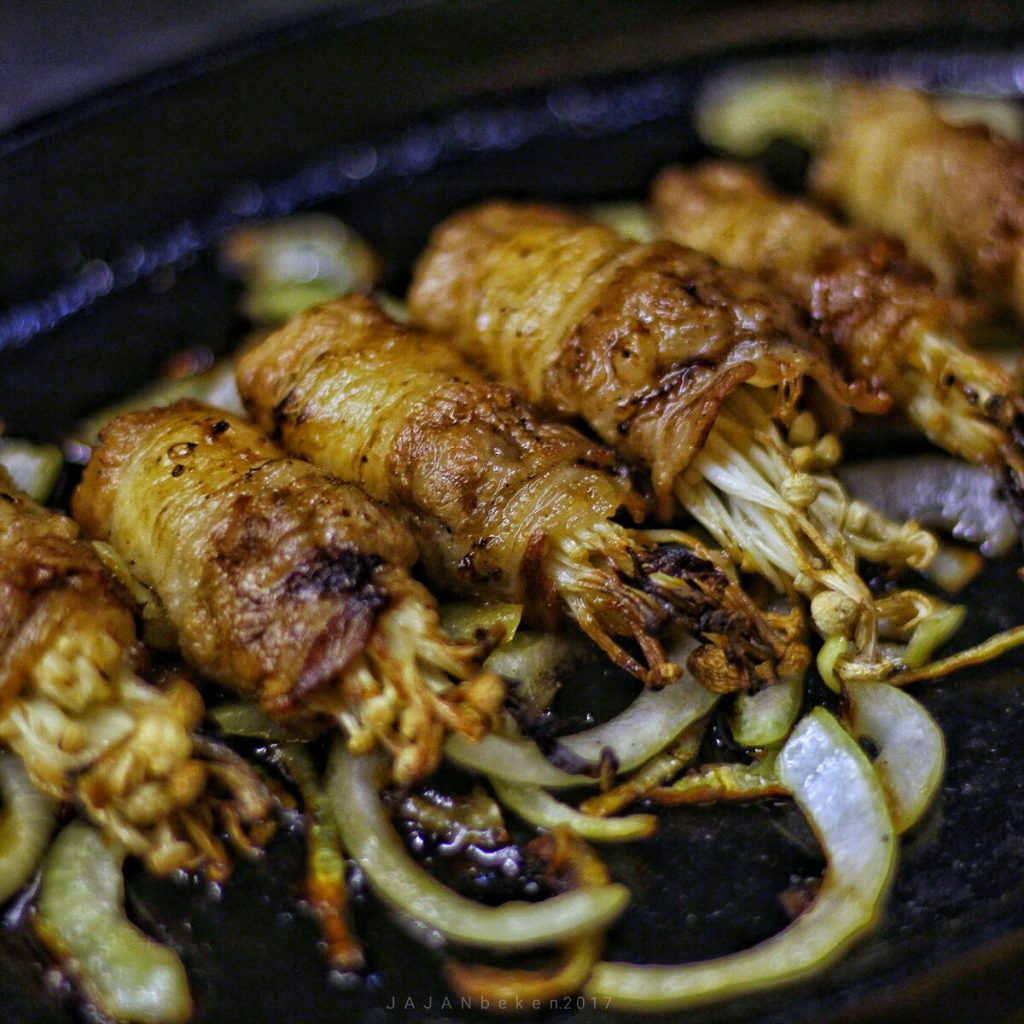 Unagi Don IDR 168K
When knowing this menu here I immediately order, one portion of this menu quite a lot with some slices of unagi and steam rice underneath. Unagi meat is very tasty, full of seasoning, tender as well and very juicy.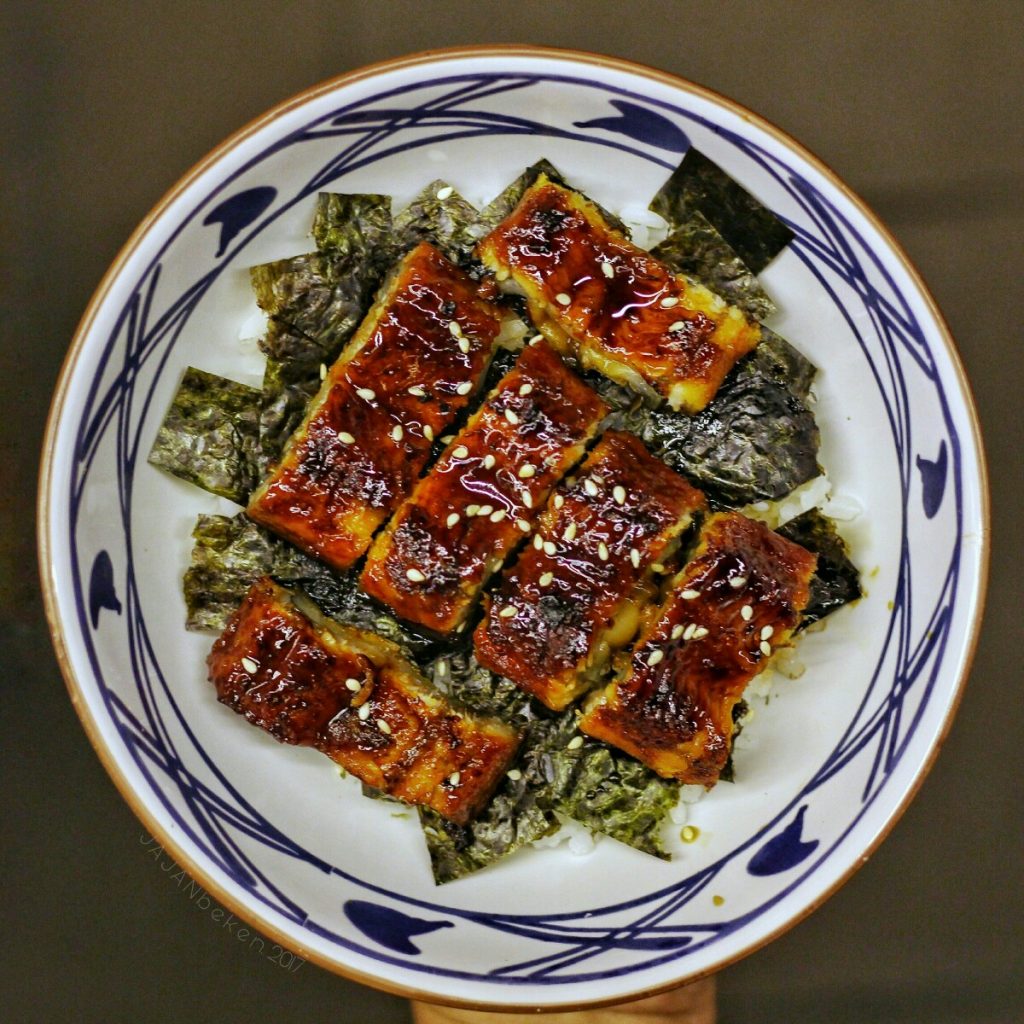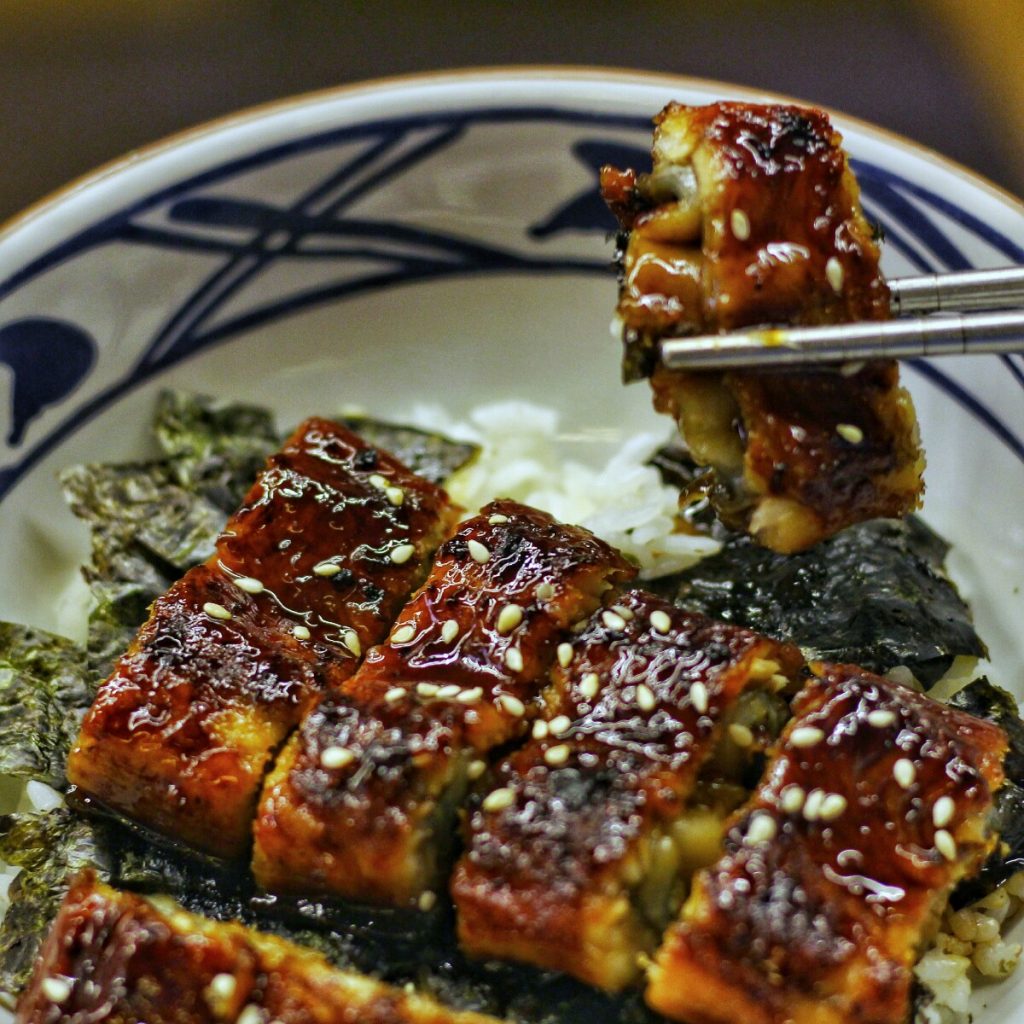 Chicken Nanban IDR 65K
As in general this menu is in another restaurant, this menu can also be your appetizer option. The taste is so satisfying with a very tender meat and more delicious with tartar as dipping sauce.
Salmon Head (IDR 98K)
This one is an additional menu recommended by the waiter here. The taste is very delicious with the meat is pretty much in the head especially in the cheek.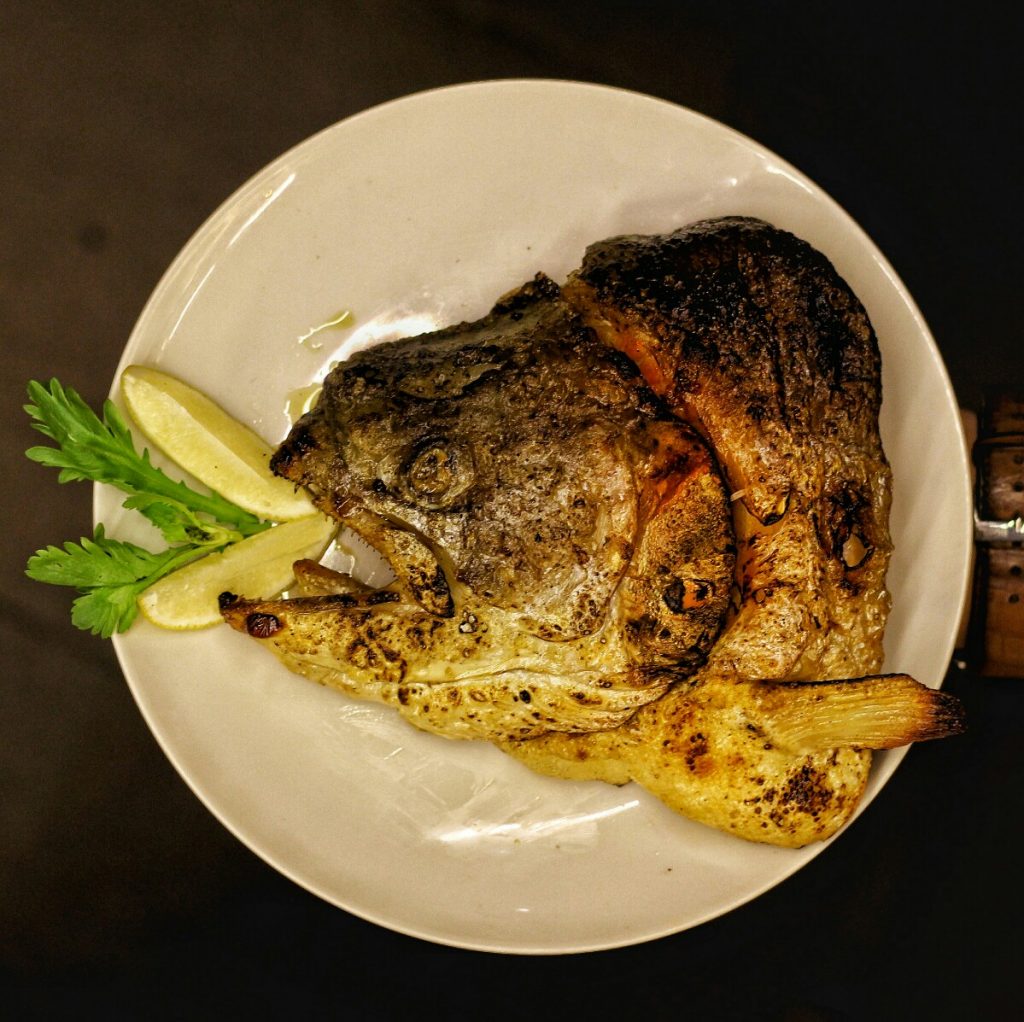 Green tea Ice Cream IDR 30K
Actually I am not a Green tea lover, and when choosing a dessert I tend to want to choose a chocolate ice cream. But because the waiter assured me that green tea is a favorite flavor here, I decided to choose it. Green tea taste is very thick as well as the strong scent and not to bitter. Maybe this is the reason why green tea become a favorite here.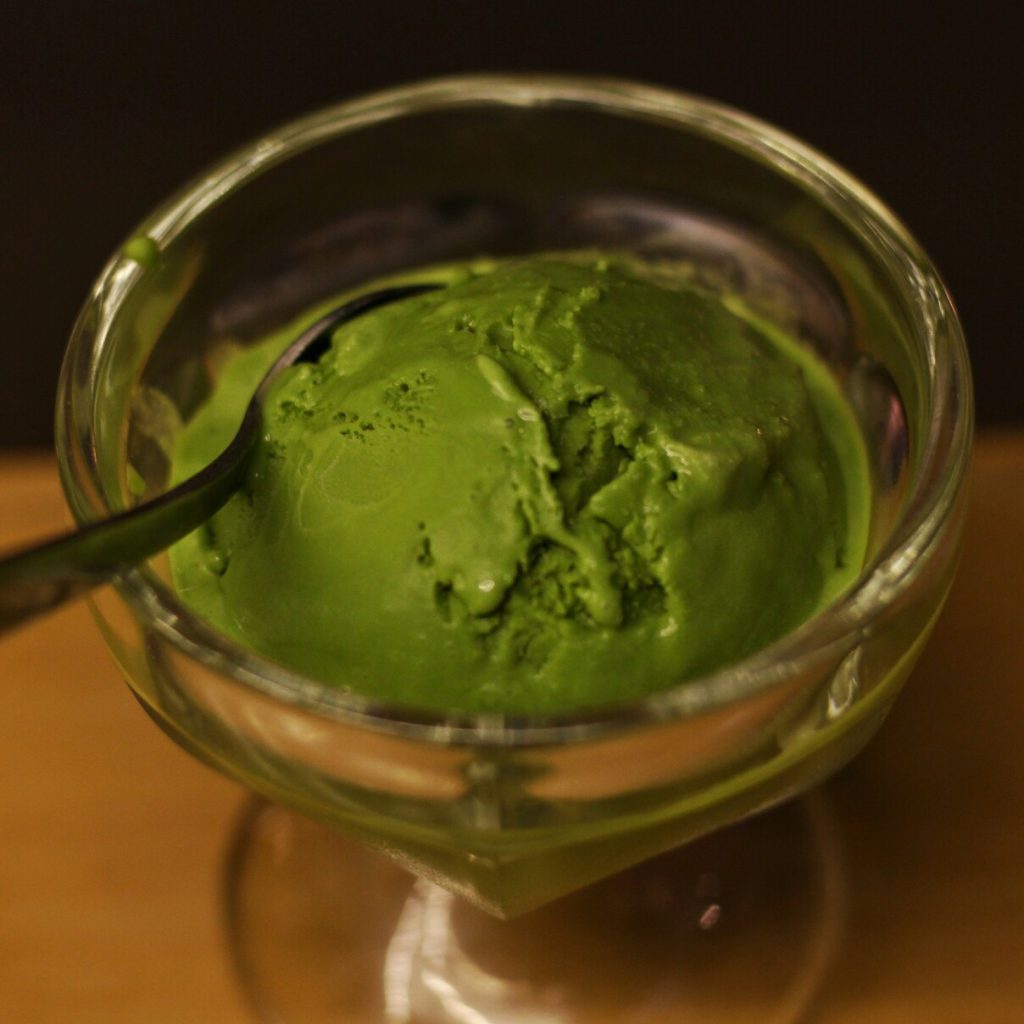 I think this restaurant is one of the best shabu-shabu and sukiyaki restaurants in town.  Although the place is not too big but they provide excellent taste. And their service to customers is also very good. Very much a reason to go back again to this restaurant.
Finally I close my review and don't forget to follow our culinary journey in this blog, Instagram, Youtube and Facebook. Please apologize if there is something missing in writing or menu explanation. We open for critics and comment. See you in another culinary journey with Jajanbeken!
RATING
Taste : Excellent
Service : Excellent
Price :  Average
FACILITIES
Wifi : Yes
Plug : Yes
Dine in : Yes
Outdoor : No
Toilet : Yes
Parking: Yes
CONTACT
Address : Jl. Darmawangsa Raya No.18 A, RT.1/RW.1, Pulo, Kby. Baru, Kota Jakarta Selatan, Daerah Khusus Ibukota Jakarta 12160
Telp : (021) 72788373
Instagram @thetakemori
INFORMATION
Open hour: Lunch : 11.00 – 15.00 WIB
Dinner : 18.00 – 22.30 WIB
Price : Rp450.000 for two people (approx.)
Dresscode : Smart Casual.
MAP