Hello guys! I'm so happy today, because I will share my experience staying in one of the best boutique hotels in Jakarta. As we know Hotel Gran Mahakam is a 5-star boutique hotel in south Jakarta with distinctly European architecture and beautifully appointed rooms in addition to attentive and friendly service.
Besides the very interesting design, the reason I like this hotel is conveniently located at the crossroads of the business and commercial district in the heart of widely popular South Jakarta, where world-class shopping, dining and entertainment await.
Upon Arrival, I felt a truly Indonesian welcome by their friendly and caring personnel. One of the top luxury hotels in South Jakarta that sets the standard for impeccable service, and they offer a blend of classic and modern style in an ambience of unparalleled elegance. Staying at the Gran Mahakam Hotel allows me to enjoy home-cooked specialties and various 5-star facilities.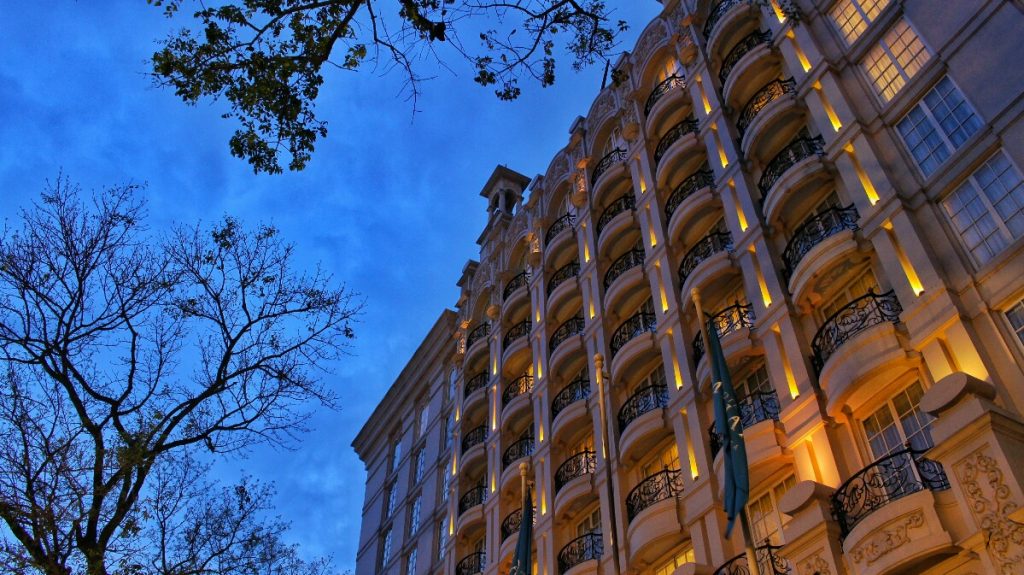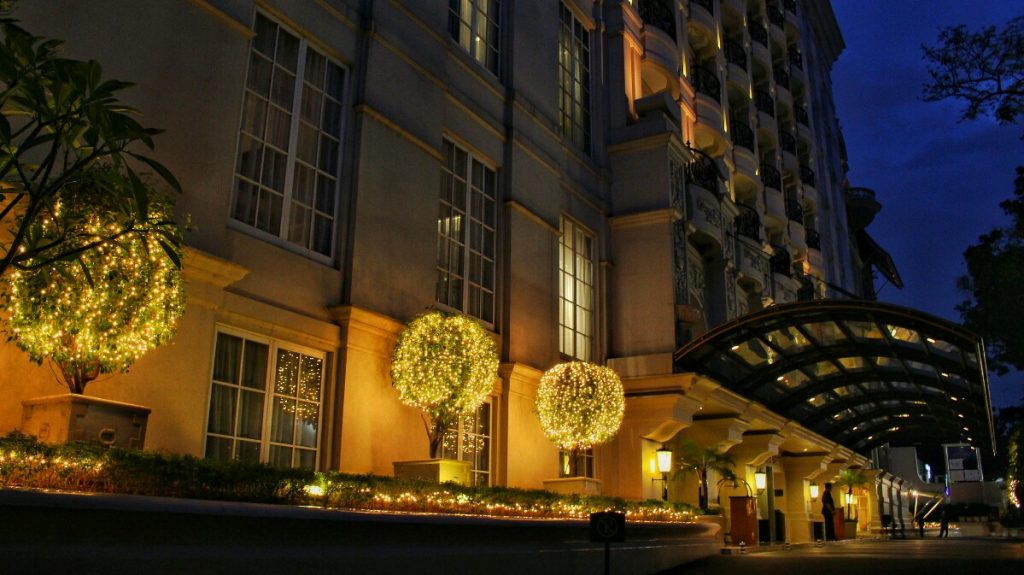 The Lobby Gran Mahakam Hotel Jakarta
The atmosphere changed when I entered this hotel, the lobby looks very beautiful with a very good fragrance. This hotel shows its quality apart from interior design, the staff here are very friendly and professional. They welcomed me like I was coming home, and most importantly the check-in process here is very easy and fast.
So guys! I stayed at this hotel for two days and tried two types of rooms. A very pleasant day for me to spend the days here. So I want to share my story and review this hotel for you.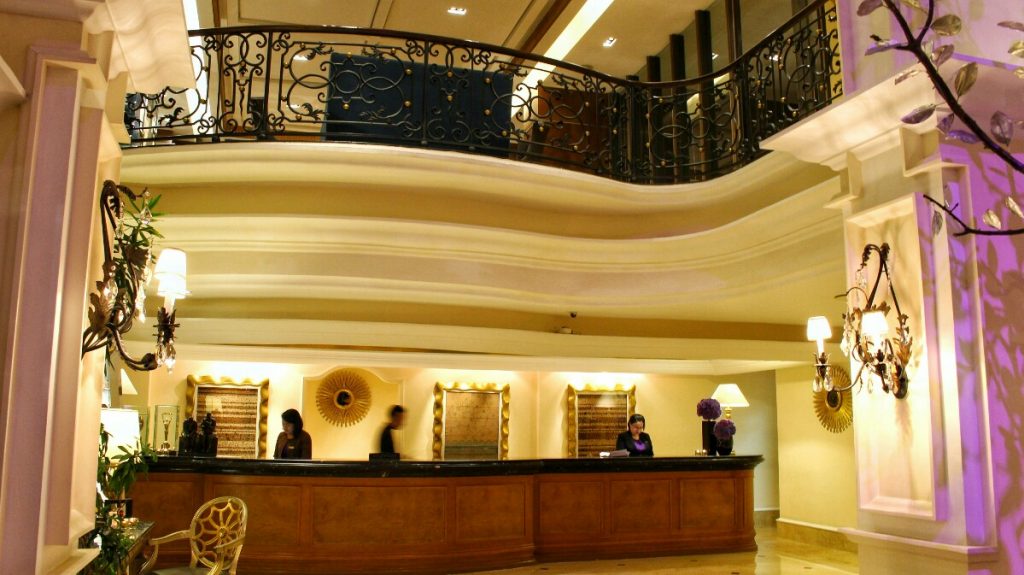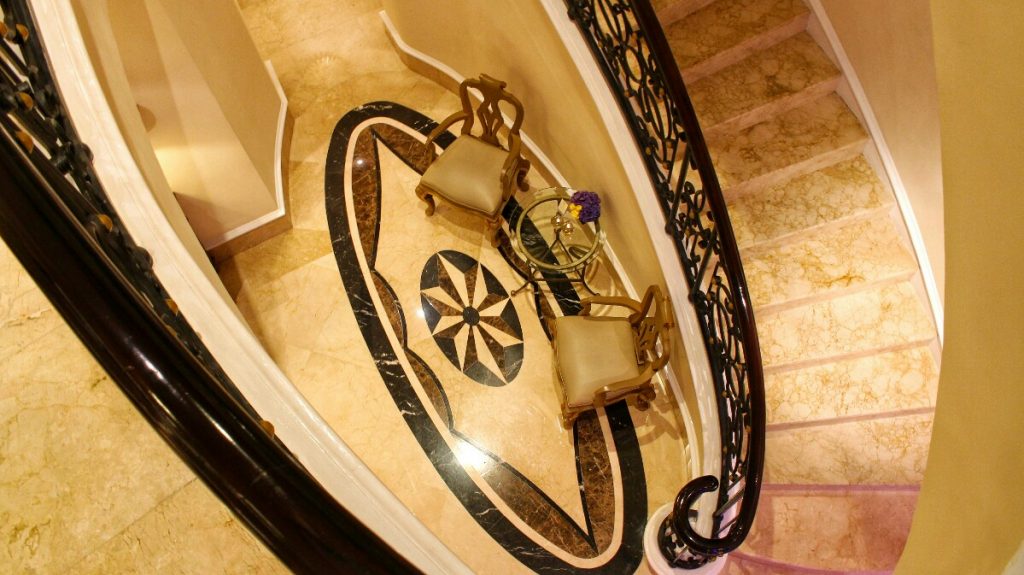 Junior Suite Room in Gran Mahakam
The first day I stayed in a room with a Junior suite room type. I really like this room, it looks elegant but simple. Within resplendent Junior Suite, flawlessly blended luxury, a supremely comfortable bedroom and a luminous bathroom provide me with the perfect stay.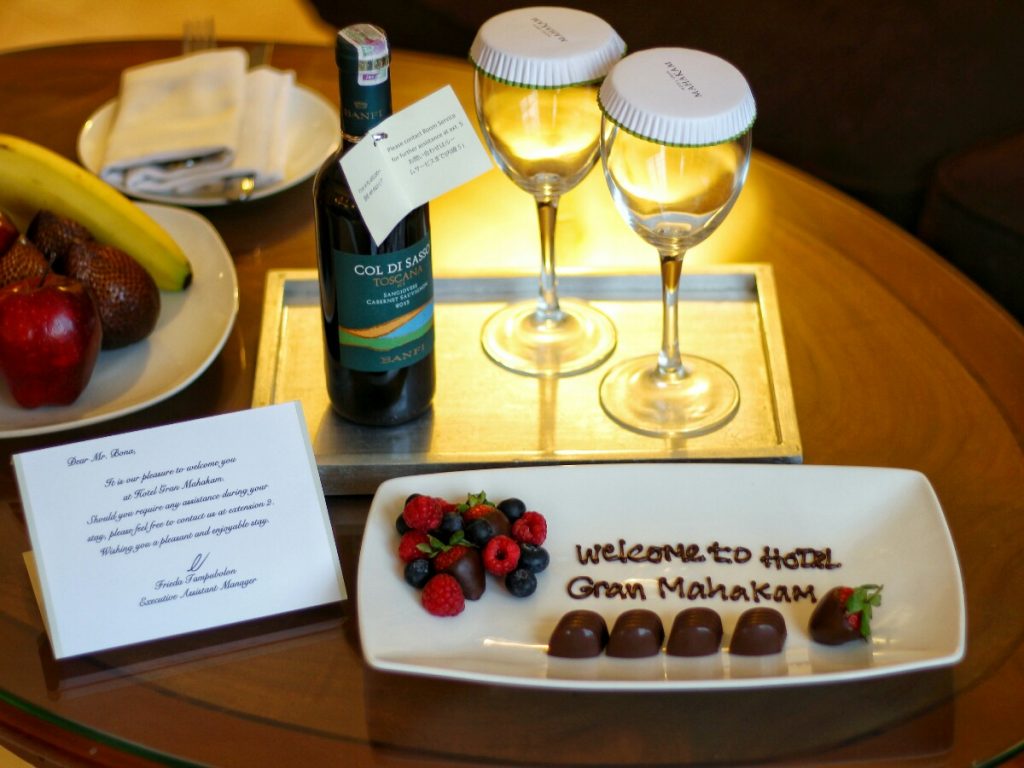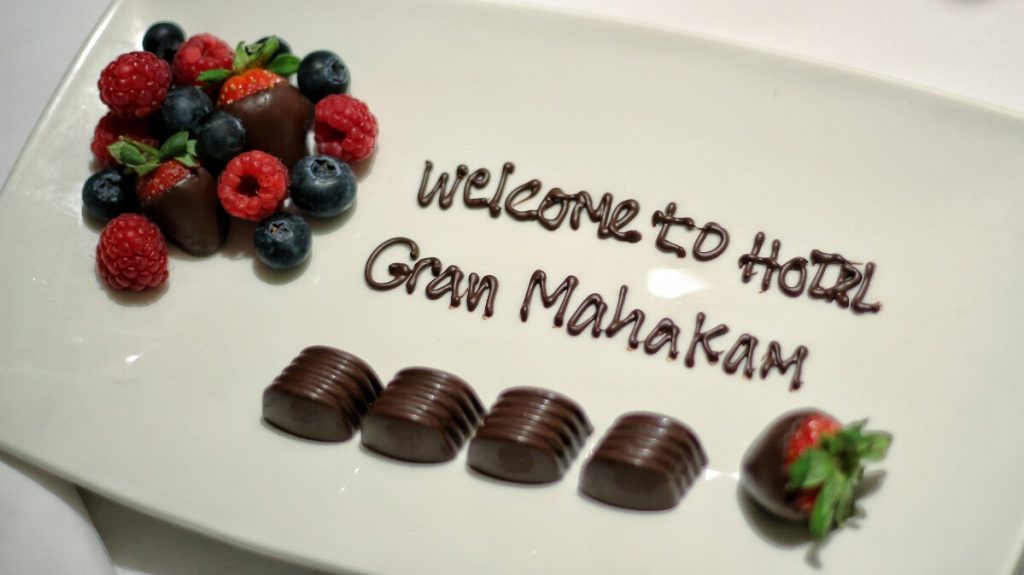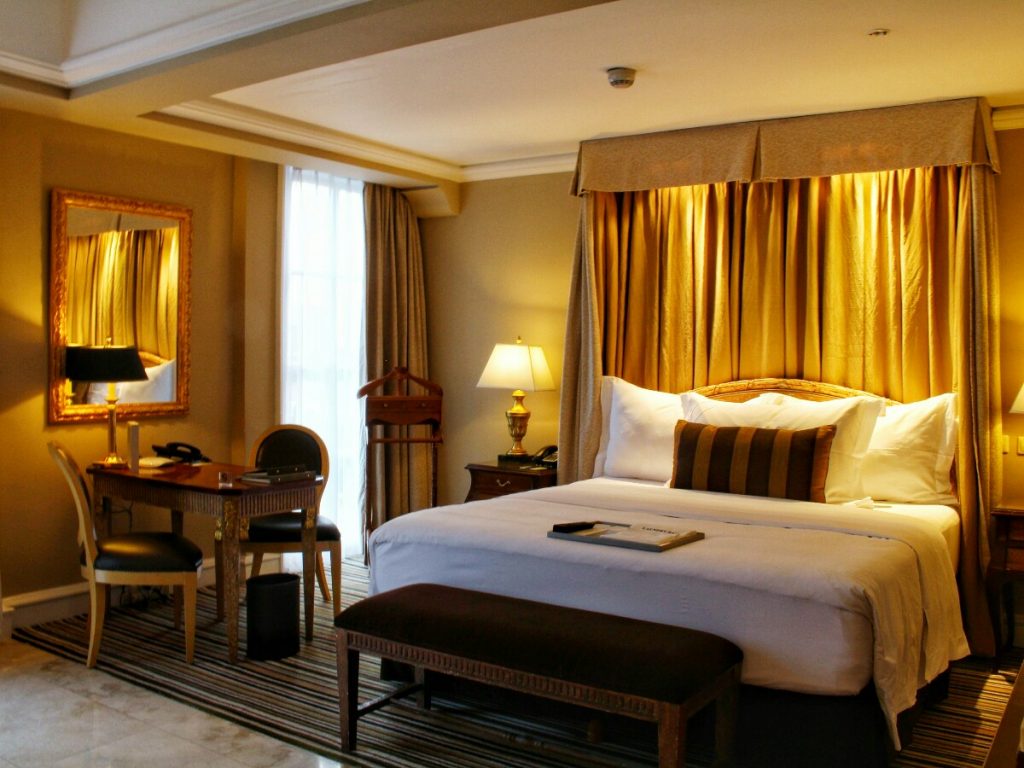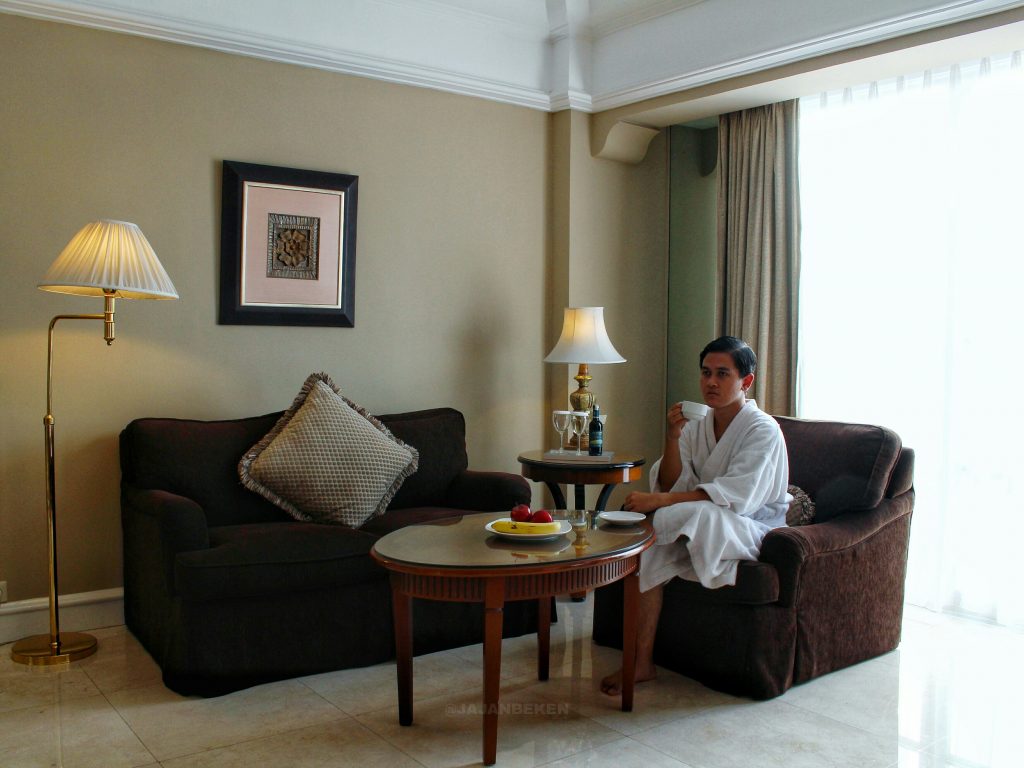 The room facilities here are very complete, that is In-room coffee/tea facilities, working desk, minibar, flat screen TV, safety box, some rooms with connecting doors, living room, 24-hour internet access, 2 pieces complimentary pressing service upon arrival. With room rates ranging from 1.5 Mio – 2 Mio the room amenities provided is very complete.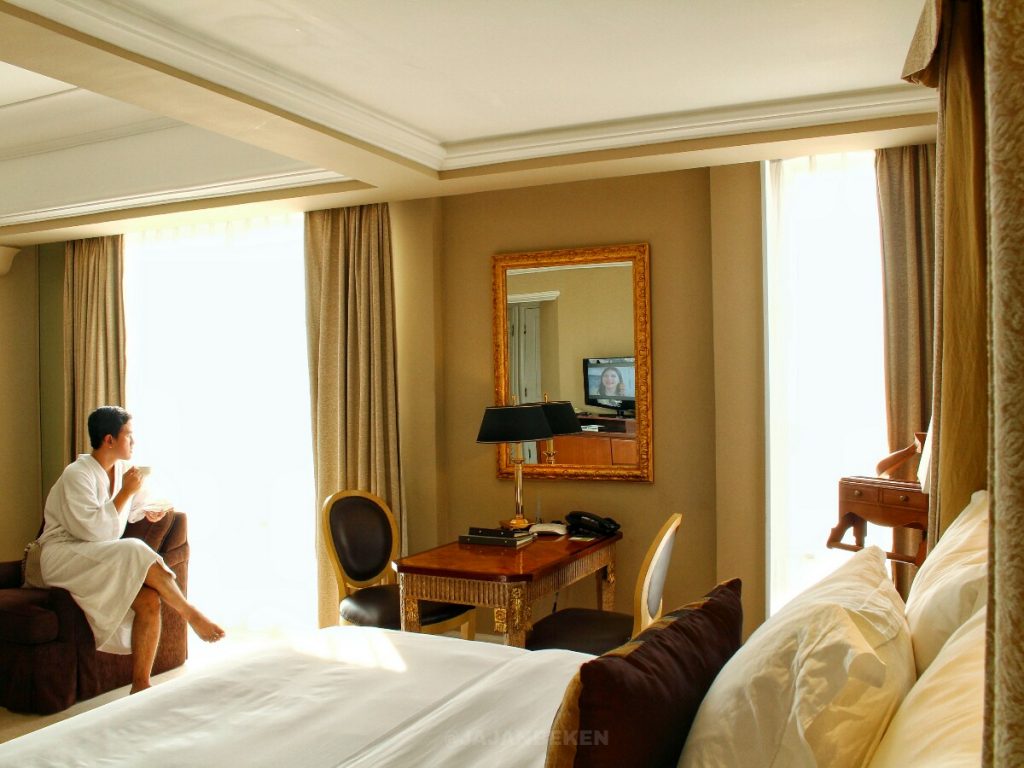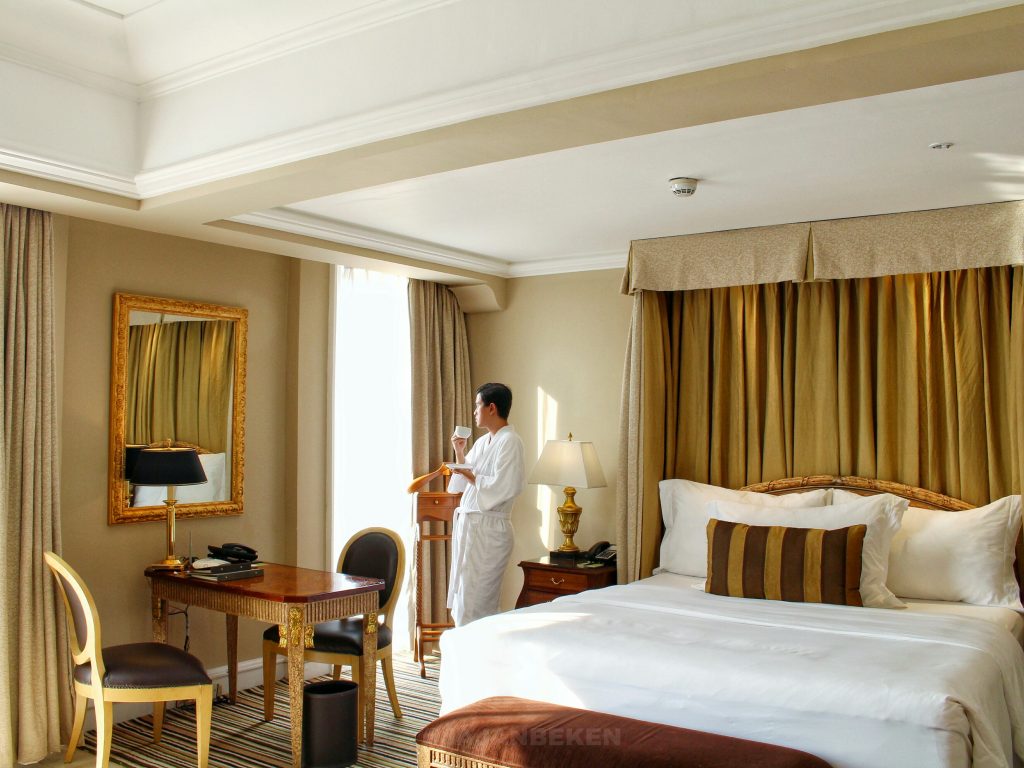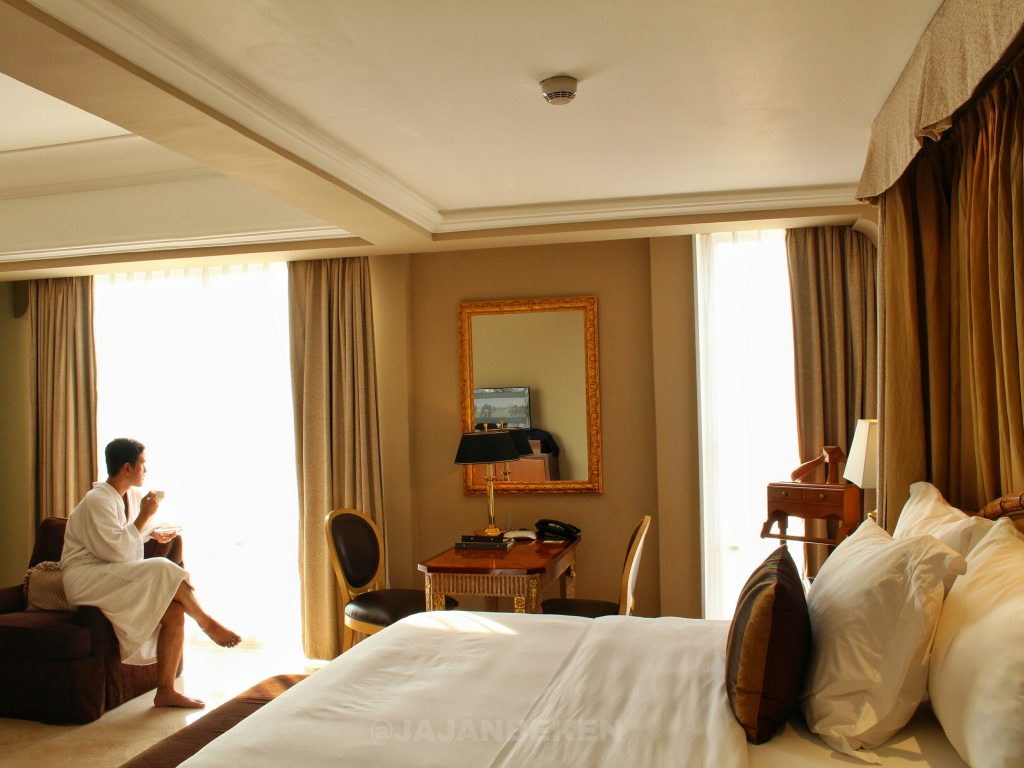 You can see, there is a curtain on the bed make it look classy and elegant. If you ask about the quality of the mattress? Just imagine you are sleeping in a bed of cotton, so comfy!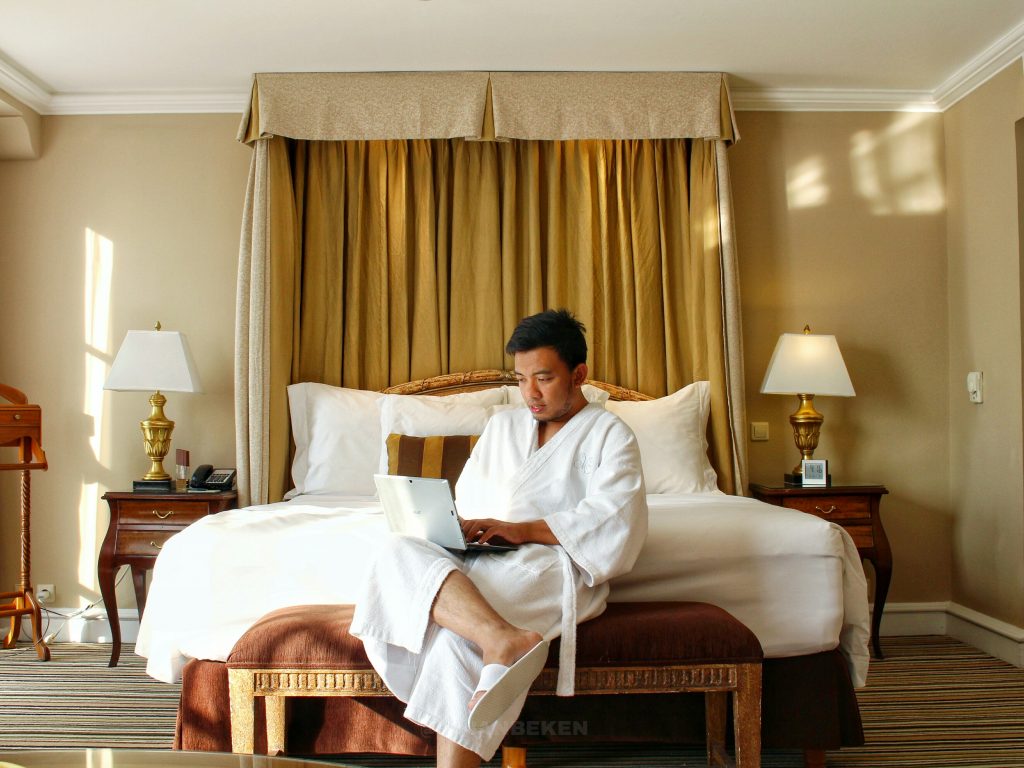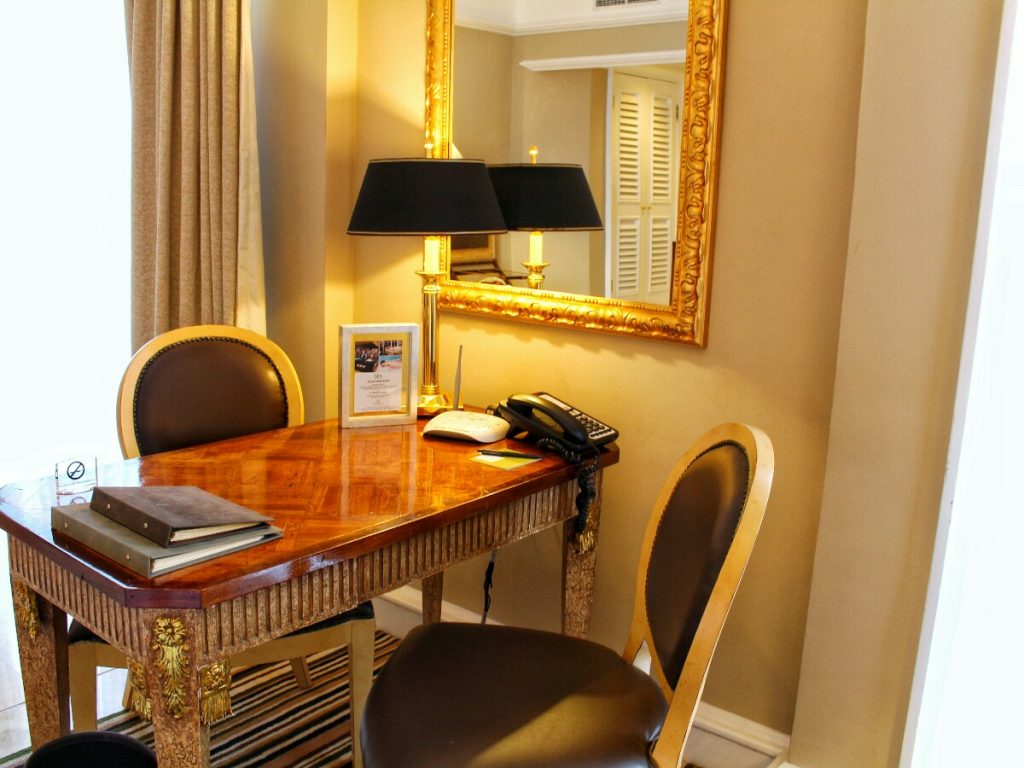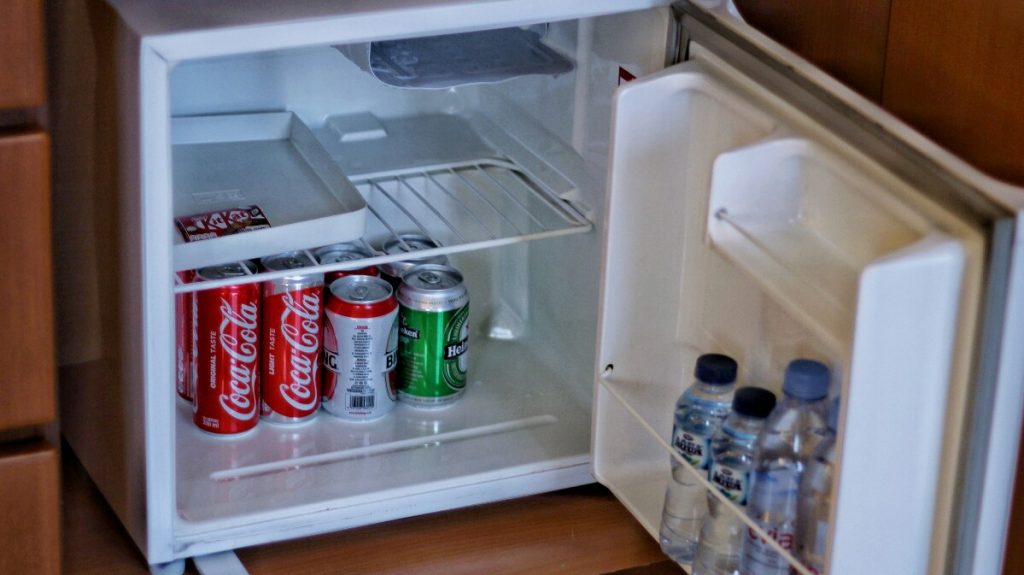 The Bathroom
I really like with the atmosphere of the bathroom here, very bright and also clean. Bathroom amenities are provided very complete, and there are many towels with various uses. The soap and shampoo they use are very good quality, very fragrant and soft in my skin. Women's and men's equipment is available here like hairdryer or shaving tools. So you don't worry if you forget to bring your toiletries here.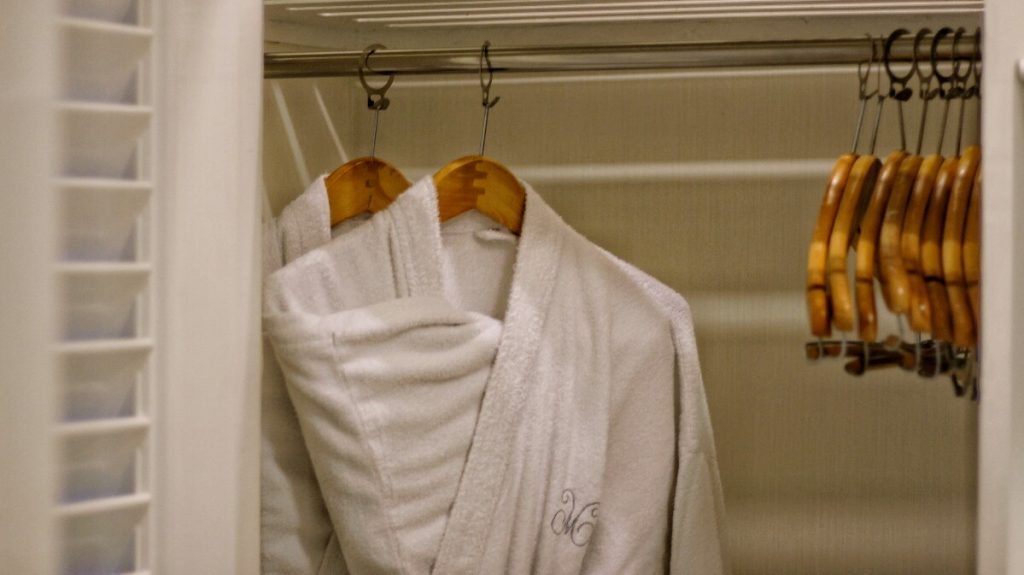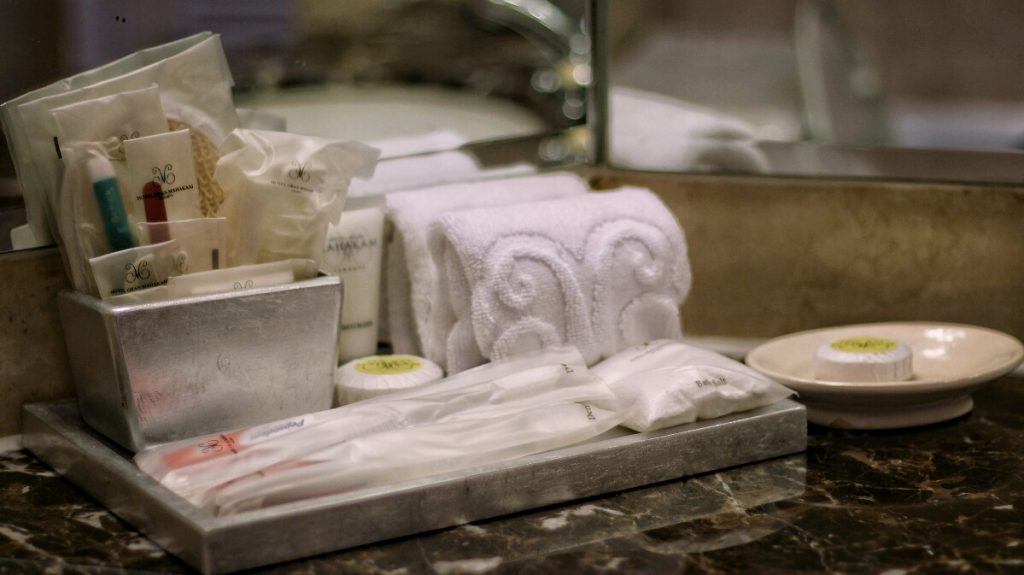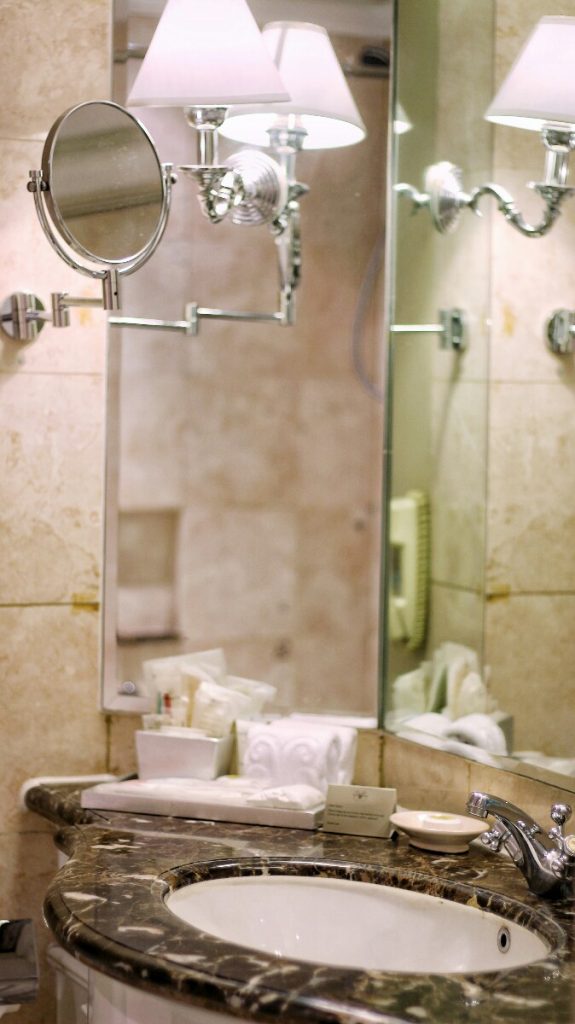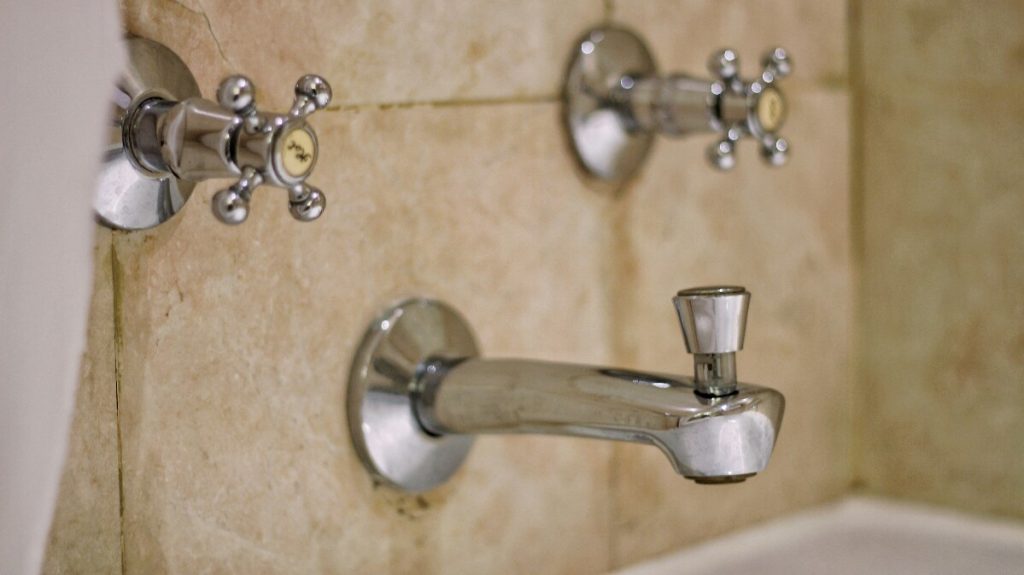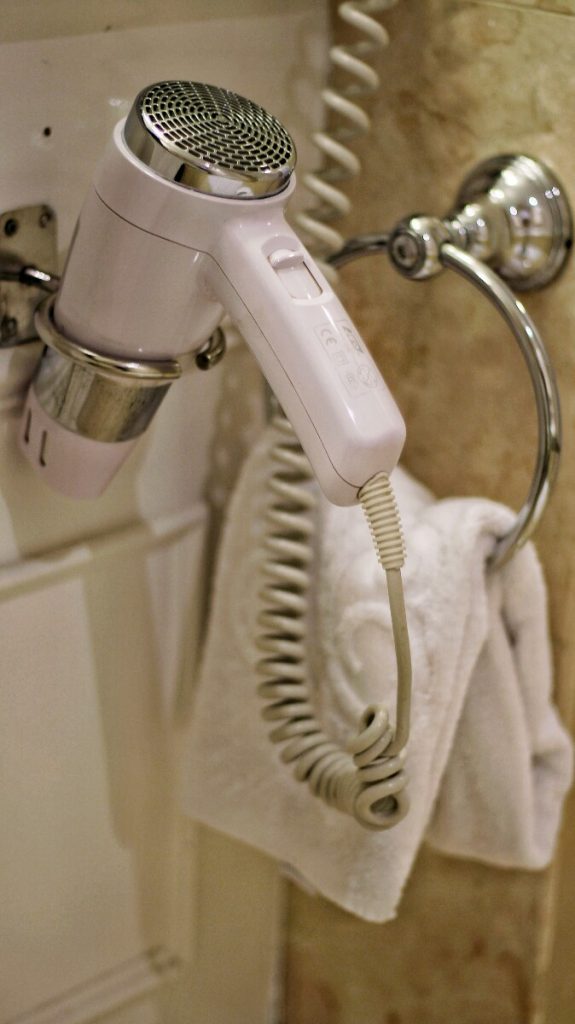 Gran Suite Room in Gran Mahakam
After seeing the room before, I will invite you to see the other room types. This room type is bigger than before If the previous room has a room size of 40.4 square meter for Gran Suites has a room size of 87.3 square meter. Gran Suite is a duplex suite with an elegant living room and cozy dining space with a spacious pantry on the lower level and a comfy working table and bedroom on the upper level.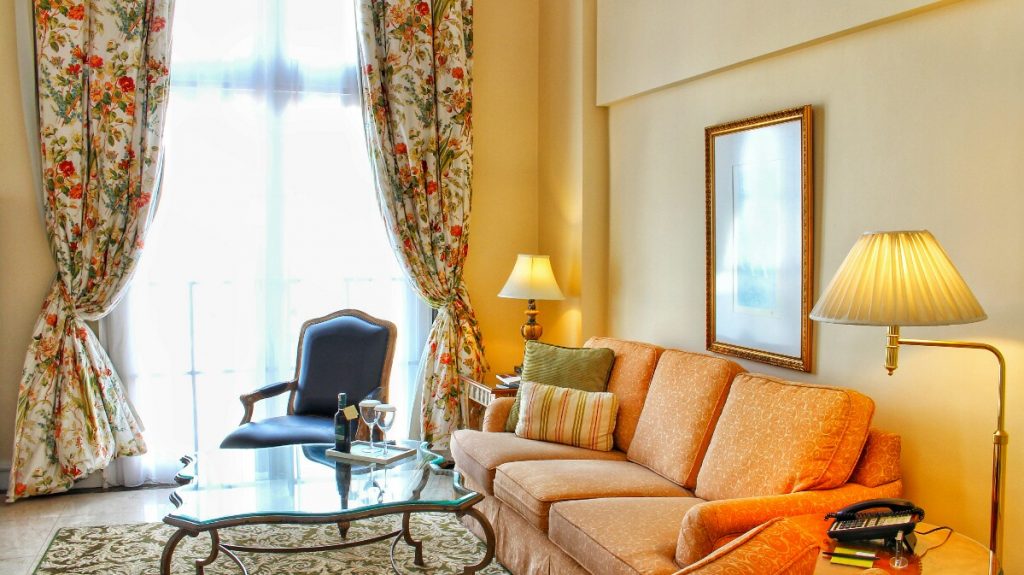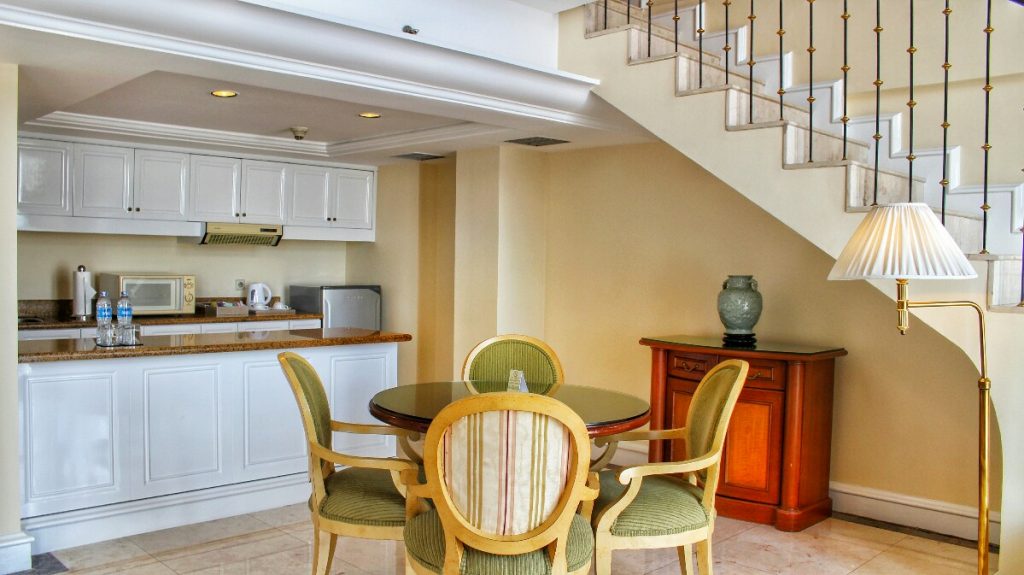 I really like this room design because it has designed in classic style, the Gran Suite is ideal for business travel or a family holiday. For the facility is not much different from the previous room but they have a pantry with quite complete equipment.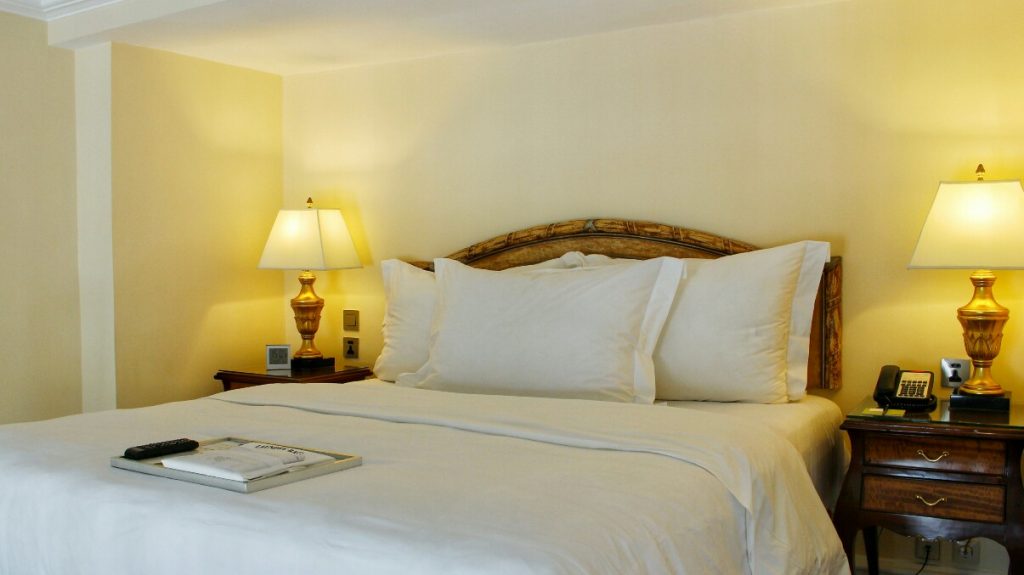 Gran Mahakam Hotel Spa
I think they have the best spa in Jakarta with professional and experienced therapist. The therapist know very well the fatigue spot during massage with accurate pressure but still gentle. The SPA has one double room and one single treatment room, all equipped with personal steam rooms. We may choose from a wide variety of SPA treatments based needs.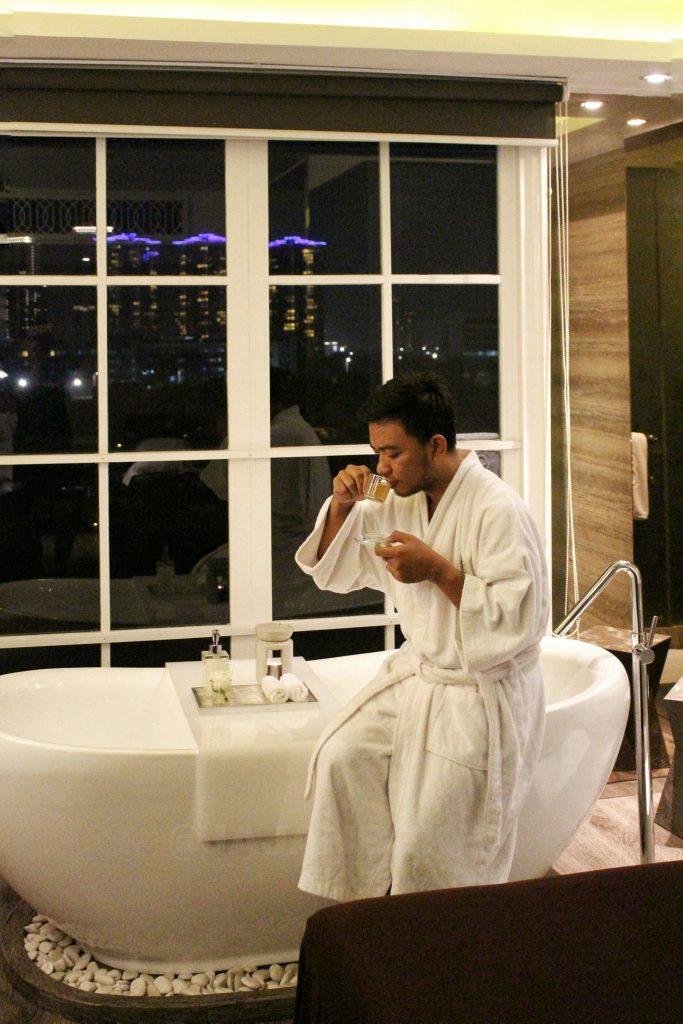 They have signature treatments such as Mahakam Signature Massage, which integrates a blend of Swedish, Deep Tissue, Sports Massage and other techniques. The SPA at Hotel Gran Mahakam invites you to pamper and indulge yourself at one of the most exquisite spa experiences in Jakarta.​ Seriously I can go back to this hotel because of the Spa you must to try it too.
Swimming Pool Gran Mahakam Hotel
Swimming at Hotel Gran Mahakam is a perfect getaway for me to relax and unwind after a day's work or for pampering over the weekend. The extraordinary design and architecture of the swimming pool area interiors create a stylish atmosphere with inspiring views of the beautiful skyline of Jakarta.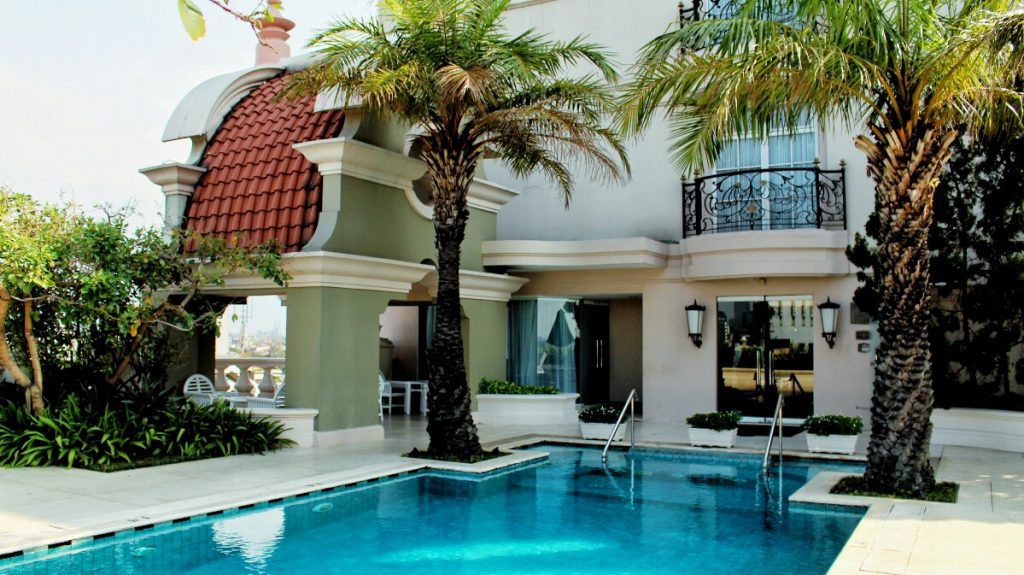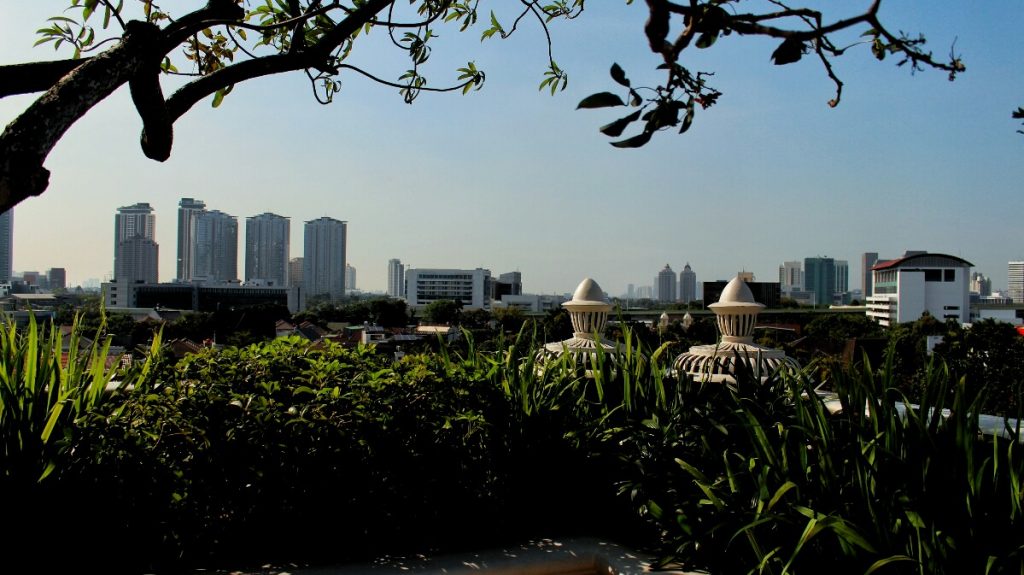 Le Gran Cafe
The famous Le Gran Café Restaurant in Jakarta Selatan will tease palate with an array of superb International buffet choices and an extensive a la carte menu featuring traditional Indonesian specialties as well as Western, Asian and Japanese cuisine. For the complete information of this restaurant, you can click the link here.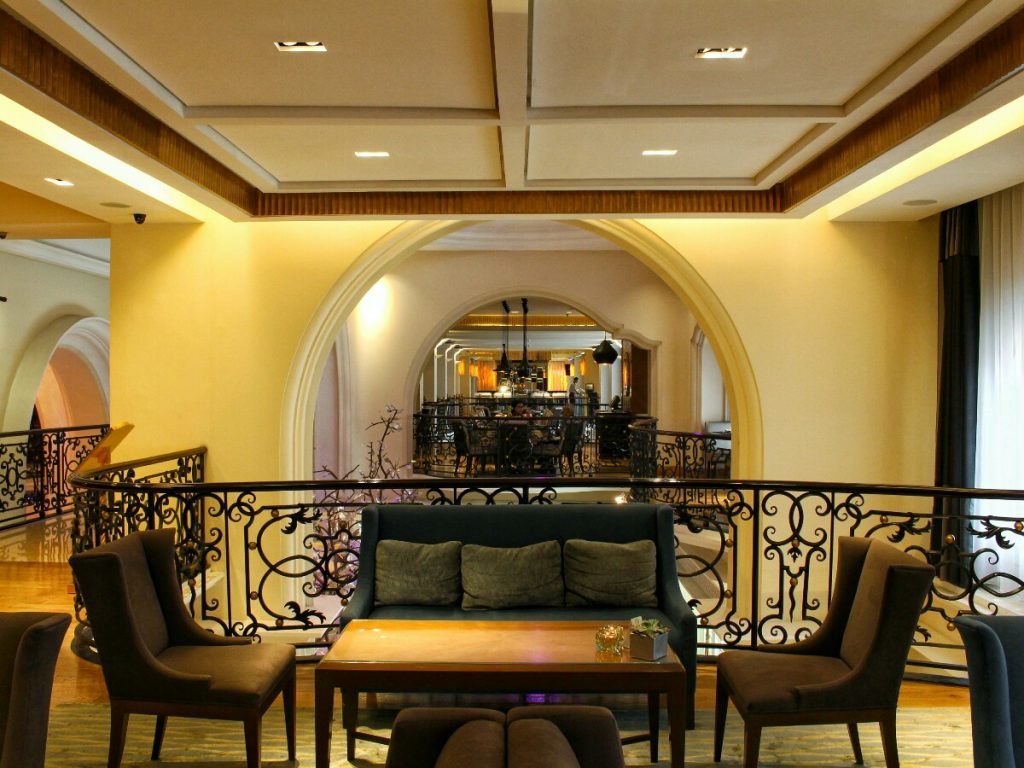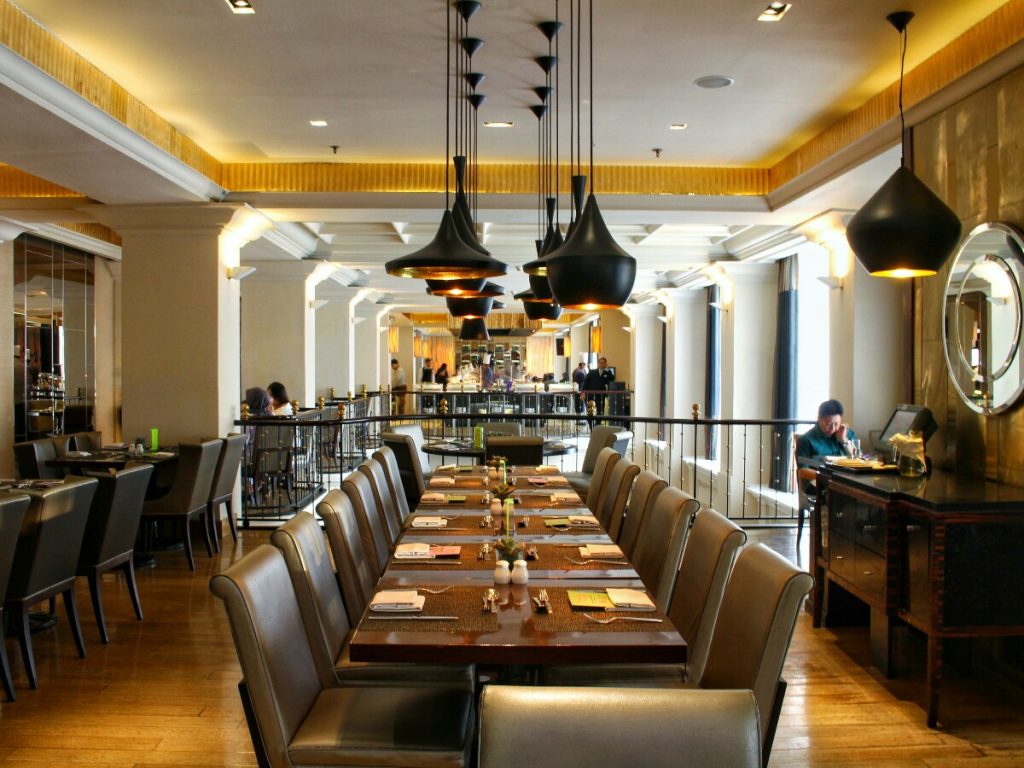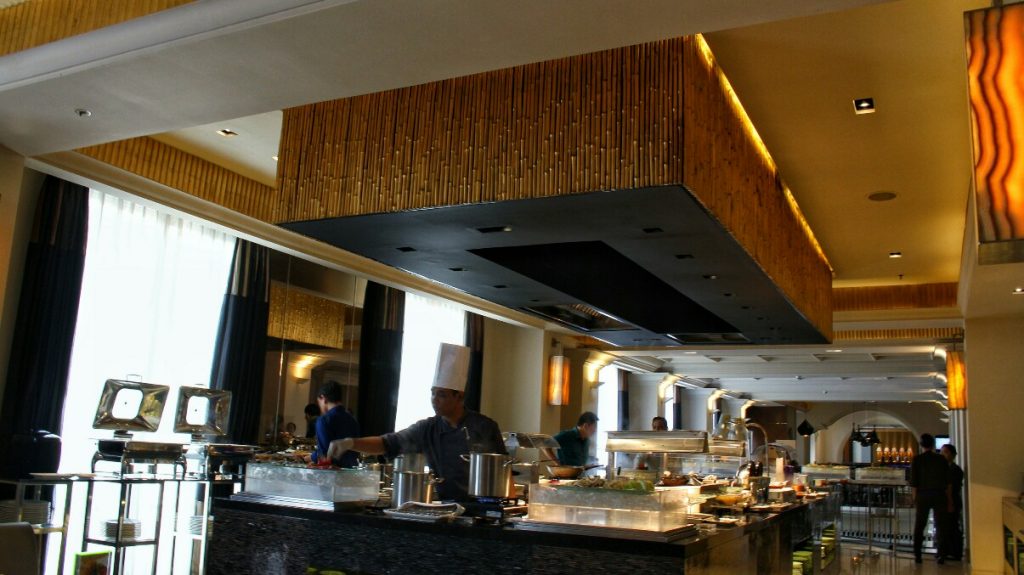 AOKI Japanese Cuisine Gran Mahakam Hotel
Besides le gran cafe, this hotel has another restaurant with delicious Japanese specialties. AOKI Japanese Cuisine has been reputed as one of the most stylish dining venues in the city. With a modern and private dining concept, their signature Japanese restaurant in Jakarta Selatan serves fusion Japanese cuisine that will leave your senses completely amazed.​
For the complete information of this restaurant, you can click the link here.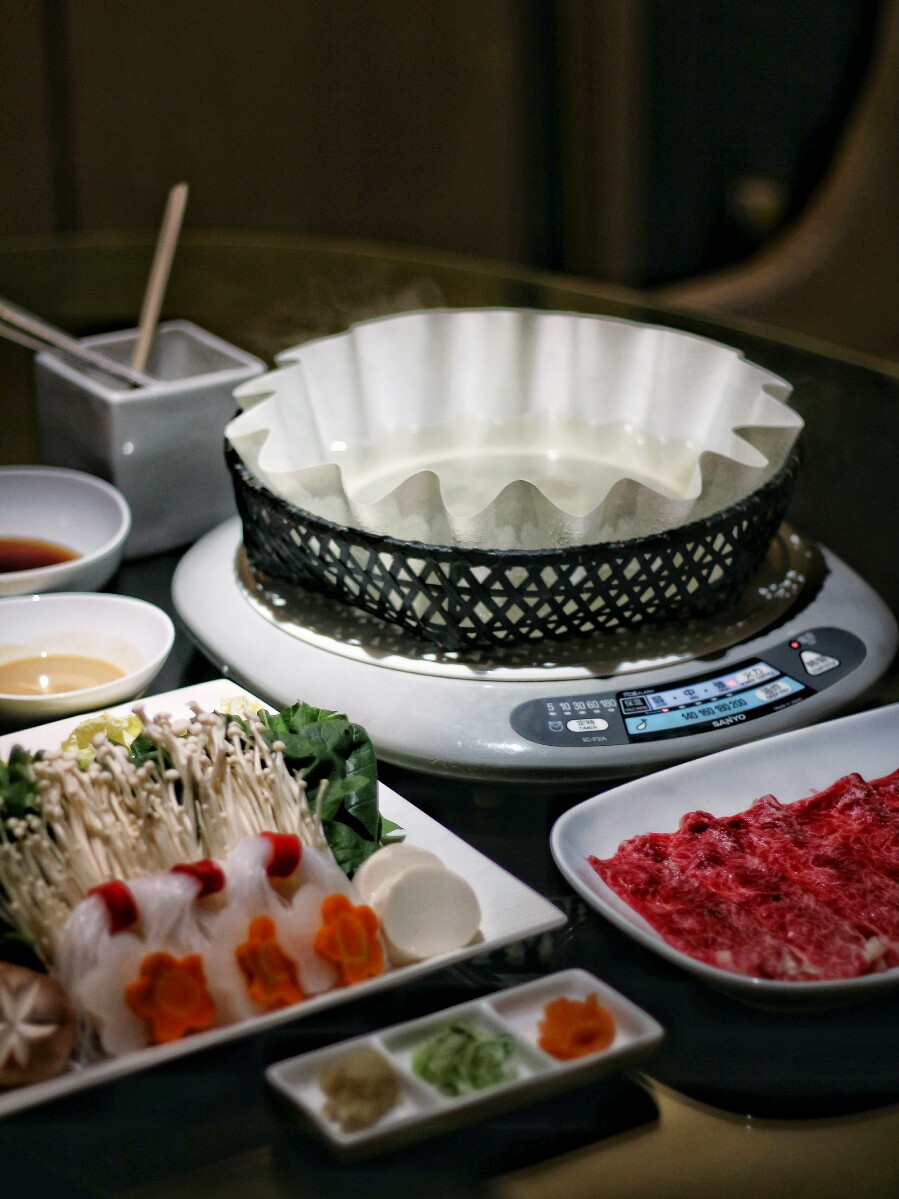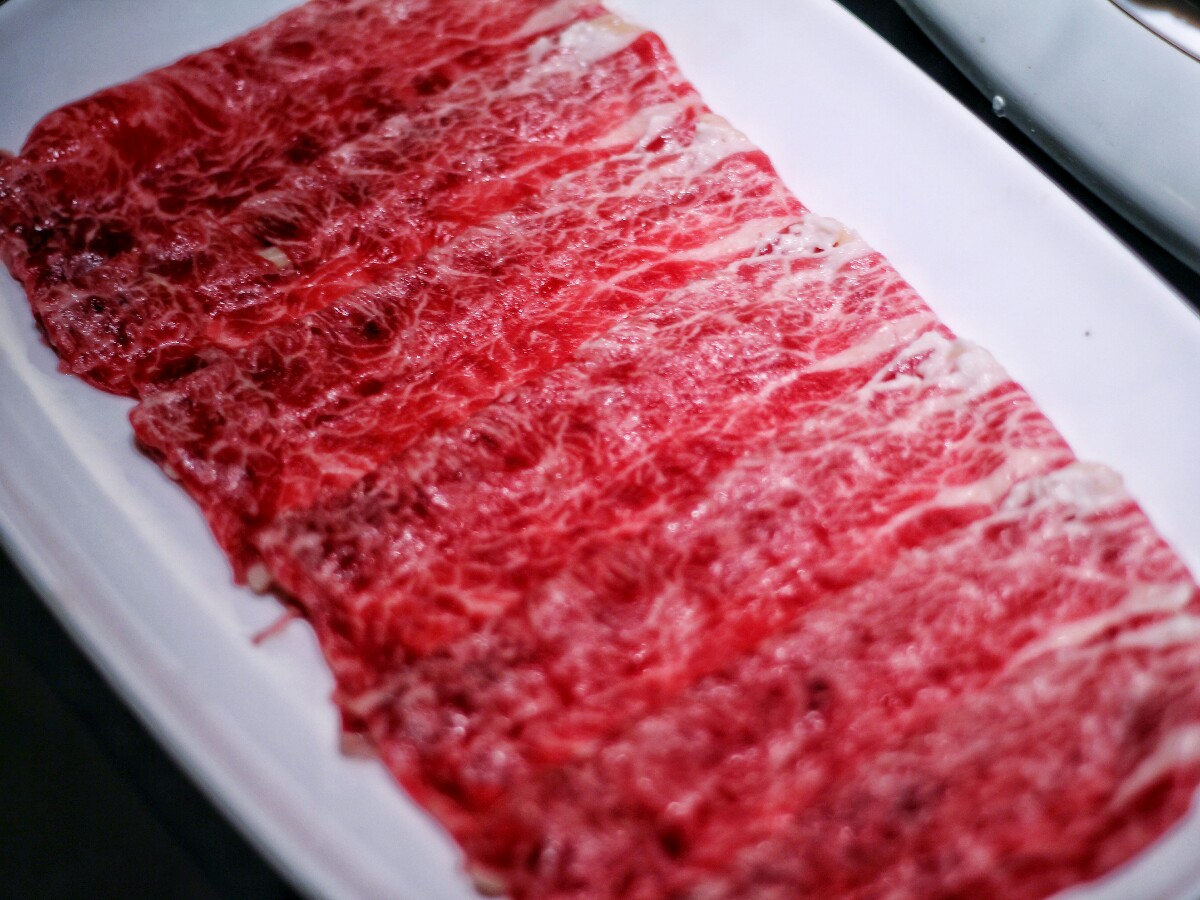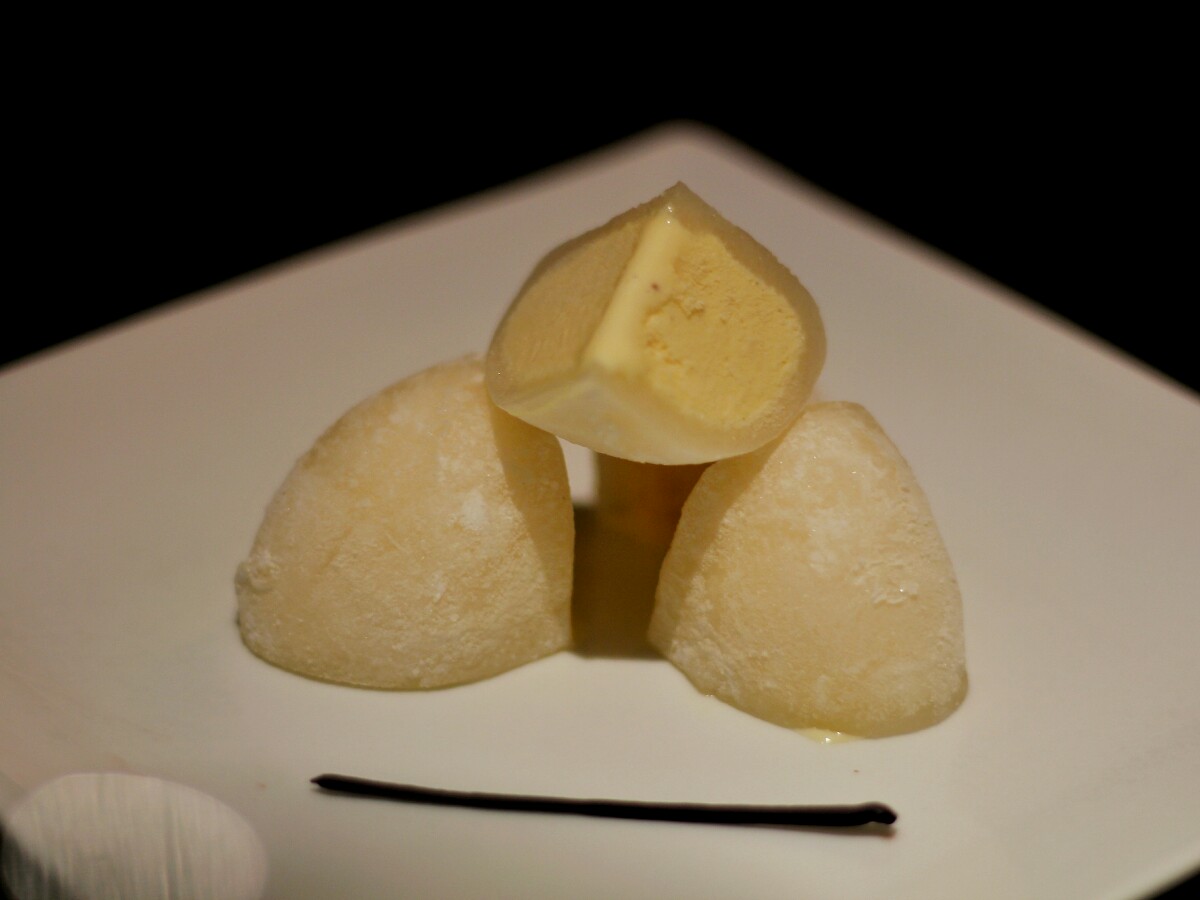 Afternoon Tea at Le Gran Cafe Gran Mahakam Hotel
The Lounge endows a fine variety of light snacks, tempting cocktails or a relaxing cup of tea. Located on the ground floor level, it's the perfect place if you're looking for wonderful places to chill out in Jakarta.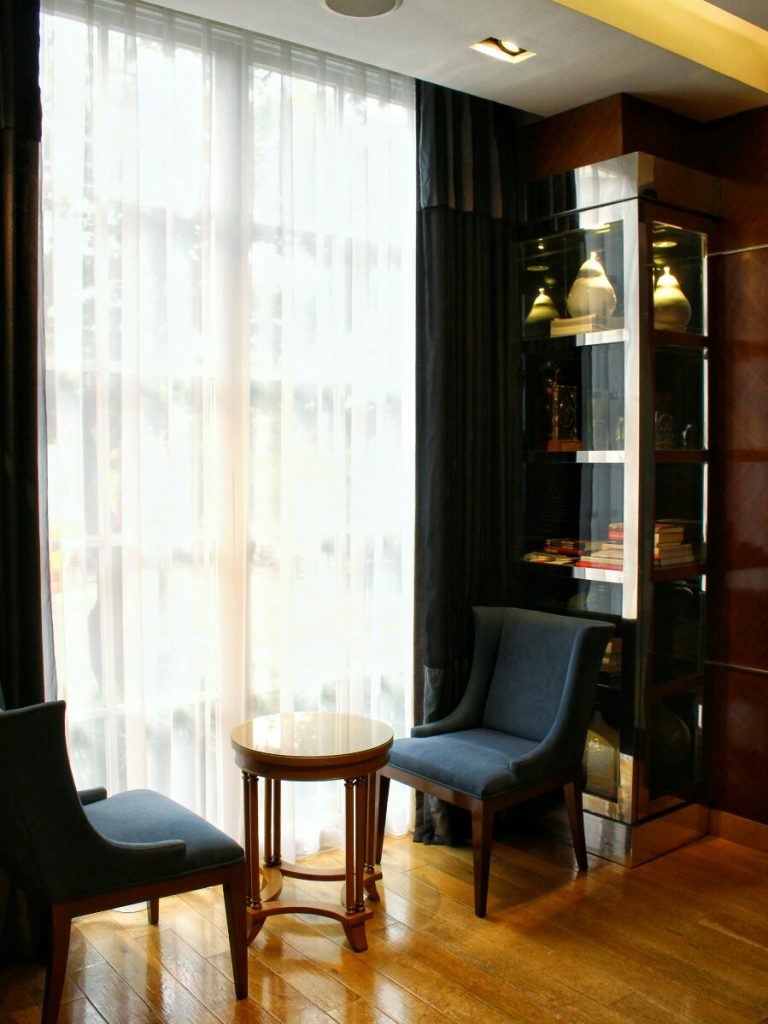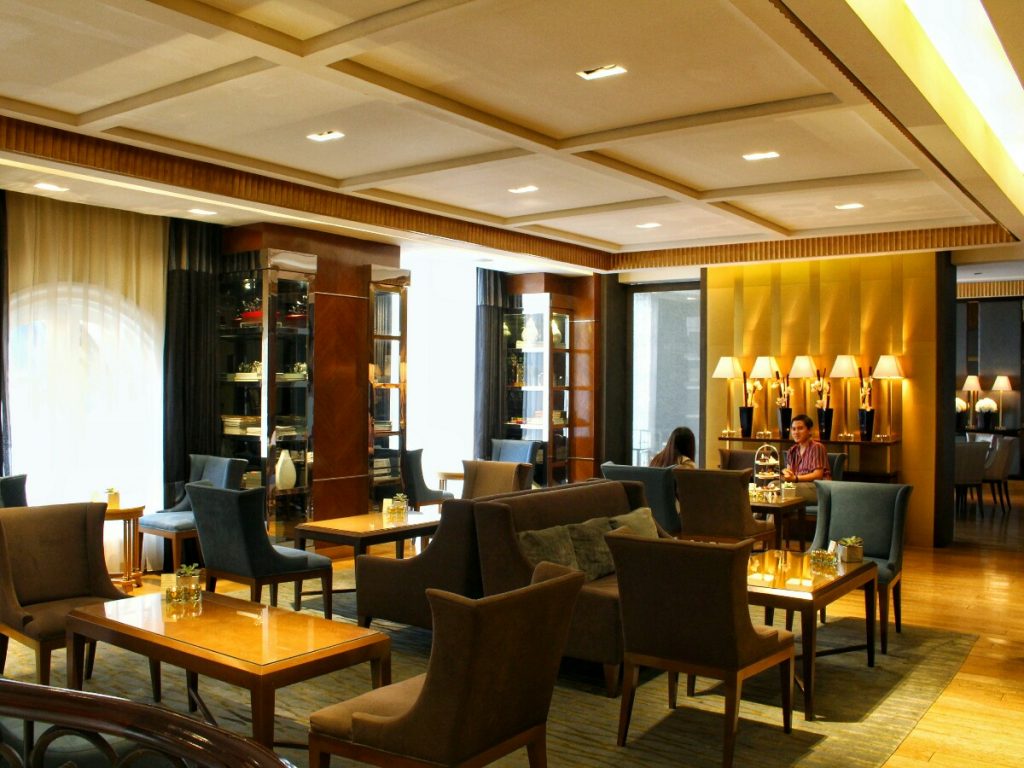 Enjoy single bite cakes and snacks that you can pair with tea or coffee. All this delicious package can be enjoyed at the afternoon at Le Gran Cafe gran Mahakam Hotel.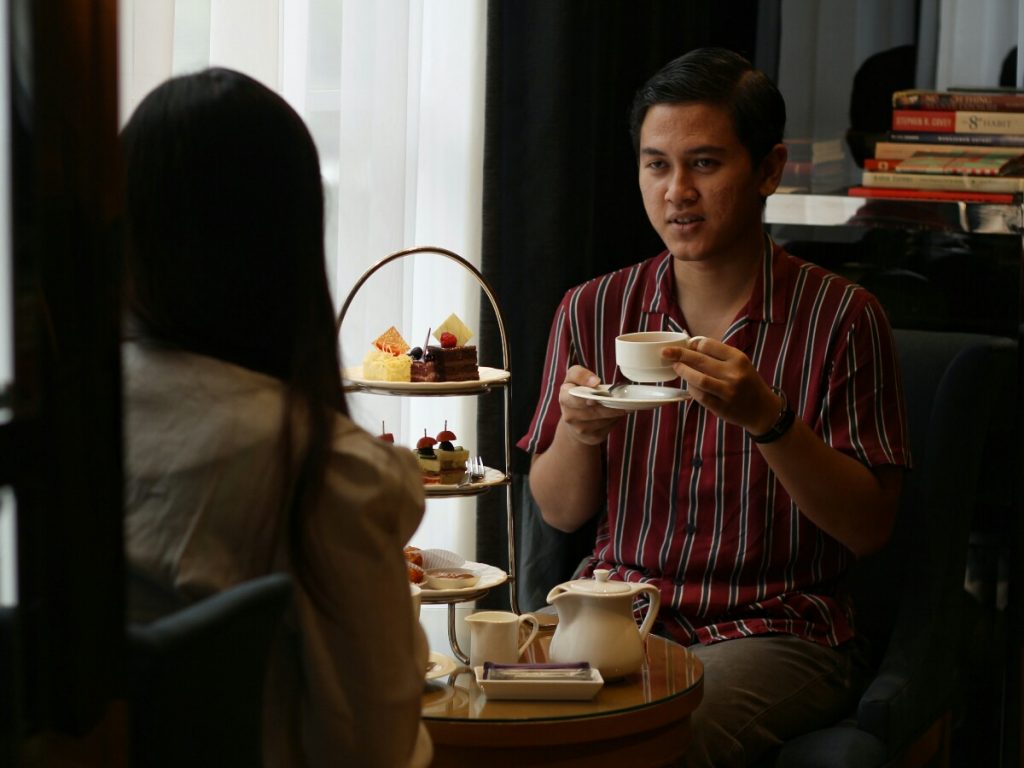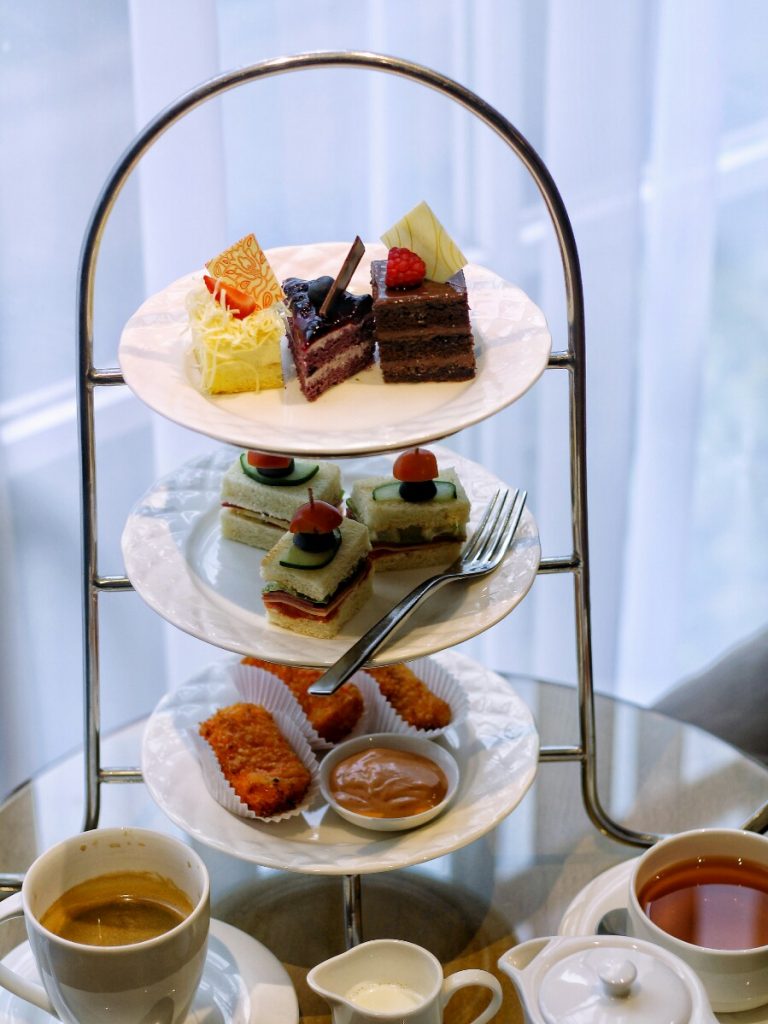 I really like all the facilities in this hotel, none disappointed me, even made me amaze with its use. The rooms, service to the restaurant at the Hotel Gran Mahakam has a 5 star quality unmatched. I invite you to feel the way I feel while here. an impressive experience amid the hustle and bustle of Jakarta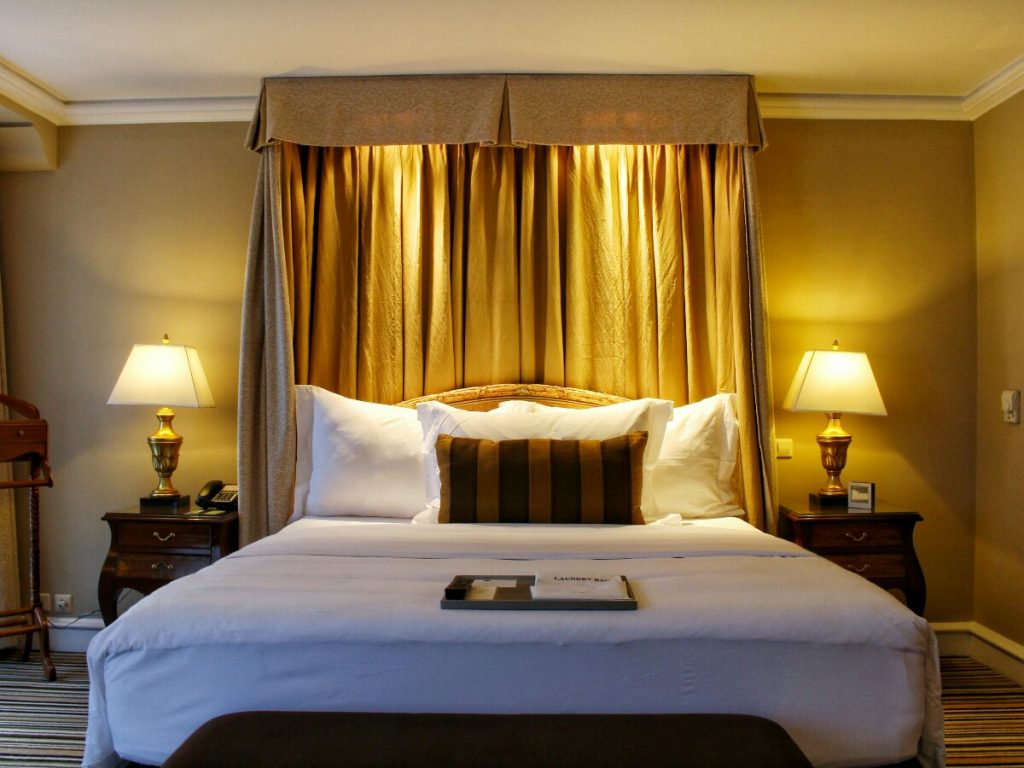 That is all the review for Gran Mahakam Hotel and this place could be a good choice for you who want stay near crossroads of the business and commercial district in the heart of widely popular South Jakarta specially Blok M area, where world-class shopping, dining and entertainment await.
Thank you for reading and have a nice holiday guys!
CONTACT
<
p style="text-align: center;">Address : Jalan Mahakam No.8, Kebayoran Baru, Jakarta Selatan
DKI Jakarta 12130
<
p style="text-align: center;">Tel: +62 21 720 9966
Instagram: @granmahakamhotel
MAP