Bali is still a haven for tourists from the domestic until foreign tourists. This island is still a tourist magnet in Indonesia, this never-deserted island has diverse tourist destinations to enjoy, from the coast to the mountains, from the rice fields to the valley. If Bali has been synonymous with the beach, in this article we will introduce to you to Bali destination for the amusement park or edu-vacation park that a must visit namely Secret Garden Village.
Secret Garden Village is one of the tourist destinations in Bali, precisely on Jalan Raya Denpasar – Bedugul KM 36, Tabanan Bali or on the same road to the legendary Bedugul lake tourism. While enjoying the cool nature, we will be spoiled by the concept of this edu-vacation park that eye catching.
The building has unique shape is inspired by the mountains around it and as the name implies, we will be taken to explore space after space that has its own uniqueness. In addition, we can feel the meaning of the secret garden from Secret Garden Village Bali name because of the unique architecture and contemporary characteristics.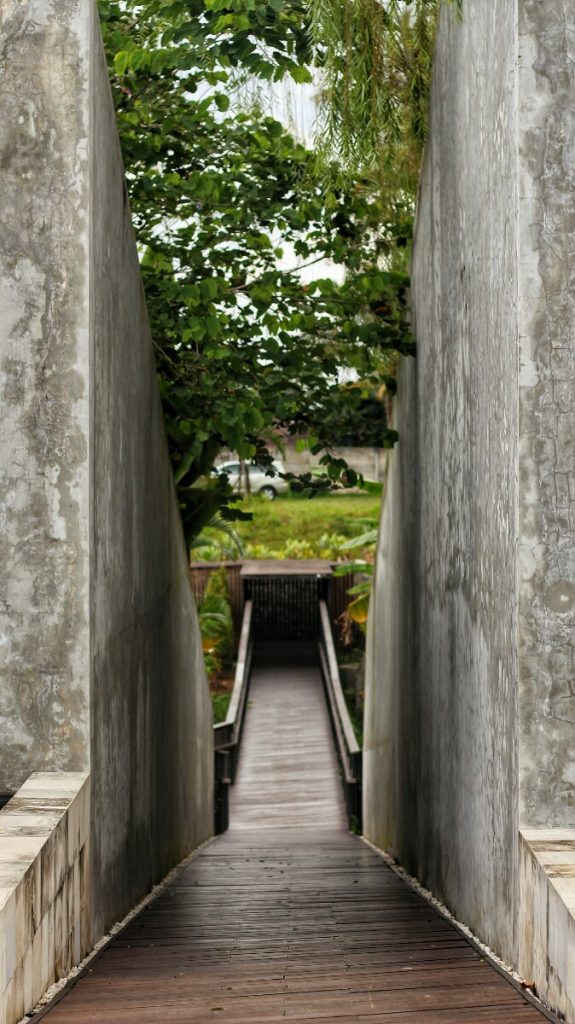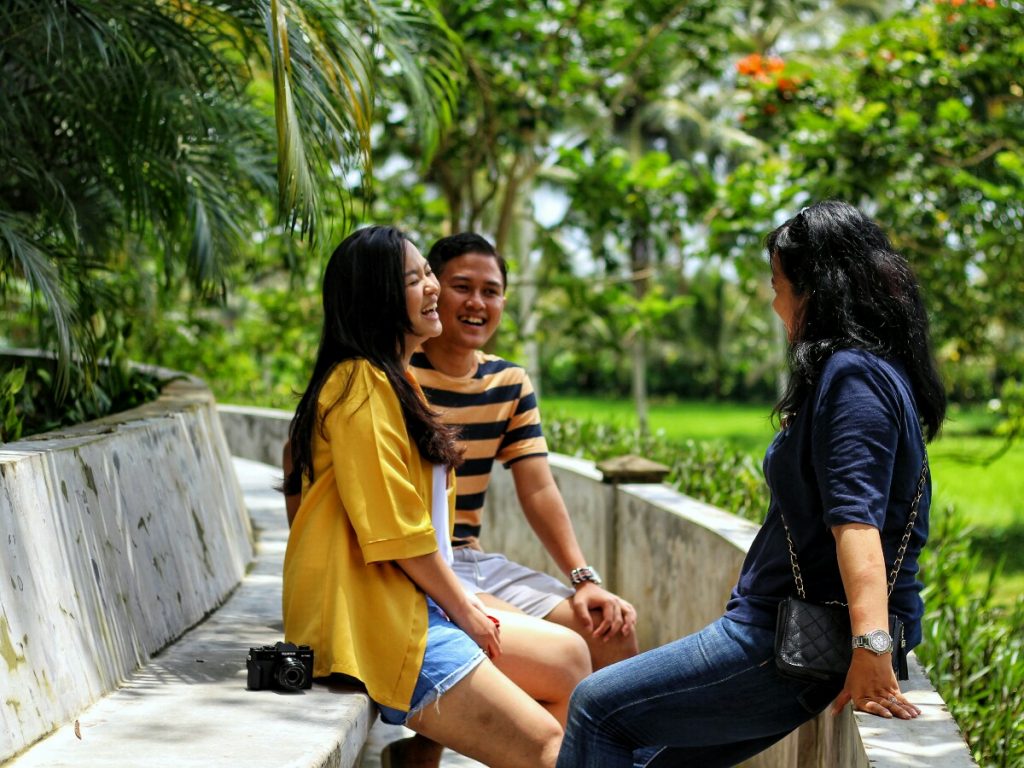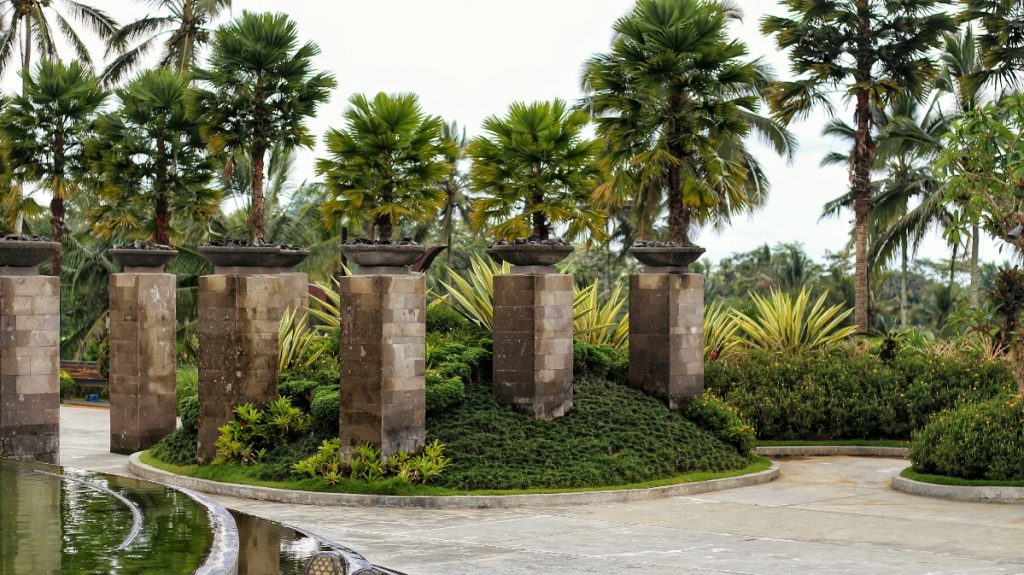 Standing on an area of 4 hectares in Tabanan Bali, we can travel while educating and invited to see first hand the history and journey of one of Indonesia's original beauty products, Herborist.
Educational activities that we do there include Beauty Heritage Museum Tour, Mini Plant, Theater that plays short films about the history of cosmetics and no less interesting visitors will be invited to enter the area of Herborist Beauty Factory Outlet to experience and see directly the production of Herborist like in the Semarang factory.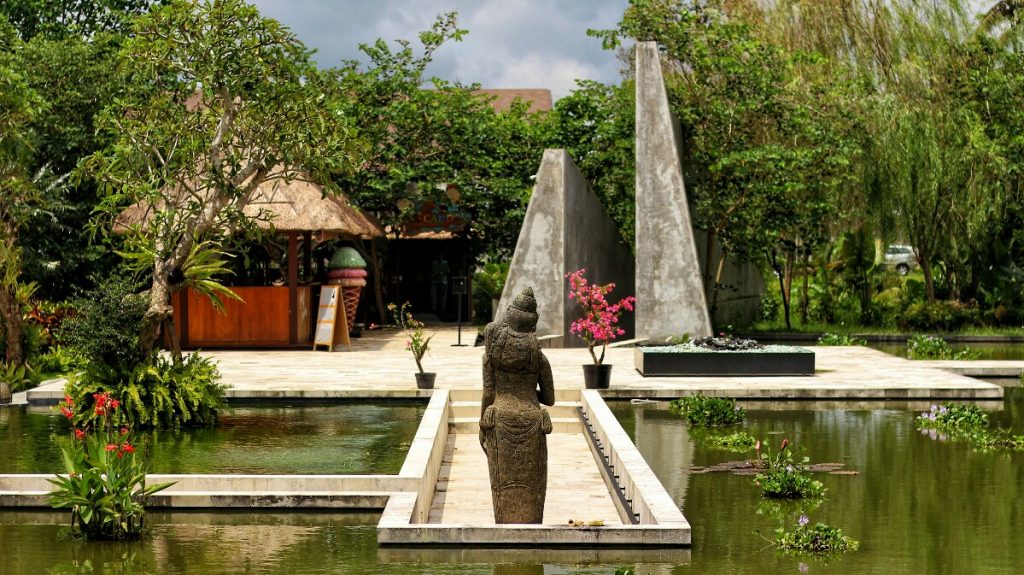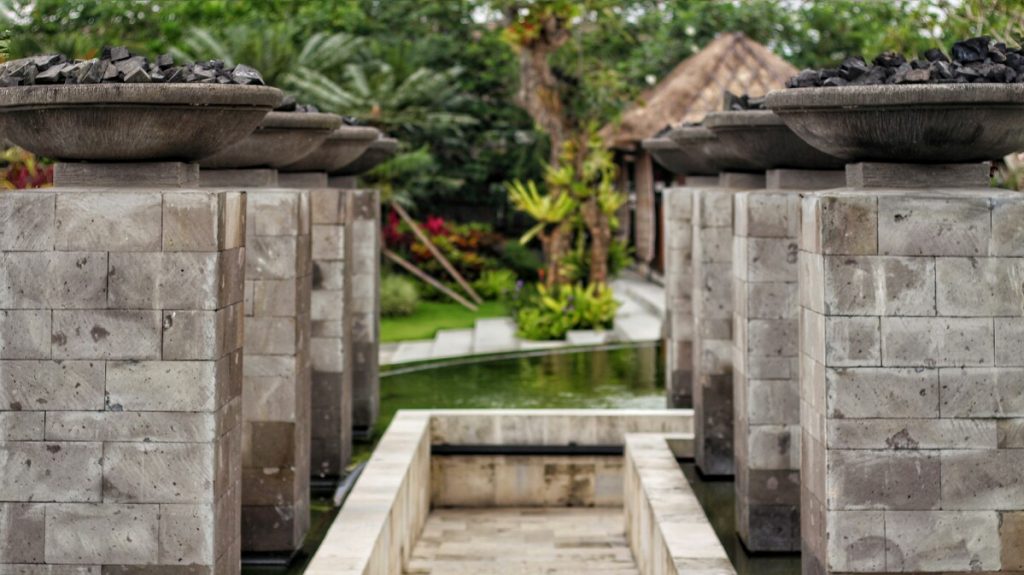 Exploring Rice Fields at Secret Garden Village
One of our favorite photo spots when in Secret Garden Village is the rice fields. How can they make a very beautiful spot with a sofa in the middle of the rice paddy. This is the moment captured in our instagram.
https://www.instagram.com/p/BqWMUEblKh4/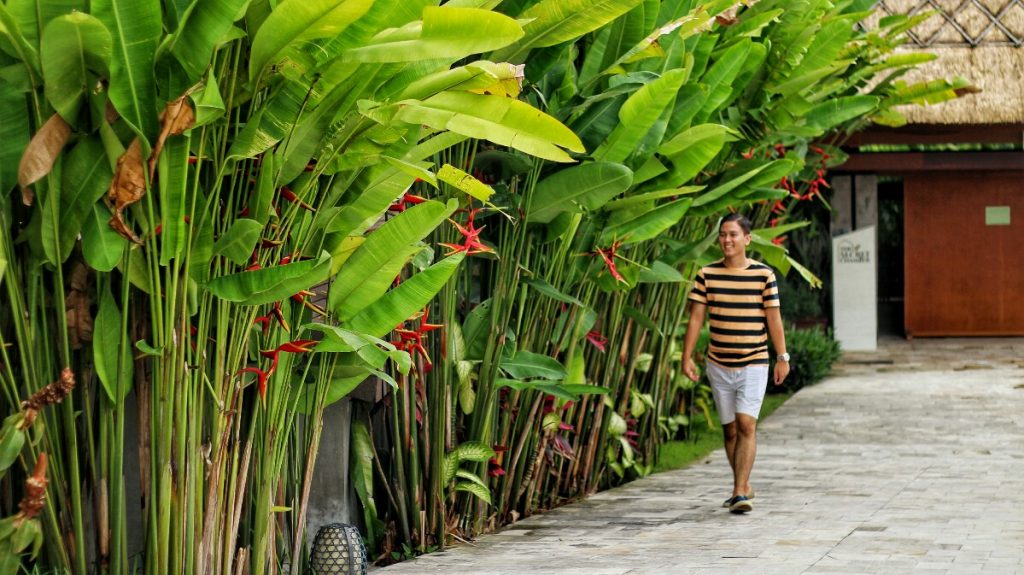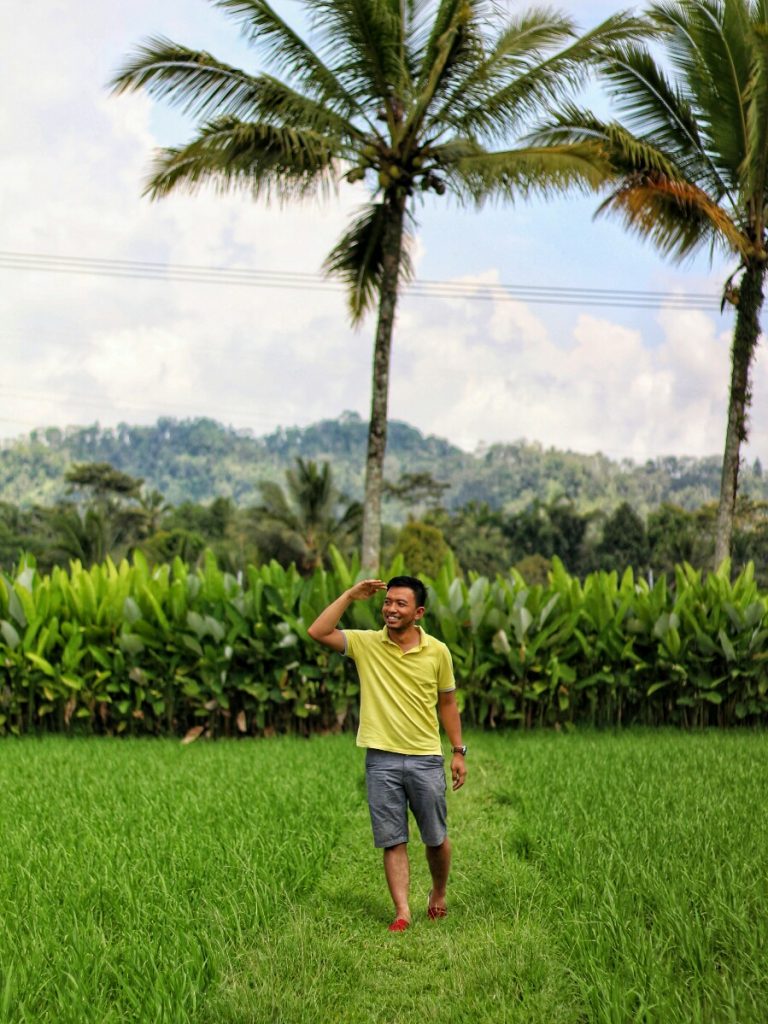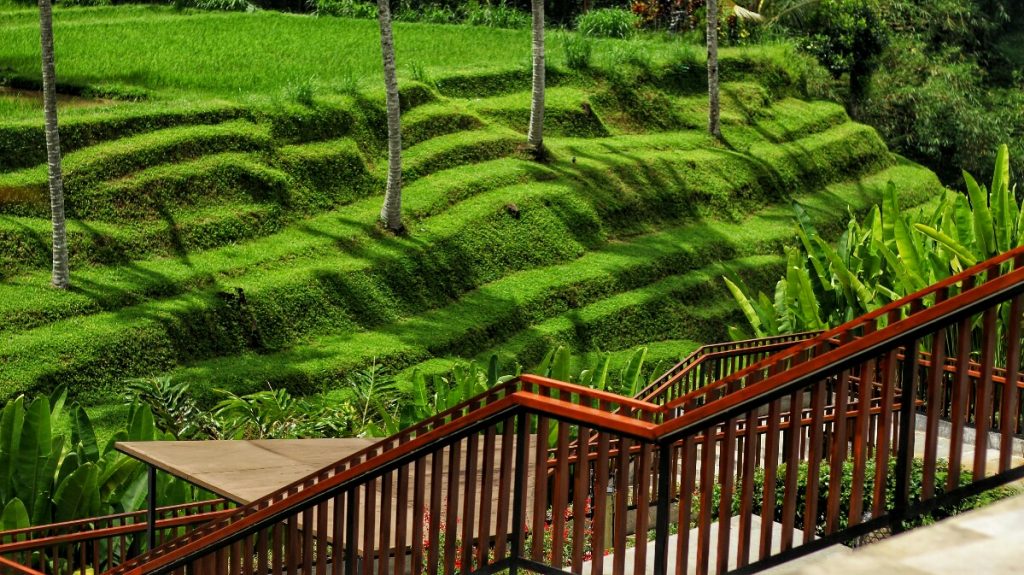 Having Afternoon Tea at Secret Garden Village
Enjoy a cup of warm tea while looking at the beautiful rice fields. A tempting snack and the tea are the best companion while enjoying this view. Tea or coffee accompanied by savory snacks such as Crispy Vegetable Spring Roll, Sandwich and of course the desserts like the sweet tempting cake, gethuk and pie.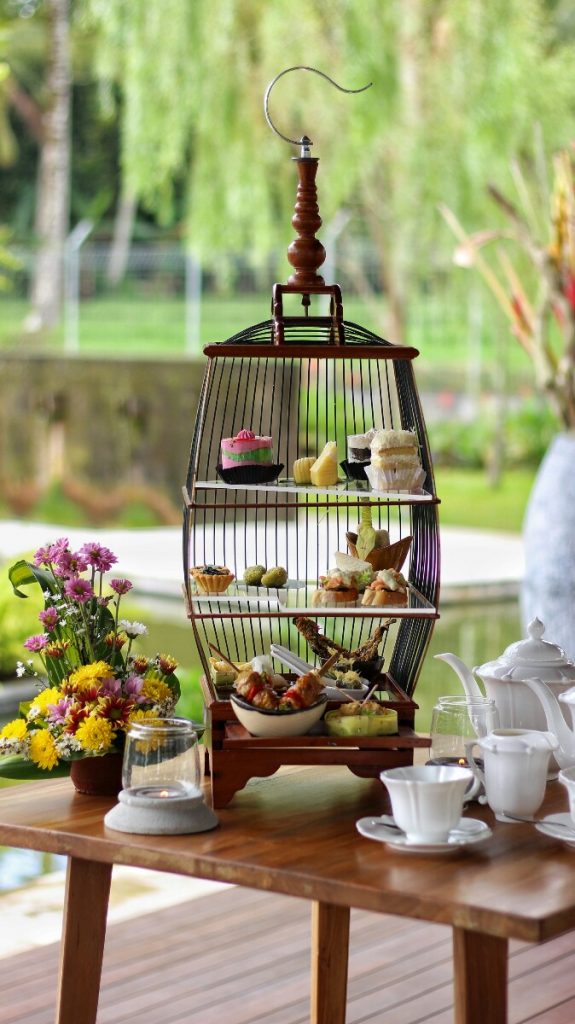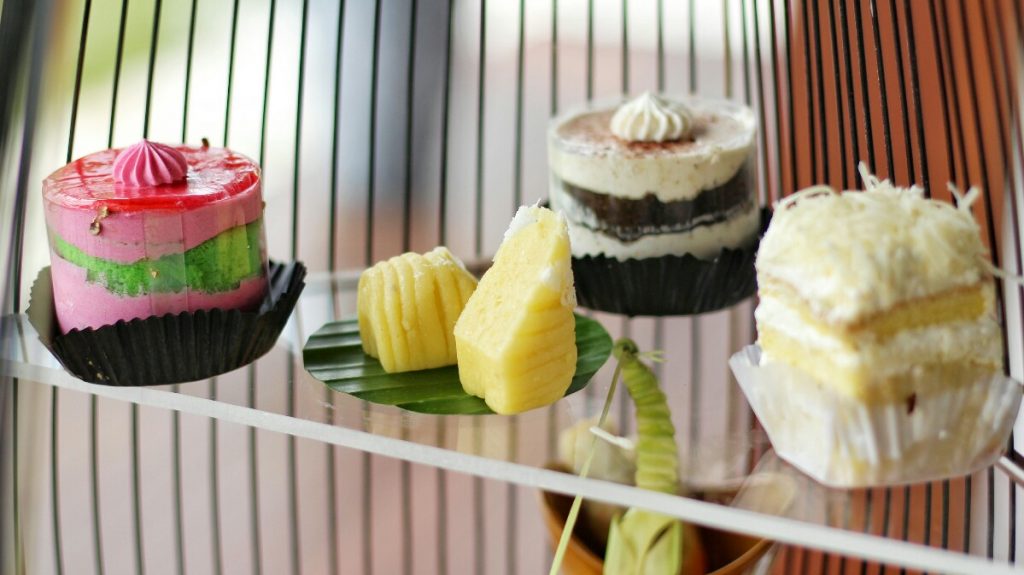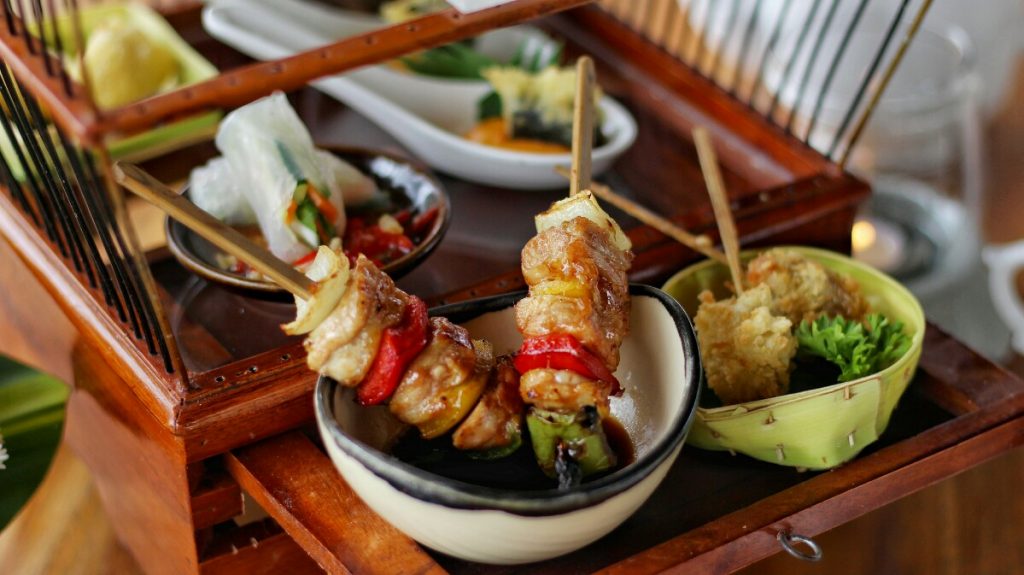 This is the view that you will enjoy when you are at Secret Garden Village.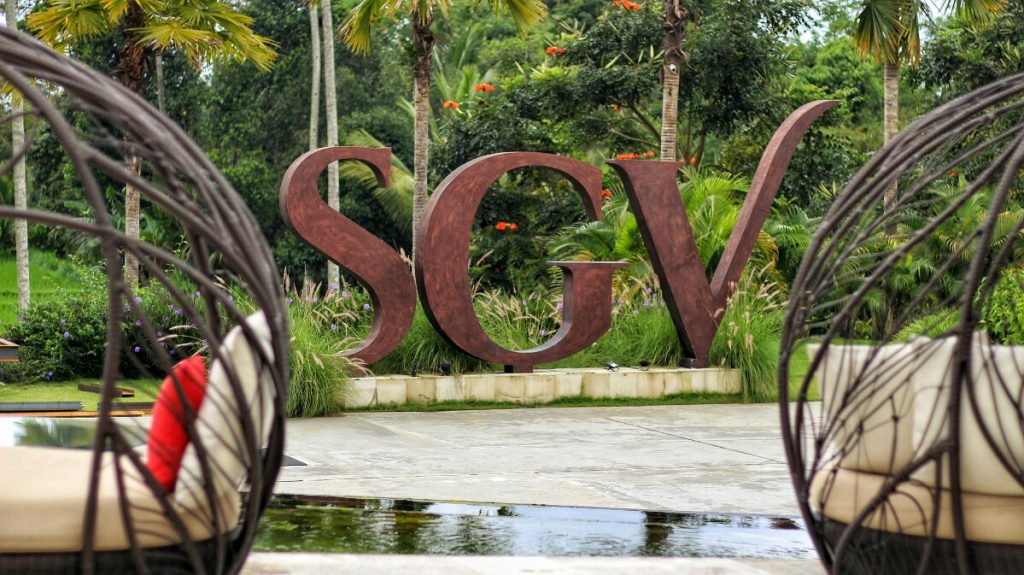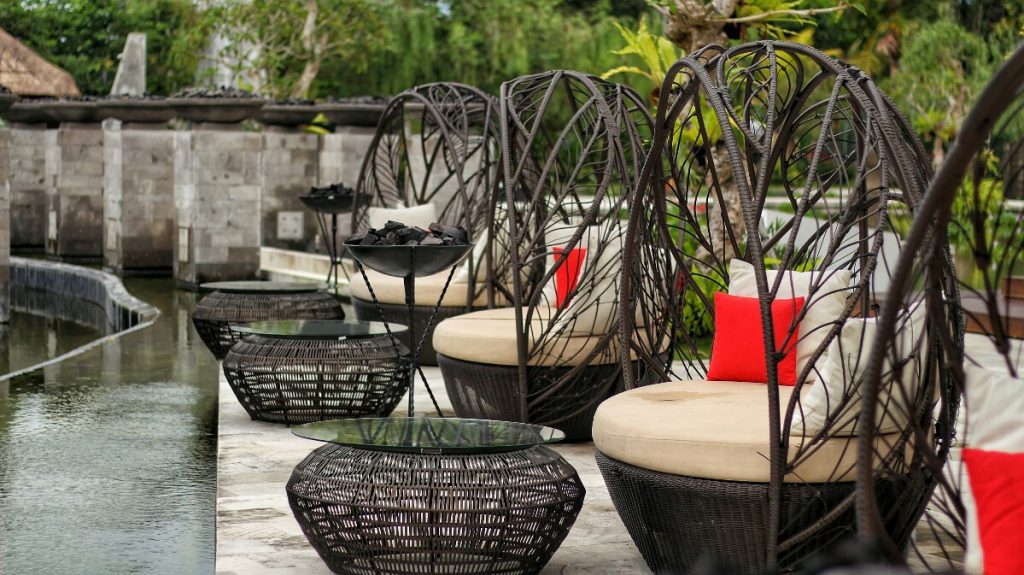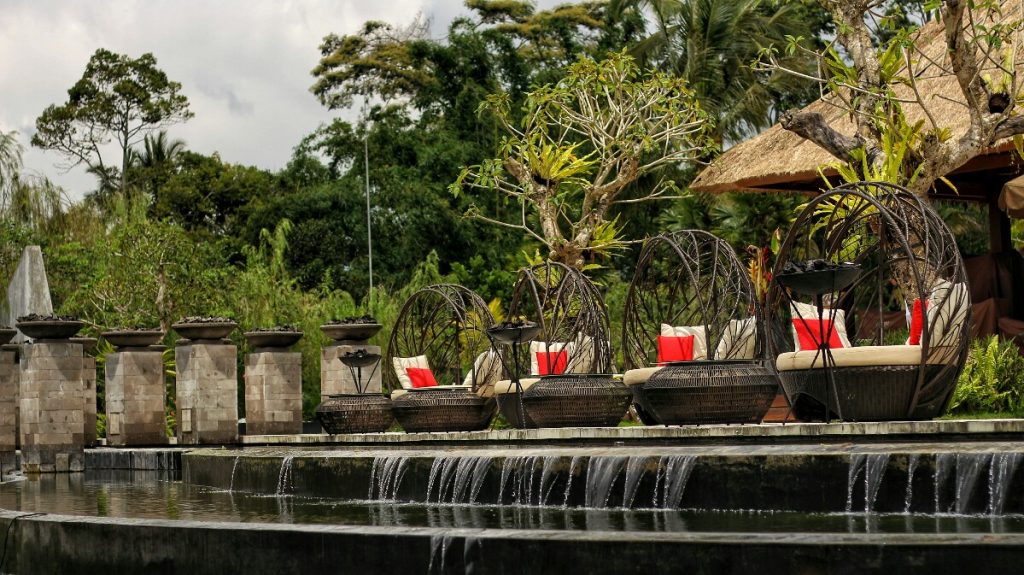 Great Meals at Rice View Restaurant
When you need a heavy meals just stop by at their restaurant like The Luwus and Rice View. We have chosen Rice View because this restaurant near to the rice fields and have an outdoor dining area with big shelter. Here are some menus that we have tried.
Sate Ayam Bawah Pohon Jambu is the most favorite menu at Rice View restaurant. It is served on a grill with the burning coals and make this dish so appetizing.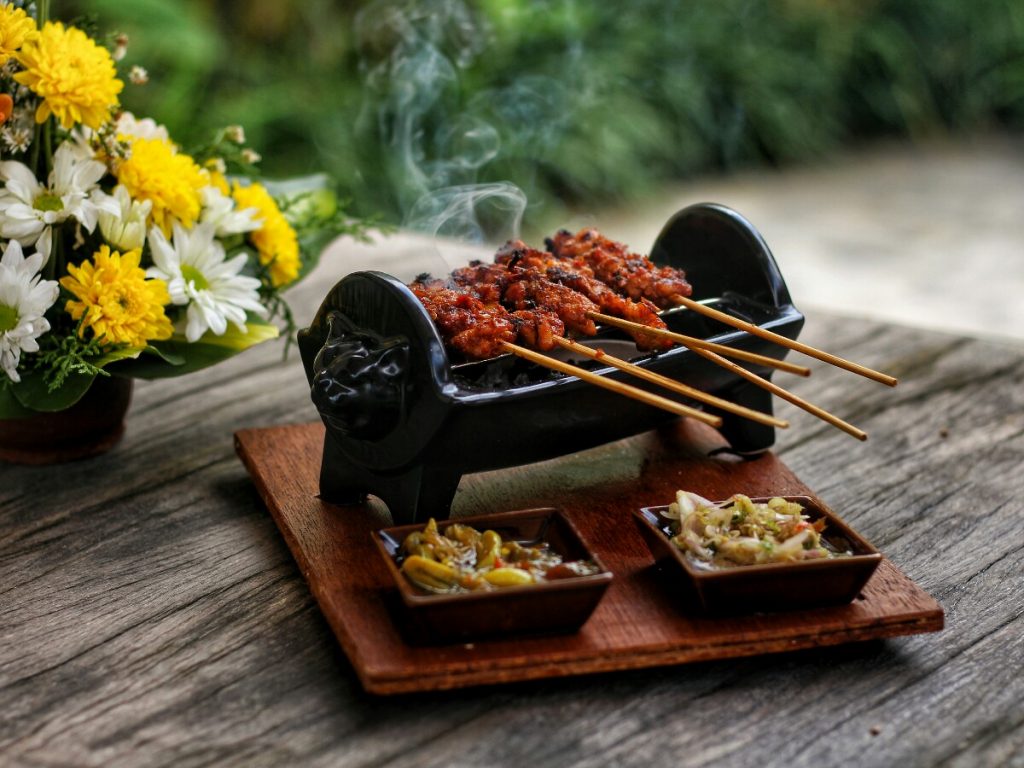 Look at how exciting this menu is when I post it on Instagram.
Indulge your taste buds with savory Lotus Leaf Nasi Bakar. Enjoy the delicacy of this grilled rice served with shrimp exotically. Highly recommended!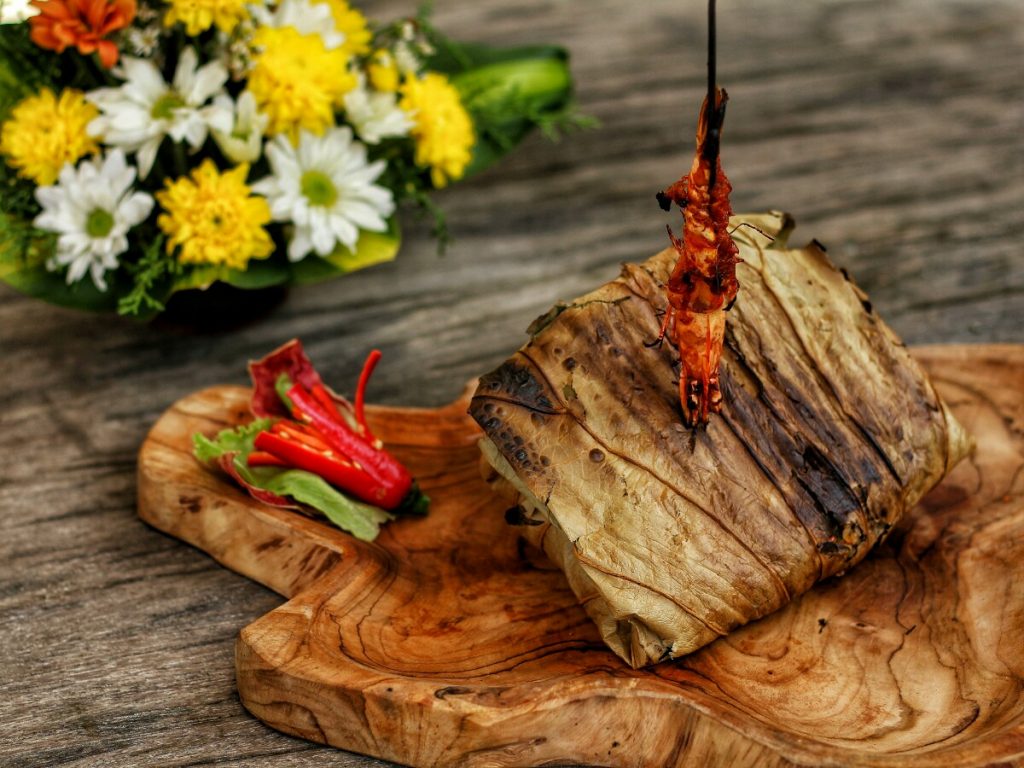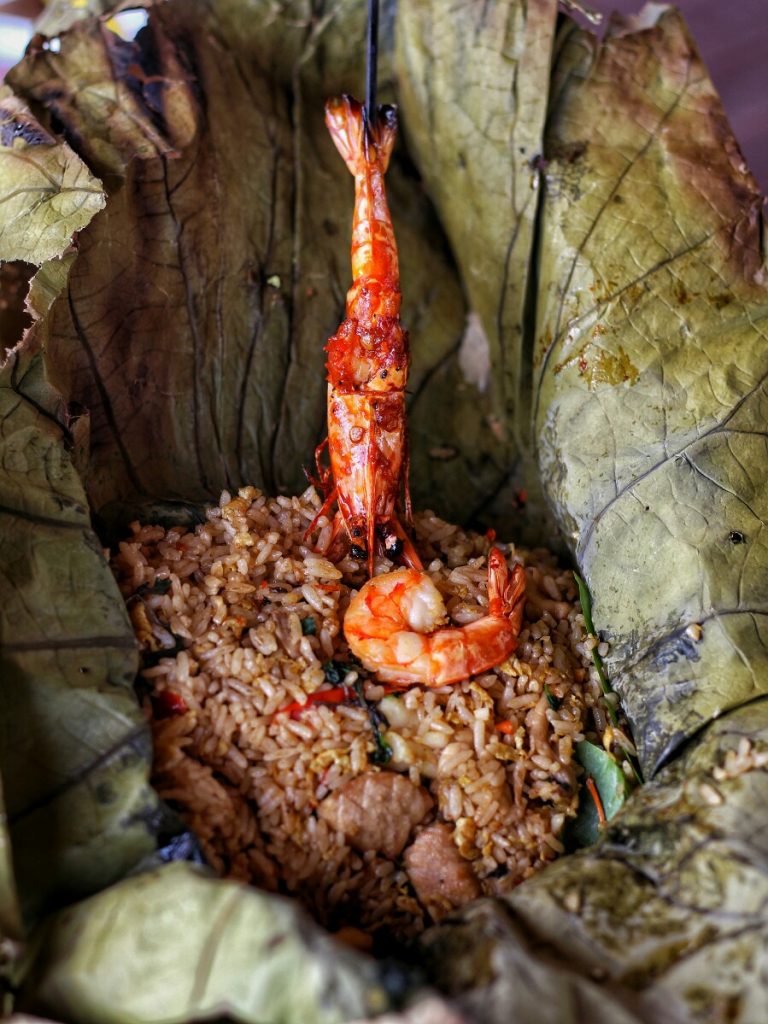 Then we were going to the western menu. There is a black bun burger with a very thick patty. The presence of salads and fries make this dish more complete.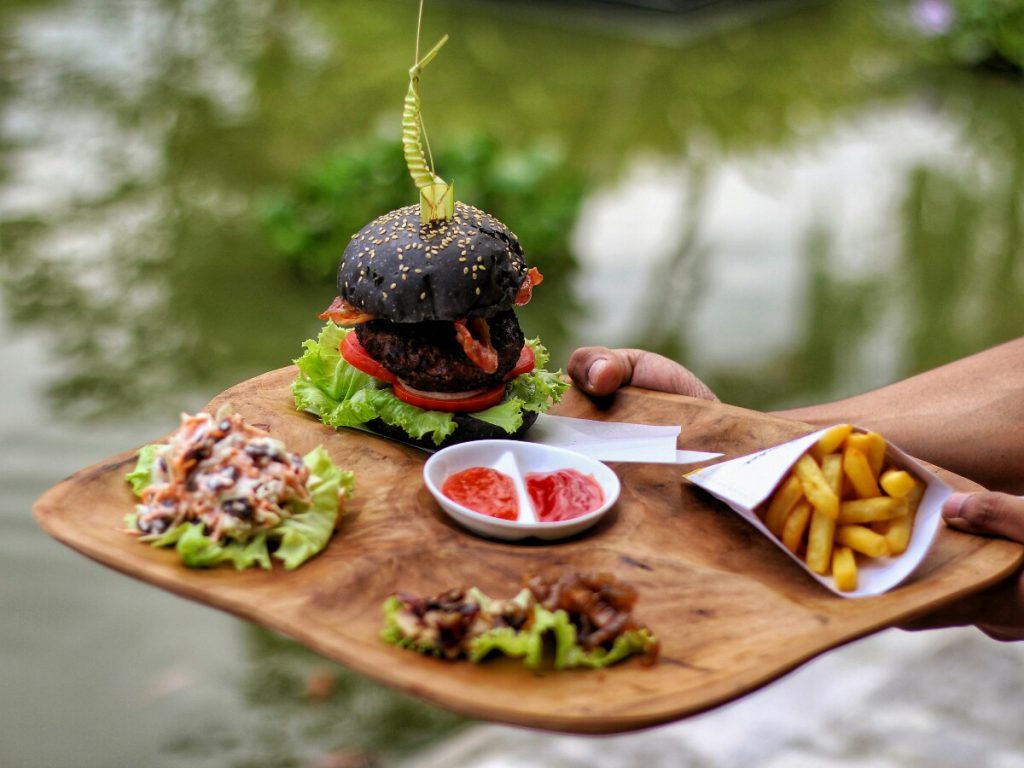 Do not miss the pizza menu. The thin and crispy pizza bread with spread of cheese that melting on it makes this pizza so tempting.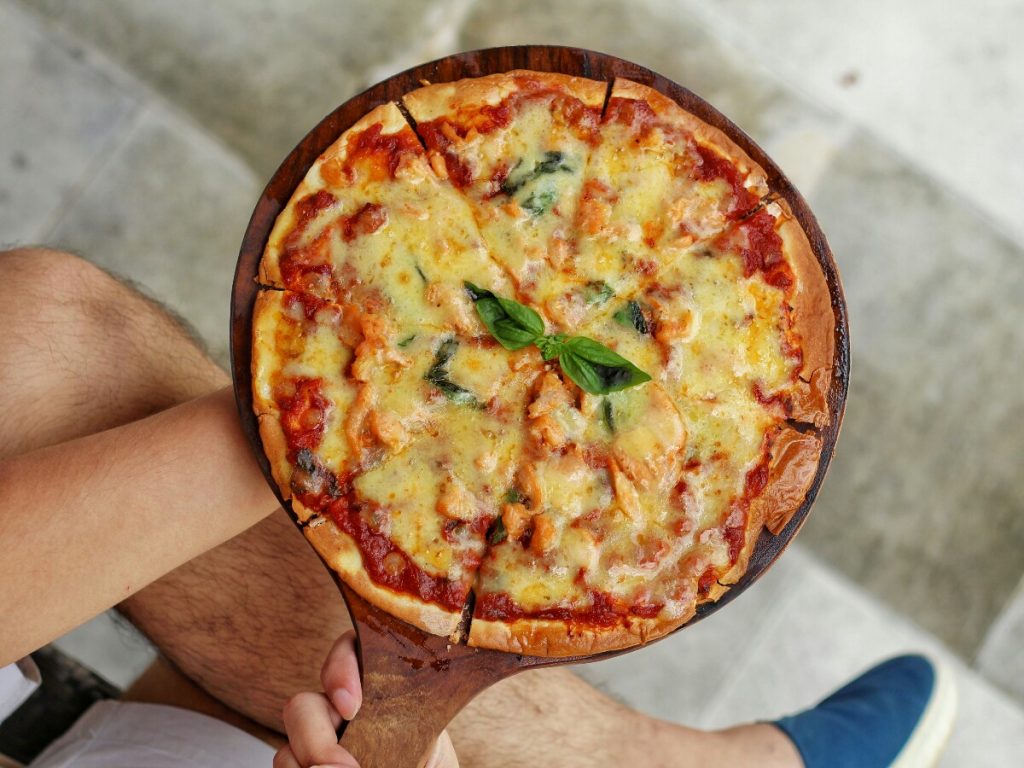 Durian Party at Secret Garden Village
And this is what we've been waiting for, durian party. Secret Garden Village Bali have their own durian trees and you can order this to be enjoyed when the season has come. Luckily we can taste this durian because it was the season. Happy face 🙂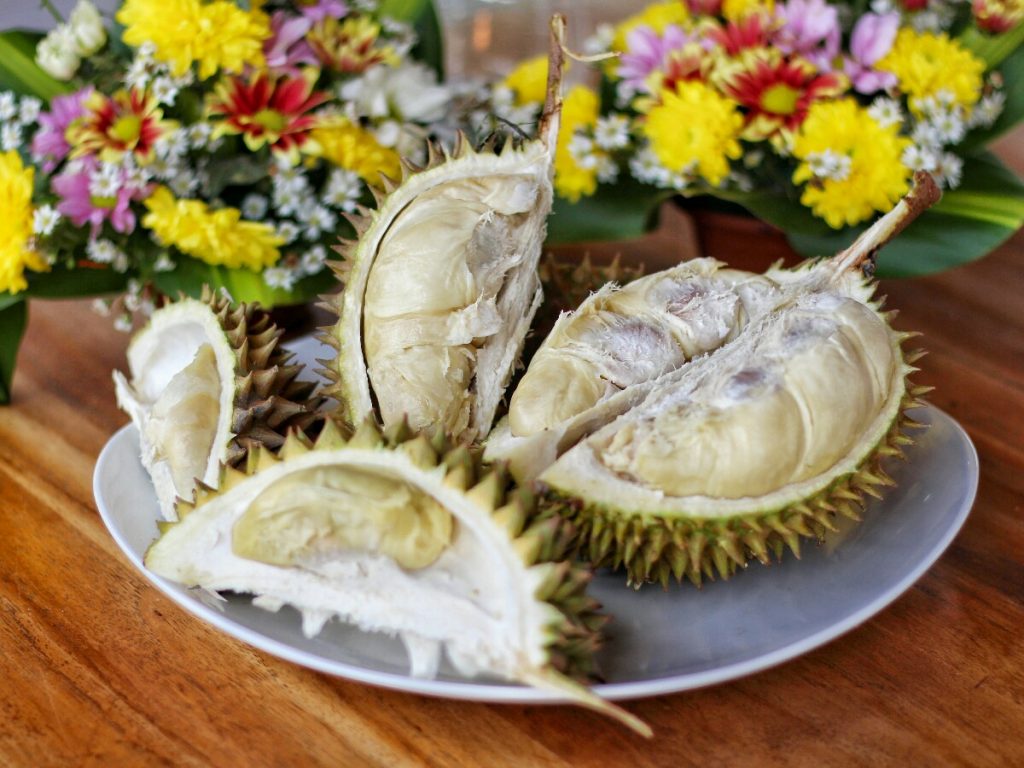 Learn How to Make Soap at Herborist Factory Bali
When in Secret Garden Village Bali you are not only have a recreation but also take a knowledge and experience through soap making at the Herborist Factory. Visitors will be guided by a tour guide to visit the Herborist showroom and then to the laboratory.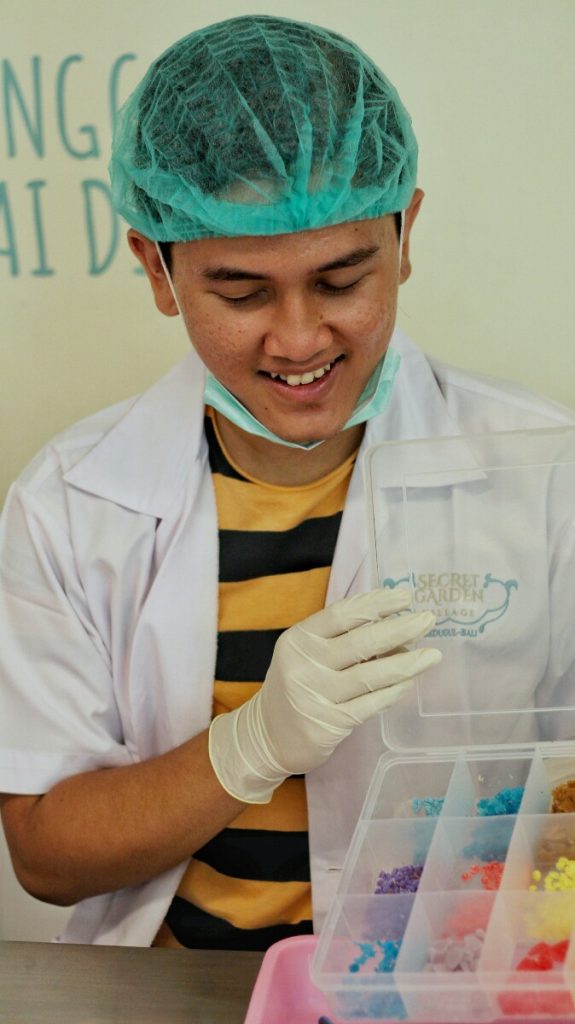 In this visit, we were taught to make bath soap with cupcakes shaped. Basic cupcakes have been provided and we continue to make cream and decorate it with toppings and of course made from soap too.
This activity will certainly be fun when doing it with the children, because it stimulates them to be creative with the toppings. Our soap can be take home after the aging process in the freezer for 45 minutes and of course you can use it for shower.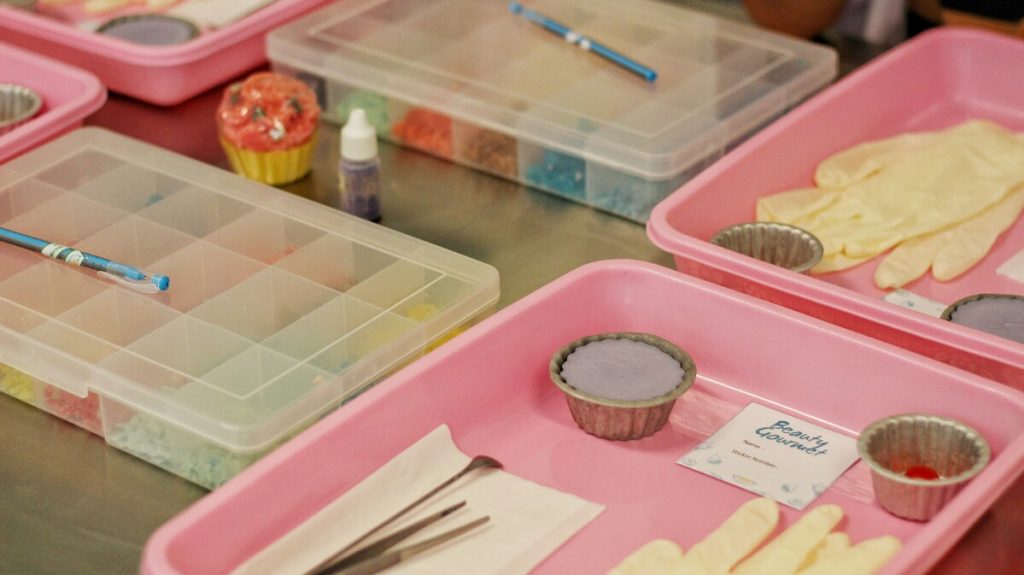 Shoping Time at Oemah Herborist
After learning how to make soap, visitors can buy the product at Oemah Herborist. This is a factory outlet where you can find body treatments from head to toe.
All products are produced directly from the Herborist Factory in Secret Garden Village. There are bath soaps with various forms such as resembling fruit, cake and pudding. In addition, various aromatherapy and perfumes are also available in Oemah Herborist.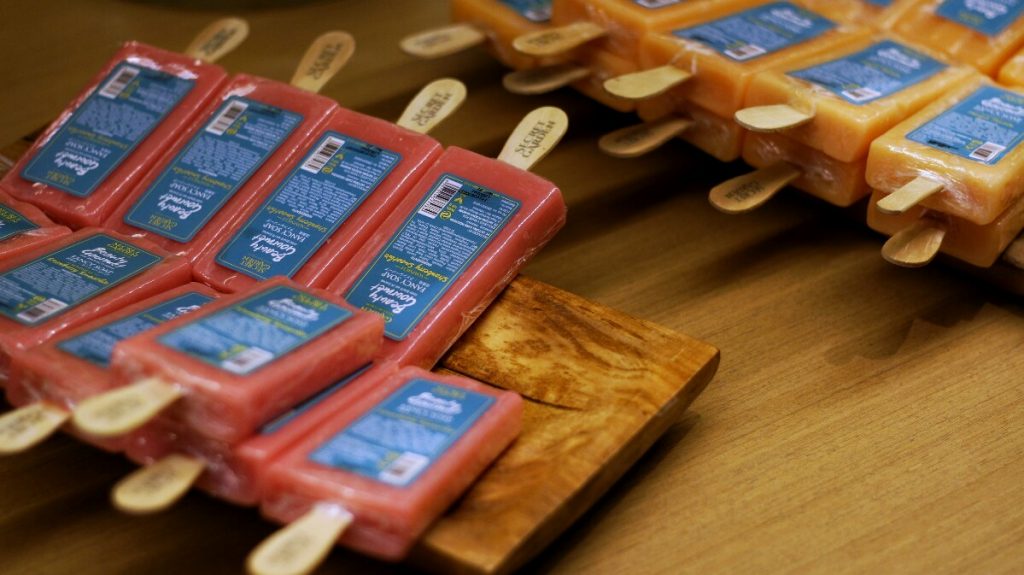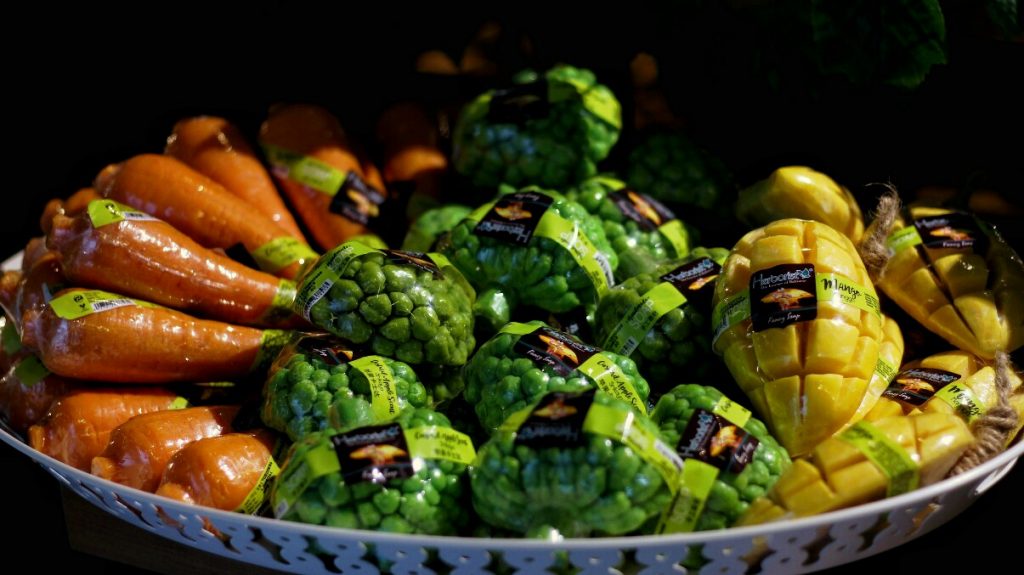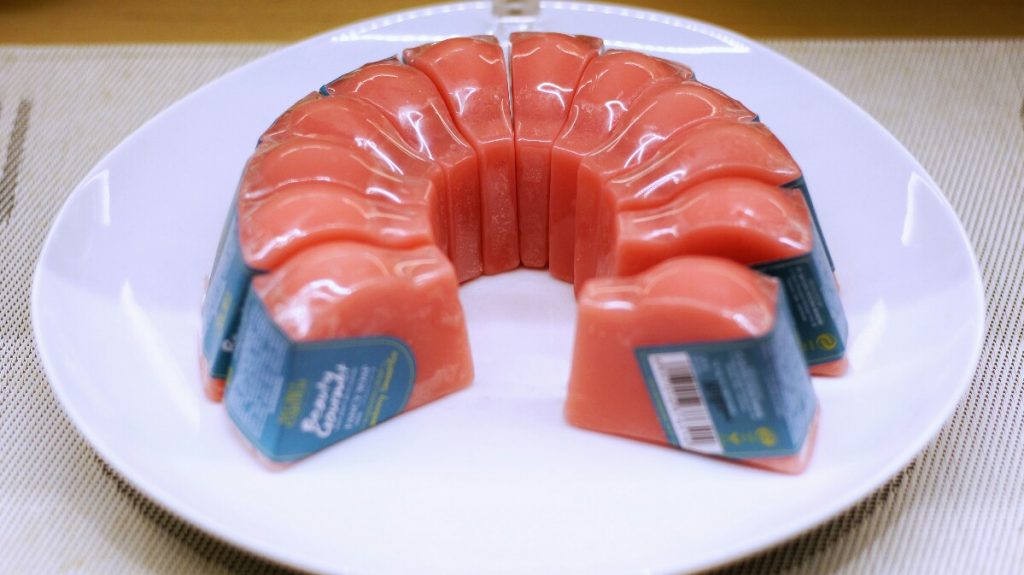 Coffee Lesson at Secret Garden Village
Coffee lesson is a choice in the tour package at Secret Garden Village. If you don't want to take a soap making tour you can take a coffee lesson. In the Coffee lesson you will be introduced to a variety of coffee from Indonesia and how to sensory coffee through coffee cupping.
After joining the coffee lesson, we can visit the integrated coffee shop here. Visitors can buy ground coffee, coffee beans and even enjoy coffee at the Black Eye cafe.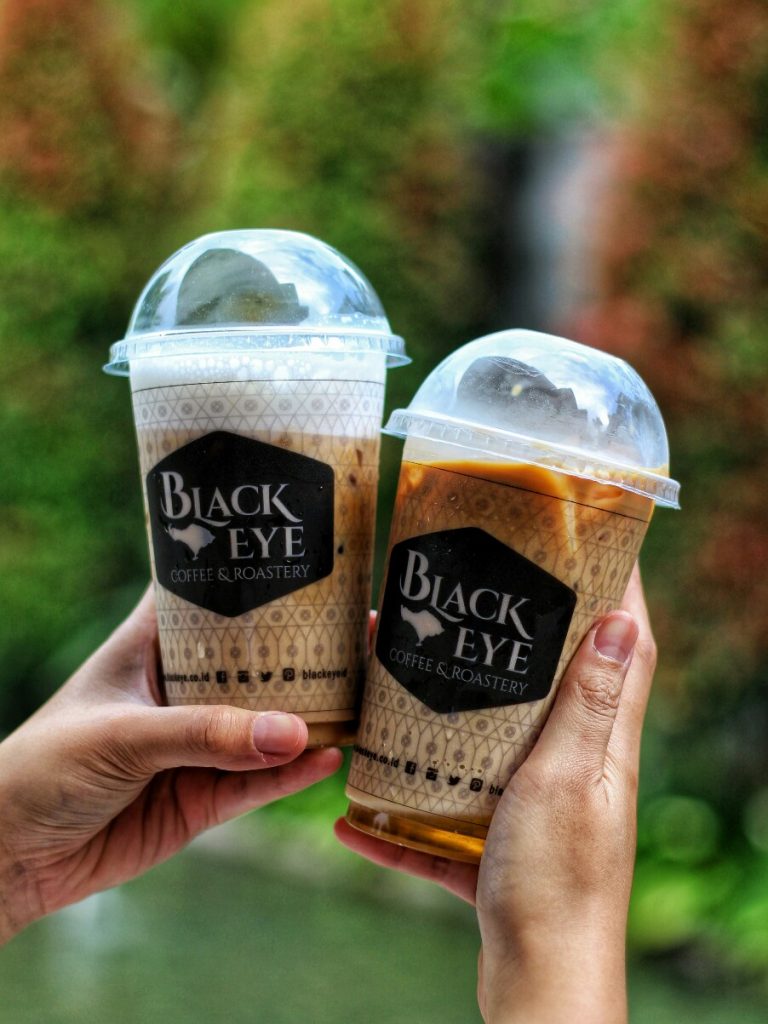 Ticket Price to Secret Garden Village
Entrance ticket to Secret Garden Village is IDR 35K for children (4-12 years old) and IDR 50K for adult (over 12 years old), there is free entrance for infant visitors from 0 to 3 years. This ticket price is for entrance fee to the edu-vacation concept park including soap making at Herborist or coffee lesson at Bleck Eye. Get more memorable vacation by take a costume rental with Korean or European traditional costume for IDR 75K for children and IDR 100K for adult.
This is a little glimpse from Secret Garden Village in Bedugul, Bali. With so many recreational facilities including educational facilities, Secret Garden Village Bali is highly recommended to be visited with family and friends.
Finally, we hope this article help you in finding information about Secret Garden Village Bali. See you again in the next adventure with Jajanbeken.
FACILITIES
The Secret Chamber (wedding chapel & events)
Oemah Herborist (beauty factory outlet)
Rice View (restaurant)
The Luwush (restaurant)
Black Eye (coffee shop)
Parking, toilet, prayer room, kids playground
CONTACT
Address : Jl. Raya Denpasar Bedugul km. 36, Mekarsari, Baturiti, Mekarsari, Tabanan, Mekarsari, Baturiti, Kabupaten Tabanan, Bali 82191
INFORMATION
Open Hours : 9AM – 8PM WITA
MAP