School Food Blooming Mari in AEON JGC already closed since 2018 early, but now they have new branch in SCBD as School Food Blooming Mari Pacific Place Jakarta.
School Food Blooming Mari newly opened at AEON JGC Cakung. So I visited this restaurant with my friends for lunch. For the interior or ornament is not too much different from the first branch in Lotte Avenue Mall. As the name implies they use a chair like in school with the basic elements of wood. Of course, Korean Casual-style atmosphere is also felt here, in this branch they still show the Kpop music spectacle that you can request.
For you who often come to AEON JGC you can come and try your dining experience at School Food Blooming Mari. I bet you will not be disappointed to eat here because I think this restaurant has its own charm that impressing you. And at this restaurant you will also find a Korean food dish that you have never found in other restaurants before.
School Food Blooming Mari located in downtown AEON JGC which is the semi-outdoor part of this mall. This restaurant is also divided into two places of choice indoor and outdoor overlooking the garden. If you come at night I suggest you choose the outdoor part, would be very romantic because there are very beautiful lights in the garden.
On this occasion too, I want to share with you about the food menu we ordered yesterday some of the menus we ordered were the mainstay of this restaurant. See below guys for details!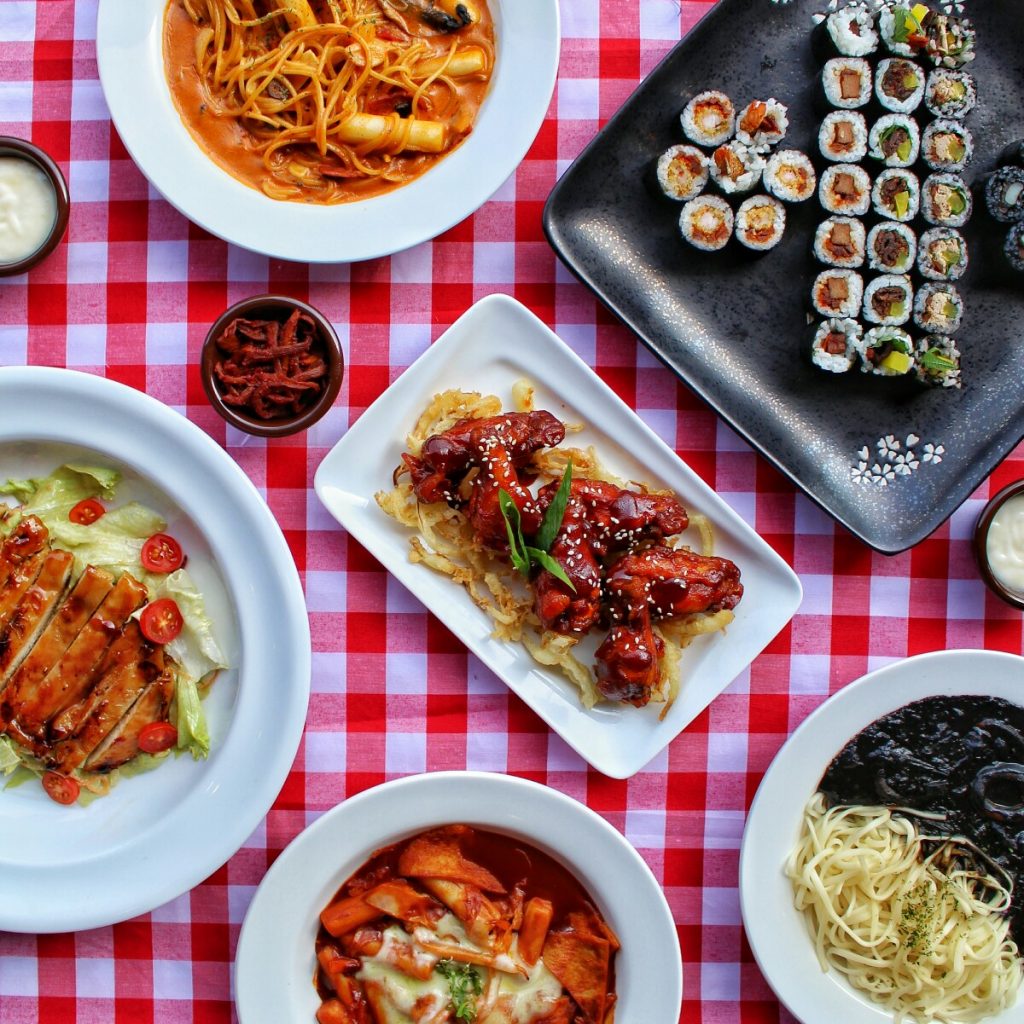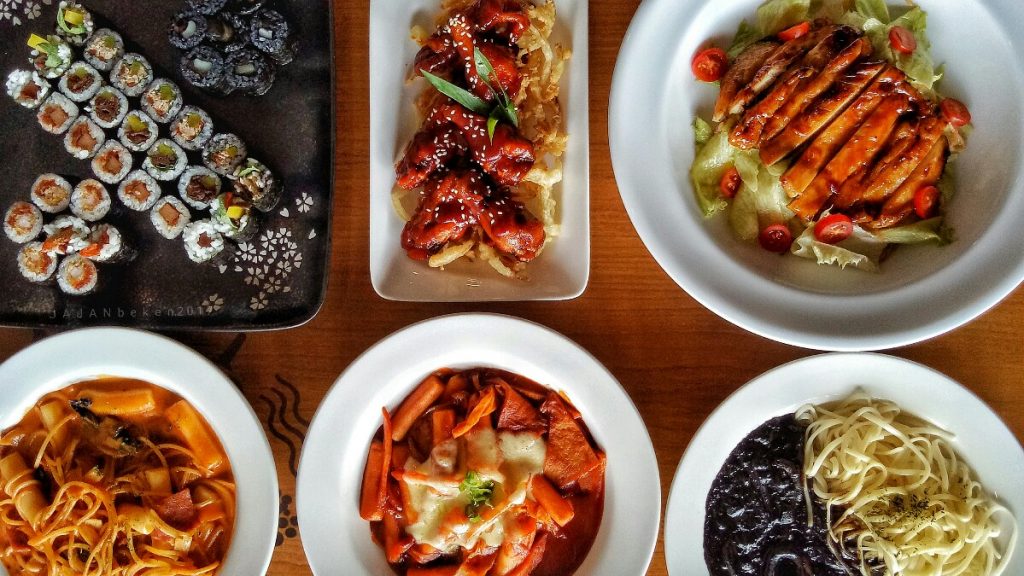 Family Mari
On this menu you can spend with your friends or your extended family. The presentation of the menu is also very pretty with a small form of sushi that lined up. In Korea this food is called mari with a variety of stuffing such as meat and vegetables and wrapped with seaweed coil. For dipping sauce they provide the mayo sauce you should try too.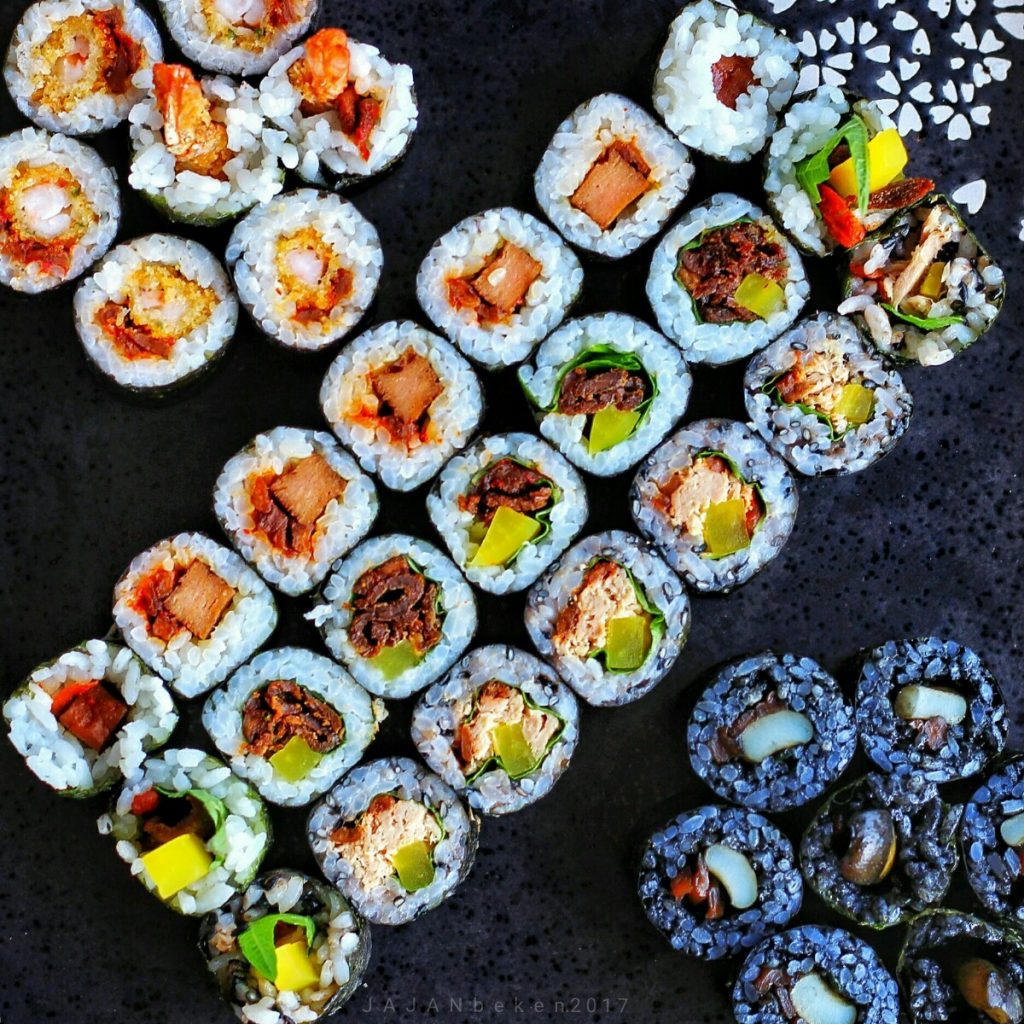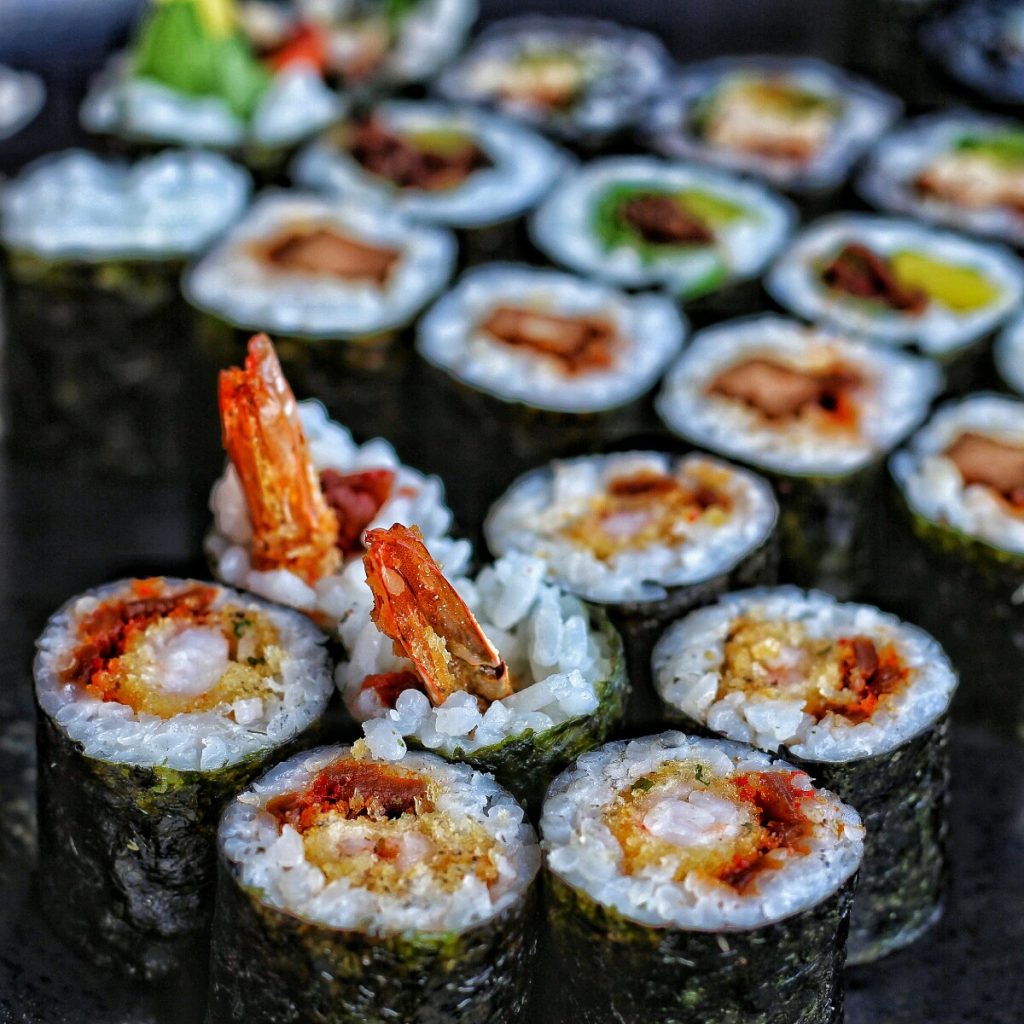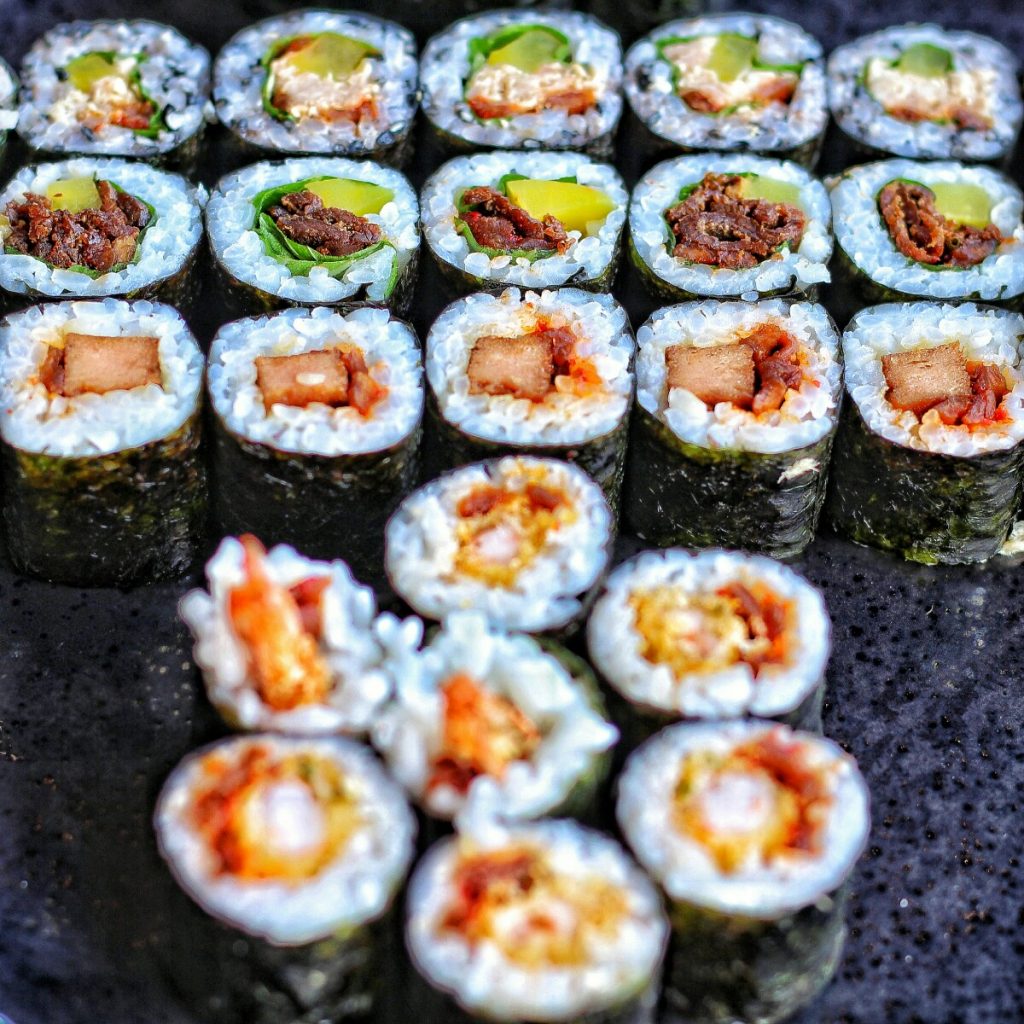 Jjangmyeon
The black color on this menu is from squid ink. Although this menu is not instagrammable but the taste is no doubt about it. Previously I've also tried this menu in the first branch but with a toppoki. Jjangmyeon here very creamy and not fishy. You should try this menu.

 Bulgogi Garnish Ramyeon
A large enough portion and maybe I can spend two portions of this menu. This ramen is consists of slices beef and mixed vegetables to make anyone who see it want to devour. For the broth served quite spicy but make you addicted.

 Spicy Honey Wing
Still for spicy lovers, don't miss this menu because the wing served with combined sweet and spicy. The skin is very crisp and wrapped with spicy honey sauce. This menu is perfect for you as an appetizer.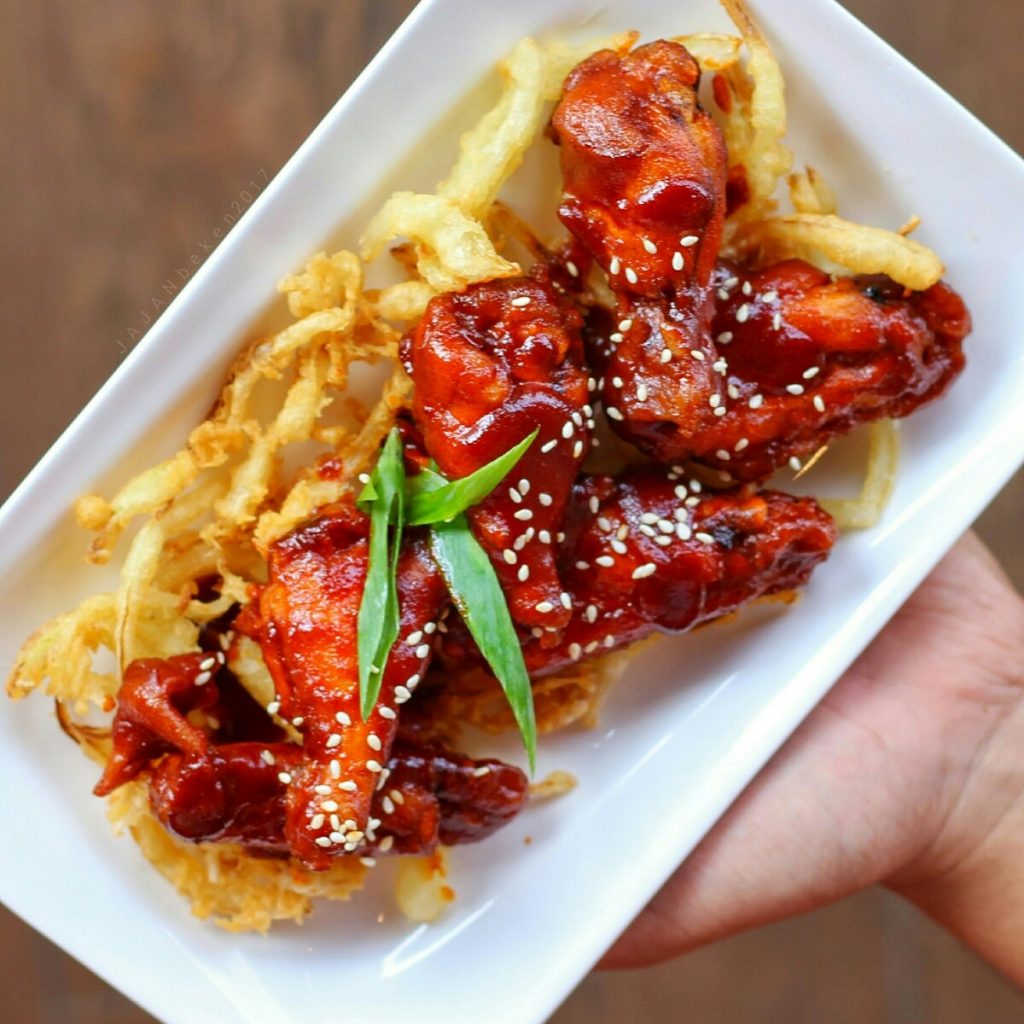 Hot Carbonara Topokghetti
New experiences I tried toppoki with different variations. One portion of this menu is quite large so you can share with two person. The spaghetti and its toppoki mixed with carbonara sauce which is creamy and savory.

Grilled Chicken Sesame Salad
One of the tastiest salads I have ever tried, Grilled Chicken Sesame Salad. The grilled chicken contain sesame aroma. The meat was very tender with big pieces and juicy. The vegetables are very fresh. You must try it!


Cheese Toppoki
Toppoki at School Food Blooming Mari has always been my favorite. The melted cheese mix with Korean toppoki and the sauce is very delicious. Slightly spicy, savory, sweet and its chewy texture.



I highly recommend this restaurant to you guys. Besides the food is very good they also have a very comfortable ambience with a Korean nuances. Besides that their service is also very kindly friendly and polite.
Finally I close my review and don't forget to follow our culinary journey in this blog, Instagram, Youtube and Facebook. Please apologize if there is something missing in writing or menu explanation. We open for critics and comment. See you in another culinary journey with Jajanbeken!
RATING
Taste : Excellent
Service : Excellent
Price :  Average
FACILITIES
Wifi : Yes
Plug : Yes
Dine in : Yes
Outdoor : Yes
Toilet : Yes
Parking: Yes
CONTACT
Address : Cakung, Jl. Jkt Garden City, RT.1/RW.6, Cakung Tim., Cakung, Kota Jakarta Timur, Daerah Khusus Ibukota Jakarta 13910
Telp : 021 22463046
Instagram @schoolfoodindonesia
INFORMATION
Open hour:  10.00 – 22.00 WIB
Price : Rp250.000 for two people (approx.)
Dresscode : Smart Casual.
MAP