I heard about this restaurant from my colleagues, he told me that there is a restaurant who provides Indonesian dishes with garden type outdoor area. And last week i am feel so lucky to visit this restaurant, its located near to Senopati which is a neighborhood area with sophisticated cafe. The name of restaurant is Omah Sendok, sounds very Indonesian name with traditional house type.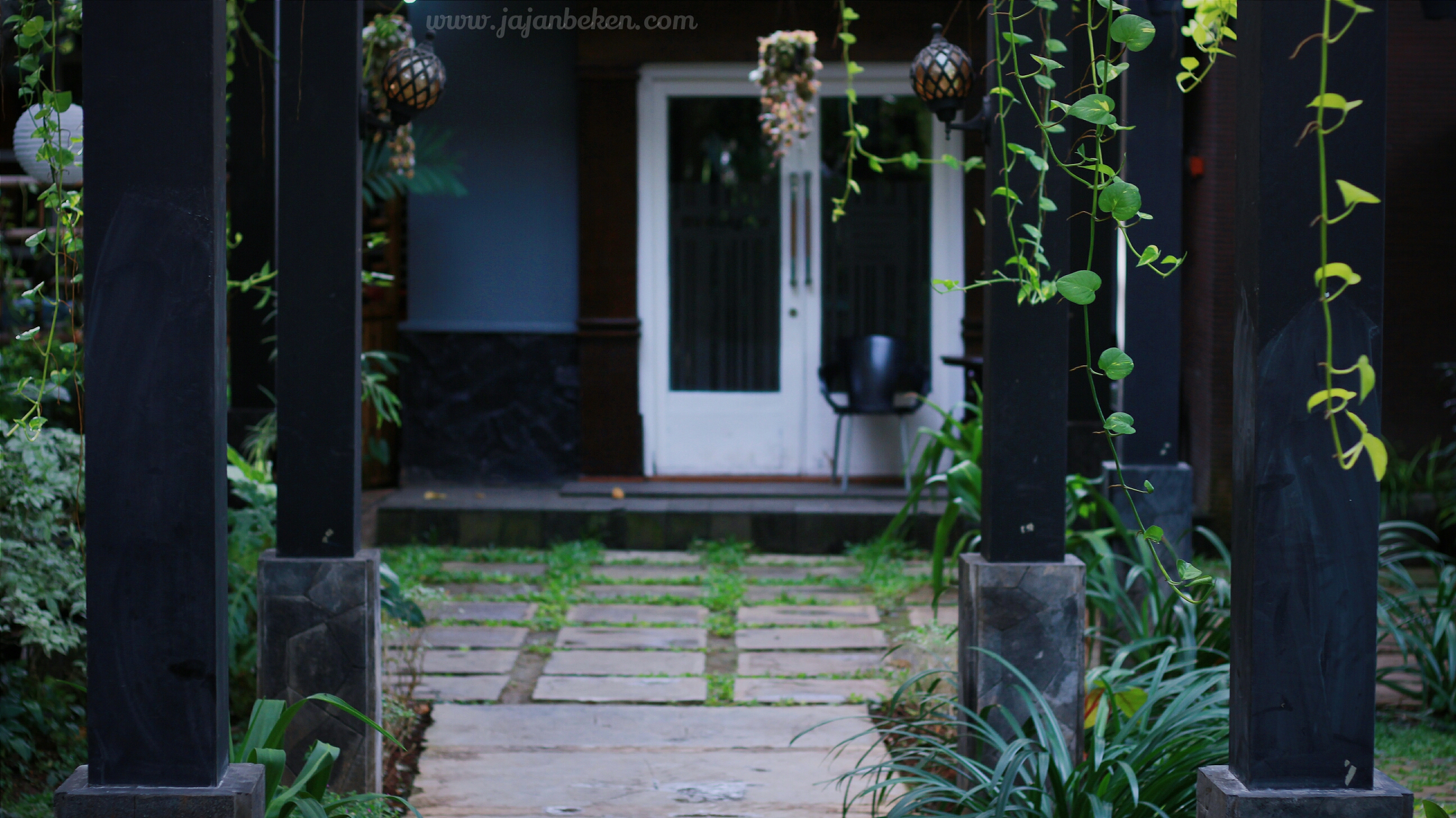 Jakarta Restaurant With Beautiful Garden
The restaurant has a beautiful garden with trees and a swimming pool? Omah Sendok are suitable for your event, gathering, reunion, arisan even a wedding. Omah Sendok is a restaurant in South Jakarta with a many purpose and of possibilities. The strategic location is in Senopati, near SCBD, Blok M, and Senayan. This restaurants with the most complete facilities in South Jakarta. Indoor and outdoor options are available, and all up to you.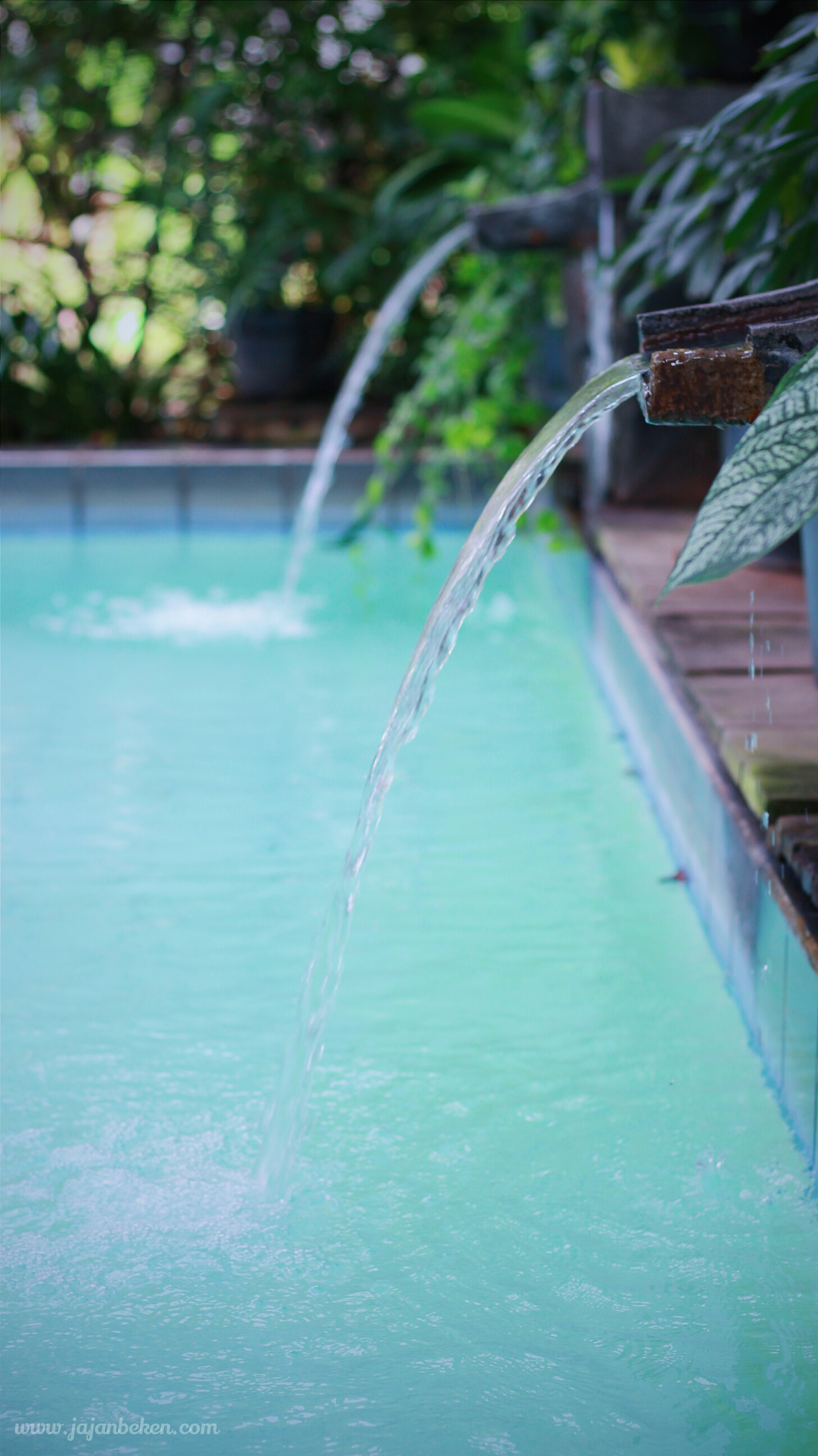 As I explained in above Omah Sendok is a Indonesian restaurant, with a hereditary legacy menu of the ancestors, with a very diverse menu ranging from appetizers to dessert. This restaurants in South Jakarta with a romantic atmosphere, with plenty of garden and beautiful flower to give the different impression.

Many visitor was falling in love and most preferred with the outdoor area. As you can see this beautiful decoration make your dining experience feel more romantic and delightful. So that happen to me when i saw the outdoor with green scent garden.

On the other hand, the service of this restaurant was very good and satisfying me. We as customer feel so homey when their staff get close into personal when they are offering me the menu book. No need to wait long and our order came to the table with a good temperature.

A Wedding Package at Omah Sendok Restaurant
If you're looking for a place for a wedding, which also provides a complete wedding package and without complicated. Omah Sendok maybe is a best partner that you're looking for.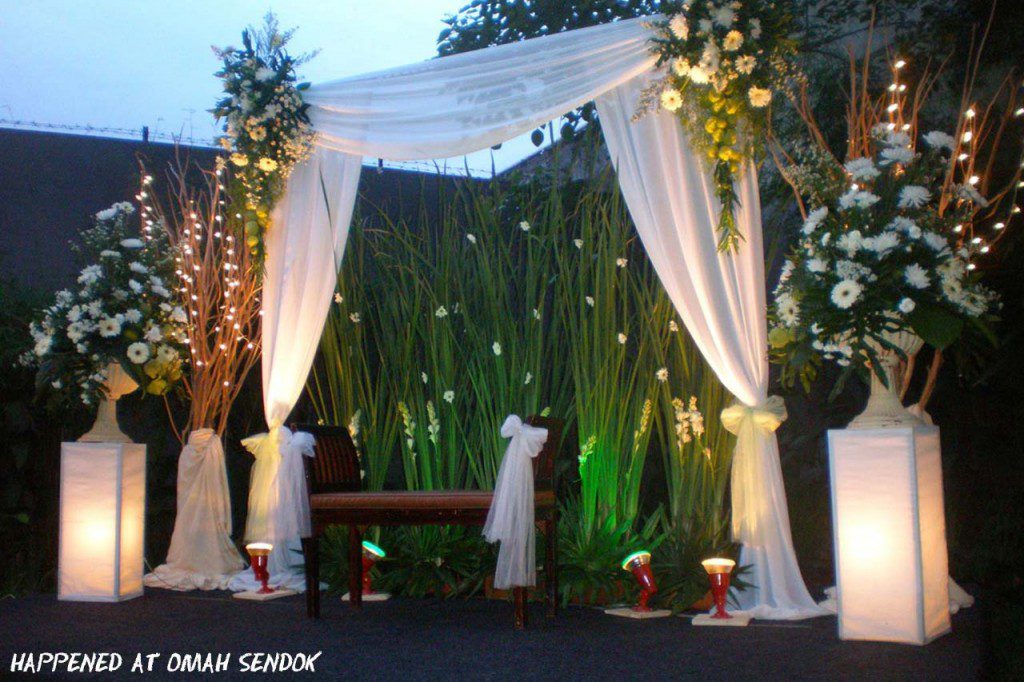 Wedding place that has become the choice of many couples in formalizing and entertain their wedding. You can log on to Omah Sendok website for complete wedding package price.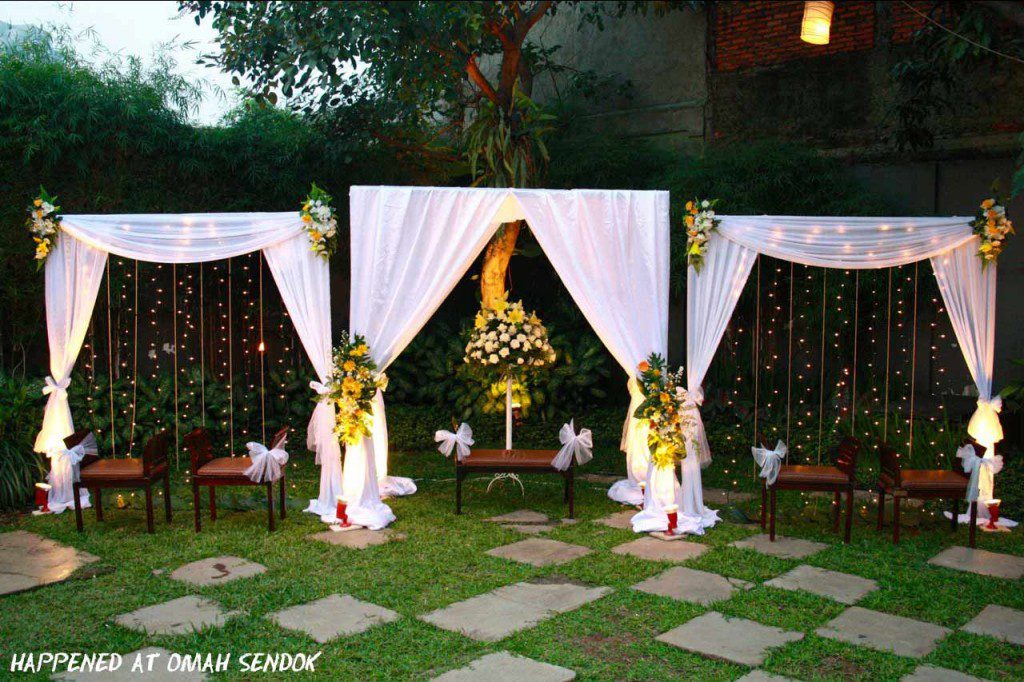 Omah Sendok Menu
Indonesian cuisine is certainly fits with our tongues and guests. The appetizers menu like spring rolls as we often to order in the beginning. The main menu such as Soto Tangkar, Selat Solo, and Sop Buntut.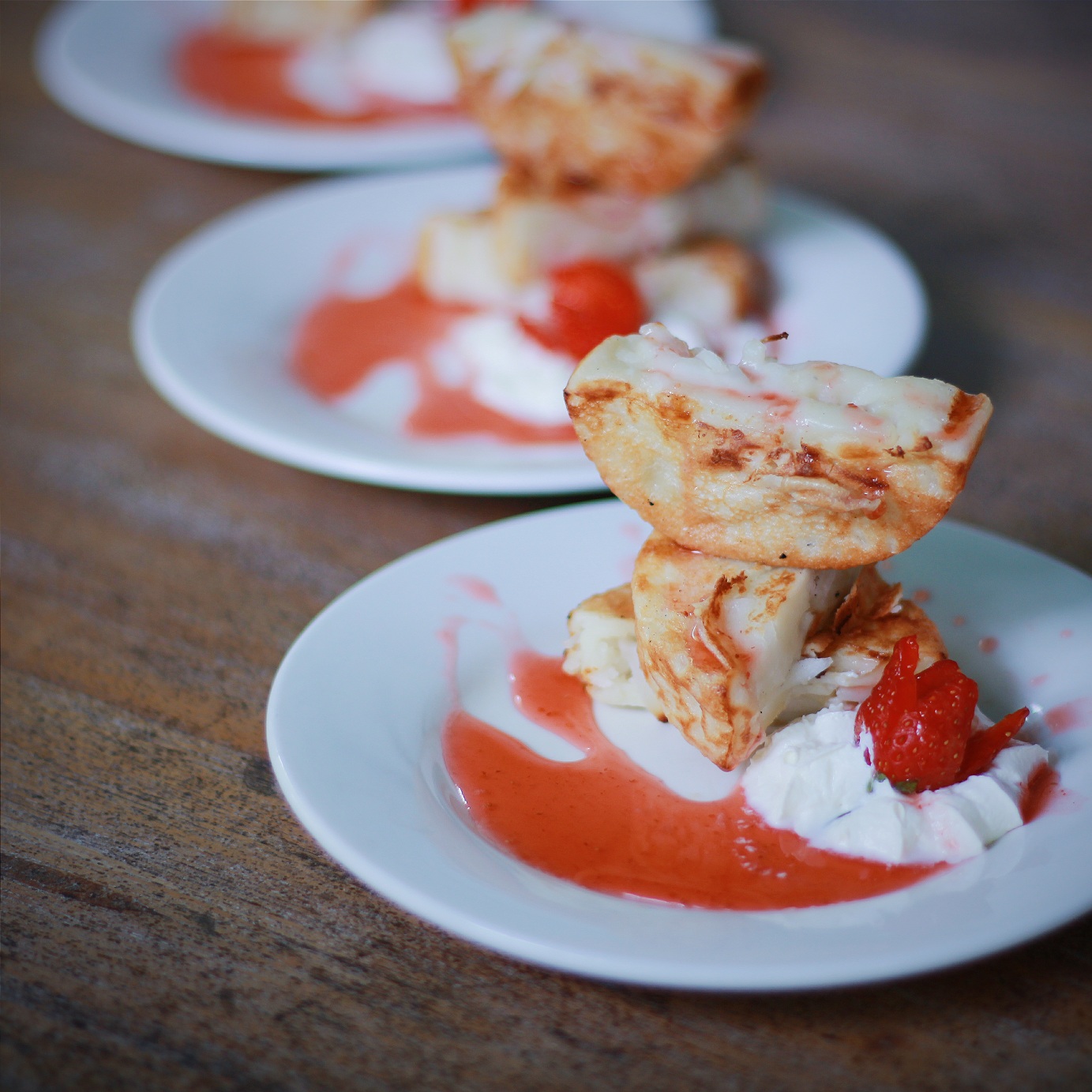 The traditional drinks and snack as Wedang Ronde, Kue Pancong and Bubur Sum-Sum. Es Remuk such as Green Tea and Mango Mint. I will introduce to you one by one all the menu that i tried in Omah Sendok, lets scroll down guys!
Sop Palumara (IDR 47K)
Sop Palumara is a fish soup made from boneless milkfish. This dish is a signature of Makassarese culinary. This is my first experience to eat this Fish Soup. The soup was sweet, spicy and sour mix-balance combination. The fish meat remains in perfect texture and not to disintegrate even they are boiled in a delicious soup.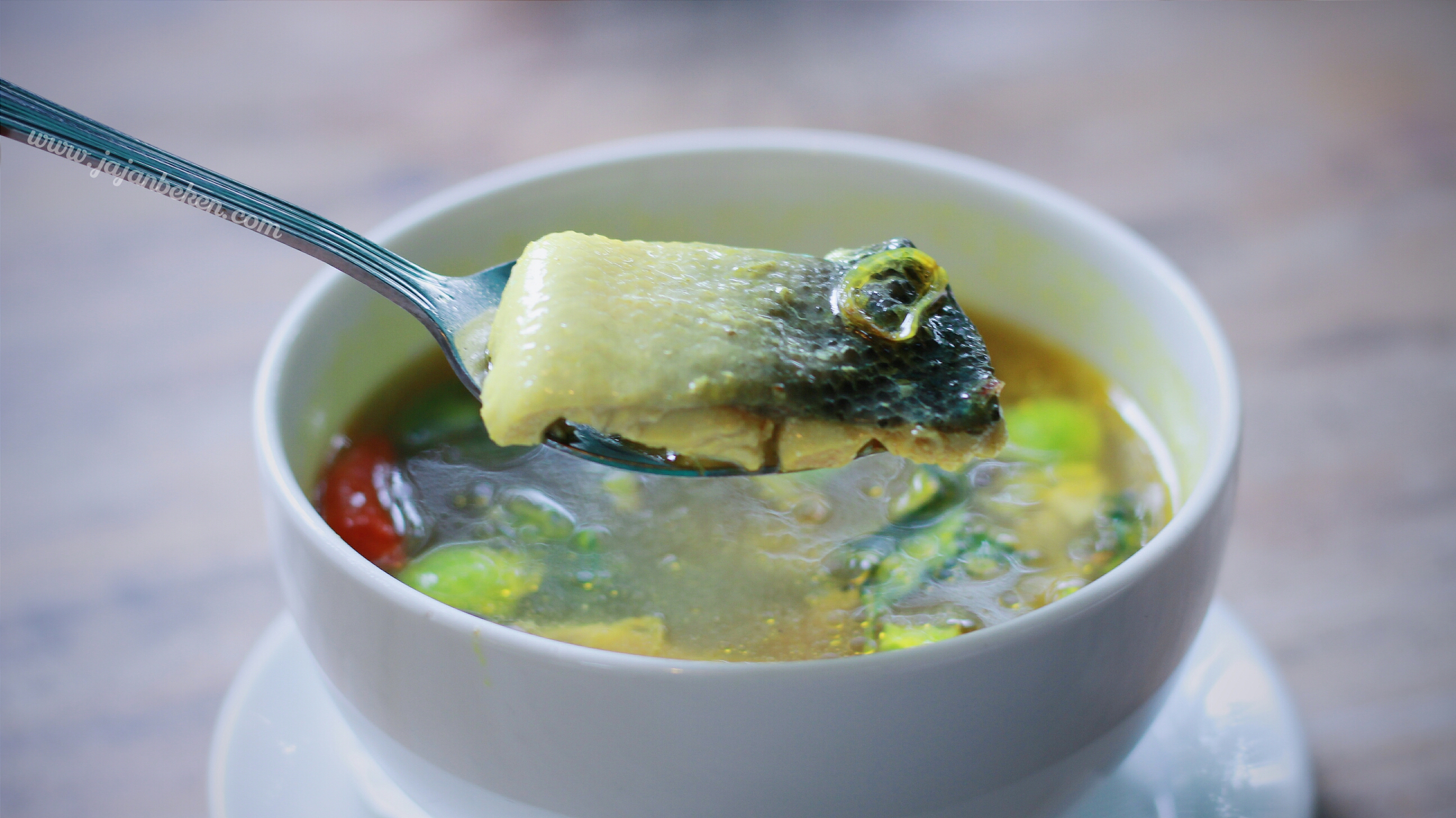 Mie Godog Omah (IDR 37K)
Mie Godog inspired from Mie jawa or we know as boiled noodle. Consists of wheat noodle, vegetable and soup.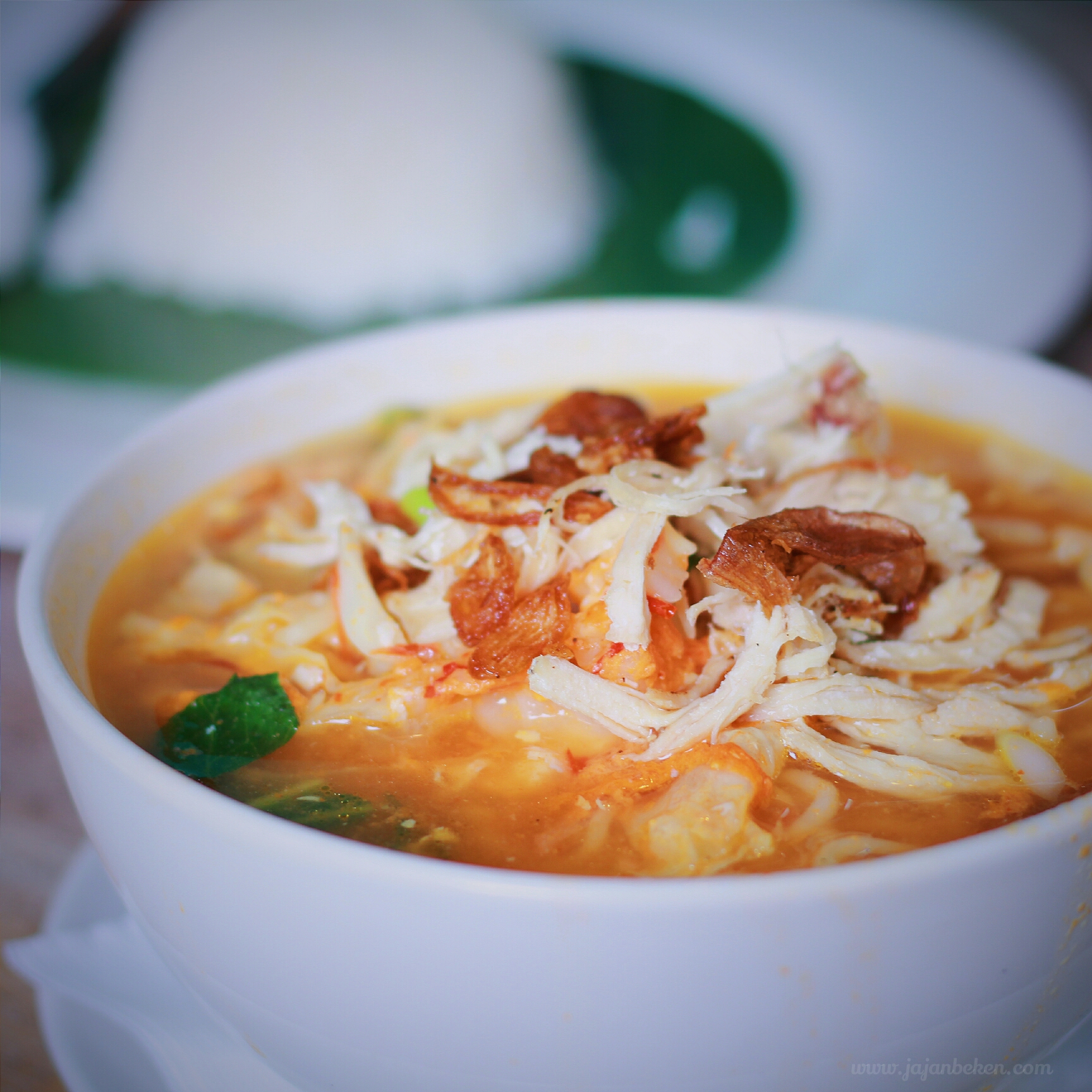 The soup was not too thick but the the noodle has been cooked but not too hard. The big portion will satisfy and the shredded chicken on top will complete as a companion for this menu.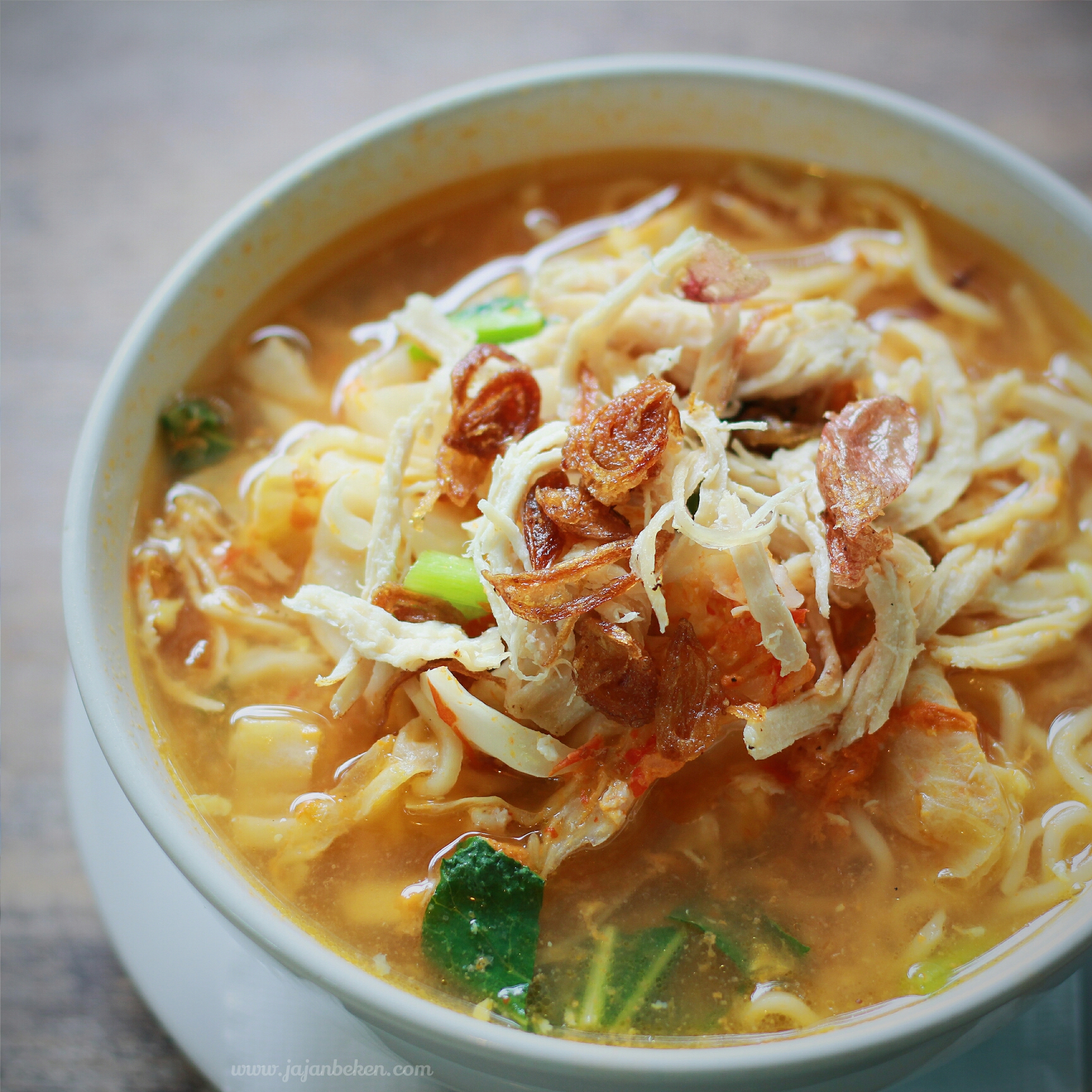 Selad Solo
Selad Solo from Omah Sendok is one of my favorite! I love the dressing, the potato chips and the meat. All the ingredient is so fresh and delighting my taste buds. The sweet level from the dressing was fitted and not too over, even though this food originated from Central Java as we know they like sweet taste indeed. Recommended!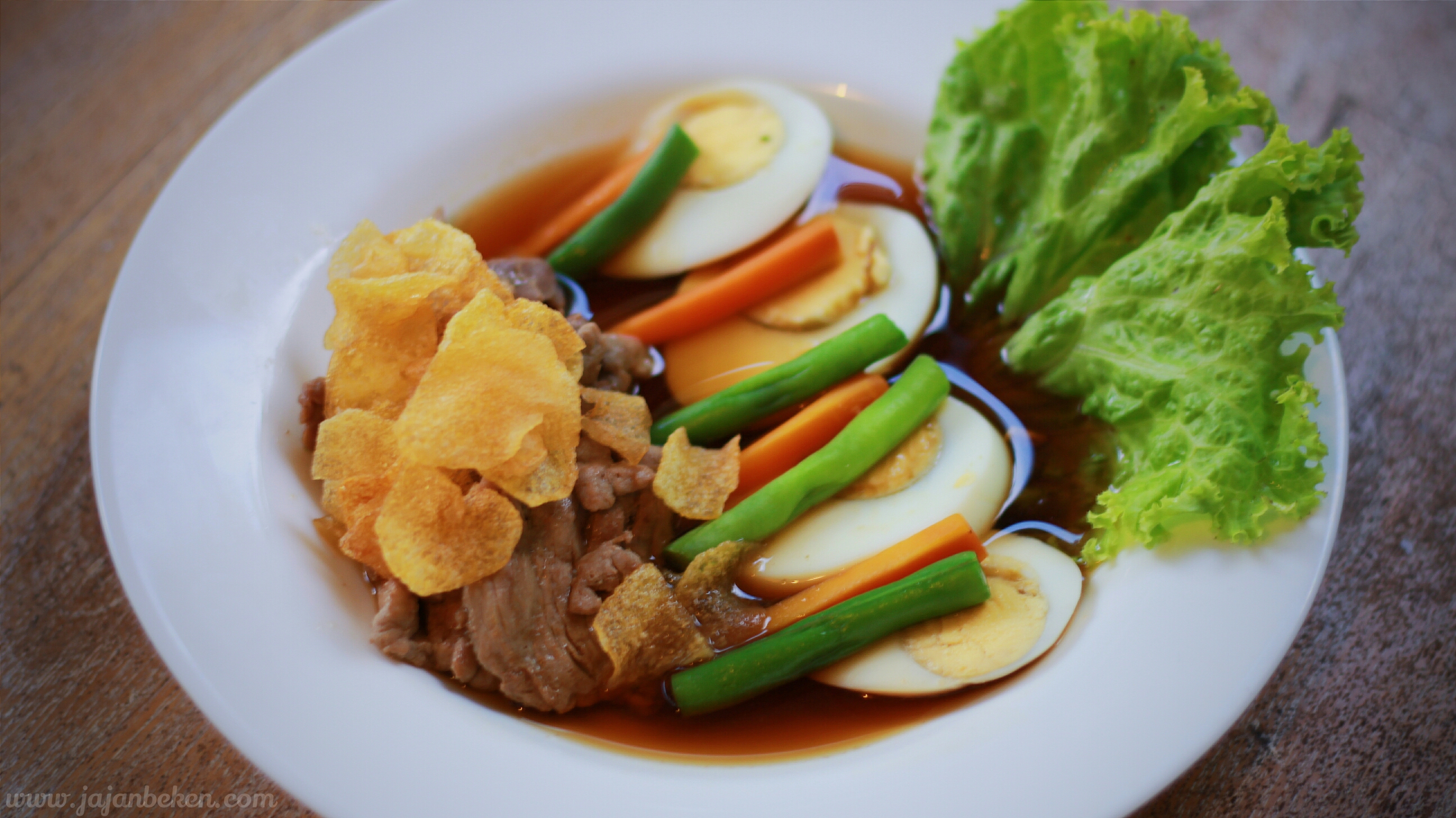 Bandeng Priyayi (IDR 65K)
This is the latest menu in Omah Sendok. Bandeng Priyayi is made from milkfish. They mashed the meat and mix it with grated coconut and filled it in the fish body. So when you cut the fish you will not found a bone there. The whole fish is fried and covered with egg. How the taste? Oh guys let me say that this is awful. It's so delicious and addictive, the savory from the coconut milk enriching the taste of the whole menu! Recommended!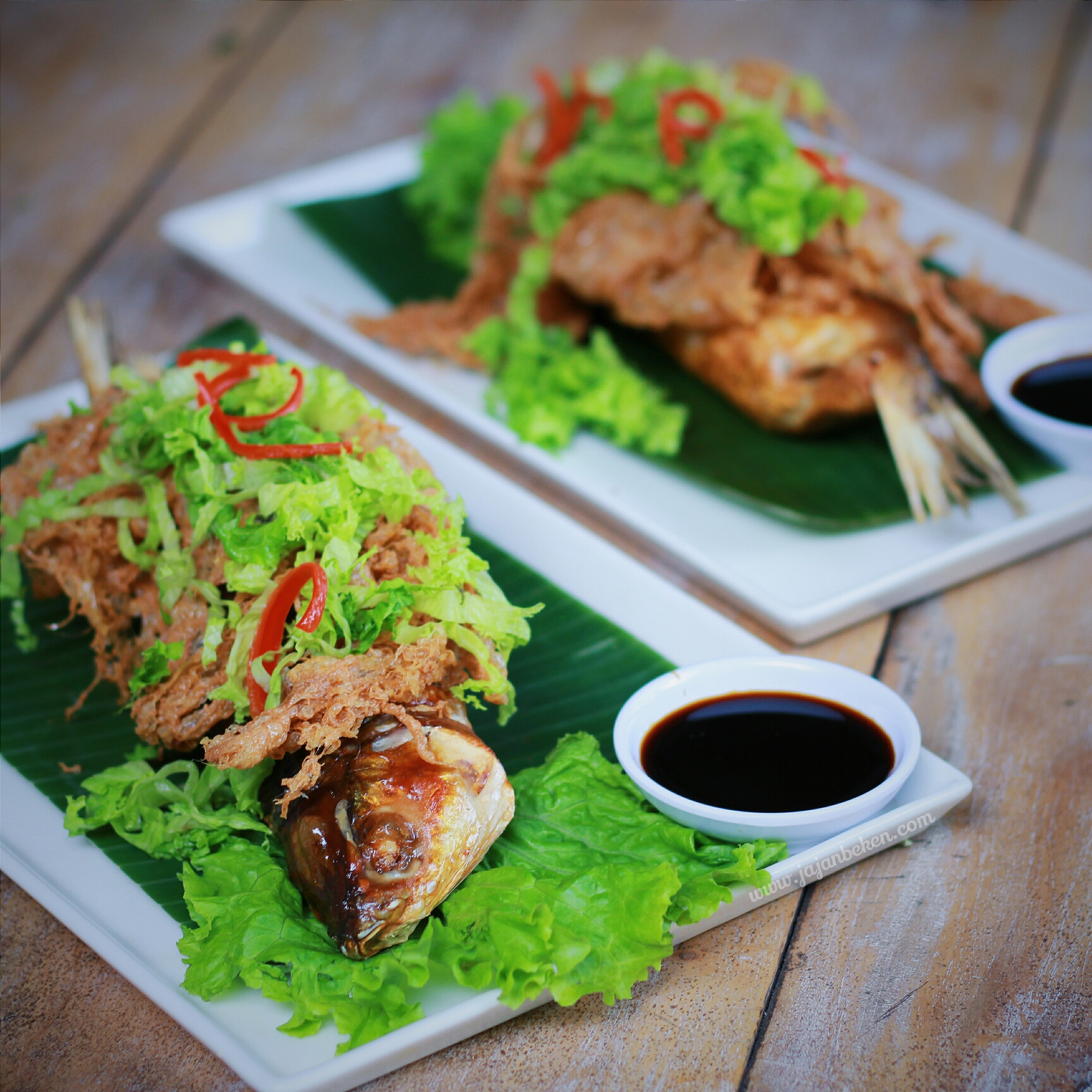 Bubur Sum Sum (IDR 27K)
Bubur Sum Sum in Omah Sendok is very delicious. The texture was so smooth and very thick in the mouth. The coconut milk taste is very rich and so tasteful. When you stirring this porridge with your spoon it's really smooth and I really enjoy this menu as well! Recommended!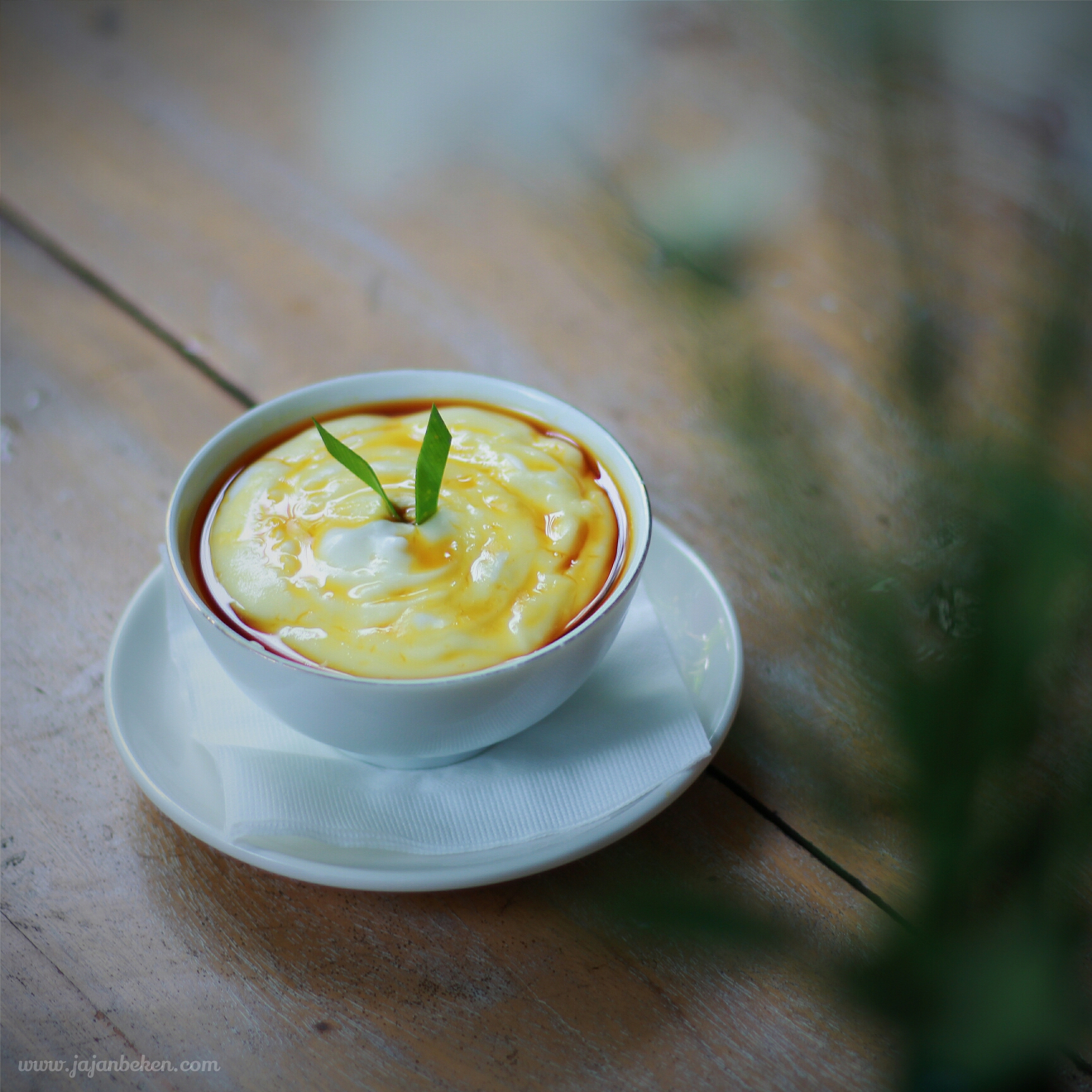 Kue Pancong (IDR 19K)
One of Indonesian popular snack is Kue Pancong. Made of rice flour and coconut milk and bake with a semi-circle form pan. Omah Sendok modify this menu into more sophisticate presentation.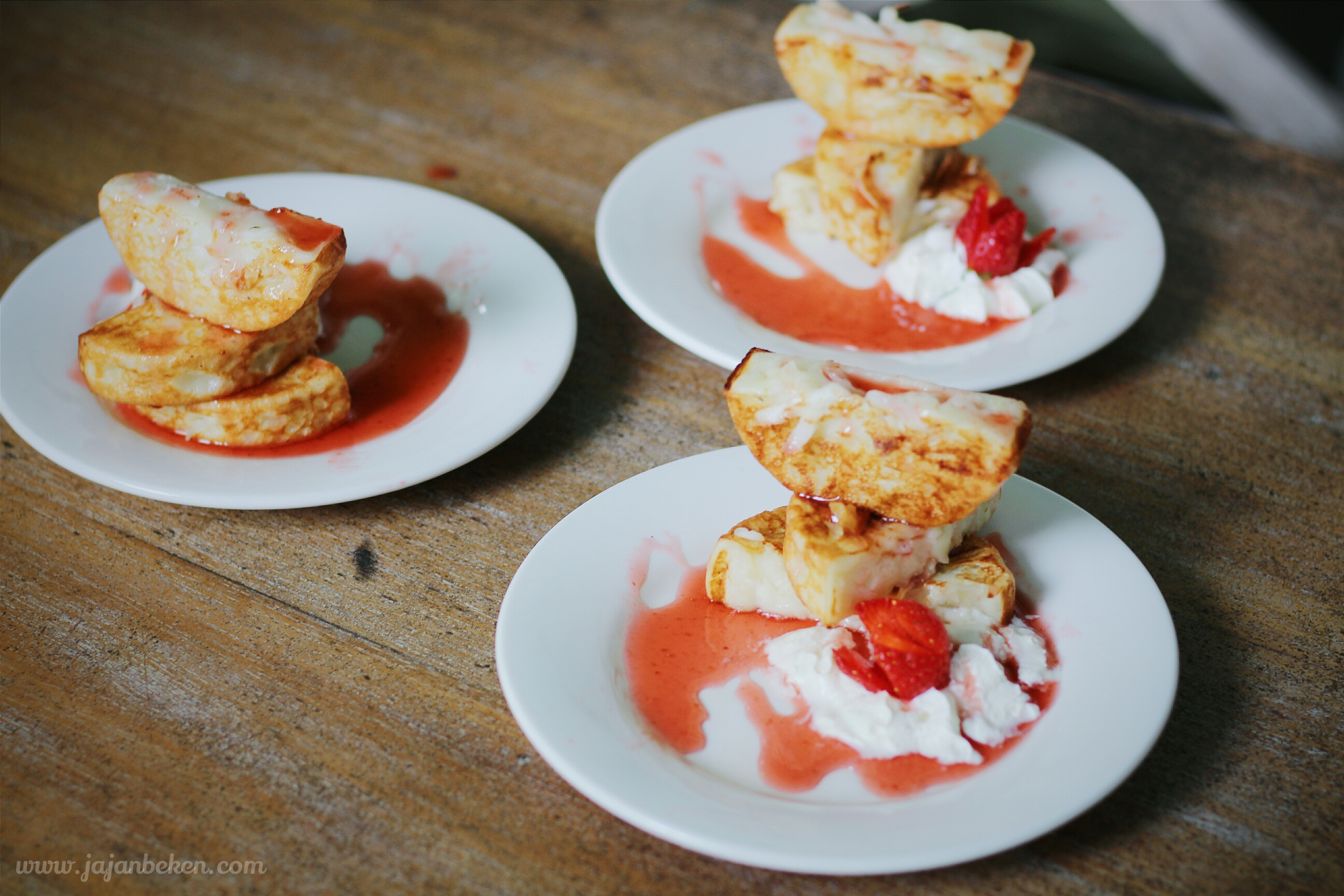 This menu garnishing with whipped cream and strawberry jam. You can imagine how the taste when creaminess of coconut milk meet with sweetness from the starberry jam hmmm yummy.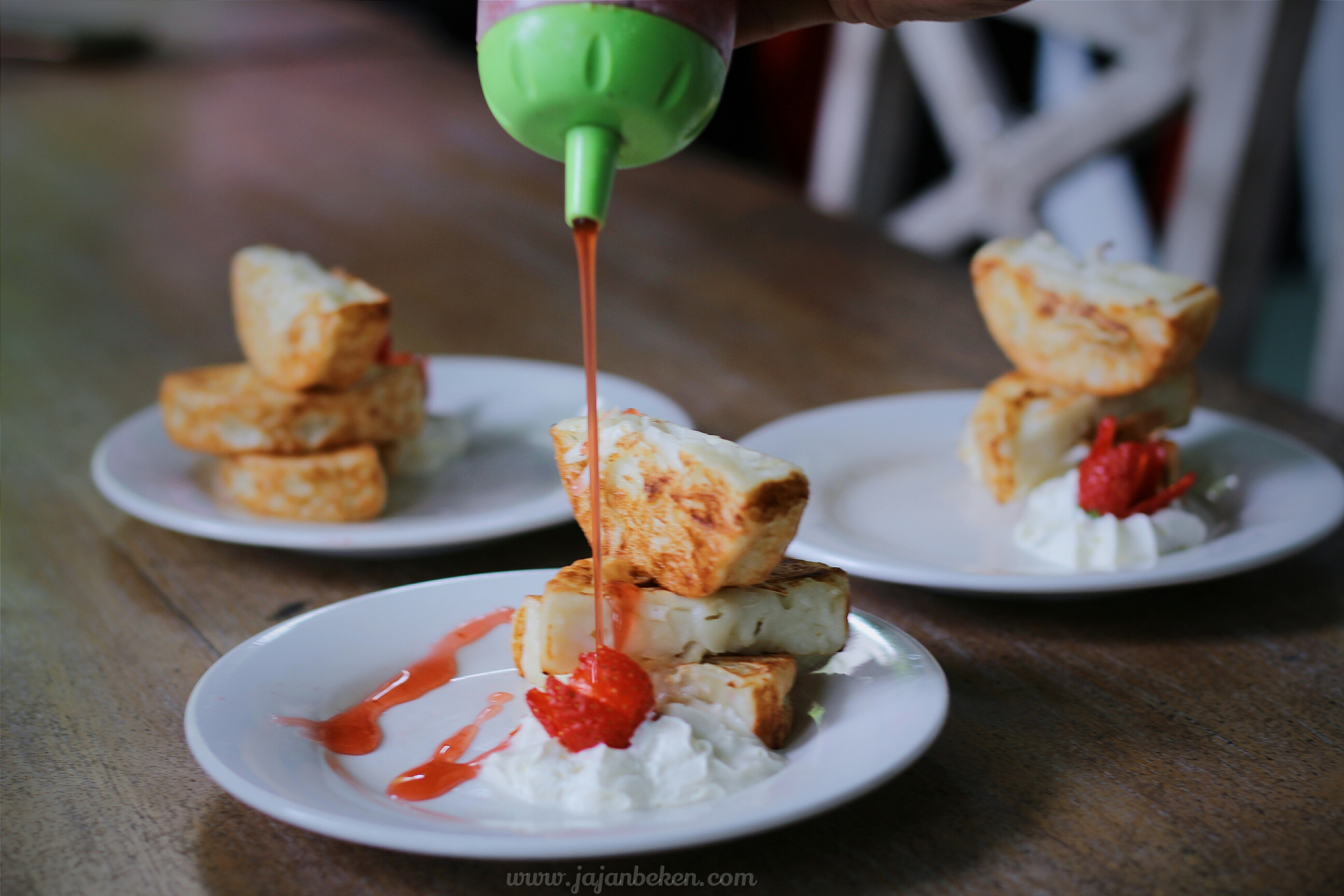 Bir Pletok (IDR 18K)
In Betawi culinary dictionary there are a drinks called Bir Pletok which is has a different meaning with "Beer" that has an hangover effect in common. This Bir is non-alcoholic made from spice and herbs that specially potion to give a tonicum effect and improving blood circulation.
Just say it made from Sappan Wood (kayu secang) that contribute to make the liquid become reddish, Ginger for warm effect, Lemongrass for giving an aromatic flavor and of course sugar ass sweetener. For those who love warm drinks you may try this one.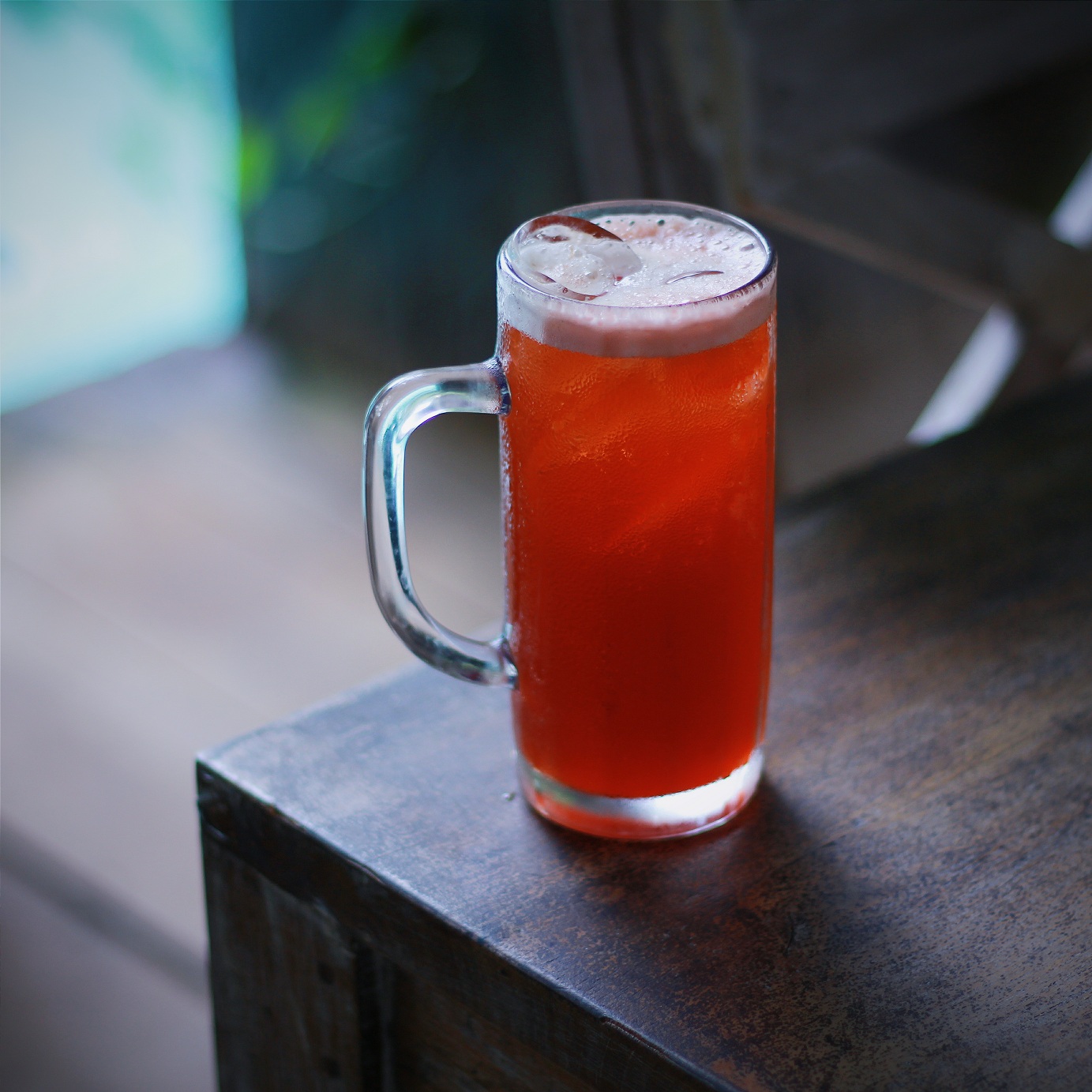 Es Cendol (IDR 20K)
Who doesn't know Es Cendol! This drinks is very popular in Indonesia even in several Southeast Asia. Omah Sendok using coconut milk and palm sugar as a base but the creaminess of the coconut milk still dominating the whole drinks and this is brilliant.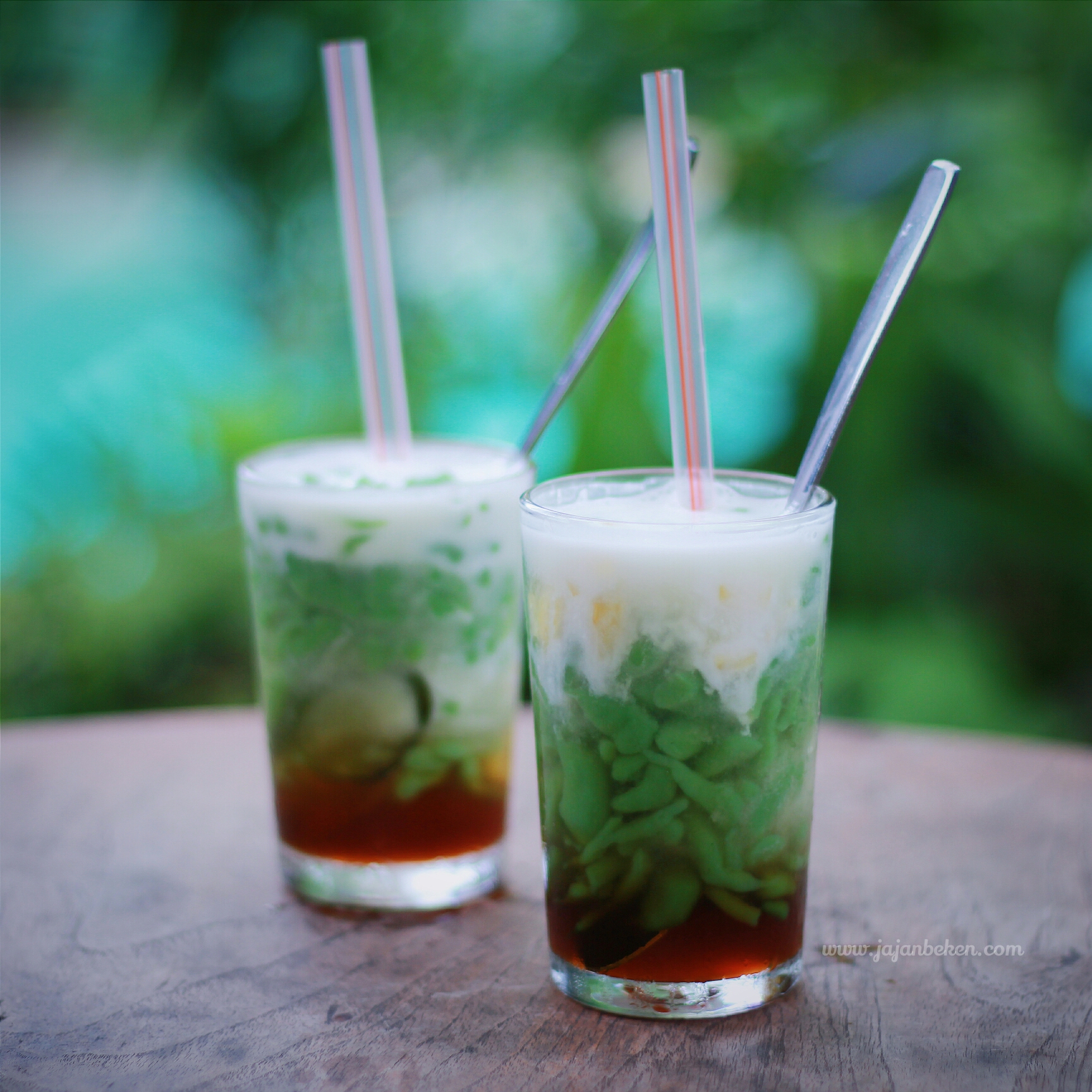 The taste was authentic, the consistency of the rice flour jellies was not to chewy as we found in the street food. But i thought they made this one just in case for customer to easily drinks through the straw so your straw will not jam like arrrgghhhh when we eat cendol with high consistency.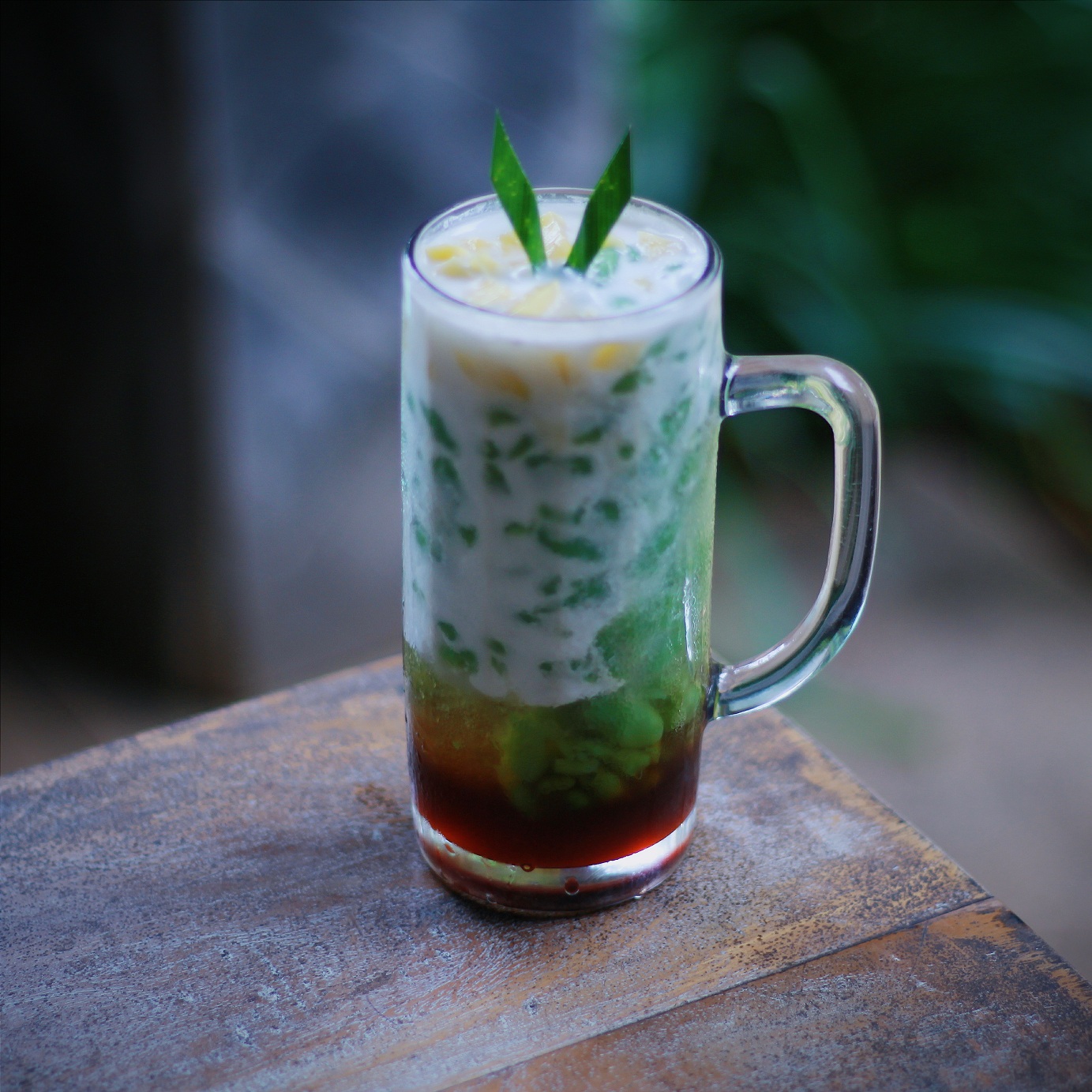 Es Cincau (IDR 20K)
Es Cincau in Omah Sendok has different presentation. As we know the Ice Cincau on street food using brown sugar sauce in the drinks but in Omah Sendok they are using a cocopandan syrup as sweetener. and coconut milk as a base. The texture from the cincau (grass jelly) is slightly soft and easily through my straw and slurrrrp the gras jelly was dissolved in my mouth and it so refreshing and cooling.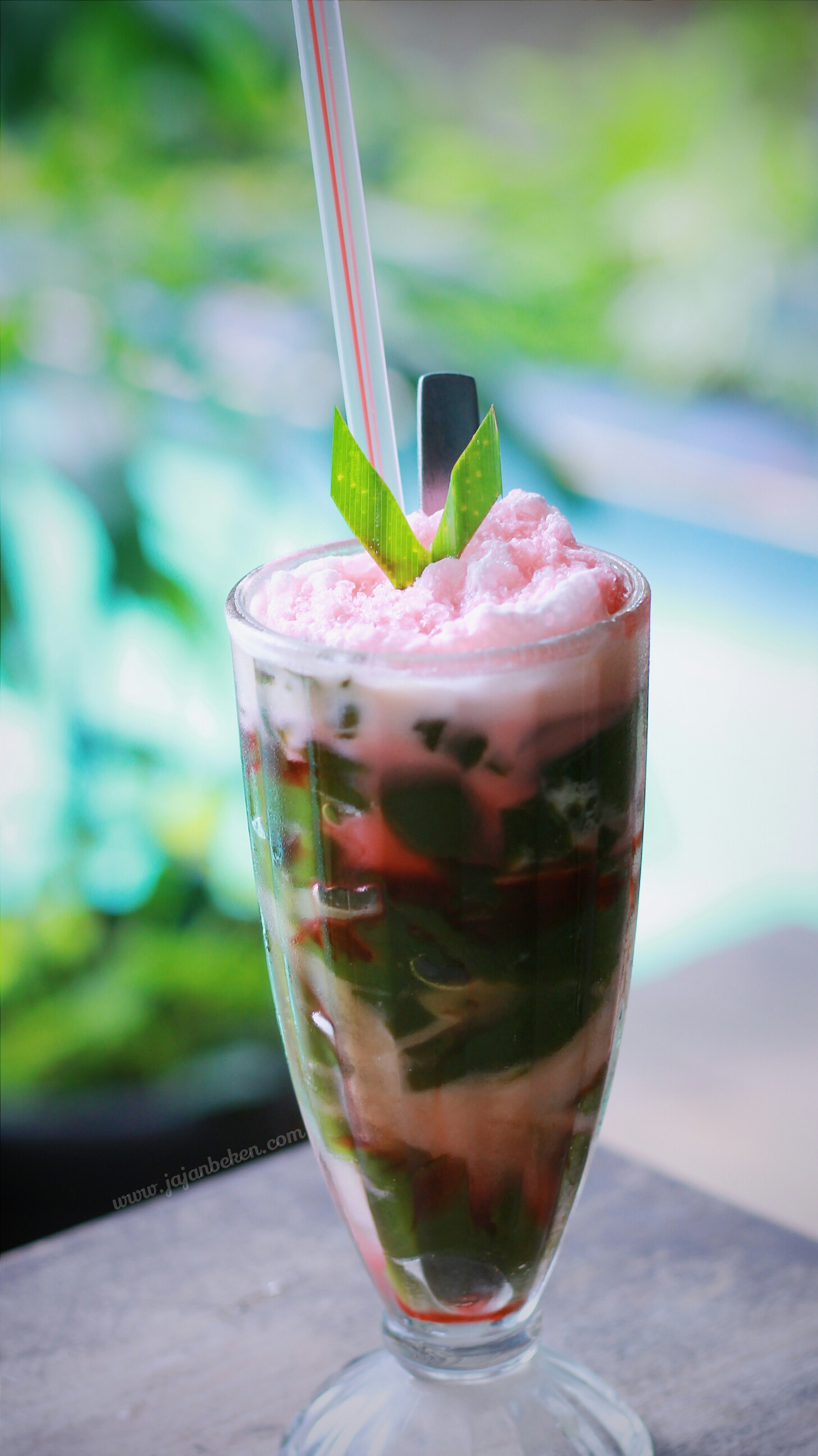 Capjahe
This drinks menu is the newest one, Capjahe is a cross-mix between cappuccino and jahe (ginger) with a whipped cream and cocoa powder on the top. Basically i am a fan of cappuccino but this time i had to admit that this drinks has a different sensation with a hint of ginger scent.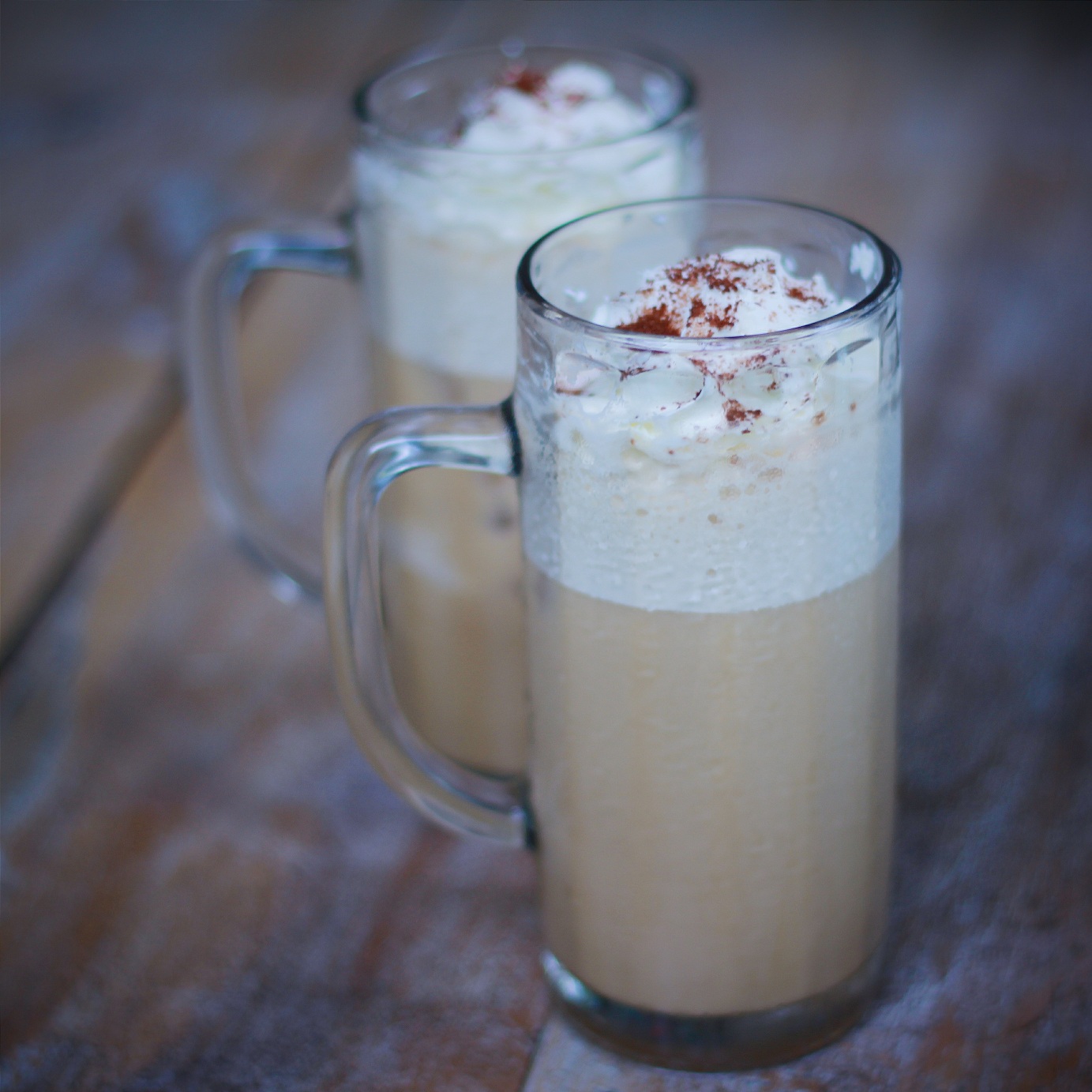 That's all my culinary story at Omah Sendok at Senopati. Overall i like the garden concept of the outdoor and i highly recommended the Bubur Sum Sum and Bandeng Priyayi, these two menu was addictive! Thank you for coming in this article, don't forget to subscribe our blog and see the others awesome articles. I apologize if there any errors in my writing, and see you to the next adventure with Jajan Beken ?
The photo wedding package credits to OmahSendok documentary.
RATING
Ambience : Excellent
Taste : Good
Service : Excellent
FACILITIES
Wifi : Yes
Plug : Yes
Dine in : Yes
Outdoor : Yes
Toilet : Yes
Parking : Yes
CONTACT
Address :
Jl. Taman Empu Sendok No.45, RT.8/RW.3, Selong, Kby. Baru, Jakarta Selatan, DKI Jakarta 12190

INFORMATION
Open hour : 10 AM – 21 PM
Price : Average Rp200.000 for two people (approx.) Cash and Cards accepted
MAP