As coffee lovers I really like to taste different kinds of coffee. I think coffee has a distinctive taste that is diverse and unique. When I explore a variety of coffee shops there is a new type of coffee and that's when, I get a new taste experience. Last week I was visited one of the coffee shop in Tomang West Jakarta and the name is Guten Morgen Coffee Lab & Shop.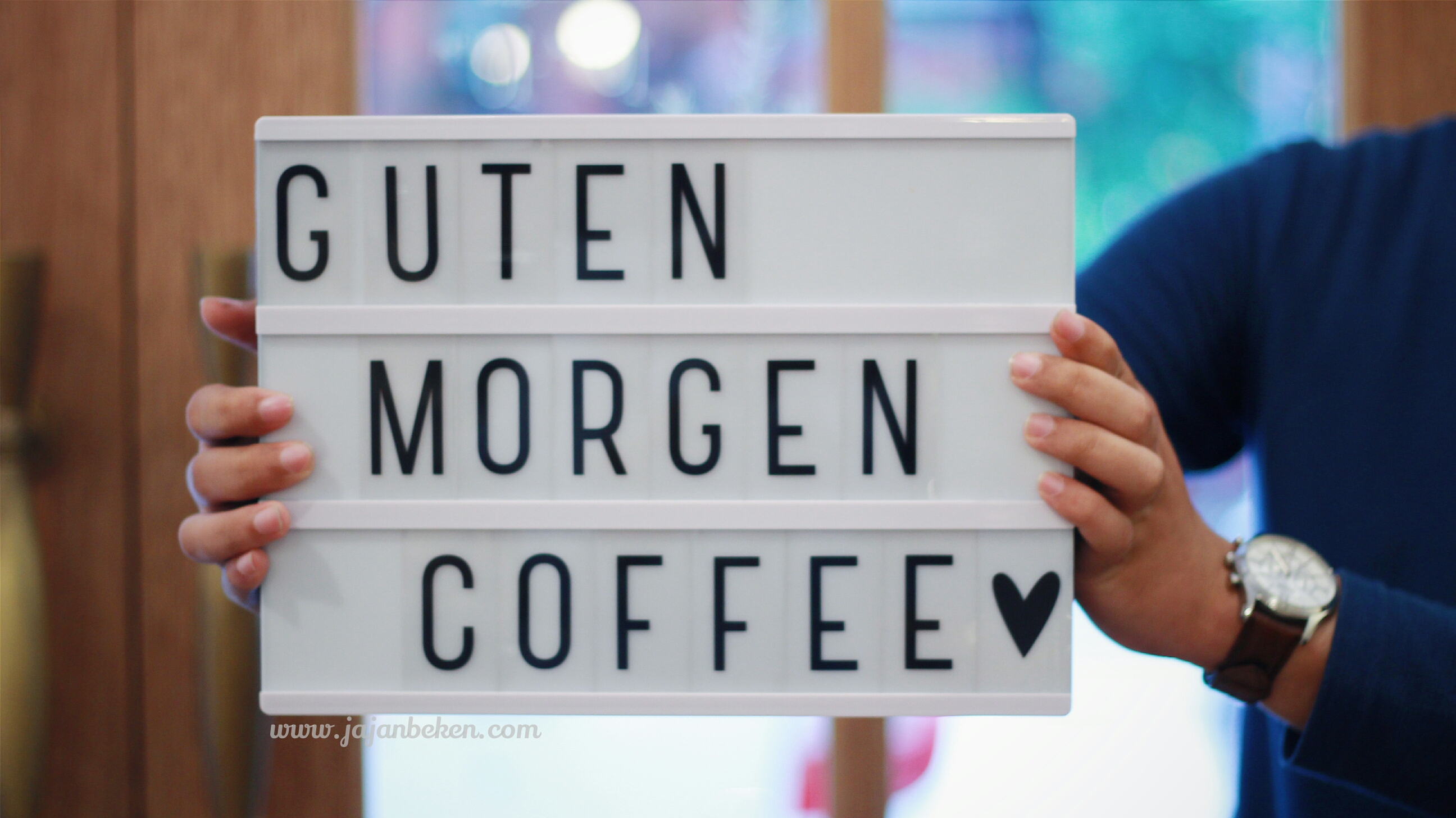 At that time I came with my friends. Previously, she was informed about the existence of this coffeehouse.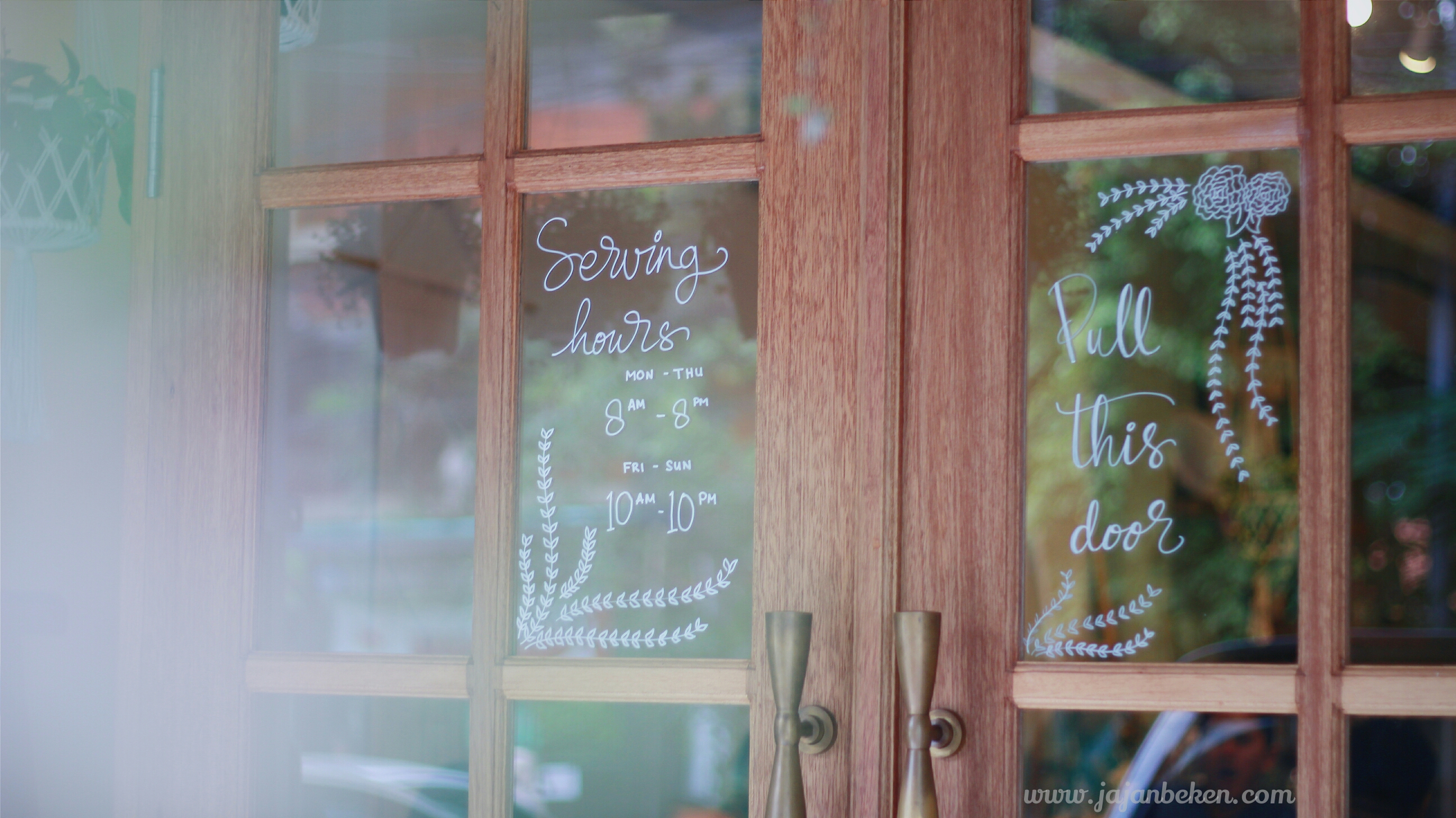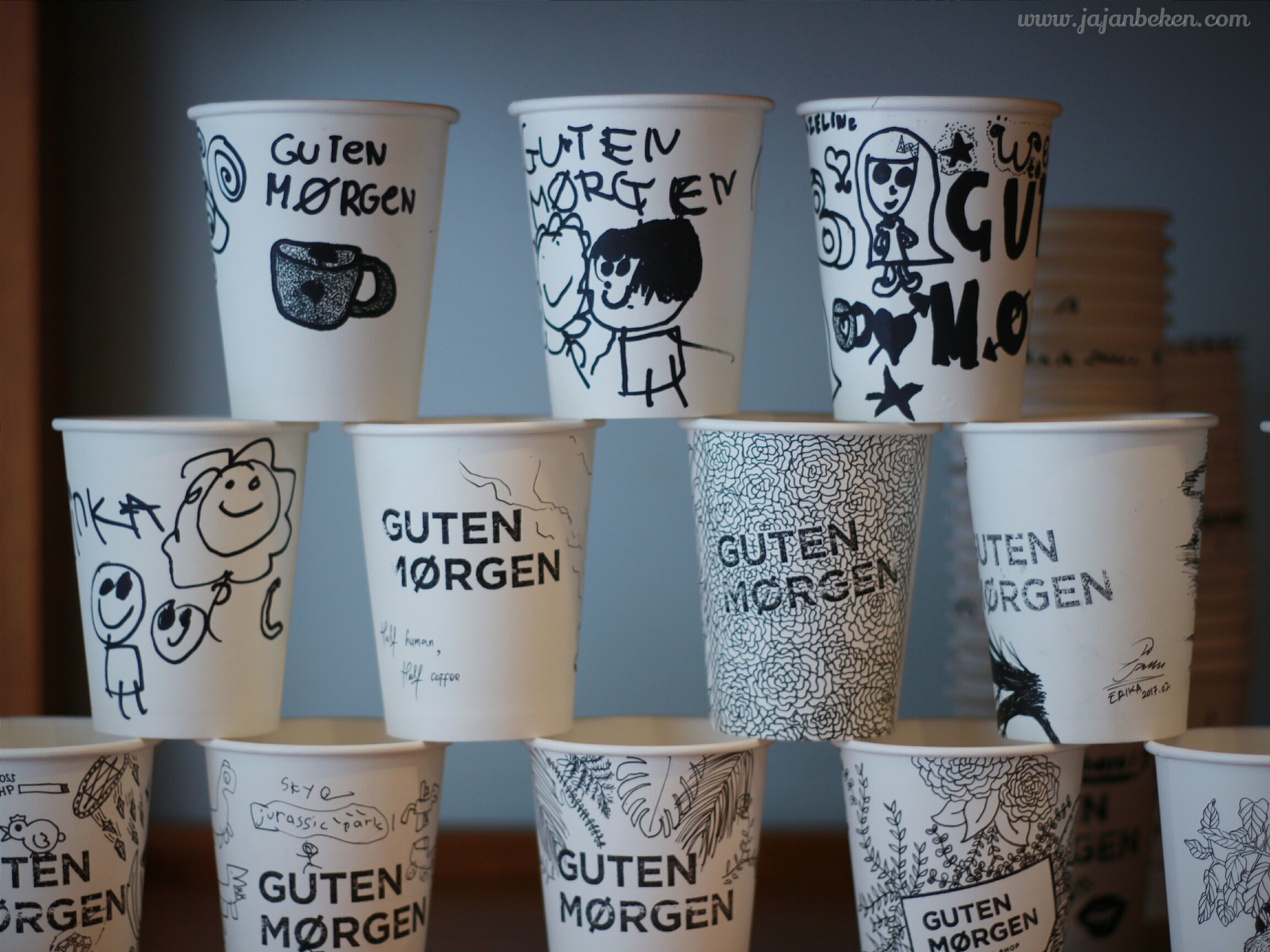 She said this coffee shop is very instagrammable and becoming hive for this moment. And the most interesting she said this coffee shop is full of flowers.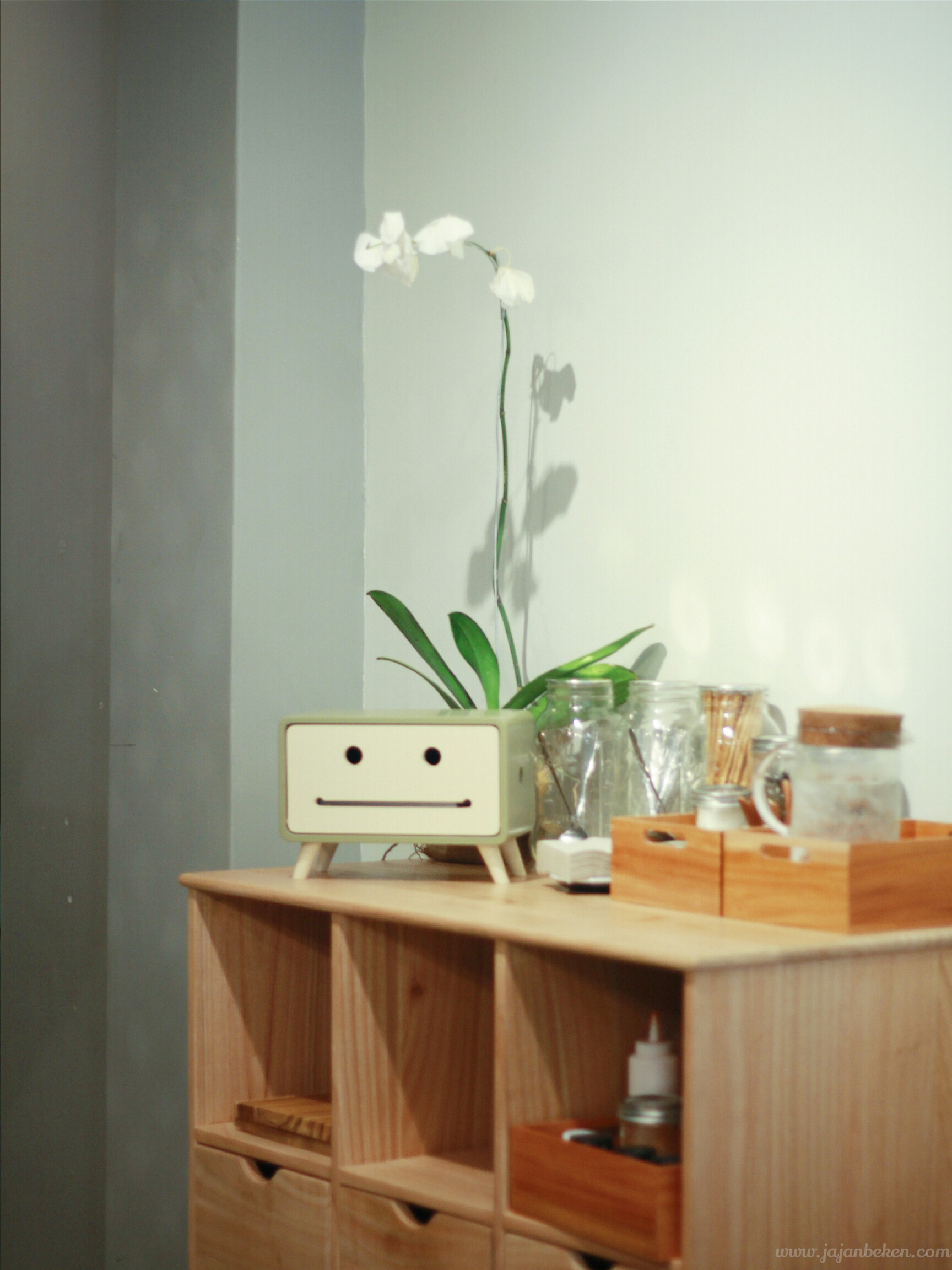 And it turns out all the words of my friend more than correct. This coffee shop is very flowering with many plants hanging on the terrace.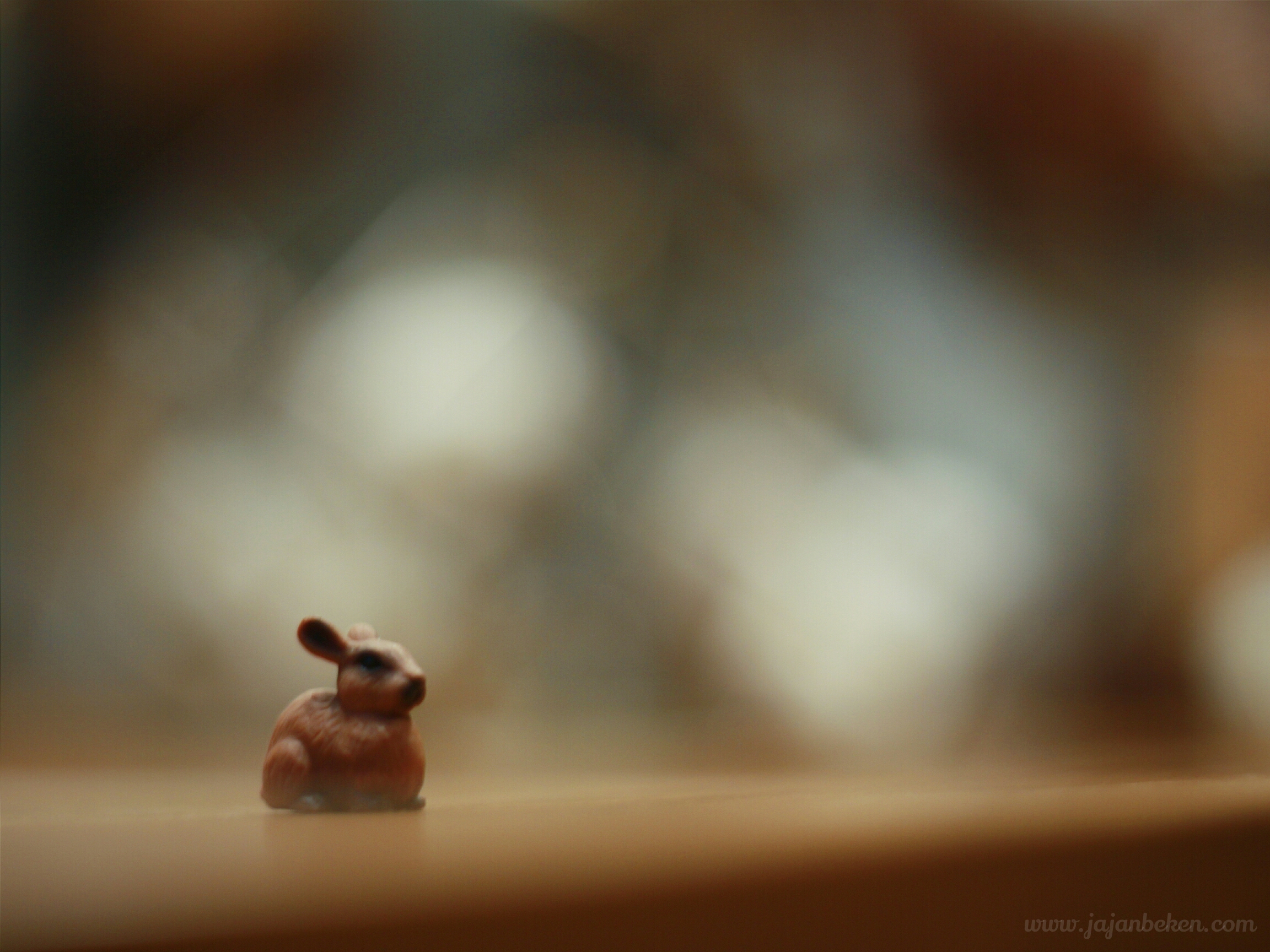 Talking about the terrace there is a table that mostly used to take food pictures there. And when you look down the floor there is written with words Guten Morgen.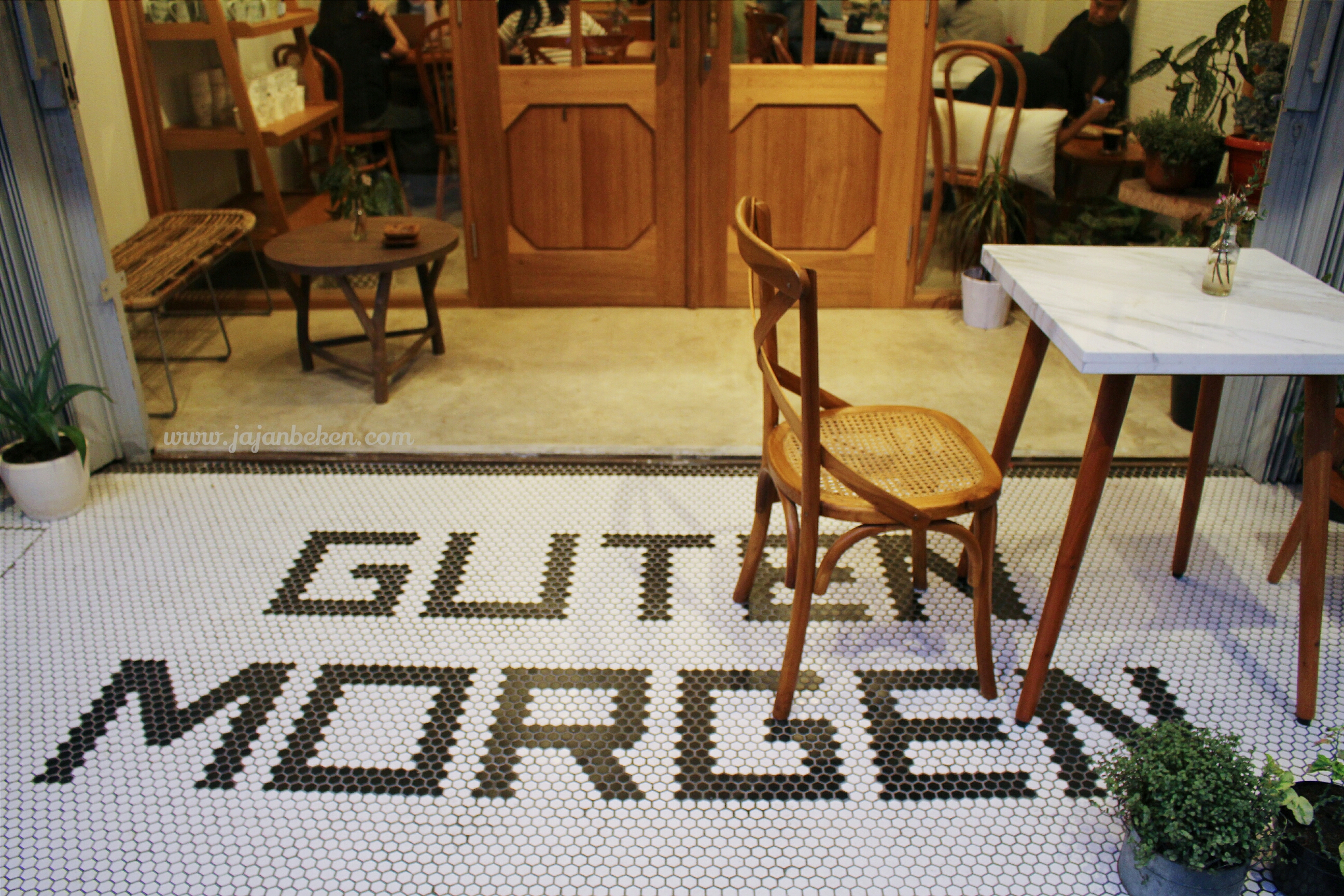 Already proved visible from the front of this coffee shop is already showing the uniqueness. And in my experience Guten Morgen Coffee Lab & Shop a bit difficult to find, because there is no billboard that shows the location of this coffeehouse. But you don't have to worry because when I headed this coffeehouse I use google maps which proved highly accurate.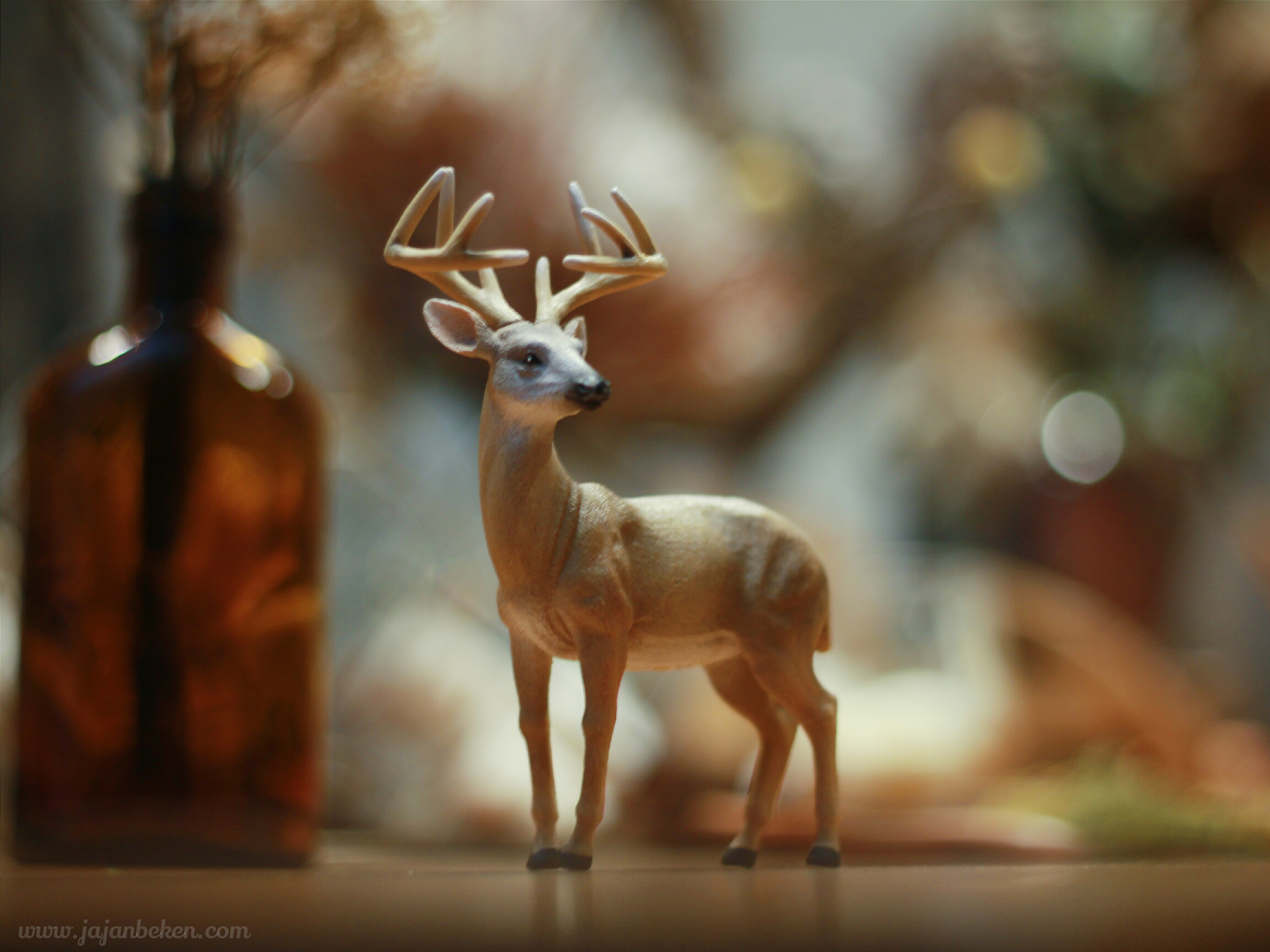 Talking about the design of this coffeehouse, Guten Morgen Coffee Lab & Shop use many wooden elements and some variety of flowers and leafs. This ambiance and aroma will make you comfy to be here long.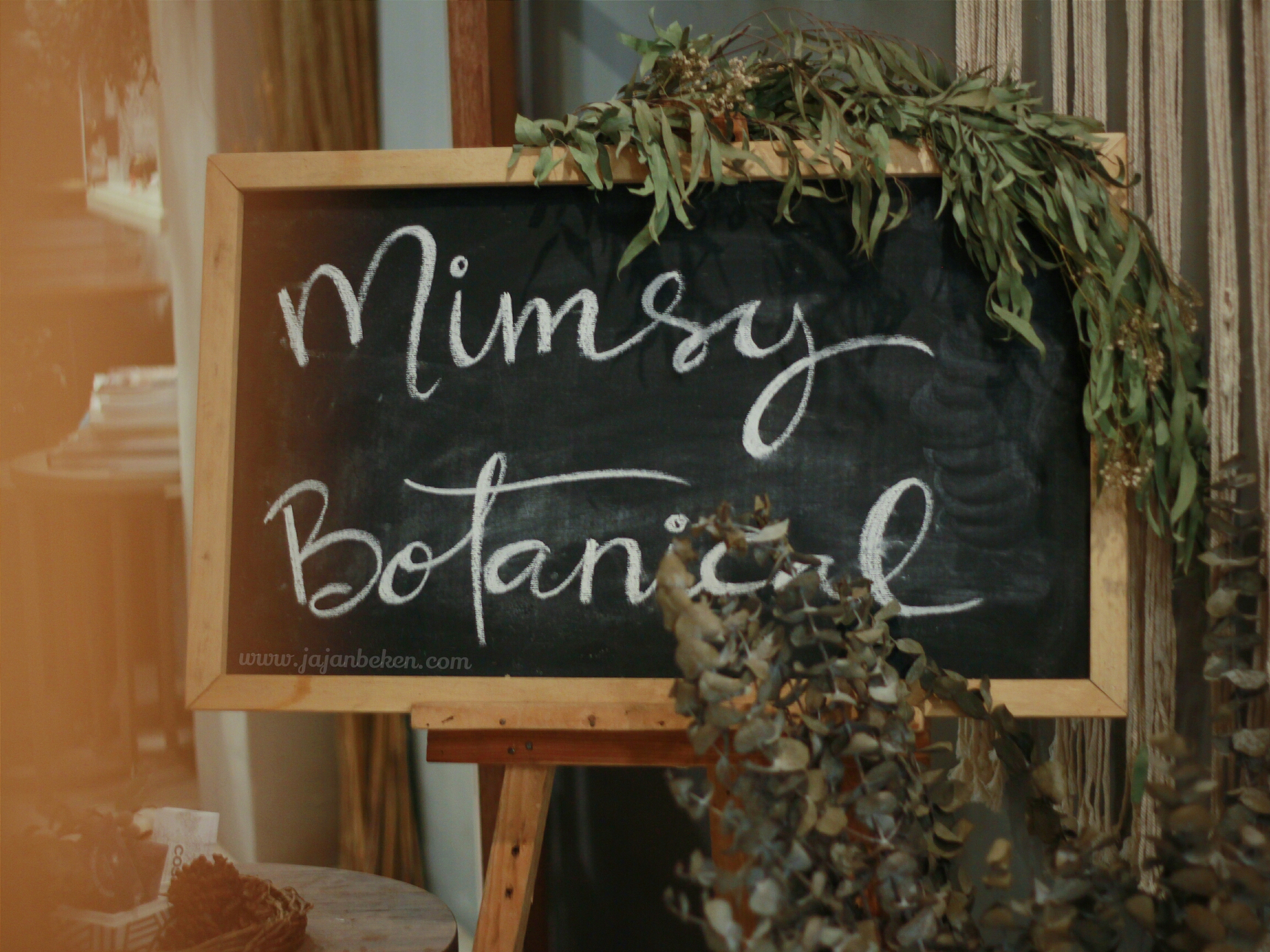 I walked into the back of this coffee shop there is one room called "Mimsy Botanical" that contains many beautiful of dried flowers, leafs and herbs.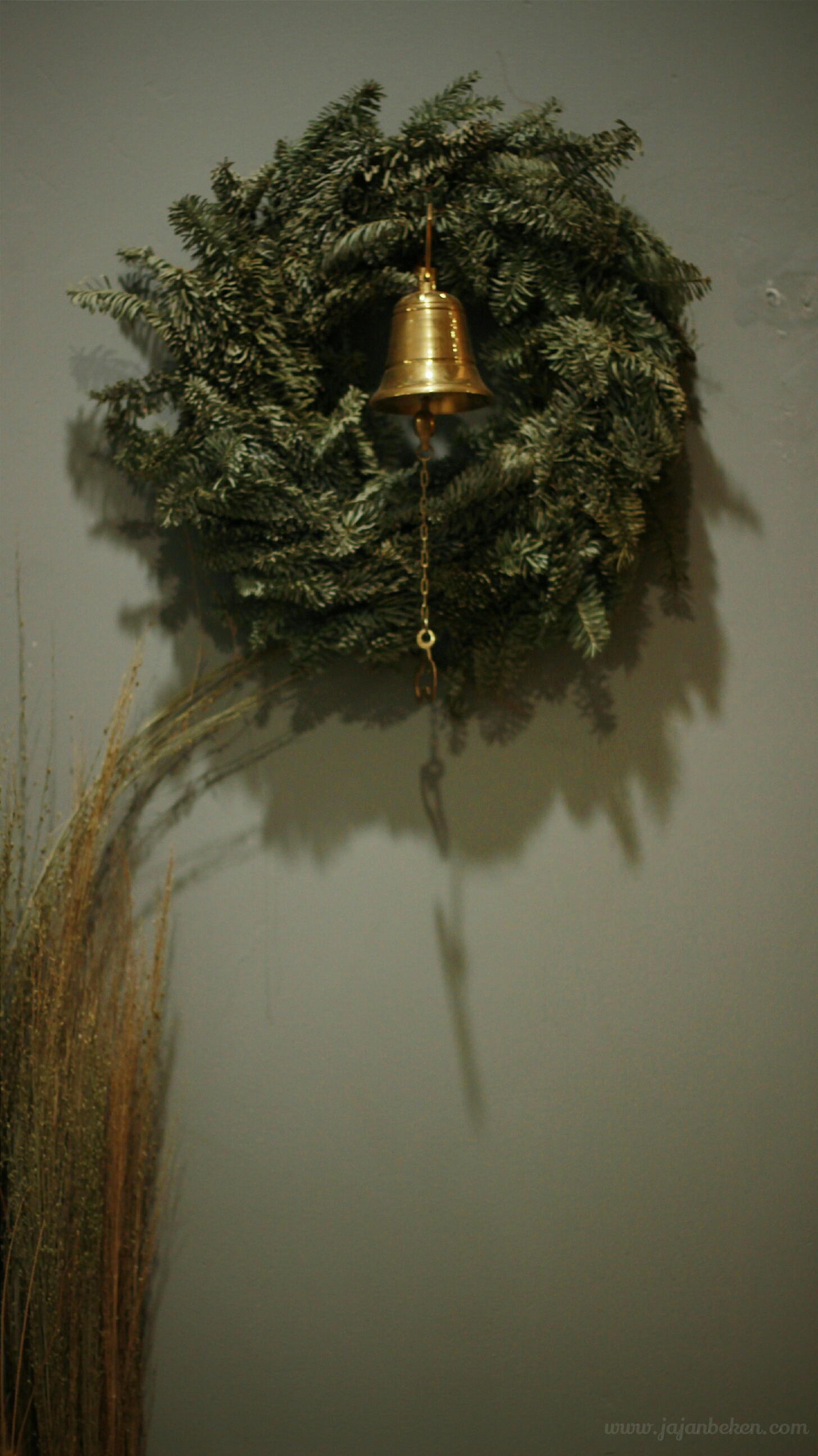 The scent of the flowers in this room was very strong. This room also used by many visitors to capture the photos.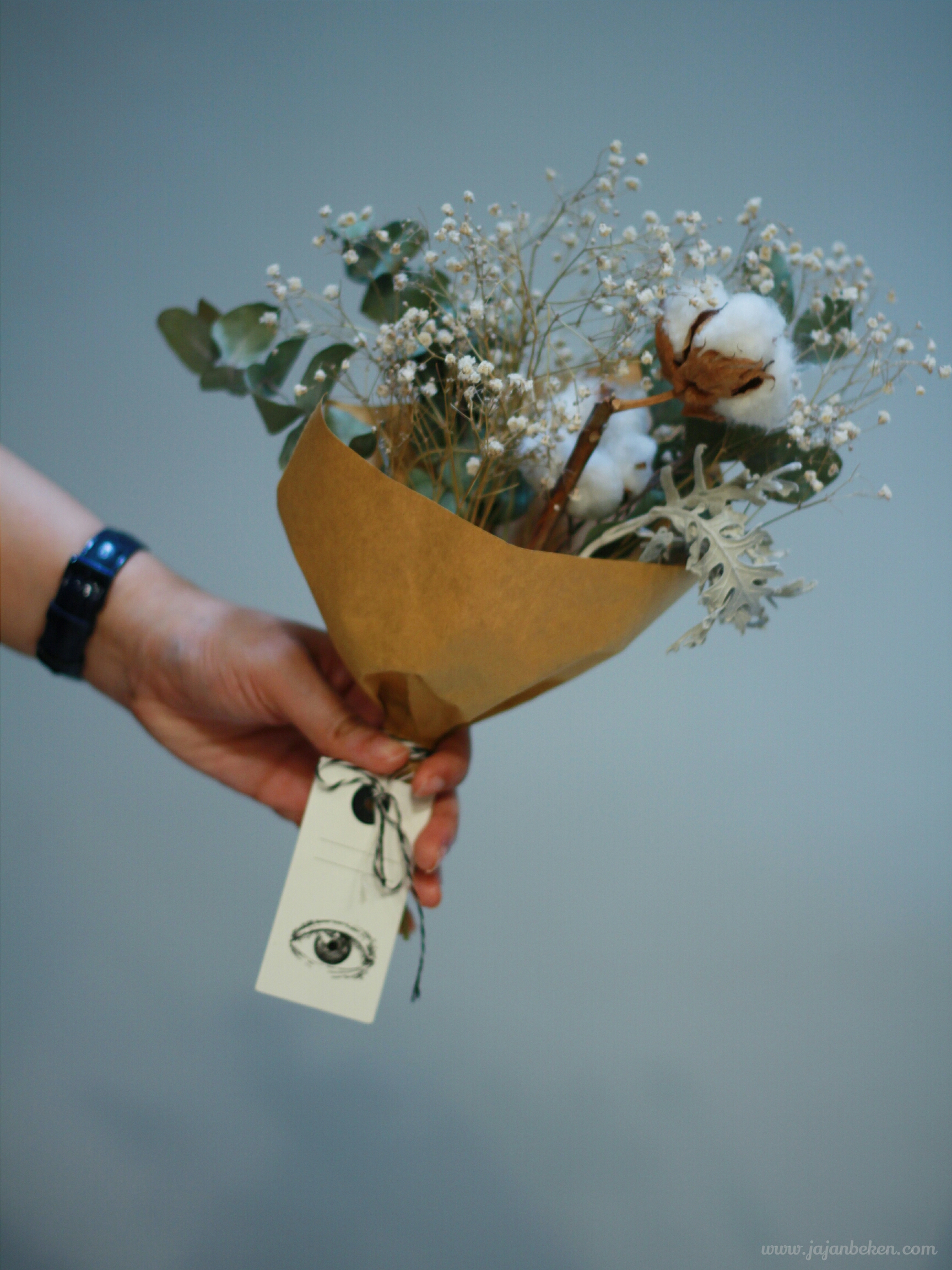 You can smell a pleasant aroma and the "baby blue eucalyptus" were dominating the scent of these room.
Besides exceptional ambiance, Guten Morgen Coffee Lab & Shop has a very friendly staff. It's show how they greet us when we came. Moreover the owners sometimes involved himself immediately to become a barista.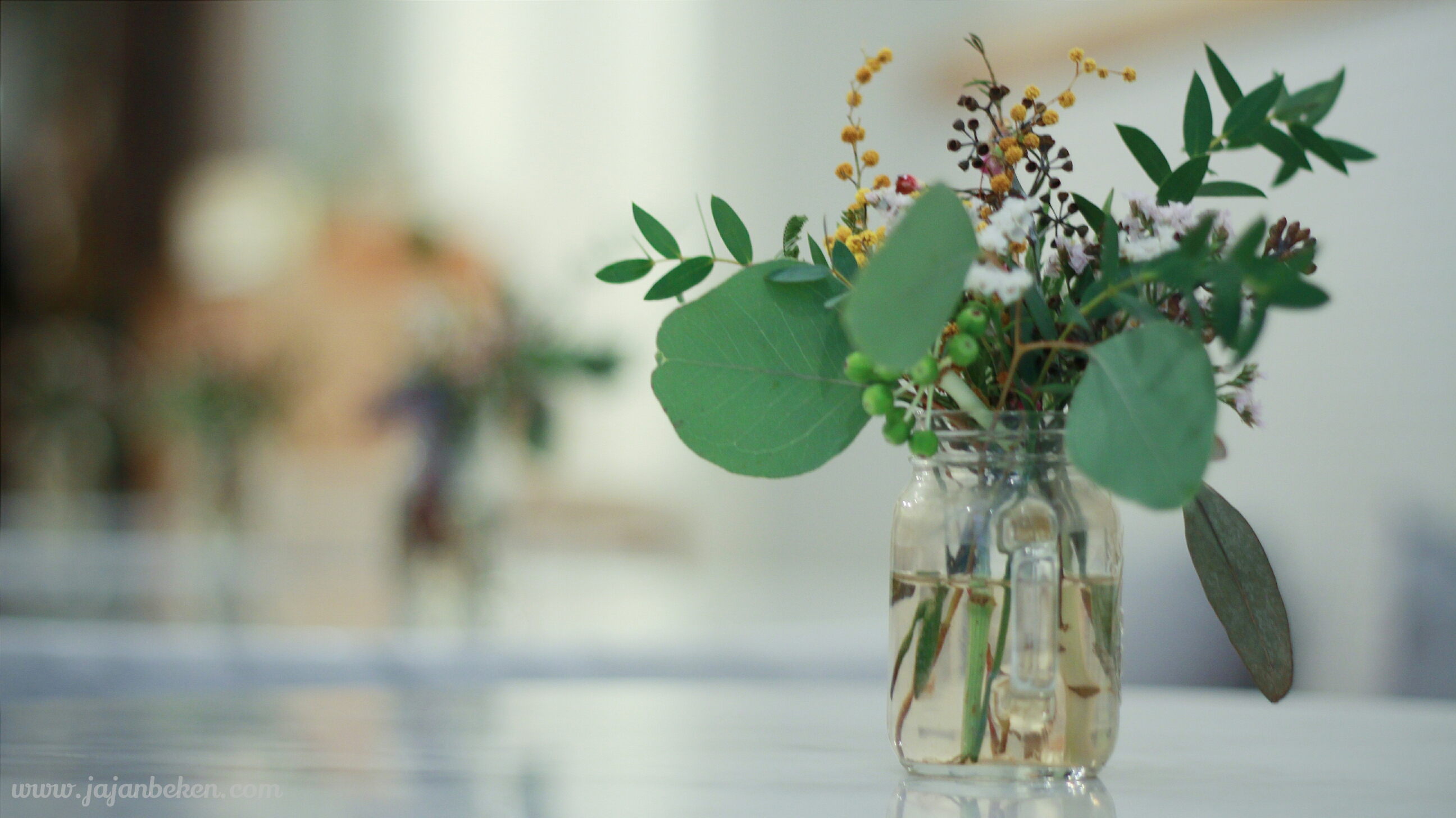 The building that houses this coffee shop consists of three floors. For the second floor is the kitchen and the third floor is become a business office. We are talking much about flower and maybe you ask a question "Why there are so many flower in this coffee shop?" Therefore this coffee shop is very look beautiful and comfortable because it's designed by the owner's wife who is a florist.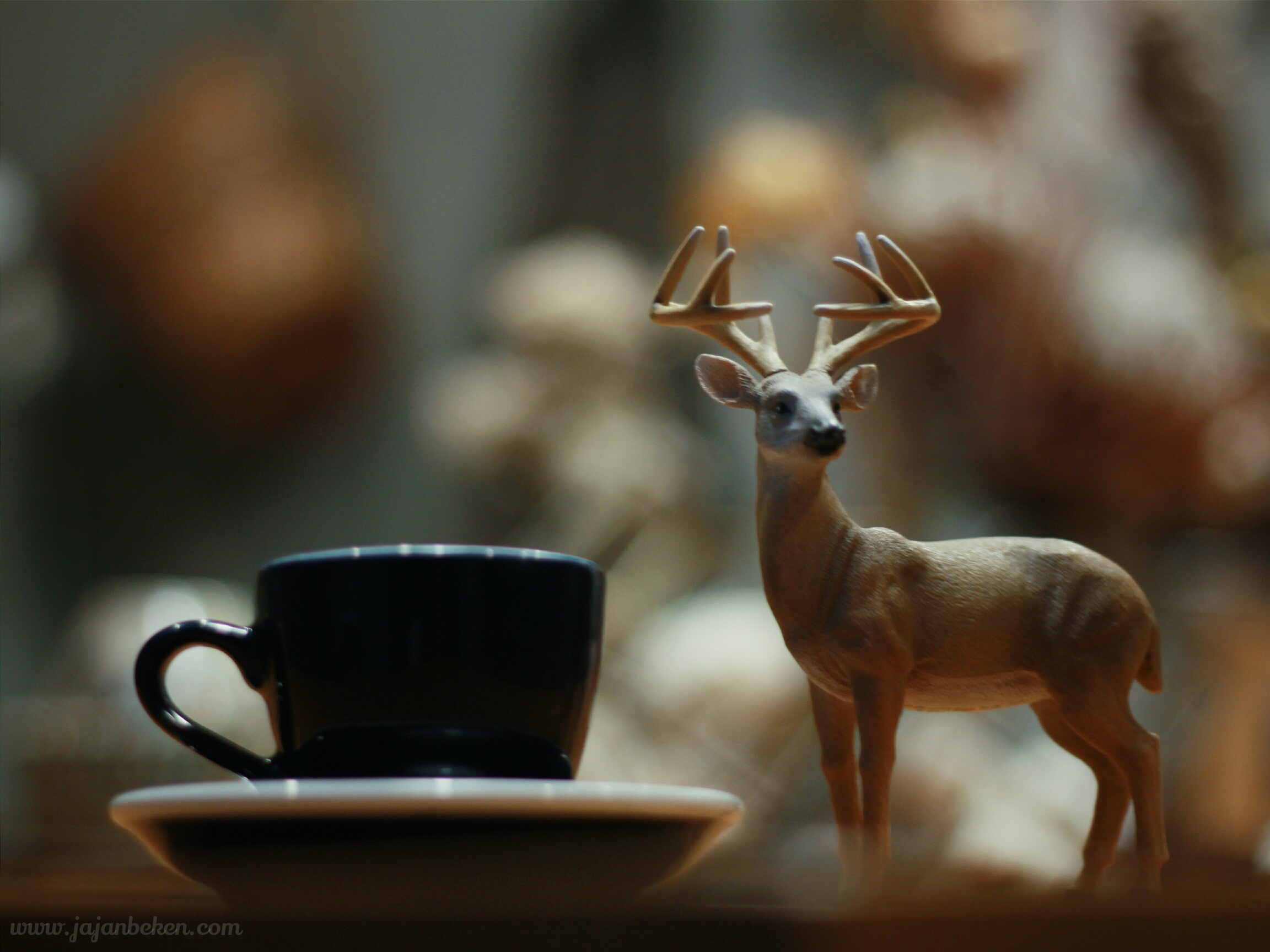 After talking a lot about the ambiance of this coffee shop, I'll tell you my experience to try some of coffee at Guten Morgen Coffee Lab & Shop. Just scroll guys!
Kaffee Cubes IDR 40K
This is a signature menu at Guten Morgen Coffee Lab, this menu is a combination of espresso, fresh milk and beautify with edible flower.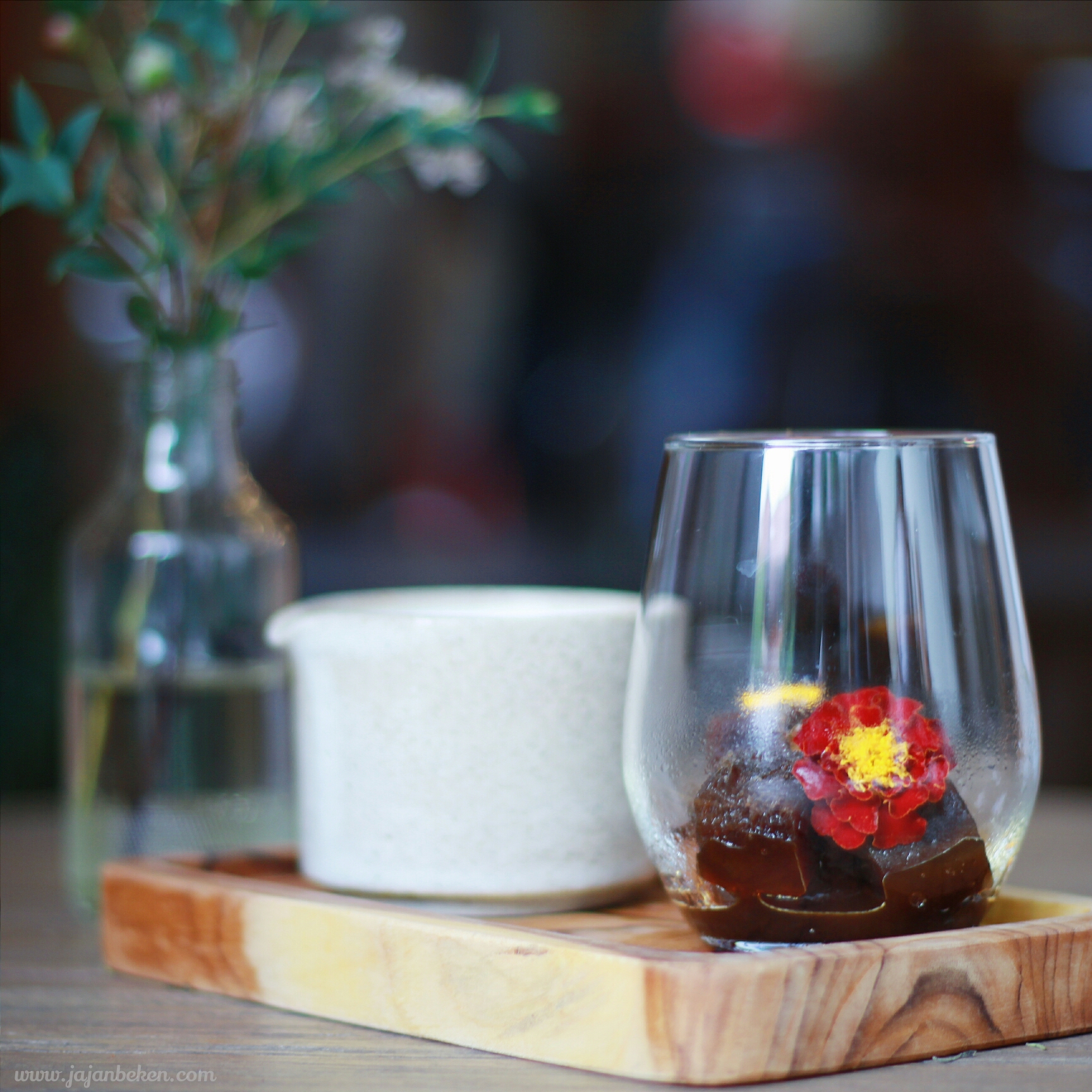 You might be surprised when you look at the first sight, due to a flower is in your glass.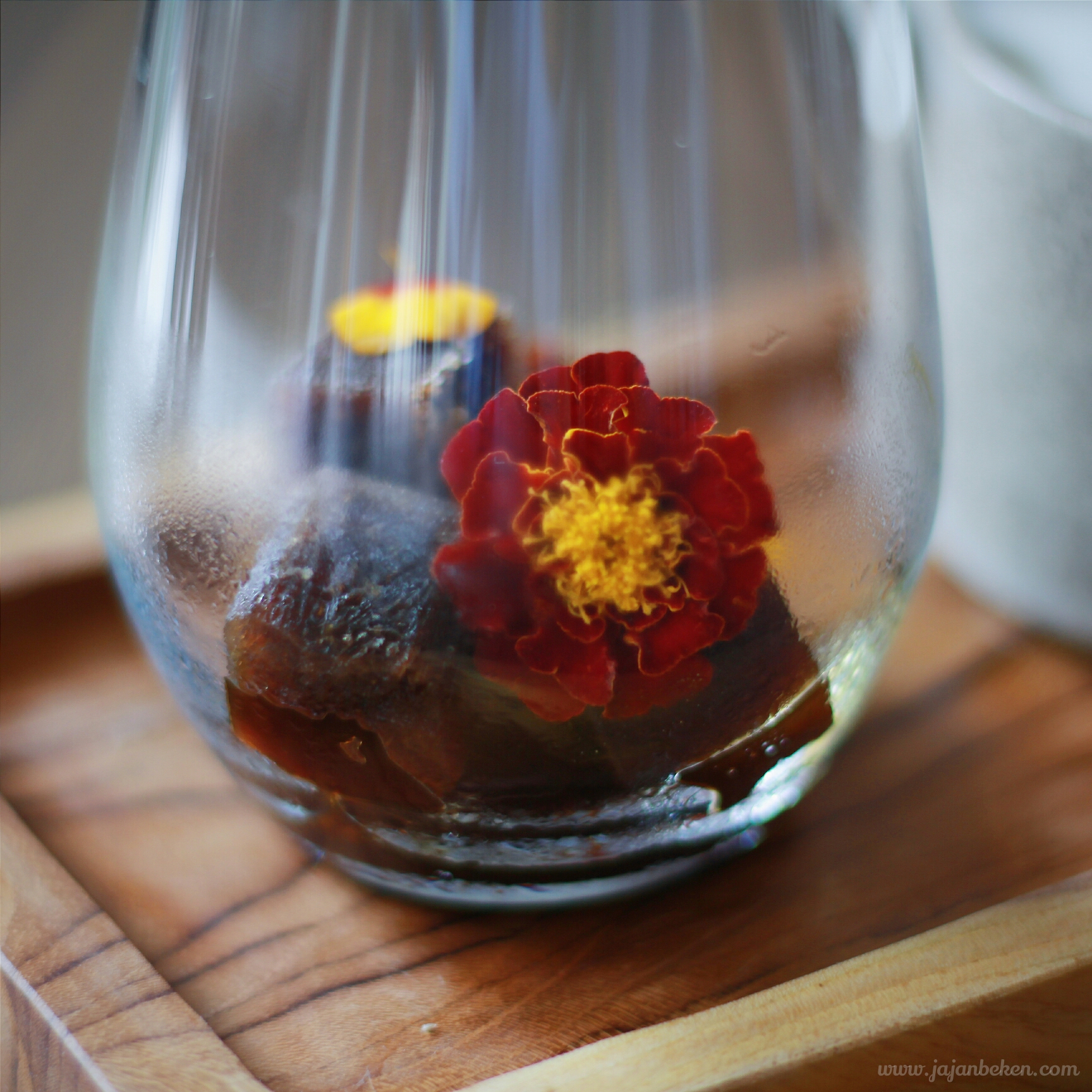 Honestly, this is my first time to try and see this menu. The presentation of this menu is unique with colorful edible flowers.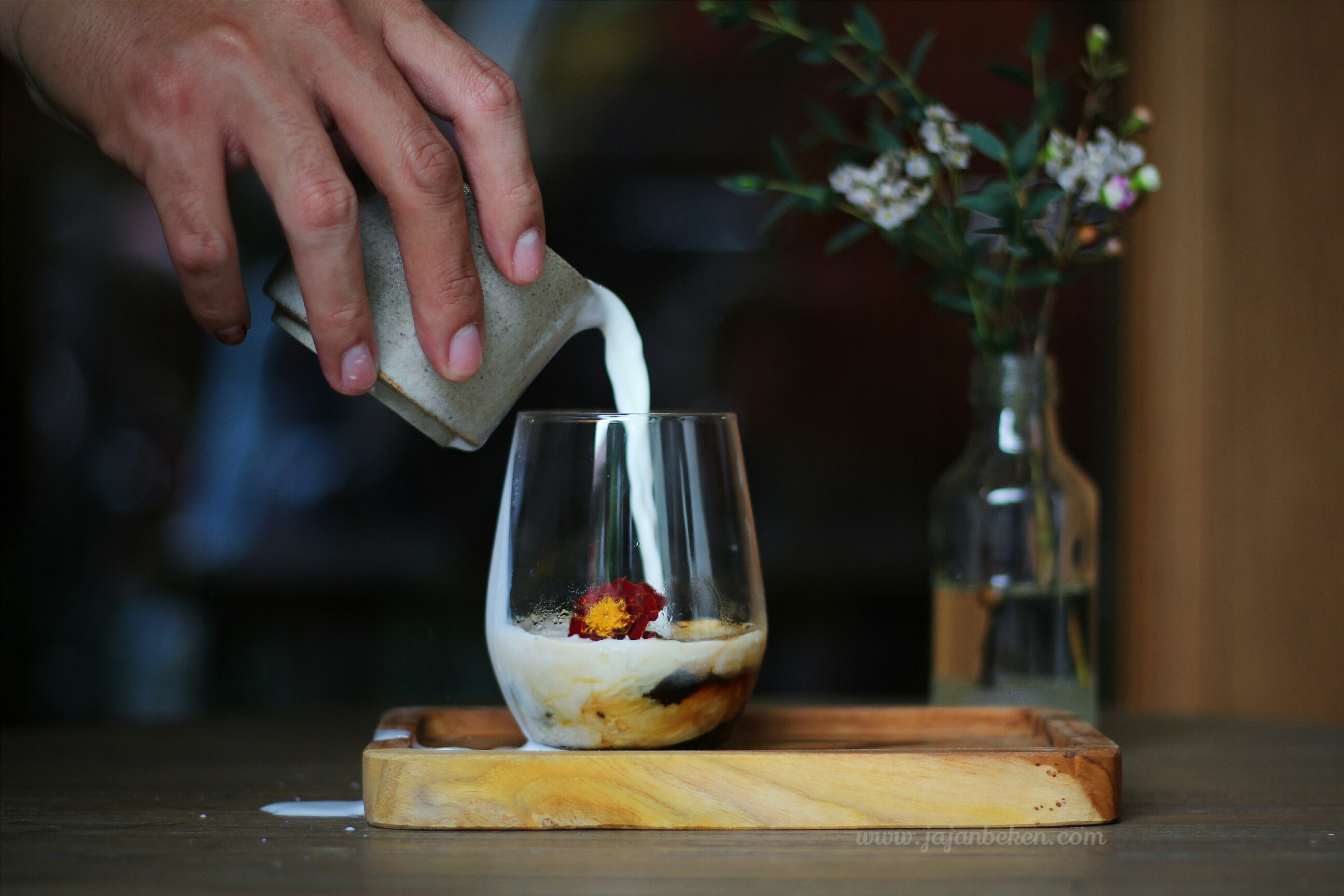 You will get a different color flowers on every week. The flower will not affect to the taste of this drink.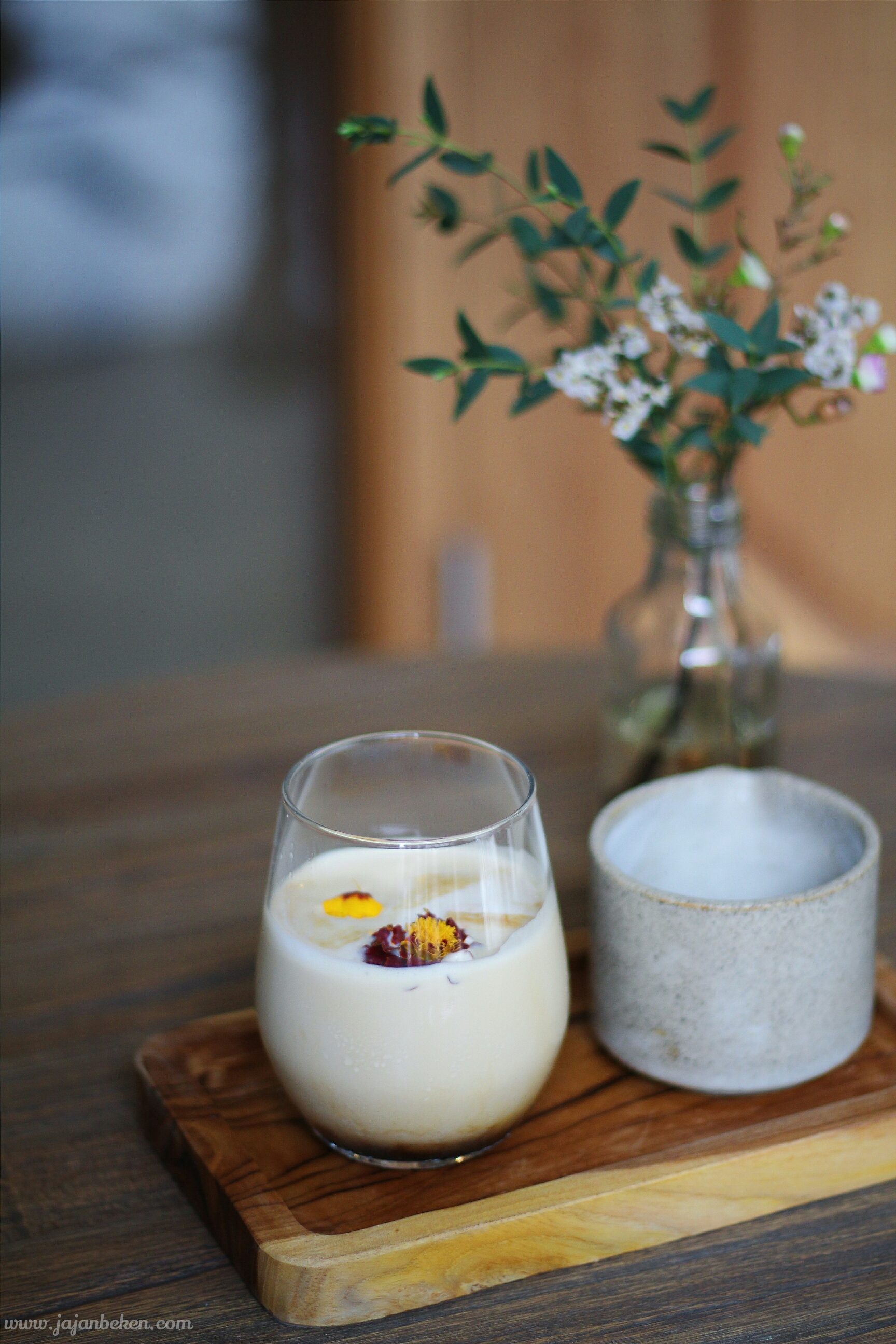 In this menu milk served with cool and the cubes is a frozen espresso. Milk and cubes are separated, so you can adjust the mix of sweet milk when poured into cups of espresso.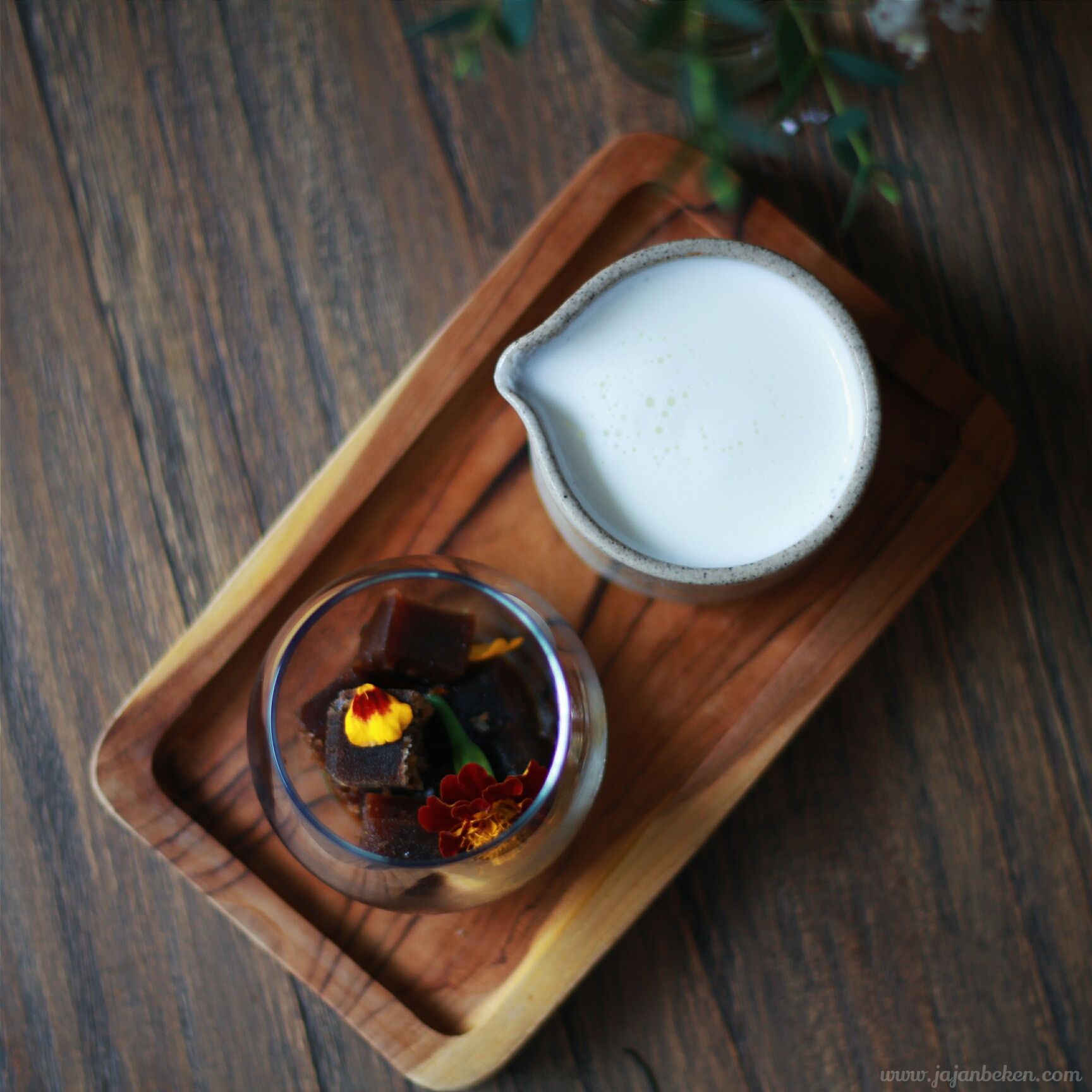 I poured all the milk into espresso cups, and immediately the espresso cubes getting melt slowly. You must order this menu if you visit this restaurant.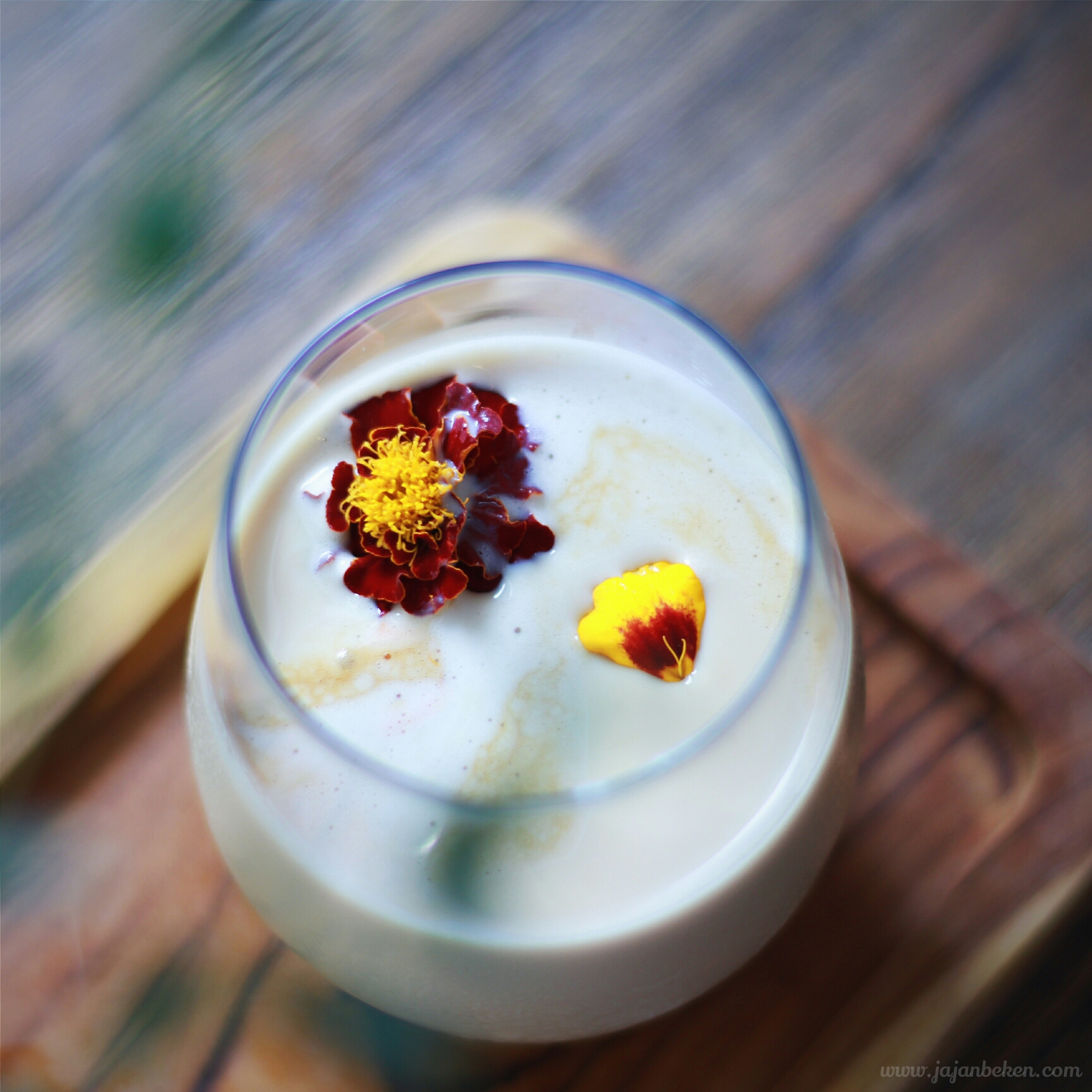 Salted Caramel Latte Ice IDR 35K
I really like caramel so I order this menu and it's looks tempting. The taste of this drink was so tasty, the taste of salted caramel was very strong. If you visit at this coffee shop, this drink could be the one choice.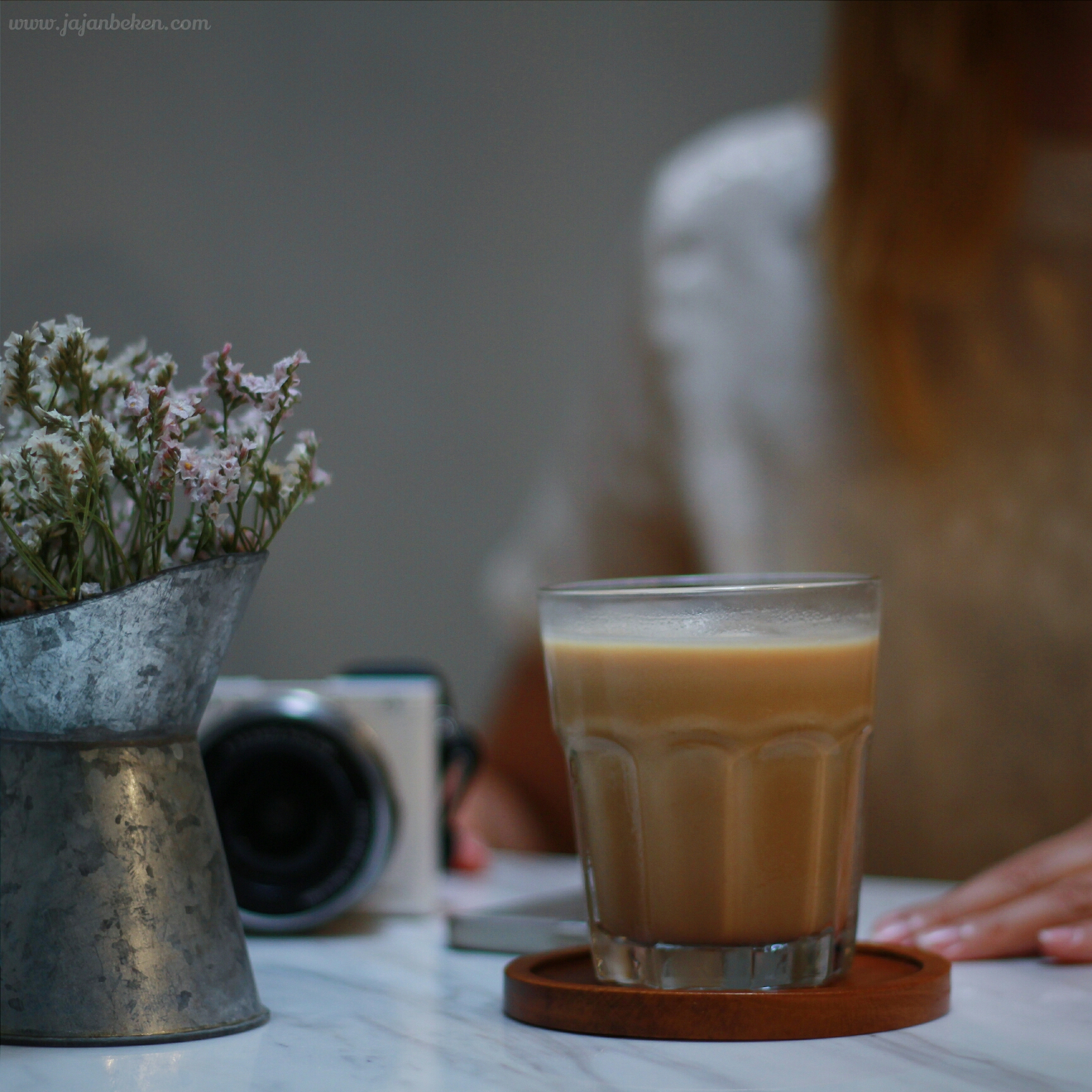 Caramel Raisin Ice Cream IDR 18K
Still talking about caramel, I choose Caramel Raisin Ice Cream . The taste of ice cream is very creamy, the texture of ice cream was very smooth. The caramel sauce blend perfectly with ice cream. On next vist I will order this menu again.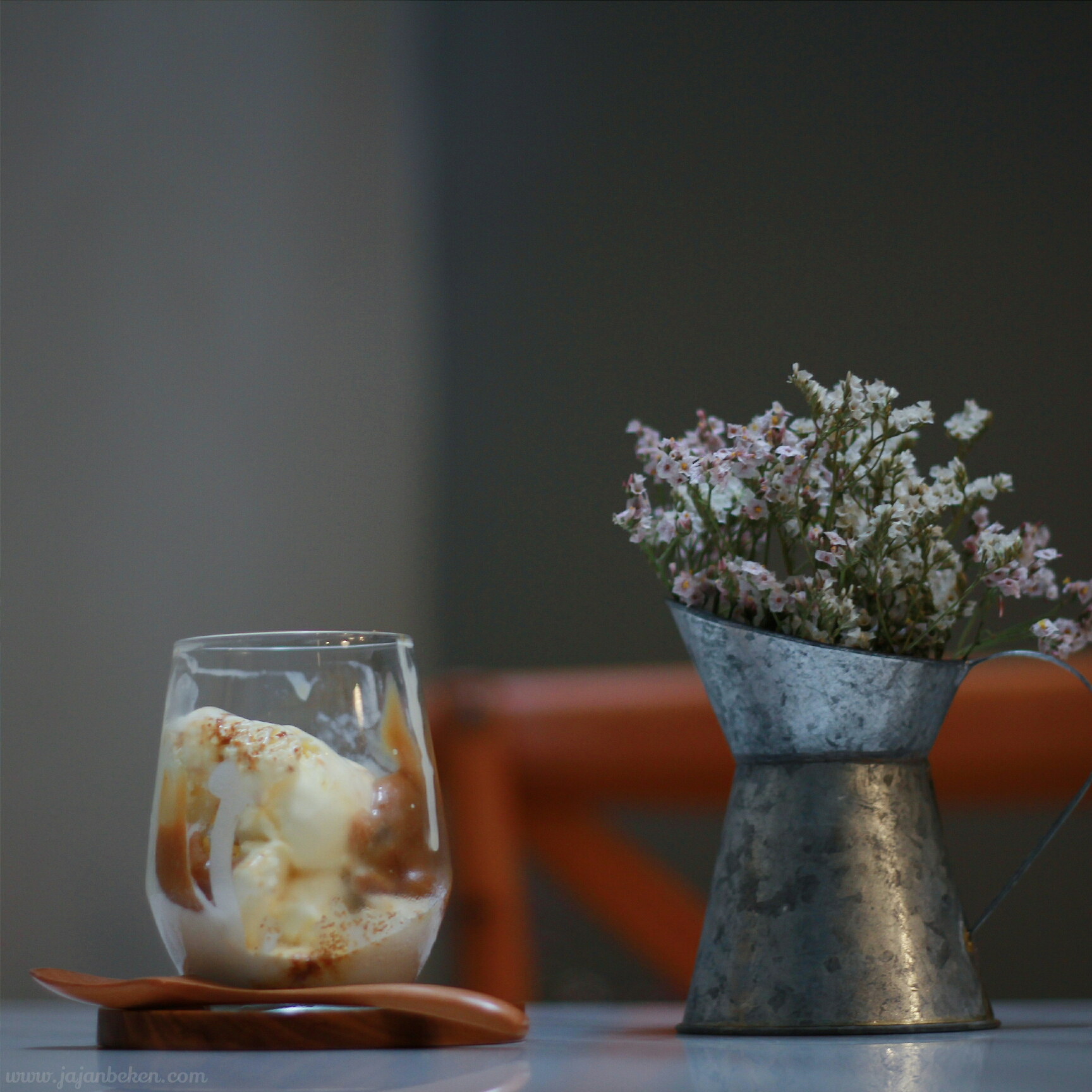 Chamomile Tea Pot IDR 45K
Besides coffee, this coffee shop also provides tea. I love the floral scent from this tea. Sweet and slightly woody. Btw I was very lucky to have found this tea in Guten Morgen Coffee Lab.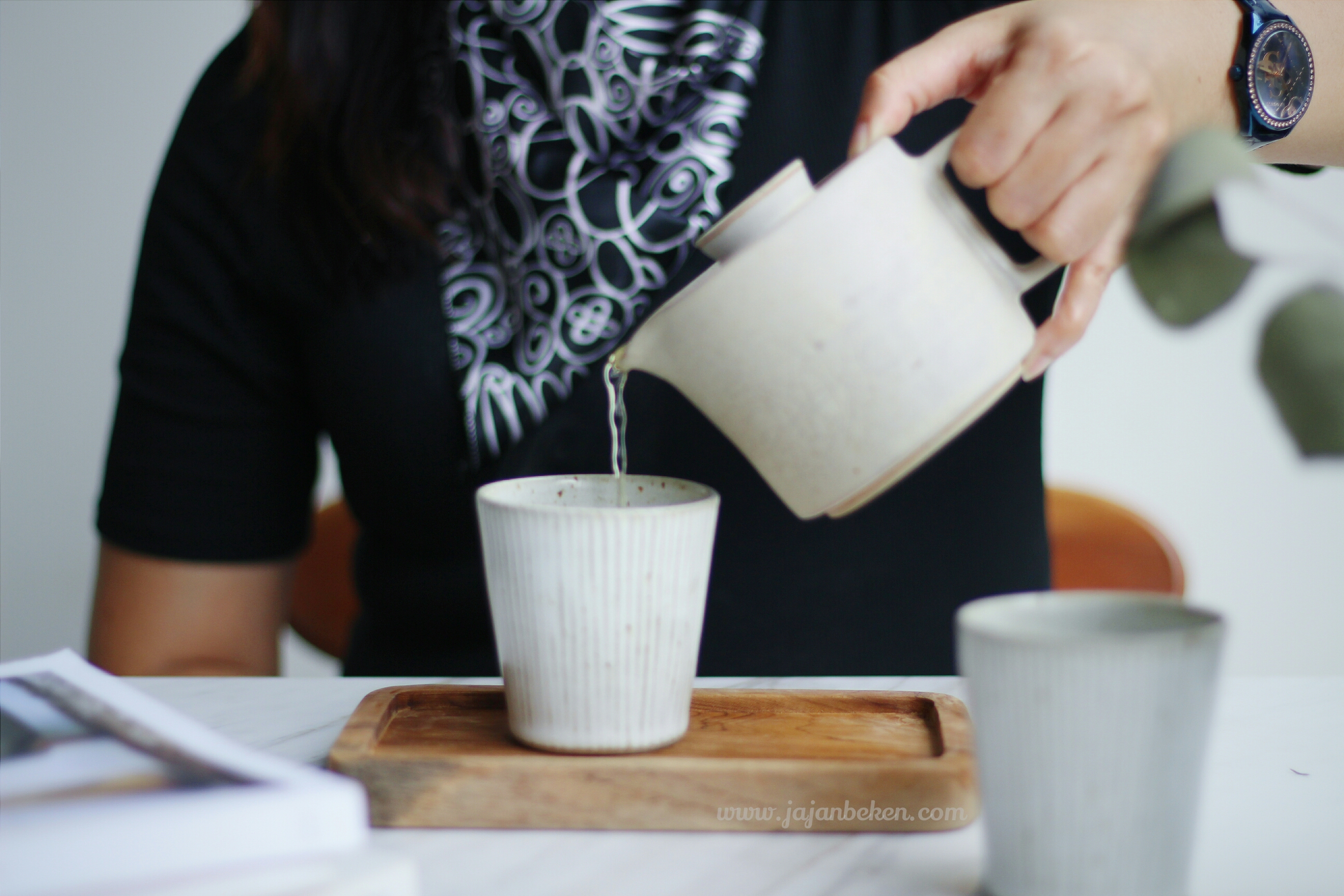 That was my food adventure at Guten Morgen Coffee Lab, the place was so very cozy and homey ambiance. And don't forget for wearing your best outfit to take selfie in every corner of Guten Morgen Coffee Lab.
Finally I closed my review at this article. And I apologized if there is an errors in my writing and don't forget to subscribe our blog and just wait another culinary story from Jajan Beken!
RATING
Ambience : Excellent
Taste : Good
Service : Good
FACILITIES
Wifi : Yes
Plug : Yes
Dine in : Yes
Outdoor : Yes
Toilet : Yes
Parking : Yes
CONTACT

INFORMATION
Open hour :7AM – 20PM