PIK (Pantai Indah Kapuk) has been known as a culinary center with a variety of unique food and become a culinary destination.  The restaurants compete to make the most different from the others by creating the uniqueness, therefore the culinary development in this area is growing rapidly. In this opportunity, with so excited I will introduce to you all one of the few restaurants that are in this area. The name of this restaurant is Kabuto Mazesoba.
Sounded from the name of this restaurant it so Japan isn't? But in my opinion it is almost approaching. Because if you enter into this restaurant you will be greeted by two Samurai Attribute which is very cool. Looked from the front of this restaurant full with glass window, this adds a luxurious feel to this restaurant.
And i bet this restaurant will continue to grow with time. Because they have a unique concept that is very interesting which you should visit. Want to know more about how our story at this restaurant? Check it out guys!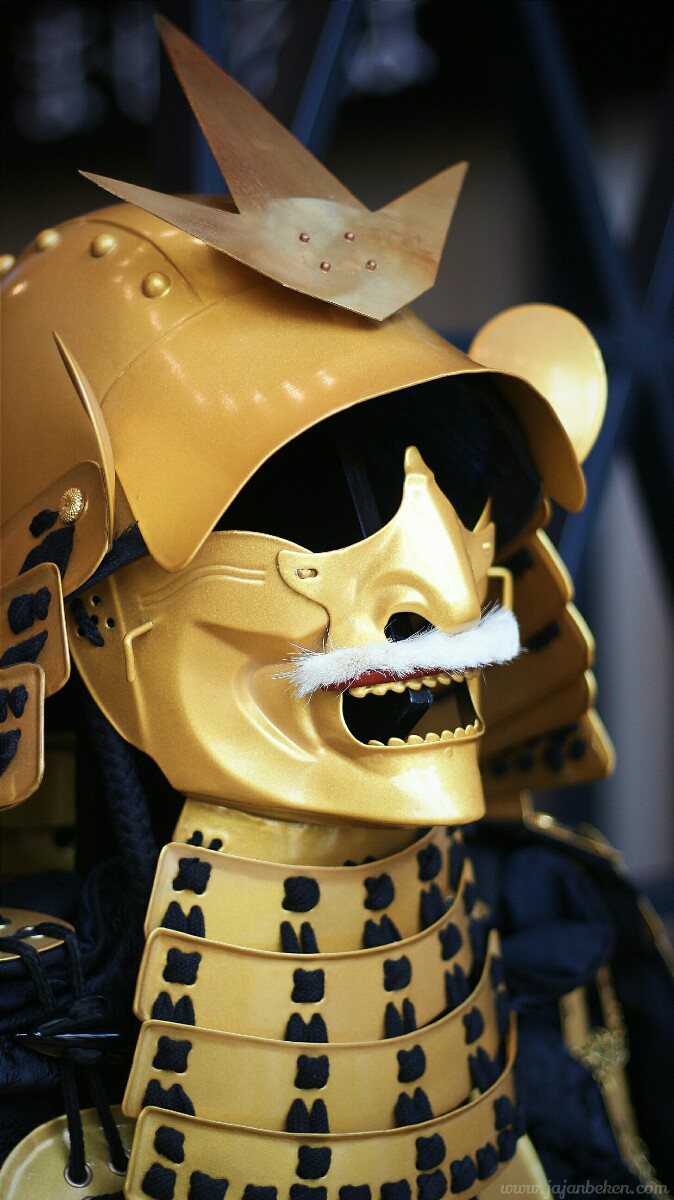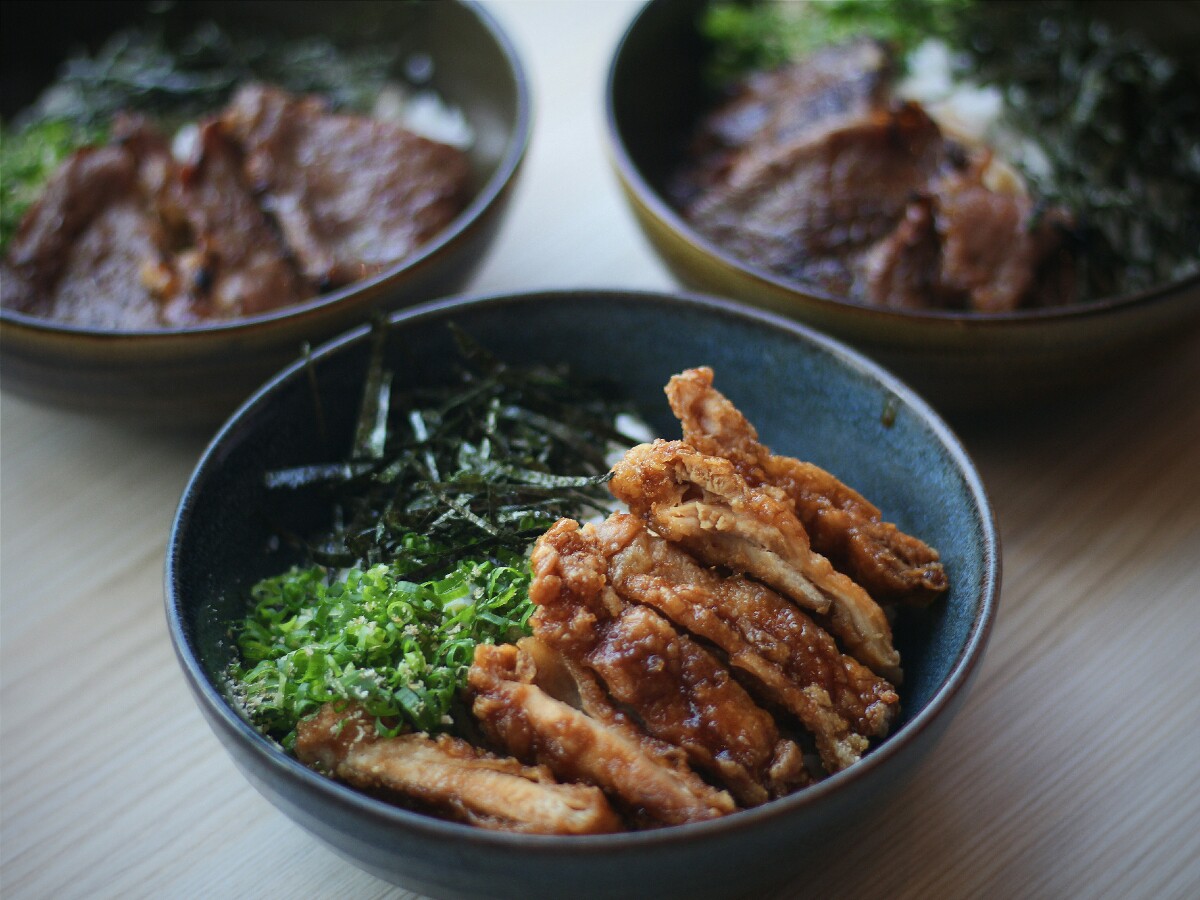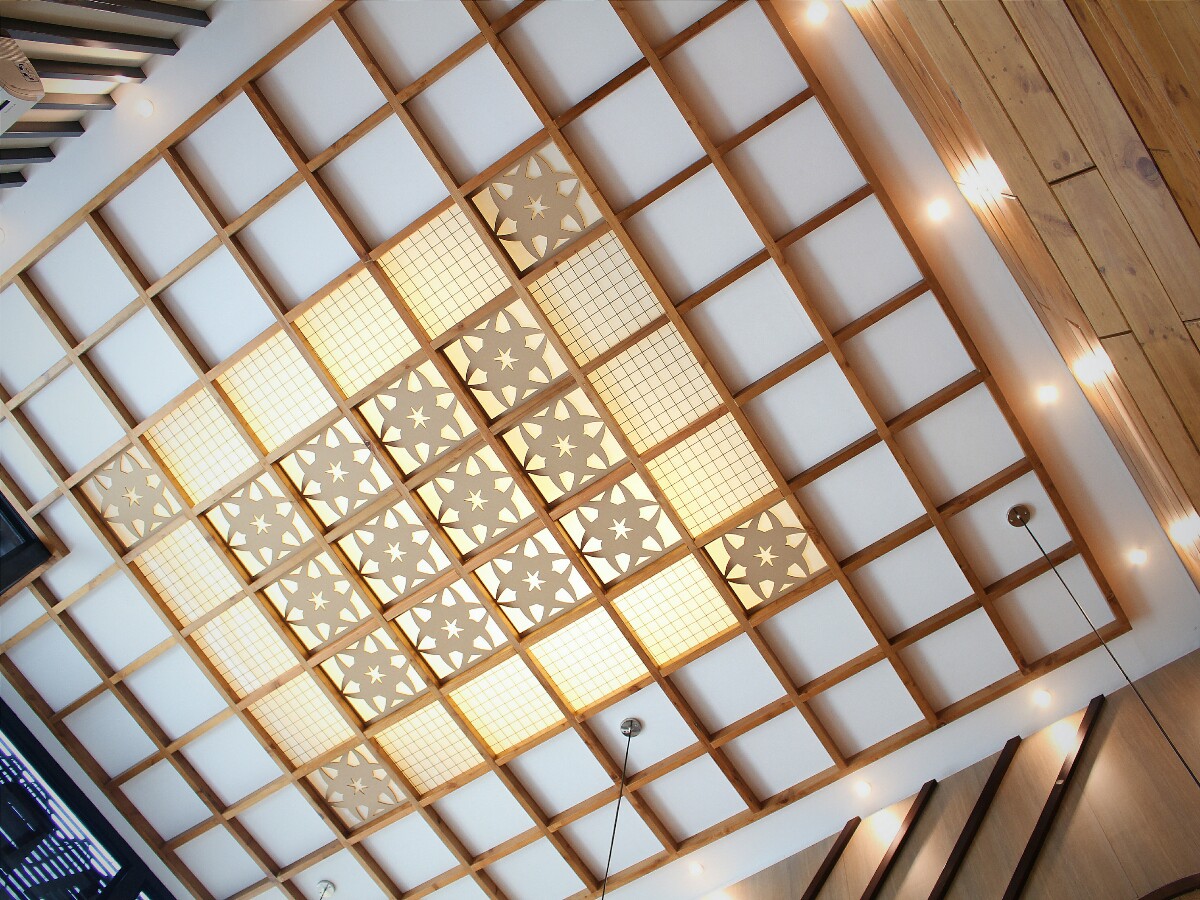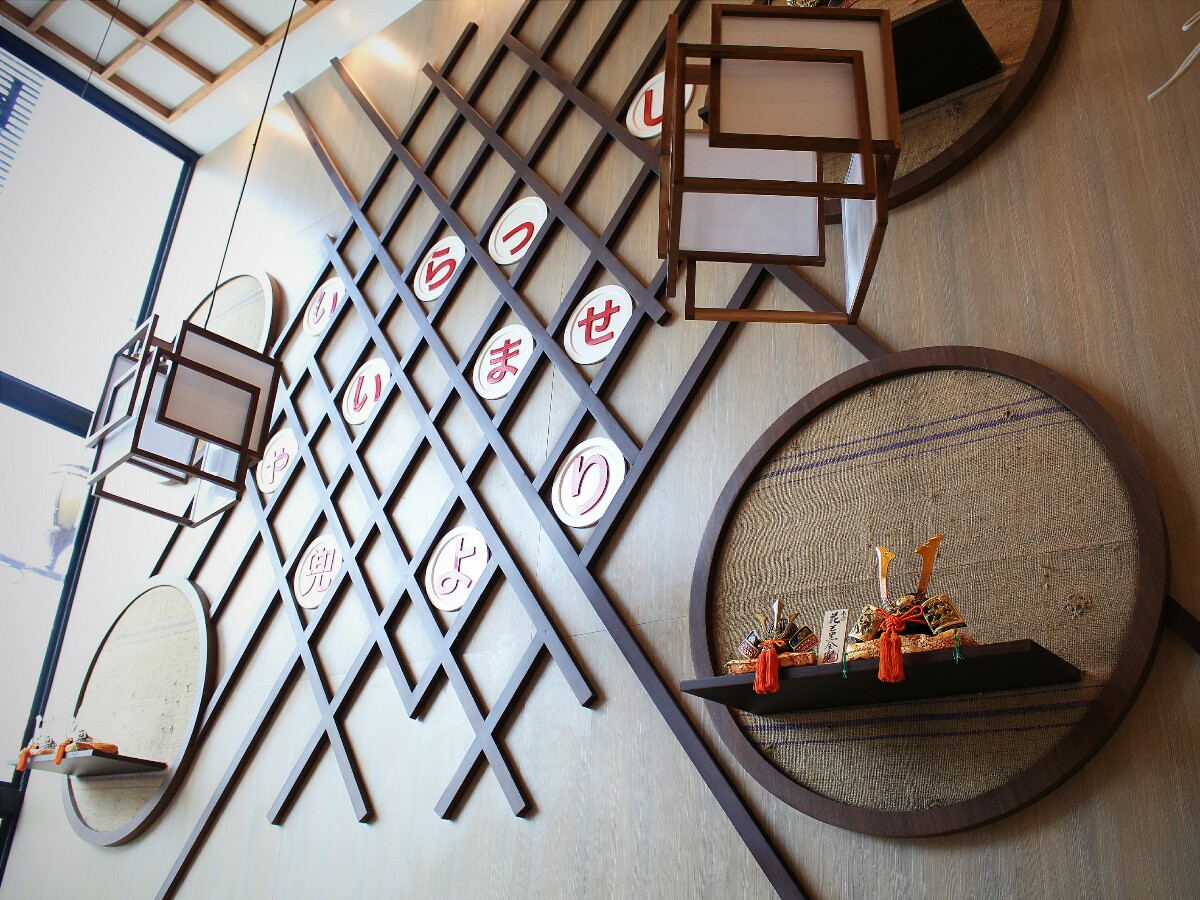 On a sunday afternoon I came to this restaurant because my friend invited me. Previously we are very happy to explore new restaurants wherever it is (Jakarta areas). And knowing about this restaurant, then we made an appointment to meet at this restaurant.
And it turns out we have arrived first, then I go into this restaurant. My first impression is the service here is very good. They opened the door for me and then the waiters asked for how many people with a very friendly expression. Then I choose a table for more than 5 people and the table is near the window.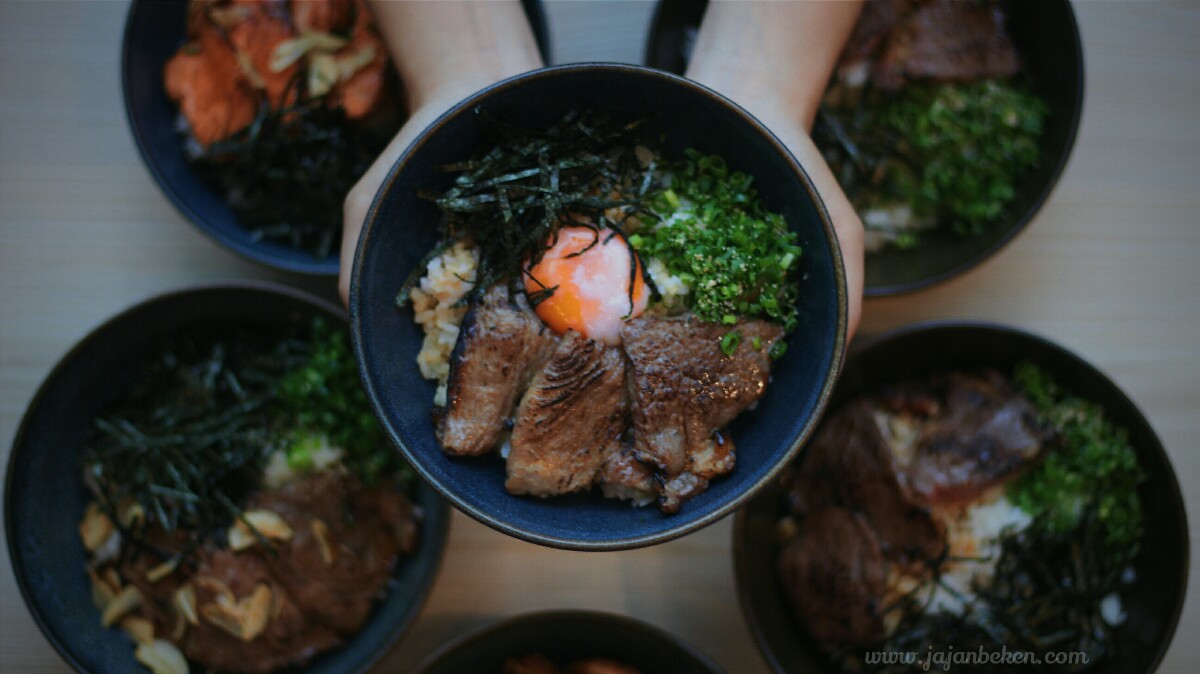 The Ambience At Kabuto Mazesoba
I really like the ambience of this restaurant, because they have a very strong concept with Japanese culture. I told you earlier this restaurant has two Samurai Clothes which is very eye catching. I think when you bring your kids to come to this restaurant they will be happy and curious.
Other than that this restaurant has a concept with modern Japanese culture. When entering this restaurant the roof of this restaurant is very high and I saw many Shuriken pattern on the ceiling. When we look to the wall of this restaurant there are many Japanese patriotic symbol, were use wood elements which makes the ambience of this restaurant as natural and authentic.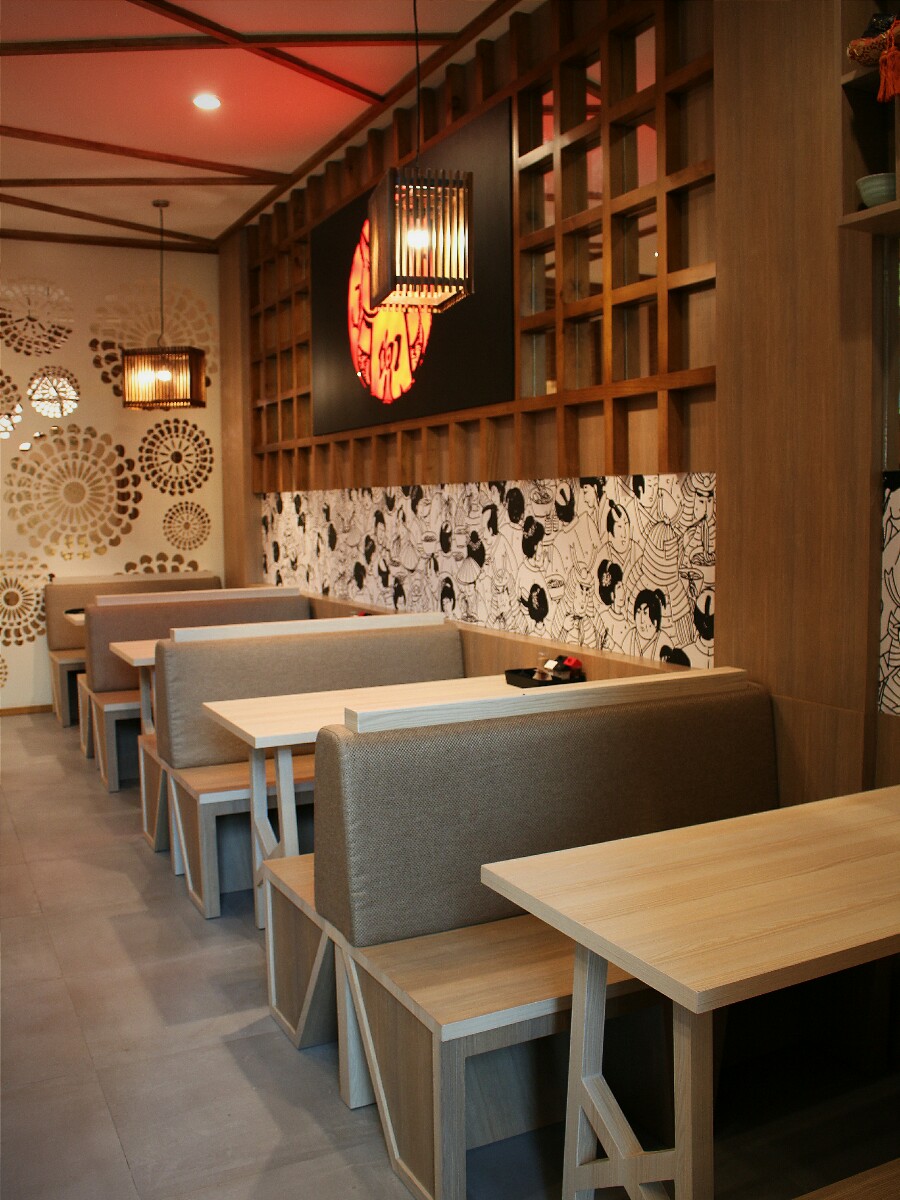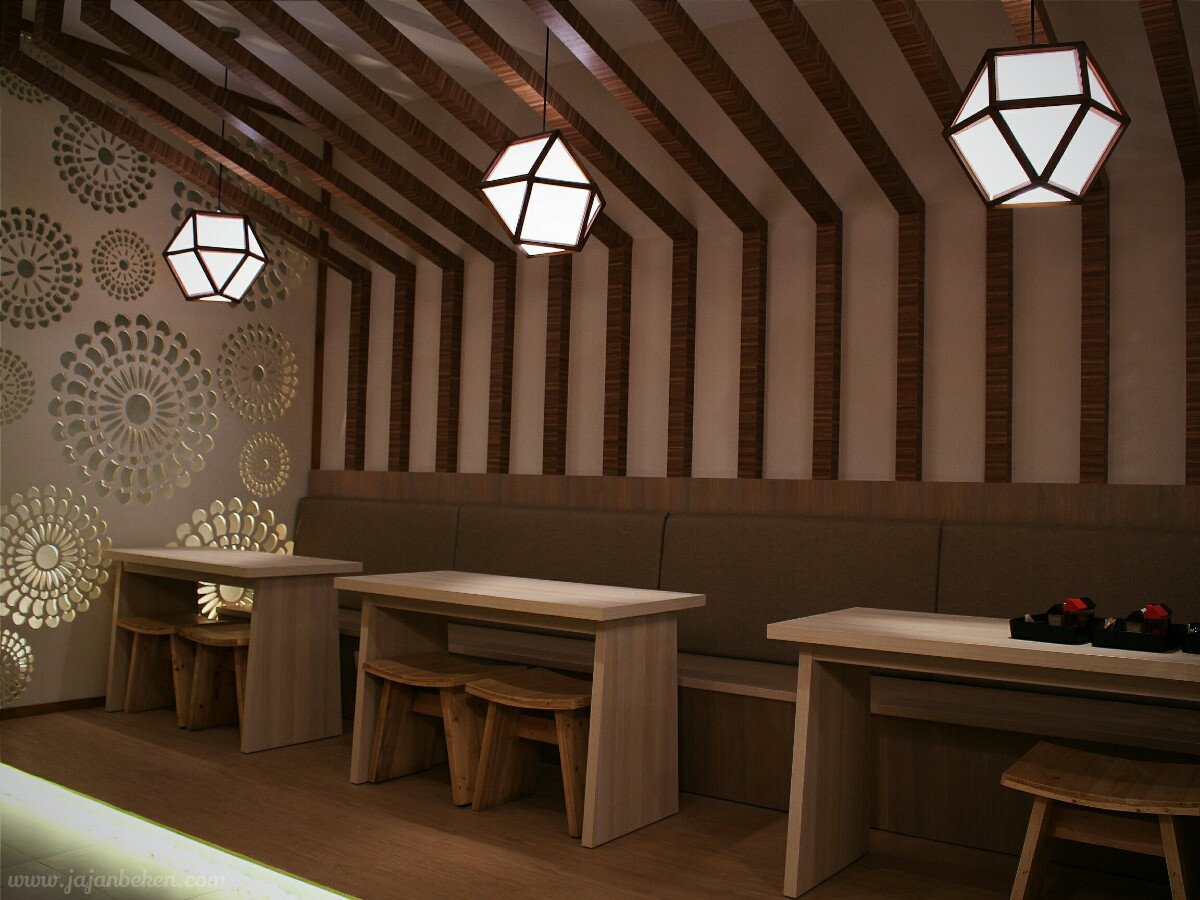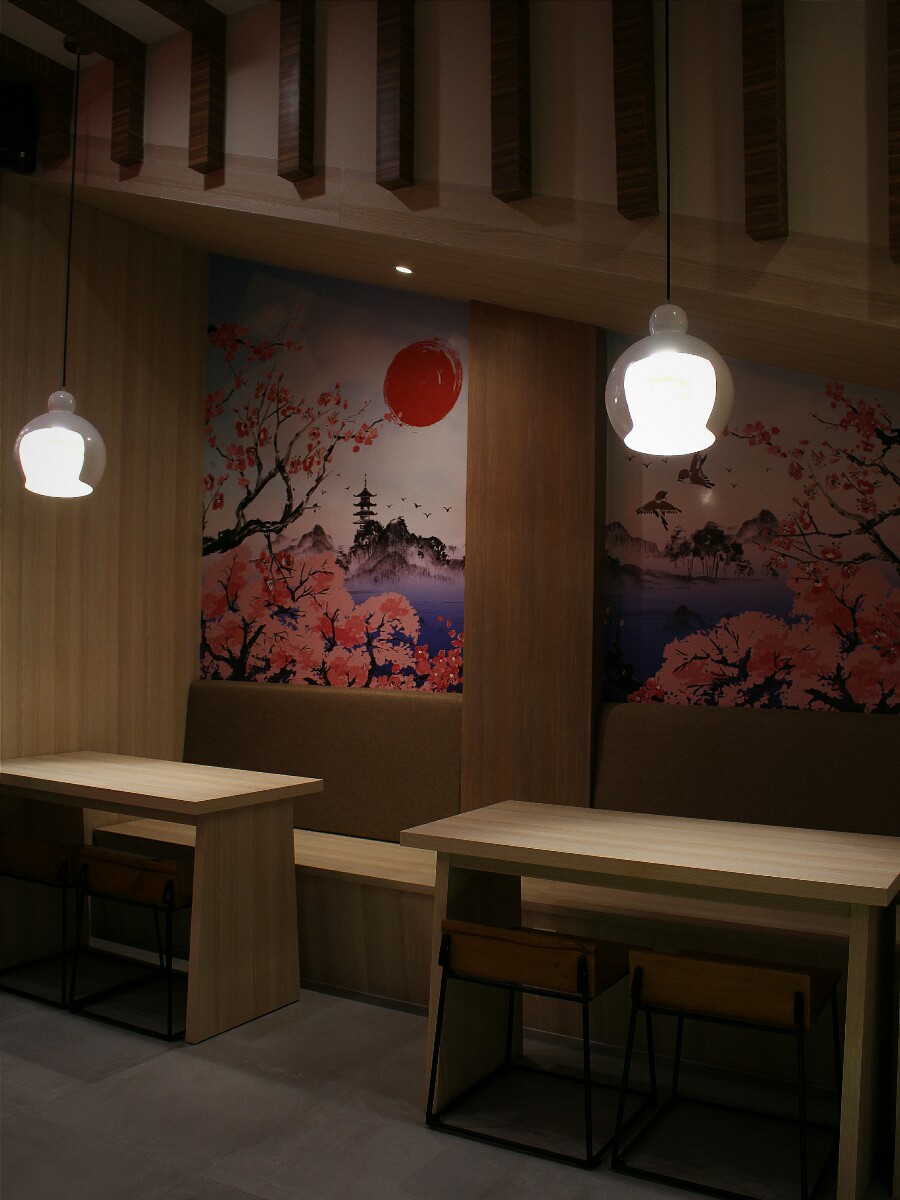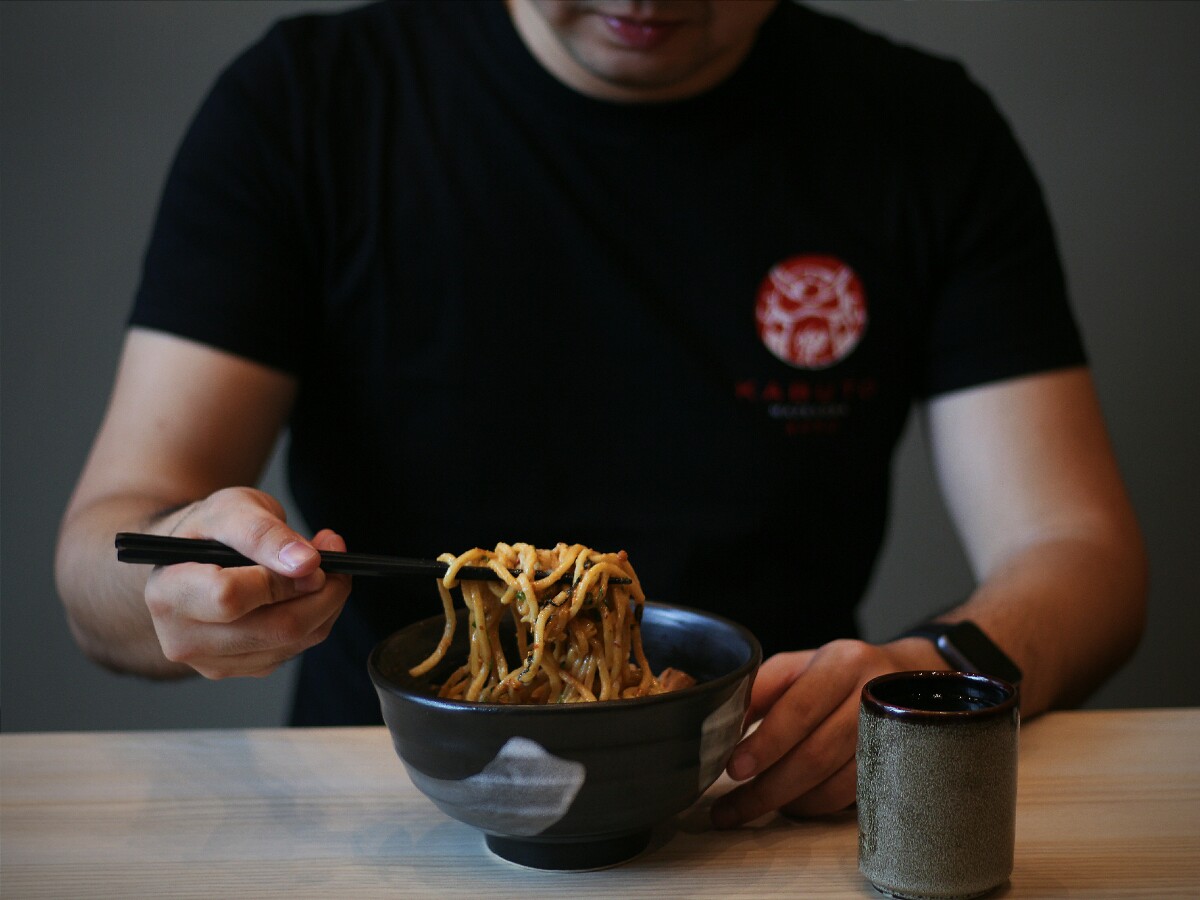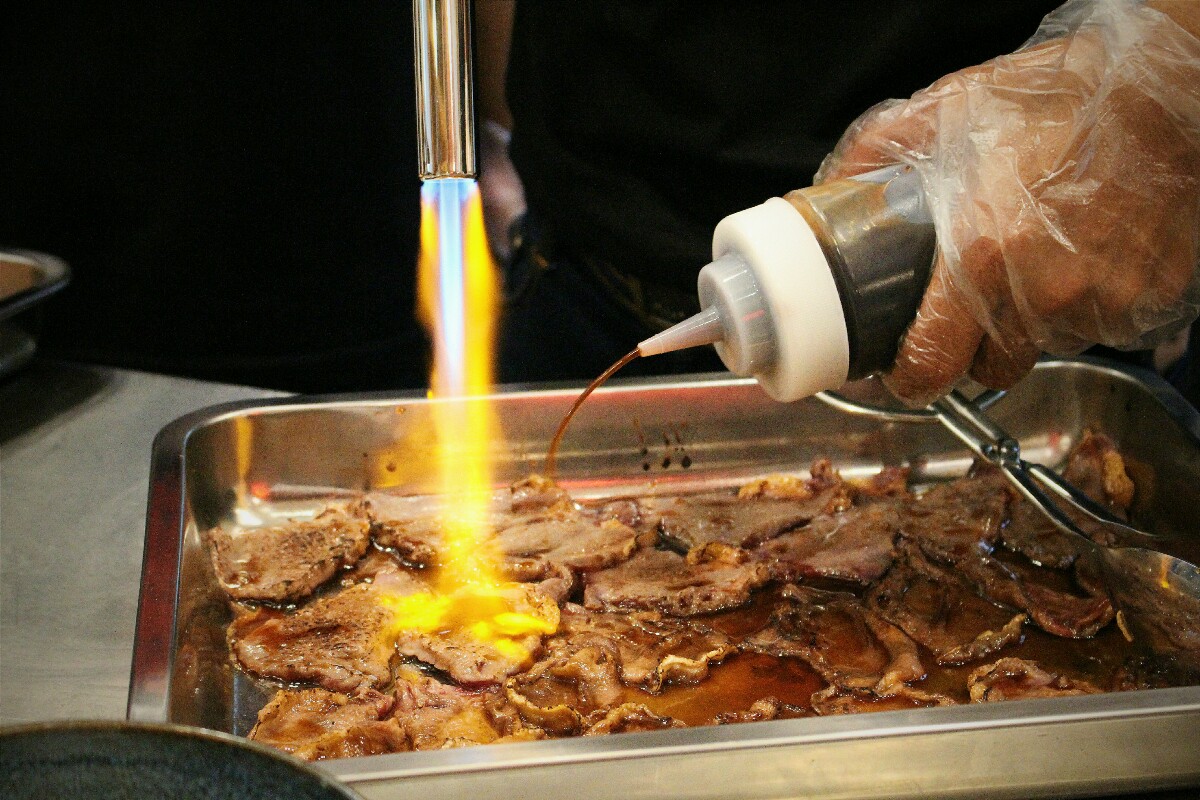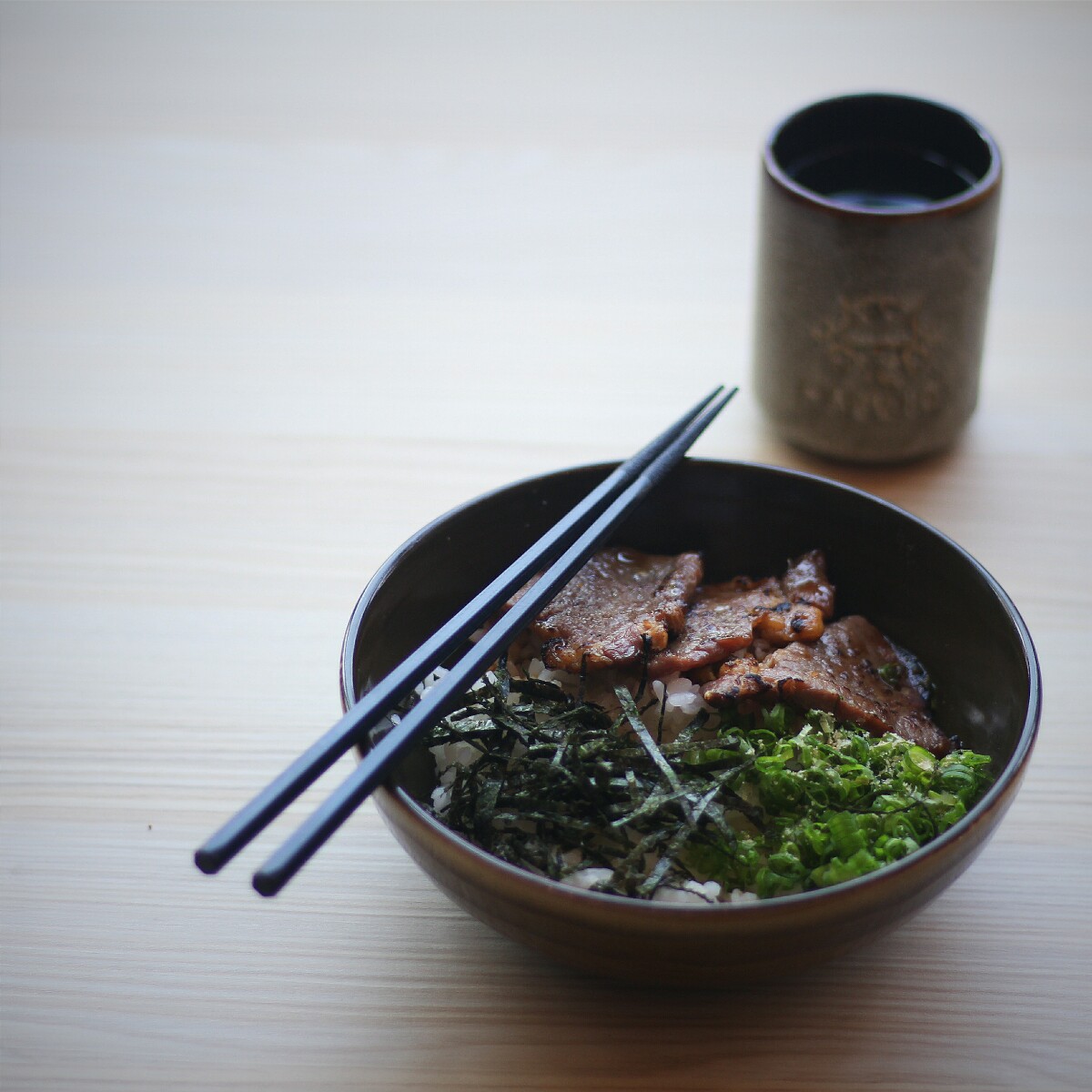 Yaps, exactly! After we see this restaurant more deeply we can feel Japanese heroic nuance. Can be seen clearly when we see the ornaments that are presented in this restaurant, very cool and unique. Besides ornament wallpaper that attached to the wall were attracted my attention, because full filled with Japanese images.
In this restaurant there are two sides that I think is very different. The front of the restaurant there are several tables which is this my favorite spot. Because the luminosity in this room is very bright and natural that very good for taking photos.
The inside of this restaurant quite dimly lit, because it relies on the light of the lamp. But if you were in this section, you can see directly to the kitchen. Because this restaurant is using the open kitchen concept which is will be more visible transparent.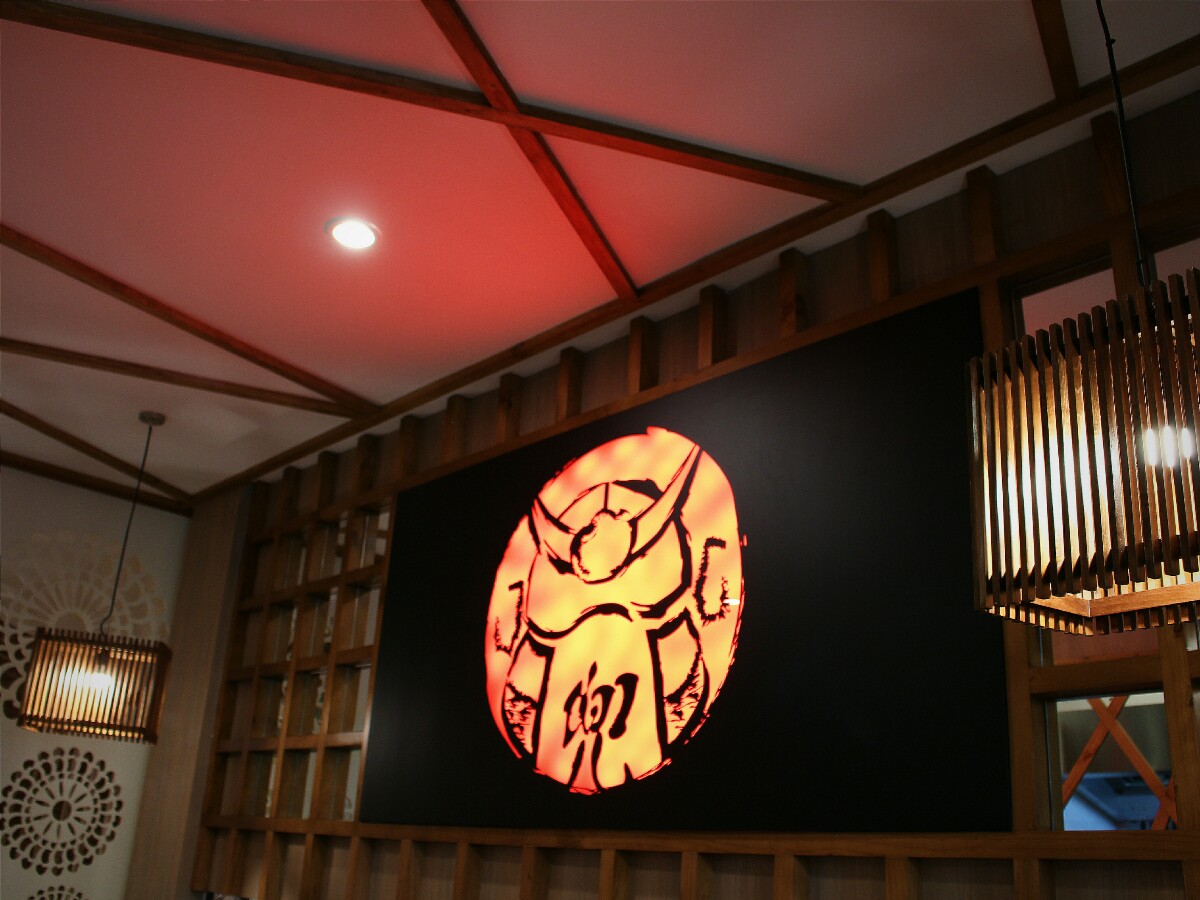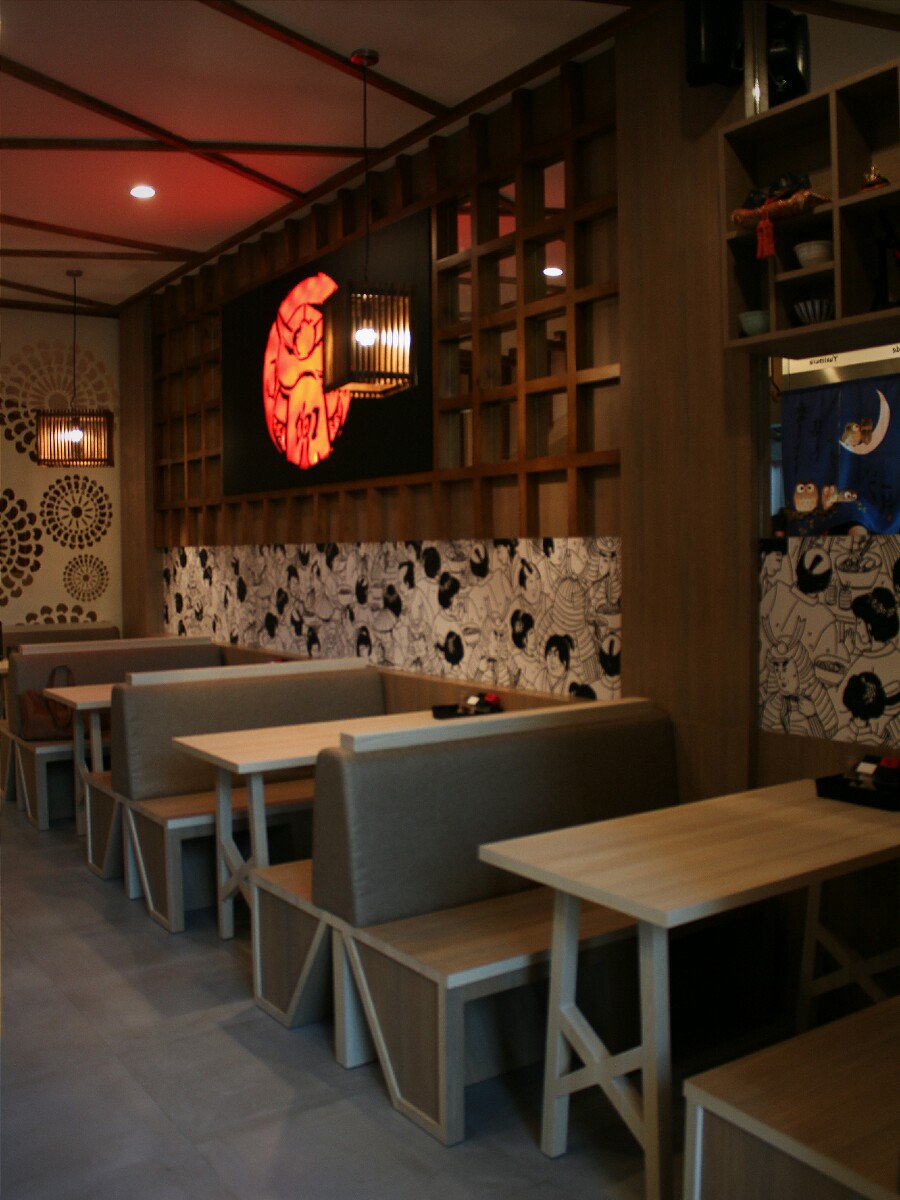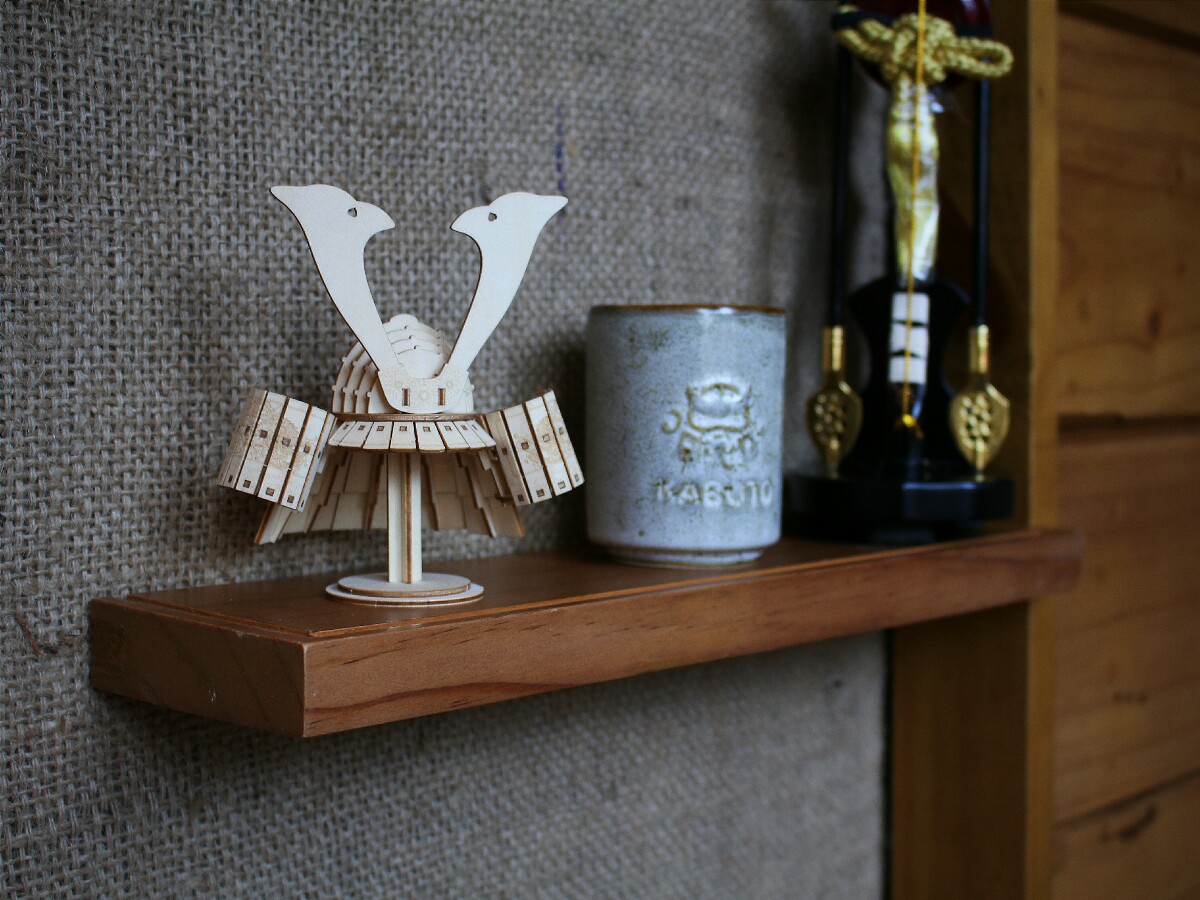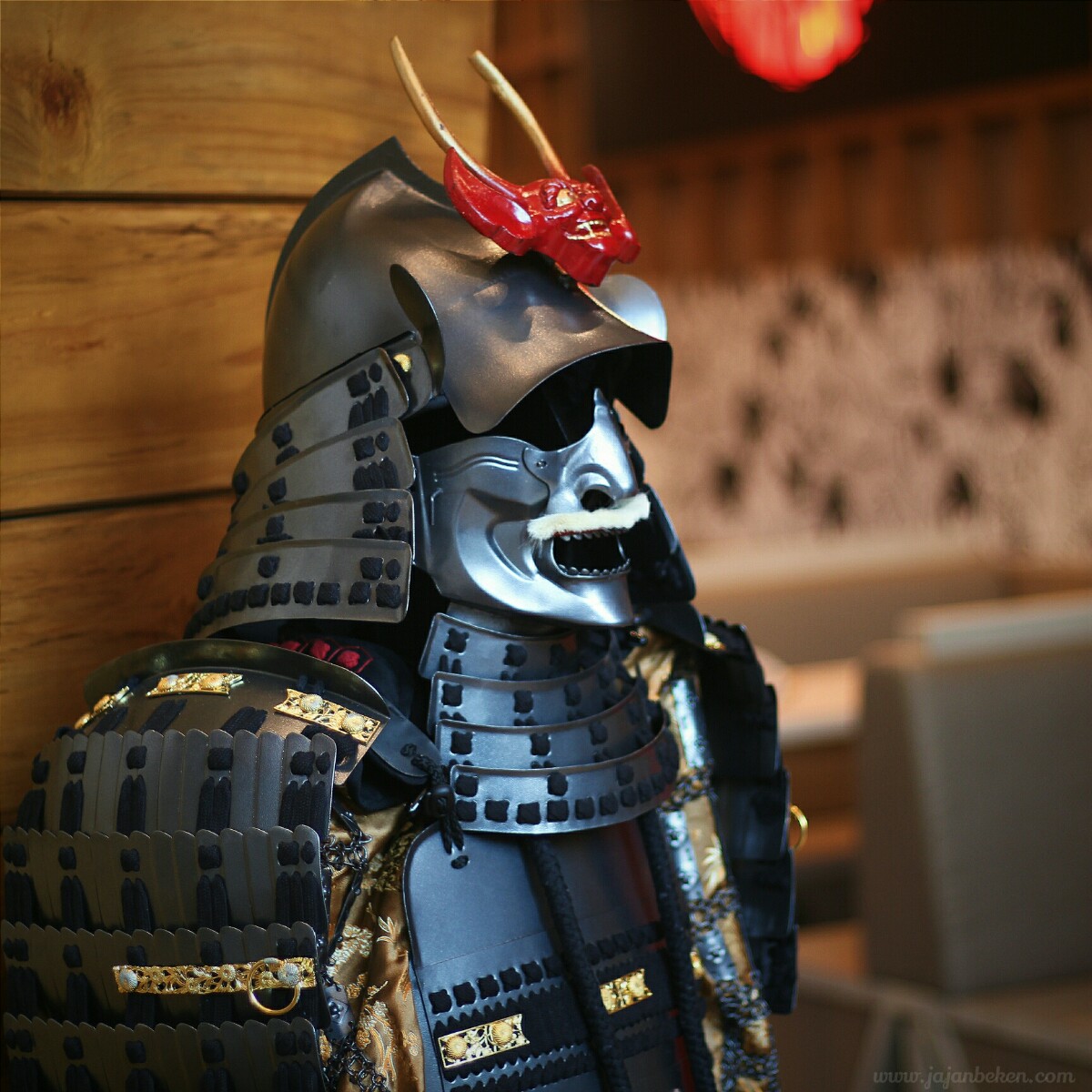 Okay guys, after we talk a lot about the ambience of this restaurant, let's move the topic towards the food that this restaurant presents. In addition to an interesting restaurant concept they also have very interesting and delicious soba and bowls to be exact. Oh ya, the very cute being at the dining table there are sauce and sesame seed in the miniatur of house guys. I'm sure you will not be patient to visit this restaurant. So, see below the food we try at Kabuto Mazesoba.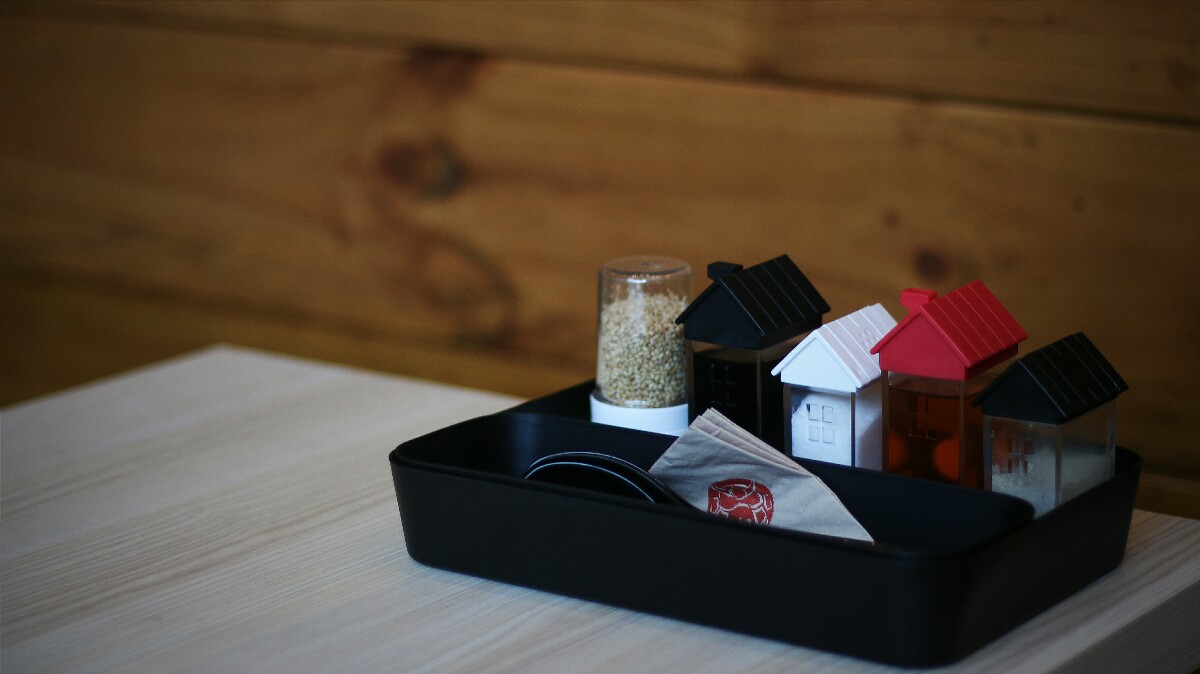 The Food Menu At Kabuto Mazesoba
Kenshin (Chicken Chaisu Mazesoba) With Add Onsen Tamago IDR 61K
The first menu we try is Kenshin. This menu served with chicken chaisu, sweet corn, Pieces of celery leaves and I add onsen tamago which is soft-boiled eggs. Do you know? This is noodles or soba guys, And this is the first time eating noodles with rich toppping. the texture of the noodle was very tender.
I really like this menu because it tastes very good. Chicken meat served very tasty, juicy and tender texture. If you eat this menu you will feel more delicious by stirring it all first. You have to try guys!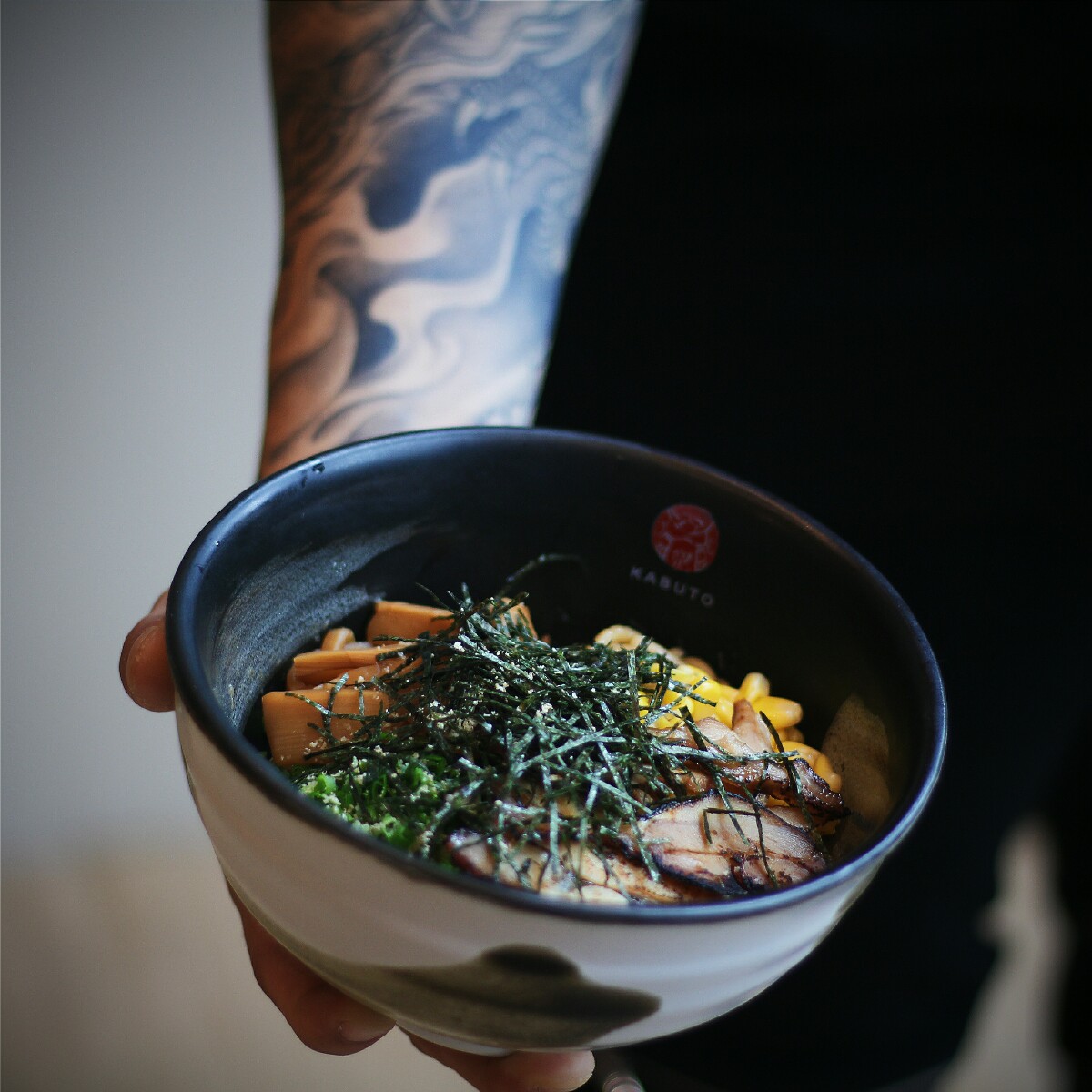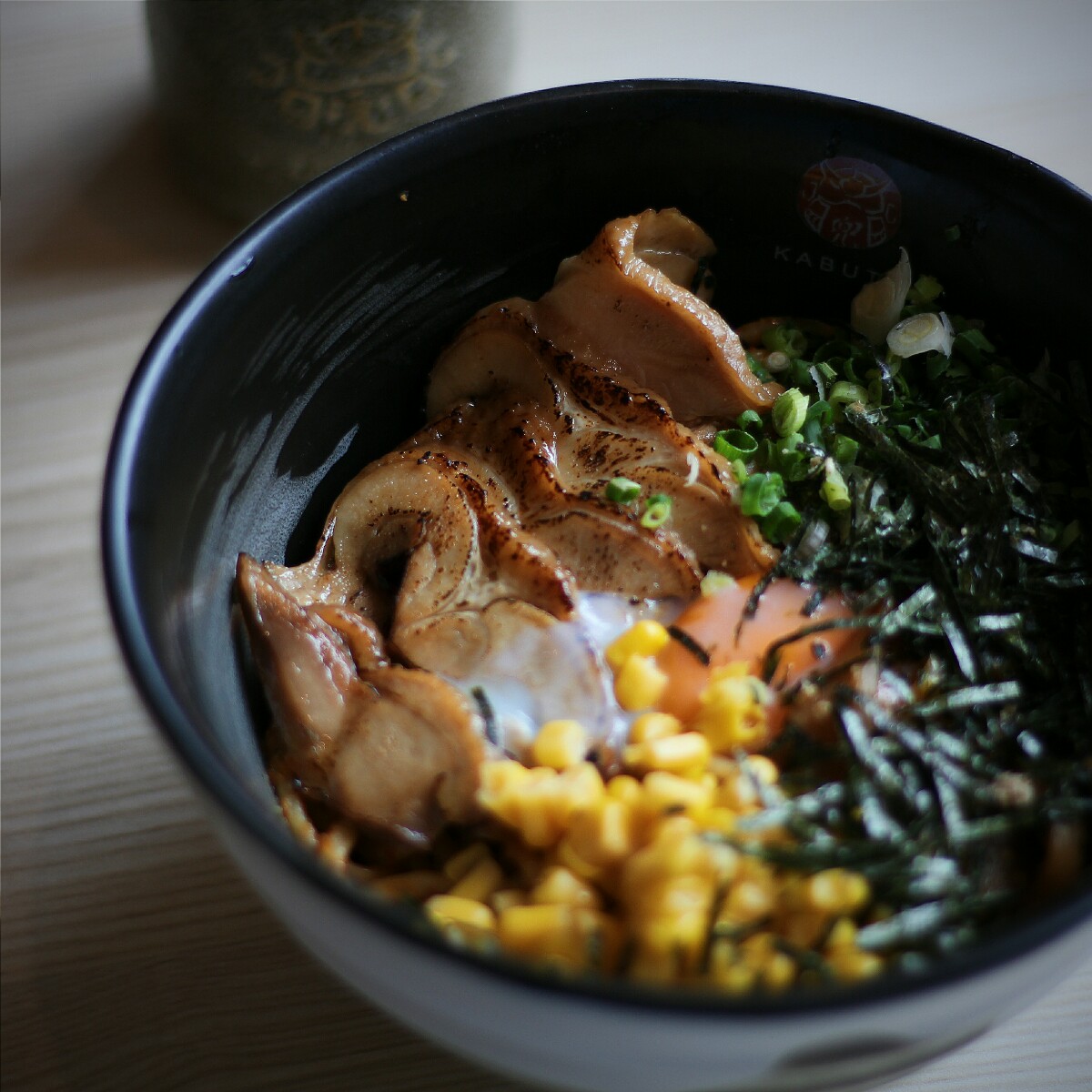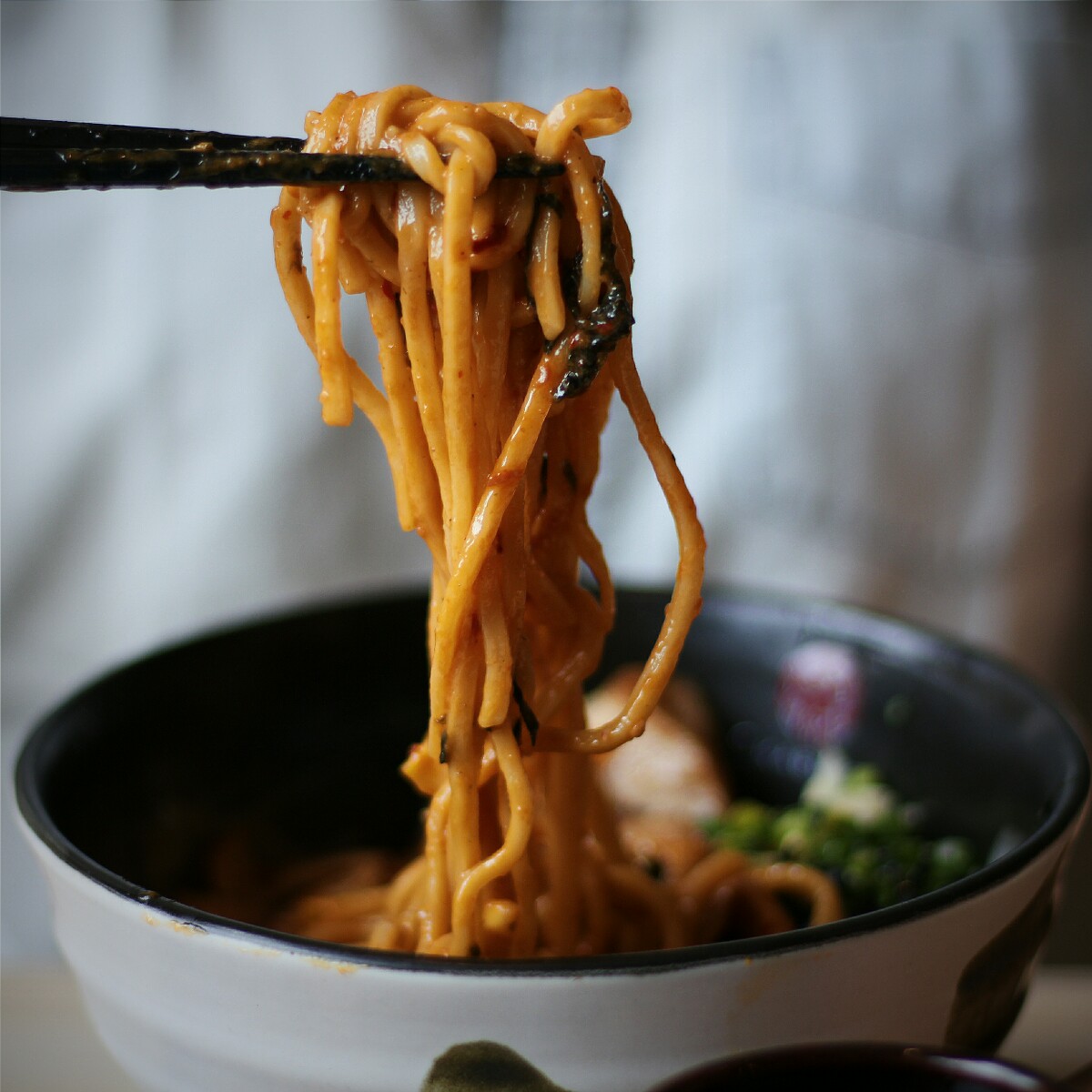 Hanbe (Beef Kalbi Rice) With Add Onsen Tamago IDR 90K
If I tried chicken before, now i try Hanbe menu. This menu served with beef, onions and soft-boiled eggs. I really like this menu because there is my favorite toppings is garlic. The texture of the beef was very juicy and tender, so it is easy to cut. And the seasoning was very strong because its marinated perfectly into the meat. Oh ya, If you order the food menu here it will be more tasty when you order onsen tamago, because this will add more texture and taste.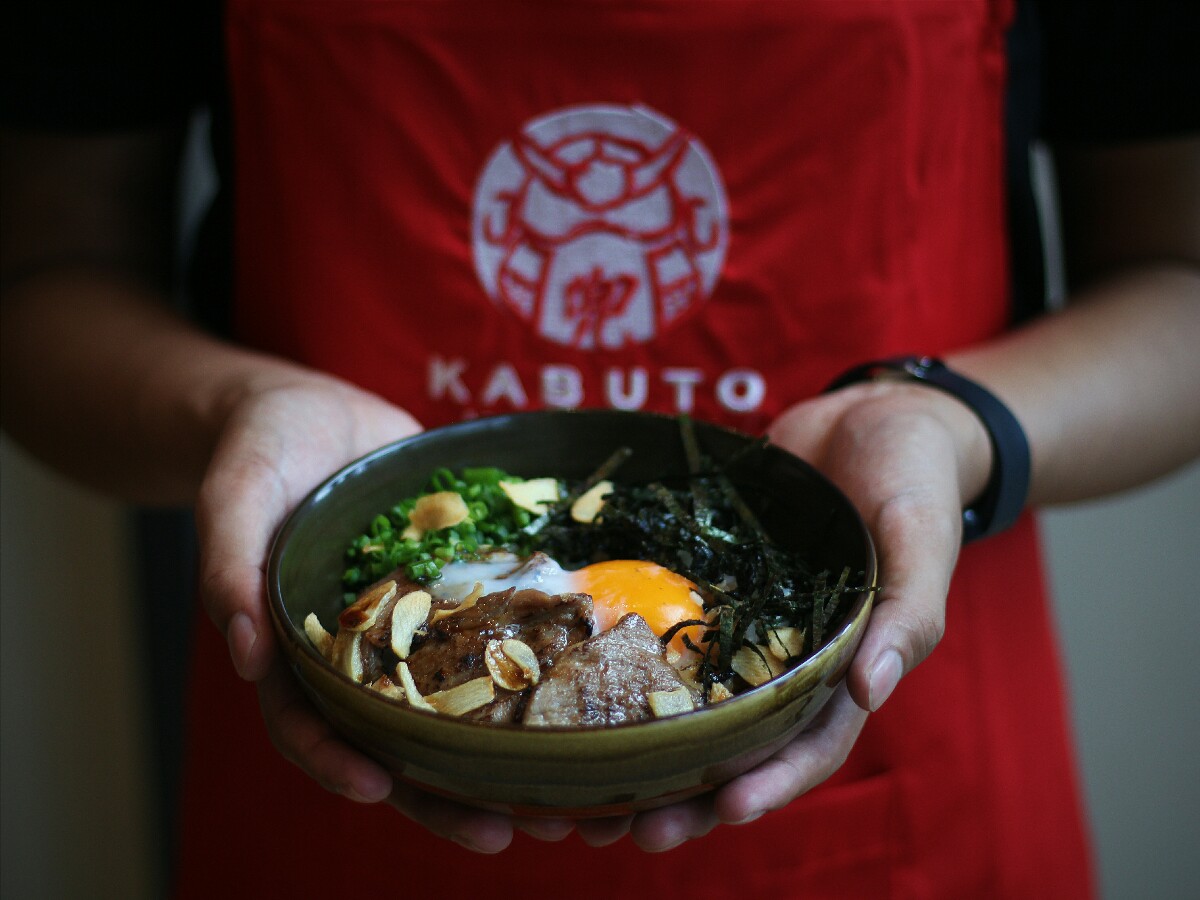 Mitsuhide (Premium Salmon Rice) IDR 69K
This is the favorite menu here, the food presentation is the same as the previous menu but the difference in this menu using salmon. The salmon meat is served quite a lot on this menu so it almost covers the surface of the rice. I bet you will be hooked when try this menu. The taste of salmon is very tasty and each piece of meat is big enough. Guys! You must try this menu when you visit this restaurant.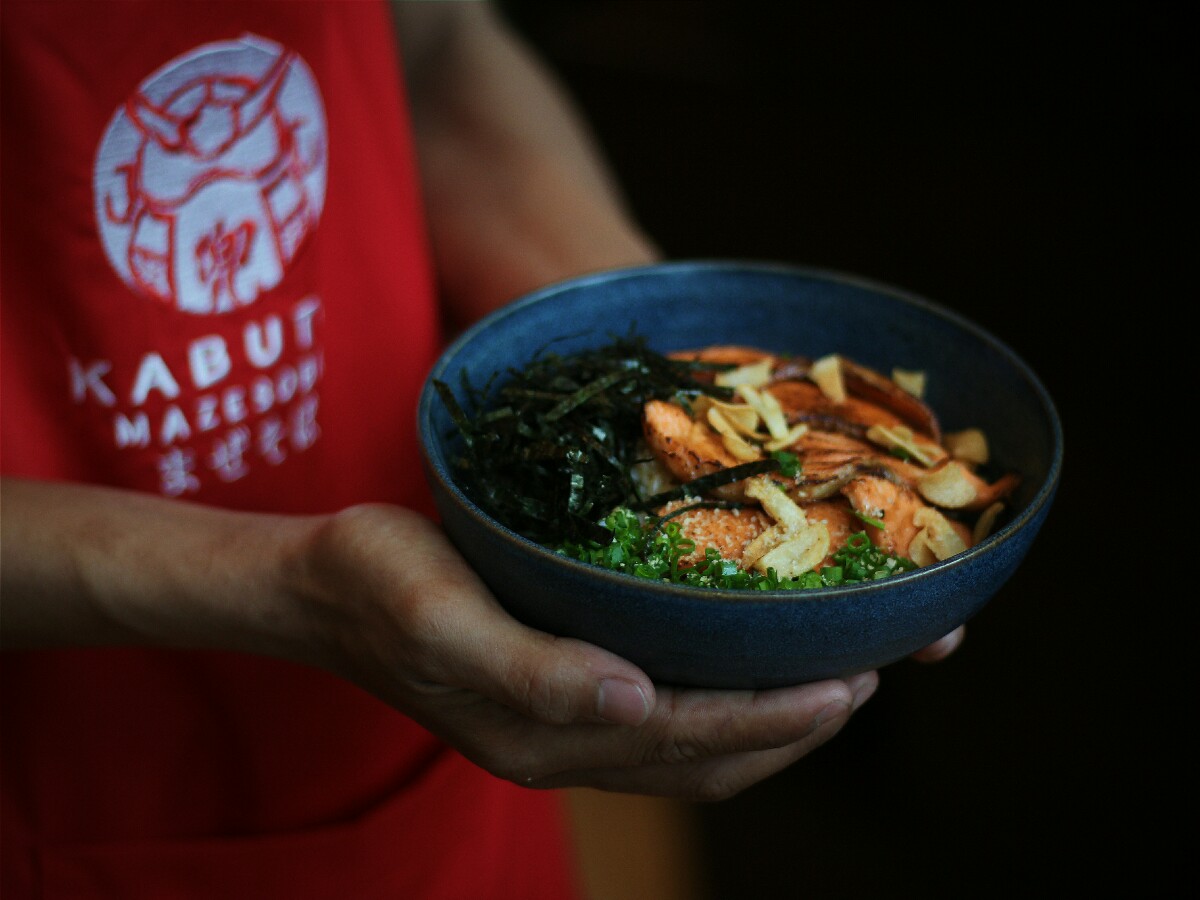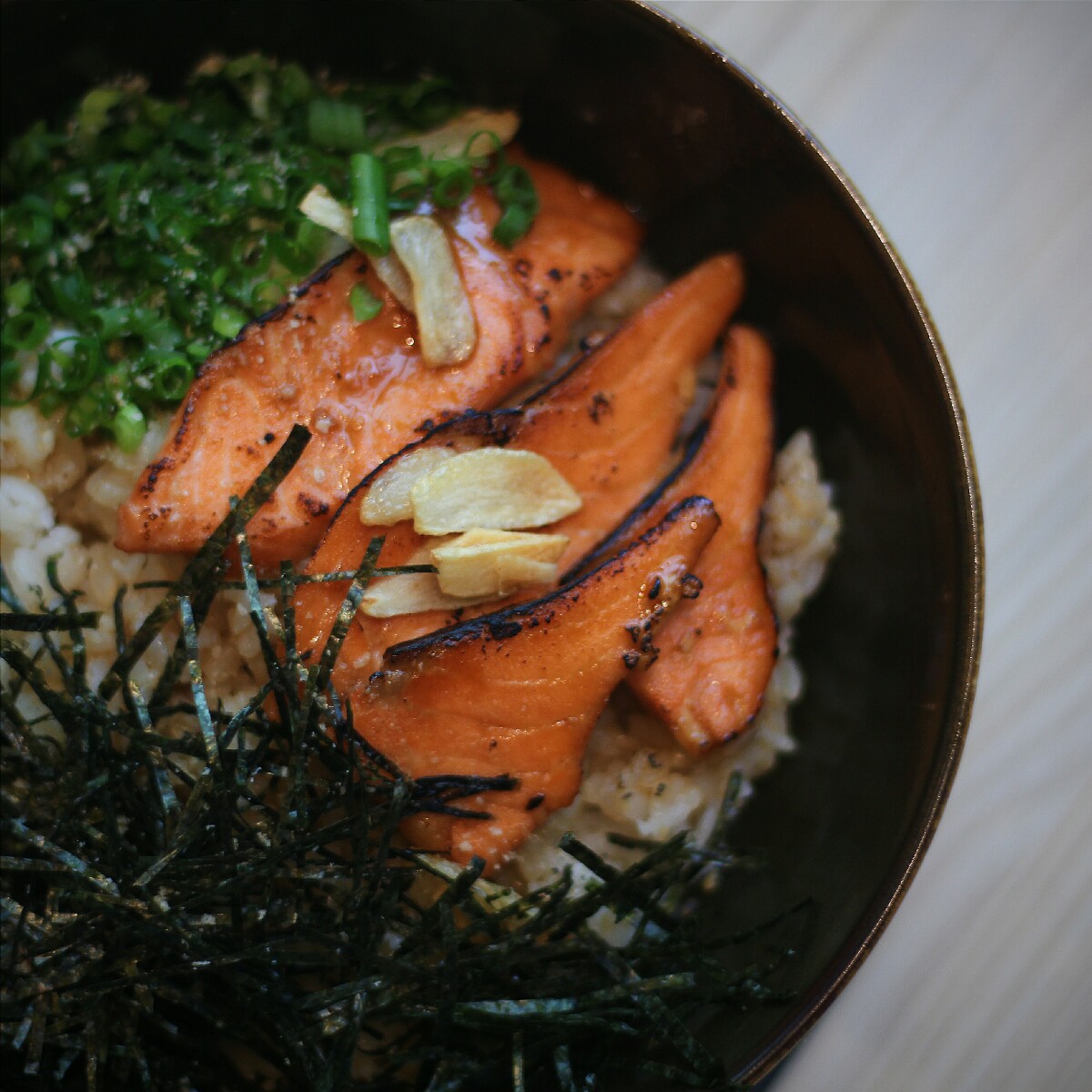 In addition to the menu above Kabuto Mazesoba also provide an additional menu that will accompany your meal here.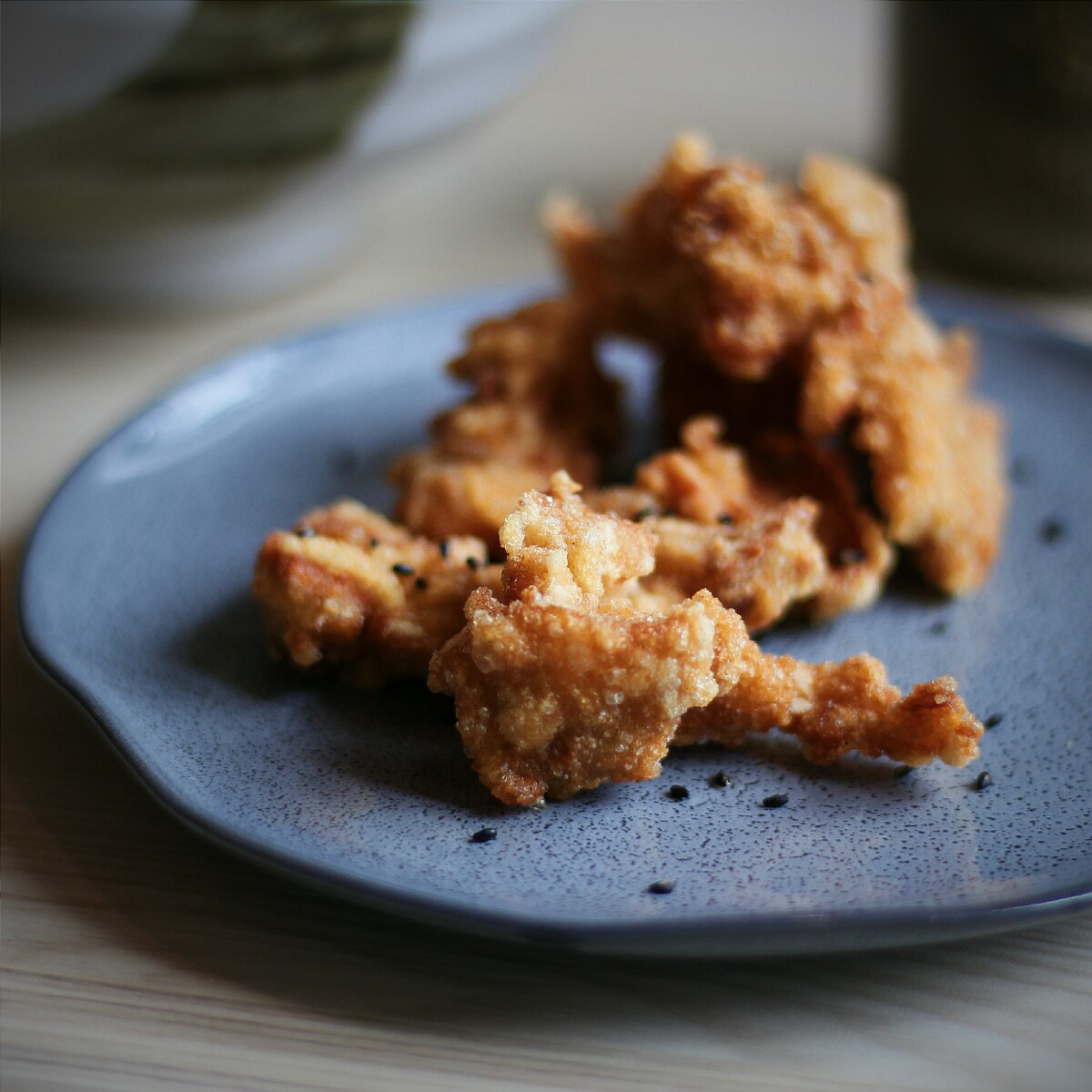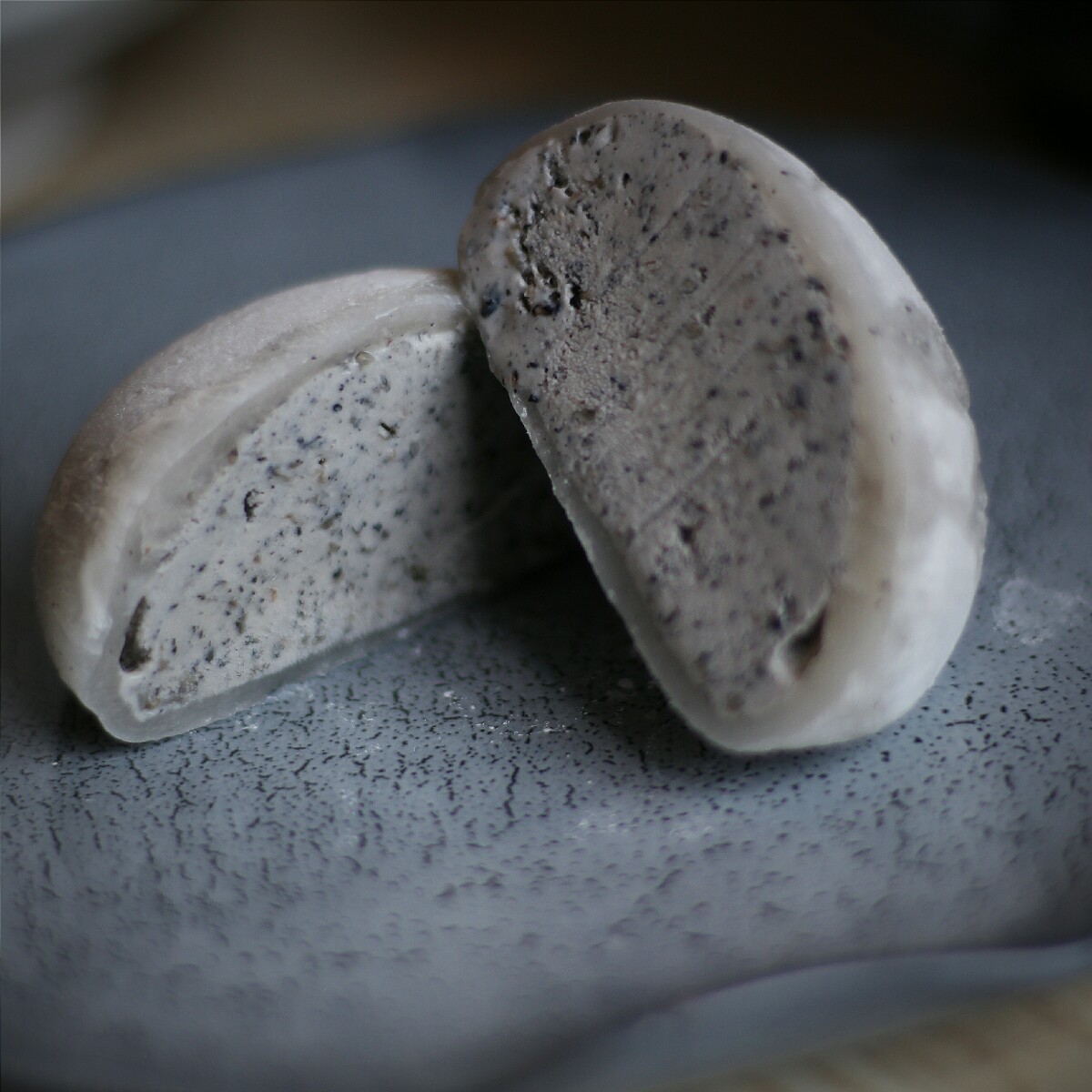 We found celebrity on the spot Mike Lewis while he enjoying his Soba. I asked to him how the taste? "Well, I don't like spicy much but this is good for me". After he enjoyed the soba then we take a lot of picture with him and this photo taken by my friend Eka Christina, what a beautiful shot ya.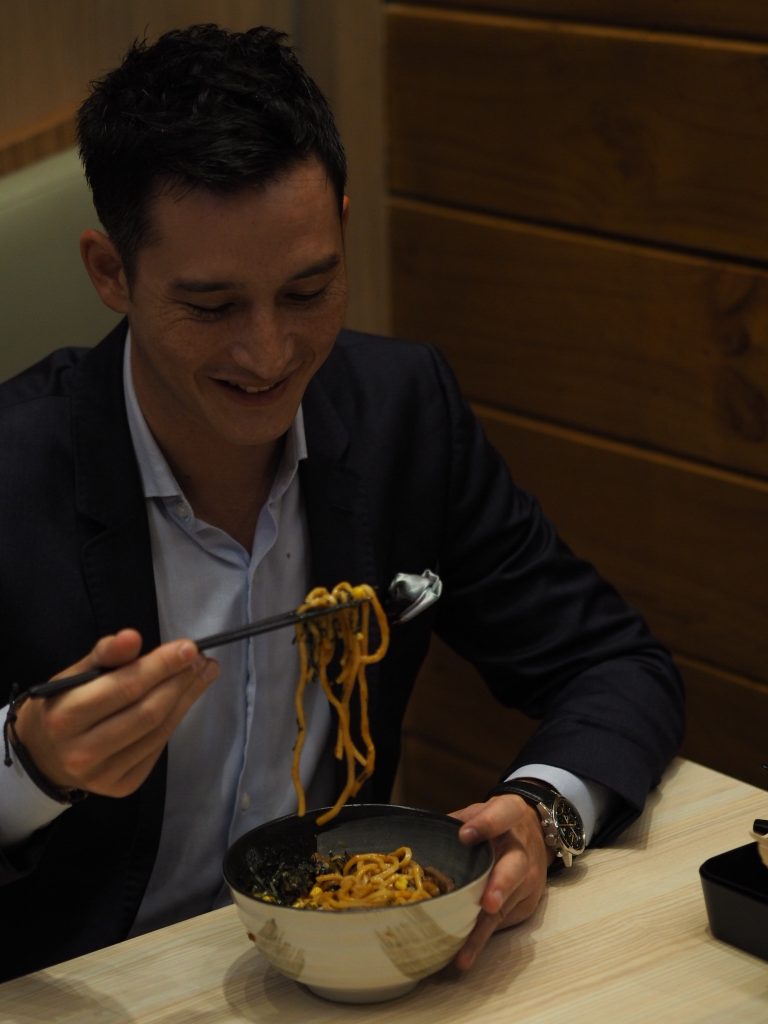 Overall, Kabuto Mazesoba will be one of my favorite restaurants in Pantai Indah Kapuk. This restaurant offers a very interesting Japanese culture concept which is perfect for you to come with family. Other than that the food presented at this restaurant is very tasty. So you have to try guys!
Thank you for coming in this article, don't forget to subscribe our blog and see the others awesome articles. I apologize if there any errors in my writing, once again thank you for stopping by, and see you to the next adventure with Jajanbeken
RATING
Ambience : Good
Taste : Good
Service : Good
Price :  Average
FACILITIES
Wifi : Yes
Plug : Yes
Dine in : Yes
Outdoor : Yes
Toilet : Yes
CONTACT
Address : Ruko Crown Golf, Blok B2 No. 2, Bukit Golf Mediterania, Jl. Marina Indah, Raya, Pantai Indah, RT.6/RW.2, Kapuk, Cengkareng, Kota Jakarta Barat, DKI Jakarta 14470
Phone:  (021) 22570506
Instagram : @kabutomazesoba
Zomato : 
INFORMATION
Open hour : 11AM – 22PMPrice : Average 200K for two people (approx.)
Cash accepted
MAP