So glad, yesterday I was able to gather with my sis and bro at Fat Shogun Jakarta. It has become our routine to hold a hangout like this several times a month. Because we are all freak about food or restaurant, every time we gather we choose a new restaurant open or a restaurant that has a new menu. Like on this occasion yesterday, we plan to meet at Fat Shogun in Menara BTPN Mega Kuningan because they have a new menu.
Actually this is my second visit at this restaurant, but my visit at that time just snacking and didn't try their mainstay menu. Fat Shogun offers Peruvian cuisine which I think is rare in Jakarta. Actually modern Peruvian cuisine is more inspired by Japanese, Chinese, Italian and Spanish cuisine. But the facts, Fat Shogun giving a different sensation to you because they serve Japanese Peruvian cuisine aslo well known as Nikkei food.
Fat Shogun located in Menara BTPN Rooftop Level right beside Atico restaurant by Java Negra. I bet, if you come to this restaurant you will be satisfied with the quality of this restaurant. Because why? because they have a really cool ambience and good food that you should try. Let's follow this article to the end to know more about Fat Shogun.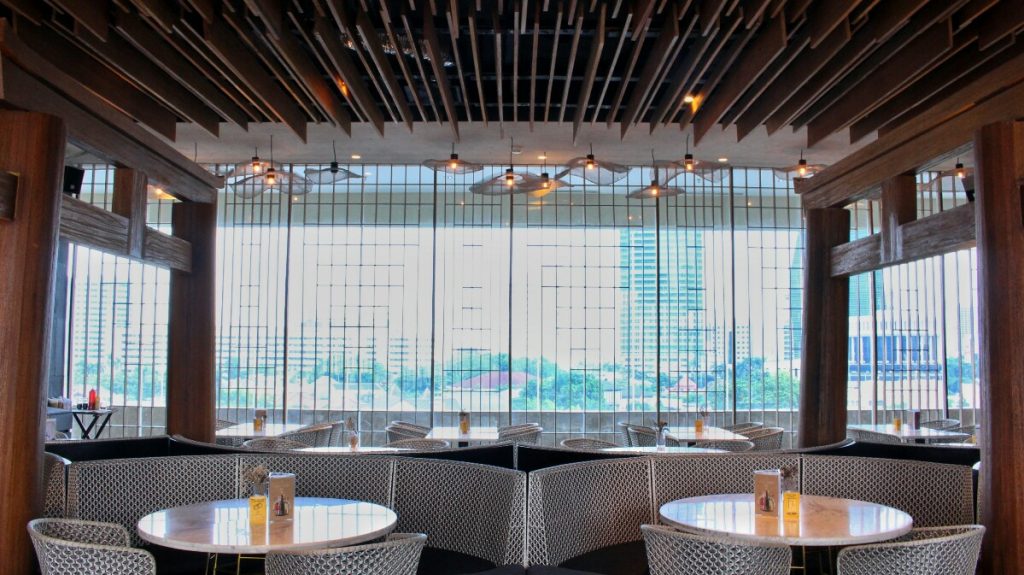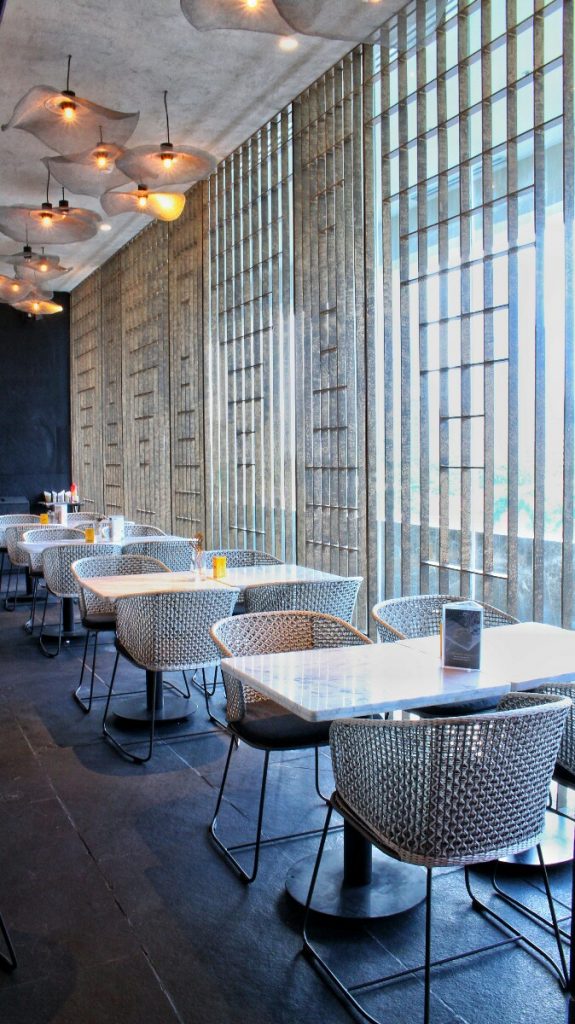 I really like the atmosphere of this restaurant, they have very modern Japanese design. The main room is very spacious with a beautiful ornament that adorns this restaurant, as far as the eye can see they use a lot of wood elements, such as on the floor and some other angles. They also provide VIP rooms and outdoor spaces. VIP room is also spacious there are some furniture such as sofa as a complement to this room. And on the outdoor part, the view here is very urban because it directly faces the buildings of this city.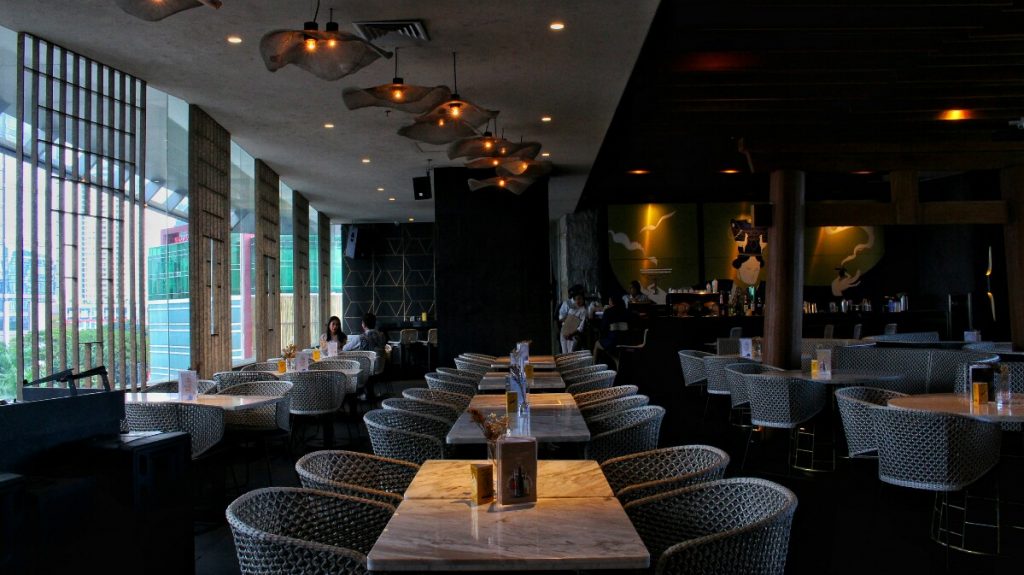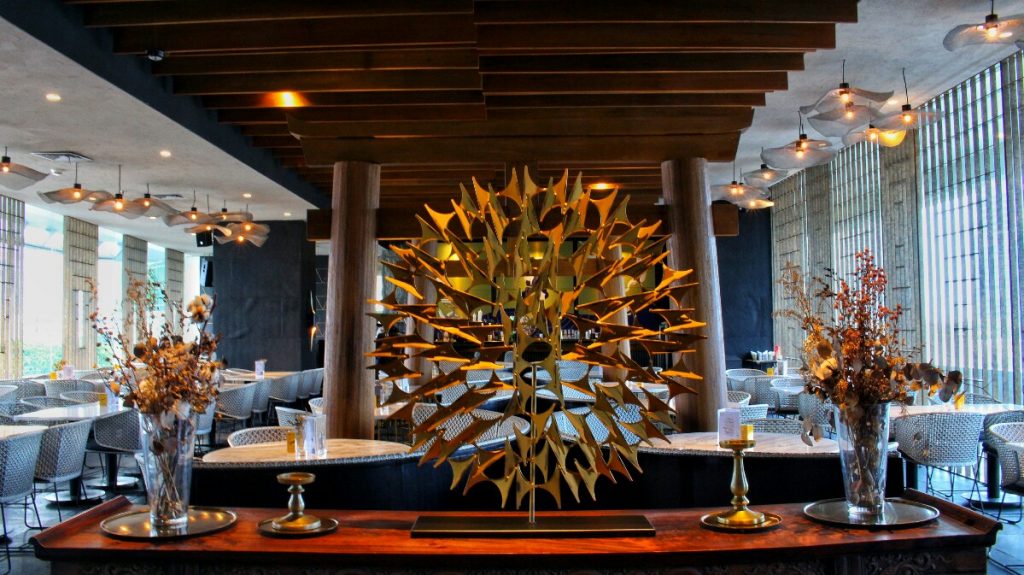 When we tried the menu here, we ordered a selection of new menu. From all the menus I ordered yesterday none of which makes me disappointed. All pretty close to perfect. To see the menu you can see below guys!
Nikkei Quasadila IDR 119K
This menu there are two choices of meat, chicken and beef, and we chose chicken meat as an option for this menu. Quesadilla here very tasty, because the chicken meat on each piece is quite a lot. So this quesadilla is pretty thick and chicken meat so juicy. Coupled with vegetable dressings add complete to this menu.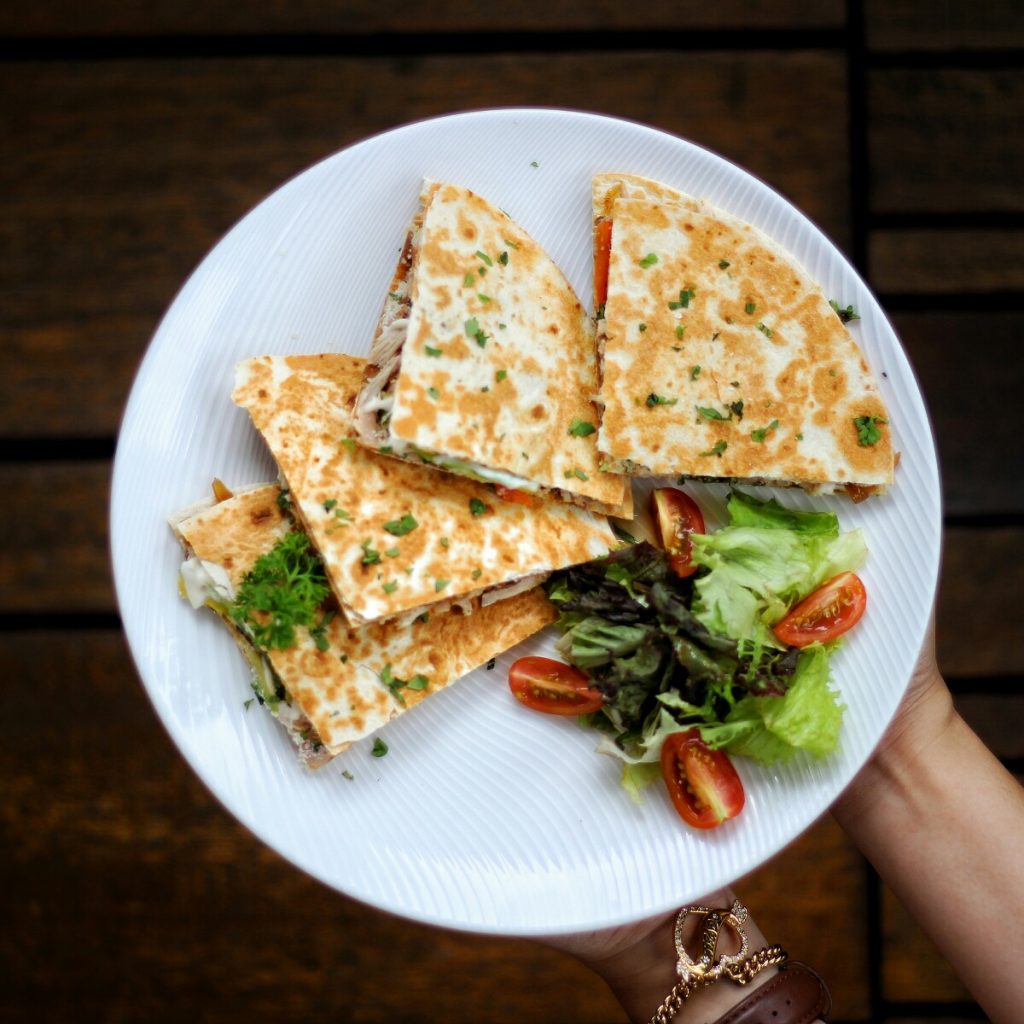 Tostada Beef IDR 119K
This menu is like a pizza, but the condiment on this bread is very complete and quite a lot.  There are beef and vegetables, but what makes this menu delicious is the seasoning on this bread dough. The dough was also quite thick and crisp, so it feels the sensation when I bite it.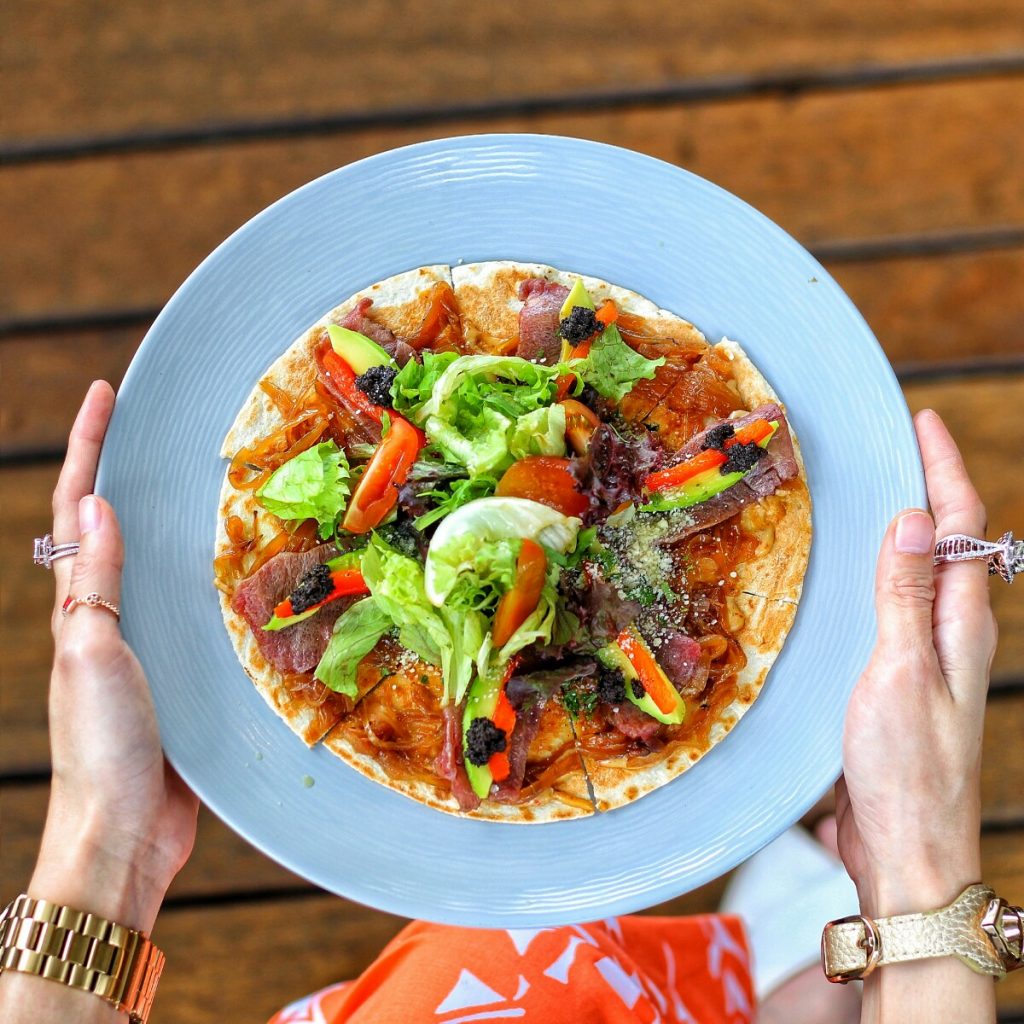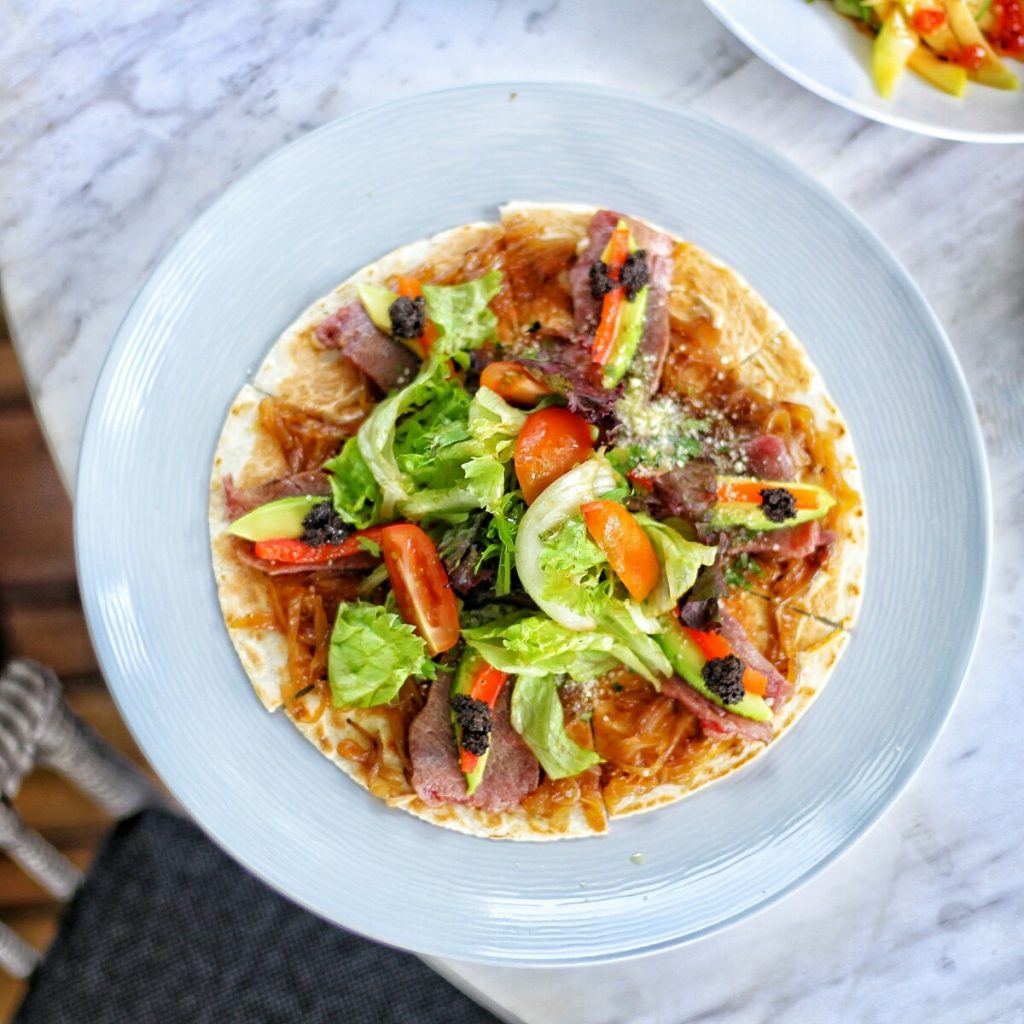 Prawn Mango Salad IDR 75K
For you salad lovers should try this one menu, I bet you'll love it. This salad menu is very complete there are vegetables, fruits to shrimps that are excellent on this menu. For it tastes a bit spicy but very refreshing and also tasty. The shrimp was very tender very easy to cut.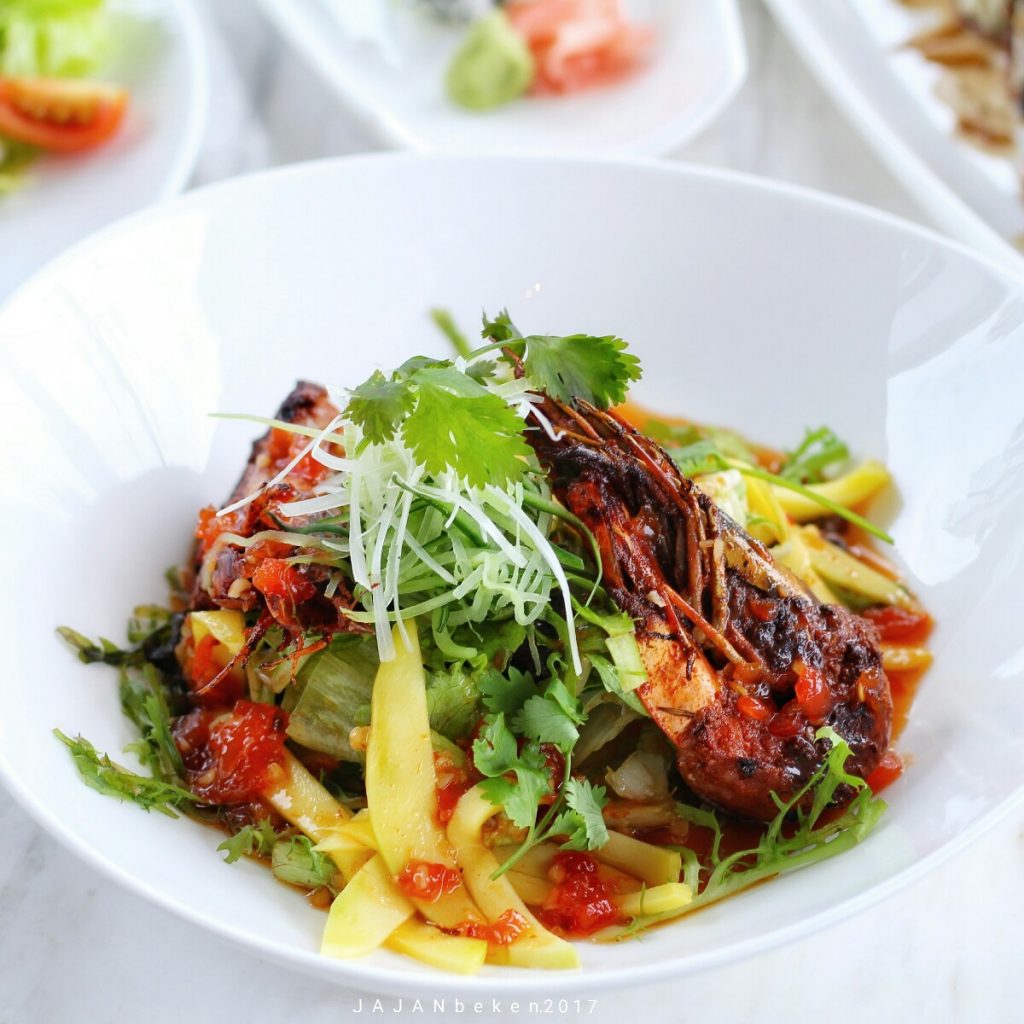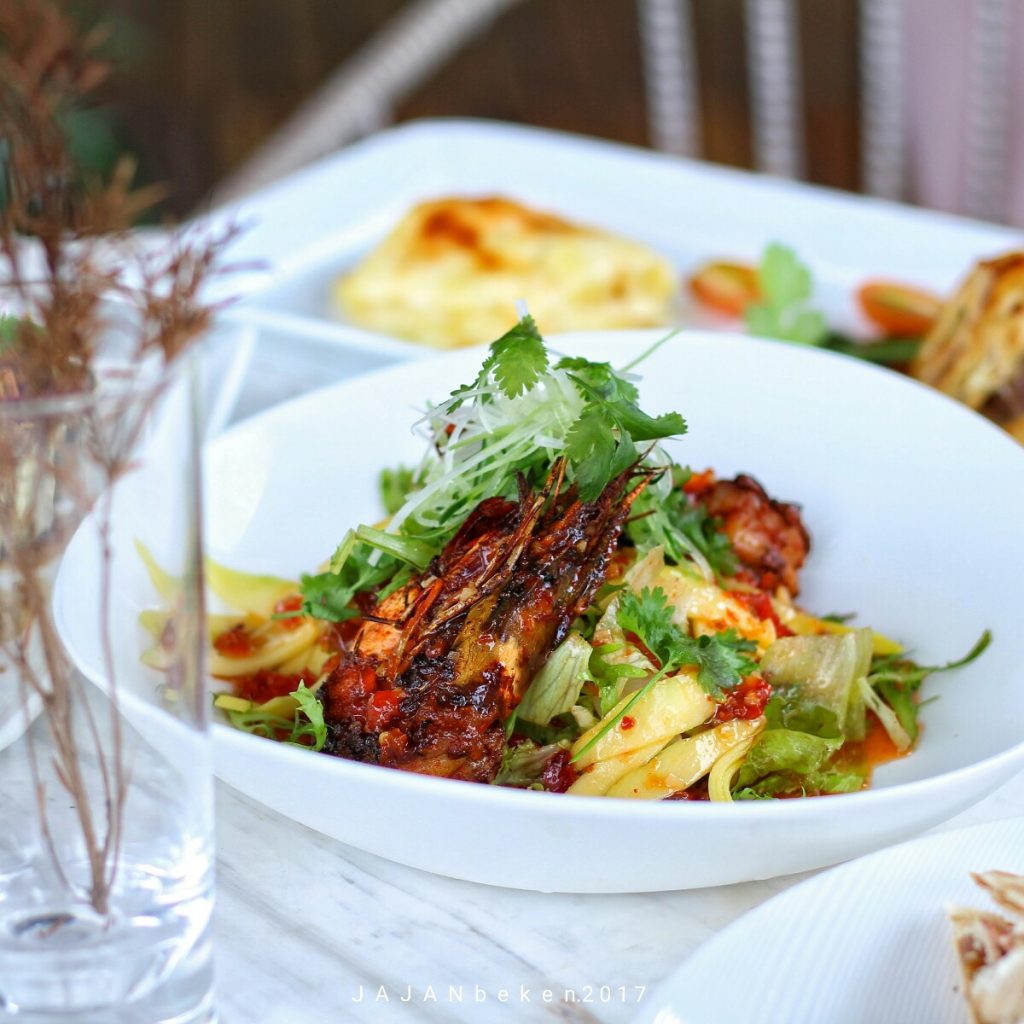 Surf and Turf IDR 190K
When this menu came to our table, my eyes immediately fixed on the standing shrimp. The presentation is quite unique by combining 3 condiments on this menu dish. For meat cooked medium well, the beef is very easy to cut because it has a very tender texture.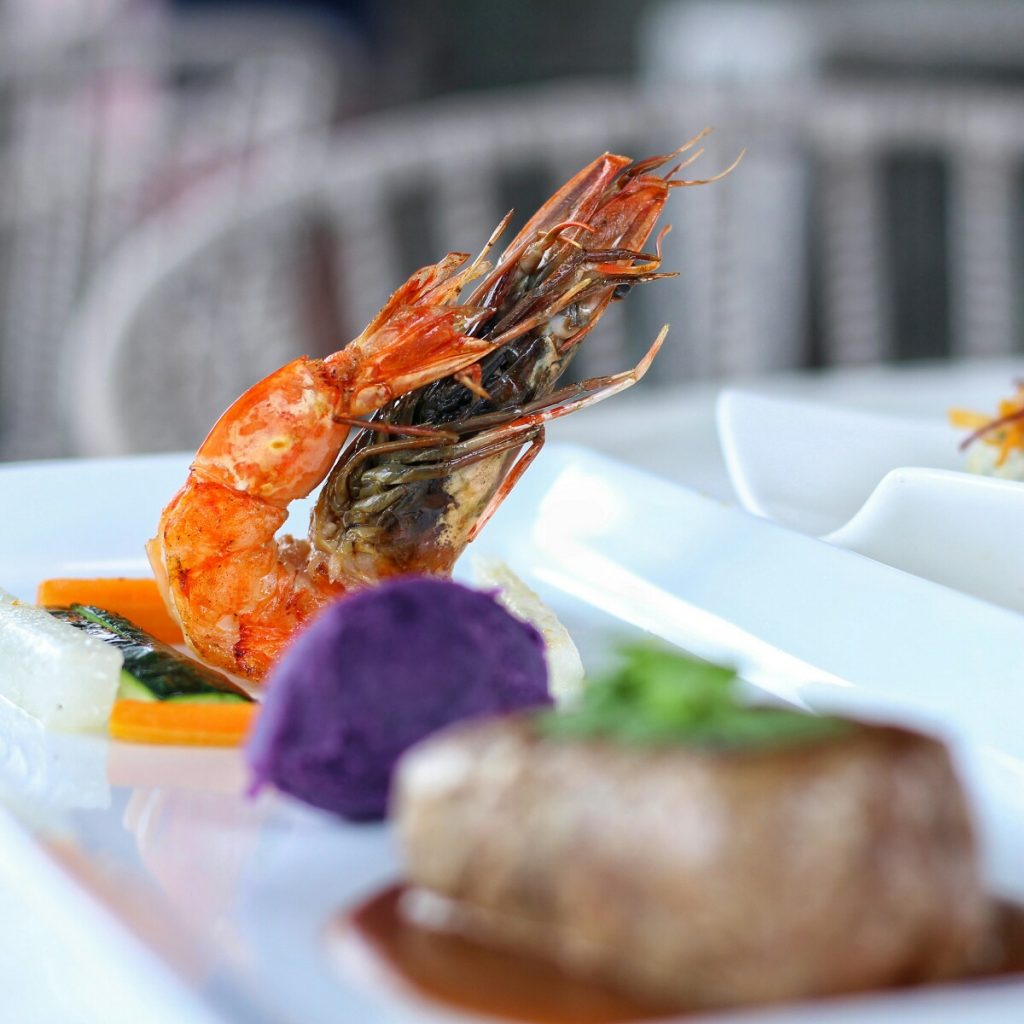 Beef Wellington IDR 175K
For this one menu is very unique, they use puff pastry to wrap beef then baked. this menu is also complemented with vegetables. The beef is very delicious the texture of the beef remains tender and juicy and the vegetables served very well.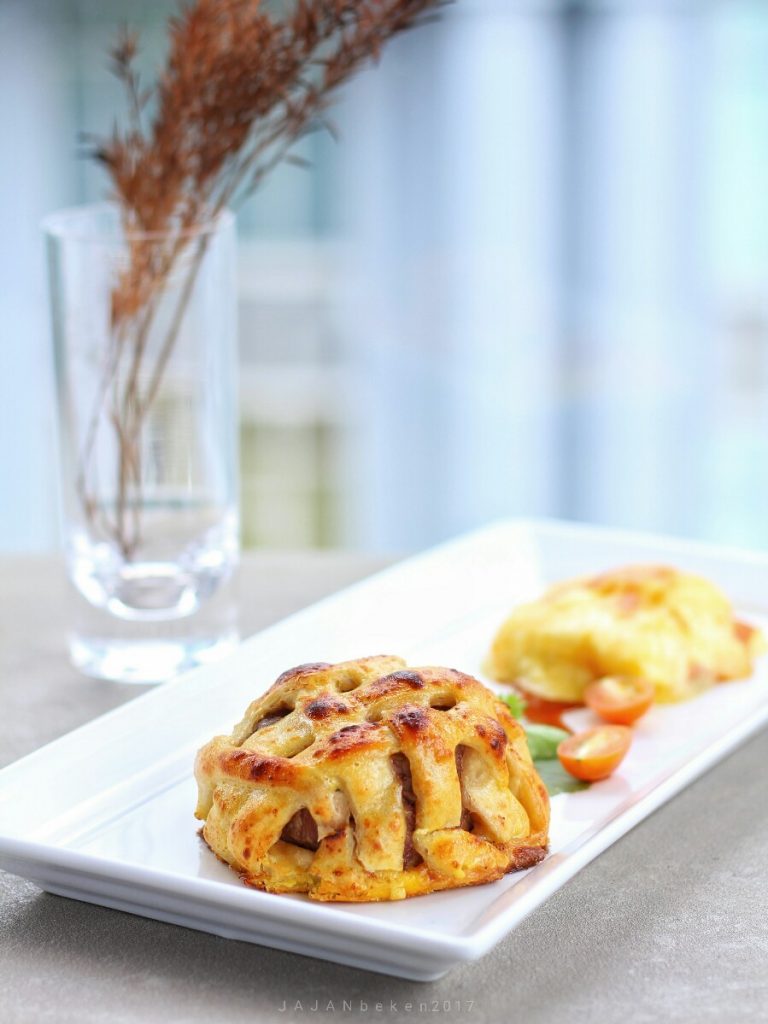 In addition to the above menus, Fat Shogun also provides a variety of other menu like a roll menu which you can choose. So below, I would recommend a very recommendable roll menu you should try when you come to this restaurant.
Peruviano Roll IDR 50|90K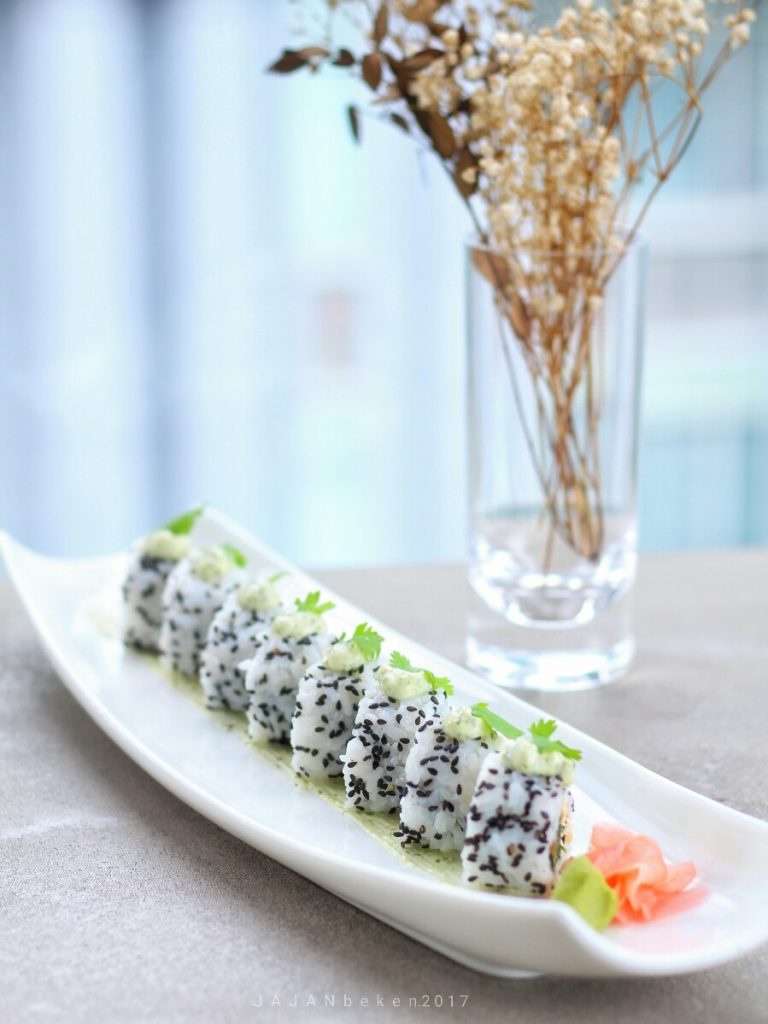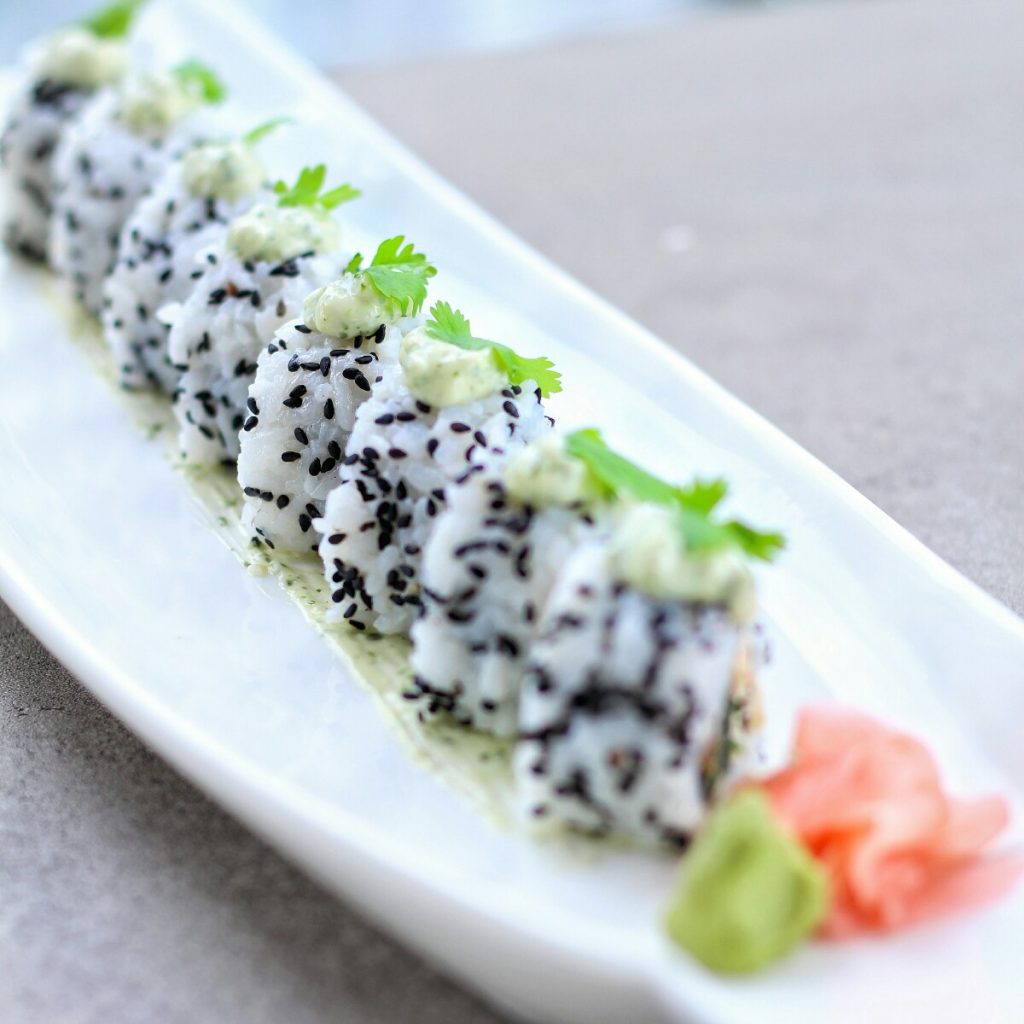 Peppery Roll IDR 60|110K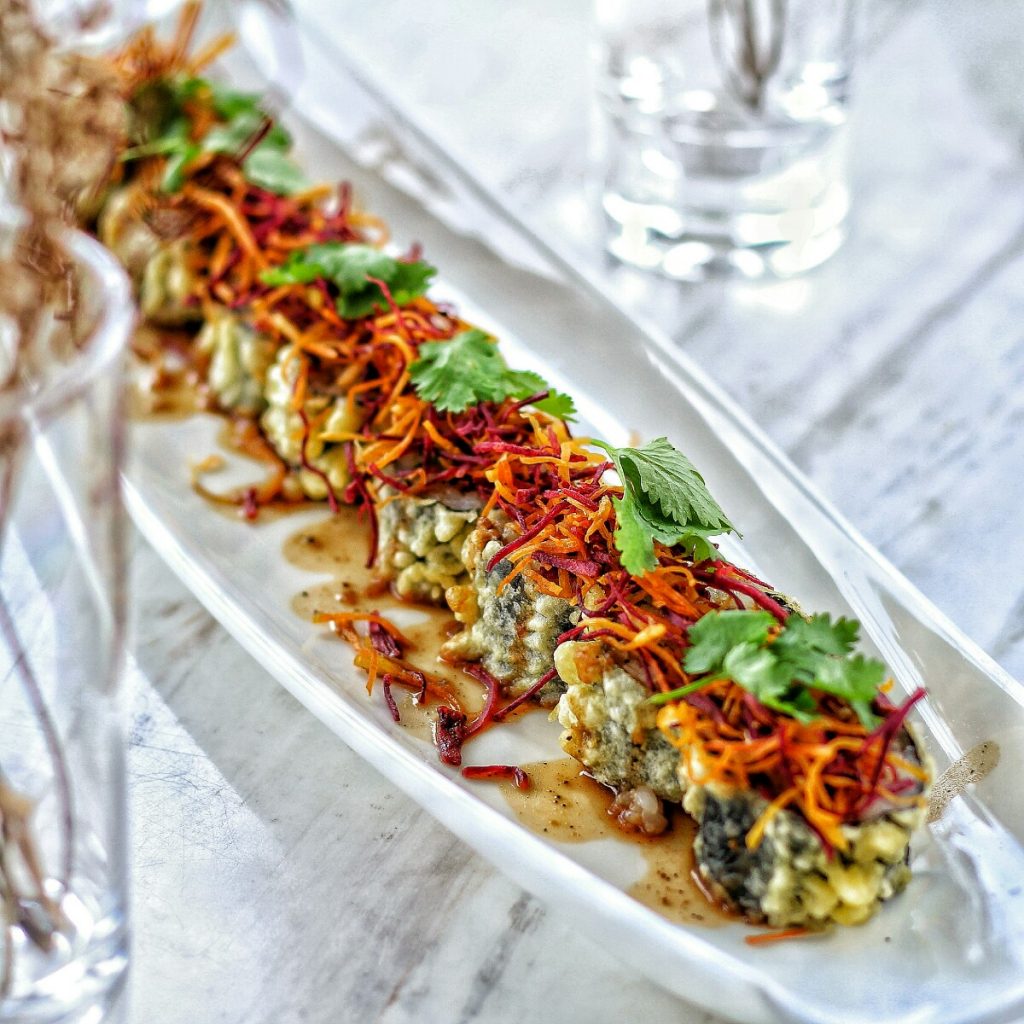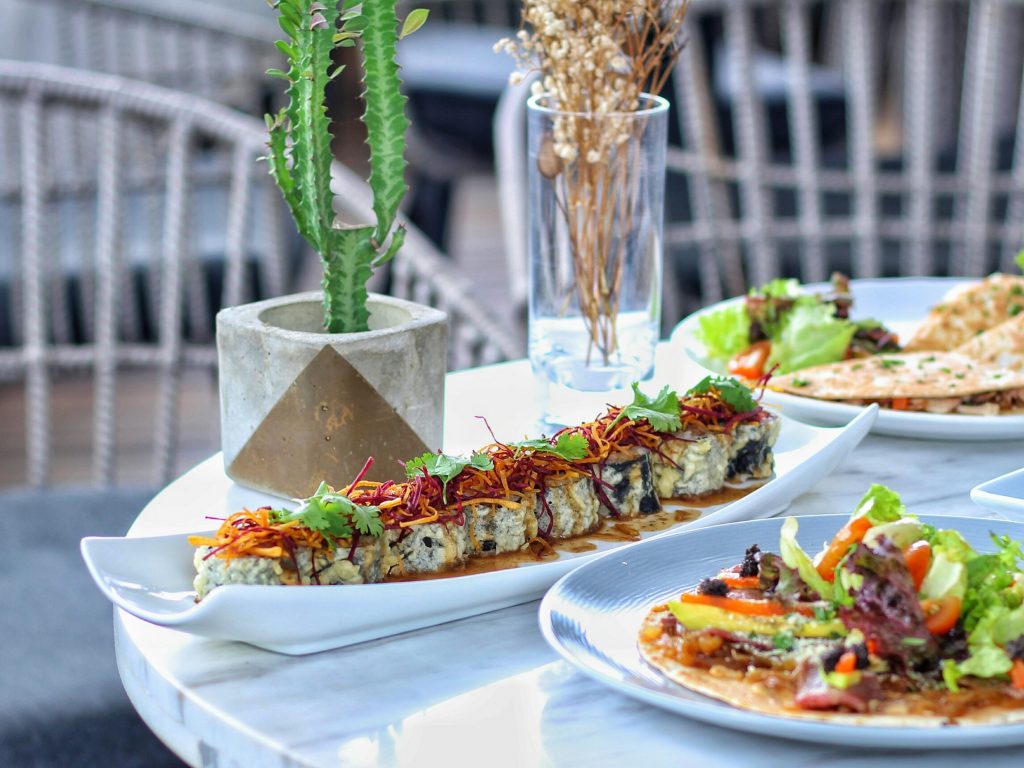 I am very happy with Fat Shogun Jakarta, because they serve a different menu than other restaurants. The atmosphere of this restaurant is quiet the taste of the food is also delicious with quality awake. And the waitress was very friendly and quick.
Finally I close my review and don't forget to follow our culinary journey in this blog, Instagram, Youtube and Facebook. Please apologize if there is something missing in writing or menu explanation. We open for critics and comment. See you in another culinary journey with Jajanbeken!
RATING
Taste : Excellent
Service : Excellent
Price :  Average
FACILITIES
Wifi : Yes
Plug : Yes
Dine in : Yes
Outdoor : No
Toilet : Yes
Parking: Yes
CONTACT
Address : Menara BTPN – Retail Tower, Rooftop Level, Jl. Dr. Ide anak agung Gde Agung, Kav, 5.5 – 5.6 CBD Mega Kuningan, RT.5/RW.2, Kuningan Timur, RT.5/RW.2, East Kuningan, South Jakarta City, Jakarta 12950
Telp :   0811-900-104
Instagram @fatshogunjkt
INFORMATION
Open hour:  11.00 – 24.00 WIB
Price : Rp500.000 for two people (approx.)
Dresscode : Smart Casual.
MAP