This is my first time to trip to Japan and I feel so excited before I were here. Because I will visit many place in Japan and stay in Tokyo for a few days. After I find out about hotels in Tokyo with Tokyo Tower view then I found one of the best hotel in the heart of the city which is Andaz Tokyo Toranomon Hills a concept by Hyatt.
We stayed here for 1 nights, and it was still autumn in Tokyo since I have arrived here at the end of November 2019. If you're planning a trip to Tokyo or just want to know more what it's like to stay at Andaz Tokyo Toranomon Hills Hotel, keep reading!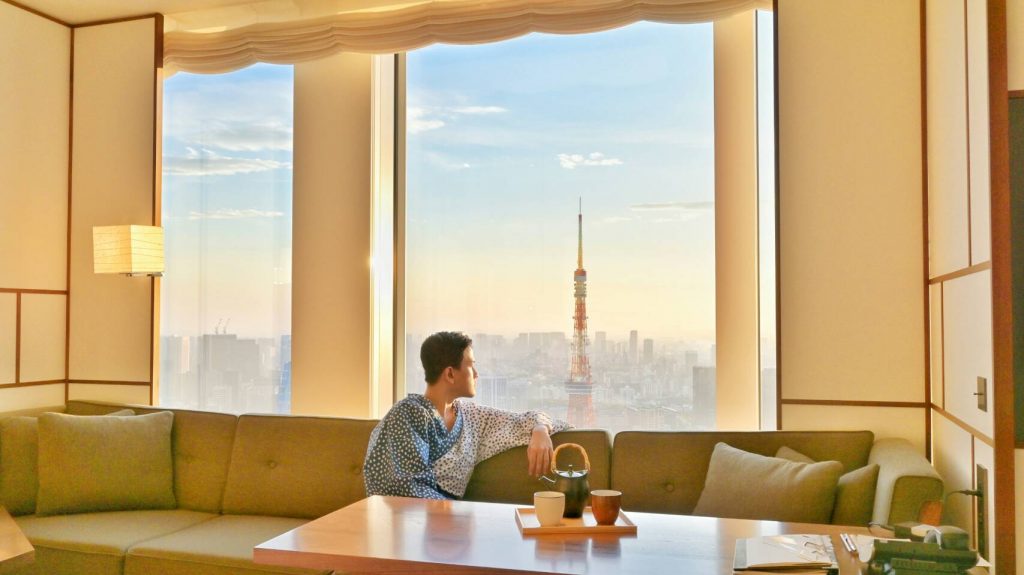 Let's start about my experience and what to expect while being a guest at Andaz Tokyo Toranomon Hills Hotel.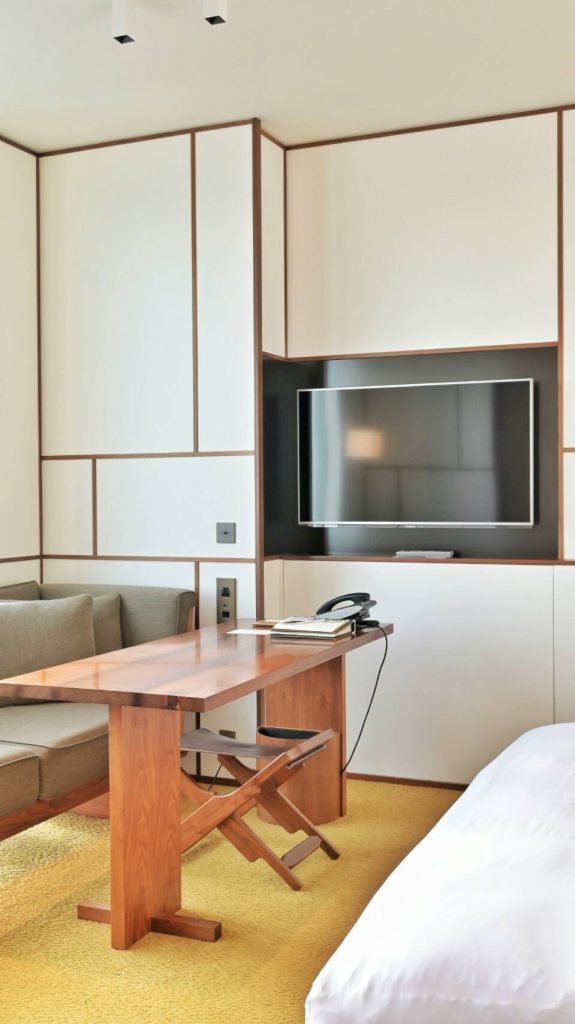 1 King Bed With Tokyo Tower View
As mentioned, we stayed in one of their view room, but there are plenty of others as well, and if you contact the hotel beforehand, you will likely be able to choose your favorite type room. As I know there are several views rooms that you can choose from such as park, bay and Tokyo Tower according to your preference.
Our room is quite spacious, especially in Japan where accommodation often are small. But this was more like an average top hotel in the room when it comes to size, which was nice. The bed was super comfy as well as the pillows, and the view is incredible!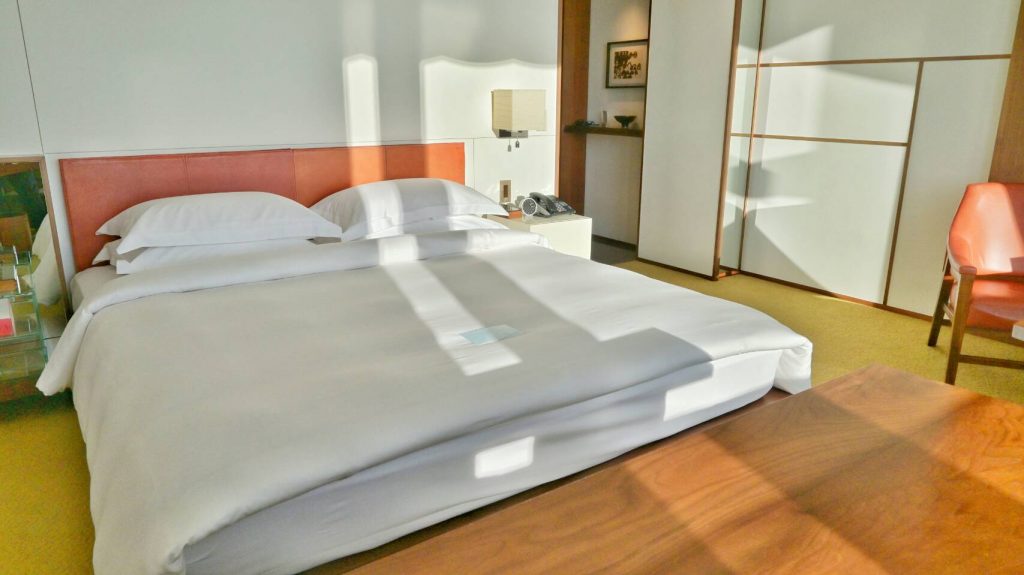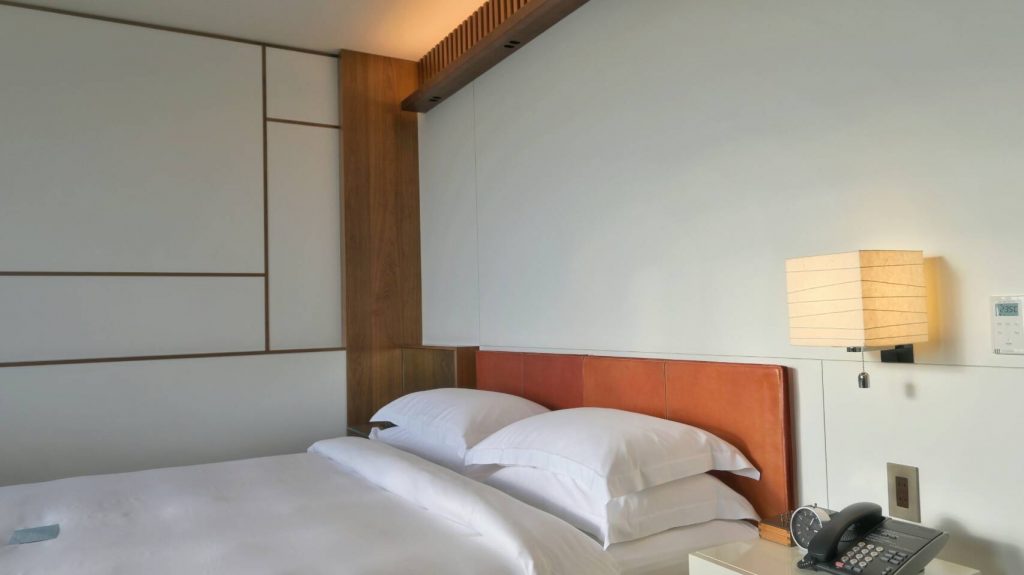 Offering space and convenience, this 50 square meter room is among the largest standard spaces in Tokyo. Blending natural materials with contemporary Japanese design, take in iconic sights of the city center including the soaring Tokyo Tower.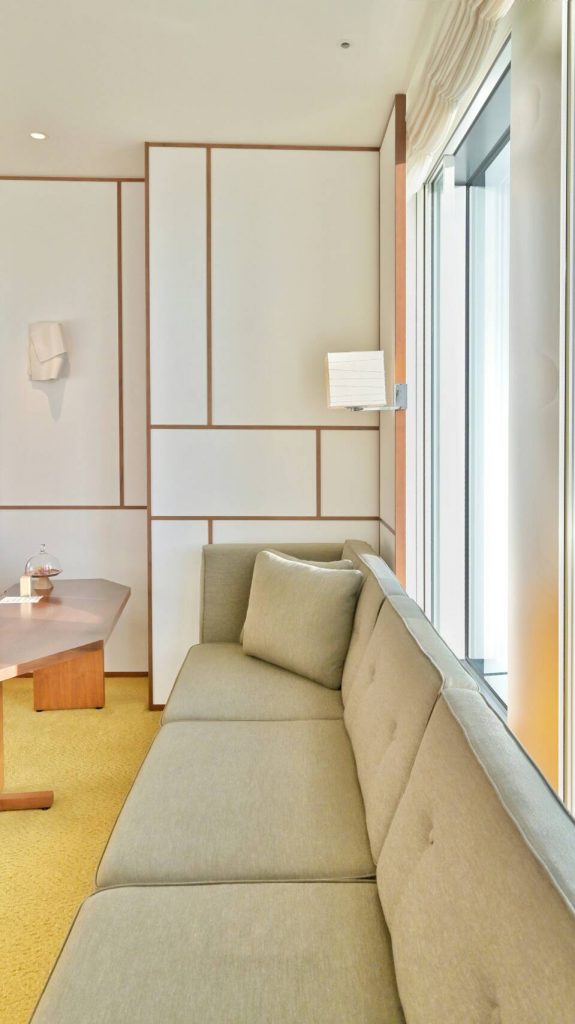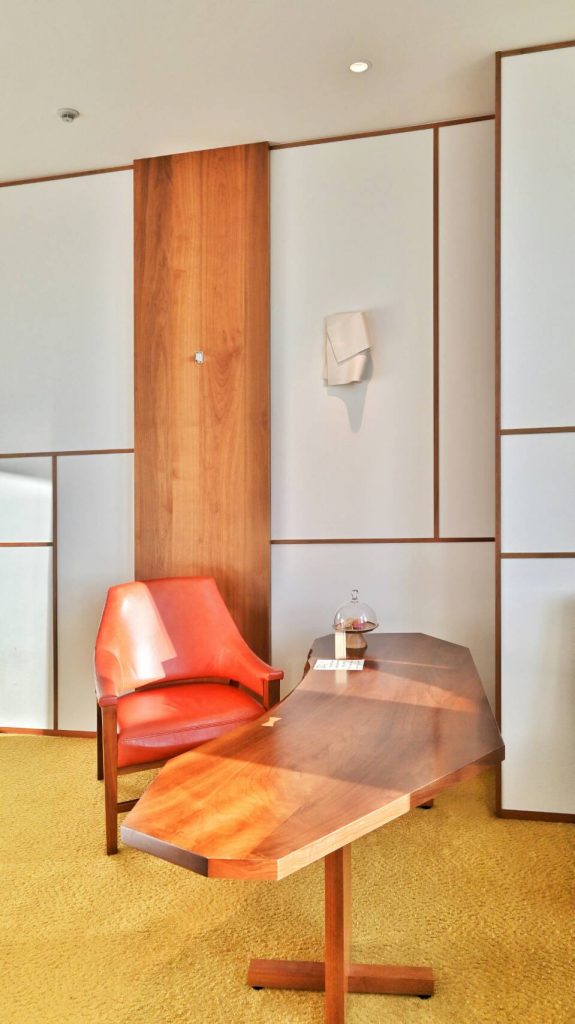 R
oom Facilities at Andaz Tokyo
Since we are doing all of our work online, Wi-Fi is an important thing for us. You won't have any issues at Andaz Tokyo Toranomon Hills Hotel . The Wi-Fi is working great throughout the whole property! One more they have many plug types like in Indonesia and various country types including Malaysia and Singapore.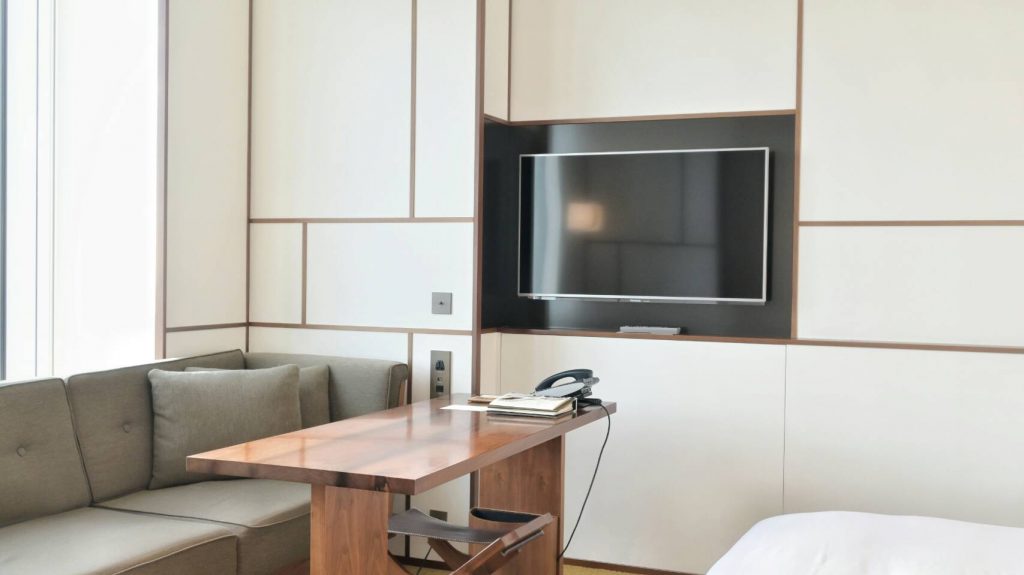 Minibar in the room is fairly complete, they provide drinks and snacks. Don't forget to take a look inside the refrigerator, there are some snacks and drink that worth.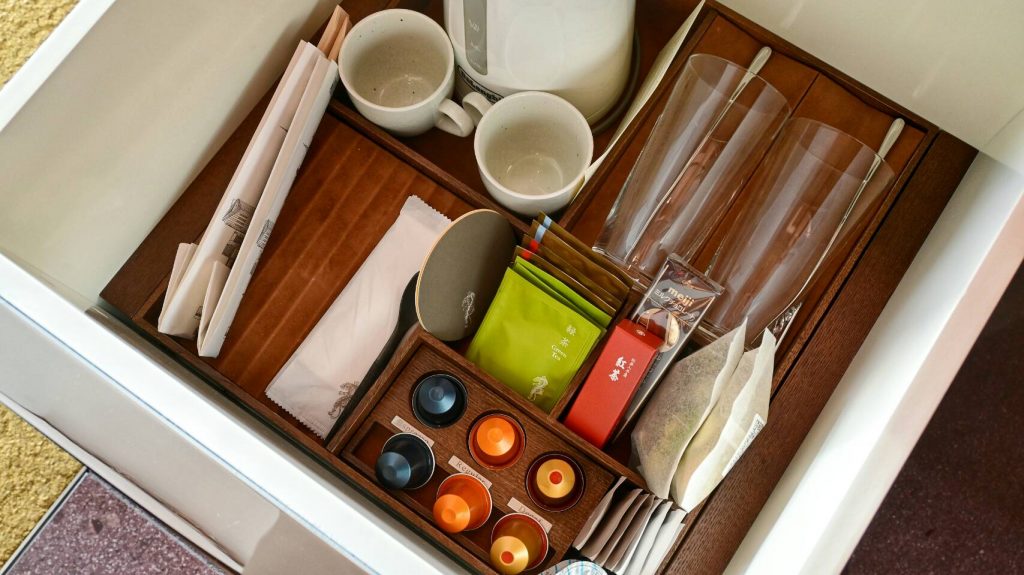 They are also provide you with Coffee machines which very easy to use with coffee capsules. They provide several kind of tea including hot pot to brew a green tea.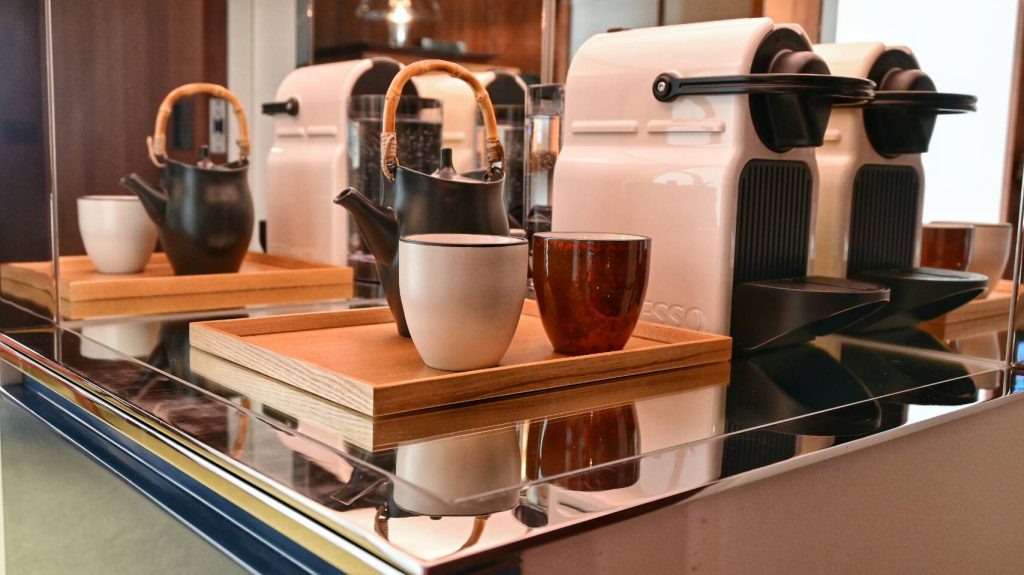 Here you can adjust anything such as lights and curtains with one touch. The setting machine is next to the bed and can be operated easily.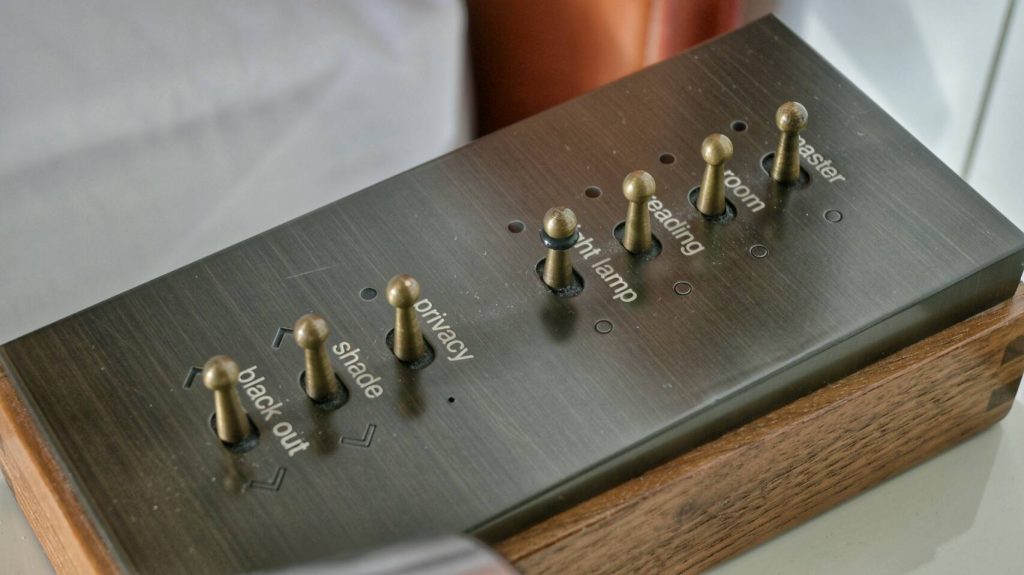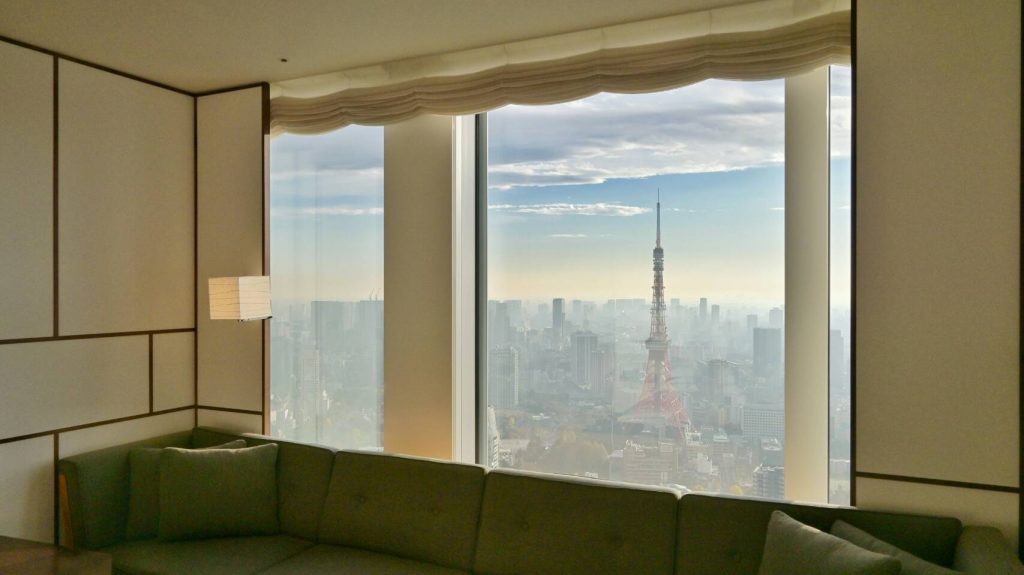 The Bathroom
I also in love with the bathroom here. Dominated by the color brown and wood elements make the room seems warm and comfortable. It is very complete with the equipment and available for men and women. The bathtub was quite big with water temperatures regulator that you can change quickly.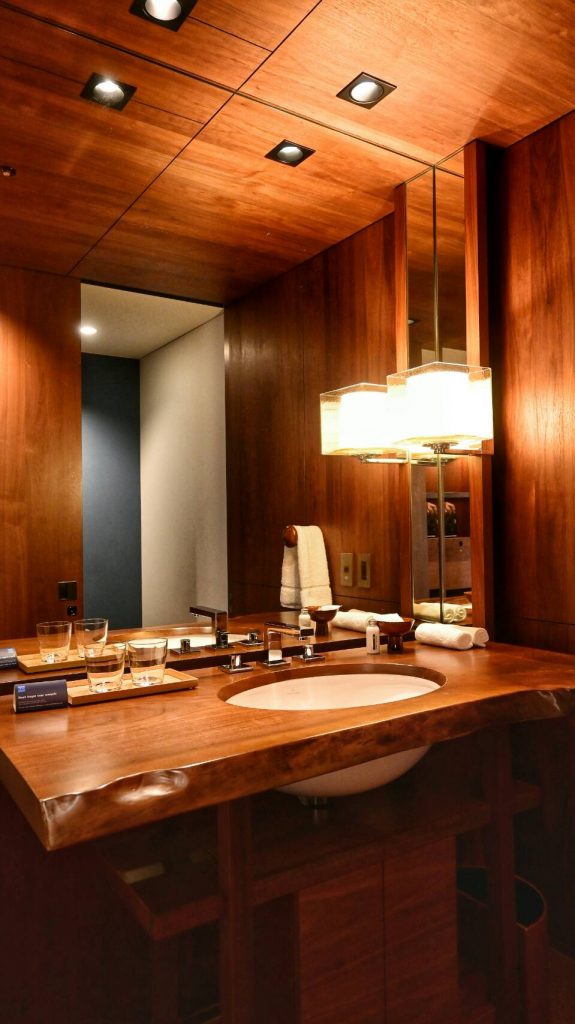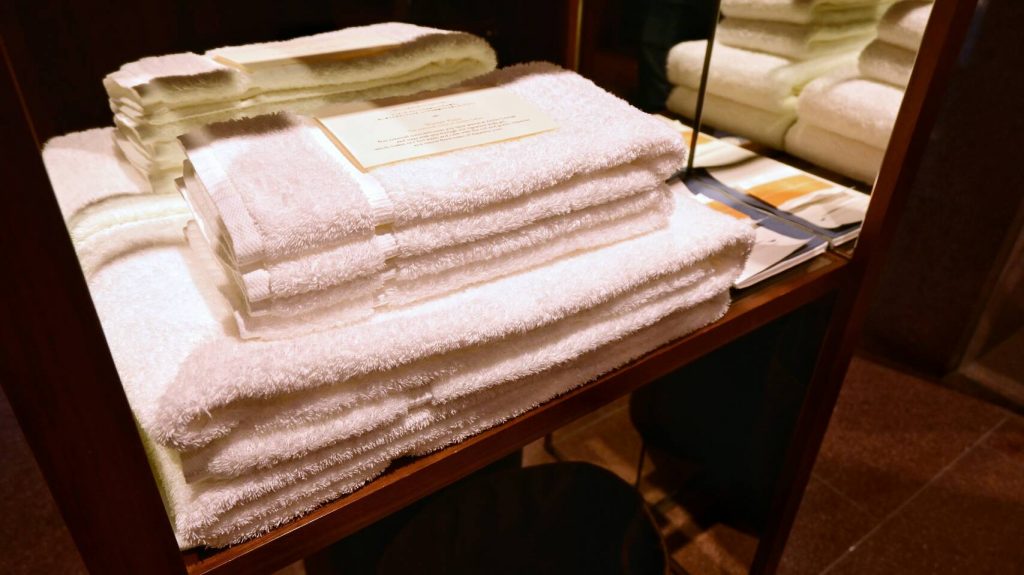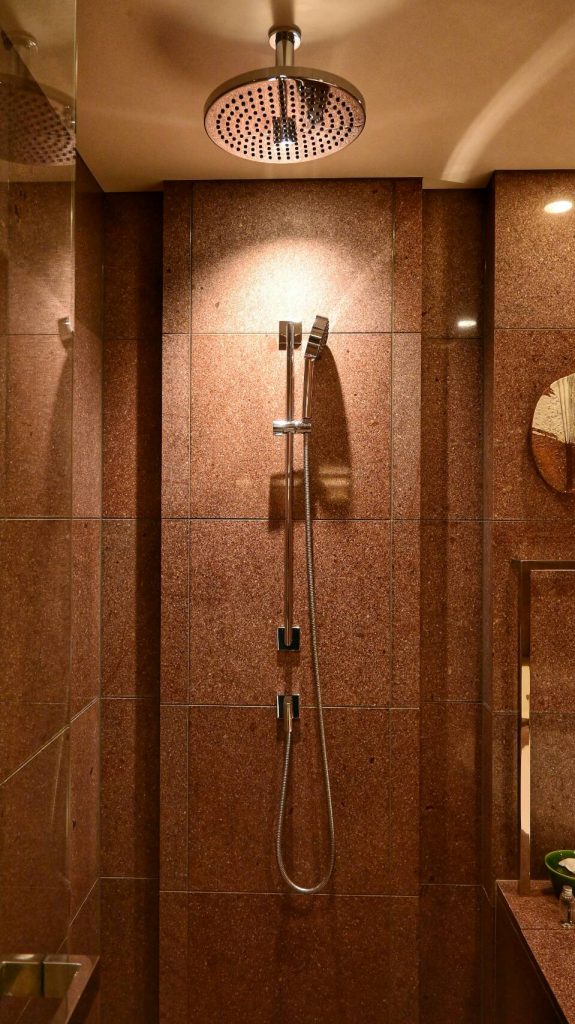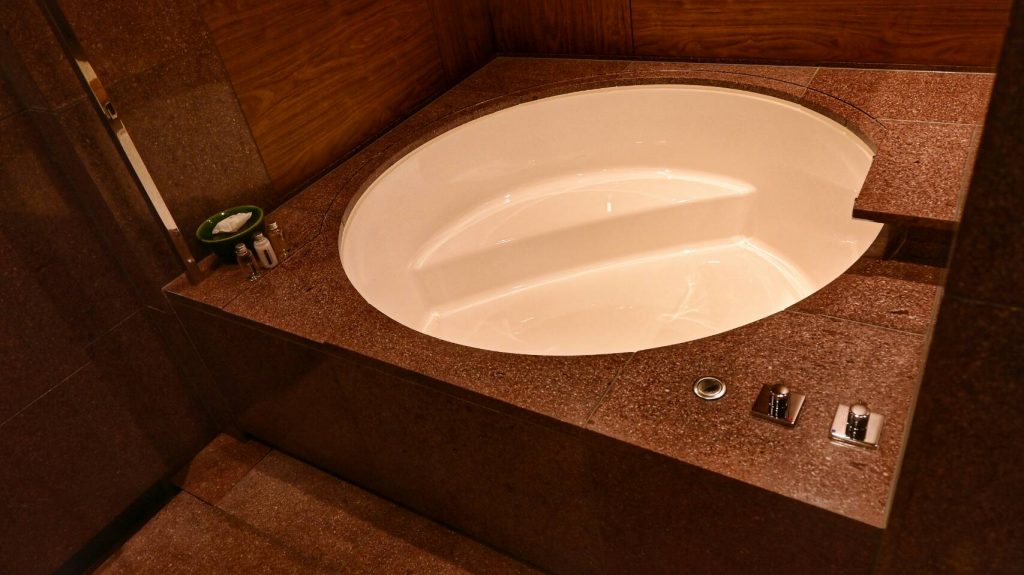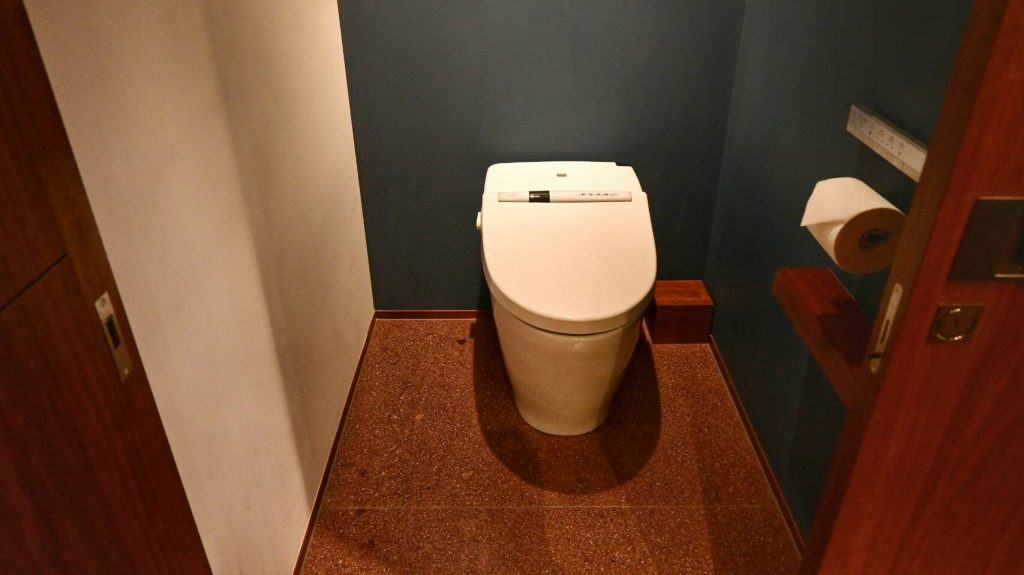 Tokyo Tower Room View
The view from the room become more dramatic when in afternoon. The Tokyo Tower look more beauty with blue and magenta sky at behind. This is the best time to enjoy the view from the window.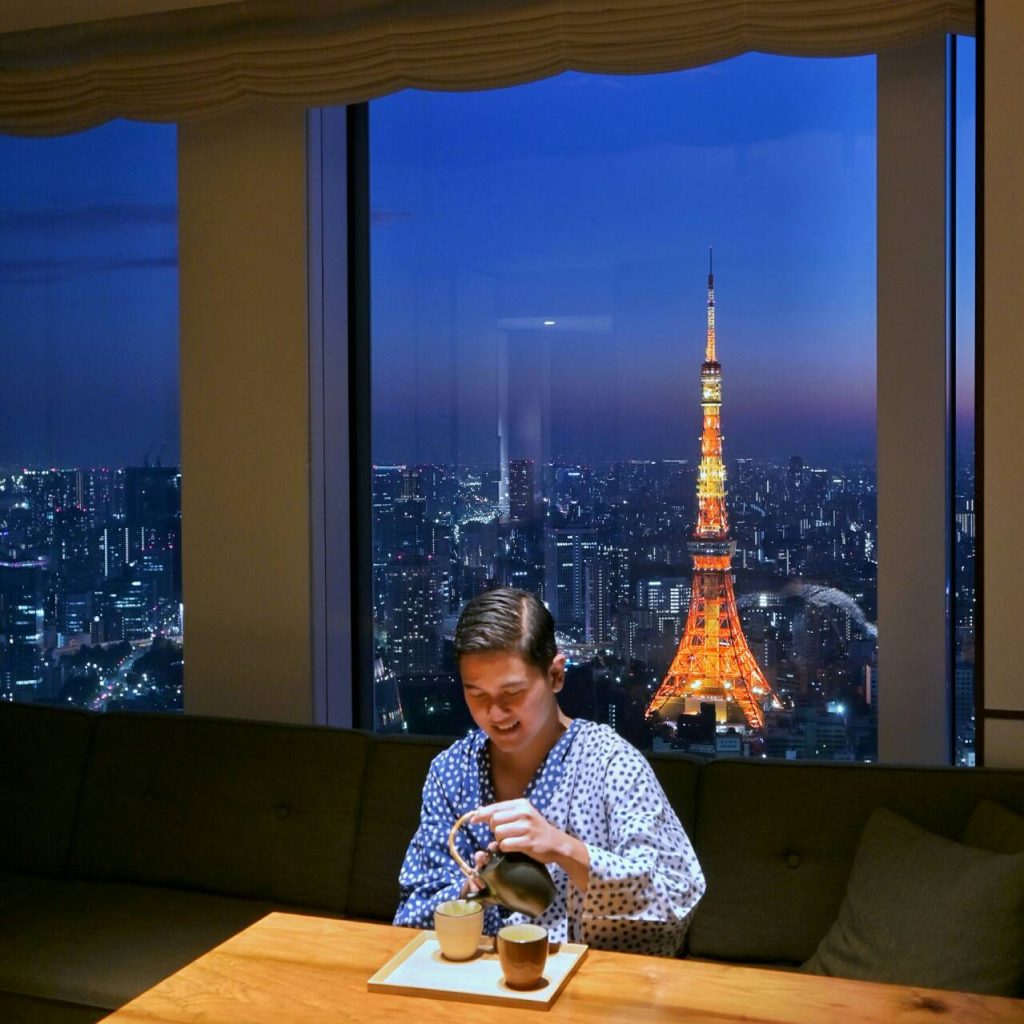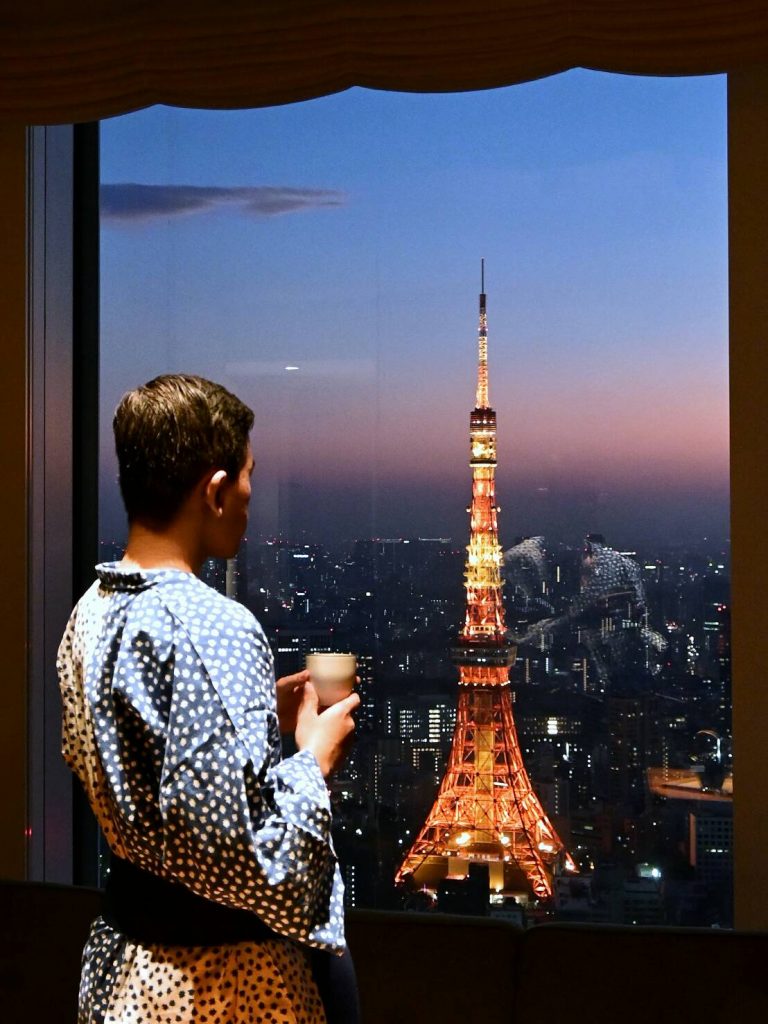 Breakfast at The Tavern Grill and Longue
They have several restaurants and for breakfast it is located at The Tavern on the 51st floor. We had our breakfasts where they have a continental and Japanese breakfast buffet. While the buffet isn't the biggest one I've seen, it's still more than enough to fill requirements for a healthy and good breakfast. So, it's safe to say that you can get a great start to the day at Andaz Tokyo Toranomon Hills Hotel.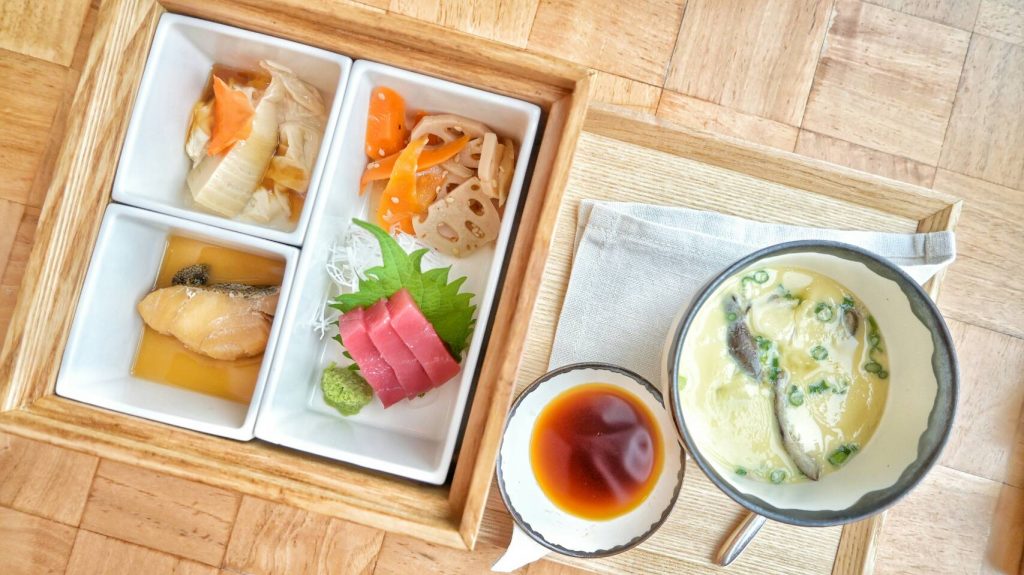 In addition to the buffet they also provide an a la carte menu that you can order for free but only one order for one person. Like us ordering bento which isn't served on the buffet menu.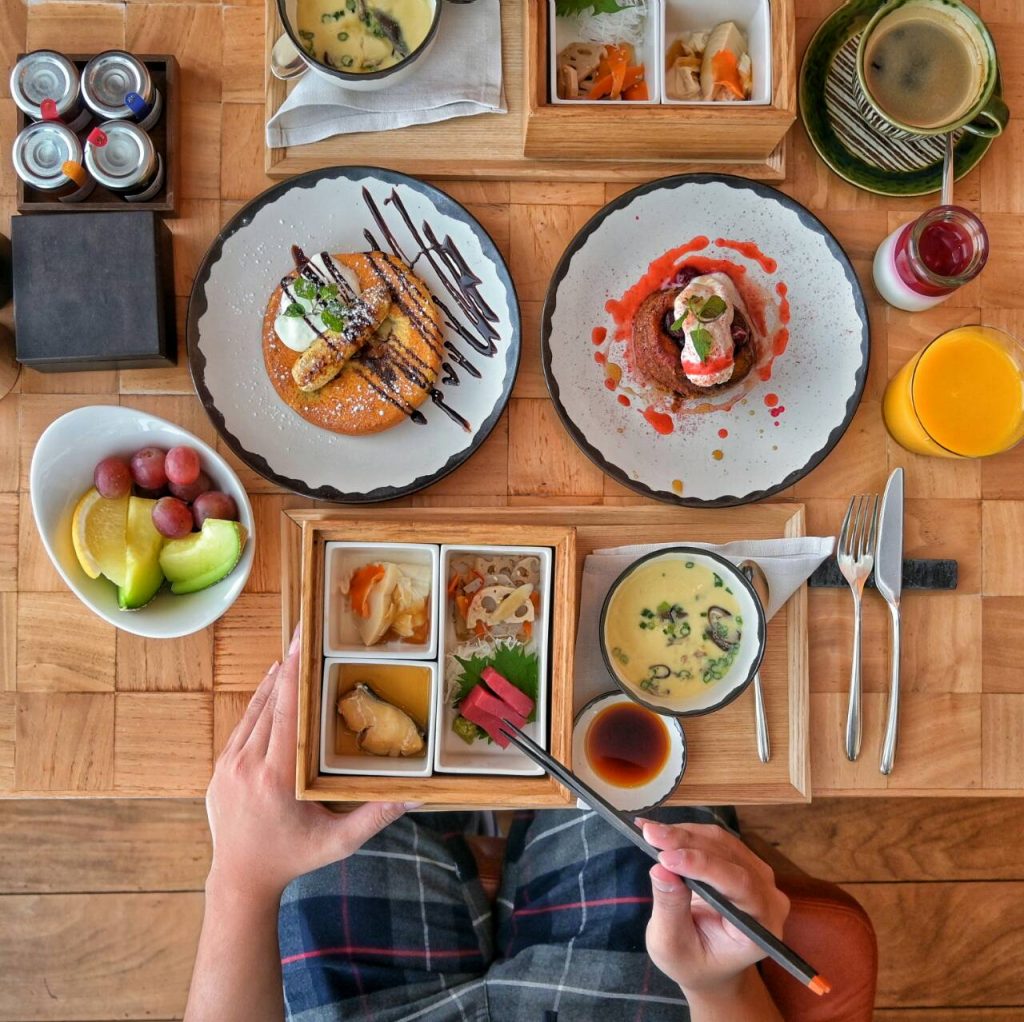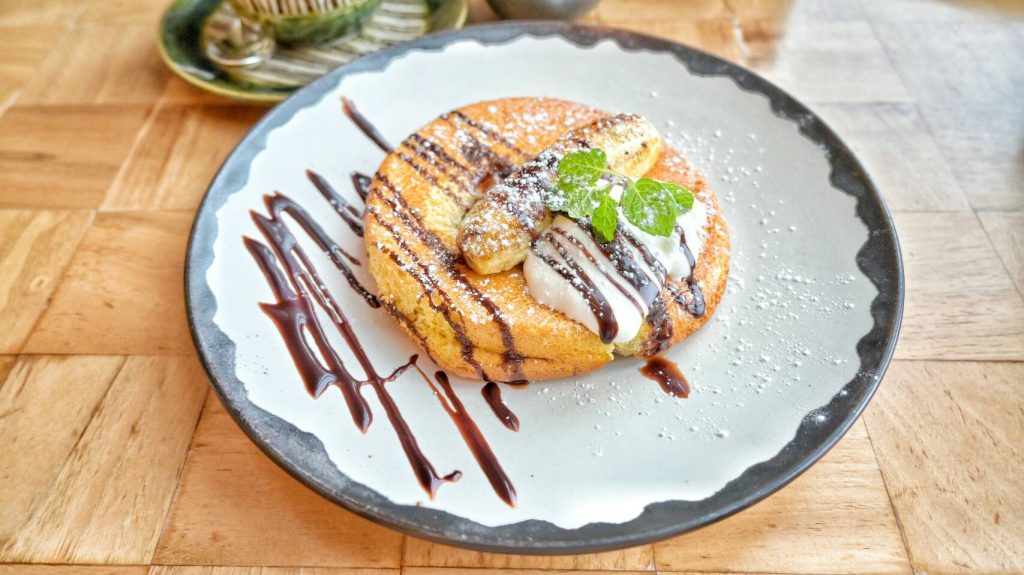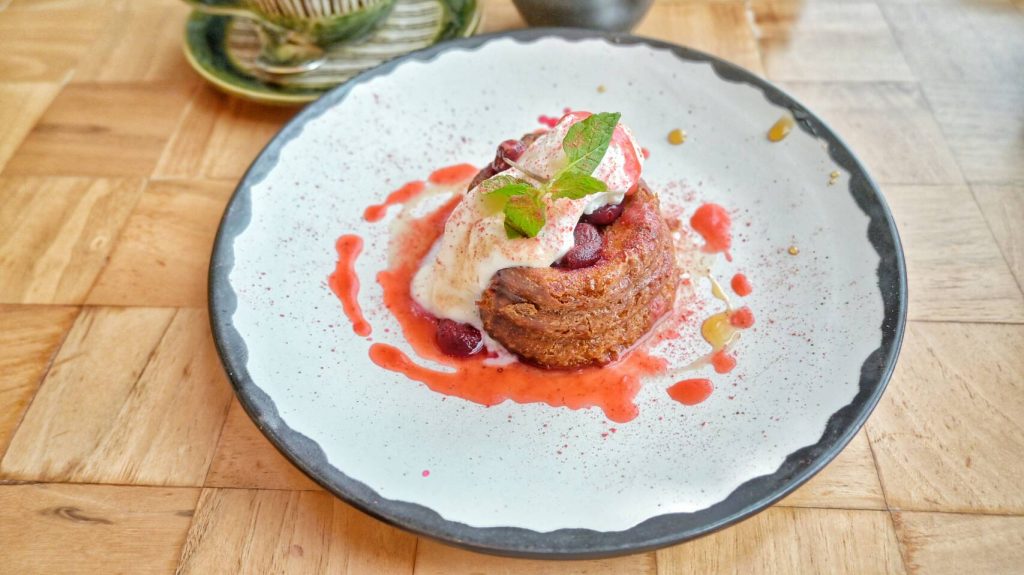 Lunch in BeBu Restaurant
Located on the ground floor, BeBu Cafe & Bar specializes in original burgers, Japanese draft beer and seasonal party plans featuring classic and creative international flavors. This casual venue is perfect for lunch, dinner and happy hour drinks.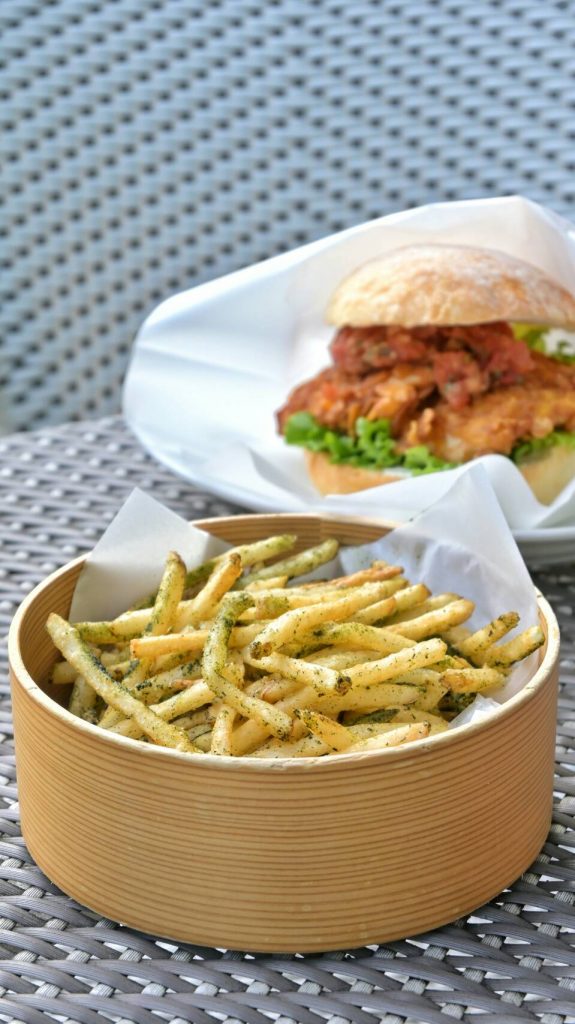 Here we order several variants of burgers, bowl and other snacks, and again I say all the food here is delicious has a thick taste typical of Japan even though this type of food is not of Japanese origin.
Which really made an impression on my memory, I really like the sukiyaki burger where I can feel the taste of sukiyaki which is actually very different in other places especially in Jakarta.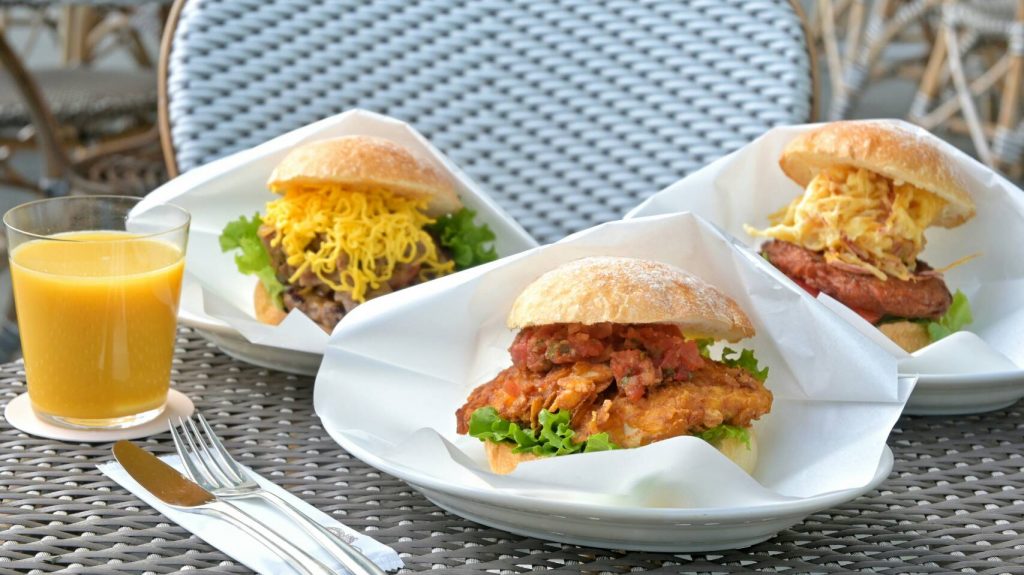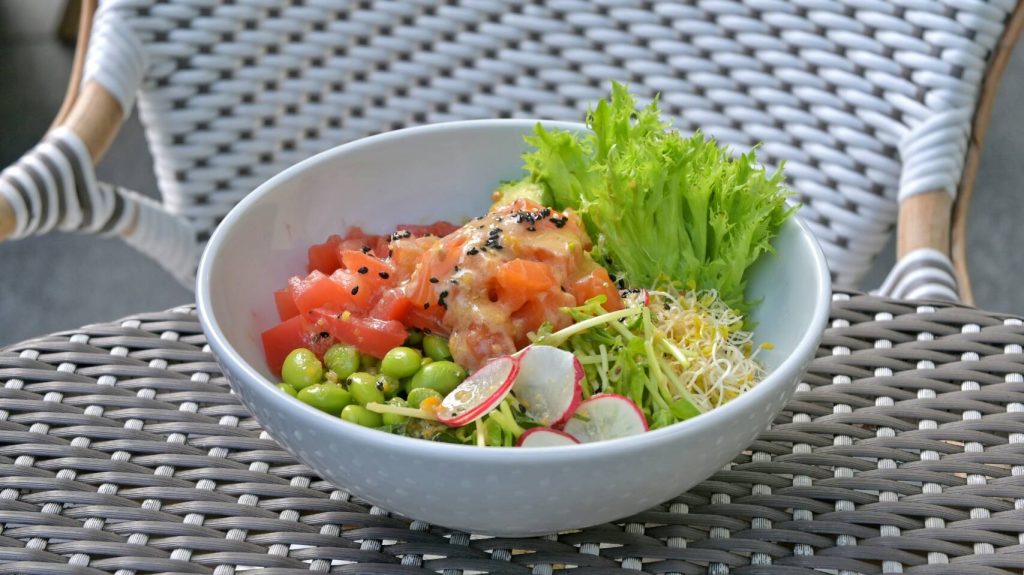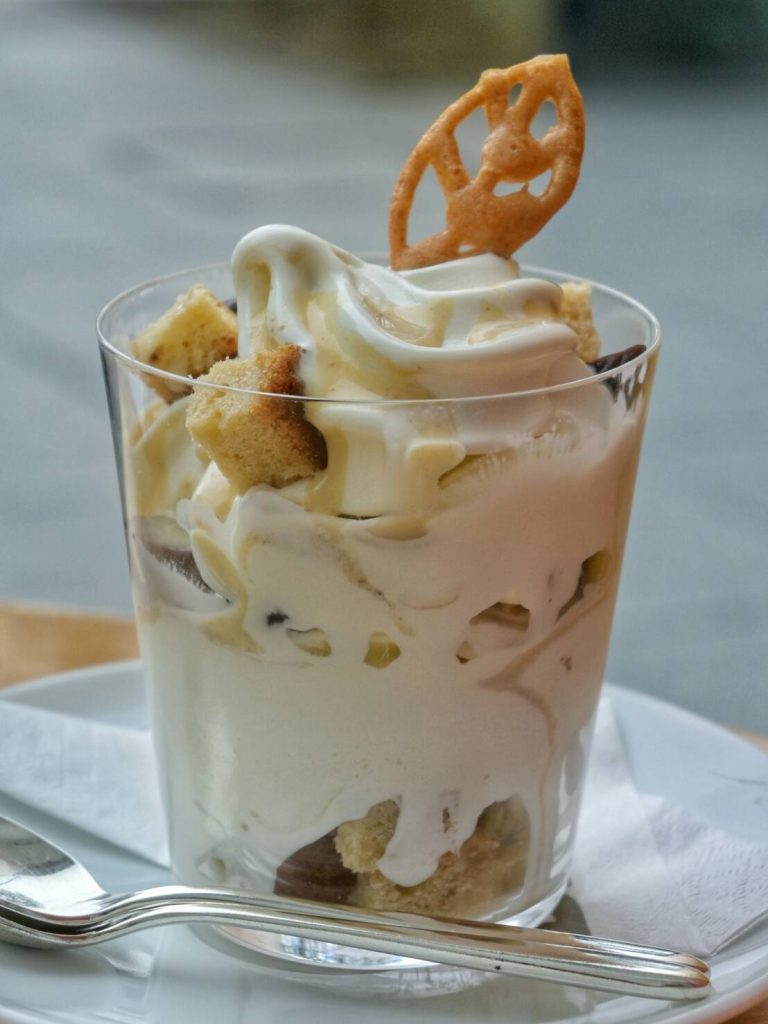 Dinner at The Tavern – Grill & Lounge
The 51st floor's The Tavern – Grill & Lounge offers an exciting dining experience featuring local flavors and seasonal ingredients. Specializing in Japanese Snow Aged Beef, taste the unique flavor and soft texture of meat that has been matured 25 days in a natural "Yukimuro" refrigerator. And we enjoyed this dish at an unforgettable dinner.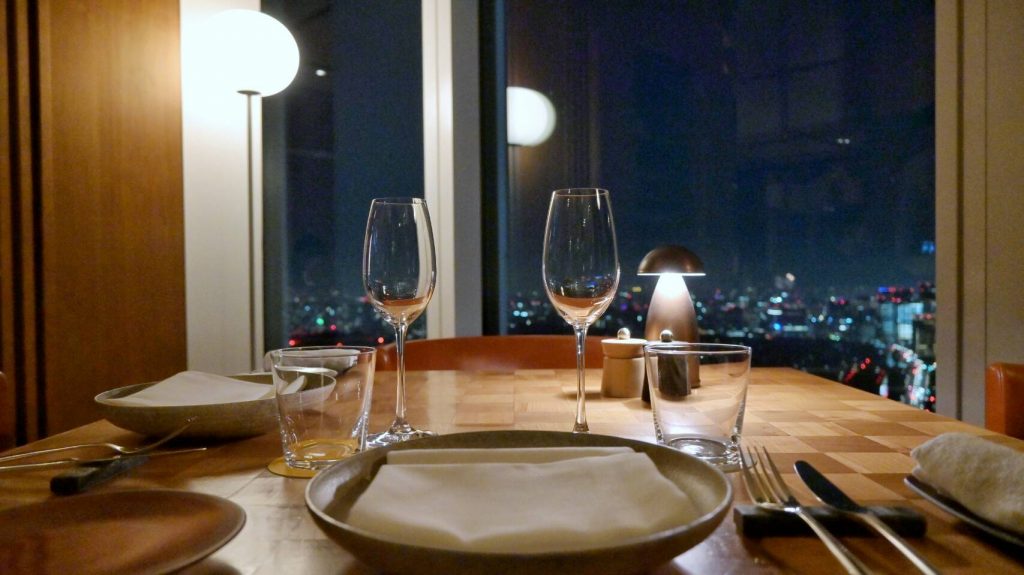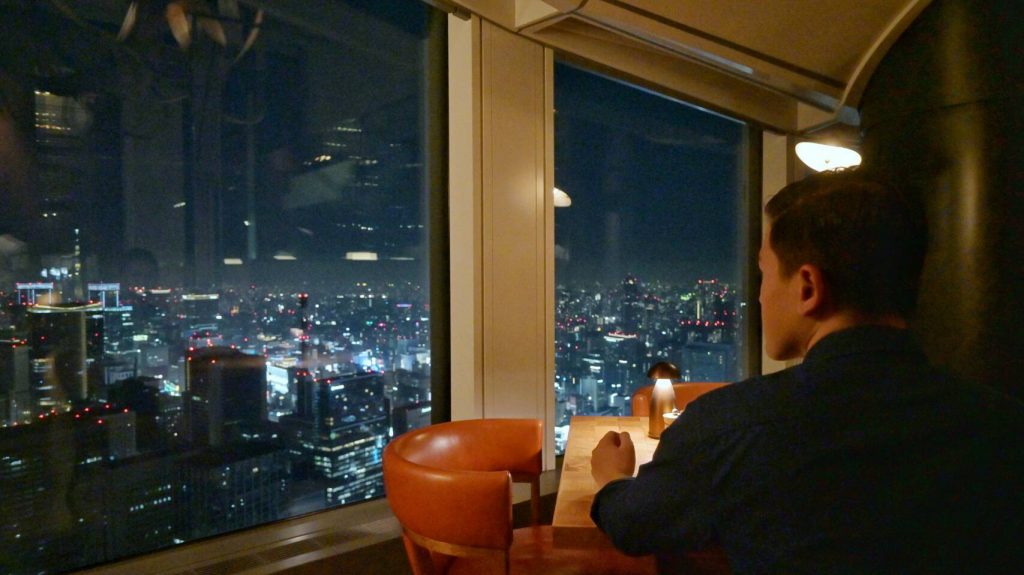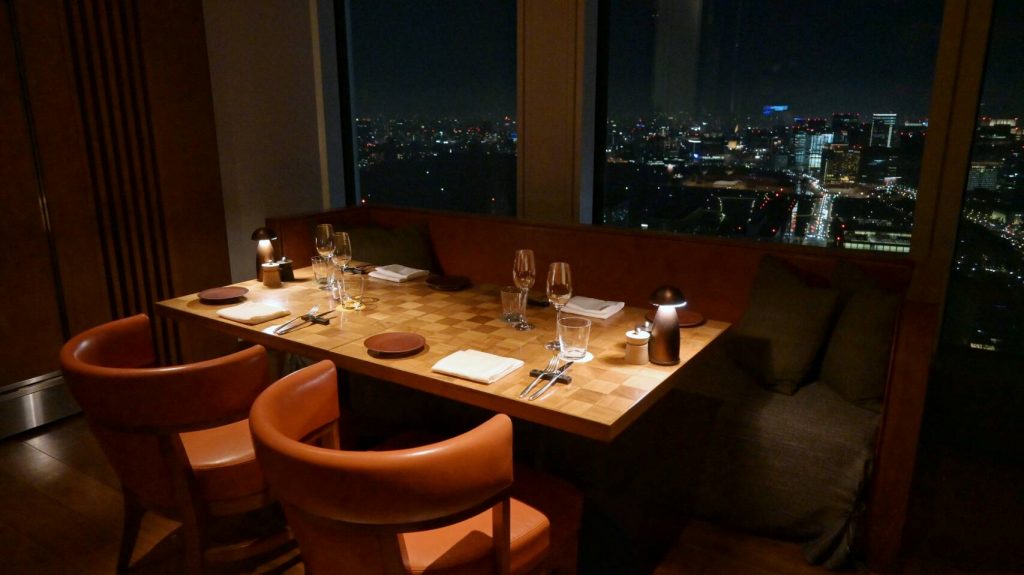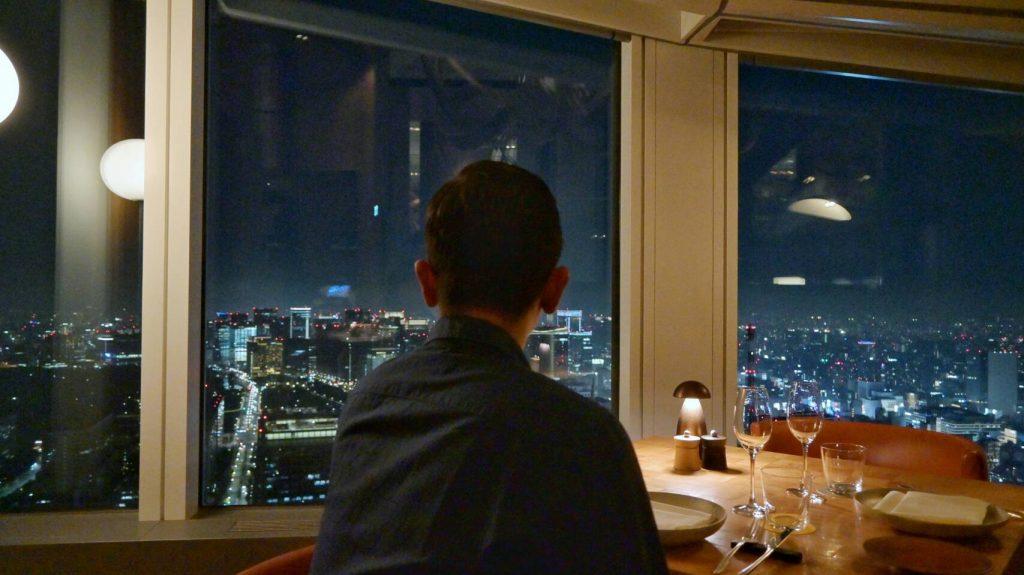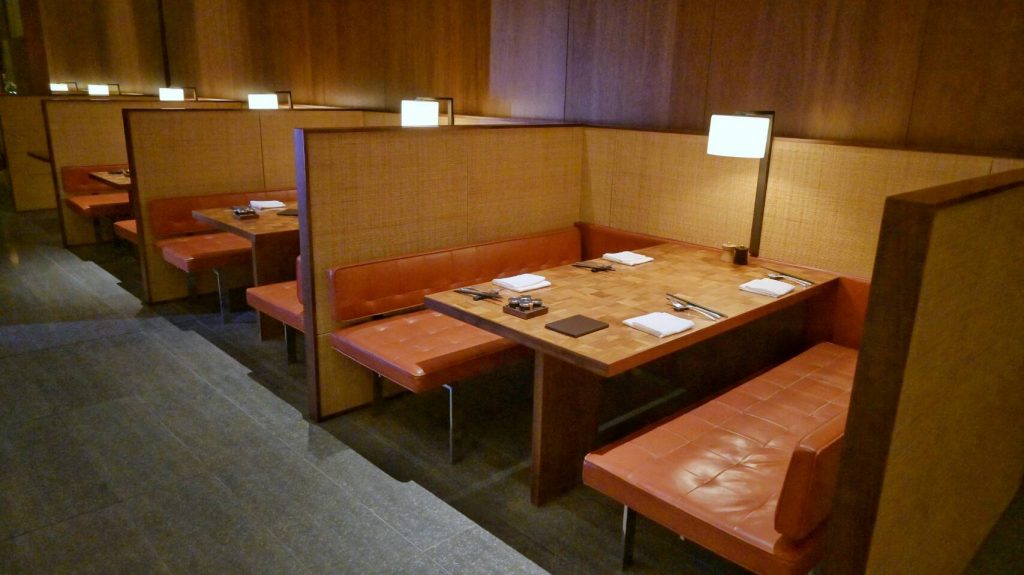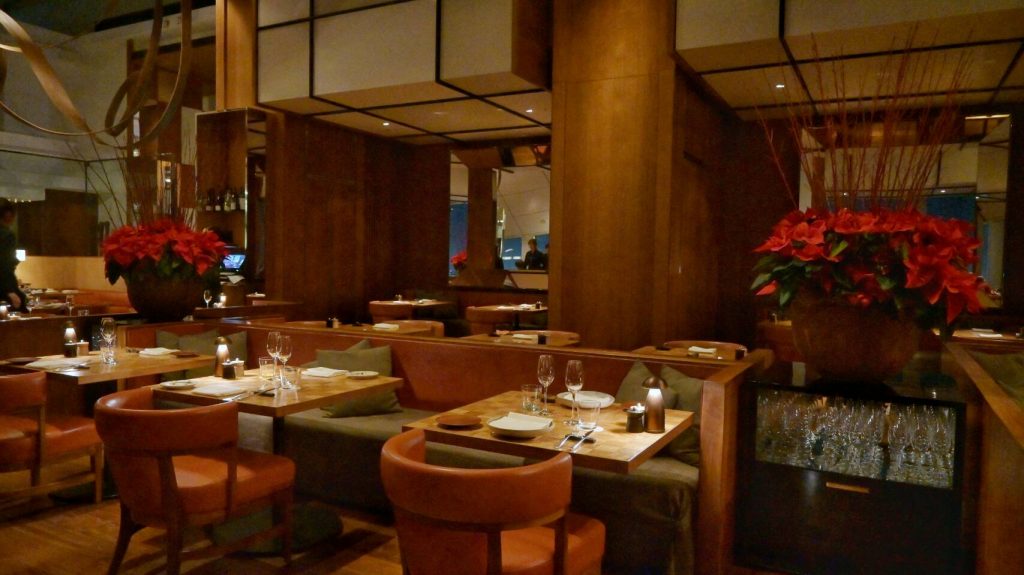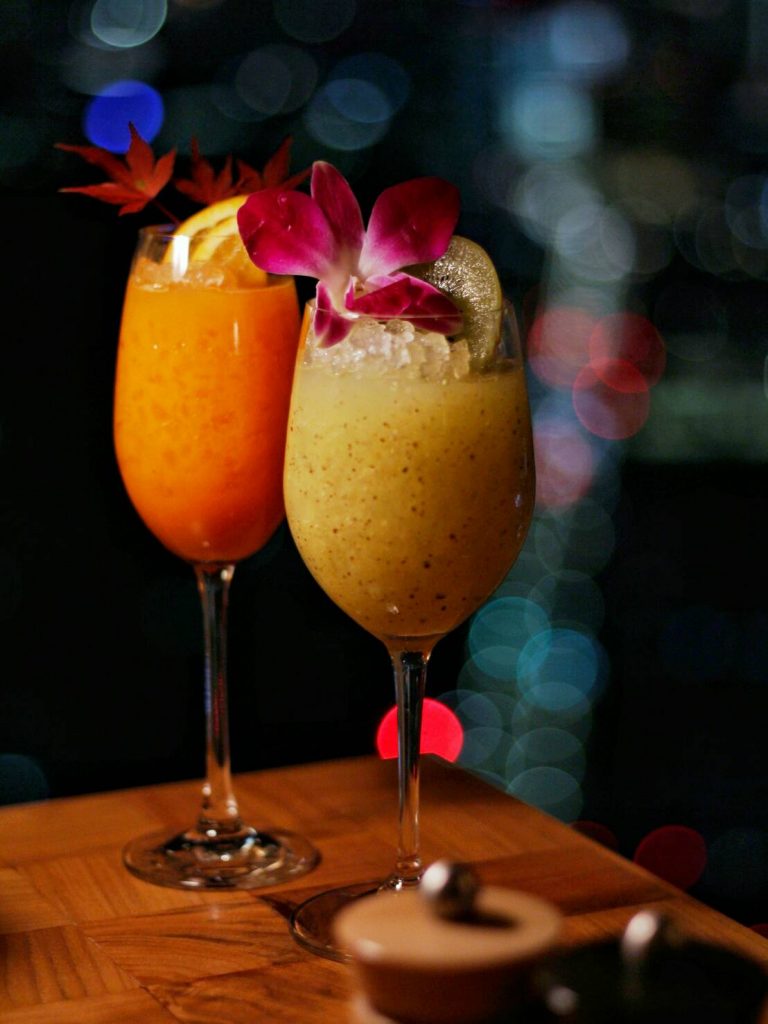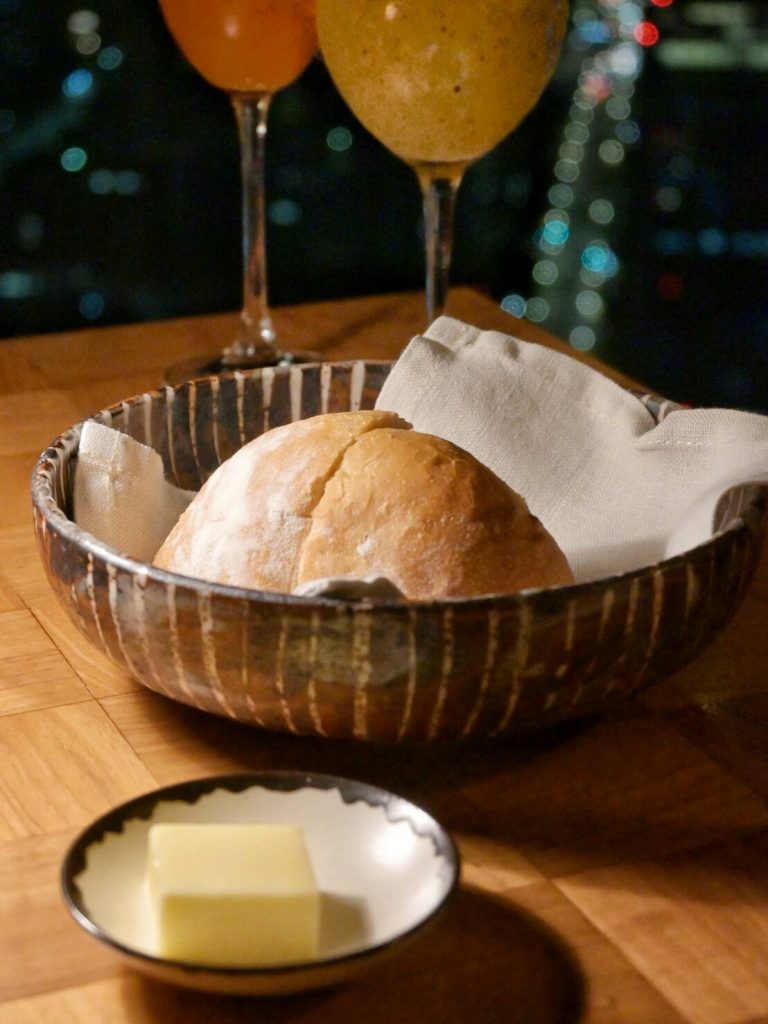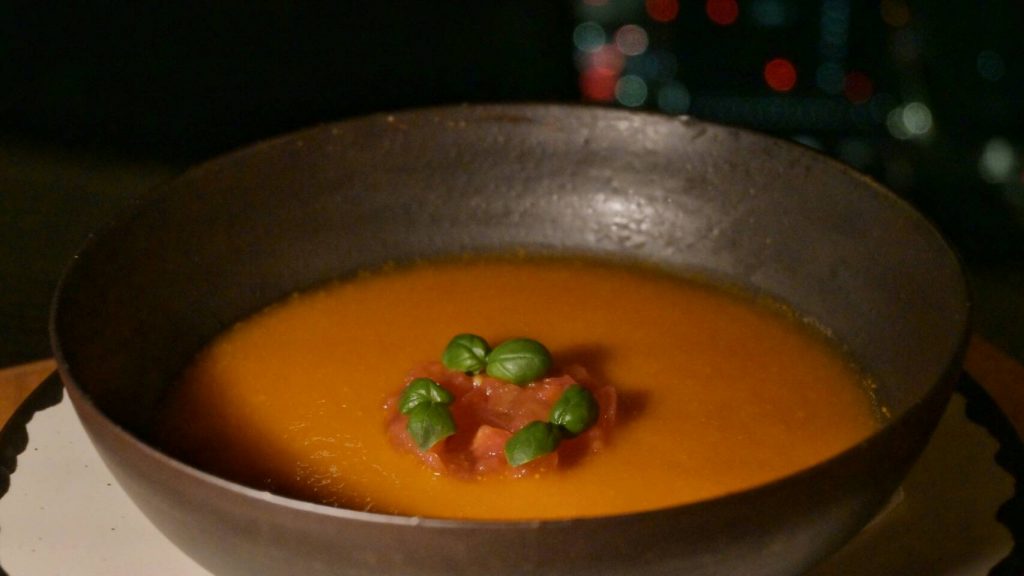 Nicoise Salad
Served with akami tuna, green beans, black olives, anchovy and seared with hazelnut dressing and sesame tuile. It was very convenient as a salad starter with melted tuna in your mouth.
Grilled Sea Scallop
The scallop was grill perfectly and still chewy and tender. Taste become more flavorful and fresh when squeeze with the lemon.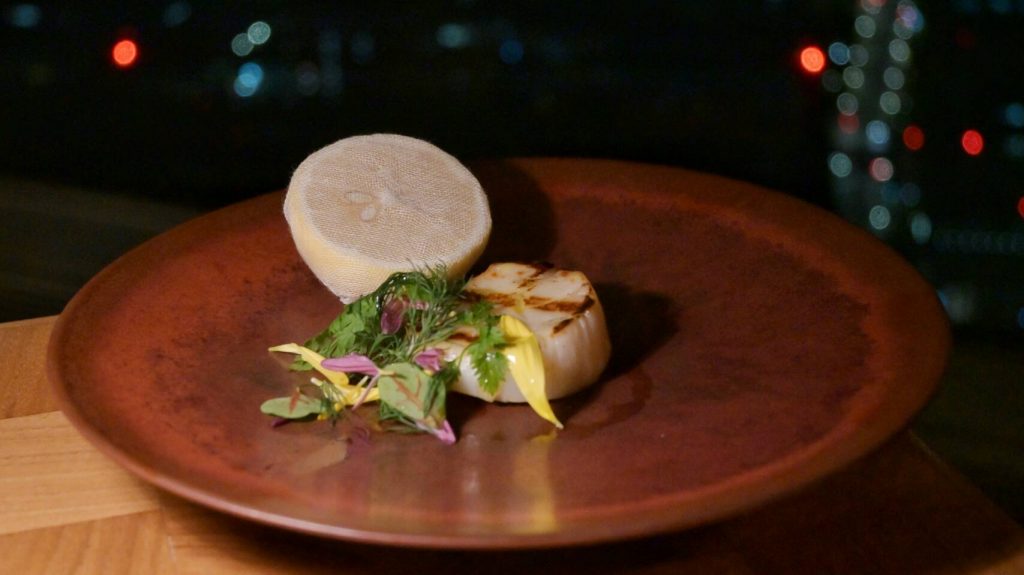 Snow Aged Beef
And this is one of the signature menu, the beef was grill in medium rare level with reddish inside but caramelized on side.
The texture was super tender and still moist inside. While the taste was slightly cheesy that came with the aroma. This is my very first time ate experience to taste snow aged beef that impressed me so much!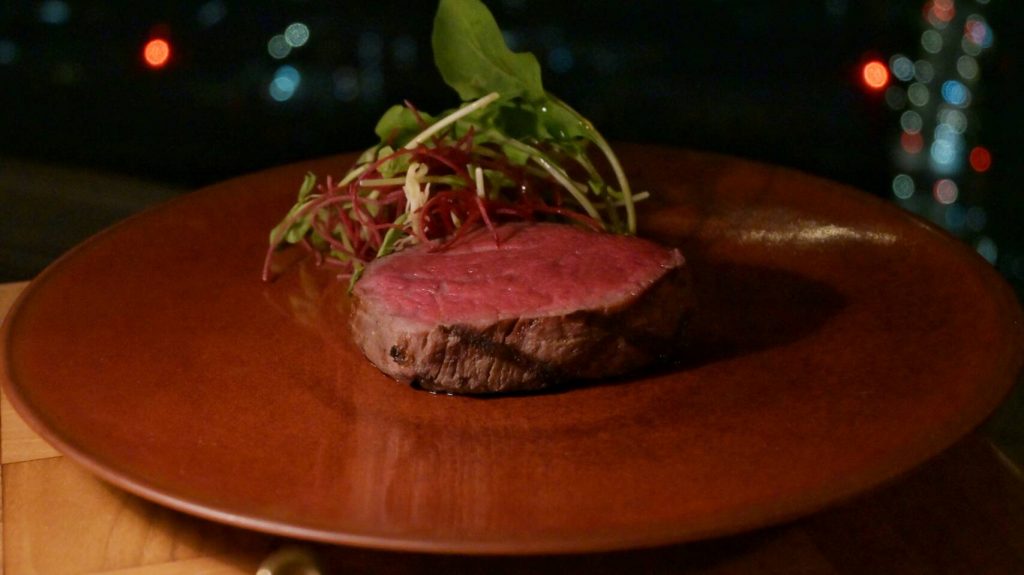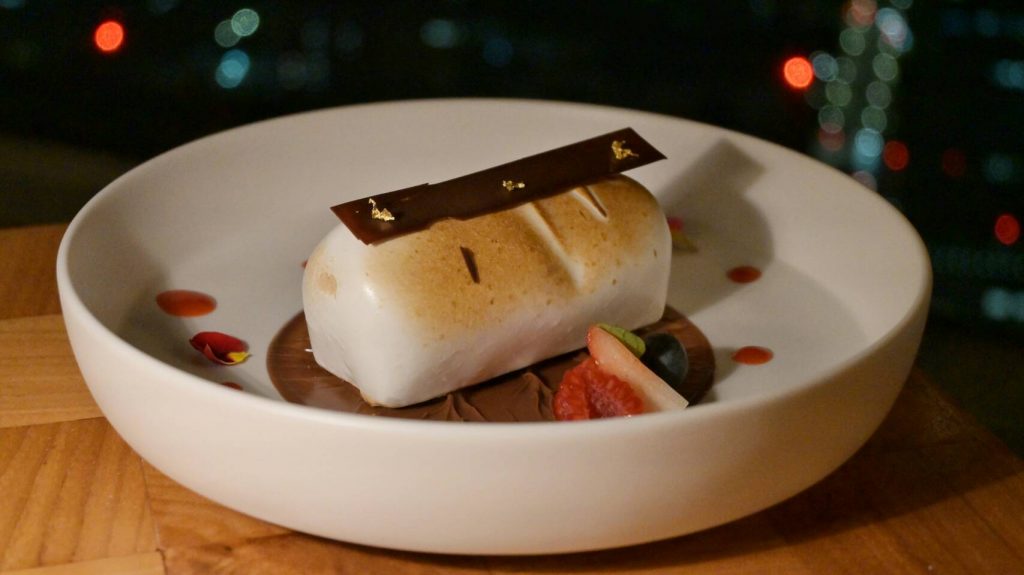 Andaz Tokyo Facilities
When you're not in your room or out doing sightseeing, you can enjoy the Ao Spa or gym at Andaz Tokyo Toranomon Hills Hotel.
The Andaz Lounge on the 51st floor is the heart of the hotel, where Andaz hosts engage with guests over check-in and make recommendations for exploring Tokyo. Complimentary coffee, tea and snacks are offered throughout the day, with wine, sake and canapes offered during evening hours from 18:00- 20:00.
The Andaz Lounge is an open, communal space for all staying guest that replaces the traditional lobby. In this relaxed, barrier-free atmosphere, guests can settle-in as Andaz hosts assist with the check-in and check-out process. With warm wood furnishings and comfortable chairs, guests are welcome to unwind and feel at home.
In the Lobby or reception, there's also some space where you can relax in comfortable sofas or bring your laptop to do some work.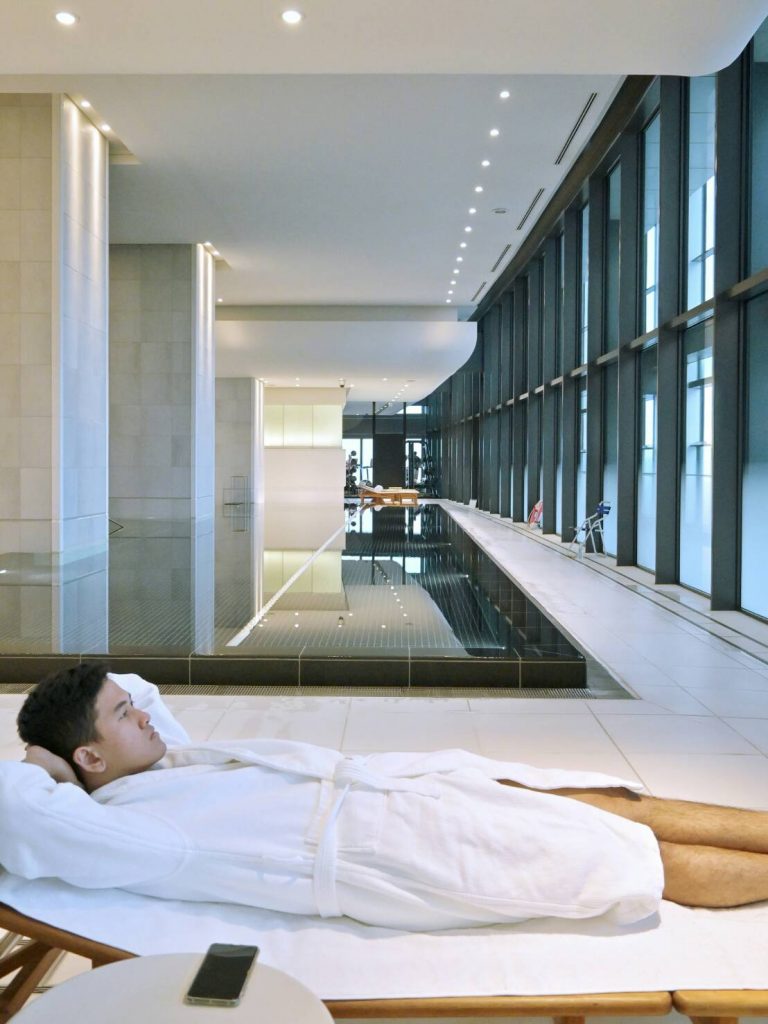 Staff
The staff was friendly and helpful at all times. The concierge at the 51st floor was great, and in addition to being friendly and helpful, the staff also spoke English fluently.
Location
The hotel is located in the business district Shiodome, which is an area of Minato, Tokyo, and from here you have access to almost every major station in Tokyo by subway. Actually in Tokyo, the location doesn't matter that much as long as you have near access to the metro. It's a huge city so every central location has its benefits and drawbacks.
Summary
We had a lovely stay at Andaz Tokyo Toranomon Hills Hotel. It's definitely one of the most luxury hotels we've stayed at. The location was convenient for sightseeing, the Wi-Fi was great, breakfast was good, and yesss the view is spectacular.
Gym, spa and the free-flowing drinks in the lounge, and the spacious rooms for being Japan are another valid plus points. And thank you for reading Hope you enjoyed my Andaz Tokyo Toranomon Hills Hotel review! Please see for more Hotel review in Indonesia and some region in Asia. See you next time.
MAP