If we talk about the place to chill out in Tebet south of Jakata, would definitely been a lot of ideas. Because as we know, Tebet is a place where the restaurant and hangout spot youngsters who had been a favorite since a few years ago. Therefore many restaurants that maximize the quality so as not to lose from this fierce competition between the restaurant. Among many restaurants in Tebet, Beken will tell you the latest restaurant in Tebet which could be the one choice and it's called Akasaka Tei Japanese Steak And Ice Cream.
Akasaka Tei restaurant opened on 9 February 2017, have an interesting concept of Japanese culture. Although relatively new, this restaurant already prove its quality when I and my friends came to this restaurant. The access to the restaurant is very easy, located in Jalan Tebet Barat and Akasaka Tei is located right by the roadside.
The building of the restaurant consists of two floors. Which is Akasaka Tei is located on the second floor. Apart Akasaka Tei the building has a lot of other restaurants. So if you visit Akasaka Tei address, don't be confused when you see there is another restaurant on the first floor.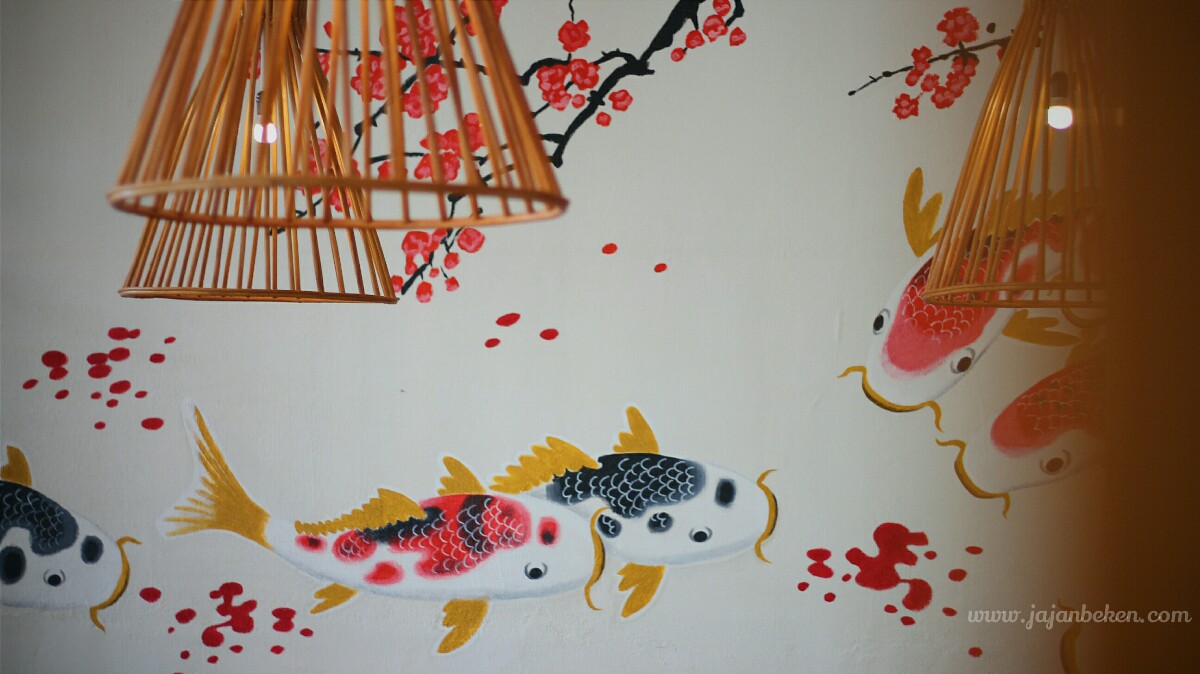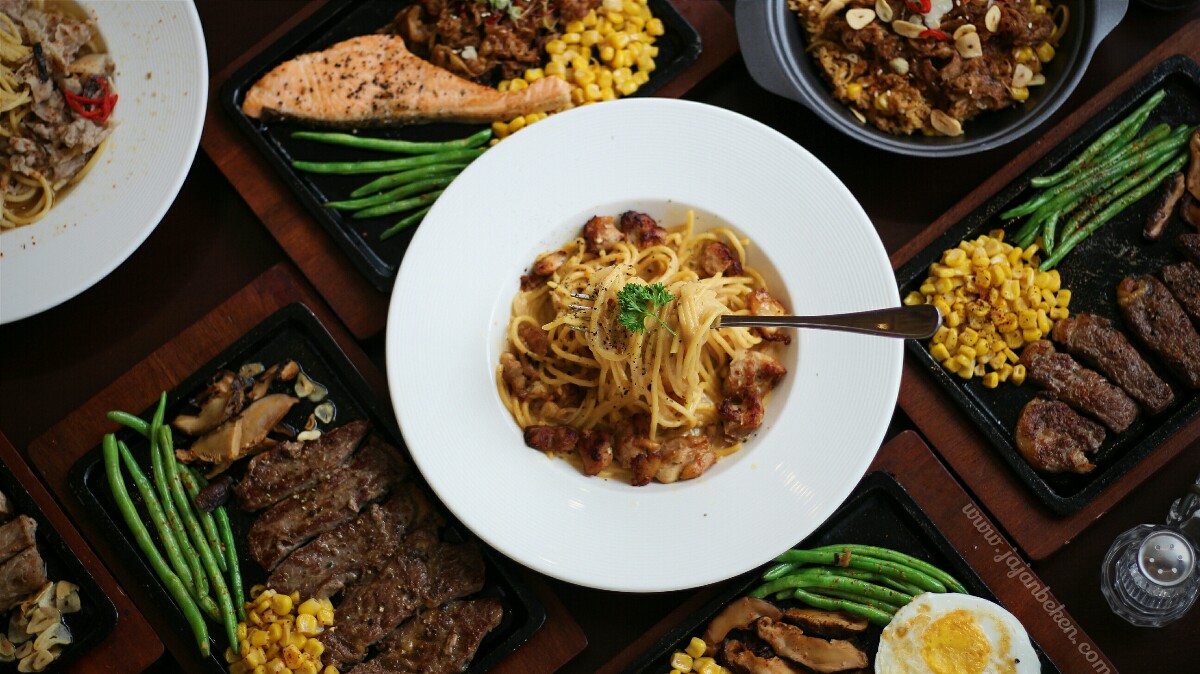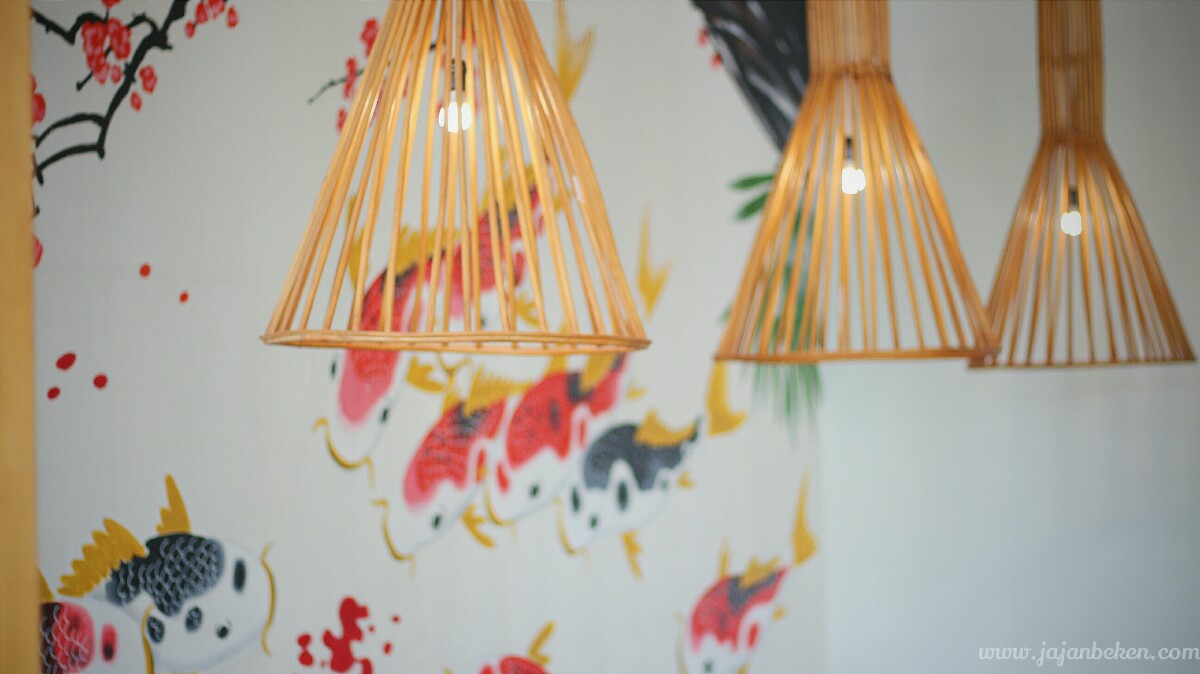 The Ambience at Akasaka Tei Restaurant
Akasaka Tei restaurant has a private staircase leading directly to the restaurant. Where the location of the stairs are located exactly on the side of this building. When we get to this restaurant I really like the Koi paintings on the wall.
White background with Koi picture, the room feels relax and no loud sound even though we were near to the road. I also don't understand why they have a concept like this, surely the painting was adorable.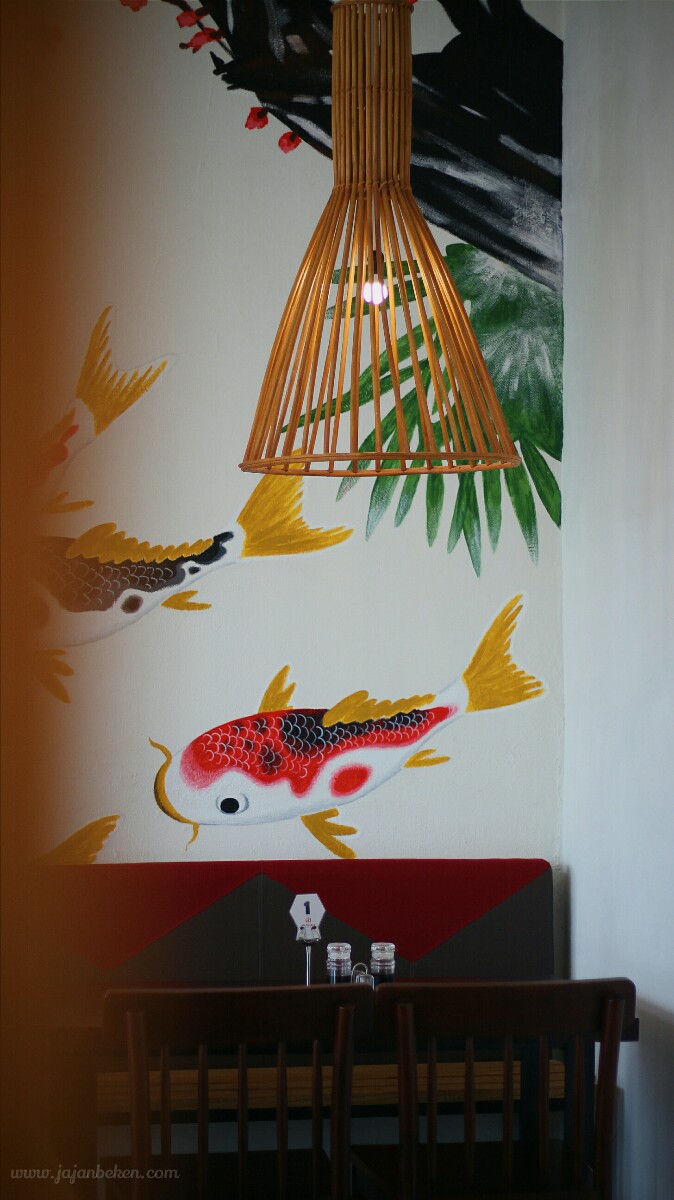 In this restaurant you will get two preferred seating option, one of which is Hori Kotatsu Style. Hori Kotatsu is Japanese dining table seating style as we know in Indonesia as lesehan but you can put your leg into the deep of the floor. The room is very cozy they provide a special cooling for this room. This room is suitable for you for those who want to bring the family to dine and catch up..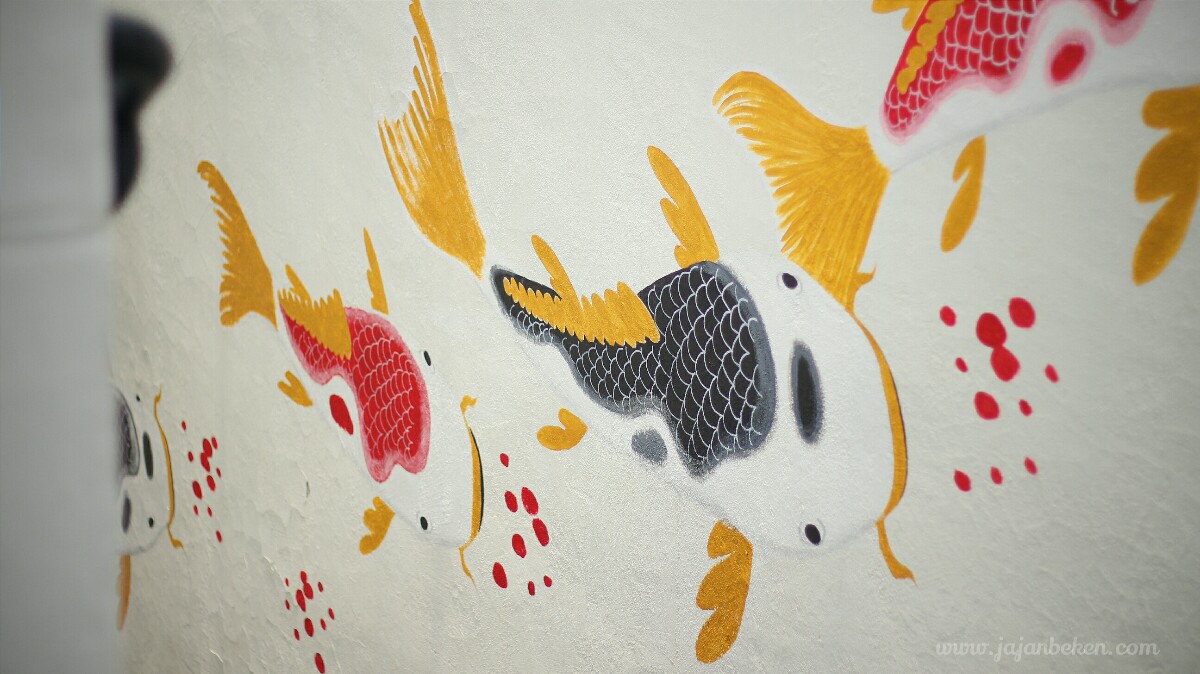 Akasaka Tei restaurant has two part spaces indoor and outdoor. The most interesting is an outdoor room, because there are a lot of very unique ornaments. At the time I neared this restaurant flower arrangements and colorful umbrellas which look very eye catching. And when I knew I would visit this restaurant with my friends. She was very joyous because she want to take pictures OOTD under the colorful umbrellas.
Talking about the outdoor room at this restaurant indeed endless, because there are many interesting things be talked about. At the outdoor tables are arranged very neat and very comfy. If you come to this restaurant along with many friends this place is very suitable because it's spacious.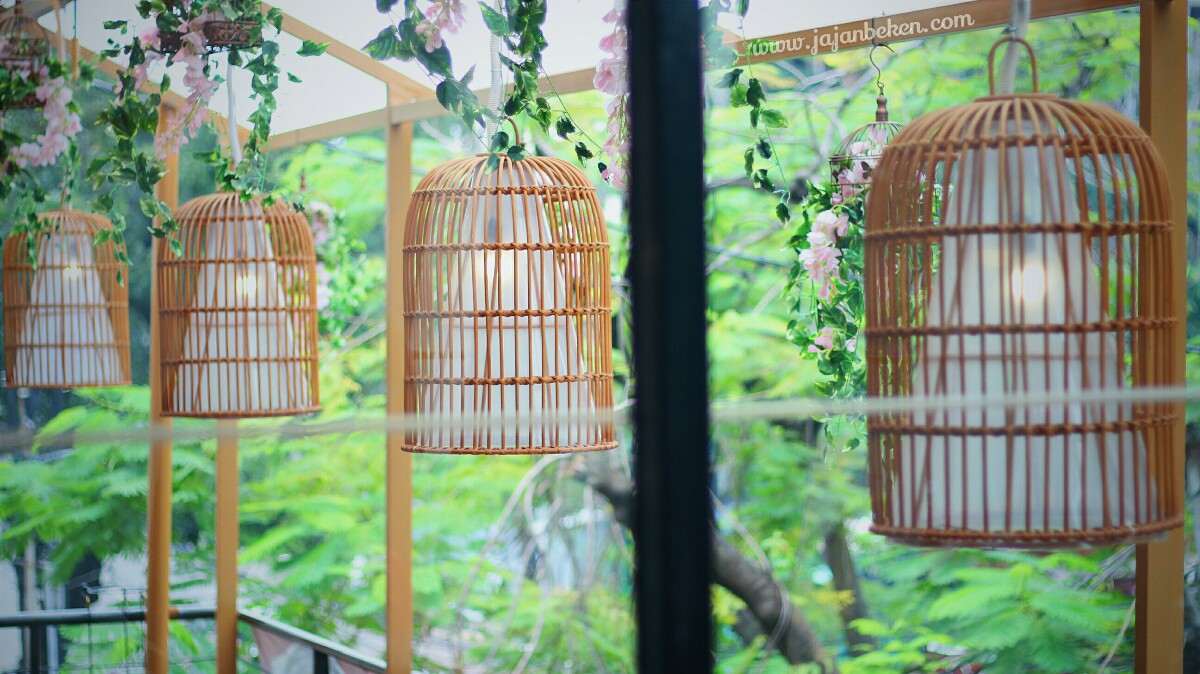 If you visit to a restaurant, certainly the most important thing for you is plugs and wi-fi isn't? If is true, you don't have to worry because this restaurant has prepared all that you need it. Wi-fi at this restaurant is very fast guys! You can stream or download quickly and will not run out of phone battery. Because the plugs are on each side of the seat and I hope you bring a charger 😀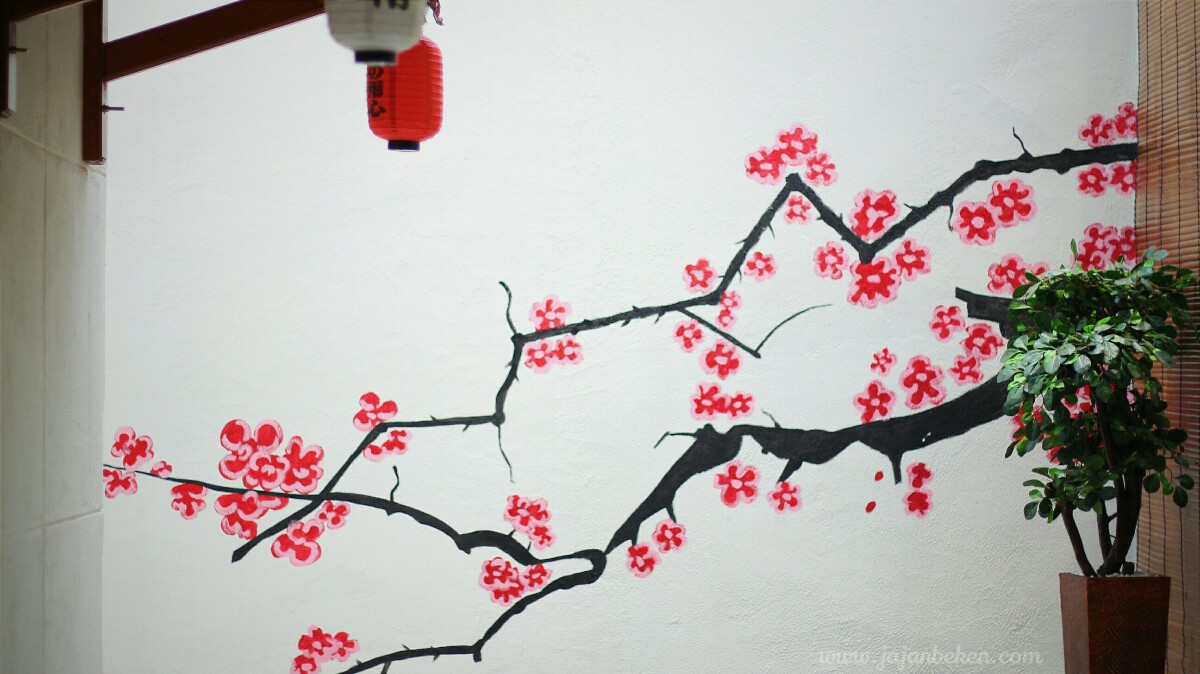 After we talked a lot about the ambiance at this restaurant, it's time we saw the food that were presented at Akasaka Tei restaurant. Do you want to know what menu was presented? let's see more articles below!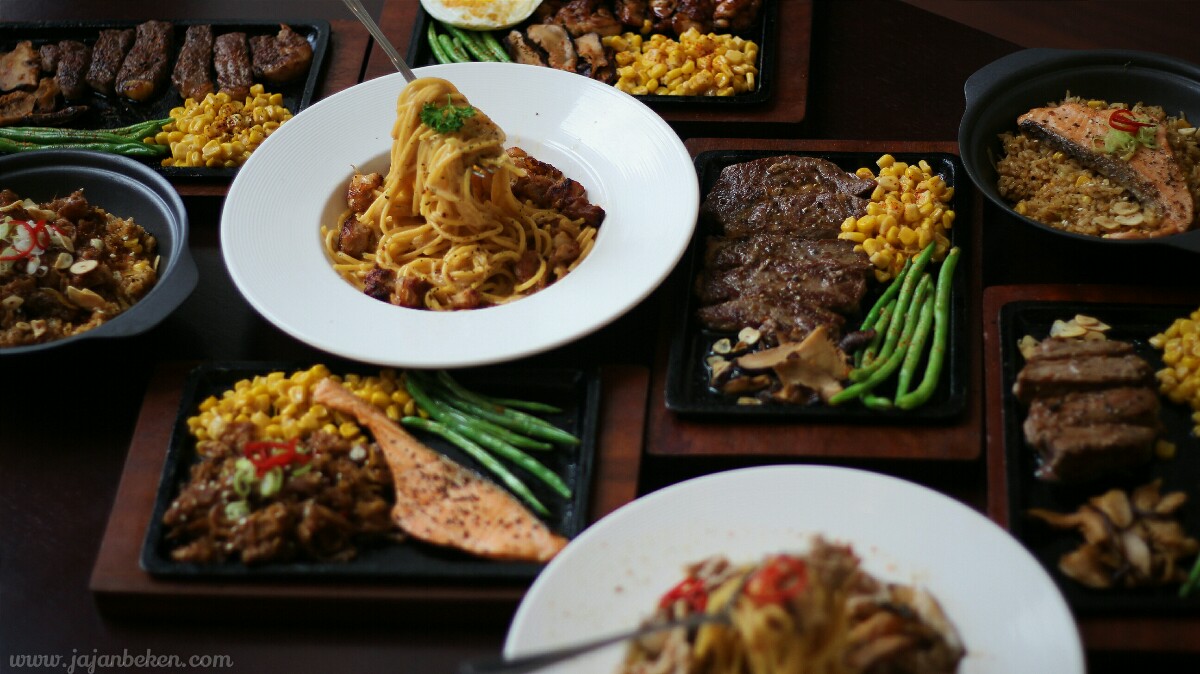 Japanese Fried Rice
The first dish we will talk about is the fried rice. Fried rice that they present is a typical of Japanese. And the taste of both the fried rice was very tasty. Let's we see the fried rice menu available here. Check it out:
Beef Fried Rice IDR 41K
This fried rice served with some topping selection such as grated corn, pepper slices, and thick cuts of meat. I think this is very tasty fried rice, in the presentation of a warm fried rice seasoning is deeply felt. The meat served is very tasty, the texture of the meat is very tender and very juicy. Meat more palatable tasty if we eat it with the sauce provided. This menu is the perfect combination of ingredients.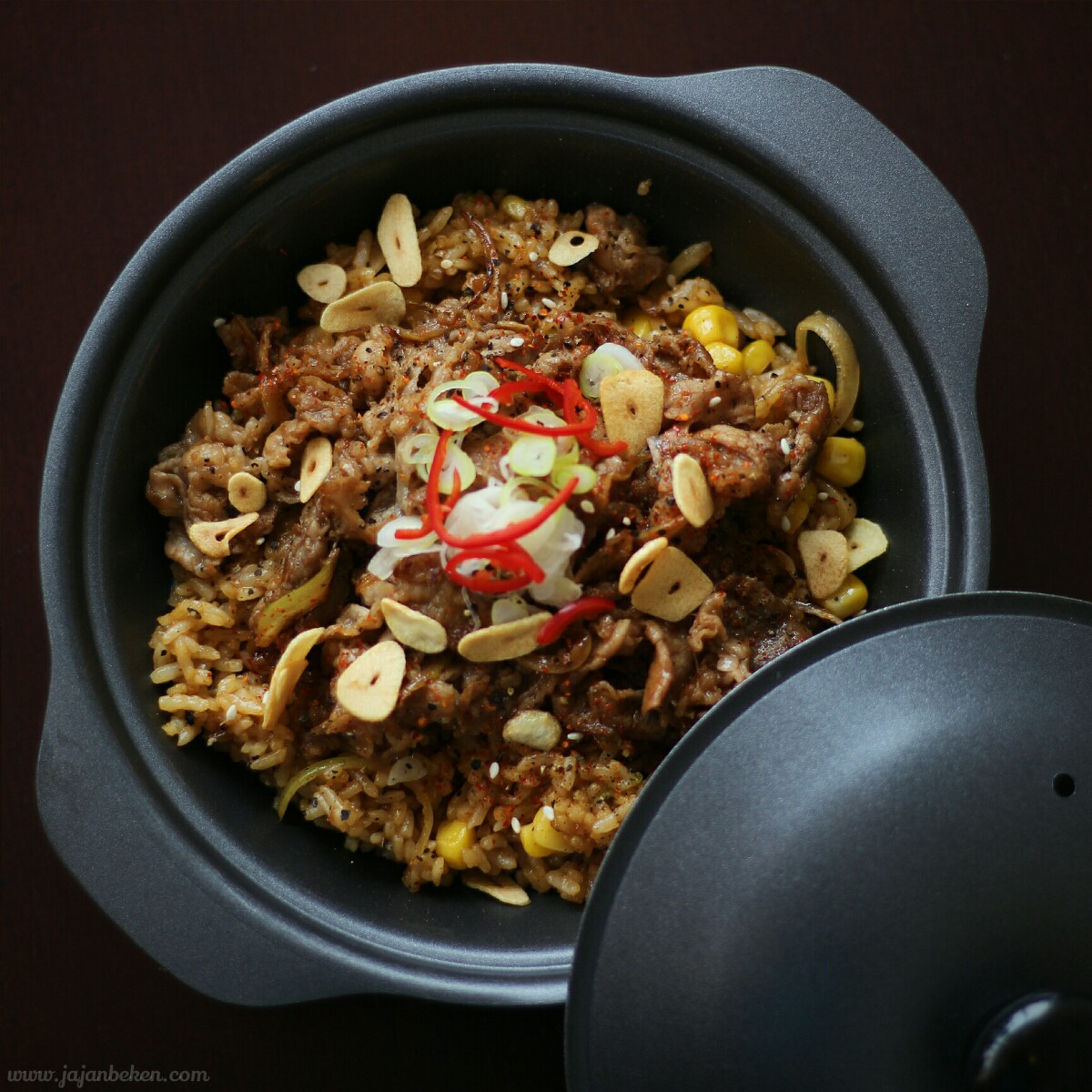 Salmon Fried Rice IDR 52K
Similar like in the menu above but this is for salmon lover. The most I like of the fried rice here is the texture of rice not too dry and not too oily. For the salmon seasoning taste was good. Servings of fried rice is also pretty big guys! So very satiating.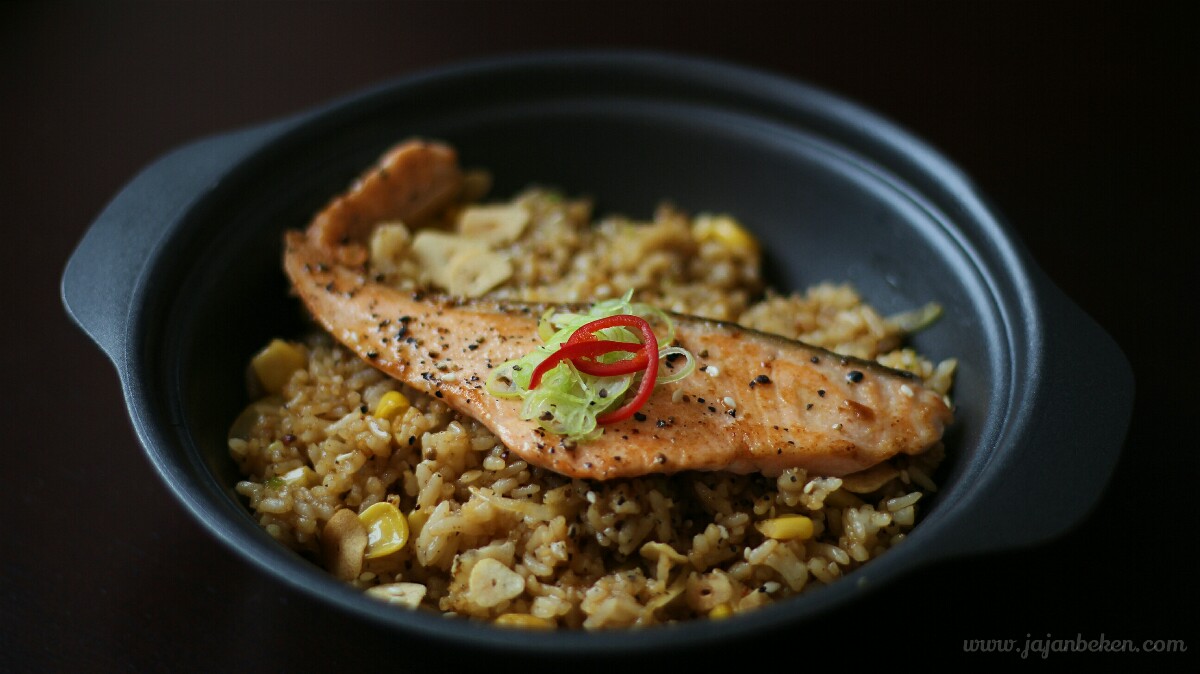 Seafood Aglio Olio IDR 46K
I really like the presentation of this pasta, the tuna broth quite strong . And I think this is very unique because they are using two ingredients like beef and tuna, such as a good collaboration. The broth tasted very fresh but not too fishy, but the spicy level still friendly enough in my mouth. And look at that I had on the menu was very cool isn't ? The fork was fly.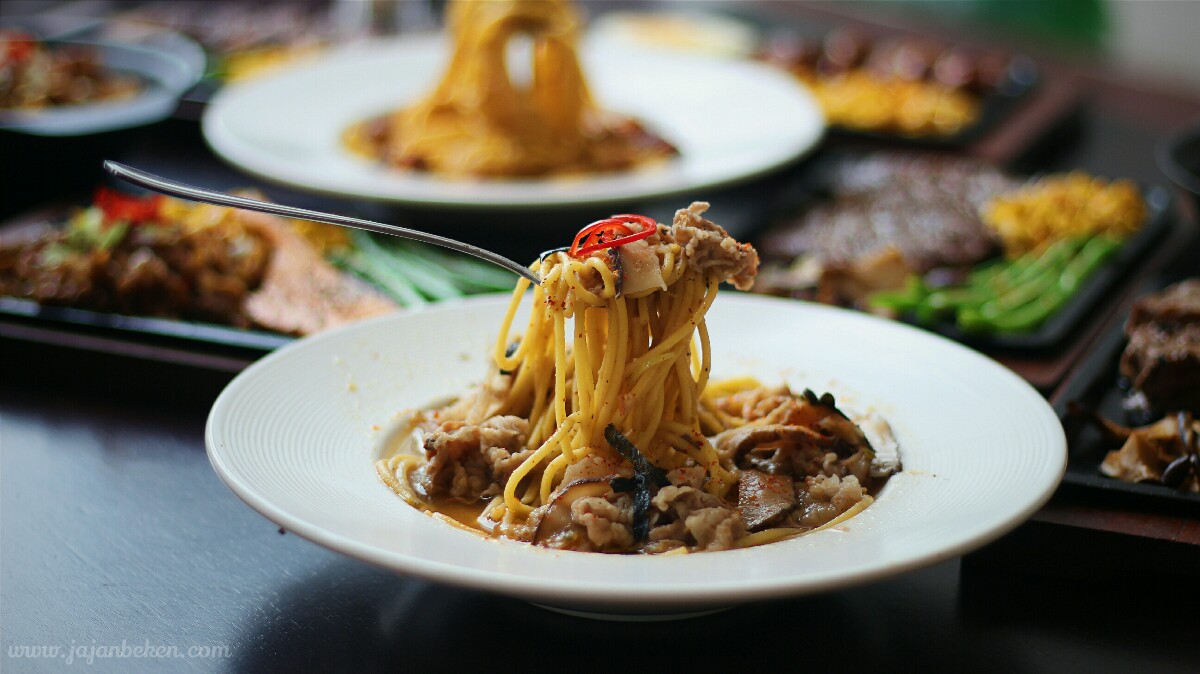 Cheesy Chicken Pasta IDR  48K
The next one is Cheesy Pasta! I love the creaminess and cheesy from the taste. The chicken was cooked very well. Both of these two pasta has al dente and enjoyable to eat.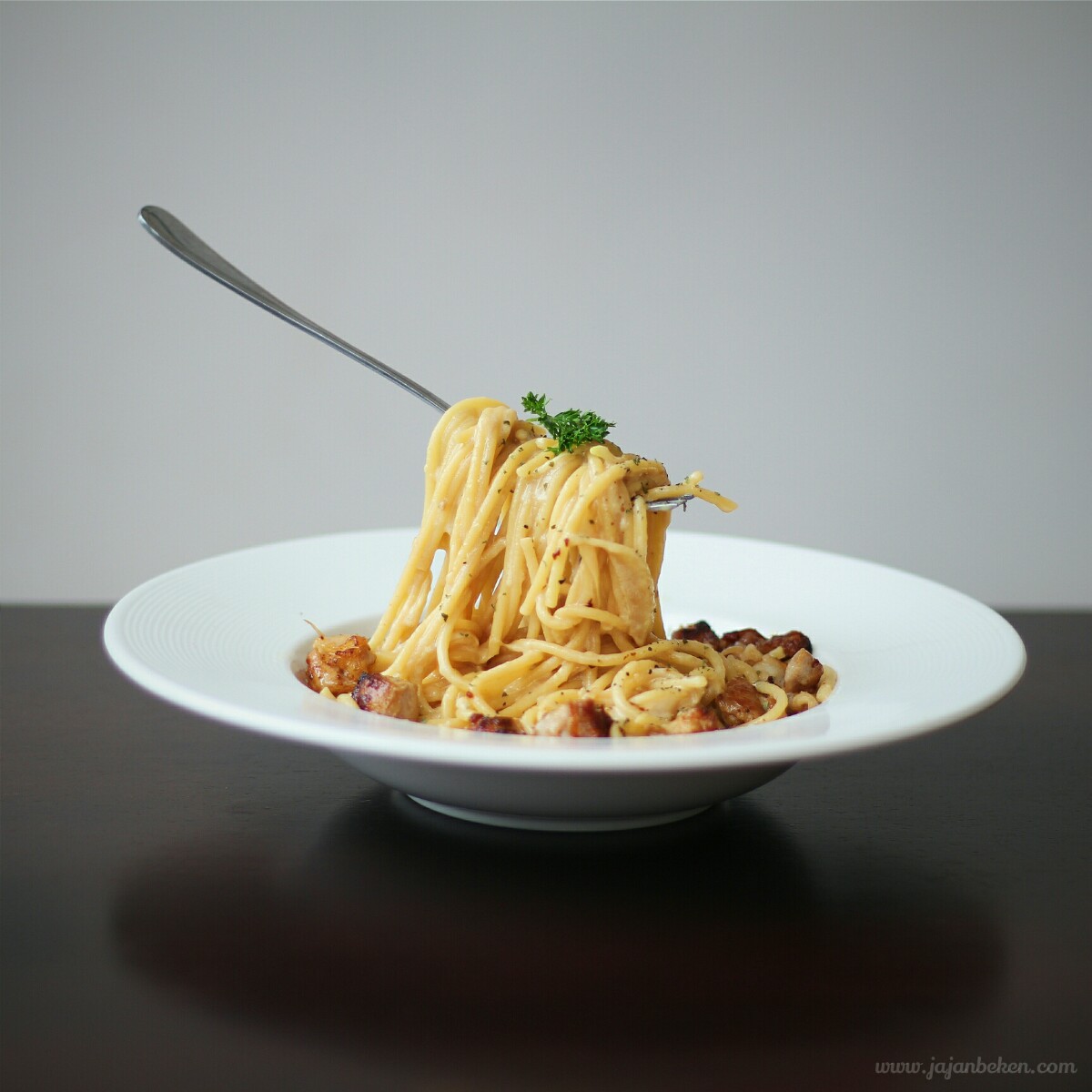 Beef & Salmon Steak IDR 76K
The first Japanese steak that i have tried is Beef & Salmon. The beef was cut into slices and the salmon grilled not too dry so it's still juicy.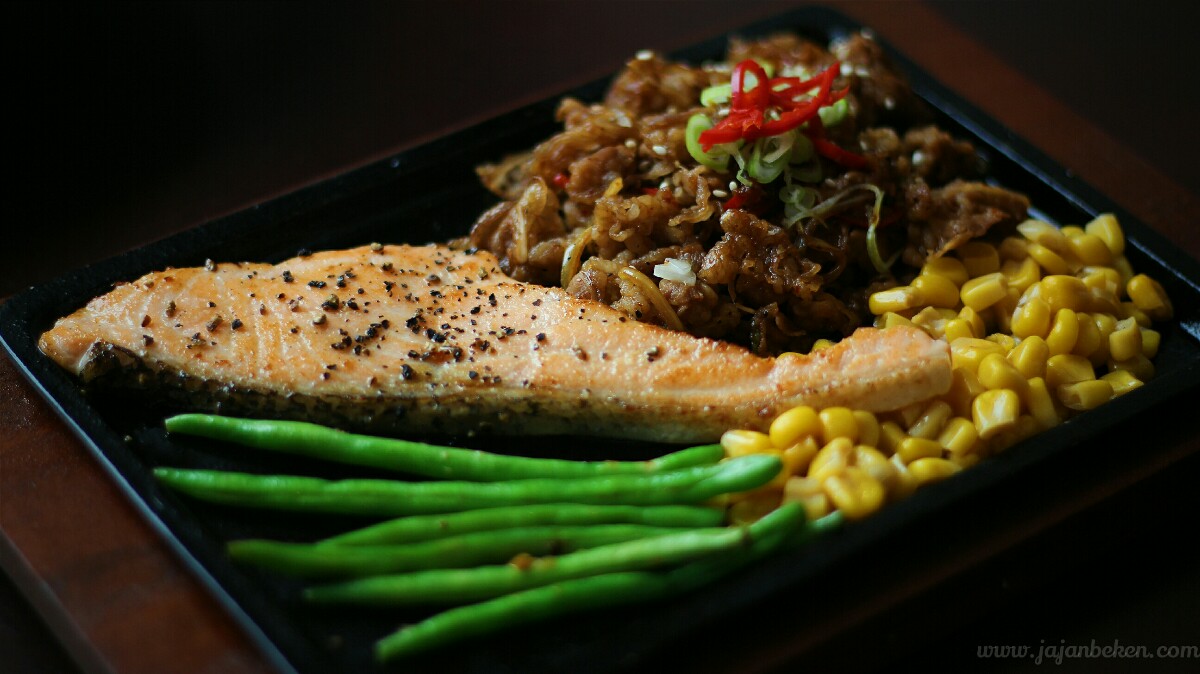 Prime Rib Eye Steak IDR 146K
This! My favorite steak at Akasaka Tei. The rib was very juicy and tender, they made it with medium rare and I love the texture. The seasoning marinade seep well into the meat so that make the taste so savory.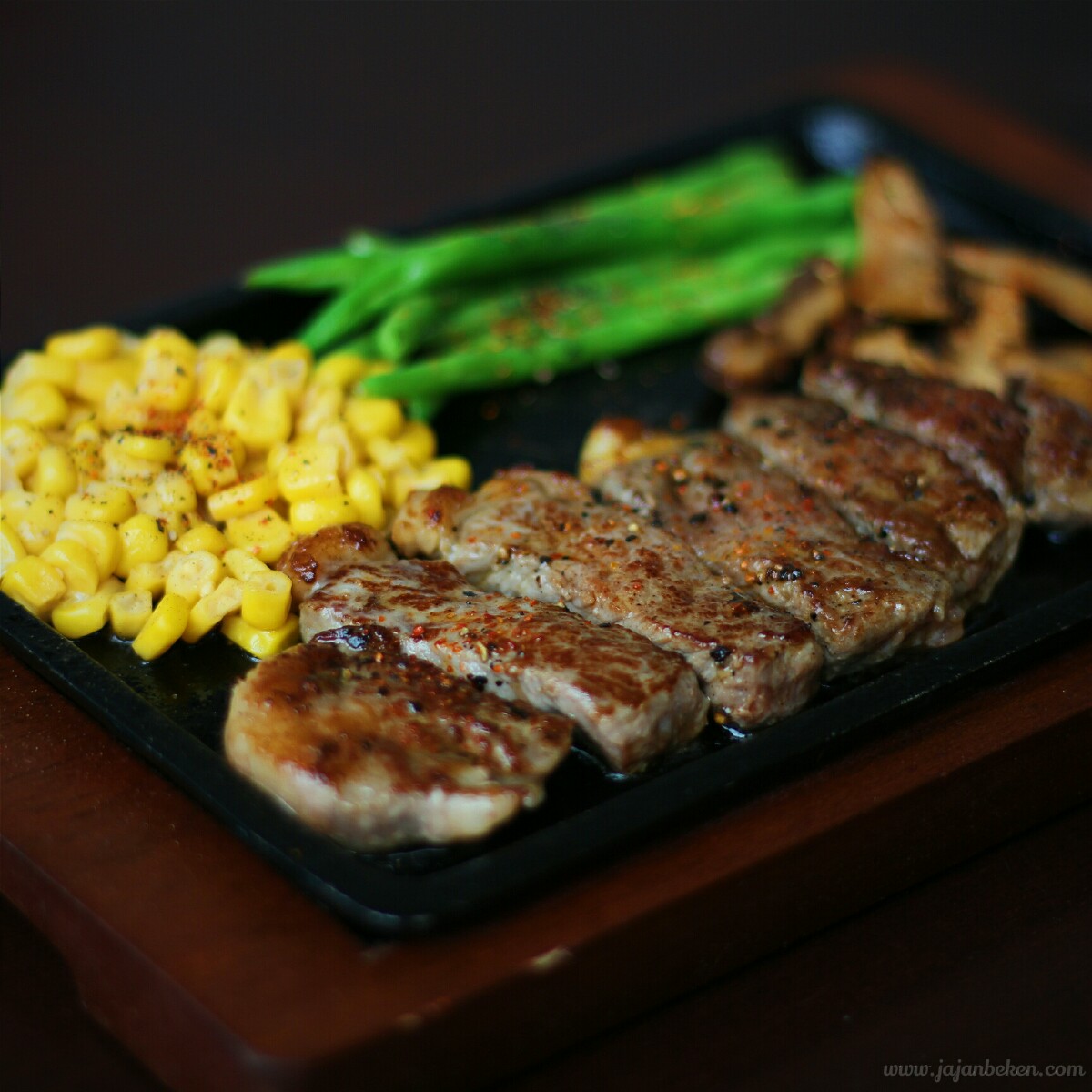 Prime Tenderloin Steak IDR 154K
Another heavenly taste! This steak was enjoyable, even though the meat was well done made but it's still easy to cut and bite.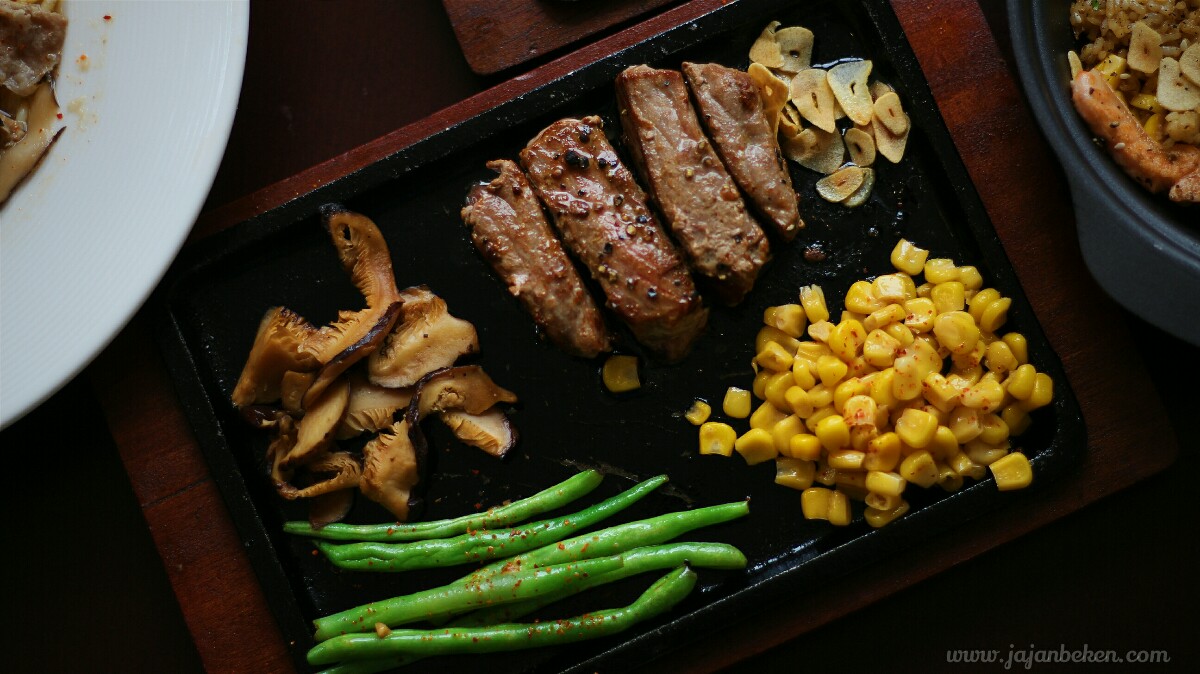 Prime Sirloin Steak IDR 116K
When sirloin steak was grilled and cooked with very well you can find a steak like in Akasaka Tei. Even though the meat not too tender like rib one (in previous menu) but it's still quite moist and easy to cut. May I say this one is made by a clever chef. Well done!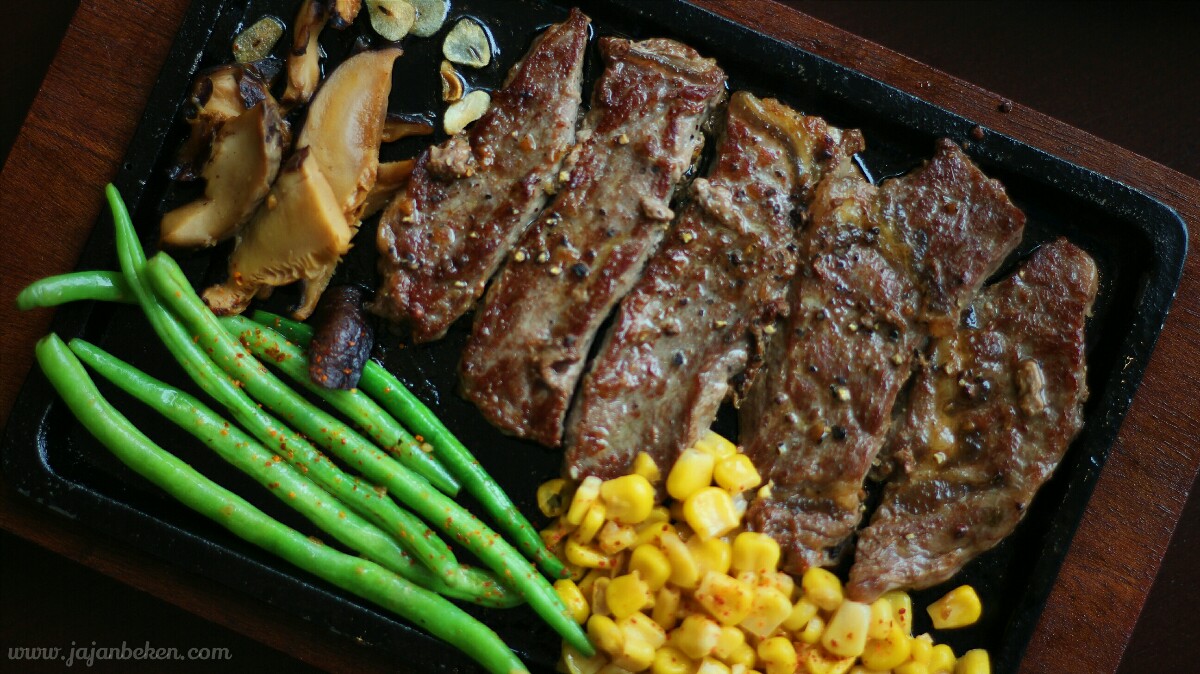 Chicken Teriyaki Steak IDR 54K
I love this steak! Why? The chicken is tender, the cook level was perfect, the surface not too burn but still juicy inside, in simply word the appearance was totally make me craving. Sweet, savory, salty enriching the taste and not forget a complete condiment by sunny side up and those healthy vegetable. Love love this one!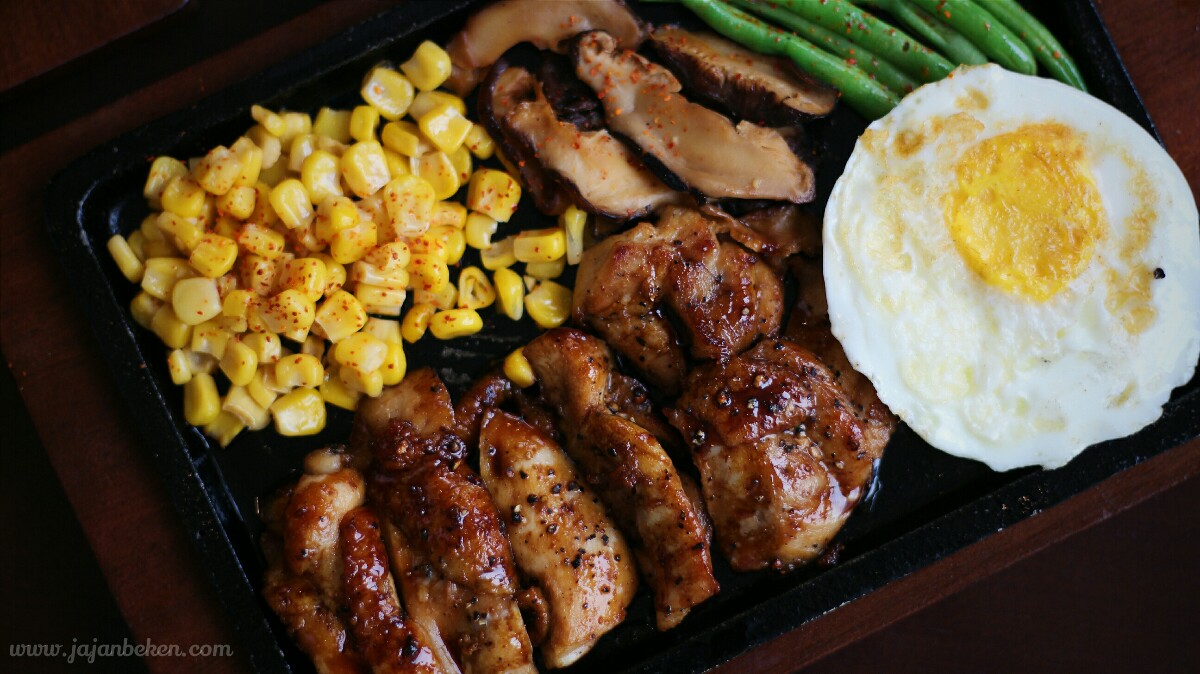 Sticky Rice & Pineapple IDR 30K
I tell you that this desserts is dangerous! Why? Because all the ingredients was succeed to make me don't want to go home. I really really enjoy them so much. Combination between taste versus texture was totally amazing.
The smoothness of ice cream, the glutinous sticky rice meet the freshness sweet-sour of pineapple setup and the last is dressing by condensed milk and caramel sauce! Why oh why this is truly lovable! Sure I will go back for this!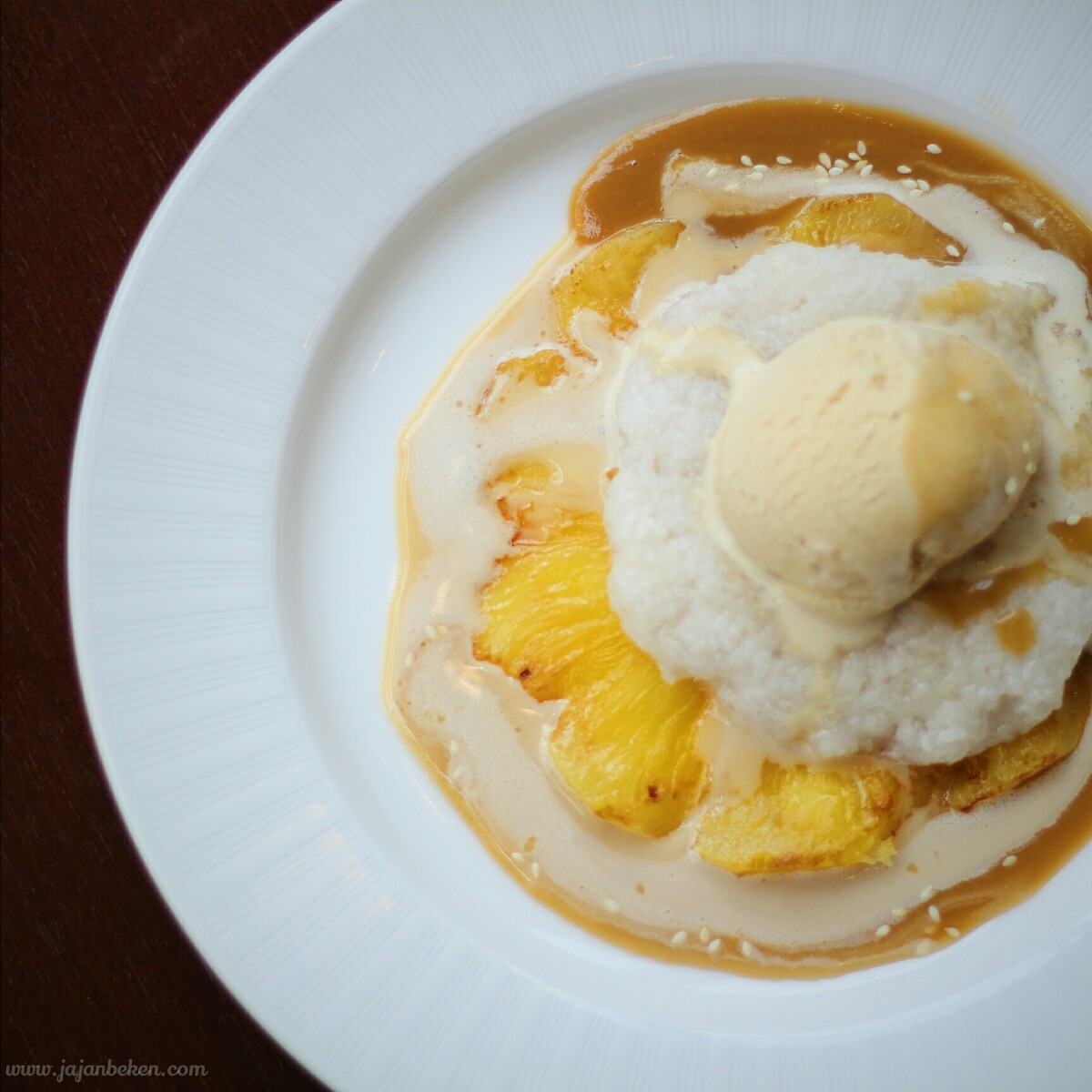 Chia Seed Chocolate/Matcha Pudding IDR 30K
This is my first time eat Chia Seed, it's like a basil seed (selasih) but it wasn't. They made it in pudding and topped by lychee. The consistency is semisolid and you will feel a sprinkle in your mouth when you eat it. There are two choices of matcha and chocolate, and I love the matcha one.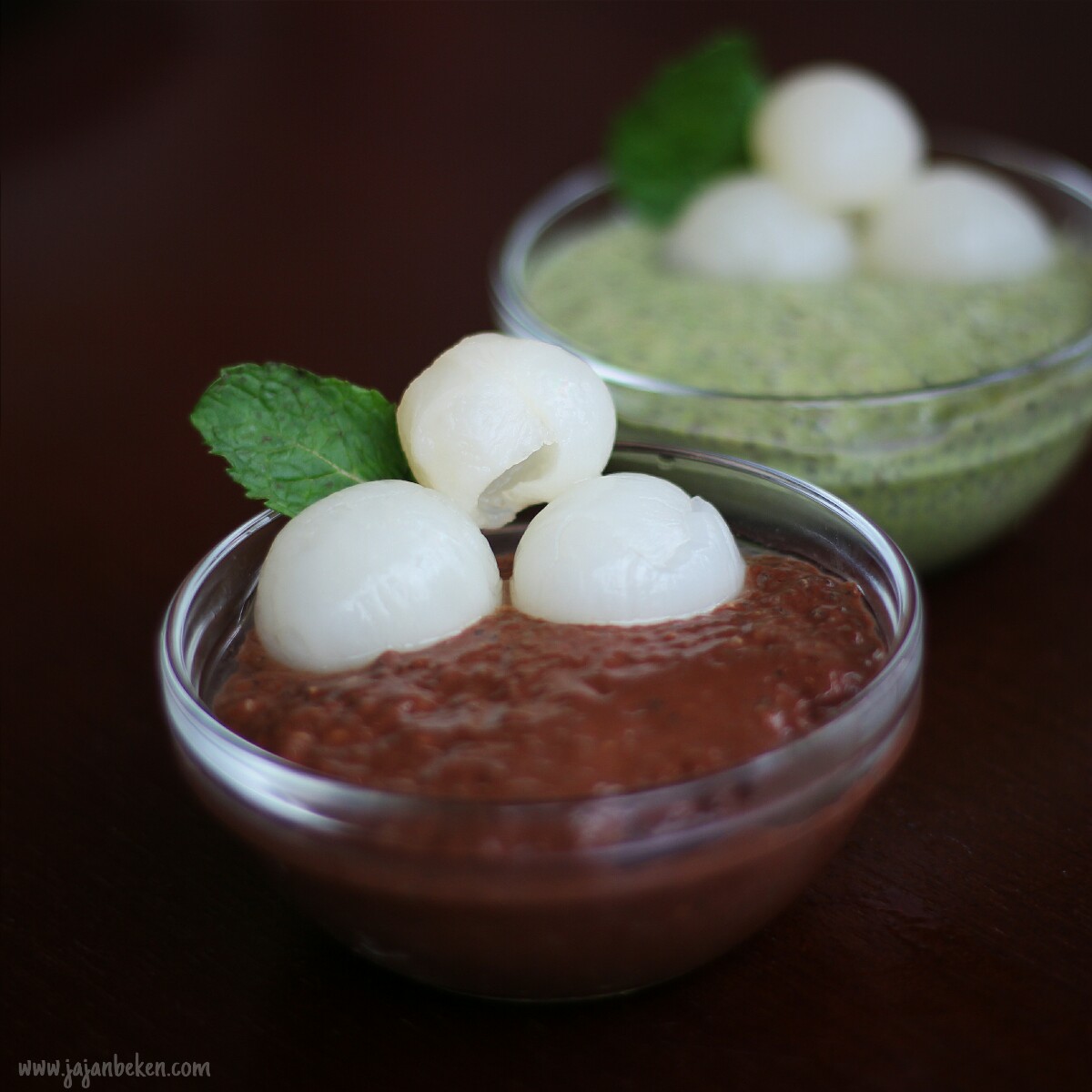 Hokaido Ice Cream IDR 13-18K
Akasaka Tei also serves Hokkaido Ice Cream. There are some interesting flavor that you can try like Matcha, Ogura, Goma, Sea Salt Caramel, Milo, Coffee Ole, Chocolate Mint, Coconut, Srikaya, Lemon and Hazelnut Pearl. I love Goma (Black Sesame) it's remain me with desiccated sesame seed with roasted aroma, and not forget the texture is really smooth. Recommended!
Next visit I will try the coconut, coffee ole, srikaya and sea salt caramel.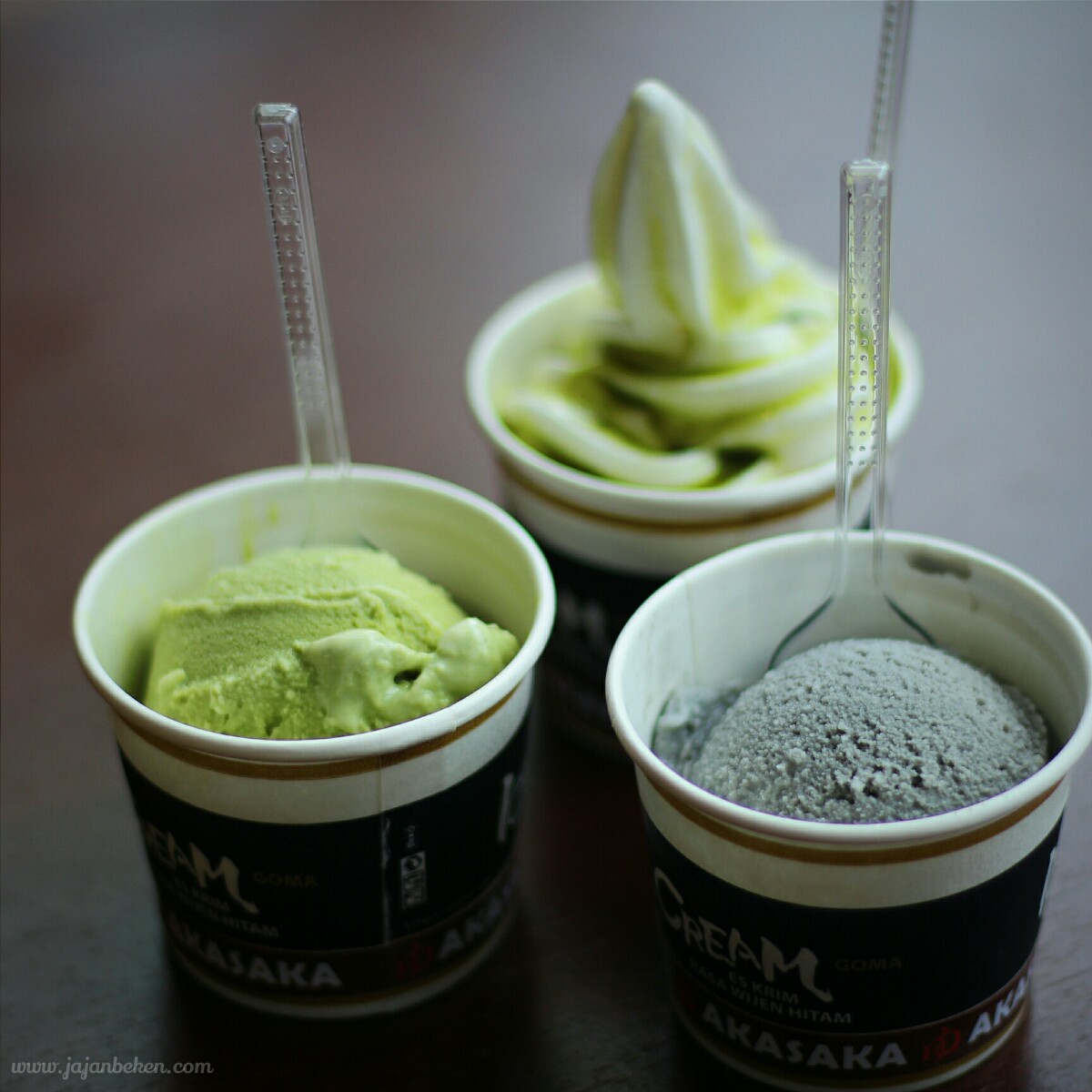 Akasaka Tei Drinks Menu
Don't forget to try the drinks it's so fresh and tasty. Like this one!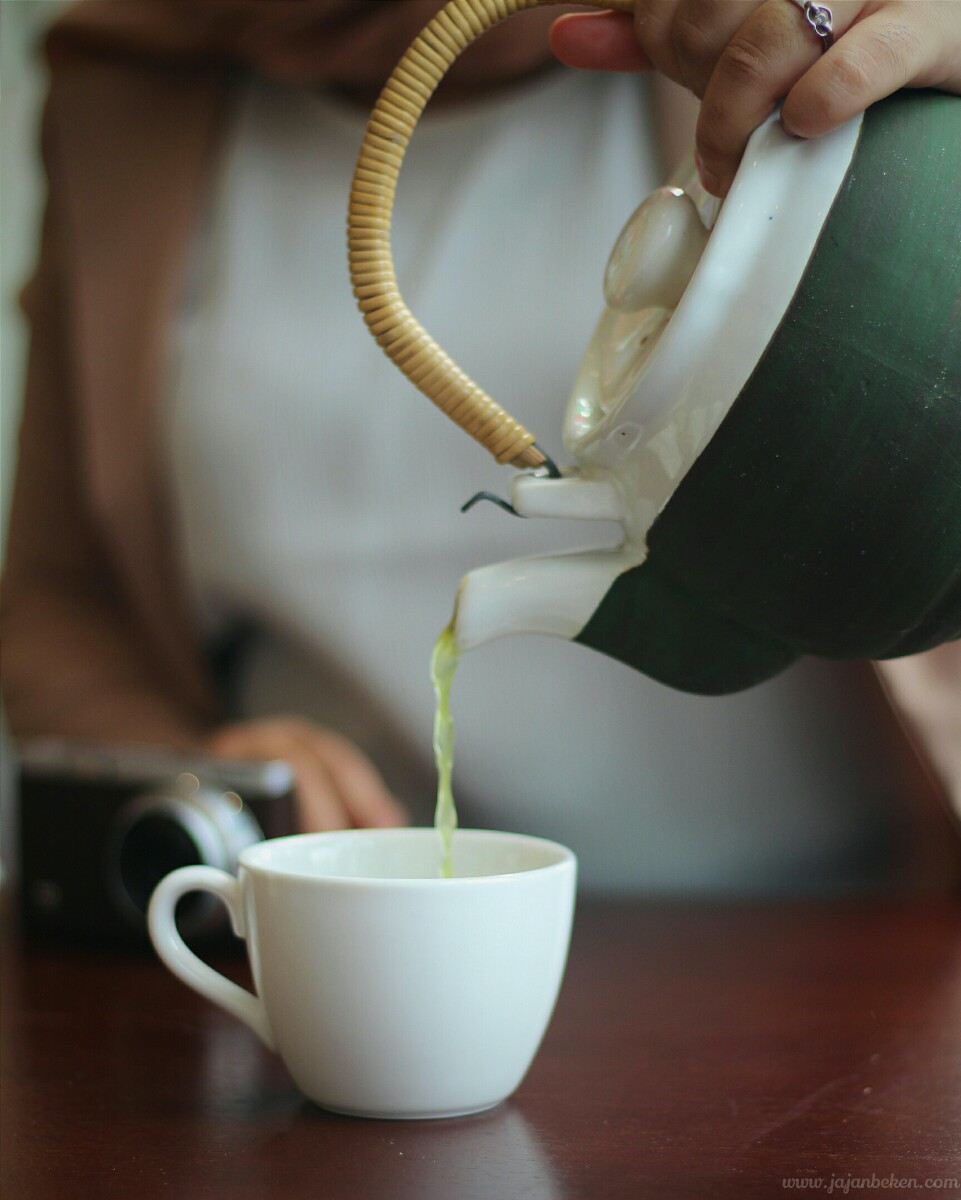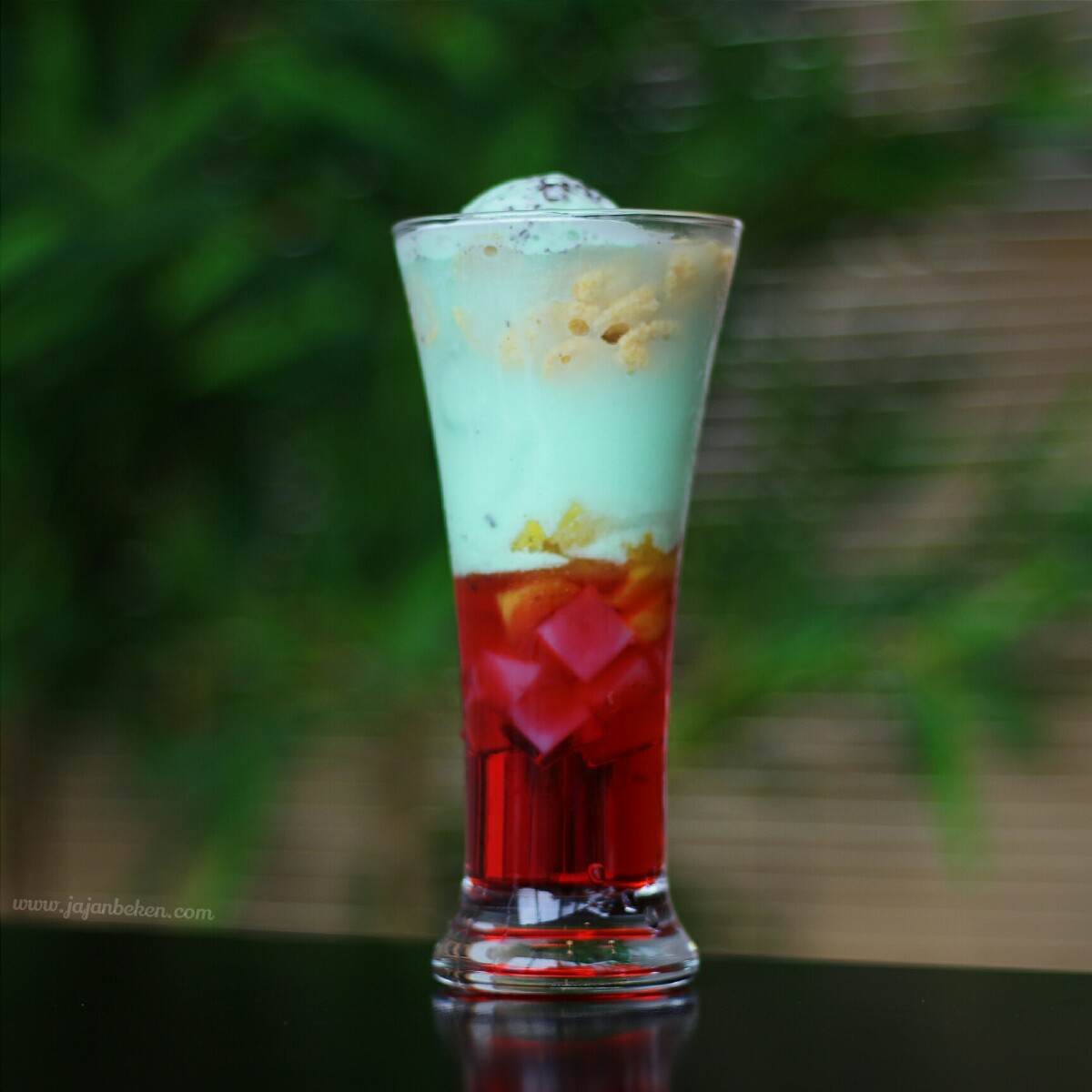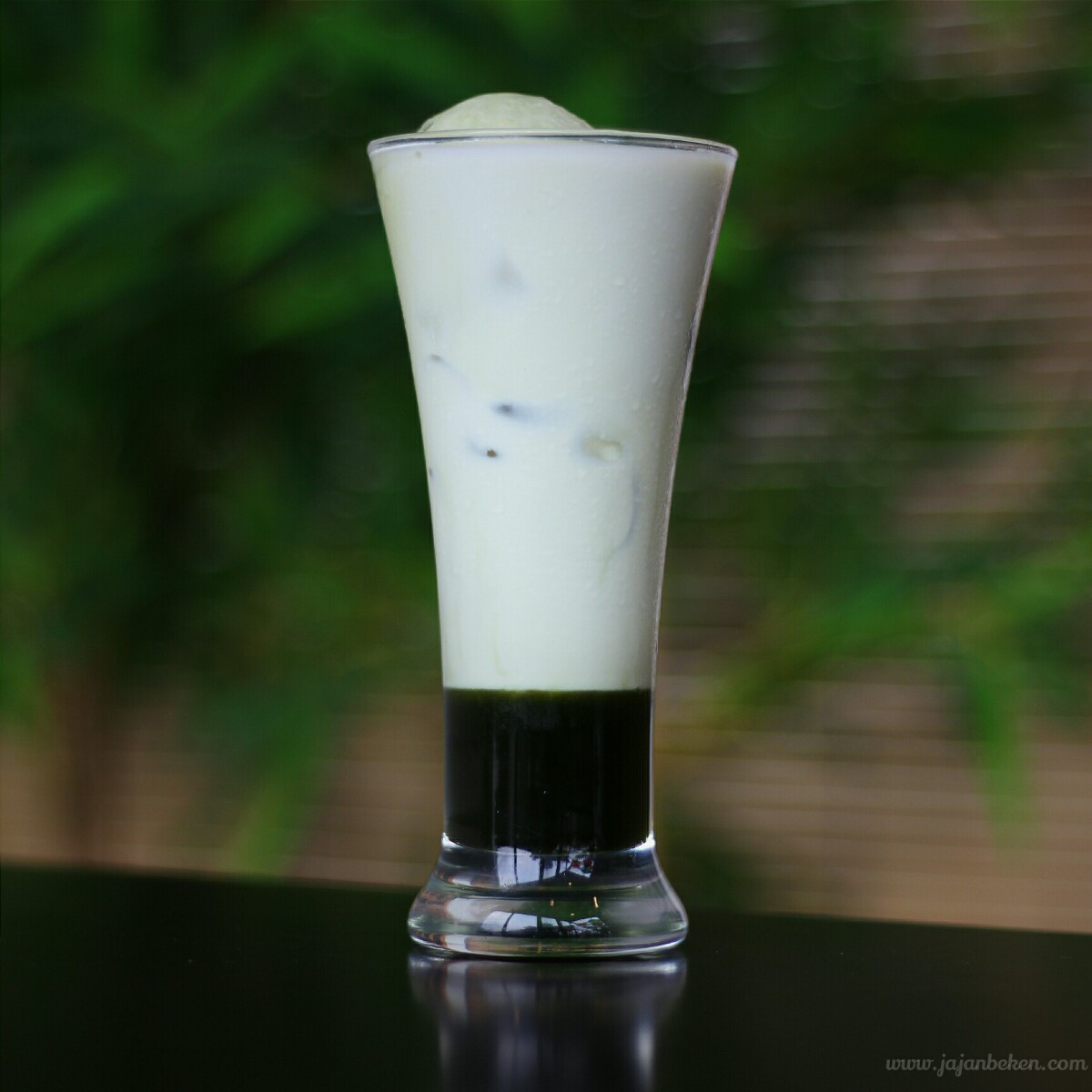 Akasaka Special Package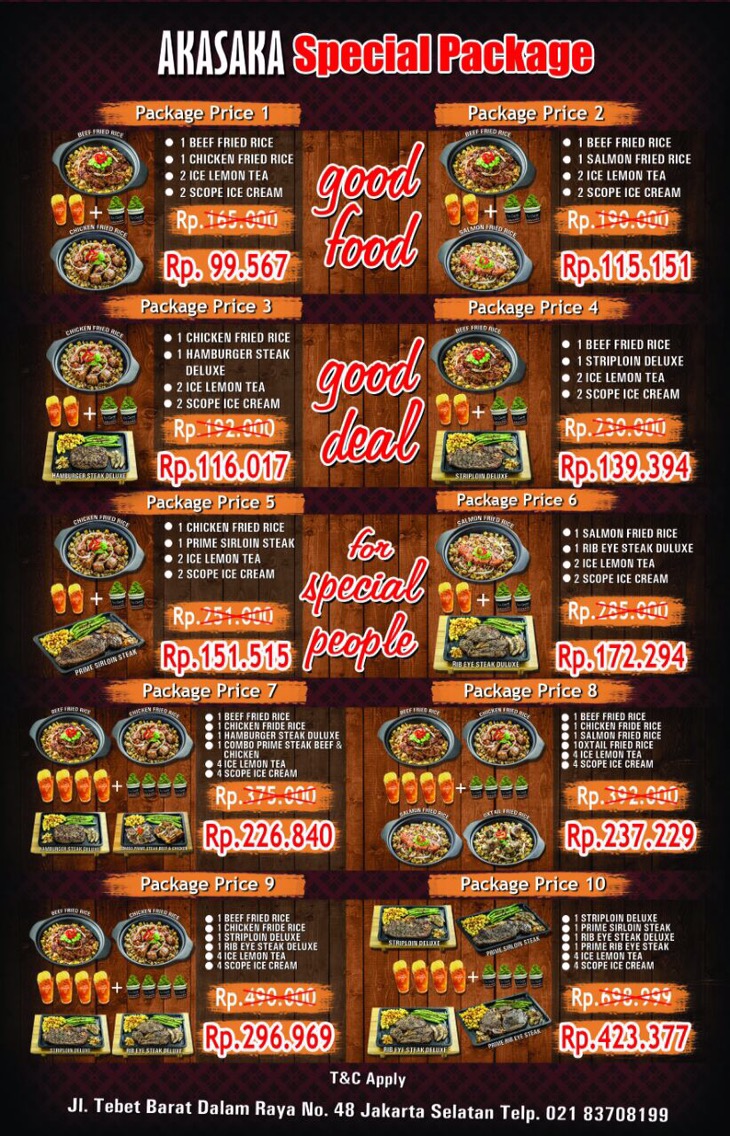 That was my culinary story at Akasaka Tei. This restaurant has a complete package in menu, place and the most importance the service! All menu that I have tried was satisfying me much, I mean the chef know so well how to please the guests. The place also adorable with beautiful painting and authentic Japanese decoration style not to mention the outdoor also has a comfort point to sell.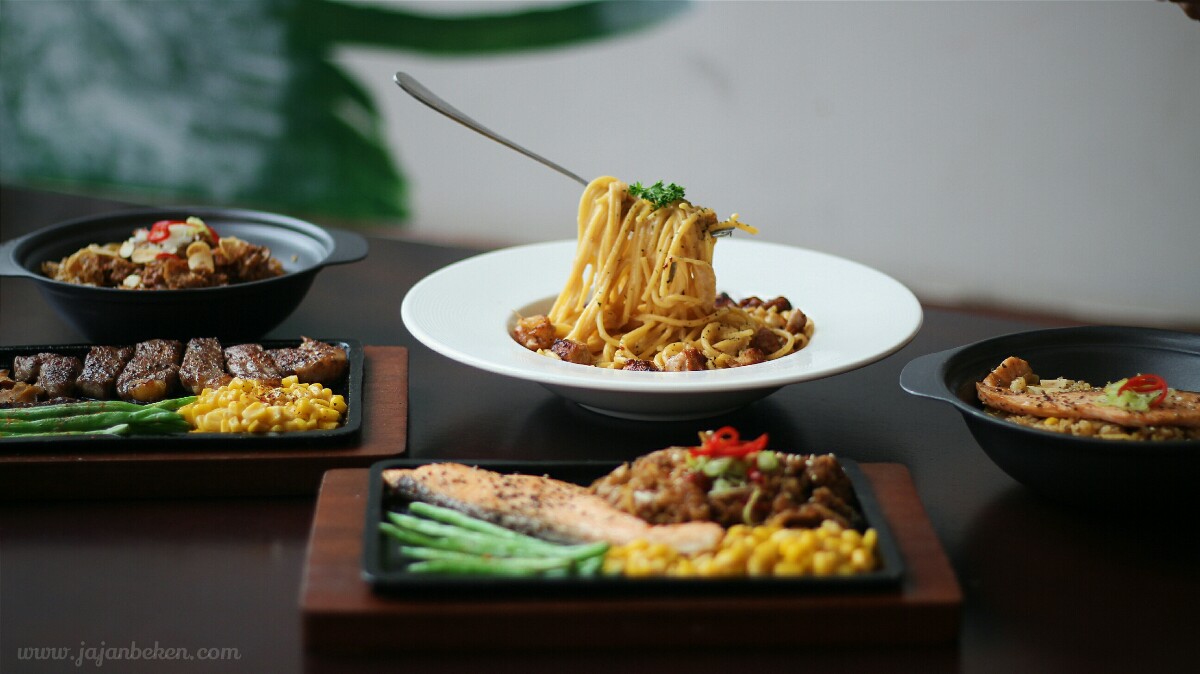 And finally they have a good service and manner, please pretend this. I believe Akasaka Tei will become a compete restaurant in Jakarta, especially in Tebet area which is a place with a plenty food direction. The final word thank you very much for reading, and see you in another culinary story with JajanBeken!
RATING
Ambience : Excellent
Taste : Excellent
Service : Excellent
FACILITIES
Wifi : Yes
Plug : Yes
Dine in : Yes
Outdoor : Yes
Toilet : Yes
Parking : Yes
CONTACT
Address : Jl. Tebet Barat Dalam Raya. No.48, Tebet Barat, Tebet, Jakarta Selatan, Jakarta 12810, Indonesia
Phone: +62 21 83708199
Instagram : @akasaka_tei
Facebook : @Akasaka.Tei
Twitter : @akasaka_tei

INFORMATION
Open hour :11AM – 10PM
Price : Average Rp200.000 for two people (approx.) Cash and Cards accepted