We are so happy that now Lippo Mall Kemang have one new Vietnamese Restaurant call Com Ngon. Com Ngon means "delicious rice" in Vietnam, therefore this restaurant always serves good food like rice which is the same food for Vietnam and Indonesia citizens.
Com Ngon Jakarta serves selected Vietnamese food ranging from steamed, grilled to boiled. Com Ngon Kemang Village really concern about originality therefore they plant various herbs and spice from Vietnam on the rooftop of the restaurant as ingredients for their menu. Talking about quality, Com Ngon Jakarta is concern to the public preferences so they don't use MSG in their food.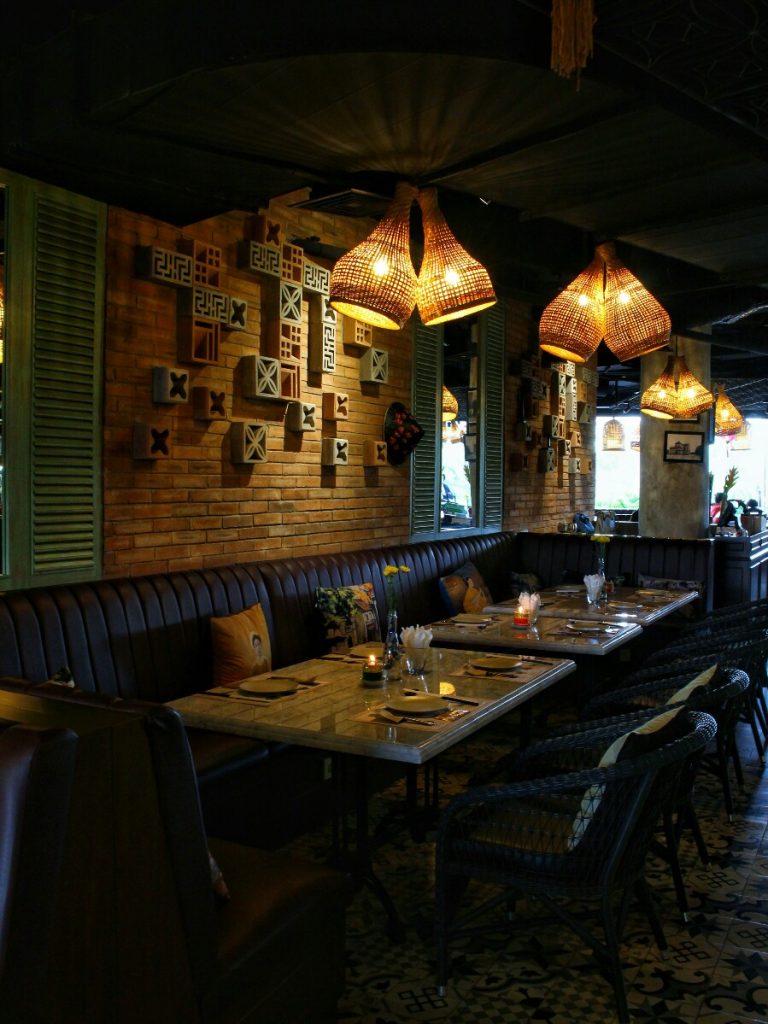 Com Ngon have a good ambience. The interior will make you feel like home. A lot of comfy sofa that quite big and spacious. Many bamboo and clay as the element to representing Vietnam vibrant.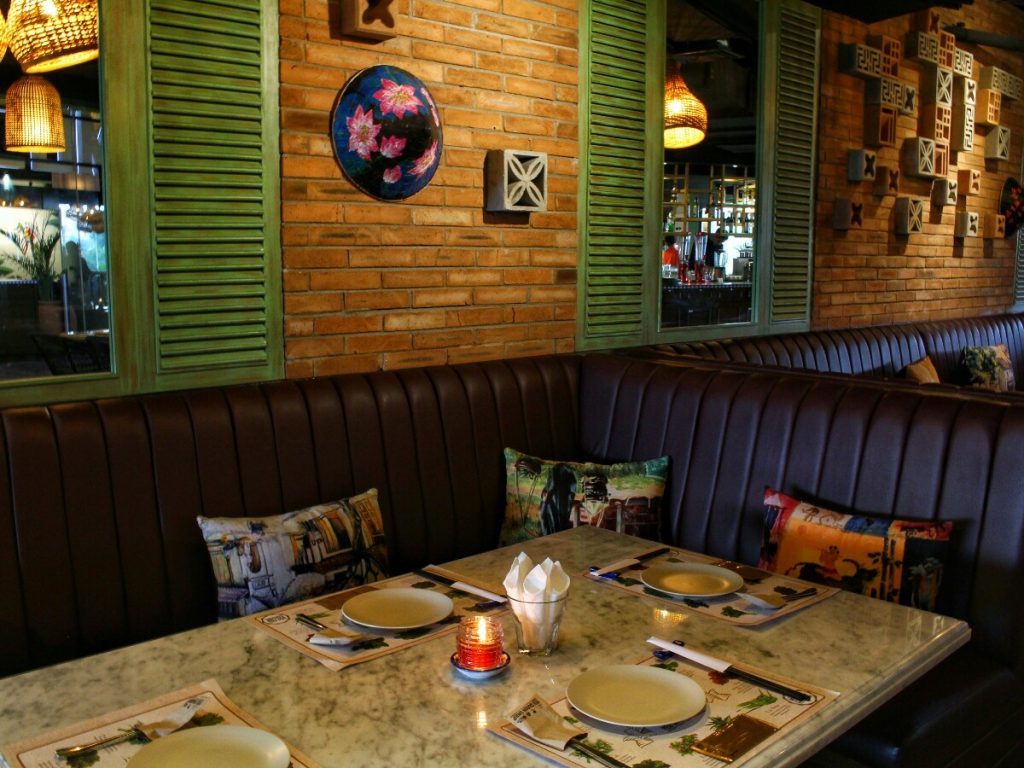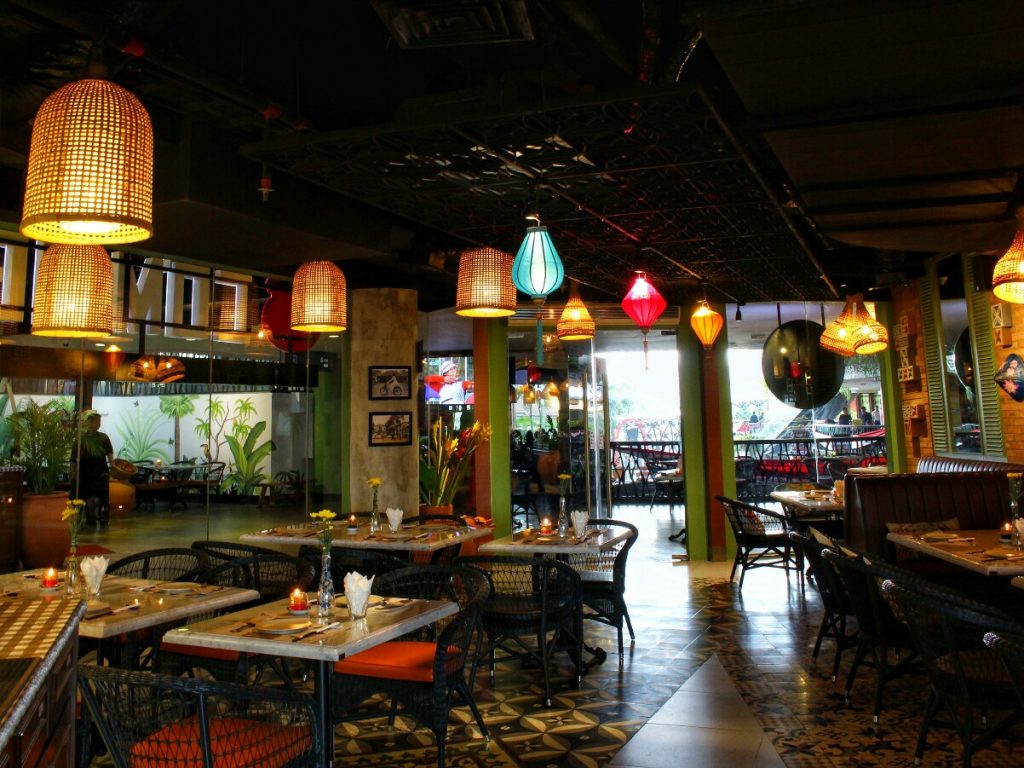 7 Must Try Vietnamese Food in Com Ngon Keman Village
Talking about Vietnamese Food, we interest to take you to 7 Must Try Vietnamese Food in Com Ngon Lippo Mall Kemang. And here is the highlight.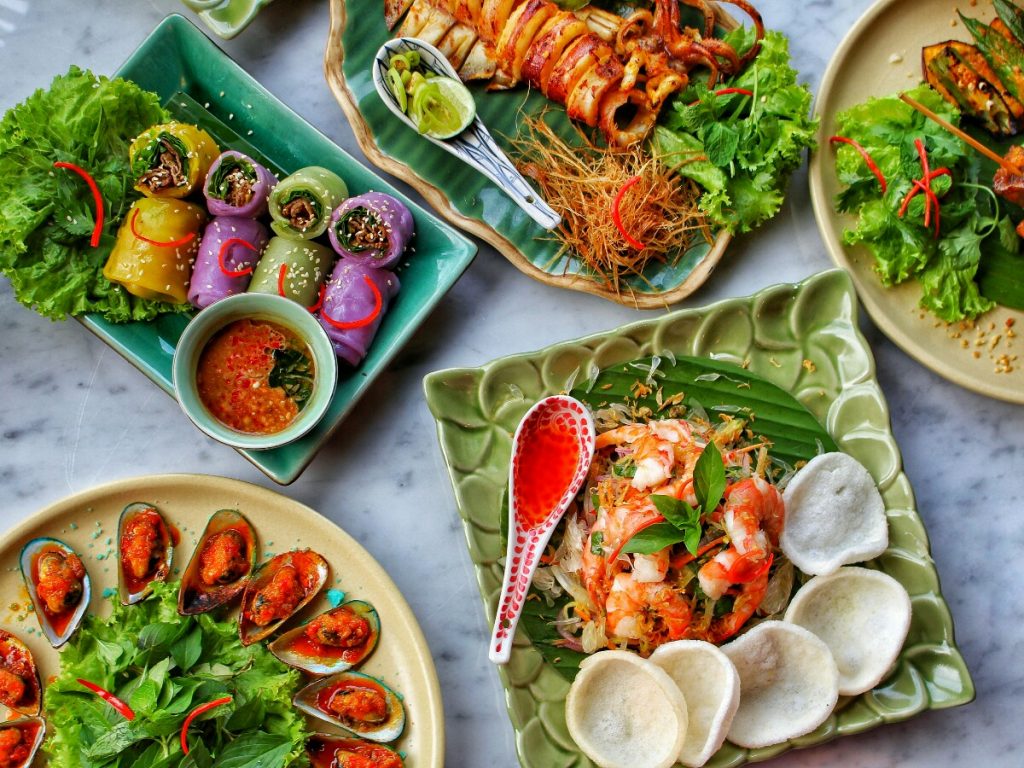 1. Banh Pho Cuon Bo (IDR 70K)
For the appetizer, let's try this colorful and enjoyable steamed menu. This is steamed rice rolls with lemongrass beef and sprinkle with sesame seed. Tender beef and good selected veggies wrapped in a smooth steamed rice rolls.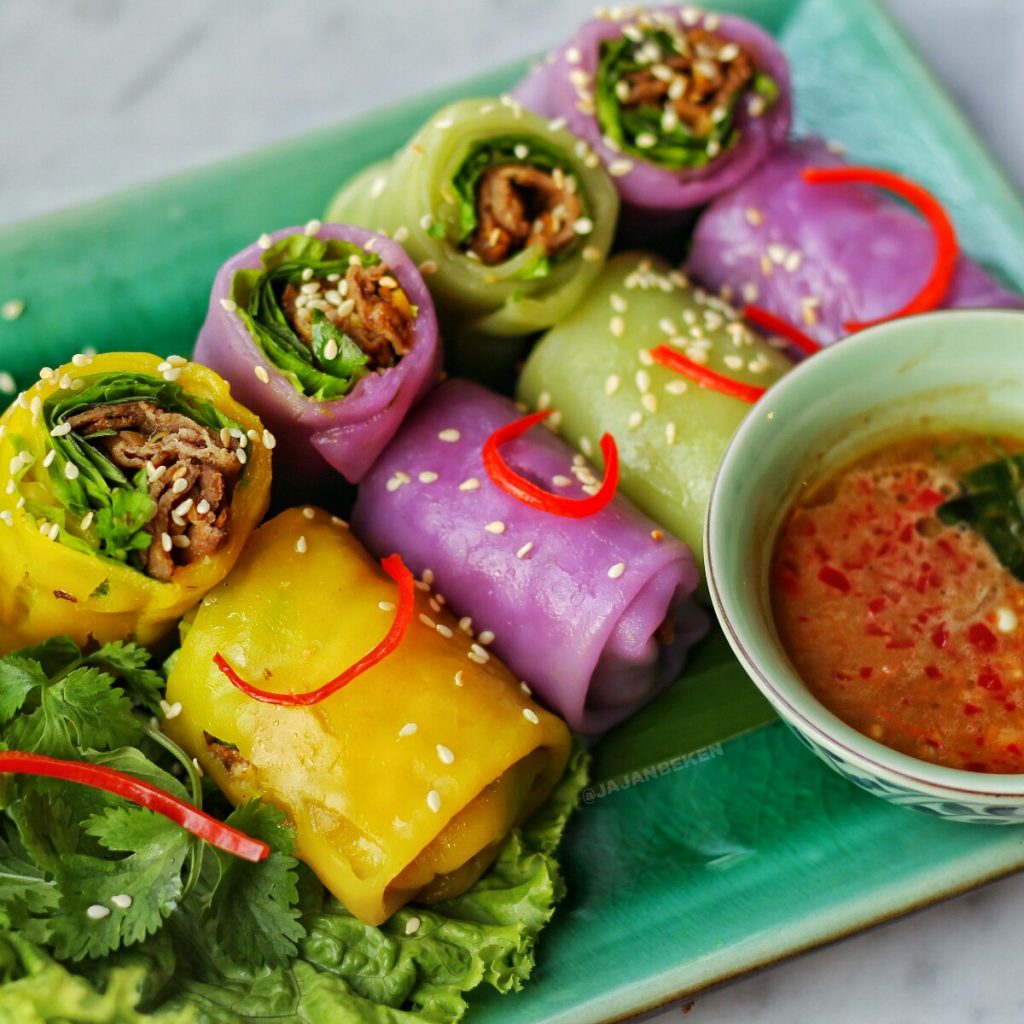 2. Goi Buoi Tom (IDR 75K)
Need a little bit tangy? You must try this appetizer, Pomelo Salad with shrimp. Super refreshing salad  menu with sour and a little bit spicy taste. A combination between the pomelo and shrimp make a sweet-sour sensation.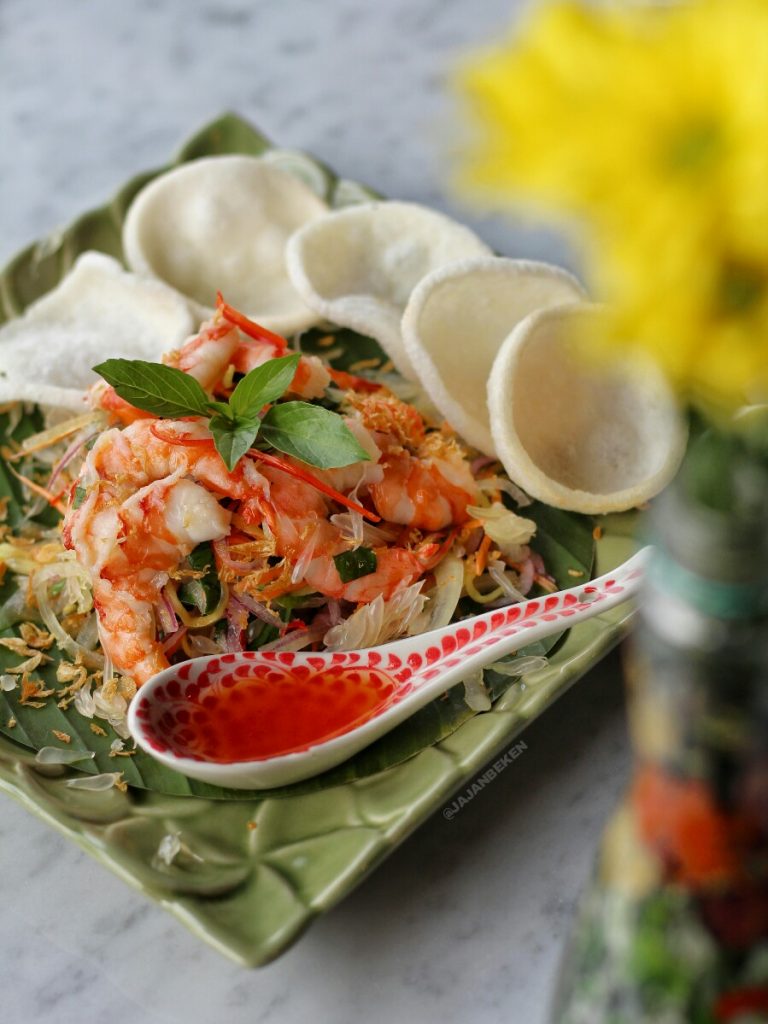 3. Vem Xanh Nuong Muoi Ot (IDR 85K)
Done with the steamed and salad, now let's we tried the grilled menu. This one is Grilled Mussels with Chili, look at those red chili sauce on the top of the mussels, truly appetizing and finger licking. A must try when you visit Com Ngon Jakarta.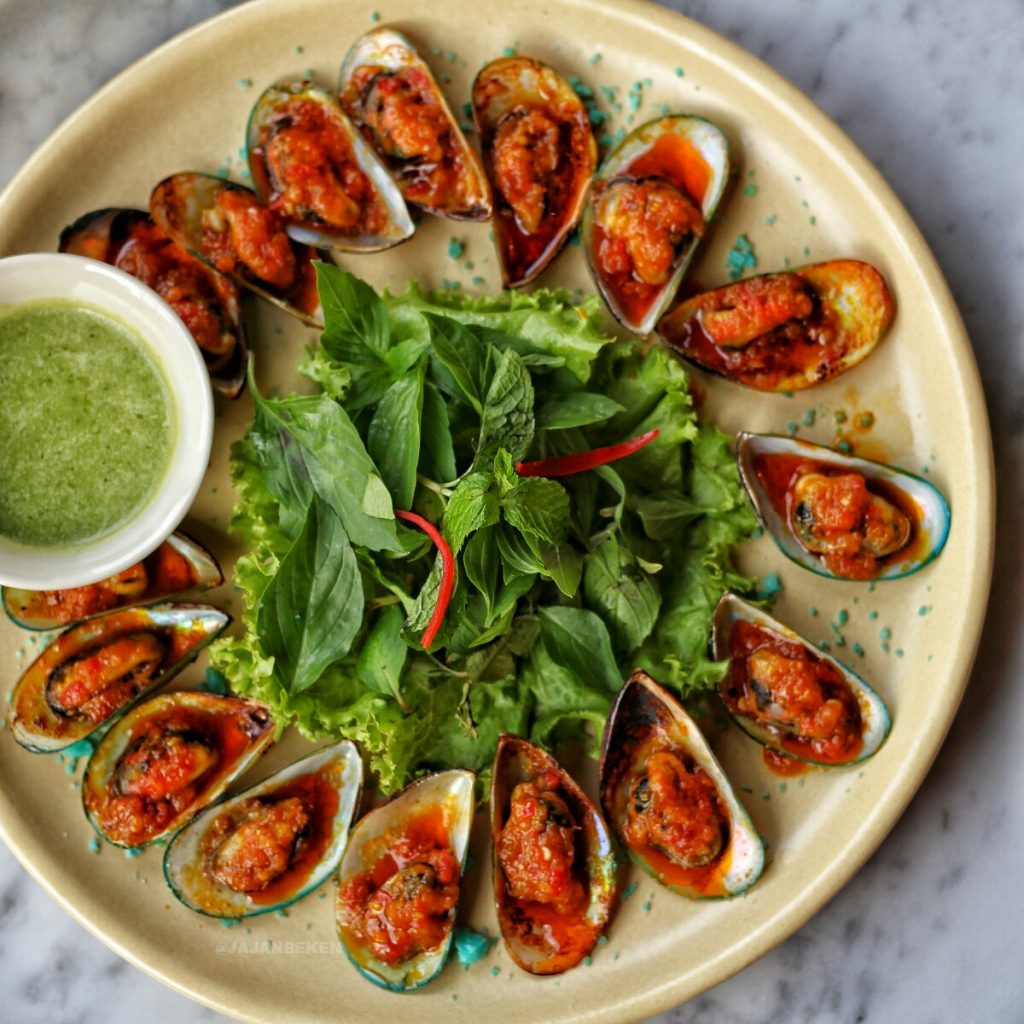 4. Muc Nhoi Sa (IDR 85K)
Do you love squid? If you do, you have to try this one. A huge squid stuffed with lemongrass that too good to be through. Spicy, tangy, salty and umami are several taste that you will find in this menu.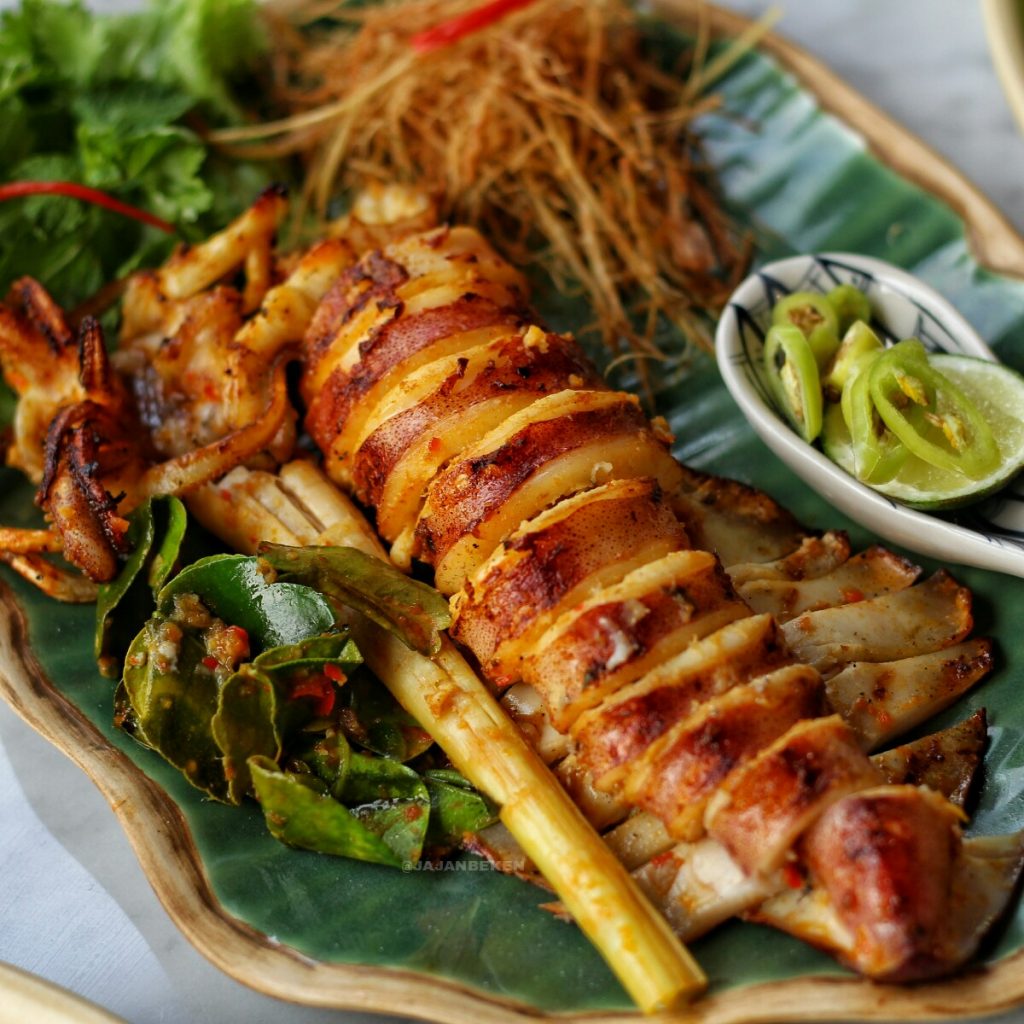 5. Ga Nuong Mat Ong Xoi Chien
Move to the next menu and here is Grilled Ayam Kampung with Crispy Sticky Rice from Com Ngon Kemang Village. The grilled chicken become quite unique because this menu paired with crispy sticky rice that very familiar for the Indonesian people. There are two choices of menu for IDR 120K for half chicken and IDR 240K for whole chicken.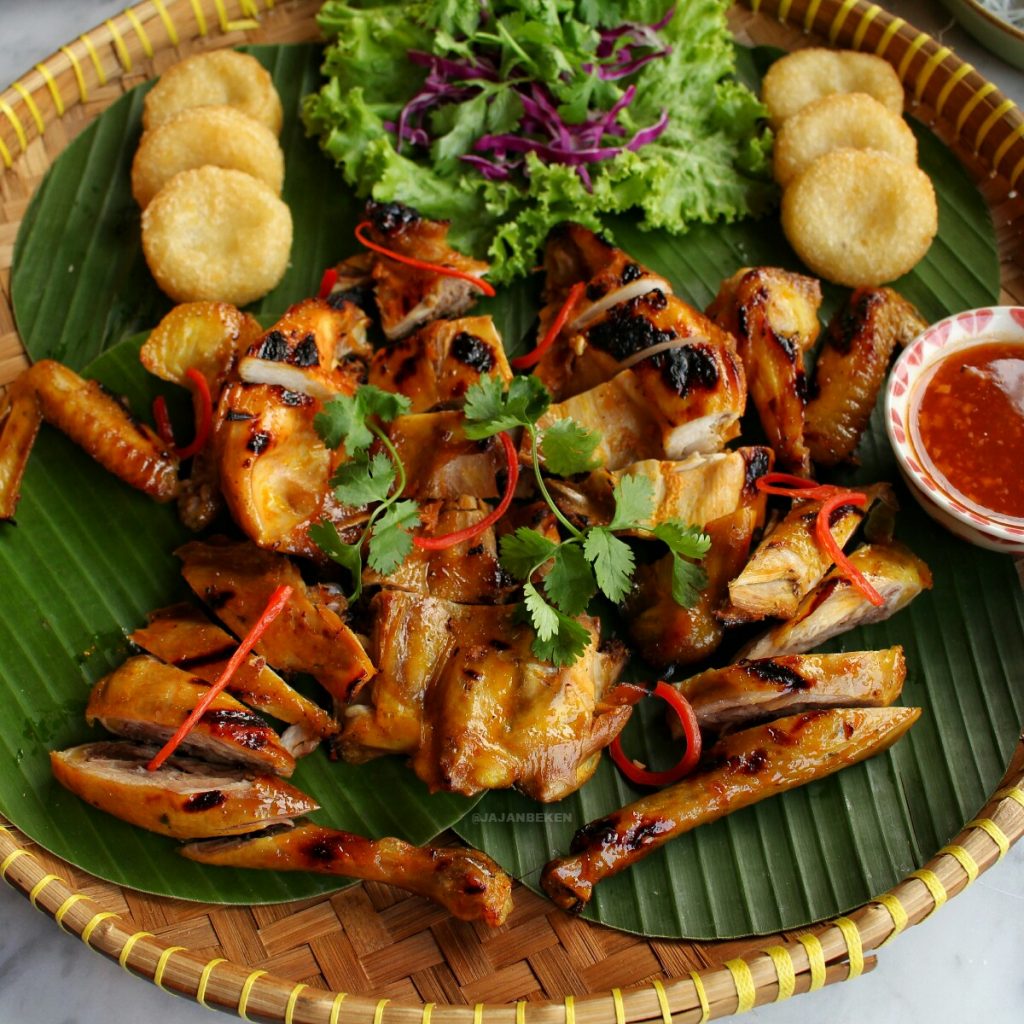 6. Lau Ca
This one that we are waiting for, a boiled menu call Fish Steamboat from Com Ngon Jakarta. There is a big bowl consist of vegetables, fish and soup. You can choose the fish from patin, pomfret or nila. While there are two choices from small hotpot (IDR 150K) and big hotpot (IDR 240K). The soup might be light for Indonesian people therefore you can dip the fish in Vietnamese sauce.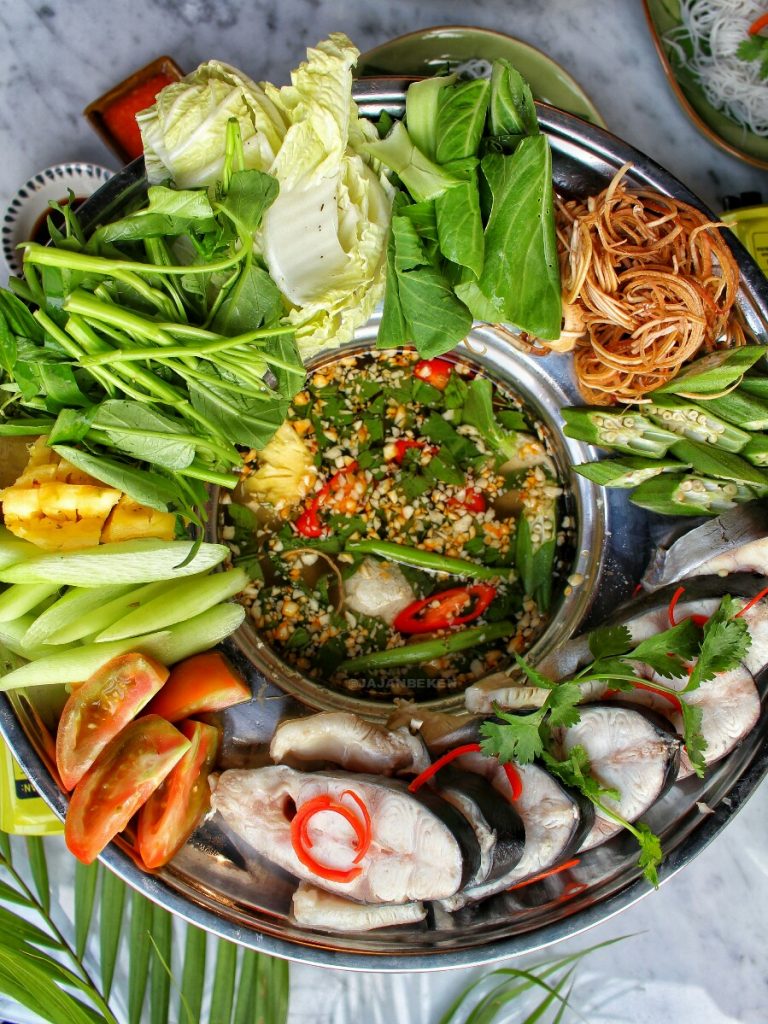 7. Beef Steamboat by Com Ngon Kemang
Maybe you can't find this menu in the menu book but you can ask the staff by mention Beef Steamboat when you order in Com Ngon Restaurant. There are hotpot with the condiment and soup and also a big plate that consist of fresh meat, cooked beef, ribs and meatball.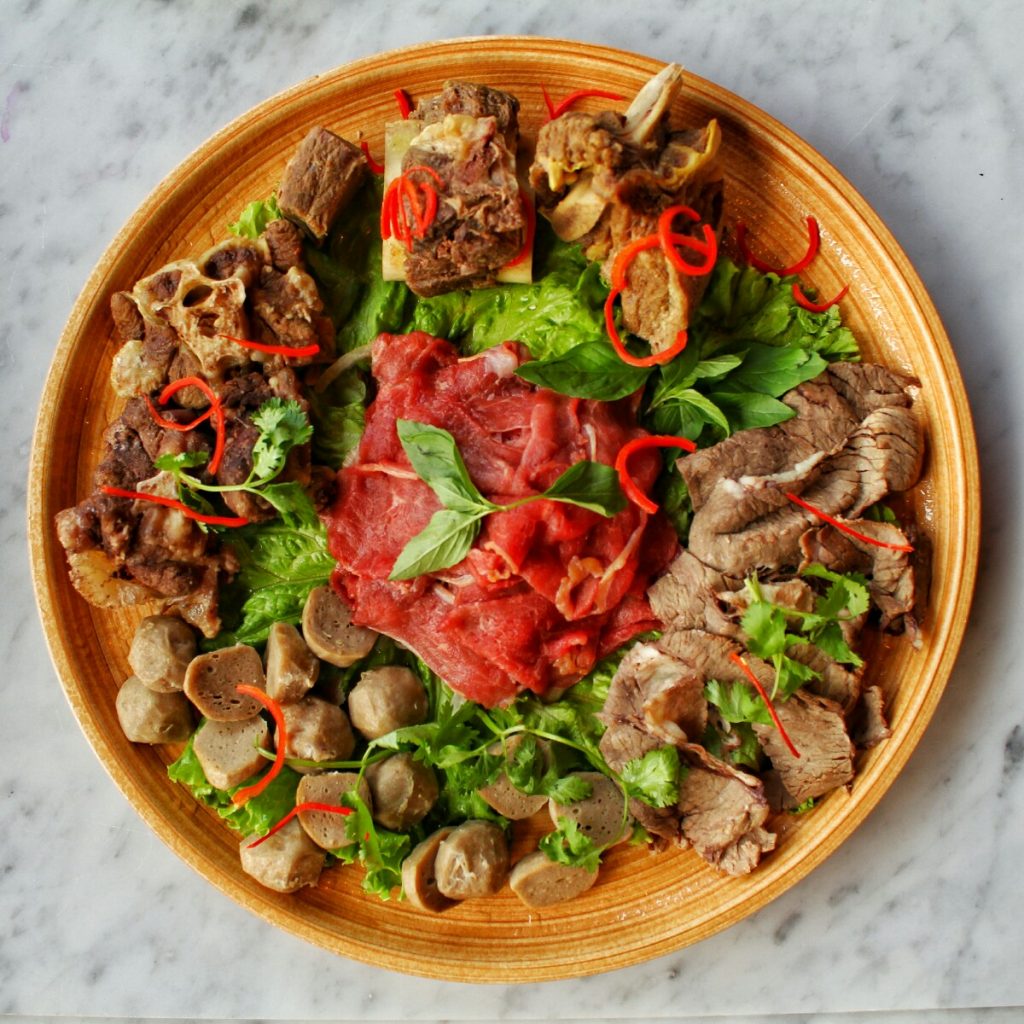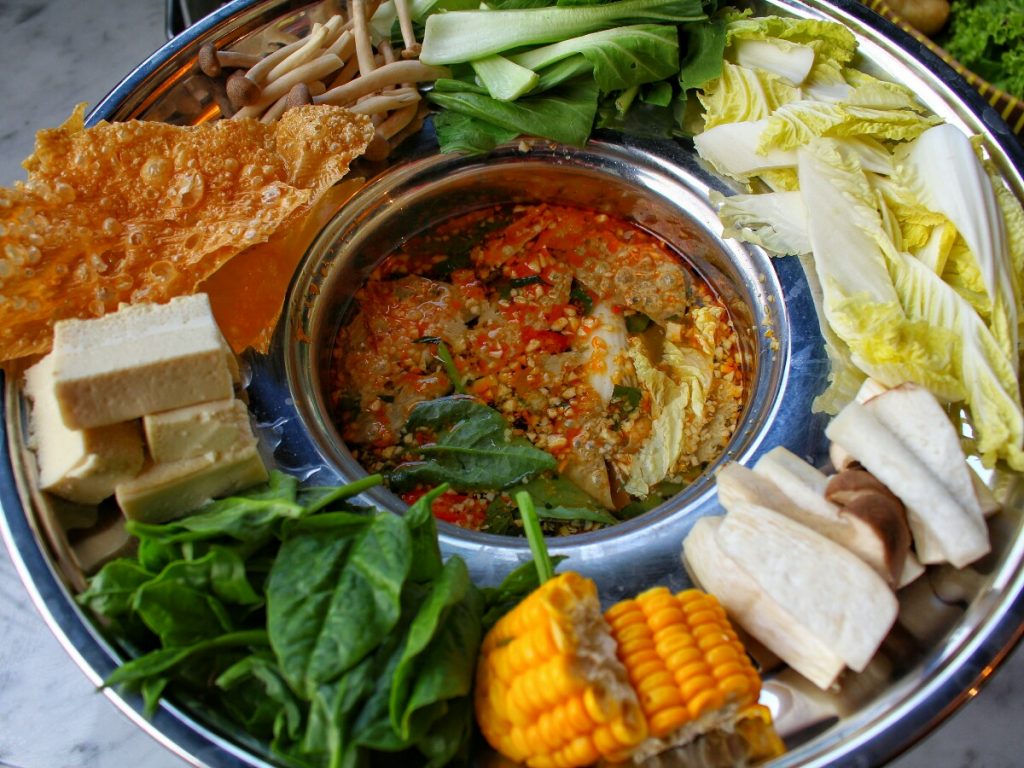 Just put the fresh meat into the soup until it boiled while you can add the vegetables also. This one is big portion so you can share for up to 4 people.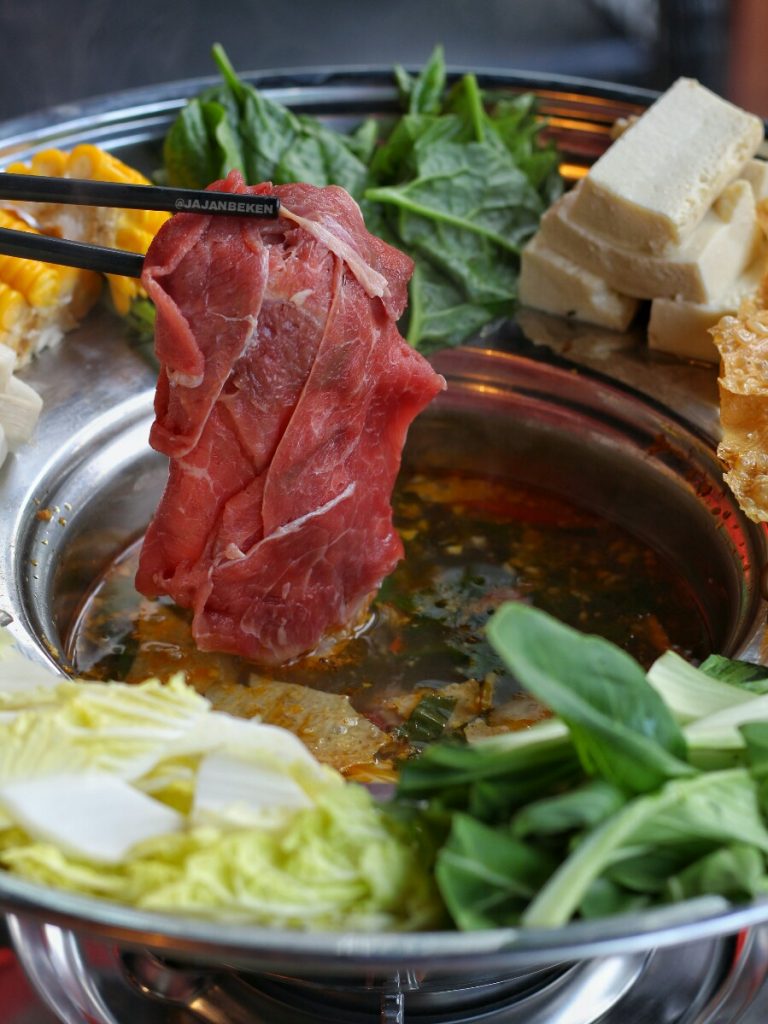 That was the 7 Must Try Menu when you visit Com Ngon Jakarta. Beside the seven menu that we already review there are so many interesting menu at Com Ngon Kemang Village like Lemongrass Grilled Beef, BBQ Beef with 5 Spices, Deep Fried Soft Shell Crab with Tamarind Sauce and so on.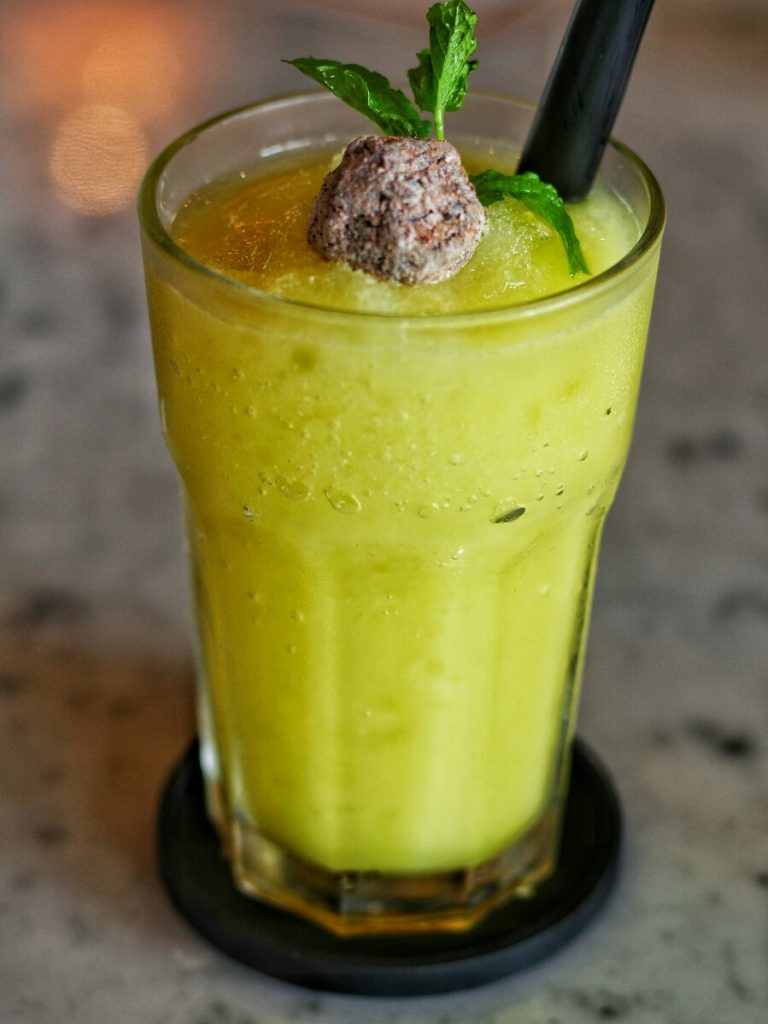 At the end, I really had a great time having my 7 Must Try Menu at Com Ngon Lippo Mall Kemang. Super great ambiance and food from the land until the sea from the steamed menu, grilled menu until boiled menu. Not to forget the peoples they are really good to serve all the guest.
Finally I close my review and don't forget to follow our culinary journey in this blog, Instagram, Youtube and Facebook. Please apologize if there is something missing in writing or menu explanation. We open for critics and comment. See you in another culinary journey with Jajanbeken!
FACILITIES
Wifi : Yes
Plug : Yes
Dine in : Yes
Outdoor : No
Toilet : Yes
Parking: Yes
CONTACT
Address : Kemang Village (Lippo Mall), Jl. Pangeran Antasari, Kemang, Jakarta
Tel: 021 21889061 (ext 429)
Instagram : @com.ngon
INFORMATION
Open hour:  10.00 – 22.00 WIB
Price : IDR 350K for two people (approx.)
Dress code : No
MAP