Wingstop Restaurants, Inc. is a chain of nostalgic, aviation-themed restaurants where the sole focus is on chicken wings. This restaurant opens their first outlet in Indonesia in mid 2014. In Indonesia Wingstop already has many outlet stores in some cities. This restaurant has a main dish is fried chicken wings. The restaurant was founded in 1994 in Texas offers a menu of fried chicken wings with a layer of sauce and ingredients are available in 10 flavors. But don't you imagine that this is a common chicken wings, and i will tell you more within this article when I visit Wingstop Bekasi.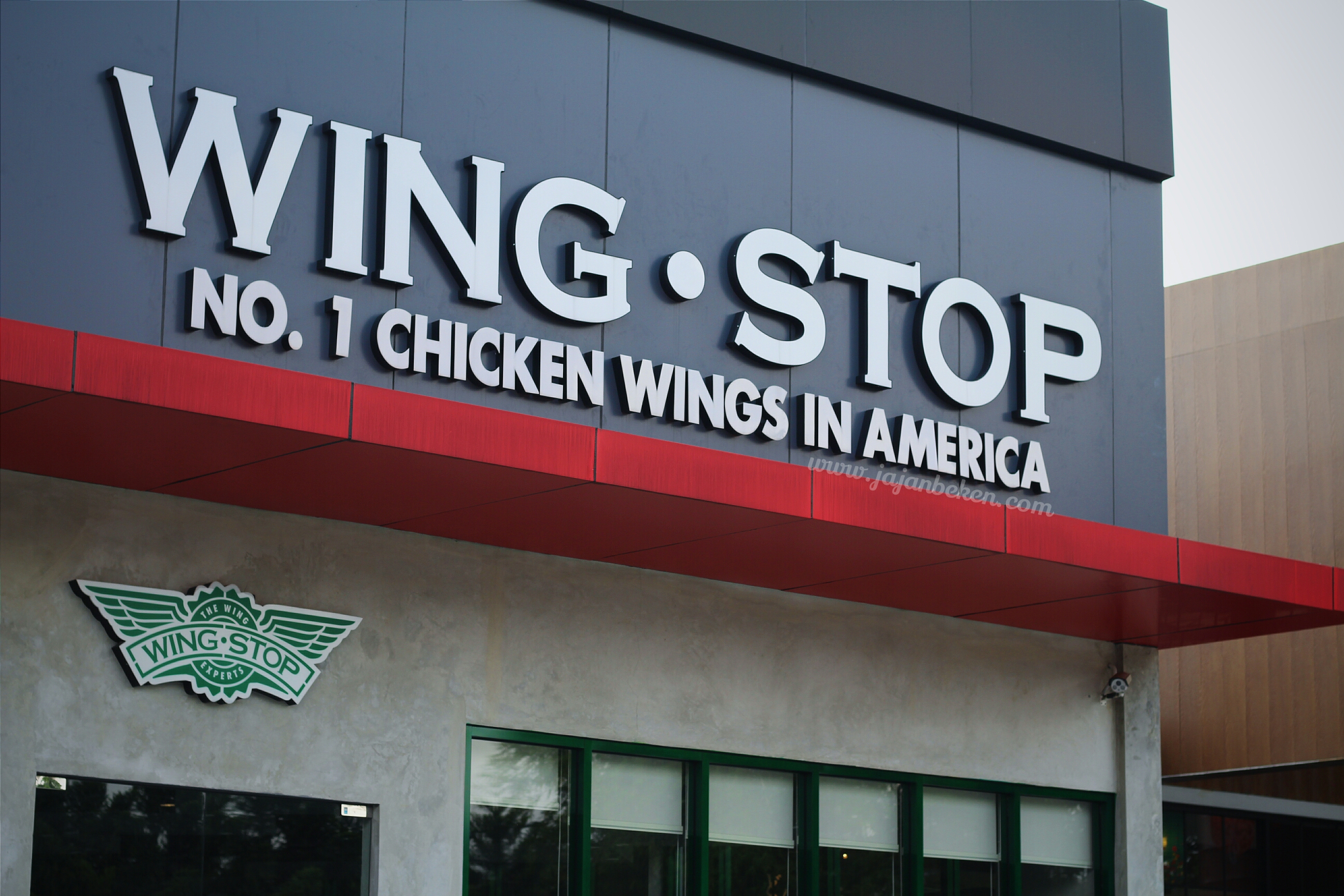 On this occasion I have visited one of the outlets of Wingstop Bekasi located in Kota Harapan Indah. The previous article I ever told to you when talking about the Carl's Jr. you can see the article in this links Carl's Jr. Burger Harapan Indah Bekasi, both of those restaurants is in one building.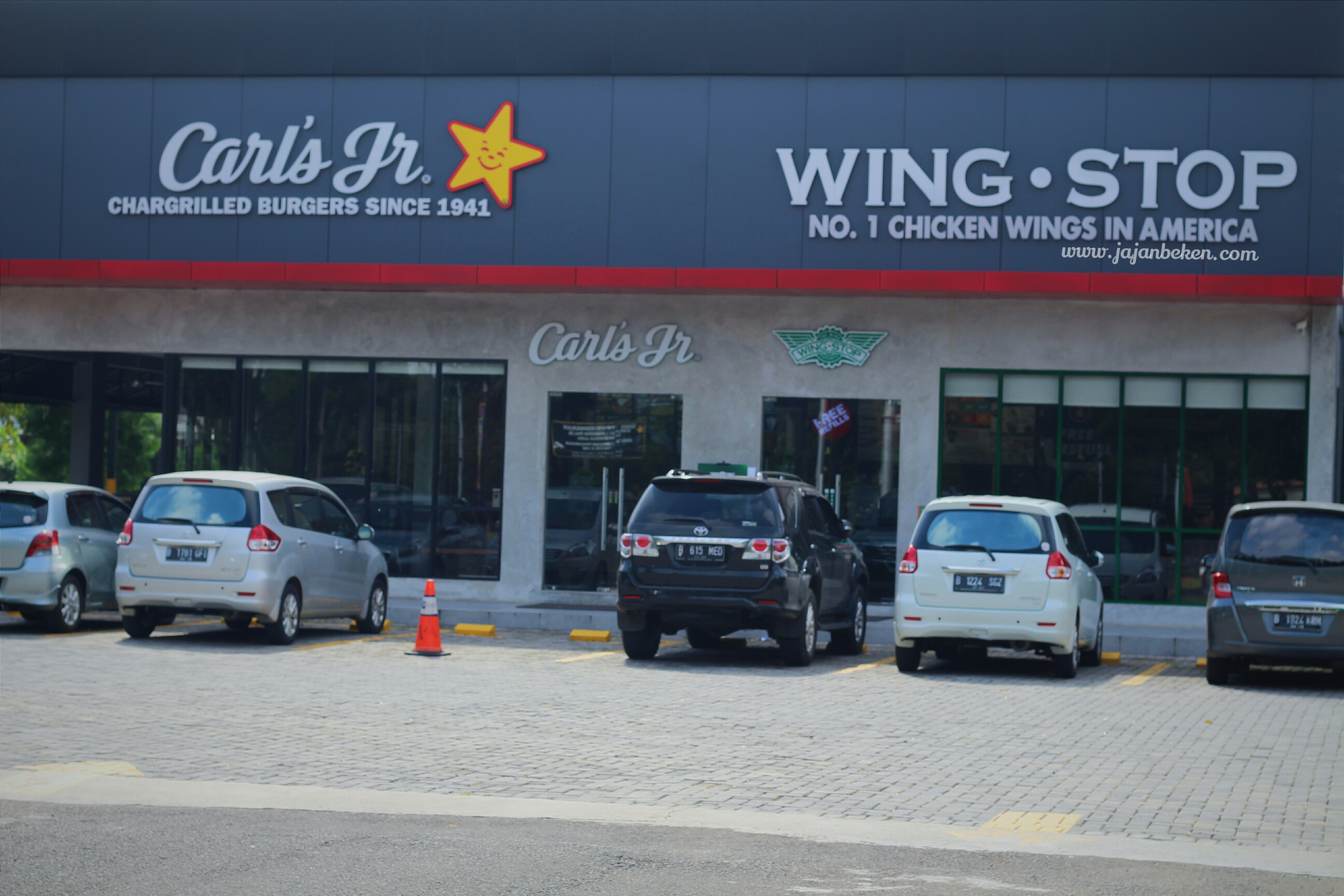 Talking about the interior. Wingstop Bekasi Kota Harapan Indah Bekasi is very simple and modern with American restaurant style like fast casual restaurant concept. When you enter into a restaurant, you will be presented with the counter. At the top of the counter restaurant there is a menu boards to enable us to choose the food menu.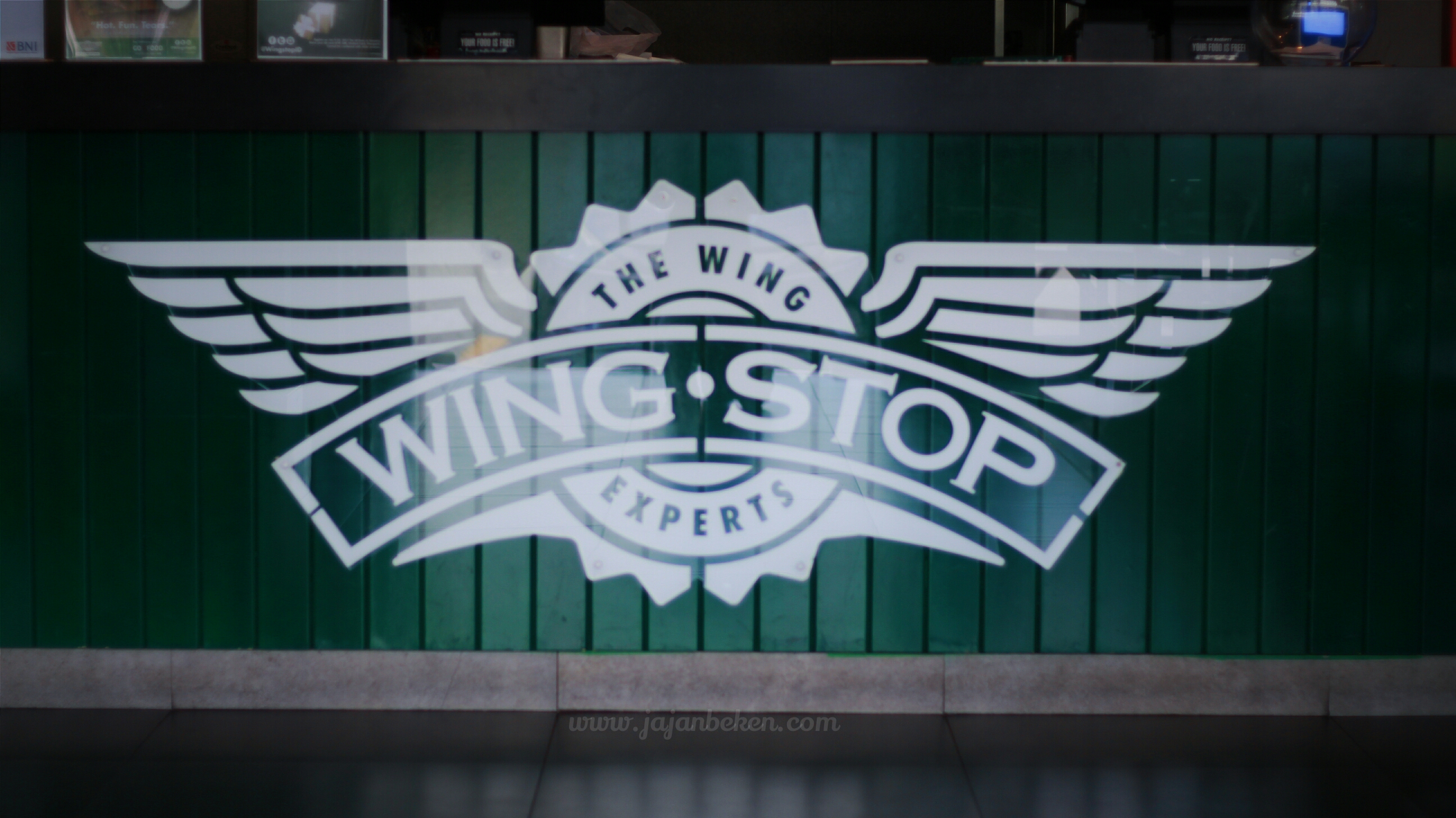 Even though Wingstop Bekasi is one building with another restaurant. But both of them have different dimensions in the arrangement of the table. If you want to get the table at the part of Carl's Jr. are definitely welcome even though you not buy their product.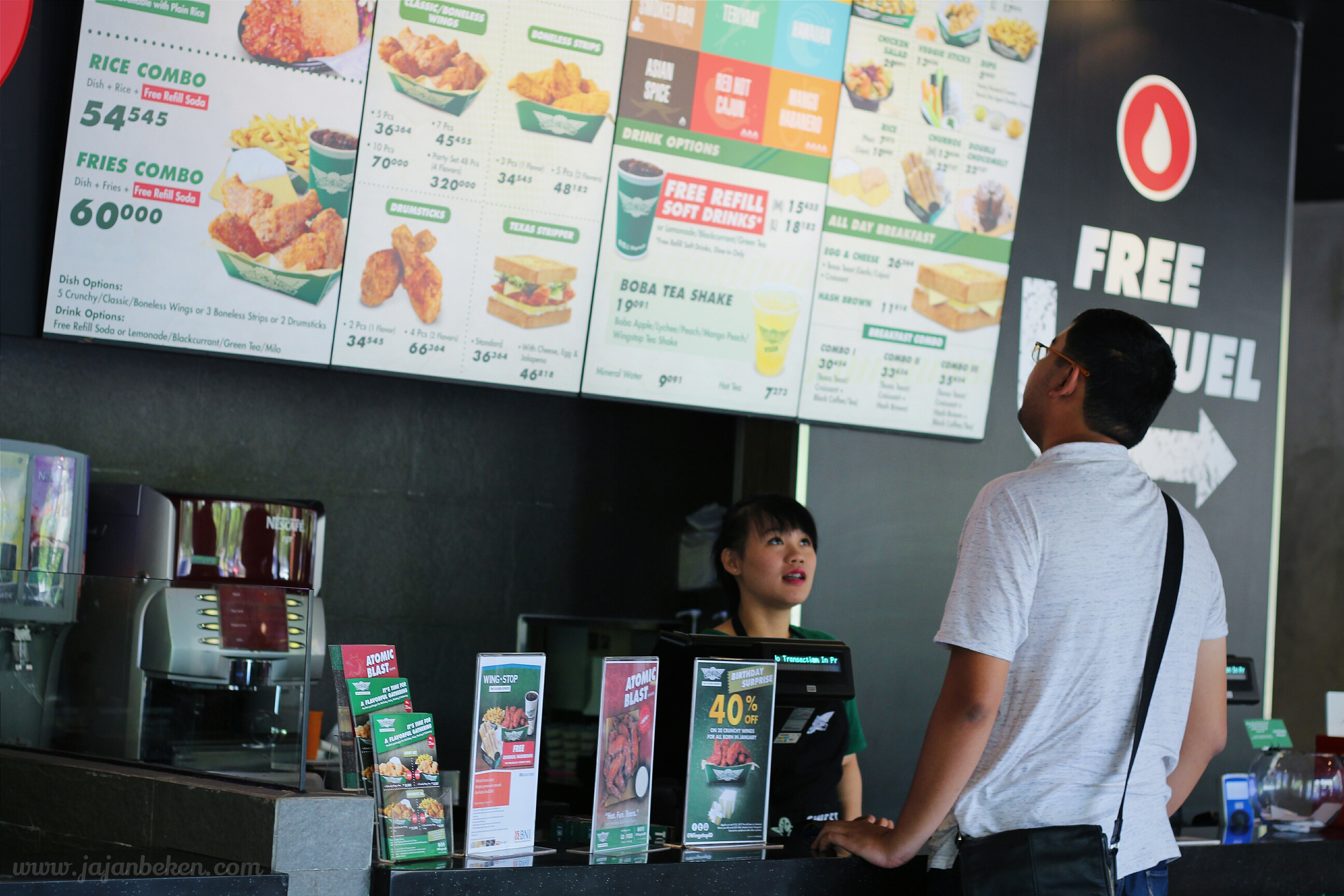 I think seating areas for eating of Wingstop is not much. Because its only in the front of the main room and there are only a few. But you don't need to worry at least they provide some tables in the outdoor area.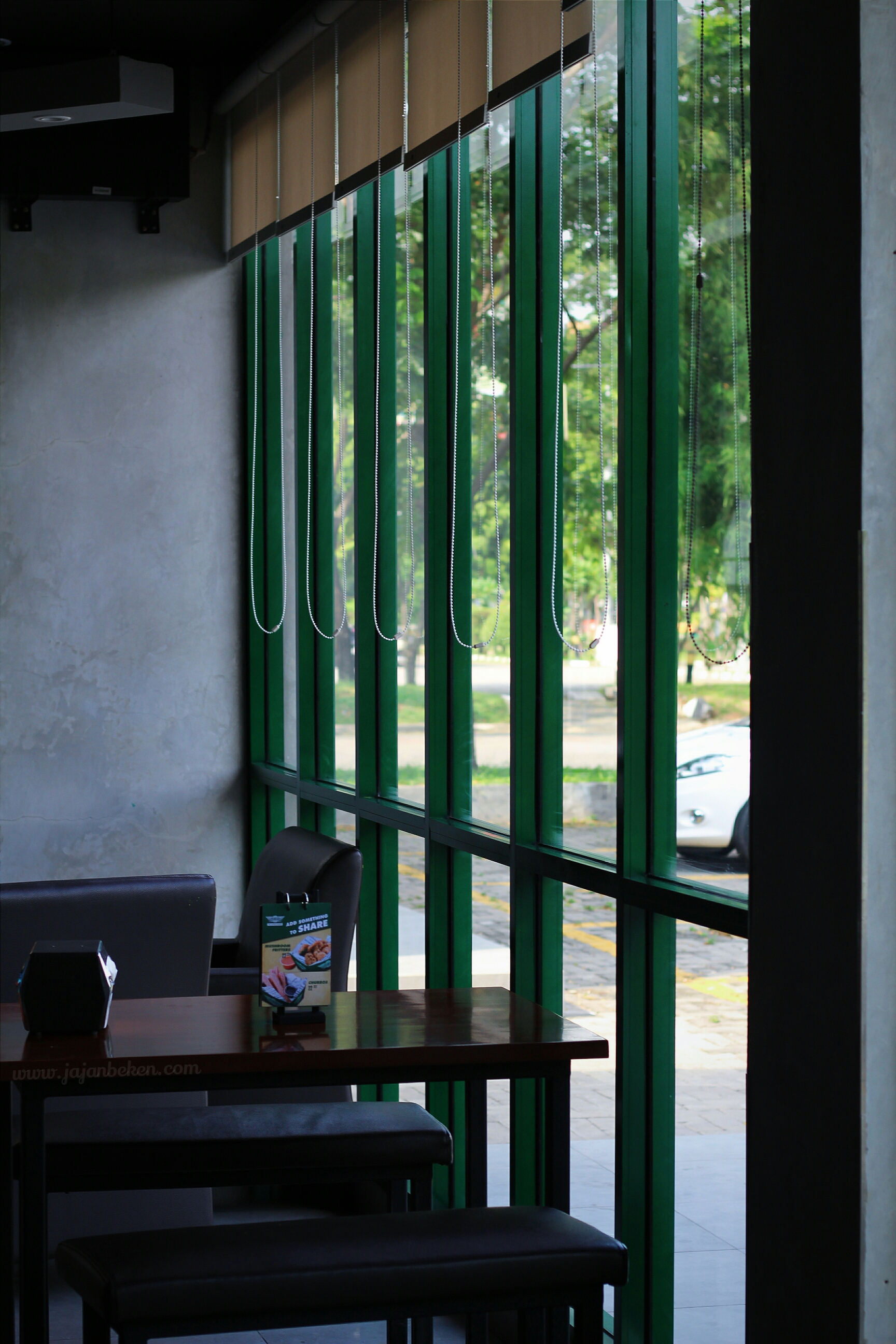 Here you have to order food and pay first at cashier before you get the table for eating. There is a wide table for family and there is also a table for a couple. And the most interesting here, you can refill your drinks with the drink cups you ordered at the beginning.
Chicken Wings at Wingstop Bekasi
And now the most awaited, I will share my food experience when tasting a few of the menu at this chicken wings restaurant.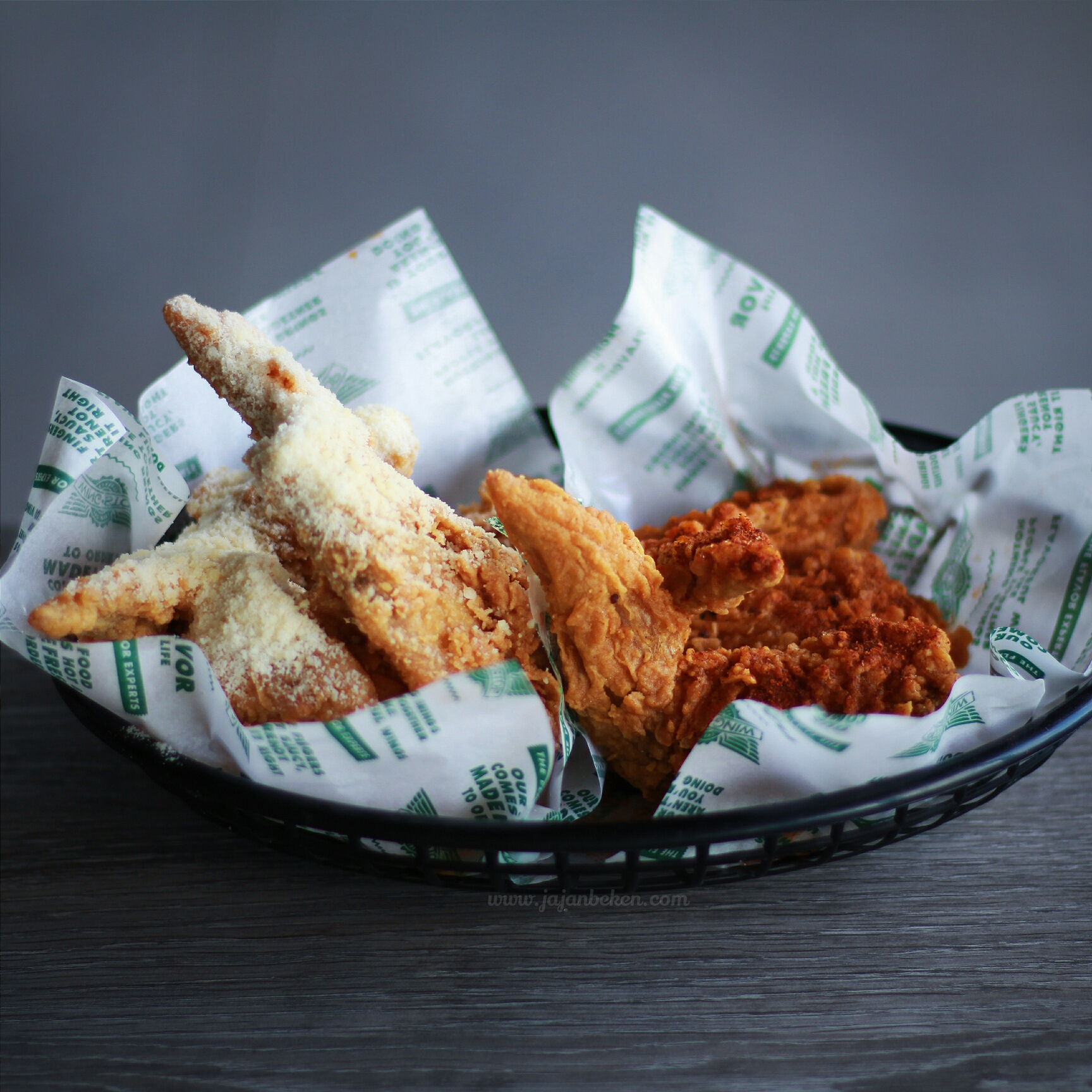 There are 11 flavors chicken wings to indulge your taste buds. But this time i will introduce to you the garlic parmesan and red hot cajun. Let's see guys!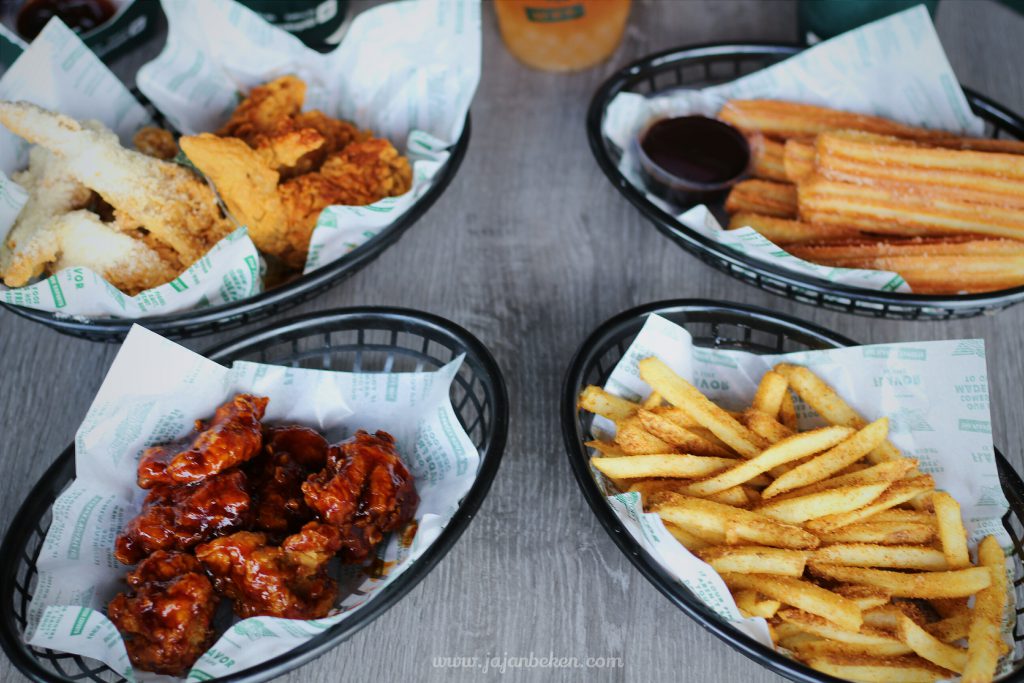 Churros (IDR 23K)
Churros is a light meal which is very famous in Spain. Made from the basic dough of choux and cooked by frying.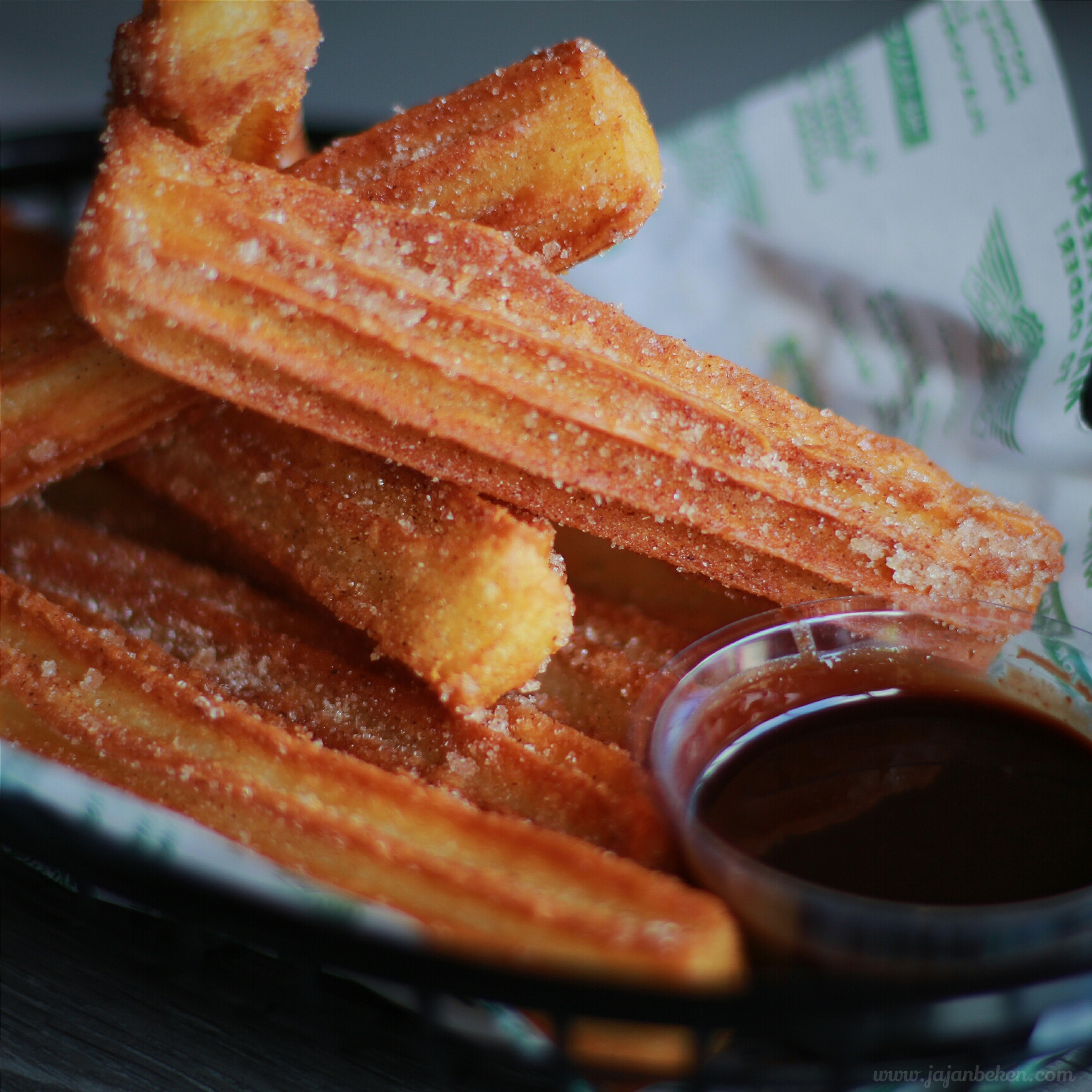 And choux is a basic dough for baking sus cake consisting of butter, water, flour and eggs.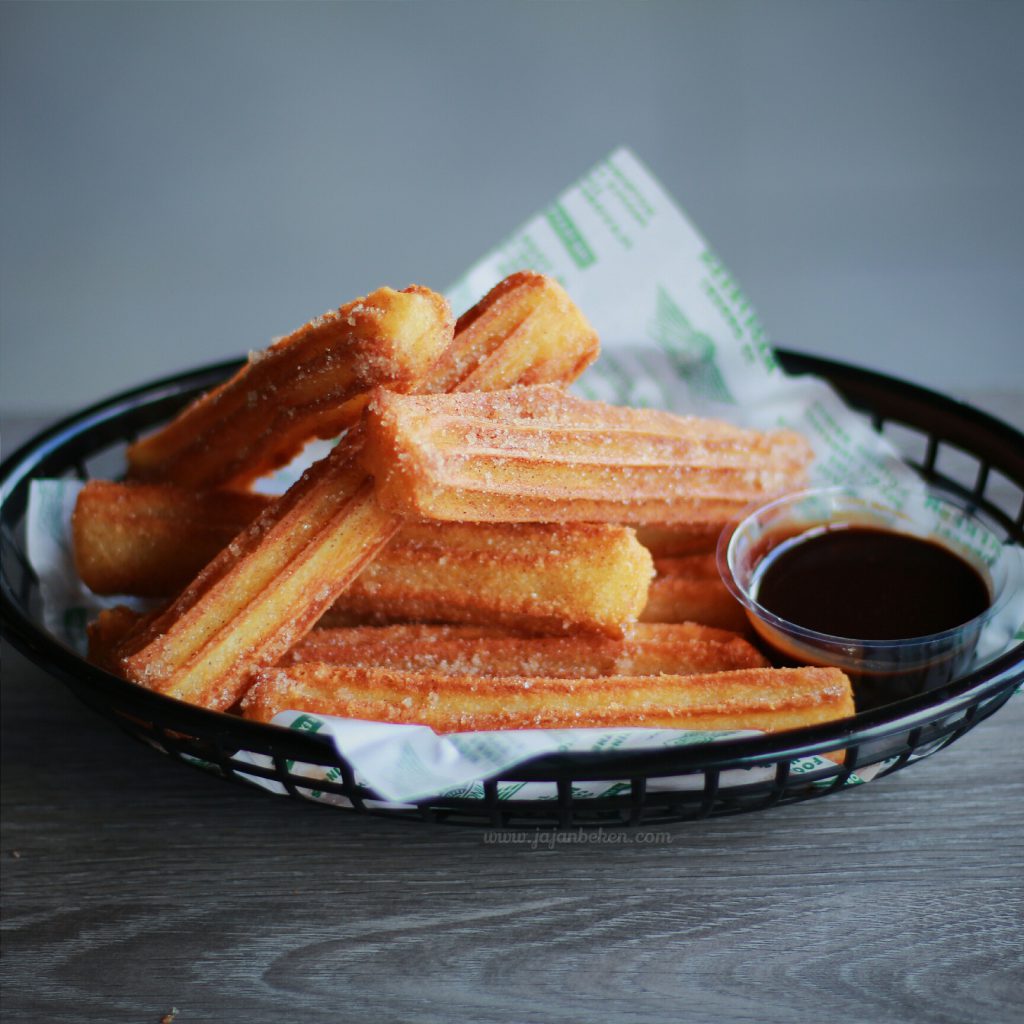 This food is usually eaten in the morning, by dipping a piece of churros in hot chocolate drink before consumption. And for the presentation of churros at this restaurant is served with a thick chocolate sauce.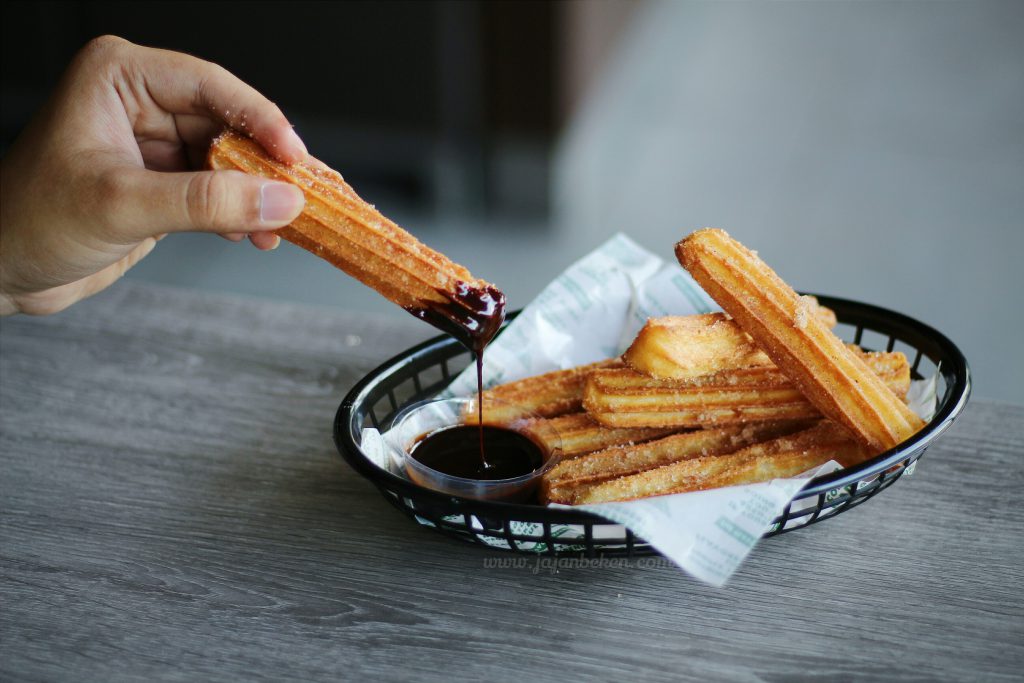 Talking about the taste of churros that is served this restaurant is very delicious. The texture very tender, and sprinkled with sugar on each piece. The chocolate sauce is very thick and the taste was not too sweet.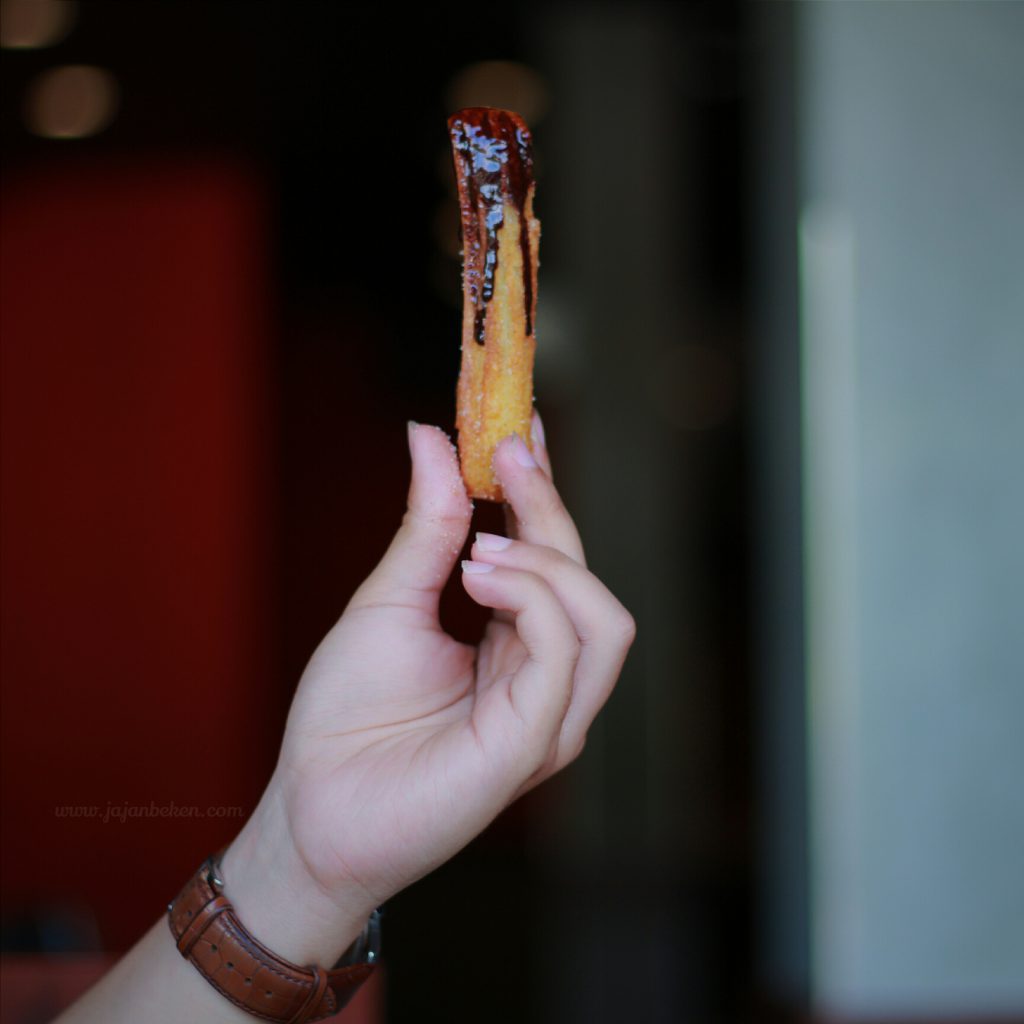 French Fries (IDR 18K)
The french fries is one of my favorite menu if a visit to a restaurant to accompany me for a long time. When I found this menu in some restaurants, I felt a different taste despite using the same basic ingredients are potatoes.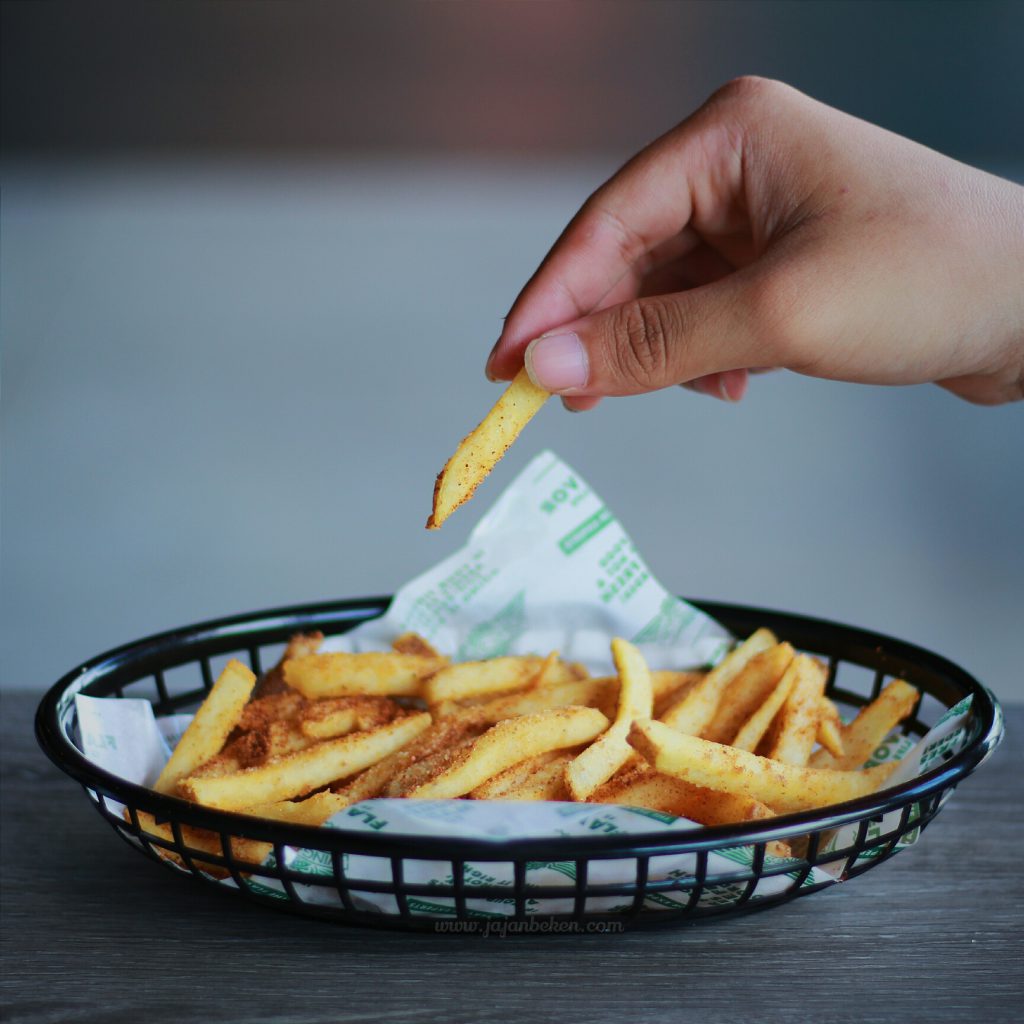 Which distinguishes between fries in every restaurant there is spices were sown in each piece of french fries. French fries that is served this restaurant has a slightly spicy. I really like it because they cook it very tasteful and the taste so savory. You should order this menu when you visit this restaurant.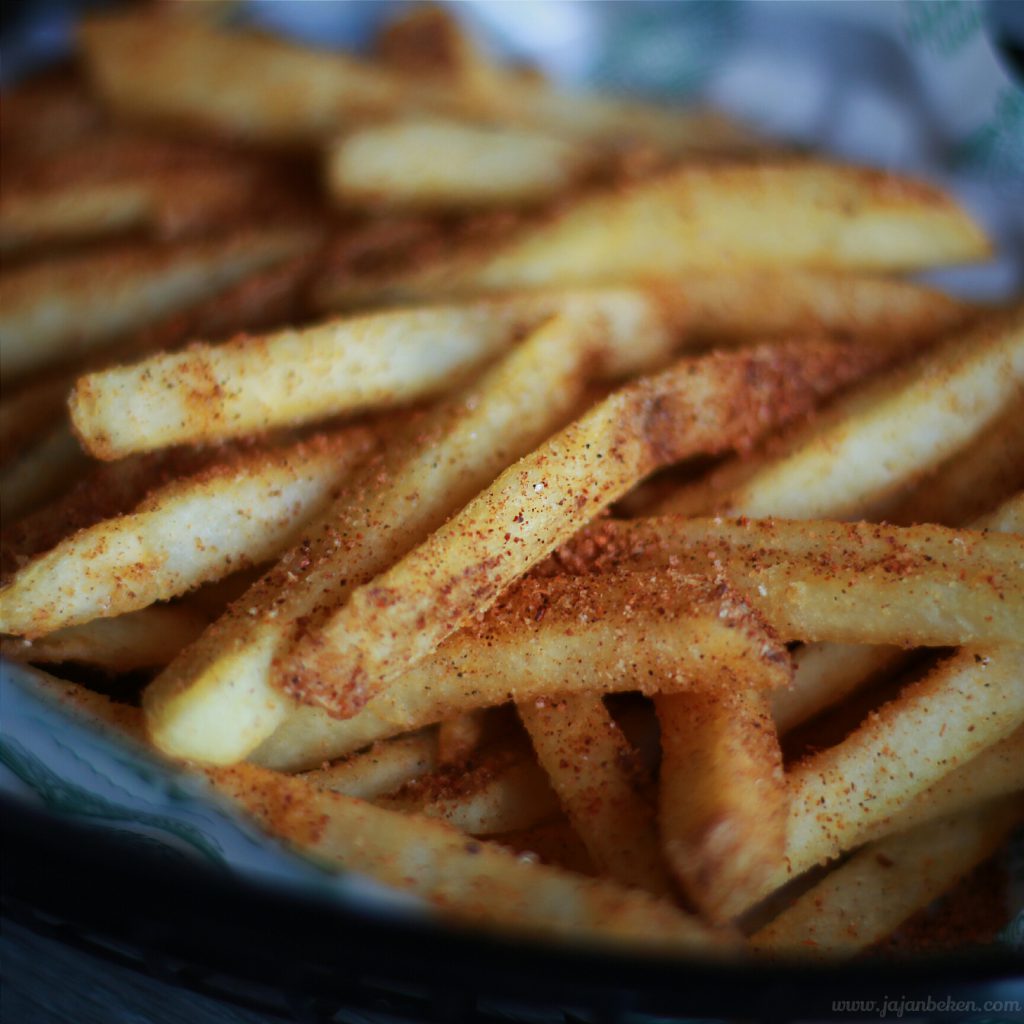 Other than that, this restaurant provides us a variety of flavors to accompany you when eating chicken wings. Their chicken flavors can be categorized it into two types. First is butter based with dry seasoning such as Garlic Parmesan, Lemon Pepper, Louisiana Rub and Red Hot Cajun. The second set are the rich sauces such as Hawaiian, Hickory Smoked BBQ, Mango Habanero, Teriyaki and Asian Spice.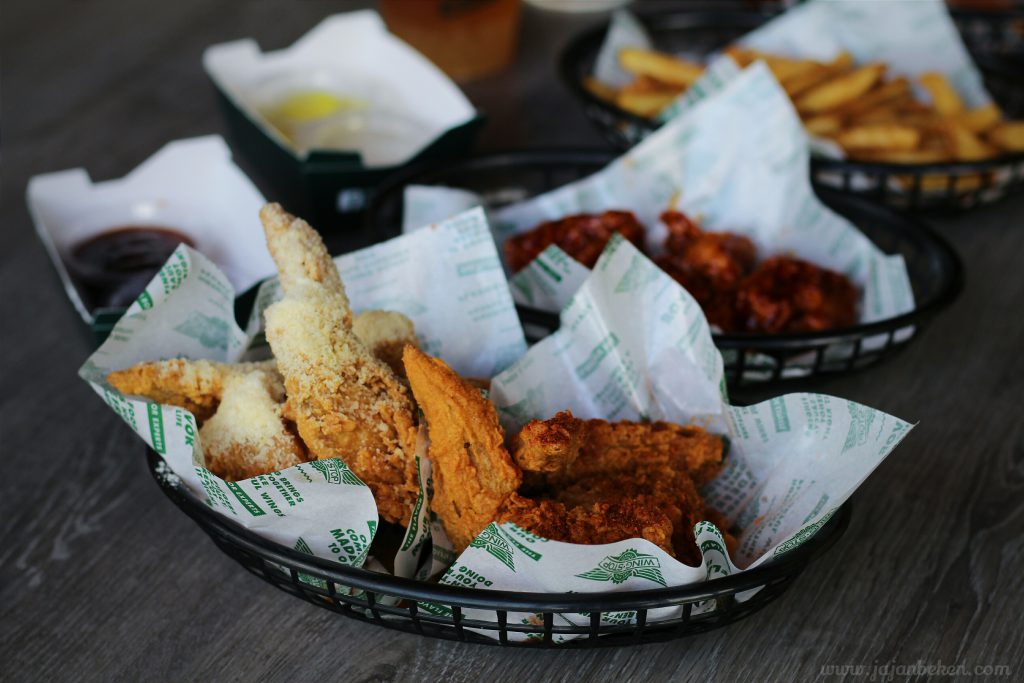 I bet you must be overwhelmed by having to choose your favorite! Let me share with you the taste profiles of some flavors that we have tried. On this occasion I will share my experience to try some flavors at Wingstop Bekasi at Kota Harapan Indah.
Atomic Blast
And now Wingstop has a new flavors were very spicy is Atomic Blast. Do you like spicy? But not spicy in common, the spicy has a ginger notes and ready to burn your mouth. When eating it I strongly feel spiciness. Atomic blast is the most spicy flavor owned by Wingstop Bekasi at this time a blend of chilli, ginger and olive oil. And I think, because these ingredients this flavor has a outstanding a spicy flavor sensation.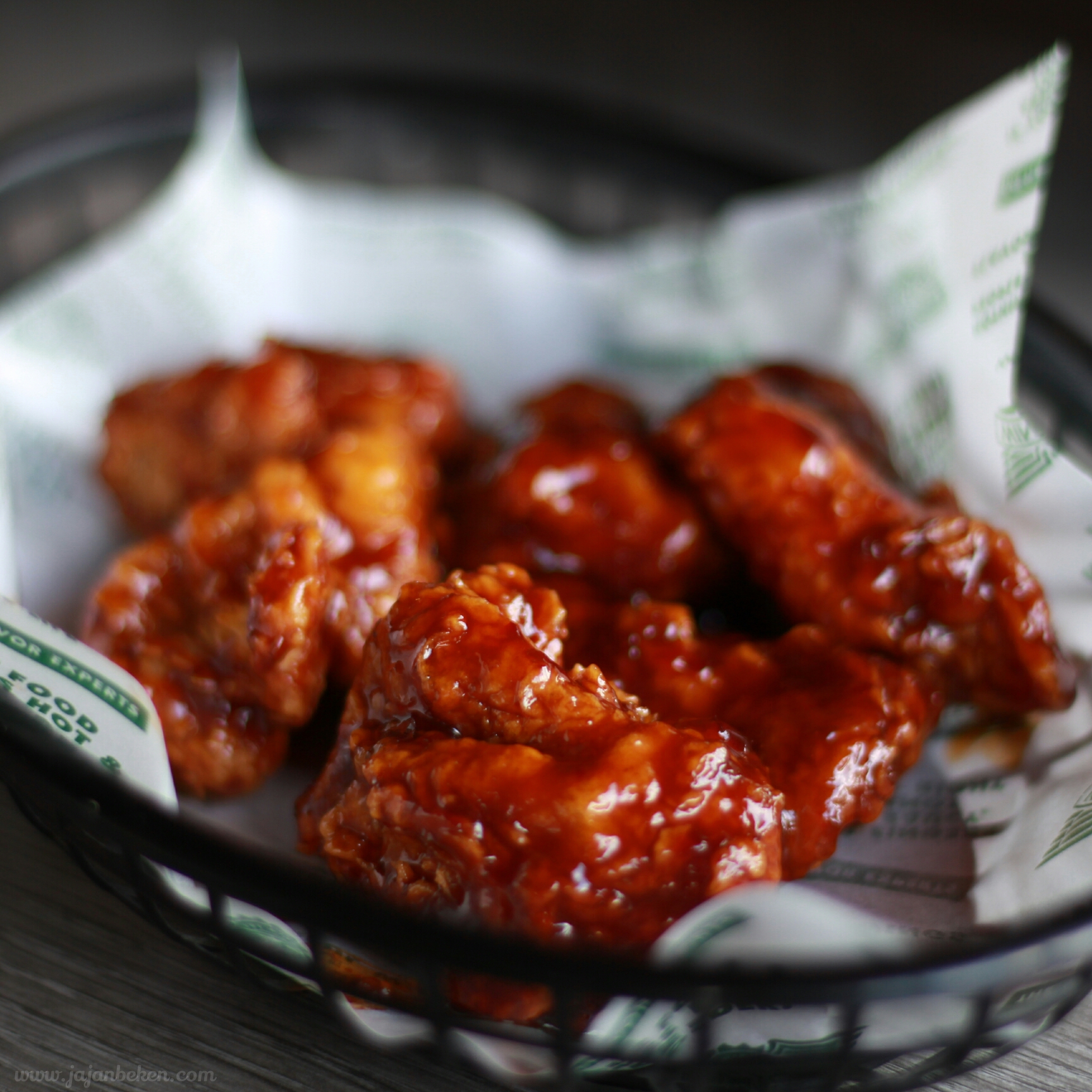 Red Hot Cajun
Immediately tickle my tounge, when a piece of chicken wings fly meets the oral cavity. Sweet and sour of tomatoes combined extra chili will change signs spicy sensation that is almost difficult to control.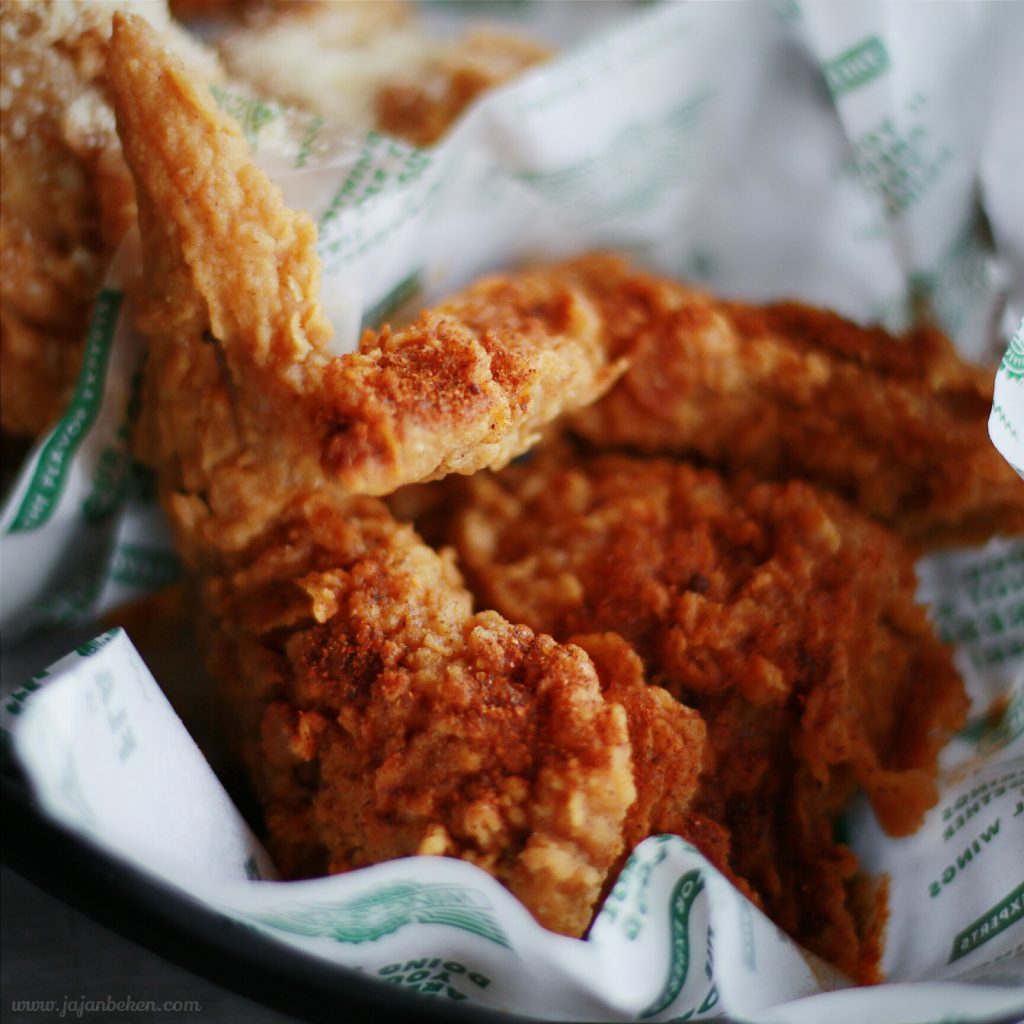 The seasoning covered the wings perfectly. But the spiciness was not to burn your mouth, it's still be accepted even for those who doesn't like hot food.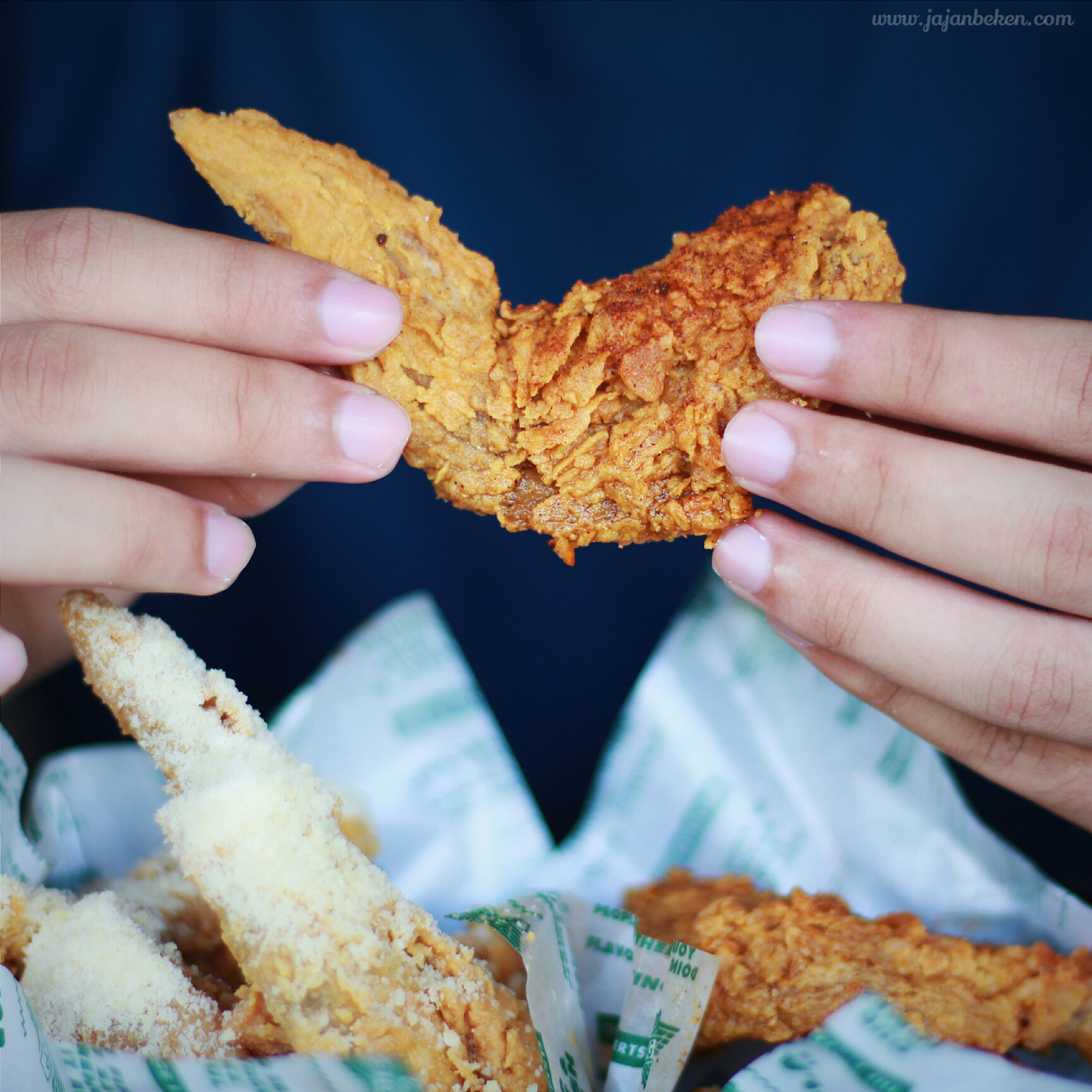 The crispiness level of these wings was divine. I heard a cracking sound when I was bitten and ughhh I love these wings so much.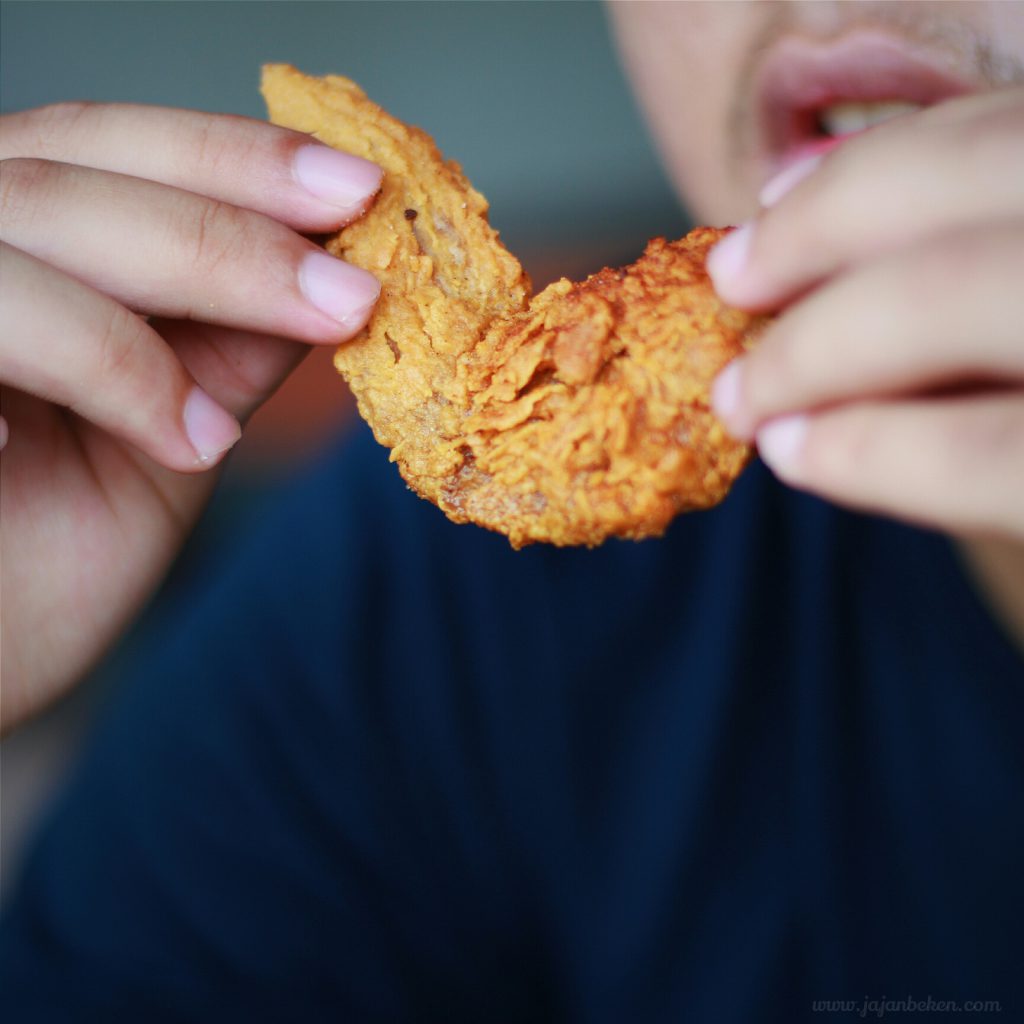 Garlic Parmesan
This is one of the bestselling flavors at Wingstop. Buttery and garlicky seasoning with cheesy flavor from the use of parmesan cheese. It is indeed very addictive.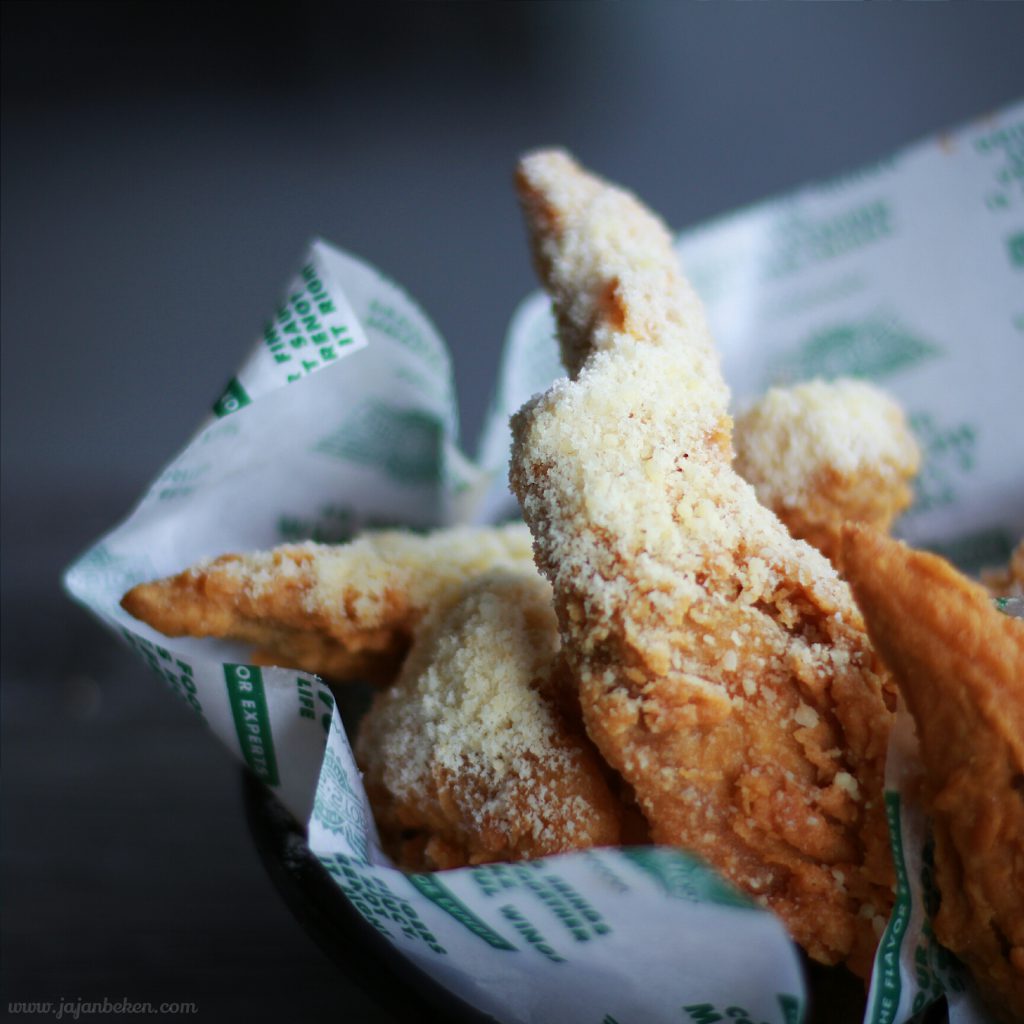 The parmesan cheese covered the wings nicely. The cheese taste was very fitting with the chicken flour. These combination will make you want more and more. 🙂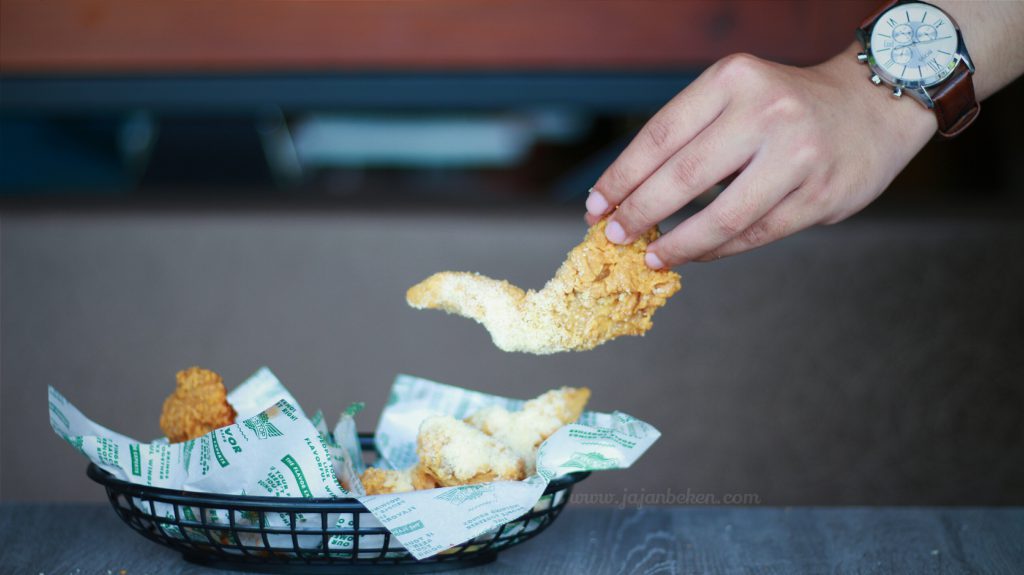 Each of these incredible flavors can be experienced on their five types of chicken: Crunchy Wings, Classic Wings, Boneless Wings, Drumsticks and Boneless Strips.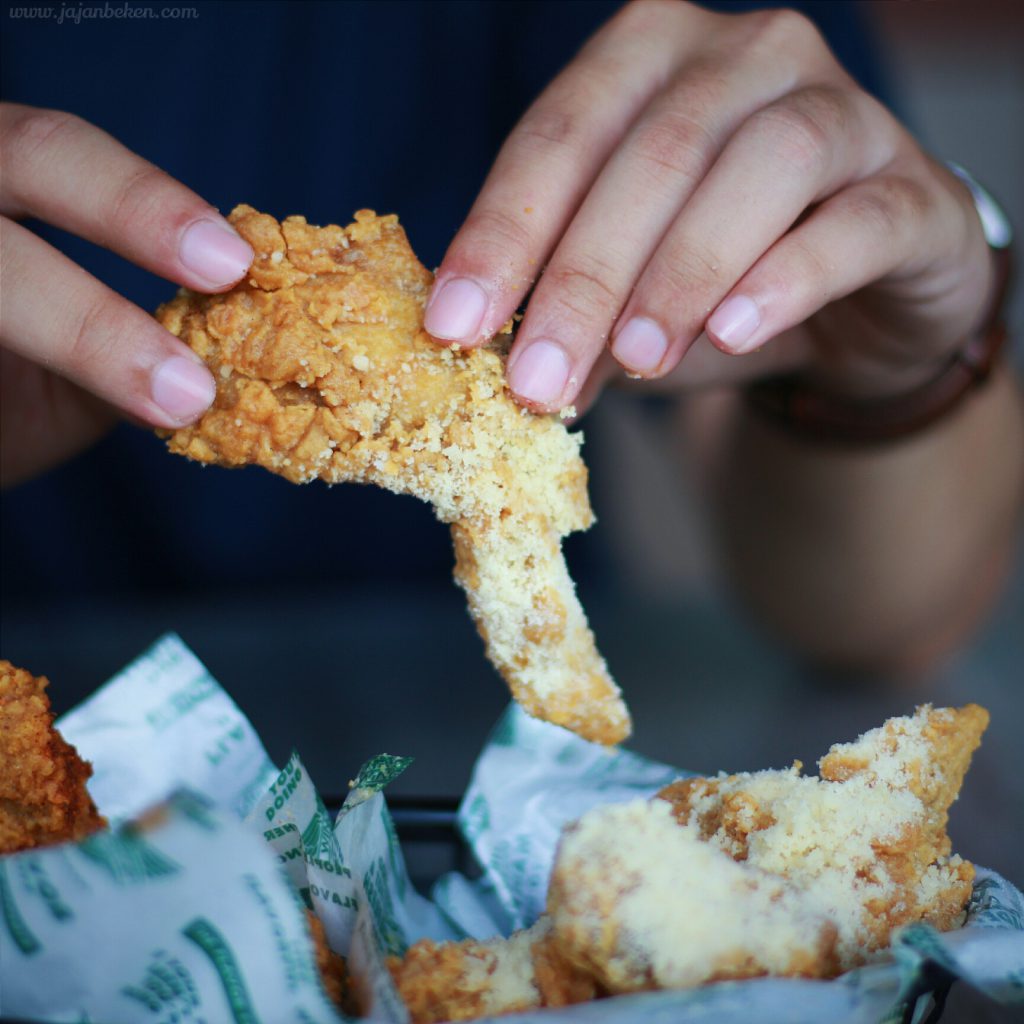 If you enjoy chicken with crunchy batter, Crunchy Wings and Boneless Strips are a great choice, while the Classic Wings, Boneless Wings and Drumsticks are closer classic fried chicken without batter or breading.
Crunchy Wings (2 Flavors)
5 Pcs IDR 38K
7 Pcs IDR 48K
10 Pcs IDR 71K
Classic Wings/ Boneless Wings (2 Flavors)
5 Pcs IDR 36K
7 Pcs IDR 45K
10 Pcs IDR 70K
Cajun Rice (IDR 10K)
As Indonesian we are not spared from rice isn't? Therefore Wingstop served you rice menu to accompany you to lick one's lips the chicken wings. But this is not the commonly rice and also fried rice even this like a fried rice. This rice flavored with chili and spices. It was tasty and little bit spicy. And I'm very like this rice.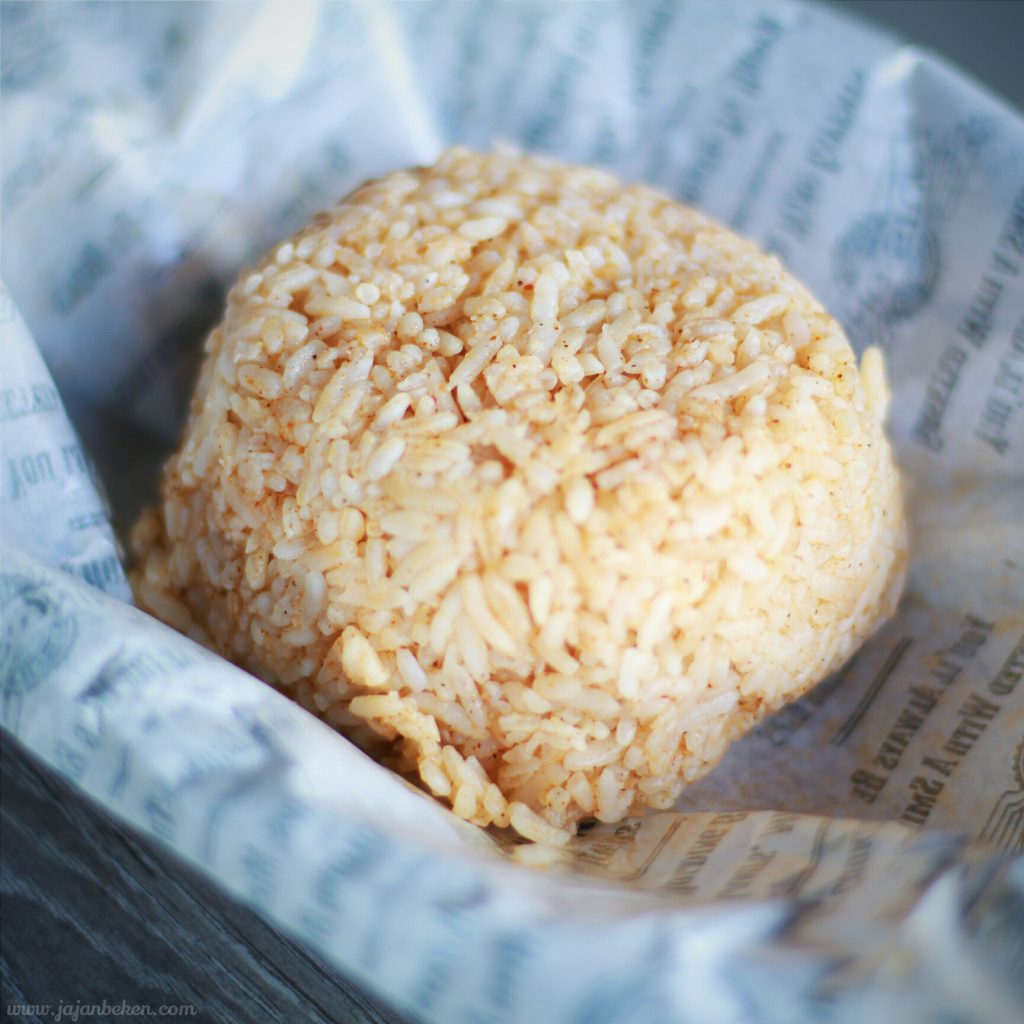 Soft Drink (M) IDR 15K (L) IDR 18K
Not just food that have a good taste, but Wingstop provide a variety fresh beverages.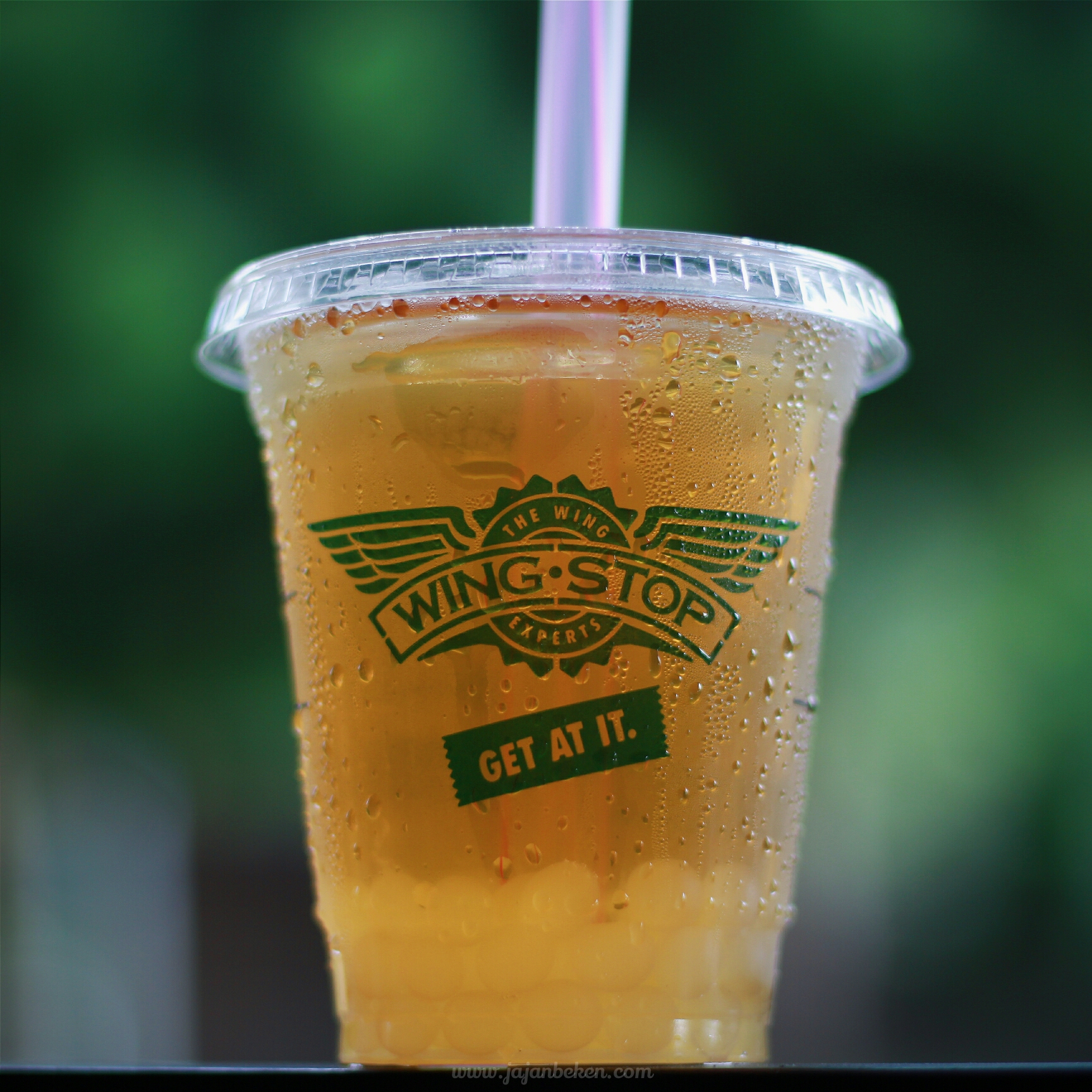 For reservations at the checkout there are several flavors among others lemonade, blackcurrant and green tea.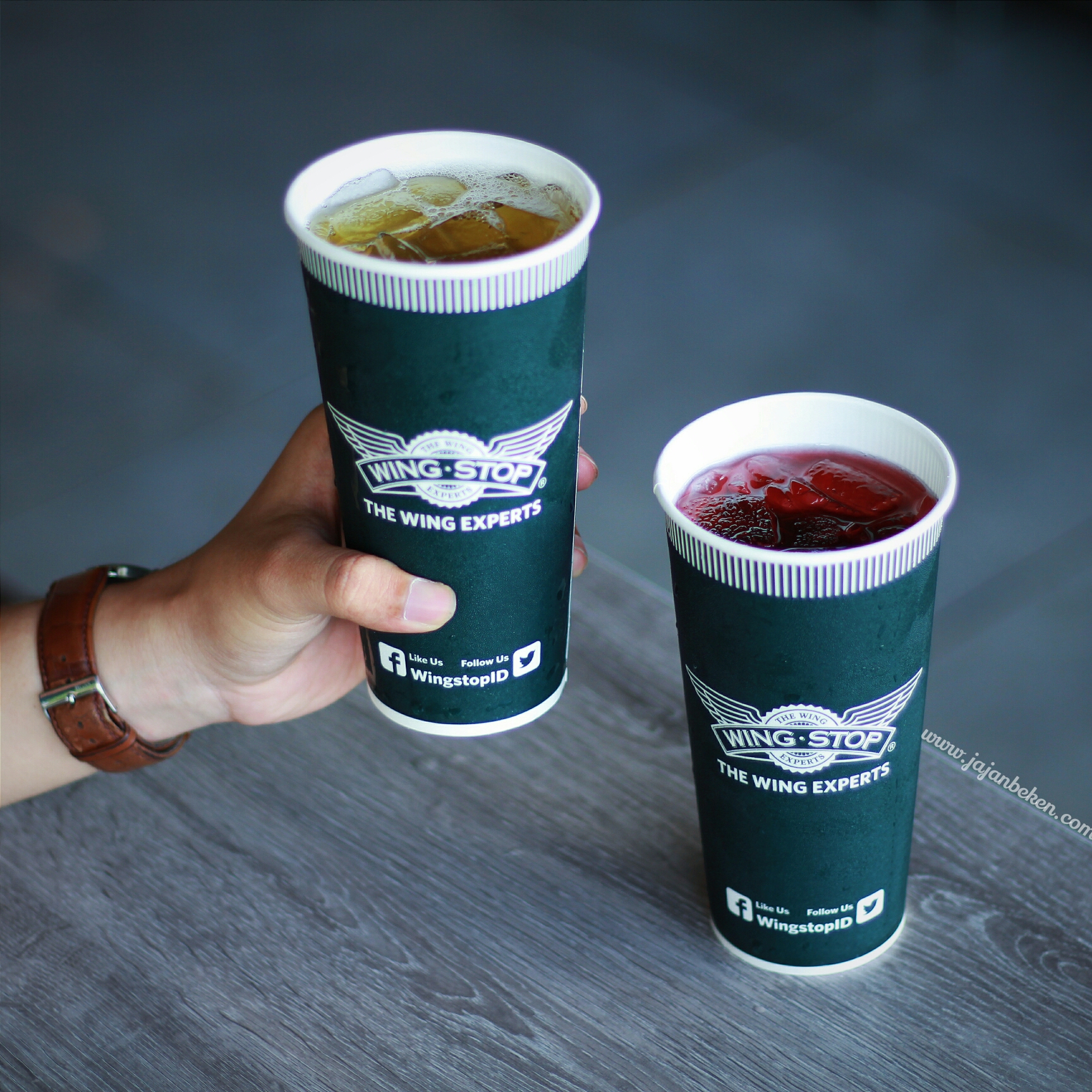 I really liked the green tea. Because the taste was strong and moreover very refreshing.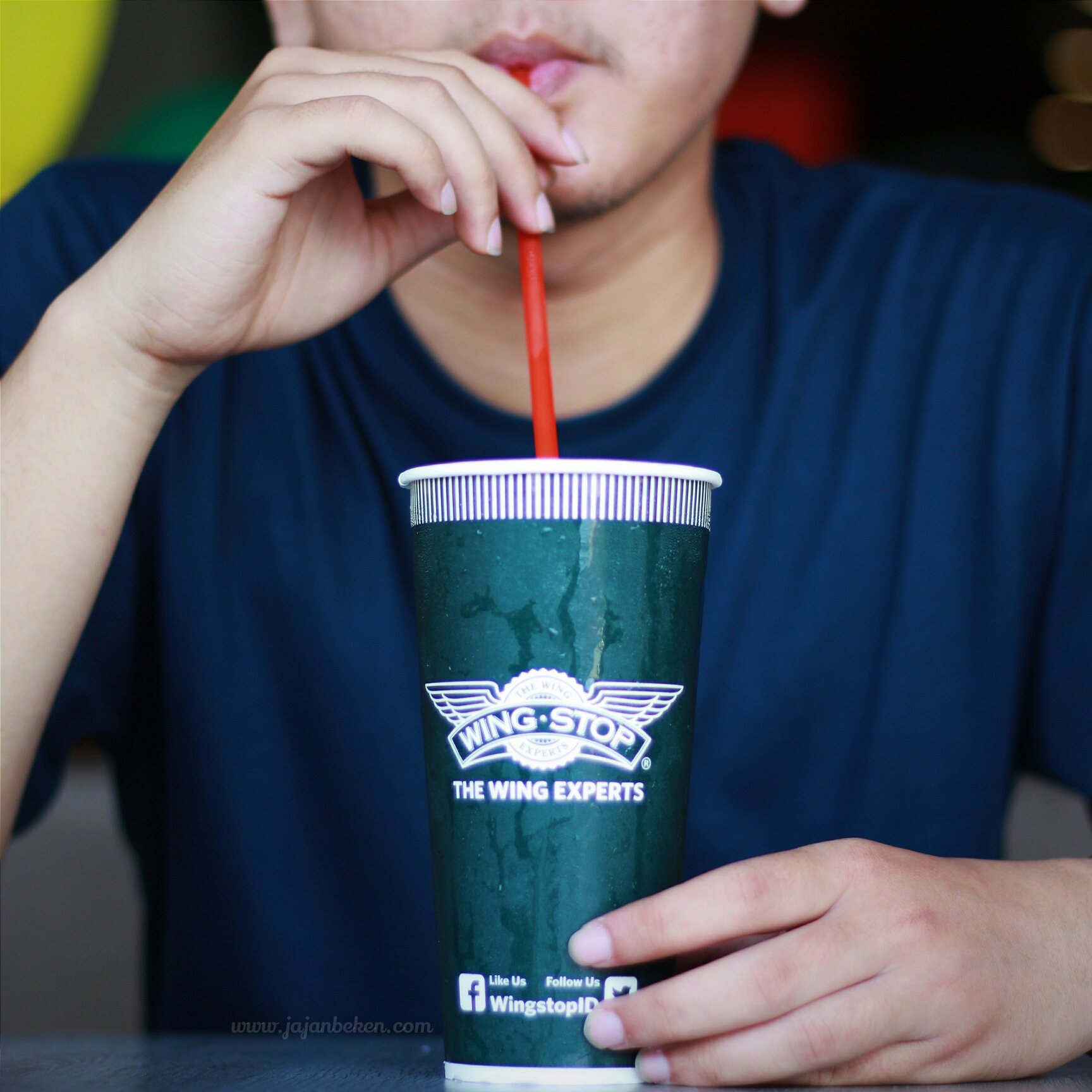 I highly recommended Wingstop Bekasi as a place to enjoy chicken wings. You can choose 11 different flavor such as garlic parmesan and cajun like I tried. You must be like it.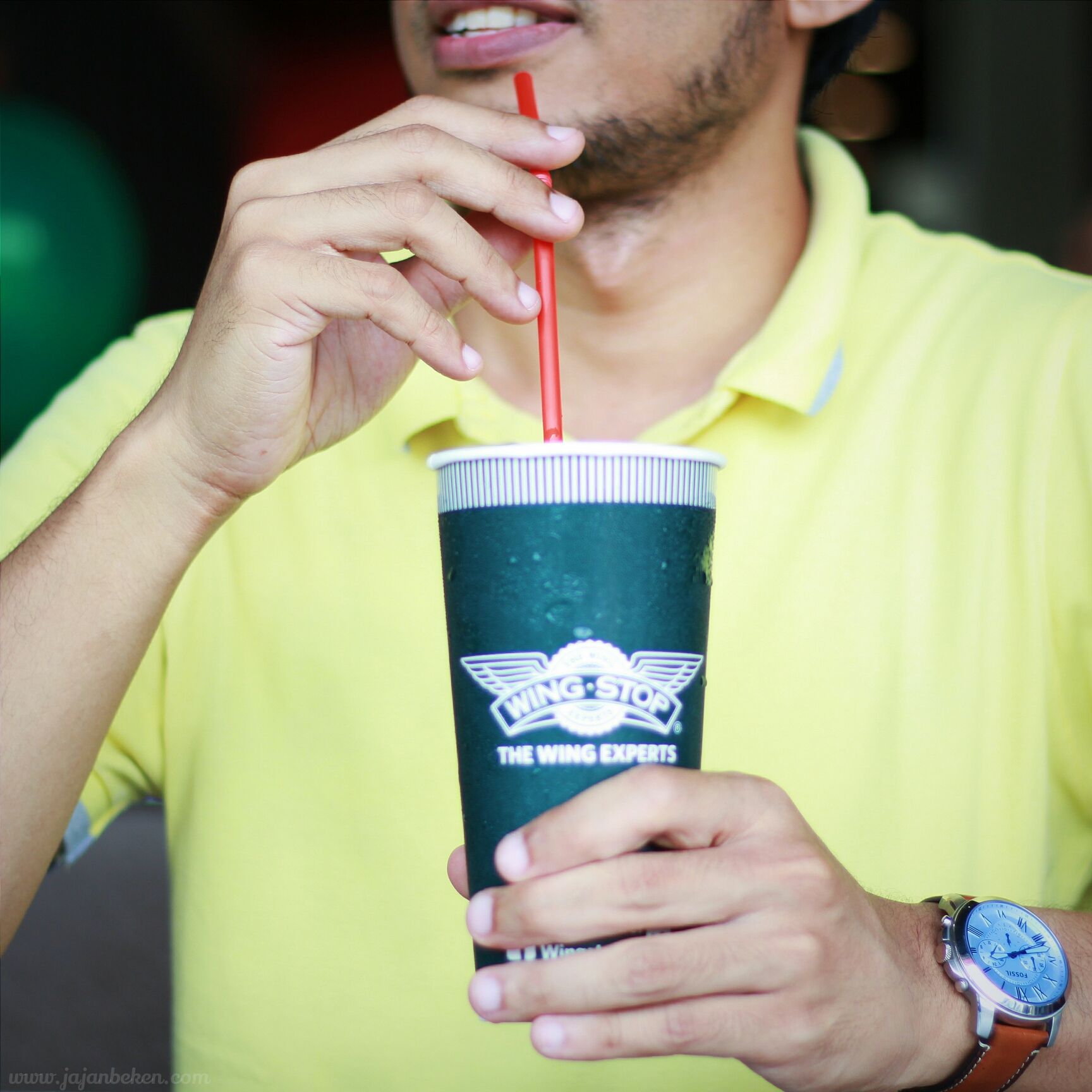 Thank you for coming in this article, don't forget to subscribe our blog and see the others awesome articles. I apologize if there any errors in my writing, and see you to the next adventure with Jajan Beken
RATING
Ambience : Excellent
Taste : Excellent
Service : Excellent
FACILITIES
Wifi : Yes
Plug : Yes
Dine in : Yes
Outdoor : Yes
Toilet : Yes
Parking : Yes
CONTACT
Address : Kota Harapan Indah @Meli Melo Kav 1E,
Jl. Harapan Indah No.1 RT.2/3, Pejuang, Bekasi 17131

INFORMATION
Open hour :10AM – 11PM
Price : Average Rp200.000 for two people (approx.) Cash and Cards accepted
MAP