Momozen The Plaza Jakarta is a restaurant that serves superbly delicious food. They offer delicious Japanese food as well as a place for all your partners or family.  Located on the altitude of 46 at the Plaza, Momozen will give you a different dining sensation than usual. So on this occasion I will tell you about my experience when trying some of their signature menus to their seasonal menu.
I've been several times previously visited Altitude The Plaza to try another restaurant. Oh ya, FYI Altitude The Plaza has several restaurants such as Altitude grill, Enmaru, Shabu Gen and also Gaia. At that time I tried to come to Momozen to lunch with friends.  That time was my first arrival to this restaurant because very curious about the truffle of this restaurant. And the truffles they serve are really really good for details, let's talk about the session menu below.
When I came to Momozen I really like the typical scent of the ambience, fresh with hint of traditional spices. Besides, the receptionists here were very friendly and helped us to pick a table and give us a little introduction about their restaurant. The service here is excellent, and feel like a 5 star service.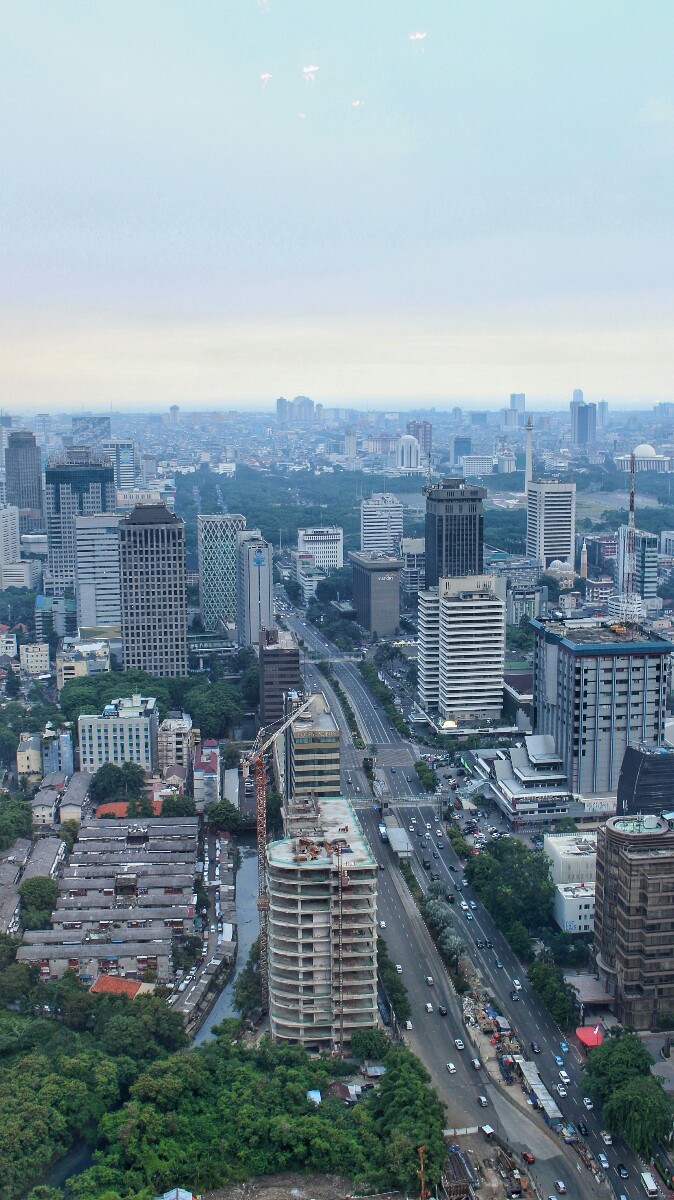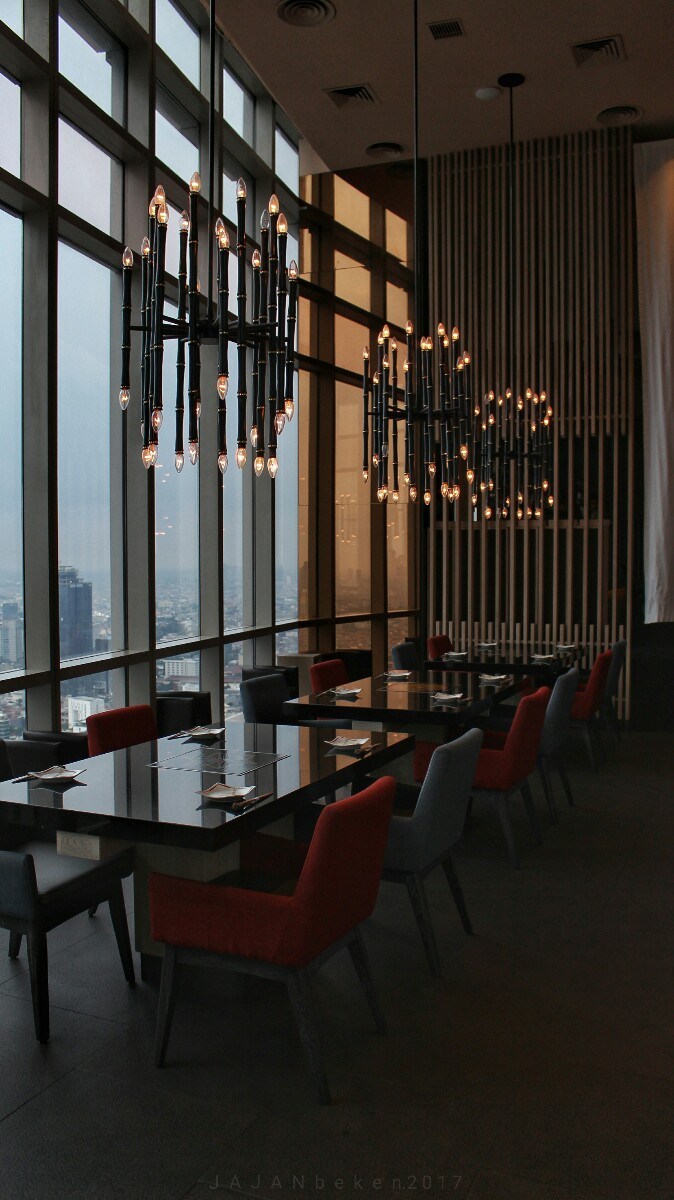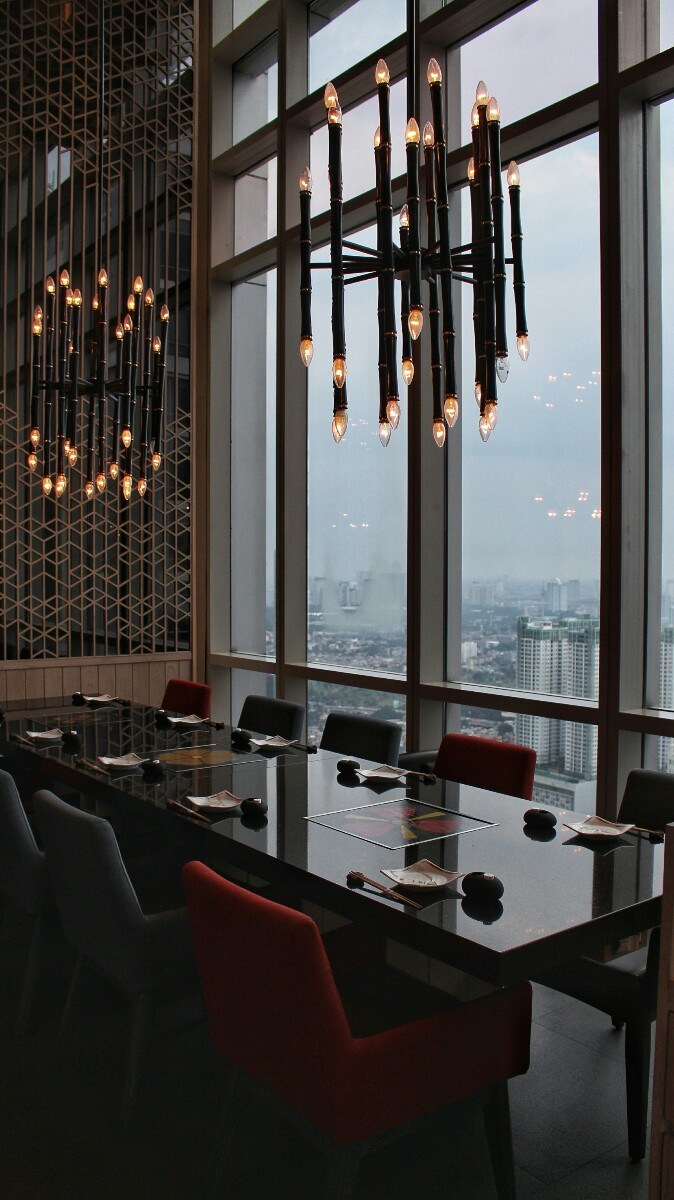 If we talk about the ambience of this restaurant is very interesting, they give a traditional Japanese touch but with a modern look. In the design they use wood elements to look natural and more homey.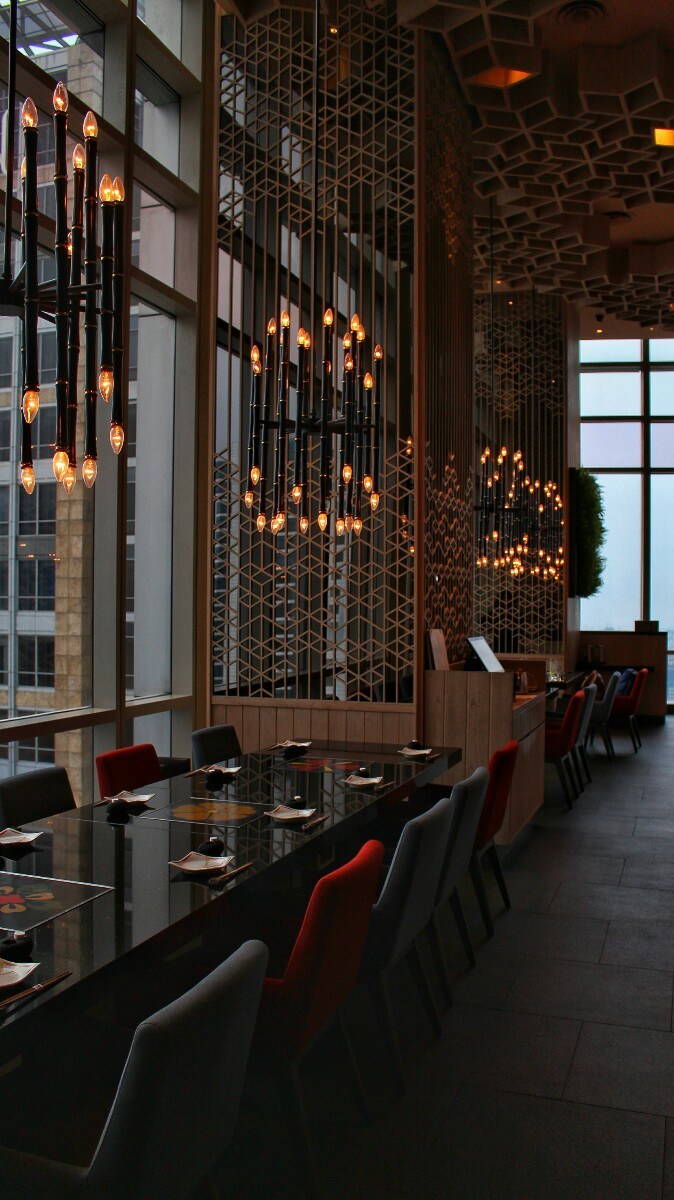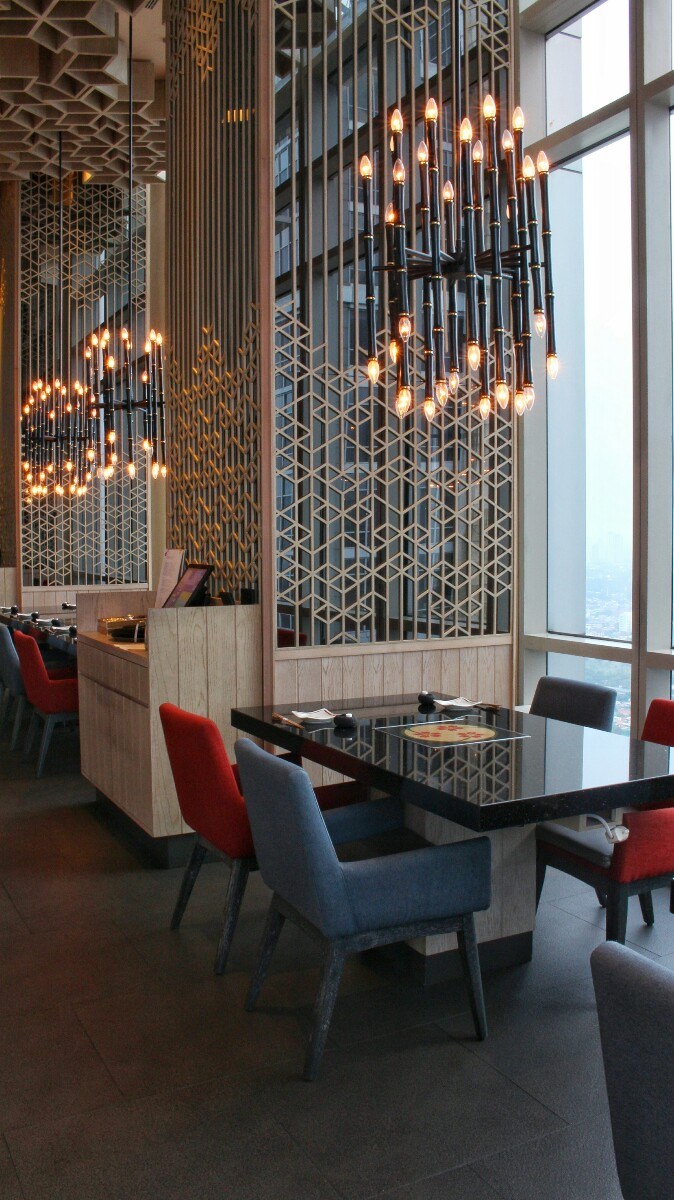 Not less interesting to discuss also is the ceiling of this restaurant. Chandeliers and wood carvings are very beautiful with flower shaped and add to the impression of luxury this restaurant. And during this time I also did not stop to face my head up to see this.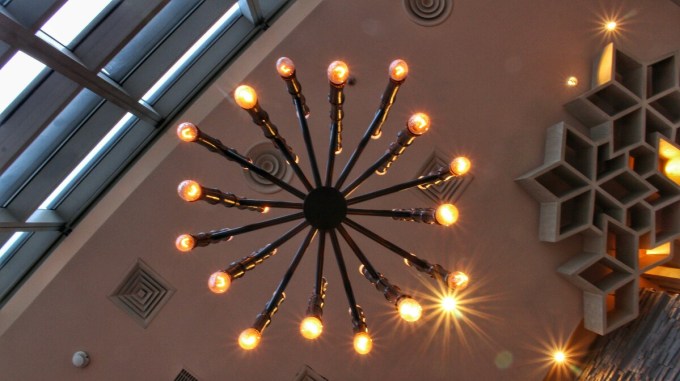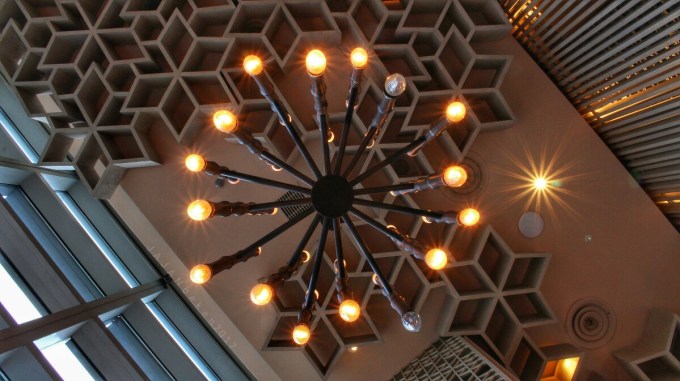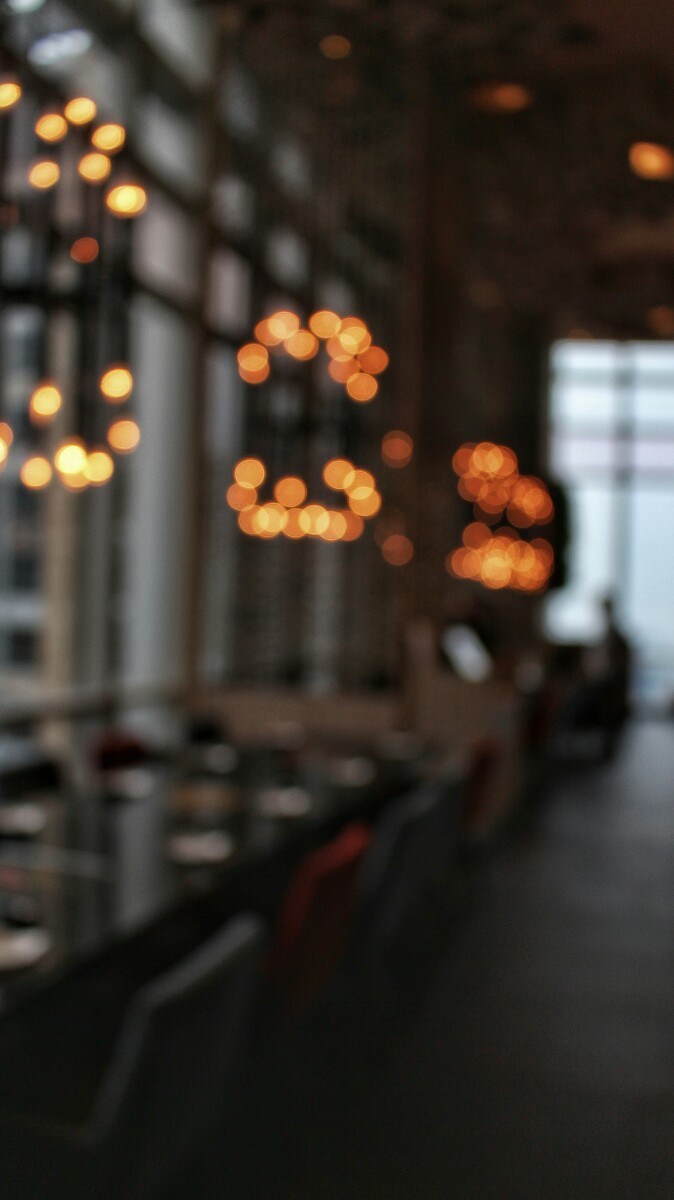 I highly recommend for you to reserve in advance before coming here. Because this restaurant does not provide too many tables.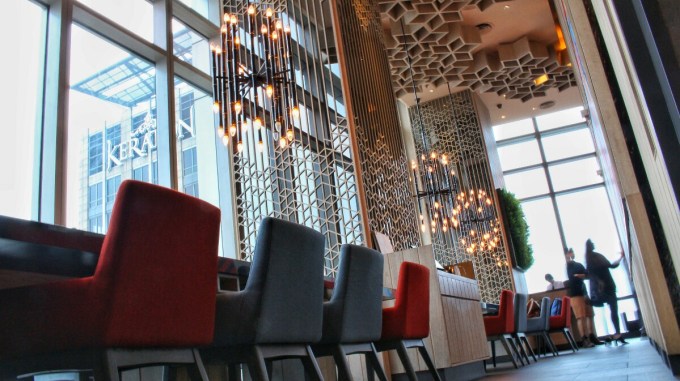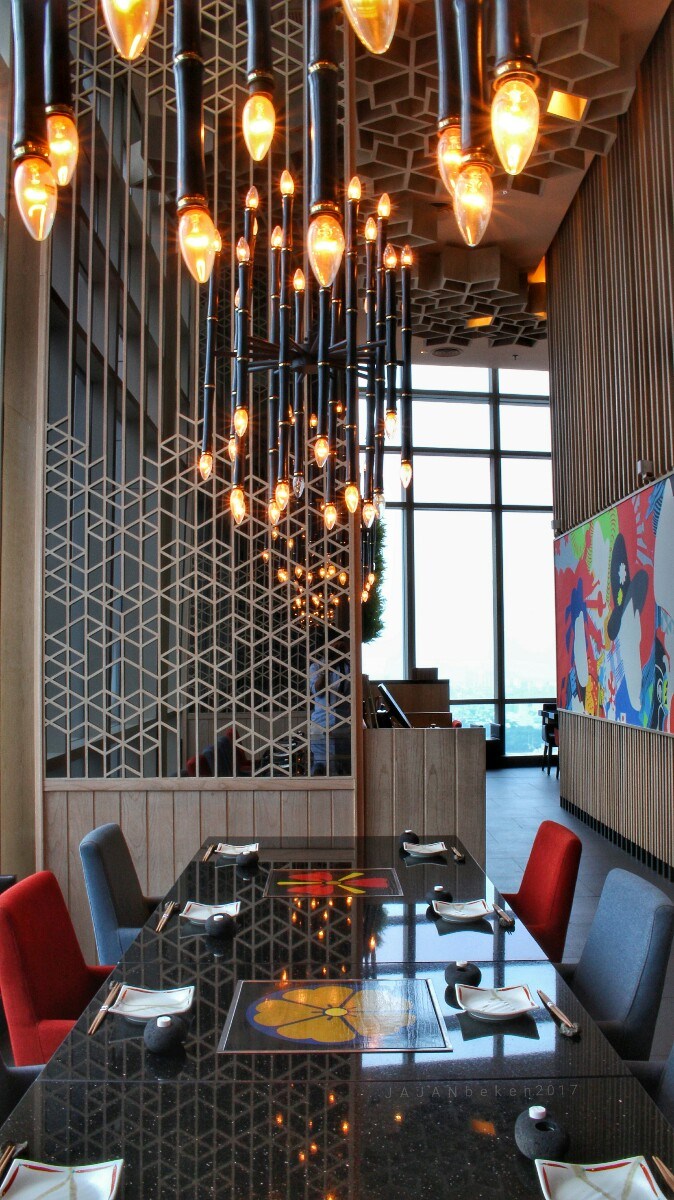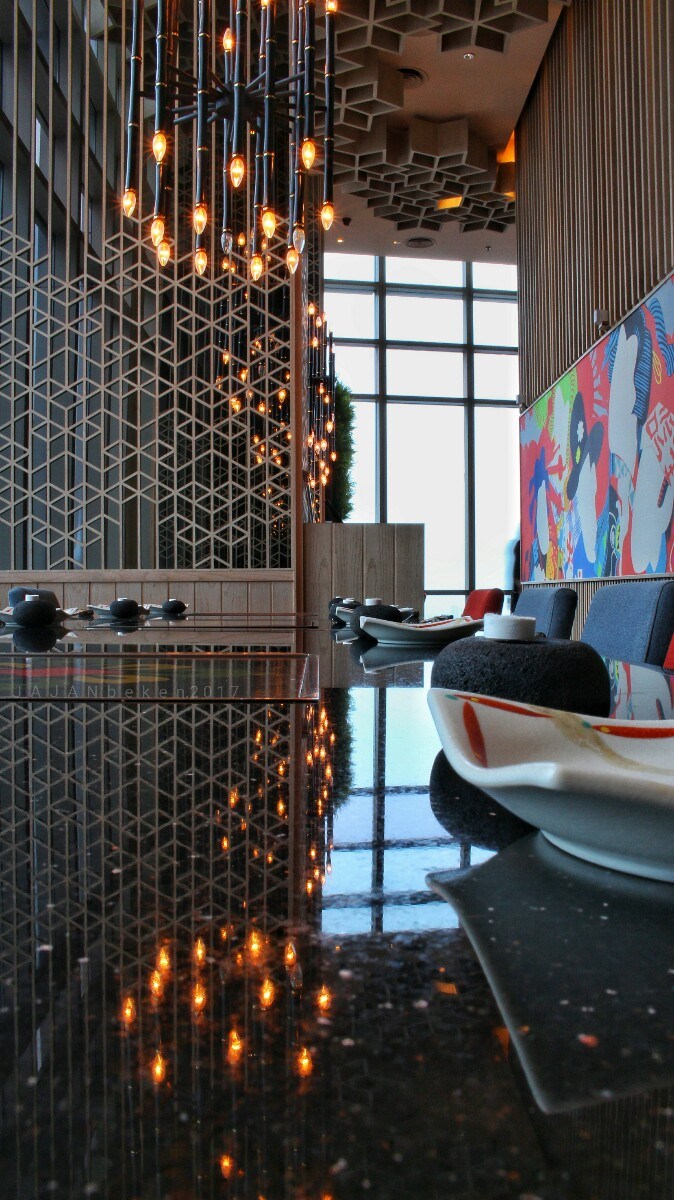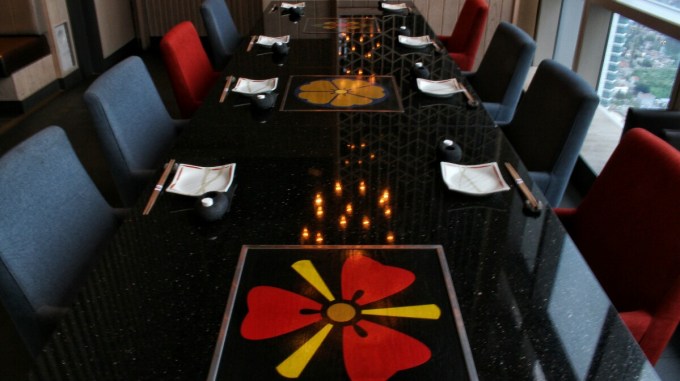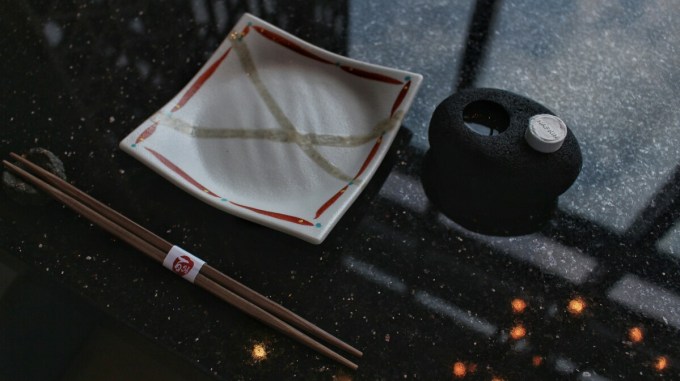 You can see the city of Jakarta that very beautiful look from Momozen restaurant. Especially if you come here with your love one, certainly would be more romantic to spend time together.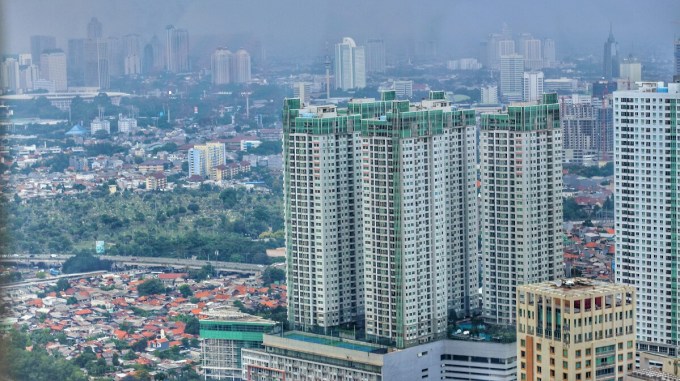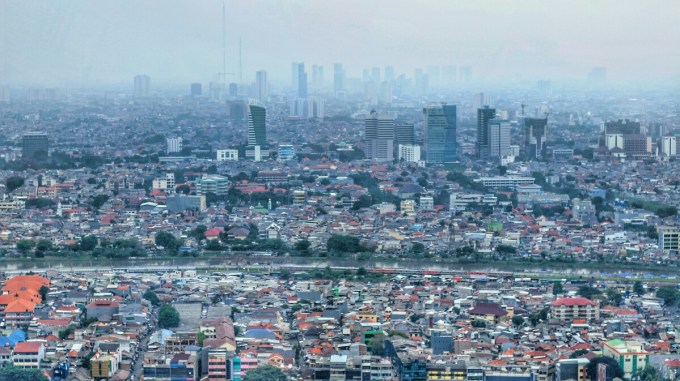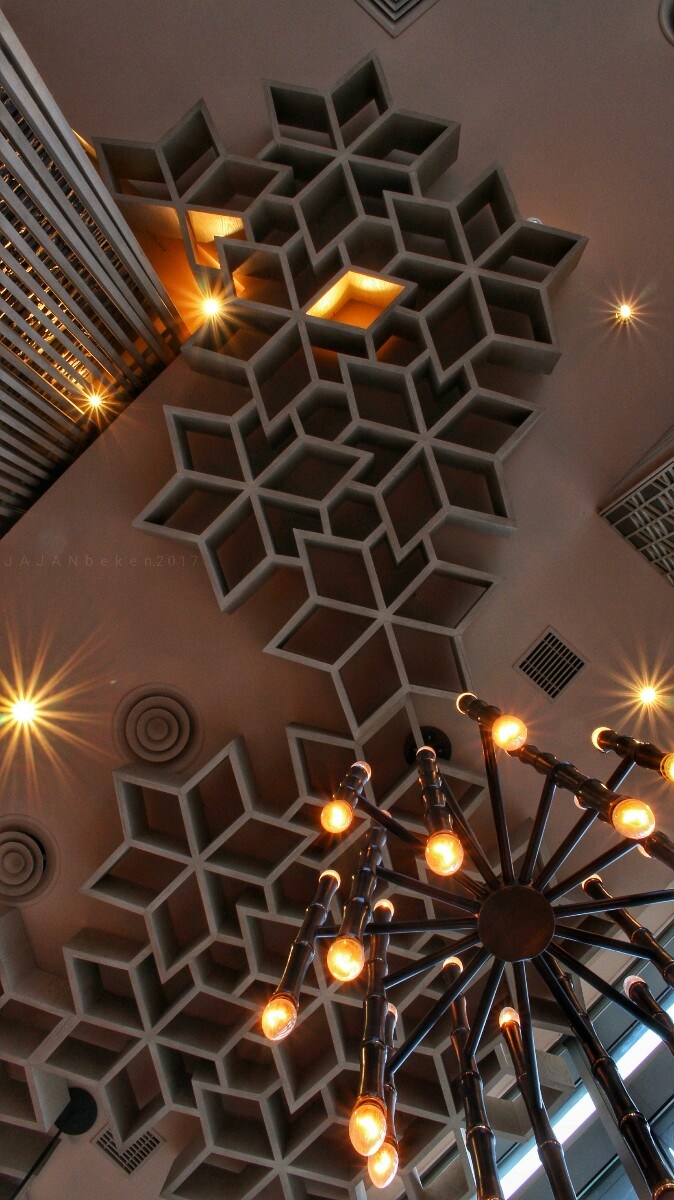 Truffle and Caviar Somen IDR 95k
This one menu is the signature menu of Momozen at The Plaza. This menu is like angel hair served with black truffles and caviar on top. When this menu came to our table, and the truffle oil smelled and made me hungry. Don't forget to order this if you come here.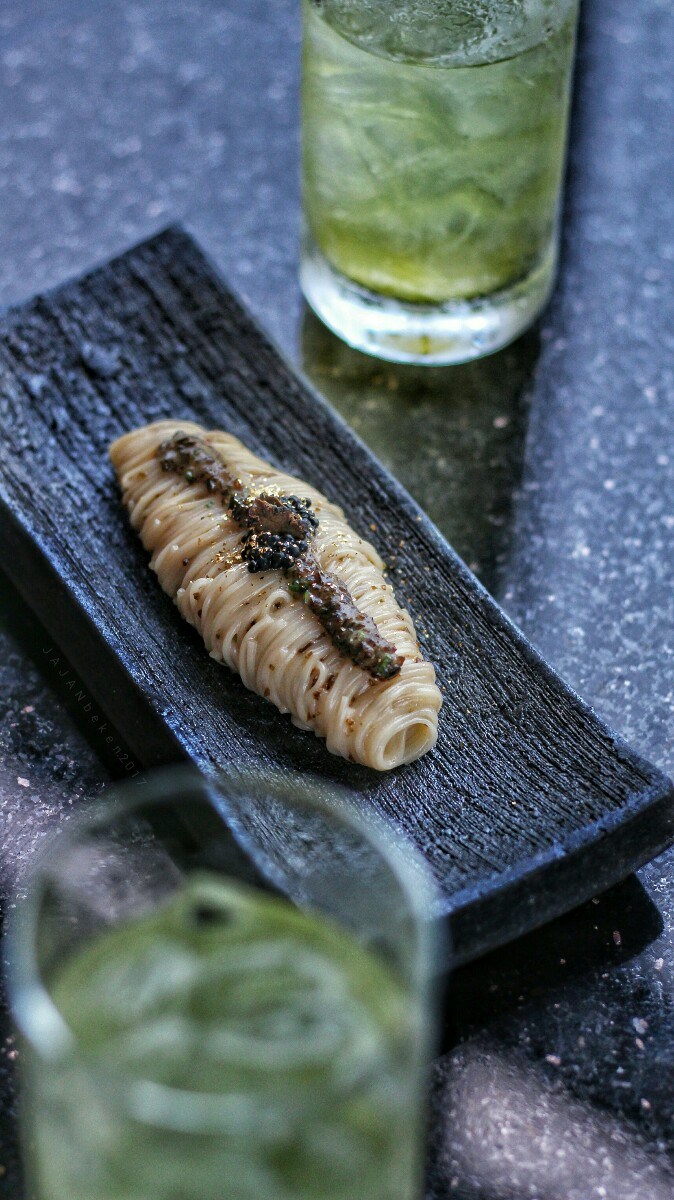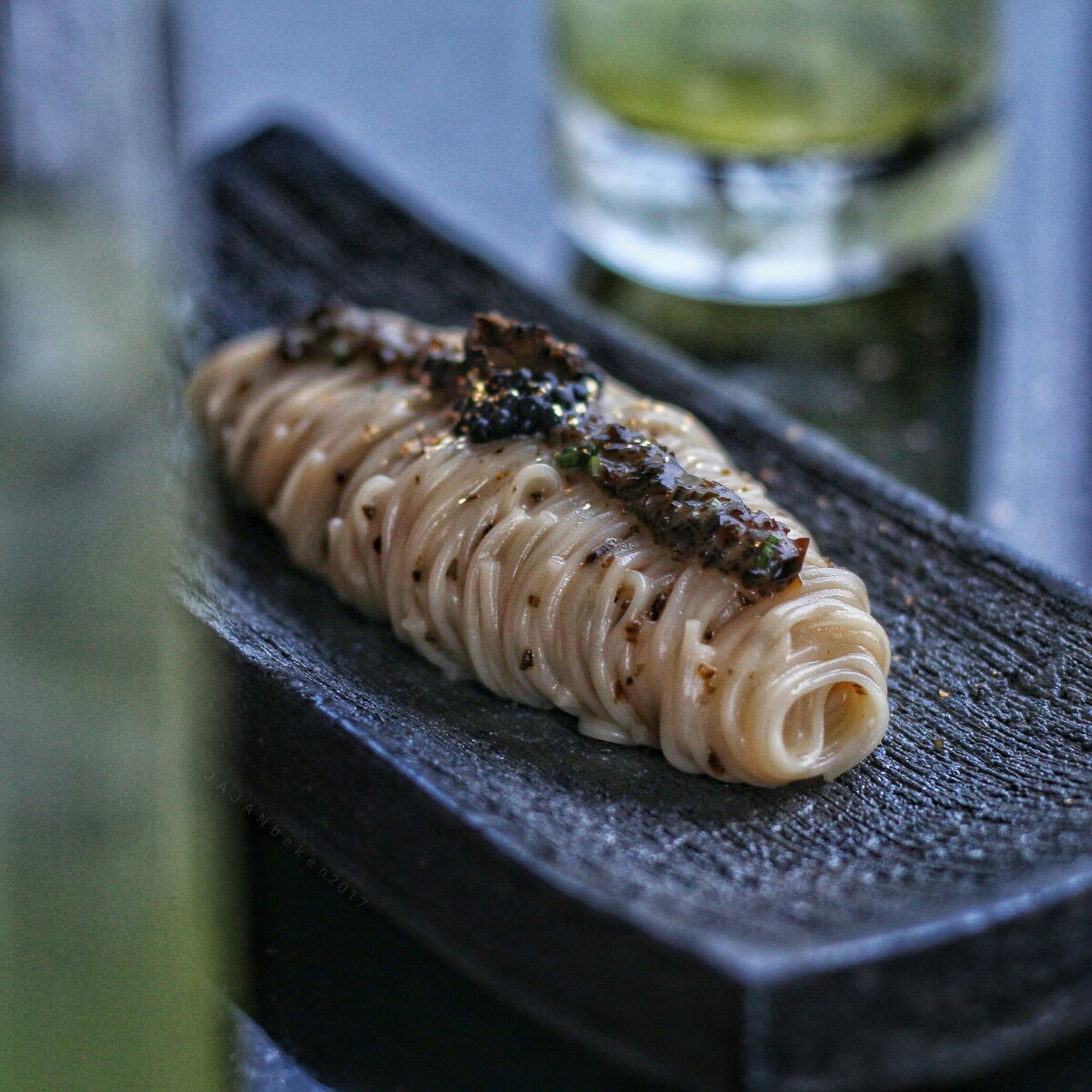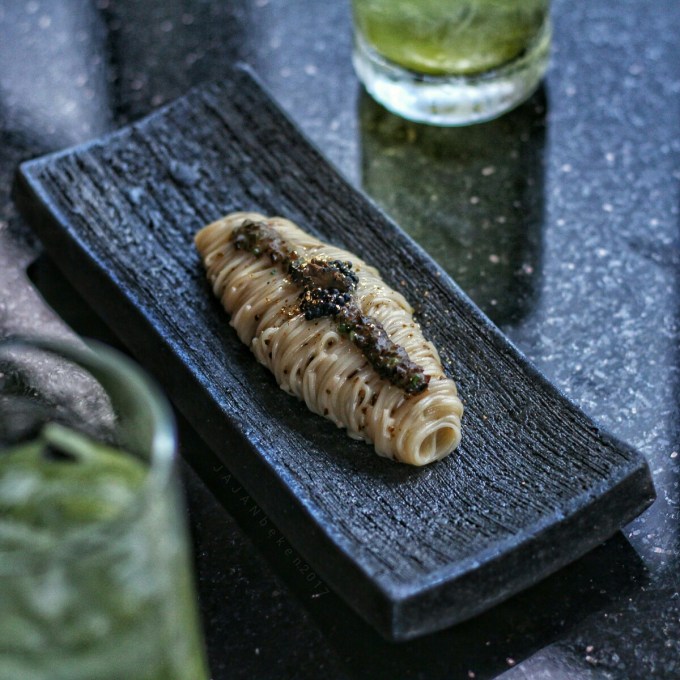 Shiogama Beef IDR 380K
This menu served with 200 gram grilled rib eye, salt crust dome, Japanese condiments. OMG I can not stop to enjoy this menu. The meat is very tasty, the texture is very juicy and tender. Especially if you enjoy it with 5 choices of dipping sauce provided, there are yuzu, truffle konbu, whole grain mustard, sea salt and shoyu butter that will make it more perfect.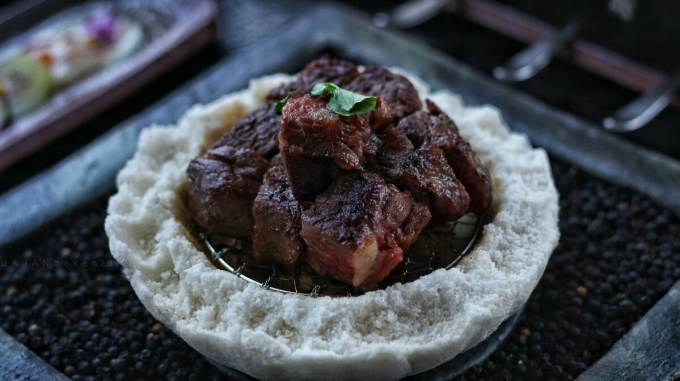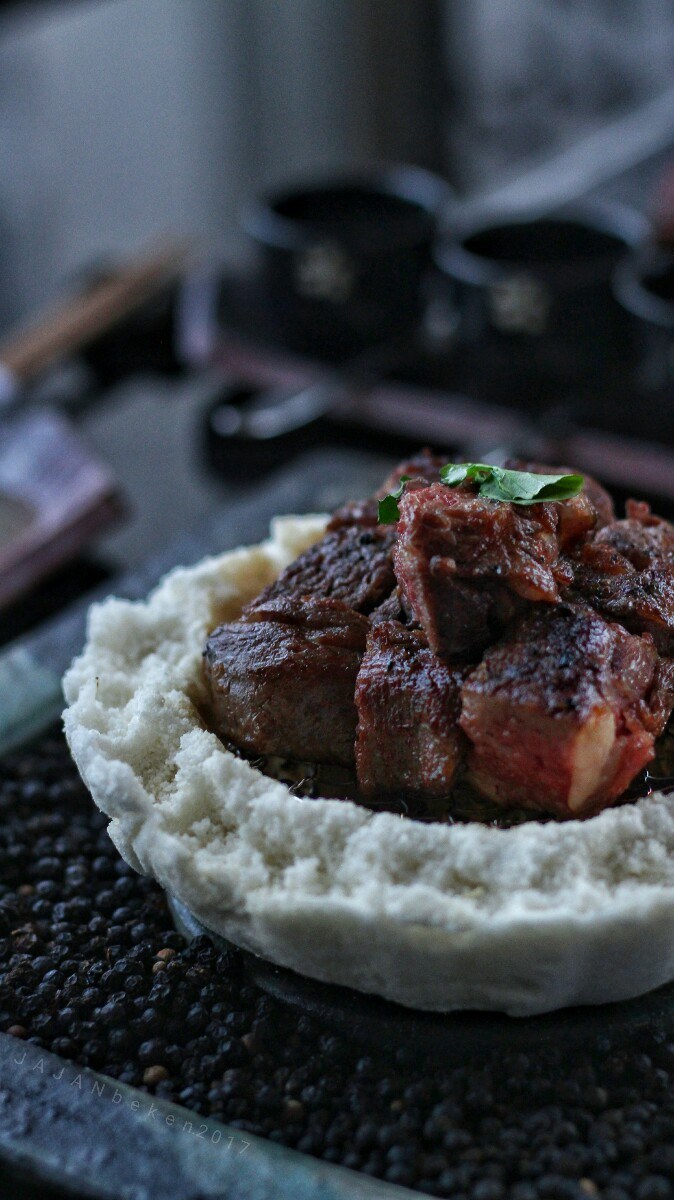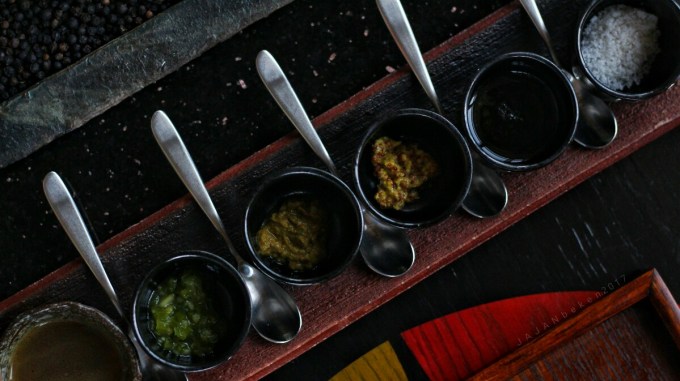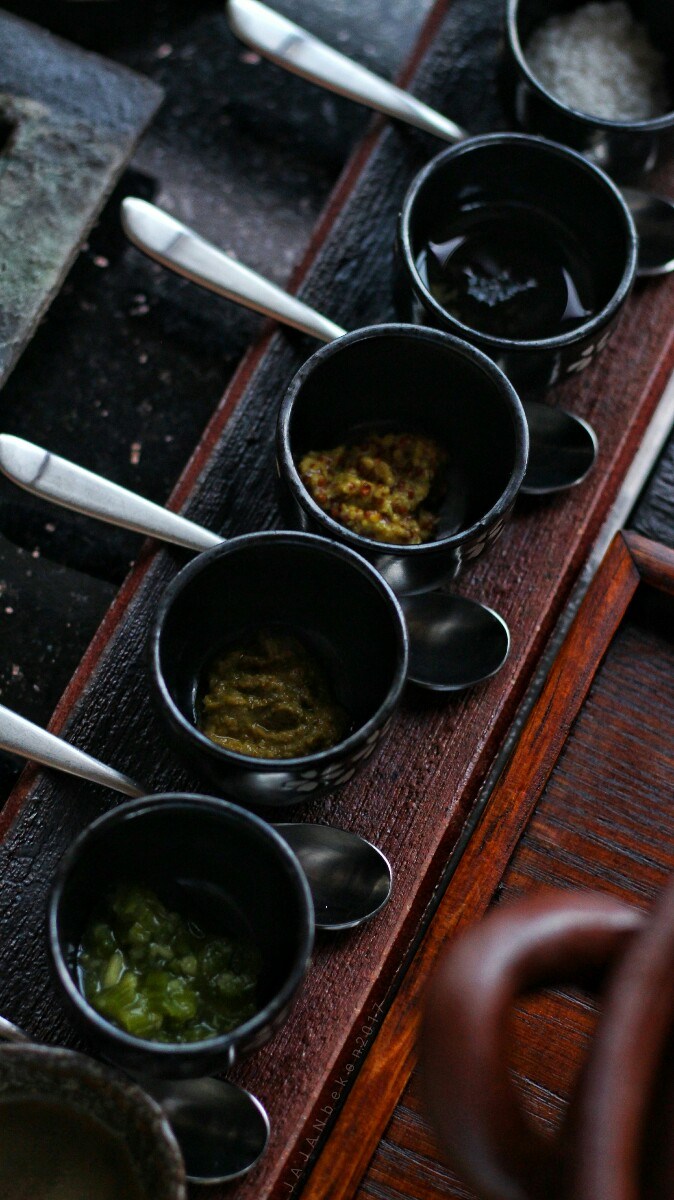 Hokkaido Hotate Carpaccio IDR 160K
This menu served with Japanese Scallop, Kiwi, Kyuri, Umami Ponzu, Mango Chili and 3 main element; cucumber, kiwi and scallop. This menu is very tasty, soft texture and certainly very refreshing.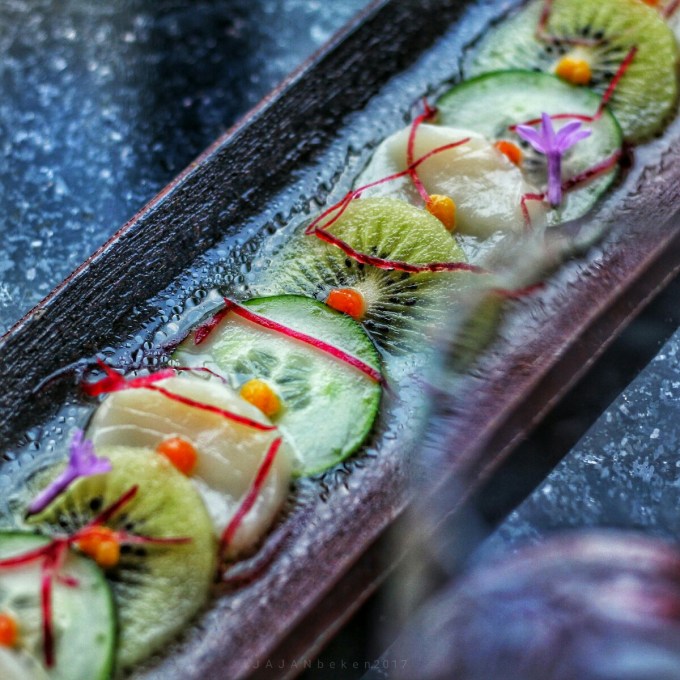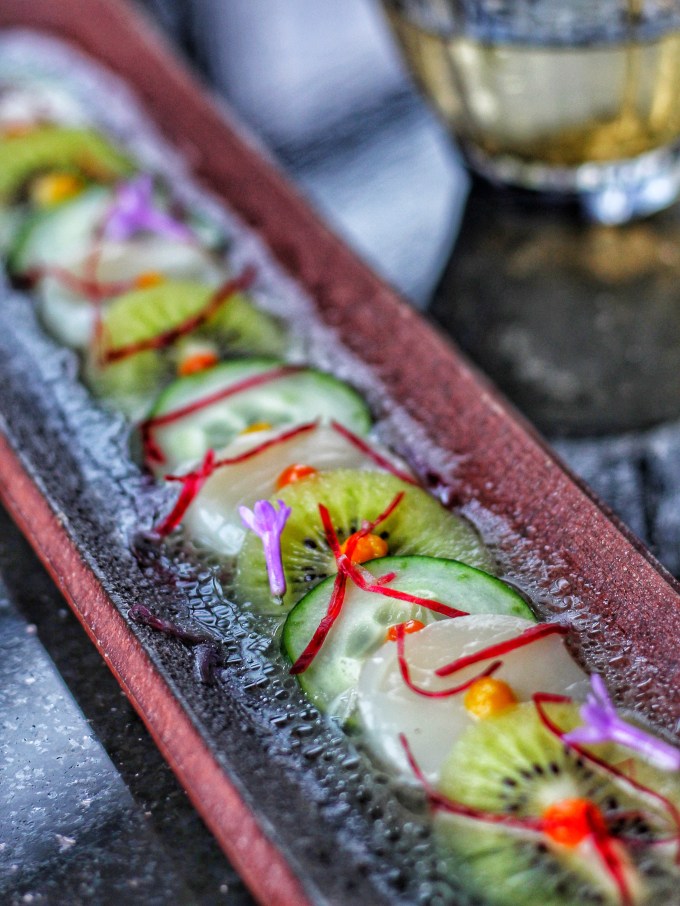 Baby Chic Truffle Rice IDR 380K
Anyone who saw it ? Who does not like this. This menu served with charcoal grilled whole baby  chicken stuffed with truffle butter rice and served in 40 minutes. You don't have to worry for how to eat this menu because if you order this menu the chef will help you in cutting and serving this menu. Indeed the chicken they serve is very delicious plus the rice and truffle make this menu more perfect to eat.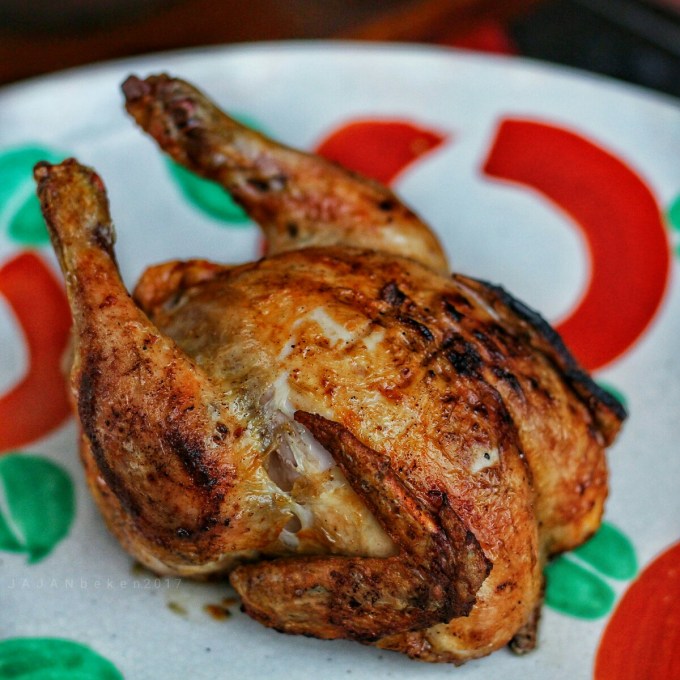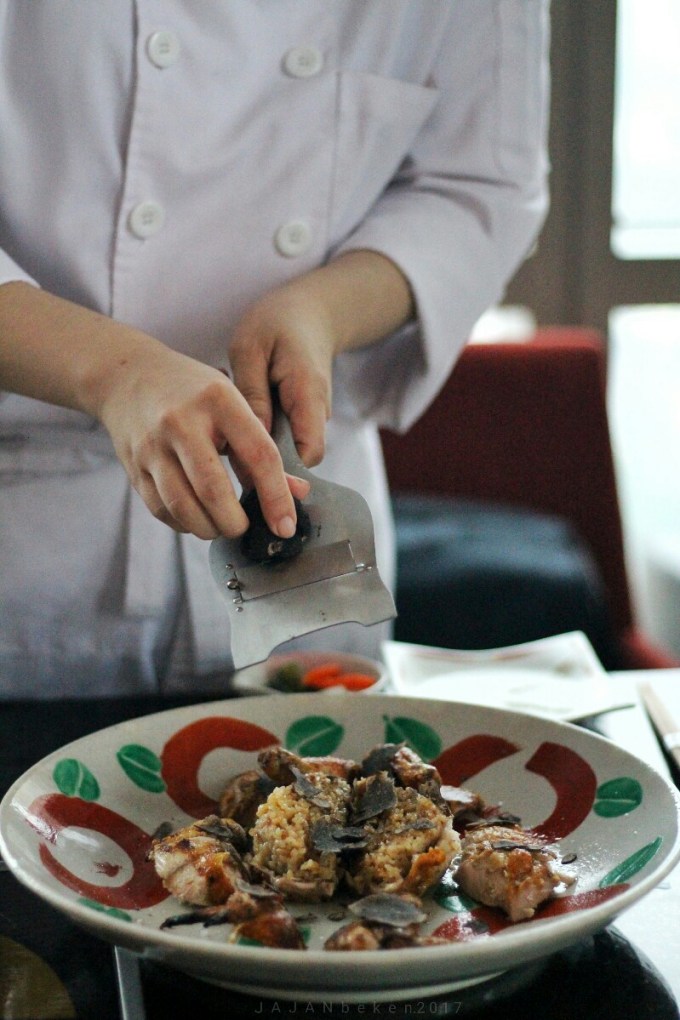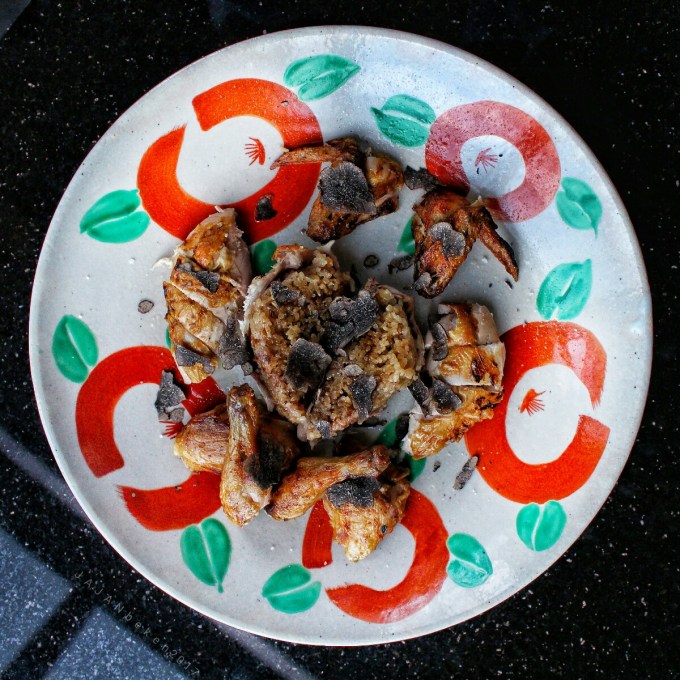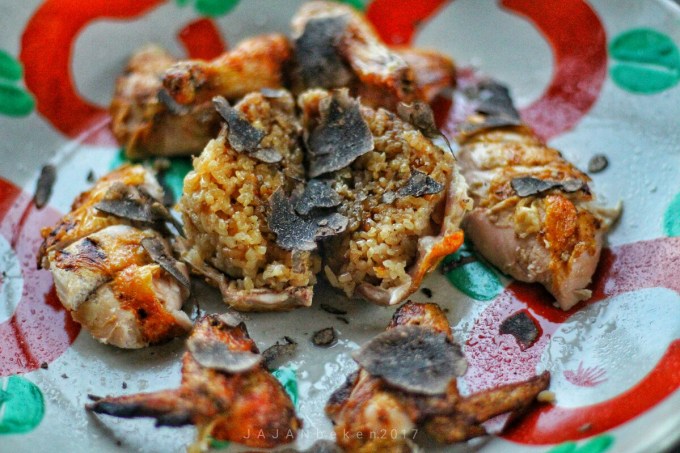 Truffle Donabe Gohan IDR 320K
This menu is not just plain rice, but this menu has an abundance of truffles on each grain and I've never had the pleasure of eating rice like this. I think this menu is not for one person but this is for sharing because the portions are large enough. Served with claypot makes this menu look traditional. I highly recommend this menu to you guys!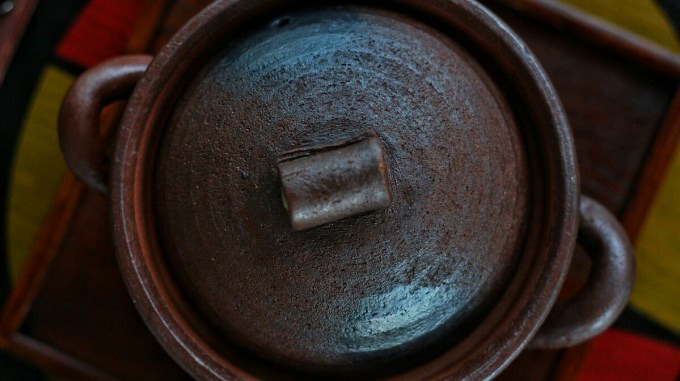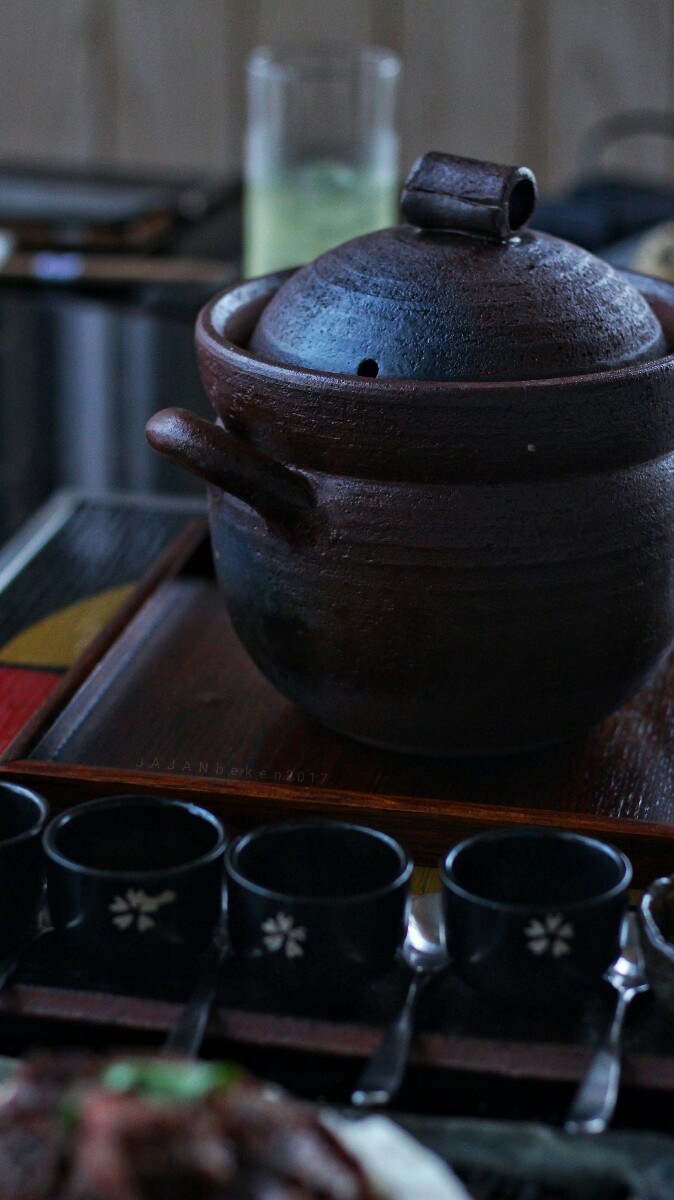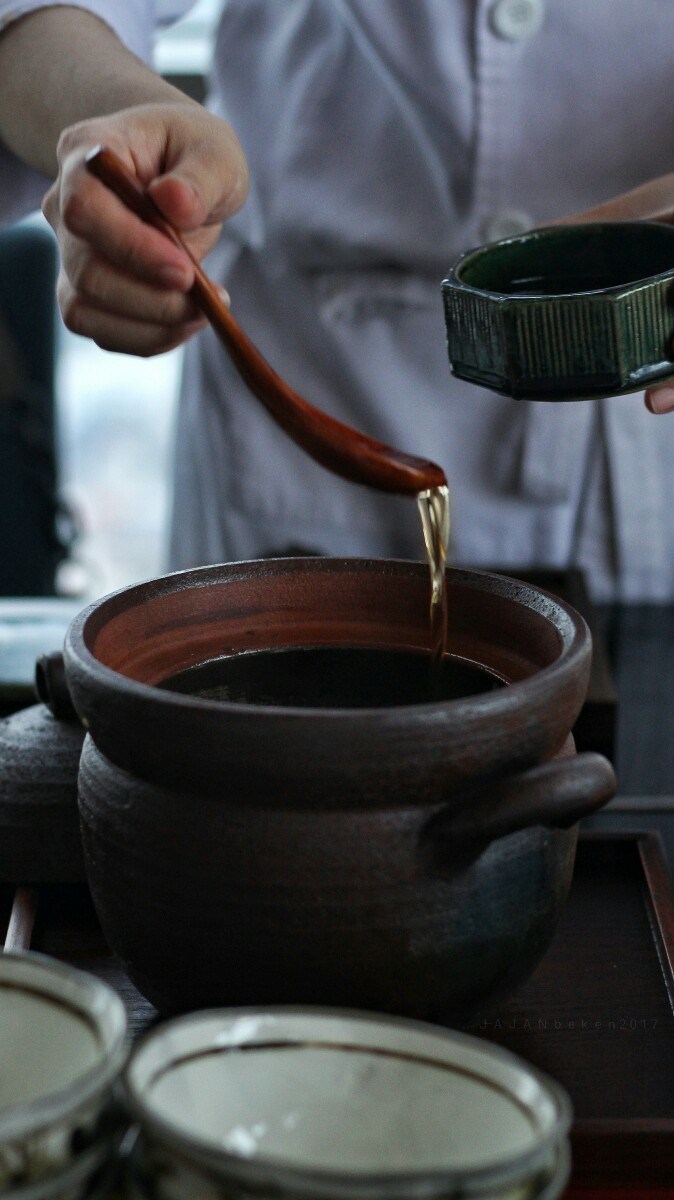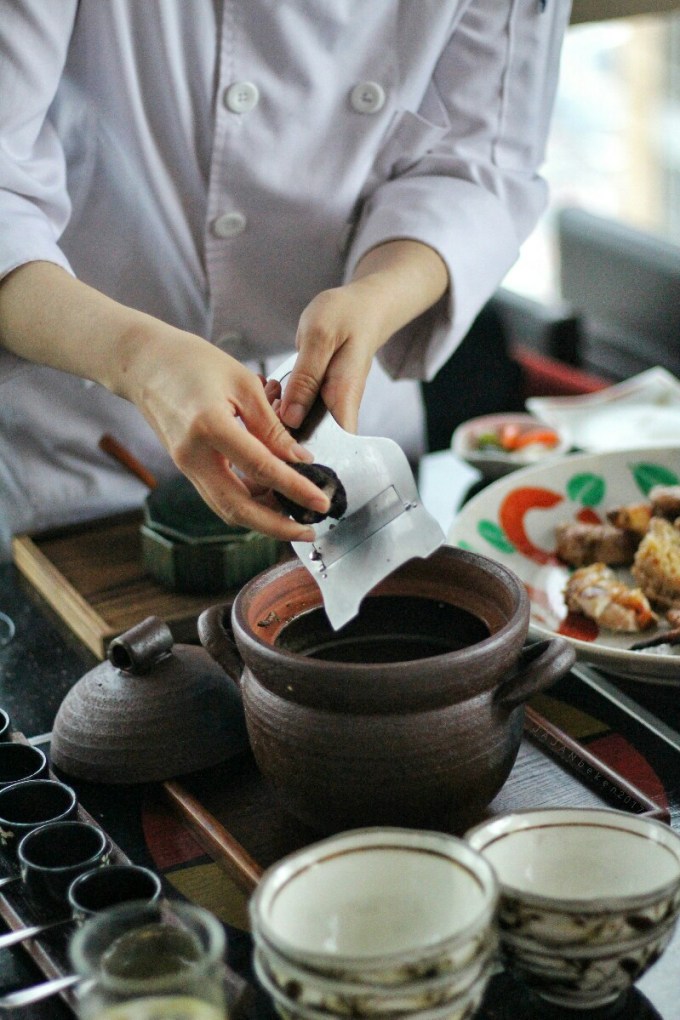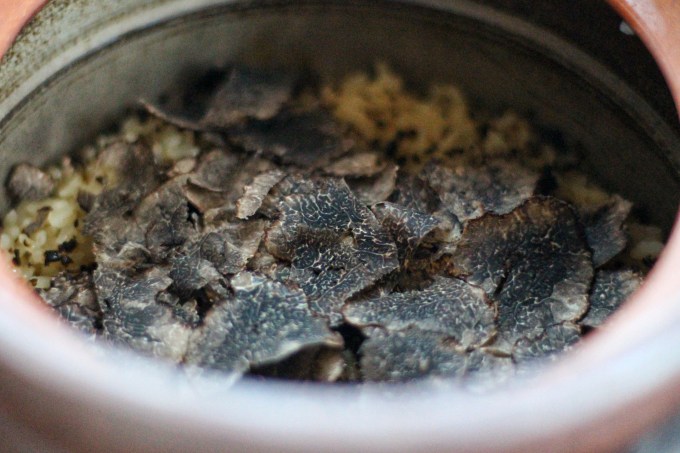 oh yes, for a bit of info I want to tell you a little bit that Momozen The Plaza is making Sakura menu for seasonal menu. This menu is available during the month of April, and that makes it different they also enliven this Sakura menu by creating a sizable cherry tree at the center of this restaurant.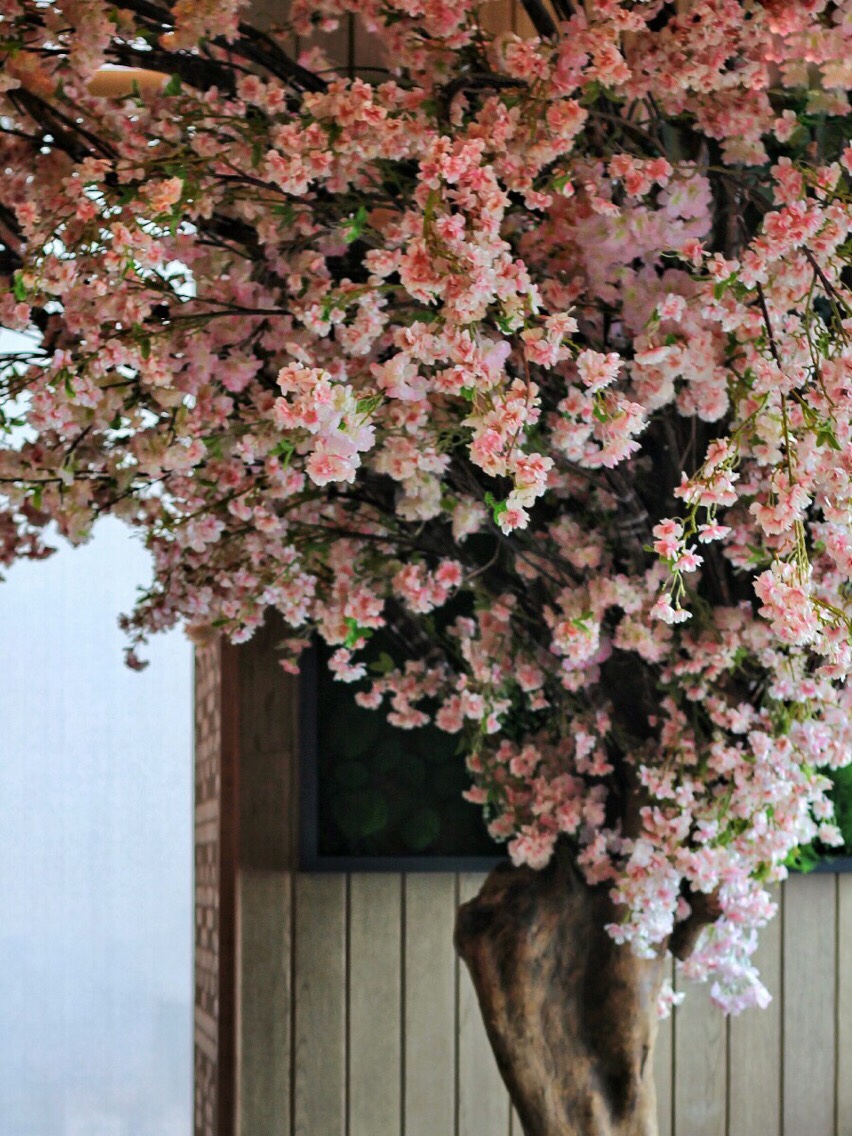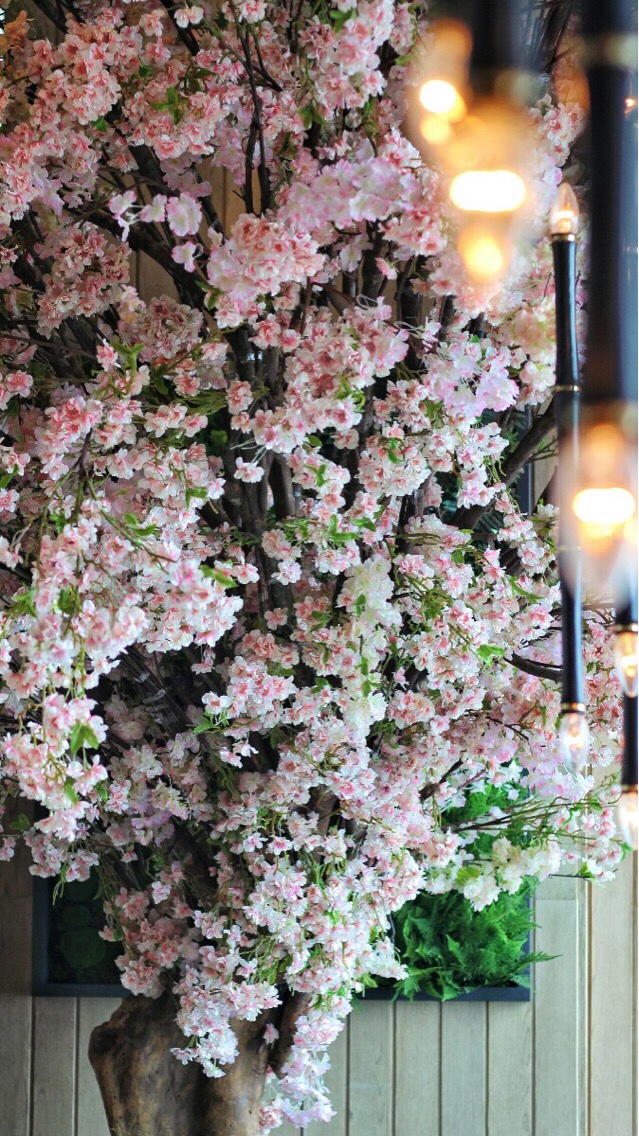 To instantly Momozen restaurant transformed into pink, very beautiful, with the arrangement of trees so appropriate. Although I do not feel direct the sakura season there but I can feel it here.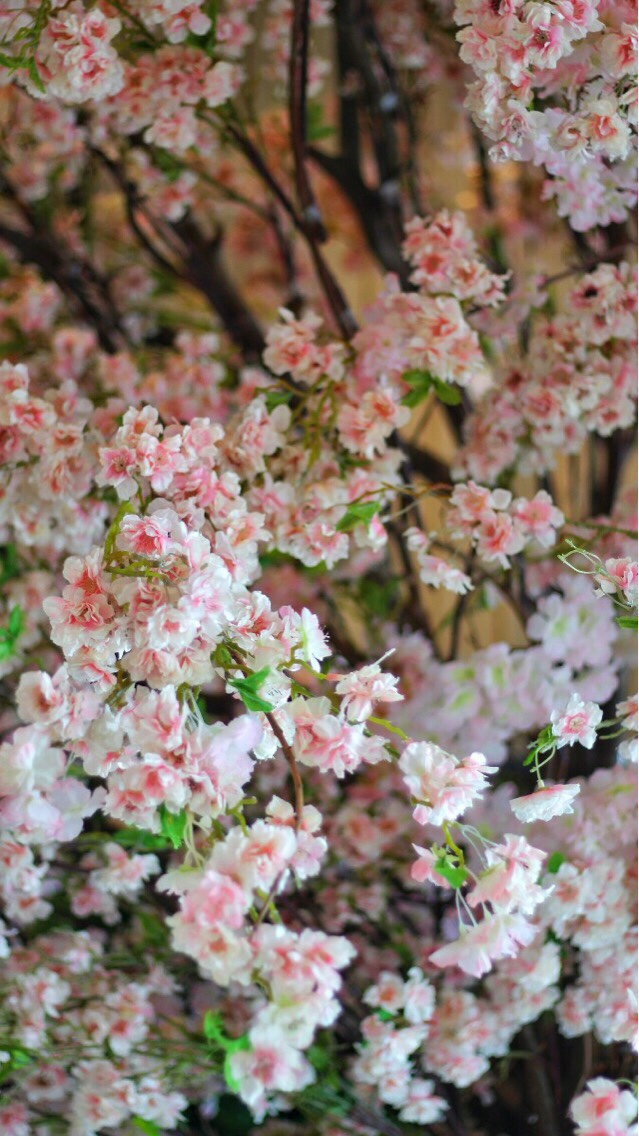 Not only decoration that changed, but Momozen presents a menu for this sakura season. All the foods on the Sakura menu is dominated by pink color.
Sakura Foie Gras Chicken IDR 320K
This menu served with juicy chicken breast, foie gras, chicken skin senbei, yuzu teriyaki and foie gras mousse. Foie gras coated with thick and tender chicken meat and when eating it is very fluid in mouth.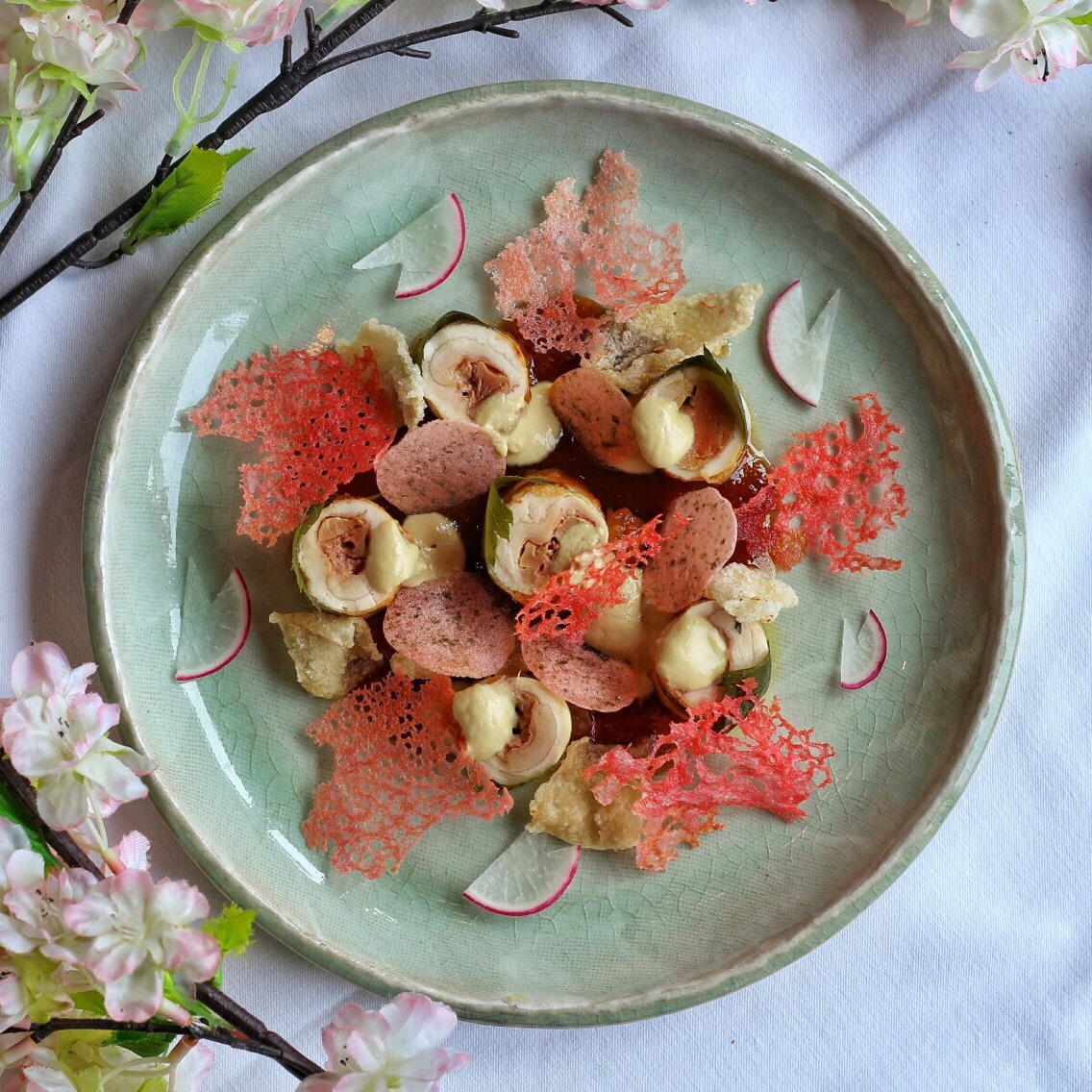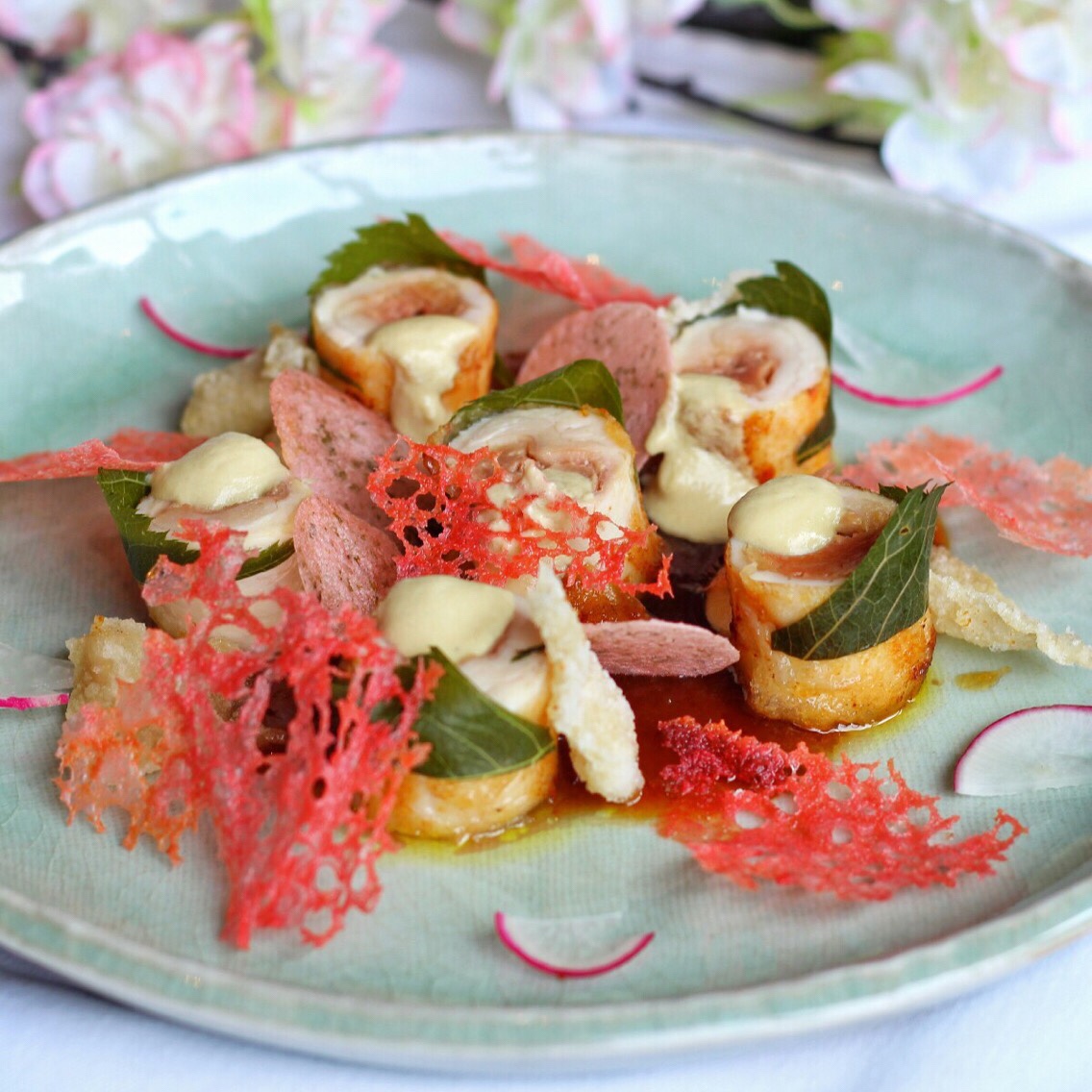 Sakura Miso Cod IDR 320K
This menu served with 4 pcs bite size saikyo miso marinated cod, sakura leaf and ama miso cashew. Honestly all the elements on this menu are very foreign to me, but it tastes very good.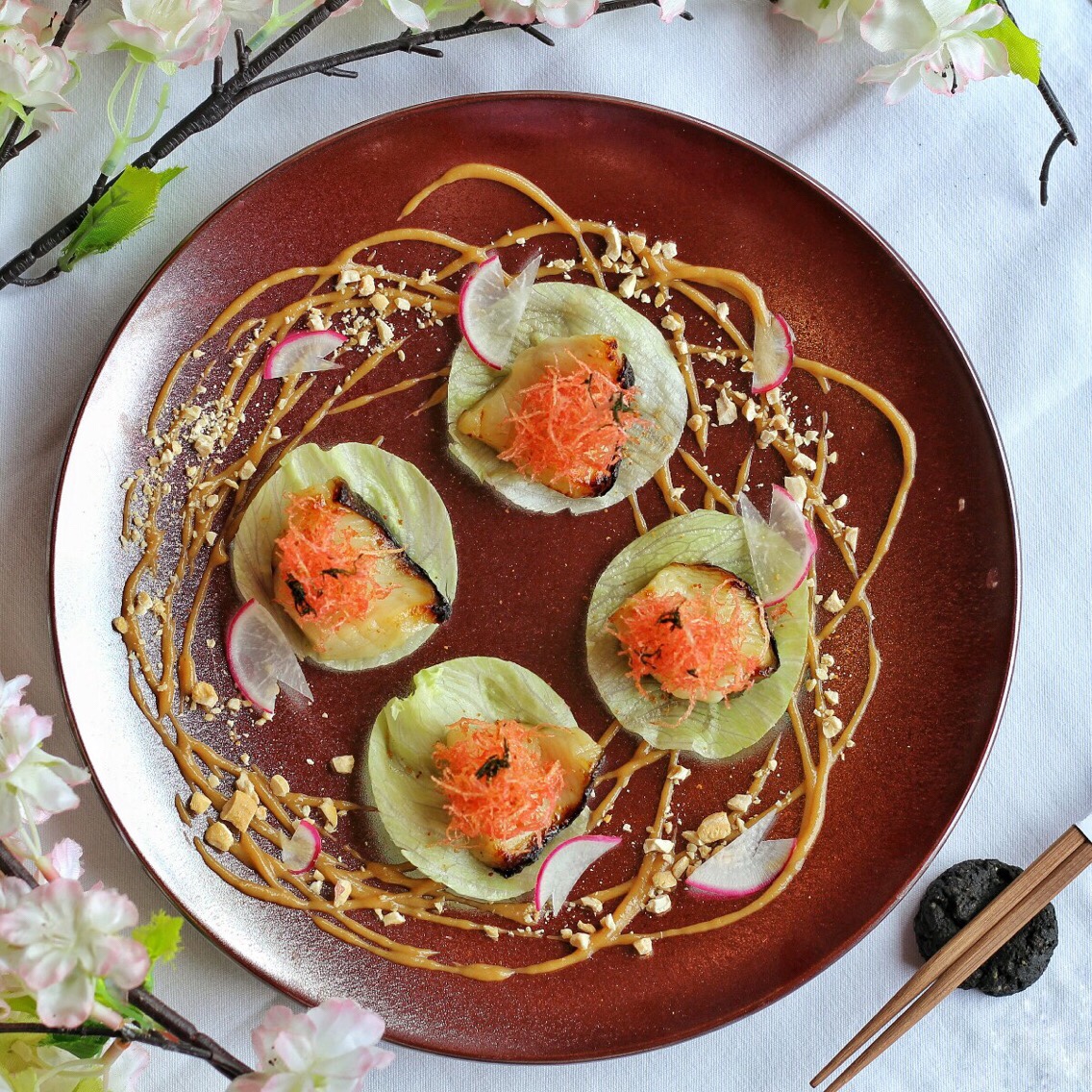 For dessert they prepare exciting promos for you especially just for this month. The promo is if you spend a minimum bill of 500K you will get free dessert as below!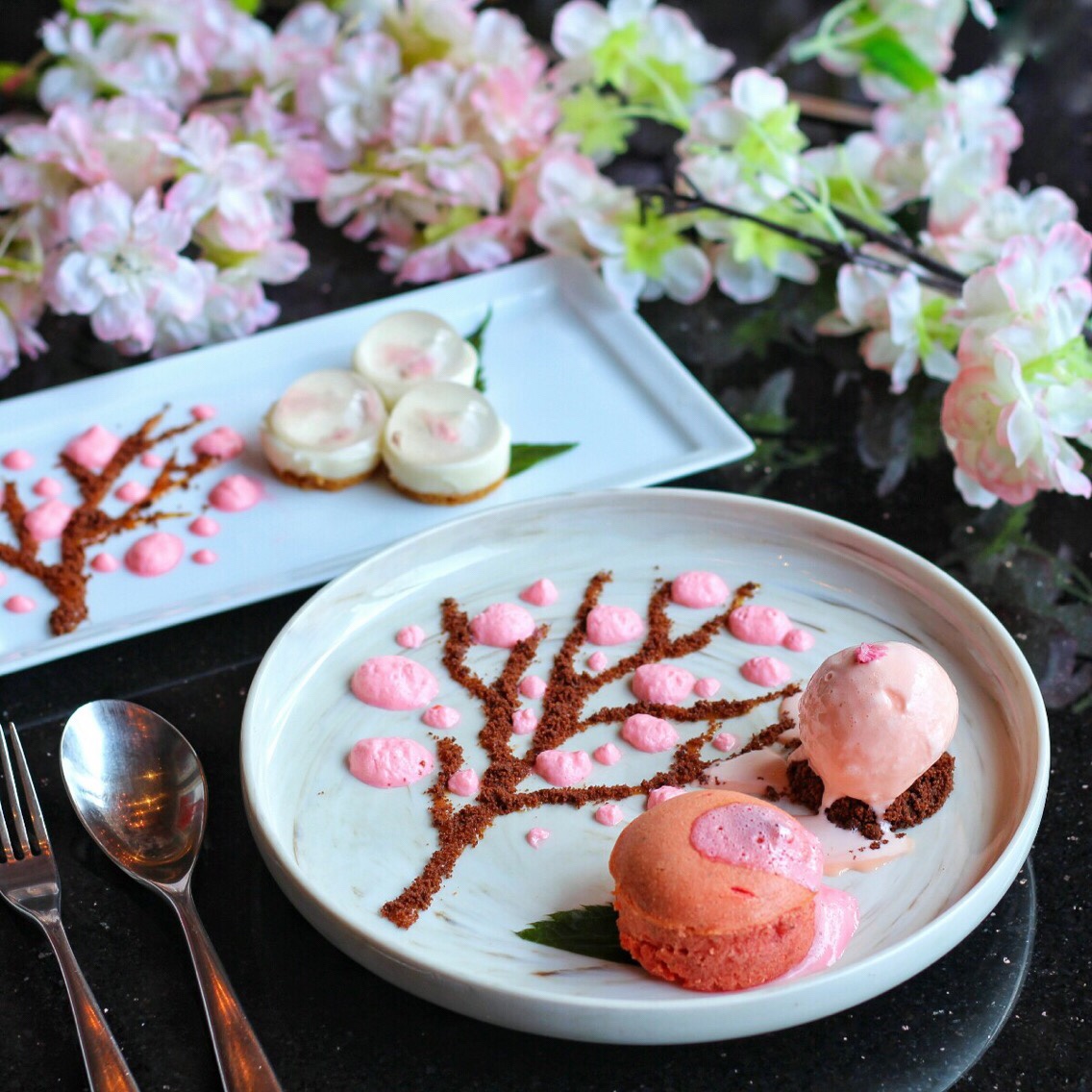 Sakura Mochi IDR 40K/Pcs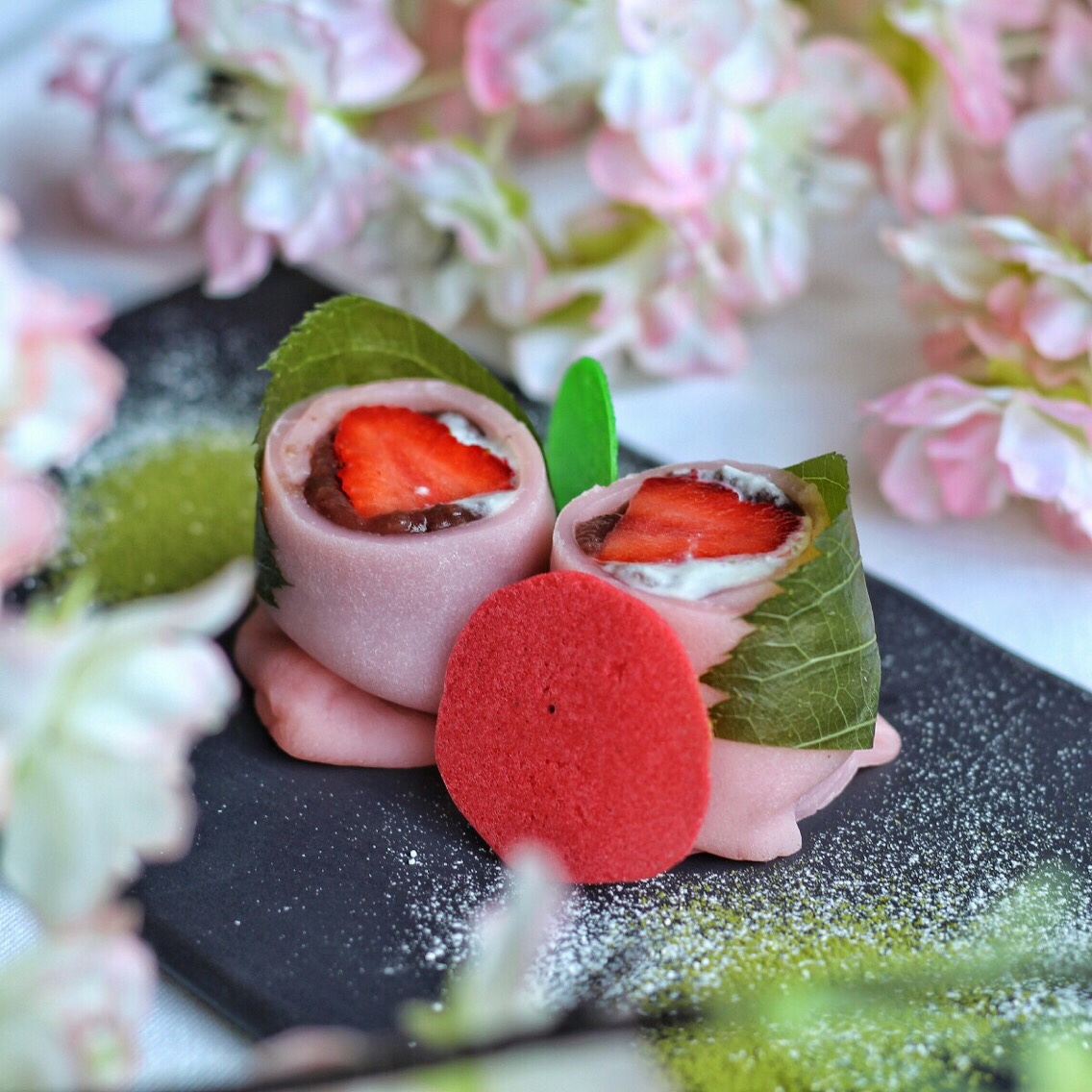 Sakura Lava IDR 70K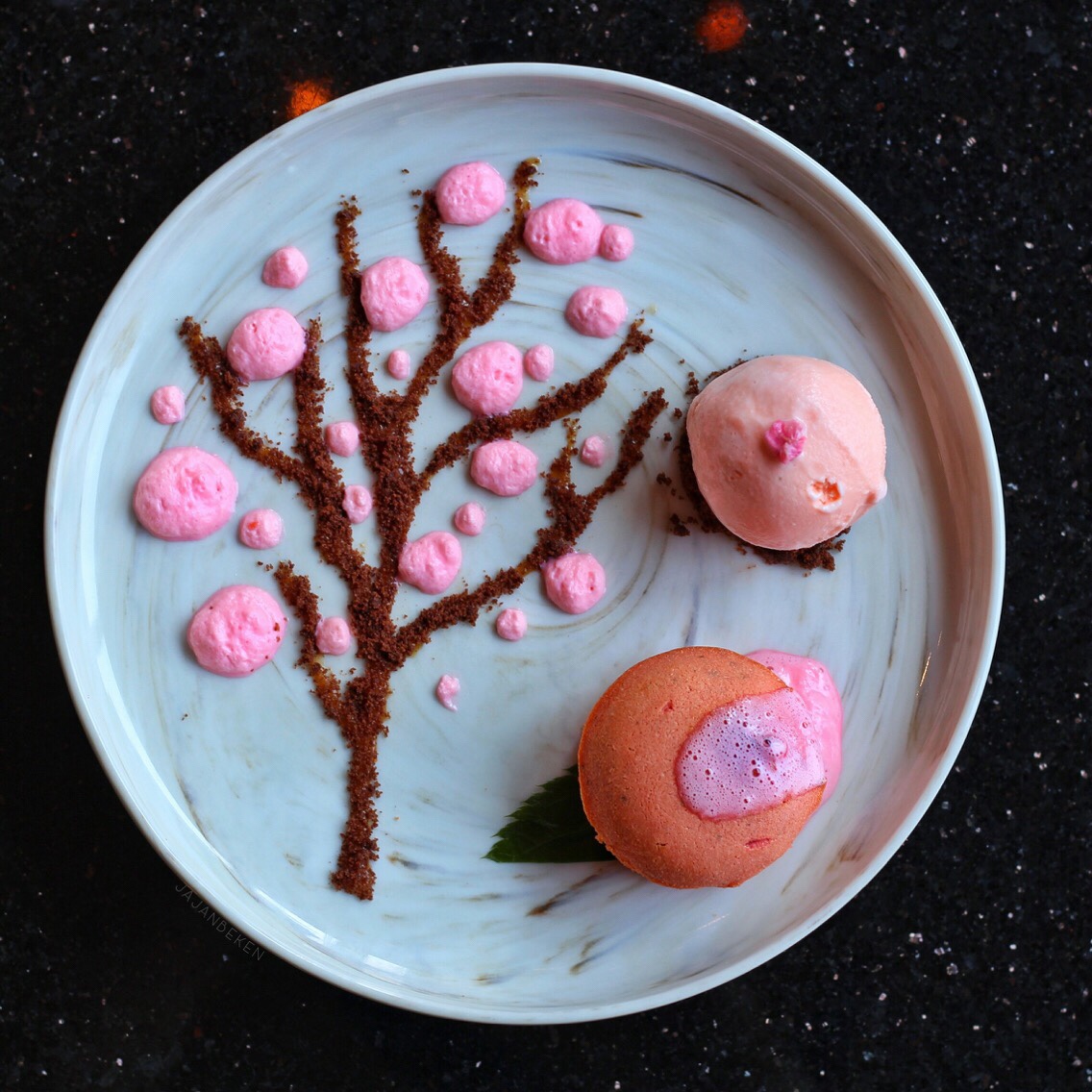 Sakura Rain Drop IDR 20K/Pcs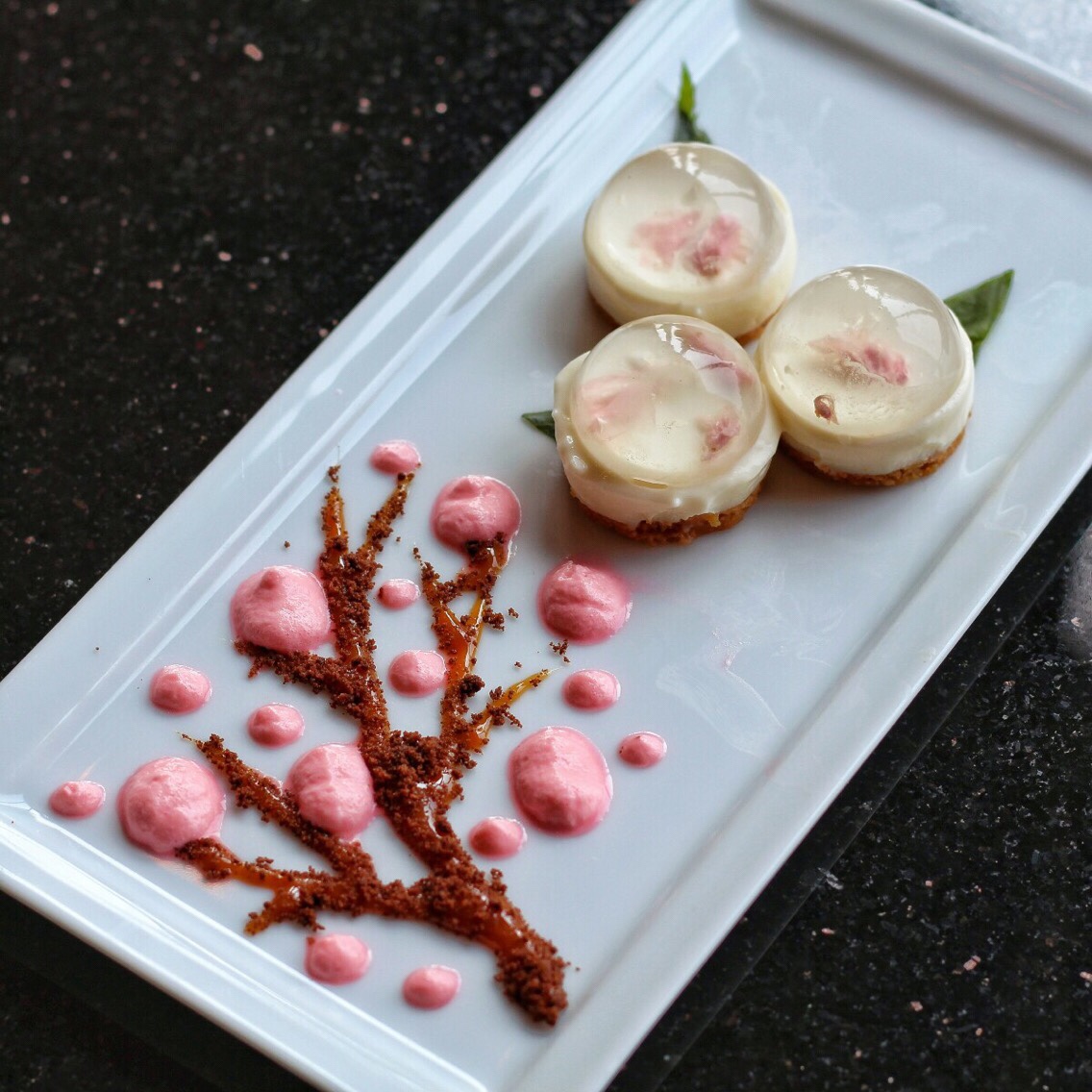 I highly recommend Momozen The Plaza restaurant to you guys! besides stunning city scenery, Momozen restaurant also has food with first class taste and 5 star quality. Especially on the truffles they have very good,  so when I hear the word of Momozen that comes to my mind is truffle.
Finally I close my review and don't forget to follow our culinary journey in this blog, Instagram, Youtube and Facebook. Please apologize if there is something missing in writing or menu explanation. We open for critics and comment. See you in another culinary journey with Jajanbeken!
RATING
Taste : Excellent
Service : Excellent
Price :  Average
FACILITIES
Wifi : Yes
Plug : Yes
Dine in : Yes
Outdoor : No
Toilet : Yes
Parking: Yes
CONTACT
Address : The Plaza 46th Floor, Jalan M.H. Thamrin Kav 28-30, RT.9/RW.5, Gondangdia, Menteng, Jakarta, Daerah Khusus Ibukota Jakarta 10350
Telp : (021) 29922246
Instagram @momozenid
INFORMATION
Open hour: 12-3PM – 06-10.30PM
Price : Rp900.000 for two people (approx.)
Dresscode : Smart Casual.
MAP