Packing in the midnight seems to be a rare activity, yes we do it just for a short trip to Karawang in West Java and we are so excited. But first let me ask you, what is in your mind when you heard about Karawang? is an industrial estate or maybe goyang Karawang? LOL. We are not going to Curug Cigentis Karawang or Bendungan Jatiluhur now, but we are going to staycation at Resinda Hotel Karawang.
Resinda Hotel Managed by Padma Hotels located in Karawang Barat West Java, it`s about 36 km away from our home and can be reached in 1 hour in smoothly condition. You can exit at Karawang Barat Toll gate in KM 47 on Jakarta-Cikampek Toll and Resinda Hotel only a few minutes after the Toll gate. Karawang Barat Toll gate have two gates, first is KIIC toll gate to get access to Karawang International Industrial City and Sandiego Hills Cemetery. Another one is Karawang Barat toll gate that allows you to the city of Karawang where Resinda Hotel is located.
Karawang is one of the place that planed to be a Megapoilitan City after Jakarta in the future. Therefore will be build many vital facilities like international airport as the alternative for Soekarno Hatta International Airport and new habitation. Now Karawang have the biggest labour salary (UMK) in West Java even beat Jakarta UMK. That is why Resinda Hotel choose Karawang as the promising prospect for the future.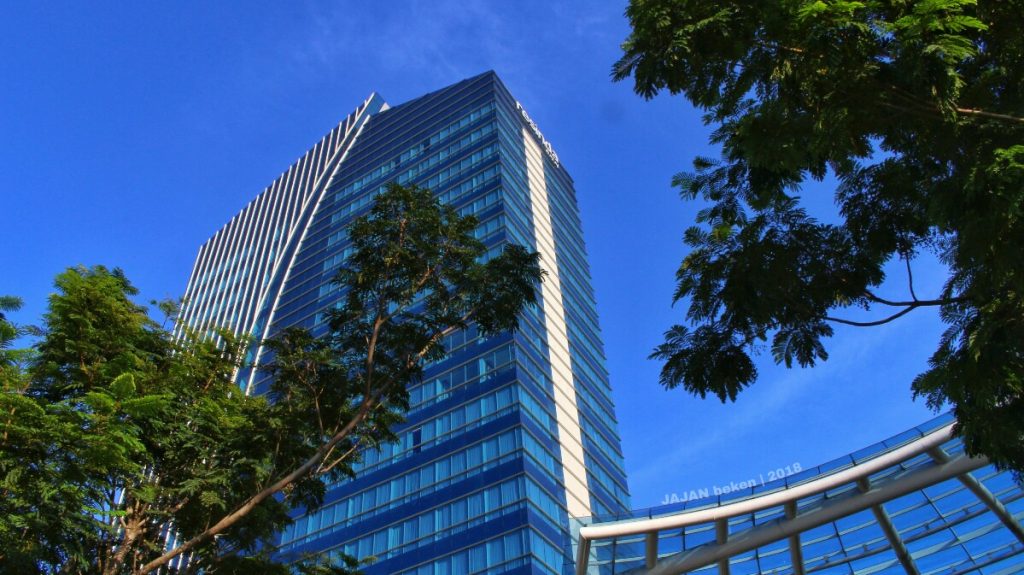 That is a little story for the Karawang and now we will share how fun our staycation at Resinda Hotel Karawang. Here is the story.
Resinda Park Mall
First, we will introduce what on surrounding here. Resinda Hotel located beside Resinda Park Mall Karawang and its connected by a sophisticated bridge. Every guests who stay at Resinda Hotel would be able to go to the mall through this bridge back and for.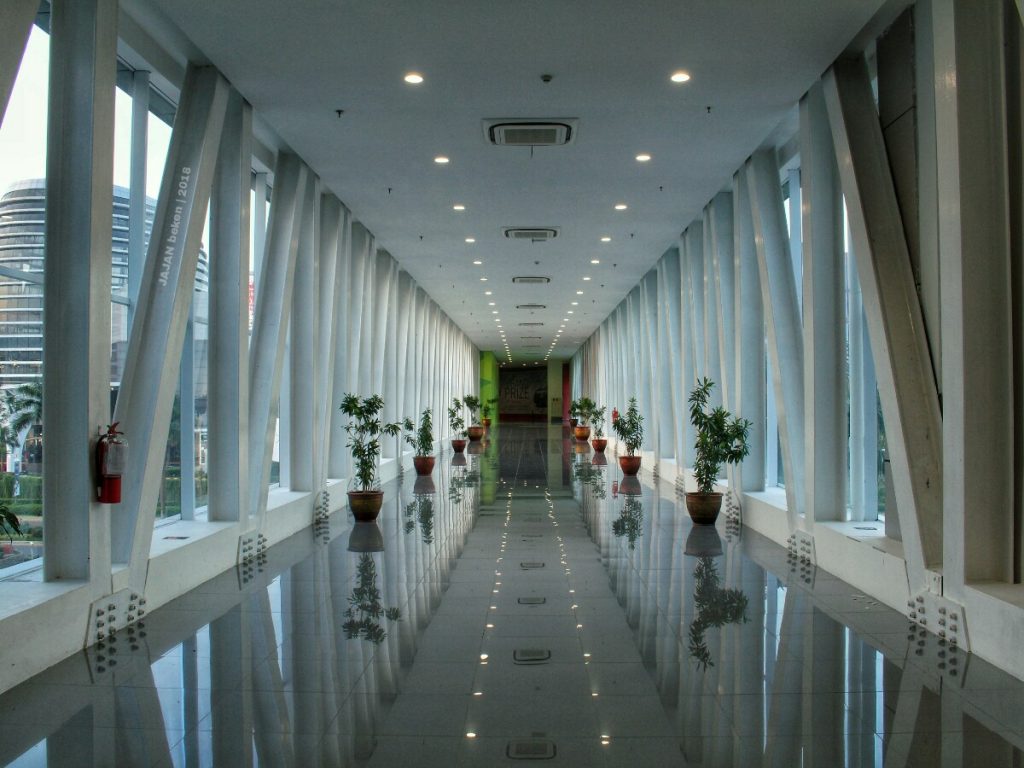 Resinda Park Mall is a lifestyle modern shopping center and entertainment in Karawang. The newest Resinda Mall also the biggest mall in Karawang with the ice skating, movie theater and super large food court inside. Don't forget to visit this mall when you stay at Resinda Hotel.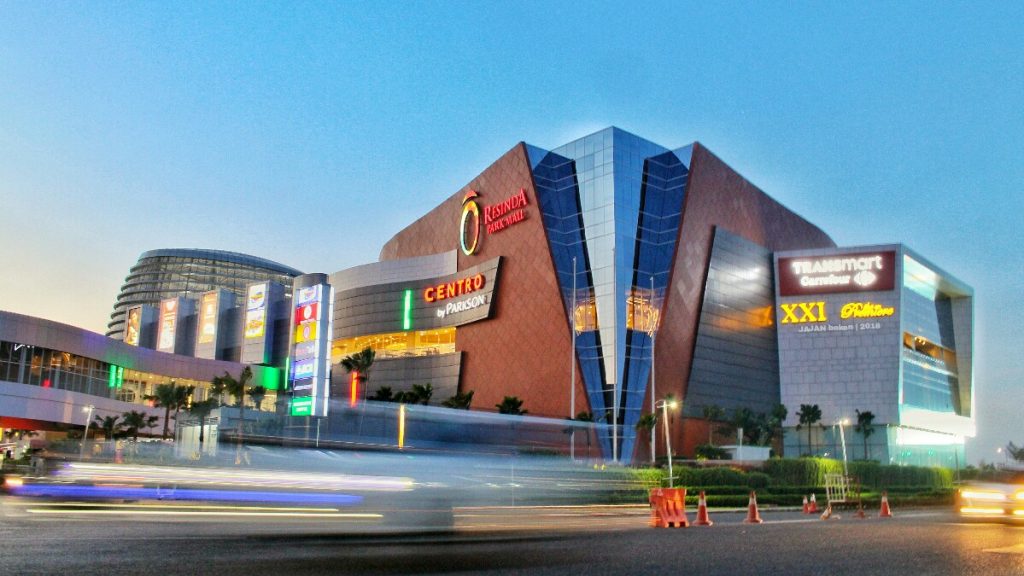 The Lobby of Resinda Hotel Karawang
Now we are in The Lobby of Resinda Hotel that very big and lot of space with gorgeous ornament on the ceiling.
They are combine modern twist and traditional in every detail of the ornaments. You can see at the outstanding canopy of the receptionist table.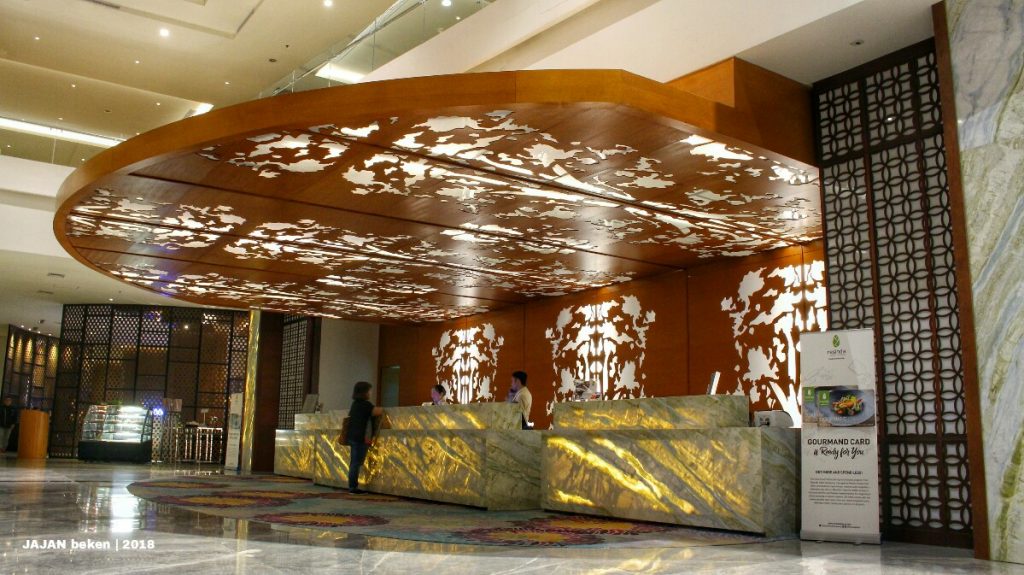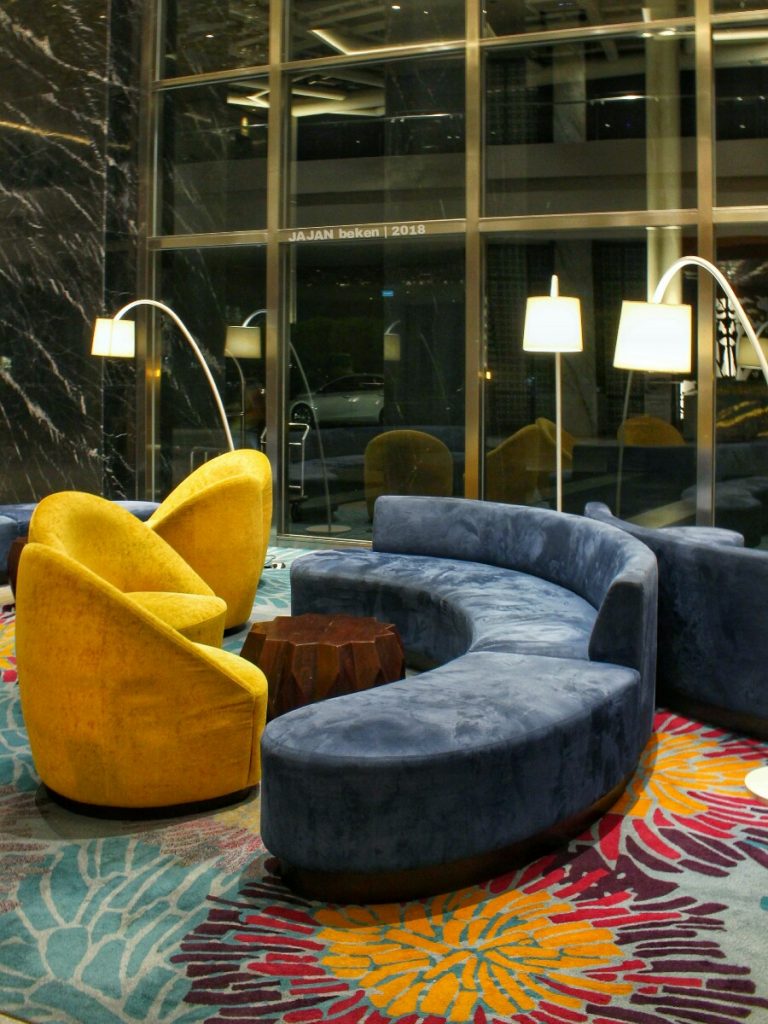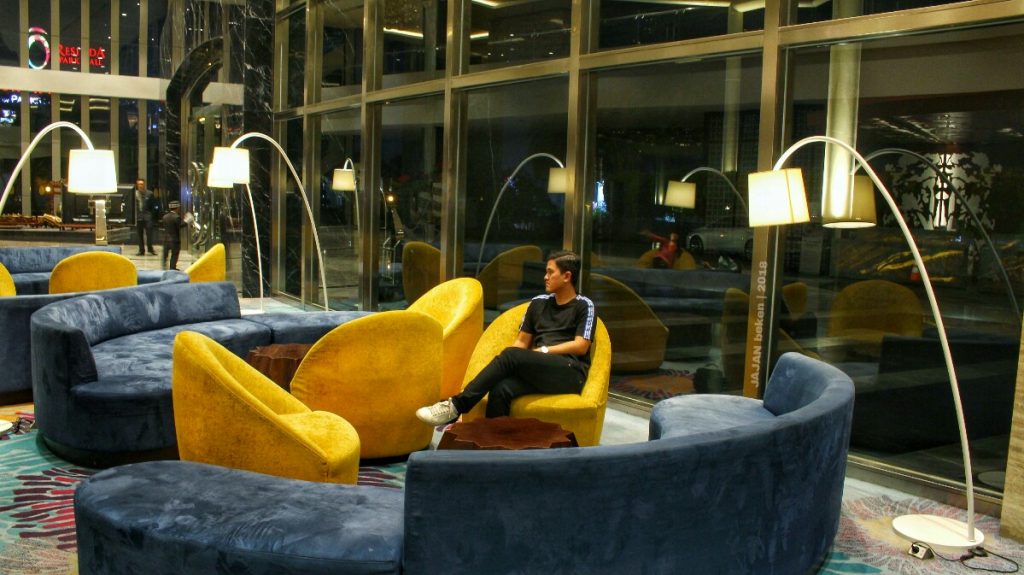 Swimming Pool Resinda Hotel
Resinda Hotel have a pretty big swimming pool that connected to oryza Restaurant.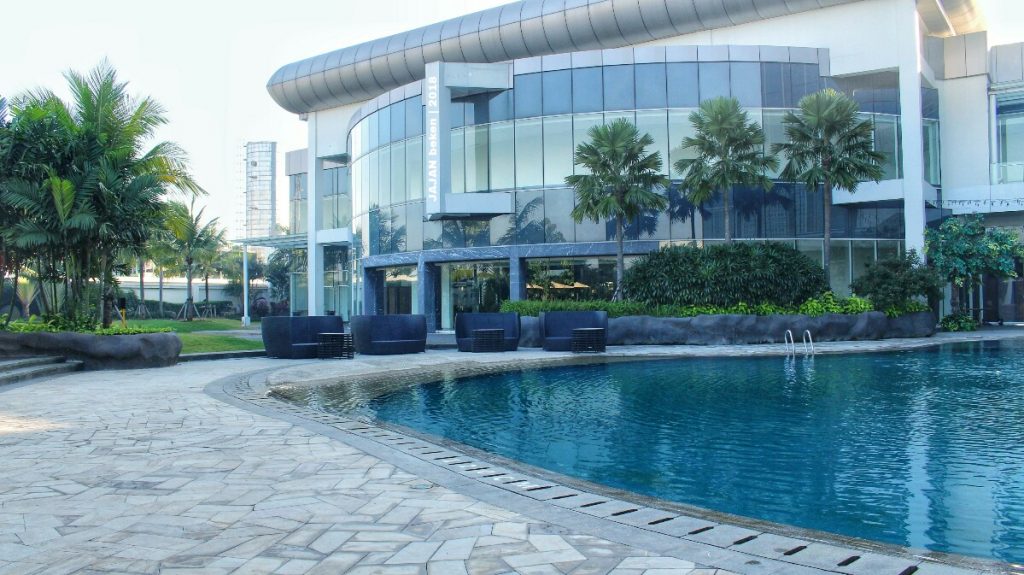 They adopt beach swimming pool with waterfall in the middle to make it more natural.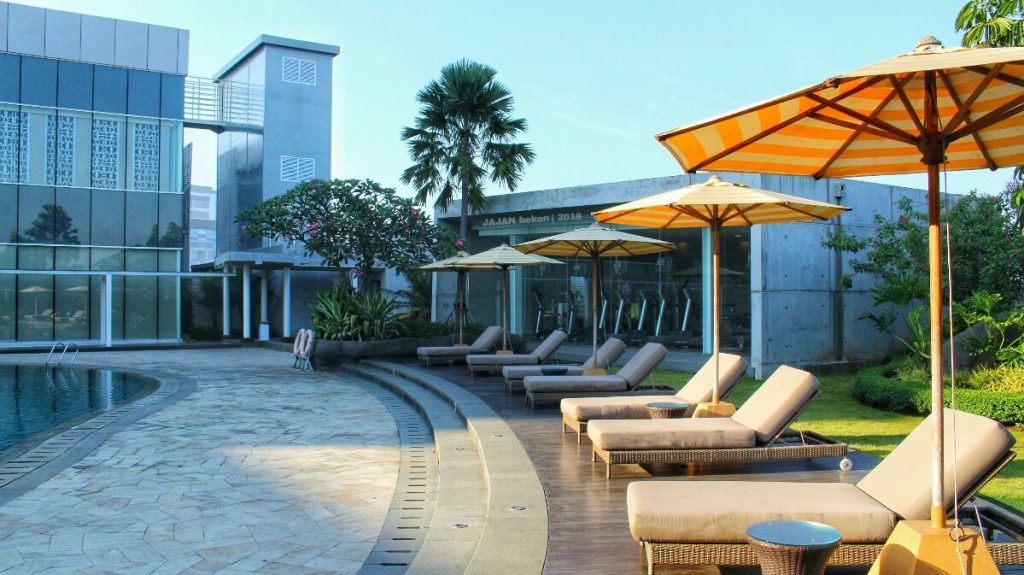 Jacuzzi, Steam and Sauna
Every guests who stay at Resinda Hotel would be able to enjoy the Jacuzzi, steam and sauna. There are hot pool with Jacuzzi and Japanese style shower area.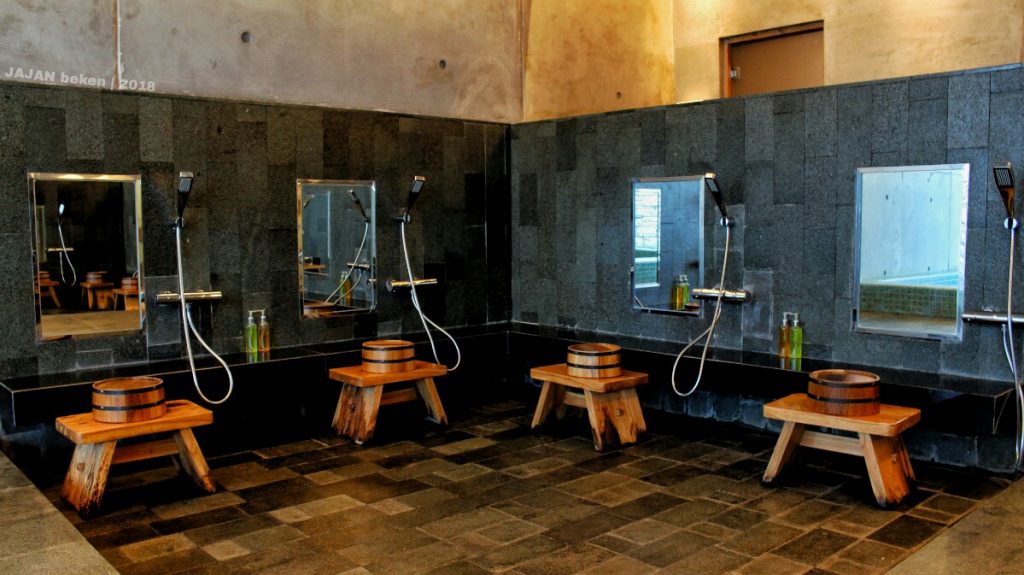 Female guests can enjoy this facilities every day from 3PM to 6PM while Male guests for the rest.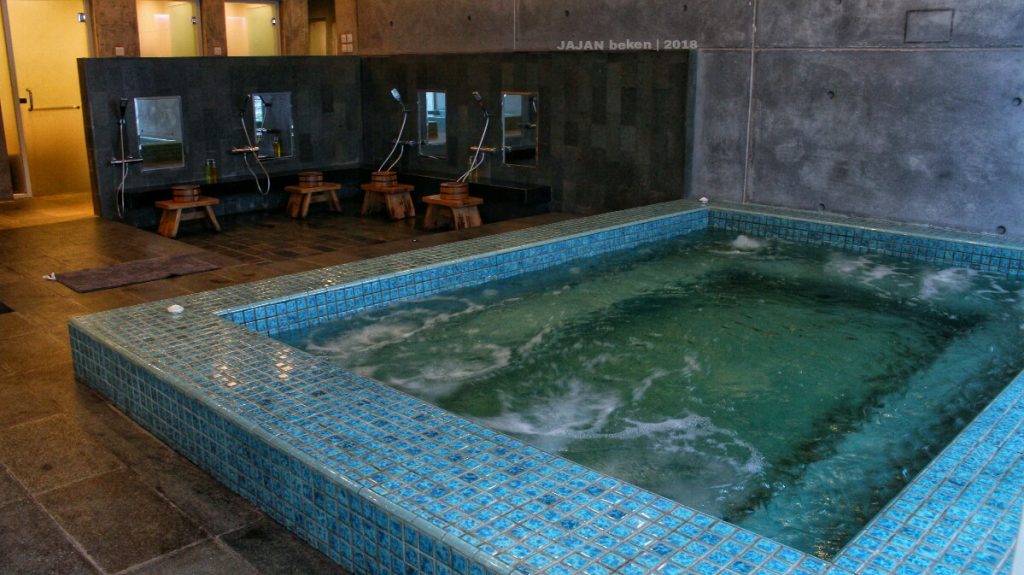 Gym Center at Resinda Hotel
You can enjoy their gym facilities near the swimming pool. Resinda Hotel have complete gym equipment from trade mill to bicep tools. Men and women can do exercise at the same time.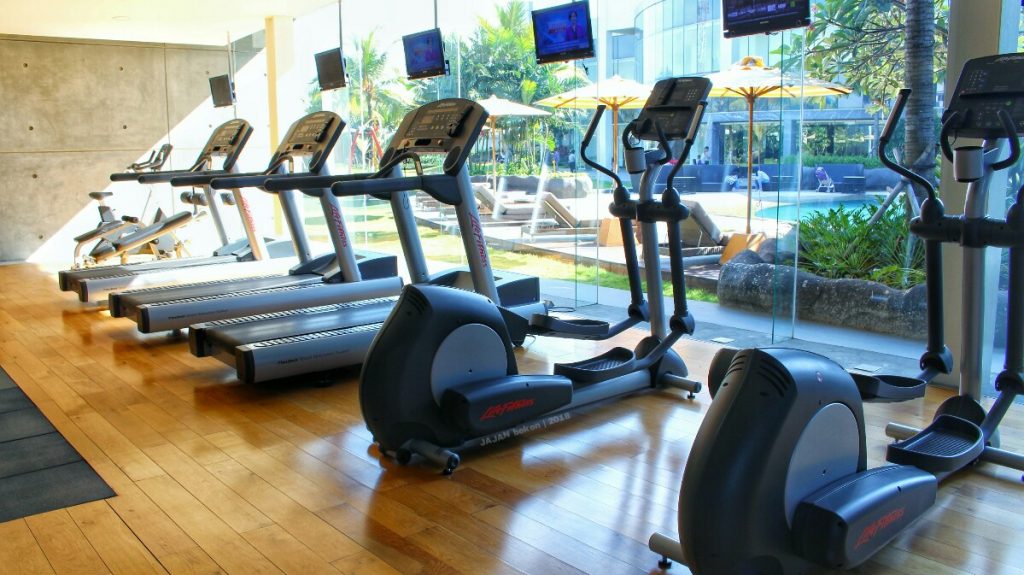 Room Type at Resinda Hotel Karawang
We stayed in a Executive Suite with cozy king bed and big window on the side in a 54 sqm room.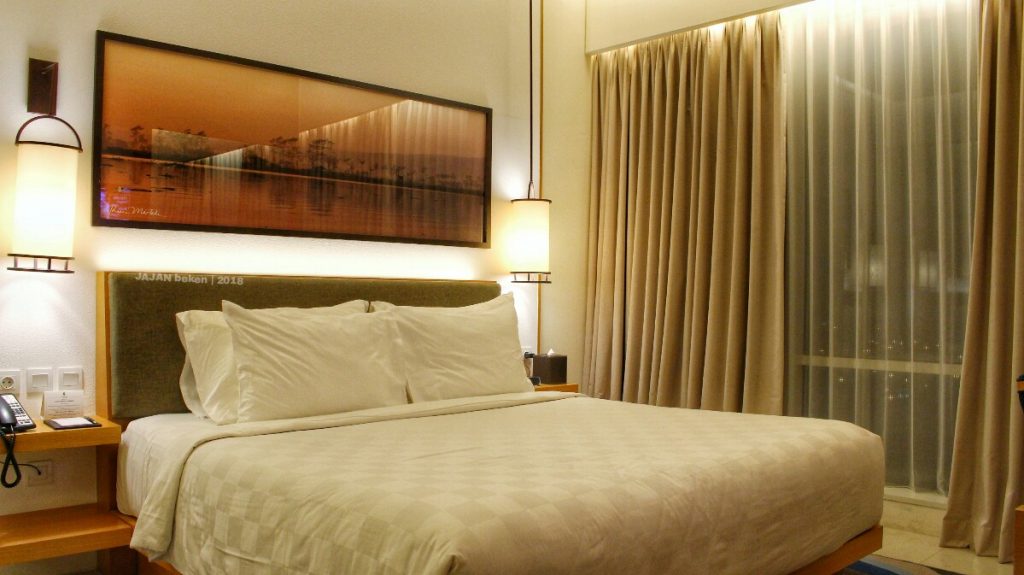 Look at the King Size bed that so big and look so comfortable with thick blankets.
I just love the living room too that separate with the bedroom. Covered with big glass window so you can see the Karawang view clearly from that sofa.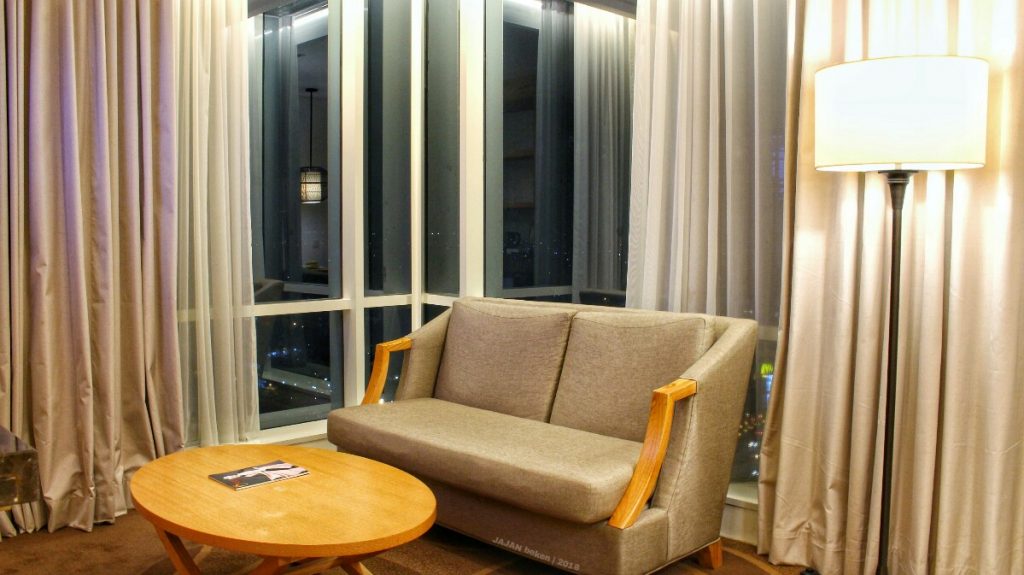 Executive Suite has two IP TV 40 inch that faced to living room and bed room. You can enjoy Dolce Gusto coffee maker that placed in the semi full-sized pantry that complete with refrigerator and microwave.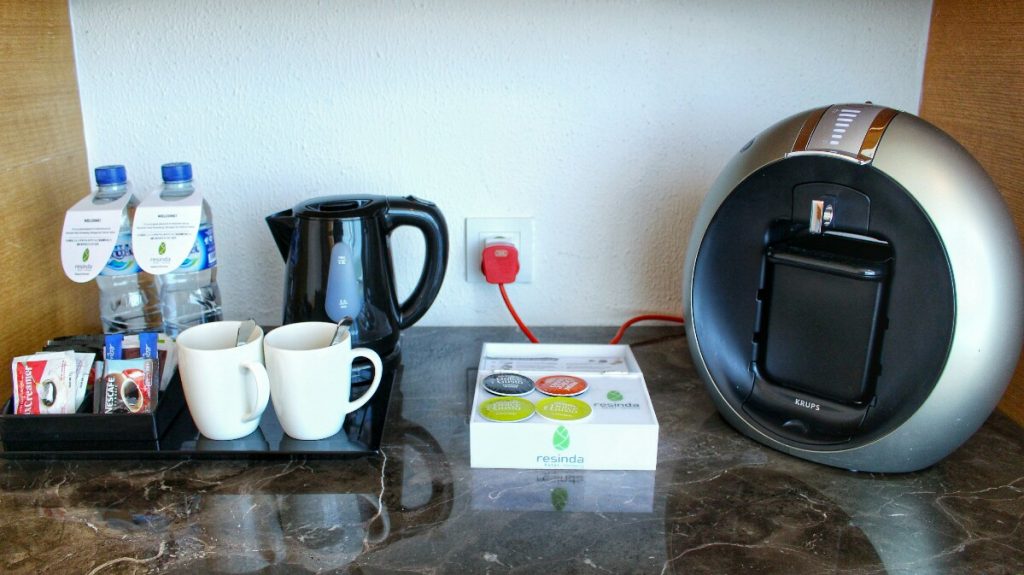 Enjoy your simple meal or tea in the small dining room inside the living room also. What a complete suite that we found in this hotel.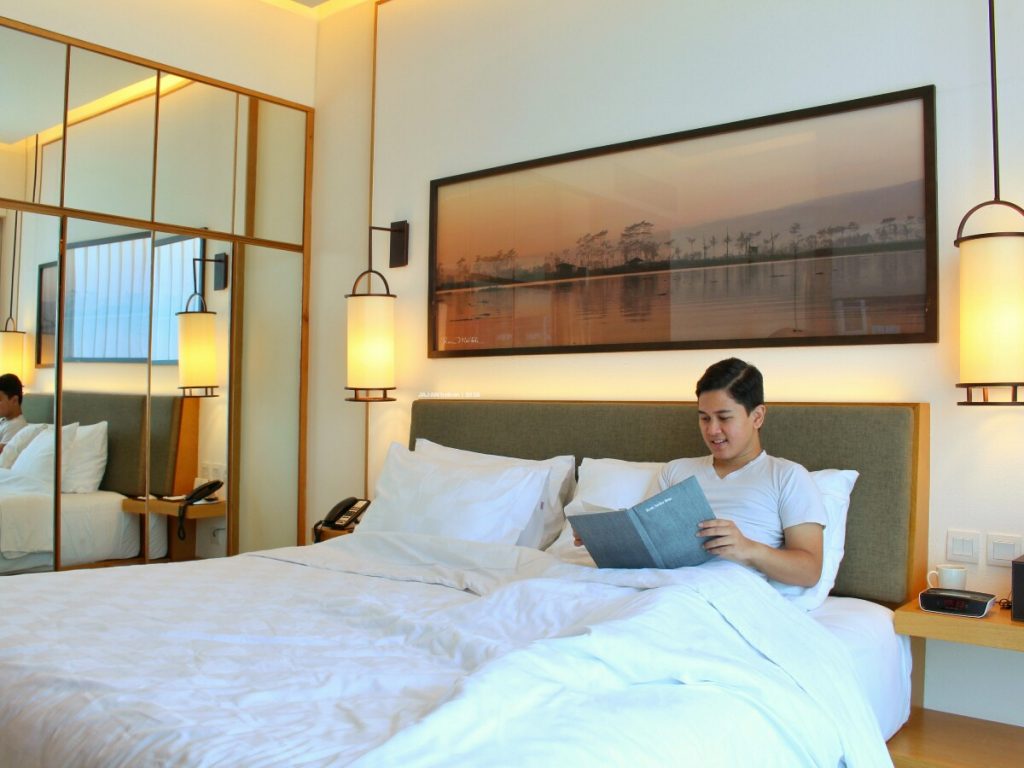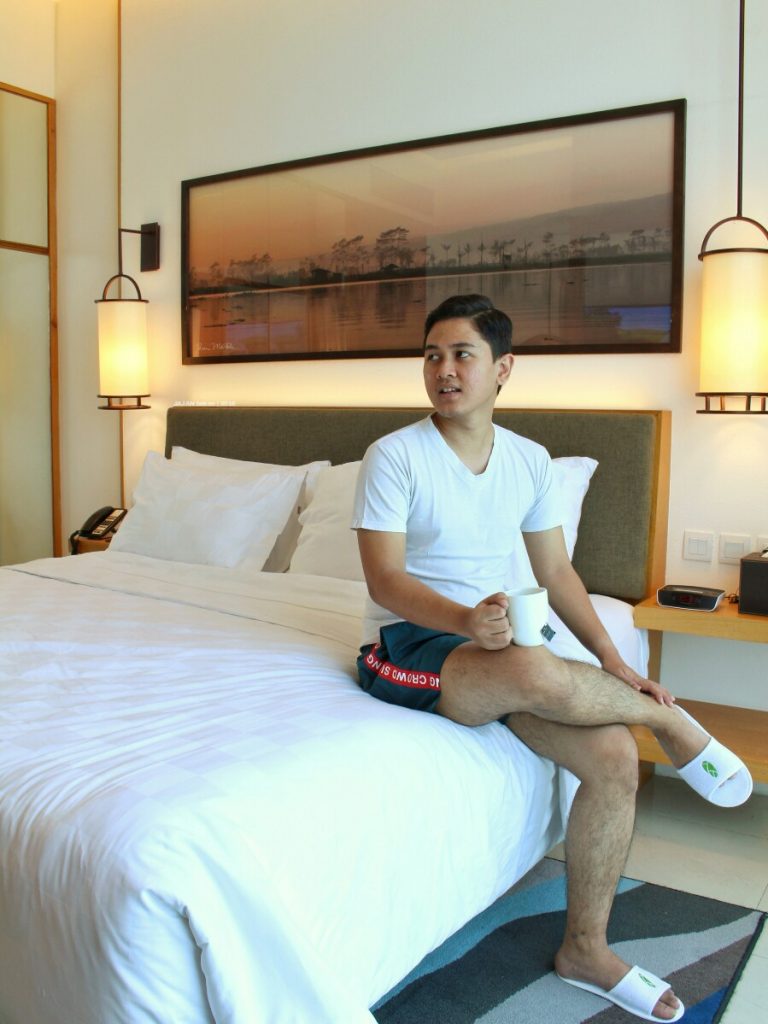 Never miss your tasks by finish it in the working desk. There is LED lamp and high speed internet connection to accompany you during your home work.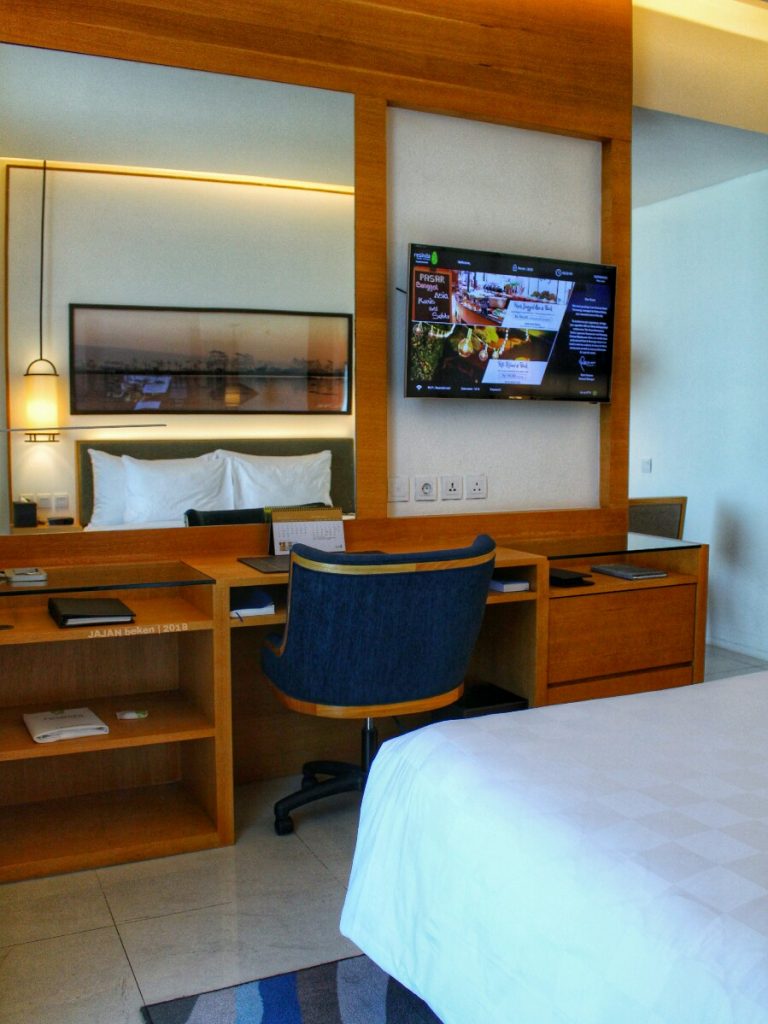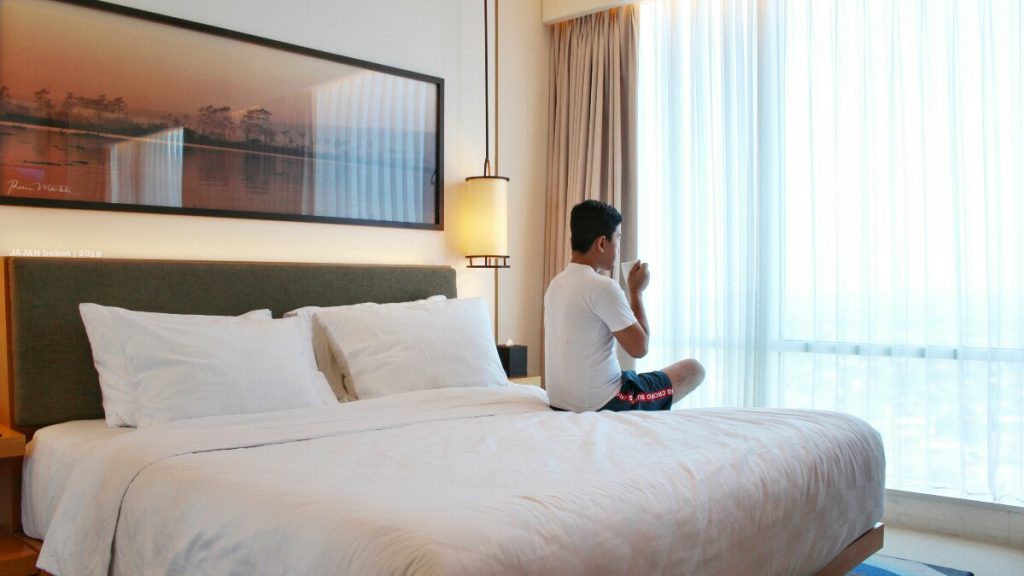 Bathroom
But how about for the bath room? You may say this is a cool bathroom for the four stars hotel. There is a bathtub that separate with the shower. Love to their double shower, one in hand shower and the other is on the ceiling.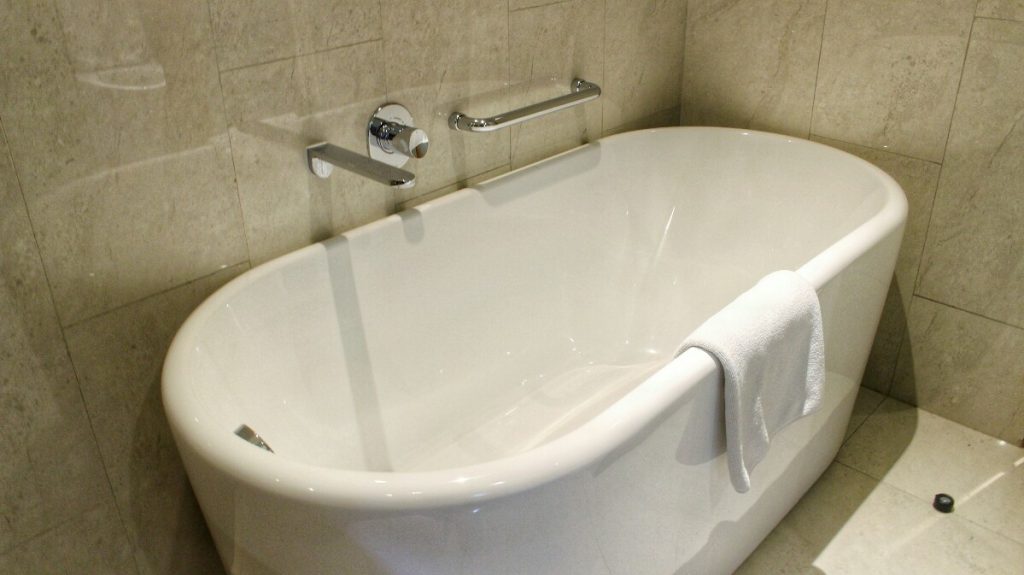 Inspired by the spa, Resinda Hotel bring you a relaxation and first class bath amenities. You would see there are so many bath stuff here from head to toe.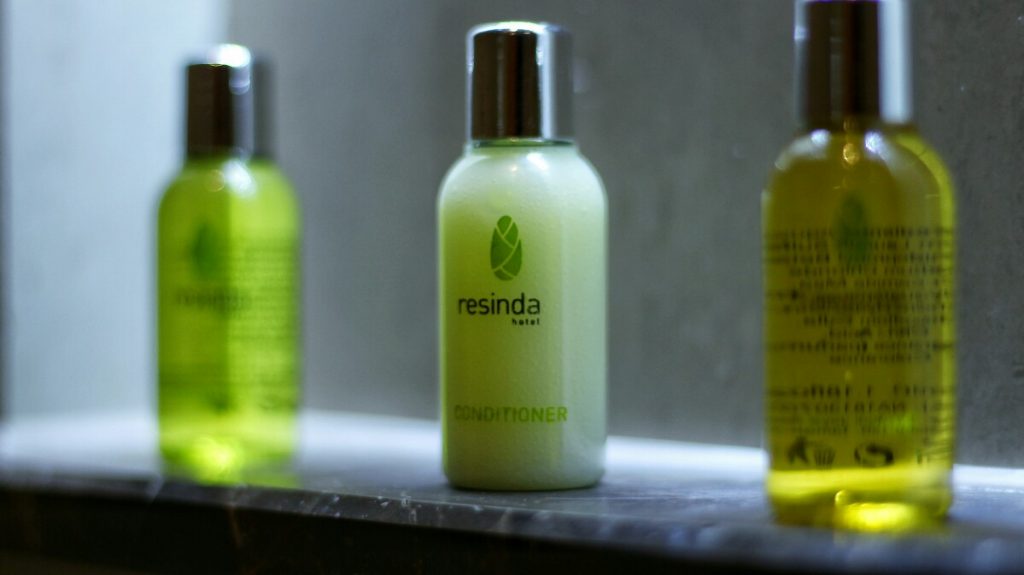 Oryza Restaurant Resinda Hotel
Dinner time is one thing that we are  waiting for and here we tried their all day dining restaurant called Oryza Restaurant that located on the first floor. Other restaurant is Tenkai Japanese Restaurant and Hai Wang Chinese Restaurant were the same floor.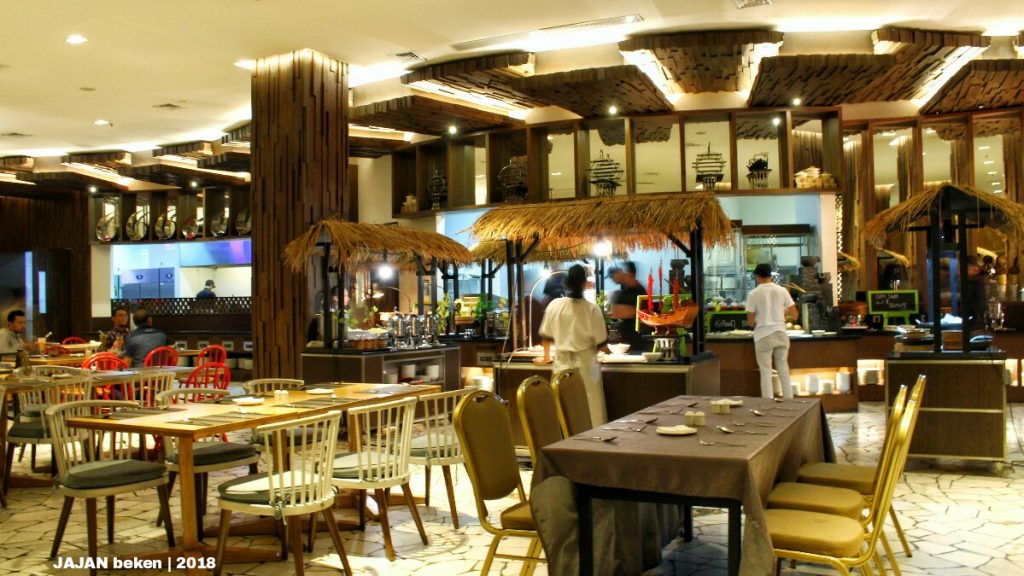 Oryza restaurant serves Indonesian, Asian and Western food. The recommendation for the dinner here is the siu may and the Sekoteng that serves very complete.
While for the breakfast you might be like their Satay, Indonesian snack and their adorable bakery stall.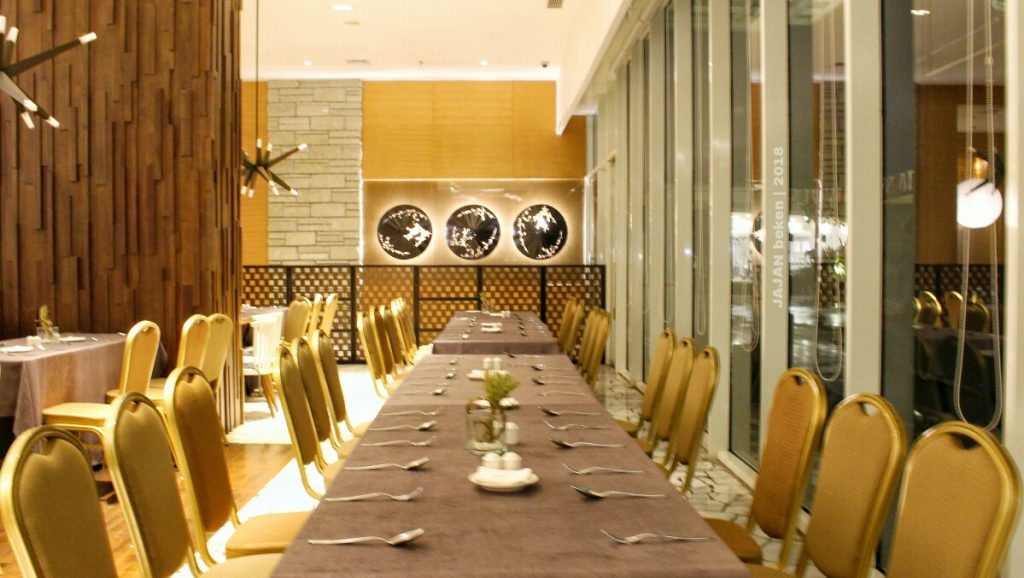 Let's we see some of Oryza restaurant menu that we tried and captured.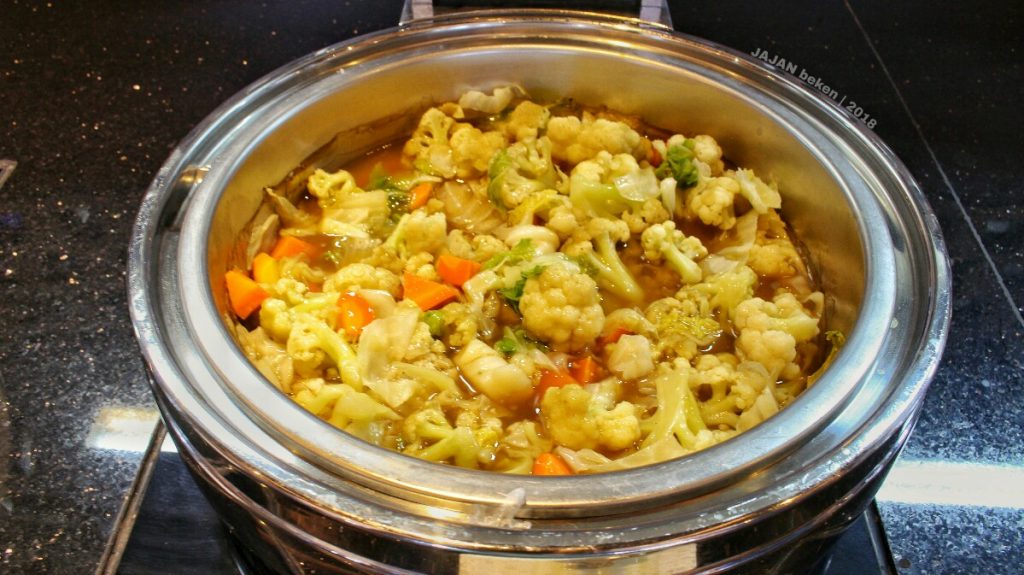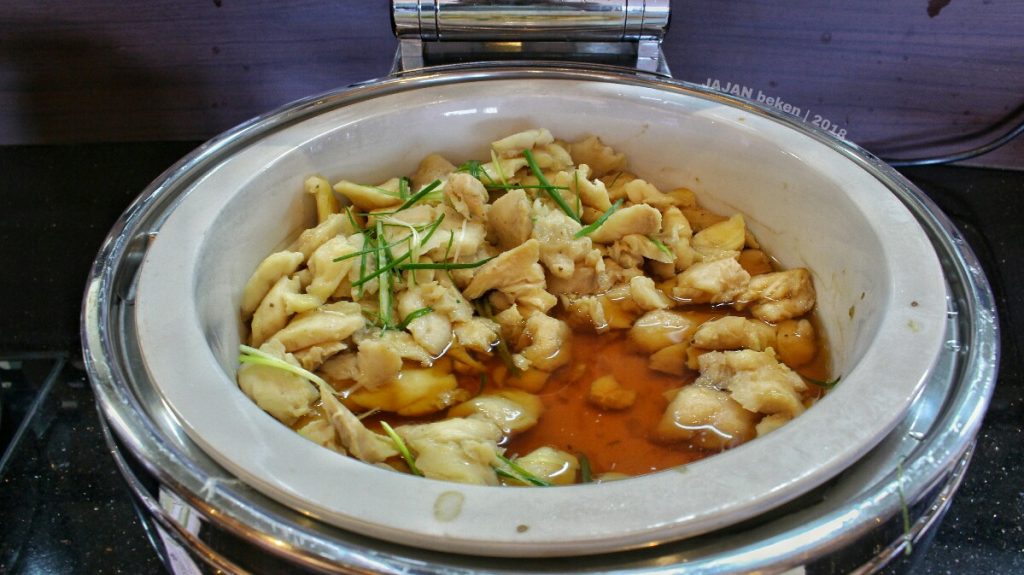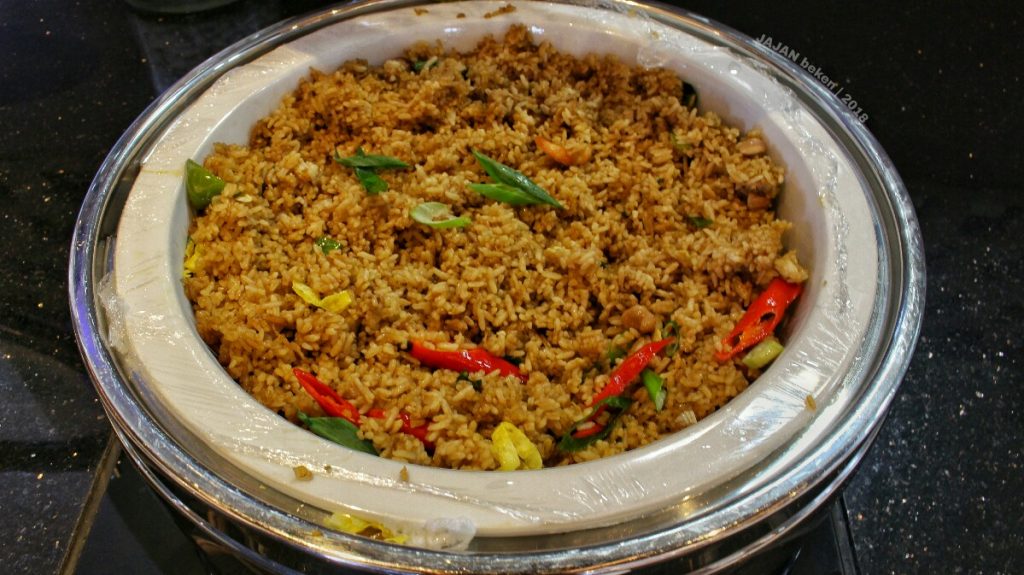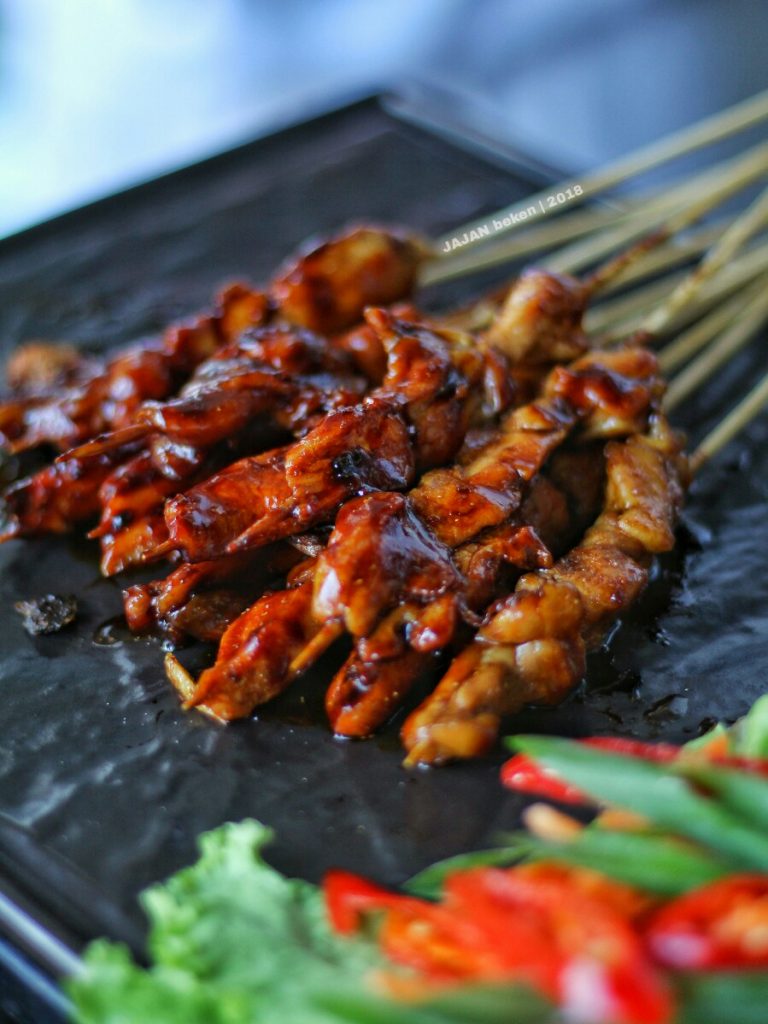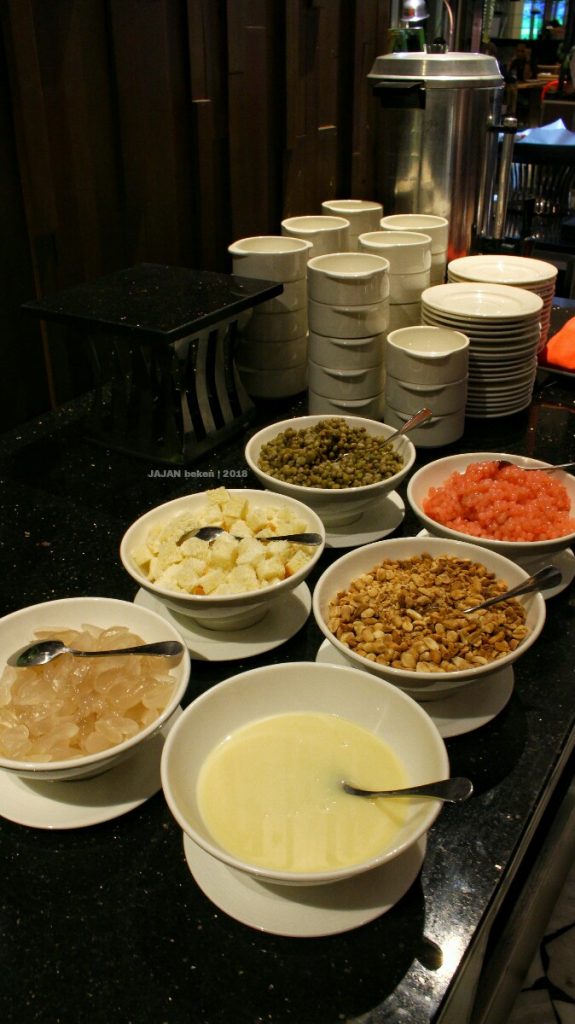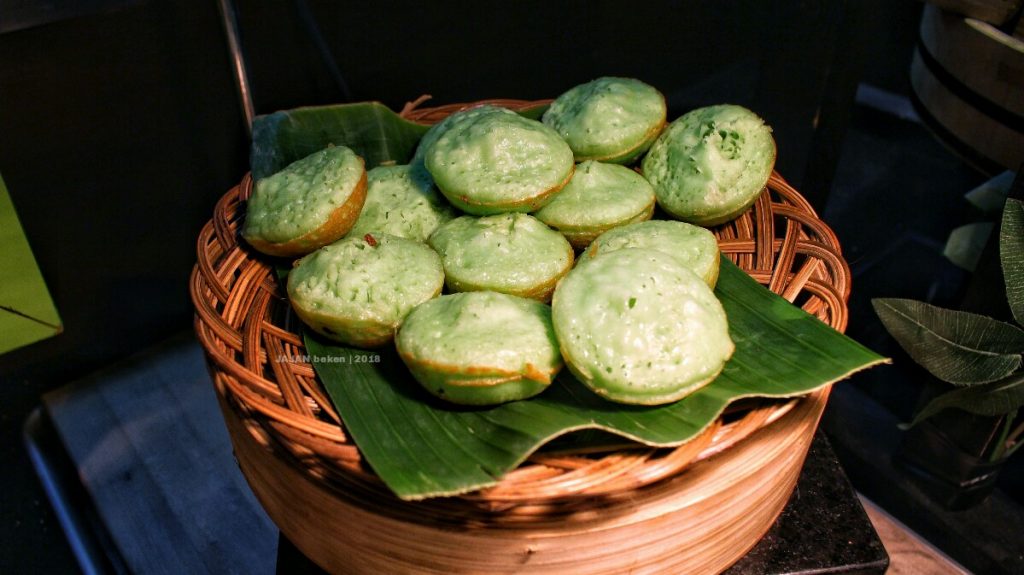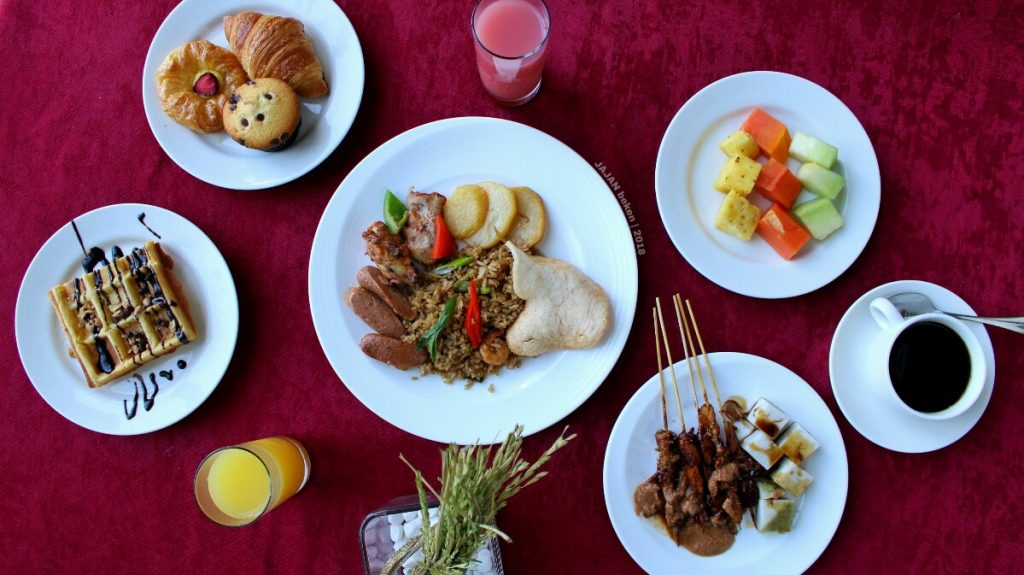 Hey look there is spinning ice cream machine here. This ice cream machine only a few in the world and two are in Indonesia and one is in Resinda Hotel Karawang, isn't cool right!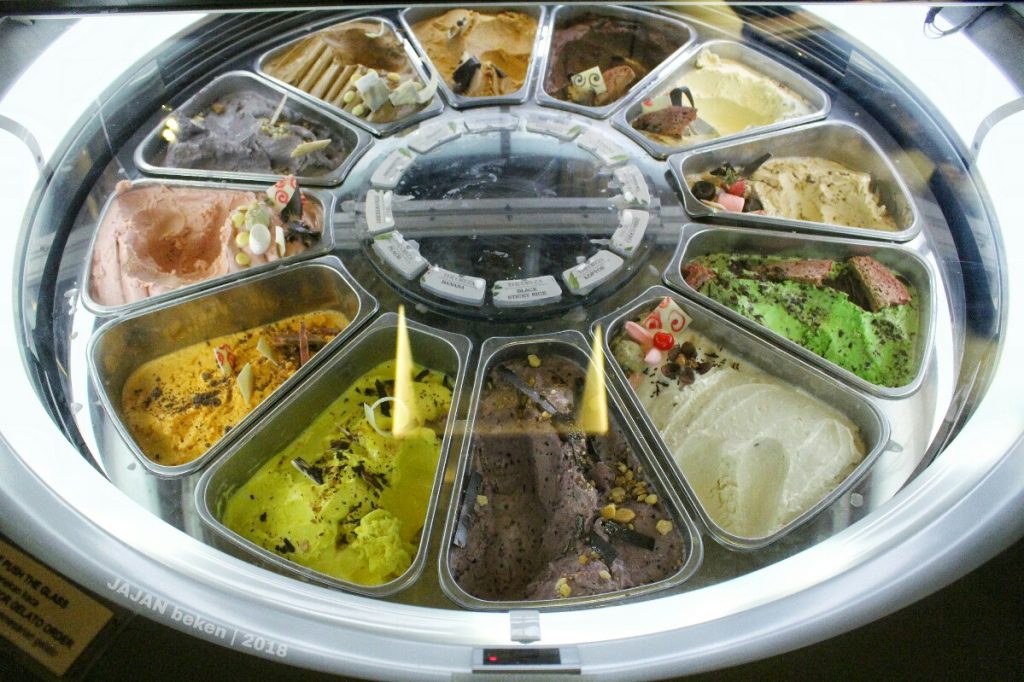 Sunrise at Karawang
Wake up in Karawang at 5 AM and we don`t wanna miss a sunrise moment because we love to take picture.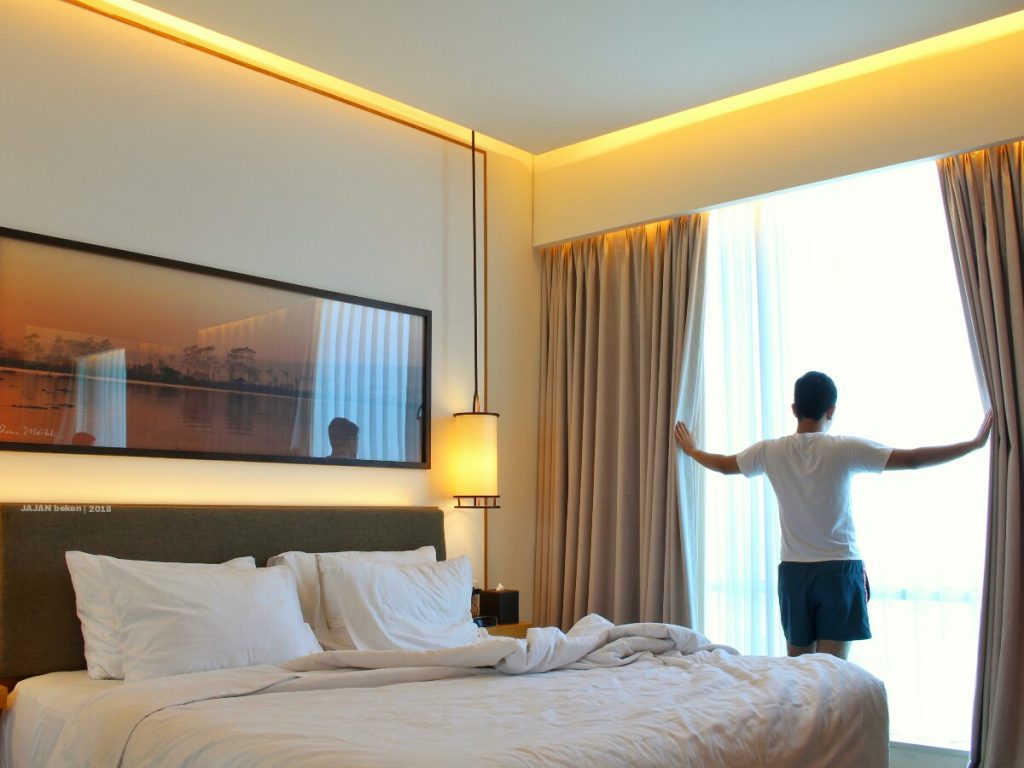 We can find a clear sky at Karawang that we cannot find in Jakarta sky, so we excited to captured it while we stayed here.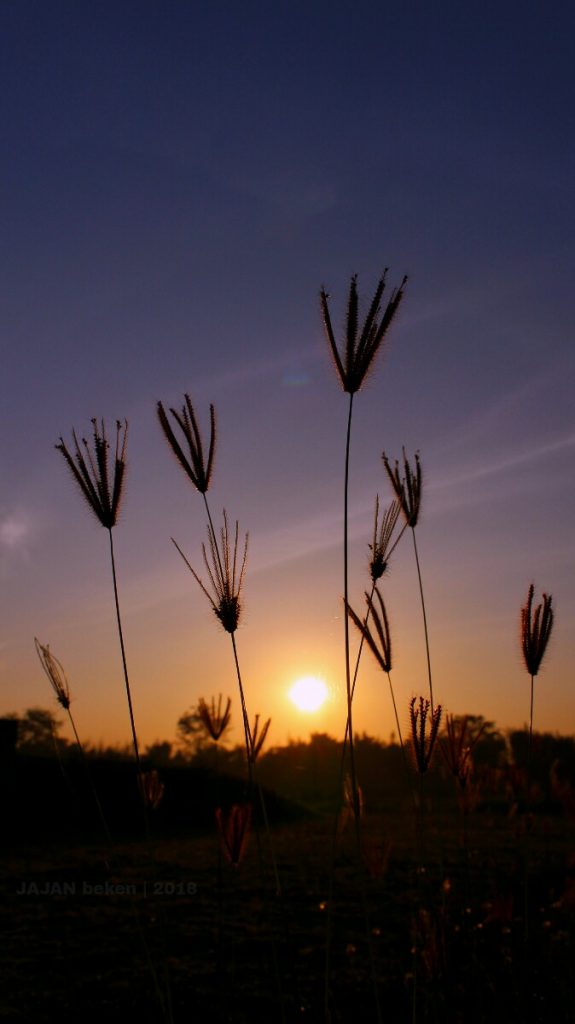 Just do a jogging to the backyard of Resinda Hotel then you will find a best spot to captured the sunrise here.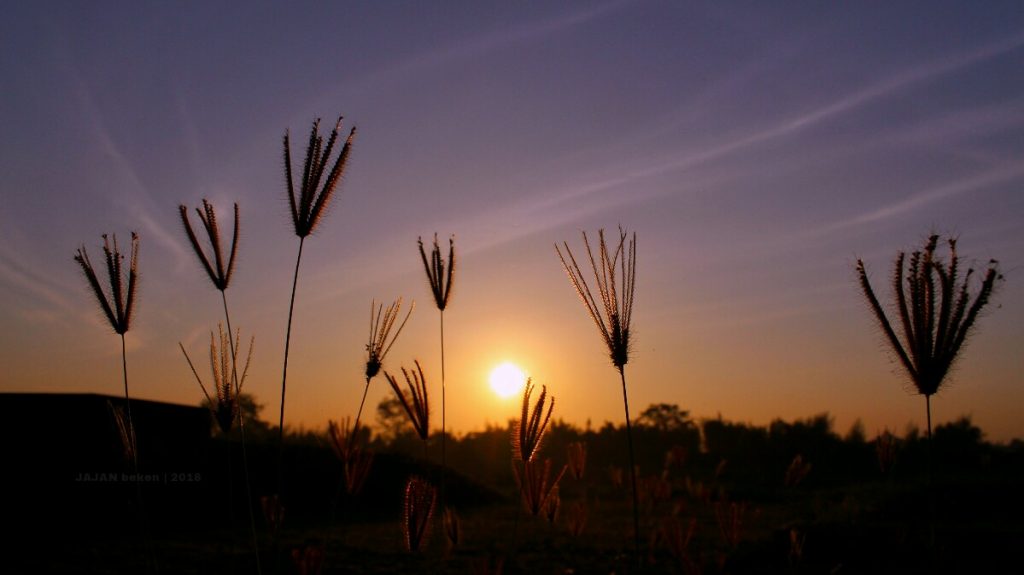 Not a very special place, just a grass in open area but we so happy that the sun captured so perfectly in a twilight mood scenes.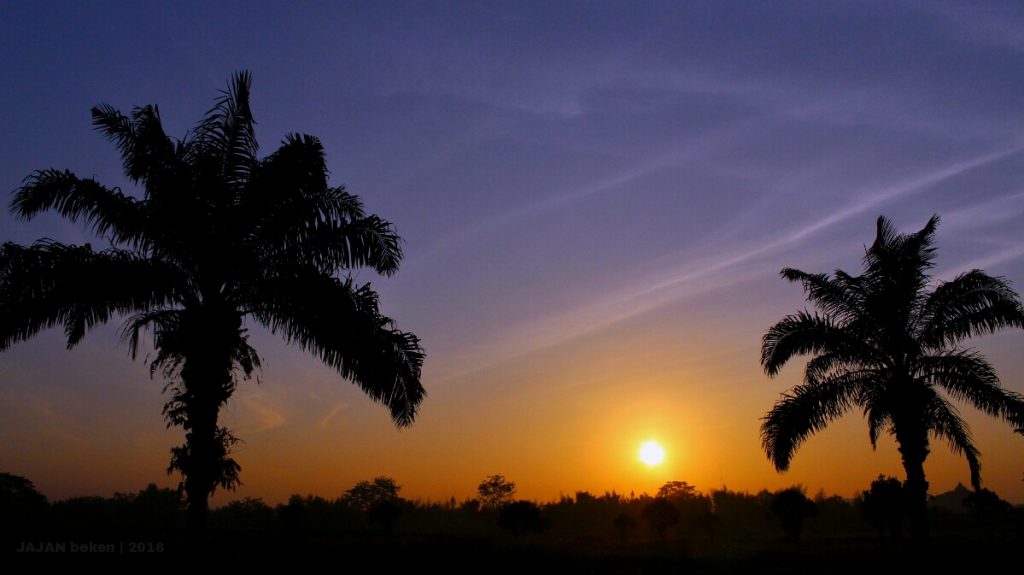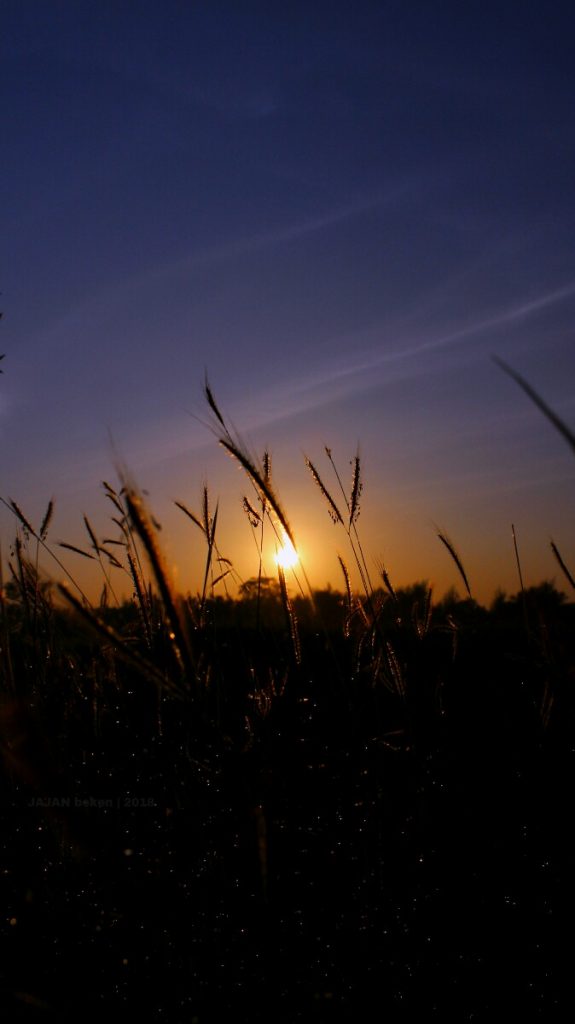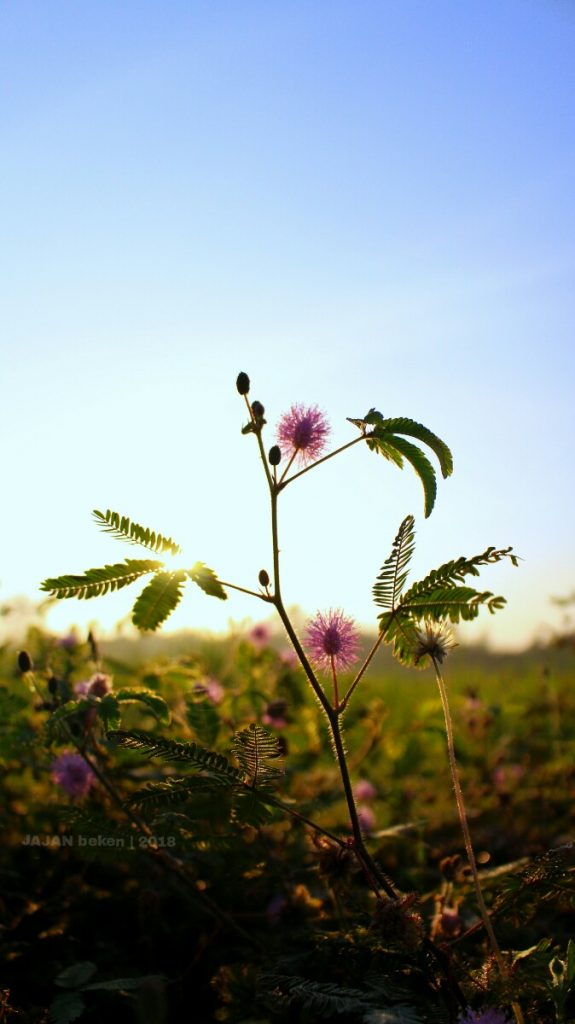 You can get this view at the 5.30 AM so don't miss it guys.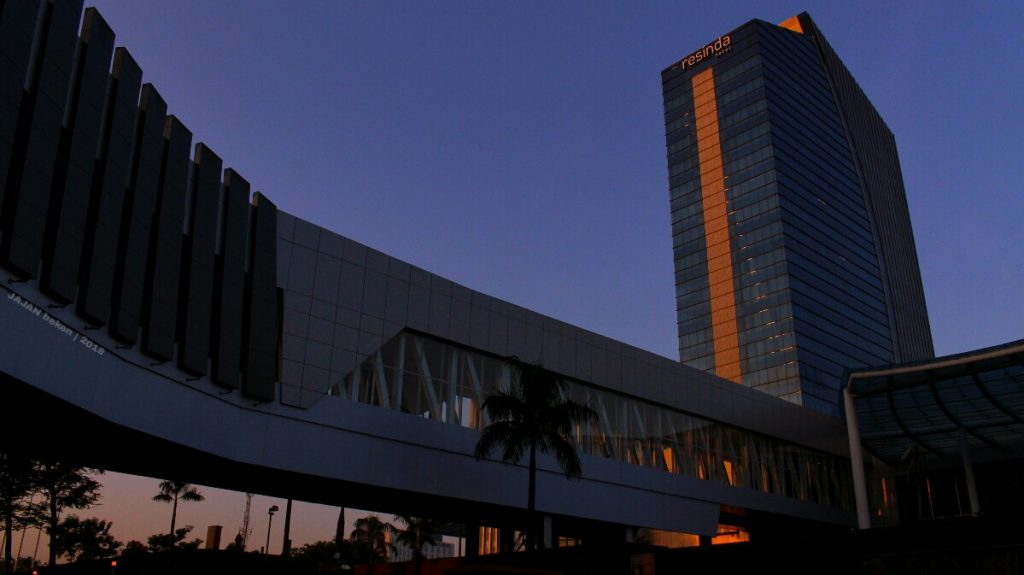 6.30 AM and it's time to go back to the hotel to have some breakfast and continue relaxation at the Jacuzzi.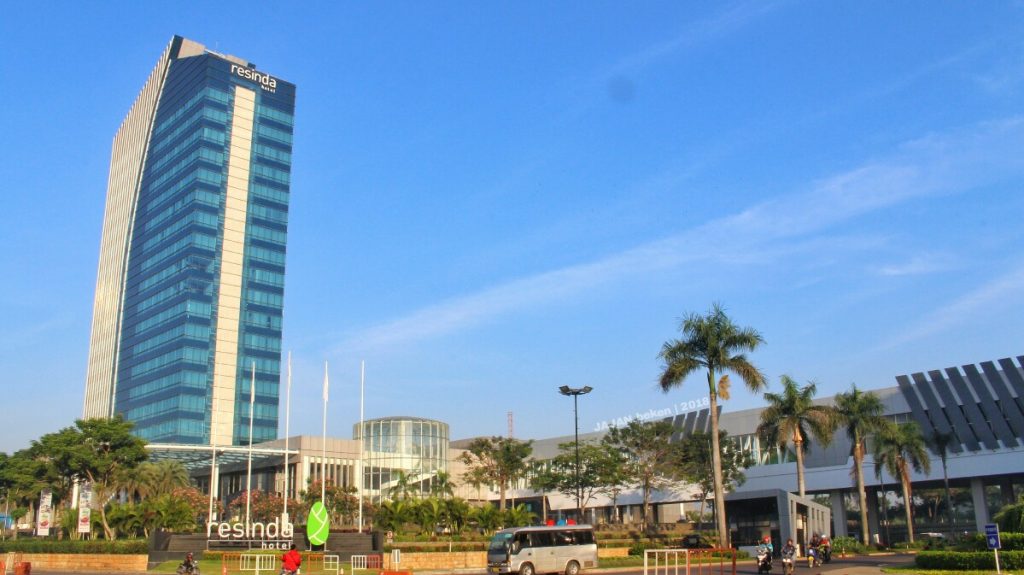 Sunset at Resinda Hotel Karawang
I wondering if I can get a sunset photo too. And luckily, we took the sunset photo of the Resinda Hotel even though the traffic there was very crowd.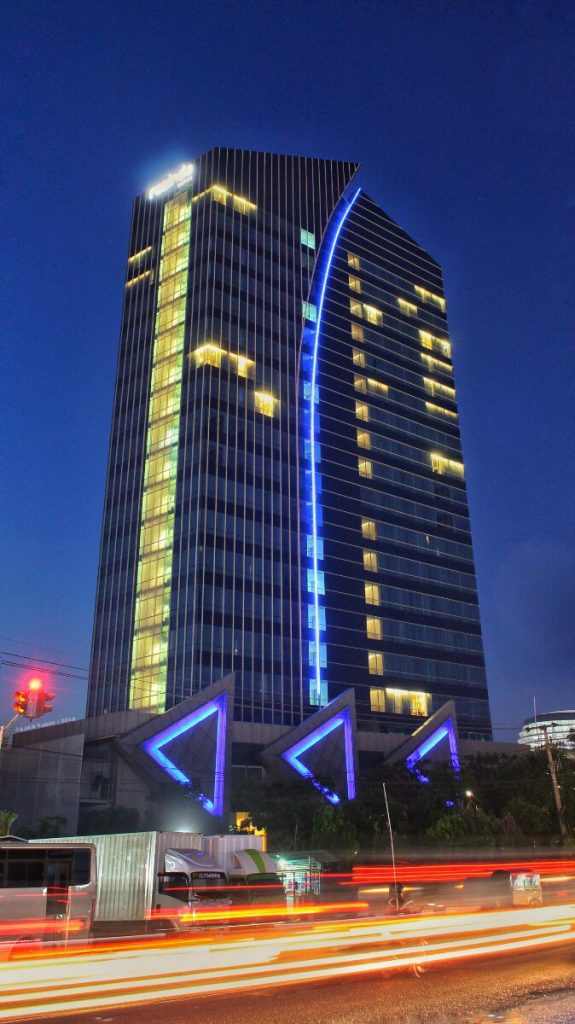 Oh I hate to packing and check out but we must go back to Jakarta for another travel story. OK, that was our experience stay for one night at the Resinda Hotel Karawang. Hope you enjoy the story and please apologize if there miss in writing this article. See you again in another adventure with Jajanbeken.
CONTACT
Address : Jalan Resinda Raya No.1, Purwadana, Telukjambe Timur, Kabupaten Karawang, Jawa Barat 41361
Instagram @resindahotel
MAP