With a cheerful heart, Beken will share a pleasant experience when visiting a new restaurant. Located at Jalan Lada no 1 Jakarta Kota, opposite Jakarta city station and the name of the restaurant is Padang Merdeka.
Almost all of us would like the origin of Padang cuisine. In fact one food origin of Padang managed to get the title of the most delicious food in the world and it is Rendang. Therefore Padang cuisine increasingly show the existence in quality.
Padang cuisine is one of the popular food in the Indonesia even in the world, with its strong flavors and deliciousness. However a different sensation is offered by Padang Merdeka Kota Tua which carries the taste of Indonesian cuisine with a more modern twist and theme.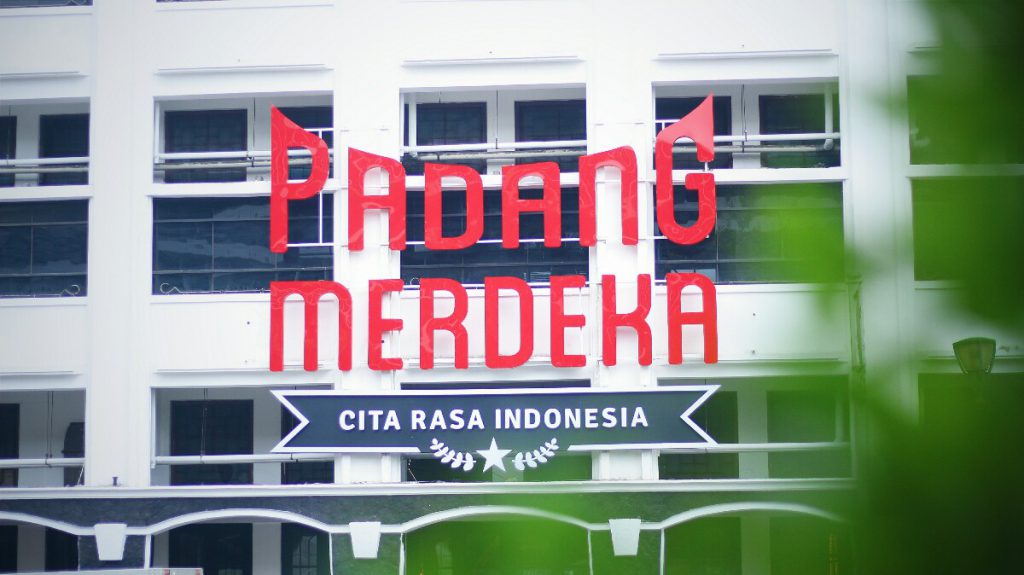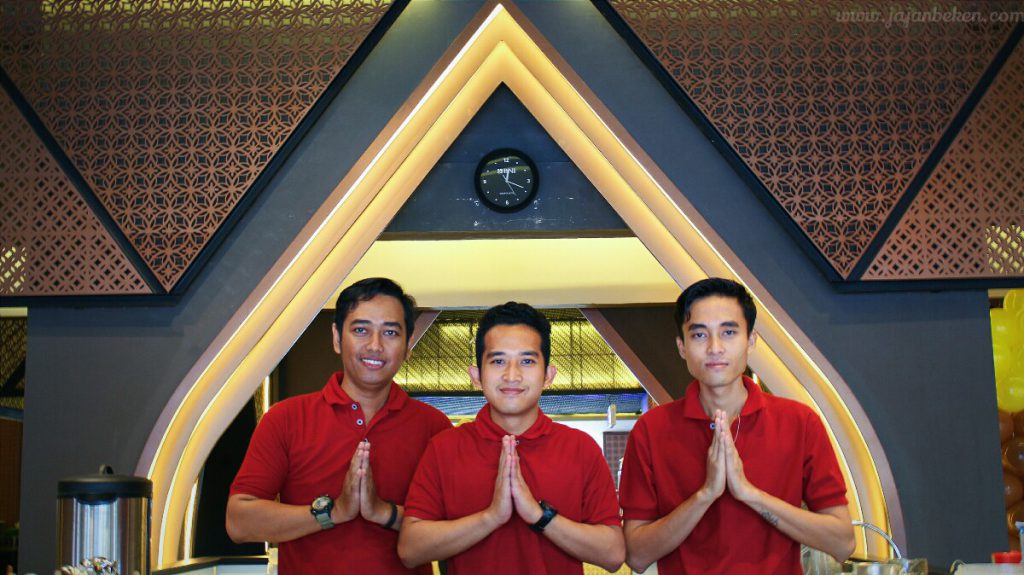 Elevate Indonesia Culture & Patriotism Thru It's Interior
Padang Medeka Kota Tua brings a generally different concept compared to other existing Padang restaurant. The theme of the restaurant elevates the country's patriotism in the name and design of the interior.
The tables and chairs used are 100% created by local artisans. This makes Padang Merdeka Restaurant have its own value and bring Padang cuisine to the next level with a more modern and casual vibe, but still maintain an authentic taste.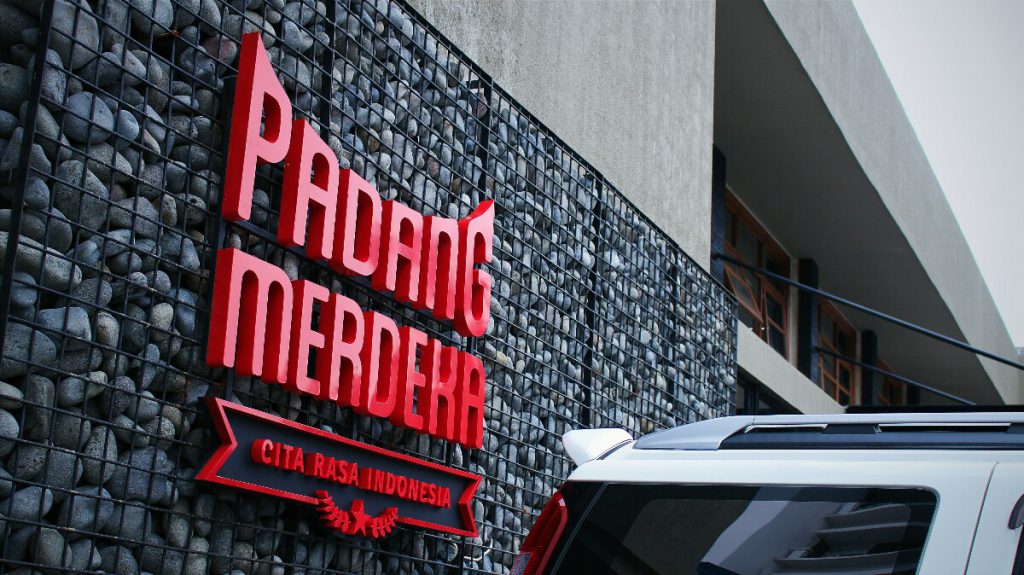 The main concept of interior design Padang Merdeka Kota Tua is to honor the legacy left by the father of the nation Indonesia. We can see at the entrance, there is a Gunungan Wayang presenting the world and its contents.
As well as the triangular motif inspired by Pucuk Rebung Padang and inside there are Batik motif consisting of Batik Solo, Batik Jogja, Batik Parang Kencana, Batik Kawung and there mountains and songket native Padang in the corridor gallery.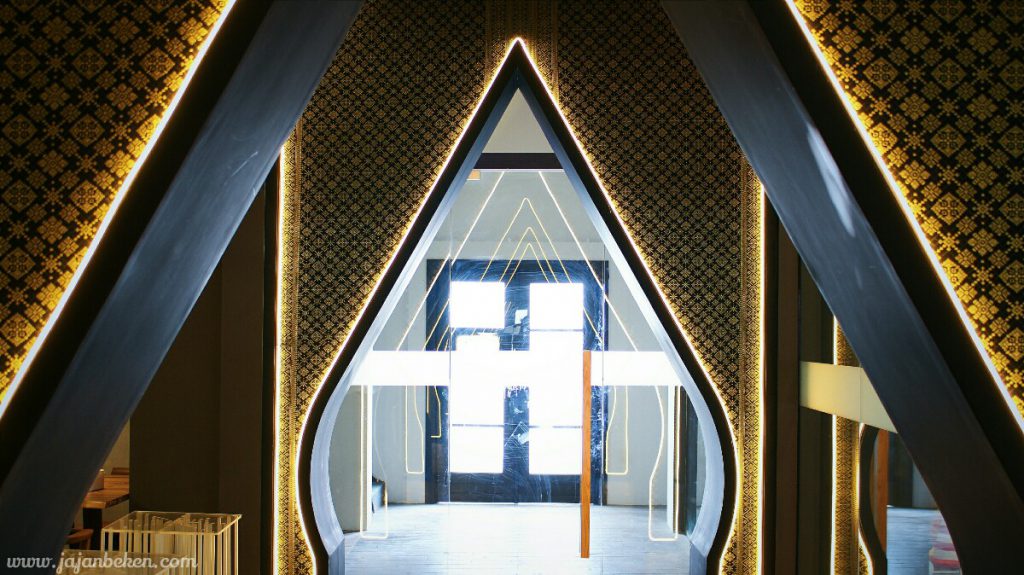 Upon entering, the cultural nuances of Indonesia is very thick, with a patterned map of Indonesia on the ceiling and also toraja batik pattern that adorn the pillars of the building. Not only that, you can also capture moments in front of the mural figures of national heroes and instagramable spots.
When a visit here a lot of things will you get, like good food, a place that will increase knowledge, and add a sense of love for the nation itself. Beken and friends have been getting it all after a visit to this restaurant.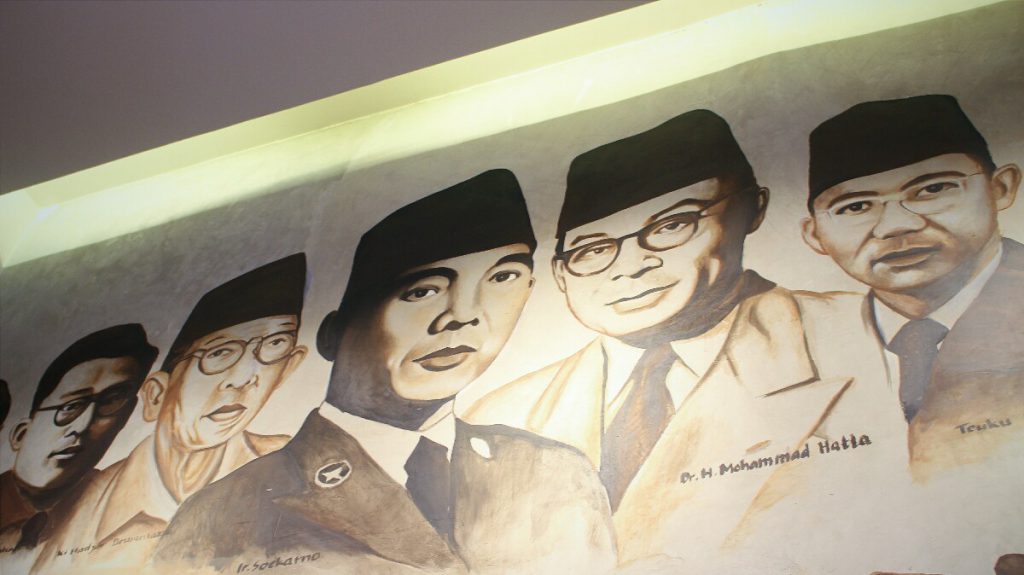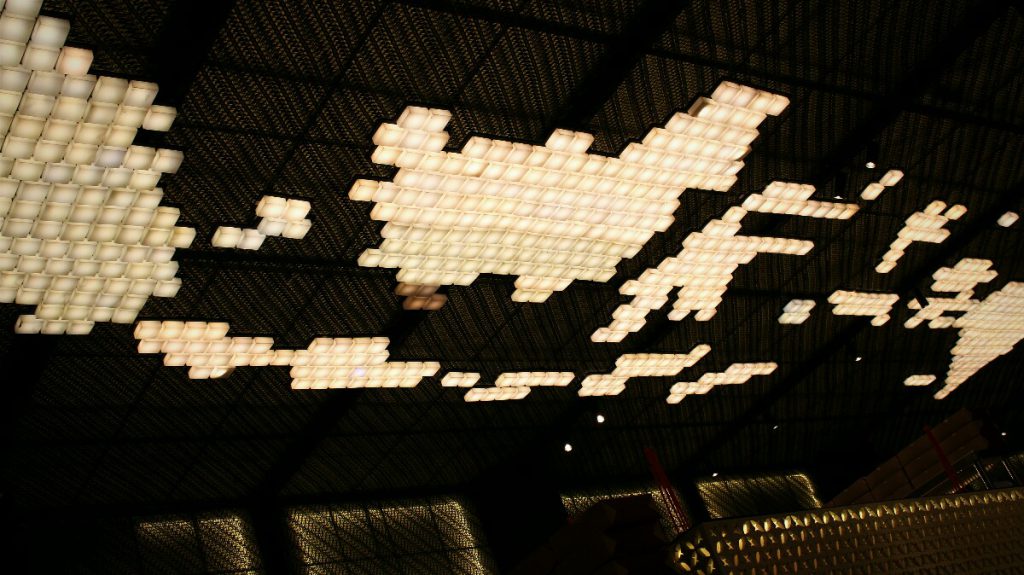 Padang Merdeka Kota Tua Open Hour From

9 AM – Midnight
Sometimes much we regret when we come to the restaurant we liked still closed or already closed for the time specified faster. However, Padang Merdeka Kota Tua will provide you with the convenience to access a restaurant that is longer than usual Padang restaurant.
Especially for you who will recreation to Kota Tua, you can stop by here to fill the tummy. Particularly if you come very early and want breakfast first before continuing the journey Padang Merdeka Restaurant will be ready to serve you.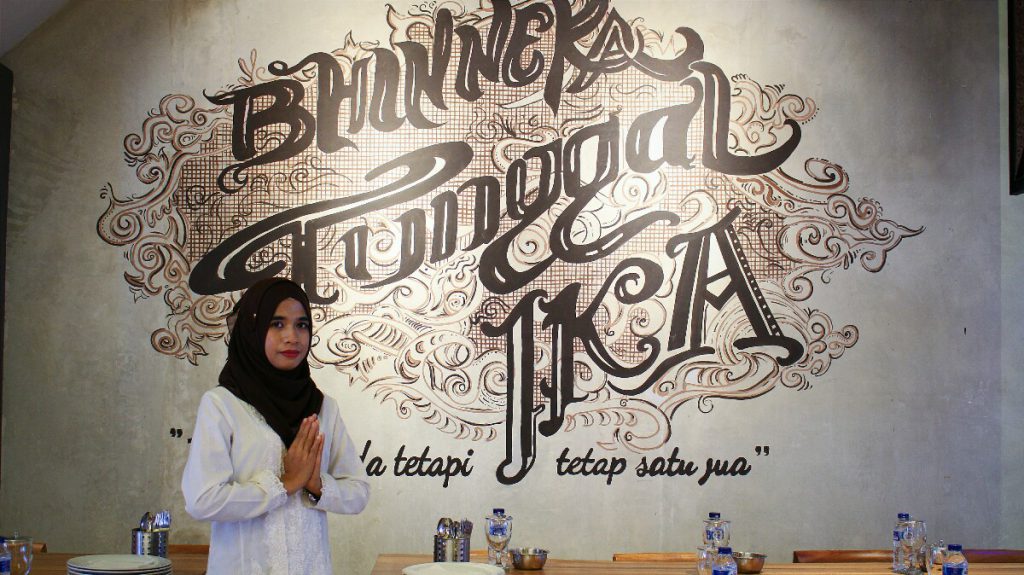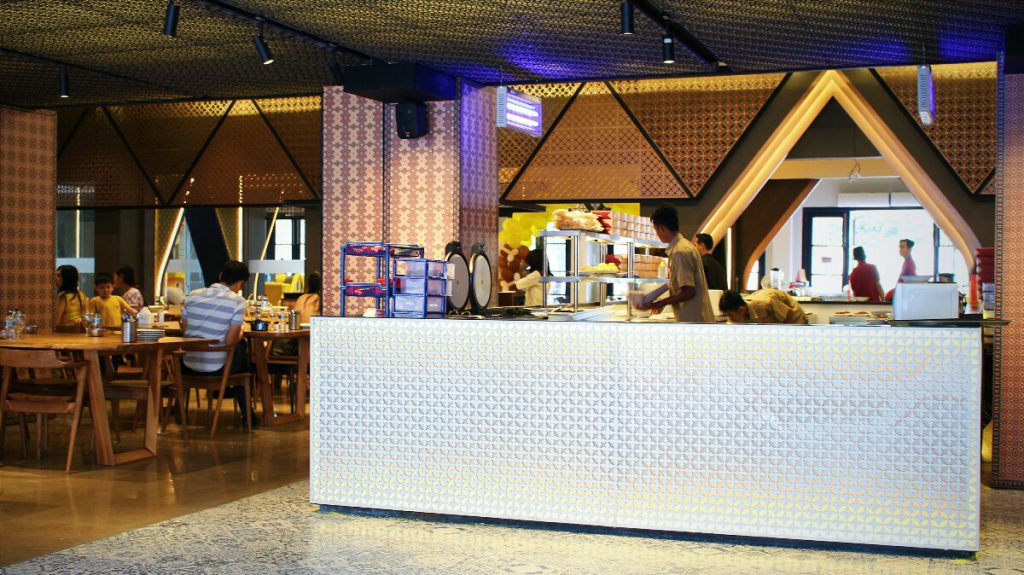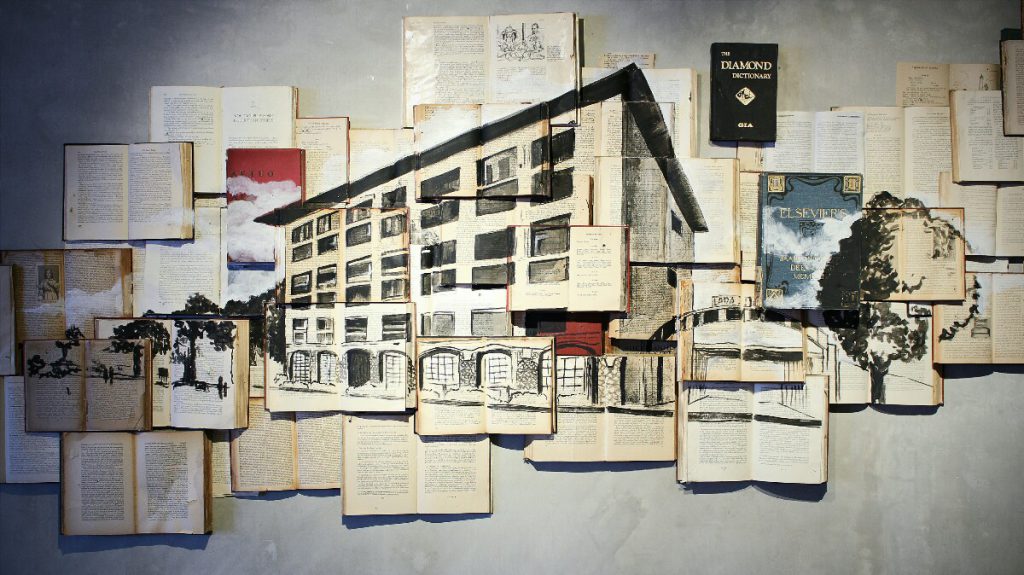 Affordable Price At Padang Merdeka Kota Tua
If you think this restaurant has a very high price it is not true. Padang Merdeka Kota Tua have food menu at very affordable prices. Basically This restaurant is not segmented to specific level because anyone can come and eat at Padang Merdeka.
For example one food of the menu at Padang Merdeka Restaurant is fried chicken cooked as we know Ayam Pop by the chefs of Padang origin. The food price starts from IDR 18K per portion. And I can say that Ayam Pop from Padang Merdeka was totally good and tasteful, not to mention the red sauce is truly amazing and really match with the chicken. This Ayam Pop is one of recommended menu to try!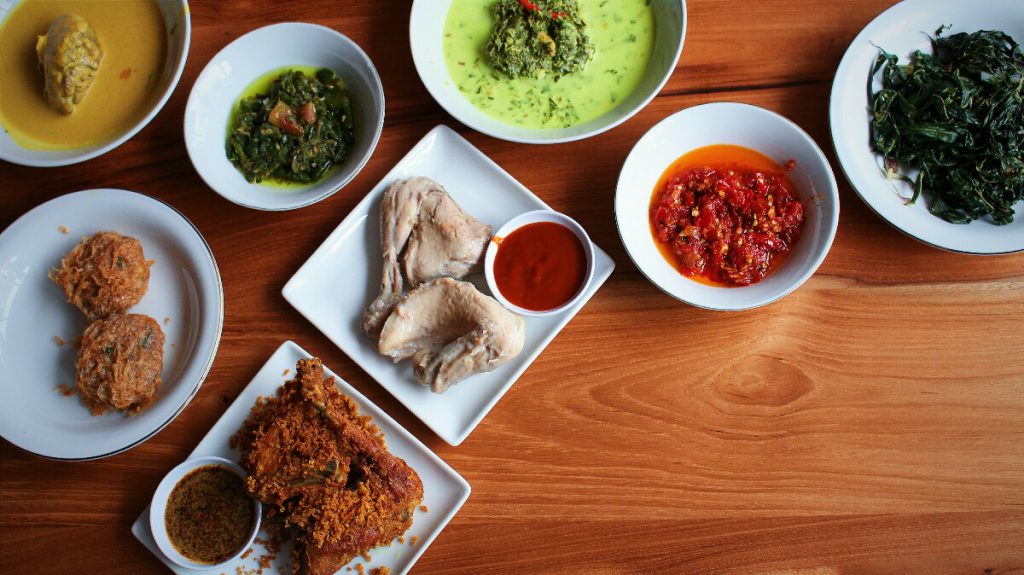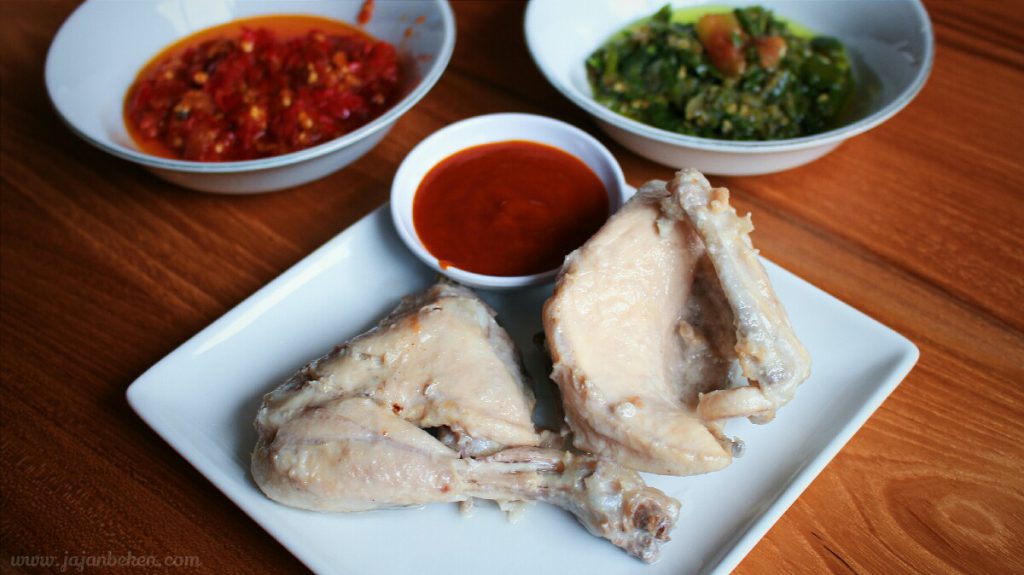 Spices From its Origin Places In Sumatra To Preserve The Authentic Taste
After we talked a lot about the interior of this restaurant, it is time for us towards things that will make you very hungry. All the food at this restaurant served very fresh and served immediately after cooking.
All the food here using real taste of typical Padang without using any mix and they adopt Bukittinggi taste. They want to make you eating here like you were in Padang. When eating here you will also be accompanied by the traditional music of Indonesia. You will be familiar with angklung, gamelan and bamboo suling as well the Minangkabau music instruments. Which will make your meal times very memorable.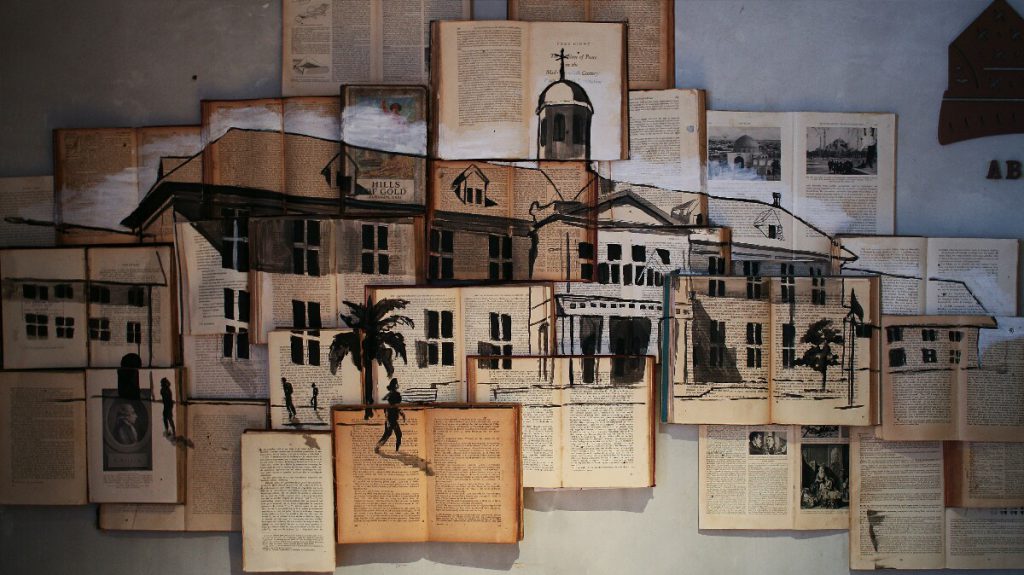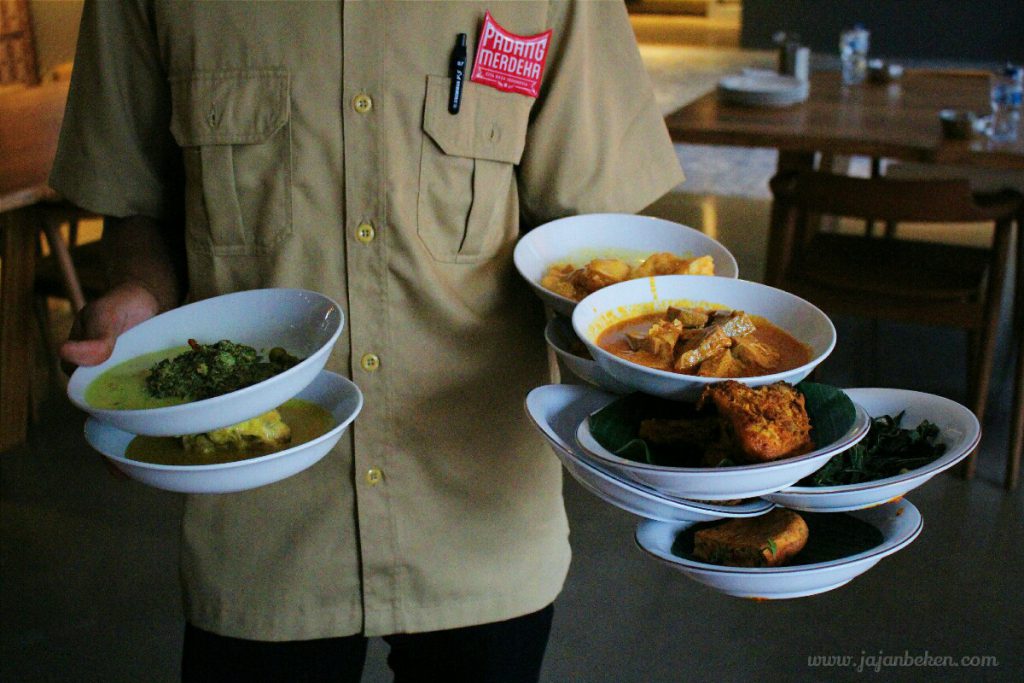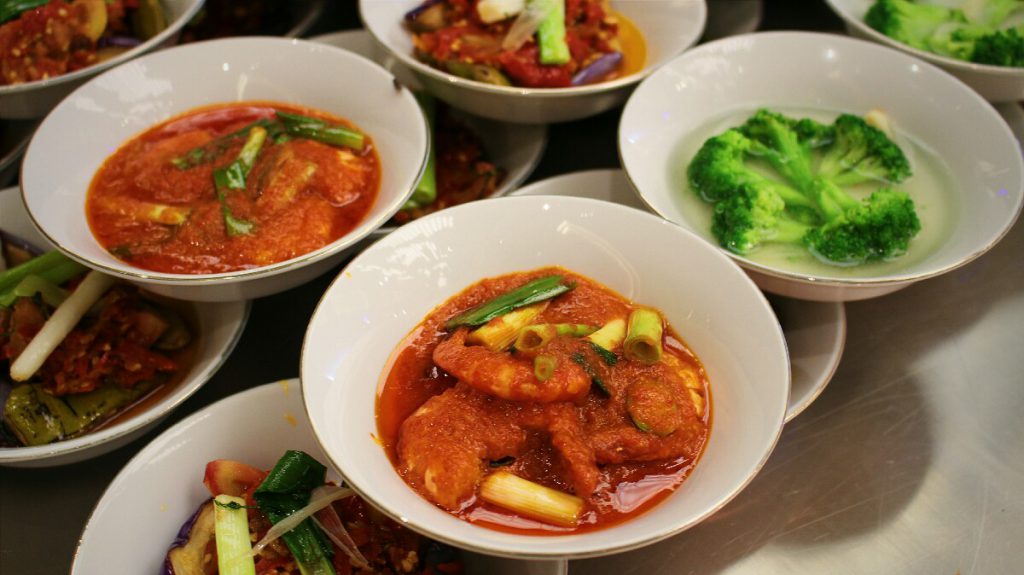 Next Level In Enjoying Padang Cuisine
If you Indonesian food lovers especially cuisine of Padang you have to come and try to eat here. Because this restaurant is maintaining the quality taste of food as well as ambiance this restaurant that accompany your eating time here.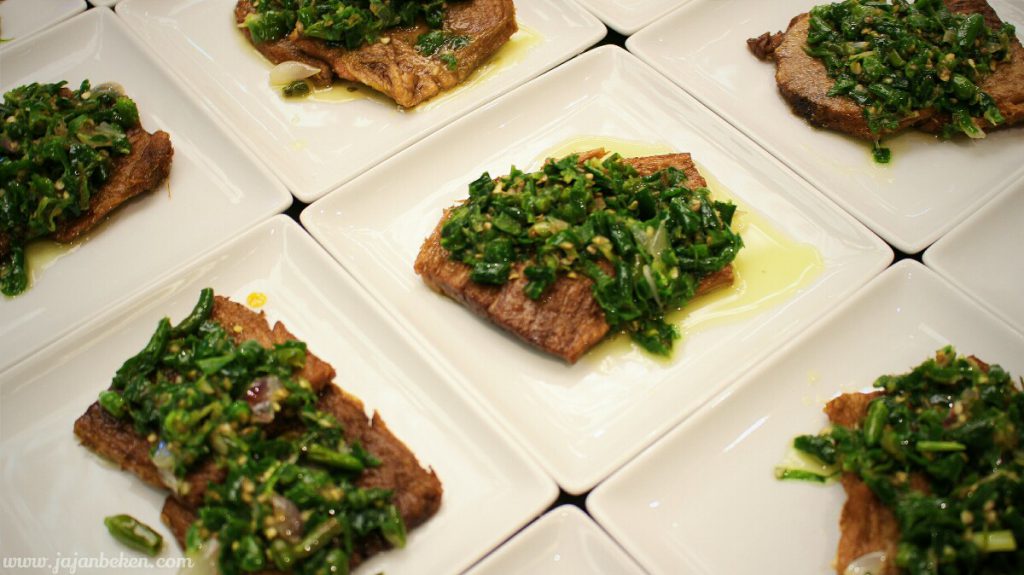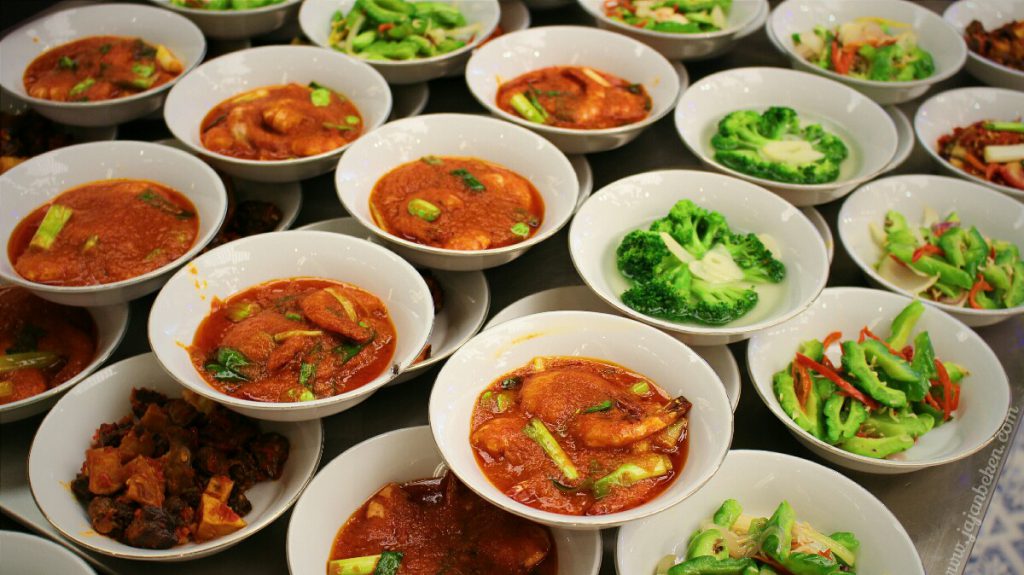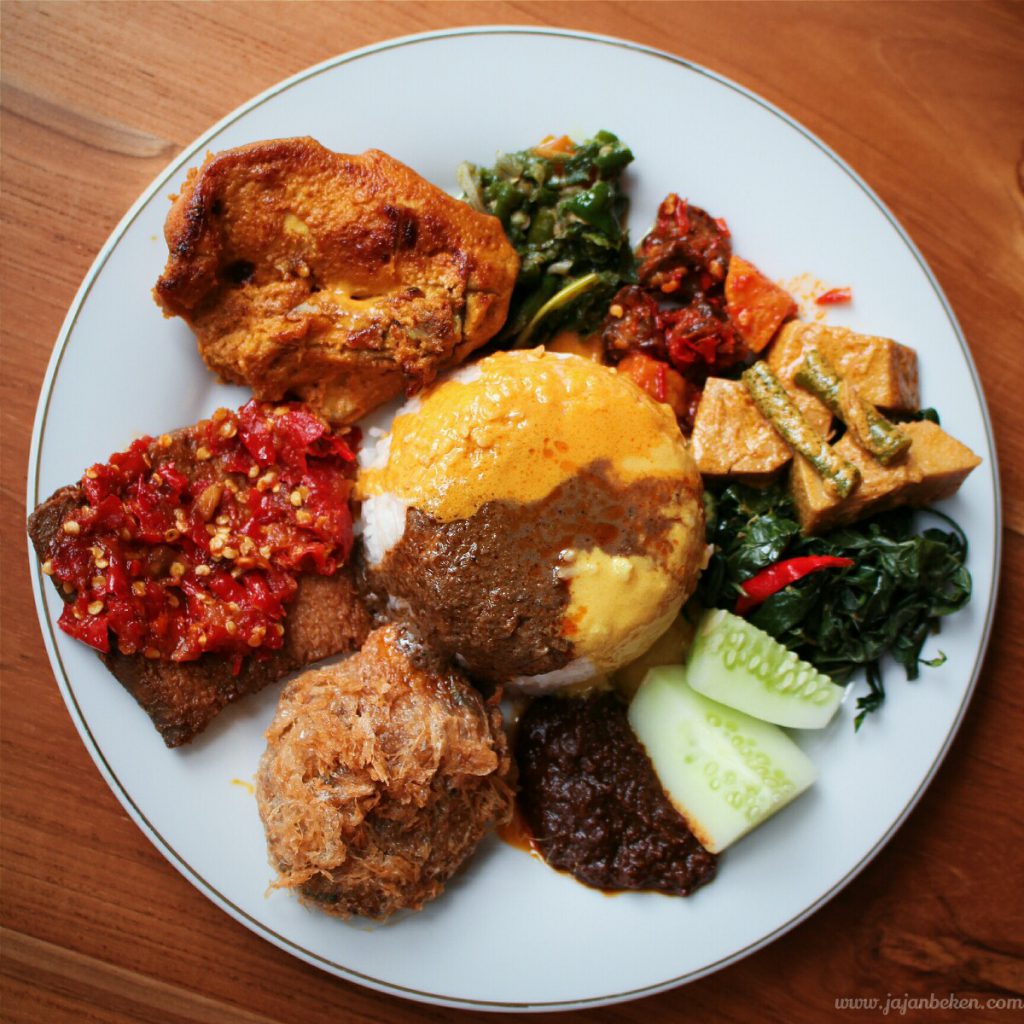 7 Must Try Padang Merdeka Menu Of Jajanbeken Version
1. Ayam Goreng (IDR 19K)
This is special menu that I have tried, the ayam goreng was crisp with flavorful crumble. Even the chicken crisp but it was easily to pull from the bone. The dish become more special with peanut sambal as condiment.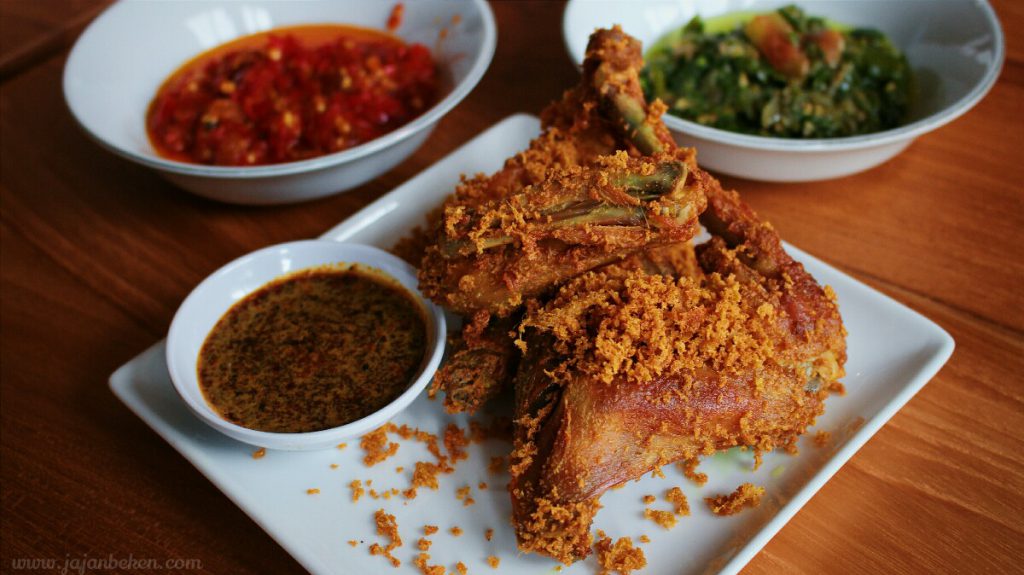 2. Rendang Sapi (IDR 20K)
Rendang sapi at Padang Merdeka was totally awesome, I love the texture it was tender and easy to cut. The curry sauce was thick and flavorful, when you pairing this menu with steam rice it will be really appetizing.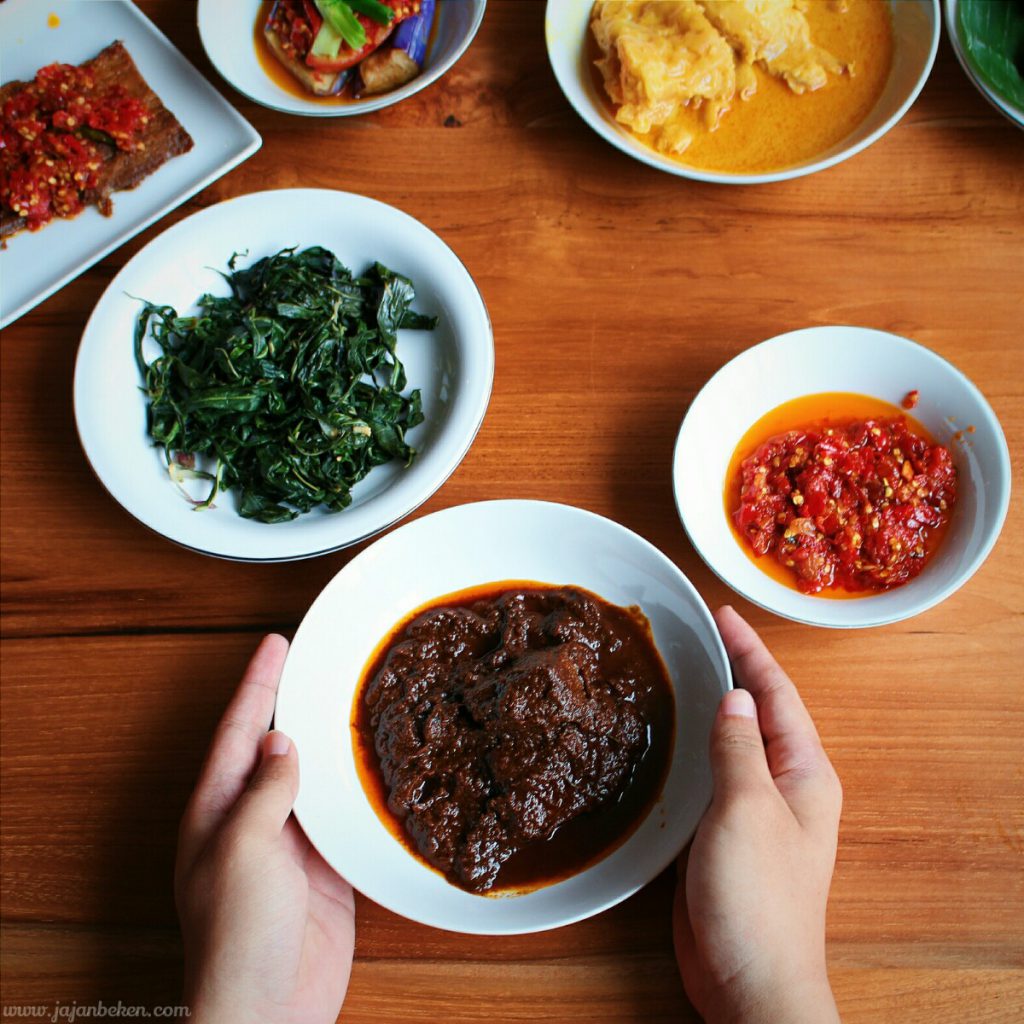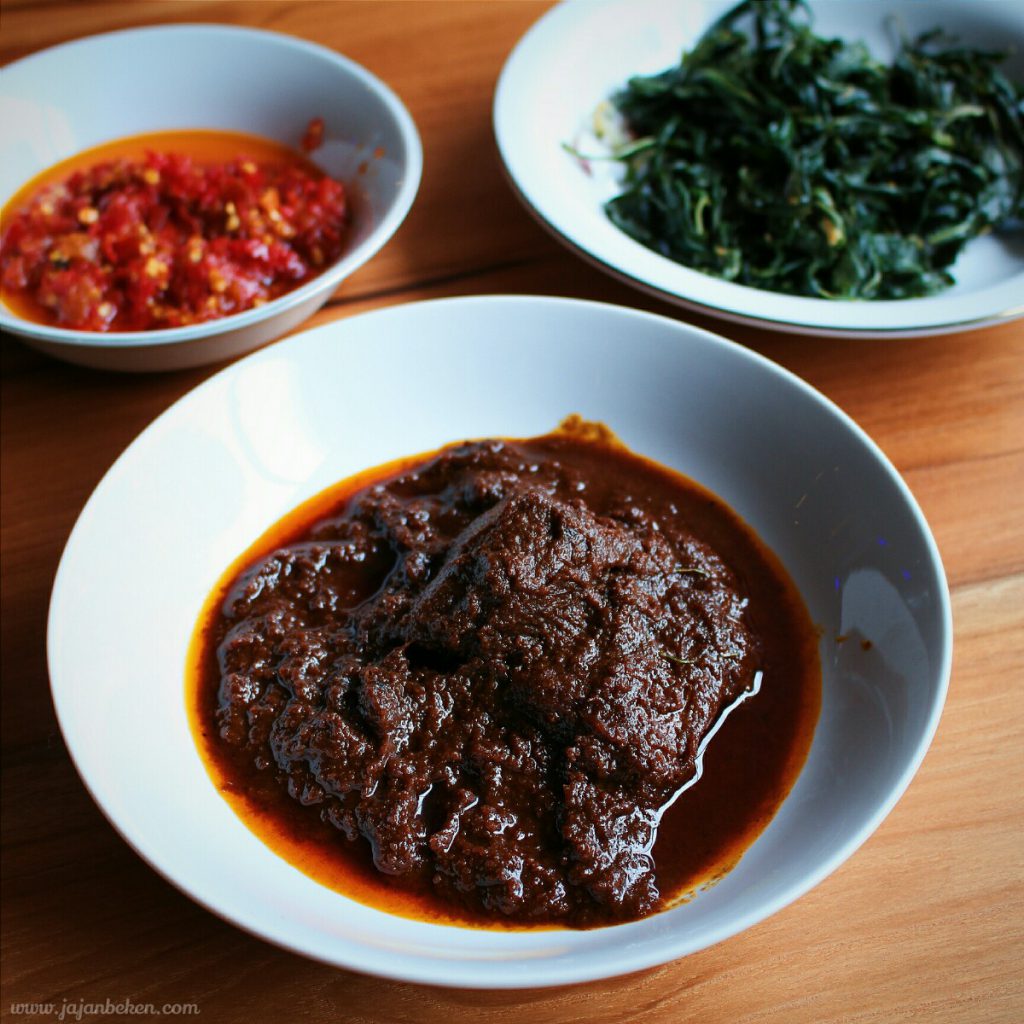 3. Dendeng Batoko (IDR 20K)
Dendeng Batoko in Padang Merdeka really worth to try, both in sambal ijo or sambal merah selection are good enough to enjoy. The meat easy to cut and the sambal was not too spicy even though you can see a lot of chili on top!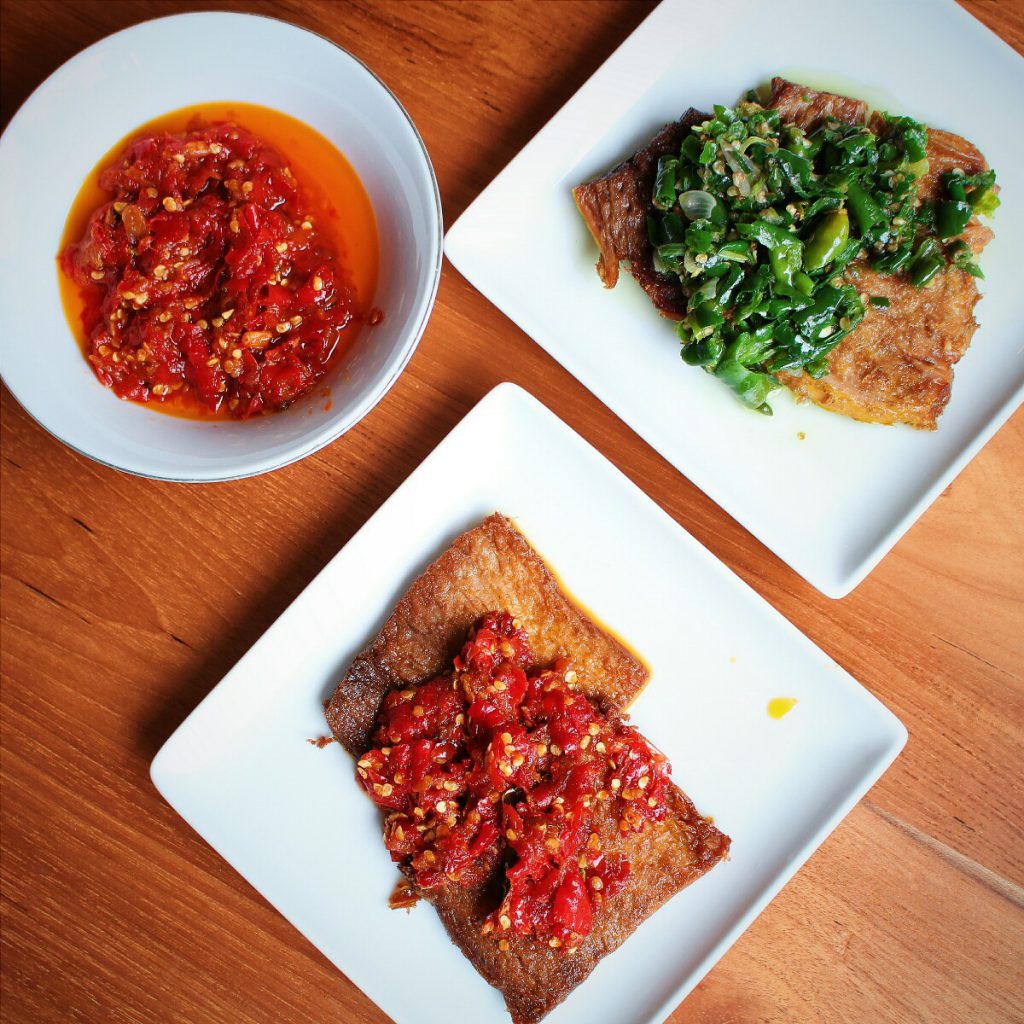 4. Kikil Gulai (IDR 20K)
I love the gulai kikil from Padang Merdeka, the texture was chewy and it's tasteful. The curry sauce also delicious and flavorful. I can not resist when the kikil remaining in the plate so I take all by my self, bye my friends 🙂
5. Sate Padang (IDR 34K)
One of my favorite menu in Padang Merdeka is Sate Padang, Why? Because the peanut sauce was very smooth and savory. The smokiness from the meat make it more tasteful and enjoyable to eat.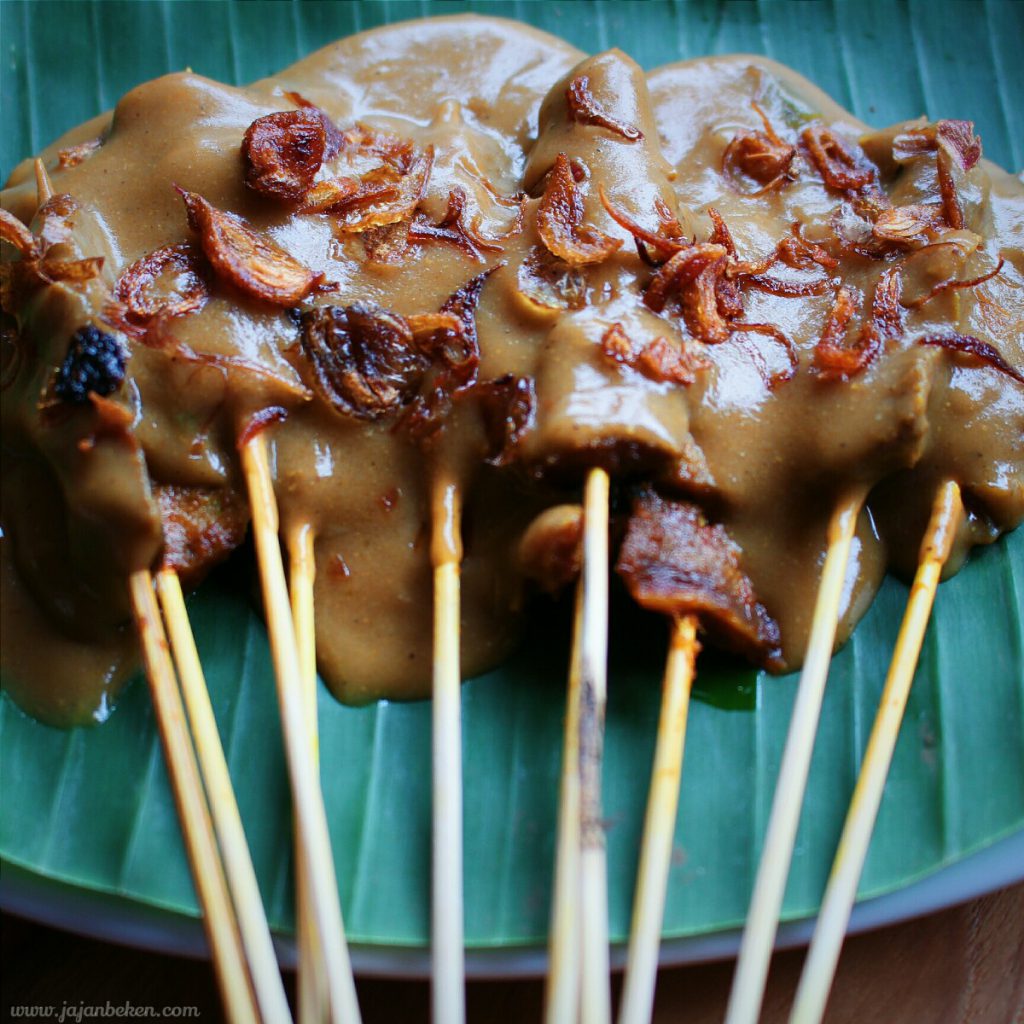 6. Perkedel (IDR 12K)
This is Indonesian fried mashed potato like in common. But in Padang Merdeka it was distinct because the potato was very smooth and savory. I really like fried mashed potato that is presented here, because it's very different with the other Padang restaurant I have ever visited.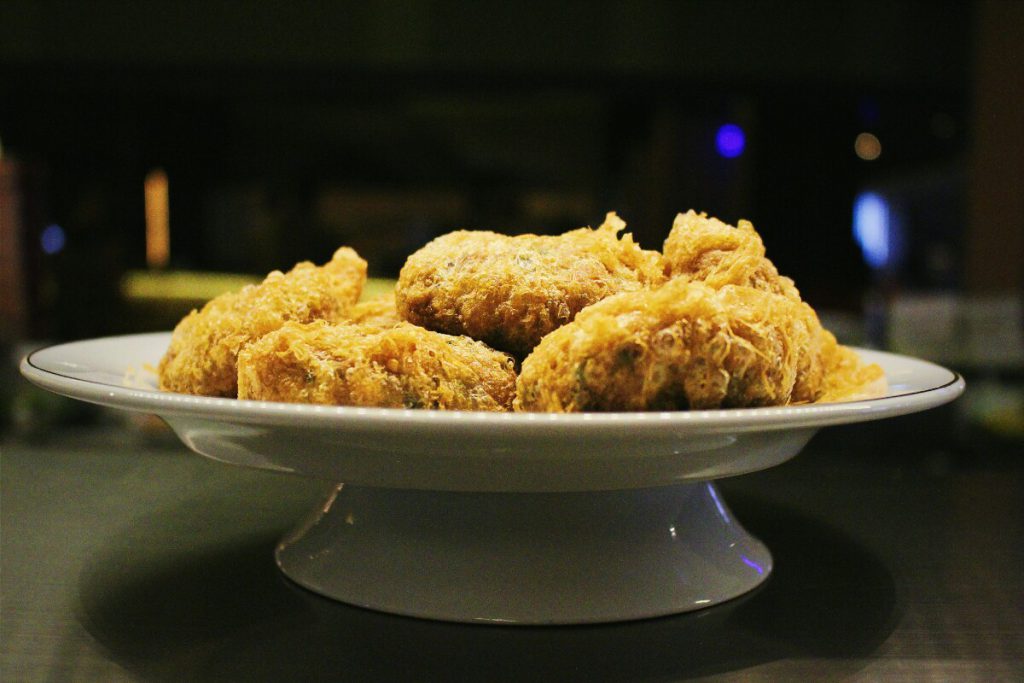 7. Sayur Ubi Tumbuk (IDR 16K)
This vegetable menu is what I liked when visiting Padang Merdeka. This is sweet potato leaves which has been mashed, a rare menu in the Padang restaurant. Tastes very good, the soup tasted very perfect, heavy and aromatic. You should try this when visit Padang Merdeka.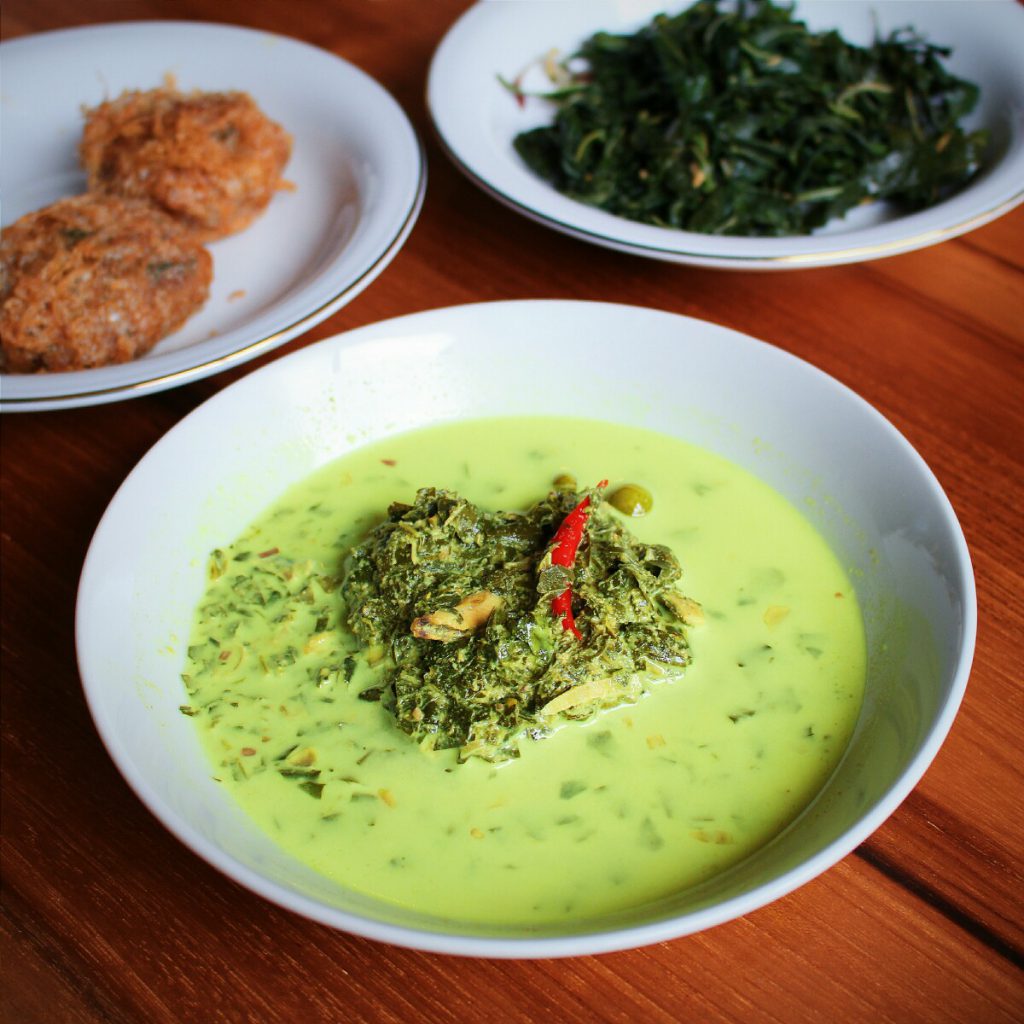 In addition to a delicious meal, Padang Merdeka Kota Tua also provides a variety of drinks were very tasty and refreshing. Like the one that I am trying here, Markisa Terong Belanda Juice. This drink very has its own character, the taste of this drink very combined taste between fruit served.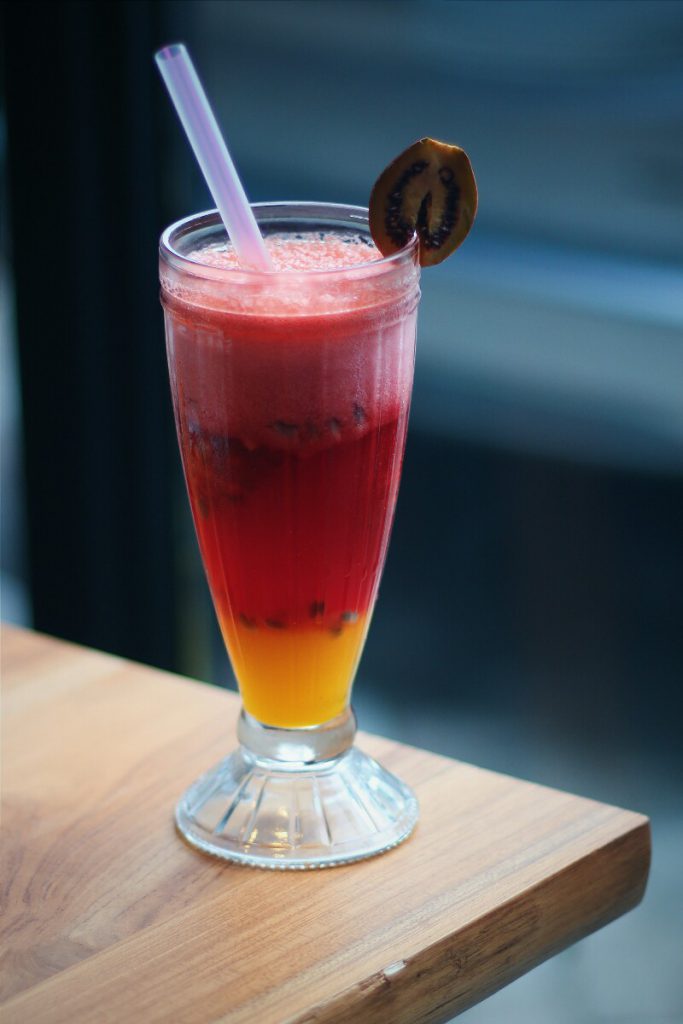 Besides the food Beken described earlier, Padang Merdeka Restaurant still have mandatory food you should try.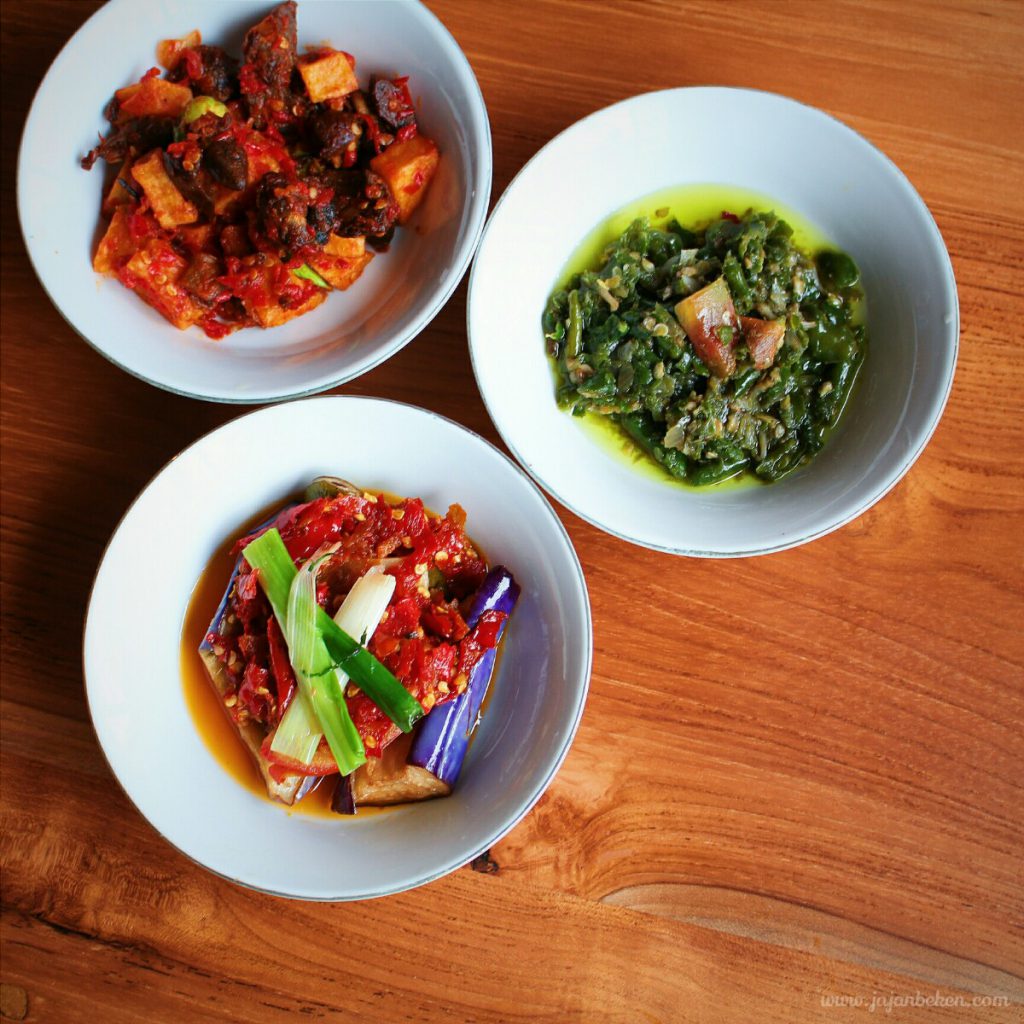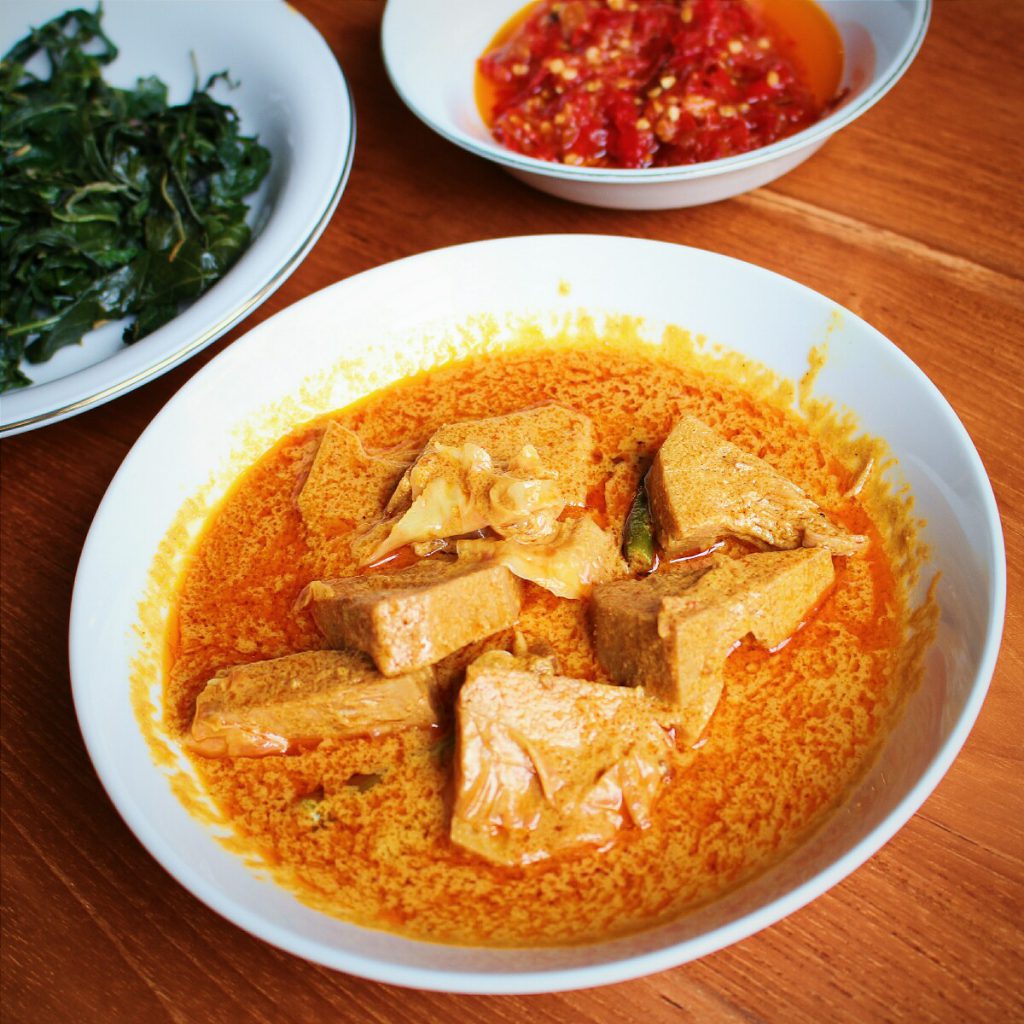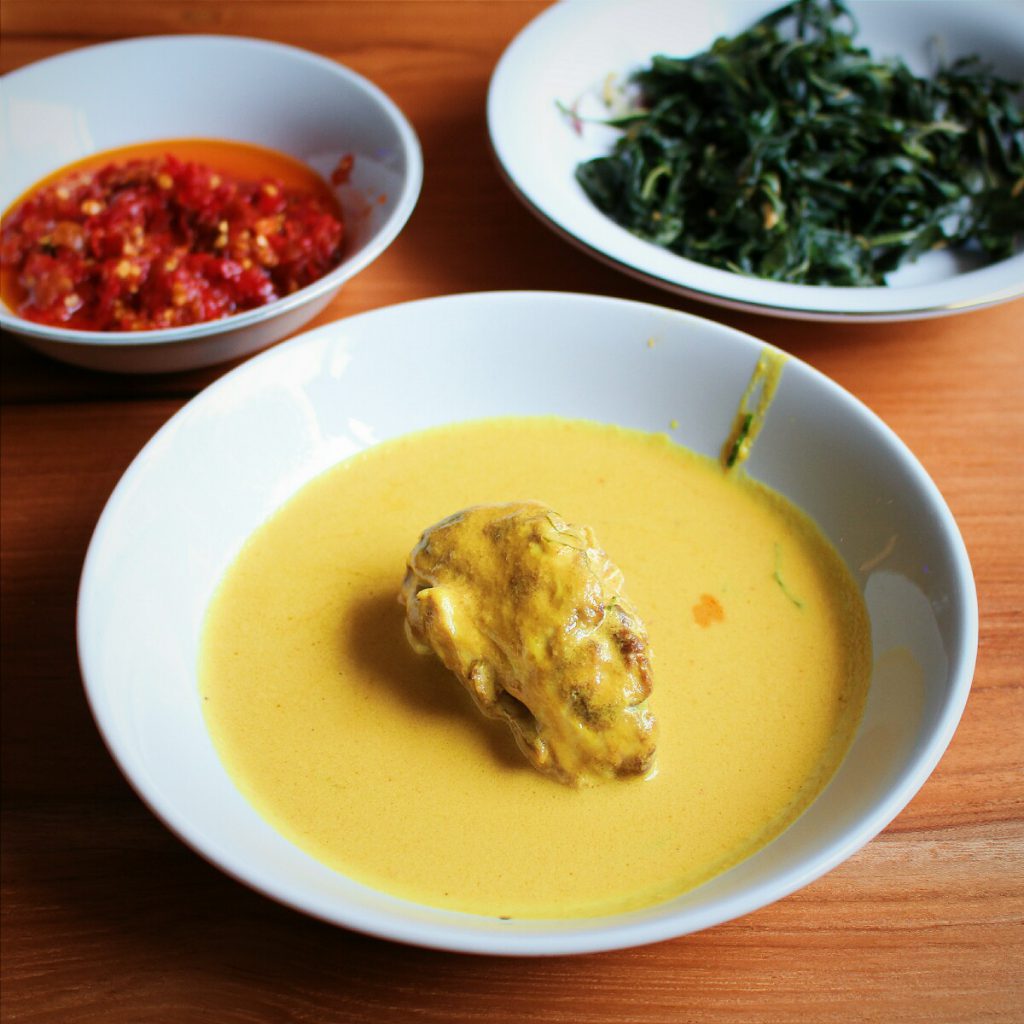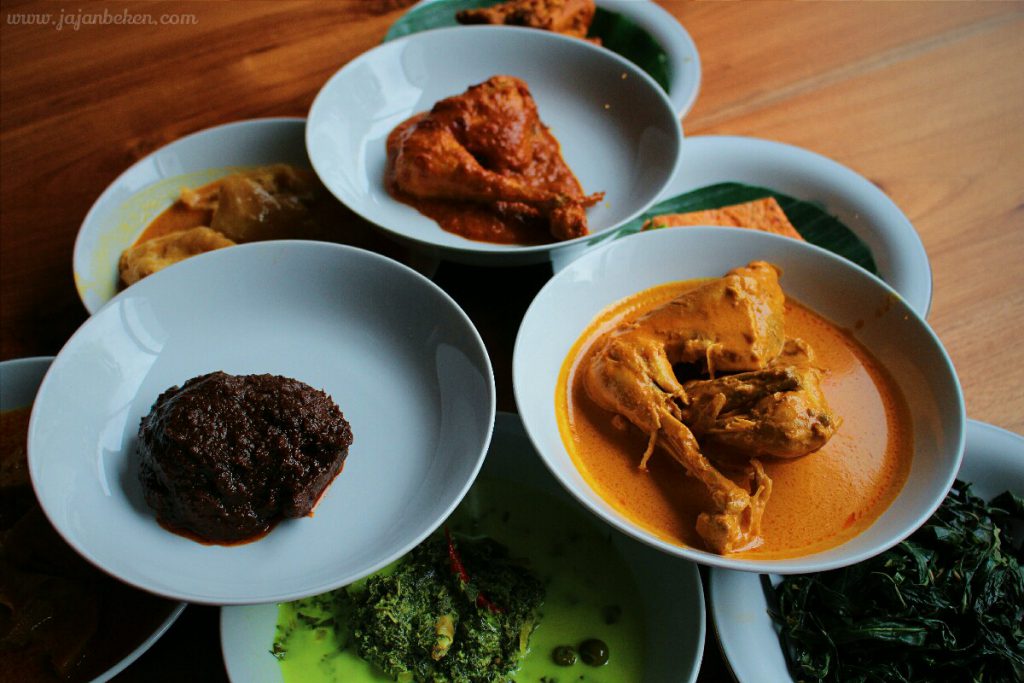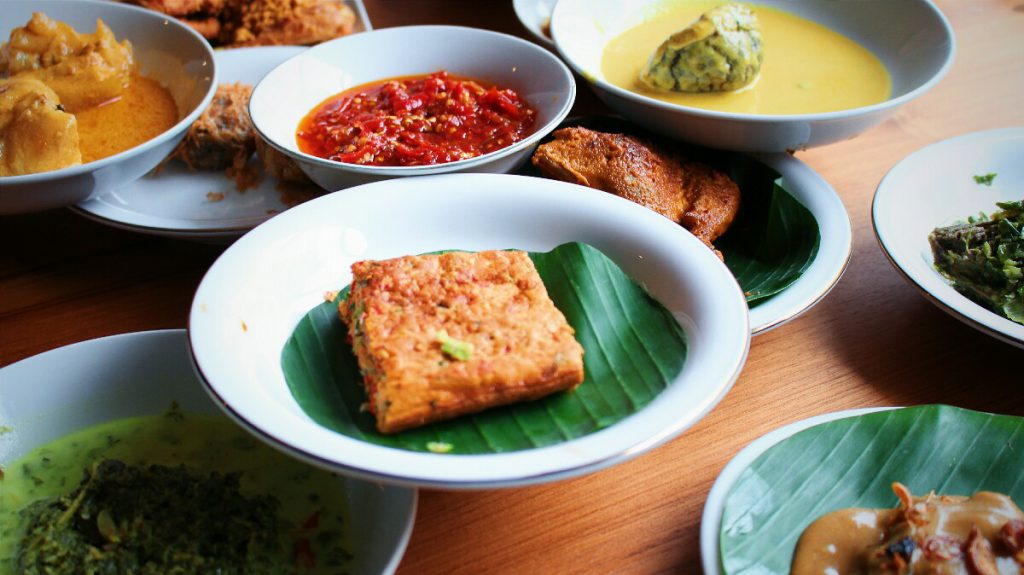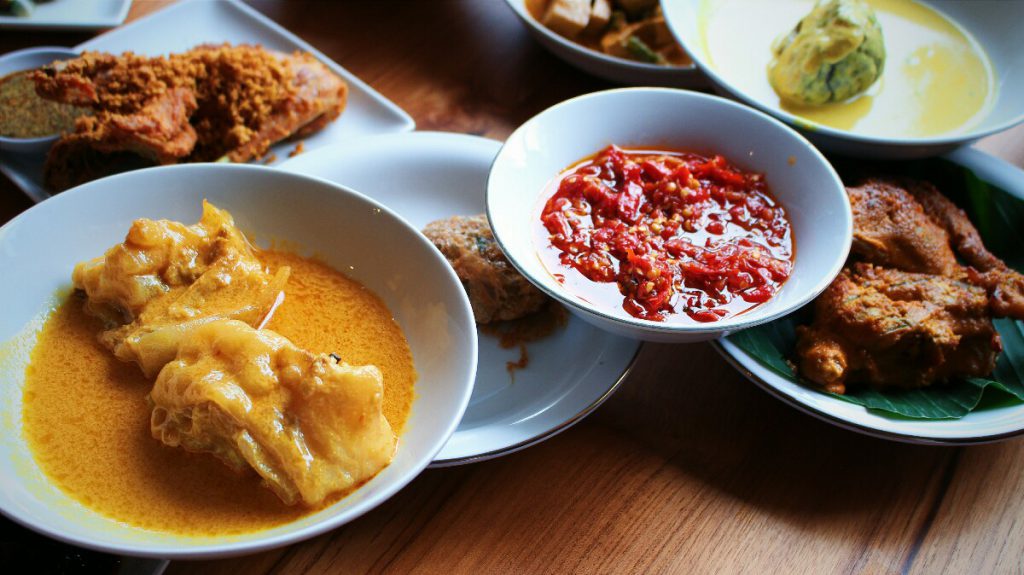 That was my culinary story at Padang Merdeka Kota Tua Restaurant . I really enjoy our eating time at Padang Merdeka Restaurant, because the place so comfortable and for the food and drinks selection was high qualified and nothing to complain to the taste. This will be my reason for comeback to Padang Merdeka Restaurant especially for 7 Must Try Menu At Padang Merdeka Restaurant 
https://www.youtube.com/watch?v=rsIJPPPBuR0
Jajan Beken very recommend this restaurant to you. because besides Padang cuisine is very tasty This restaurant has a very interesting interior concept is patriotism. If you come to this restaurant, you will get a complete package the taste is very tasty and add nationalism.
Thank you for coming in this article, don't forget to subscribe our blog and see the others awesome articles. I apologize if there any errors in my writing, and see you to the next adventure with Jajan Beken
RATING
Ambience : Excellent
Taste : Excellent
Service : Excellent
FACILITIES
Wifi : Yes
Plug : Yes
Dine in : Yes
Outdoor : Yes
Toilet : Yes
Parking : Yes
CONTACT
Address : Jl. Lada No.1, Pinangsia, Tamansari, Kota Jakarta Barat, DKI Jakarta 11110
Phone: 021 6919811
Instagram Padang Merdeka @padangmerdeka
Zomato Padang Merdeka 

INFORMATION
Open hour :10AM – 11PM
Price : Average Rp200.000 for two people (approx.) Cash and Cards accepted
MAP