Last week me and my friends visit to a new coffee shop in Pluit North Jakarta. The name is Keren Coffee, one of coffee shop with very convenient place. While there, we spent approximately from 10AM to 6PM (such as working hours). Other than that this coffee shop is located in a Landmark Pluit Building that is very instagrammable, the building is relatively new and when I was there I've seen this building not yet fully used. So the coffee shop is commonly known as Keren Coffee Landmark Pluit.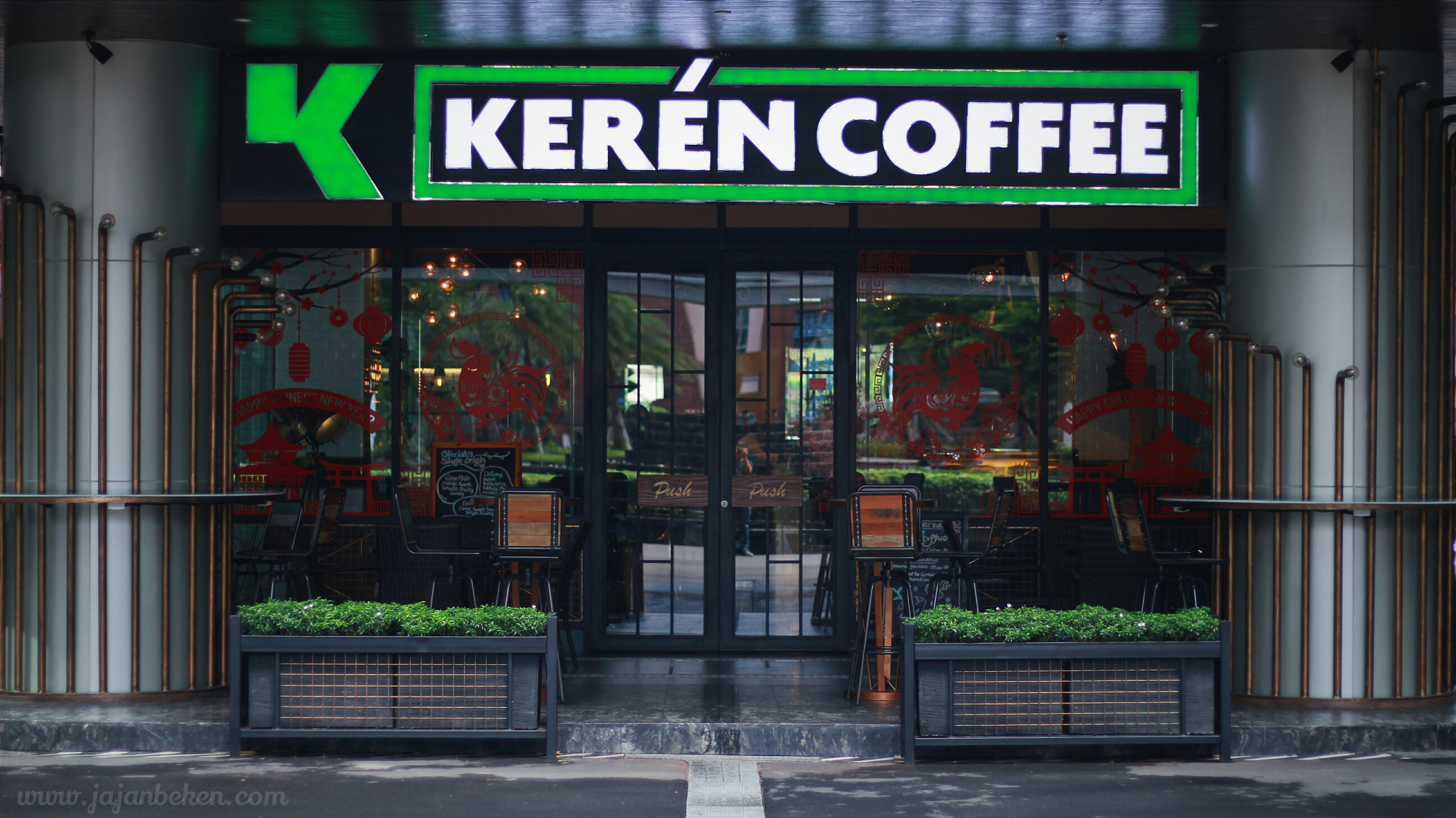 Before we talk about these comfortable coffee shop, I would like to introduce to you the building that houses of Keren Coffee.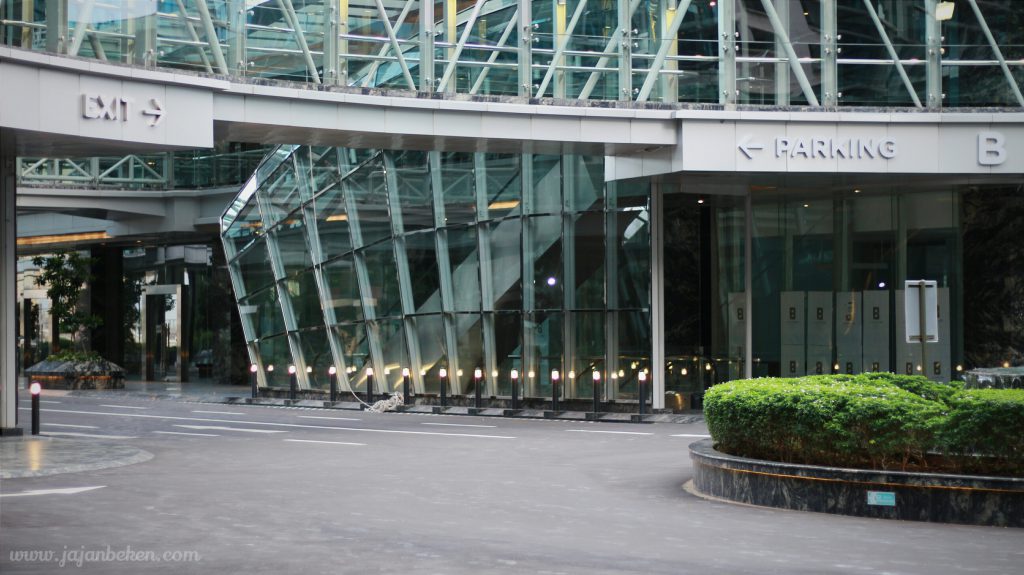 Landmark Pluit Jakarta
I think this building is one of the prettiest buildings in Jakarta. The building looks very structured so great and almost all of these buildings are glass lining. Already clearly visible when I visited Keren Coffee many visitors taking an OOTD pictures, and so do I.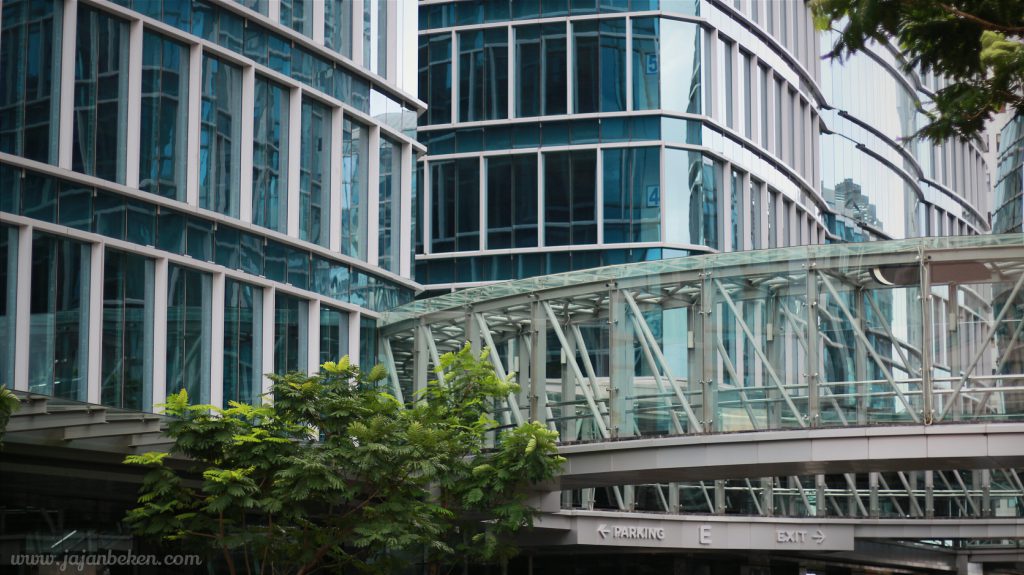 And I think this will be the main attraction when visiting Keren Coffee. From the information that I know Keren Coffee and landmark Pluit are still under one managament with Nano Healthy Family.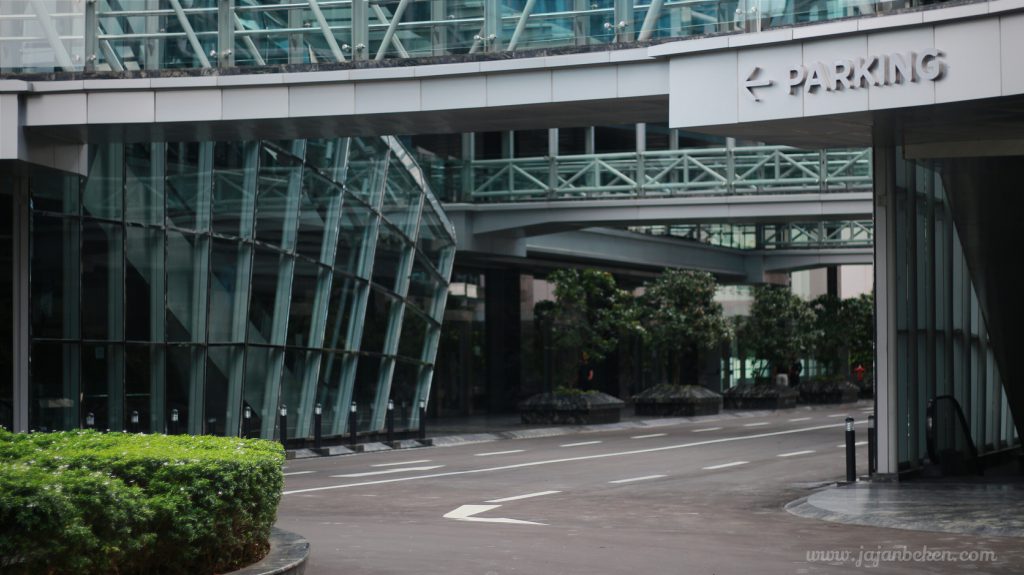 The building looks beautiful isn't? Because not many people know about the existence of this building, my friends thought that I looks like in abroad when they see my OOTD picture, like somewhere else outside Jakarta.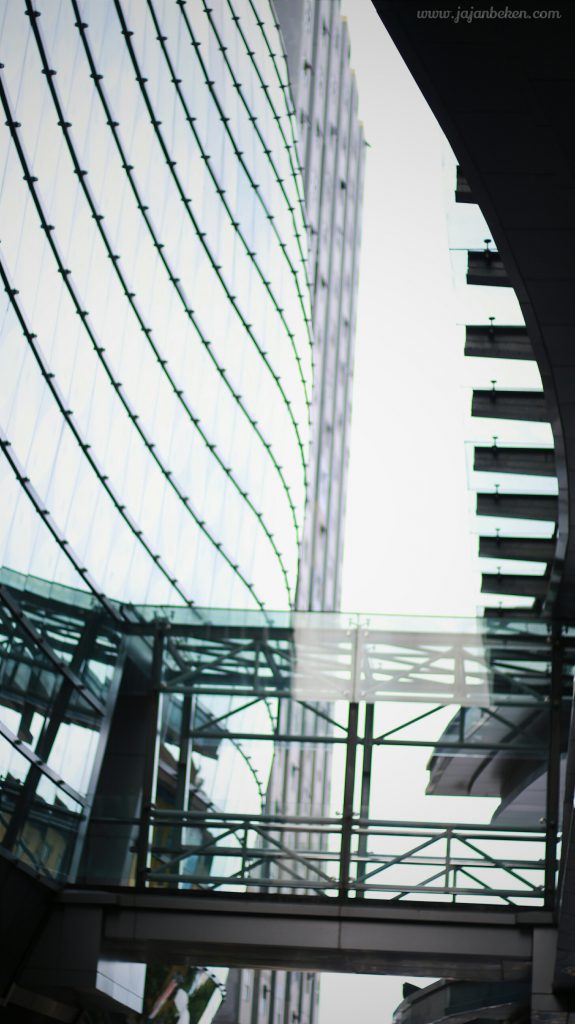 By the way to get parking in this building is very easy, because the building management has prepared parking area with basement parking lot. Why am I talking about this building parking, because if you visit Keren Coffee you should be the same parking lot with the occupants of Landmark Pluit Building.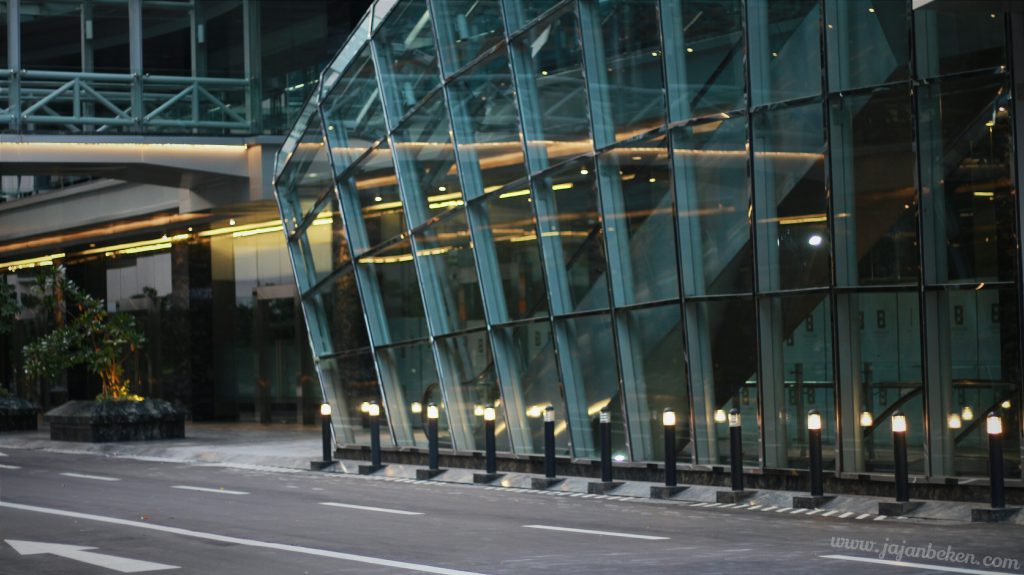 Keren Coffee
According to the name that is Keren or the meaning is "cool" it's true, this coffee shop is definitely cool. Look how the design of the room is very nice and the aroma in this coffee shop was very touching.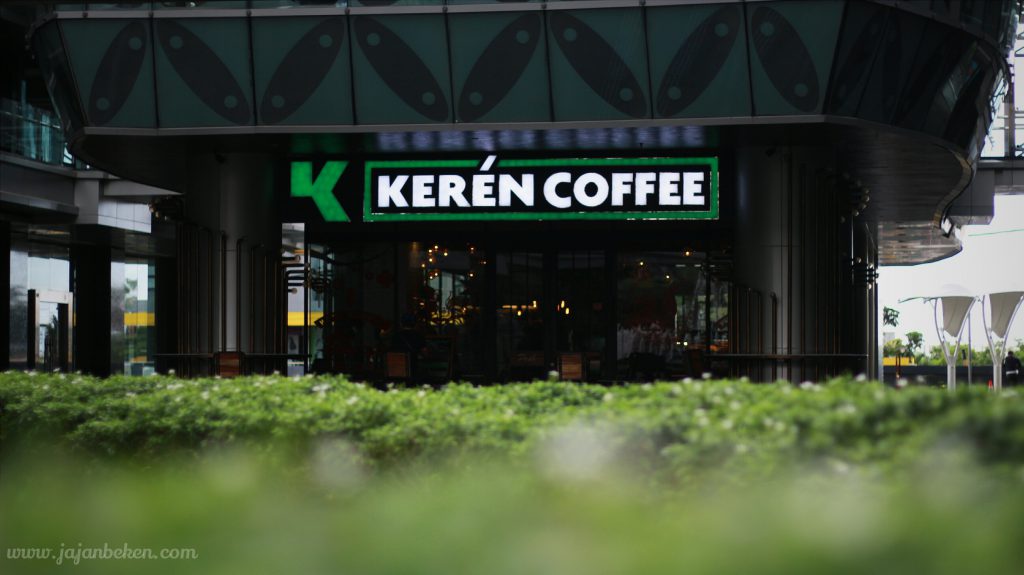 When you enter at Keren Coffee you will immediately be kindly greeted by the staff. One of the most I like of Keren Coffee is their service was outstanding. Their staff was serve the visitors with honour.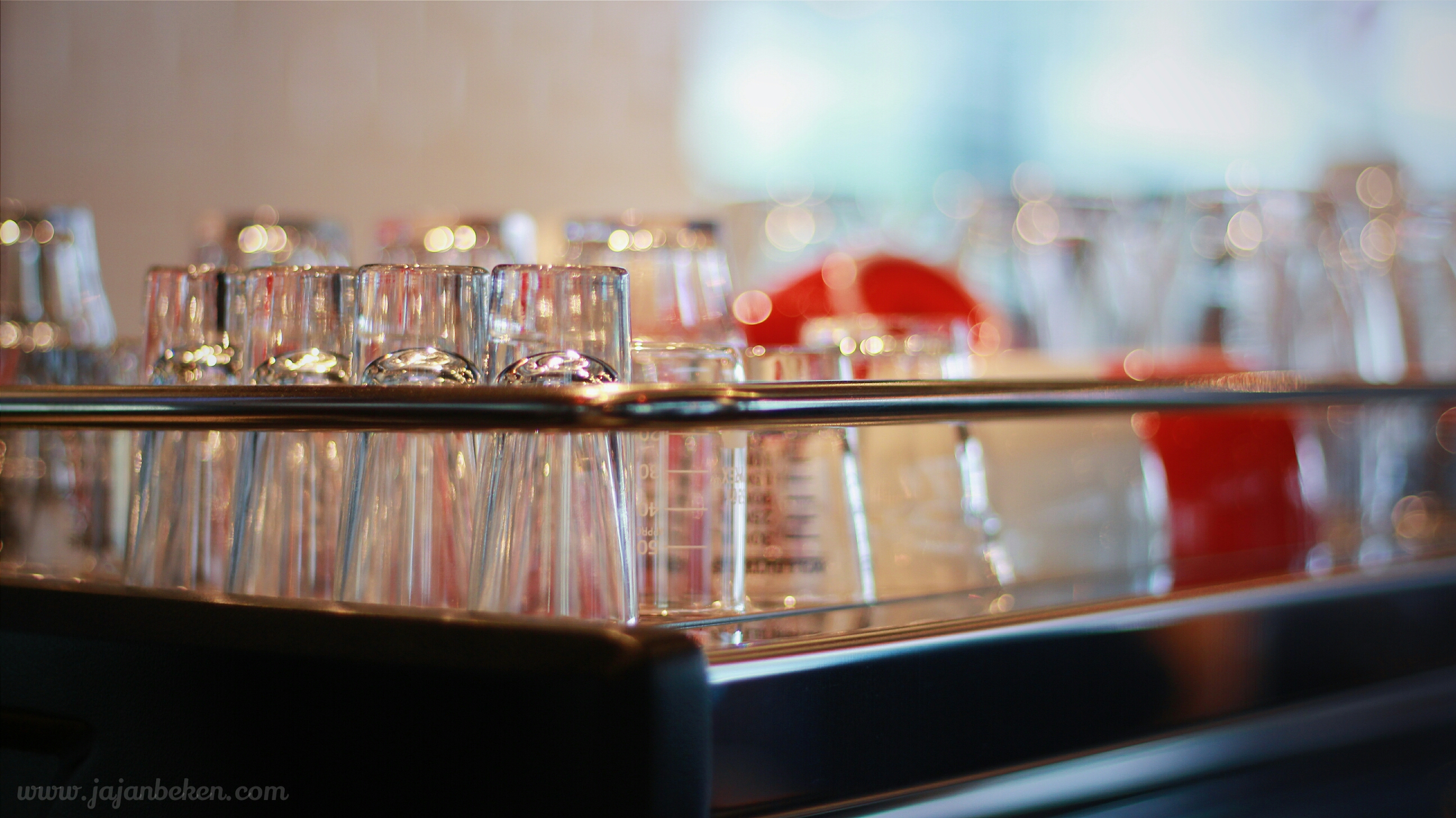 They know how to communicate and serve the visitors with properly, and the most important they know about coffee so well.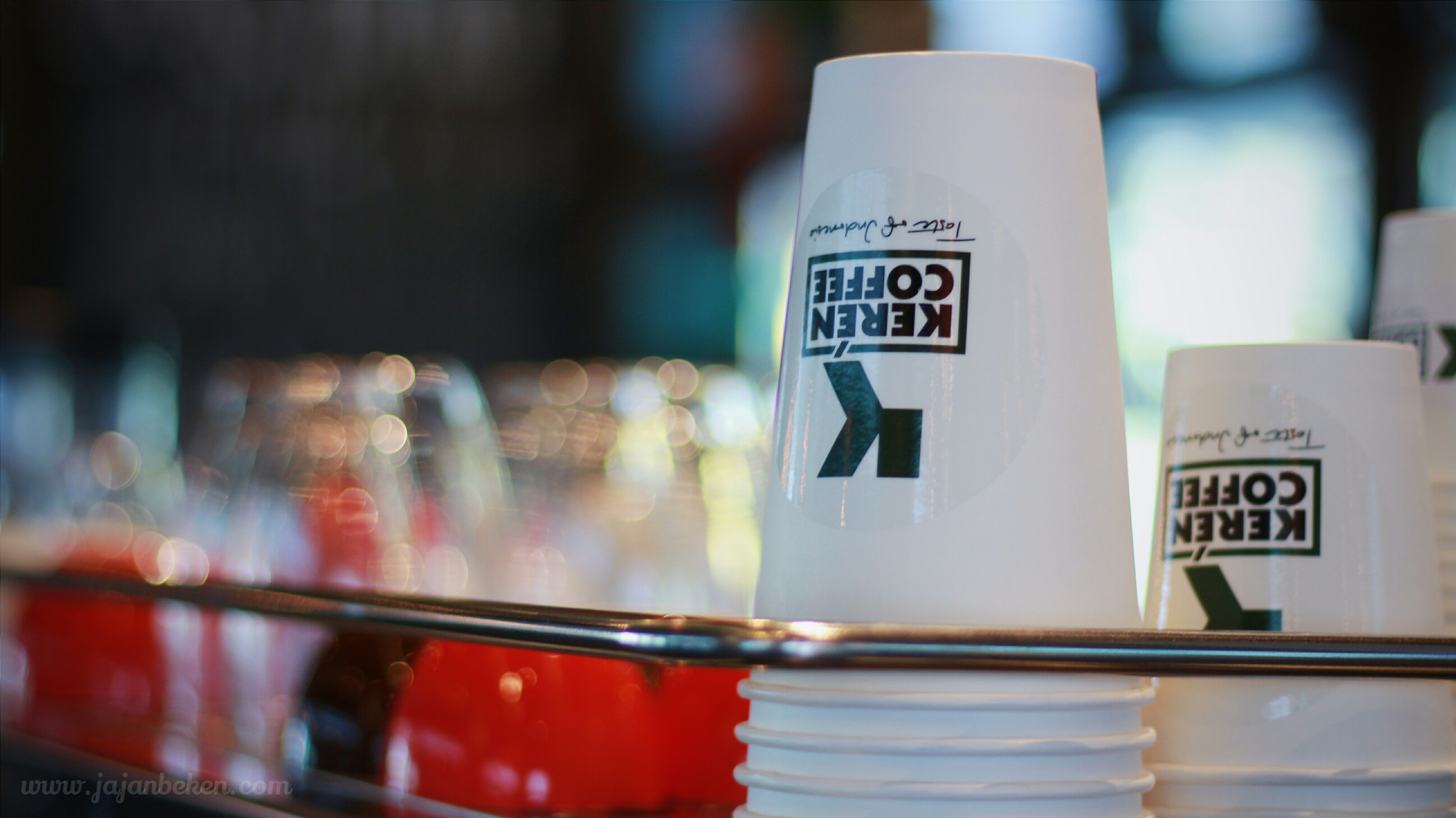 You can see that in front of Keren Coffee there is a very beautiful fountain, which is will make you more enjoy when you are in Keren Coffee and drinking coffee.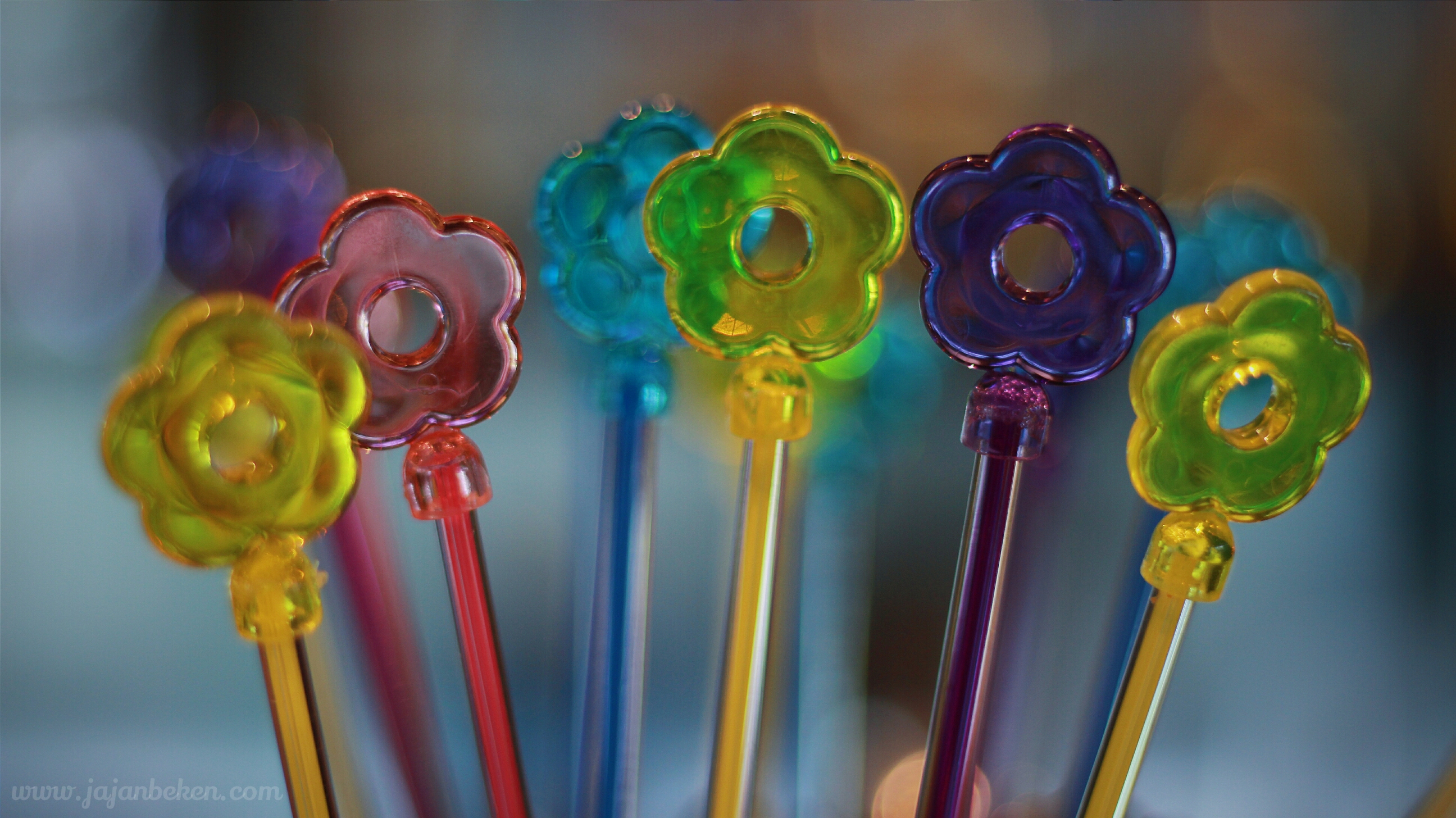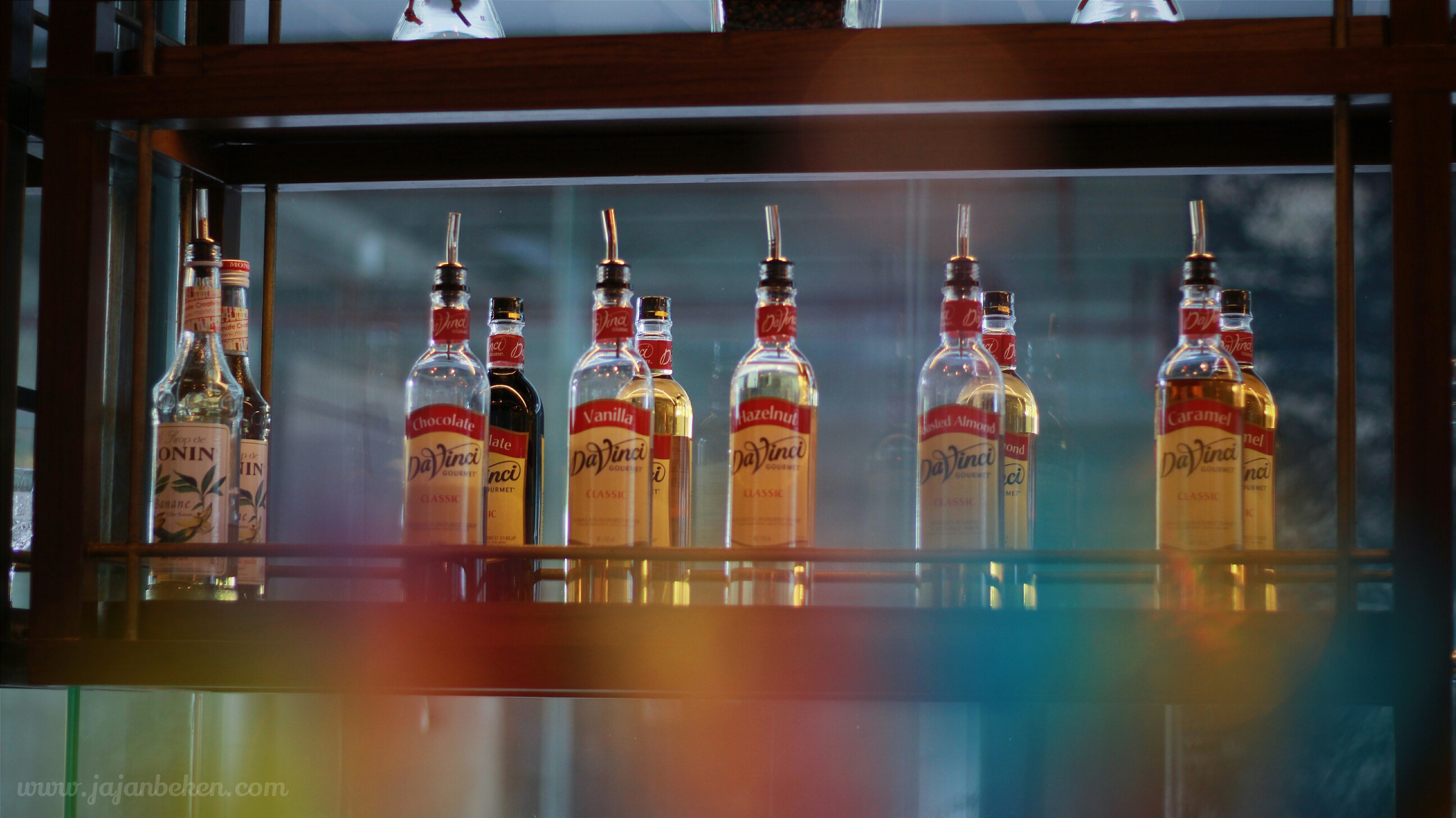 I really like the design of the arrangement in this room, looks very classy. Not only that, the ornaments on the display is very pretty from antiques to modern coffee equipment.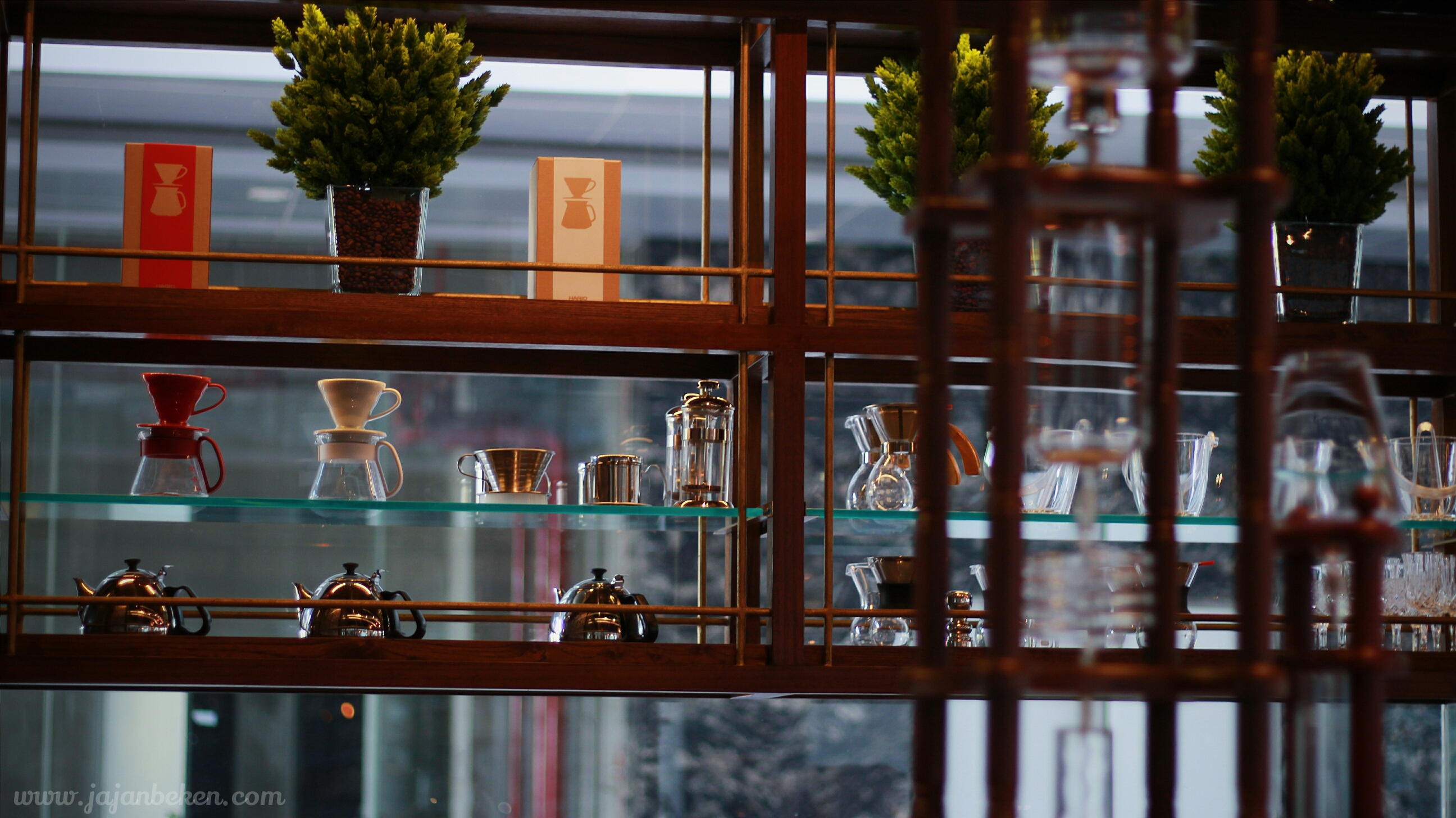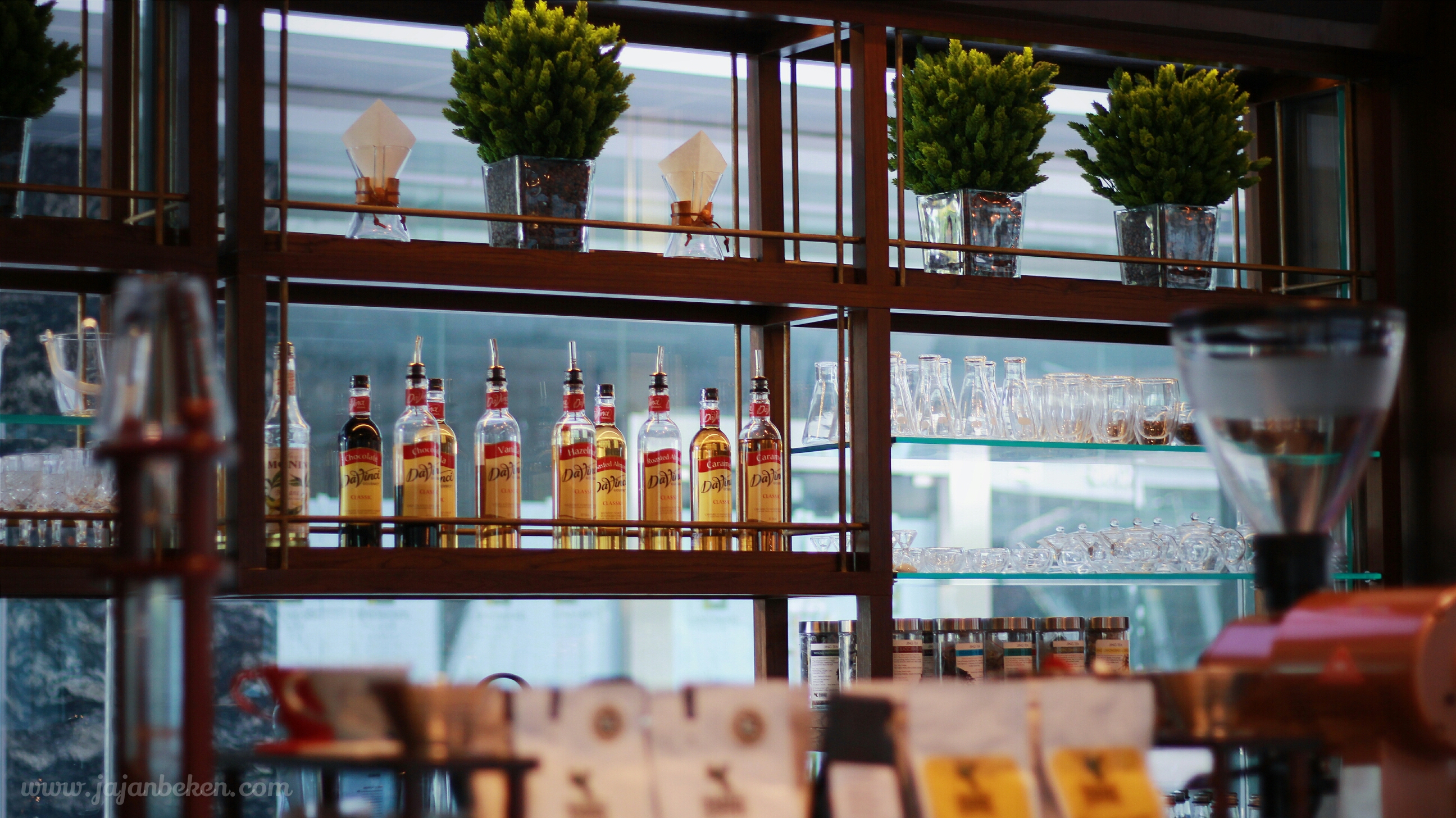 Classic & Vintage Decoration
Keren Coffee use many wooden elements and the design of the room was very awesome. They know so well, how to make up their interior. So that makes the ambience feel so warm and homey and i feel so.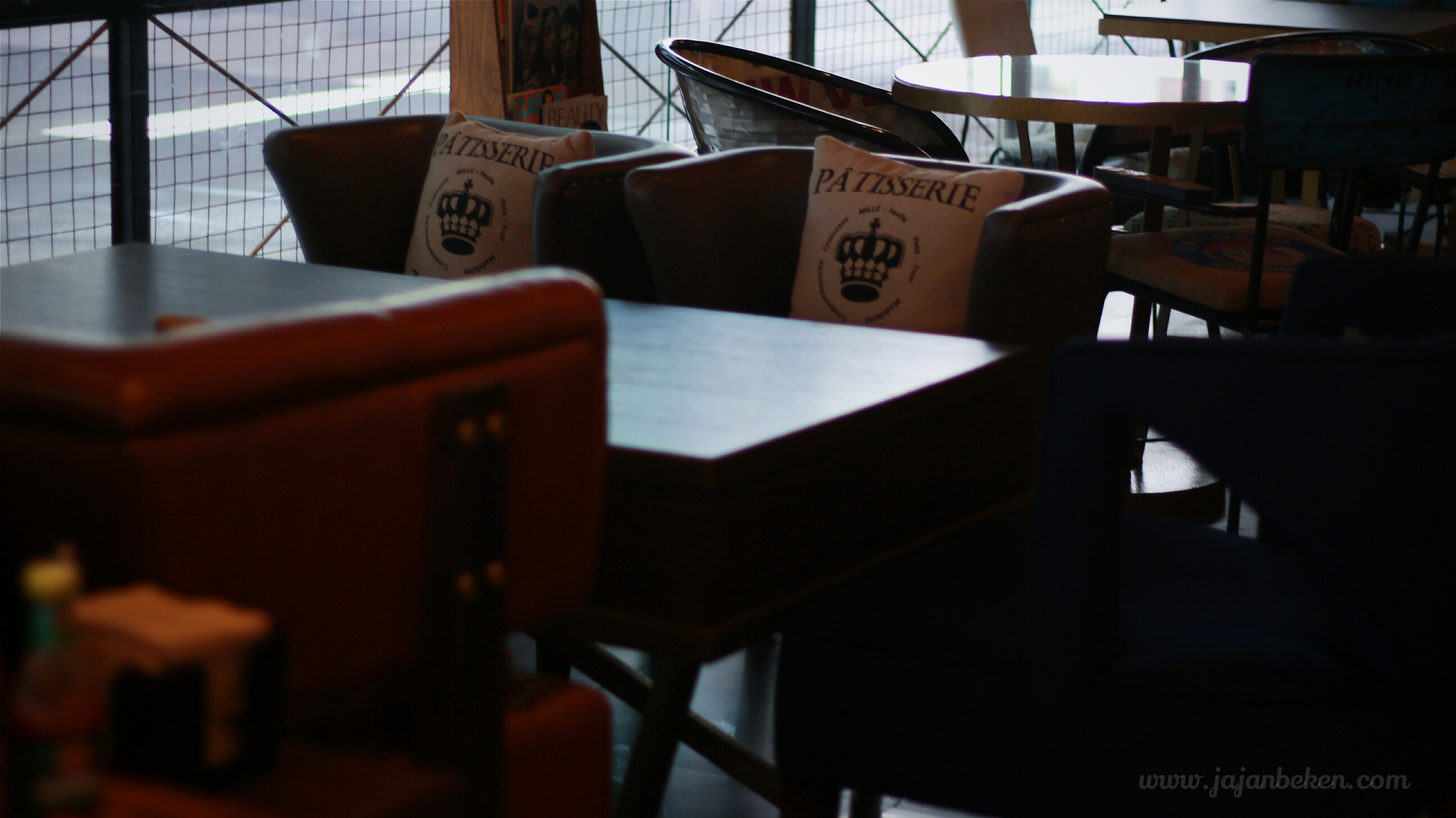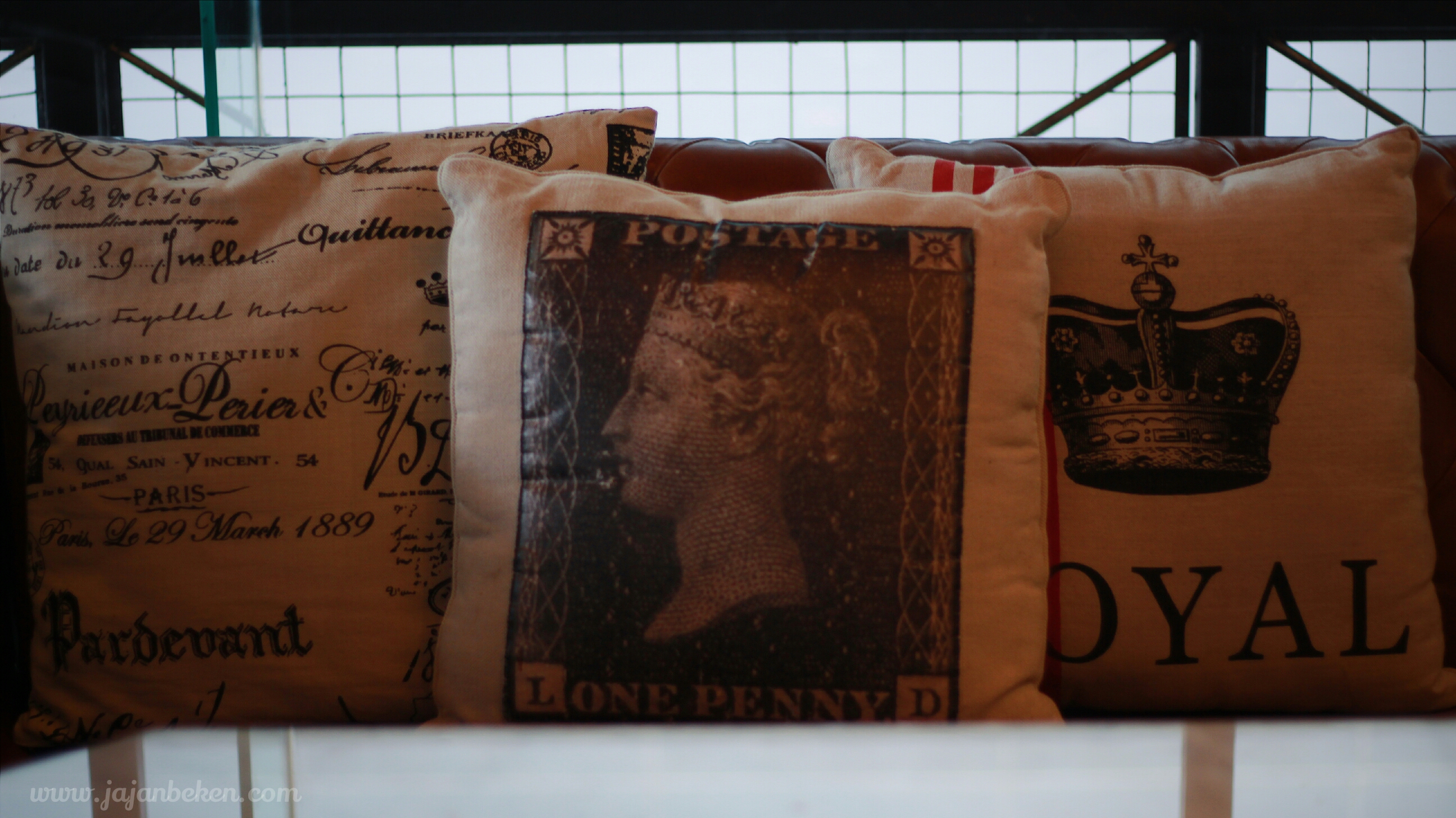 Otherwise for you who want to feel the breeze, Keren Coffee also has a comfortable outdoor just same like their indoor.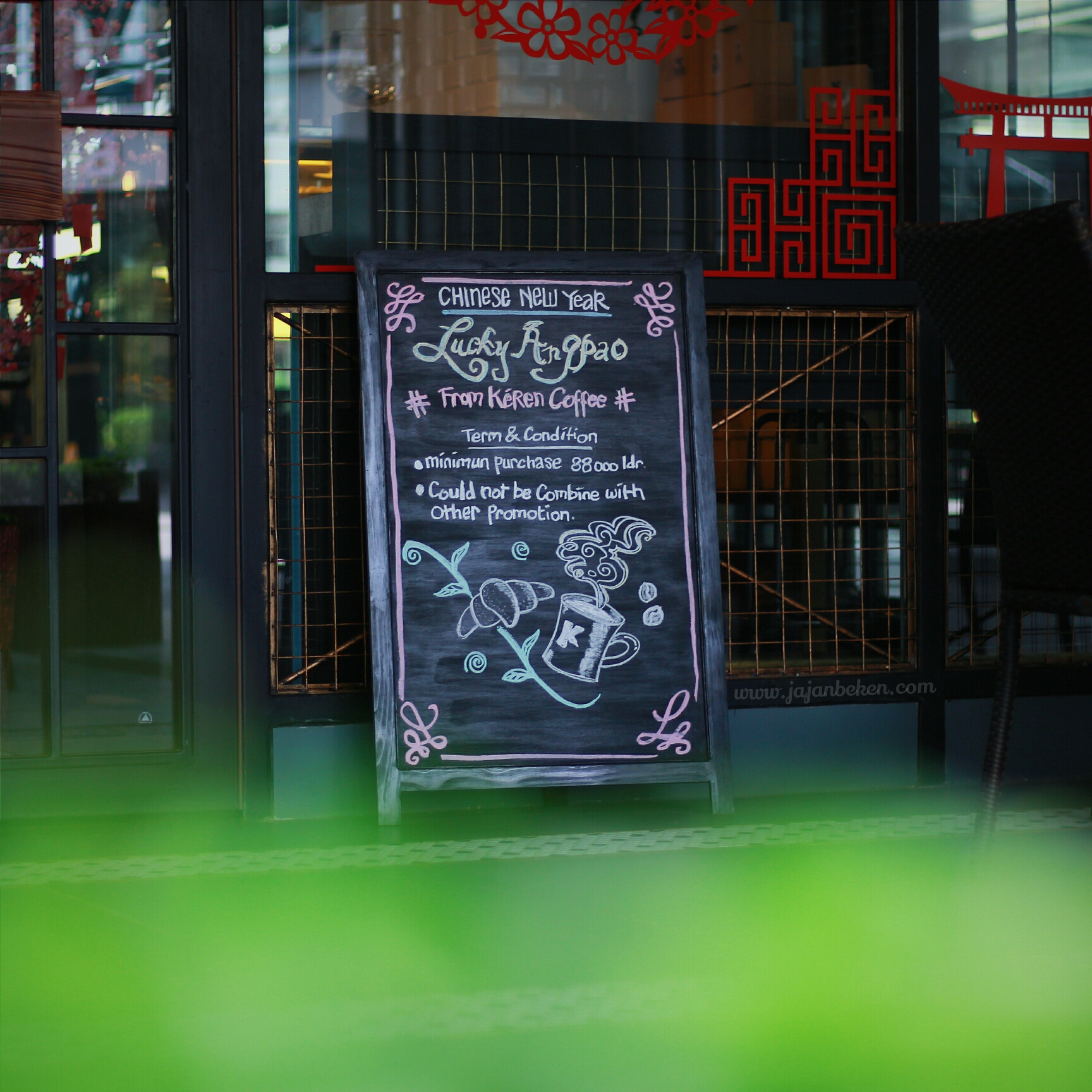 The part of this area are intended for smokers, when you take a seat in the outdoor area you will get a wonderful view of the Landmark Pluit Building with beautiful fountain.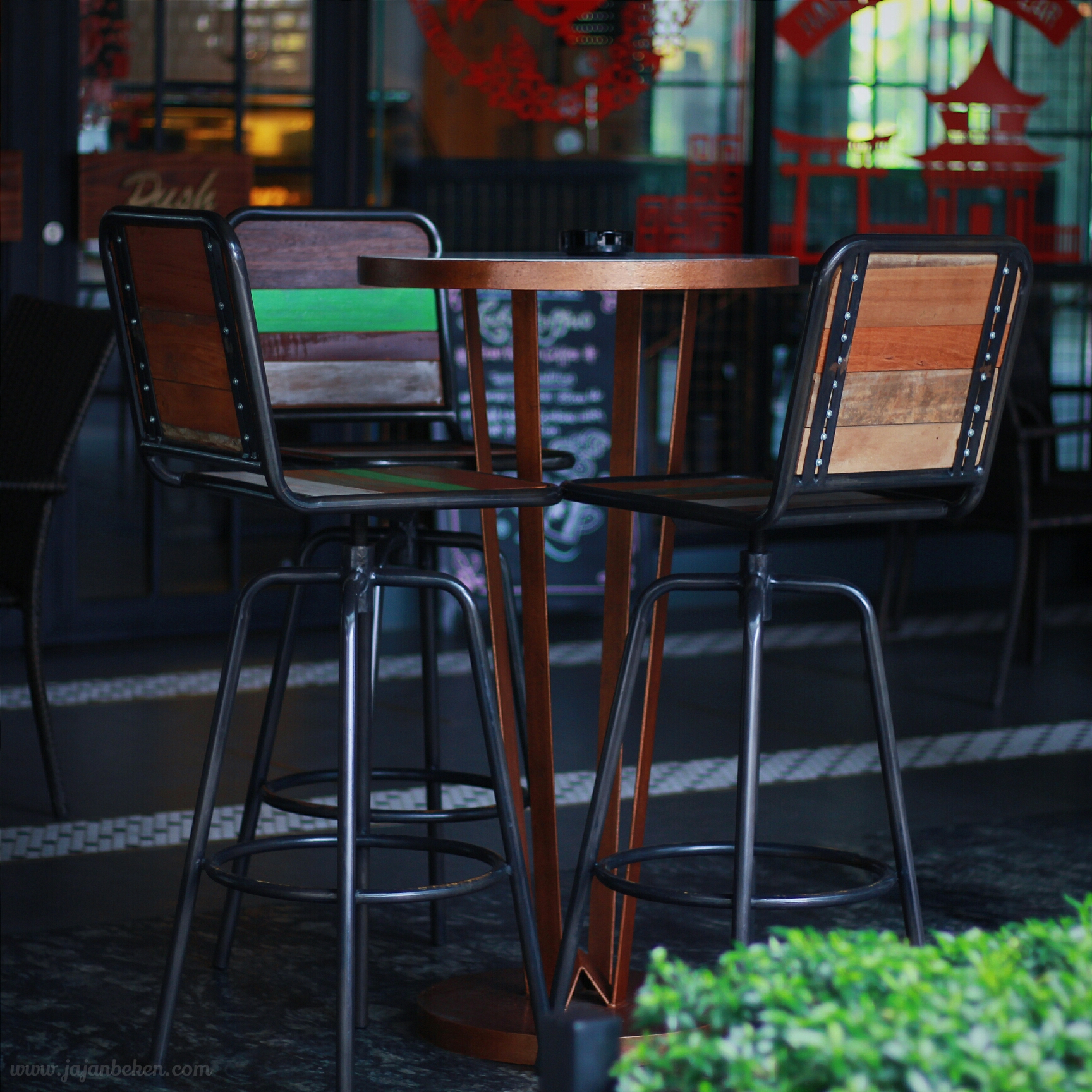 The Coffee at Keren Coffee
Keren Coffee is maintaining the coffee quality, I can see it from the coffee tasting last time. Before choosing the kind of coffee bean, you can consult with the barista about the coffee profile. All barista at Keren Coffee is a connoisseur of coffee, so they know and will suggest what you want.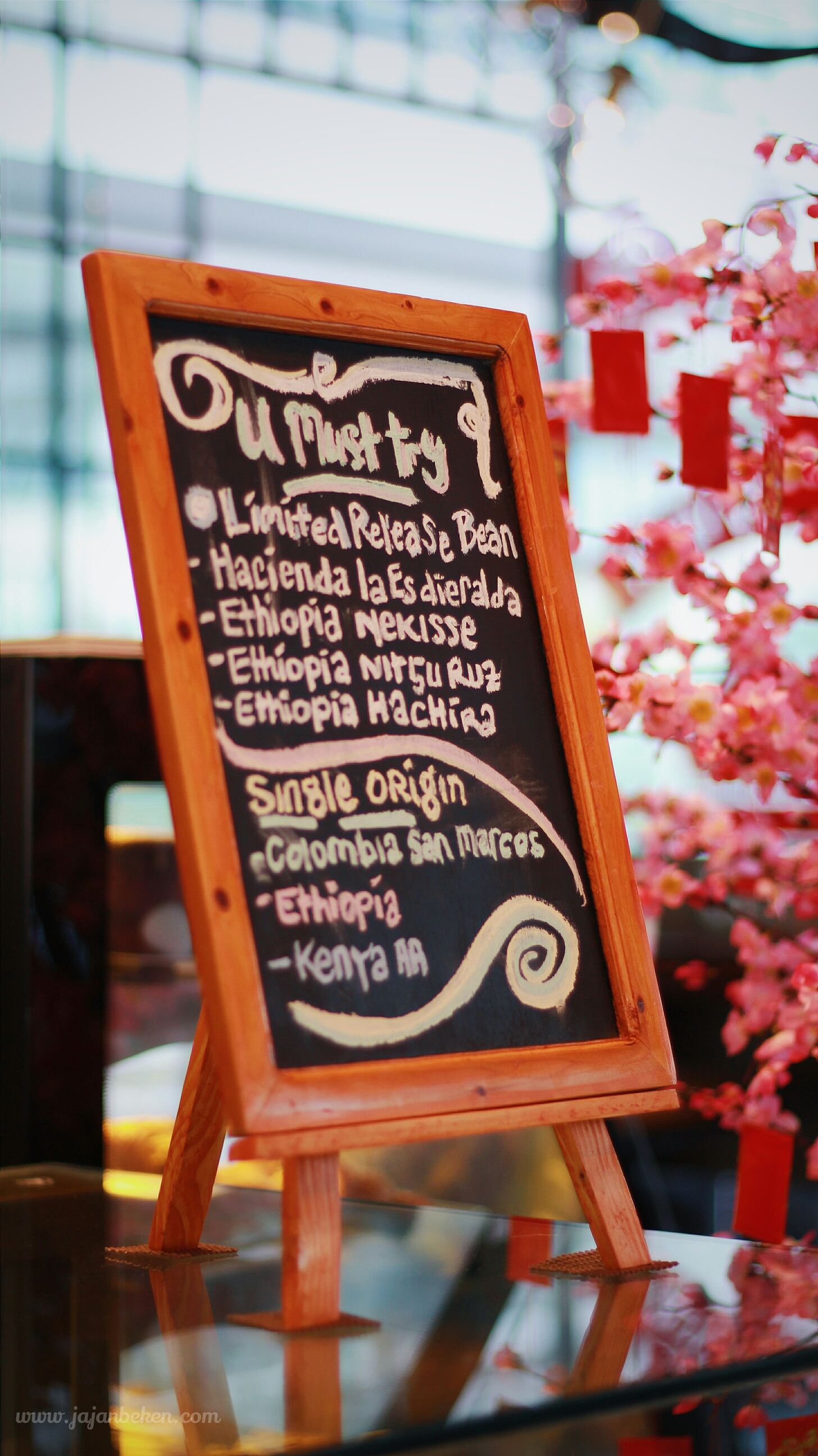 Manual Brew V60 (Market Price)
Coffee is a favorite drinks of almost everyone as like me. Coffee turns out very much the type and origin of its and making its unique and different. On this opportunity I was very lucky to be able to see the manual brewing process and try the coffee hachira N2 with filter coffee V60.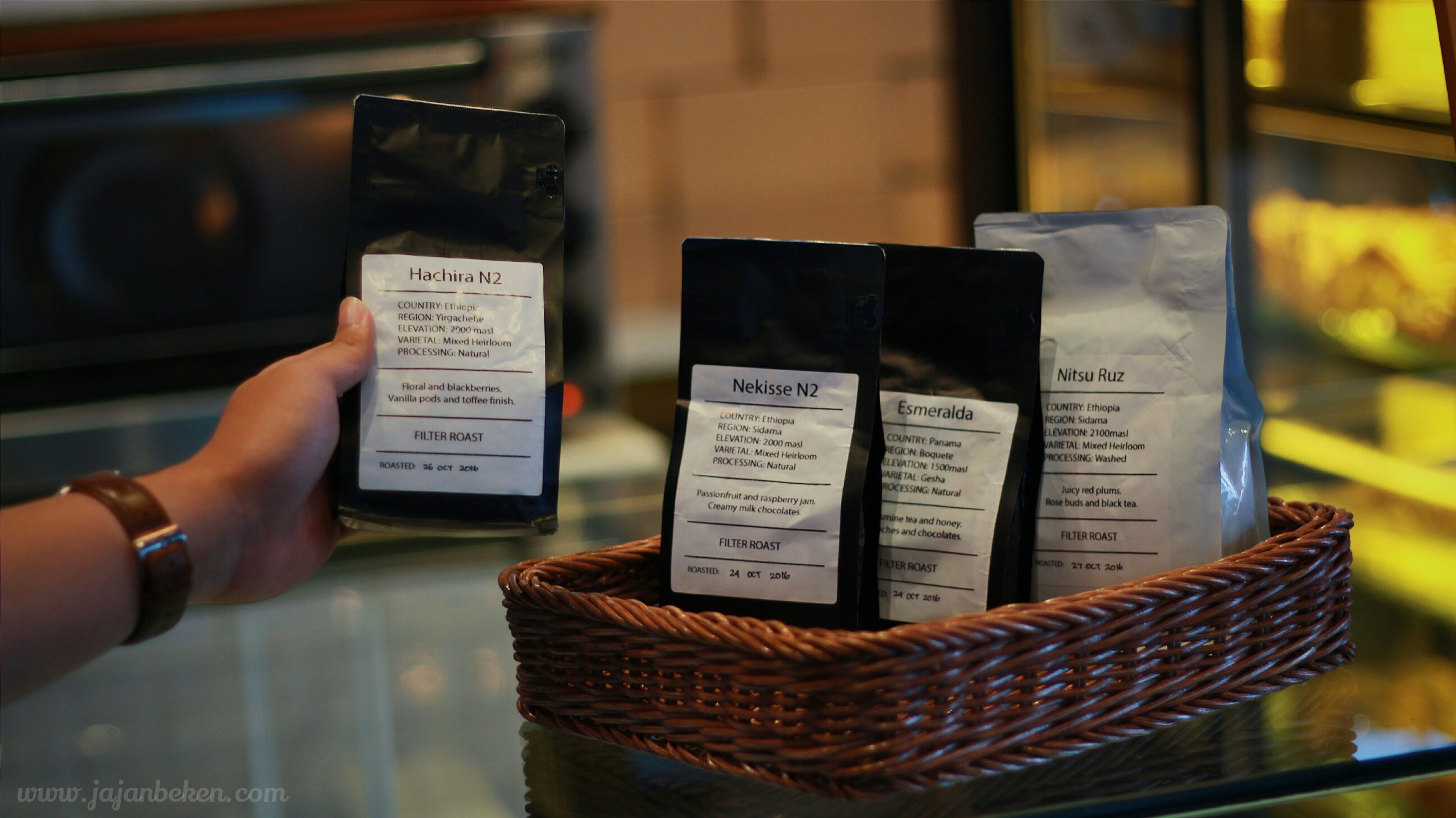 Pour over method is a method of brewing coffee has been known since long. This method is not difficult, but also not simple, because the coffee brewing need a rigorous process in order to produce quality coffee brew and delicious tastes.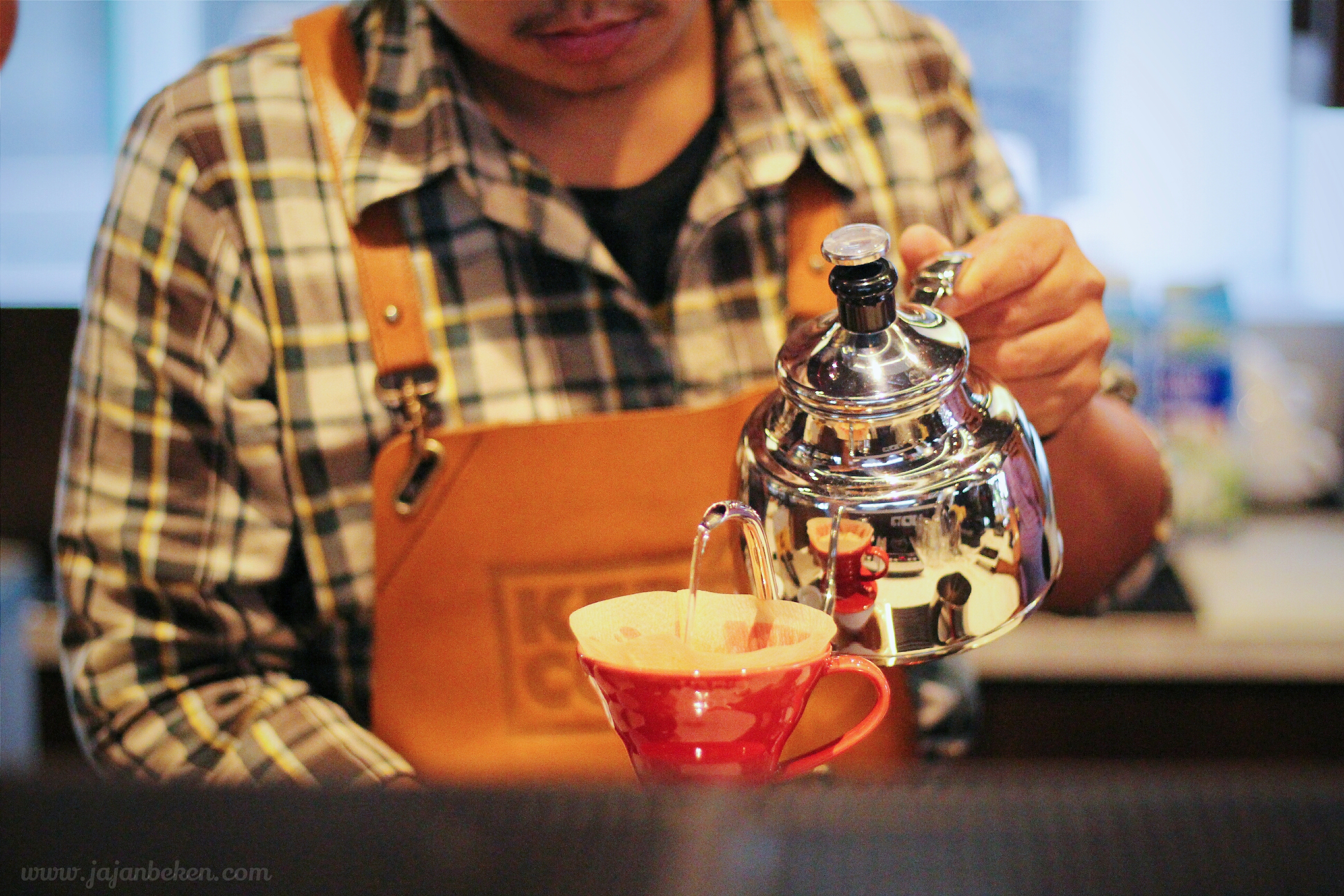 The taste of the coffee is very strong because there is no other additional material mixture such as sweeteners and others. And the most I like of the coffee is aroma, because the aroma of the coffee is very specific with a little hint of fruit taste.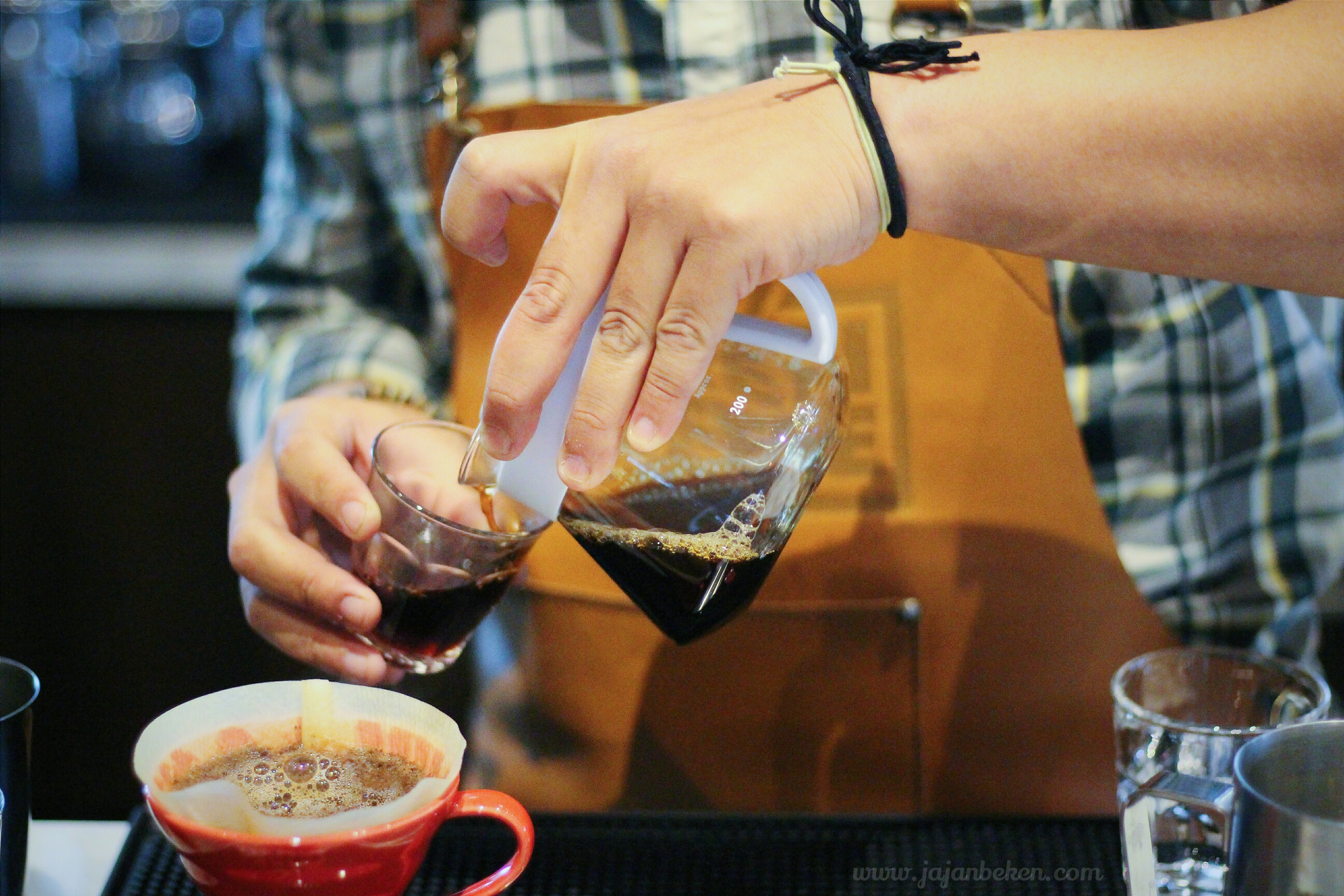 I'm very lucky to have found it here with affordable price. I highly recommend this Hachira N2 coffee to accompany your leisure time here. The sourness has a balance with the fruity taste with a little tobacco image.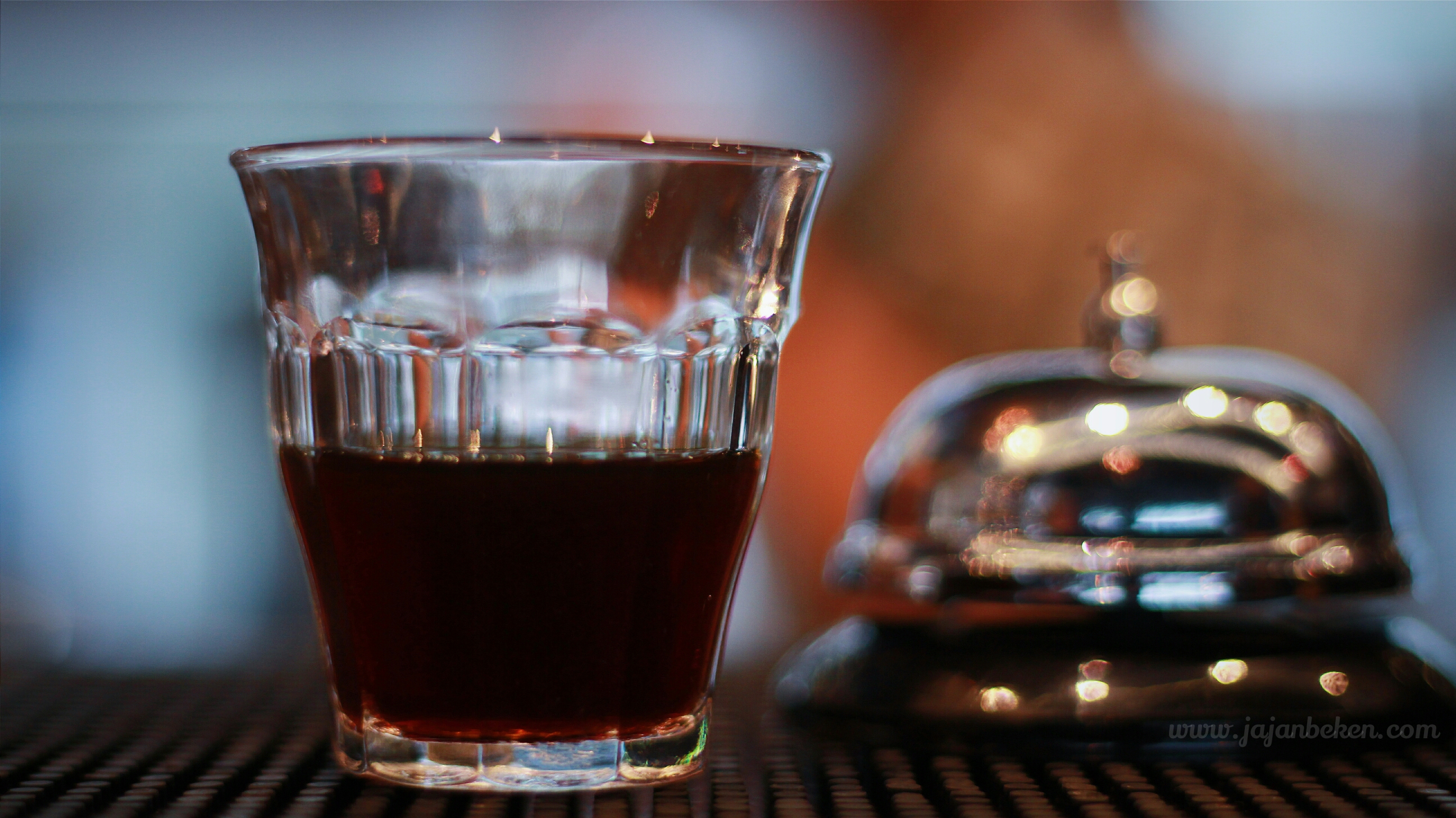 Piccolo (IDR 30K)
There is an interesting if you ordered piccolo here, because it was served with cookies. Piccolo is served in a small glass but don't underestimated about the quality of this coffee taste.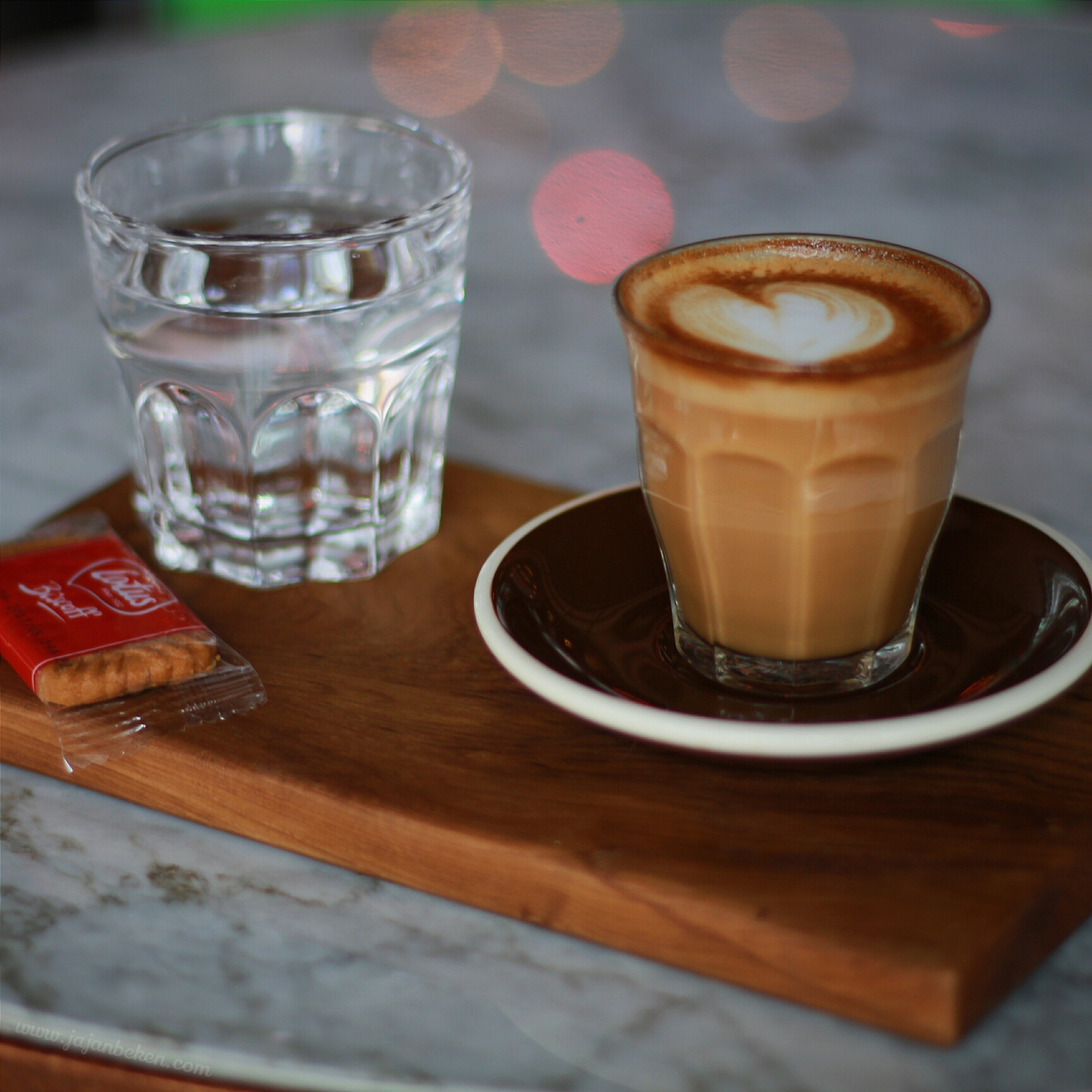 Cube Coffee Ice (IDR 40K)
When you drink coffee with original or single taste, its common guys. If you want to try a new sensation, try this menu Cube coffee ice. Because this menu was presented attractively with three elements such as of mango ice cube, fresh milk and coffee.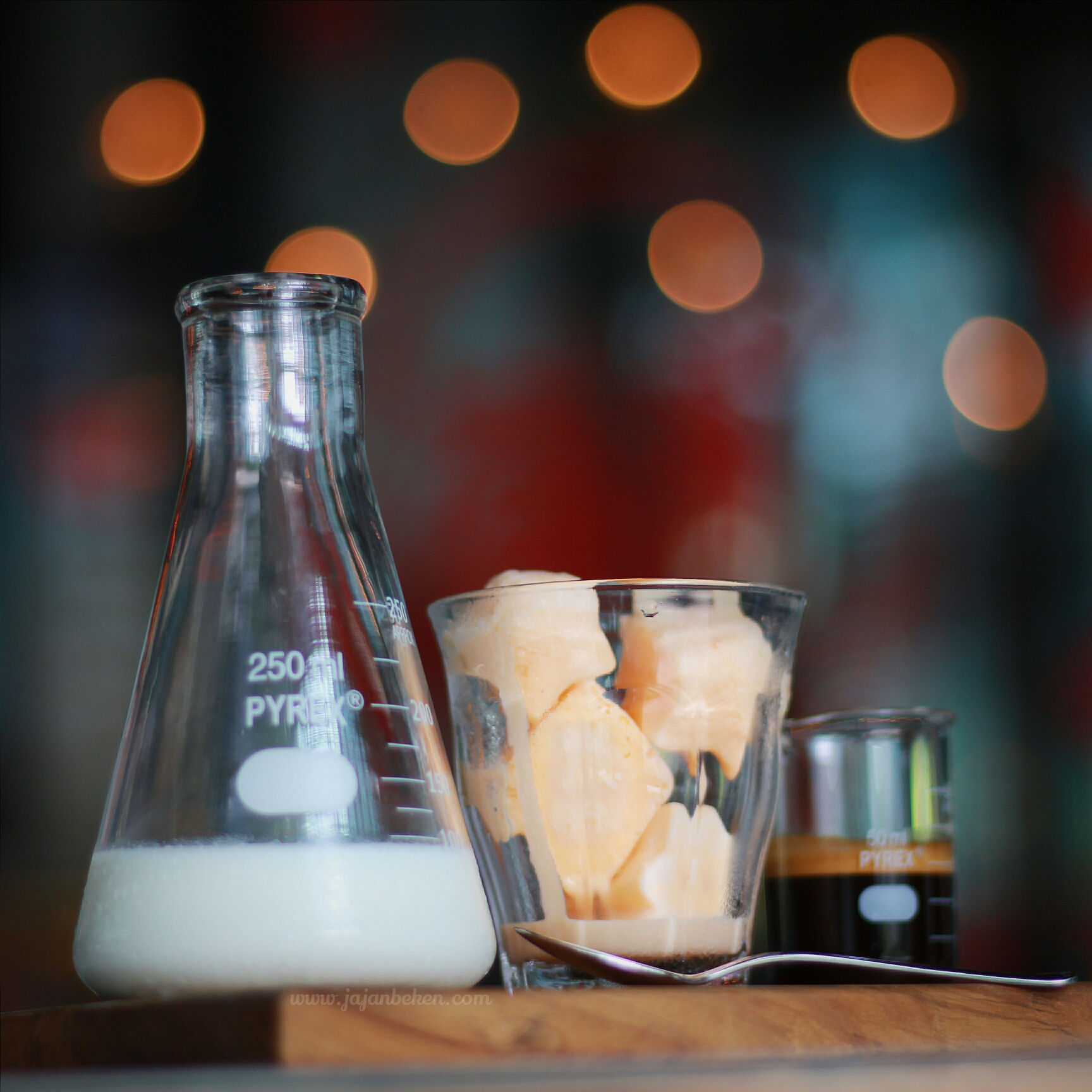 When you want to eat it, you did a very simple by mixing the two ingredients in a glass cube. I pour much more milk compared to coffee, because I want to get a sweeter taste of fresh milk just to balance the mango inside. But it's all depends on your need guys.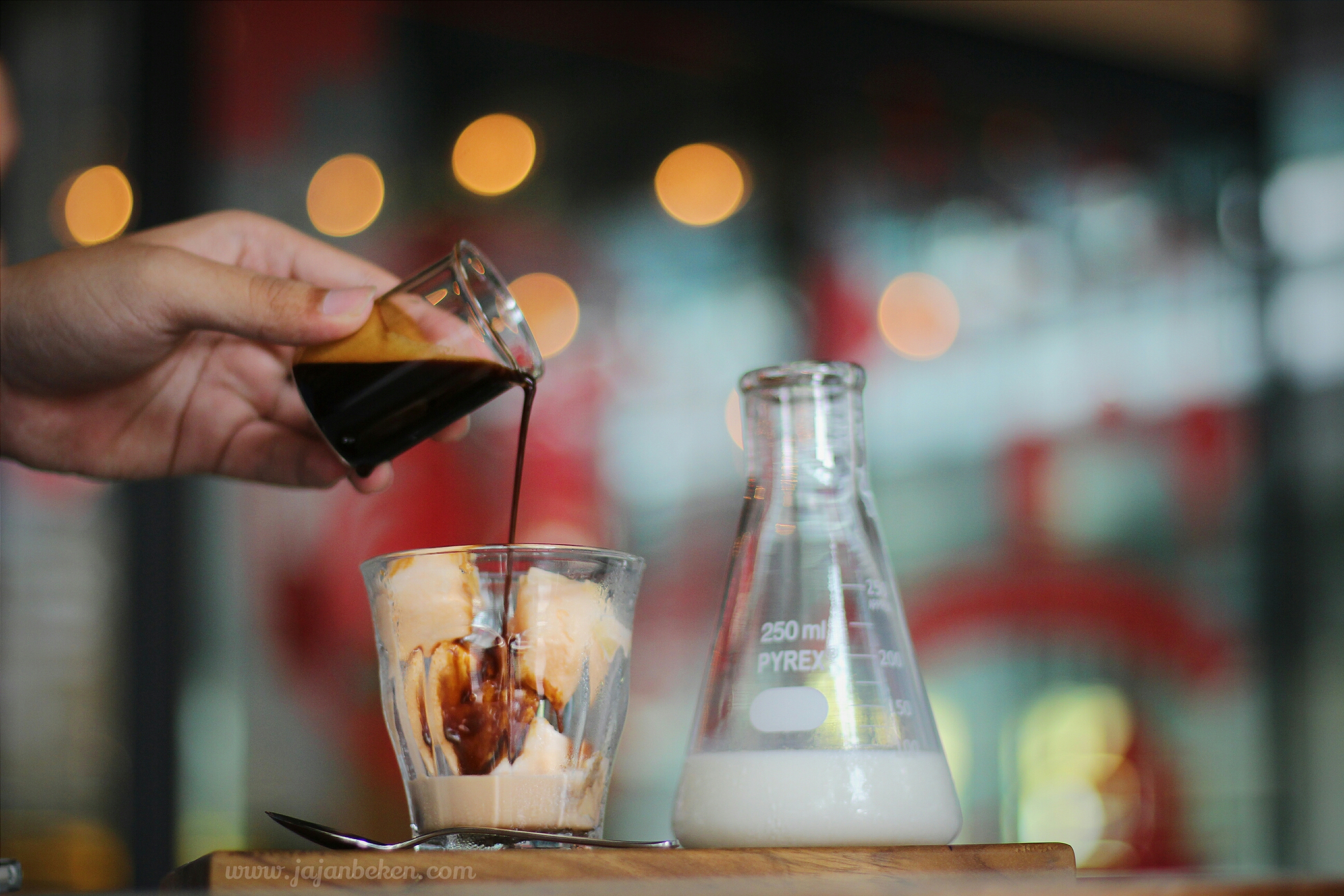 Espresso Con panna (IDR 30K)
One more from espresso of Keren Coffee, if you're an espresso lovers certainly is not foreign with this espresso menu. Espresso con panna is a single or double shot of espresso topped with whipped cream. This menu also provides a separate ingredients between coffee and whipped cream. This is easier for us to adjust the size according to taste.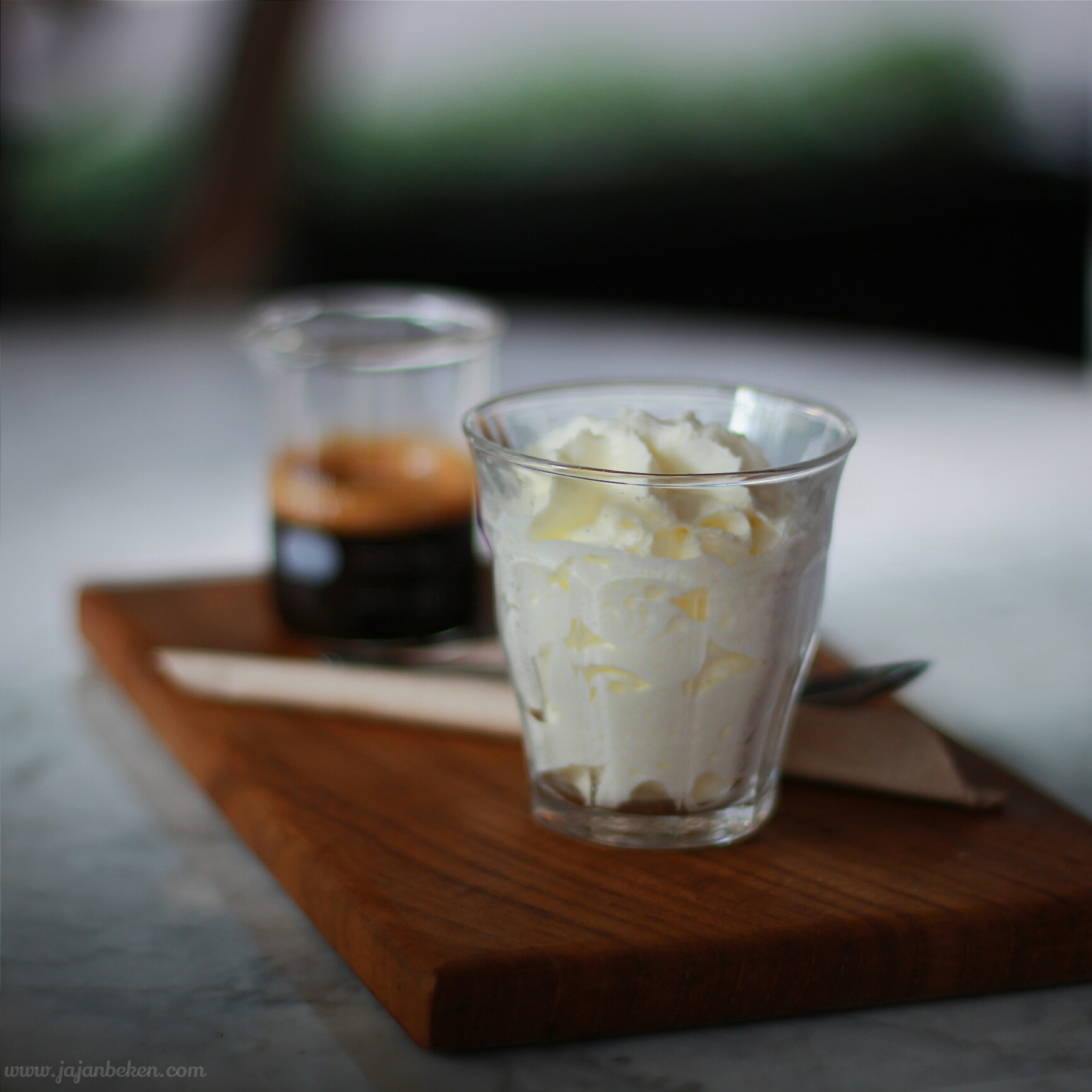 When I mix it up and drink it, I felt a sensation like never before. I feel their uniqueness of espresso with cream wrapping afterwards. As if the perceived cream treat espresso bitter water that passes through the tongue. And is therefore two unique pleasure would you feel in one sips.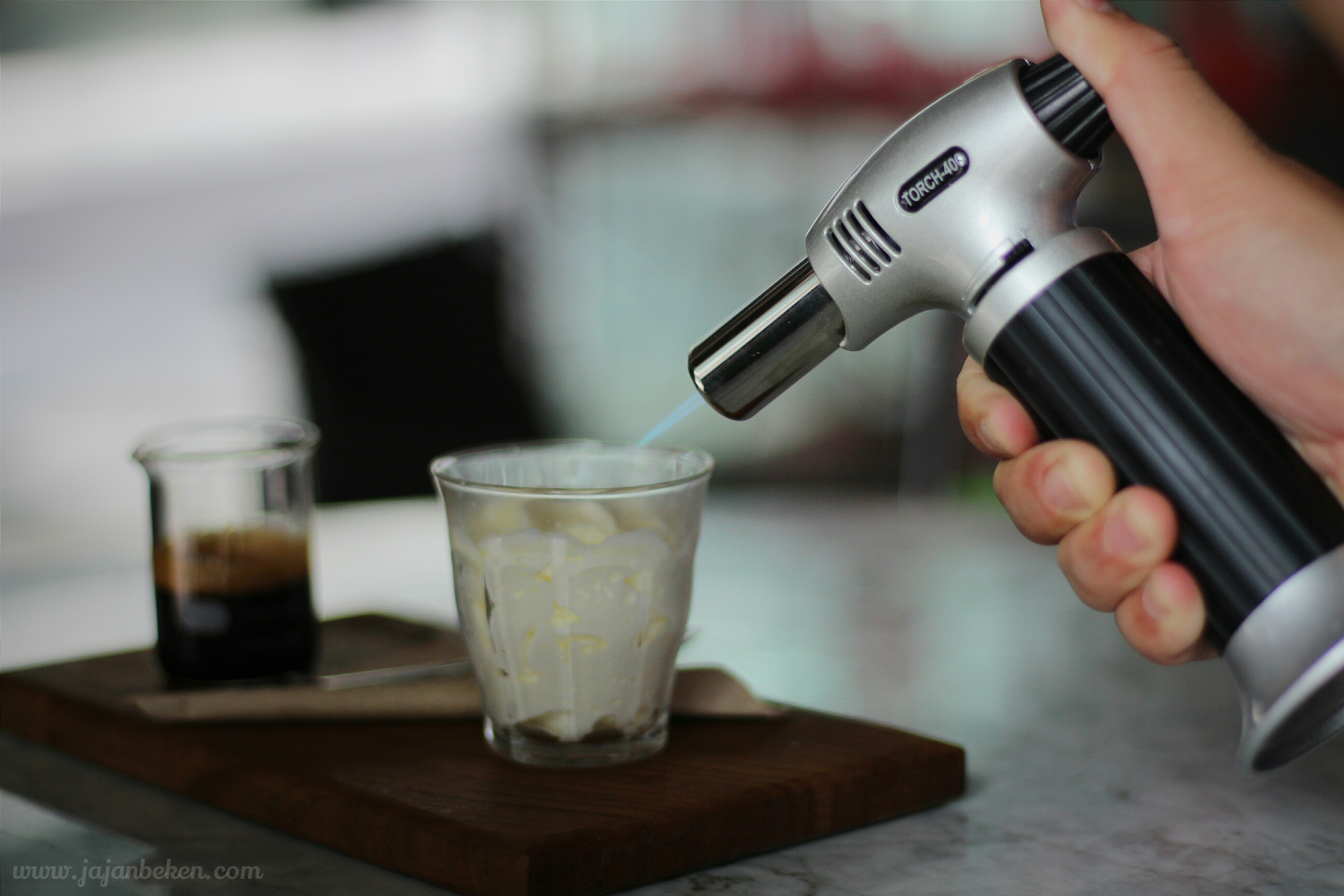 Banana Coffee Ice Blended
This is one of my favorite drinks here, this coffee drink served with fruit flavors and very fresh like banana in this coffee ice drinks. The taste is very delicious and this drink is served with a variety of sizes. I think this is a very perfect compositions, by combining coffee with fruits. If you're here you should try!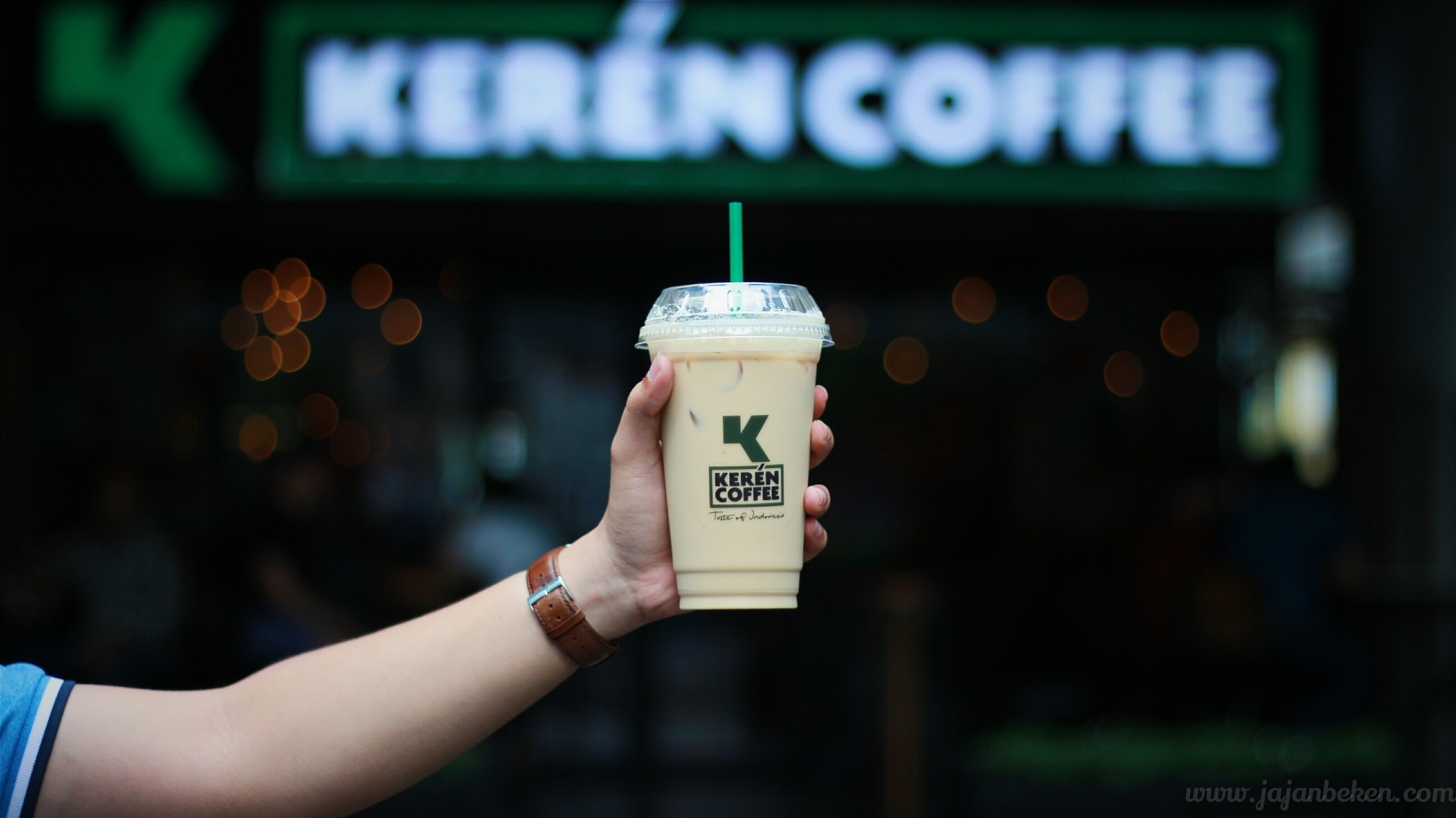 Non Coffee Beverages at Keren Coffee
Matcha Affogato (IDR 40K)
If you've never tried this menu, you should try! Because the affogato here served with matcha flavor. I really like the presentation of affogato at Keren coffee, because they bring a unique tray and served to the customer.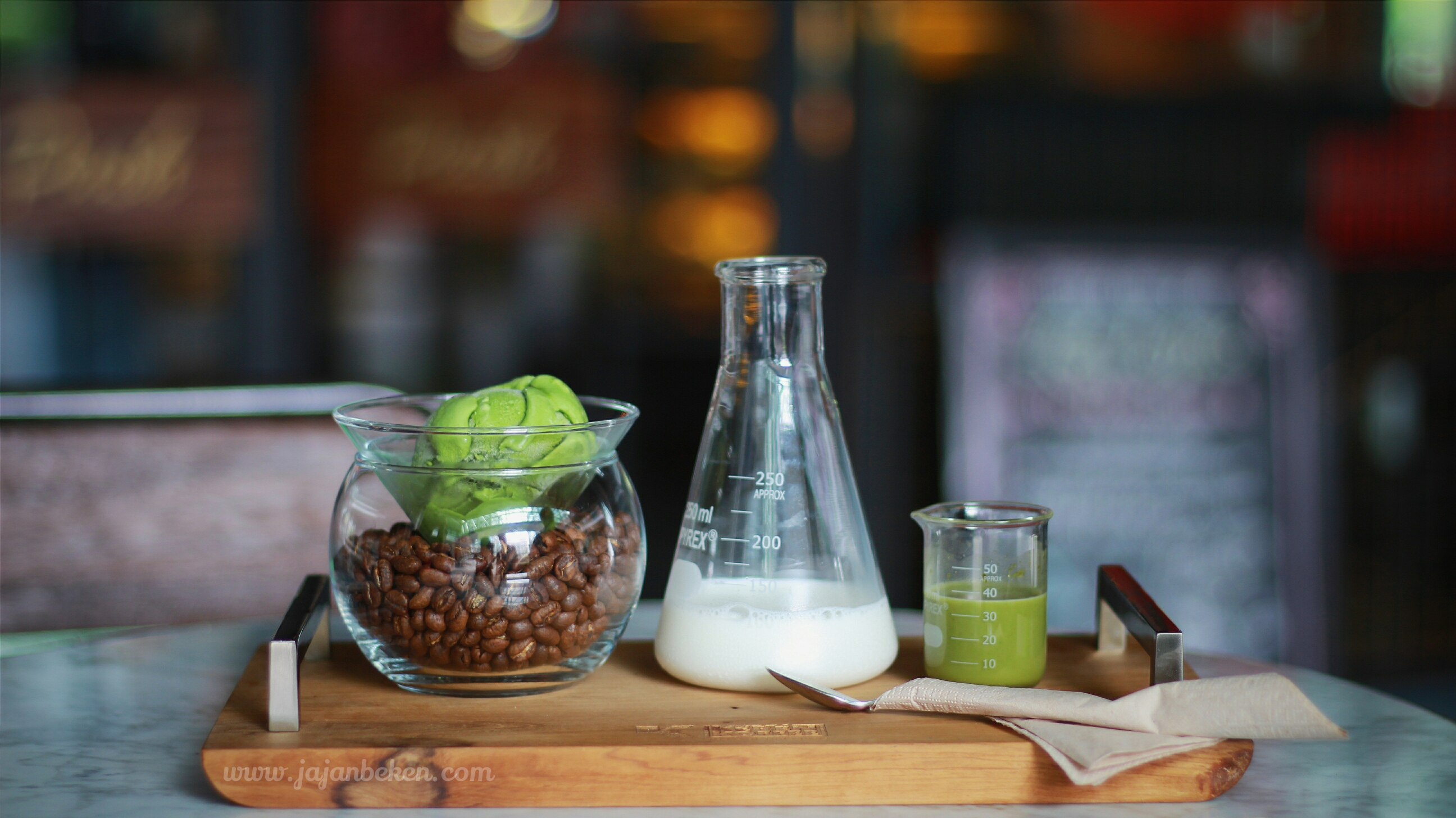 As usual, if eating affogato have to pour the fresh milk into a bowl of ice cream. I just poured a little fresh milk onto the ice cream, because according to my taste can be obtained from matcha ice cream. The taste of ice cream is so delish and matcha flavor are proper.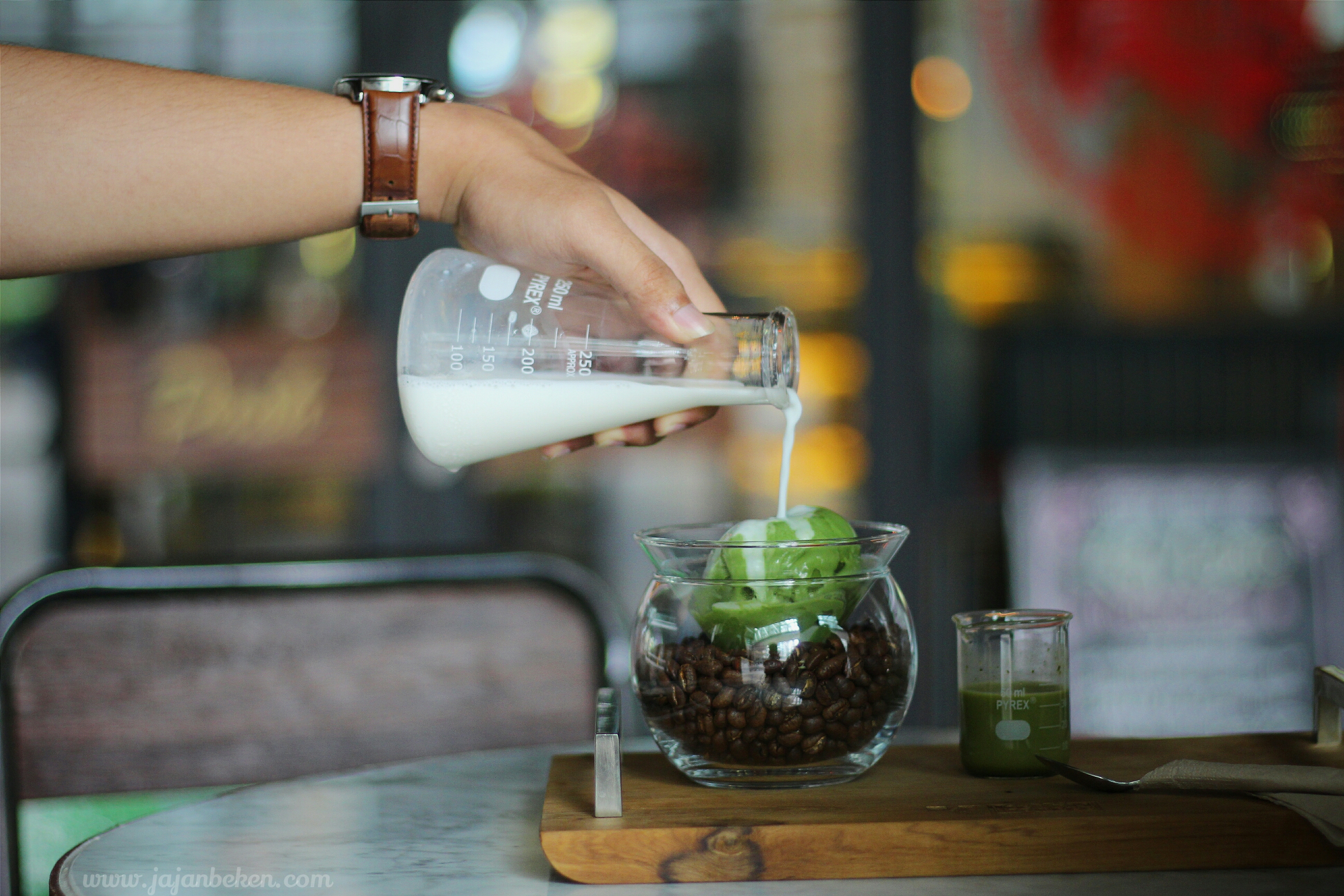 Flowering Tea (IDR 35K)
For tea lovers you don't need to worry if you visit to Keren Coffee. Because this coffee shop not only provide coffee but rather tea. Consist each of a bundle of dried tea leaves wrapped around one or more dried flowers. Sugar presented separately to facilitate you in providing the correct amount of sugar. When drinking this tea I enjoy looking at the beautiful fountain.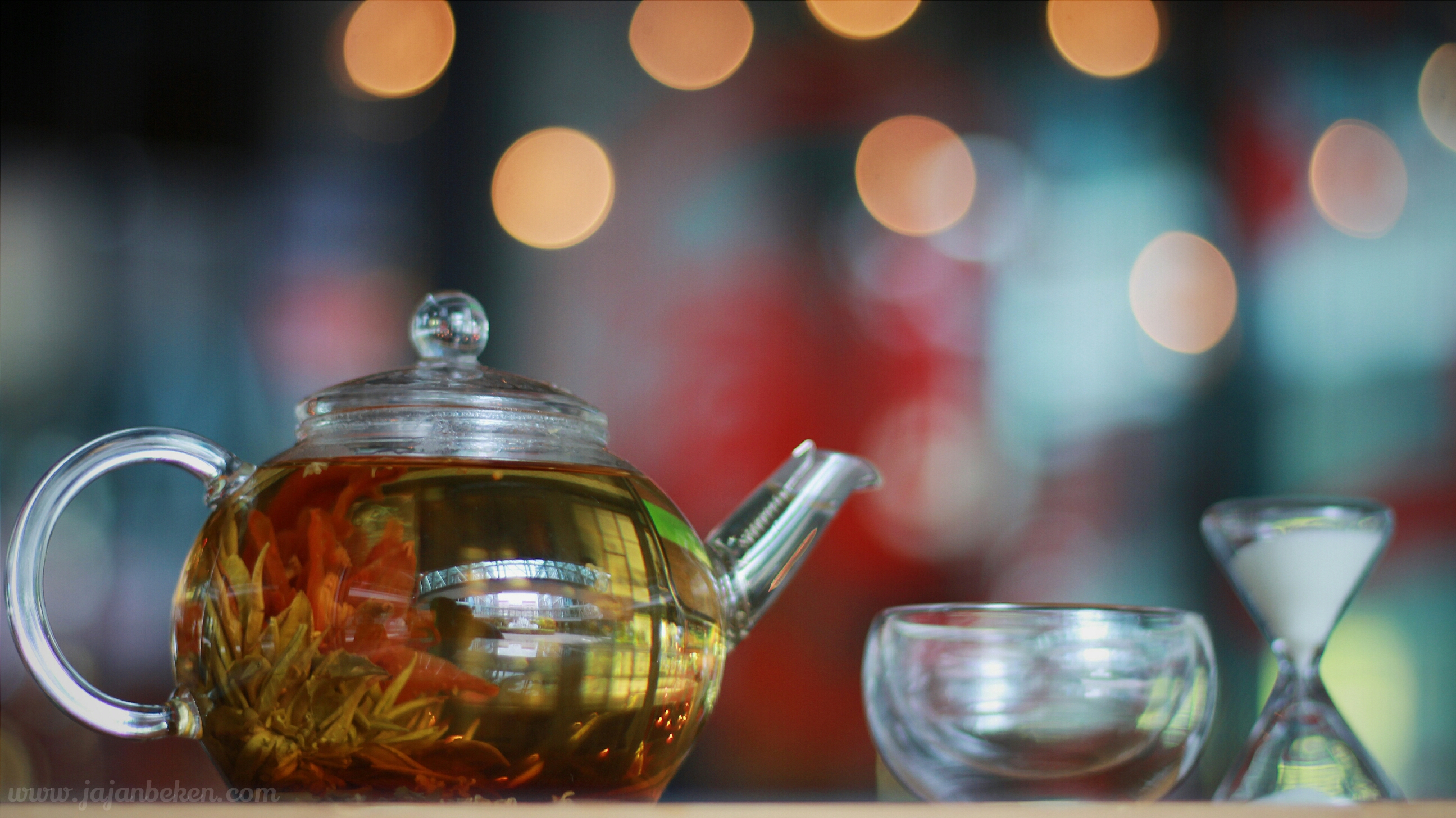 Chocolate Marshmallow (IDR 40K)
I really like the chocolate, so I am really like this menu. Very special because this chocolate drink served with some marshmallows on it. When sipping this drink I really enjoyed because when served this drink still warm. And the marshmallow is getting malleable and i love this soft texture when pairing with warm chocolate because it's so very chewy in the mouth.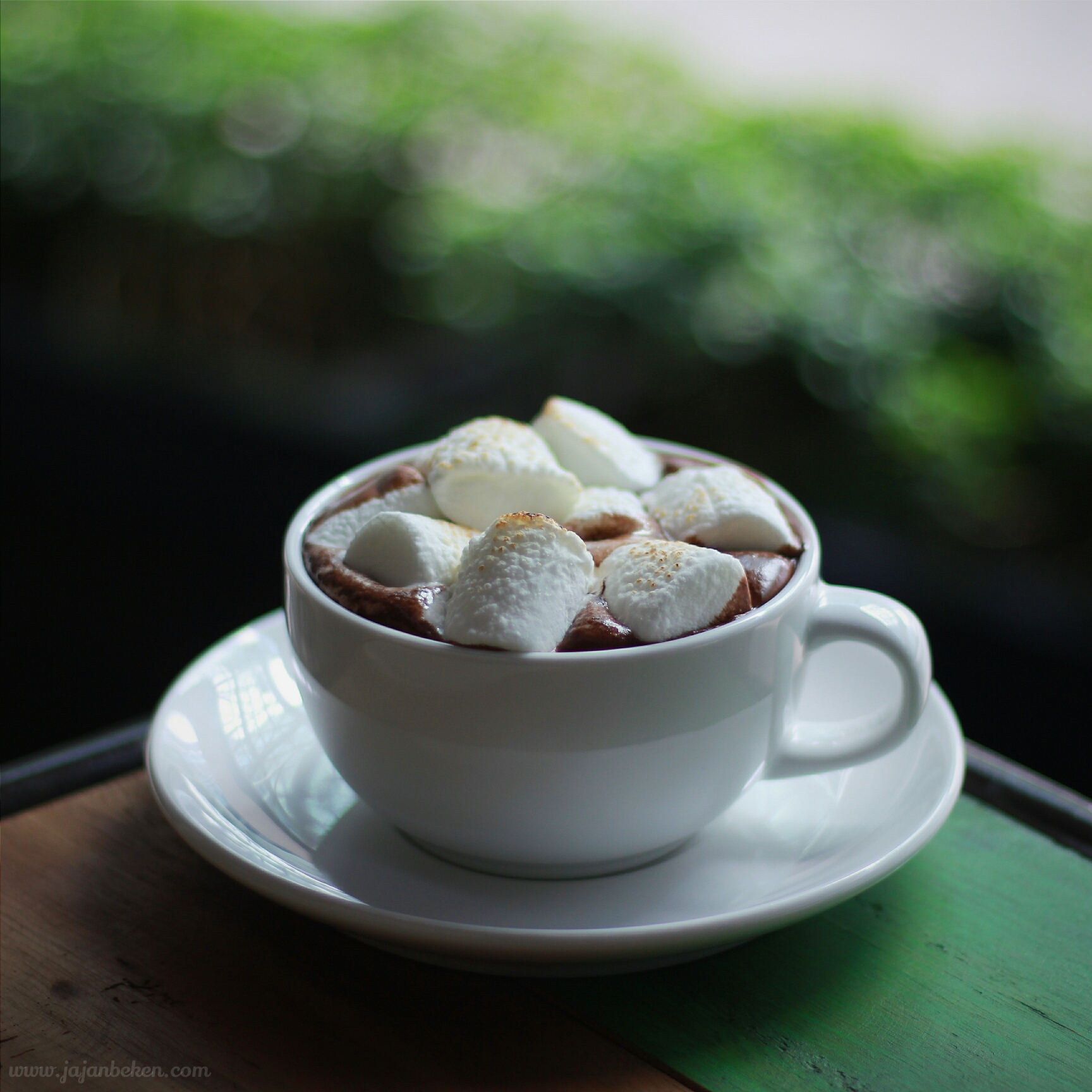 The Food at Keren Coffee
Crackling Chicken Skin (IDR 22K)
When we have discussed all the drinks at this restaurant, it's time we talked about the food. Because Keren coffee not only provide awesome coffee and drink but they also provide the superb food. Like food this one, me and my friends can spend four servings of crackling chicken skin, sorry I mean my friend not me LOL.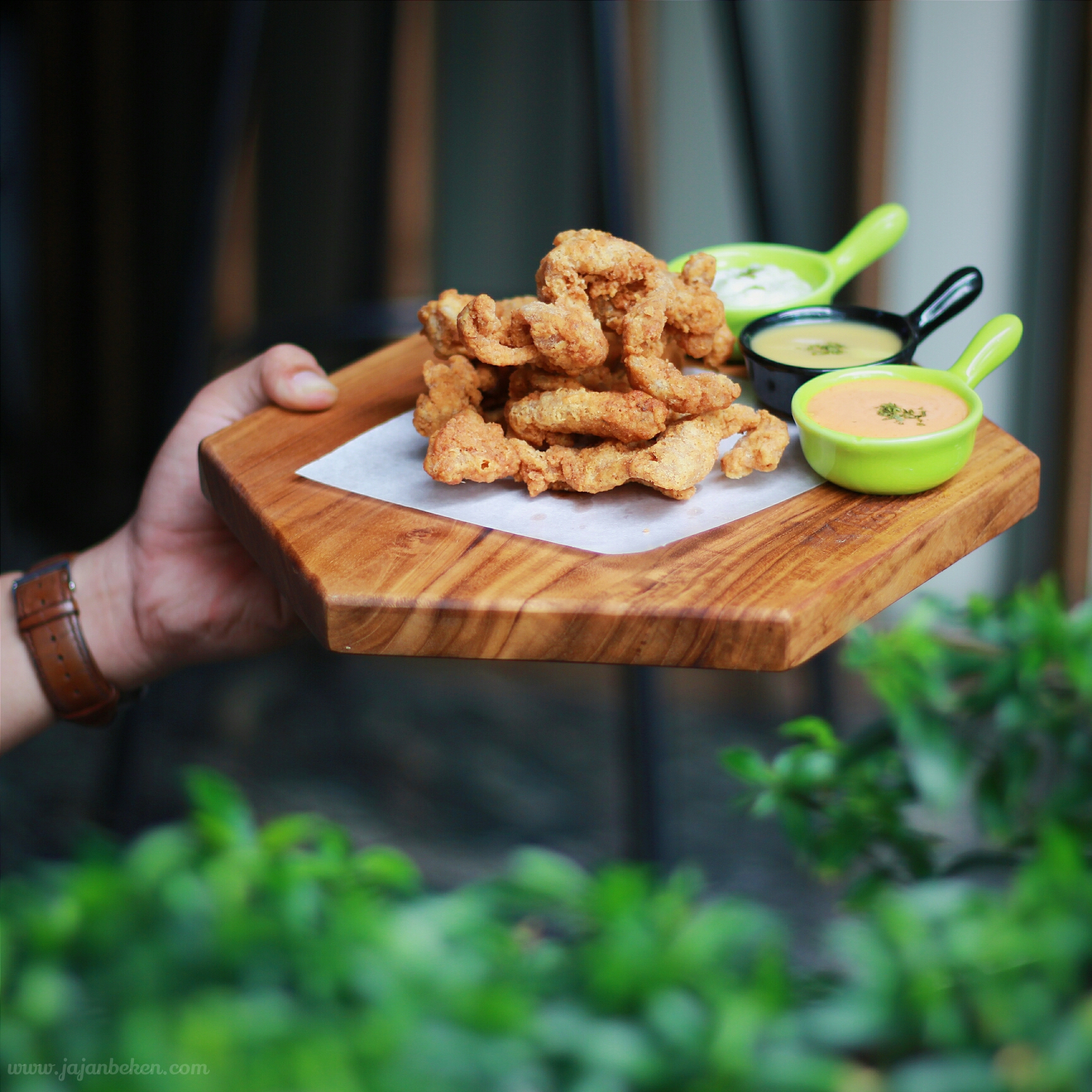 When ordering this menu I had been recommended by chef Eka Christina, which is she is the head chef at Keren coffee. Previously, I don't like the chicken skin but when I eat it here all is inversely.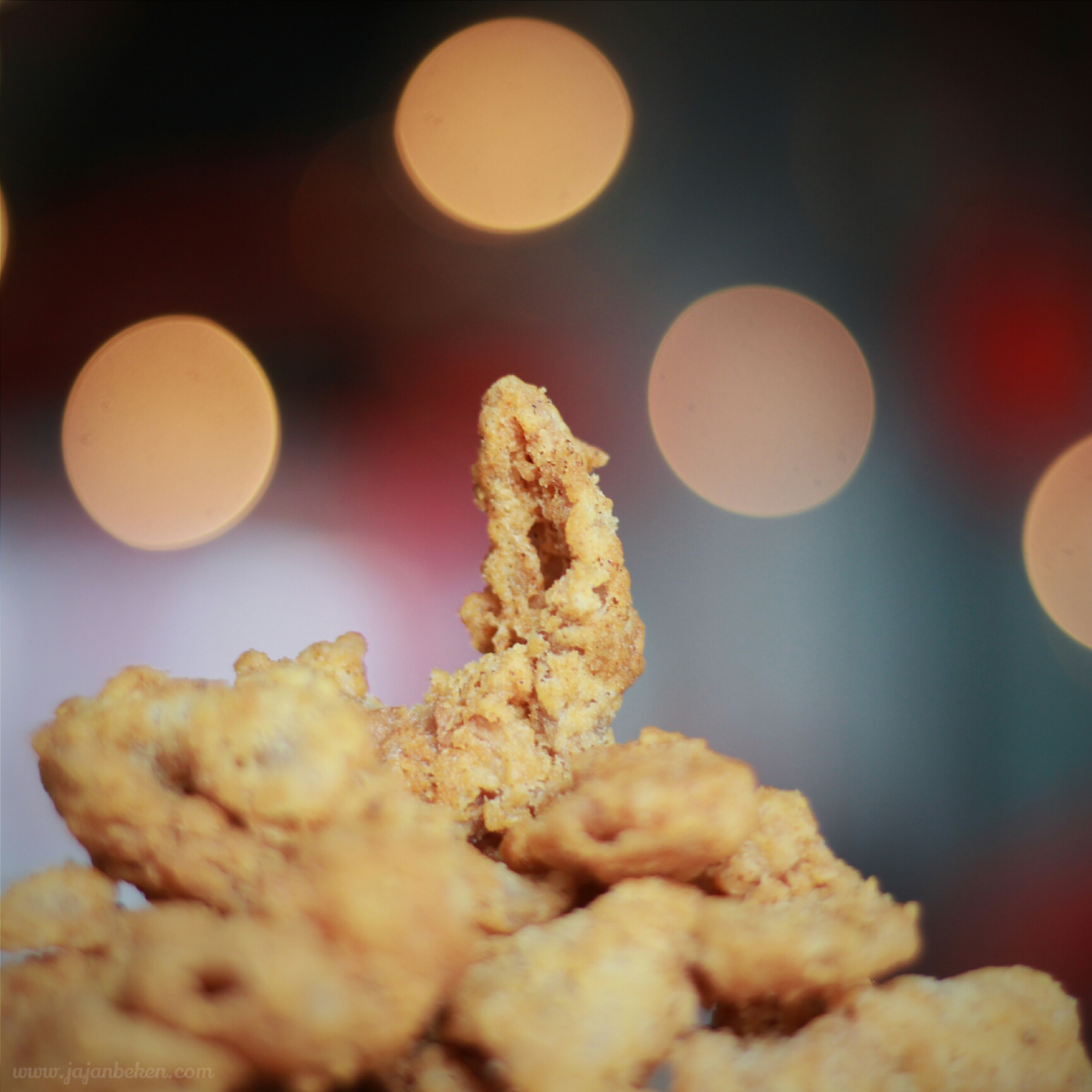 In one portion of this menu, there are many pieces of  crackling chicken skin and there is a three choices of sauces. The three choices of sauces are hot mayo, honey mustard and dill. I really like with hot mayo sauce because I really like spicy. Talking about the taste of  crackling chicken skin is very crunchy and delicious. You must try this menu when you visit Keren coffee because this menu is one of the signature of this restaurant.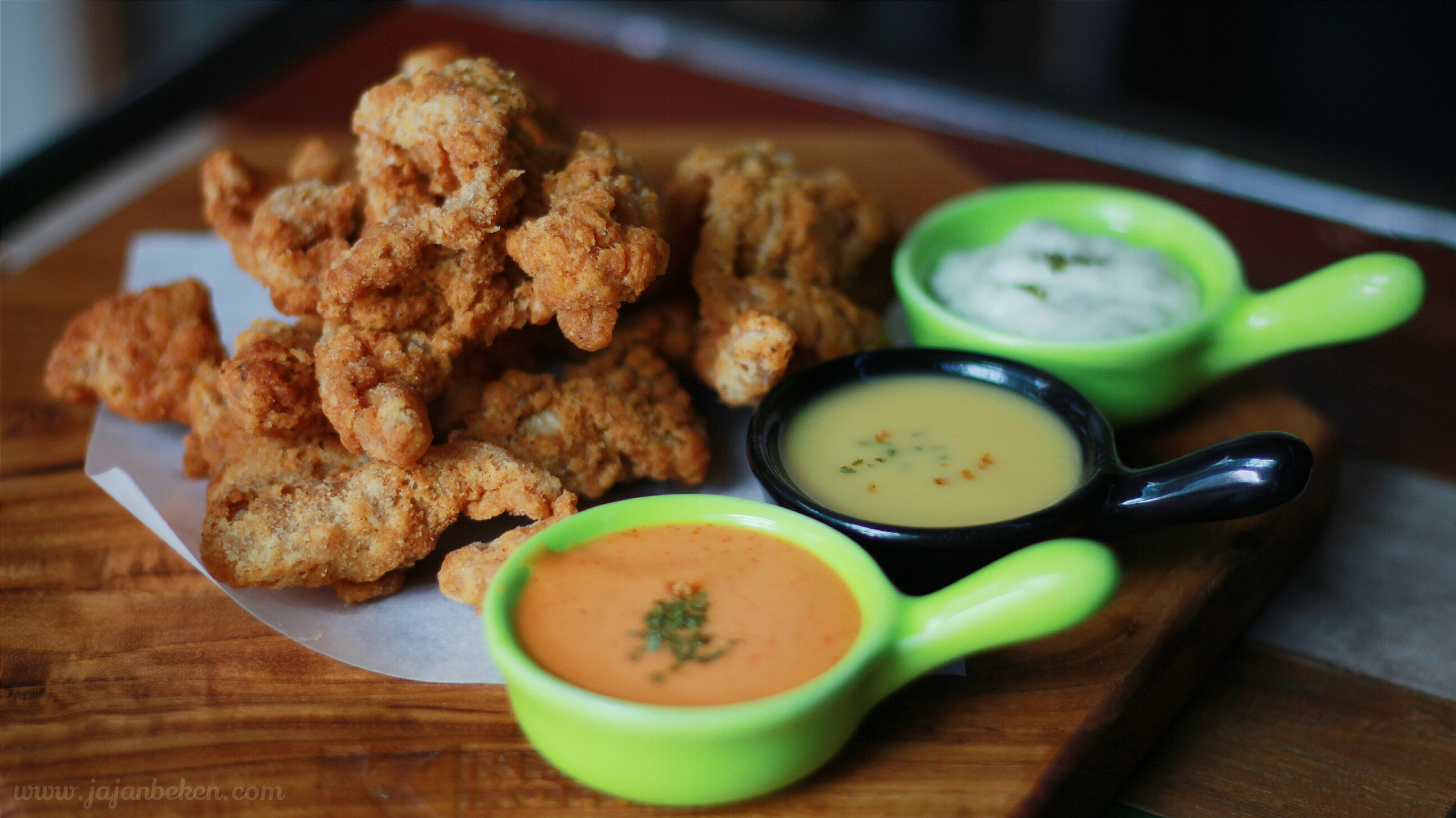 Cheese Beef Burger (IDR 54K)
Cheese beef burger served with fresh beef, sunny side up, coated with cheese and fresh salad. This menu is suitable for you as a filler heavy food at this restaurant.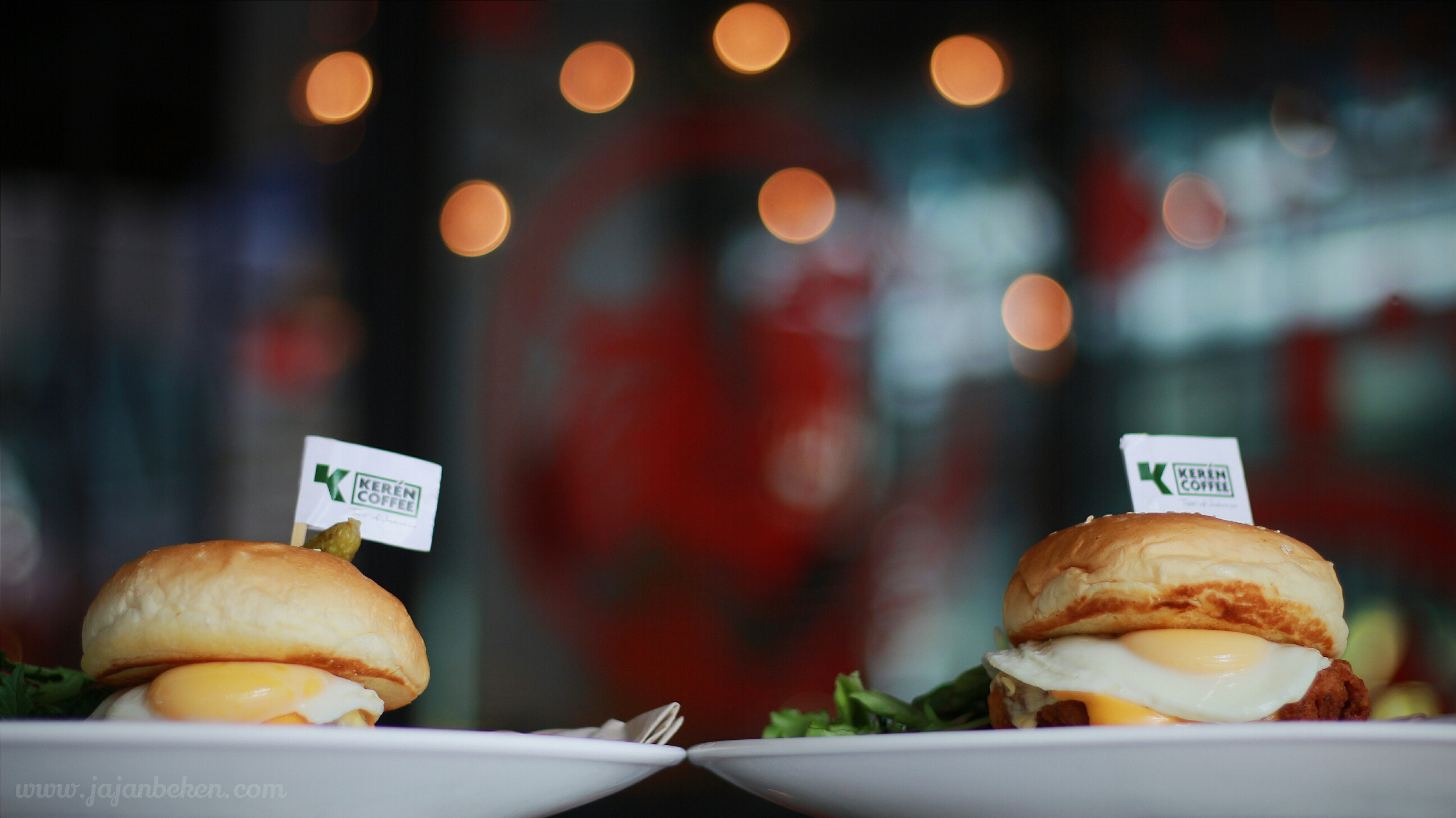 The texture of bread is very soft so make it easier to eat. And the beef is very tender making it easy to cut. And I love the pickle on top it was very enjoyable.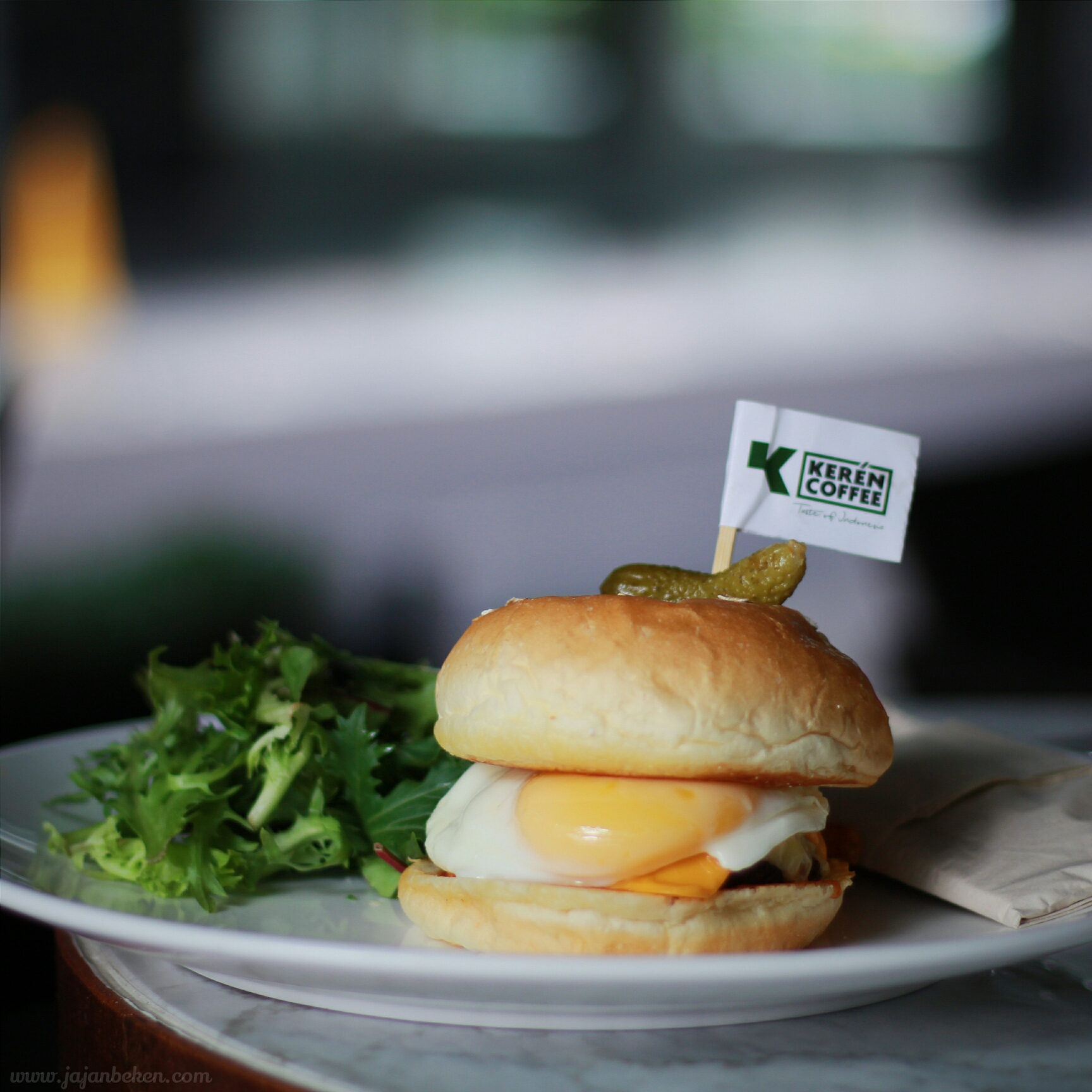 Freaky Doughnut Burger (IDR 63K)
For a burger this one is very different from the usual, because the burgers on this menu using donuts as a substitute for bun. This is very unique but very tasty, you can imagine before if donuts usually coated with chocolate sprinkles as a snacks. Freaky doughnut burger served with donuts, beef, sunny side up, french fries and fresh salad. Other than that beef is very tender, and the most I like is french fries because the taste is very savory.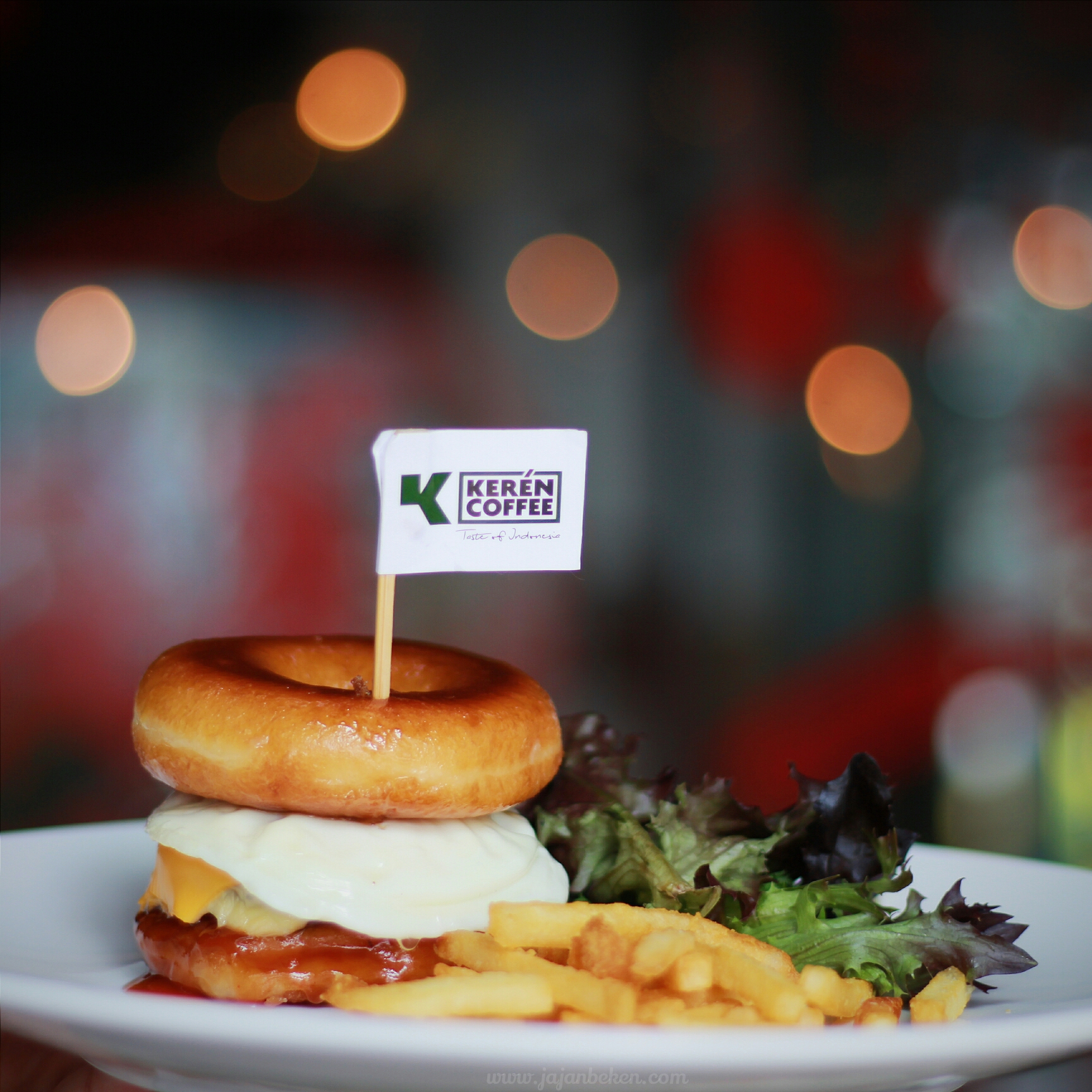 Keren's Grilled Cheese (IDR 22K)
It can be said that, the menus that we will talk below is the breakfast menu. Keren's grilled cheese has a taste delicious toast. The texture of this bread is dry and crispy, and this menu suitable to accompany your coffee time.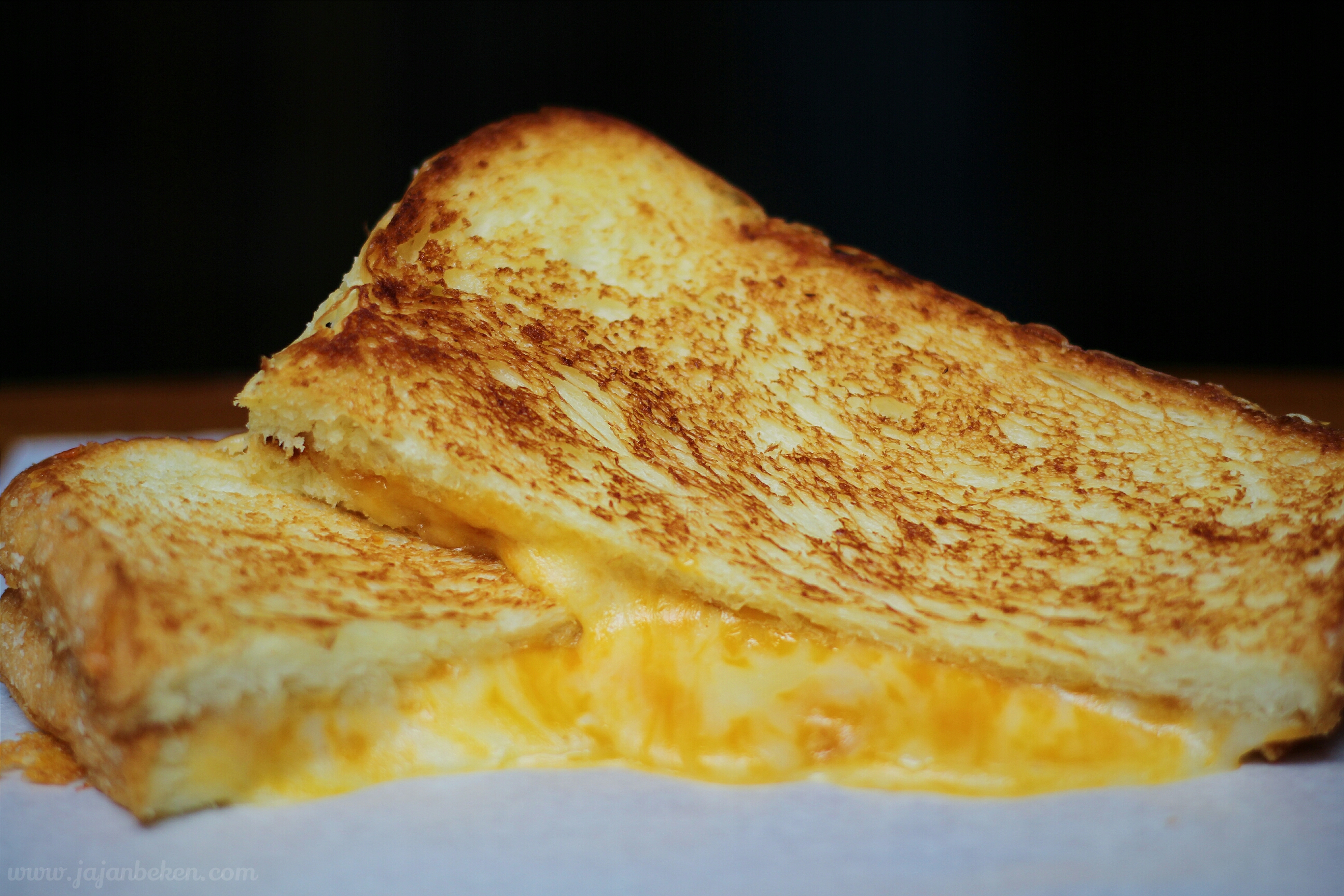 PB&J French Toast (IDR 27K)
The toast in this menu is very special because served with four pieces of toast smothered with a syrup, and presented with peanut butter. When I ate this the texture is very soft like typical french toast in general. And is very delicious when eating it because you can feel the aromatic of the cinnamon.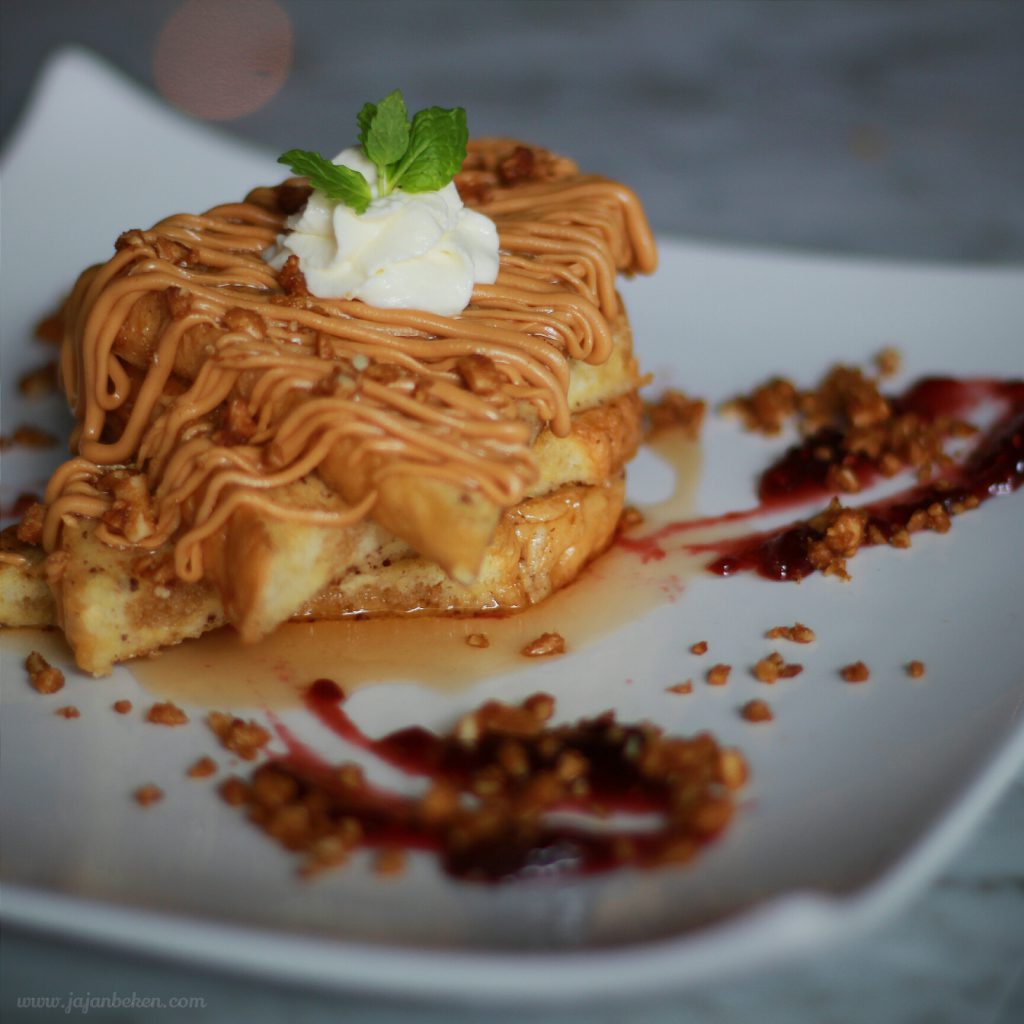 Nastar Cake (IDR 35K)
Nastar is the cake is one of the most I like. Nastar presented by this restaurant is very soft. When you eating it, it's feels sweet and one slice of nastar large enough. And this nastar cake should you order for accompany your coffee and tea time here.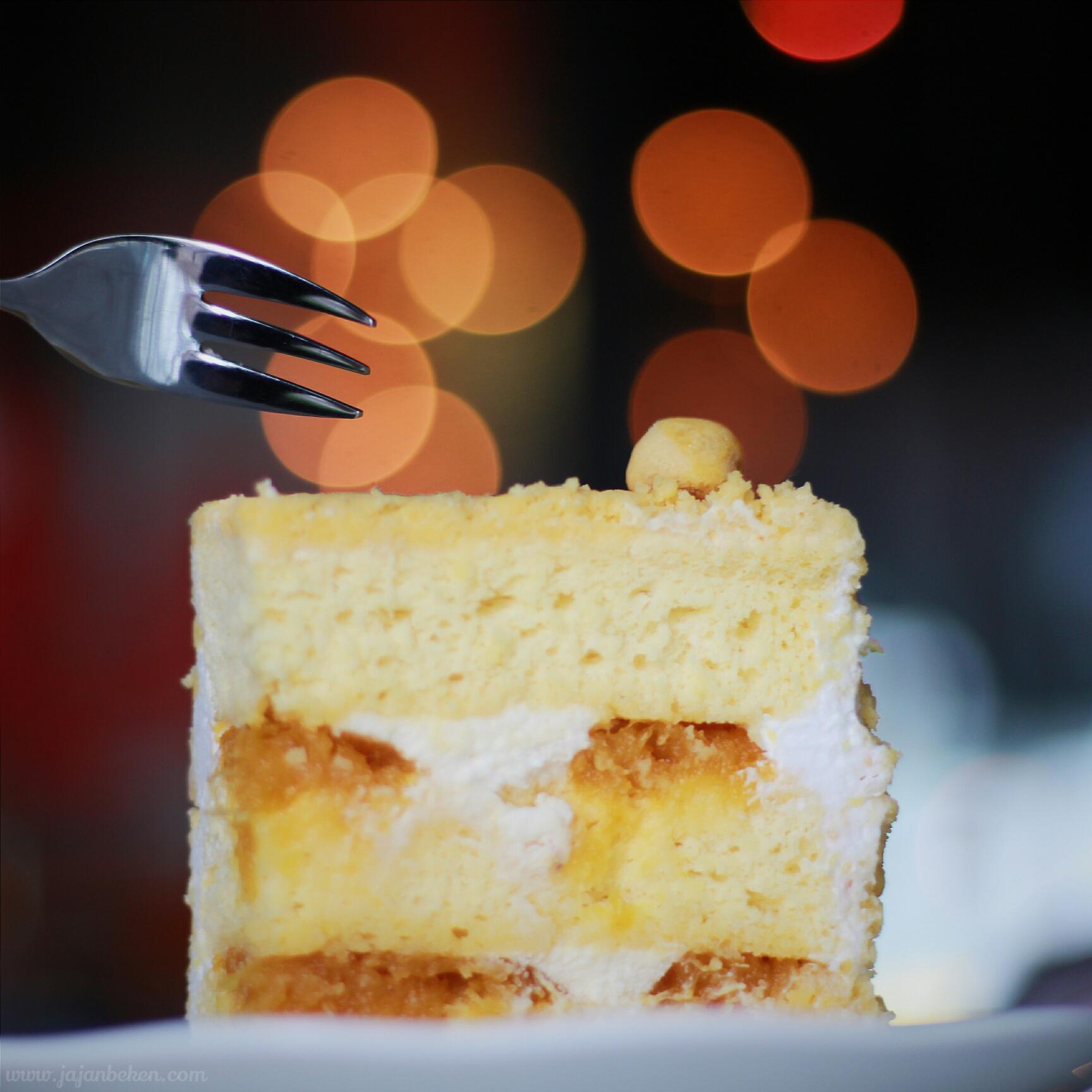 Night at The Landmark Pluit
Like I have said before, this restaurant has a very strong appeal of buildings in the surrounding. When I spend the whole day here I can feel the full the atmosphere here from morning to evening.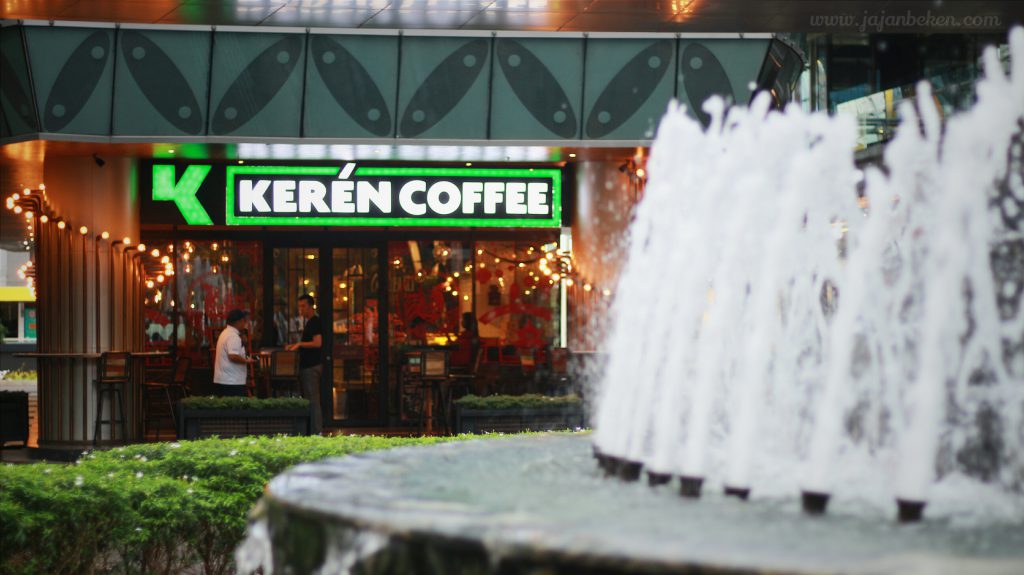 Therefore I will show you the evening atmosphere here with the beautiful lights. And the most attractive is the light in the fountain become changing with many different color and sure this will indulge your eyes.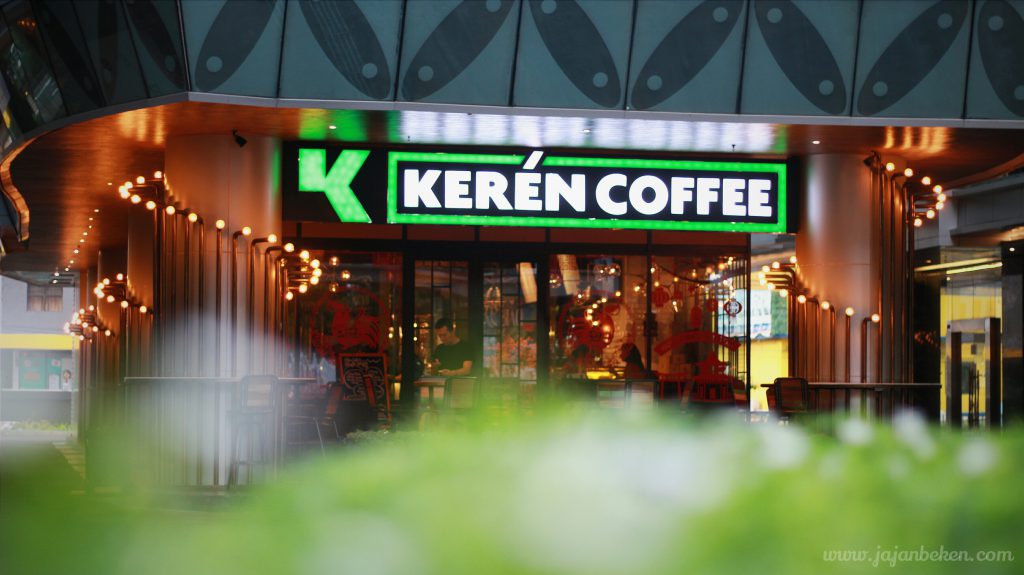 The night in Keren Coffee become my favorite time here due to many lights there. But ups my coffee cup already empty now and it's time for me to go home.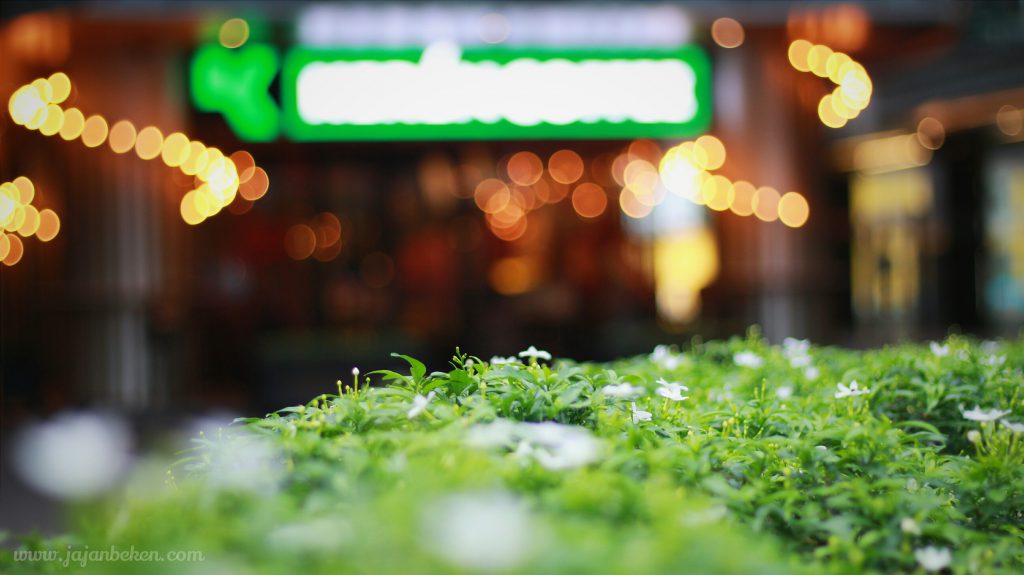 Overall the food at Keren coffee was very tasty with a good presentation and good service and fast also. This will make Keren coffee has become one of the best coffee shop in Jakarta. And sure i will be back here for some coffee!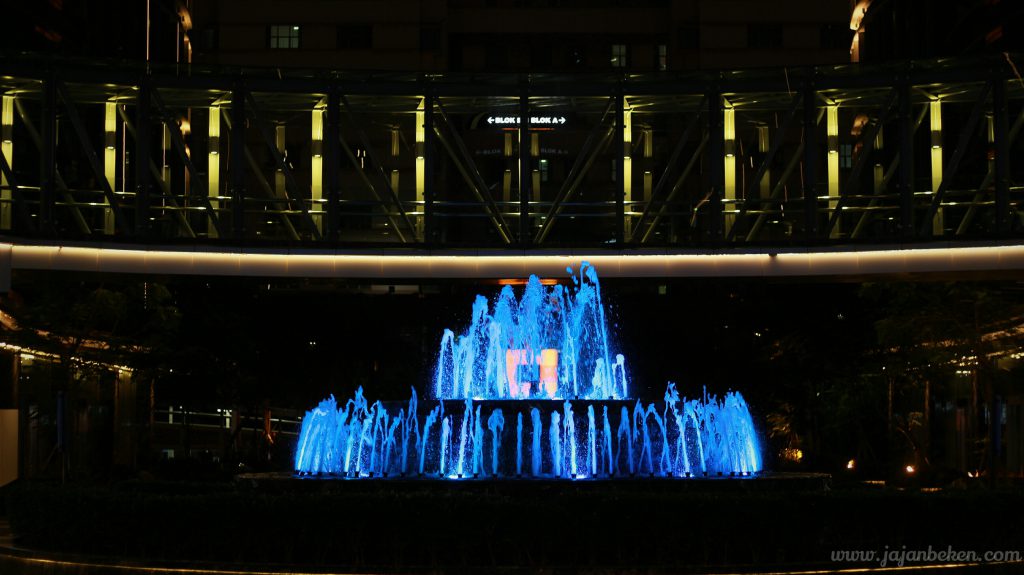 Finally I closed my review at this article. And I apologized if there is an errors in my writing and don't forget to subscribe out blog and just wait another culinary story from Jajan Beken!
RATING
Ambience : Good
Taste : Good
Service : Excellent
FACILITIES
Wifi : Yes
Plug : Yes
Dine in : Yes
Outdoor : Yes
CONTACT
Address : Landmark Pluit, Tower C, Lantai Ground, Jl. Pluit Selatan Raya No. 16-17, Pluit, Jakarta
Phone : 021 22661575

INFORMATION
Open hour : Today  10h to 22h
Price : Average Rp 120.000 for two people (approx.) Cash and Cards accepted
MAP