With a sense of honorable Beken was invited by the renowned restaurant Mujigae Korean Food to try the new menu at the outlet is in Summarecon Serpong Mall. This is very pleasant for me because I really like the Korean cuisine, other than that I really like as well with the decor of this restaurant.
This restaurant was founded in 2013, Mujigae is service restaurant that offers a variety of culinary offerings Bibimbap and Korean typical in the packaging and atmosphere that blends traditional and modern elements. Mujigae Korean Food with 13 branches that have won the TOP Brands Award 2016, introduced a new dish on the menu is Budae Jigae.
Mujigae has grown rapidly and now their outlets has spread across 6 cities and 3 provinces.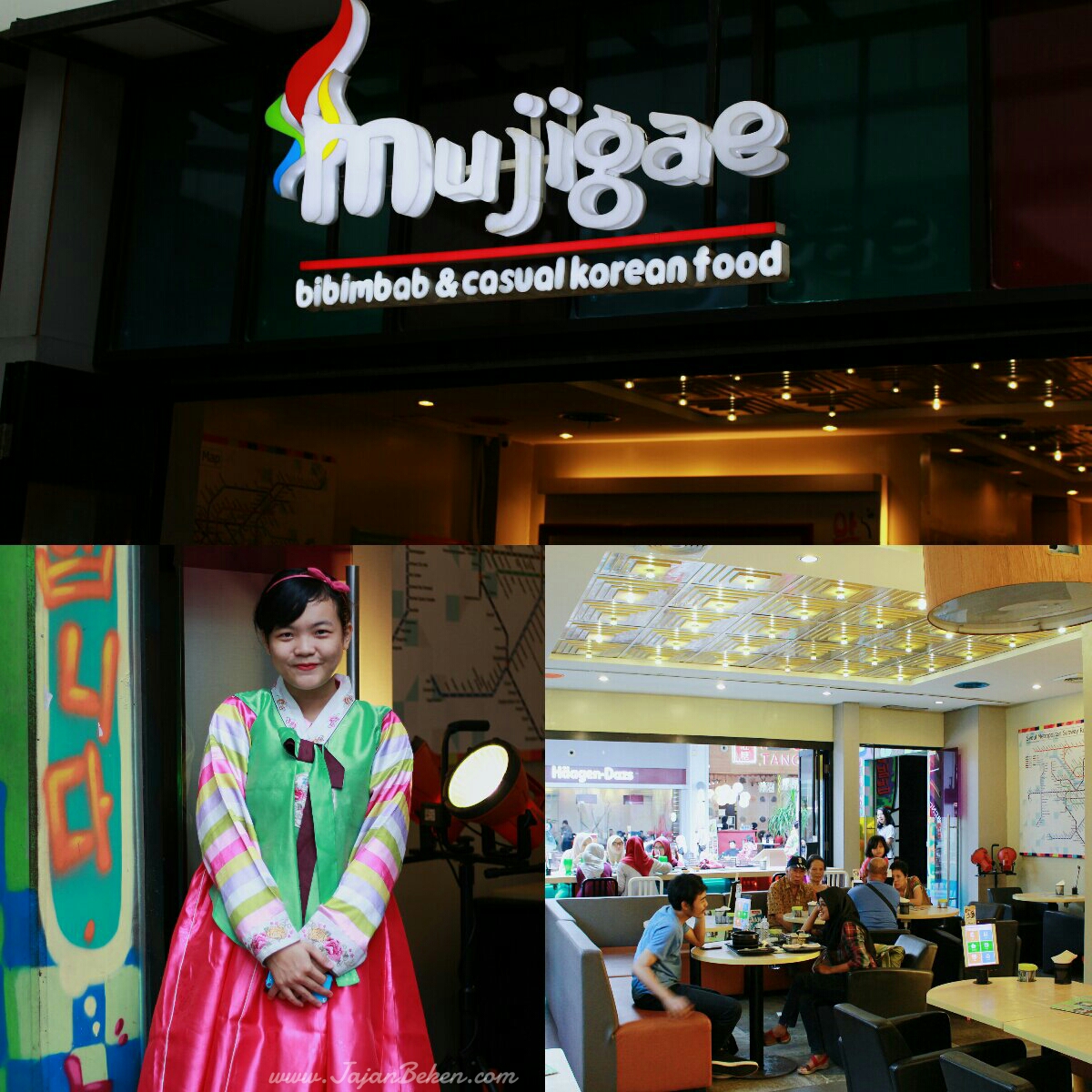 The Casual and Modern Restaurant
With the concept of "Korean Experience" and when we were in the restaurant will be served with friendly service lady wearing a Hanbok (a traditional custom of Korea). Here people can enjoy the row menu of Korean dishes, and the music video of K-pop (Korean pop music) by requested. Other than that visitors can take pictures as like as the Korean style just in one control from the iPad and feel the atmosphere Myeongdong at the restaurant. That is why Mujigae also well known as the restaurant with casual and modern touch.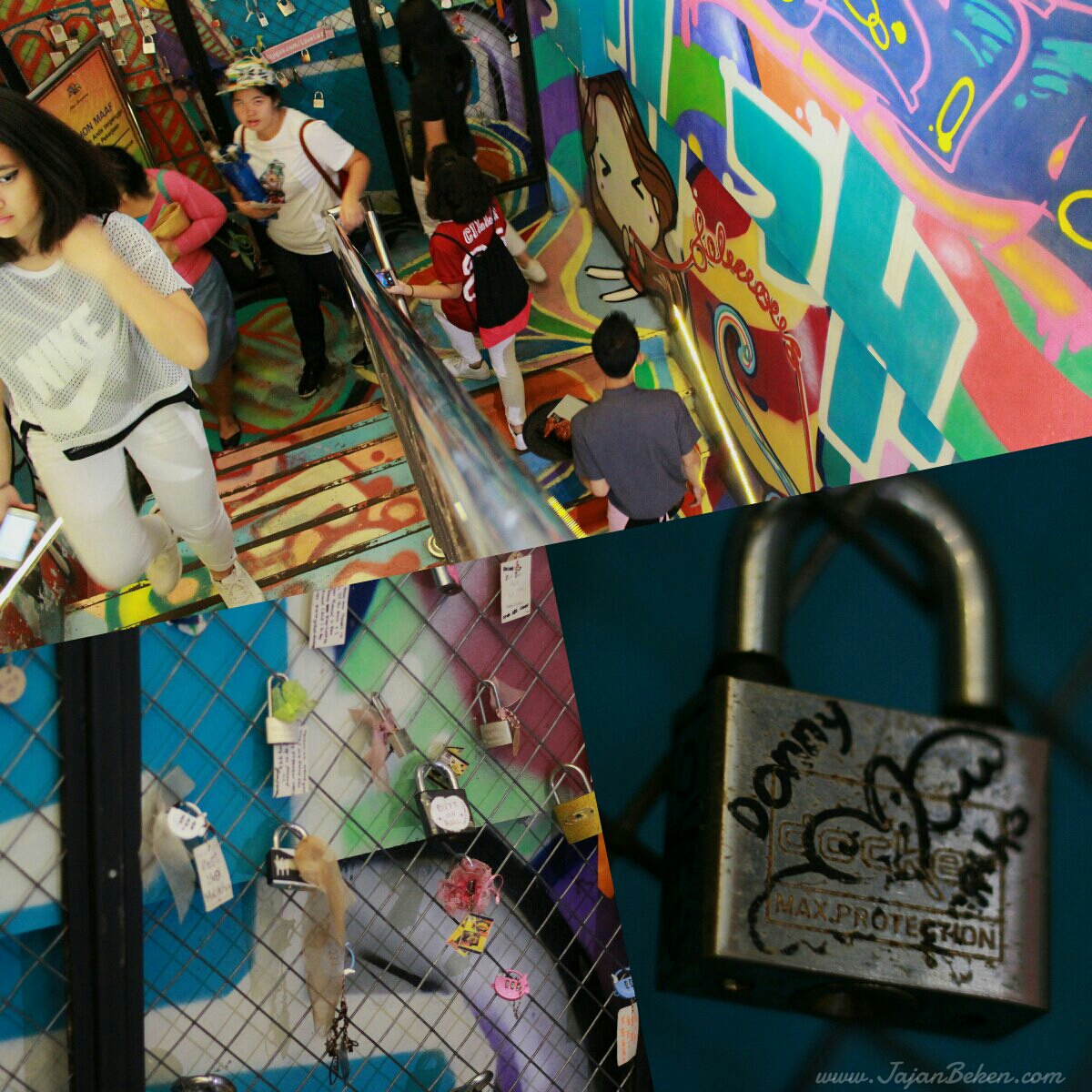 What The Meaning of Mujigae
Word of Mujigae have a meaning that is the rainbow explained that the cuisine and the food is a work of art, which are foods not only for satiety but also, should attract the eye so that everyone who saw it wanted to tasting.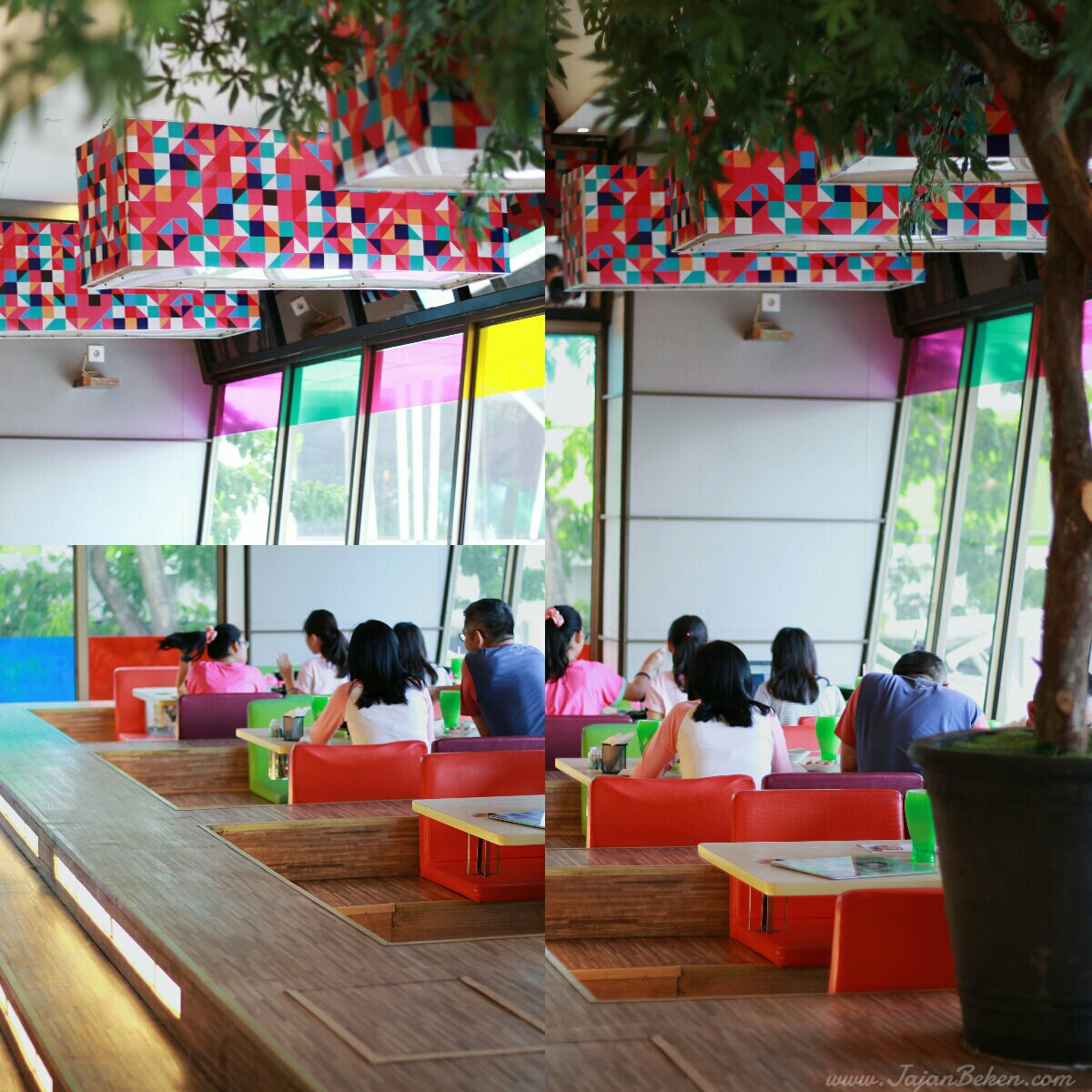 Order Menu Through The Technology
Mujigae gives customers an enjoyable experience because it combines friendly services and digital technology that customers can use with easy. Through an iPad which is available at each table, customers can order until get a bill without having to wait the staff. They can choose K-POP music video to be played in a big screen and can follow the digital game to win prizes. They can even take a selfie pictures with this iPad to appear in the big screen, so interesting!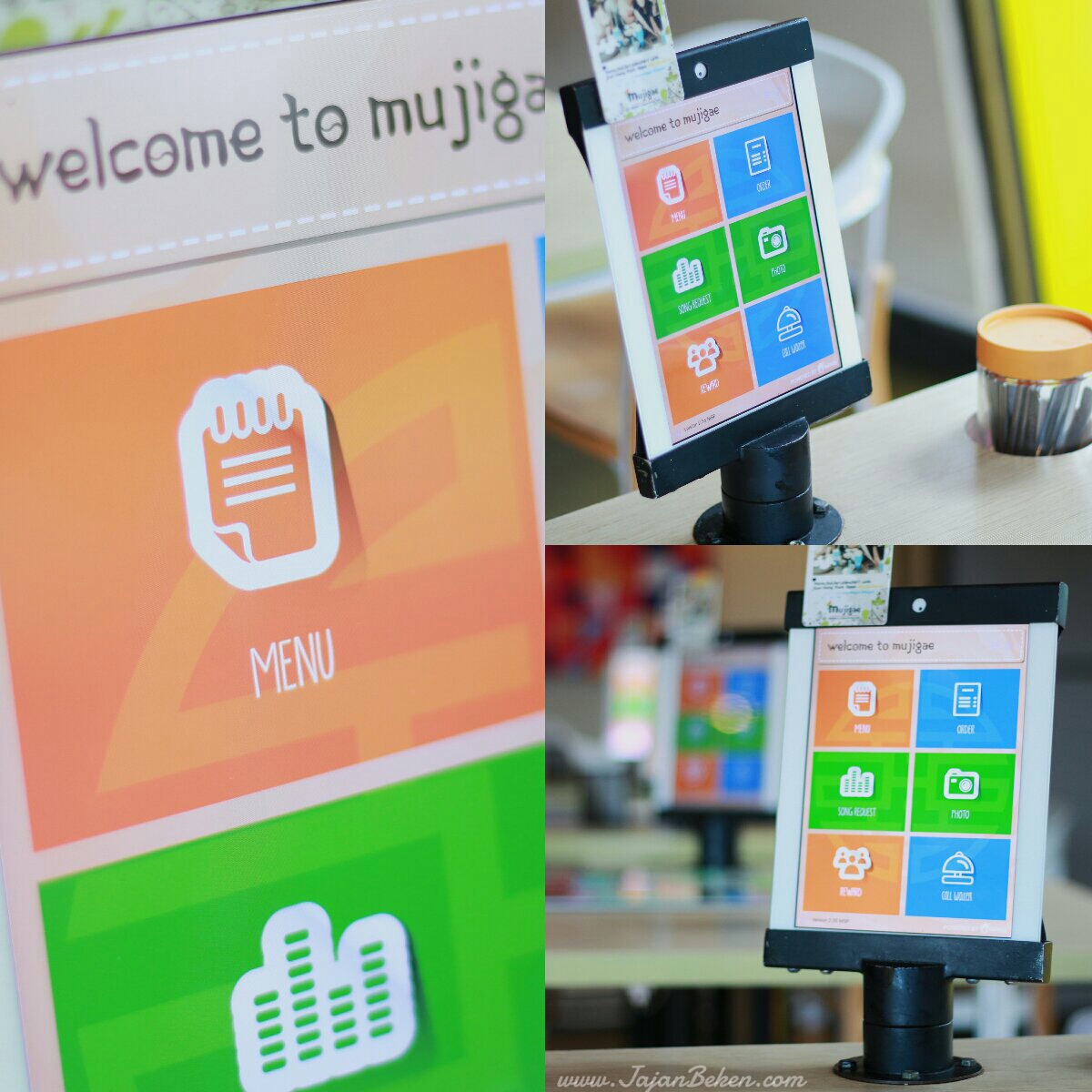 Inside of the restaurant is displaying a video clip of Korean POP as decorating their walls, making this restaurant is visually very interactive, and modern. Not to mention when the visitors started to sit down, they will be interested in the iPad that is in every table. The iPad offers a variety of unique activities that are rarely found in other restaurants. As has been discussed through the iPad visitors look at the menu, view orders, take pictures, request a song, to ask for the bill. Let's we see the video how to order menu in Mujigae.
Because Mujigae is the only Korean restaurant in Indonesia with the casual style of sophistication that can bring many visitors as possible, now only necessary consistency to maintain a marketing strategy that has been done because the hallmark of this restaurant is the main attraction of visitors to always come back.
 Photo credits of Mujigae
The Food
Budae Jigae (IDR 46K)
The new signature and favorit menu hereee, dish included into the category Jigae or Stew is made from a combination Ramyun, luncheon Beef, veal sausage, silken tofu and various vegetables in the soup spiced Gochujang and Kimchi. Budae Jigae also provide an exciting dining experience because it was served hot in a pan on the fire lit.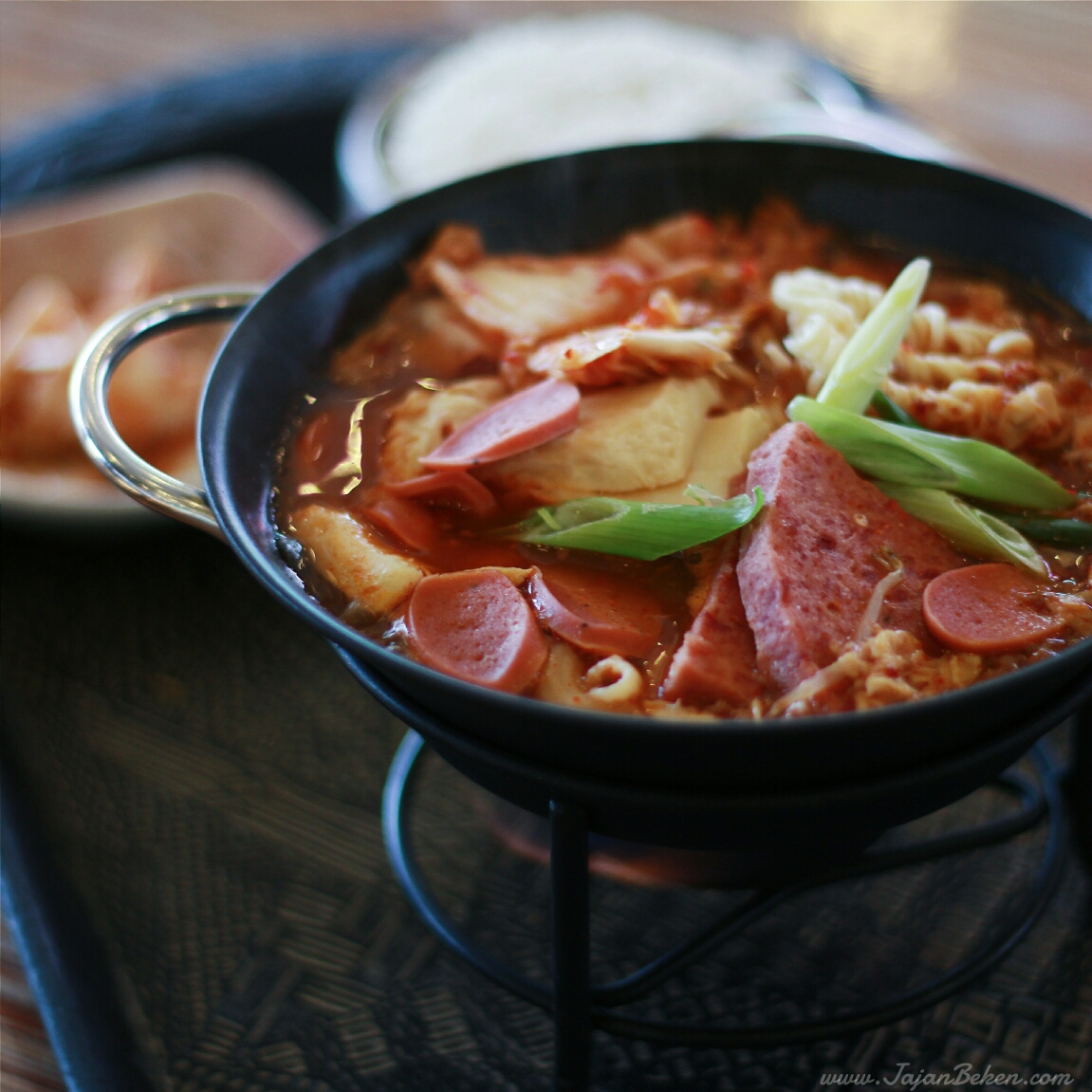 History of Budae Jigae
A bit of history about Budae Jigae was in culinary korea in 1950, after the Korean War ended. Due to the war, there is a shortage foodstuffs, especially in the city of Seoul and Uijeongbu area, encouraging people to seek and utilize the remaining foodstuffs at the American military base there. There they found the Beef luncheon, Beef sausage, Macaroni, and other materials commonly consumed by the American army, and then use it as ingredients of this yummmy stew or soup with sauce Gochujang and Kimchi.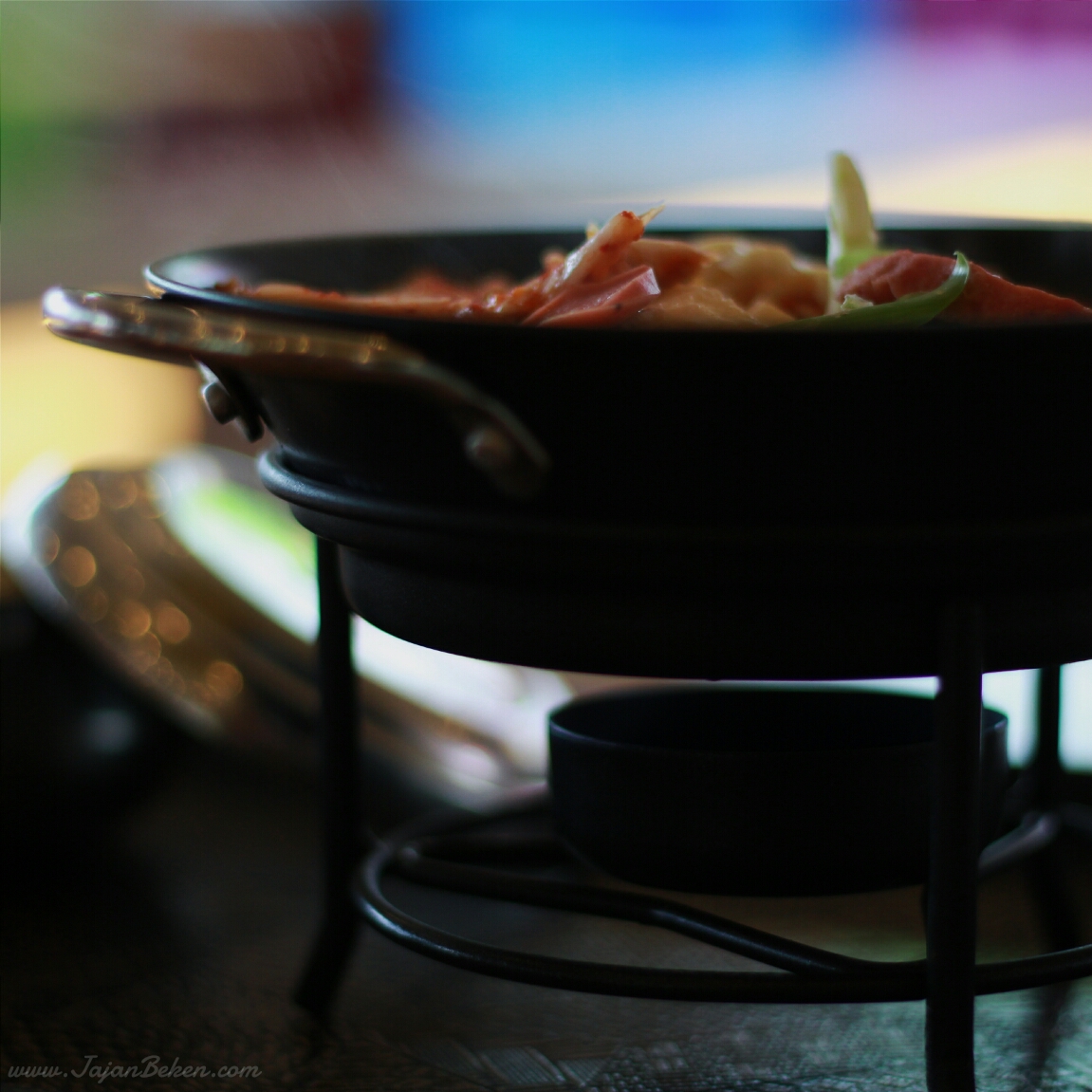 With the presentation and coupled combination of fresh flavors, sour and spicy, this menu is also a good choice for lunch or dinner, especially in the Rainy season like now, large portions and get white rice is very satisfying.
Beef Sausage Topokki (IDR 39k)
Toppoki is a popular food found in korea. Its origin dates back to the Jeosun Dynasti where it was first found in the royal recipe book Siui Jeongseo. The royalty has been enjoying this dish not only because of its incredible taste, but also its health benefit as Topokki can also be found in the medicine book Shingnyo Chanyo.
Topokki sometimes also referred to as a rice cake because this food made from rice flour. It has a round stick shaped, if eaten going to feel rubbery when chewed. Snacks are also often appeared in dramas or variety show in Korea as in drama BBF or Full House owh i guess you know this so well. Topokki  was usually use red sauce / gochujang spicy and hot. In winter, Topokki used to be a number one snacks that the most searched.
The Drinks
Umeseu Tea (IDR 18K)
Presentation of the drinks is quite interesting and its contents are Kietna oranges in the given pieces of nutmeg into small pieces in it. So tasty and refreshing and so unique!
Choco Banana Milk Nutella Pudding (IDR20K)
Milk-based drinks banana chocolate is a blend composition that is very interesting, very strong chocolate flavor plus banana flavor provide different sensations, tastes very good.
Citrus Honey White Tea (IDR 17K)
Typical drink from Korea made of citrus orange and honey are small grains of colorful jelly, very tasty and appetizing.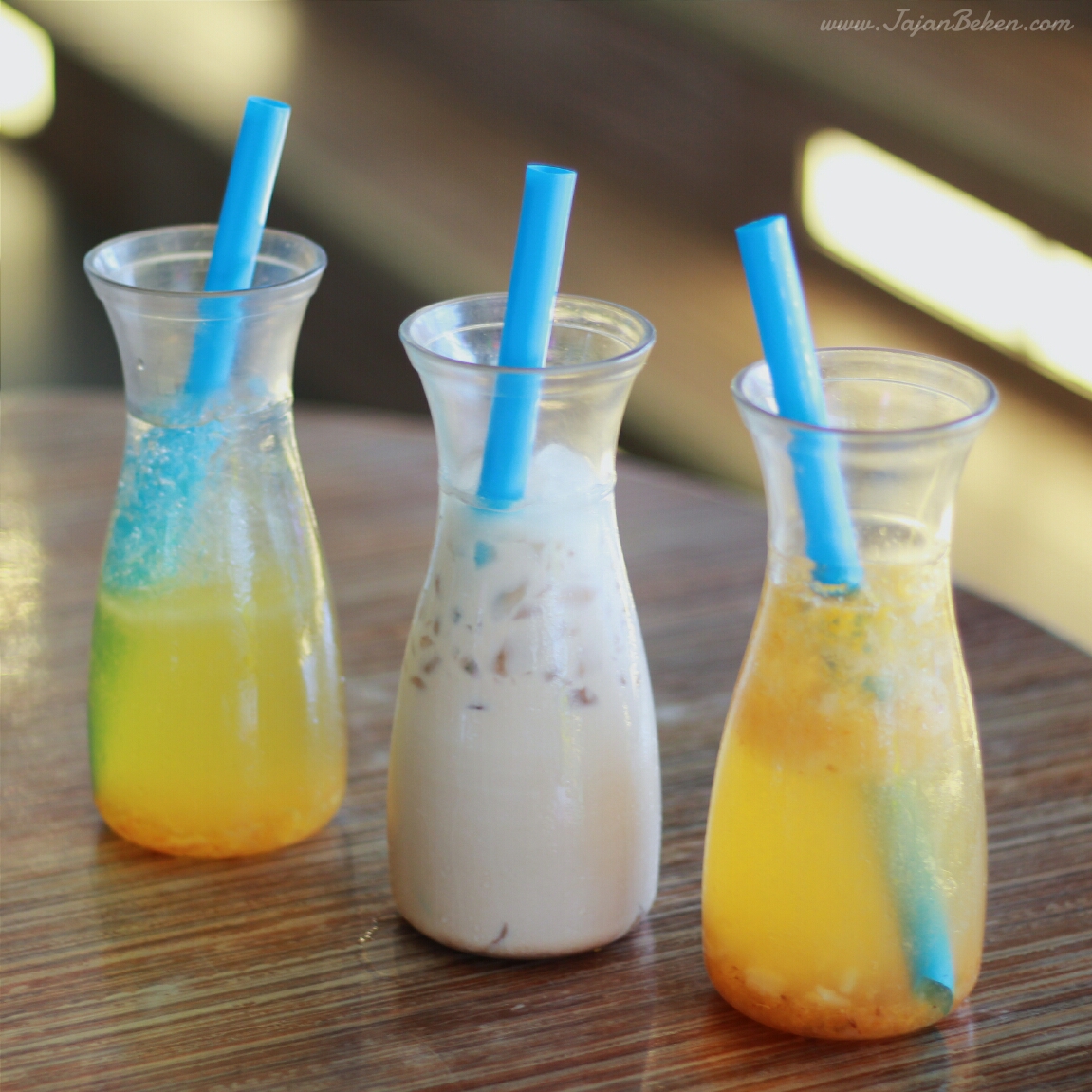 Latest Event In Mujigae
For all customers who want to share the experience of eating Budae Jigae you can follow the event of #MujigaeMukbang courtesy of Mujigae via social networks of Instagram. By uploading Short video when eating Budae Jigae using mention @mujigaeresto and hashtag in the caption. And you can receive direct voucher worth Rp 25.000, apply every day in all branches Mujigae.
Photo credits to Mujigae
Finally thank you for coming in my blog, finally I apologized if there any mistakes in the writing this blog. Don't forget to subscribe my blog. See you in the other food adventure with   Jajan Beken.
RATING
Ambience : Excellent
Taste : Good
Service : Good
Price :  Average
FACILITIES
Wifi : Yes
Plug : Yes
Dine in : Yes
Outdoor : Yes
Toilet : Yes
CONTACT
Address :Mujigae Summarecon Serpong
Summarecon Mall Serpong, Lantai Ground, Downtown Walk, Jl. Boulevard Gading Serpong, Serpong Utara, Tangerang

INFORMATION
Open hour : Mon-Fri: 10 AM-24 PM
Sat-Sun: 10 AM-02 AM
        Dresscode: casual
Price : Average 200K 
for two people (approx.)
MAP