One of the newest restaurant tracks on PIK (Pantai Indah Kapuk) mandatory you visit.  Masizzim Korean stew is a restaurant that has been quite successful in other countries. In PIK this restaurant located at Ruko Garden House one building with Ikkousha. A very strategic location because if you get out of the PIK toll booth this restaurant will be immediately visible on the left side of the road.
I was very lucky to visit this restaurant when grand opening. I saw a great staff who was briefing to greet the guests by the owner. They all look very happy being one part of the Masizzim restaurant. Yes surely if it was me, I would also feel it working in a restaurant that already has a big name abroad. When it comes here I came with my friend who is certainly a blogger friend as well.
Initially I invited her to this restaurant because usually we always walk together when we know the restaurant is open. And when I took her to Masizzim she was shocked  because this restaurant is her favorite when visiting Singapore. Therefore, she approved my invitation to visit Masizzim.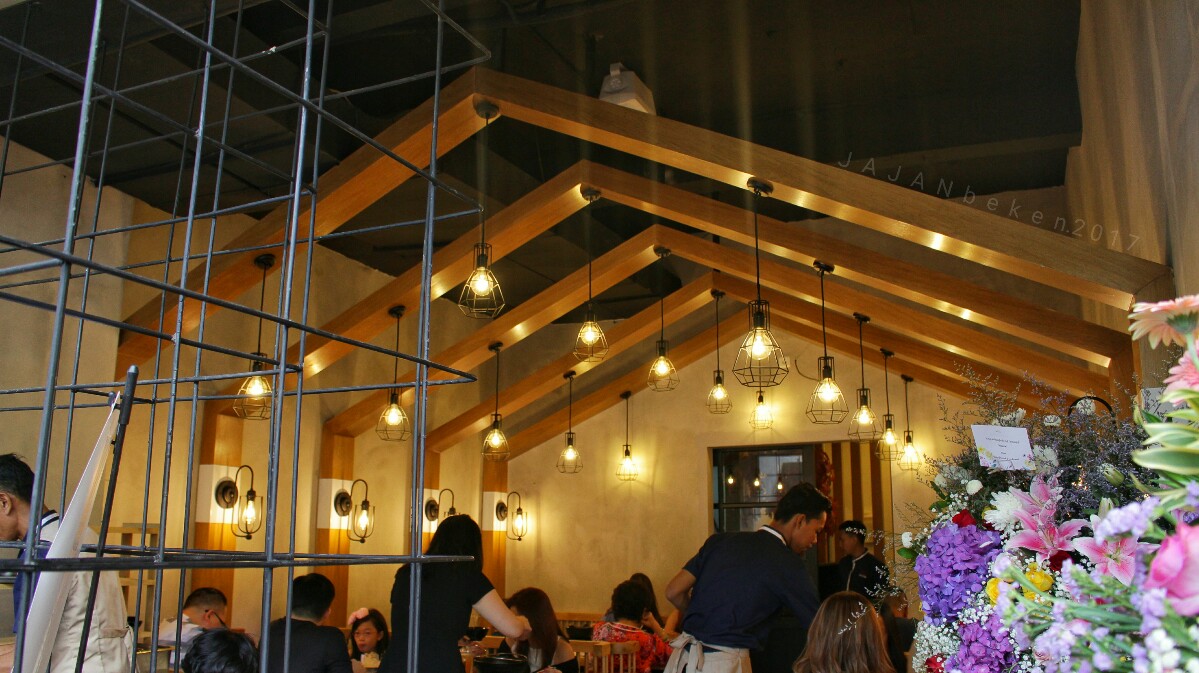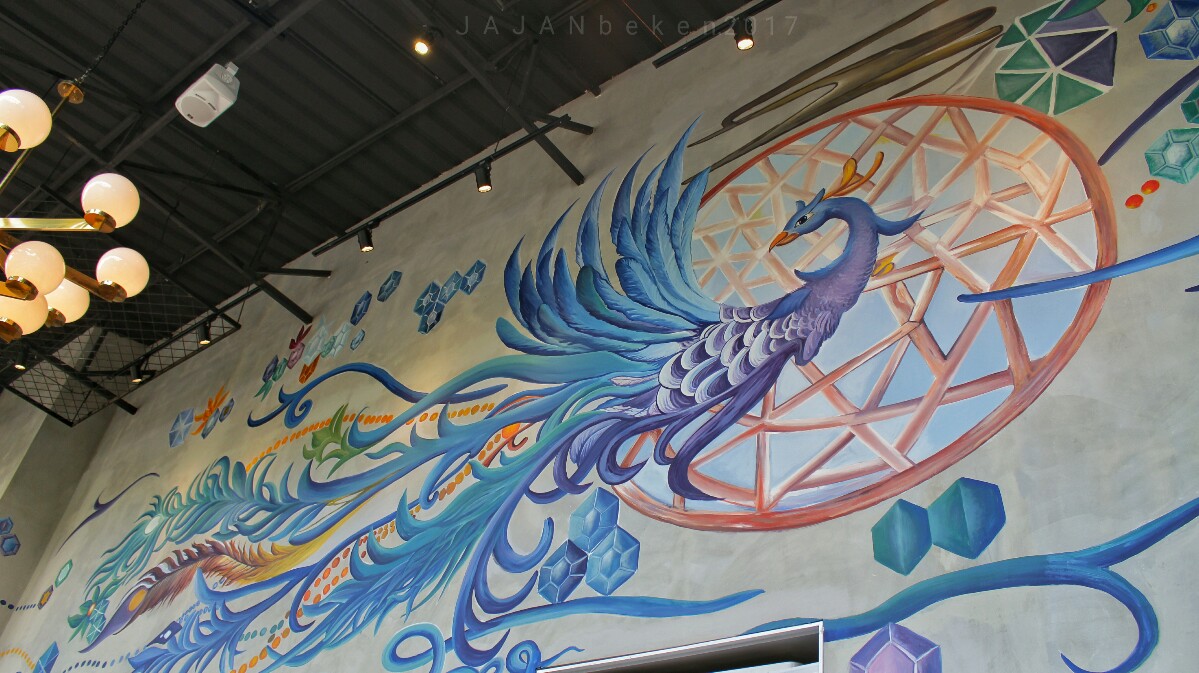 Enter into this restaurant my eyes directly fixed on the painting that is on the wall. Basic colored gray they are very clever in blending colors. So that, when looking at it like looking at the ancient inscriptions but this is much more beautiful and professional. not only beautiful but I see like there is a philosophy of the picture but it all depends on the perception you see.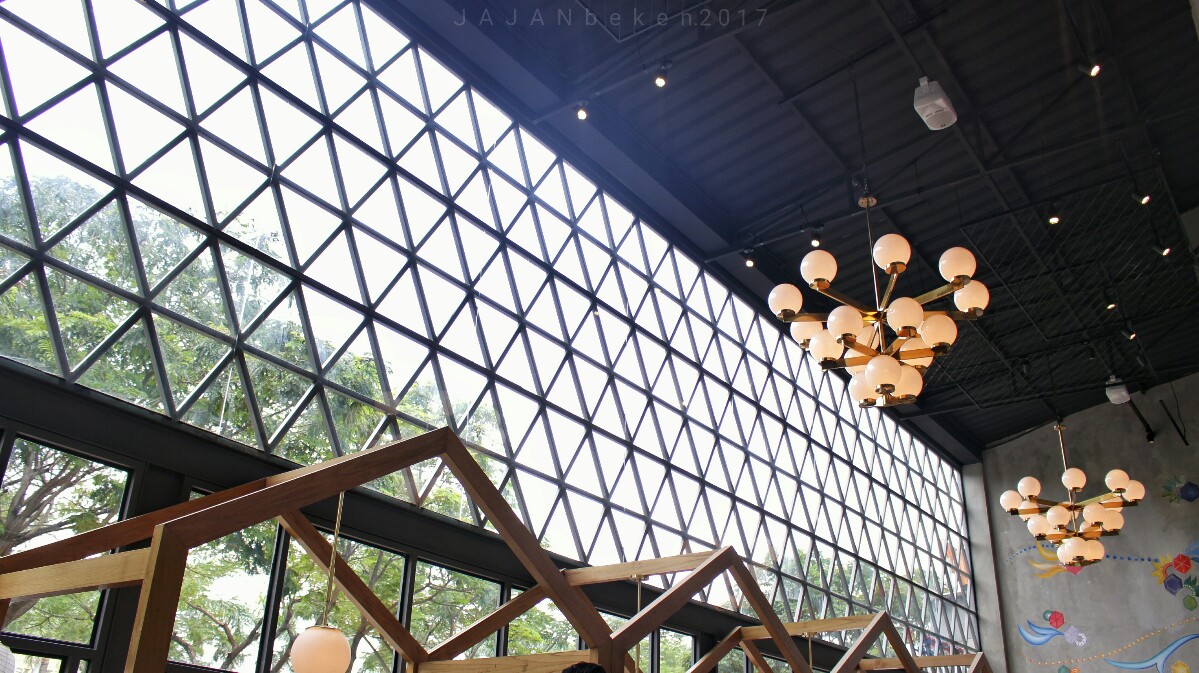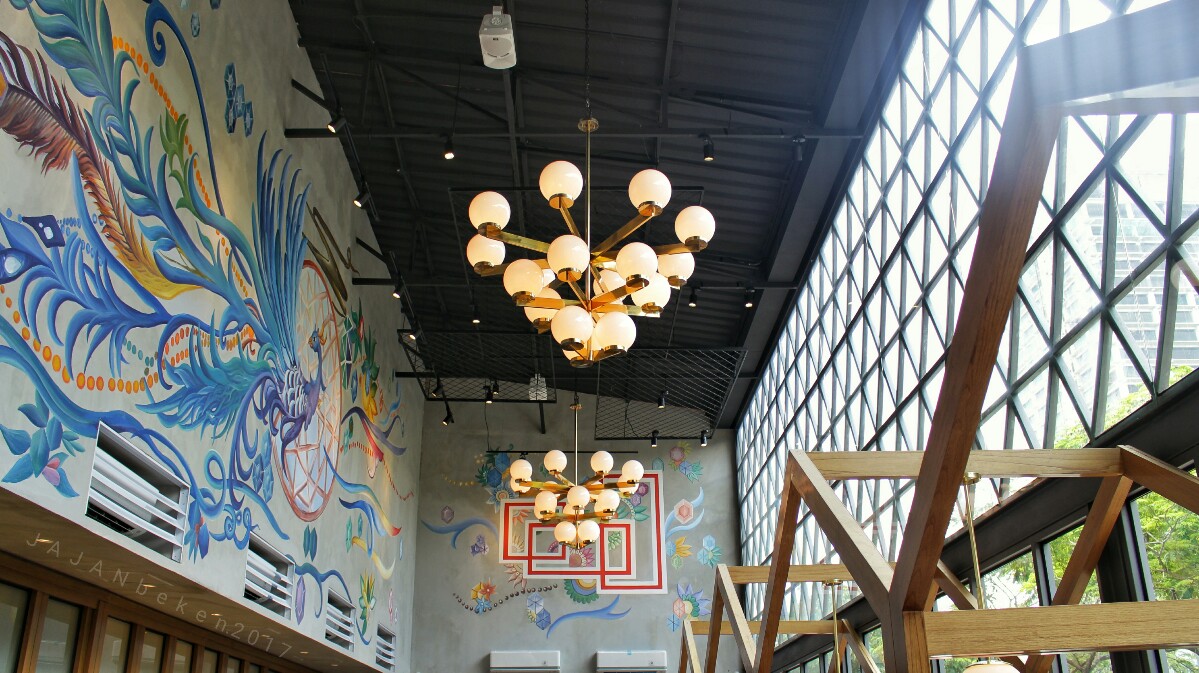 To the table here mostly capacity for families such as those on the edge of the window and also the wall. And the midline section table for the capacity of two people. Very interesting when you get a table next to the window. Because they designed the table like a very funny home frame. And because the roof is very high adds a great impression on this restaurant.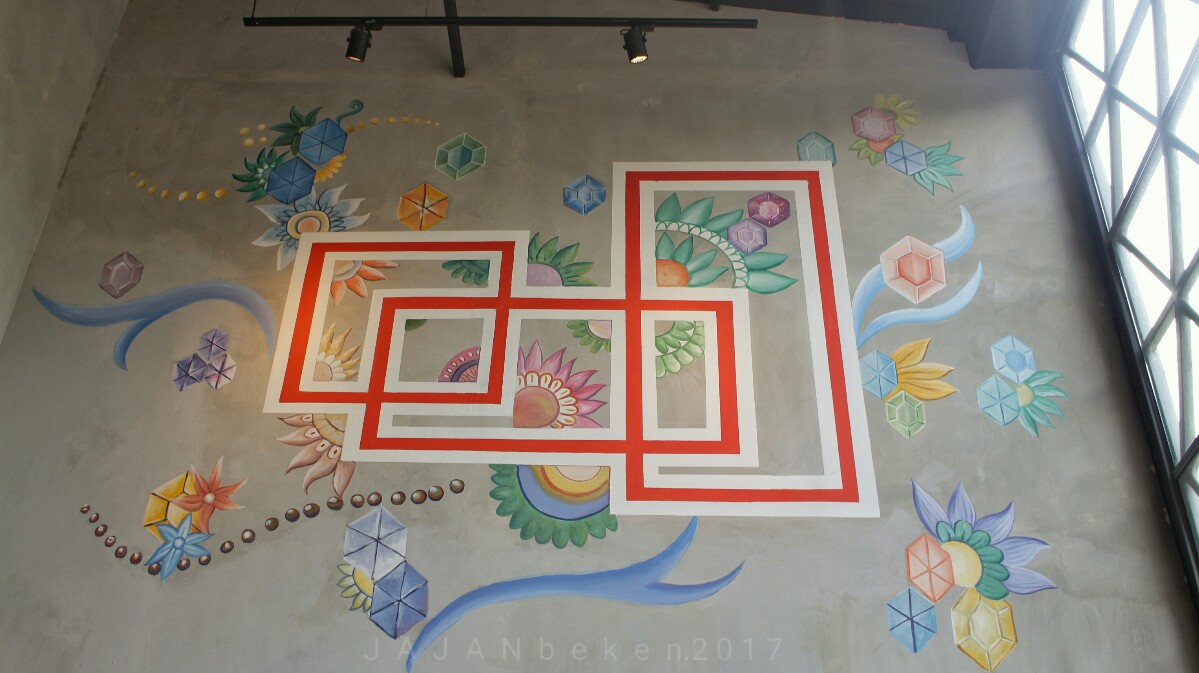 Besides the ambience is very nice and comfortable, it's time we go to the food that this restaurant presents. Check it out guys!
Honey Mustard Cheese Egg  Roll (IDR 68K)
If you like egg roll you will love this menu. Not just an ordinary egg roll this menu also feels the spices and spices are very tasty. The menu is wrapped with a very tasty mustard cheese sauce that will tempt your appetite.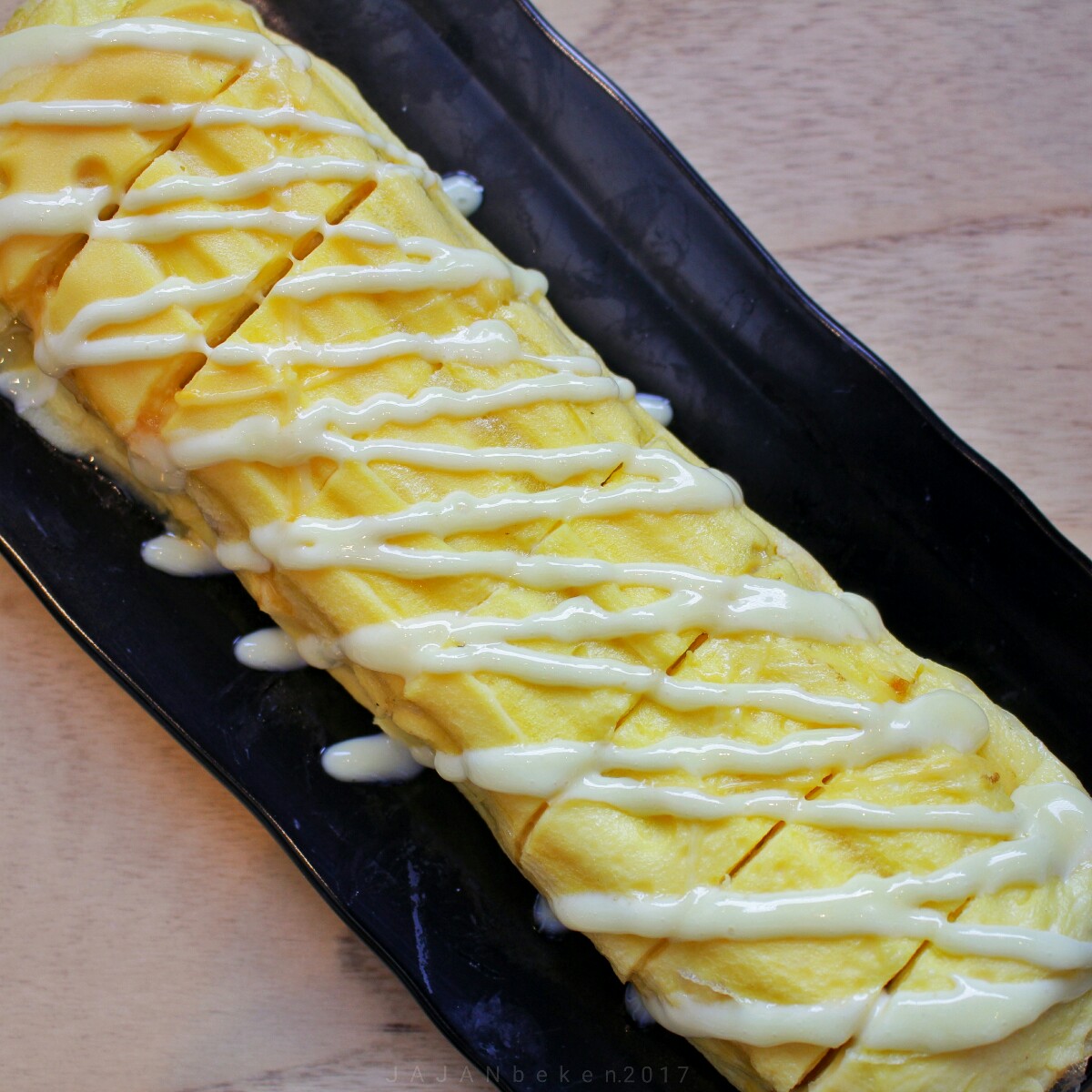 Spicy Seafood Stew (IDR 268K)
And for you seafood lovers must order this menu. The condiment contained in this menu is very much and complete. ranging from green mussels, super large prawns, squid, ribs, enoki mushrooms and other spices that make this menu very interesting. For the spiciness is still divided into several levels and I chose level two as an option so as not too spicy and delicious when eating it.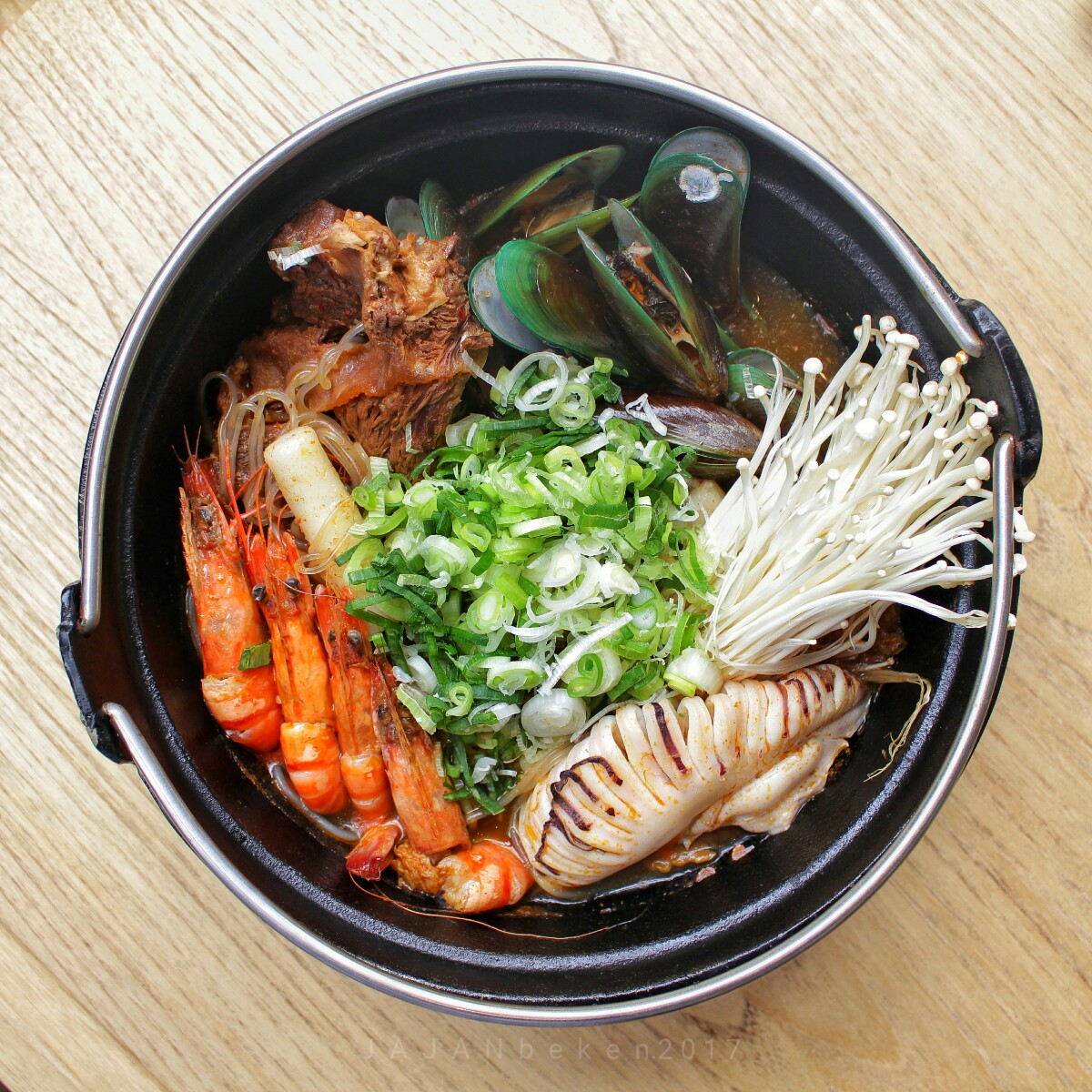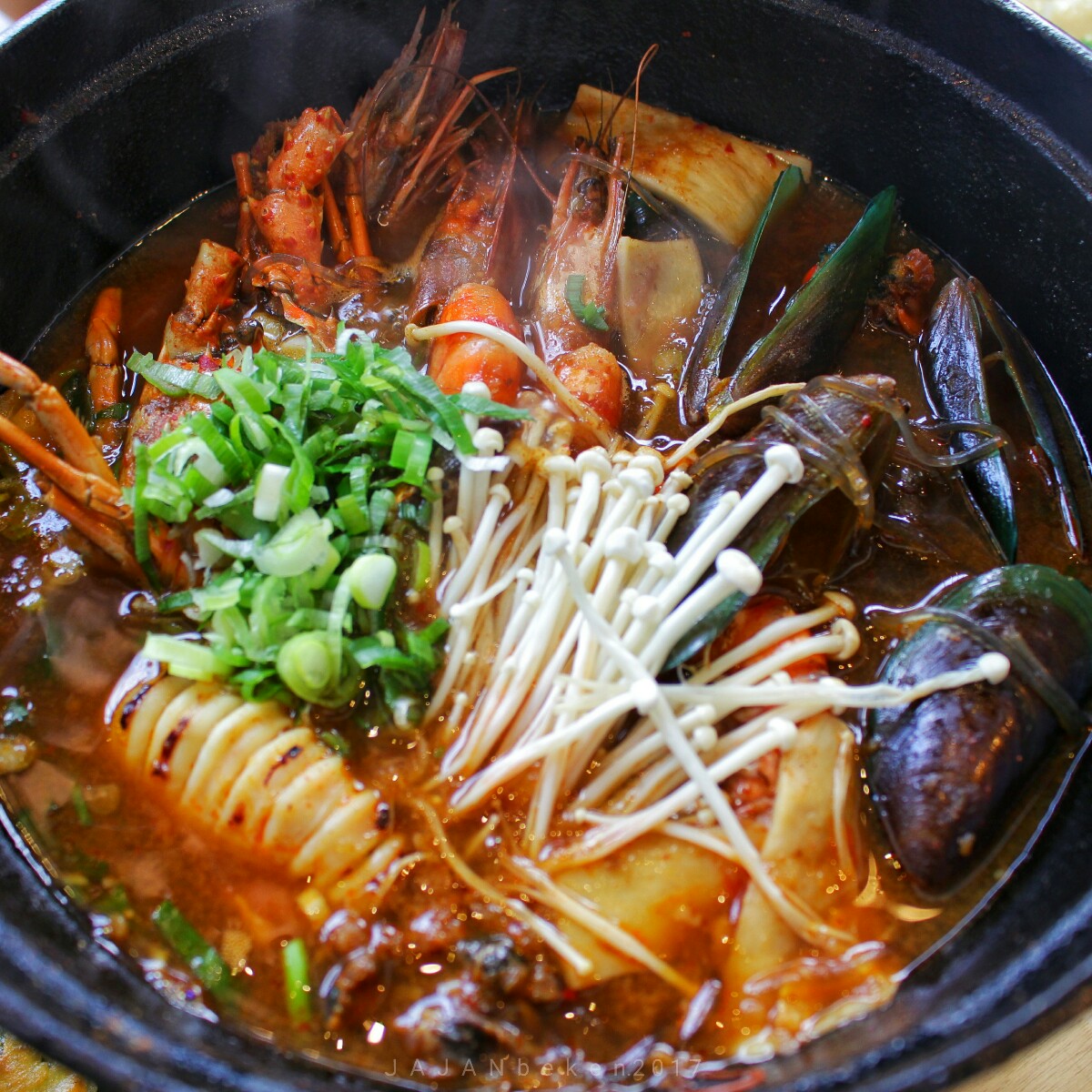 Beef Rib Stew (IDR 168K)
Still on the other stew menu, if that was previously seafood this time it is a beef. Oh ya, I think if you do not eat much a portion of this menu can you share to be for two or three people. And if we talk more about the taste of the stew at this restaurant no doubt about it. the spice is felt in meat and the meat is very tender especially in ribs.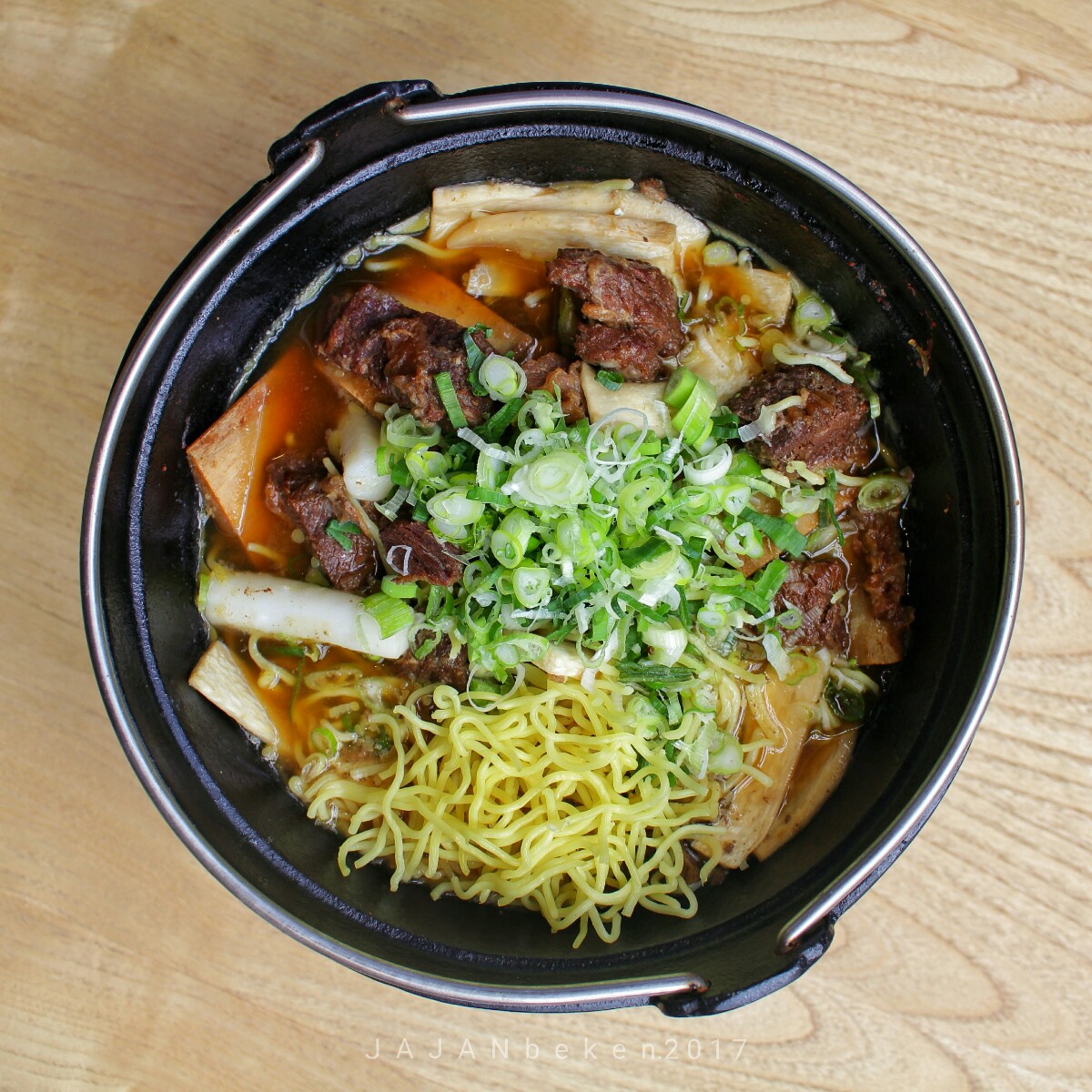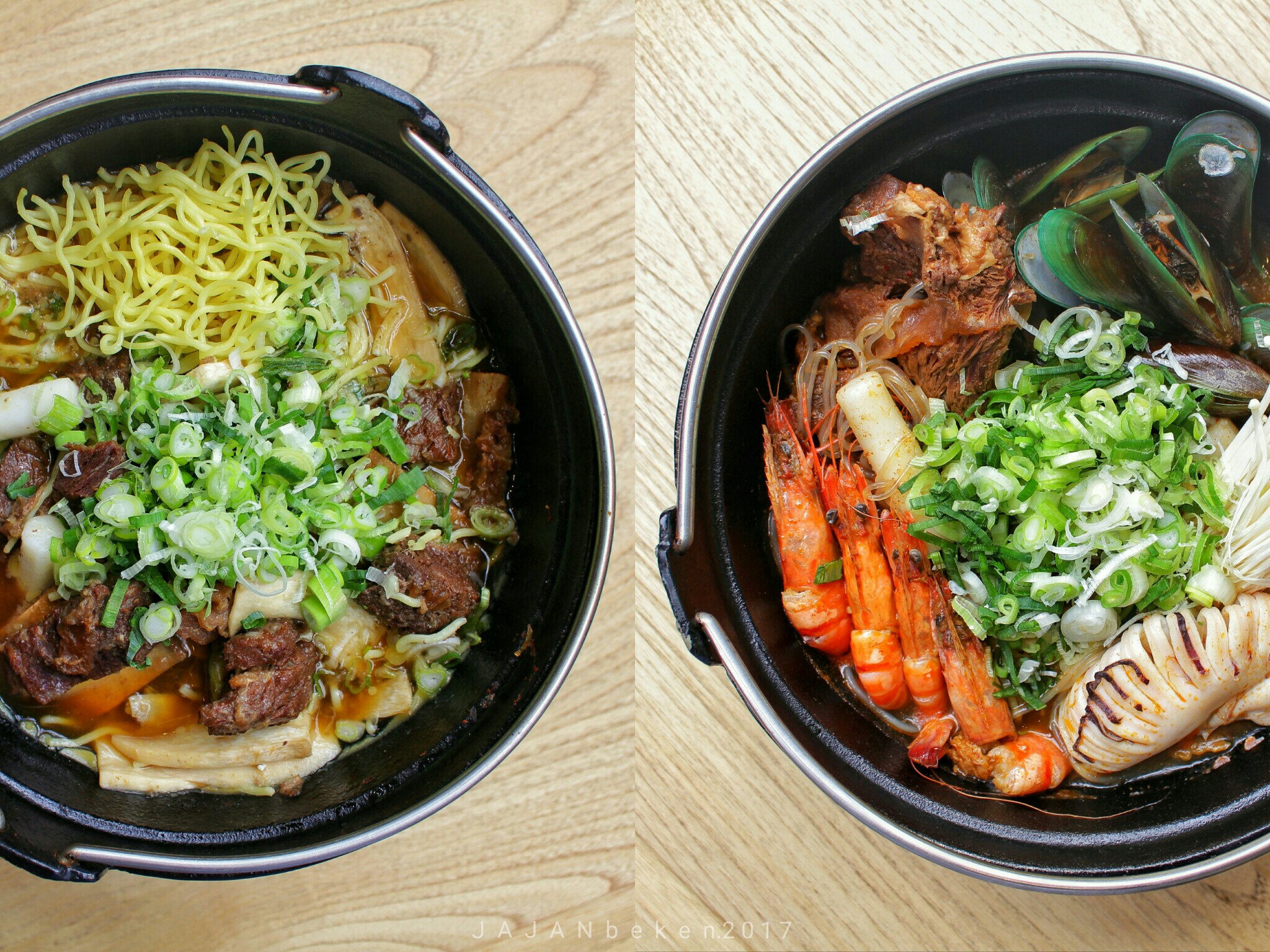 Rice Ball
Yeaaay finally we move to signature dish in this restaurant, the Squeeshy Rice! Korean rice bowl with red rice and seafood. There are three different condiment with different price for Anchovy (IDR 48K), Tuna (IDR 53K) and Crab meat (IDR 58K).
This dish is one of the reminiscent menu for the owner's son. He told that his son ask to go back to the restaurant that can make a ball from the rice but he didn't remember the name of the restaurant when they are in Singapore. Back to Jakarta the owner set this restaurant in the name of Masizzim as the sister restaurant of Masizzim Korea.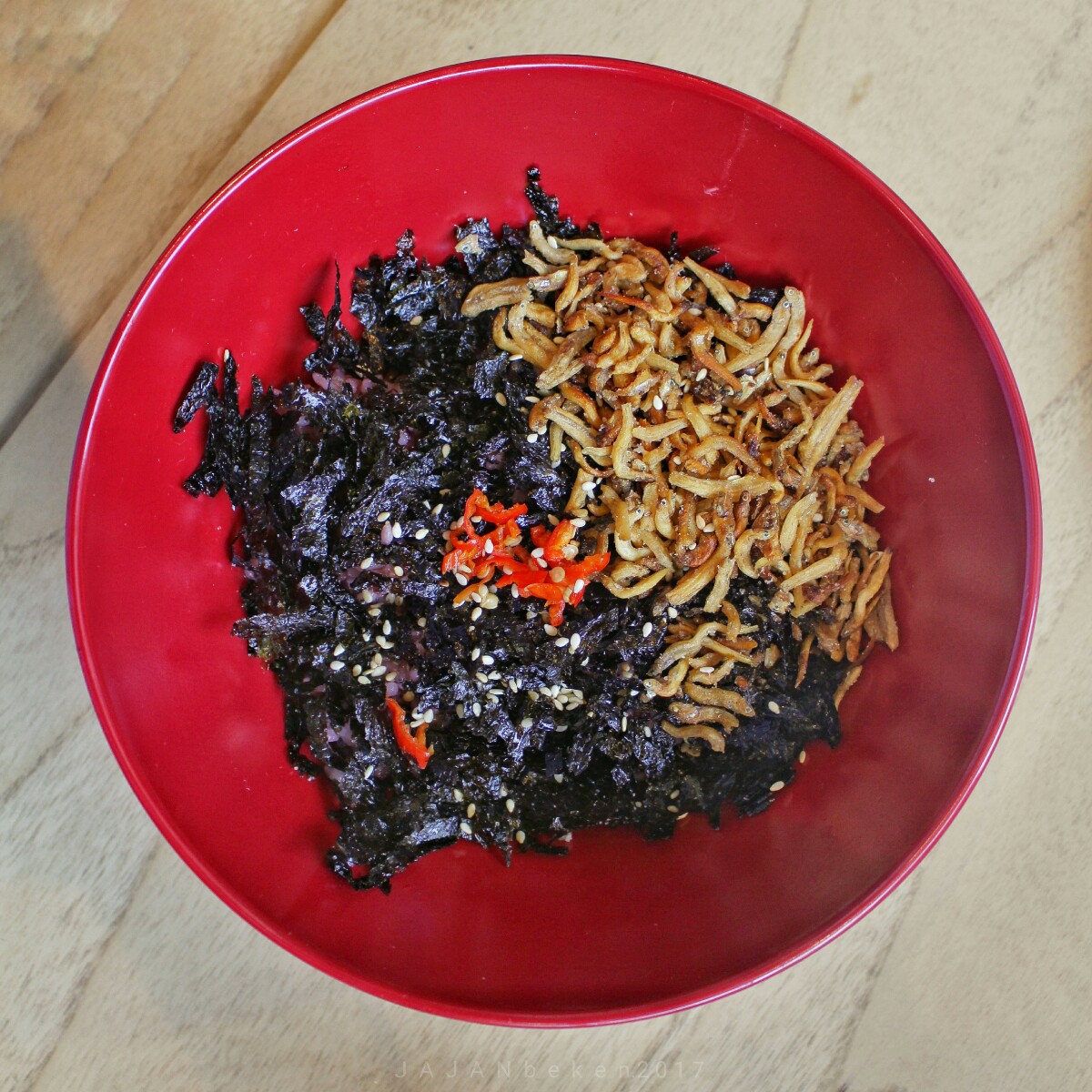 How to eat Rice Ball? First you have to put on gloves, then squeeze the rice or mix it well and last mold into a ball shaped and enjoy! The ball size depend on your desire. Good size is not too big but not too small and each ball has a same round shaped perfectly.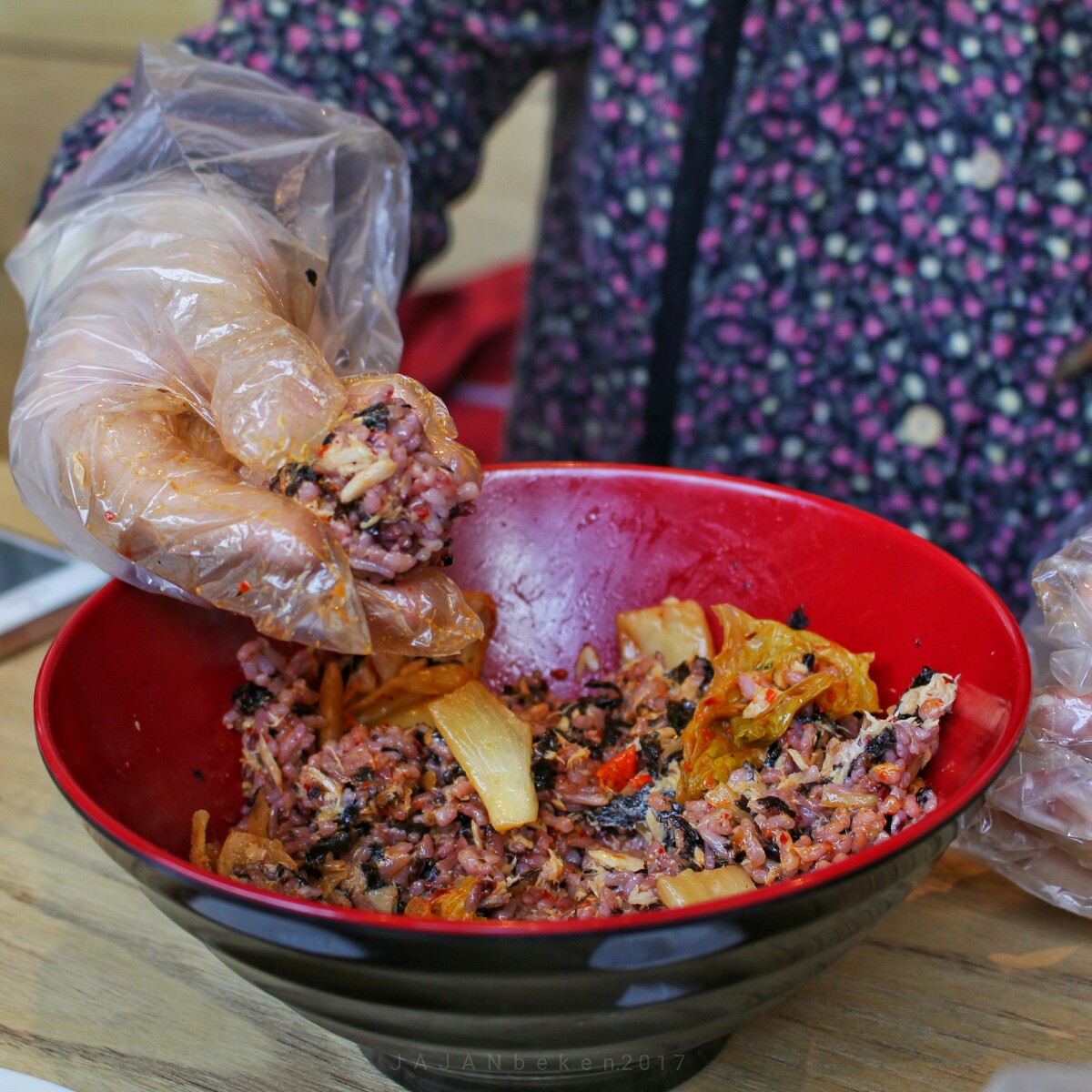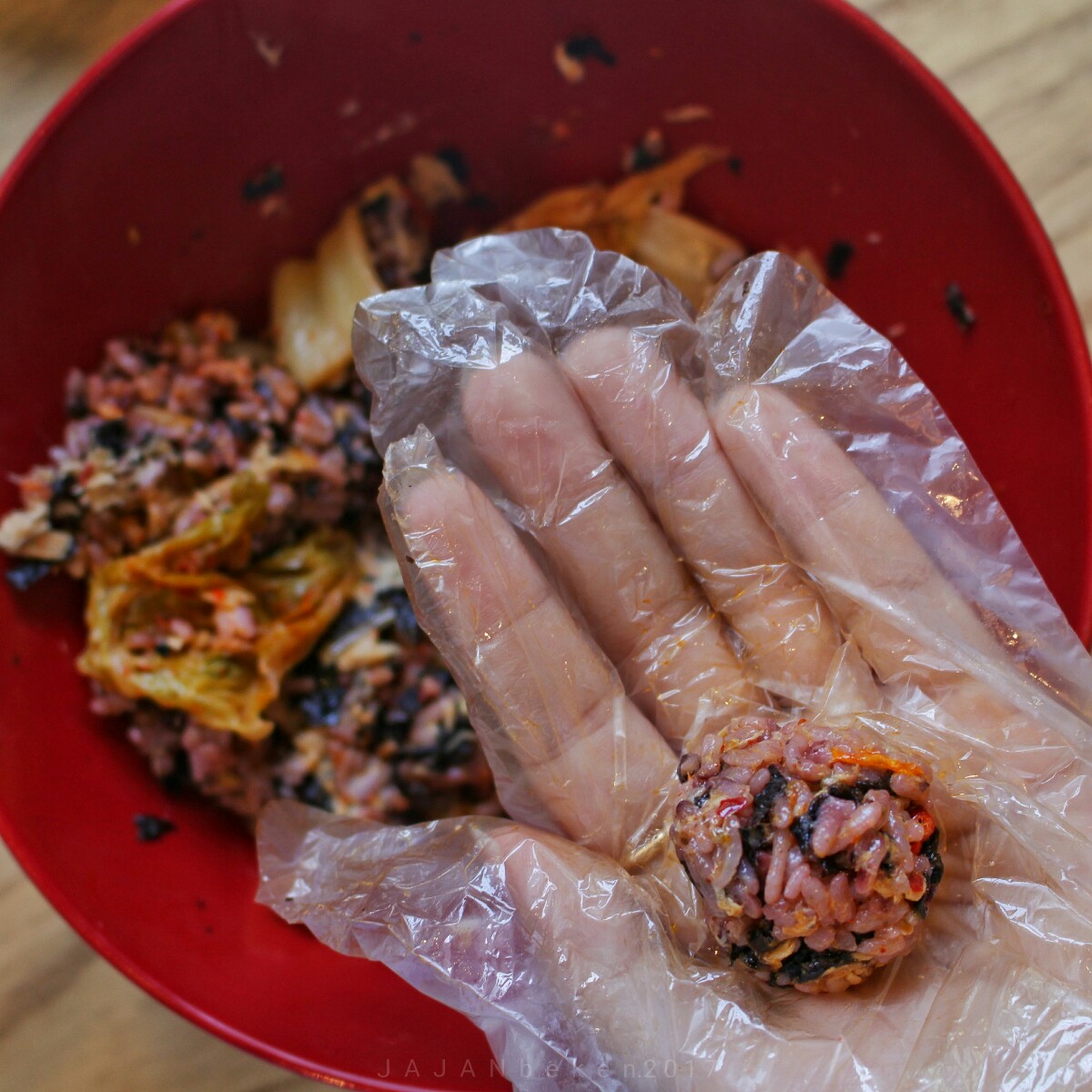 I tried rice balls with anchovy, a combination between salty-umami-crispy become together in mouth. I love the taste, it seems familiar to Indonesian taste so it would be suite to your taste buds and it really enjoyable.
Squid and Leek Pancake (IDR 68K)
Besides stew as Masizzim mainstay menu this pancake menu can also be your choice when visiting this restaurant. Because the taste that this food is presented is very tasty. To squid very much and also feels plus onion soy sauce adds to the delicious flavor of this dish. Very suitable for an appetizer.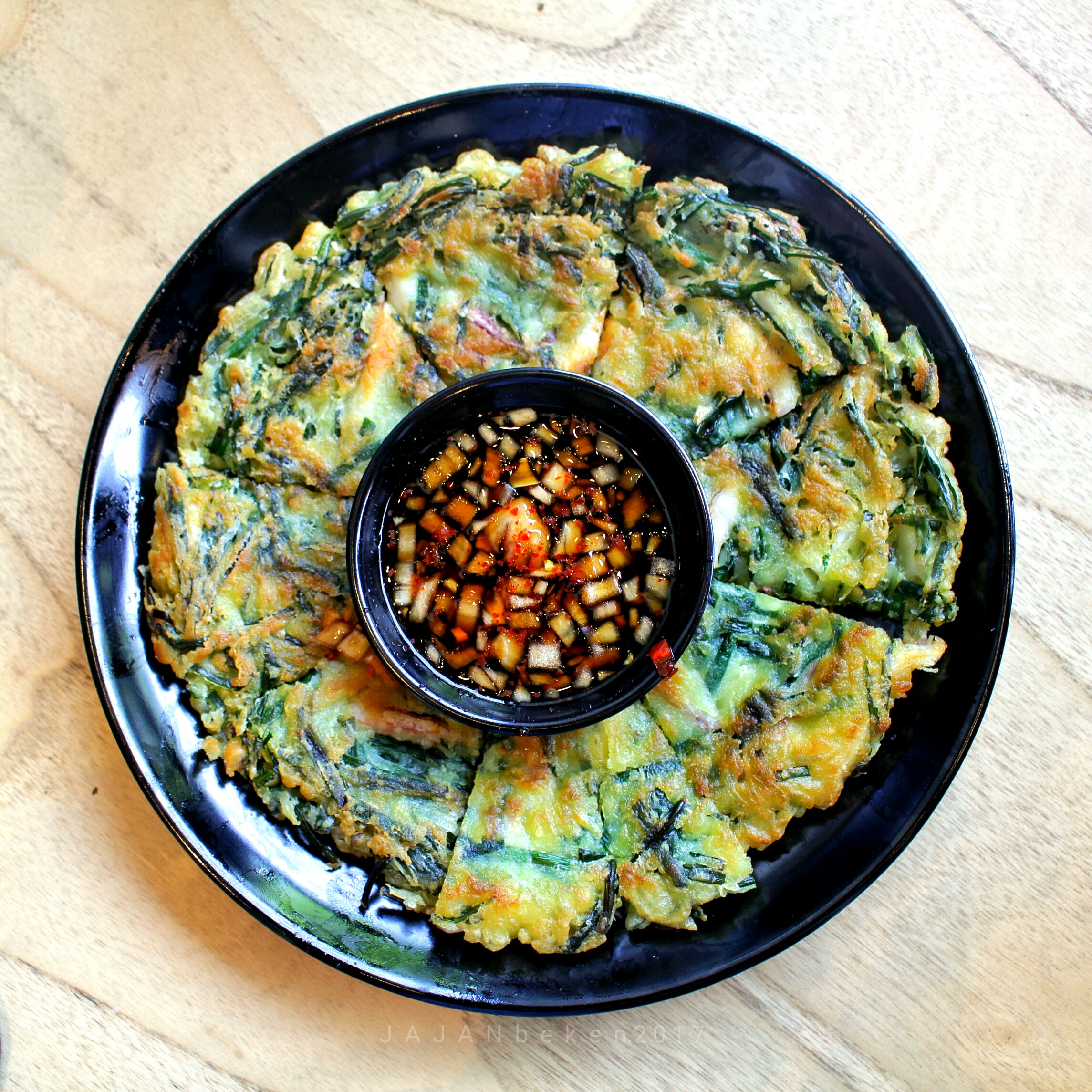 Potato Pancake (IDR 48K)
Still on the pancake menu, this one is potato-based. When eating these pancakes like I eat potato fruit but it has been seasoned. This menu is also very suitable to be an appetizer as your choice when it comes here.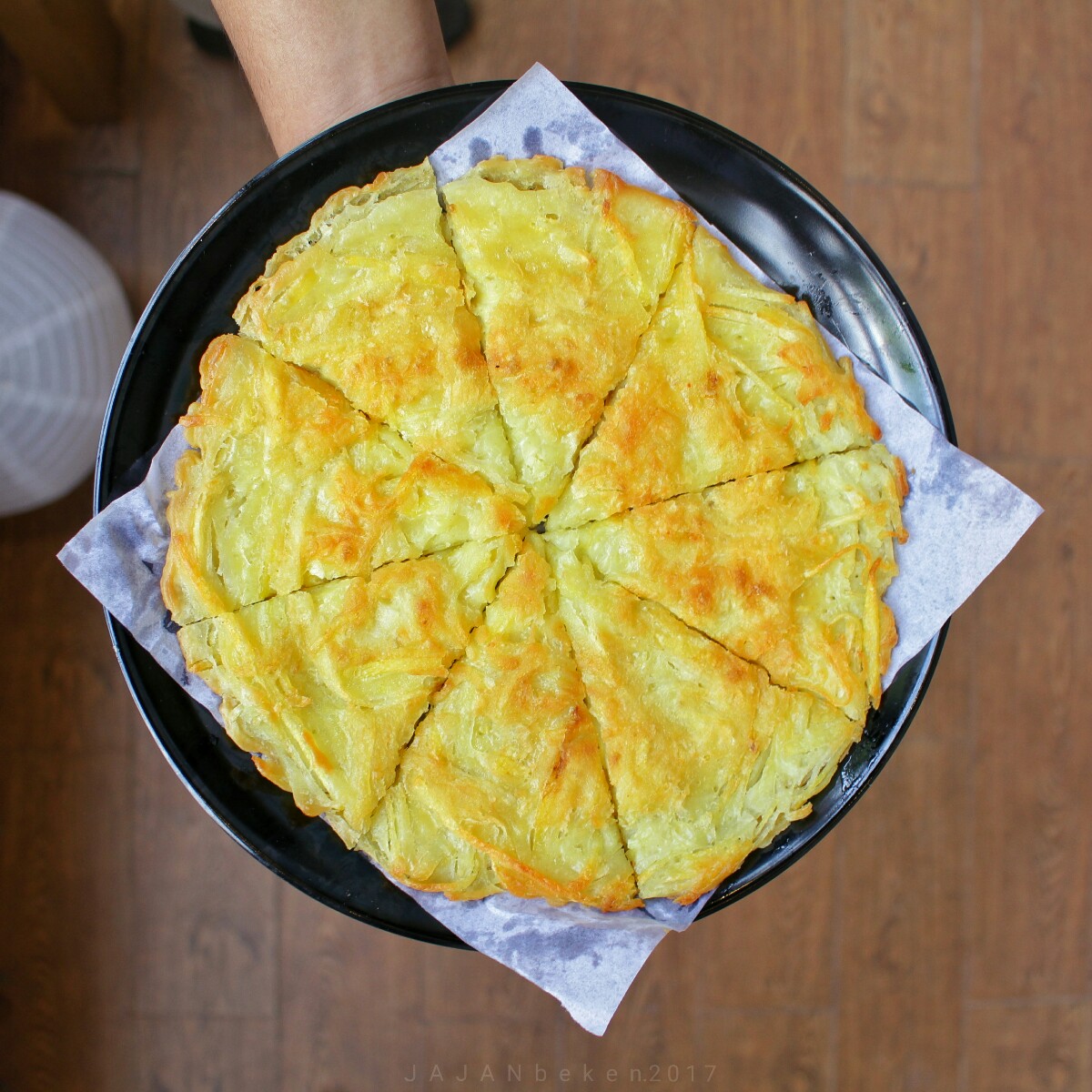 Tomato Cheese Kimchi Pancake (IDR 108K)
Oh god, I'm still can't move on from this pancake. Melted cheese makes me want to directly bite this menu. And most importantly the menu is very rich in spices. You should try all the menus I ordered here yaah guys.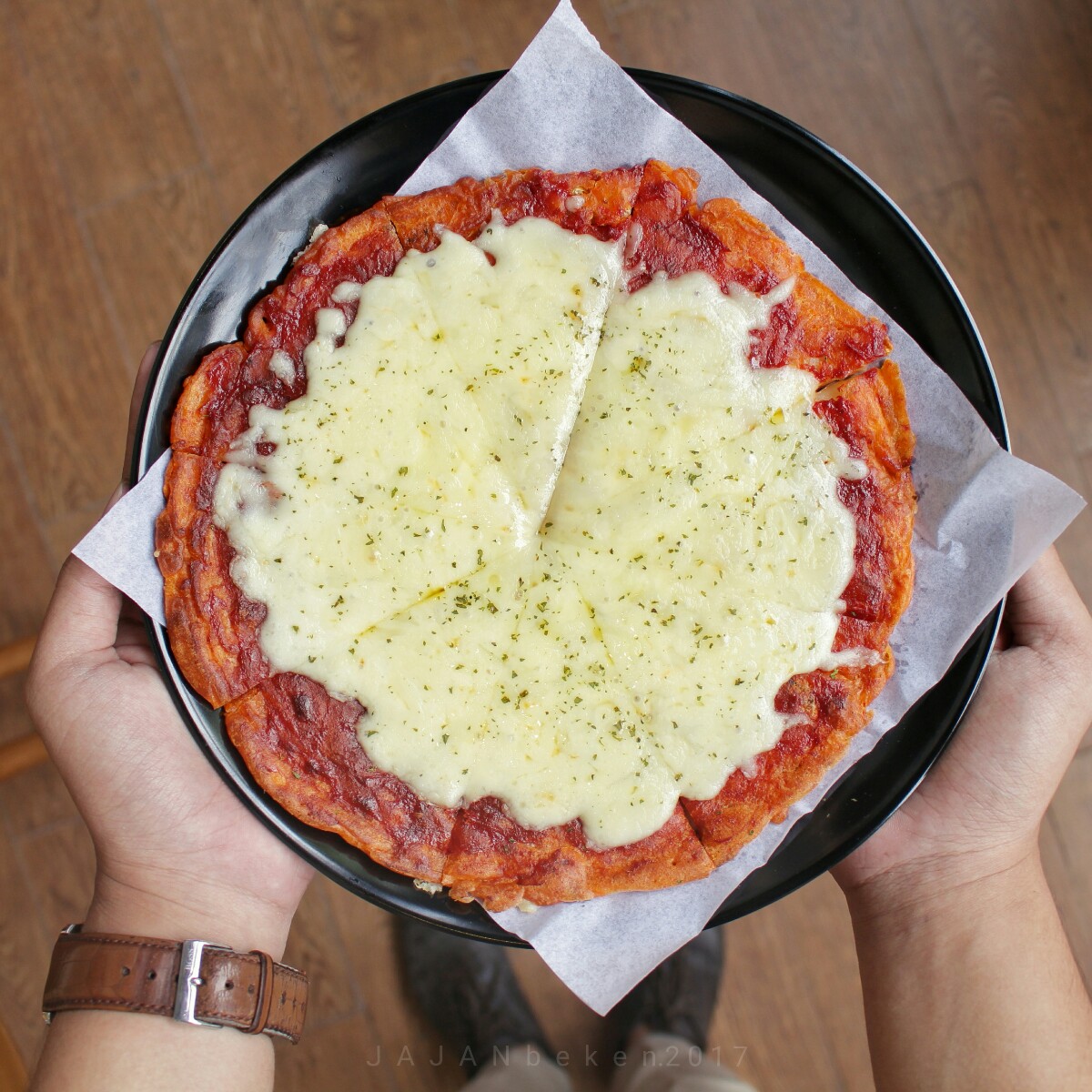 I highly recommend this restaurant to you guys. They have a very comfortable and very interesting place. In addition they also provide many menus and stew as its flagship menu. I'm waiting for your arrival to Masizzim restaurants PIK.
Finally I close my review and don't forget to follow our culinary journey in this blog, Instagram, Youtube and Facebook. Please apologize if there is something missing in writing or menu explanation. We open for critics and comment. See you in another culinary journey with Jajanbeken!
RATING
Taste : Average
Service : Excellent
Price :  Average
FACILITIES
Wifi : Yes
Plug : Yes
Dine in : Yes
Outdoor : Yes
Toilet : Yes
Parking: Yes
CONTACT
Address : Ruko Garden House, Blok B, Bukit Golf Mediterania, Jl. Raya Pantai Indah Kapuk, Pantai Indah Kapuk, Jakarta
INFORMATION
Open hour: 10.00 – 22.00 WIB
Price : Rp250.000 for two people (approx.)
Dresscode : Casual.
MAP