If there is a question what is the Yakiniku Restaurant or AYCE BBQ Restaurant in Jakarta that has many choices of meat, of course you will agree if the answer is Kintan buffet Jakarta. Starting from the choice of chicken, lamb and beef complete with various kinds of appetizing marinade.
Kintan Buffet as a bbq ayce restaurant that carries the concept of Japanese Yakiniku, has opened many branches in Jakarta. Kintan Buffet outlets are very easy to find because they are usually found in several malls in Jakarta.
This time we tried Kintan Buffet at Gandaria City Mall based on recommendations from our friends. Aside from being halal because it only provides beef, lamb and chicken, Kintan Buffet is also a yakiniku restaurant all you can eat that is suitable to enjoy with your family.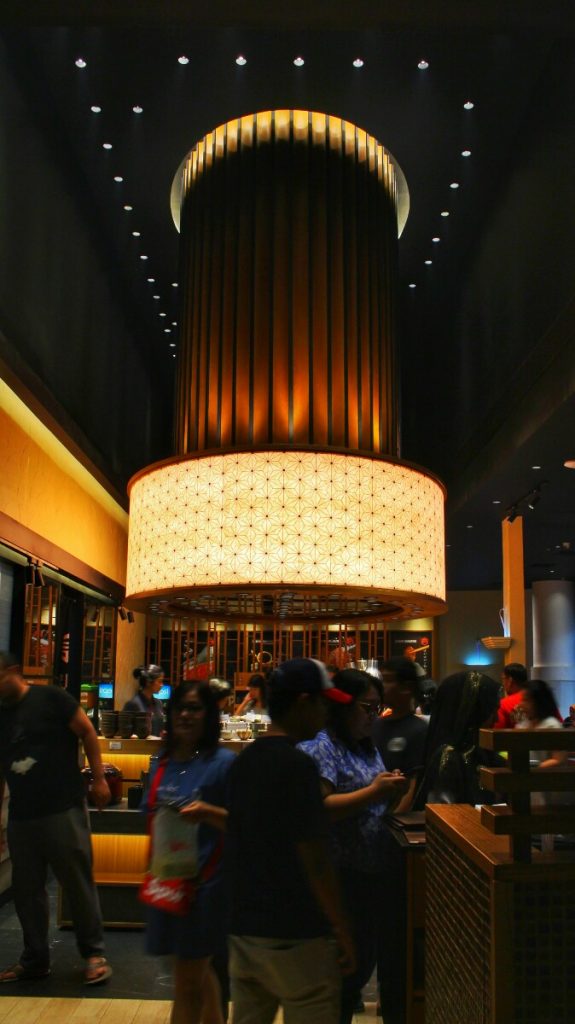 How to Order Menu at Kintan Buffet
During weekday you can book a place by telephone before coming to Kintan BBQ AYCE. But this is not valid on Fridays and weekends, you have to walk in and meet the staff for reservation.
After you get the table, then you can order which package you will choose. Don't forget to order rice because rice is not included in the package.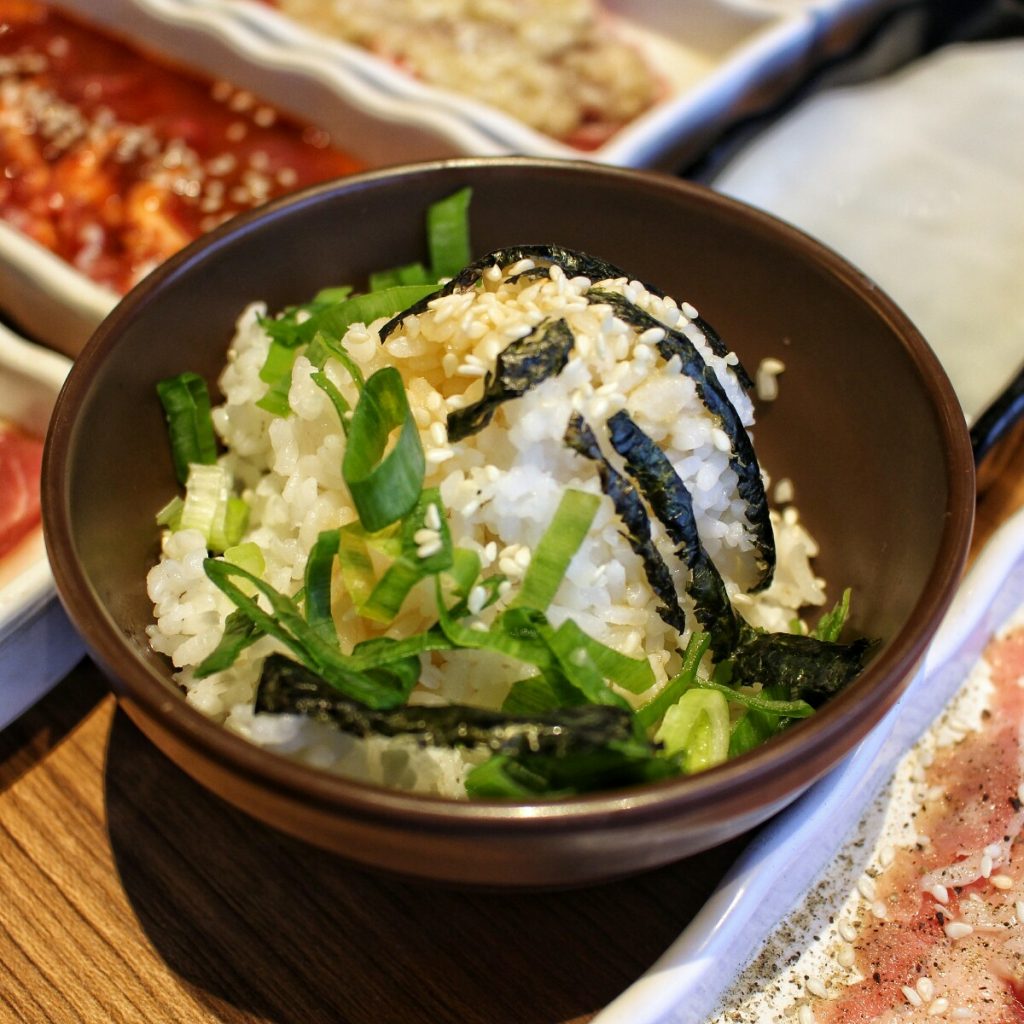 Prices for adults will be different for children and seniors over 60 years. For example for a "Regular Buffet Package", for adults is IDR 163K, children is IDR 88K and for seniors is IDR 130K.
If you come with friends, everyone has to order the same package for one table. Not allowed to order different package menus in one table.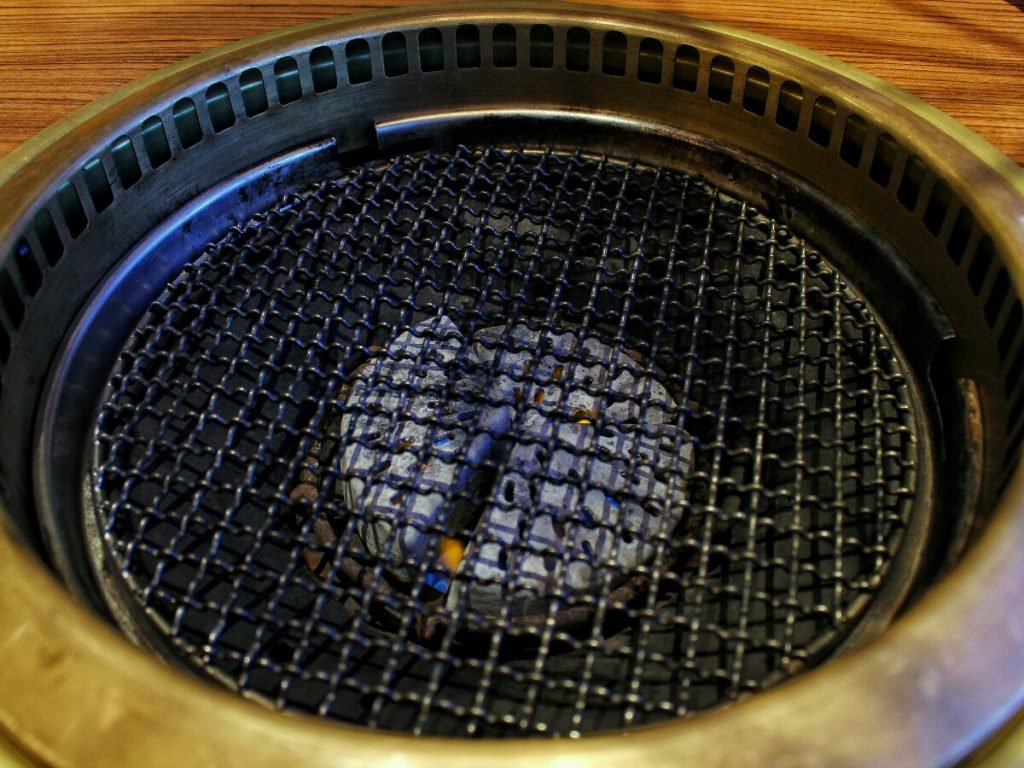 Any food that is not exhausted after 90 minutes will be subject to a charge for IDR 50K per 100 grams. And not allowed to take home.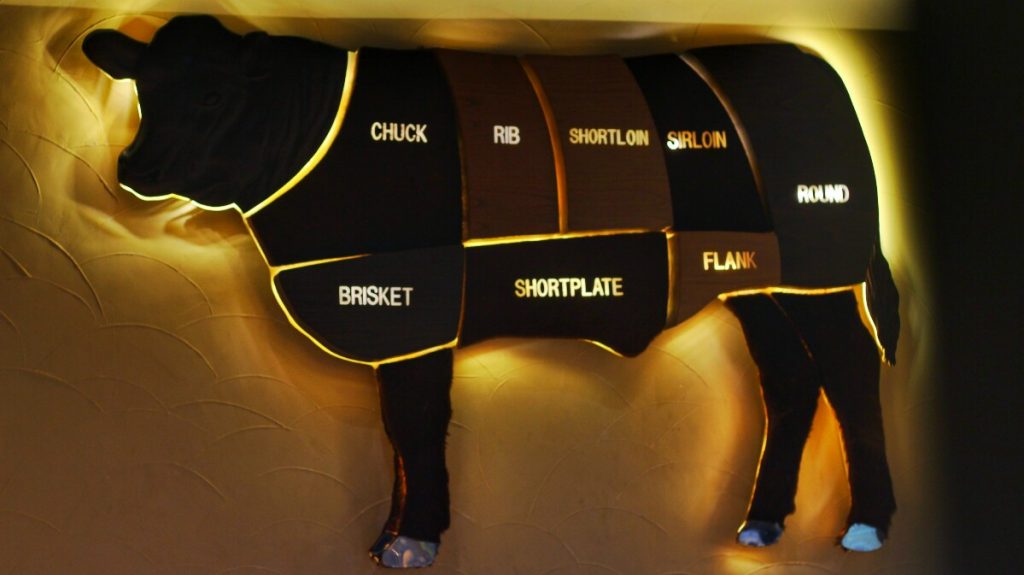 Kintan Buffet Menu Choices
There are four types of menu packages in Kintan Buffet and all have different marinades and seasoning. Prices start from IDR 163K to IDR 468K for adults.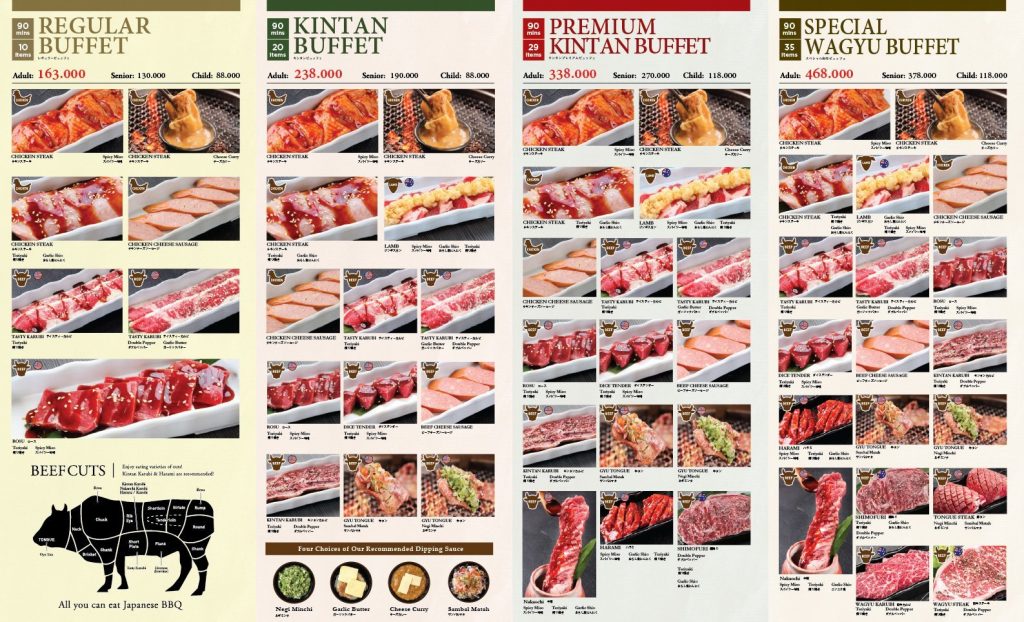 Vegetables
Even though this is a Japanese BBQ restaurant, Kintan Buffet also provide vegetables like corn, paprika, onion that is good to be grilled.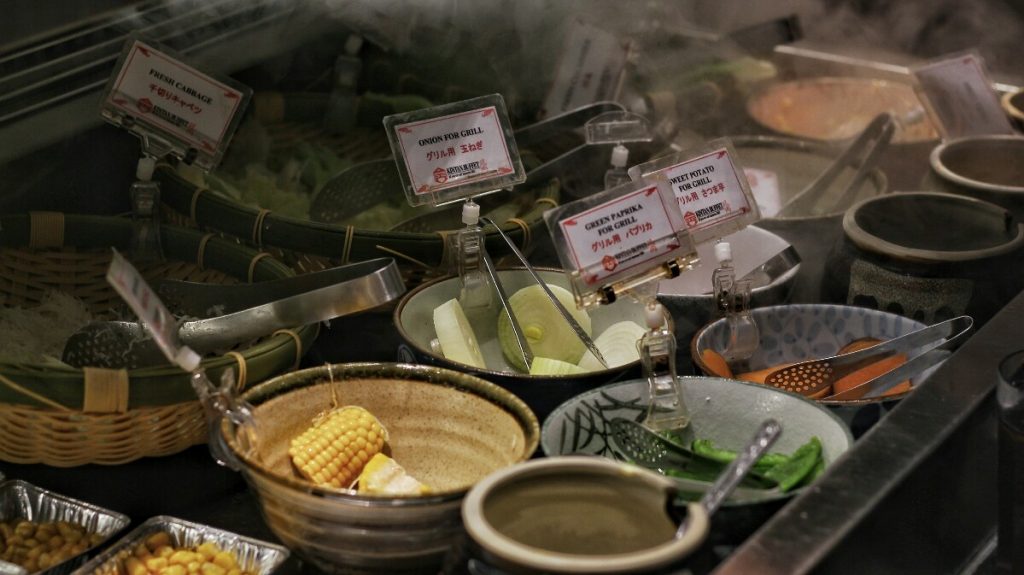 Find also a fresh and succulent kimchi in this spot and the healthy greens Japanese Spinach.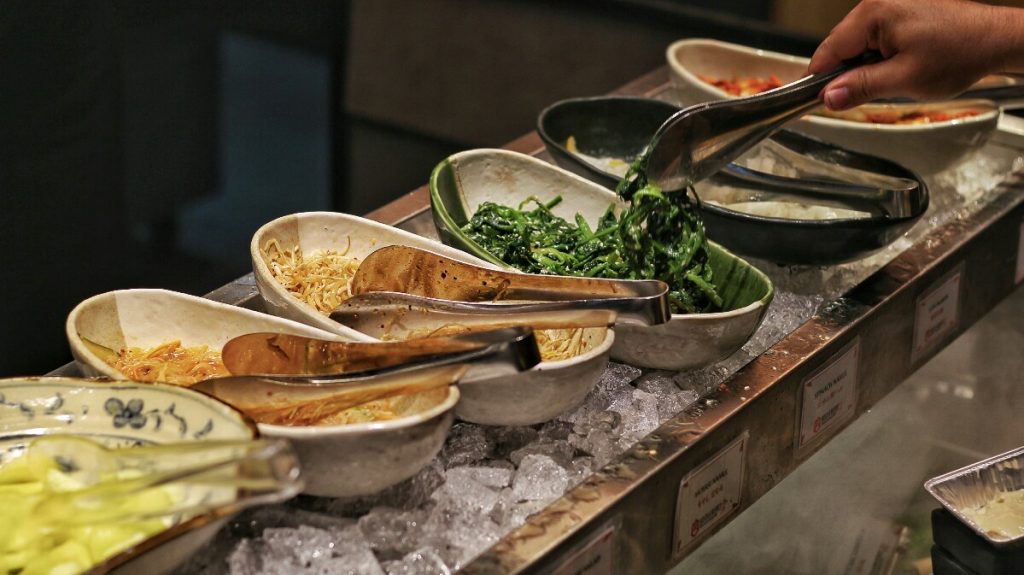 Don't forget to pick bbq sauce as a companion while enjoying your bbq. All the bbq sauces on the buffet table are delicious to try.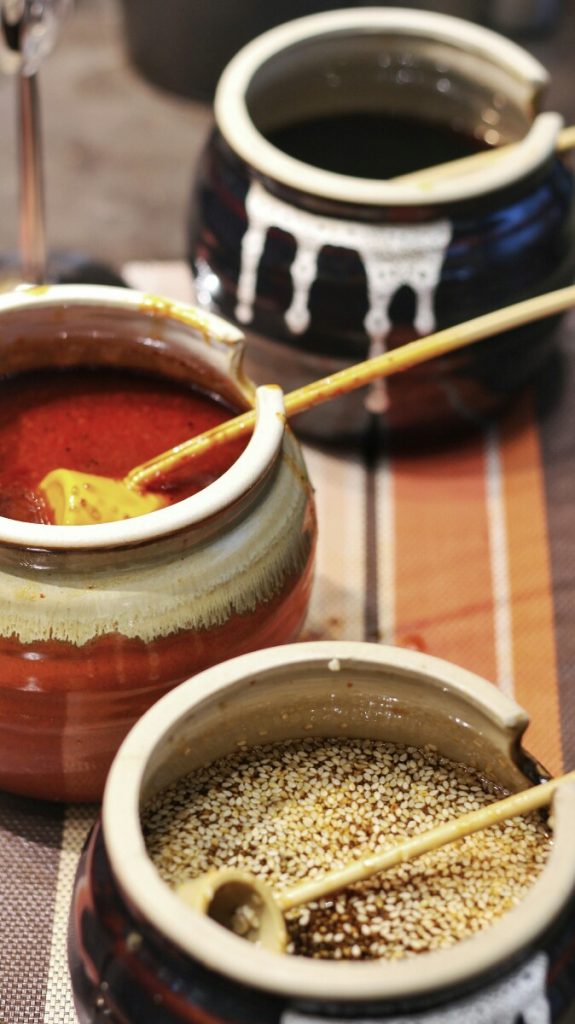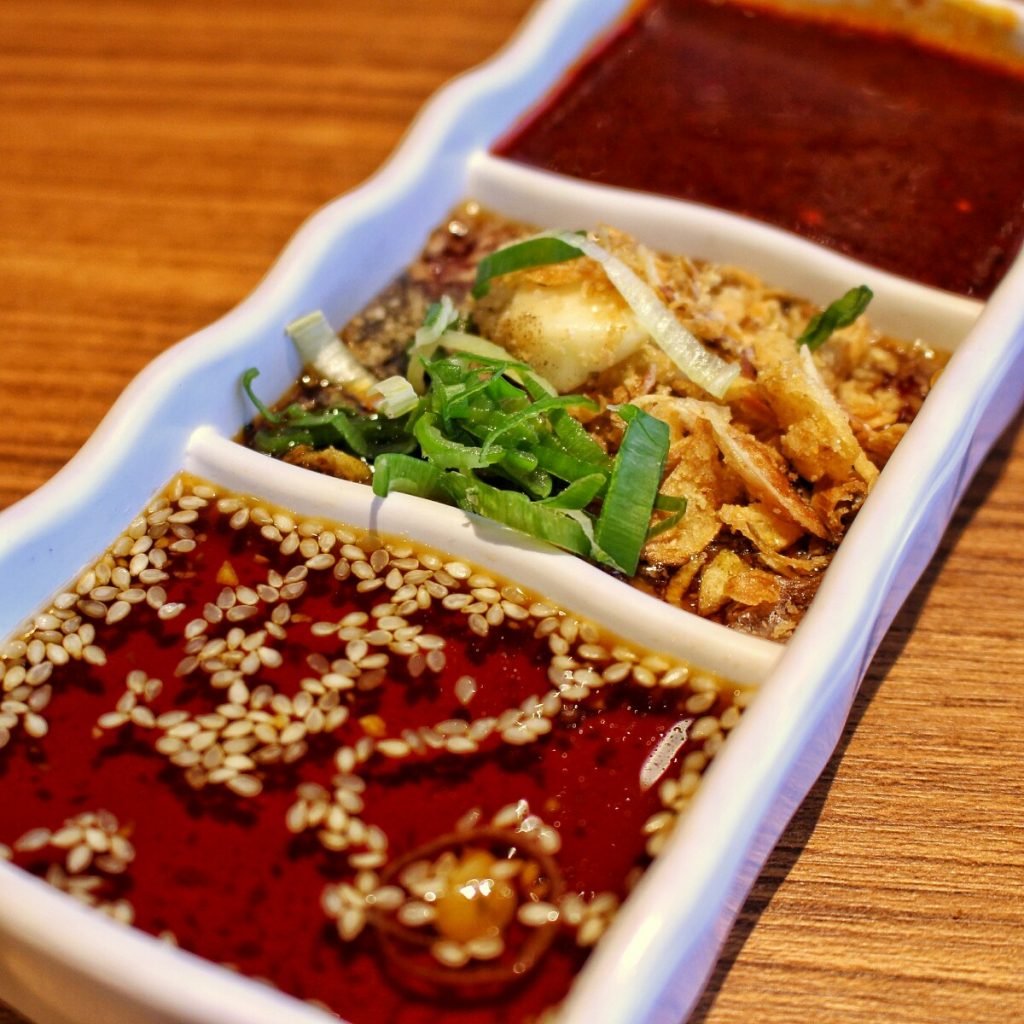 Condiment
With the many choices of condiment on the buffet table, sure you will have an exciting bbq experience. Don't forget to add sliced chili for a spicy challenging and garlic to maintain blood pressure after enjoying red meat.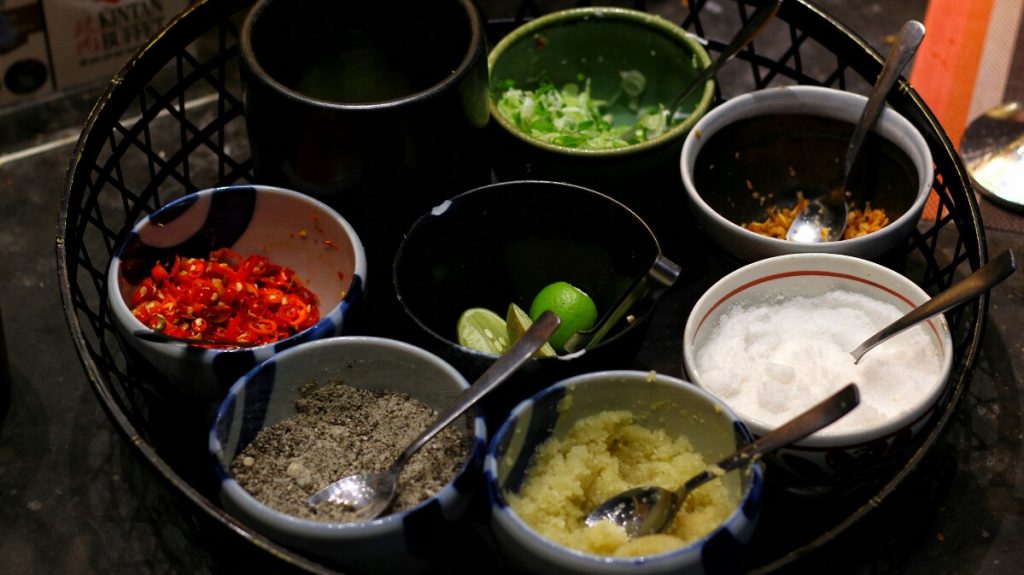 Beverages at Kintan Buffet
Don't worry about the drink because all drinks at Kintan Buffet are also all you can drink. Starting from cold ocha, hot ocha, various sodas to chocolate drinks and coffee are also available at the buffet table.

Seafood
Whatever package you choose, you can still enjoy seafood at the buffet table. Seafood choices that can be taken include shrimp, squid and scallop.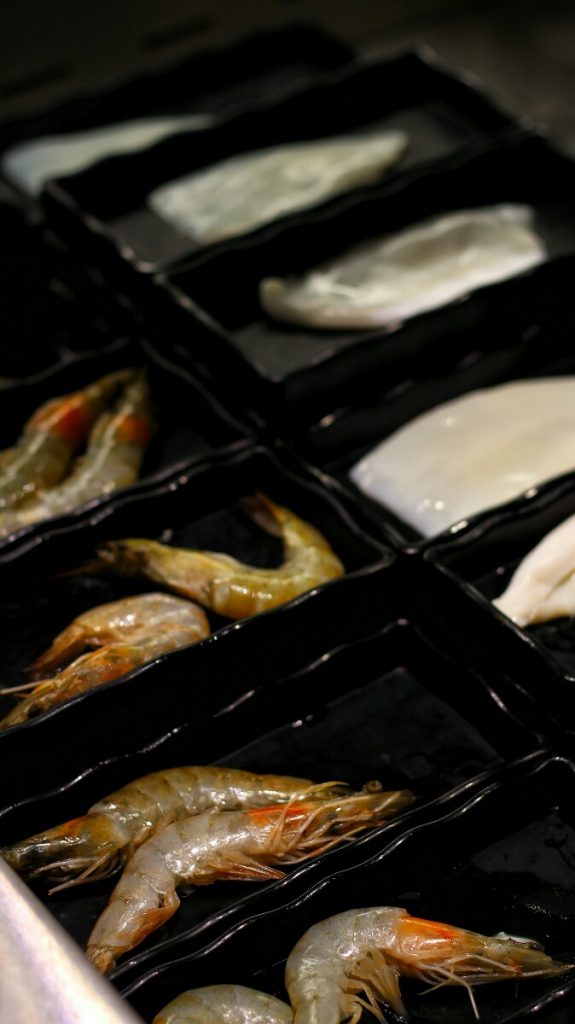 BBQ Time
This time we and my friends choose the "Premium Kintan Buffet Package" for IDR 338K per pax. The choice of meat in this package includes chicken steak, chicken sausage, lamb, tasty karubi, rosu, dice tender, beef sausage, kintan karubi, beef tongue, harami, shimofuri and nakaochi.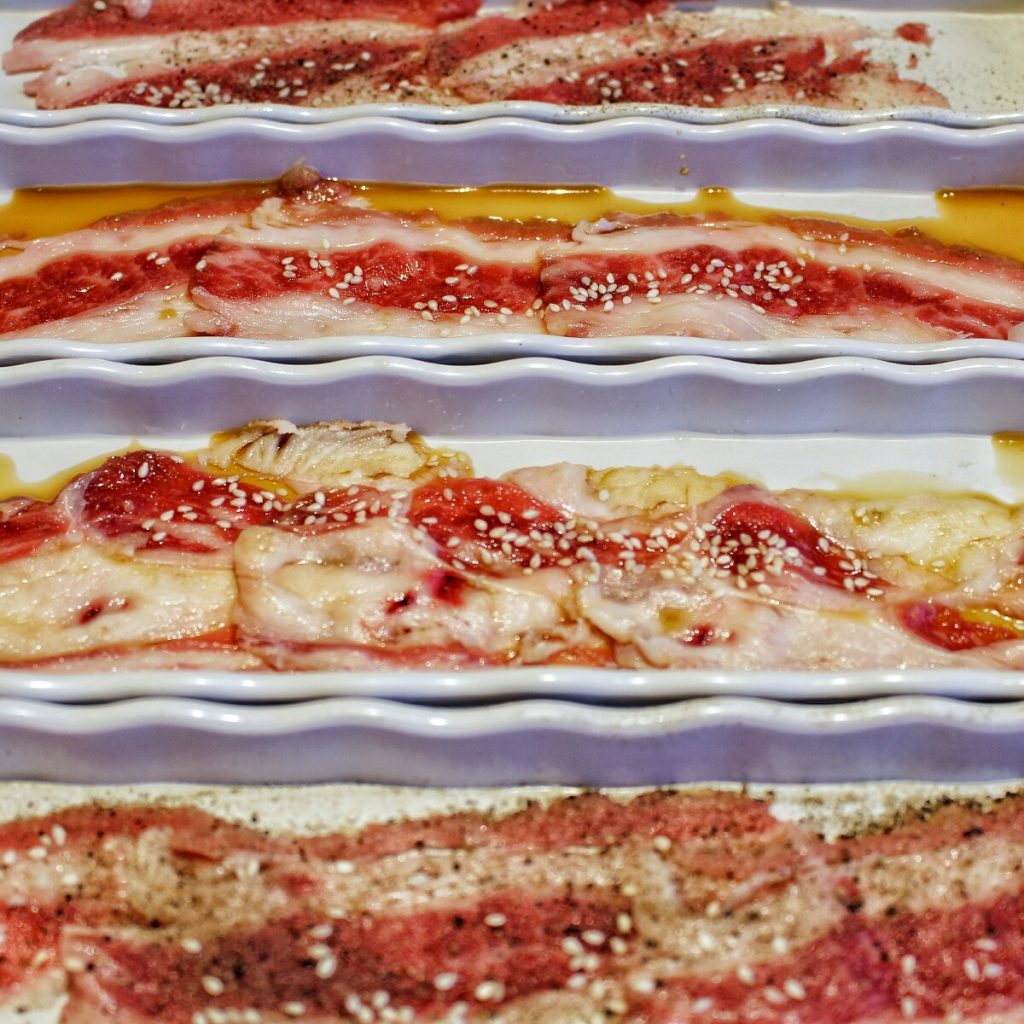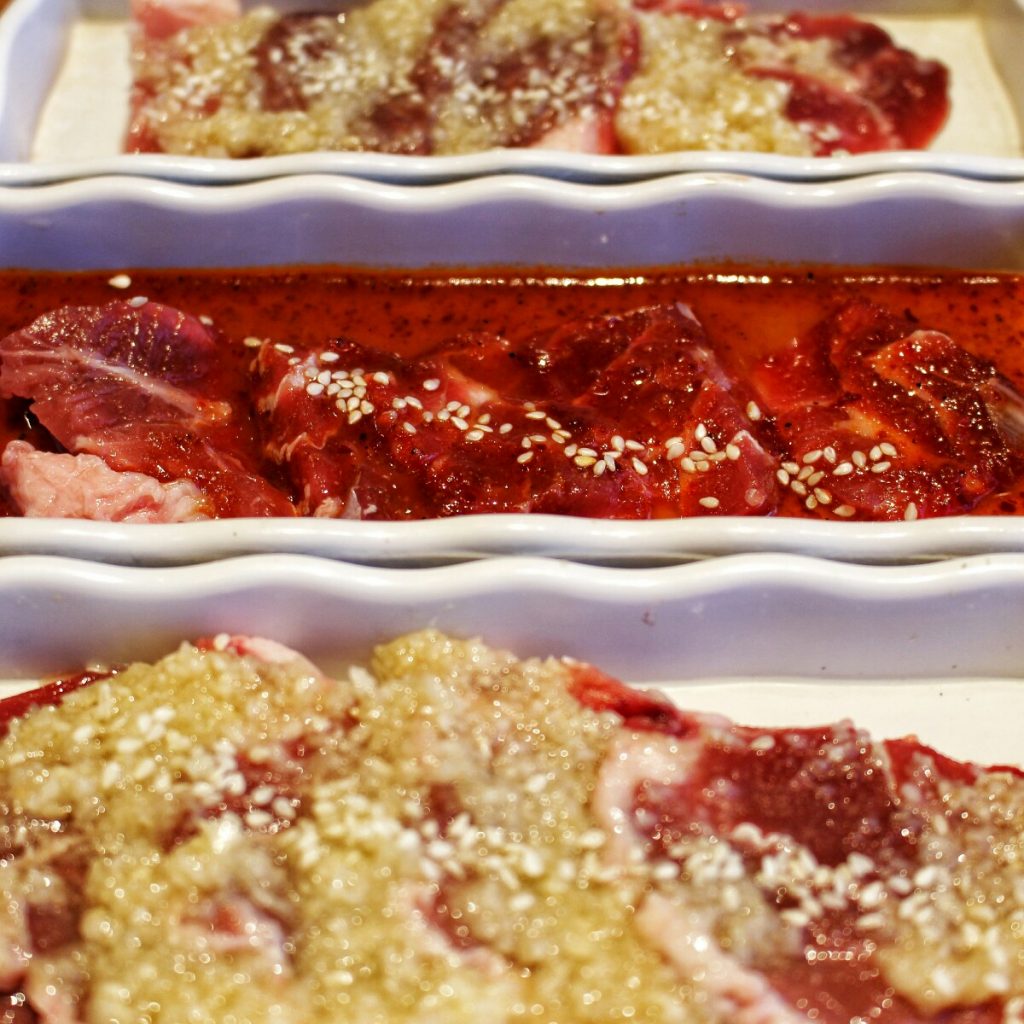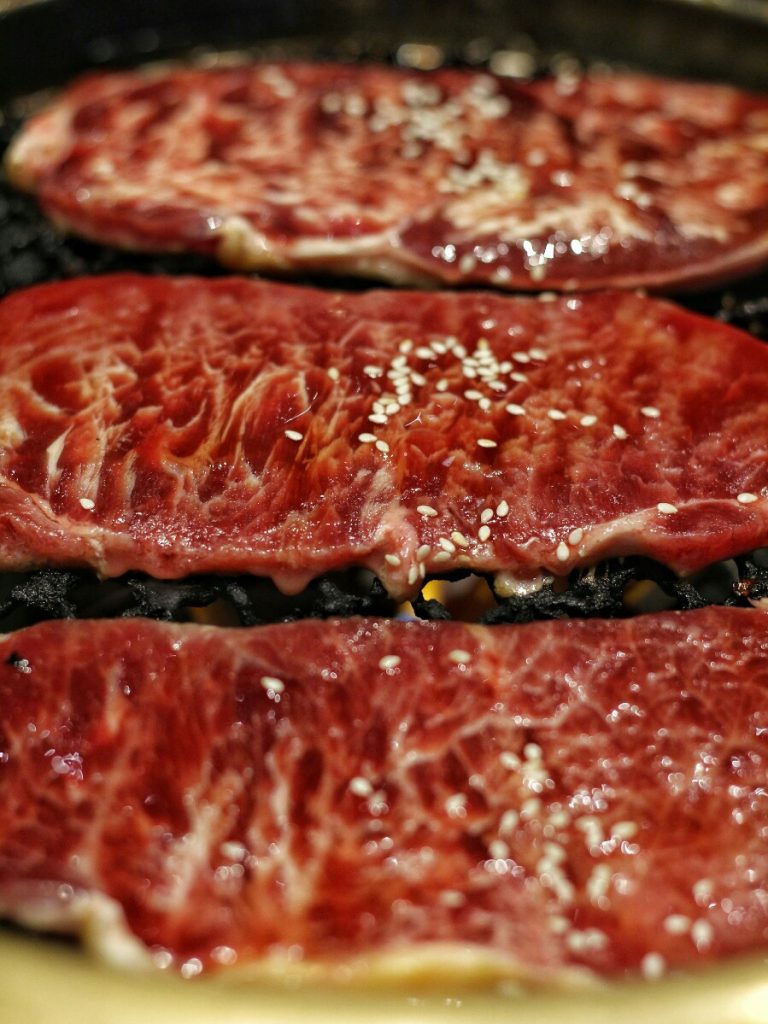 In total there are 29 types of meat with different marination sauces such as spicy miso, garlic and teriyaki. If you feel you can finish everything you can order to the staff to serve all kinds of meat at the table. But you can also choose which types of meat need to be served in front of you, considering that 90 minutes is enough to finish everything.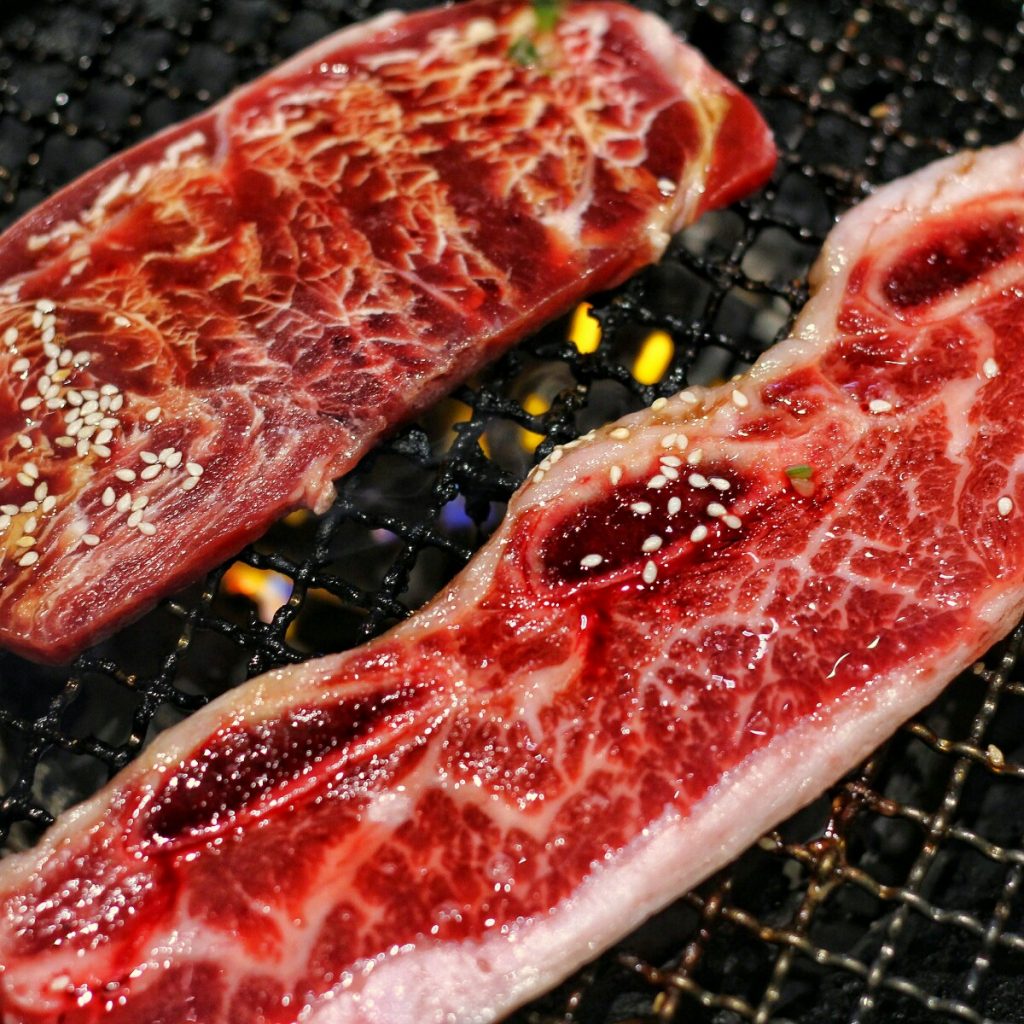 Keep in mind that there is a charge if you can not finish the food after 90 minutes. Charge that will be given is IDR 50K per 100 grams. Therefore there is a tips for efficiency.
You don't need to order too much chicken because this type of meat requires a longer time to cook than the red meat, however you can cut it into pieces by scissor to shorten grilling time.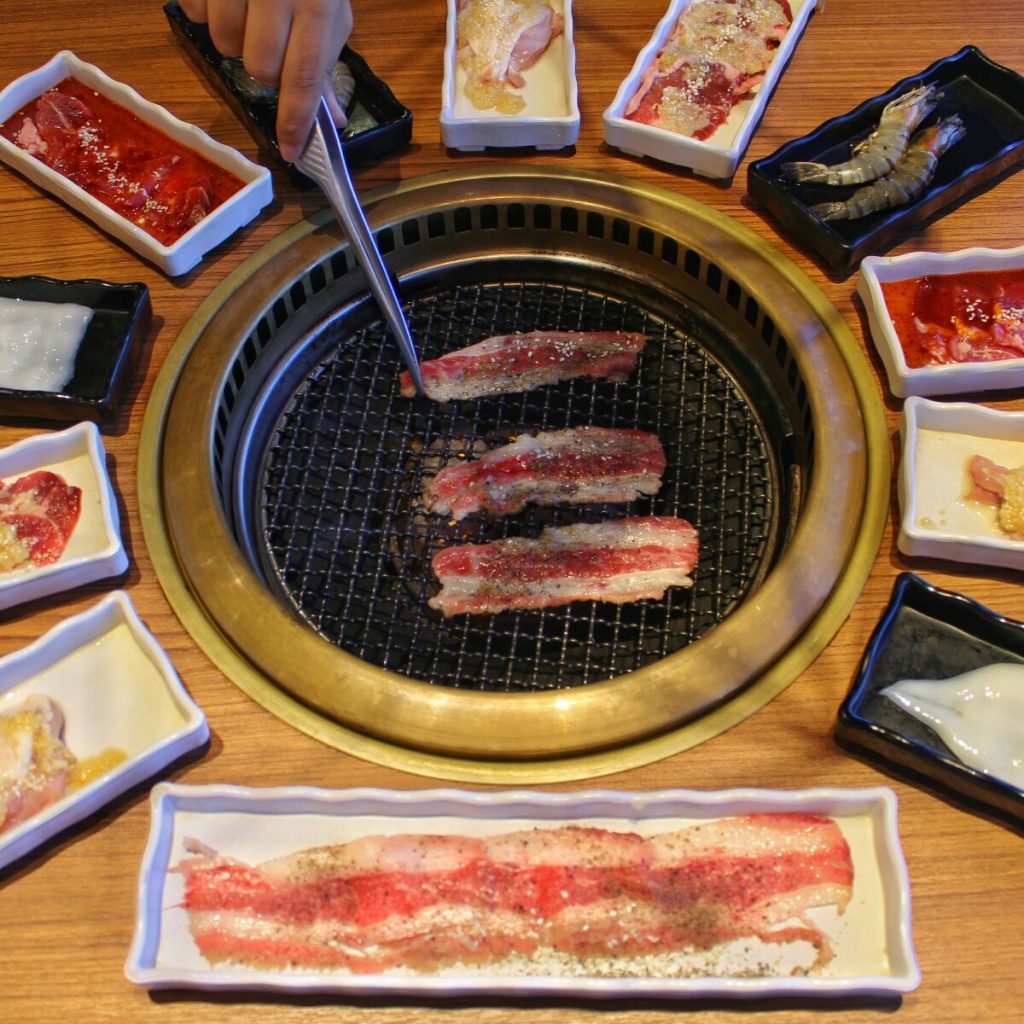 To get a good level of juicy you don't need to turn the meat over and over again. Just turn one time when the underside is browned.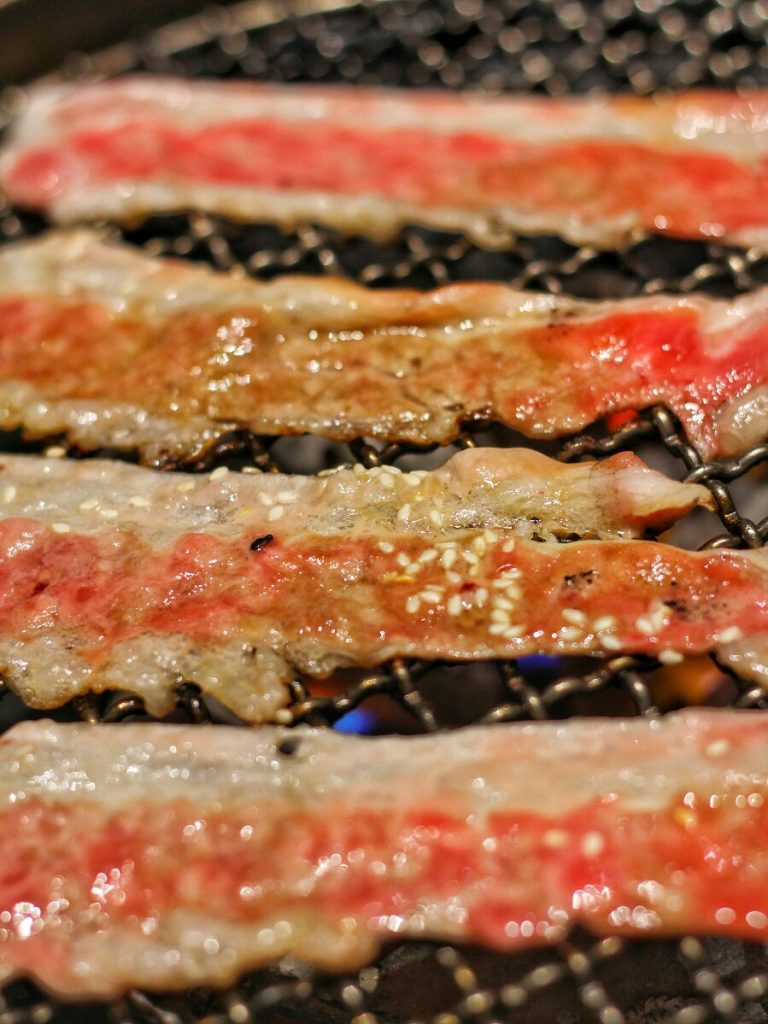 The how long of grilling time for each type of meat will vary depending on it's thickness. To be considered is that the more cook the meat is, the harder it will be.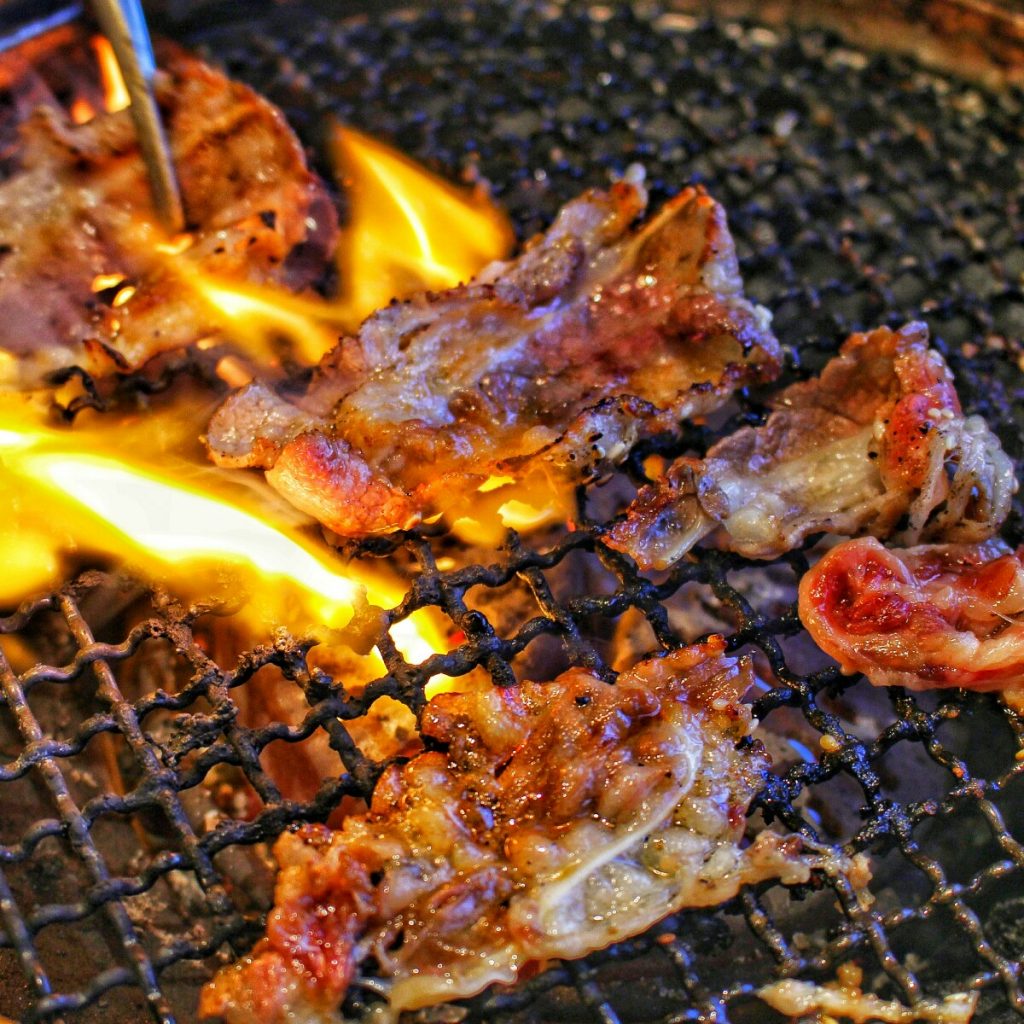 Don't forget to dip the grilled meat into the dipping sauce to make it more tasty like the Japanese. However, you can also enjoy it directly without any sauce, and that is according to your taste.
Look at how to grill BBQ at Kintan Buffet Jakarta. Now it's time for your BBQ adventure!
We hope our article helps you to find information about Kintan Buffet Jakarta. See you again in the next culinary adventure with Jajanbeken!
RATING
Taste : Excellent
Service : Excellent
Price :  Average
FACILITIES
Dine in : Yes
Outdoor : No
CONTACT
Address : Gandaria City, Lantai Upper Ground, Jl. Sultan Iskandar Muda, Gandaria, Jakarta
INFORMATION

Open hour : 10AM – 10PM
Price : Average 600K for two people (approx.) Cash and Cards accepted
MAP