When you think about entertainment for relieving fatigue after a full activity in a whole week. There will be a lot of variety choice of places like highlands, beach, and many other interesting places. Therefore I have a suggestion place that already has a complete package which is a seafood restaurant that located in Pantai Indah Mutiara Pluit. The name is well known as Dapur Seafood Jakarta Utara.
One day, I have visited Dapur Seafood together with my friends on saturday morning. The sunlight was very bright that day, that allows us to visit this restaurant. Foregoing we were visited this restaurant because my friend held a blogger gathering. Suddenly my heart skipped a beat because I am very pleased to meet my old friends that long time no see, yeaaay.
Oh ya, previously I talked about restaurant with a complete package isn't? Because in terms of location and ambiance nearby the sea, this restaurant is suitable for refreshing.  For more complete review let's follow with scroll this article.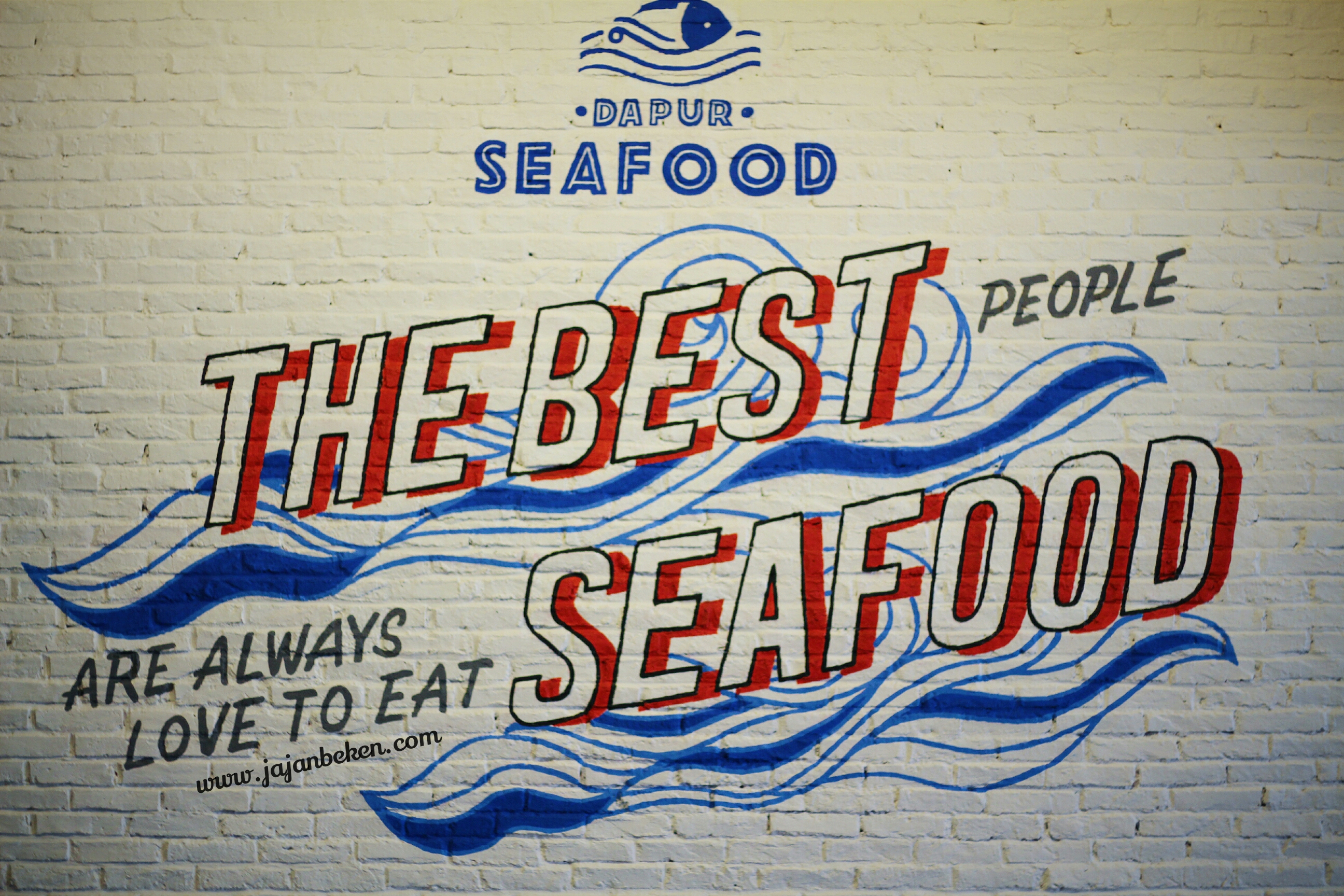 Jakarta Waterfront Restaurant
Located in Pantai Indah Mutiara Pluit, so this restaurant overlooking by the sea, this is the reason why this restaurant was very interesting. Despite being on the seafront, the winds blows slowly so I really feel the air from the sea. Not far from the place where I stand, I can see Baywalk Pluit that stands on the seafront. Apart on the seafront Dapur Seafood is inside the Perumahan Pantai Mutiara. Therefore Dapur Seafood is suitable for you and your family who want to get dining experience on the seafront.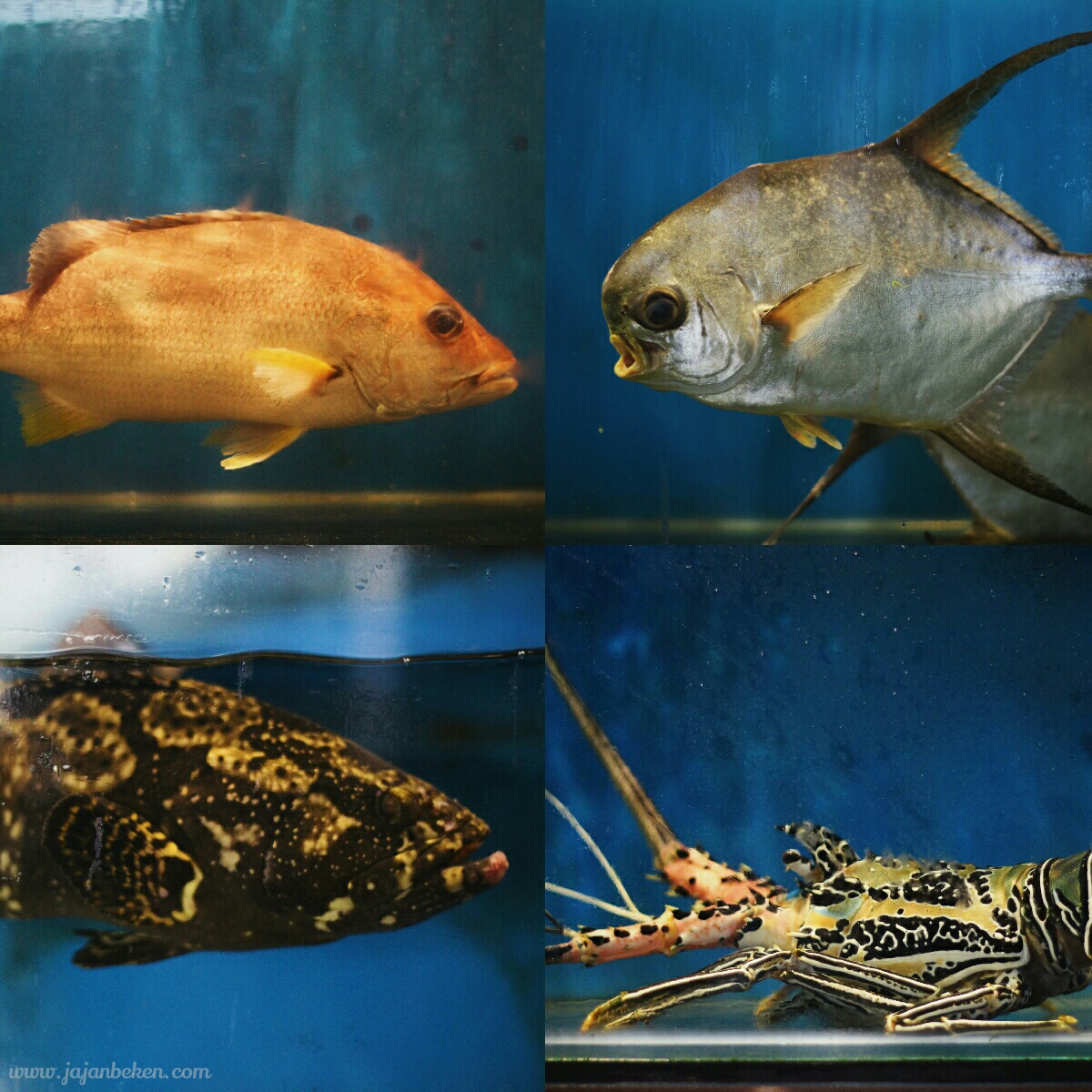 Dapur Seafood Ambiance
Talking about the ambiance this restaurant consists of three floors, which is the first floor used for out blogger gathering event. The first floor has very spacious area, because there is a Bar are also on this floor.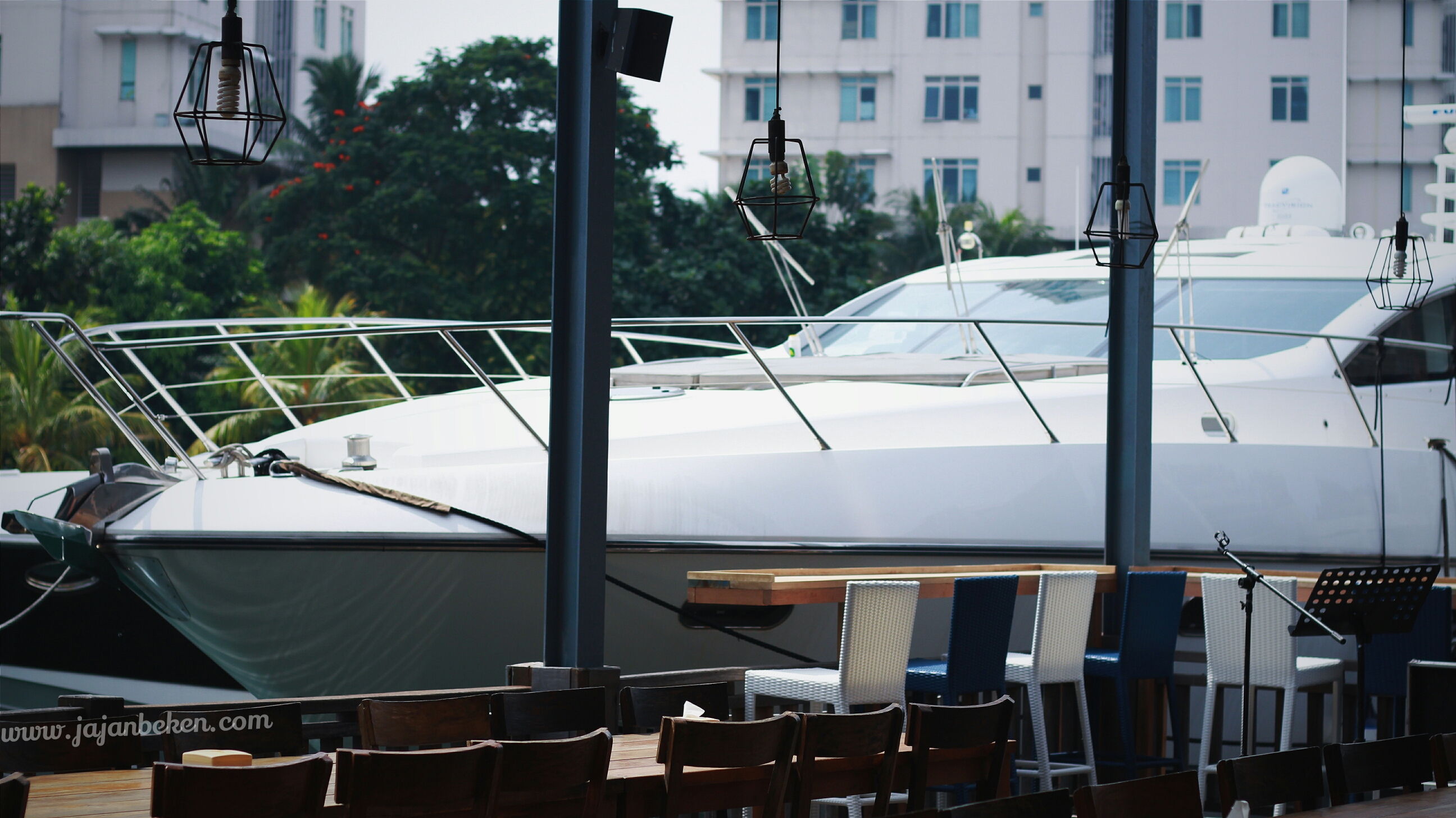 Other than that Dapur Seafood also provide celebration event package like anniversary, birthday, regular social gathering et, even a wedding.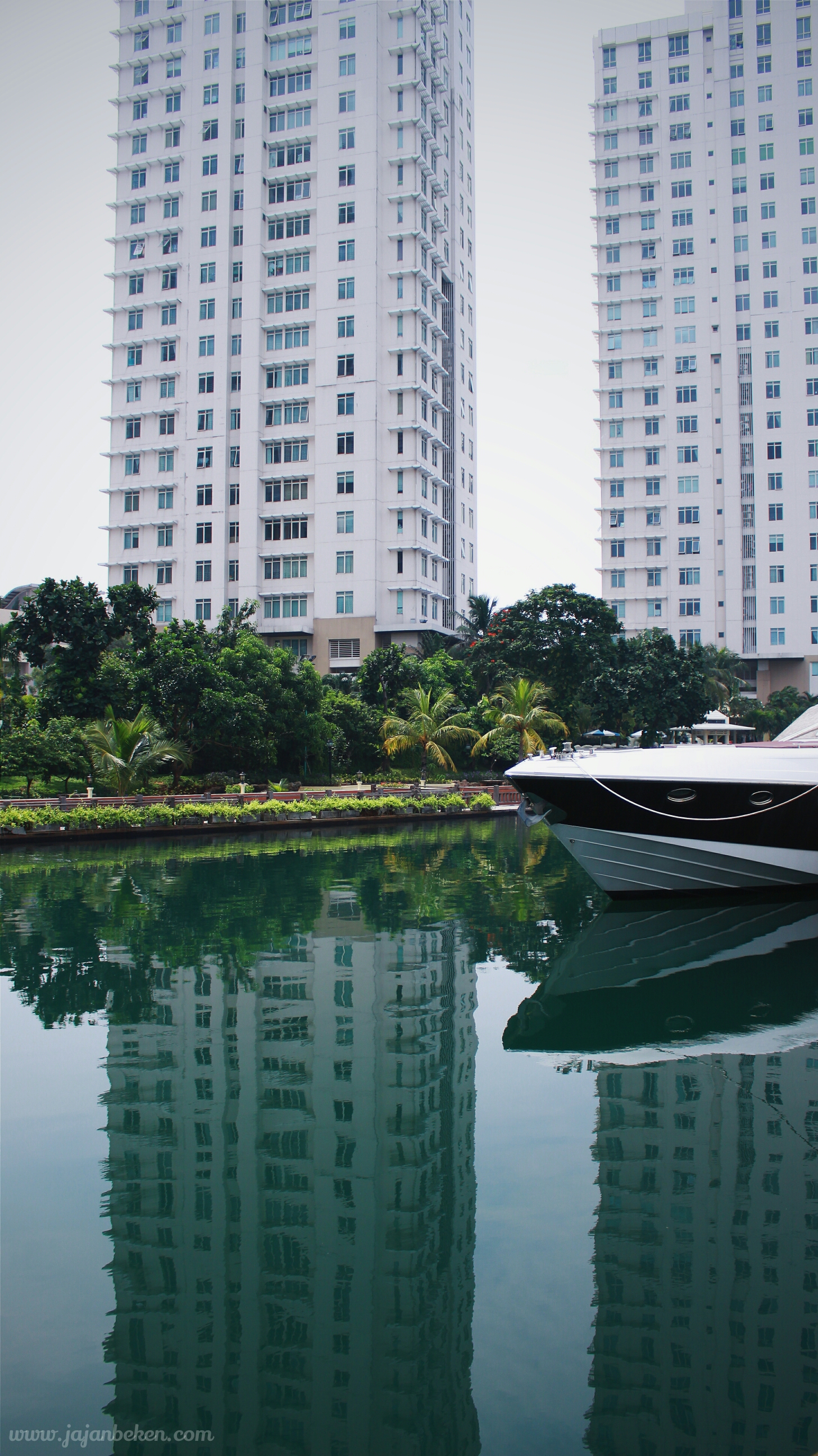 View From Main Room Dapur Seafood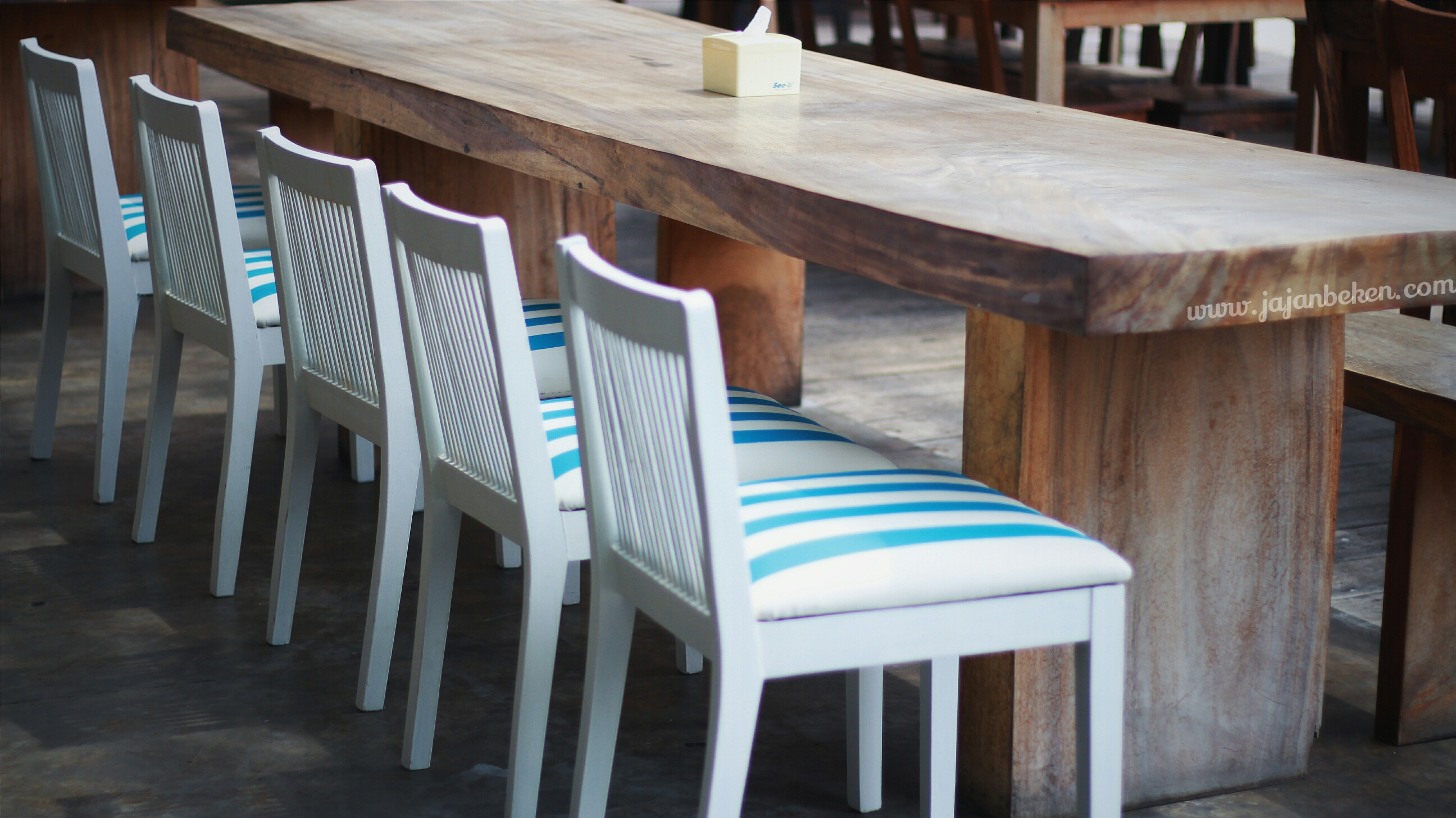 Second and third floors integrates directly with ladder. The third floor is suitable but want an ocean view, so interesting isn't? but if you want to be in the indoor room, better if you reserve in advance because the space is very limited.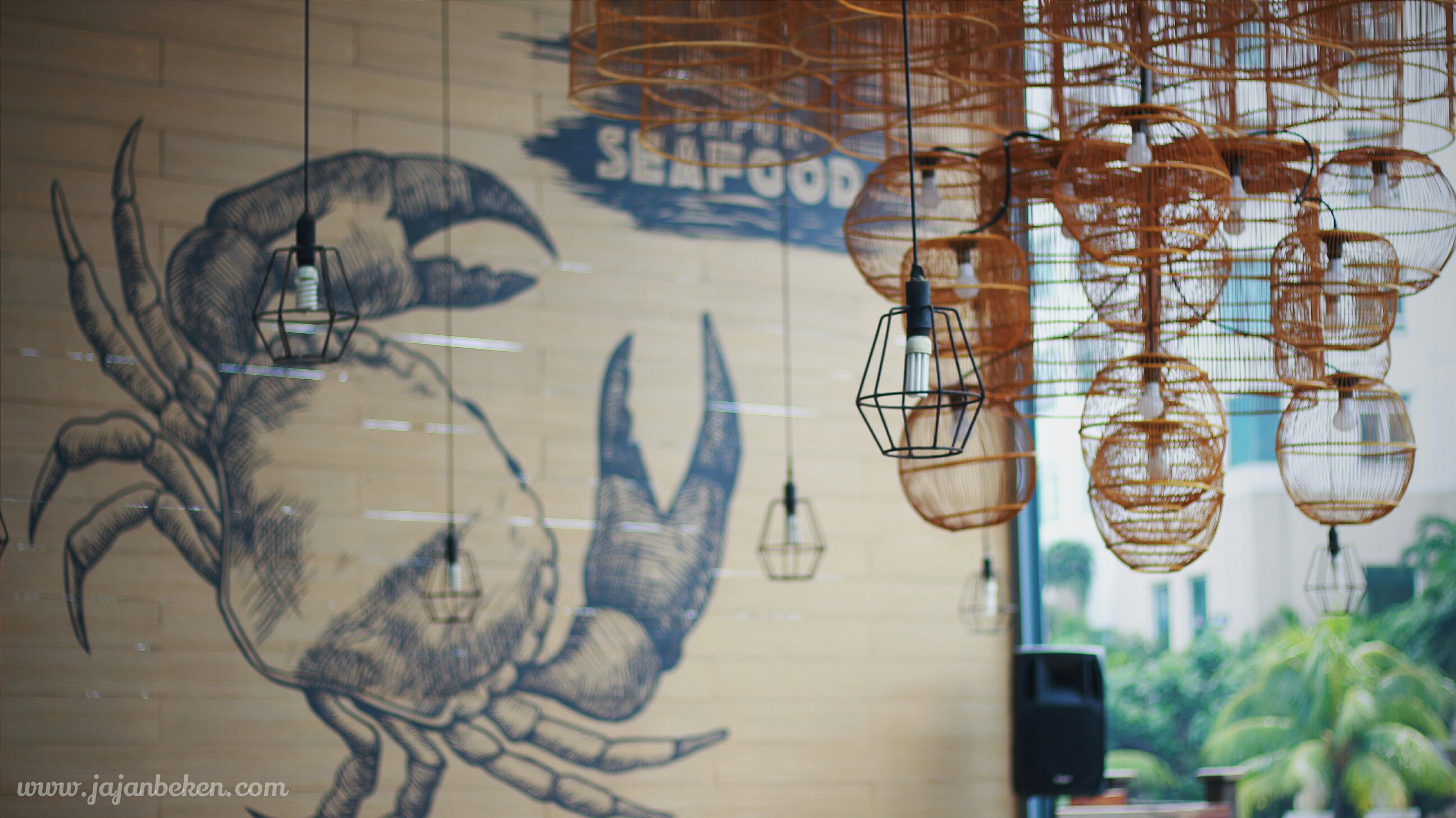 Dapur Seafood Asian Seafood Bistro
Now, Dapur Seafood have changed the concept for maintain its existence as Asian Seafood Bistro. Why did it happen? Because they want to have a distinctive taste of asia however packed with modern. All the spices in this restaurant uses quality ingredients and very fresh.
Foregoing Dapur Seafood located at Pantai Indah Kapuk but they want to change the concept. Eventually they choose this place because they feel fit in with the new concept. I think is very precise to choose this area. Panji dining experience was memorable.
Let's talk about the food at this restaurant, while in the event of this blogger gathering the organizers provides a lot of delicious food. And one of them the signature menu is Giant Crab as 900 grams/each. But other than that before we talk about the Giant Crab, Let we see another food at Dapur Seafood just scroll guys!
Appetizer At Dapur Seafood
Spring Roll IDR 60,9K
Spring roll or usually we call as Lumpia is a favorite food to almost everyone. This food can be an appetizer in the dish menus set. Spring roll or Lumpia also have a variety of fields that vary, depending on what the restaurant has a concept.
Dapur Seafood have a tasty Spring roll. They have a very tasty stuffing shrimp filling and vegetables. What an interesting combination.
The spring roll is very savory especially when you eat this with the sauce. You must try this menu when you visit Dapur Seafood.
Shrimp Fried Tofu IDR 42K
Talking about the taste this frief tofu was savory and crunchy. I love the shrimp filling, the tasate feels good. The seasoning permeated well into the shrimp. I highly recommended when you eat this menu with the sauce.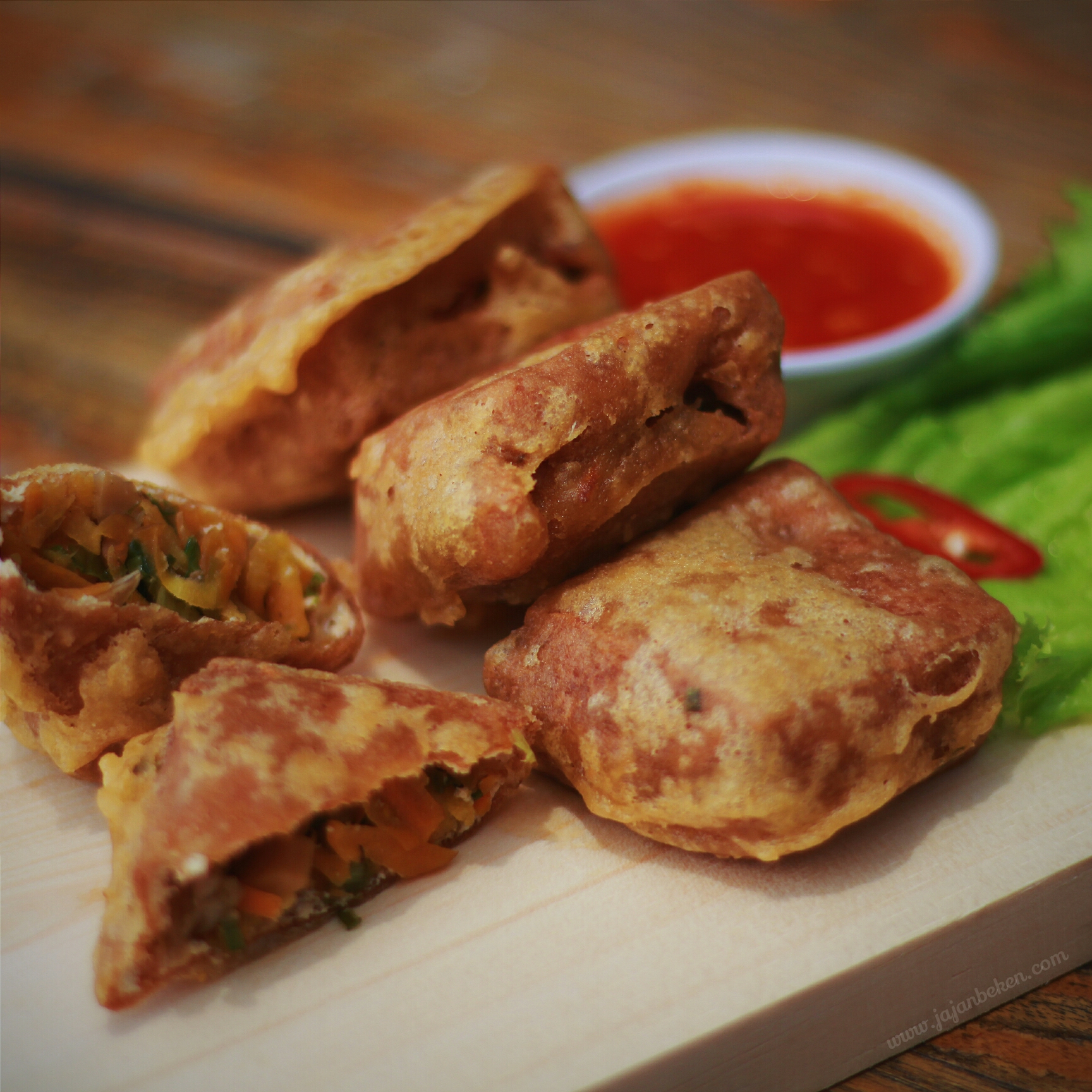 The Variety Of Fish Menu
Pasta Gulai Fish IDR 88,9K
I didn't expect that this restaurant provides pasta menu. Commonly pasta served with tuna or beef with garlic sauce (oglio olio) or (carbonara).
At this restaurant the pasta served with fish gulai. The gulai itself has a distinctive taste of Indonesian origin. The fish is very savory and tender. I will order this menu for the umpteenth time if I comeback later.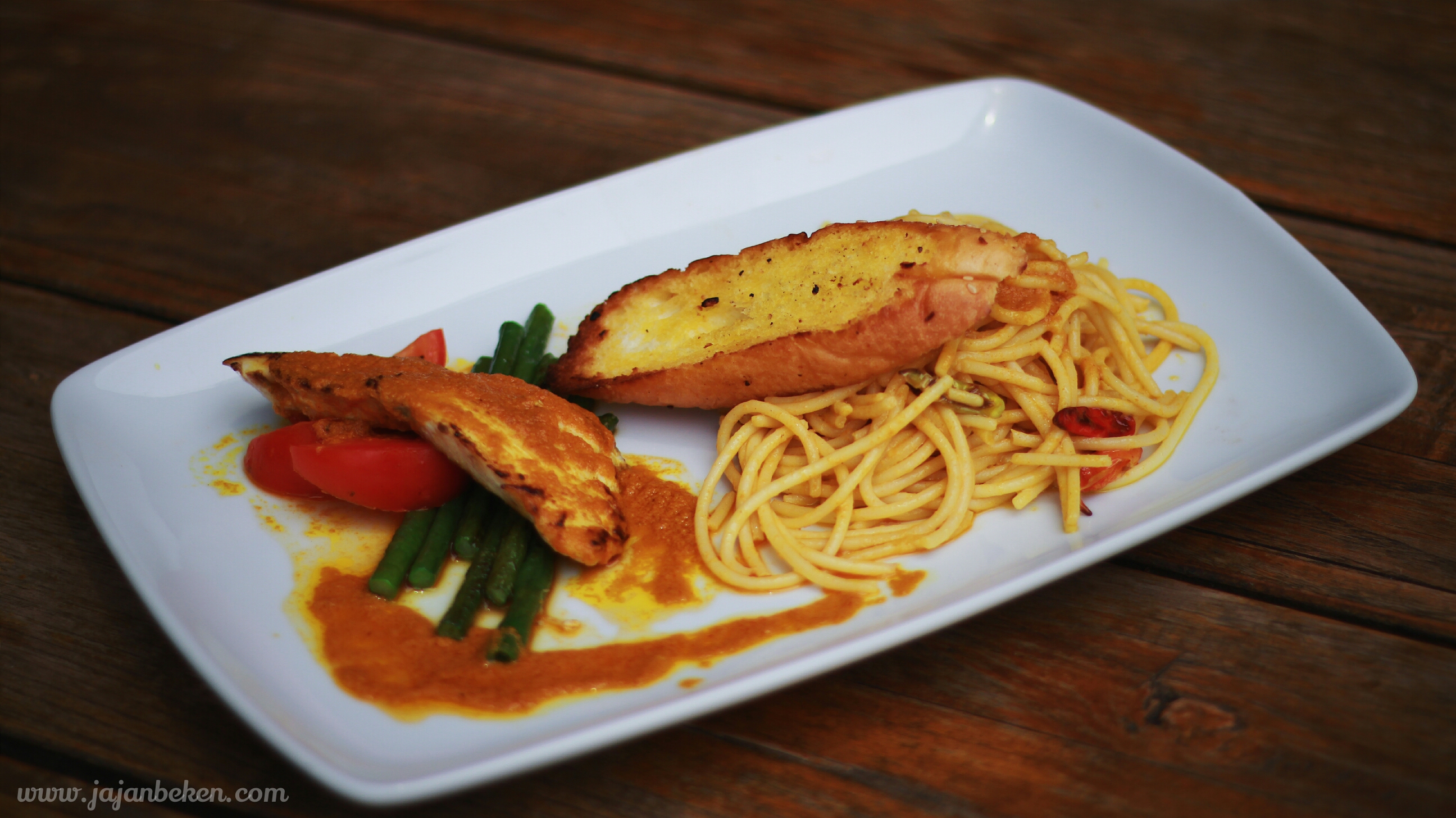 Golden Sand Deep Fried 
From the presentation of this menu is very appetite. Gurame size was quite large enough and you can share it for two people.
The texture of this gurame is very tender and delicious. This fish menu is one of the favorites at this restaurant. You must try it guys!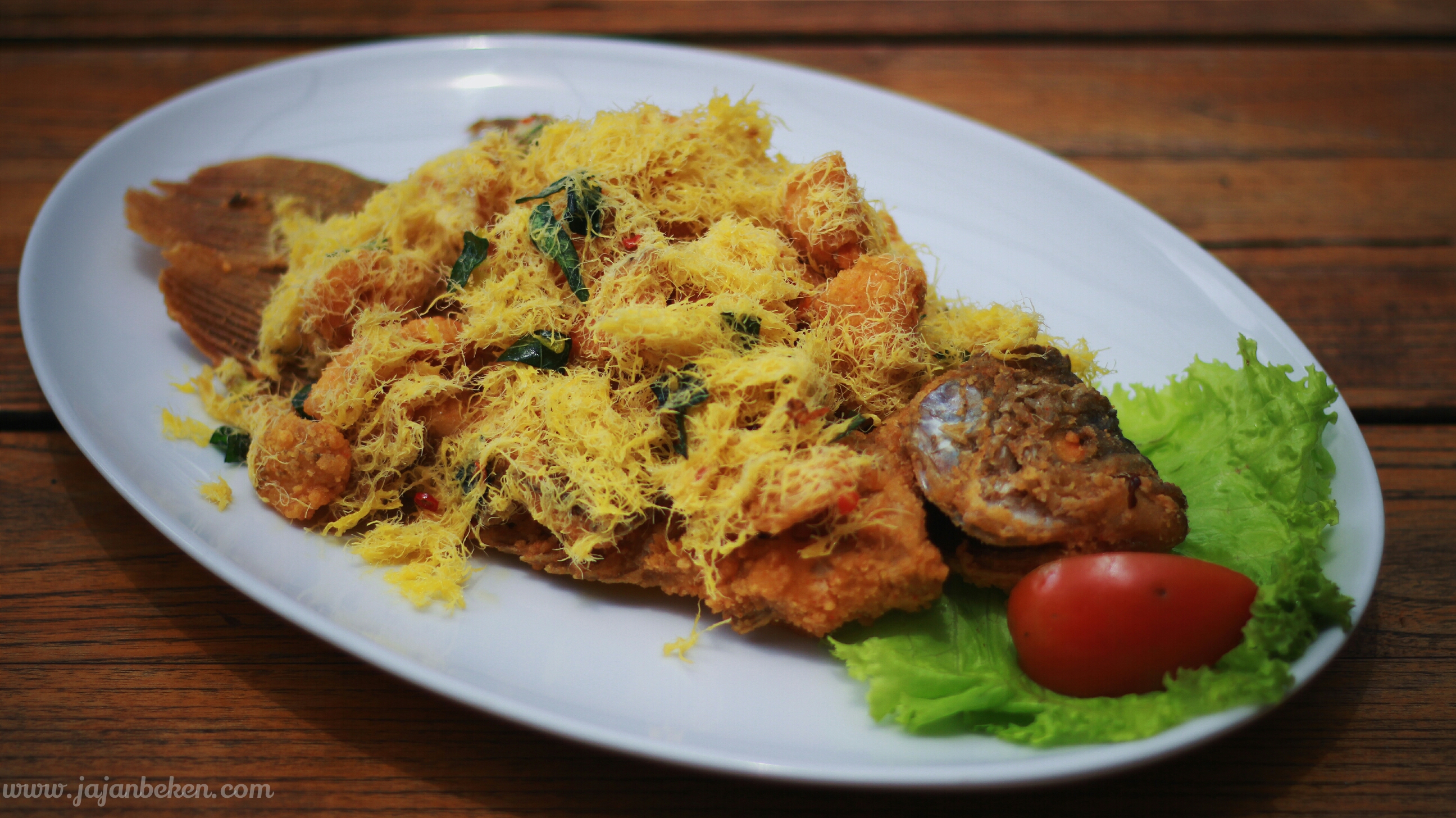 Dapur Seafood have much more variety of fish menu and presentation. In addition there are another fish menu assorted like Dabu-Dabu Special Sauce, Minang Fish Head Stew and Kitchen Seafood Special Sauce. All is a must try guys. Just Scroll down!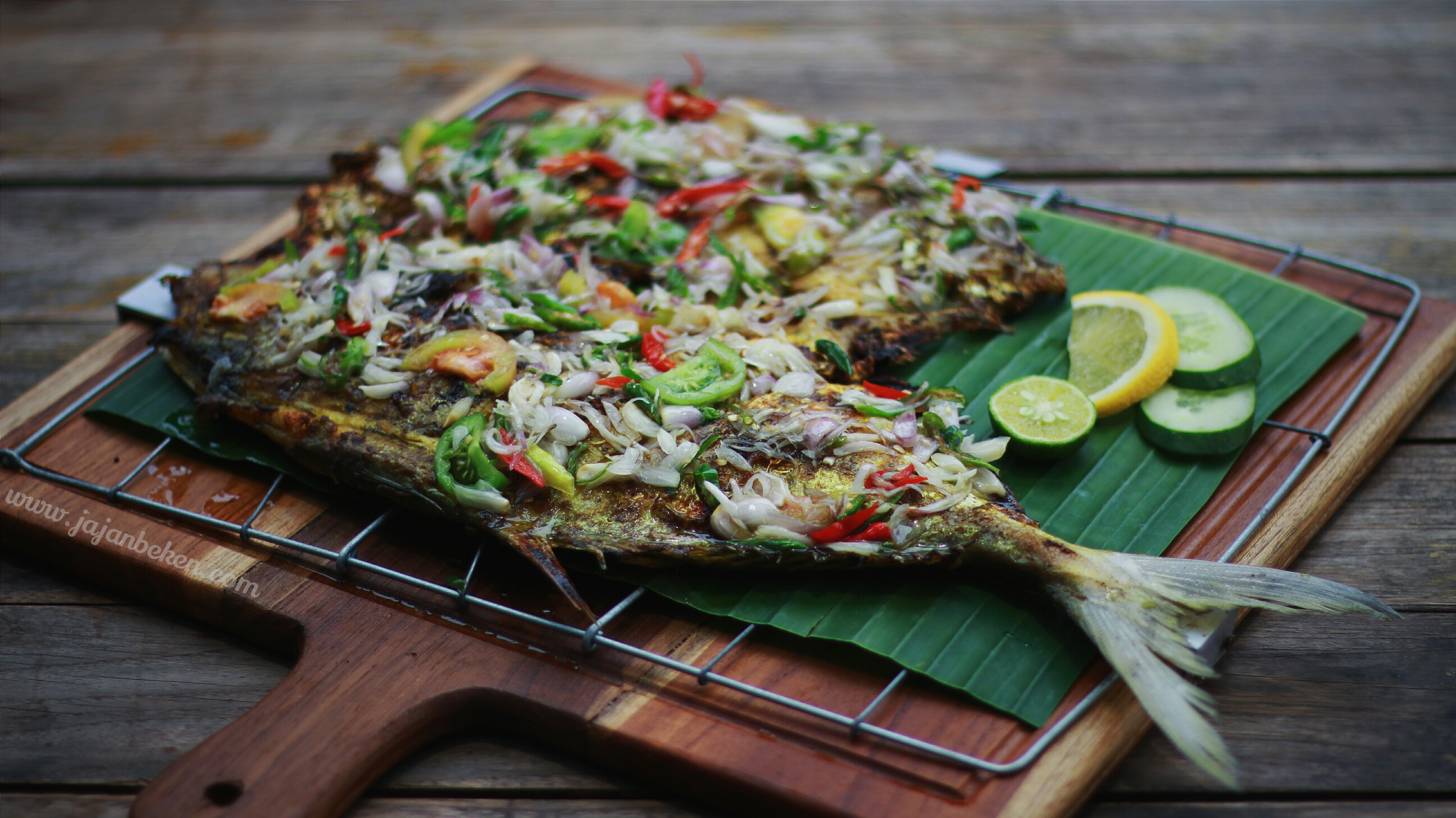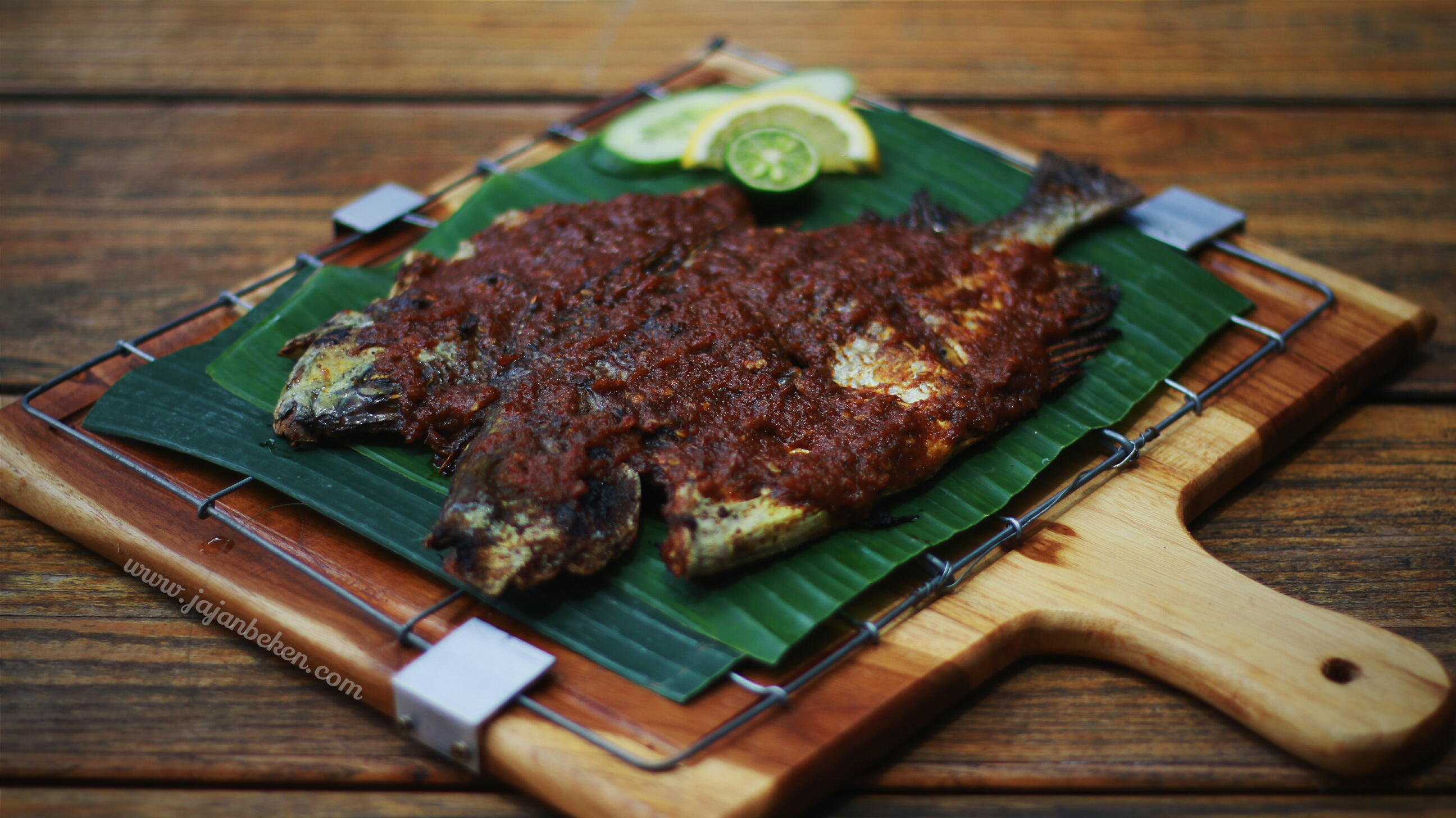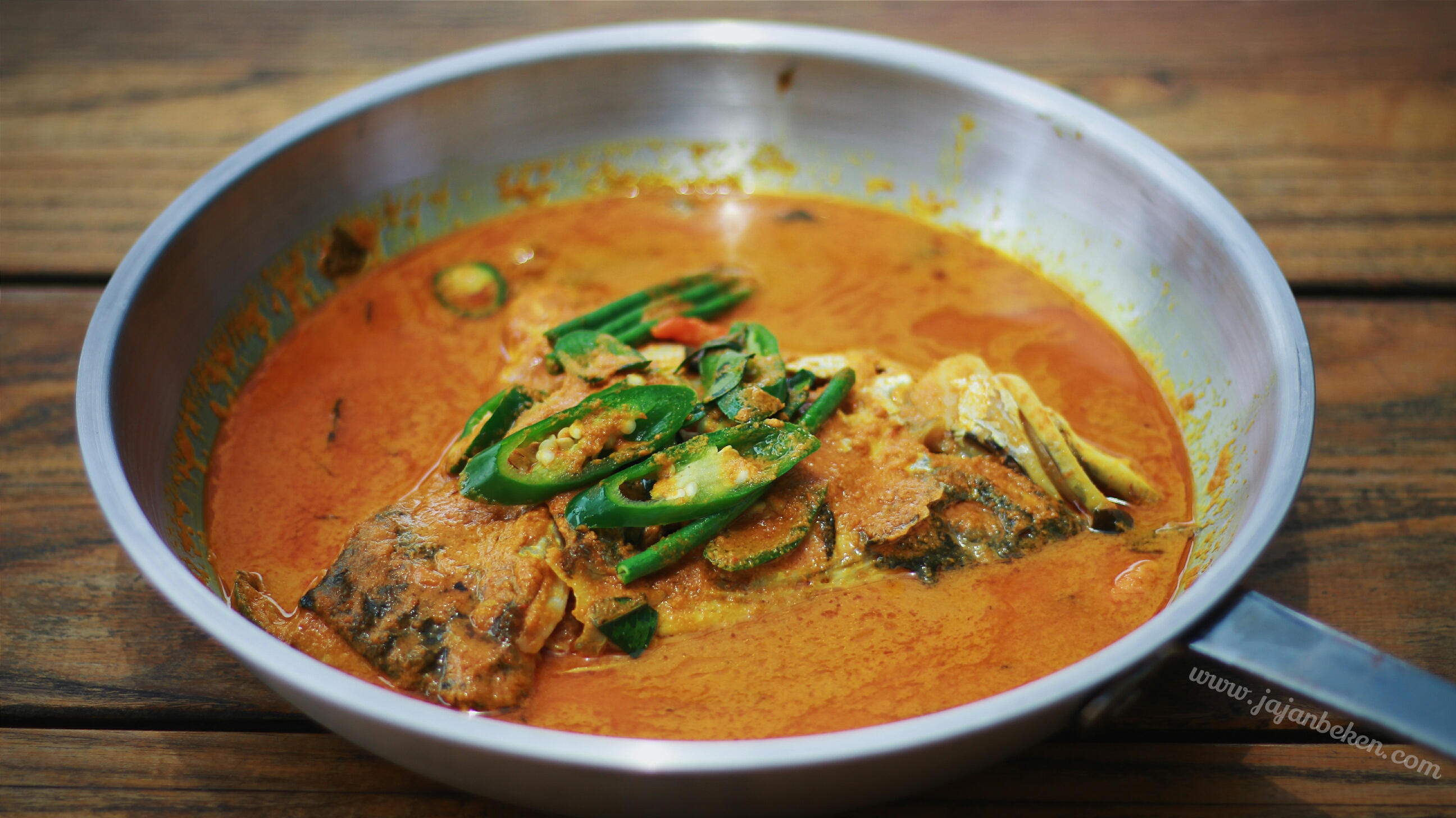 The Variety Of Pizza
Pizza is a kind of round bread, which is baked in the oven and usually covered with tomato sauce and cheese with other food additive that can be selected. Cheese used are usually mozarella or "pizza cheese".
Other ingredient types can also be placed on a pizza, usually meat and sauces, such as salami and pepperoni, ham, bacon, fruit such as pineapple and olives, vegetables like chilli and paprika, as well as onions, mushrooms and others.
But on this occasion, I had tasted the unusual pizza. Dapur Seafood have a pizza topped with seafood. Such as with a mixture of clams and black pepper crab. And the texture of the dough pizza from this restaurant is very tender and crispy. The one pizza menu that I love is Marina Pizza, because they use stuffing clams.
I think you would not expect that this restaurant also provides a pizza menu, yess me too. It turns out this restaurant provides a varied pizza menu with good tastes. Want to know what the pizza menu provided this restaurant? Let's check it out.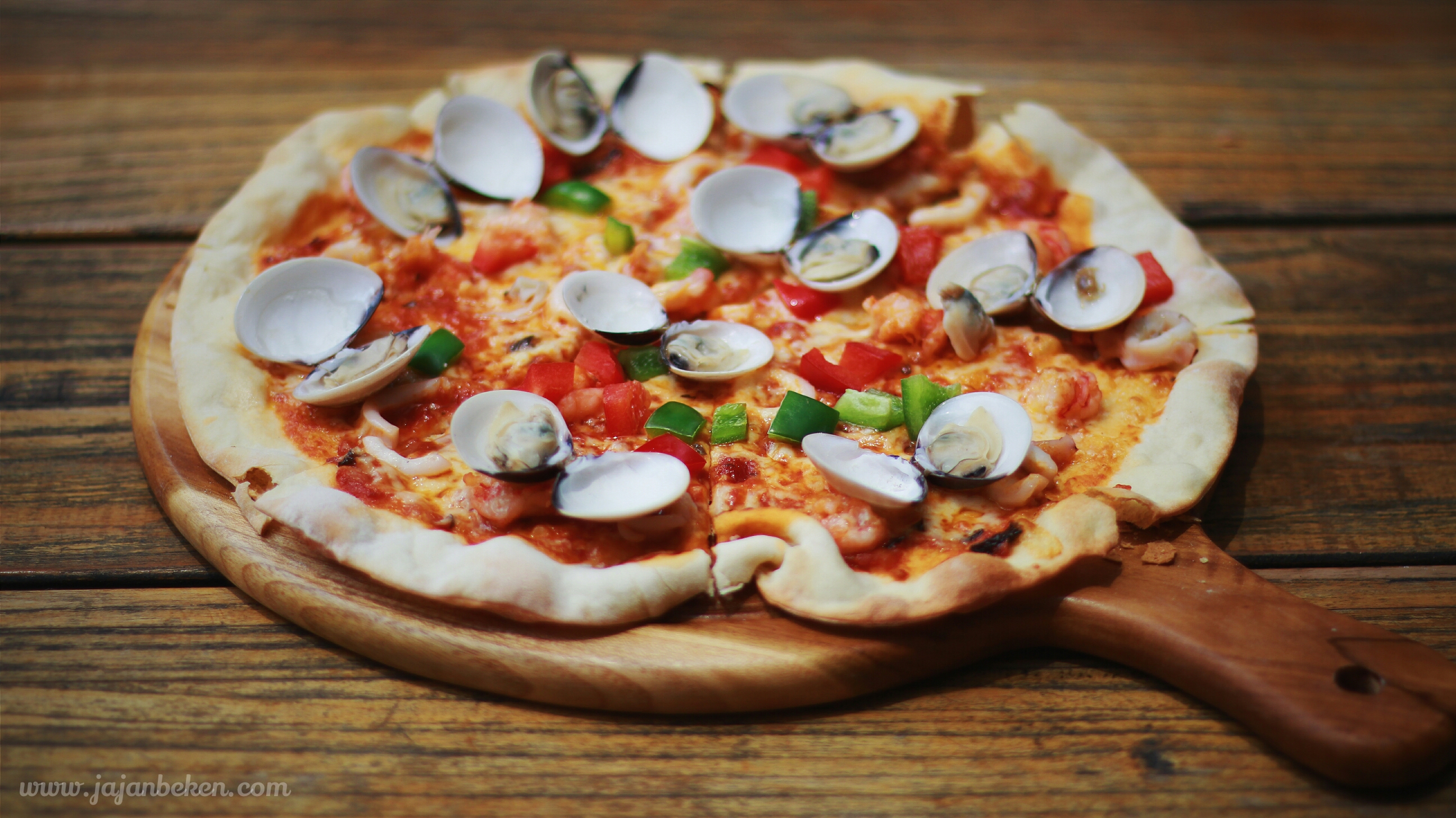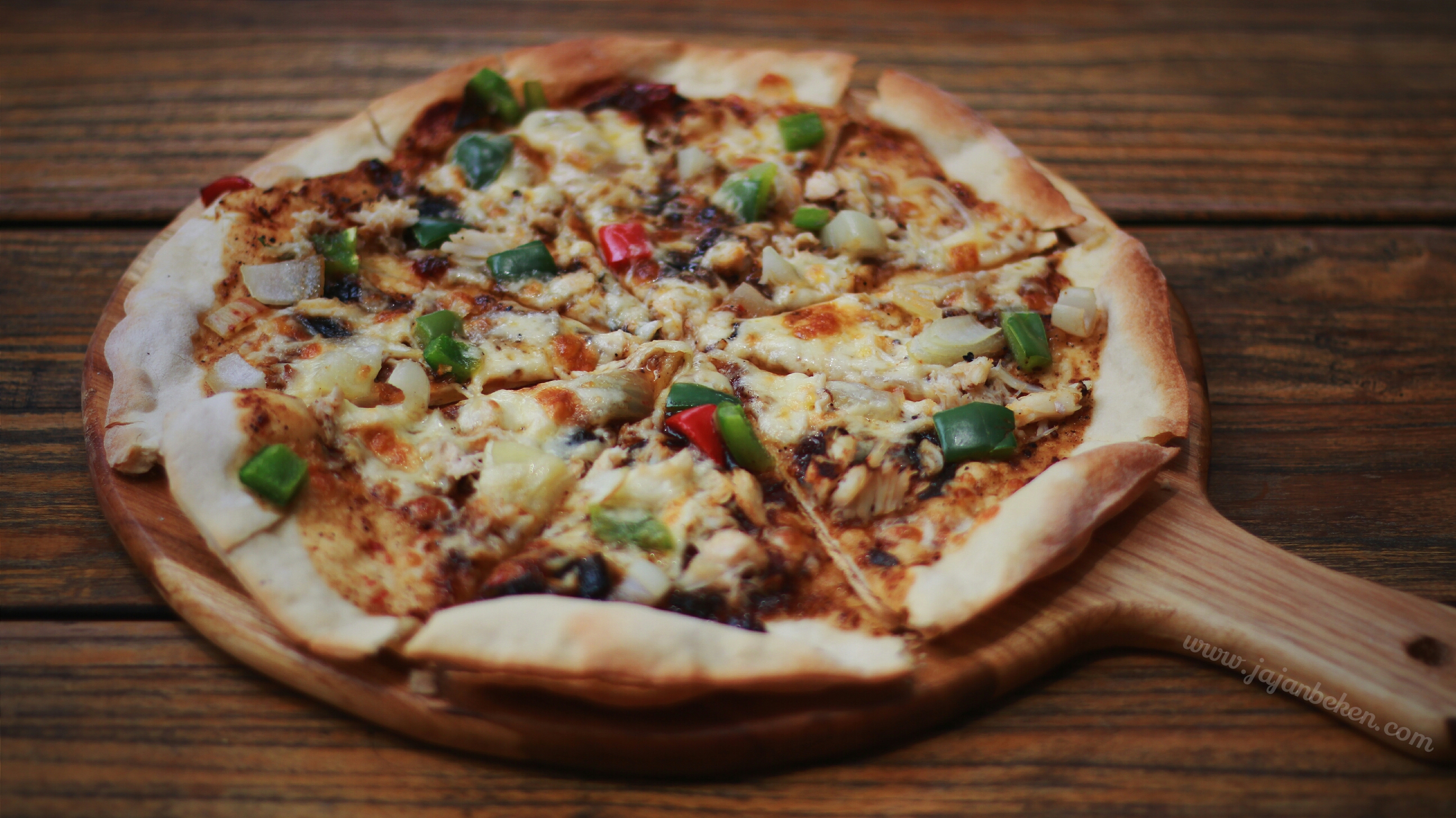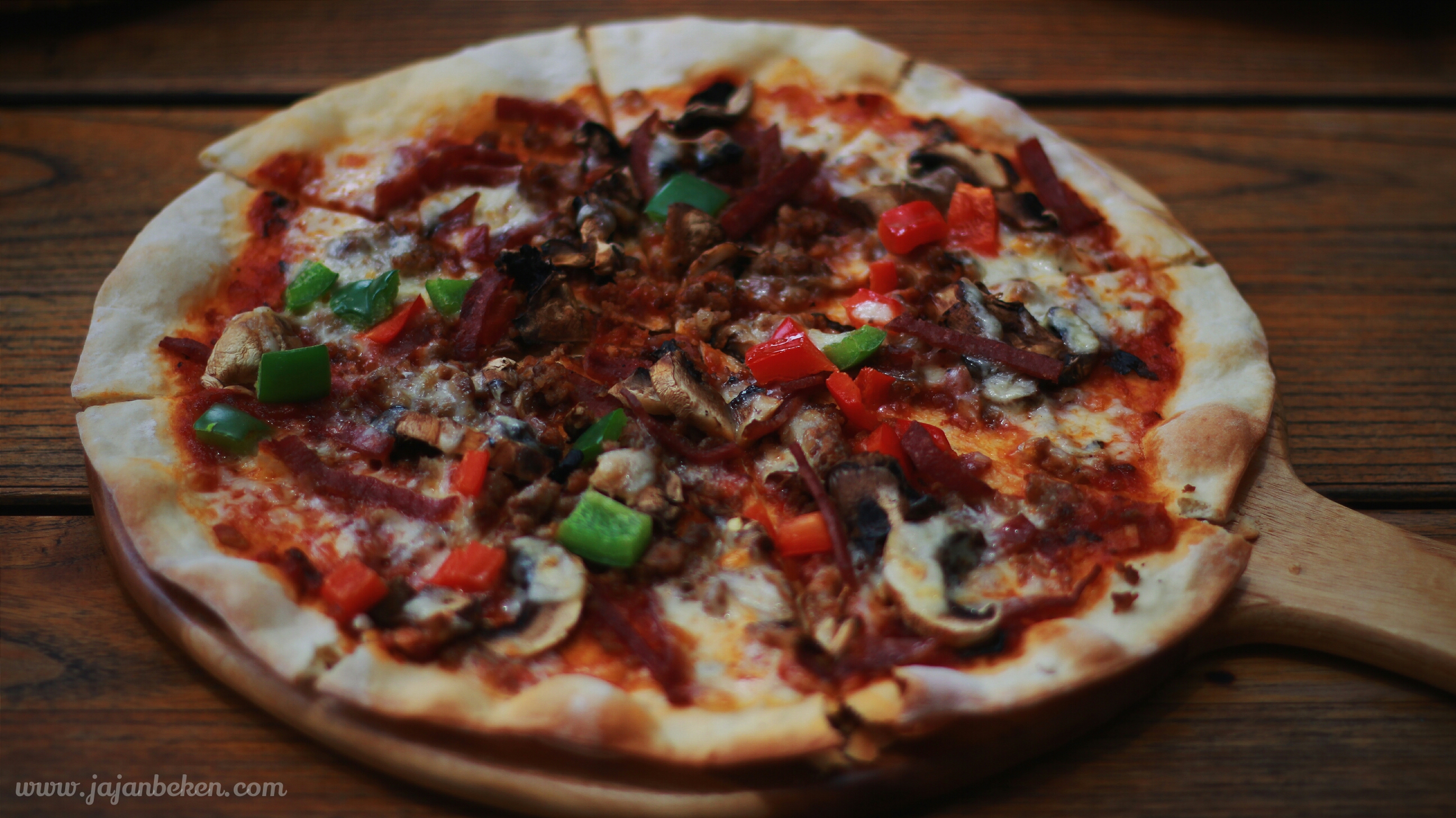 Seafood Platter IDR 800K
If you visit this restaurant with family or colleagues, this menu may be your appropriate option. Because this menu is served for approximately up to four people. This menu consists from seven kinds of menu offerings among others are: Keong Macan, Kepiting Jantan, Gurame Pasir Emas, Cumi Goreng Tepung, Kerang Kepah, Udang Telur Asin dan Sayur Kangkung.
On this menu I tried Kangkung, Udang Telur Asin and Cumi Goreng Tepung. The taste of Kangkung is very good with slightly spicy. Udang Telur Asin also was so good, this is my first time eating this seafood platter.
And the last I tried this menu is Cumi Goreng Tepung. Actually I really like the Cumi especially the fried calamari or Cumi Goreng. For the taste of this food is very tasty, the texture of fried calamari or Cumi Goreng Tepung was so savory. If you ordered this menu you have to be quick to take this Cumi Goreng Tepung so as not to run out.
The Giant Crab Is The Signature Menu At Dapur Seafood
Finally we can talk about the Giant Crab yeaay! Oke The Giant Crab at this restaurant divided in three sauce menu, among others are: Black Pepper Sauce, Singapore Chilli Sauce and Salted Egg Softshell Crab. Which is the most I like the spice is Black Pepper Spices, because the tasted was spicy and delicious.
Talking about Giant Crab this crab is really really big, can be seen from a very large crab shell. To separate the parts of this crabs should to be use a hammer not a crab cutter, because the shells from crabs is very hard to break. But you don't have to worry if you can't to do, their staff will be ready to help you.
Btw for the price this Giant Crab at this restaurant fairly reasonable because the large size and good taste. Prices calculated ounces Rp. 64,900,-/ons with an average weight of 1-1.5 kg. You can calculate your own according to weight of your choice.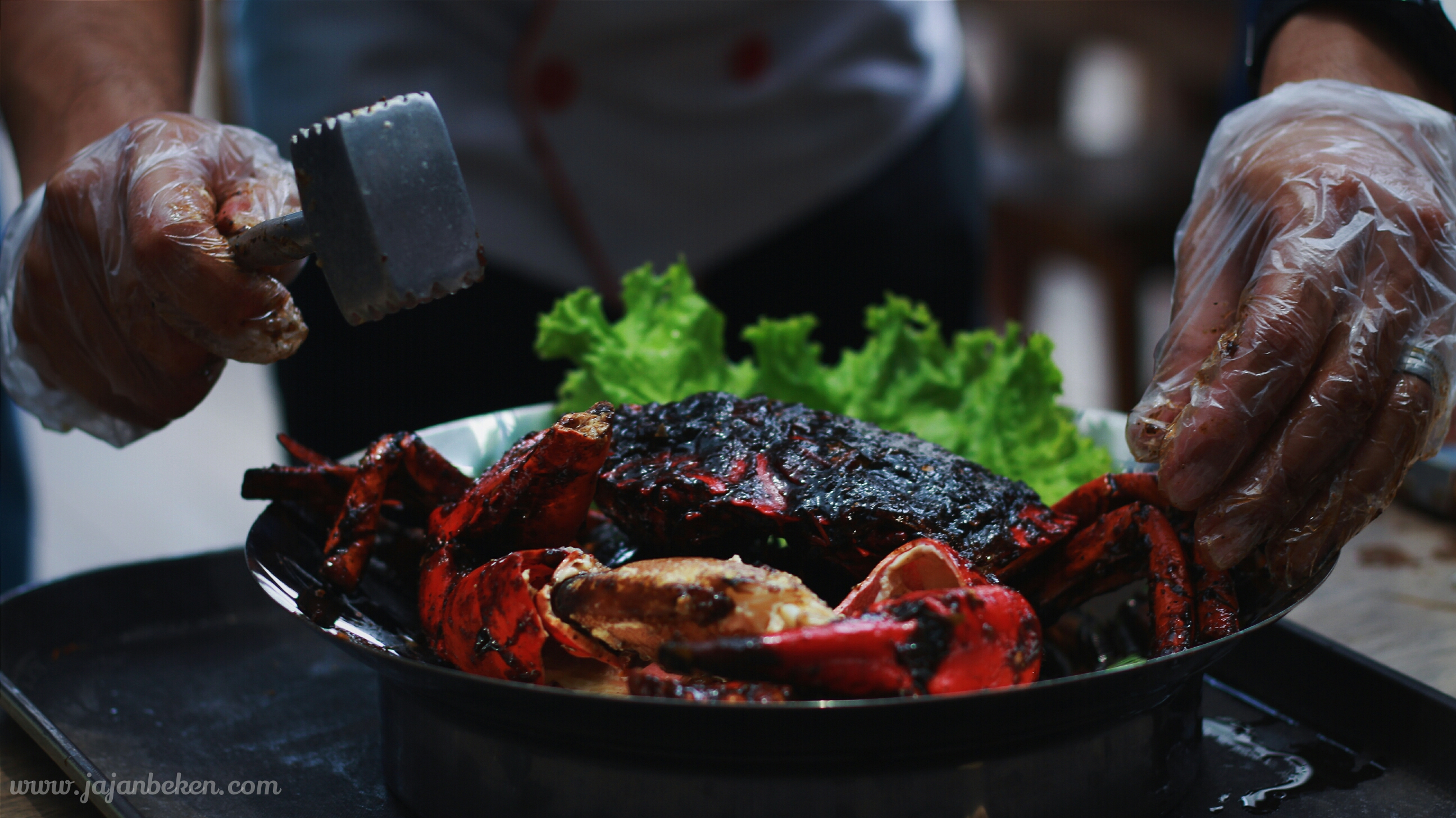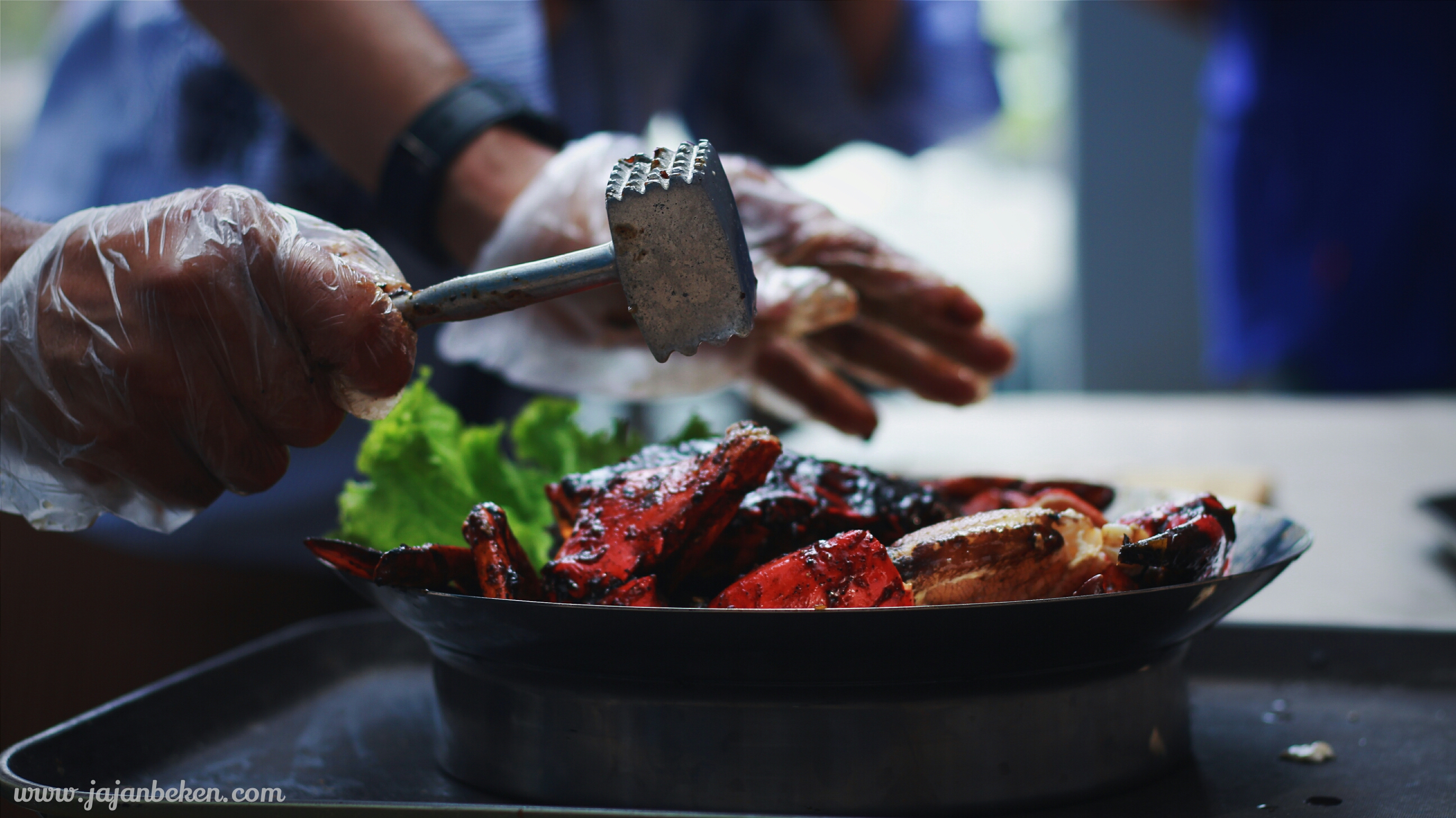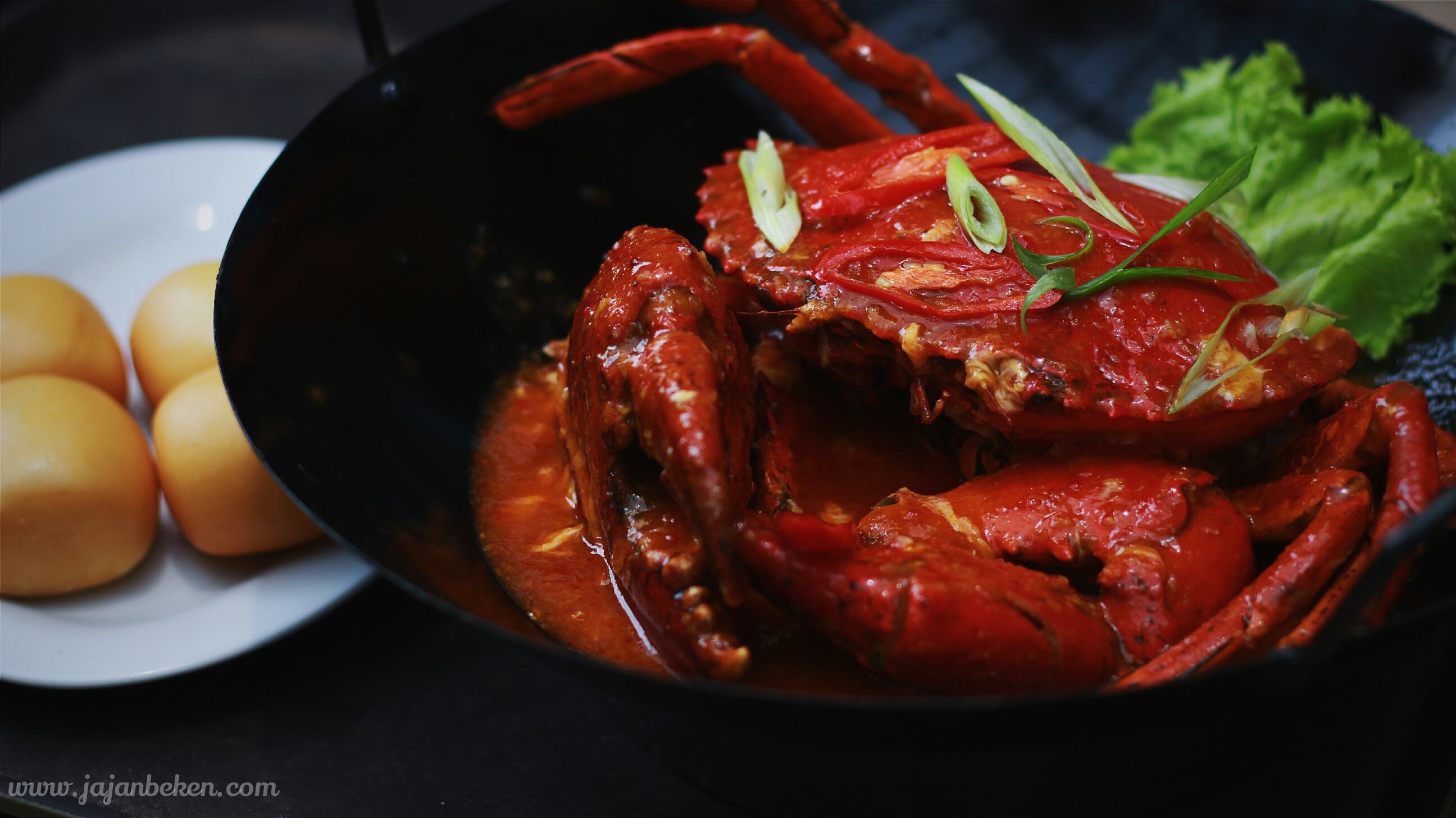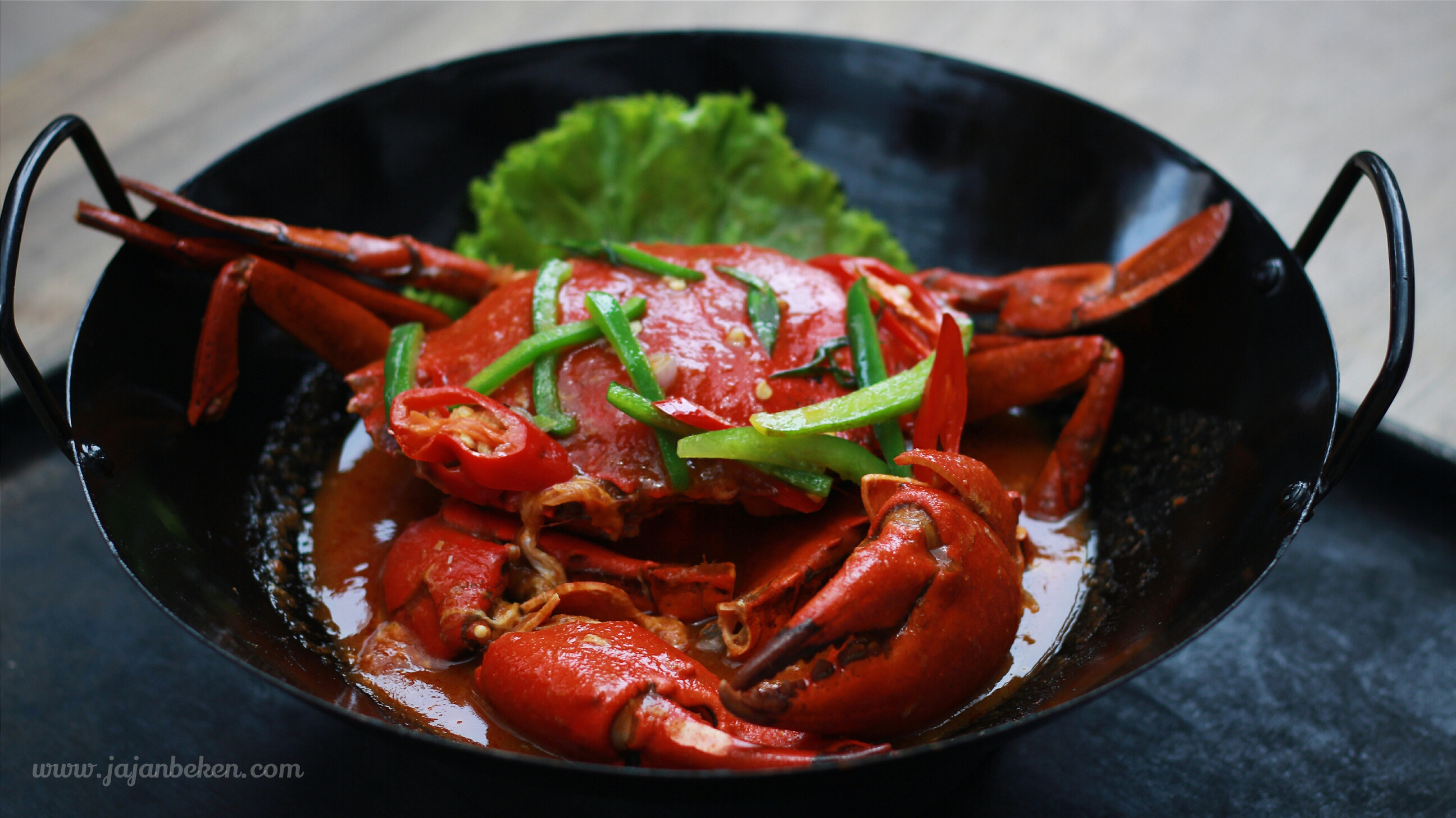 The Drink At Dapur Seafood
Other than a heavy meal Dapur Seafood also provide a variety sweet beverage. And I love among the drink choices. The first that we will talk is the drink. The drink at this restaurant is very fresh, particularly suitable when drinking with sea view.
But not only that, all the drinks at this restaurant is also good. Like mixed fruit ice dessert, the drinks this one is a mix between a combination of fruit. And the most refreshing is sprinkled on top of ice. You must try this!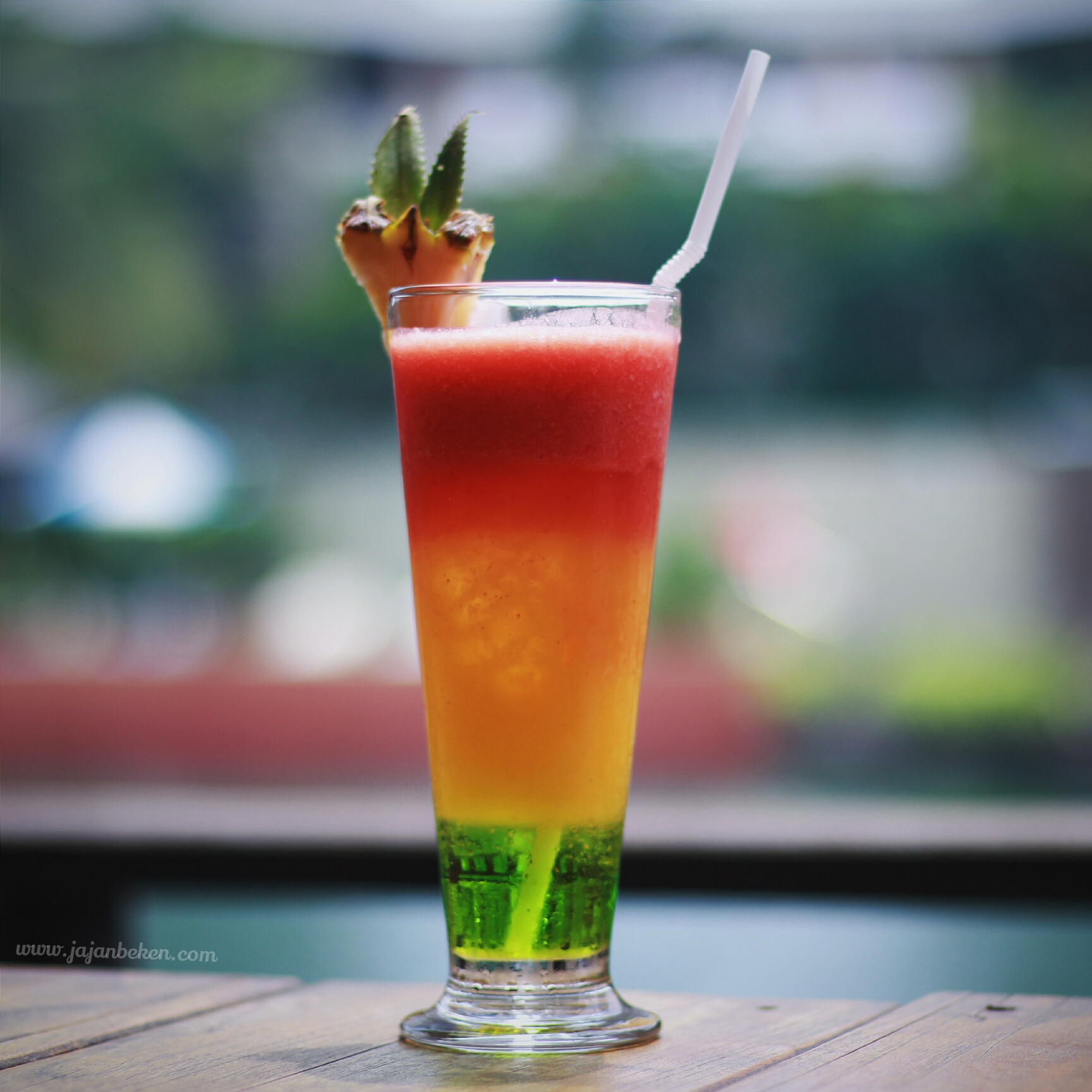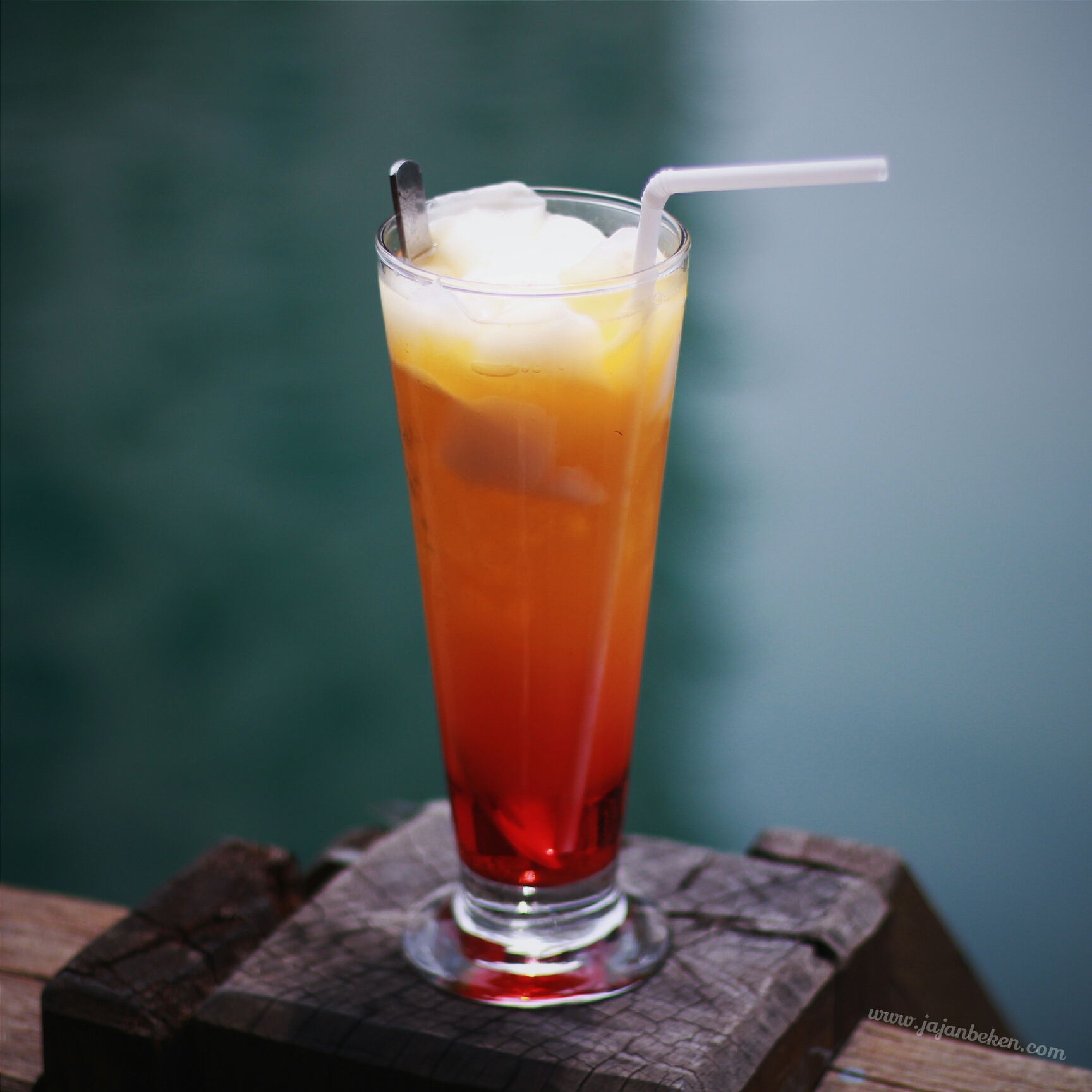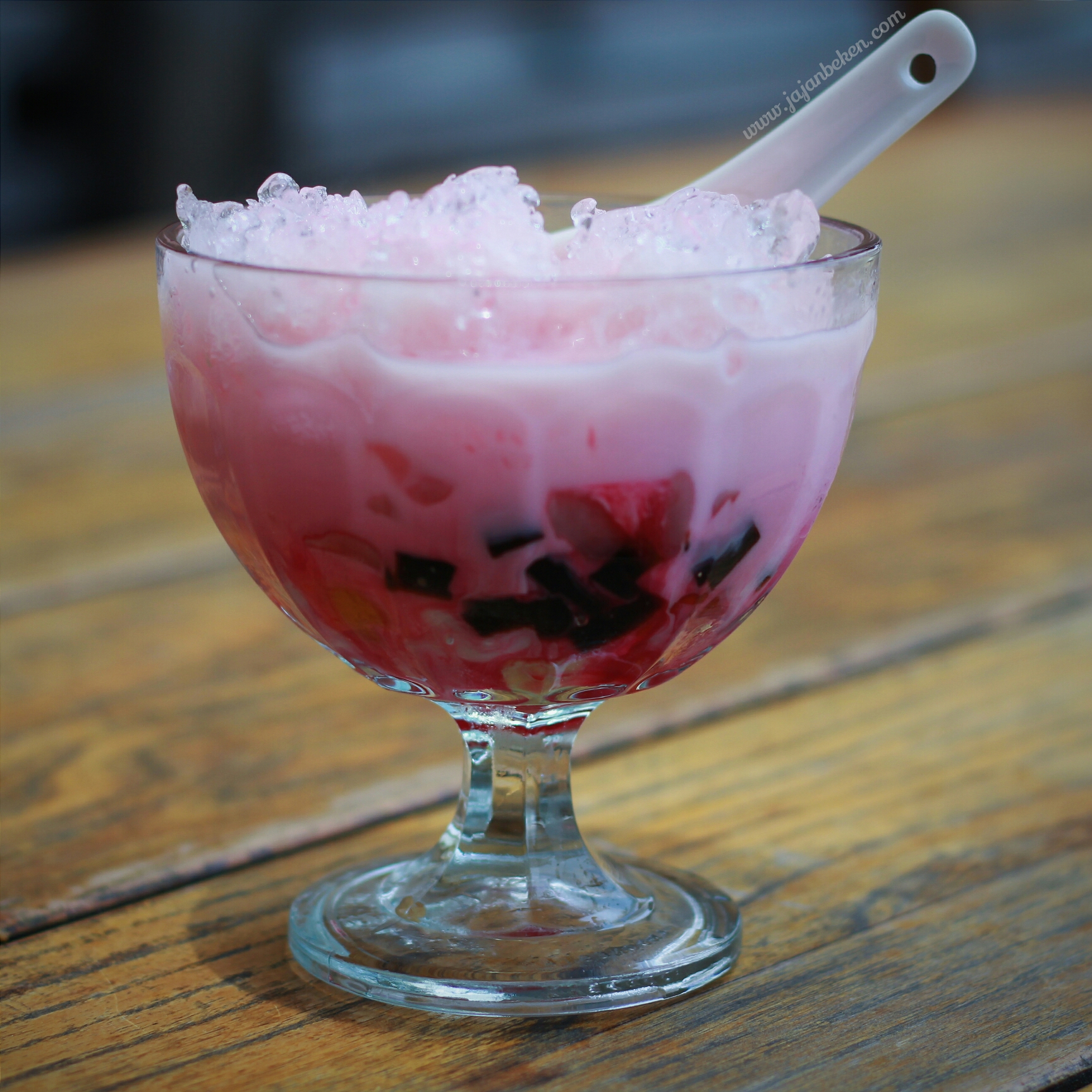 Dessert At Dapur Seafood
Presentation of the dessert menu here is very interesting and so cute. On this occasion I tried two dessert menu. Dessert menu which I liked best was the bread containing ice cream, the texture of the bread is very soft and tasty. When you visit this restaurant you must try this dessert menu!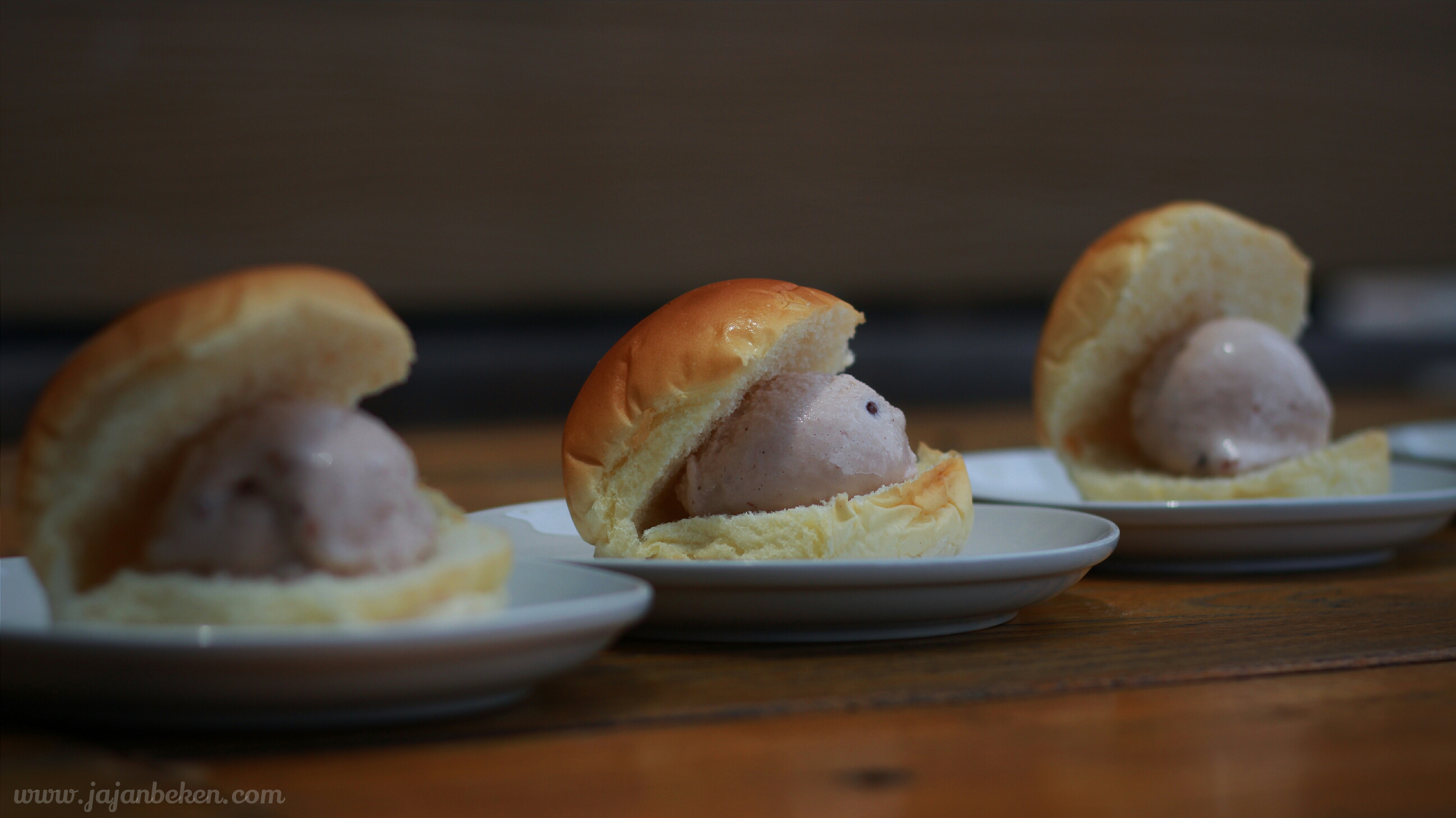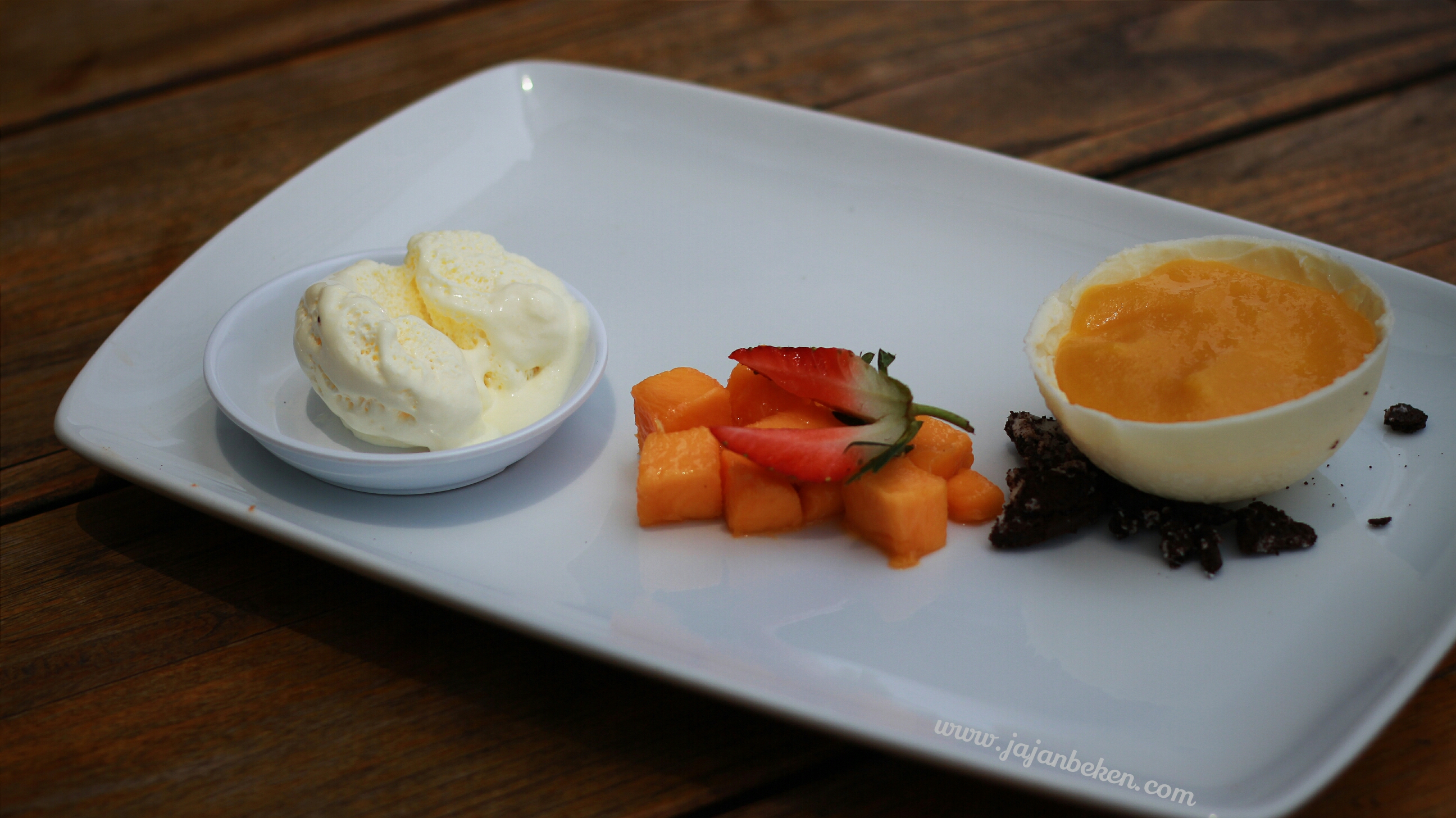 Overall Dapur Seafood have an exciting new concept is Asian Seafood Bistro. Which is they will combine traditional Asian cooking spice and create a more modern look.
Finally I closed my review at this article. And I apologized if there is an errors in my writing and don't forget to subscribe our blog and just wait another culinary story from Jajan Beken!
RATING
Ambience : Excellent
Taste : Good
Service : Good
FACILITIES
Wifi : Yes
Plug : Yes
Dine in : Yes
Outdoor : Yes
Toilet : Yes
Parking : Yes
CONTACT
Address : Pantai Mutiara, Blok TG No.7, Pluit, Jakarta 14450
Phone : 02 16677000
Instagram : @dapurseafood
INFORMATION
Open hour :11h – 23h
Price : Rp350.000 for two people (approx.)
Maps