Branche Bistro Senopati a restaurant that is not foreign to you the culinary connoisseur, especially Jakarta, and now creating a new menu for spoiling us all. With its existence more than 4 years, Branche Bistro Senopati always providing continuous innovation in order to compete with the many new restaurants open. And this time I will share the story to all of you, about my experience tried some of their latest menu.
So last week I was invited by my friend to hangout to this restaurant. We did plan here, because at that time it was my first visit to Branche Bistro Senopati. For the parking is not too broad but they have valet facilities so you don't have to worry if you see the parking lot of this restaurant full. When I entered, I was immediately greeted warmly by the receptionist.
Branche Bistro Senopati consists of 3 floors which on the top floor is rooftop. Yes indeed, this restaurant is very famous for its rooftop. Because the rooftop they have not the type of outdoor like the other but like a very homey and instagenic room. For the second floor is divided into 3 rooms, 1 VIP room, Indoor and outdoor. And the first floor I think is like open bar and quite dark.
Didn't linger longer, we ordered quite a lot of new menu. Want to know what menu I ordered? See below guys!
Appetizer
Fast And Easy Salmon Roll IDR 75K
The first appetizer menu I ordered was this salmon. See how beautiful the presentation of this menu is. I bet when you order this menu will definitely take photos and show off in social media. The salmon was rolled and baked. Placed over mashed pumpkin poured with hollandaise sauce and garnished with a little sesame sauce. Not fishy at all, and when eating it melts instantly in the mouth.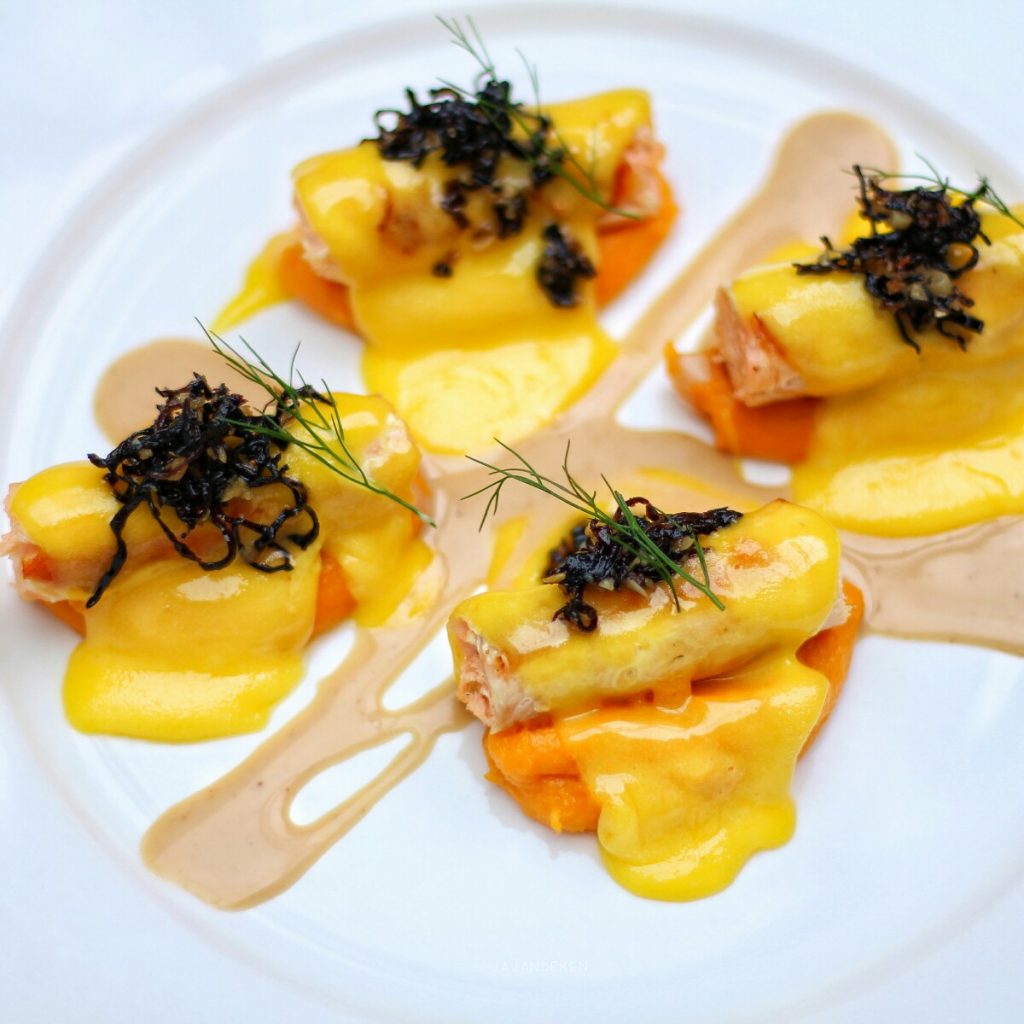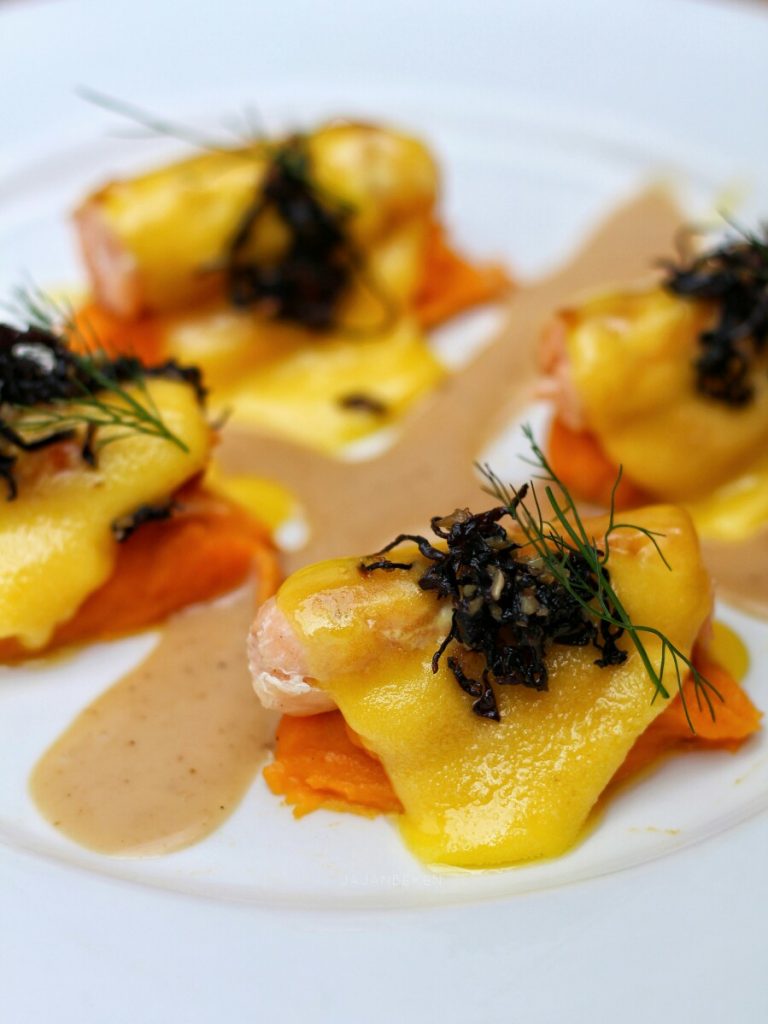 Big Bad Platter IDR 170K
I think this menu for sharing 3-4 people, but after a long thought I can spend it myself lol. On this menu there are grilled prawn, mini beef patties, grilled chicken fried with french fries and fresh salad and barbecue sauce. Somehow I really like the prawn but I think the spice is not much. All the condiments on this menu I think is tasty and crunchy.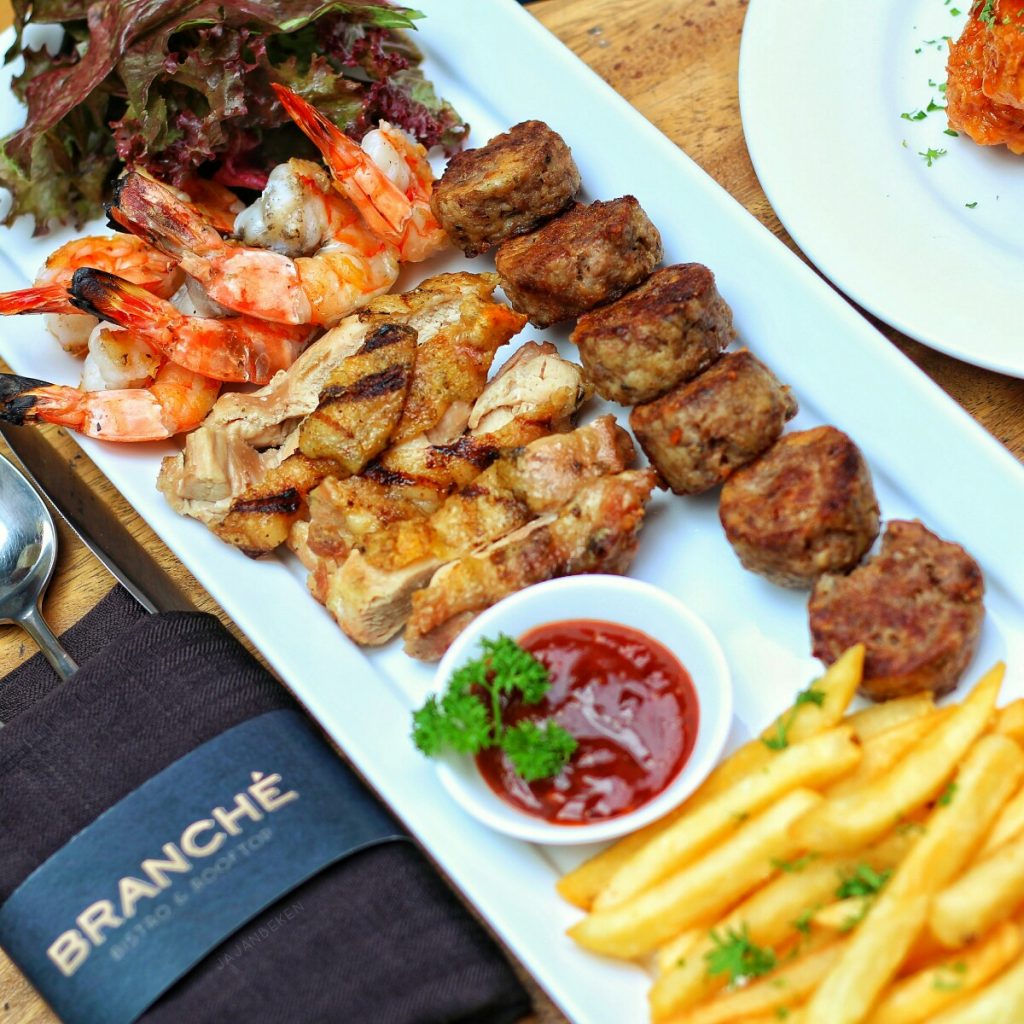 Chicken Wings IDR 62K
For you wings lovers, should order this menu. Served with 6 pieces with reddish color from barbeque sauce. This menu is perfect for appetizer because the portions are not too filling.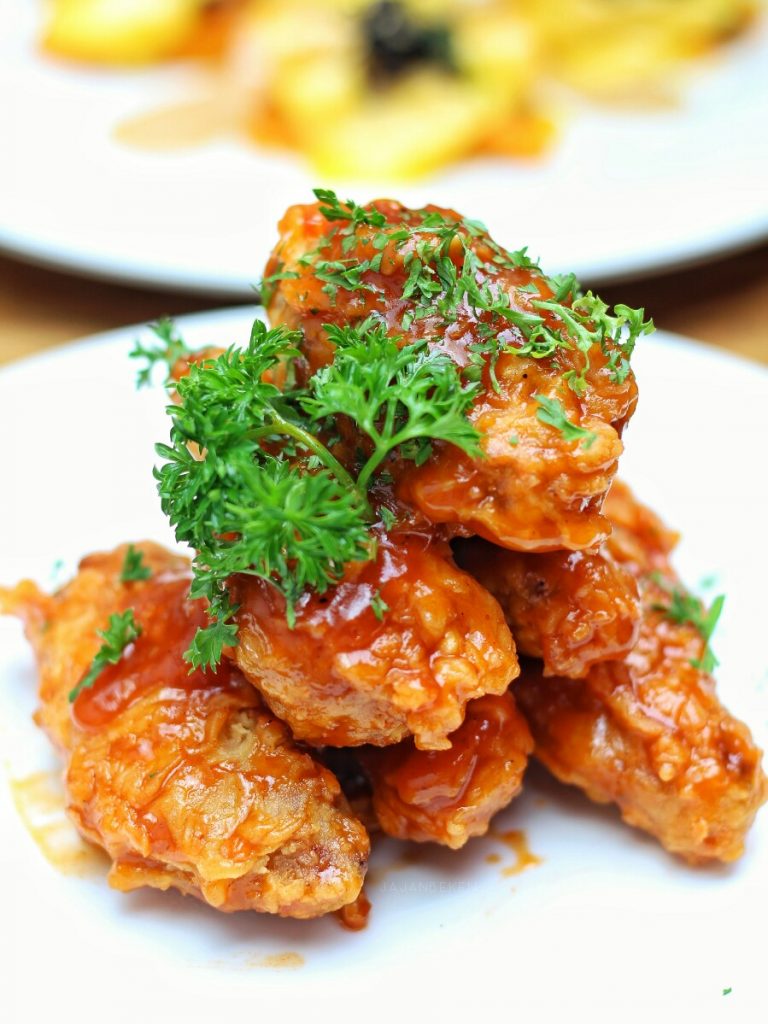 Main Course
Angus Beef Burger IDR 97K
I really like this burger, the bun very soft and easy to cut. The beef patty is Angus ground beef the texture very tender and juicy. Poached eggs are very good, melt when cut, and this is the best moment when take the photos.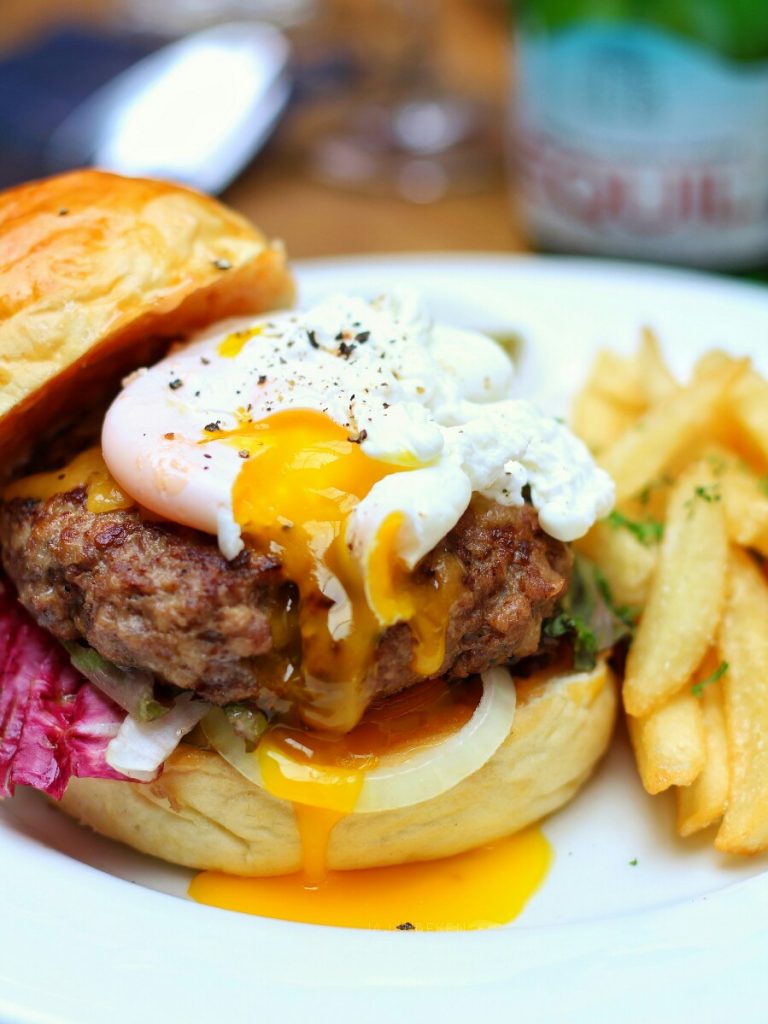 Honey Glazed Salmon IDR 135K
Salmon dish is served perfectly here, like this one menu the slices of salmon are quite thick and the meat is very fresh. Sweet taste is very tasty because of honey glazed sauce.  For topping there is fresh arugula with garnish potato chips. Over all this menu is tasty.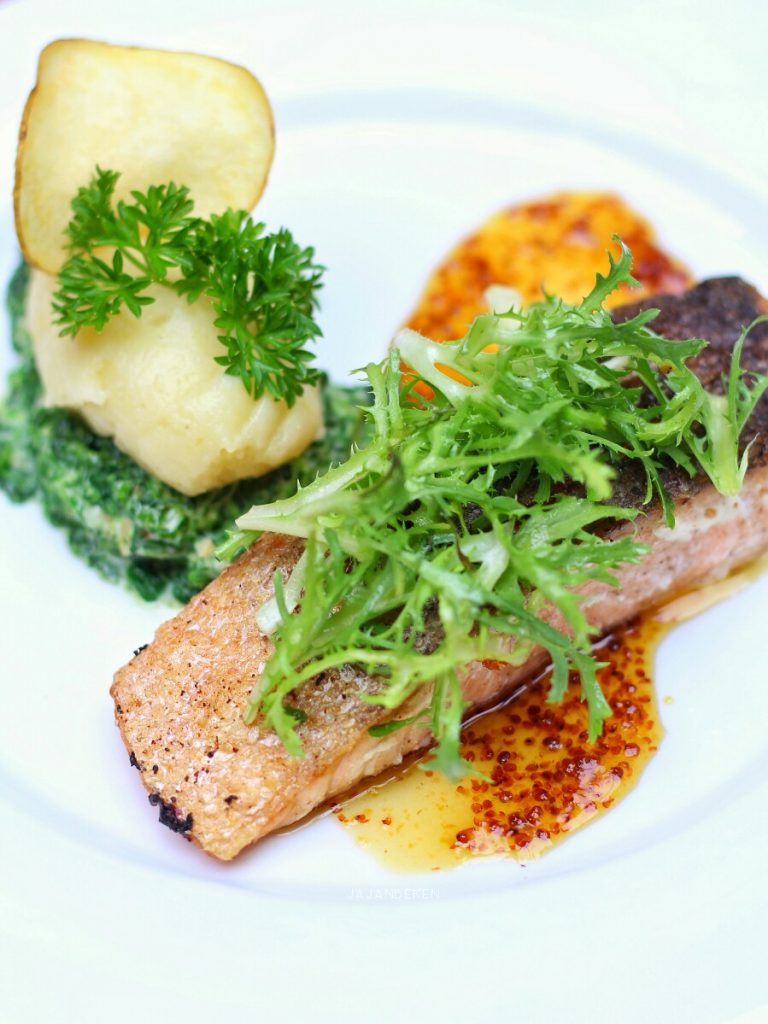 Fillet Mignon IDR 275K
And this one menu, is one of the signature menu Branche Bistro Senopati. On this menu filet mignon look neater because at the top there is a liver pate round. For the tenderloin very tasty the texture so tender and juicy.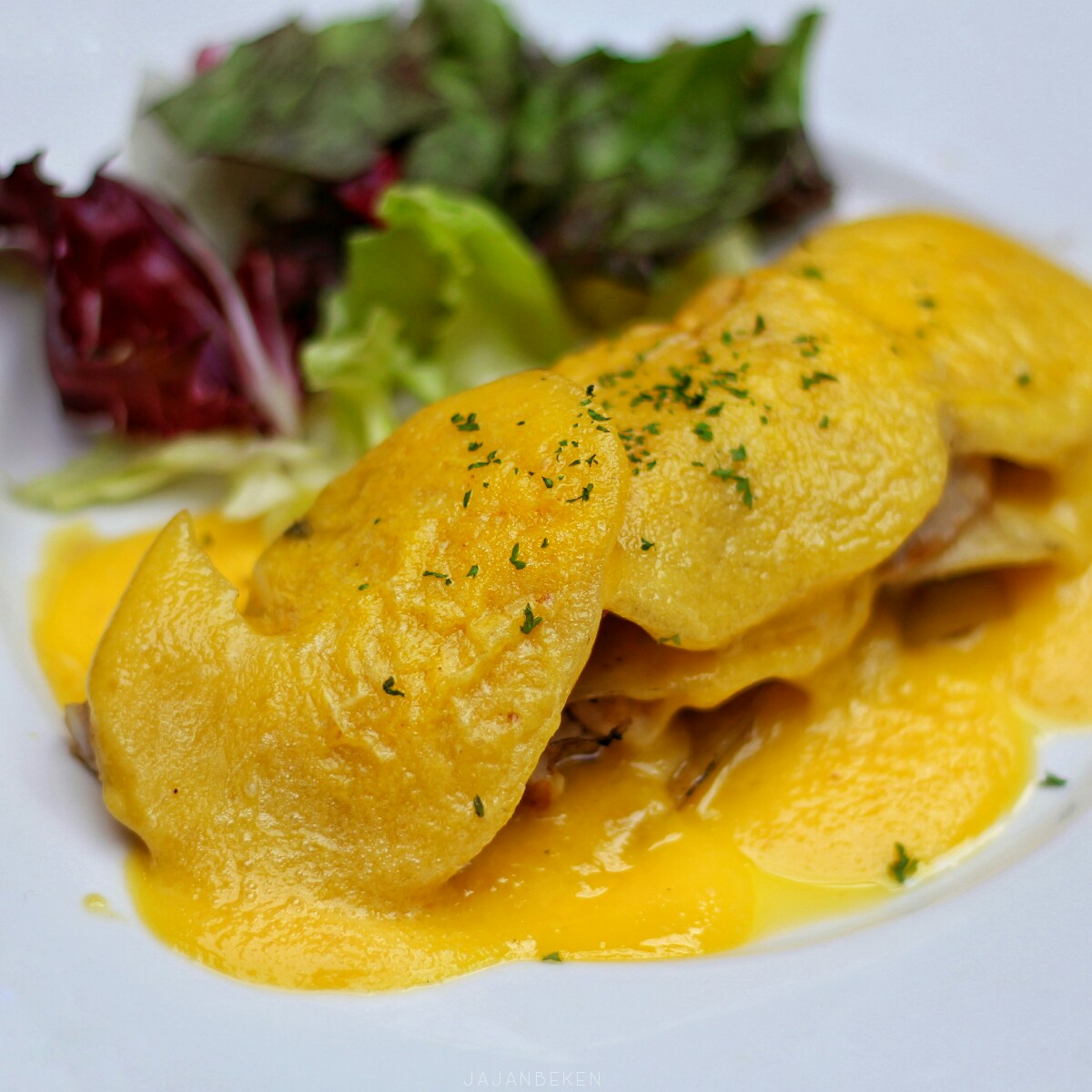 Whole Wheat Spaghetti with Prawn IDR 85K
Spaghetti this one is quite different from the usual. Because they use whole wheat base ingredients that make the size of the sphageti larger. For the sauce they use bolognese with a tomato based that tastes sour and sweet. For the prawn is perfect guys.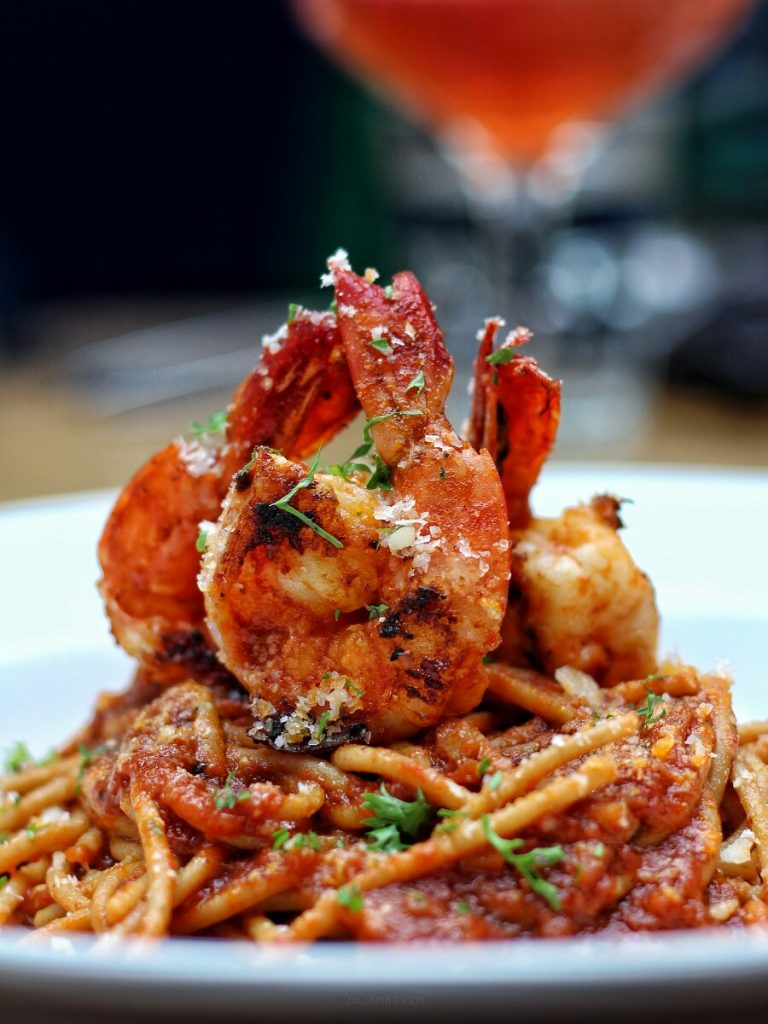 Branche Tender Ribs IDR 195K
I like this tender ribs, the texture very tender and very easy to cut. The level of maturity is perfect and the sauces provided add to the taste of this menu increasingly rich.

As for the other main course menu is;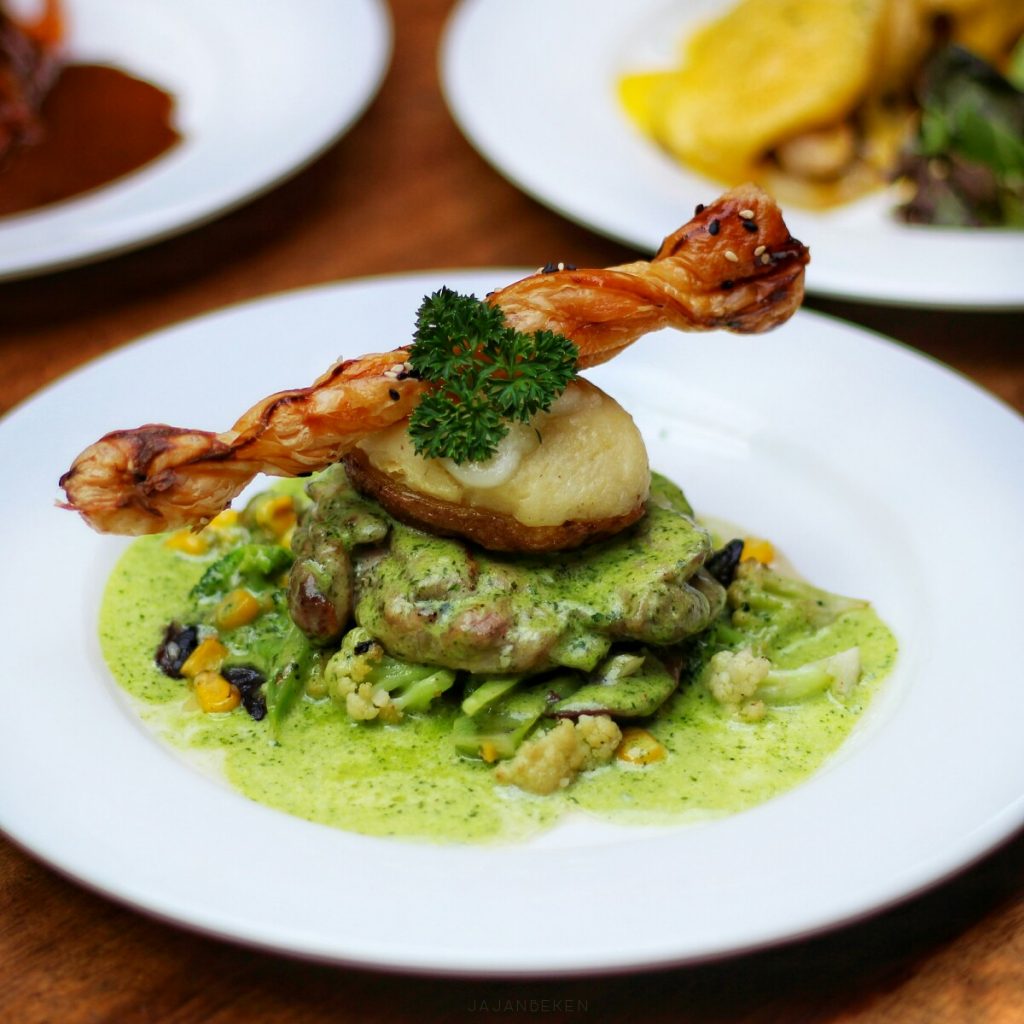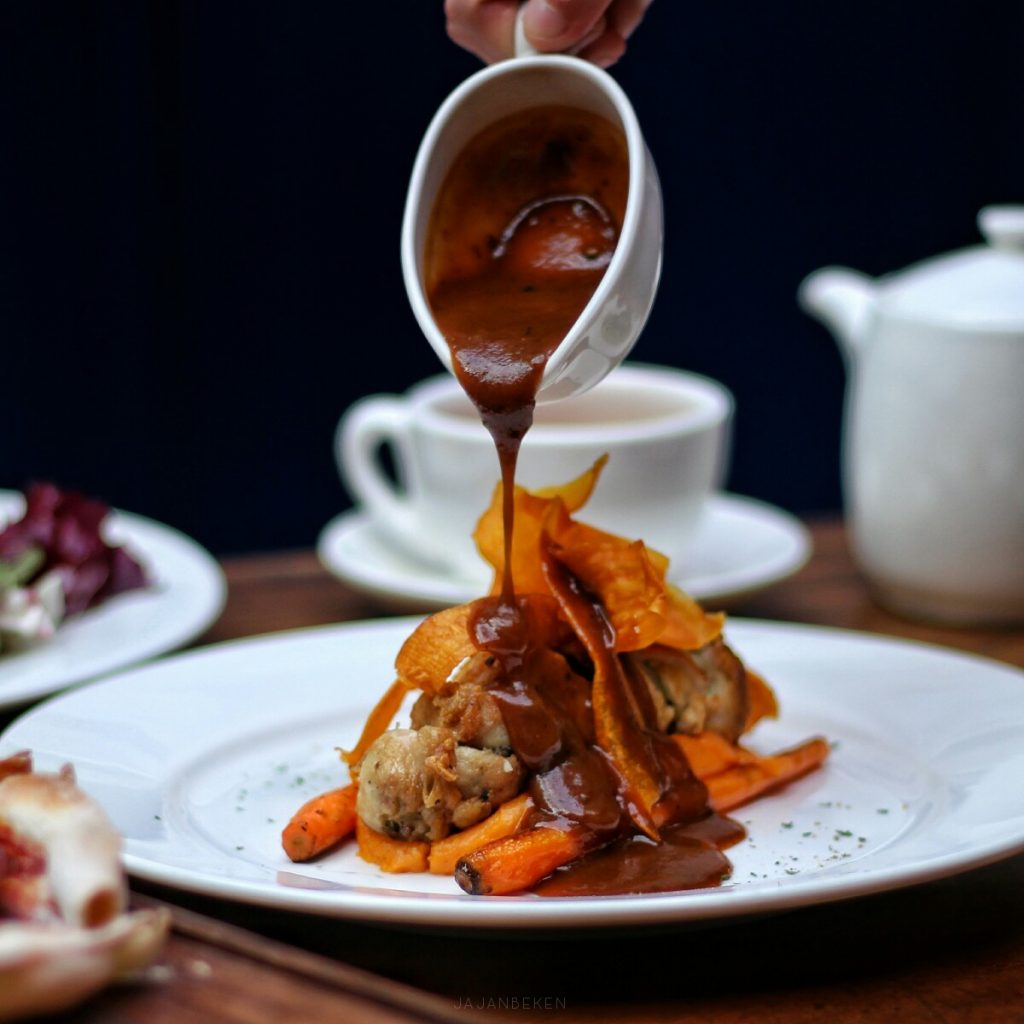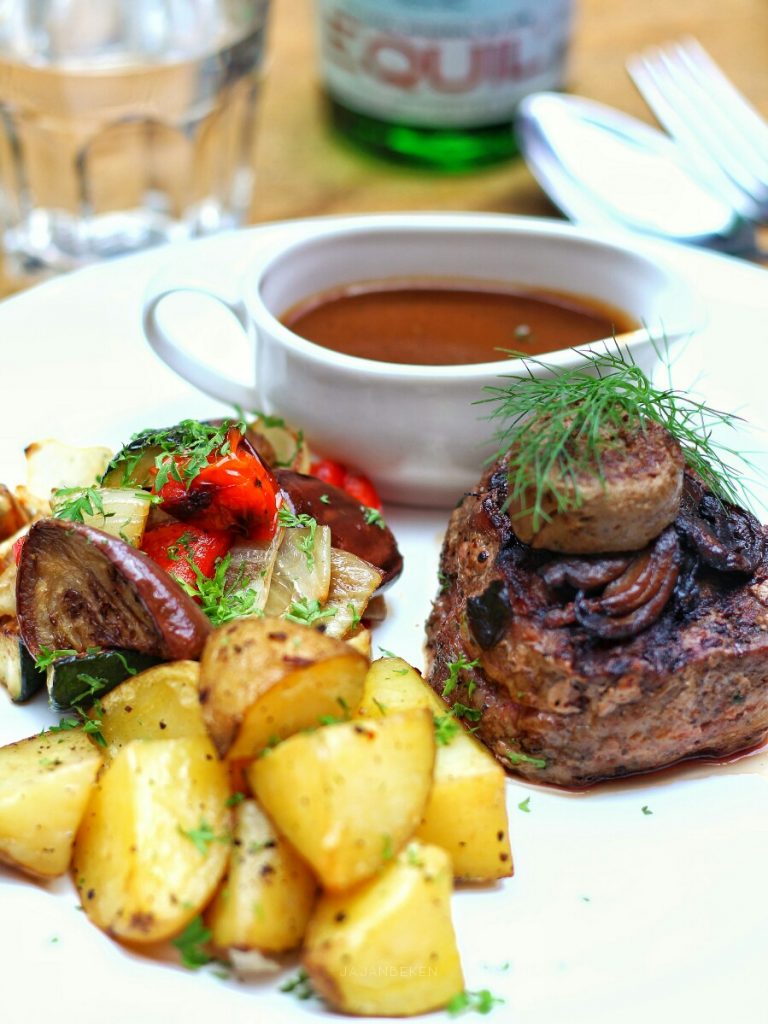 Dessert
Choux A La Tiramisu IDR 50K
A unique blend of French and Italian taste. This typical French Choux filling tiramisu with mascarpone cheese cream typical of Italy. For the presentation this menu is very pretty. The look is beautiful given a mini poffertjes and beautiful garnish with mint leaves and meringue-shaped stick.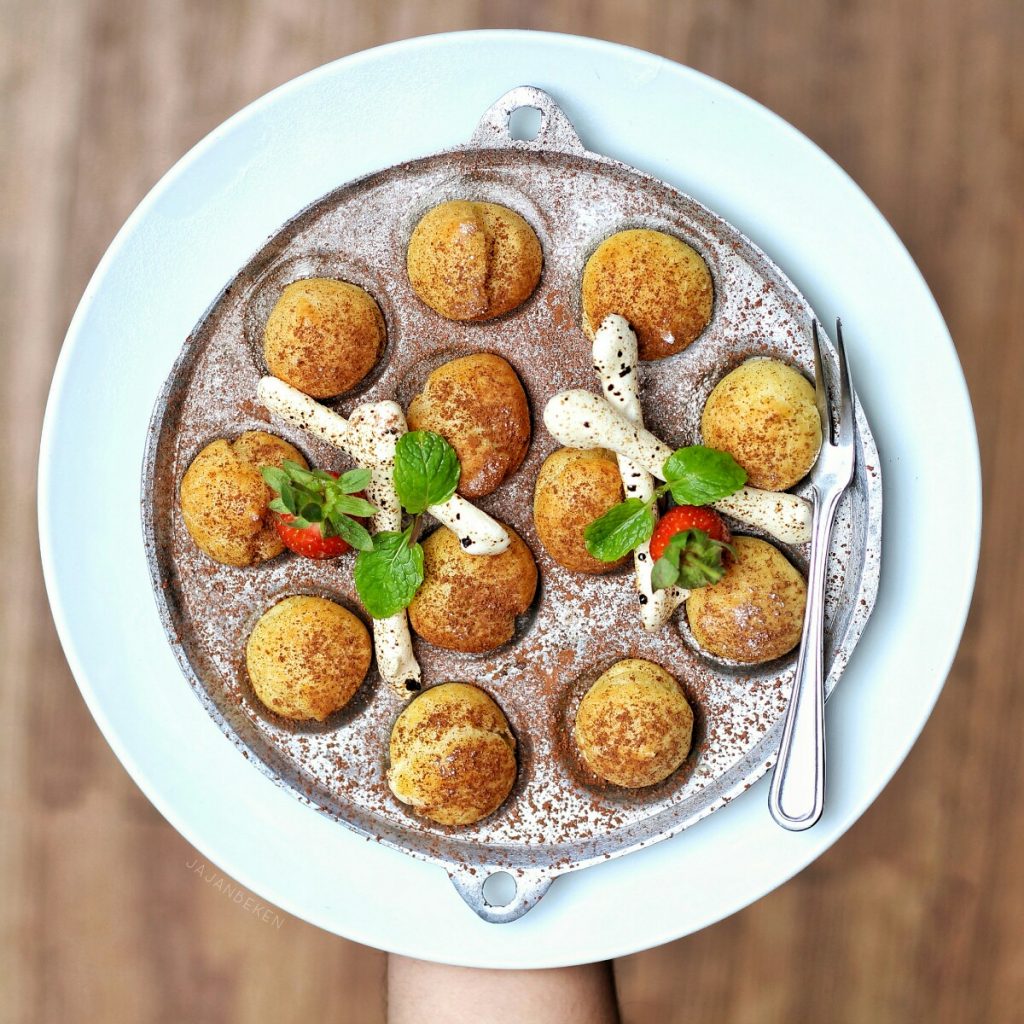 The other dessert menu!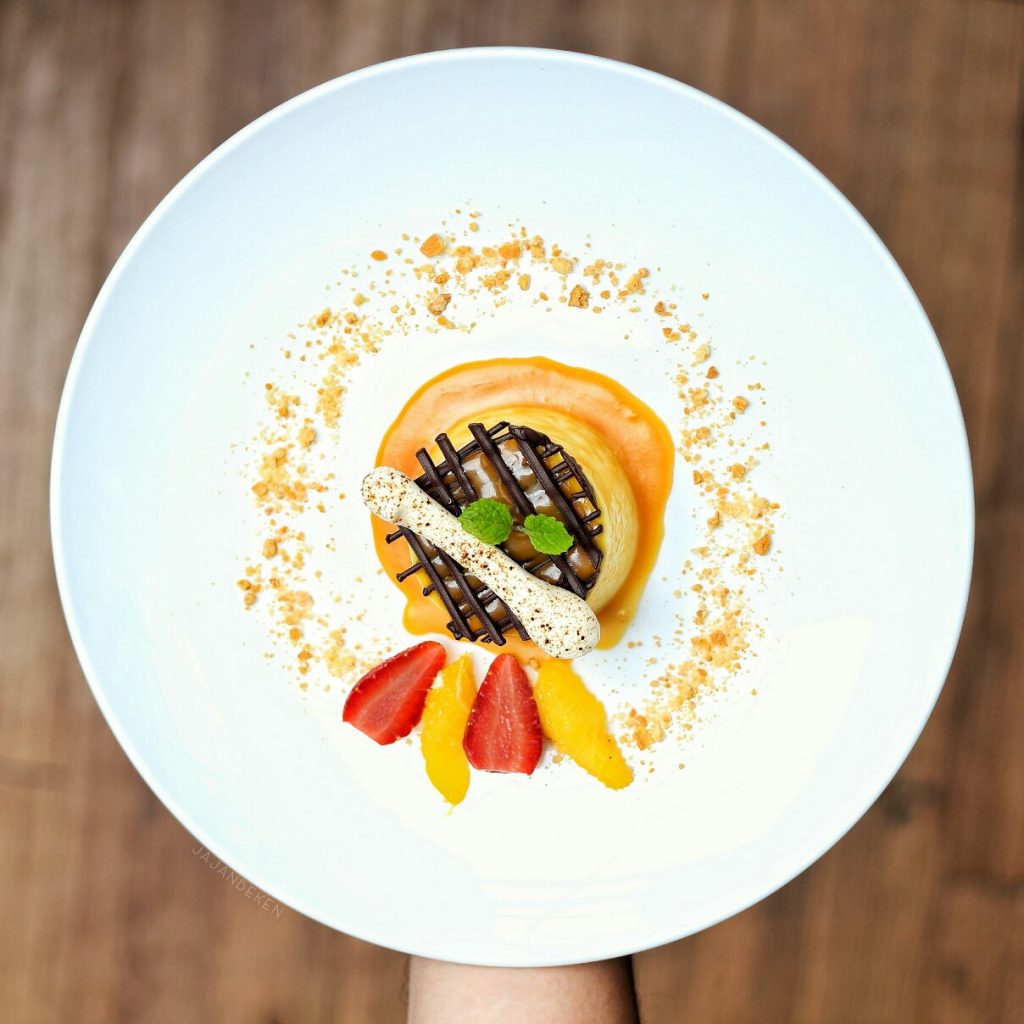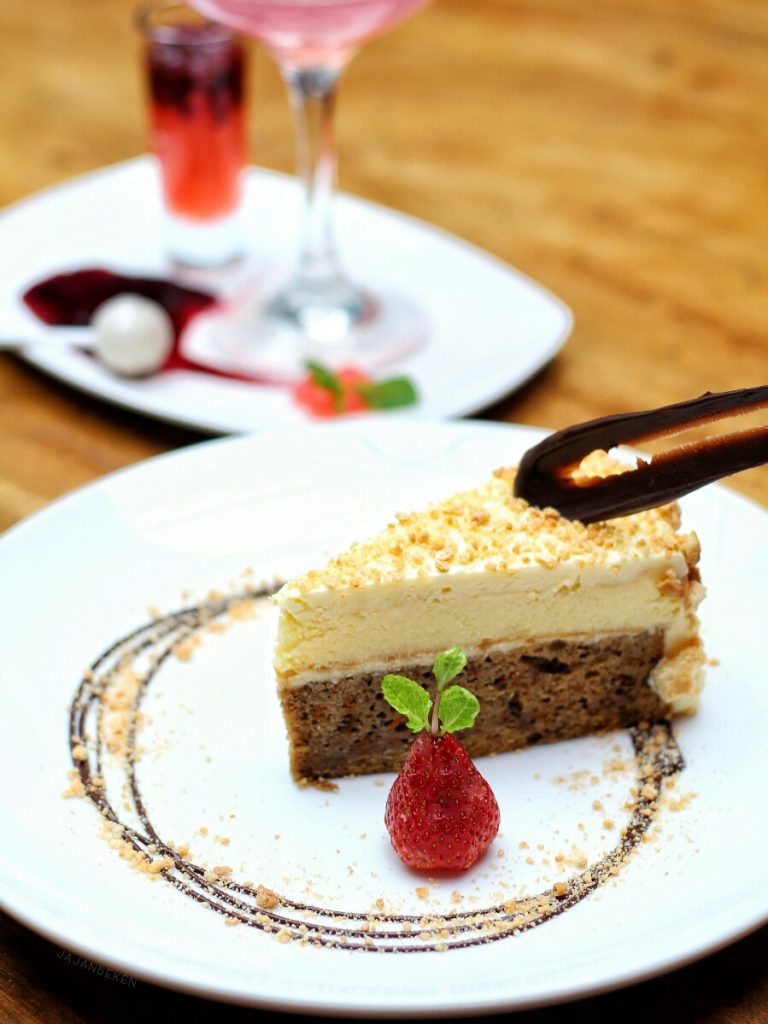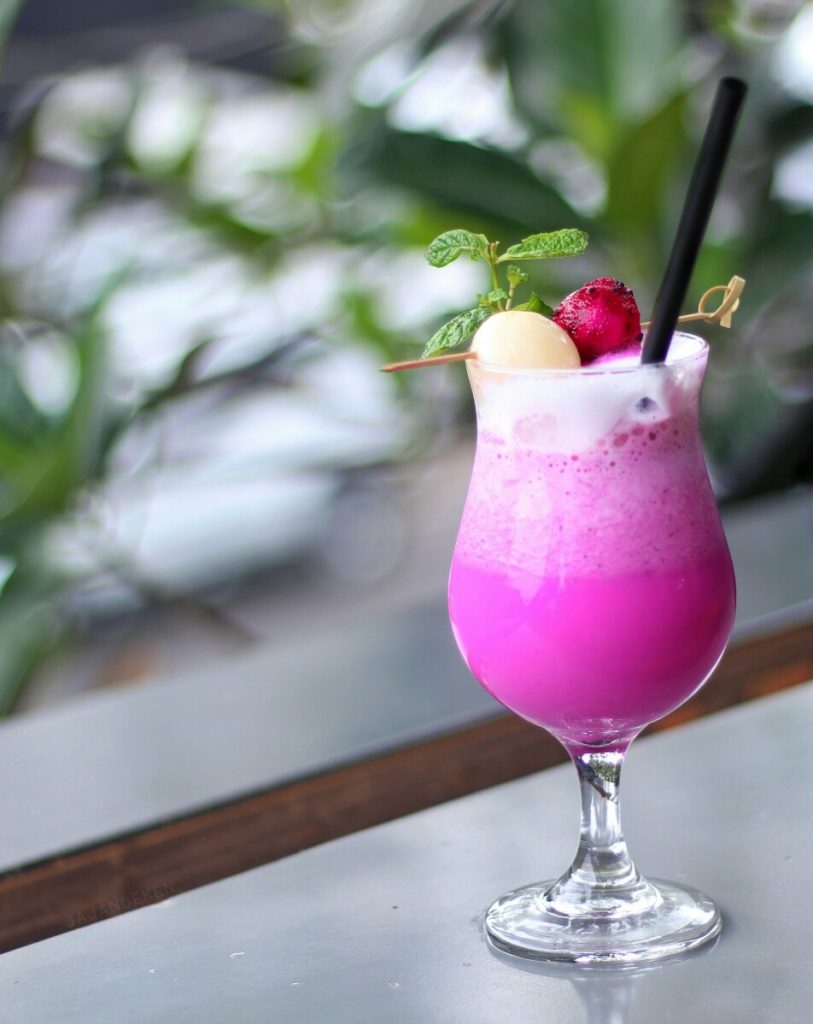 I highly recommend Branche Bistro to you guys! I love the ambiancenya, all the good food and the excellent service. This place is perfect for hangout with friends. I would definitely go back to this place to enjoy the other interesting menus.
Finally I close my review and don't forget to follow our culinary journey in this blog, Instagram, Youtube and Facebook. Please apologize if there is something missing in writing or menu explanation. We open for critics and comment. See you in another culinary journey with Jajanbeken!
RATING
Taste : Excellent
Service : Excellent
Price :  Average
FACILITIES
Wifi : Yes
Plug : Yes
Dine in : Yes
Outdoor : Yes
Toilet : Yes
Parking: Yes
CONTACT
Address : Jalan Senopati No.33, RT.6/RW.3, Senayan, Kebayoran Baru, RT.6/RW.3, RT.6/RW.3, Senayan, Kby. Baru, Kota Jakarta Selatan, Daerah Khusus Ibukota Jakarta 12190
Telp :   (021) 5734448
Instagram @branchebistro
INFORMATION
Open hour:  10.00 – 24.00 WIB
Price : Rp500.000 for two people (approx.)
Dresscode : Smart Casual.
MAP