AB Steak Jakarta is American Steak House restaurant that located in MD building, Mezzanine Level, which is has been operating since 23 April 2017. And this is very encouraging news for you meat lovers, because they have a variety of steak menu with number one quality. This restaurant has a special attraction to visit because it's still in a group with Akira Back Restaurant that located in the same building. This steak house is different from the other, because not only American steak house but combined with korean accent.
29 May 2017, Me and my friends has made plans to spend time for breakfasting at this restaurant. When we arrived at this restaurant, we were all very impressed with the ambience of AB Steak Jakarta. Although the place is not too spacious, but this restaurant has 3 VIP room and main room with capacity is 48 people. And if you want to come to this restaurant I expect for you to reserve a table in advance.
Want to know more how the ambience of this restaurant and the food we've tried? Just follow our story below until the end of this article guys. Let's check it out!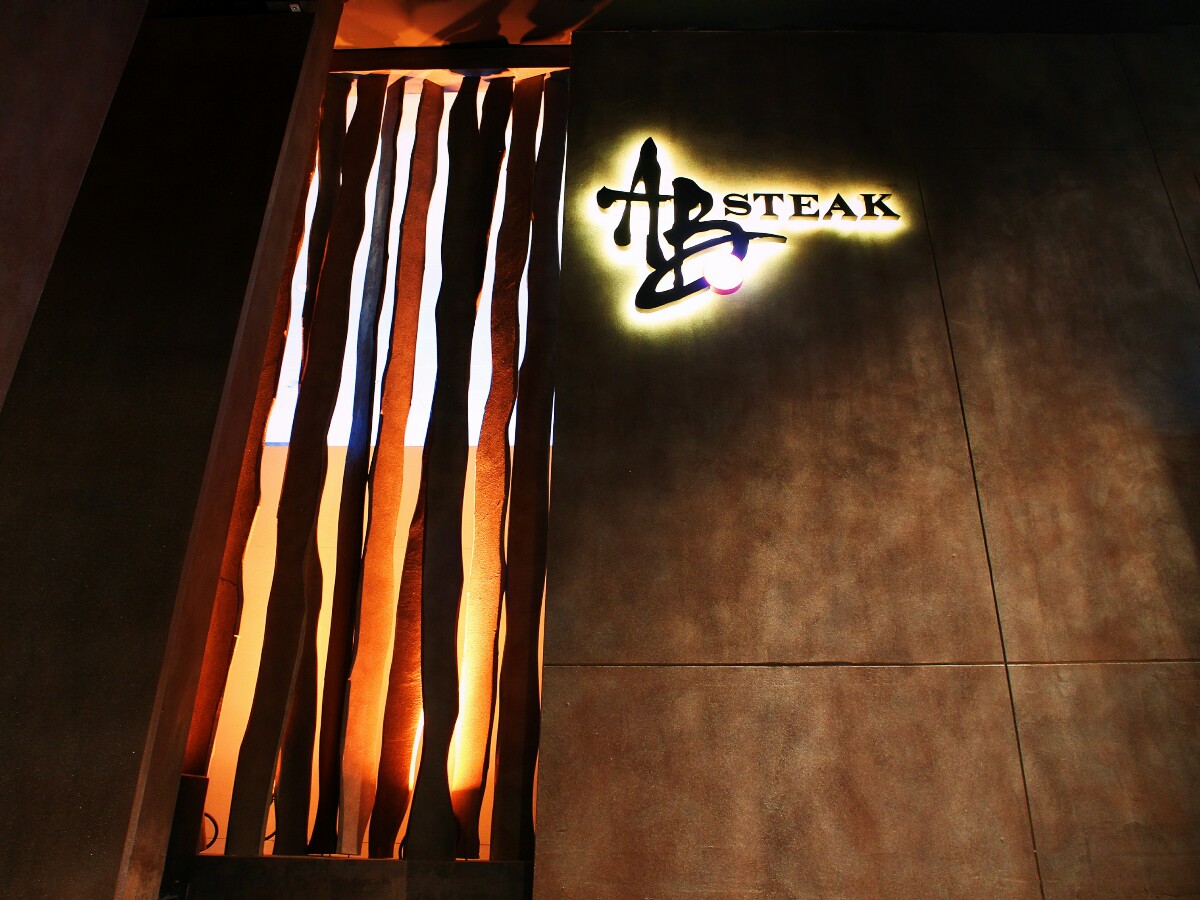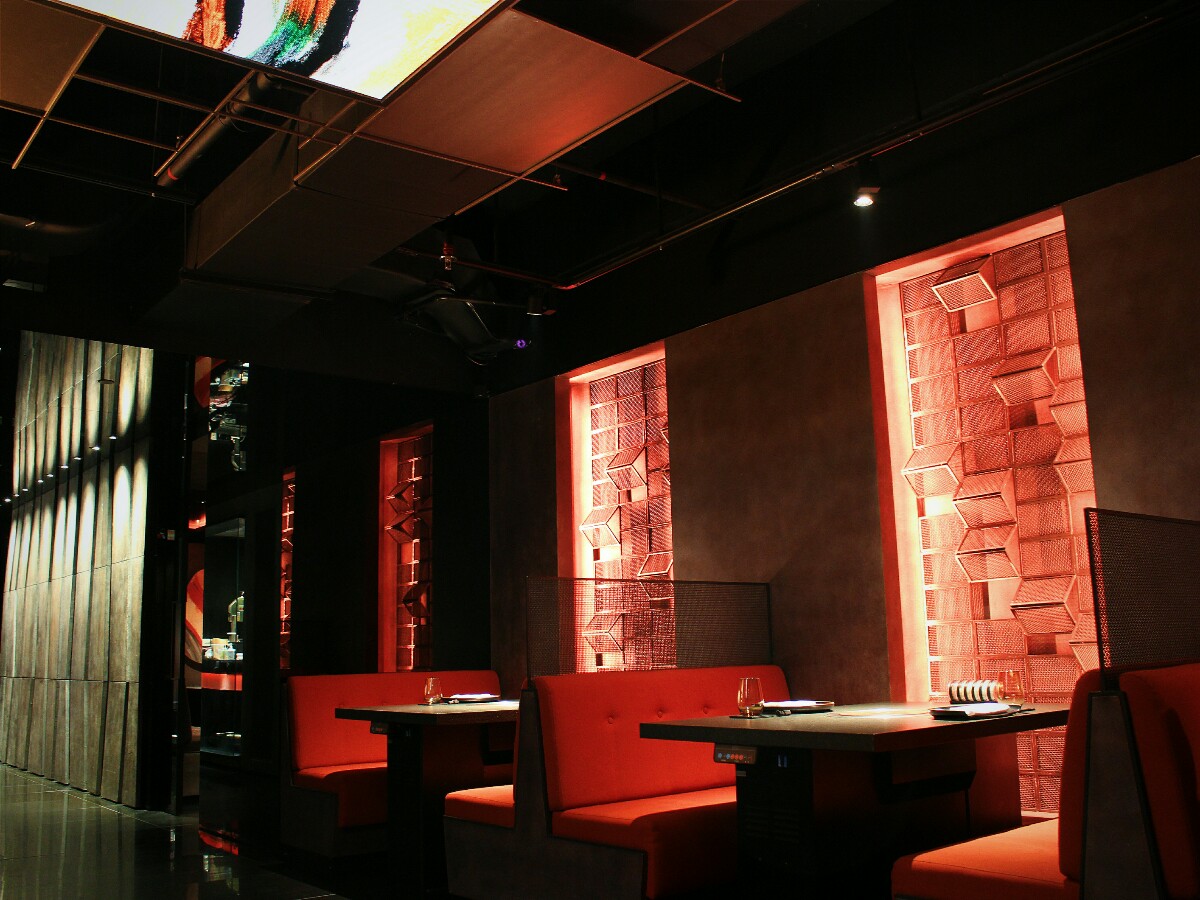 A Spirit Within The Interior of AB Steak Jakarta
The room inside AB Steak Jakarta is dominant with black, red and stone color. The luminosity of the room is dim so it will bring a deep and silence nuance but still elegance and luxury.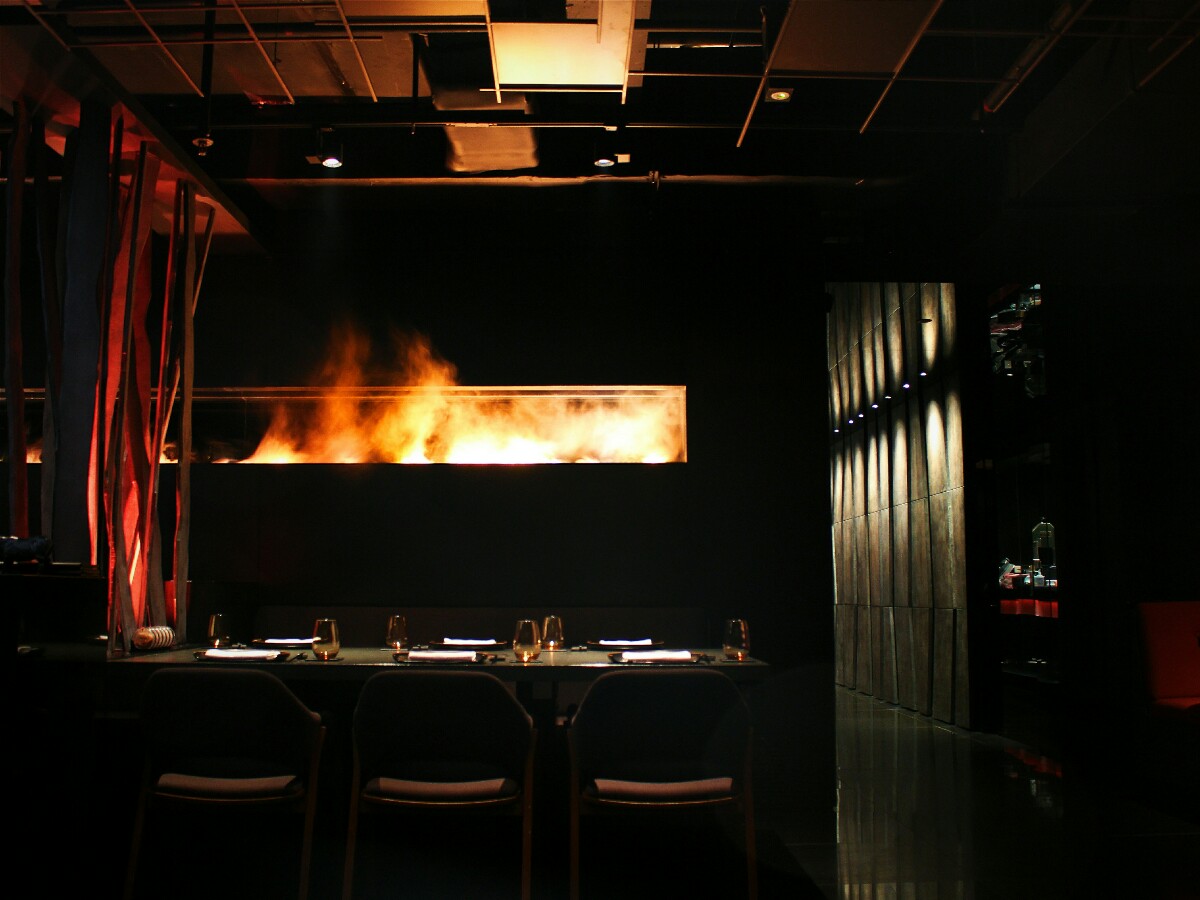 I saw a fire attraction on the wall behind the seat and it's give a warm touch and become a magnificence spot in the whole room. This fire attraction was made from steam but it's still present a spirit of fire for anyone who sees it.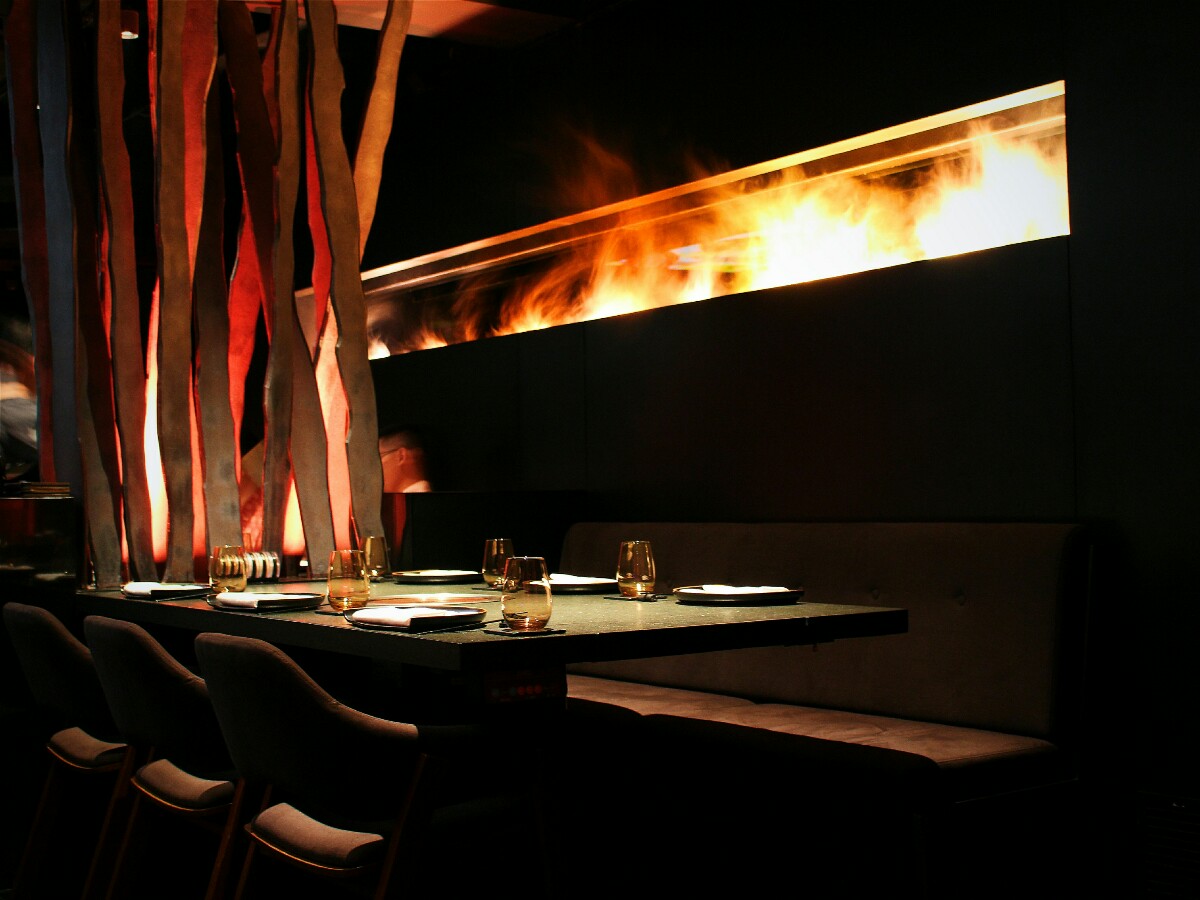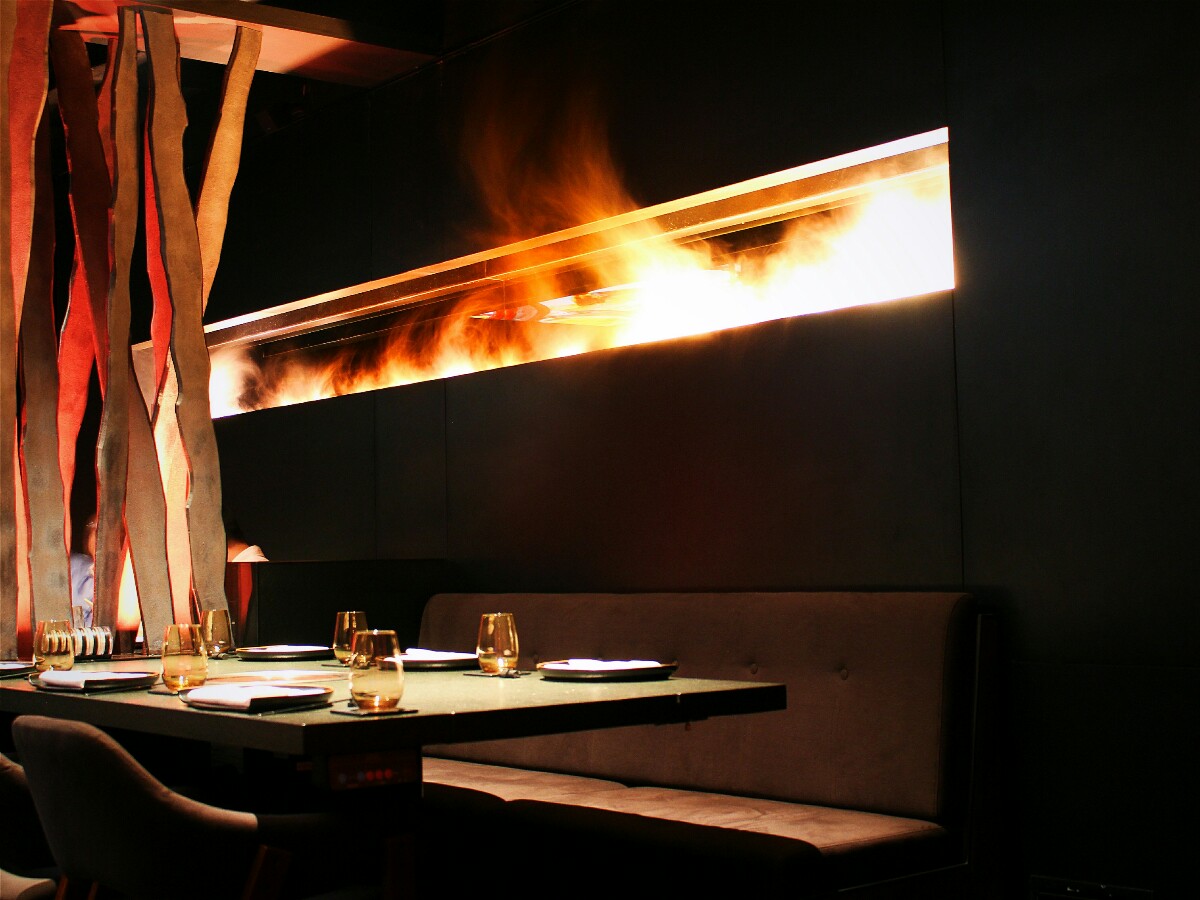 You can see the wall that full of origami of 1000 cranes to describe a hope, luck and happiness. The pillars that support this room also describing a flame with reddish lighting that blazing in accordance to the grilling process itself.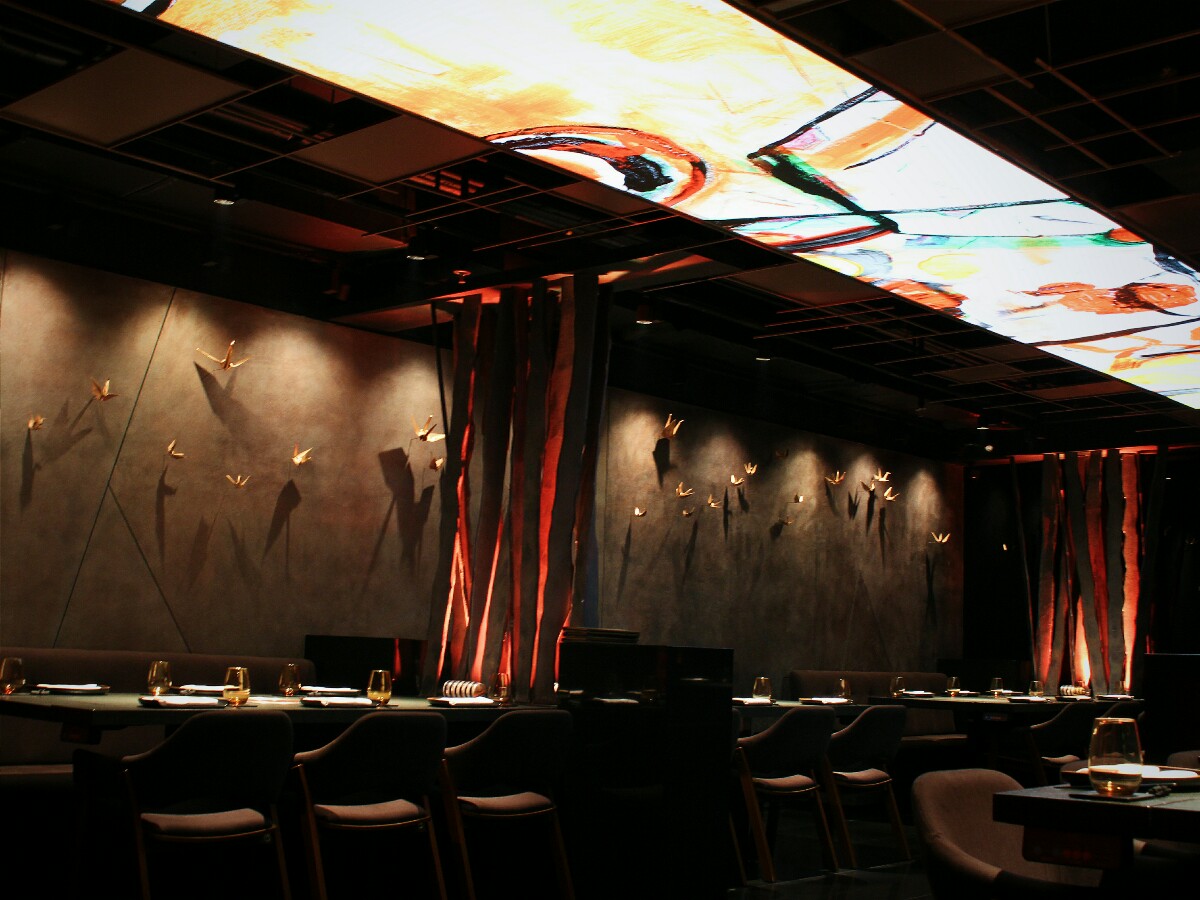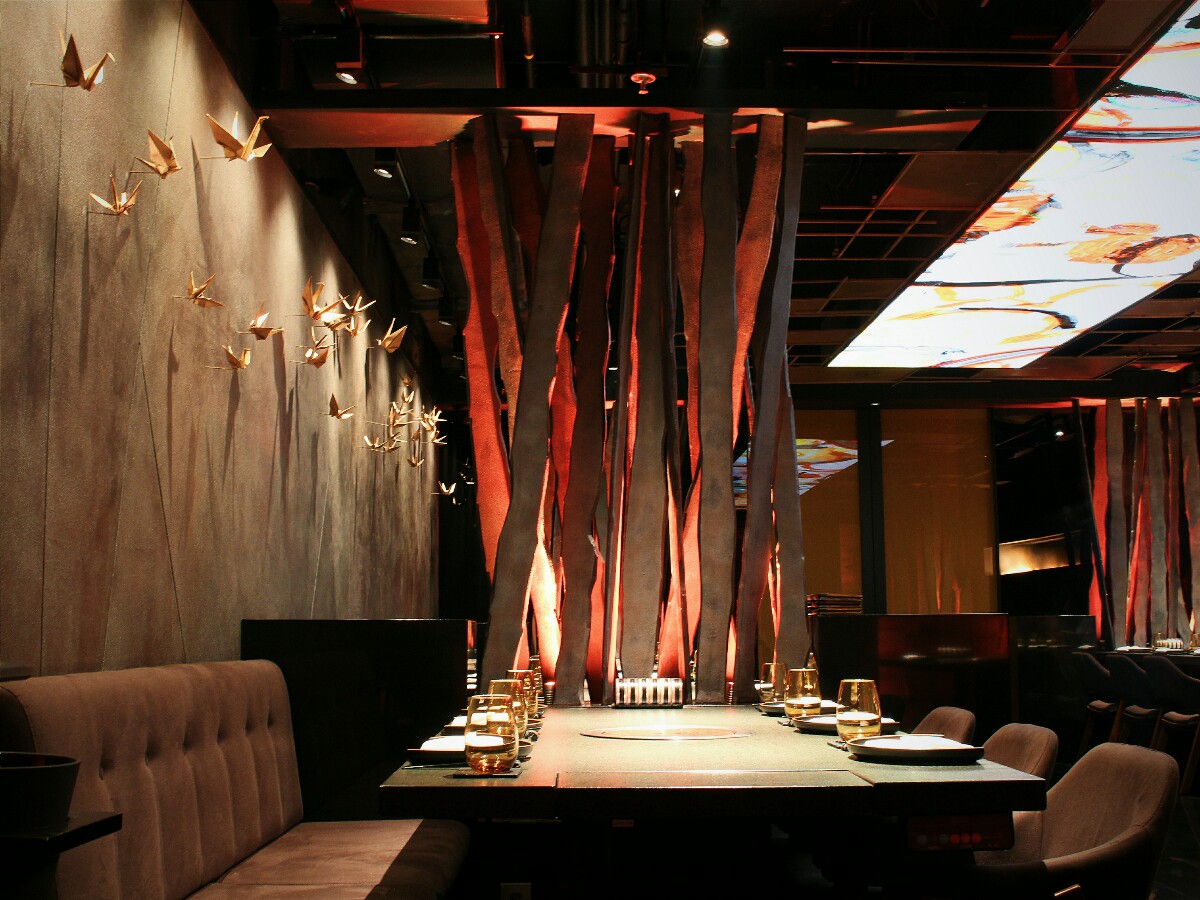 With the beauty and artistry that is reflected in AB Steak Jakarta, I believe many people will be amazed to see the beauty of the interior. And these feelings will be in harmony with the dish to be served.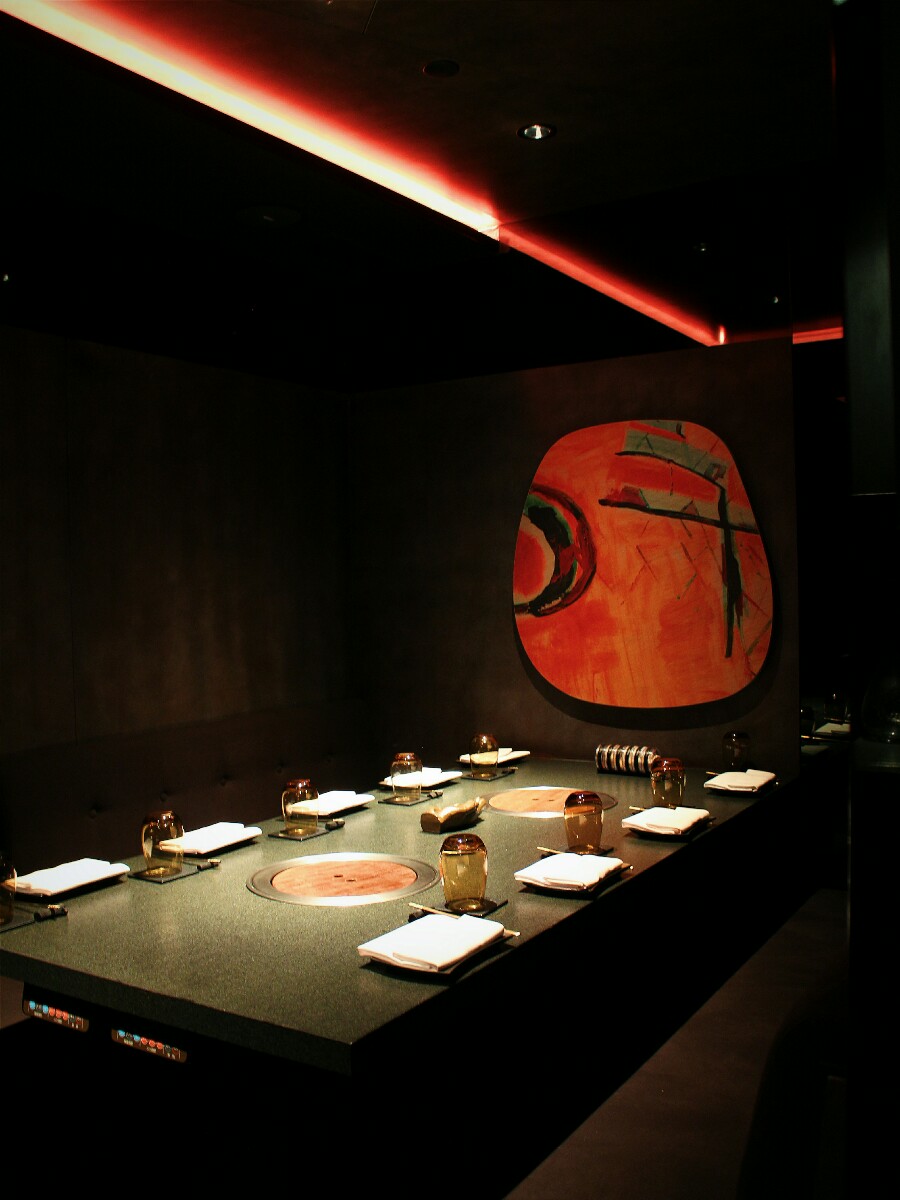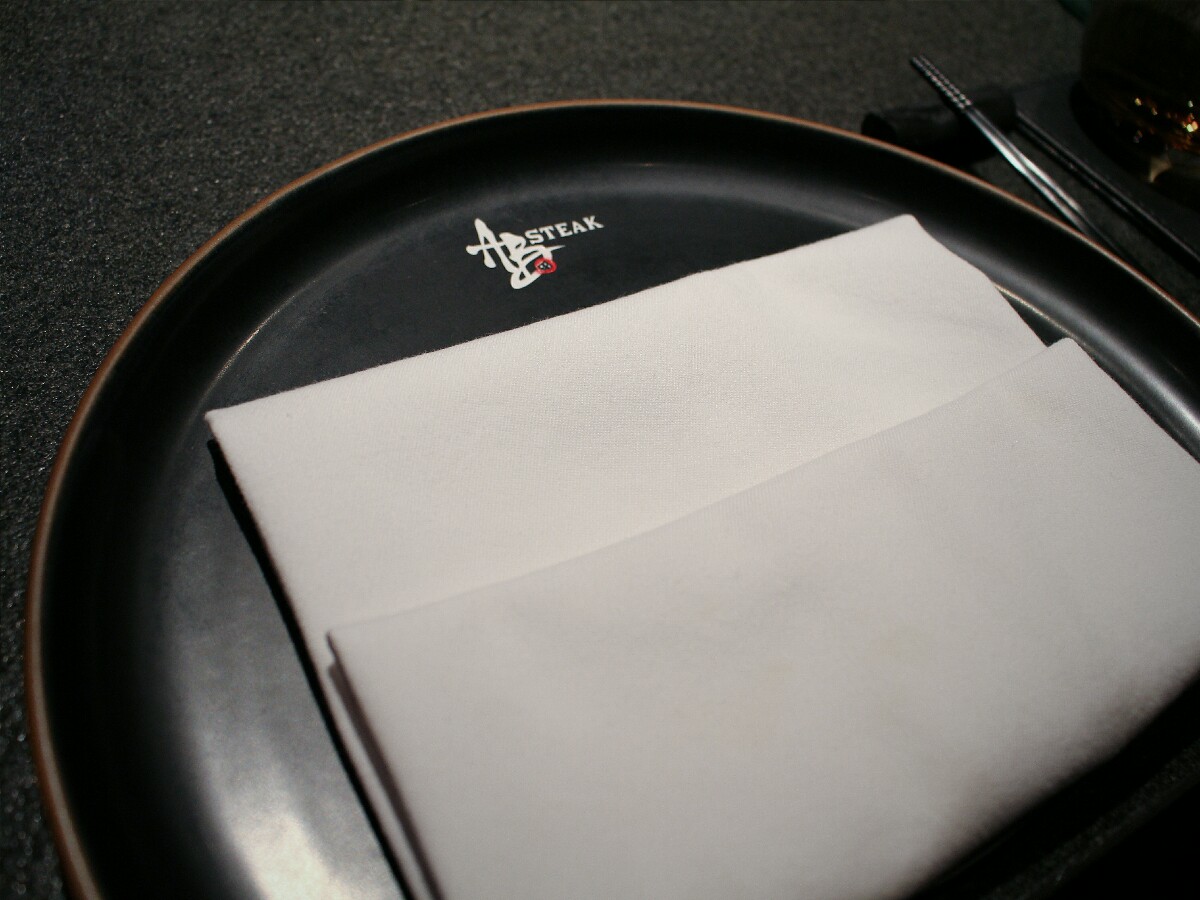 I had a simple tour to their special room which is a place for meat storage where the dry age meat happen. In special condition the meat in this room will give a unique characteristic during aged in this room but still keep hygiene and cleanliness.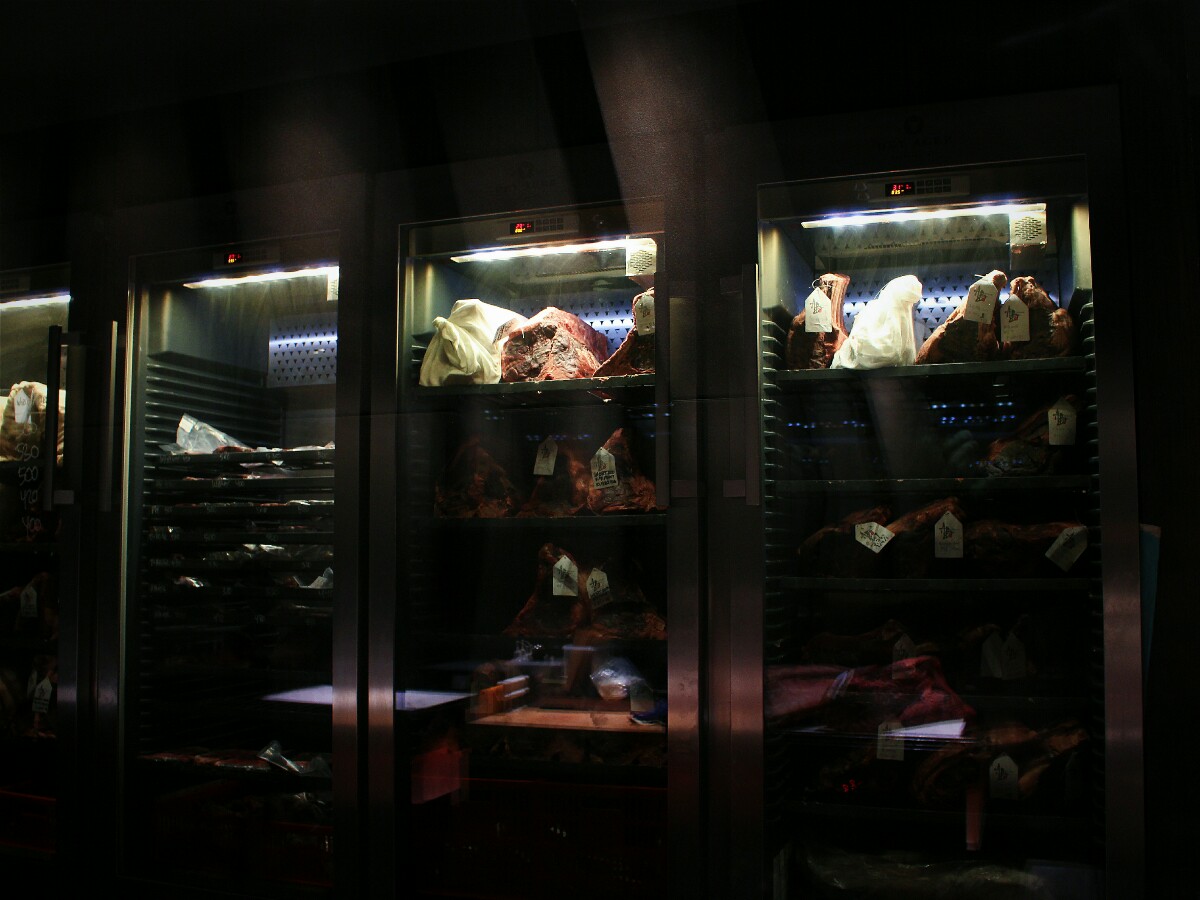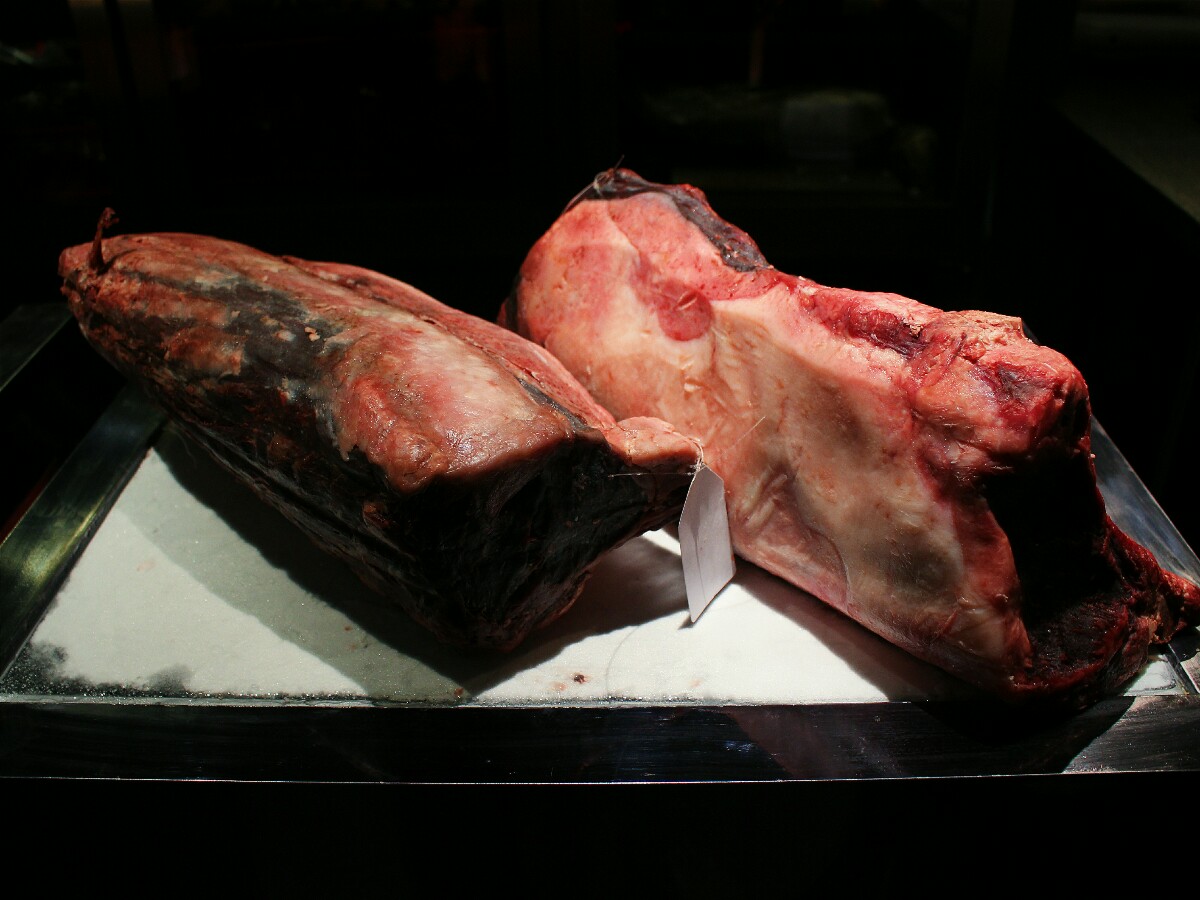 With this excellent atmosphere and interior you guys must ask how about the food at AB Steak Jakarta? Well this is the part that we are waiting for, start from appetizers to dessert I will let you know this is the happiness are. So let's scroll guys!
Tuna Yukke (IDR 95K)
The first menu came to our table is appetizer called Tuna Yukke. The dish look beautiful because presented on the stack of stones seems like a zen style. The Tuna Yukke made from scallion, cucumber sesame sauce and seaweed in petite four so you can easily to eat in single bite. Even though the dish were quite small but  in the mouth it will create a flavorful taste with sweet, sour and umami and a little smile will appear while you eat this dish.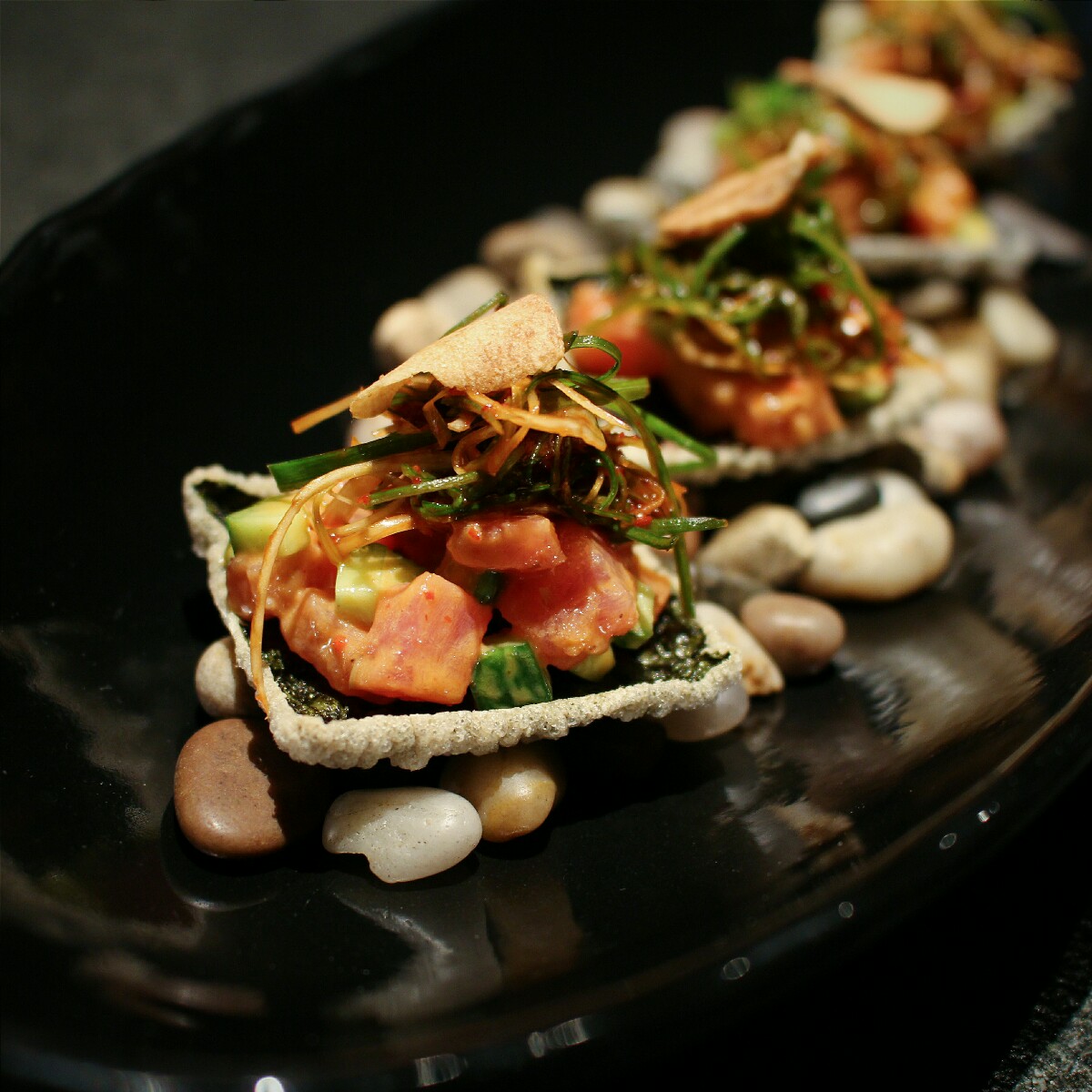 Corn & Cheese (IDR 135K)
Still in the appetizer series, the staff bring us with another awesome dish and it's called Corn & Cheese. This menu made from beef bone that split into two parts so the marrow bone appear and topped with cheese and sweet corn. How it taste? Fabulous, just use your spoon and the marrow bone melt in your mouth and it feel satisfied and addictive. The parmesan cheese and corn make it complete and suitable with the whole dish.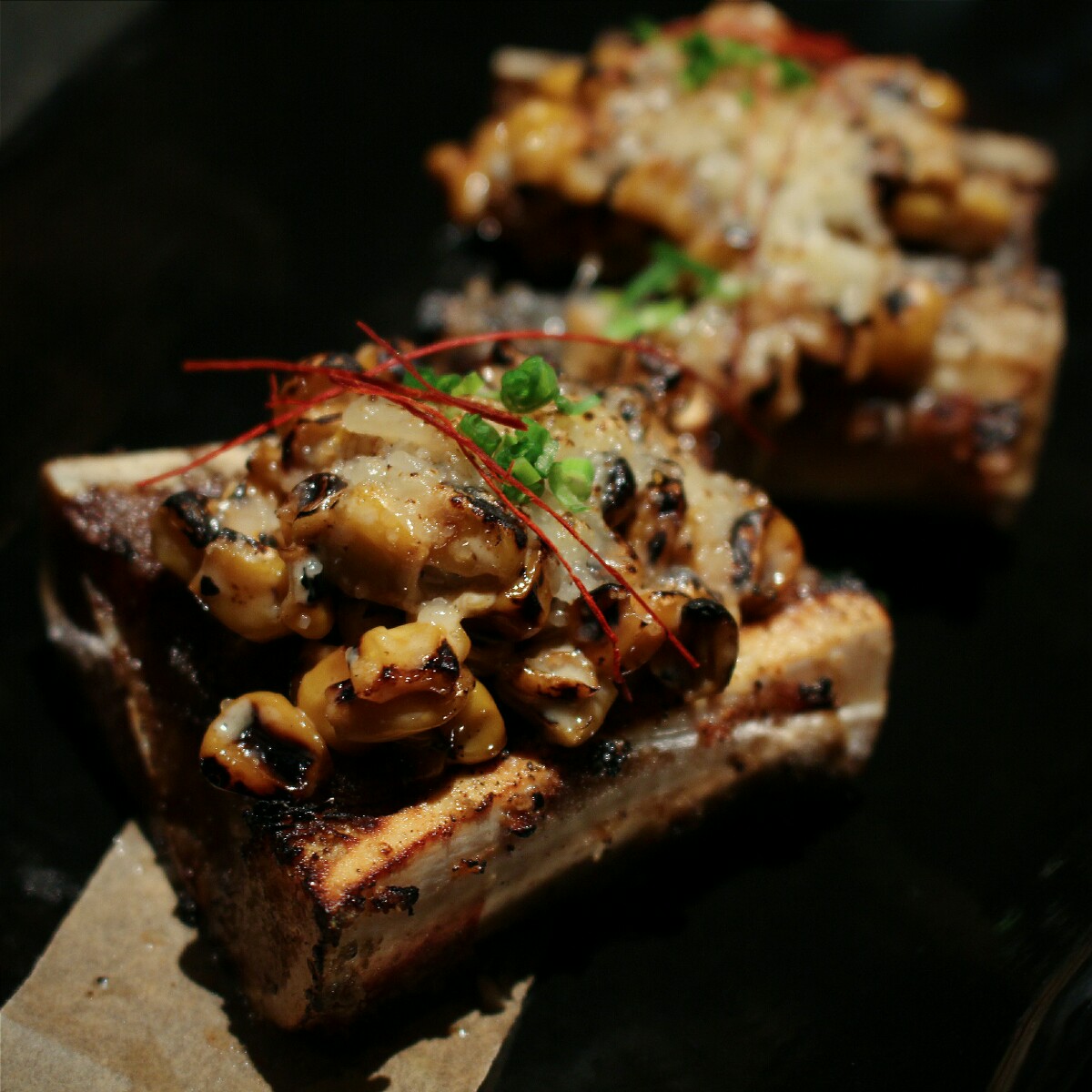 Steak Tartare (IDR 185K)
While we still impressed with the previous menu, another awesome appetizer came to our table and this is Steak Tartare that made from roasted bone marrow, wagyu and toasted brioche and beautified with arugula and lotus root. The toasted brioche was easily to cut and the whole dish has a sweet and savory taste.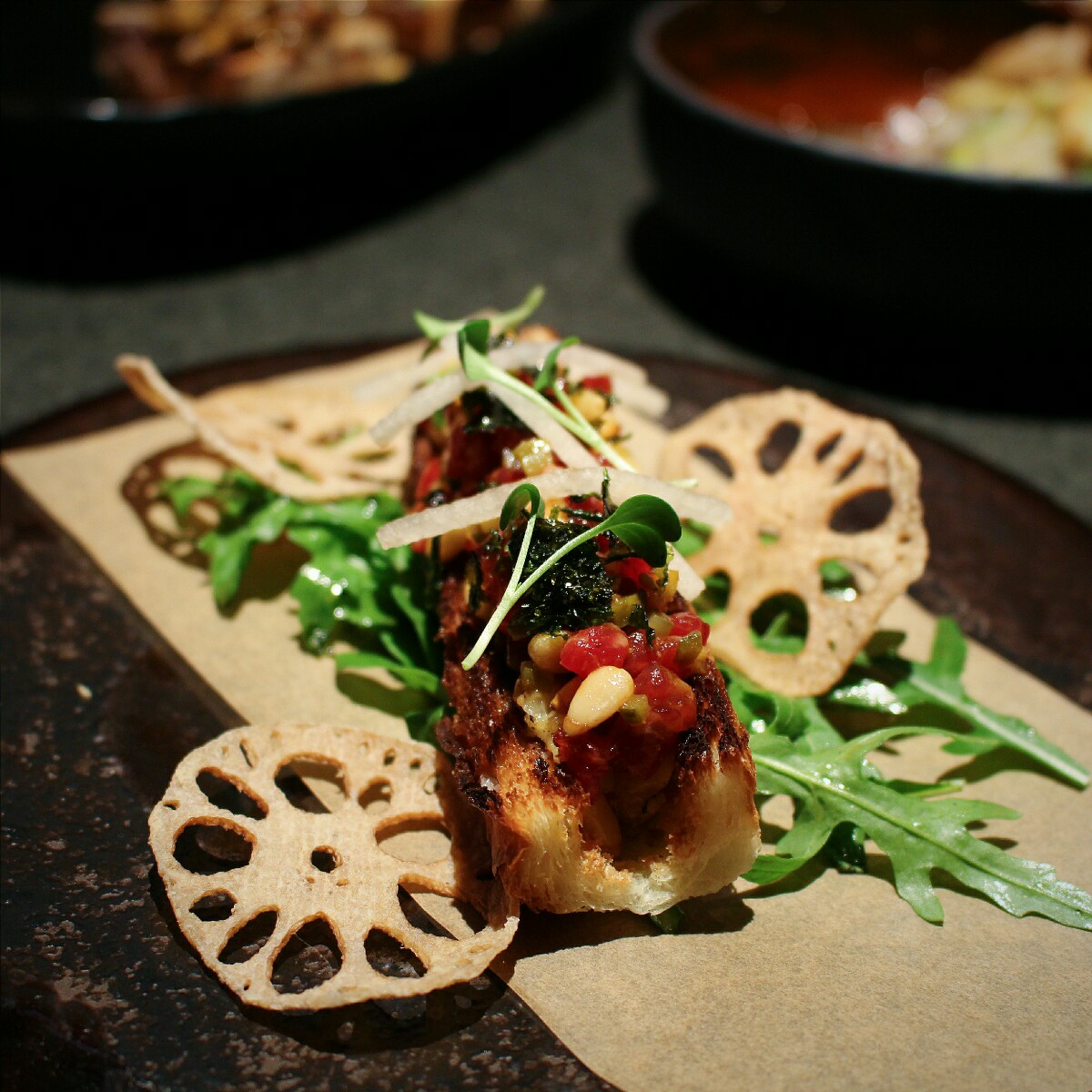 Foie Gras Bibimbap (IDR 195K)
Than we are enter to the main menu and this is Foie Gras Bibimbap. A bibimbap in a bowl served with delicious Korean sauce and a huge of Foie Gras on top make the dish look so tempting. The bibimbap taste was so good not too mention the foie gras also not fishy and melt in your mouth.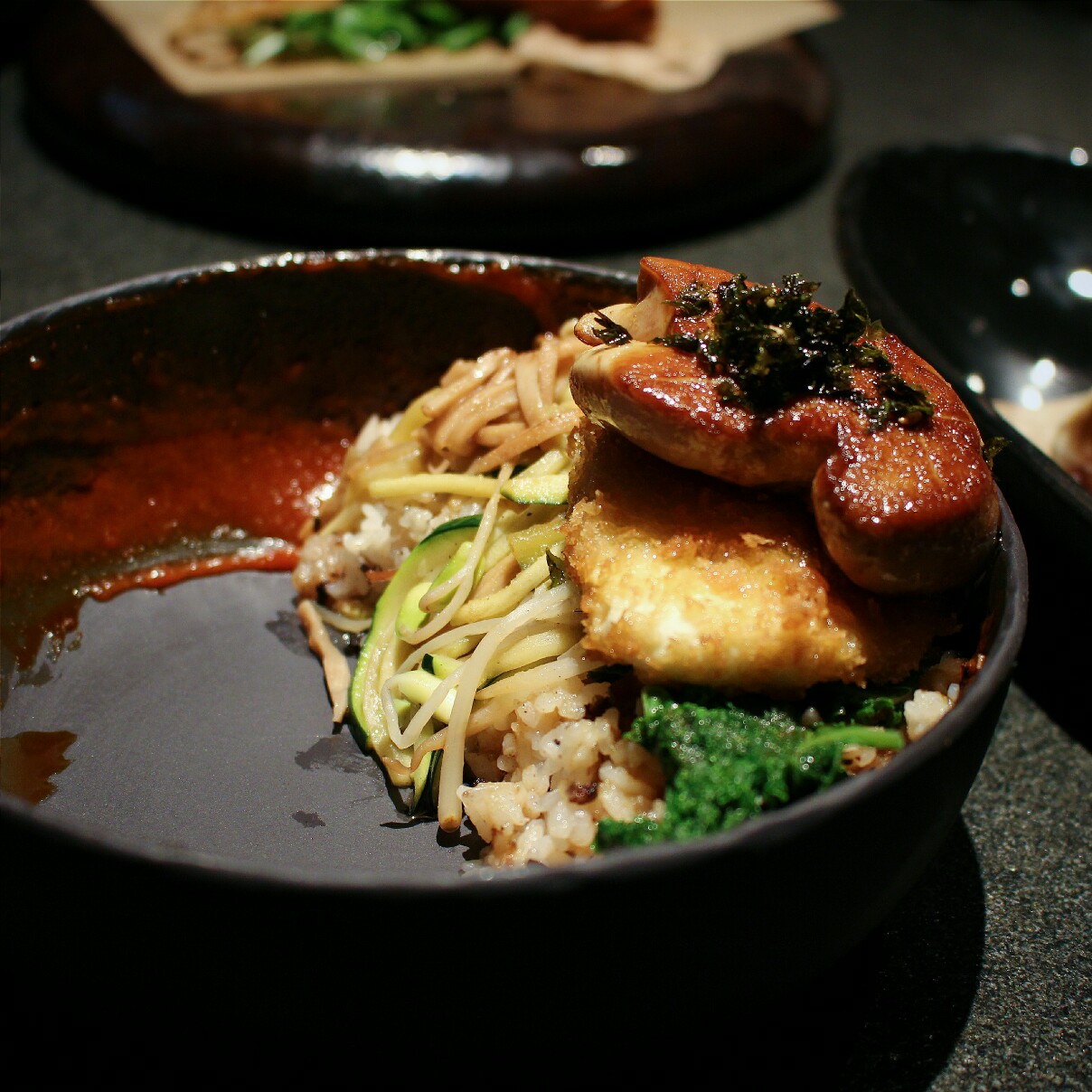 The Six Salt
As the American Steak House, AB Steak Jakarta provide 6 different seasoning salt to accompany your meat time here. The 6 salt are Pink Himalayan, Truffle, Kim chee, Garlic, Yuja and Sriracha. Garlic salt has the strongest aroma while Sriracha has a spicy and sour taste and  the Truffle become a favorite in AB Steak Jakarta.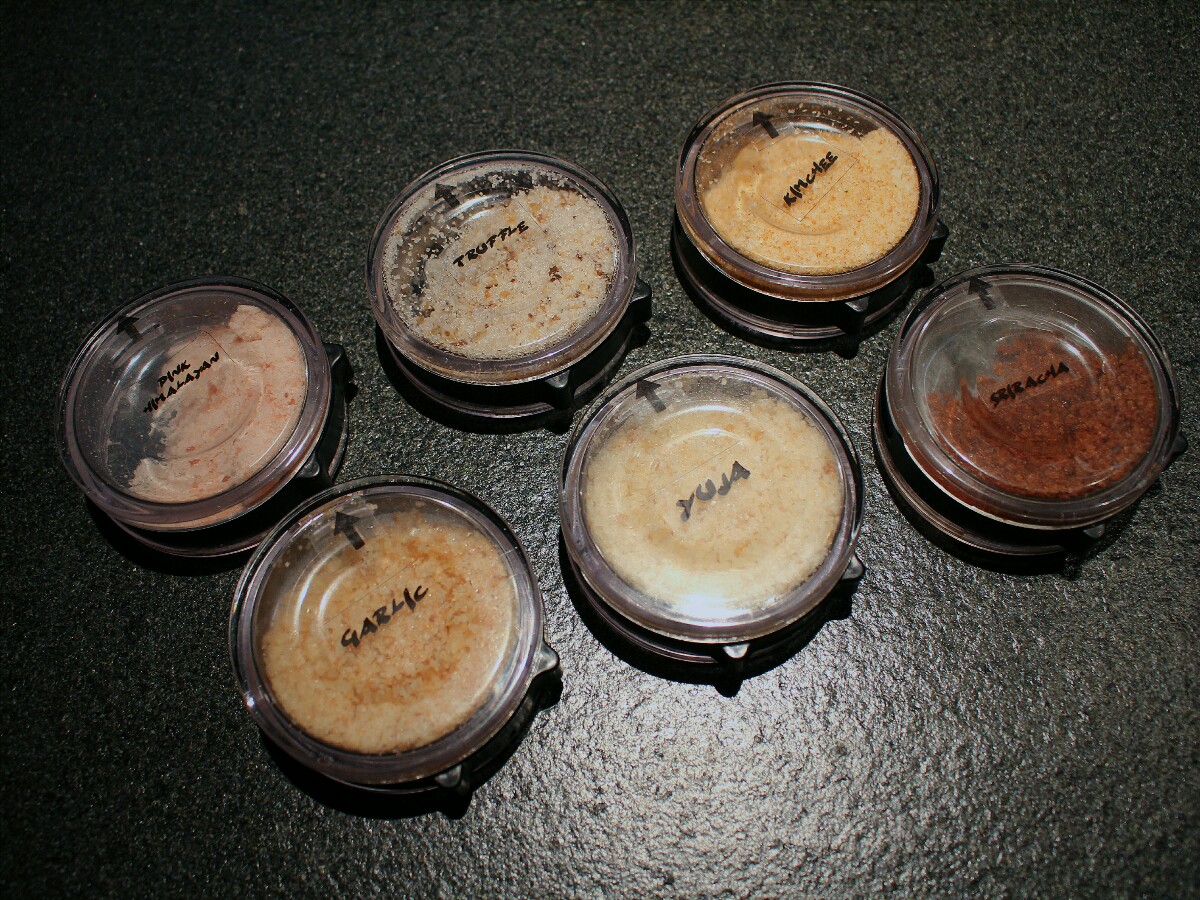 The Five Sauce
Still with your meat, you can dip it in 5 different sauce. The sauce from left to right are the roasty oil of Sesame, the spicy and pungent Habanero, a sweet and nice Bulgogi, the tangy and sharp Wasabi and flavorful of Cumi Cury. For me, I really love sesame and bulgogi while the other was impressed me too.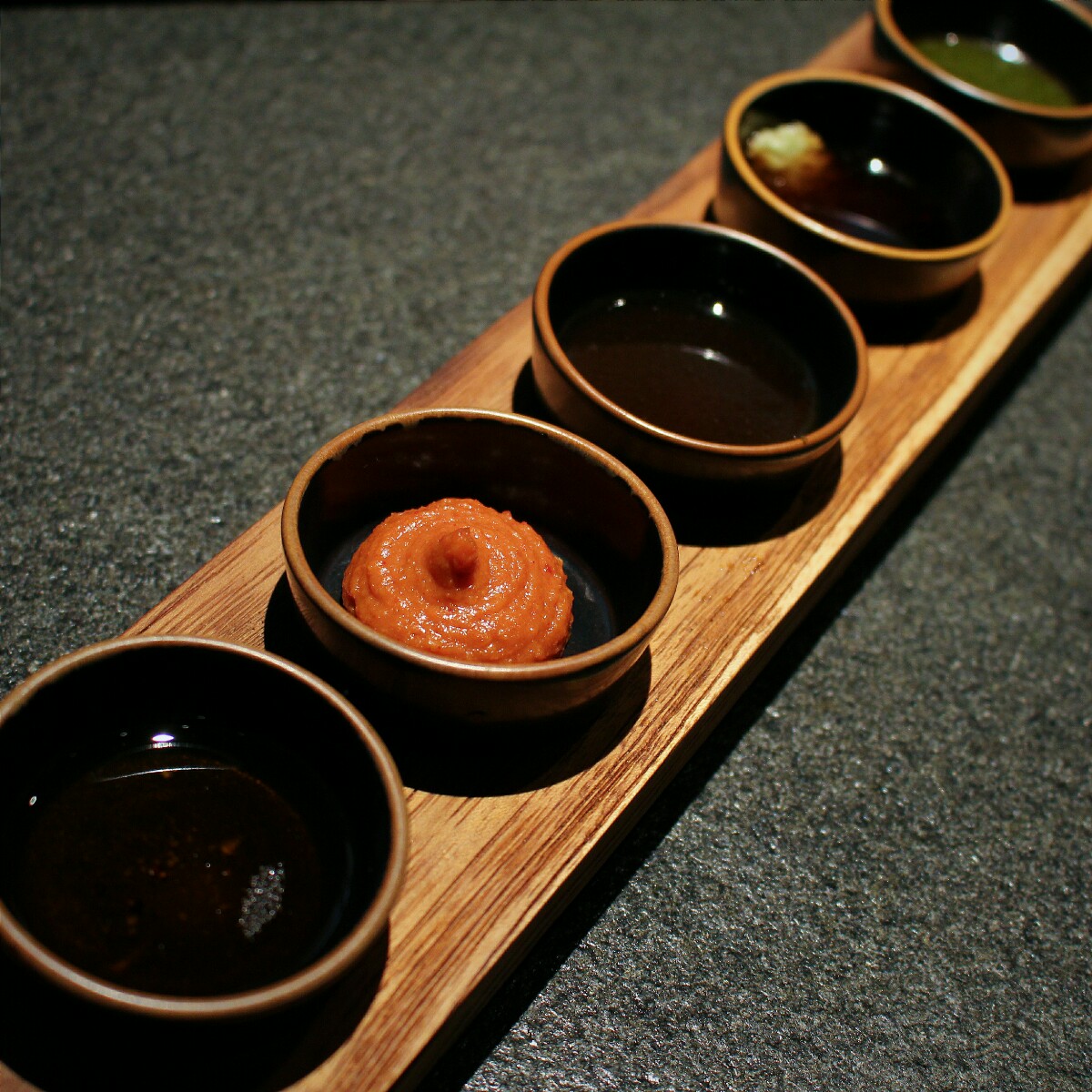 Now the wait is over! We will bring you to our first experience of Dry Aged Beef Steak. Yes there are 4 different meat menu that I will show to you and all the grill process handled by different staff. Just for your information all the meat are grilled with medium rare as the standard for AB Steak Jakarta by Chef Akira Back but you can make it to be well-done as your desired.
200 Grams Kiwami Wagyu (IDR 350K)
One of their staff came to our table, he brought first meat menu to us and 200 Grams of Kiwami Wagyu is ready to grilled. The marble surface with a little fat become a perfect steak with appropriate thickness when it's grilled. And I thought this is a good starting for us to enjoy our meat time that night.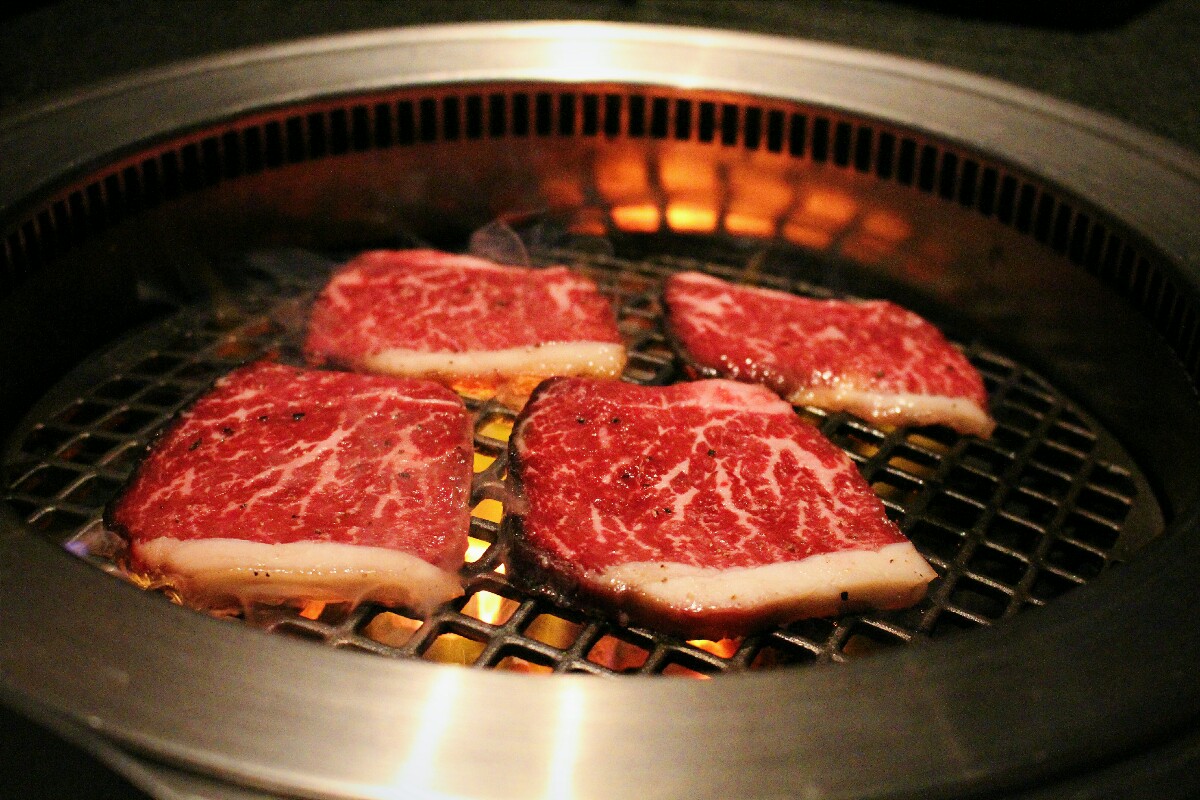 The grill at AB Steak Jakarta provided with smoke suction so it will not make your clothes smell. I saw the staff pour some apple wood flakes into the coals while grilling to boast smoky notes into the meat.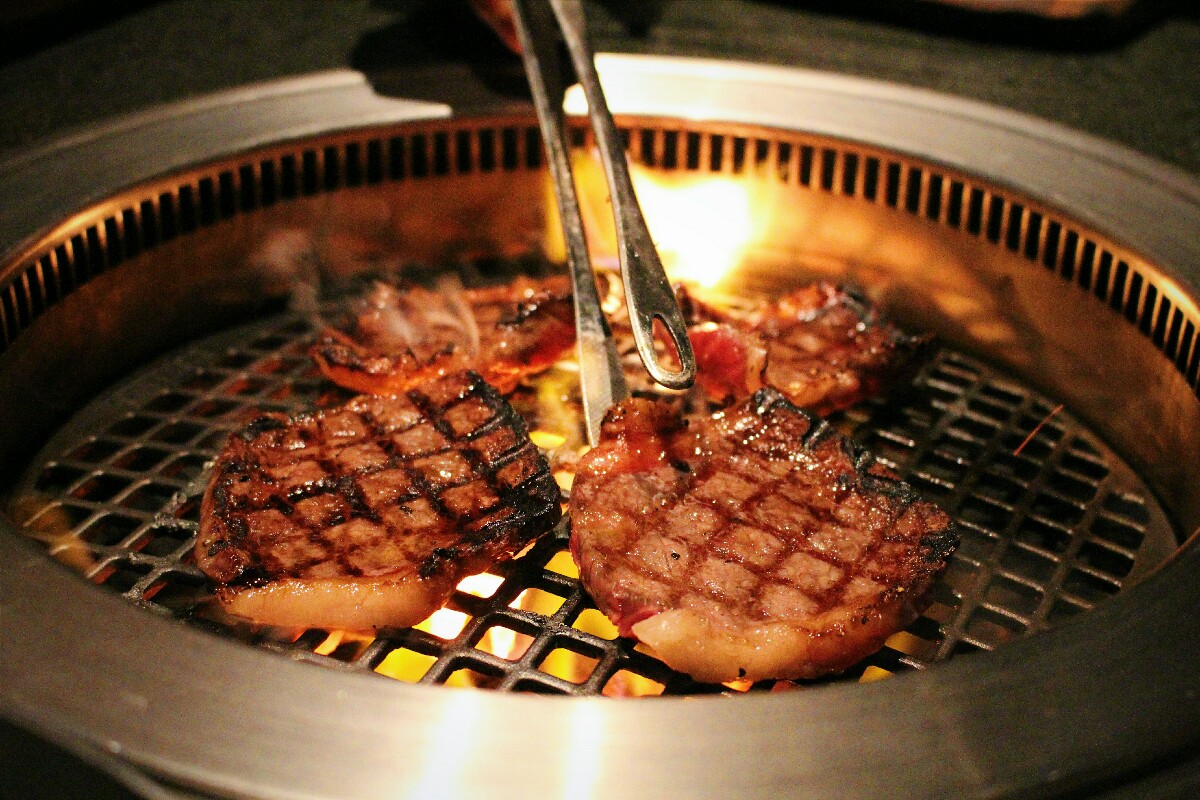 200 Grams Skirt Steak (IDR 600K)
Our meat time became more exciting when another staff brought 200 Grams Skirt Steak to our table. A full red meat with square cut is ready to grilled.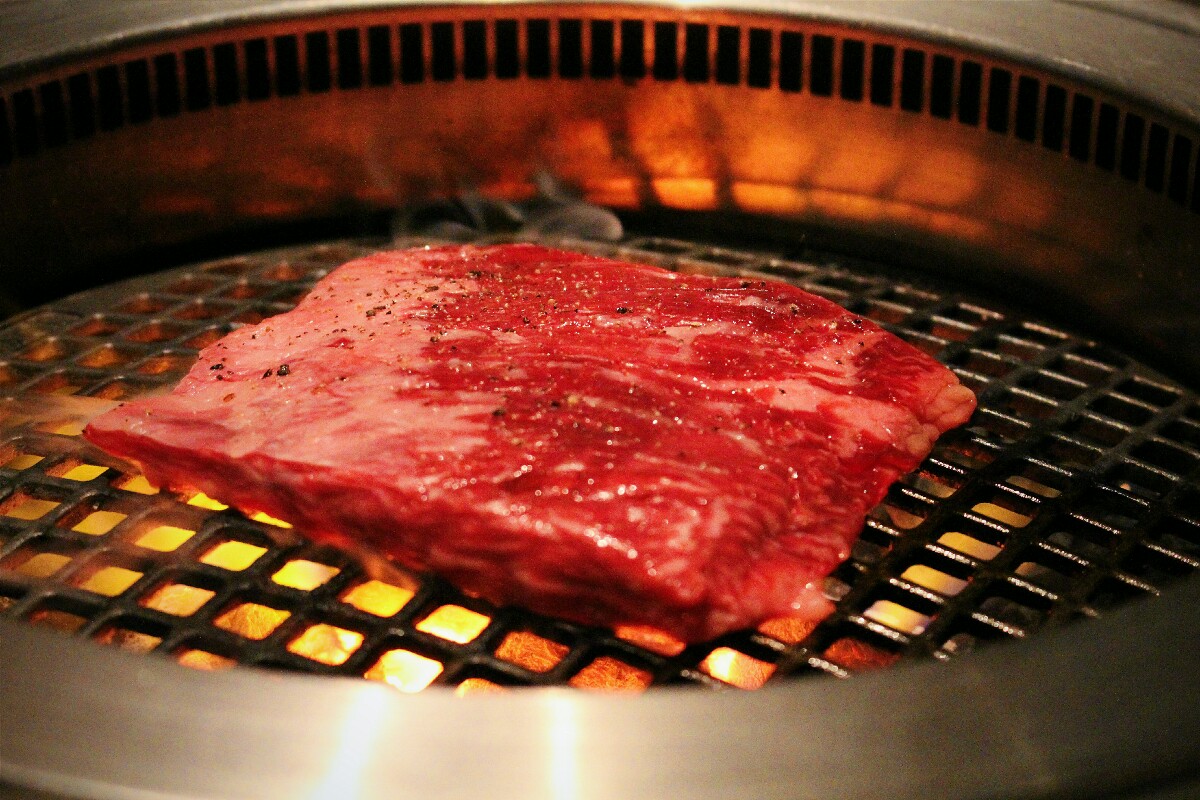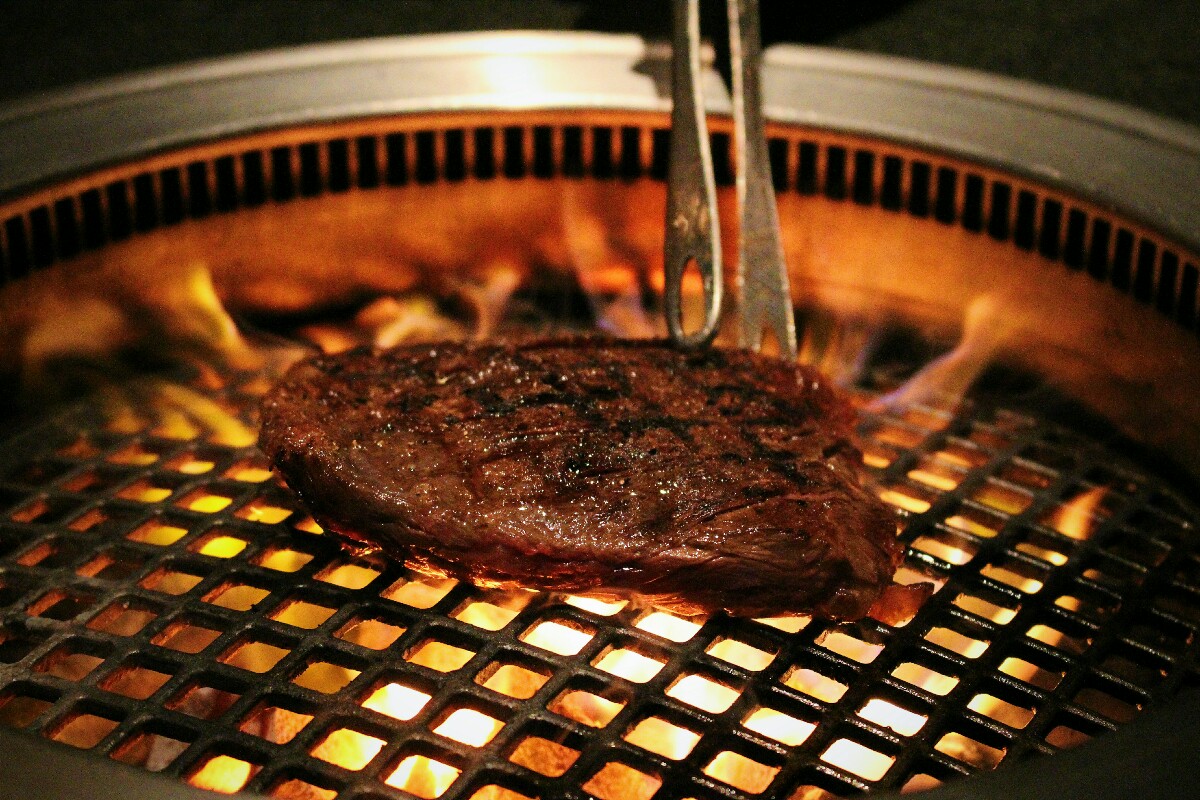 With medium rare level, this meat still has a red color inside. When I ate this the texture was so tender and sweet, then I dipped it in the Cumi Cury sauce and it become more tasty. I tried to grilling again the other cut, both medium rare and well done are same tastes good, moreover when you dip into the 5 sauce selection.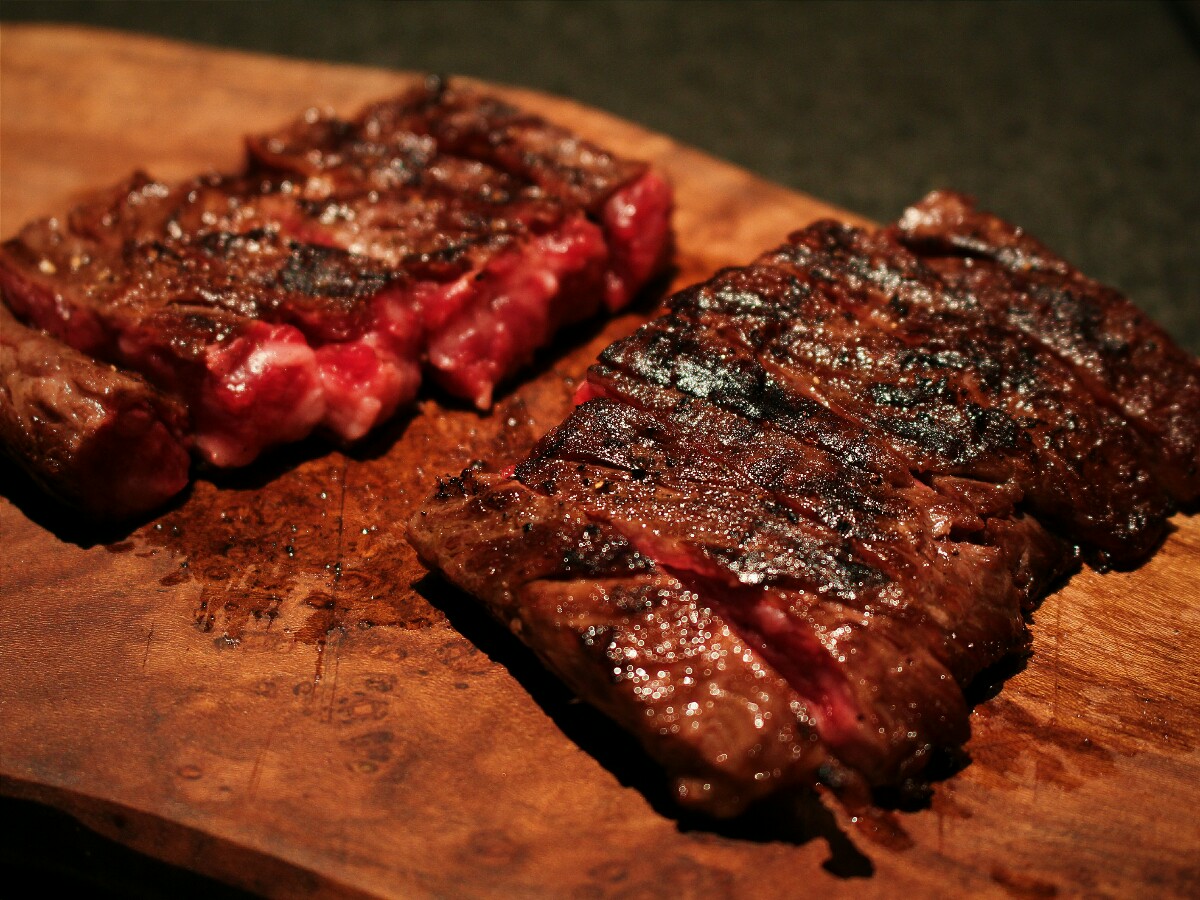 440 Grams of Bone in Rib Eye (IDR 875K)
After we satisfied with smaller grams then we move into the big one, 440 Grams of Bone in Rib Eye. A huge beef grilled by their skillful staff. Need more patience to wait the meat become medium rare due to its size. A bronze lid needed to close the grill during grilled to ensure the cooked was on the right level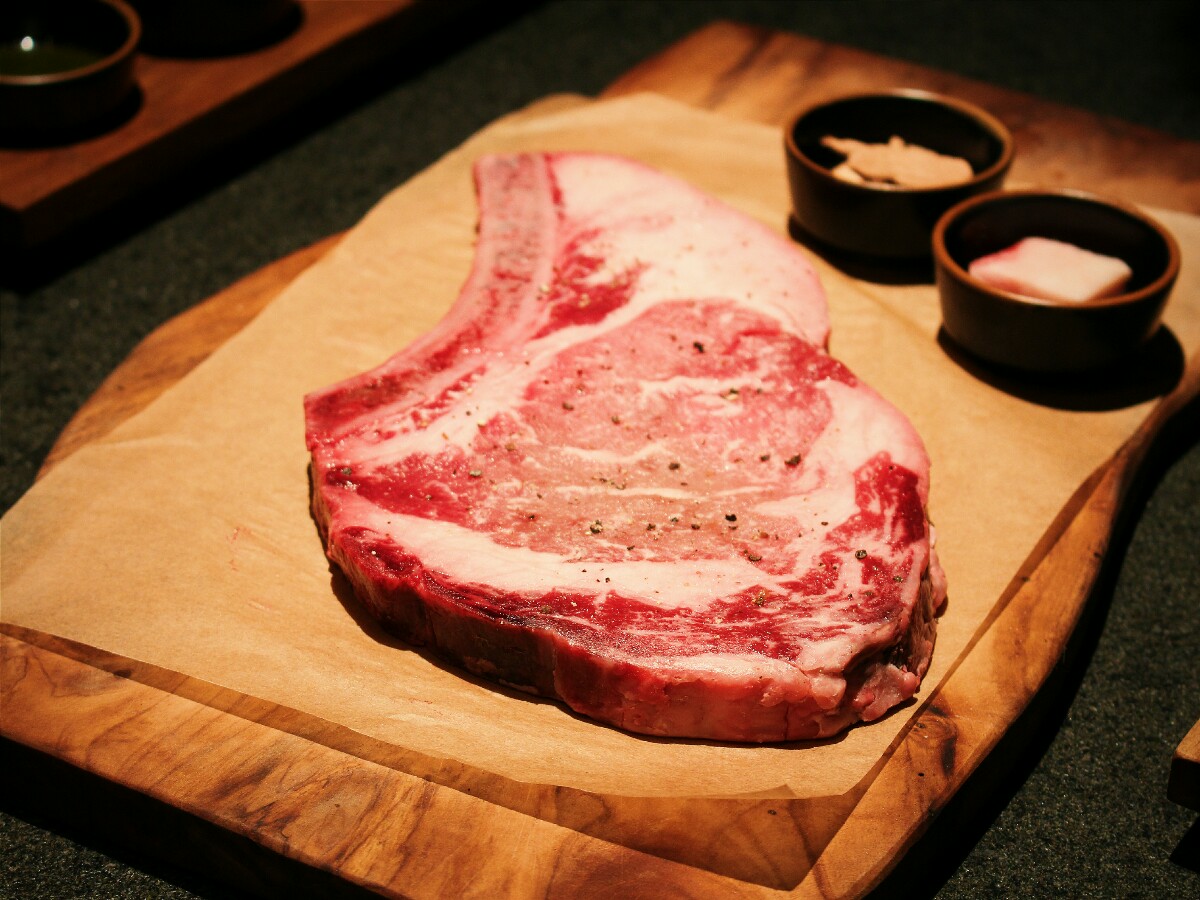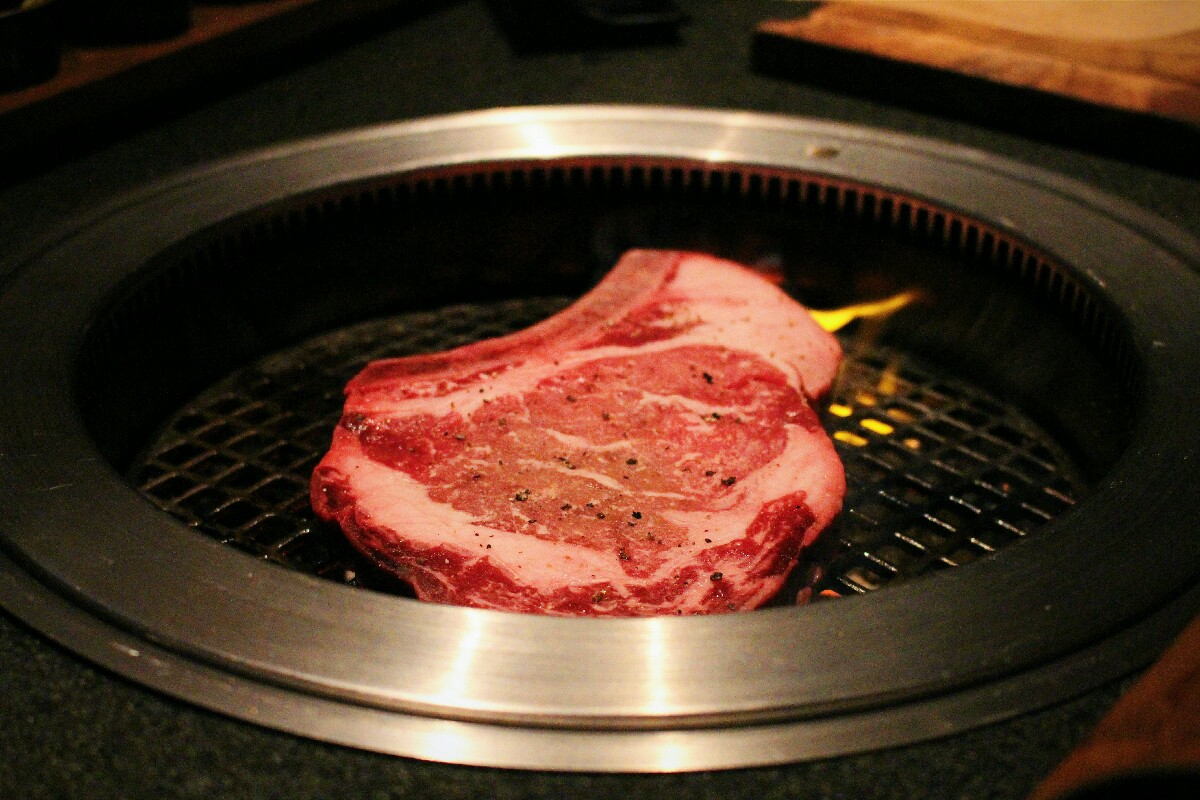 After several minutes this ribeye ready to be served!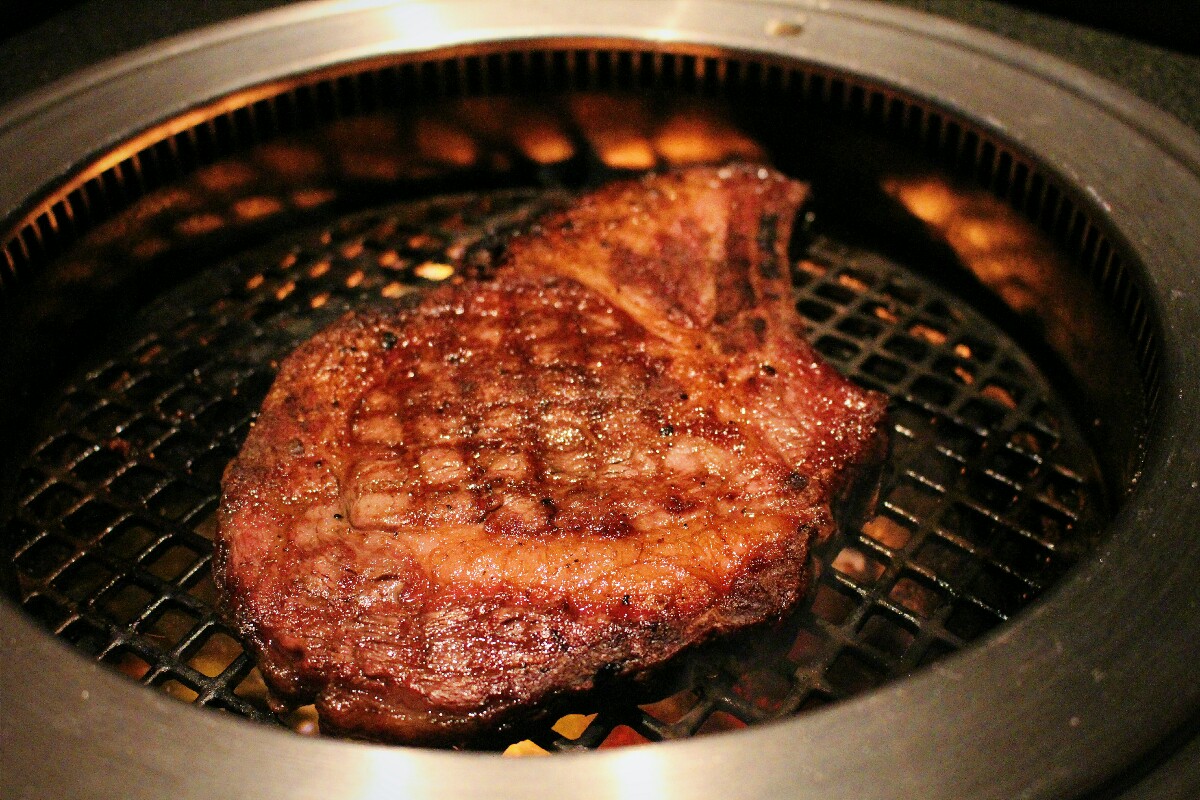 500 Grams T-Bone (IDR 890K)
Their staff came to our table with this big meat. The T-bone need more time to be grilled and need to close by lid during process to ensure the cooked level as desired.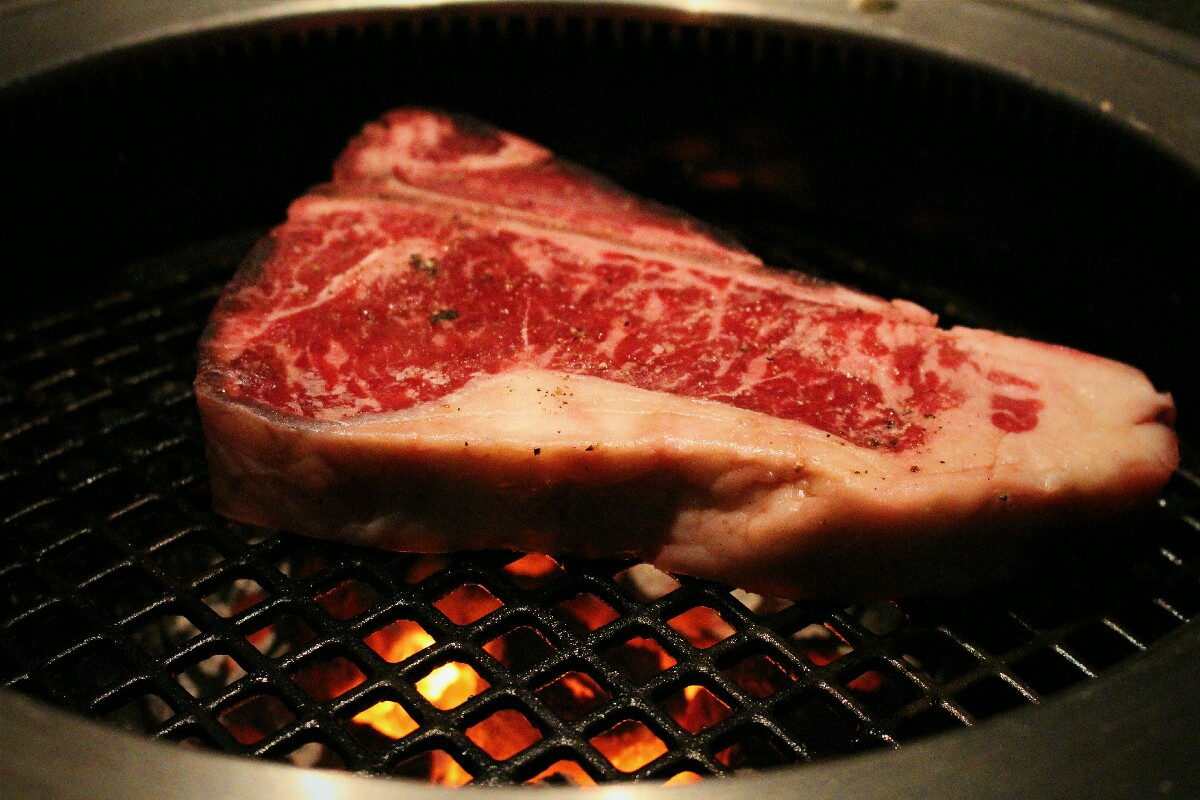 T-Bone has a fat side and I love this part as well as the meat. In order to enjoy the steak so I dip it into Habanero and Wasabi sauce to give a spicy sensation and it's really nice.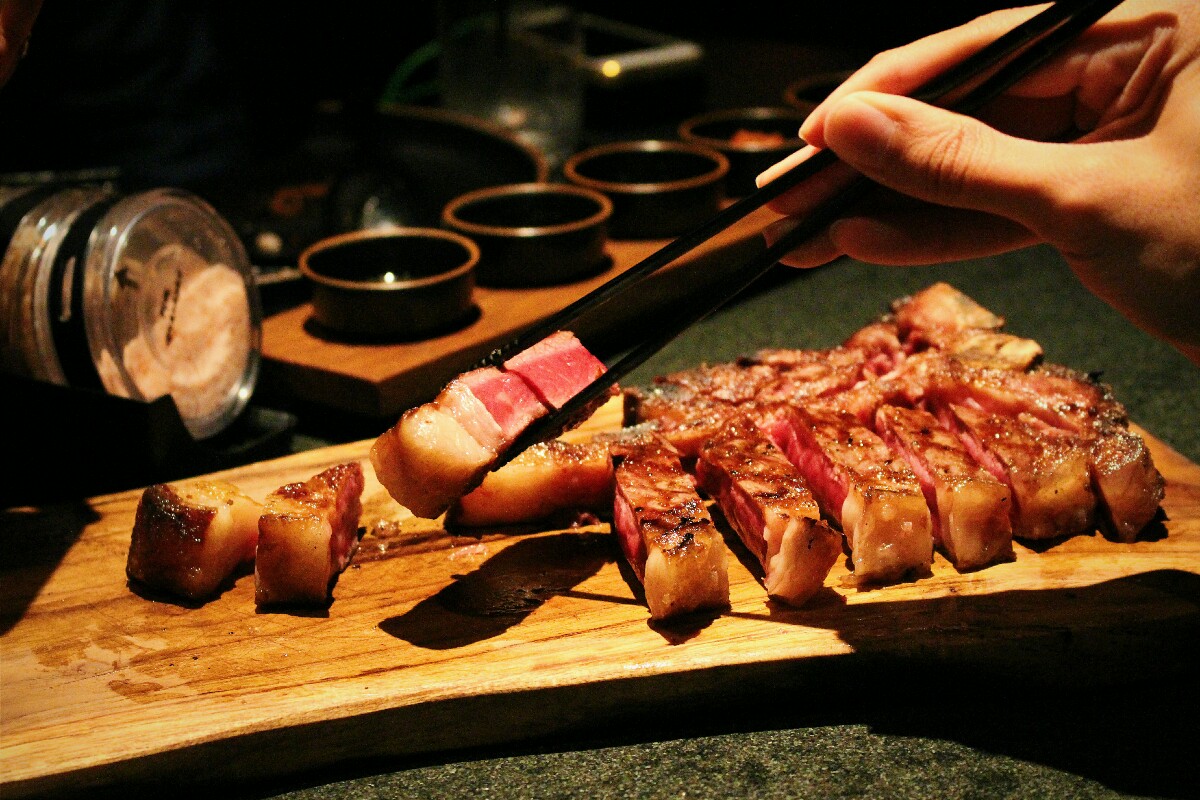 Chicken Thigh (IDR 95K)
After we satisfy with the red meat stuff so we close the grilling time with the white meat and the Chicken Thigh will complete that night with smoothly.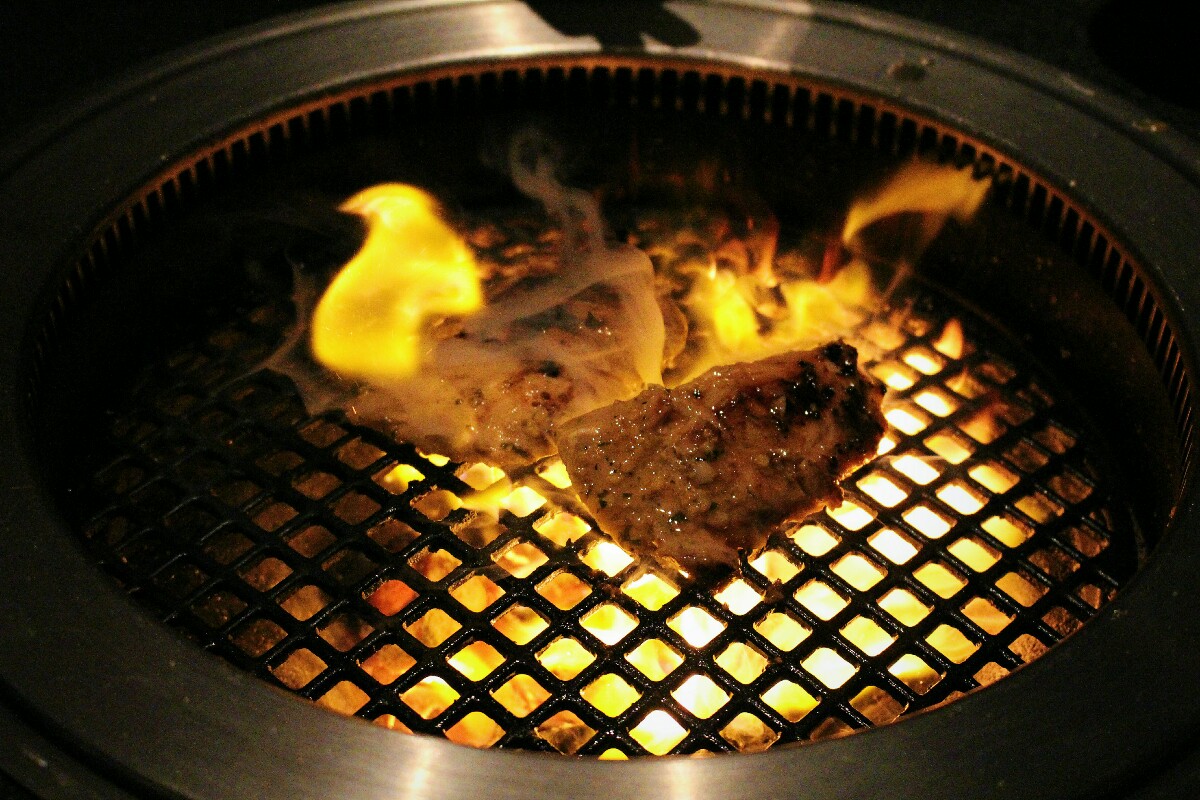 I heard jokes that this chicken thigh is a desserts from our red meat time LOL. But after I tried this menu then I agree with the joke, why? Because this menu was melt in your mouth as well as ice cream LOL. But seriously I have never been eating a chicken grilled with a tenderness like this before instead the taste was also good. Good Job for the Chef!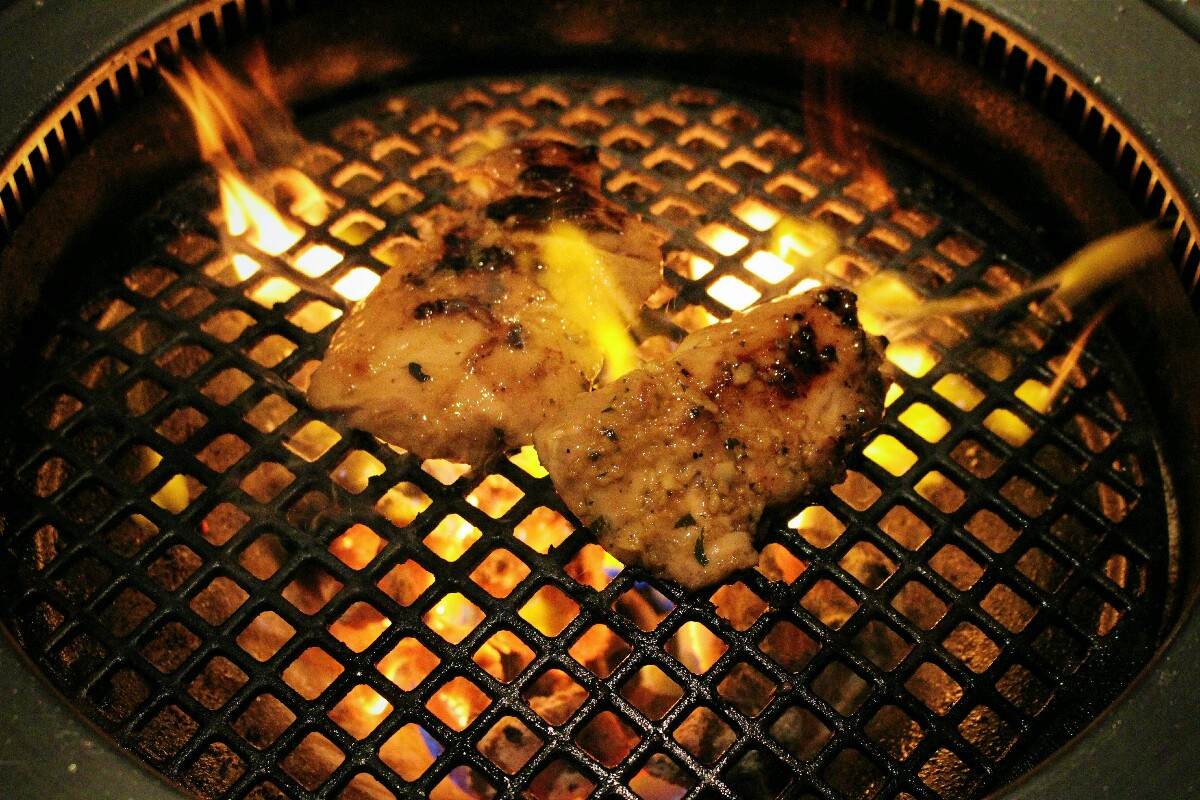 Assorted Ice Cream
AB Steak Jakarta by Chef Akira Back also have great desserts to accompany your meat time. In order to relieve a fullness, you need a dessert! And the first time dessert that came to our table is Assorted ice cream which are vanilla, chocolate, coconut, coffee, strawberry and caramel. Each flavor was suite to my taste and enjoyable.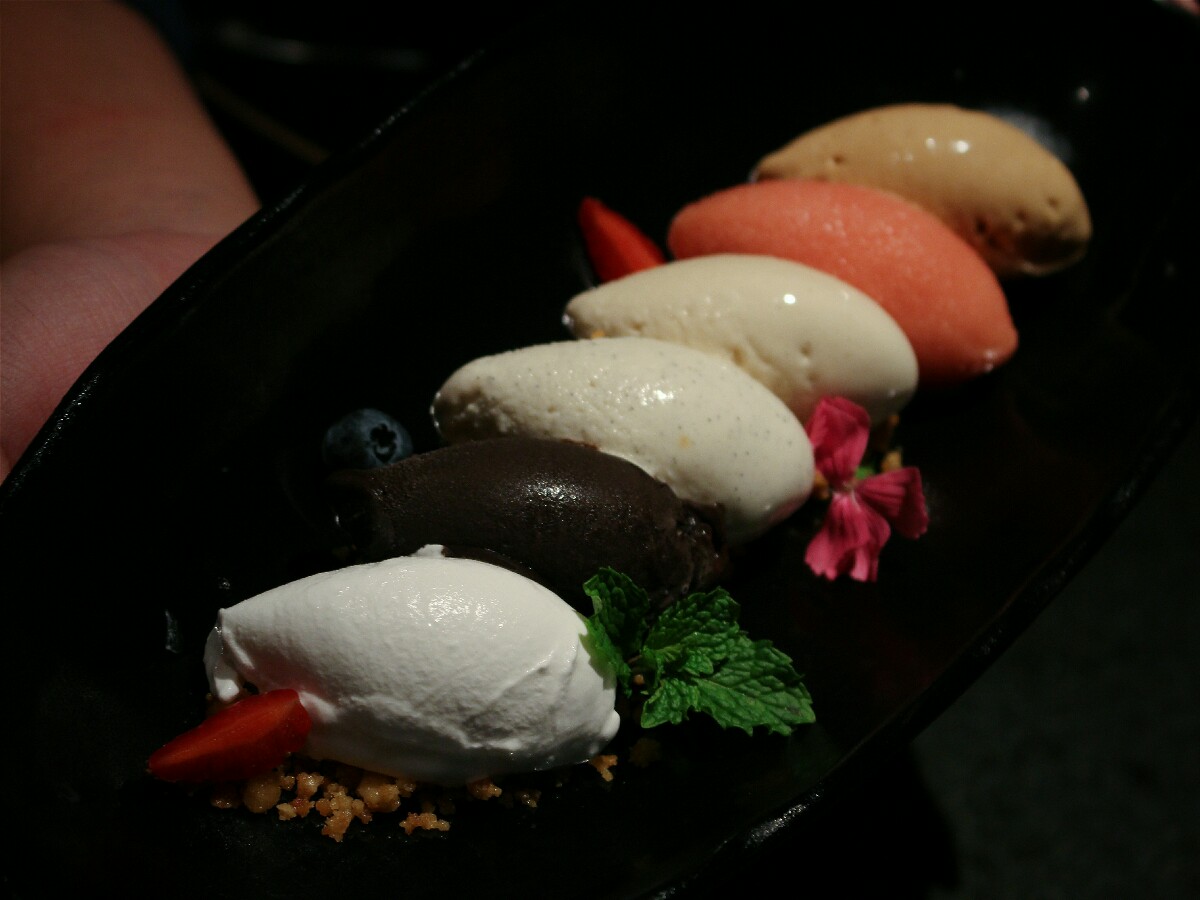 Butter Mochi Cake (IDR 65K)
When salted caramel popcorn meat macadamias and coconut sorbet in a beautiful presentation in a bowl of happiness. Surely you will not miss this incomparable pleasure.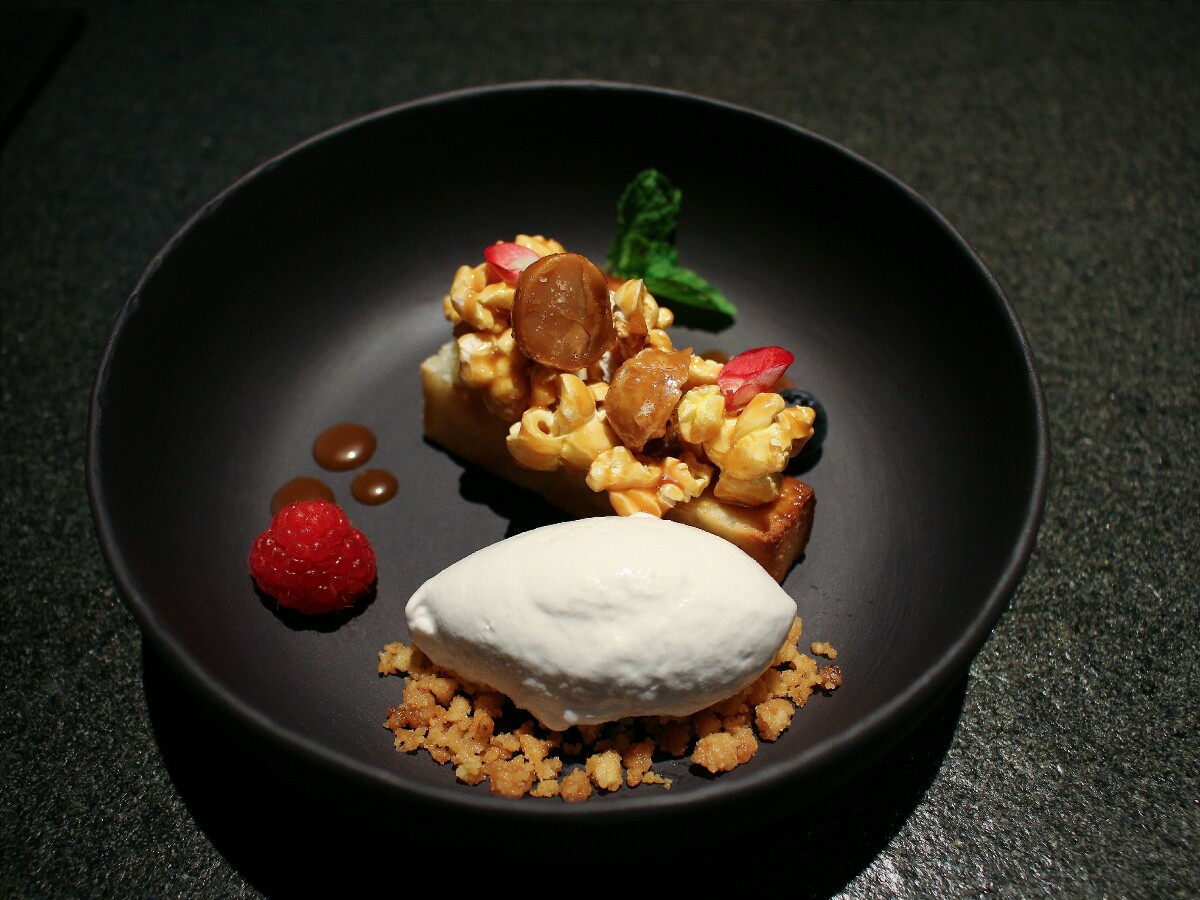 Valrhona Guanaja Molten Souffle (IDR 150K)
The last dessert at that night, a cake called Valrhona Guanaja Molten Souffle. You can topped it with the ice cream then ripped it until you get the melted form inside the cake. Feel the cool and warm sensation during eat the dessert, my question is will you leave it? I'm sure you will not.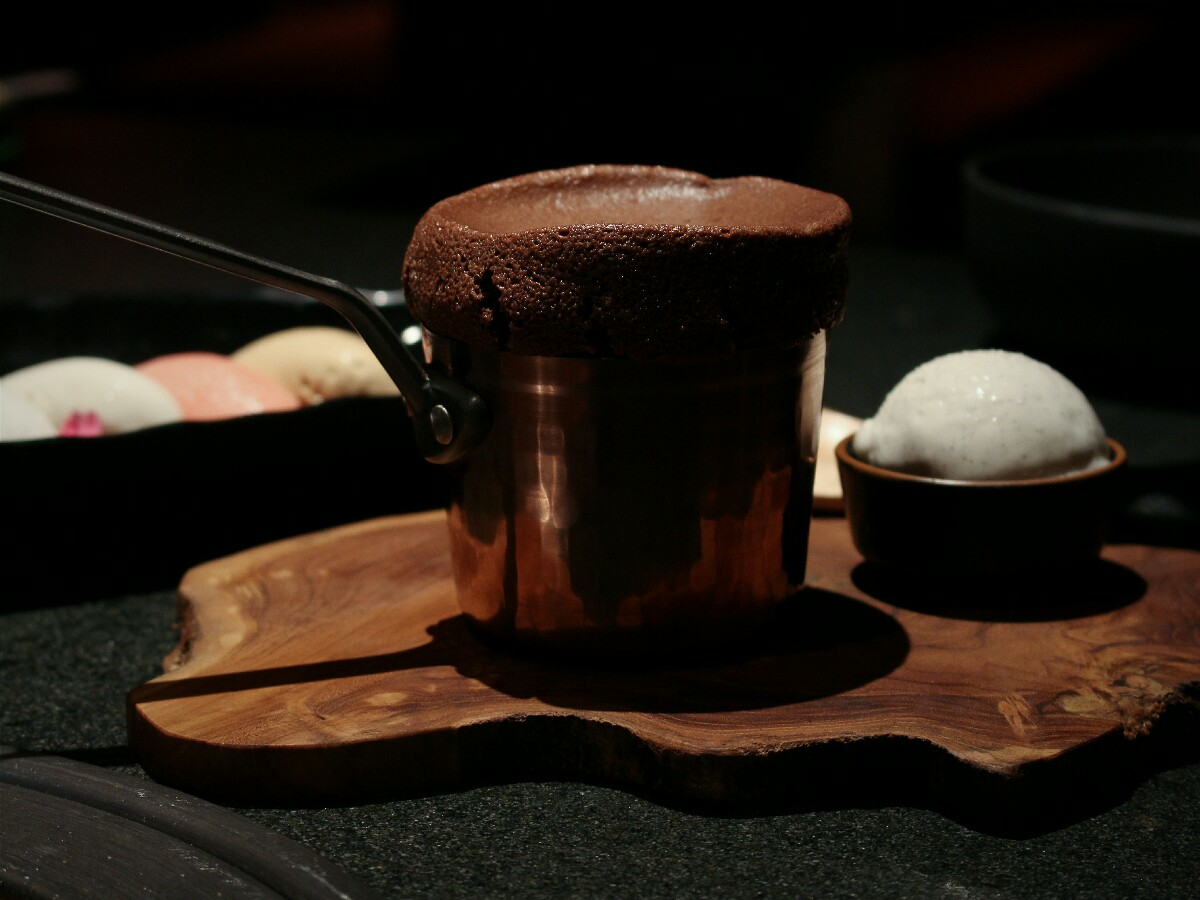 After all finish, I feel so happy with all this experience during our meat time. And I can say that AB Steak Jakarta by Chef Akira Back will be a successful restaurant with it's concept and food, and also for their 5 stars staff service.
For the food review I can say that none of their appetizers are disappointing. I adore the taste of each appetizer menu as well. While the steak have a different character and texture and all is perfect when paired with 5 sauce and 6 salt.
Not to mention we had an opportunity to met with one of the great chefs in the cooking world of Chef Akira Back, who happened to be in Indonesia.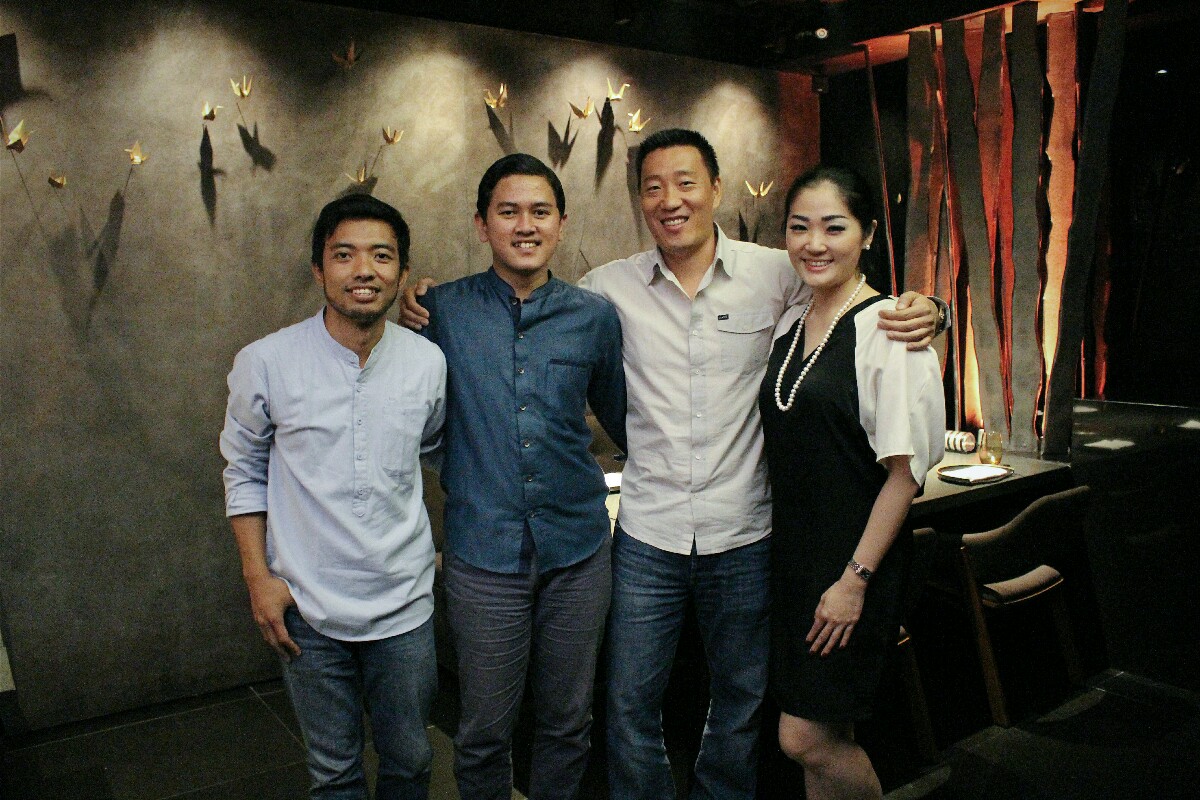 That was our dry age beef experience at AB Steak Jakarta by Chef Akira Back I hope this article can help you to get clear information about this restaurant. Finally I enclose this review with warm regards and I apologize if there any errors in my writing. And see you again in another article with Jajanbeken!
RATING
Ambience : Excellent
Taste : Excellent
Service : Excellent
FACILITIES
Wifi : Yes
Plug : Yes
Dine in : Yes
Outdoor : No
CONTACT
Address :  MD Place Building, Mezzanine Level,  Jalan Setiabudi Selatan No.7 Kuningan Jakarta Selatan, Daerah Khusus Ibukota Jakarta
Phone Number +62 21 29669272/ 08772278325
Instagram AB Steak Jakarta by Chef Akira Back @absteakjakarta
Zomato AB Steak Jakarta by Chef Akira Back
MAP