While on vacation in Bali you will definitely try their local cuisine. That is why we are always happy when visiting Bali becauseof it`s culture including culinary exploration of delicious dishes like Ayam Betutu, Sate Lilit or Bebek Timbungan.
Our holiday will very different than usual, because we will visit one of the new restaurants open in Bali, precisely at Sunset Road in Kuta. This restaurant elevates Bali's unique culinary richness, namely Bebek Timbungan Sunset.
Bebek Timbungan Restaurant is not far from I Gusti Ngurah Rai Airport. Just in 7km distance or a trip for 20 minutes from the airport then we will arrive at the Bebek Timbungan Restaurant in Sunset Road. Some of the food menus that we have tried here have a distinctive taste of Balinese spices with an appetizing look. In this article we will try to share our experience in 7 Must Try Menus at Bebek Timbungan Bali.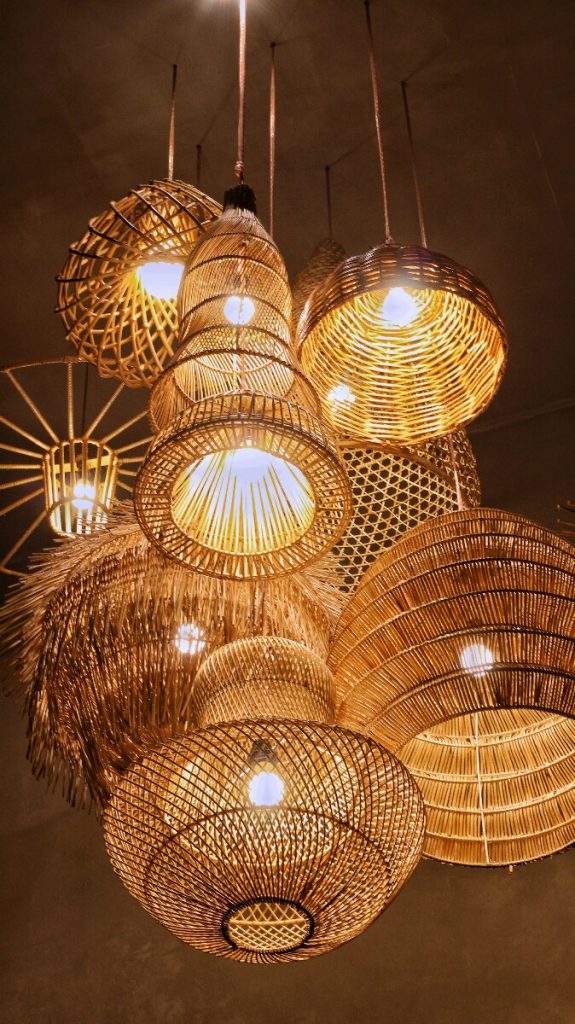 Bebek Timbungan at Sunset Road just held their grand opening on November 15, 2018 yesterday. This restaurant has both indoor and outdoor dining areas that can accommodate up to 215 people.
Not only as a place to eat, Bebek Timbungan Sunset also provides meeting and conference facilities that can accommodate up to 20 people.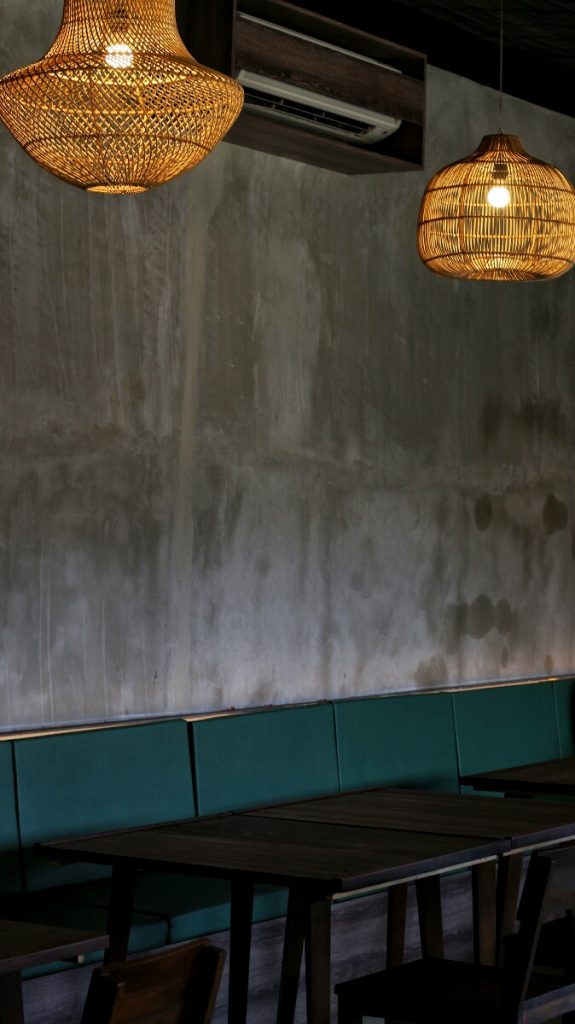 Live Cooking Table of Bebek Timbungan Restaurant
When we enter the restaurant, we are welcomed by a table that selling "Jajanan Pasar" or Balinese specialties. At this live cooking table we will find various Balinese specialty porridge such as Bubur Sum-sum, Bubur Injin (black rice porridge), Bubur Bendil, Tipat Cantok (Balinese vegetables salad with rice cake and peanut sauce) and Godoh Biu (fried banana).
Slightly different from other regions in Indonesia, the Bubur Sum-sum in Bali is green because it is made with pandan leaves so it makes the aroma more fragrant.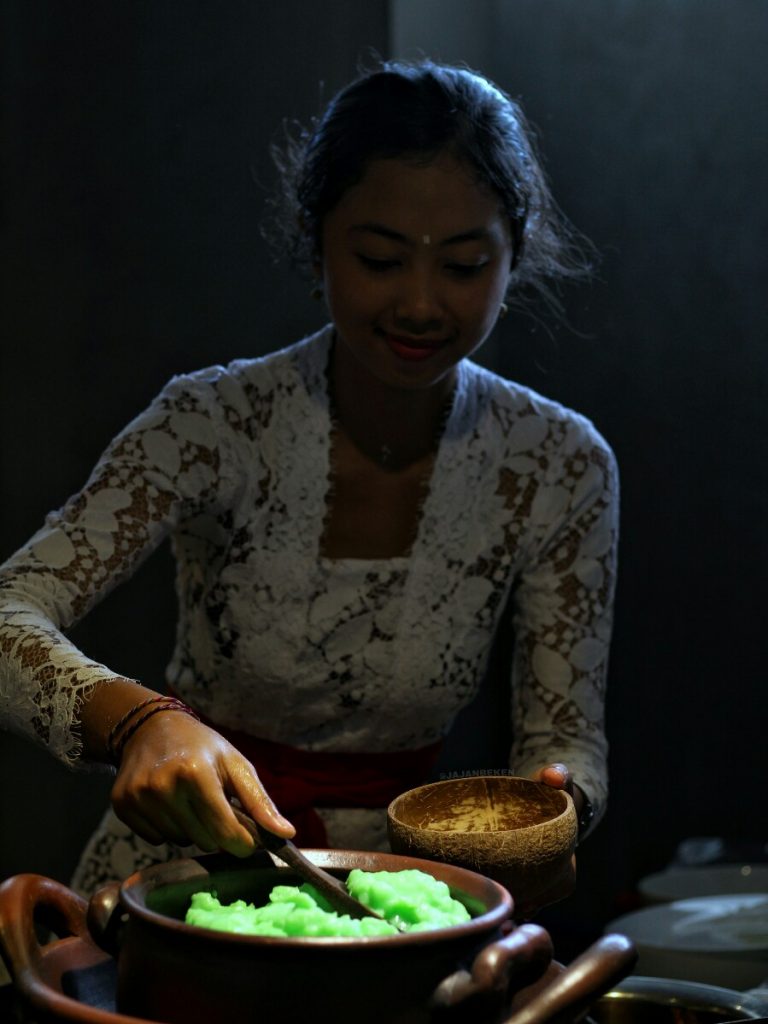 As well as the Klepon here which is a little different from Klepon in Java. Klepon here taste more crispy because it's fried after steaming.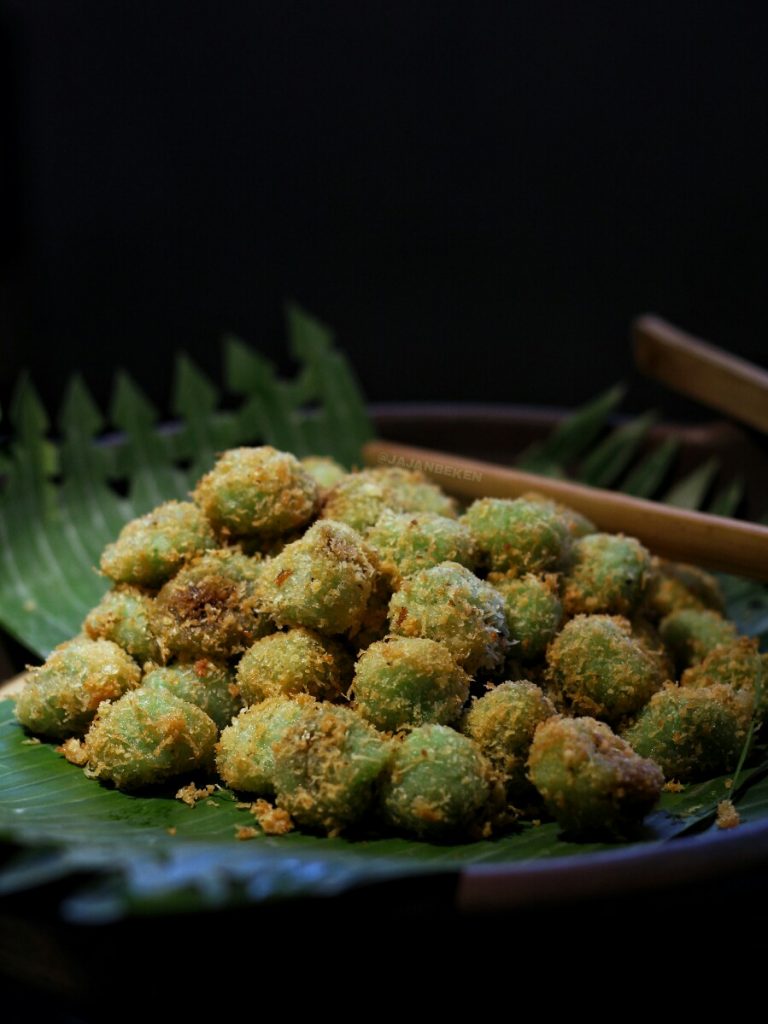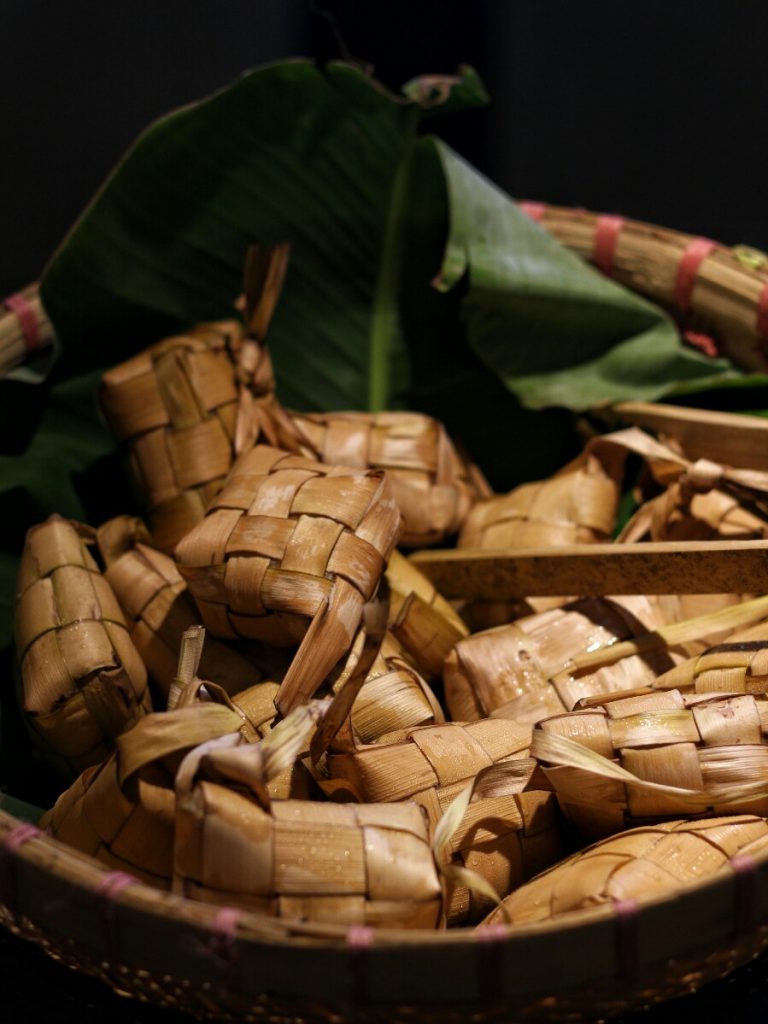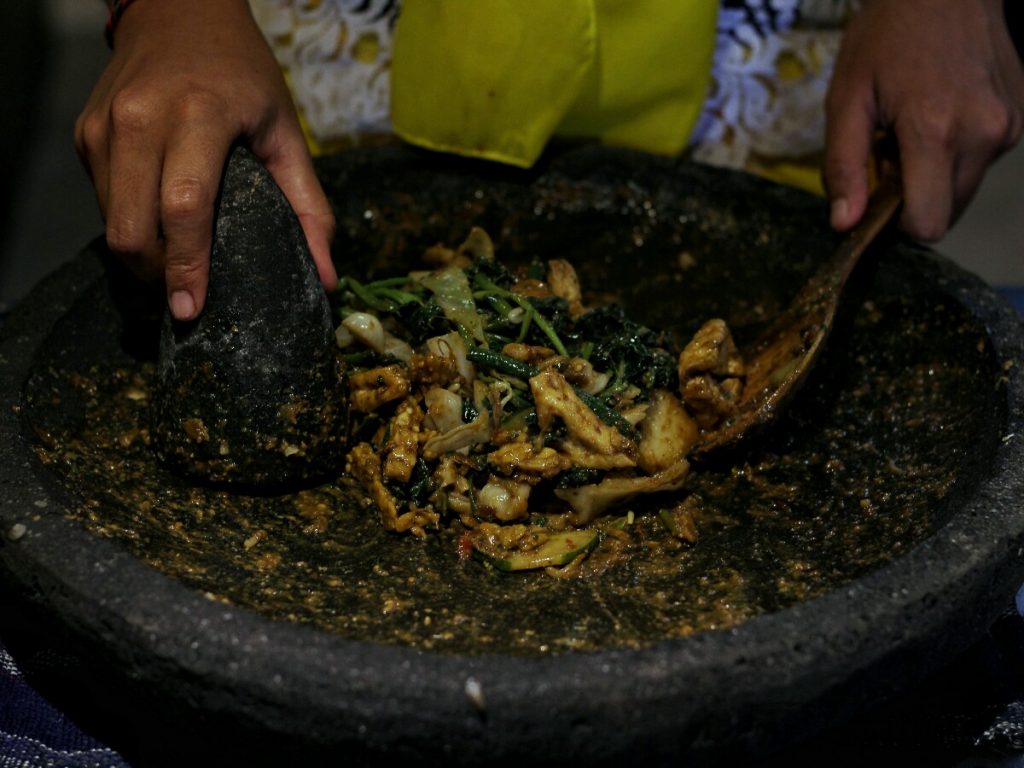 A glimpse of the live cooking table and before entering 7 Must Try Menus at Bebek Timbungan, we certainly want to know what Bebek Timbungan is and the history behind this dish.
The History of Bebek Timbungan (Timbungan Duck)
Bebek Timbungan have been around since in the Bali kingdom era. This dish used to only be enjoyed during religious ceremonies and special events in the Royal Balinese culinary history as told in the ancient manuscript Dharma Caruban.
While the word Timbungan themselves come from "embung" or "timbung" which means bamboo in Balinese. And Bebek Timbungan means duck cooked in bamboo stem.
On the sidelines of the grand opening of the Bebek Timbungan Restaurant, Ida Bagus Udiana as the Head Chef explained
When the dish starts to cooked, the bamboo will vibrate, the vibration will get stronger when the duck is fully cooked. This cooking method is not only known for ducks but also for chicken and fish.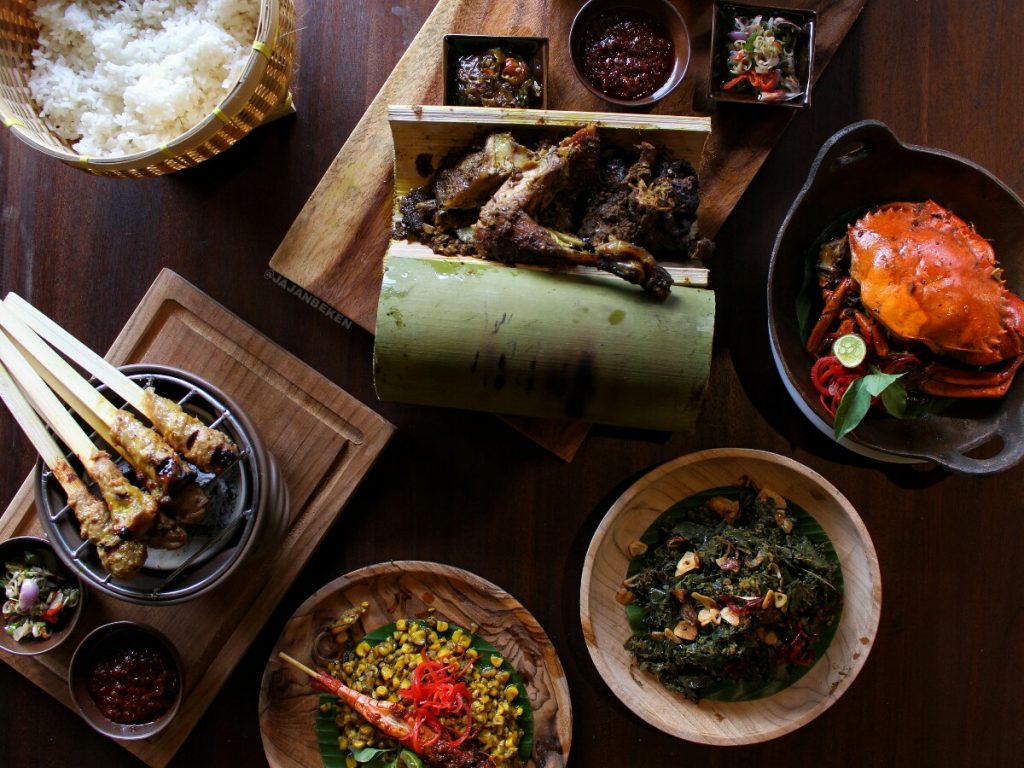 Ambience Bebek Timbungan Restaurant
Bebek Timbungan is one of menu that already exist in Secret Garden Village at Bedugul Bali. But Bebek Timbungan Restaurant at Sunset Road will elevate Balinese culinary riches as the strong point for this restaurant. Therefore their build the restaurant with Balinese traditional touch as in interior and the exterior that vibrating a Bali vibes through the architecture.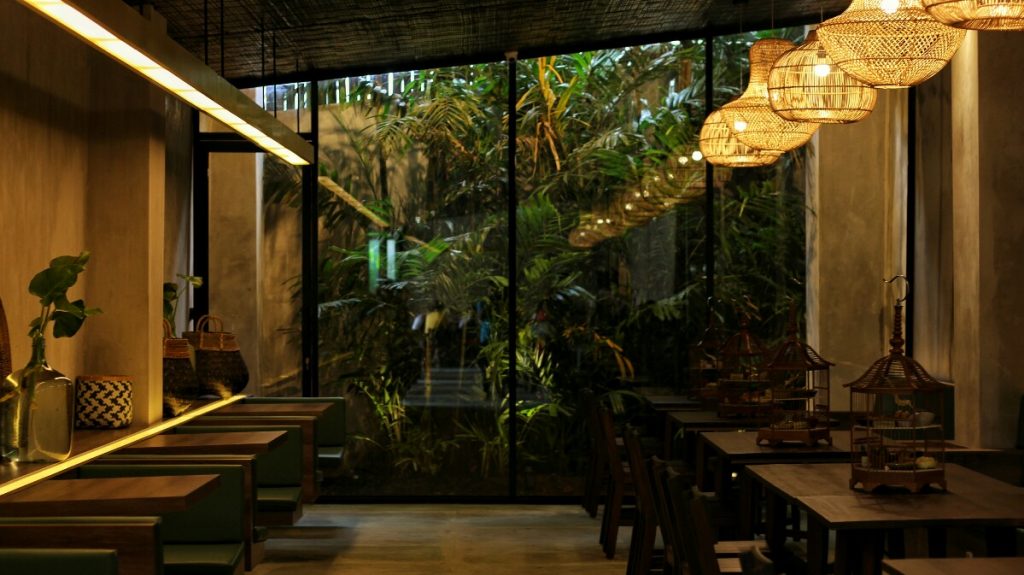 On the grand opening event, Ana Dewi as Vice President of Secret Garden Village told about the architecture of the restaurant
There are many elements of nature that are poured into the ambience as a depiction of the character of Balinese people who are warm, humble and elegant.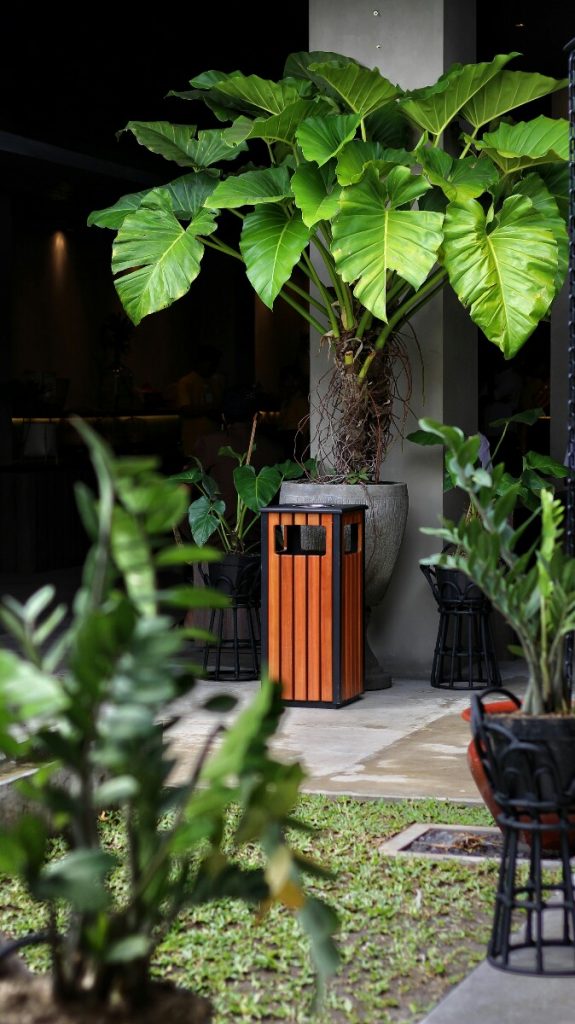 It is not only natural elements that are visually depicted into this restaurant but also there are Rindik musical instruments as an important element in reviving the Balinese atmosphere for all guests.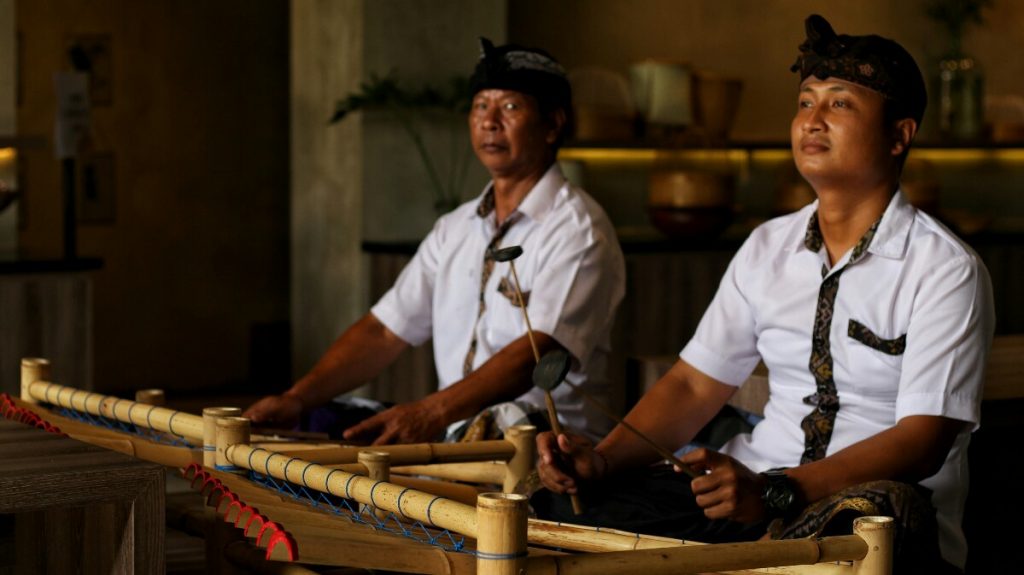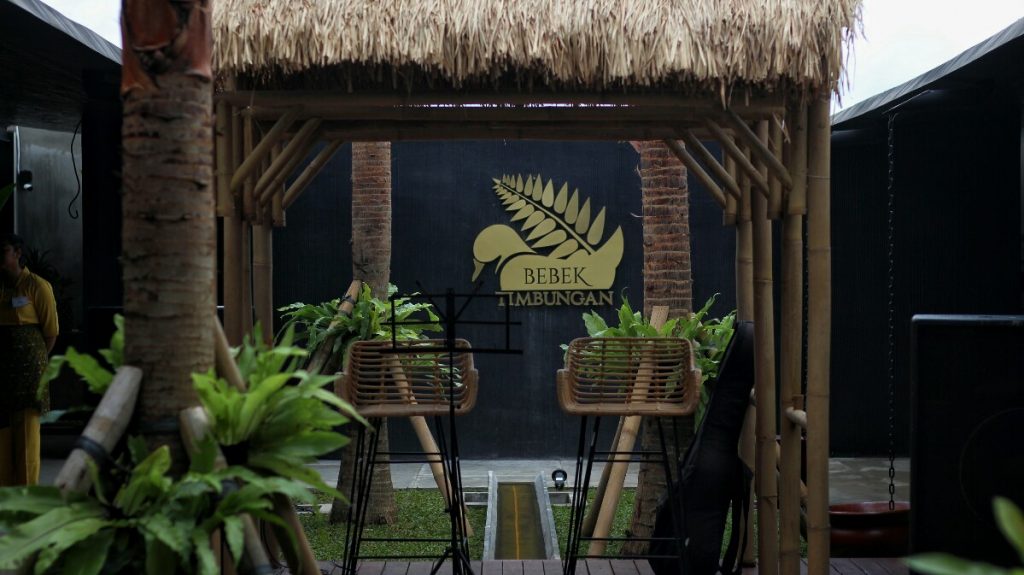 We and our friends can't wait to taste the various menus in Bebek Timbungan Sunset. And now it's time for us to share 7 Must Try Menus at Bebek Timbungan Bali, so enjoy the article.
1. Jajan Bali Tea Set
Jajan Bali are snacks commonly found in traditional markets in Bali. In this menu, snacks are served in a bird cage containing 9 types of Balinese snacks that paired with tea. Jajan Bali also found in the Live Cooking Table like Klepon, Godoh Biu, Dadar Gulung and so on.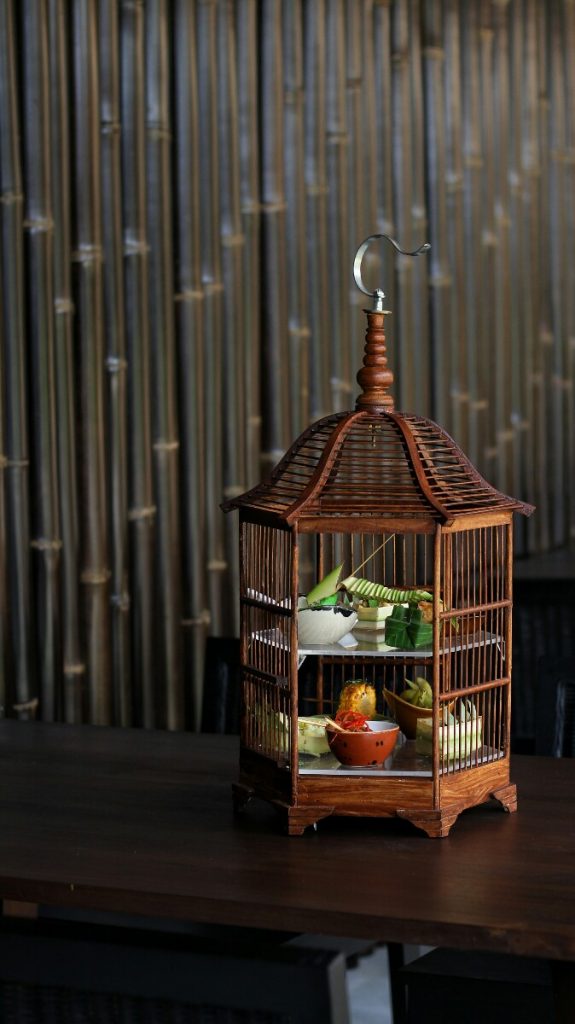 So this menu is very suitable to be a accompany you when relaxing in the morning or afternoon in case you don't want to eat a heavy meal.
2. Urap Daun Belimbing
This is the first time we eat averrhoa leaves in a dish. The taste and texture is similar to cassava leaves but there is slightly a bitter taste sensation in it. Nevertheless this menu is very suitable if eaten with other side dishes.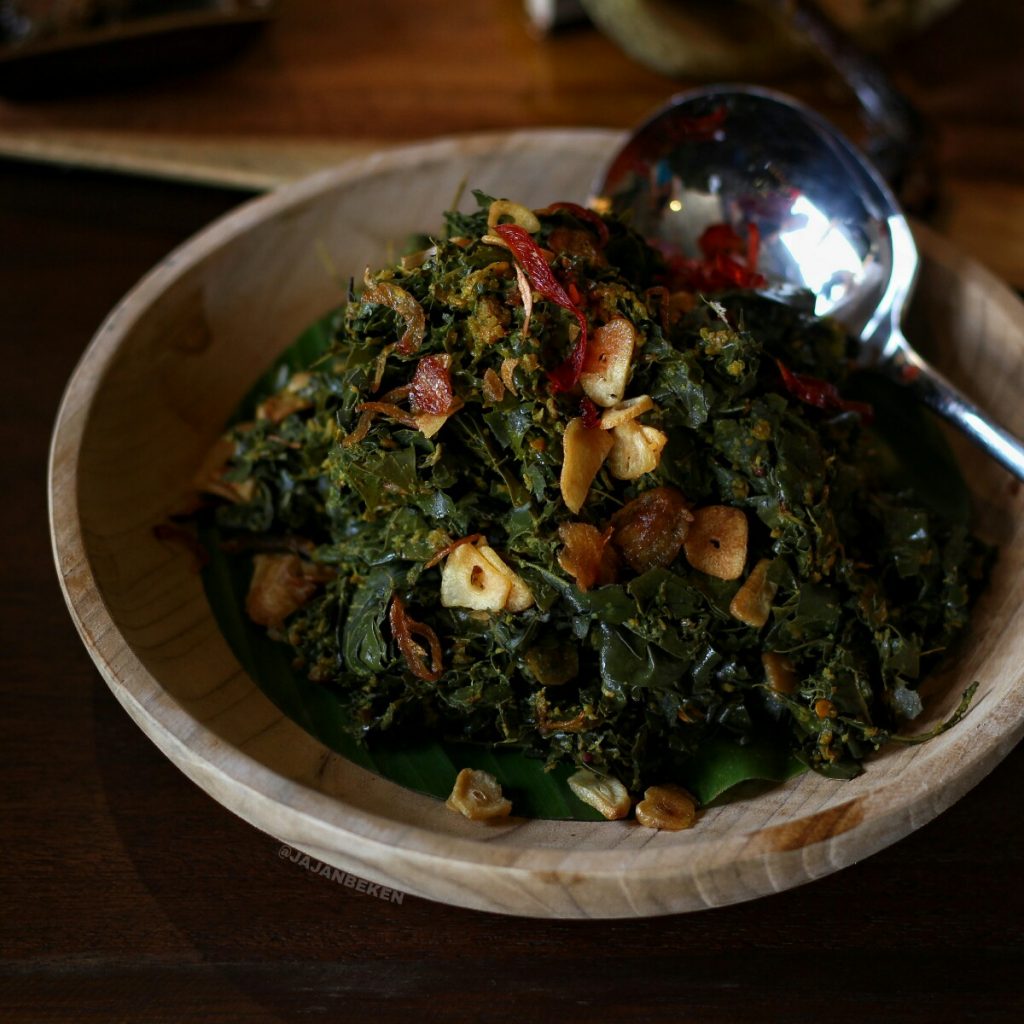 3. Pencok Jagung
Pencok Jagung made from corn grains cooked with Balinese spices. The presence of giant shrimp on this menu complements the sweetness of this corn, it is very suitable when eat with rice, highly recommended.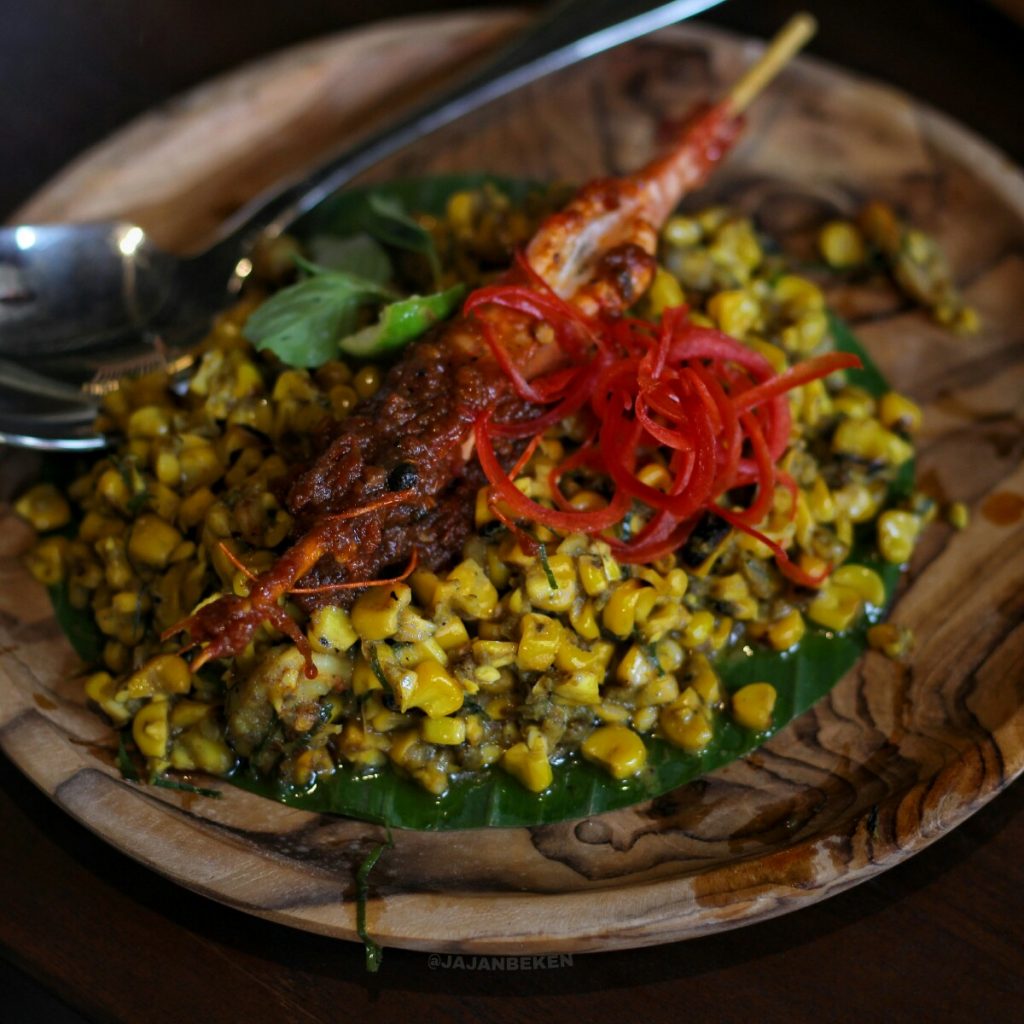 4. Sate Lilit Ikan
Sate Lilit Ikan is a kind of satay made from fish meat that wrapped around bamboo sticks or usually a lemongrass stick. Served with a furnace complete with charcoal that is still burning so that the heating process continues even though it has served on the table. This becomes very interesting when a puff of smoke comes out from this dish, recommended to try.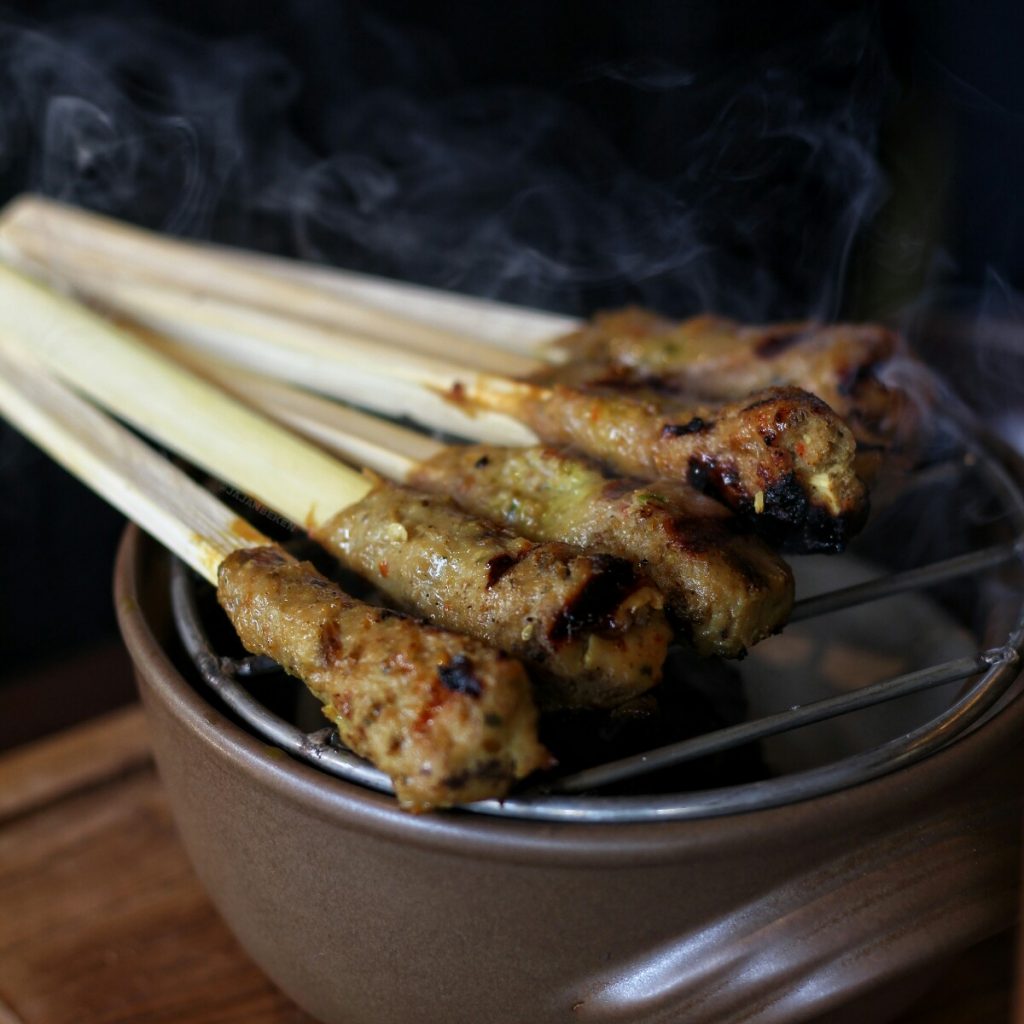 5. Kepiting Sare Lemo
Who doesn't like crabs? The crab menu is also one of the mainstays in the Bebek Timbungan Restaurant. Kepiting Sare Lemo made with fresh crab meat by Balinese seasoning with a hint of appetizing cumin aroma.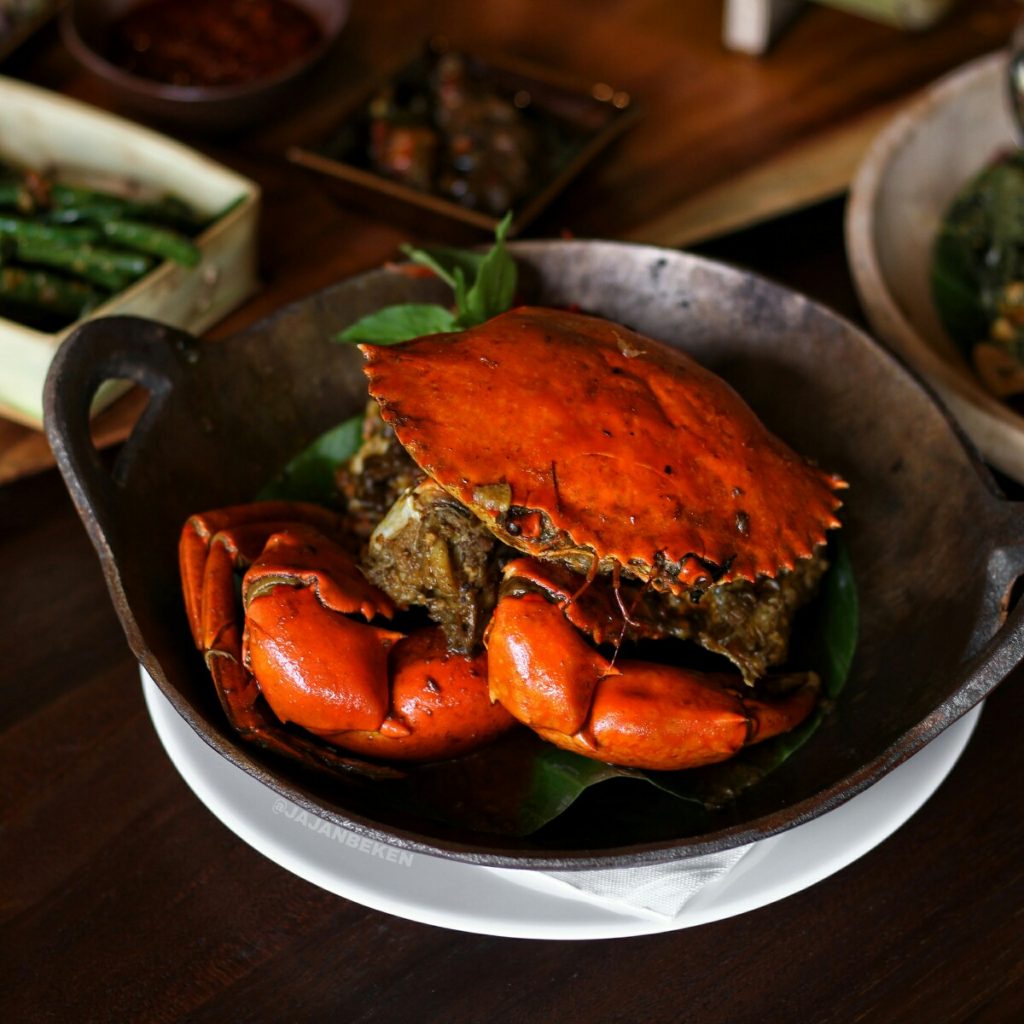 This crab menu can be shared for two person and be ready to get messy, therefore their will provide a crab pliers.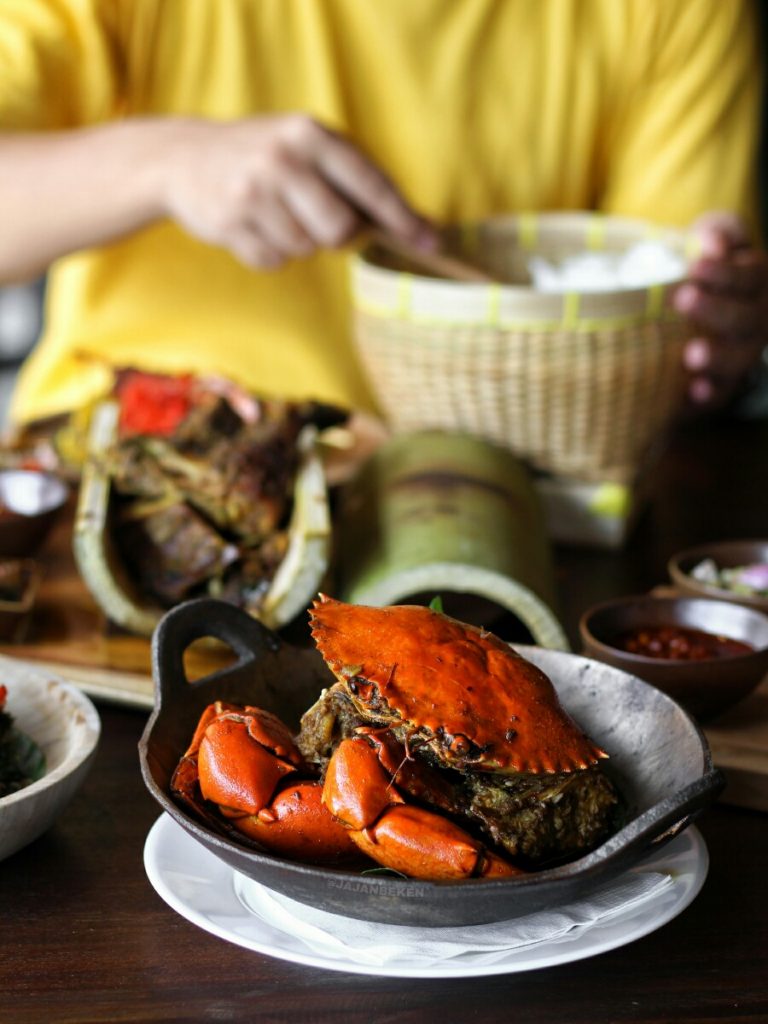 6. Bebek Timbungan
Here comes the main star, Bebek Timbungan with stir-fry long bean and three kind of sambal. If you read how to cook Bebek Timbungan in this article, you will find the aroma of bamboo as the cooking set which makes it different from other dishes as well as Bebek Betutu.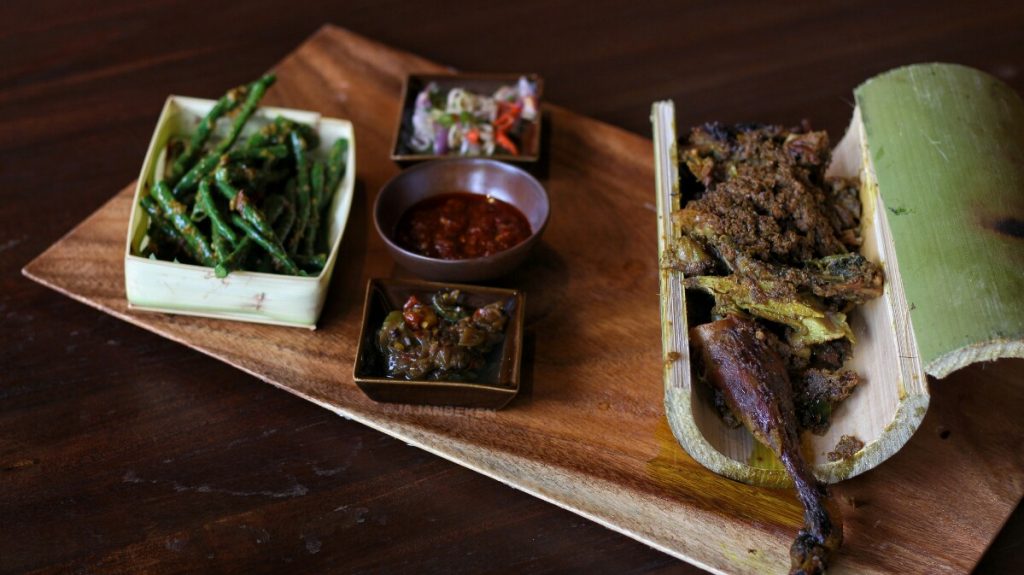 Shallots, galangal and turmeric are some of the ingredients that used to make this delicious dish. Another delicacy key of Bebek Timbungan is the soft texture of the duck meat. In addition, the duck  meat does not have a bad smell at all.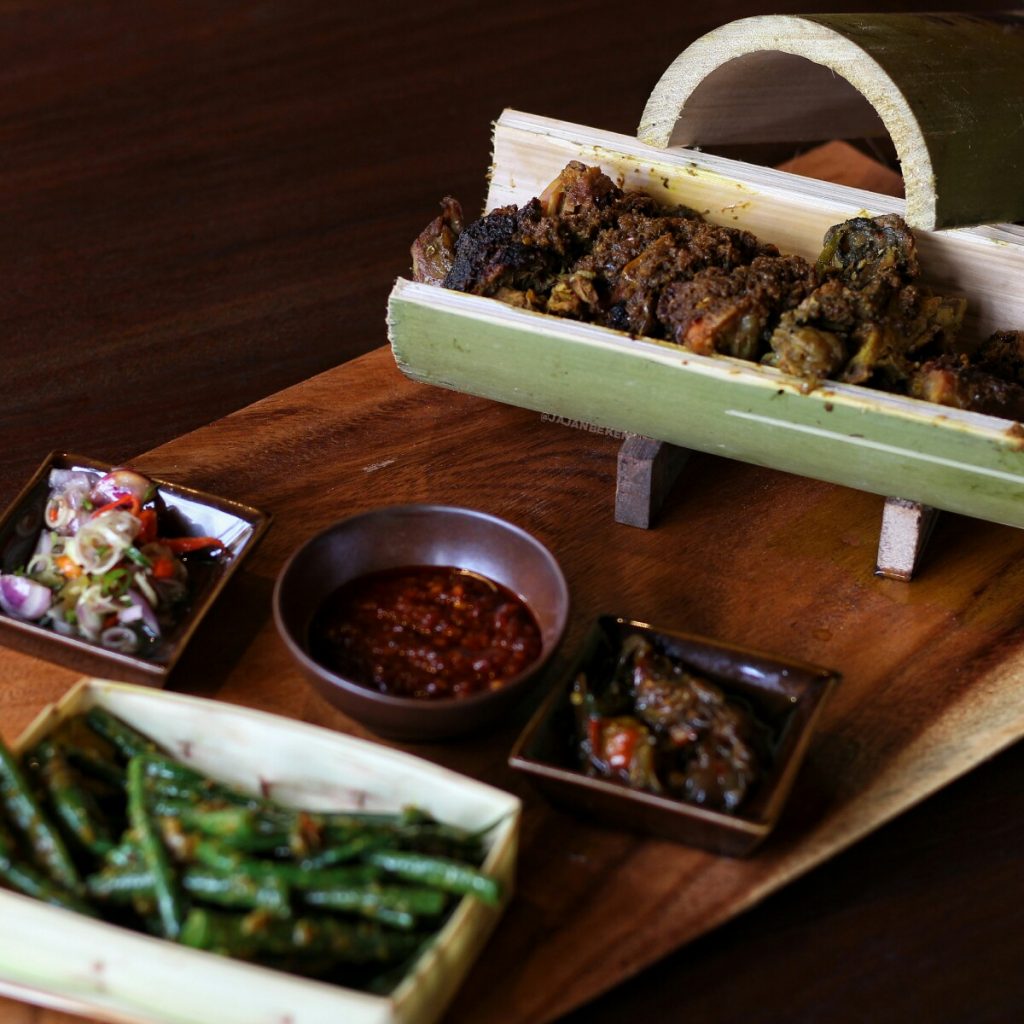 No need to cut it anymore because Bebek Timbungan already served cut. One portion of Bebek Timbungan can be shared for two people.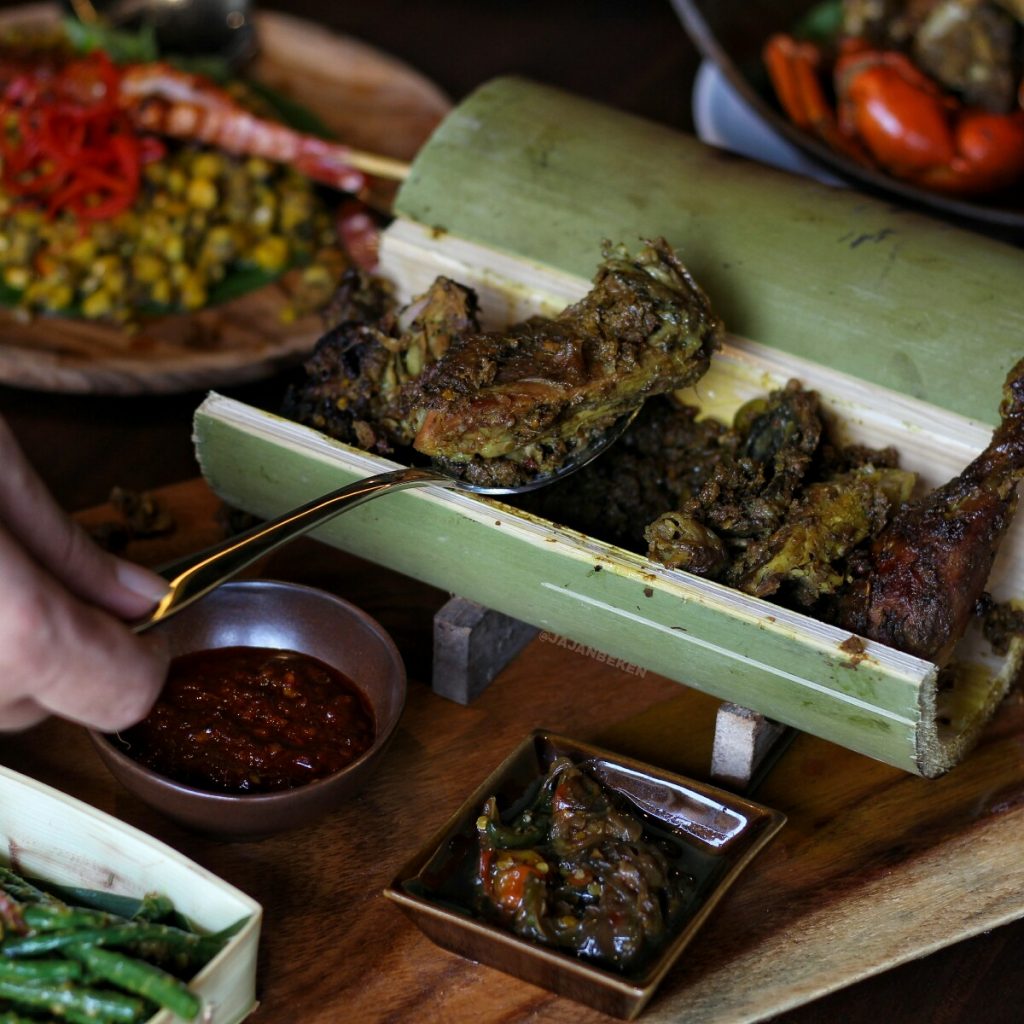 7. Mango Spinach Juice
Never thought before if mango and spinach could be delicious in a glass. Yes, in Bebek Timbungan we can try this refreshing drink, it's so tropical and interesting eyes.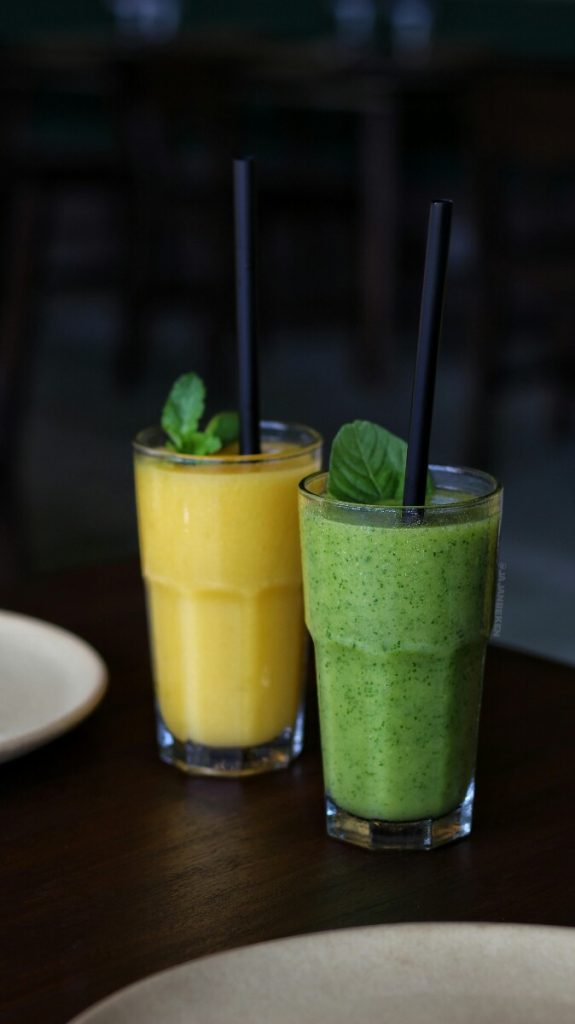 So that's 7 Must Try Menus at Bebek Timbungan Sunset Road Bali, according to your taste that might be different with this article therefore we are highly recommended Bebek Timbungan, Pencok Jagung, Kepiting Sare Lemo and Sate Lilit.
During the opening Bebek Timbungan Sunset, their gives special promotion for "Discount Based on Age" to all guests. Just show your ID card to get promotion, valid until 31 December 2018.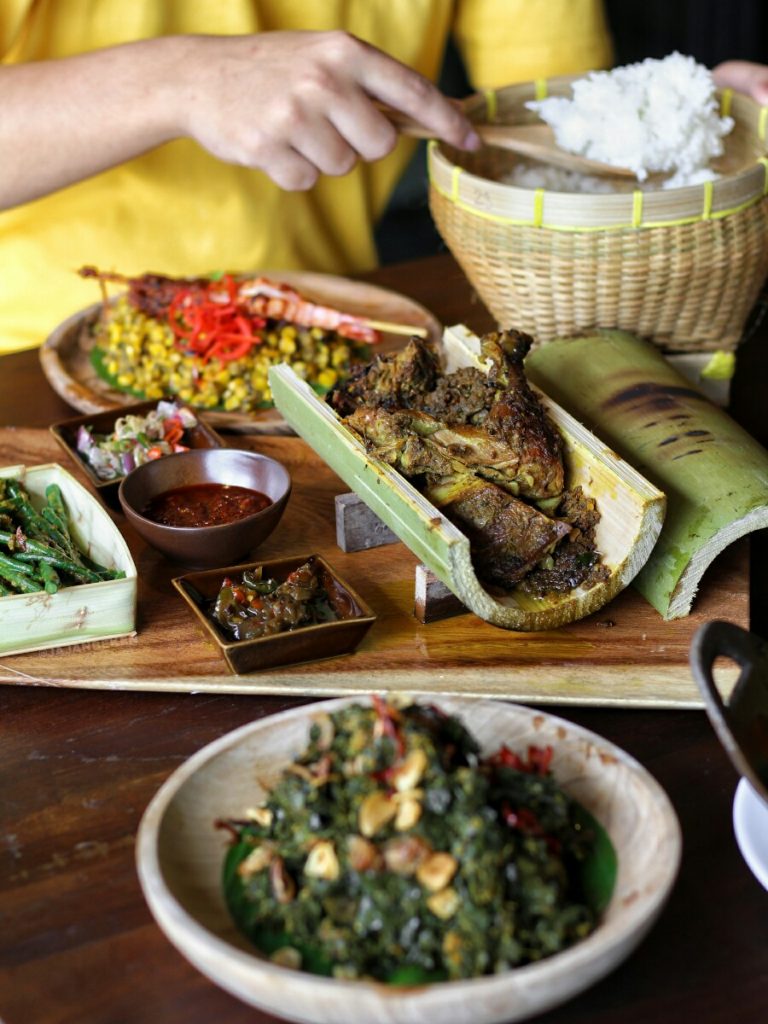 Finally I close my review and don't forget to follow our culinary journey in this blog, Instagram, Youtube and Facebook. Please apologize in miss writing or menu explanation. See you in another culinary journey with Jajanbeken!
RATING
Taste : Excellent
Service : Excellent
Price :  Average
FACILITIES
Wifi : Yes
Plug : Yes
Dine in : Yes
Outdoor : Yes
Meeting Room : Yes
Toilet : Yes
Parking: Yes
CONTACT
Address : Jalan Sunset Road, Pertokoan Sunset Road Dewaruci, Kuta, Badung, Bali 80361
Telephone : (0361) 472 6257, 58
RSVP : +6281 138 003 222
Email : info@bebektimbungan.co.id
Website : www.bebektimbungan.co.id
INFORMATION
Open Hours : 10AM – 11PM WITA
MAP