Hello everyone, I have a good news for Ice Cream and Desserts lovers. I will introduce to you, the restaurant with variety of dessert and ice cream. Came from Japan and has many branches in Jakarta, Shirokuma cafe will give a different sensation when you eat ice cream and desserts. On this occasion I will share my experience when visiting Shirokuma cafe in Grand Indonesia Mall.
As a sweet tooth I like ice cream and desserts. Therefore when I will visit this restaurant I was so excited, because I have got info from my friend that this restaurant had an ice cream with a unique shape and good flavor.
As we know Shirokuma cafe always renew their menu every special calendar event and holyday. This time to celebrate the Chinese New Year that still related to Chinese Lunar New Year, Shirokuma cafe launch some Lunatic menu and also to remember Japan anime character that we known as Pretty Soldier Sailor Moon. Sounds a little weird when I wrote about girls anime character LOL, but in this article I choose to be focus on the ice cream.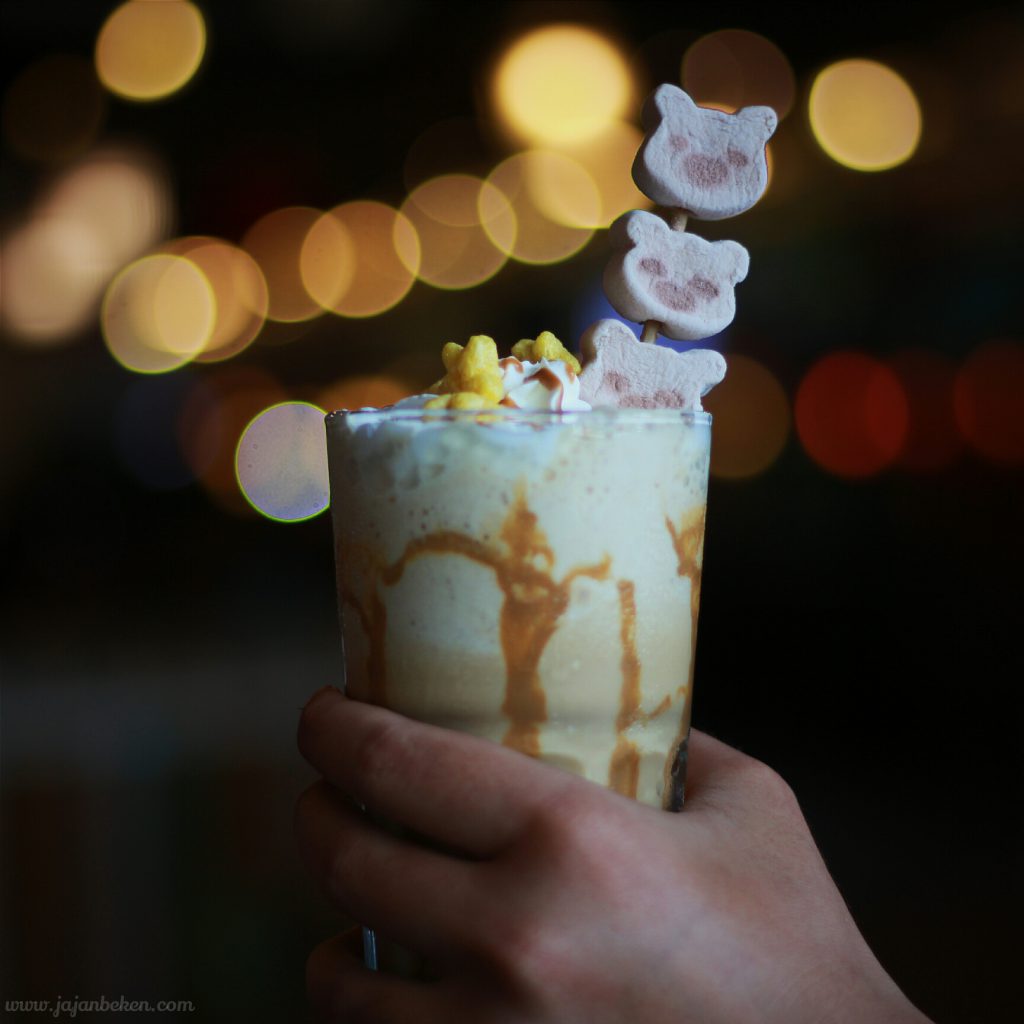 Shirokuma cafe has a menu with a new look guys, as I told you before maybe some of you already know the character of Sailor Moon. The figure using the power of the moon. Same as presented by Shirokuma cafe, they are using many cute attribute like a moon shape, kitten and more as a topping on the menu that I will Recommend below. Let's see guys!
1. Moon Wand Cone by Shirokuma Cafe (IDR 27K)
As I said before, Moon Wand Cone is using moon shaped fondant icing as a topping. As you can see, the look of the ice cream is very pretty with a combination of white and pink. I really like this because of the sweetness and the vanilla taste of the ice cream is very precise. And the crescent moon on it tastes very good and sweet with fruity flavor. Taste of vanilla ice cream is very sweet moreover if you eat with cone will taste more sensational. By the way when you're holding this ice cream, you'll feel ready to bewitch. 😀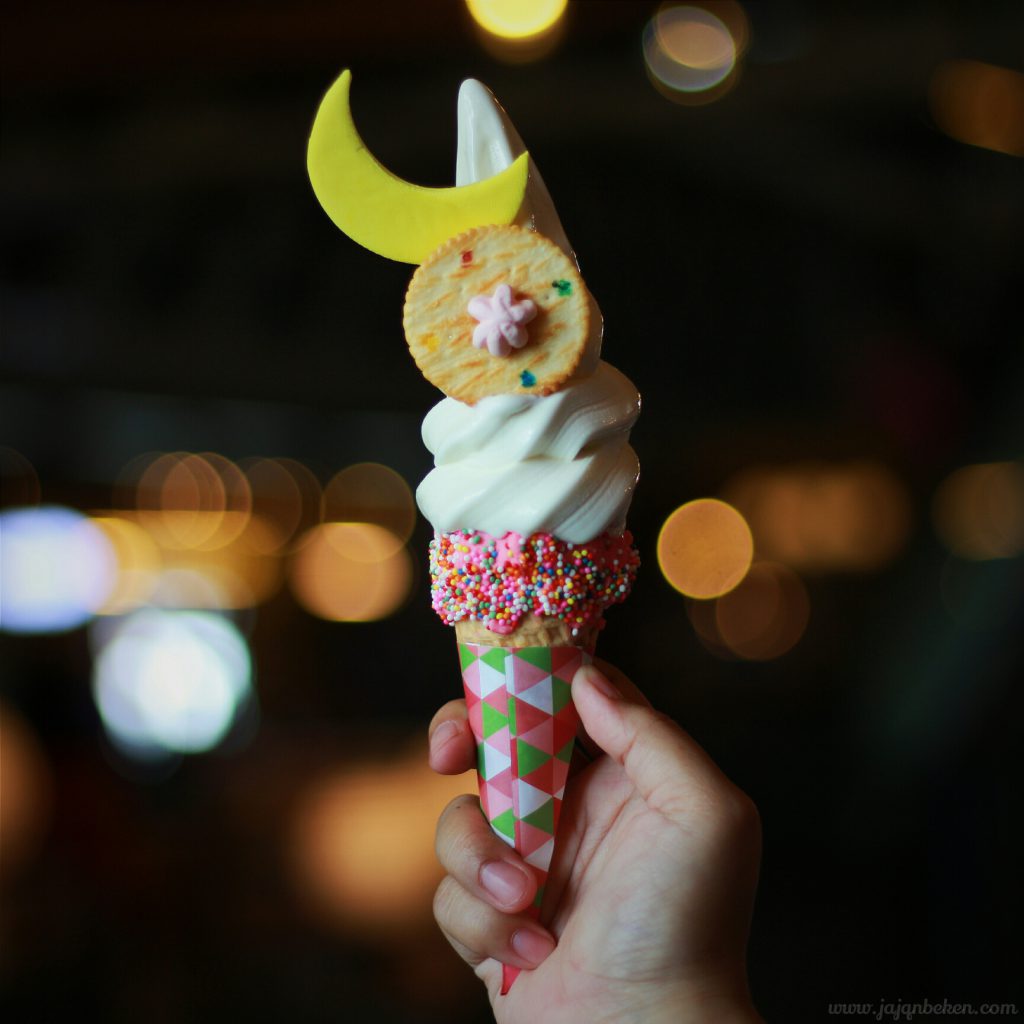 2. Ichigo Deluxe Cone (IDR 27K)
From the title menu is already spooky isn't? Because the name was taken from cosplay ichigo deluxe. Which is the character in the mask is very creepy. But it all is inversely here, because they presented in this menu is something very cute with pink color dominate this ice cream. Taste of this strawberry ice cream is mixed between sweet and sour and so refreshing guys. And I think the look from this ice cream so beautiful because garnished  by strawberry cookies.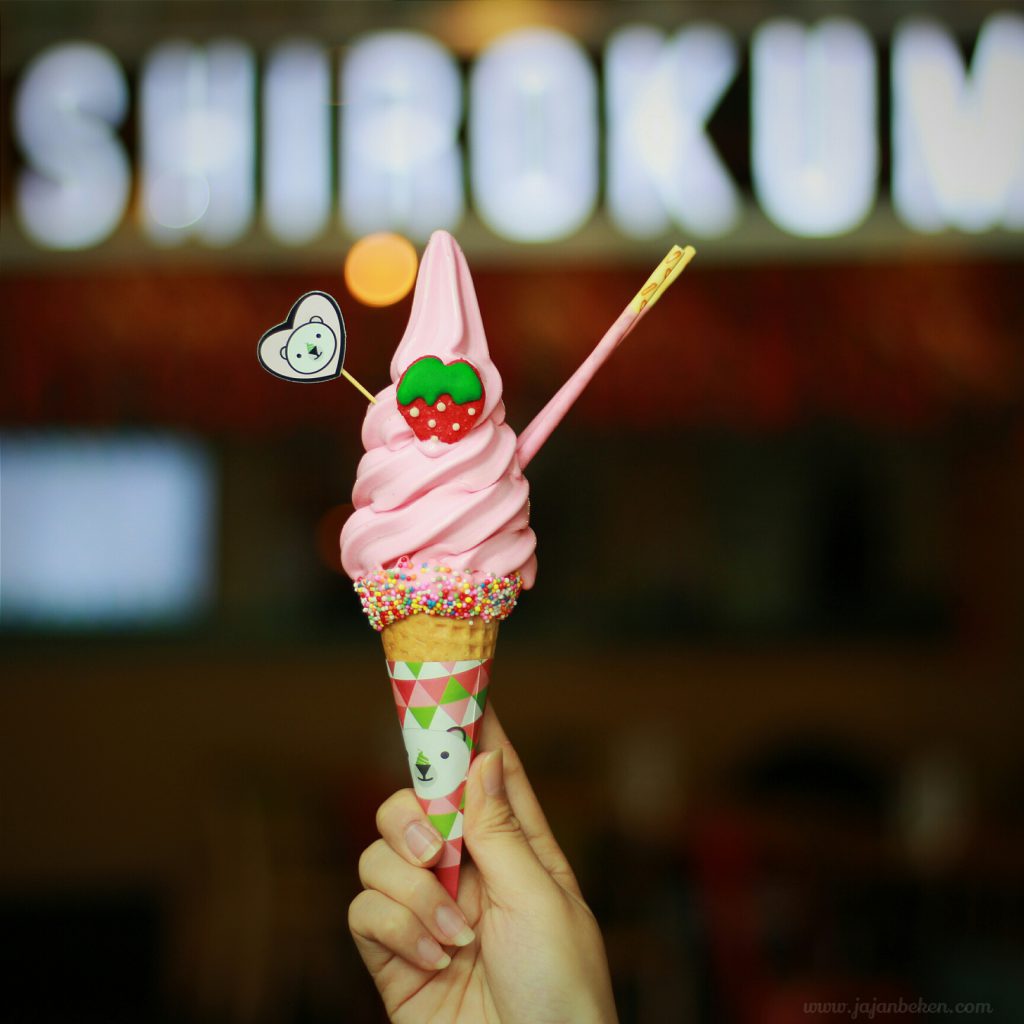 3. Melon Deluxe Cone (IDR 25K)
This ice cream menu is almost the same as menu before, this one is melon flavor one. I like the taste of this ice cream because the melon fruit taste is very strong. As we see the look of this ice cream menu is very unique. Green melon combined with pale brown cone color and coated by the sweet taste of sprinkle candy. And do not forget to eat the topping because it is the cookies with delicious fruit taste.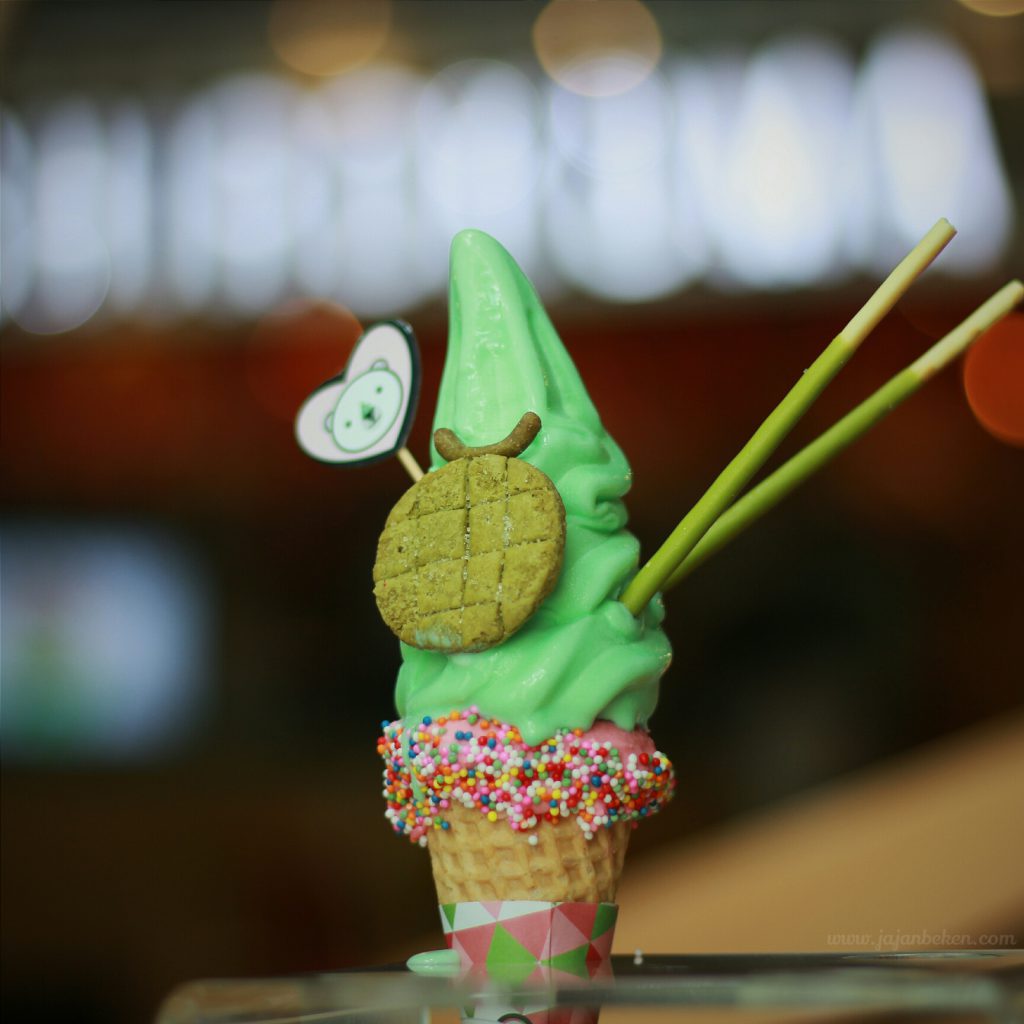 4. Luna Love Boat (IDR 45K)
For this menu is fairly different from the previous. This menu is describing Luna the Sailor Moon cat is riding a boat. The menu itself has three flavor like melon, strawberry and vanilla. This is the perfect taste to be combined, because among the three taste not dominate other flavors in this ice cream menu. And the most interesting of this menu is there are black bun became a bowl between the three taste of ice cream.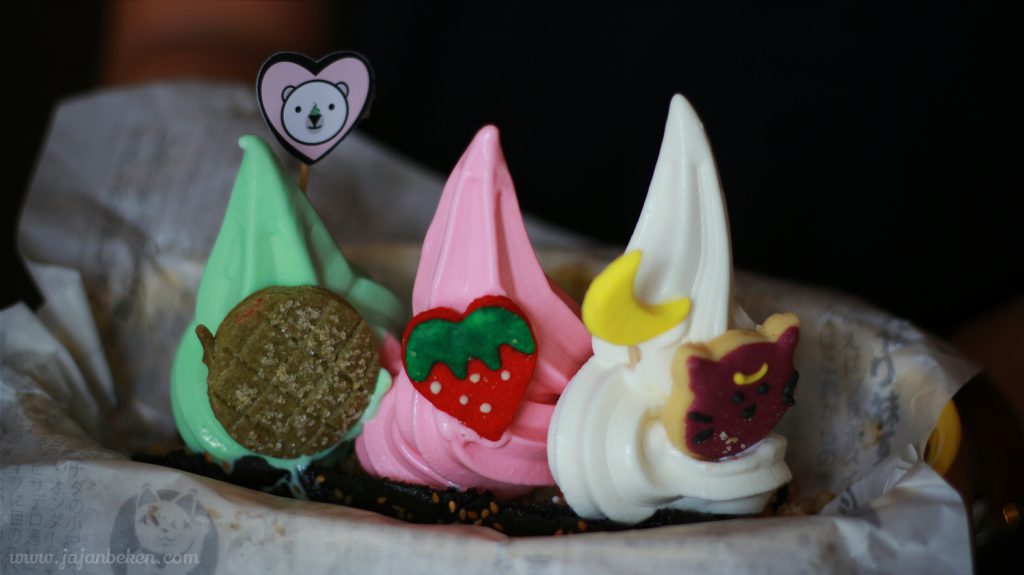 And finally, I get the different sensation when I am eating  this ice cream at Shirokuma cafe. I think taste of this menu is very unique and refreshing. When you take the bread and ate together with ice cream, the tastes was very perfect. Taste of bread and ice cream so creamy and better when you eat this with toppings that are provided.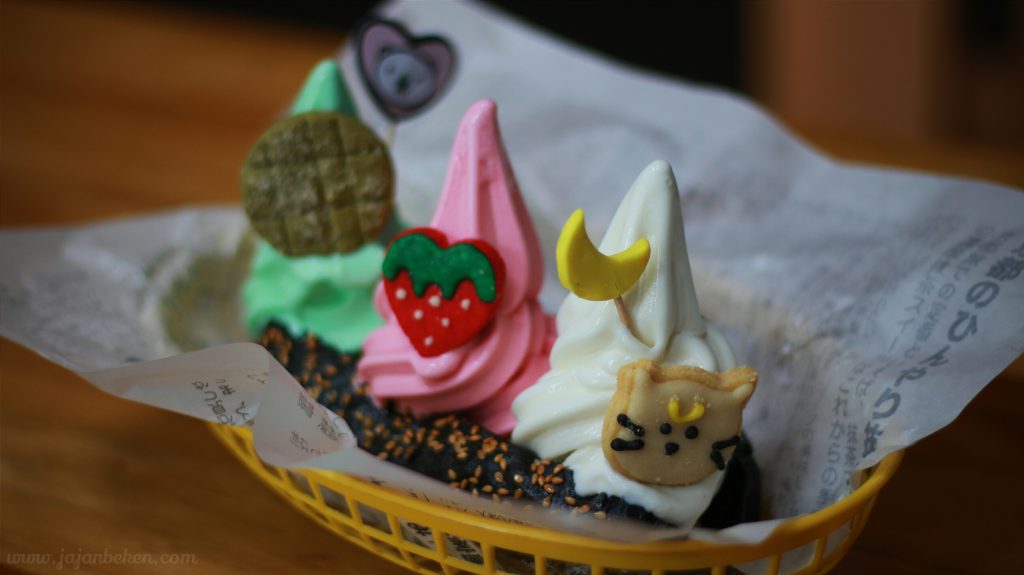 5. Luna Dessert Plate
This ice cream menu served with variants topping. The look of this ice cream so beautiful, because the presentation is very colorful.
Can you see there is Luna playing under the tree with crescent moon light on top and other sweets. In this menu Shirokuma cafe combine the taste of melon, strawberry and chocolate. In this menu all the sweetness will became one.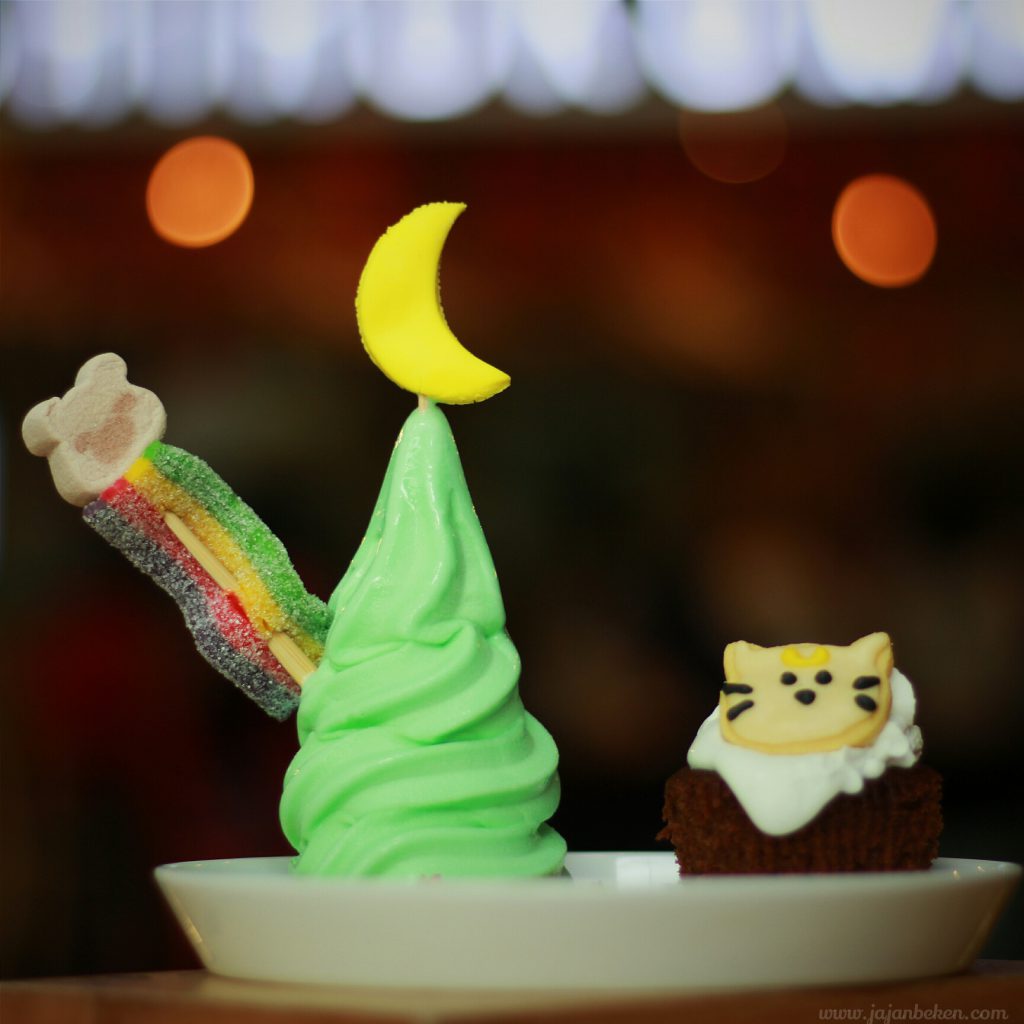 Melon and strawberry which combined in ice cream is very delicious, both are taste very creamy. And chocolate brownies with whipped cream the taste is sweet and chocolaty, the texture  of this brownies is very tender and easy to be bitten.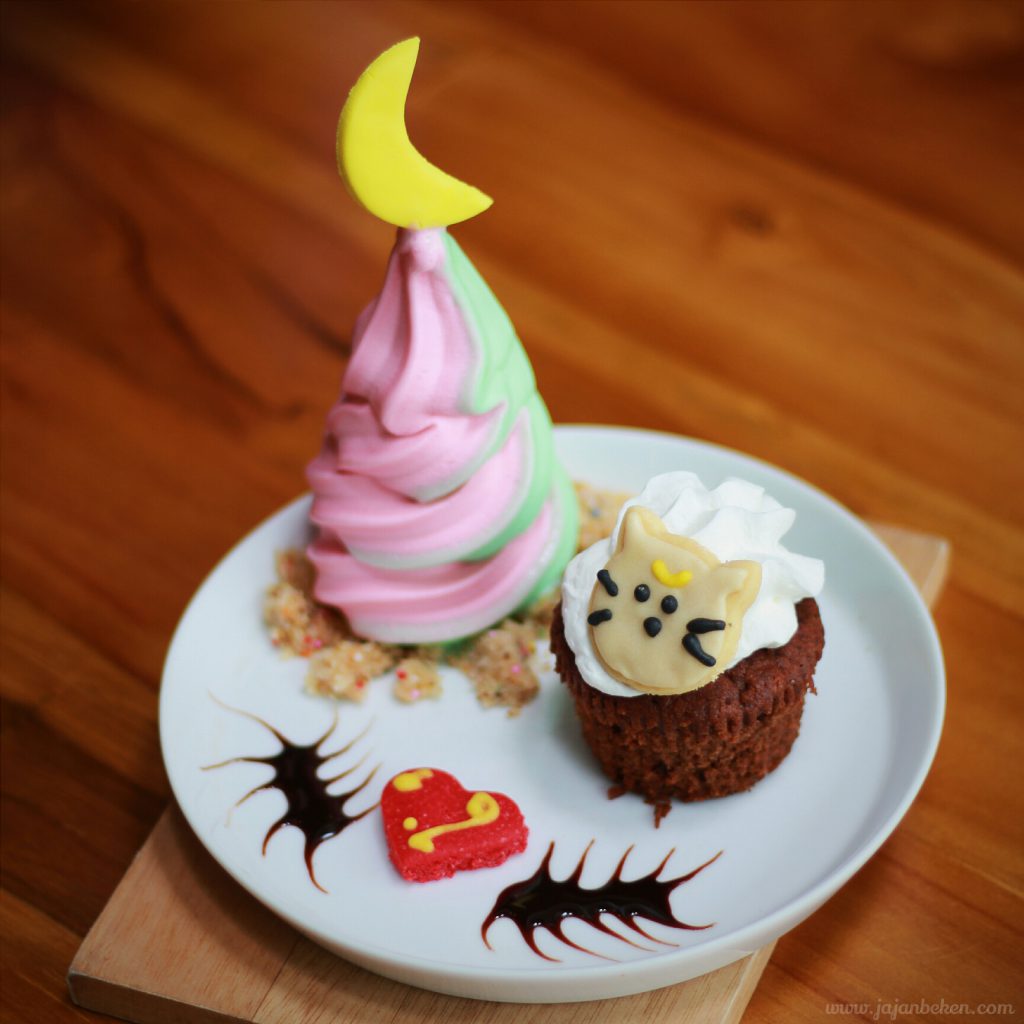 6. Artemis Waffle Basket (IDR 39K)
Who doesn't love cotton candy? For you cotton candy lovers you must try this menu, because in Shirokuma cafe you will get a different taste, and served with ice cream on a waffle basket. Look! the shape of this ice cream is very cute. The cotton candy taste is very sweet, when eaten with ice cream you will feel a different sensation. One portion of this menu can be shared for two people.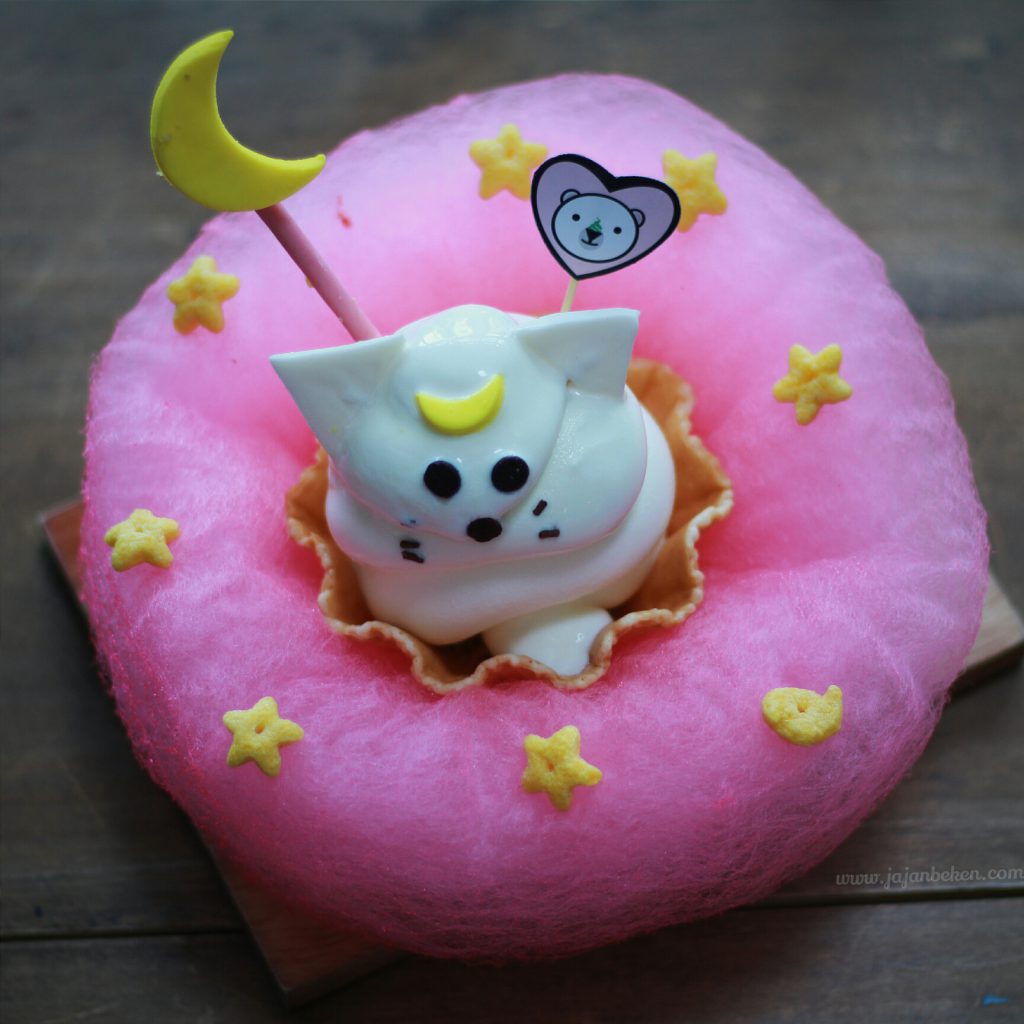 The Drinks
Other than dessert menu above, Shirokuma cafe also provides some variants sweet drinks. And the drink are using some cute toppings too. And its taste is very strong from a variety of flavor choices.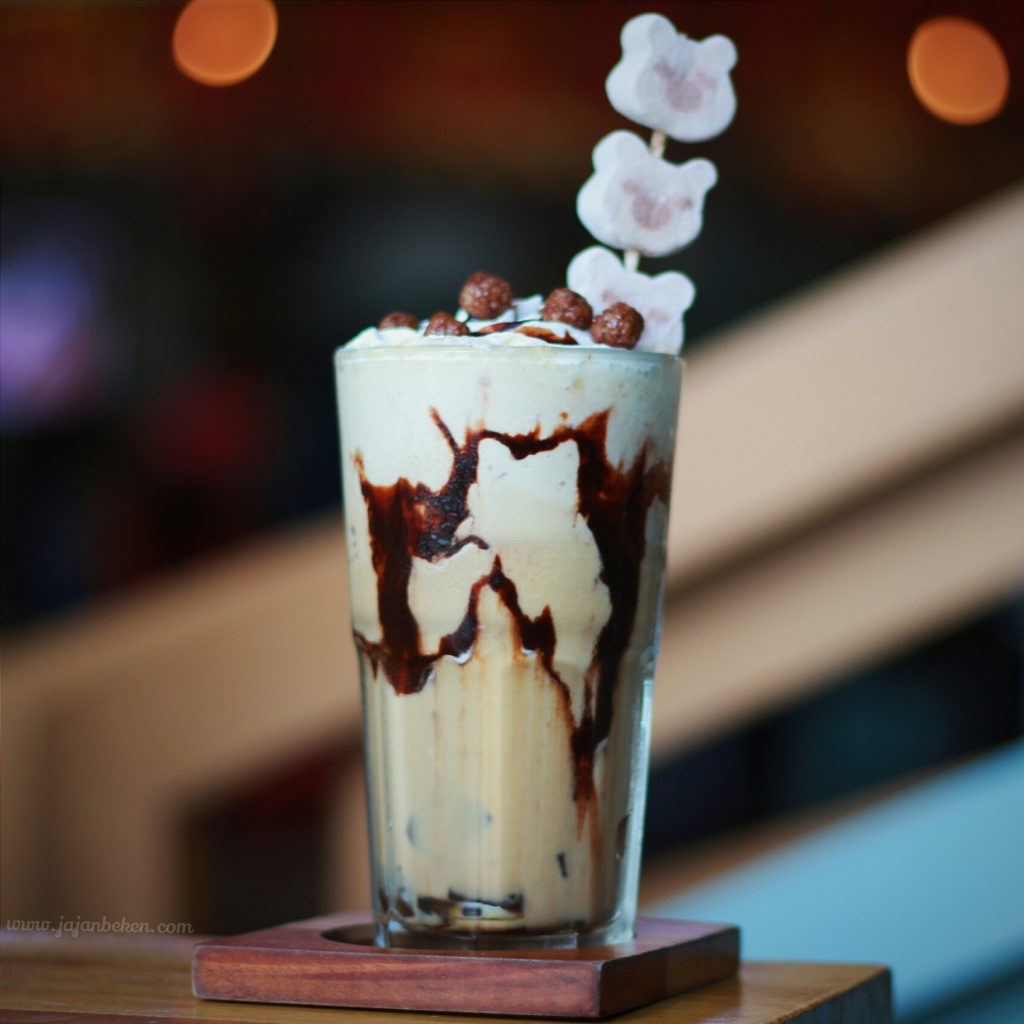 I highly recommend Shirokuma cafe to you, because this restaurant serves a variety of desserts and ice cream menu is very interesting. Other than that this restaurant also provides a variety of menu items such as main course. Maybe in other occasions I will share the other menu of this restaurant.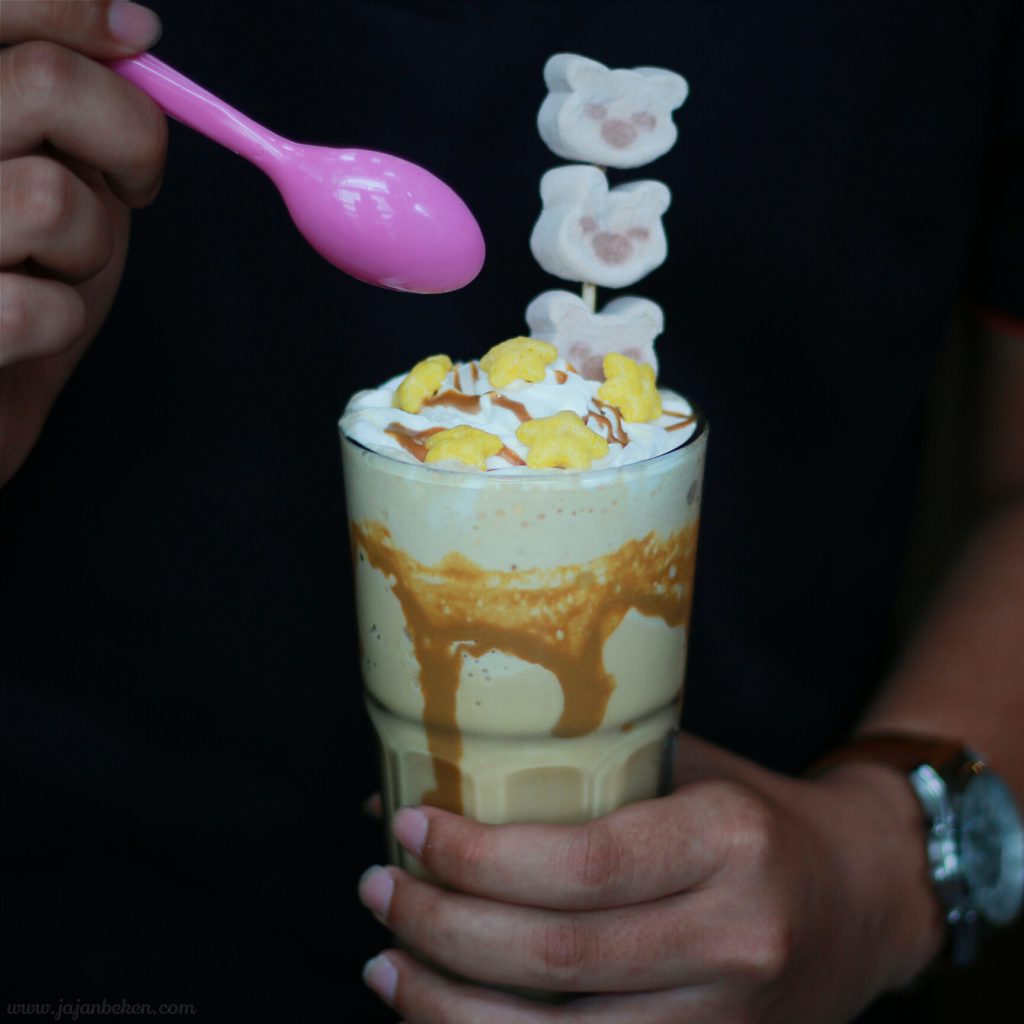 Finally I closed my review after this cute drinks. And I apologized if there is an errors in my writing and don't forget to subscribe out blog and just wait another culinary story from Jajan Beken!
RATING
Ambience : Excellent
Taste : Good
Service : Excellent
FACILITIES
Wifi : Yes
Plug : Yes
Dine in : Yes
Outdoor : No
Toilet : Yes
Parking : Yes
CONTACT
Address : Grand Indonesia Mall, Lantai 3A, West Mall, Jl. MH Thamrin, Thamrin, Jakarta
Phone : 021 23581288

INFORMATION
Open hour :12h – 22h
Price : Rp200.000 for two people (approx.)
Maps